* (restored)
—-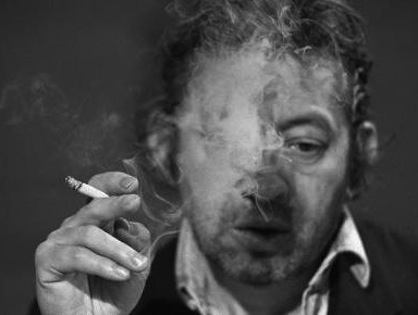 'Carefully avoiding eye contact with the tourists in the street, Charlotte Gainsbourg quickly lets me into the small, graffiti-covered house at 5 bis Rue de Verneuil. Two blocks from Boulevard Saint-Germain in the Seventh Arrondissement, the house is where her father, Serge Gainsbourg, lived and, on March 2, 1991, died at the age of 62. In the days following his death, France went into mourning, fans crowded the tiny street singing his songs, and the women closest to him sat in his bedroom with his body for four days because Charlotte didn't want to let him go. For 16 years this house has been shuttered and locked, with only the housekeeper or occasional family member allowed inside. Charlotte, an actress and a huge star in France, is now the owner of the house and wants, with the help of architect Jean Nouvel, to turn it into a museum. For the first time since Serge Gainsbourg's death, she has agreed to reveal the private world of France's most beloved and important songwriter.
'Except for two pianos which have been removed, the house remains exactly the way it was on the day he died. The walls are covered with black fabric. The floor of the main drawing room is black and white marble. "Cluttered" is an understatement, but each thing is precisely in the place that Serge put it—and there are hundreds of things. Every surface is covered with ashtrays, photographs, and collections: toy monkeys, medals from various branches of the armed services, cameras, guns, bullets, police badges from all over France, pictures of the women who sang his songs — Brigitte Bardot, Anna Karina, Petula Clark, Juliette Gréco, Catherine Deneuve, Isabelle Adjani, Marianne Faithfull, Françoise Hardy, Vanessa Paradis — and, most prominently, his lover of 13 years and Charlotte's mother, the British actress Jane Birkin.
There is a larger-than-life-size poster of international sex kitten Bardot, whom Serge first met on the set of a movie in 1959. Later, they carried on a clandestine affair while she was married to playboy Gunther Sachs, and recorded the steamy duet, written by Gainsbourg, "Je T'Aime … Moi Non Plus." Framed gold records — for albums featuring songs such as "La Javanaise," "Ballade de Melody Nelson," and "Love on the Beat" — are on the walls and the mantel above the fireplace. There is a bronze sculpture of a headless nude that Charlotte tells me was modeled on her mother, a statue of the Man with a Cabbage Head (the title of one of Gainsbourg's greatest albums), Gainsbourg puppet dolls, tape recorders, a black lacquered bar with a cocktail shaker and glasses, a Jimi Hendrix cassette, framed newspaper stories, and empty red jewelry boxes from Cartier — "He loved the boxes," says Charlotte. There are photos of Serge with Ray Charles, with Dirk Bogarde, with his last girlfriend, Bambou, and their son, Lulu. The small kitchen at the back of the first floor has a 15-inch black-and-white television set, candy bars and two cans of tomato juice in the refrigerator, opened wine bottles, and, in the cupboard, cans of food from 1991 — except, says Charlotte, "the ones that exploded."
'Upstairs, on the second floor, in Serge's skylit study, there is an IBM electric typewriter even though he never typed, books about Chopin, Jean-Paul Belmondo, Fra Angelico, and Velázquez, and a copy of Robinson Crusoe. Photos of Marilyn Monroe line the dark, narrow hallway, including one of the star dead, in the morgue. There is the room Jane Birkin called her "boudoir" and what Serge called "La Chambre de Poupée" (the doll room) after Jane left him, in 1980. The bathroom has a very low bathtub, modeled after one Serge saw in Salvador Dalí's apartment, and bottles of Guerlain, Roger & Gallet colognes, and soap from Santa Maria Novella. His toothbrush is still there. The master bedroom has blackout curtains, a mirrored wall, and twin gold female heads with pearls around their necks at the foot of the black, mink-covered double bed. Chewing gum and mints are next to the bed, and on the bed are dried flowers that have been there since he died. In the large hallway closet: his white Repetto jazz shoes, ties, and pin-striped suits. The house is a shrine, but it's not creepy, and one can imagine how stylish, even decadent this all must have seemed in 1970 when Serge and Jane moved into what was their family home and later would become the solitary lair of Gainsbourg—singer, songwriter, musician, painter, actor, director, smoker, alcoholic, romantic, ladies' man, and revered national figure.' — Lisa Robinson
_________
Media (talk)

Serge Gainsbourg on Michael Jackson

Serge Gainsbourg vs. Whitney Houston

Jane Birkin talks about her breakup with Gainsbourg

Serge Gainsbourg's final interview, Part 1
______
Further
Buy 'Gainsbourg: The Biography'
'The Life & Times Of M. Serge Gainsbourg'
Serge Gainsbourg's novel 'Evguenie Sokolov'
Serge Gainsbourg Discography
The Lyrics of Serge Gainsbourg
Serge Gainsbourg @ mubi
'Serge Gainsbourg: The Obscurity of Fame'
'The mad life of Serge Gainsbourg'
Serge Gainsbourg @ Light in the Attic Records
Serge Gainsbourg @ myspace
Serge Gainsbourg Fan Site
'The Flimic Lives of Gainsbourg & Birkin'
'DRAW SERGE! An illustrative tribute to the late, great Gainsbourg'
Hear Serge Gainsbourg cover versions @ Stereogum
'The Jewish Life of Serge Gainsbourg'
fuck yeah serge gainsbourg
Jane Birkin Official Website
Nick Kent spent a week with Serge Gainsbourg'
________
9 Scandals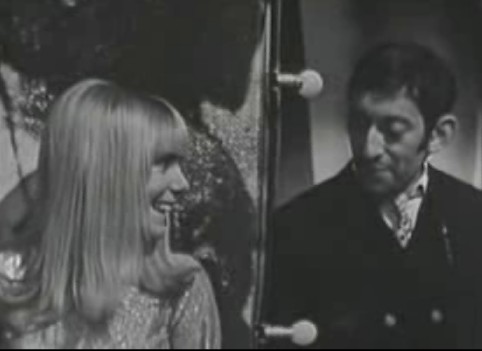 (1.) 1965 saw French sweetheart France Gall take to the Eurovision stage to perform a Gainsbourg-penned entry, Poupée de Cire, Poupée de Son (later covered by Arcade Fire). A resounding win at the competition, combined with the success of their previous collaborations such as 1964's Laisse Tomber Les Filles led Gall to trust Gainsbourg to a point that she would sing more or less whatever he presented her with. A trust that would be well and truly scuppered with the release of Les Sucettes (Lollipops) in 1966, the story of a girl who is "in paradise" every time "that little stick is on her tongue". Upon discovering the dual meaning of the risqué lyrics, Gall refused to perform the song and never worked with, nor spoke to Gainsbourg again.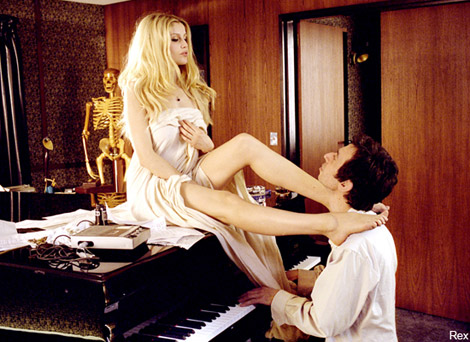 (2.) In 1967 Gainsbourg became infatuated with the French siren Brigitte Bardot who, while enduring a difficult time in her marriage, agreed to go on a date with him. So intimidated was he by her stunning looks that on the date, he lost all of the wit and charisma that he was renowned for. Thinking he had ruined his chances with the sultry blonde, he returned home to hear a ringing phone over which Bardot insisted that as an apology for his poor performance on the date, he write her the most beautiful love song ever heard. The next morning, there were two: Bonnie et Clyde and Je T'aime … Moi Non Plus.
Understandably, this upset Bardot's husband. Upon hearing Je T'aime … Moi Non Plus, Bardot headed to a Parisian studio with her new beau to record it. Throughout the two-hour session, sound engineer William Flageollet claimed to have witnessed "heavy petting" in the vocal booth while the sighs and whispers were committed to tape. The song had been mixed and readied for radio when Bardot, remembering that she was married, revoked her consent for its release. News of the recording had reached her husband, German businessman Gunter Sachs, and after desperate pleas, Gainsbourg relented to Bardot's wishes and the version was shelved.
After shelving the original Bardot recorded version, Marianne Faithfull and Valérie Lagrange (among others) were approached to make feminine "noises", as it were, but both declined. A willing companion was, however, found in new love interest Jane Birkin. Rumours had circulated that the pair recorded some of the more intimate parts of the song by placing a microphone underneath their bed. In actual fact, the re-recording was undertaken in studios in Paris and London where the heavy breathing was claimed to have been meticulously stage-managed by Gainsbourg. Birkin has always denied the rumours of employing the under-bed recording technique … for this song, anyway.
Even though millions of copies of Je T'aime … Moi Non Plus were sold around the world, the song was still considered too explicit for radio play. In the UK, it was the first No 1 to be banned by the BBC due to its explicit content. It was also banned in Spain, Sweden, Italy and even on French radio before 11pm. It has also been claimed that the Italian executive who permitted the release of the song was excommunicated by the Vatican, and in the US, limited sales and radio play led the single to peak at the oddly appropriate chart position of 69.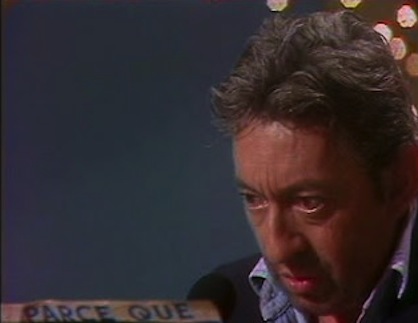 (3.) In 1973, at the relatively young age of 45, Gainsbourg's years of smoking and drinking began to catch up with him and in May, he suffered his first heart attack. After collapsing in his museum-like home on Rue de Verneuil in Paris's trendy St Germain, an ambulance arrived to take him to hospital. Before leaving the house however, Gainsbourg insisted he be covered with his highly fashionable, extremely valuable Hermès blanket as the hospital's "own brand" ones were too ugly. Typical Gainsbourg, always one to go out in style.
While recovering from his heart attack, Gainsbourg began to miss the spotlight so called a press conference from his hospital bed during which he claimed he would reduce the risk of suffering a second heart attack by "increasing his intake of alcohol and cigarettes". Found hidden around his hospital room on his departure were pill bottles stuffed with cigarette butts, from the sneaky smokes he'd been illicitly enjoying while "recovering".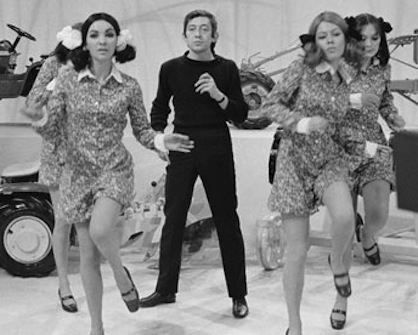 (4.) Thirty years after the end of the second world war. This would be a good moment, Gainsbourg thought to himself, to release Rock Around the Bunker, an upbeat concept album about Nazi Germany. The songs were set to swinging two-step beats, a return to a rockier feel after a few albums exploring more orchestral sounds. Opening track Nazi Rock tells the story of SS soldiers dressed as drag queens, dancing during the Night of the Long Knives. This song, combined with other tracks from the album such as Eva and SS in Uruguay led Gainsbourg, provocative as ever, to find himself in trouble for his comical take on a controversial subject.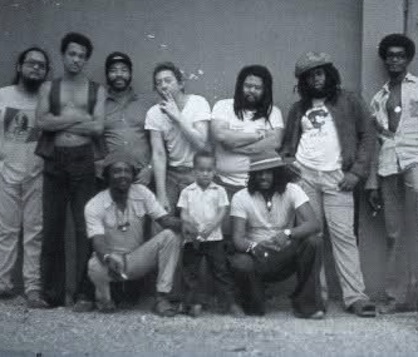 (5.) A stint in Jamaica was where Gainsbourg recorded his 1979 reggae-inspired effort, Aux Armes Et Caetera, of which the title track was a cover of the French national anthem, La Marseillaise. The album was a collaboration with reggae legends Sly & Robbie, who accompanied Gainsbourg on a subsequent tour that was plagued with bomb threats, cancellations and disgruntled protesting paratroopers. However, in true Gainsbourg style, the controversy was manipulated to work to his advantage, and the album eventually became one of his fastest sellers. Aux Armes Et Caetera sold more than 600,000 copies in France and is considered to be one of the earliest albums to have brought reggae to the mainstream.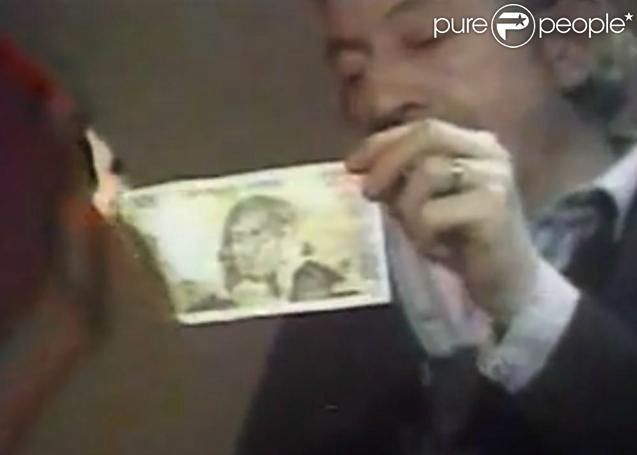 (6.) 1984 would prove to be one of his more audacious years, seeing him cause all kinds of stirs. It was in this year that Gainsbourg burned a 500 franc note live on French TV in a protest against heavy taxation. Although an offence punishable by law, Gainsbourg would feel the heat from a different direction. As a reaction to the extravagant behaviour of her father, Charlotte's classmates would retaliate by setting her homework on fire, punishing her for her father's disregard for money.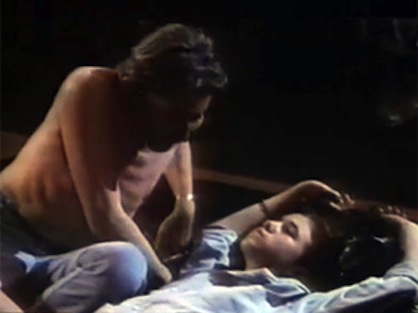 (7.) Recorded with 12-year-old daughter Charlotte, again in 1984, the song Lemon Incest caused uproar in France, and even made headlines in the UK. The title, a play on similarities between the words "zest" and "incest" was considered shocking enough, but it was the video that would be the major source of complaint. Young Charlotte was filmed in a nightshirt and knickers lying on a bed with her topless father, singing about "the love that we will never make together". The world was outraged, but the publicity led to increased album sales with Serge and Charlotte subsequently made a huge amount of money.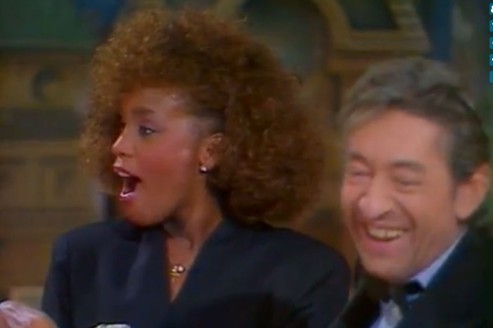 (8.) After a performance on the French prime time show of Michel Drucker in 1986, Whitney Houston found herself seated next to France's most notorious lothario for a post-performance chat. Little did she expect that the praise she would receive would turn into something sordid as Gainsbourg, in his best English clearly and confidently informed his host that he wanted "to fuck her". Houston's already highly blushed cheeks deepened a shade, and the scenario has never since been forgotten.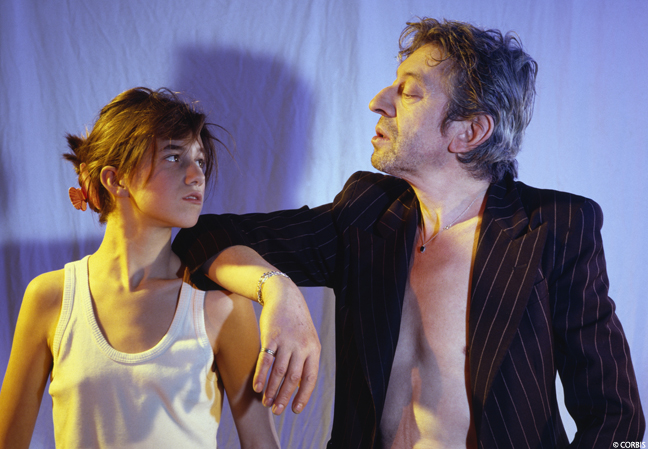 (9.) As if the hysteria surrounding Lemon Incest hadn't provided quite enough drama for the Gainsbourgs, in 1986 Serge took it a step further when he wrote and directed Charlotte Forever, the story of a young girl (played by his daughter Charlotte) living with her widowed, alcoholic father. The film intertwined stories of incest and suicidal tendencies that French audiences found distasteful and difficult to understand. This reaction was upsetting for all involved in the film and to make things up to his daughter, Gainsbourg wrote her an album of the same name with poignant, touching duets. His audience forgave him, and Serge went on to record his final release, a rap album entitled You're Under Arrest.
__________
Media (music)

'Histoire de Melody Nelson'

'Lemon Incest'

'Bonnie & Clyde'

w/ Screamin' Jay Hawkins 'Constipation Blues'

'Initials BB'

'La Marseillaise'

'Love on the Beat', live 1986
_______________
Interview: Gilles Verlant sur Serge Gainsbourg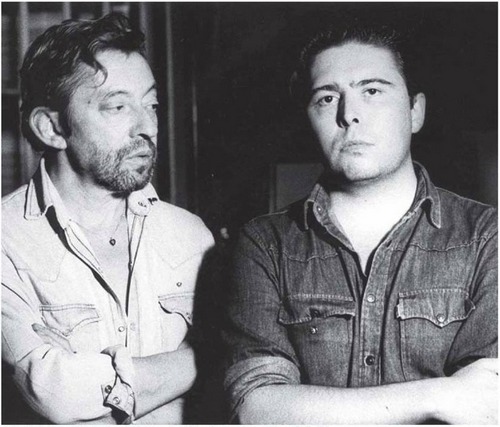 Serge n'a jamais joué de ses origines Juives ; sa première femme, Lise Levistky était la fille d'un SS d'origine Russe qui s'était engagé pour chasser les communistes de Russie et récupérer ses propriétés. Tu penses qu'il aurait accepté d'aller dîner au CRIF (Conseil Représentatif des Institutions Juives) si Sarko ou Richard Prasquier l'avaient invité ?
Il ne faut jamais oublier que la famille de Serge a porté l'étoile jaune pendant la guerre. Donc, Serge a été directement victime de l'anti-sémitisme et du racisme. Qui plus est – j'ai relevé ça dans la dernière édition de la biographie , il y a quelque chose de très troublant : Quand Serge passe le cap de l'adolescence, il voit sa gueule dans un miroir avec ses grandes oreilles, ses yeux mis clos et son grand nez et au même moment, sur les murs de Paris on peut voir les affiches qui disent : Apprenez à reconnaître le Juif !
Ça, je pense que c'est un traumatisme majeur et le complexe de laideur qu'il a développé, il s'est toujours trouvé très laid – sauf sans doute avec Jane qui l'a un peu réconcilié avec son physique mais passé le cap des 40 ans – c'était lié à une trouille. Sa gueule aurait pu l'emmener en camp de concentration ! Donc, le racisme, Serge en était extrêmement conscient. En plus de ça, il avait une sorte de méfiance – raison pour laquelle il avait voulu, dans les années 70, enregistrer cet album sublimissime et méconnu mais qui a mal vieilli à cause des arrangements musicaux et qui s'appelle « Rock around the Bunker » sur lequel on trouve « SS in Uruguay » ou « Nazi Rock. » Album qui ne s'est pas vendu à l'époque car, oubliant même que Gainsbourg était juif, on ne le comprenait pas. Pourtant il était parfaitement légitime pour faire ce disque-là et certains de ses meilleurs textes sont sur ce disque.
Après ça, on se demande pourquoi Serge a composé cette marche militaire pour Israël pendant la guerre des six jours, « Le Sable d'Israël »? Pourquoi a-t-il fait cela ? D'abord, au départ on ne savait pas que cette guerre allait durer six jours, petit rappel historique ! Et au bout de deux trois jours, l'Ambassade d'Israël avait lancé un appel aux artistes Juifs Français pour soutenir le moral des troupes. Serge avait répondu favorablement et avec Michel Colombier avait torché un truc en dix minutes ; Le Sable d'Israël, enregistré à Bobino et envoyé à Tel-Aviv.
Est ce que pour autant il n'a jamais eu envie de retourner sur la terre de ses ancêtres en Russie ?
Non. D'abord il avait les chocottes car on était encore sous le régime des Bolcheviques, des Soviétiques et même après la Glasnost, il aurait pu y aller mais il ne l'a pas fait et il n'a jamais mis les pieds non plus en Israël où ses parents sont allés par contre. Son engagement était donc très limité.
Il a pris de drôles de positions parfois ; pourquoi est ce qu'il soutient Giscard en 1974 ? Pourquoi retrouve t-on son nom sur des pétitions en même temps que celui de Mireille Mathieu ou de Johnny ?
Simple, Gainsbourg était un pétochard ! Son obsession, c'étaient les Bolcheviques, les Communistes ! Il avait raison mais, au milieu des années 70 c'était mal vu ; Georges Marchais avait d'ailleurs qualifié cela d'anti-communisme primaire même si on savait ce qui se passait dans les goulags; merci Soljenitsyne ! Serge soutenait Giscard car dans l'union de la gauche, il y avait les socialistes et le parti communiste. Ça représentait pour lui un vrai danger !
Gainsbourg était un symbole d'individualisme; contrairement à d'autres artistes et collègues, il n'a jamais défilé pour mai 68 par exemple…
Sur la fin, comme disait Desproges, Serge était malade et n'aurait pas dû s'exhiber dans de tels états. Toi qui est l'un des derniers à l'avoir rencontré et interviewé, sa supposée saleté et son laisser-aller gitannesque étaient-ils des légendes urbaines ou provoquaient-ils de véritables migraines ?
Desproges avait été assez loin quand même. Il avait dit : « J'aimais bien Gainsbourg de son vivant. » Alors que Gainsbourg était vivant…! Il y a deux choses : certaines apparitions TV de Serge qui me faisaient physiquement mal, en tant que fan. Je le voyais se décomposer et je me disais: « Mais comment est-ce que ce poète et compositeur d'exception que j'aime tellement peut-il se détruire à ce point-là ?» Mais en privé, quand je l'interviewais au 5 bis rue de Verneuil – on a fait une centaine d'heure d'interview ensemble – je ne l'ai jamais vu bourré. Sauf une fois, à la sortie de « You're Under Arrest » où il avait reçu plusieurs journalistes dans la journée et il avait picolé. Il prend un disque, le met sur sa platine vinyle qui était posée au sol et en voulant se relever, il tombe les quatre fers en l'air ! C'est la seule fois où je l'ai vu bourré. Gainsbourg était absolument charmant, adorable et attentionné. La seule chose désolante, c'est que je ressortais de chez lui avec une barre comme ça, non pas parce que j'avais picolé mais à cause de ses putains de Gitanes ! Et sur la fin, Gainsbourg qui avait dû lever le pied sur l'alcool avait retrouvé ses facultés. Il parlait plus vite, il ne se répétait pas…
Il n'en reste pas moins que ce mec est mort à 62 ans dans un état déplorable ! Là, je vais en avoir 54 et je me dis que par rapport à ses 54 ans, quand j'ai commencé à travailler avec Gainsbourg, je pense être dans un meilleur état. Mais ça fout les jetons ! « Ne buvez pas et ne fumez pas de Gitanes les enfants. » Il n'a jamais touché à la drogue cela dit. Enfin si, il a fumé un pétard une fois et ça lui a donné une telle tachycardie qu'il a flippé sa race !
Tu ne vas pas me dire que Serge était toujours blanc comme neige?
Si si. Serge n'a pas touché à la drogue, sauf cette unique fois où, alors qu'il tournait « Les Chemins de Katmandou » au Népal avec Jane Birkin, il a goûté aux spécialités locales. Mais ça l'a rendu tellement malade qu'il n'y a plus jamais touché. La drogue, il l'a vue autour de lui, il a vu ses ravages ; dans l'univers du show biz, évidemment, avec des musiciens, avec des gens de la nuit qu'il croisait…et puis, très prés de lui puisque Kate Barry (première fille de Jane Birkin) qui après ça, a monté des associations d'aide aux toxicos était dans un milieu où la défonce était monnaie courante. C'est d'ailleurs Kate qui lui a donné les mots dont il se sert dans la chanson « Aux Enfants de la Chance » qui a surpris les fans de Gainsbourg.
Alors que Serge projetait cette image de mec super cool qui incarnait la liberté de ton, d'allure – tous les mecs aujourd'hui ressemblent à Gainsbourg dans leurs cotés débraillés, pas rasés, jeans déchirés… – et donc c'était assez surprenant de la part de Serge, accroc au tabac et à l'alcool, les deux drogues majeures dans ce putain de pays, qu'il ose dire ça. Mais c'est parce que l'héroïne et tout le reste, il en avait très très peur ! Et puis il avait sous la main une certaine Bambou qu'il a aidée à sortir de l'héroïne comme elle le raconte dans le livre qu'elle a écrit il y a quelques années.
____
Book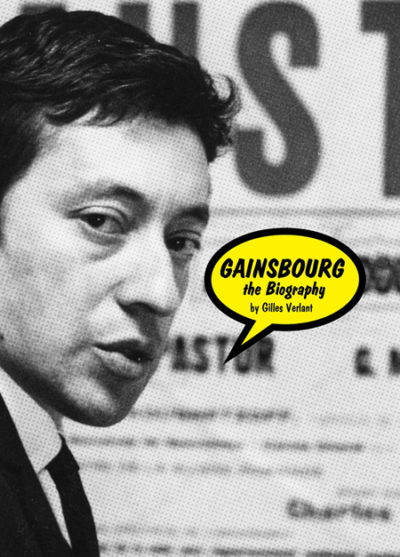 Gilles Verlant Gainsbourg: The Biography
Tam Tam Books
'When Serge Gainsbourg died in 1991, France went into mourning: François Mitterand himself proclaimed him "our Baudelaire, our Apollinaire." Gainsbourg redefined French pop, from his beginnings as cynical chansonnier and mambo-influenced jazz artist to the ironic "yé-yé" beat and lush orchestration of his 1960s work to his launching of French reggae in the 1970s to the electric funk and disco of his last albums. But mourned as much as his music was Gainsbourg the man: the self-proclaimed ugly lover of such beauties as Brigitte Bardot and Jane Birkin, the iconic provocateur whose heavy-breathing "Je t'aime moi non plus" was banned from airwaves throughout Europe and whose reggae version of the "Marseillais" earned him death threats from the right, and the dirty-old-boy wordsmith who could slip double-entendres about oral sex into the lyrics of a teenybopper ditty and make a crude sexual proposition to Whitney Houston on live television.
'Gilles Verlant's biography of Gainsbourg is the best and most authoritative in any language. Drawing from numerous interviews and their own friendship, Verlant provides a fascinating look at the inner workings of 1950s–1990s French pop culture and the conflicted and driven songwriter, actor, director and author that emerged from it: the young boy wearing a yellow star during the German Occupation; the young art student trying to woo Tolstoy's granddaughter; the musical collaborator of Petula Clark, Juliette Greco and Sly and Robbie; the seasoned composer of the Lolita of pop albums, Histoire de Melody Nelson; the cultural icon who transformed scandal and song into a new form of delirium.' — Tam Tam Books
______
Excerpt
Zip! Shebam! Pow! Blop! Wizz!
Brigitte is still married to Gunther Sachs, but he's getting on her nerves. He dreams of making a movie with her and recruits Gérard Brach to write the script. But Bardot hates the project. To avoid doing it, she signs on for Shalako, which is supposed to start shooting in Andalusia come January, with Sean Connery. In May, 1967, Gunther forces her to present his film Batouk at Cannes. It is a documentary he had produced about the animals of Kenya. Rumors of divorce are rampant… On July 13, their first wedding anniversary ends in a huge fight. During the summer, Brigitte shoots a short piece with Alain Delon, part of the film Histoires extraordinaires, based on the book by Edgar Allan Poe and directed by Louis Malle, and it is then that she cheats on her husband with one of the assistants, a story she tells in her autobiography.
Another one of her lovers from this time, who wishes to remain anonymous, recounts the following: "Gunther Sachs was a despicable character, a total bore, with no moral standards or any warmth – a reactionary teuton, odiously arrogant and nasty, who would indulge himself by screaming at gas station attendants ofr waiters when he wasn't served promptly enough. Take away his money and he was nothing. For him, marrying Bardot was a question of social status. He really put one over on her."
Now it's impossible to understand what will follow – namely the mad passion that will unite Bardot and Gainsbourg for no more than a few weeks but which will have serious repercussions for the both of them – without taking into consideration the reckless Don Juanism of this woman, who at the age of 33 is at the height of her beauty. Our anonymous contributor continues: "She dealt with her conquests like a praying mantis: Serge, like me and like all the others, was zombified by Bardot. That woman had a supreme talent for grinding men into rubble. Serge was a totally atypical lover for her. He had the authenticity of a real artist, he hated money, and he led his life with a sort of heedless existentialist ethic. He was the exact opposite of the clean-cut types she had been with. I am convinced that Serge fascinated her much more than her other lovers. He brought her into a world of intelligence and talent, which no one had ever exposed her to before. Little did it matter that he had a face like a gargoyle from Nôtre-Dame. What's more, he brought a whole new world to her, served up on a silver platter, which is just what she needed at the time. Thanks to Serge she was hip again."
It all begins on October 6, 1967, with an innocent little breakfast to discuss the Sacha Show and the special broadcast of January 1. She tells Serge about certain scenes already filmed back at the end of summer – "La Madrague" at her place in Saint-Tropez, and then "Le soleil" on the beach at Pampelonne. The scene with flamenco guitarist Manitas de Plata is finished by director François Reichenbach on the night of Bardot's birthday, during a party on September 28. Gunther is absent and makes due with sending a telegram… Then in London, she films Le diable est anglais, a stupid little piece by Bourgeois and Rivière in which she wears a charming little uniform that brings to mind those worn by the Beatles on the cover of Sgt. Pepper's. In the television studios in Boulogne, the remaining sequences are given to another director, Eddy Matalon. Things go poorly and the star is perturbed. She is annoyed by the incompetence of the people around her and complains about having to fend for herself, without costume or makeup people:
"I was just about to chuck it all in when I got a call from Serge Gainsbourg. He said very little and spoke very softly. He wanted to meet with me alone and have me listen to two songs he had written for me. Did I have a piano? Yes.
He came to my place at Paul-Doumer.
I felt just as intimidated as he did."
Serge plays "Harley Davidson" for her on the piano. Brigitte has no particular interest in motorcycles and expresses doubt. Serge responds with a "bitter and sad smile" that this doesn't mean she can't do it in her own style.
"I didn't dare sing in front of him. There was something in the way he looked at me that made me freeze up. A sort of timid insolence, like he was waiting, with a hint of superior humility. He was full of strange contradictions, a scornful glare in an otherwise sad face, a cold humor betrayed by a warmth in his eyes."
Shy, she tries to sing, but without much conviction. So Serge then asks if she has any champagne. They pop open a bottle of Moët et Chandon just to break the ice. Rehearsals start the next day and continue until they record "Harley Davidson" and "Contact" in October, 1967, at studio Hoche with Michel Colombier at the helm and an assistant engineer named William Flageollet. The result is a 45 that is released on December 10. The night of the recording, Brigitte, as she recounts in her autobiography, invites Gloria, her "Chilean Amazon," who is accompanied by husband Gérard Klein. After the session, the four go out to eat together, and Brigitte furtively grasps Serge's hand under the table.
"I had a visceral need to be loved, desired, to belong body and soul to a man I loved, admired and respected.
"The moment my hand touched his was a shock for the both of us, an interminable and endless melding, an uncontrollable and uninterrupted electrocution, a desire to crumble and melt, a magical and rare alchemy […] His eyes met mine and his gaze never left me. We were all alone in the world! Alone in the world! Alone in the world! "
Gloria and her husband discreetly retire and leave the new lovers alone.
"From that very minute, which lasted centuries and still lasts today, I never left Serge, and he never left me."
This little champagne-fueled dinner in a Montmartre restaurant marks the beginning of a torrid love affair that is chronicled in astonishing and meticulous fashion by Joseph as he writes his letters to Liliane. On October 30, he gets it straight from his son's lips that Brigitte is in love with him.
Joseph Ginsburg: "Serge worked his charm while they were rehearsing a song for Show Bardot. It's no secret in the showbiz world. Thus are the ravages (or blessings, depending on one's point of view) of Slavic charm. He told us: 'I've lost all my hang-ups about being ugly. Women look at me differently.'"
William Flageollet: "Bardot was the ultimate star. When she entered a room everybody was under her spell. Even though she wasn't a real singer, we recorded quickly, and she had no problem getting it right, which was not the case with Dalida or Mireille Mathieu, whose sessions were endless. I remember that for us, the technicians, when we worked with Bardot, well, it was a bath every day, our Sunday best, and our finest suits and ties. If the session started at eight, we didn't come five minutes early, like usual, but rather a half-hour early. That first night we looked around at each other and broke out in laughter."
Eddy Matalon: "We had imagined a song set in a stylized garage, with a big Harley. It all seems so tame today! I am surprised at how legendary it became. My only explanation is this: from 1967-68, the whole poster thing really took off, and the image showing Bardot straddling her bike was one of the first to be reproduced like that…"
The chains, the red and white oil drums, and a superb chrome machine… And Bardot, black leather miniskirt, shiny, high-heeled boots that climb up to her thighs, the dark eyes, that blonde mane of hair: one can't help but visualize this amazing and fantastical image when you hear her sing…:
I don't need a thing at all
When my Harley calls
Nothing means a thing at all
When my Harley calls
Hot leather on my jeans
I feel the vibration of my machine
Gun the motor one more time
The pleasure's so divine
Gainsbourg: "I worked according to the desiderata of the directors and Brigitte. For example, when I learned we could shoot at an exposition of kinetic art and that Brigitte would be dressed by Paco Rabanne, I wrote 'Contact,' a futurist piece…"
Help me out of my flight suit, if you please
It's covered all over with space debris
Contact!
Contact!
On November 1, 1967, Serge sings "Comic Strip" with Brigitte on the Sacha Show. He is also an extra in the background while Distel and Bardot – who were lovers in 1958, don't forget – wearing flowery shirts and necklaces, perform "La bise aix hippies," an amusingly silly little sketch.
Sacha Distel: "I spoke with Serge, so I knew that Bardot was the dream of a lifetime for him. During the taping of that episode of the Sacha Show, I could see onstage that there was clearly something between them."
Serge and B.B. go out all the time. One night he takes her to Raspoutine, on Rue Bassano. Emotion is running high: the gypsy band plays romantic serenades and accompanies the couple all the way to his green convertible, an English Morgan, which "smelled of leather and rosewood […] my toy, my passion, my whim," as Bardot reports. They drive to her place at 71, Avenue Paul-Doumer:
"I was really dolled-up for him.
We didn't try to hide it. On the contrary, we flaunted our passion. Régine knew about it. We spent a few nights dancing at her cabaret, holding each other close. […] We left there, inebriated by our own selves, by champagne, Russian music – we were lost in the same vertigo, drunk on the same harmonies, the same love – we were mad for one another."
(cont.)
—-
*
p.s. Hey. ** David Ehrenstein, Hi. Your 'less troubling' link didn't work. I've heard of (and even seen) that great Oshima. ** Bill, Happy that he intrigued. Yeah, according to the French news, there were hella protests where you are yesterday. Did you get caught in the currents? ** Dominik, Hi, D!!!! That's the way to think about it, it being the future as marked off the decade shift. Aspiring to a 'blank slate' is always the optimal, I think. Unless you're driving a car, I guess. I'm so sorry your year sucked. It was a pretty miserable one. Great about February, and I hope everything between now and then falls into place. That's soon! Fantastic, congrats! I'm okay, I guess. Just finishing the dreaded TV script right now, due very soon. Then, ideally, Zac and I will get a long break from that, although that's hard to believe. Trying to polish off a new gif novel. I think there's going to be a gallery show here in Paris of my gif works in late January, but it's not confirmed. I hope so too: that my new novel finds a home very soon. Why it's taking so long is too long and complicated a story to tell, but I'm way, way over this waiting. Have huge fun in Prague! And I know you will! Yay! Thanks for catching me up, my friend. Love, me. ** Montse, Happy New Year to you, Montse! Oh, thank you, thank you! I'm so happy you liked 'Permanent Green Light'! I'm very proud of that film, so that's joyous to hear. Lots of love from me! ** N. Casio Poe, Hi, N! It's so nice to have you here. Thanks for coming in. And, yes, about 'Rubber's Lover'. A very happy NY to you too! ** Ferdinand, HNY! You made it. Yes, it's a bit chilly these days. I slept through our fireworks in a warm-ish bed. I would say it's the never ending metro strike that effects my recent, uncharacteristic paucity of venturing more than the cold, but since metro-free venturing involves walking, the cold is a contributing factor at least. There is literally no end in sight for the metro and train strikes. I could go on for months more given the current stalemate. Nice Flemish witticism. I still remember enough of my Dutch to get it straight from the source. ** Corey Heiferman, Hi. A little unlikely that your video store will have Fukui unless it's into stocking fairly obscure cult stuff and has a bead on o.o.p. items, but I'll cross my fingers. I'll see what this 'Rubber Dolphin' nonsense is all about as soon as this sucker of a post gets launched. I did hear that Adobe news, and I'm a tech klutz of the highest order, so I too don't know what that will entail. Great Thursday! ** Right. I decided to restore this spotlight-shaped post that illuminates an excellent bio of the one and only Serge Gainsbourg published by the great TamTam Press which is run by the mighty writer, publisher, video host, bon vivant, and DC's long-termer Tosh Berman. Enjoy your day, here and elsewhere. See you tomorrow.