* (restored)
—-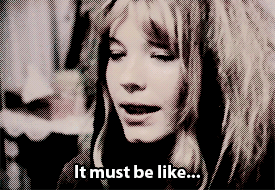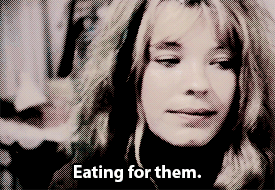 Author
I'm with the Band: Confessions of a Groupie (Chicago Review Press)
'The stylish, exuberant, and remarkably sweet confession of one of the most famous groupies of the 1960s and 70s is back in print in this new edition that includes an afterword on the author's last 15 years of adventures. As soon as she graduated from high school, Pamela Des Barres headed for the Sunset Strip, where she knocked on rock stars' backstage doors and immersed herself in the drugs, danger, and ecstasy of the freewheeling 1960s. Over the next 10 years she had affairs with Mick Jagger, Jimmy Page, Keith Moon, Waylon Jennings, Chris Hillman, Noel Redding, and Jim Morrison, among others. She traveled with Led Zeppelin; lived in sin with Don Johnson; turned down a date with Elvis Presley; and was close friends with Robert Plant, Gram Parsons, Ray Davies, and Frank Zappa. As a member of the GTO's, a girl group masterminded by Frank Zappa, she was in the thick of the most revolutionary renaissance in the history of modern popular music. Warm, witty, and sexy, this kiss-and-tell–all stands out as the perfect chronicle of one of rock 'n' roll's most thrilling eras.' — collaged
Two brief excerpts:
'The Landmark Motel was in the throbbing heart of Hollyweird on Fountain Avenue, very close to where Jim Morrison threw away the bottle of Trimar. Burgeoning rock celebs always stayed there; in fact, Janis Joplin was about to poke holes in her veins for the last time within its seedy walls. Christine was aflutter over Alice Cooper, a skinny, caved-in guy from Arizona whose real name was Vince. I had never seen her so perfectly put together– her new outfit of one-half pant leg and one-half skirt was pressed to a stiff sheen; her clown eye makeup was nearing Emmett Kelley status; and she plucked imaginary lint from her lapels, expounding nonstop about the virtues of Alice Cooper. He was virtuous indeed; their blossoming romance was right out of a twenties movie, all innocence and flushed cheeks. They held hands and gazed at each other sideways, this tall, skinny girl we called the Dr. Seuss character of the group, and Vince/Alice, soon-to-become idol of millions. I don't know if they ever had sex, but they were clearly in love and made for each other at that precise moment in time. She gave him an outrageous makeup job and threw some of his clothes together into an outfit that defies description, enhancing his scrawny rib cage immensely. I met the rest of his group and took a shine to the drummer, Neal, and we sipped sodas by the pool while Alice effused over Christine and his new record deal on Frank Zappa's Bizarre label.'
'We went around to Captain Beefheart and the Magic Band's house and smoked a lot of pot and Don (van Vliet) put on a record [Reich's "Come Out"]. We lounged around the living room while a guy with a really deep voice repeated the phrase overandoverandover until it turned into many different ideas. When the record was over, the needle skipped and skipped, so we listened to that for a while too. I, personally, could find no meaning in it, but I tried. We went outside and stood around in a circle, in a semblance of meditation. I rolled my eyeballs in one direction and then the other, trying to stop them in midspin. It was almost impossible.'

Pamela Des Barres reading 'I'm With the Band', part 1

Pamela Des Barres reading 'I'm With the Band', part 2

Pamela Des Barres reading 'I'm With the Band', part 3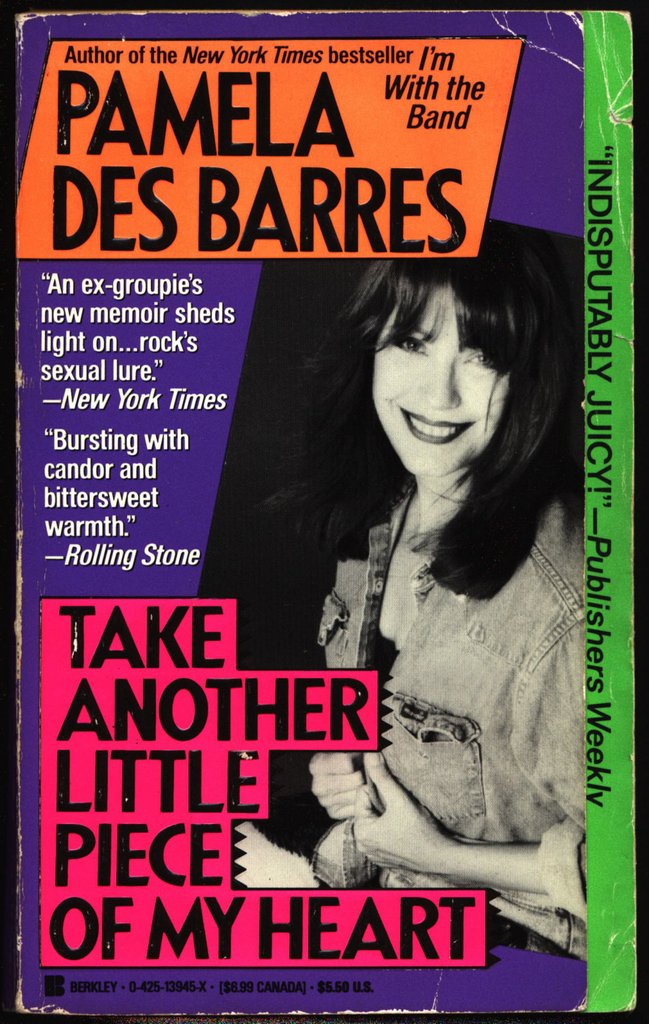 TAKE ANOTHER LITTLE PIECE OF MY HEART: A Groupie Grows Up (William Morrow)
PAMELA DES BARRES'S second book is a memoir, but it reads like a novel, "I am the world's most famous groupie" – there are plenty of contemporary fiction writers who would envy a first sentence like that. Ms. Des Barres provided a full and lively explanation of her groupie status in her first book, "I'm With the Band." In "'Take Another Little Piece of My Heart," she moves on to a chatty, entertaining account of what came next: a messy rock-and-roll marriage, problematic child rearing, serious turmoil within the substance-abuse set and a long string of comical career mishaps. Part Kerouac and part Cosmo Girl, Ms. Des Barres recounts all this in a funny and fearless conversational style. — Janet Maslin, NYTBR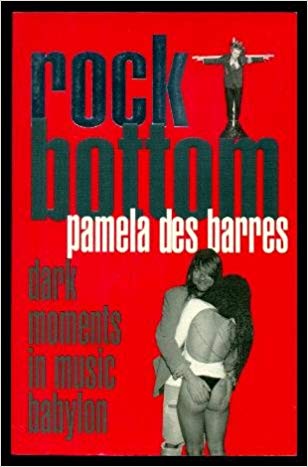 Rock Bottom: Dark Moments in Music Babylon (St. Martins Press)
'Pamela Des Barres recounts the classic tales of rock star overindulgence, and the book's own press material honestly bills it as a compendium of "horror stories." Rock Bottom contains something to offend just about anyone, but, strange to say, the book is actually quite readable as an appropriately skewed history of rock. Des Barres seems to have diligently done her research, talking to the principles of the mayhem, or, in many cases, to their survivors, and does deliver a series of pieces documenting some very dark corners of pop culture.' — collaged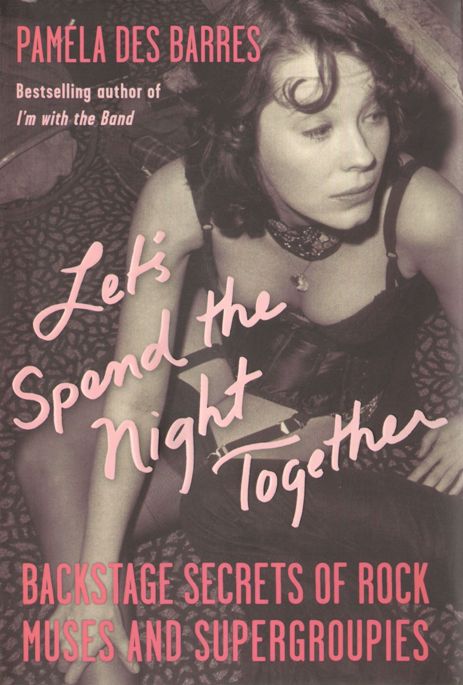 Let's Spend the Night Together: Backstage Secrets of Rock Muses and Supergroupies (Chicago Review Press)
'Pamela Des Barres, most famous for her 1987 tell-all I'm With The Band, parlayed her sexual exploits with such notorious rockers as Keith Moon, Jim Morrison and Jimmy Page into a career as the world's most-quoted groupie. "Miss Pamela" as she was christened during her '60s heyday as a member of all-girl band the GTOs/Moon Zappa's nanny/Hollywood super-groupie, has spent the last few decades extolling the merits of the rock concubine lifestyle. Her latest book, Let's Spend the Night Together: Backstage Secrets of Rock Muses and Supergroupies, focuses on her successors and some of her contemporaries. Among the interviewees are muses like Catherine James, Tura Satana, Cassandra Peterson (Elvira), and Patti D'Arbanville. These women were models, actresses, and entertainment personalities in their own right before, during or after their stints as groupies. Sex with rock stars was part of the package, not their sole reason for being. (Though Pamela's breathless prose sometimes makes you think so.) Des Barres is a wonderful writer. Spend the Night, in its own ways, tracks the history, backstage and otherwise, of popular music from the 1960s to present day. In the '50s, Tura Satana coached Elvis on how to shake his hips, in the '70s, Lori Lightning had a threesome with Mickey Finn of T-Rex and Angie Bowie. In the end chapters, we hear tales of rock stars into cross-dressing and some really icky stuff. Whatever happened to the old-fashioned activities involving genitalia? Of course, these variations may be just another way to engage in safe sex. Time marches on, even in the world of rock stars and groupies.' — Blog Critics

Pamela Des Barres & friends read from her book 'Let's Spend the Night Together'

Pamela Des Barres & friends answer questions about her book 'Let's Spend the Night Together'
____________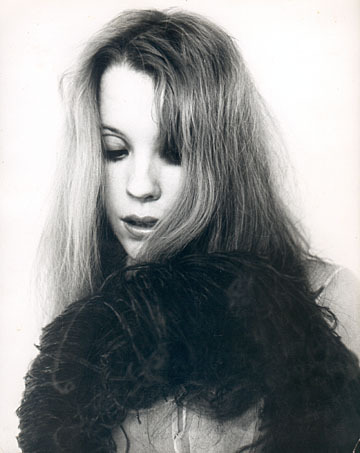 Like to have Pamela officiate your marriage or show up at your function or hometown?
Pamela is an ordained minister officially licensed to perform your wedding. Just email her at pamela@electricgypsy.com for more details.
Why not fly Pamela to your hometown to hang out with you and your friends for an entire weekend? For $2500 plus expenses you can have the best-selling author hang out, meet your friends, answer questions, tell stories of her rock-n-roll exploits, etc. Just email her at pamela@electricgypsy.com if you are interested. And guys – this is a purely Platonic offer.
____________
GTO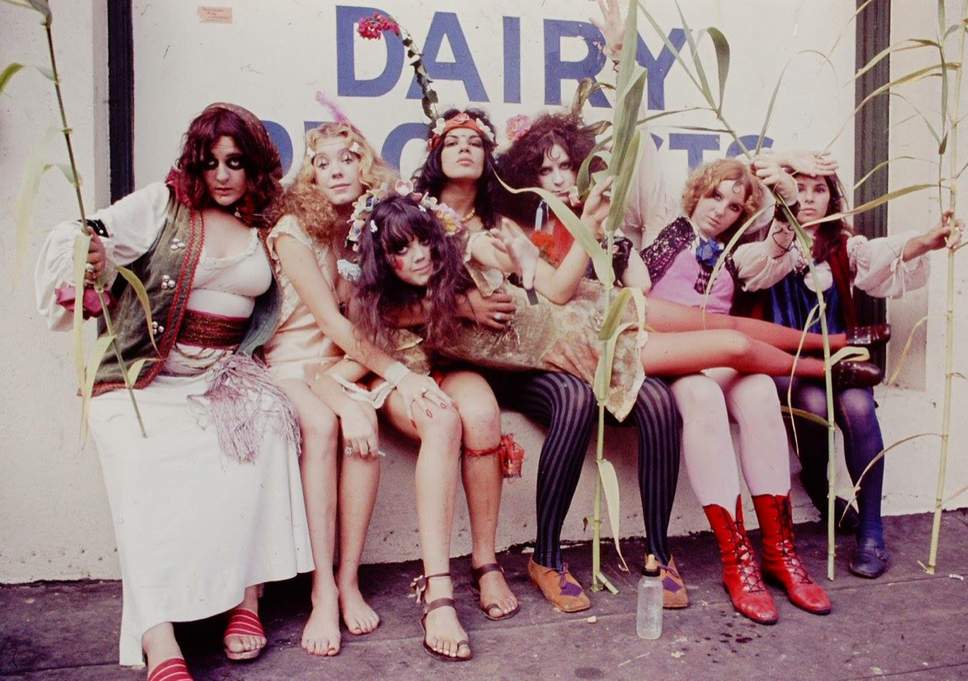 Rolling Stone – February 15, 1969: 'The GTOS are a sociological creation of Frank Zappa's. He didn't create the GTOs; he merely made a "group" of them…and now is presenting them. According to Frank, G.T.O. stands for Girls Together Occasionally, Girls Together Only, or Girls Together Often. Girls Together Only are lesbians. But the GTOs (the group) are not lesbians; they are merely girls who happen to like other girls' company.
'The GTOs in all their freaky splendor are…outasite. Each has a personality all her own, and together they are not to be believed — tummeling, chattering, laughing, telling stories, leaping about. The visceral reaction is full freak, but once you get into it, you don't even notice.
'"Girls don't show the emotions like they should," one of the girls said. "When I say: 'Sandra, you have the most beautiful breasts in the whole world,' that's not homosexual, it's just what I feel. You know how it is when you don't have a boyfriend and there's a girl there to hold your hand, to kiss you, to say nice things to you. It's so important."'
To read the rest, use this link then click on 'GTOs'

The GTOs – The Ghost Chained To The Past, Present And Future

The GTO's – I'm In Love With The Ooo-Ooo Man

The GTO's – Rodney

The GTO's – Circular Circulation

The GTOs – The Captain's Fat Theresa Shoes

The GTO's – Love On An Eleven Year Old Level
___________
GTOs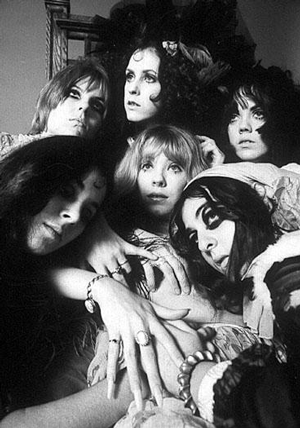 A fan page for the GTOs' only album 'Permanent Damage'
____________
Sample GTOs Lyrics
Love On An Eleven Year Old Level
What does his mother say when we kiss on the doorstep?
(He has to be home by ten)
I wait around 'til three o'clock 'til he comes out of school
He flirts with all the ten year olds
And I'm so jealous I could die
(He just screams Brian Jones!)
Brian Jones! Do you realize this eleven year old kid looks like Brian Jones?
(He just screams Brian Jones!)
A kiss on the cheek would be enough
But when he does more . . . wah! wah!
He has captured my heart . . . Bart
I'm ready to settle down
Do you think your parents would let you quit school at 16?
It's only five years.
I can wait.
He is the ladies man
How could you doubt him, even when he lies?
When he says he's out playing ball
He's being a two-timing man
He has captured my heart . . . Bart
Oh, how he wrinkles my dress and tangles my hair!
(Get in there, Bart!)
Sneak out your window and I'll meet you tonight
And you'll be back in time for school
When we're together, am I eleven or are you nineteen?
He has captured my heart . . . Bart
You're a heartbreaker, Bart Baker.
____________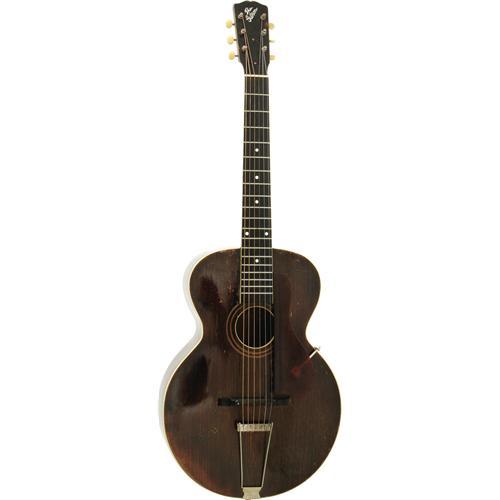 October Music/Entertainment Memorabilia Signature Auction #634
Pamela Des Barres Guitar and Memorabilia Lot.
This vintage 1922 Gibson acoustic guitar was purchased from a Kentucky pawnshop by Des Barres' aunt Mabel in the '30s and, after being secretly coveted by her for years, was passed along to Des Barres in 1969. Pamela would often show off the heirloom to her friends and boyfriends, many of whom would strum it, including such lauded musicians as Gram Parsons, Frank Zappa, Jimmy Page and Robert Plant, and Waylon Jennings — even actor Brandon de Wilde. Page offered her $2,500 for it, and Steve Jones of the Sex Pistols gave her son music lessons on it.
This guitar is in Very Fine to Excellent condition with appreciable wear, and has Aunt Mabel's initials stenciled on it. Included with it are signed copies of Des Barres' memoirs, I'm With the Band: Confessions of a Groupie and Take Another Piece of My Heart: A Groupie Grows Up, as well as her non-fiction book Rock Bottom: Dark Moments in Music Babylon; a feather boa from Des Barres' personal wardrobe; a copy of the GTOs' 1969 LP Permanent Damage, signed by her; and a vintage Mothers of Invention concert poster (for a show that also featured the GTOs and Alice Cooper) — all in overall Excellent condition with very light to mild wear.
For more information, visit Pamela Des Barres at myspace
____________
Groupie and/or Pal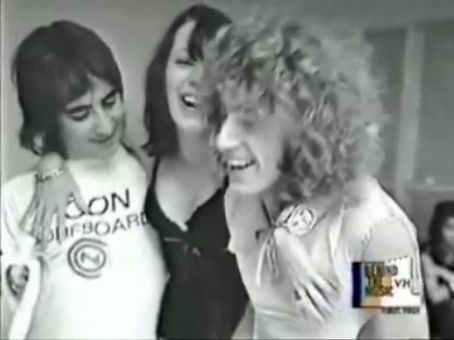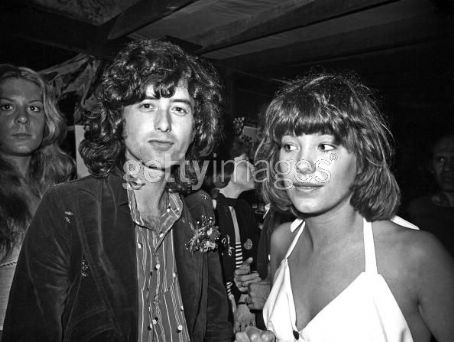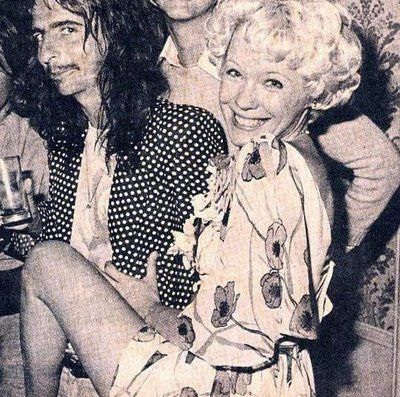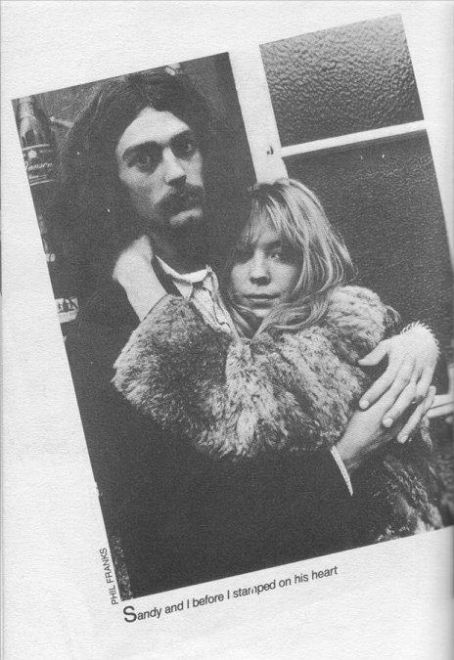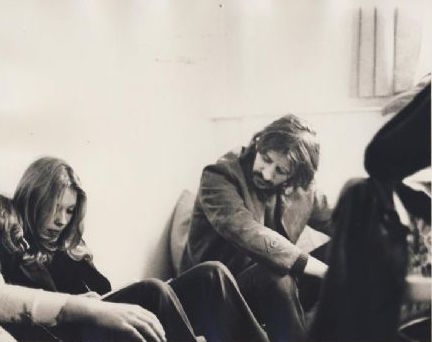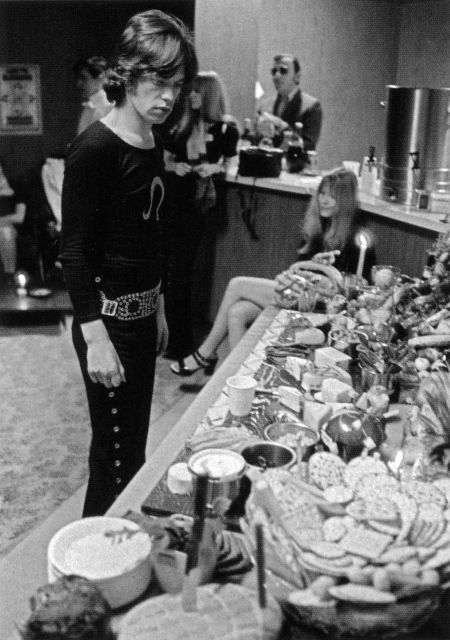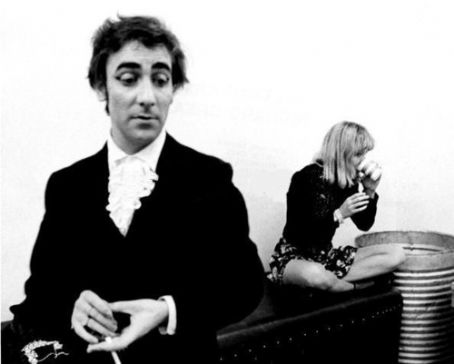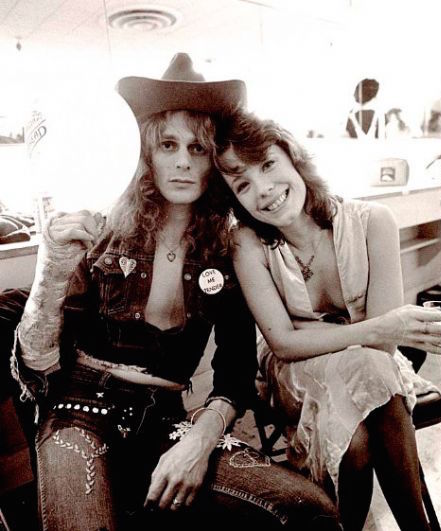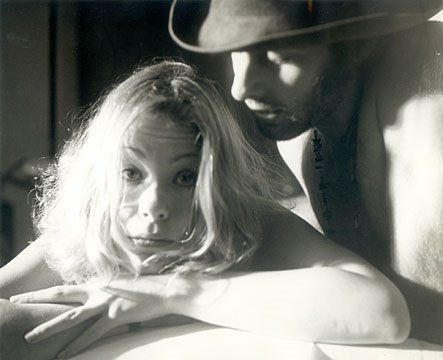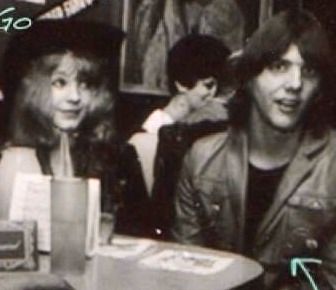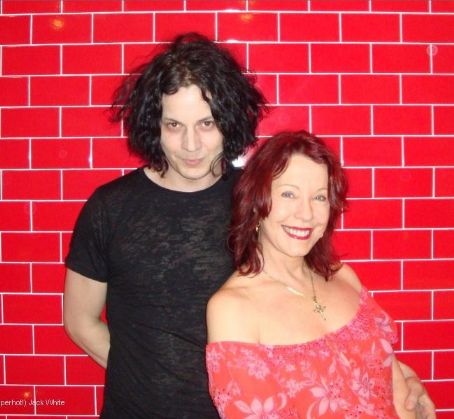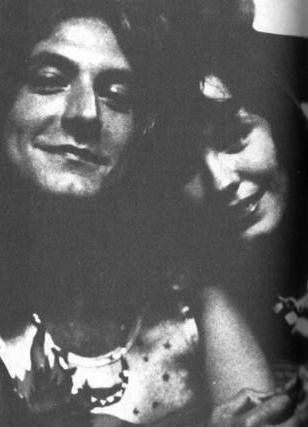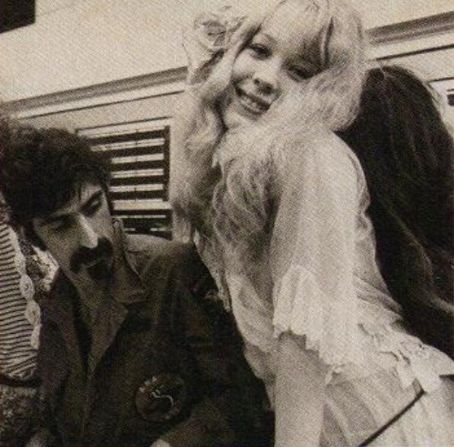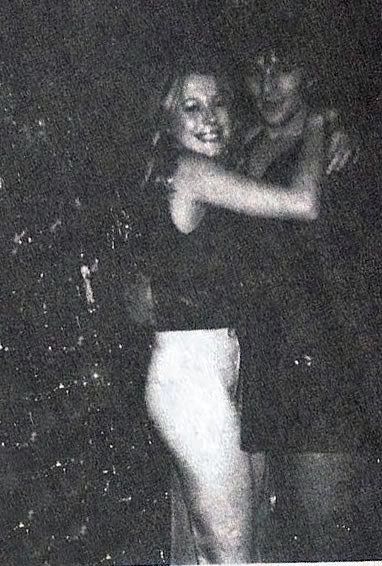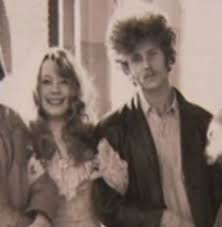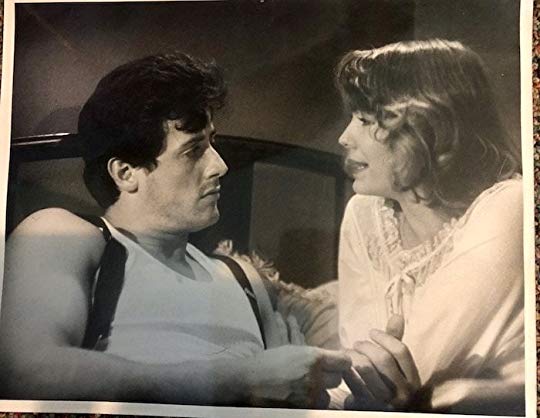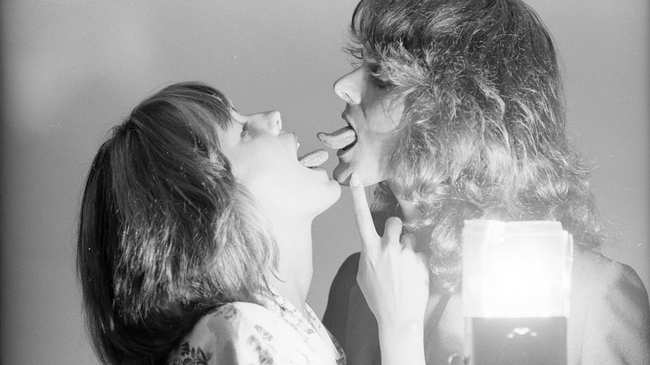 ______________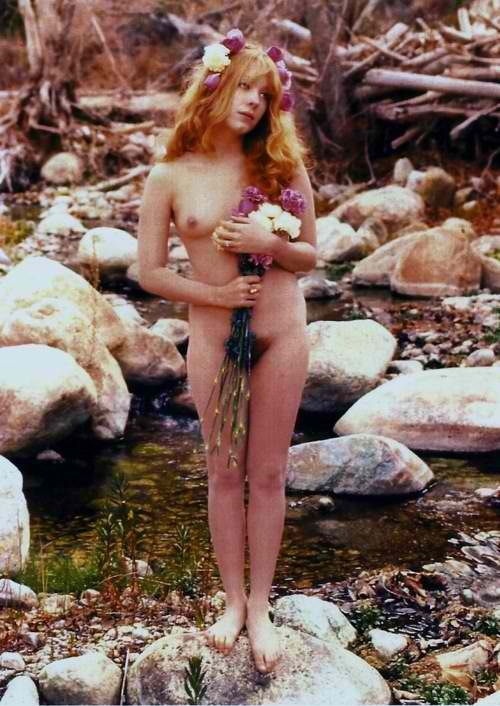 Love Letters from a Groupie: Pamela des Barres
from The Weeklings

How did your first book come to light?

Pamela des Barres: Stephen Davis had interviewed me for Hammer of the Gods, and at the same time, I was taking one of my many, many creative writing classes. I had always kept that up because I knew I was going to write someday. After he interviewed me about Zeppelin, he said, "You know, you should write your own book because you have some amazing stories." Meanwhile one of my writing teachers had just suggested the same thing to me because I had written about my early Stones experiences. She said, "Oh my God… you've got to write this." So it was a double whammy. I just started writing—on a typewriter, because this was 1985—and I sent it all over the place. I found an agent to help me, and everybody turned it down.

Eventually though, a publisher grabbed it.

PdB: Right. After Hammer of the Gods came out, which was a huge success, one of the companies who had turned my book down the first time—William Morrow—signed it. It came out in 1987 and it became a bestseller, which was a shock. When you write a book, you never know. You never know if anyone's going to buy it at all!

When you were writing it, who did you see as your audience?

PdB: Peers, mainly. At least at that time, although I had no idea that it went across all ages. I just saw music lovers, peers and people interested in the 60s, because they always seem to be around. It's going to get even bigger, I think. The longer the time passes, the mythologies become more and more unbelievable. But I just wanted to write. I just wanted to get the story out, for whomever might be interested, because it was a very special time—a special city, special age group that I was in, everything. Everything was perfect and I just wanted to share that.

The expression "Sex, drugs and rock and roll," has become somewhat ubiquitous now. You were one of the people who tapped into all three of those. Was there ever any concern on how much or how little you wanted to disclose?

PdB: I was worried about my dad reading it, and one of the reasons that I didn't start writing it until he passed away was because he would not be able to handle it. (laughing) I was worried enough about my mom, but she and I were so close and she knew a lot of it already. But as far as the people I was writing about, no. No, because I was telling my story and my truth and I'd never busted anyone on anything. No one got upset. No, I just told the story from my truthful point of view. And I had a lot of diaries so I remembered things in pretty good detail, and I used a lot of diary entries, which I think brought a lot of people into the moment.

And it did become very successful. Were you surprised?

PdB: Yes, I was very surprised, because you have no idea if anything's going to sell. And in those days, luckily they put me on the road. Most authors don't get to go on the road anymore, but they put me on the road first-class all the way. It was the first groupie book, and I didn't realize it was any kind of big deal, but I got on the Today show, and Larry King, and the Tonight Show, so it was pretty fabulous. Exhausting, but fabulous.

Before your book the word "groupie" conjured an opportunistic…

PdB: It still does. I'm still trying to retrieve that word. My most recent book, Let's Spend the Night Together, was about a bunch of other groupies. I'm still trying to set that word straight, because all it means is just a music lover who wants to be near the band. Period. That's all it means, in whatever capacity. Sexual? Sometimes yes, but also friends, helpers, assistants, guides… we wanted to uplift and enhance these people who moved us so much. That's all that a groupie is. They are music-loving muses.

That's an interesting turn of phrase, because it puts the groupie on both sides of the creative process- they enjoy the music, and they also inspire it.

PdB: You love the music so much, and the men know that you love it. All men want to be revered and admired for what they do. Women do too, but men even moreso, OK? So with men, if you love and admire what they're doing, if you understand what they're doing and you comment on it, ask questions about it…if you're beholden to them for what they create, then they want you around. They want to share it with you, they want you as part of their world, and that always made me feel good, because I could bring some joy into the lives of these people that brought me so much joy.

You've met on a very personal, and occasionally intimate level, the biggest of the big in modern music. How did you do that?

PdB: I was in the right place at the right time with the right look and the right taste. Mick Jagger came up to Miss Mercy at a Burritos gig and said, "Please introduce me to your pretty friend." That's how I met Mick. Jimmy Page's road manager came up to me at a Bo Diddley gig and handed me his phone number and said, "He's waiting for you in room 605." I didn't have to go after these people. I was in the GTOs, I had an all-girl group, I was hanging out with Zappa, and I was in the thick of everything in Hollywood. People wanted to meet us. Early on, of course, I chased the Beatles, I tried to meet the Stones—and I did meet a couple of them when I was with Captain Beefheart—but I was just in the right place at the right time, but with the right attitude and the right love of the music, and my appreciation of what these people were doing was completely sincere.

Out of all of the well-known musicians that got to know, with whom did you have the deepest connection?

PdB: There's so many… Well, Jimmy Page and I had an amazing affair that went on, and on, and on and it was deep and wild, and crazy, and tempestuous and fantastic, there was that romantic level. On other levels, Zappa was my mentor; he brought out in me all sorts of creativity I didn't know I had. That was his main gift, I think. He insisted on it. He wanted you to be more of yourself than you'd ever really been, and he wanted to find out who you really were. He wanted everyone to be themselves, to a huge degree, and then he wanted to encapsulate that and share it with the world. So the fact that he wanted that out of me, was such an incredible gift. It made me want to express myself. The other person whom I still feel soulfully connected to is Gram Parsons, even though it was Chris Hillman who I was in love with, but Gram and I were soul mates. We just had an incredible connection.

Do you think that history has given Gram a fair shake?

PdB: Yeah, I think it's going to get better and better. It's gradual. But he's not going anywhere, and his music's not going anywhere. He's heavily-featured in my new screenplay, and he would have liked that. I had always promised him, before death and after death, that I would carry his music to the world in any way that I could.

His eventual drug dependencies and some of the behavioral fallout of that habit have left him with somewhat of a complicated legacy. Where does the truth lie?

PdB: He was a gentle Southern boy—funny, brilliant… He knew what he wanted to do and he had a mission. That was mainly all he cared about, and unfortunately he got sidetracked by drugs, like so many others did. But his mission was to prove to the world that there was no separation in any type of music. The cosmic American music thing was real for him—he was connecting all the dots and he didn't want there to be any separation between types of music and music lovers. He wanted to bring everyone together.

Is it safe to be a groupie anymore?

PdB: It's never been safe to be a groupie. Anyone who lives out of the box and who's living their lives in a way that will inspire others to judge and point fingers and be envious of…that's never safe.

How do you think it's different today from when you were in the mix?

PdB: It's more difficult to meet your dream man. I used to be able to just walk into the Whisky and sit on Ray Davies' lap and wave to Pete Townshend. These were very special days. Somebody just put up for a auction some pictures of me, Miss Mercy and Gram Parsons all sitting in a booth at the Whisky, and I can't afford to buy them and I'm very upset. Things like that come up and I'm like, "My God, there I am with Gram…" These are pictures I'd never seen before. People didn't carry cameras around in those days. I certainly didn't but if I did, I'd be rich right now. But you didn't think of it back then, because you were so busy living that you didn't want to stop to capture the moment. Now, people at gigs have their phones up and everything. It makes me sick! You're missing the moment! Yeah, you may be capturing it to look at it later, but I don't get it.
_______________
Media

Jimmy Page, the truth behind this photo…

Bratmobile, The Bellrays, Pamela Des Barres on Chic-A-Go-Go

Groupie Couture, Vintage inspired Groupie-Wear by Pamela des Barres

Pamela Des Barres on a game show w/Karen Campbell…
____________
Journalist
The Lizard of Aaaahs: Pamela Des Barres Remembers Jim Morrison
The first time I witnessed Jim Morrison slither onto a stage, I was bombed out of my mind on a very early version of PCP called Trimar. My friend Jerry, the bass player for the Iron Butterfly, smuggled it out of the hospital where he worked during the day. He got it in quart jars and gave it right to me. Wasn't I just the lucky one? An itsy-bitsy vial sold for for ten dollars on the street, so I was very popular that balmy night in Hollywood.
The club (a tiny underground cavern called Bido Lidos) was packed. I held onto sopping lace hankies of this incredibly dangerous drug – inhaling, giggling, waiting. The news was out all over town that this new band, the Doors, had a gorgeous, hot, divine singer. All of us wild and loony girls couldn't wait to get a load of him. The anticipation was high, and so were we. The band played for a few minutes without this divine singer. They were pretty cool – lots of organ, kind of moody and steamy. JIm Morrison didn't really walk onto the stage that evening. I know I was struggling with reality, but somehow he was just THERE. (Read the rest)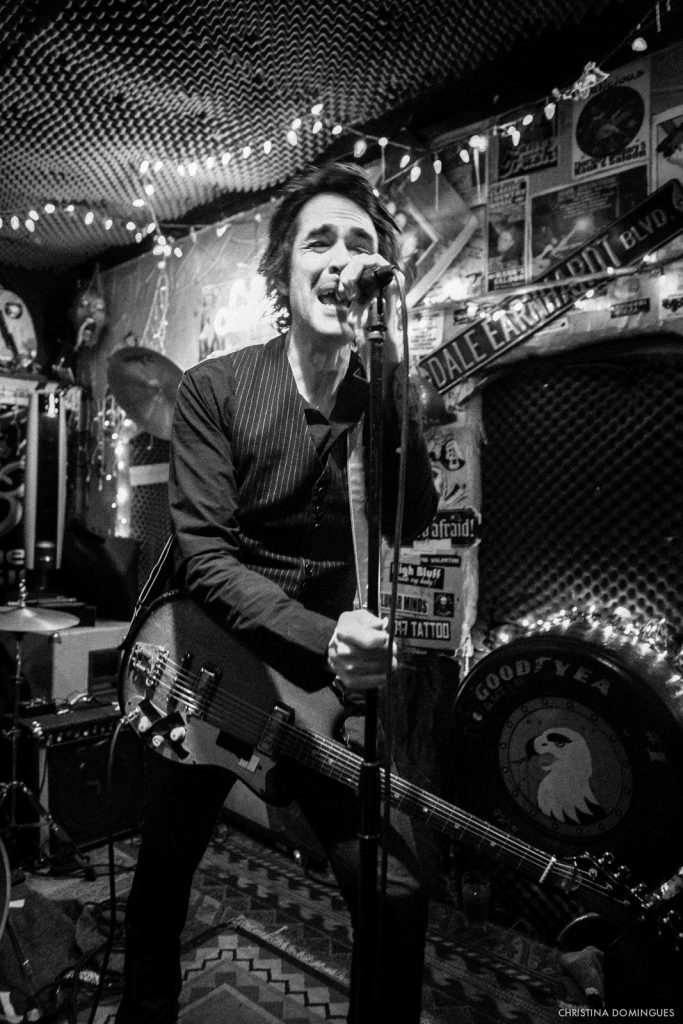 A Cup of Coffee with Jon Spencer
I really adore stunning, dramatic, enigmatic, tense, moody, brooding rock guys. Especially with tousled pitch black hair and blazing blue eyes, fine porcelain skin, chiseled cheekbones and a massive truckload of raw, inbridled, smart, cheeky talent. Therefore, I am enthusiastic as I wait on the round velveteen couch in the would-be classy, yet divinely cheesy Hollywood Roosevelt Hotel for Jon Spencer to show up. Though he's a steamy, manic, whirling, Elvis-y hunk of stuff on-stage, I know Jon is supposed to be a difficult, reticent interview, so I have my Deep questions ready just in case. The Higher Power stuff usually creates a passionate exchange between interviewer and interviewee. I figure I'll have to pull it out for Mr. Spencer. We shall see. (To read the rest, use this link then click on 'Interviews on PDB.com')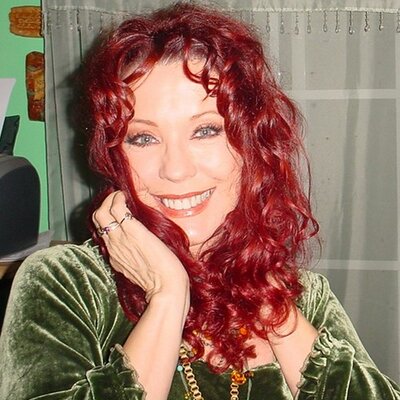 Eleganza: Pamela Des Barres on SXSW
I often complain that the pomp and visual majesty petered out with big hair bands like Mötley Crüe, but at least they're dolling up on stage these days. Speaking of dolling, I eagerly looked forward to seeing the New York Dolls' gig at Stubbs, certain that David Johannsen wouldn't disappoint. Although his sublime face is carved and ravaged, Johannsen somehow still retains an aura of youthful belligerence with his feathery bangs and long fluffy do. And I was dead chuffed that a sheer double layered chiffon skirt emblazoned with the image of an Indian god floated around his black leather trousers. He did sport a flowery girlie blouse over the dreaded t-shirt, but at least it was blazing orange and clung ferociously to his fat-free frame. Up and down his ropy arms bangles chimed and jangled, along with the requisite glistening layers of chains and crosses. Sylvain Sylvain modeled a smushy street urchin cap and the new guitarist did a spot on dyed-black ratty-hair version of the late Johnny Thunders, complete with lip-glossed sneer. At least they were Dressed Up. (Read the rest)
—-
*
p.s. Hey. I'm on a train from Mayenne to Paris this morning. Why don't you pay tribute to the wonderful Pamela Des Barres via this quite ancient and out of date restored post whose heart was — and still is — in the right place. See you tomorrow.