* (restored)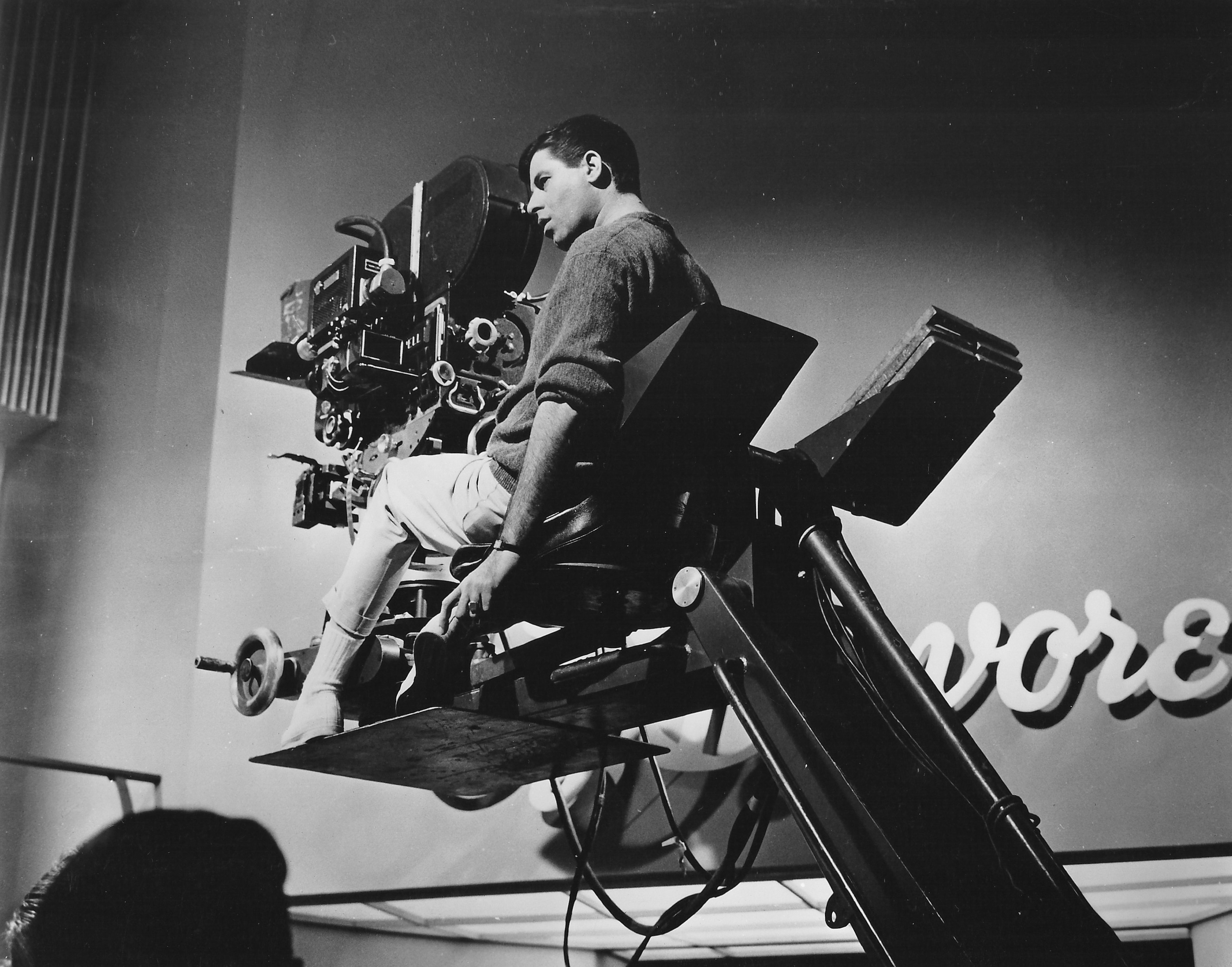 'Jerry Lewis is the only American director who has made progressive films. He was much better than Chaplin and Keaton. He could have made marvelous movies, but he won't now…because of the time in which he is living. If he had lived during the October Revolution, he might have made a magnificent movie.' — Jean-Luc Godard
'The setting: a small movie theater on Paris's Left Bank, not far from the Latin Quarter as well as the chic stores on rue de Grenelle and boulevard Saint-Germain. The time: 14.00 on a recent Wednesday afternoon. The scene: 25 or so people lined up in the hot July sun waiting for tickets to go on sale for the inaugural screening of an actual two-week Jerry Lewis film festival. Today's movie is The Nutty Professor—or Docteur Jerry et Mister Love, as the 1963 film is known in France. A Jekyll-and-Hyde takeoff, it is widely regarded as among Lewis's finest works as writer-director-star. The ticket queue is well behaved but palpably eager.
'Whetting our appetite, a handbill for the retrospective quotes Robert Benayoun, film critic and director of the documentary Bonjour Monsieur Lewis, on The Nutty Professor: it is a work that "confirms" Lewis as "not only a corrosive satirist but . . . an audacious colorist, and a bold juggler of sonic effect." A catalog, written by the film historian Emmanuel Droux, author of Le Cinema Burlesque, pokes fun at critics who cite this movie as the masterpiece in Lewis's oeuvre—as if there were only one! That said, Droux notes that The Nutty Professor "remains a staggering film," so much so that even Americans, despite their inexplicable aversion to Lewis, seem to appreciate it. That is true: Eddie Murphy remade the picture in 1996, successfully enough that a sequel followed in 2000, and a third has been threatened. In 2004 the original was added to the Library of Congress's National Film Register (though it is possible this was merely a harmless sop to French sensibilities at a low point in Franco-American relations).
'The Parisians outside the theater are happy to share their own enthusiasm for Lewis's work. I introduce myself to one elderly, stylish woman—unabashedly gray hair, nicely coifed—and explain in my infantile French that Americans are fascinated and amused by the French passion for Lewis and would she be so kind as to explain why this passion persists. "Pourquoi?" she asks with a shrug. "Pourquoi?" The question lingers in the air, rhetorically, philosophically, as if the answer were both obvious and beyond words.
'A younger woman—silk scarf despite the heat—answers me in English. "Because he is funny," she says with a smile and an infectious laugh. Bien sûr: That would be my answer, too, if I agreed with it.
'A middle-aged man—cargo shorts, mandals—is eager to talk "Jerry." He praises the director's technical innovations, including his pioneering use of video playback; bemoans older prints of the films in which Lewis's mewling nasal-isms were dubbed into French ("You miss the nuance—it would be like for you hearing Gérard Depardieu in English"); and speaks knowledgeably about even the more obscure corners of the filmmaker-star's oeuvre, including The Day the Clown Cried, an unfinished and rarely seen Holocaust-circus drama.
'The man turns to his wife, and in French, as best as I can make out, they discuss the perfection of a particular camera movement from The Ladies' Man (1961), which is also on the festival program. "Jerry is one of the best directors of the 1960s," the man then says to me in English, summing up, a hint of emotion in his voice. "I put him with Godard and Leone."
'The tickets finally go on sale, and we file into the theater. By the time the lights go down, the auditorium is a third to a half full, maybe 120 people; not a Cannes premiere, but not bad—even in a country with nearly 11 percent unemployment—for a Wednesday afternoon.
'I have seen The Nutty Professor before and am not a fan, though sitting among this audience, in this city, I hope to discover whatever it is that has previously eluded me. I do like some of Lewis's earlier comedies with Dean Martin—try Artists and Models or Hollywood or Bust, both directed by Frank Tashlin—but most of his work as a director and solo star I find . . . well, unfunny, I guess I'd have to say.
'The humor continues to elude me this afternoon but no one else: the audience laughs appreciatively at even the corniest gags and most belabored slapstick, digging deeper now and then for scattered belly laughs and guffaws. One woman gasps "Non!" in pleasure-pain when the director telegraphs an impending pratfall involving barbells.
'I half-get the intellectual appeal: as a director, Lewis takes the kind of formal experiments Hitchcock loved and applies them to comedy. The Nutty Professor, for instance, has some nice bits involving exaggerated sounds as well as long silences. Lewis's gags may not make you laugh, but you can unpack them—the ones that involve more than him crossing his eyes—the way you can unpack a Hitchcock camera move, a Godard edit, or the color of a Douglas Sirk set.
'Speaking of which: this has been advertised as a restored version of The Nutty Professor, but the hues are wan and bleached out, lacking the acrylic, color-wheel pop I remember from previous viewing—and as my friend on line pointed out, with Lewis "everything is about the color." A New York audience at Film Forum, say, or Lincoln Center, would be screaming at the projectionist and demanding refunds. But the Paris audience doesn't seem to care. Bathing in genius, even improperly filtered genius, appears to be reward enough. Or maybe Jerry intended the hues to be wan? A reflection of the colorless, dehumanizing modern society that is the comedian-trickster's foil? Anyway, lights up. Applause.' — Bruce Handy
___
Stills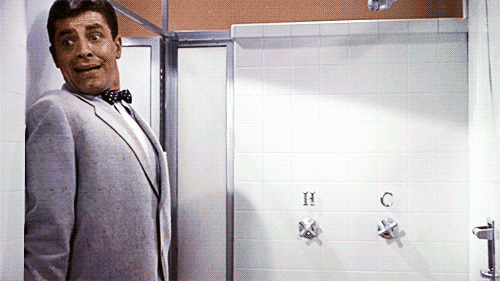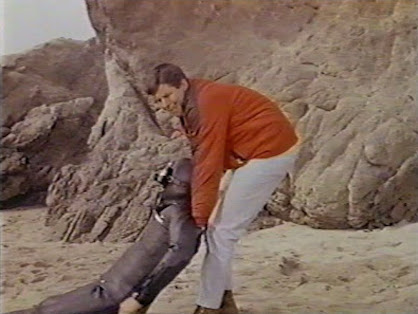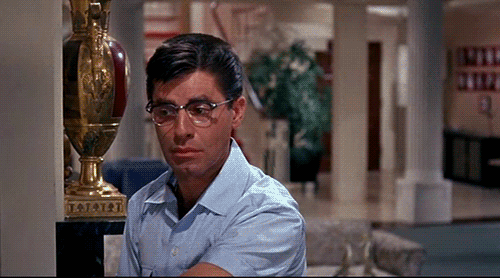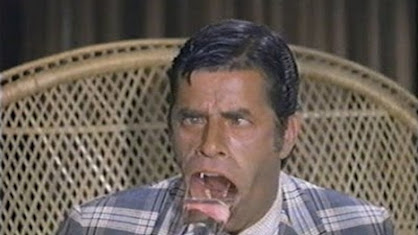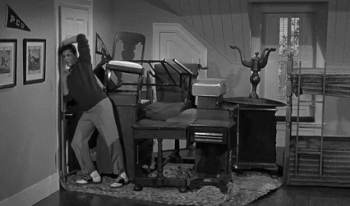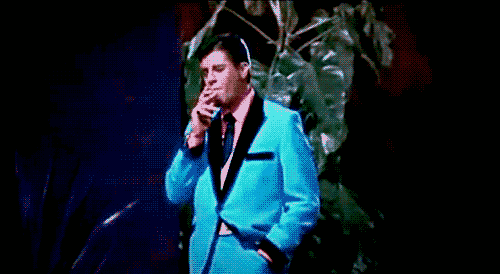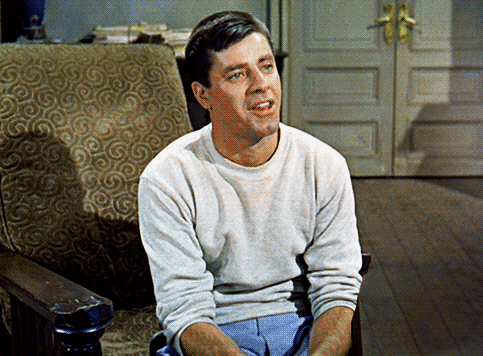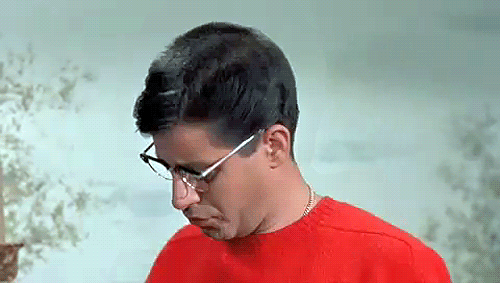 ____
Further
Jerry Lewis @ IMDb
The Official Jerry Lewis Comedy Museum and Store
Jonathan Rosenbaum 'The Lewis Contradiction'
'Was there ever a man or movie star less ordinary than Jerry Lewis?'
'Repelling Rejection, or: The Disappearance of Jerry Lewis, and Some Side-Effects'
'You Have To See… The Ladies Man'
'METHOD TO THE MADNESS OF JERRY LEWIS'
'Digging Down Deep: Jerry Lewis in Conversation With Peter Bogdanovich'
'OF JERRY LEWIS, THE FRENCH, AND AN UNDYING MYTH'
'11 Facts You May Not Know About Jerry Lewis'
'"The Jerry Lewis": The Untold Story of the Beastie Boys Single That Never Was'
King of Comedy: The Jerry Lewis Page
'Jerry-atrics!'
Book: 'Why the French Love Jerry Lewis'
'The Ramones on the Jerry Lewis Telethon'
Jerry Lewis Fans Forum
'Jerry Lewis and Love'
JERRY LEWIS FOREVER JOURNAL
_______________
Martin Scorsese, Jacques Rivette, Louis Malle, Luc Moullet, Orson Welles, Rainer Werner Fassbinder, and Jean-Luc Godard reflect on Jerry Lewis
______________
Jerry Lewis interviewed by Dick Cavett
______________
Jerry Lewis Teaching Filmmaking at USC in 1967
____________________
'The Total Film-Maker, Jerry Lewis' book on filmmaking, is taken from 480 hours of audio tape, recorded as Jerry taught filmmaking at the University of Southern California, 1970. It's considered one of the best books written about filmmaking ever. It was printed in 1971 and has been out of print since then.' — Cinephilia and Beyond
___________________
13 of Jerry Lewis's 13 films
______________
The Bell Boy (1960)
'The Bellboy opens with a comically defensive apologia-cum-defense of the film's alleged "plotless" nature via Jackie Mulchen (actually character actor Jack Kruschen), the "executive producer in charge of all productions" at Paramount, who describes the film as nothing more complicated than "the diary of a few weeks in the life of a real nut." In retrospect, the nod toward modesty that kicks off Jerry Lewis's career as a director is probably a punchline in itself, as The Bellboy clearly sets a standard of self-involvement and examination in Lewis's work that is so successfully hermetic that it scarcely needs the approval of the audience. (In fact, the film's centerpiece scene portrays Lewis conducting an imaginary orchestra in front of a vast ballroom of empty chairs, in effect suggesting that all the cinema of Jerry Lewis needs is Jerry Lewis.) The Bellboy is nearly silent, in what could easily be taken as a nod toward French comedy titan Jacques Tati, though Lewis centralizes and foregrounds his cinematic alter ego (the bumbling, premasculine social misfit) whereas Tati spent his career trying to move himself back into the fabric of society. It could more likely be that the silent schematic is merely one characteristic of a cinematic work by a man intent on stripping away all elements that might distract from his more immediate themes: celebrity solipsism, as well as the havoc wreaked on solipsism by the intrusion of an alter ego. (It's a theme that would eventually be refined and partially sterilized in The Nutty Professor.)' — Paste Magazine

Trailer

Excerpt

Excerpt
___________
The Ladies Man (1961)
'Whether you're a fan of Lewis's eccentric comedy or not, this film is worth watching for its legendary "dollhouse" set alone, supposedly the largest built by that time (it occupied two Paramount soundstages), and still one of the most elaborate ever constructed. Within the film, the dollhouse is an all-female boarding house, where Lewis's character (the woman-hating Herbert Heebert—obviously a stab at the recently published Lolita) rents a room for reasons quite frankly unimportant (i.e., so that there can be a movie). Once ensconced, Lewis restlessly mines the cavernous interior for jokes (did you see the part where he splits into four, four minutes into the above clip?) as well as metatexual play. Unsurprisingly, that set inspired homages in several other films: Jean-Luc Godard and Jean-Pierre Gorin's Tout va bien, Martin Scorsese's Gangs of New York, Wes Anderson's The Life Aquatic with Steve Zissou, and others.' — Big Other

Excerpt

Excerpt

Jerry Lewis on "The Ladies' Man"
________
The Errand Boy (1961)
'The perfect companion piece for Jerry's directorial debut The Bellboy, The Errand Boy is both its mirror and its opposite. Again, we're given a minimally-plotted series of outrageous gags riffing on the misadventures of a lowly schlemiel in a big, pretentious institution — but whereas The Bellboy was a quiet film, a silent film homage in an environment of luxury and relaxation, The Errand Boy is more like a noisy, manic film shoot wrap party capturing all the crazed energy of the biz. It's also Jerry's love letter to filmmaking — shot all over the Paramount lot, it's a virtual documentary of the industry that could have been called "A Day at the Studio." The film gives you riffs on every aspect of filmmaking, from ADR sessions to test-screenings, and every profession is gently mocked from the mailroom shlubs all the way up to the starlets. A rollicking, raucous, timeless romp!' — Cinefamily

Trailer

Excerpt

Excerpt
______________
The Nutty Professor (1963)
'For decades, Jerry Lewis has been the butt of jokes having to do with the French. Despite his particular genius onscreen, and his technical prowess offscreen as an innovative Hollywood director, most Americans have written him off as if to say, "if the French love him so much, they can have him." Even Lewis detractors will begrudgingly admit that The Nutty Professor (1963) is a good and funny film. Lewis plays a dual role as the nerdy weakling Professor Kelp and the arrogant, super-cool nightclub lizard Buddy Love, after the professor invents a formula to make himself stronger and more confident. Mostly he does this to impress his unbearably adorable student Miss Purdy (Playboy Playmate Stella Stevens, in her most famous role). Lewis presents the film with a bright, bold color palate, emphasizing primary candy-store colors, but darkening them for the appropriate moments, such as the first (fairly frightening) transformation sequence. His eye for visual and aural humor really comes out here, as in the sequence when a big buffoon of a student stuffs the professor onto a shelf. We hear the stuffing and the tinkling of glass, and then the student walks across the frame, giving a slow reveal to the visual payoff. Lewis also shows a genius for silence, timing long, quiet moments before a gag, such as visiting the dean's office and sinking into his soft leather chairs with a withering sigh.' — Combustible Celluloid

Trailer

Excerpt

Jerry Lewis on 'The Nutty Professor'
________
The Patsy (1964)
'In one of the most self-reflexive films in the Lewis canon (originally conceived as a sequel called Son of the Bellboy), The Patsy chronicles a young bellboy chosen at random to be transformed into a famous actor, Pygmalion-style, by an out-of-work entourage who just lost their movie star employer in a freak accident. What transpires is a stage-by-stage satire of the Hollywood machine, and some of Jerry's best signature fake-bad performance pieces — a hapless and hilarious attempt at lip-synching, the ultimate cringe-inducing, cricket-chirping standup act, and a singing lesson that literally brings down the house. Here, Jerry's perfectionist nature also shines, as the famous "vase" sequence is a master stroke in physical timing — requiring weeks of rehearsal just to stage himself catching a plethora of falling vases in mid-air a fraction of a second before they would smash on the ground. The last of Jerry's big-budget Paramount pictures, The Patsy closes out an era in style — and with plenty of deep laughs.' — Cinefamily

Trailer

Excerpt

Excerpt
________________
The Family Jewels (1965)
'In his Senses of Cinema profile on Jerry Lewis's directorial career, Chris Fujiwara notes that The Family Jewels is something of a transitional film between Lewis's classical period and his diffuse, presumably more uncontrolled films. Considering that it brings back a reasonable facsimile of Dr. Julius from The Nutty Professor, it occasionally plays like the extended version of his film-capping curtain calls. In a storyline that dangles perilously over the edge of cutesiness at a number of turns, Family Jewels centers around a rich, recently orphaned girl, Miss Donna Peyton (Donna Butterworth, in a thankfully unsugary performance that's half precociousness and half tomboy), who will inherit her family's $30 million till if she successfully chooses one of her six uncles to be her new father. Like Nutty Professor, the film's premise seems to center around a very clear set of narrative rules, but they are all but undercut in the first scene by the notion that Donna's most suitable guardian is her family's chauffer Willard (Lewis, who also plays the film's parade of six uncles). The two exchange hugs, kisses, in-jokes, and every other possible iteration of filial love to the extent that the film's eventual plot outcome is as devoid of "suspense" as possible. This accounts for the vaguely funereal tone of the film, set clearly by the scene Fujiwara isolates: the desultorily contemptuous monologue spoken by Donna's Uncle Everett (in clown make-up) about how much he loathes his audience, "squealing brats" all of them.' — Slant Magazine

Excerpt

JERRY LEWIS directing 'The Family Jewels': tribute
_________________
Three on a Couch (1966)
'"There couldn't be two Christopher Prides," is one of the first sentences with which Jerry's character introduces himself. That Pride is an artist given to masquerade and manipulation for reasons of the heart once more underlines the prominence given by Jerry to parallels between his film incarnations and his real-life situation. Overall, Three on a Couch may not be Jerry's greatest achievement, but the touching and even the dark parts of his shenanigans resonate. Despite a few quintessentially Lewisian detours into the crazy—for example, an incredible, incoherent monologue in entomologist disguise, consisting of perfectly timed rapid-fire half-sentences nervously delivered with utmost conviction—this is the first of his directorial efforts for which he takes no co-writing credit. The screenplay is essentially a typical farce, obliquely reflecting that boulevard theatre perennial Boeing Boeing, the film adaptation of which Jerry had co-starred in a year earlier. Three on a Couch follows Jerry's deliberate divorce from the "kid" aspect of his persona, already announced in many ways with The Family Jewels. As Pride, he is the romantic lead, whose mounting hysteria is purposely more interesting than anything relating to the three dream-lover types (plus one's sister) that he impersonates, which register almost as sarcastic self-parodies (cigar-chomping cowboy, nerd scientist, etc.). The film builds to a climax with an extended party scene, but Lewis replaces Blake Edwards' elegance with his own impressive, increasingly oppressive and nightmarish arrangement of frenetic comedy via crisscrossing encounters. Also worth noting is that the multiplication of Jerry here is a ruse, just a series of performances, and not some surreal proliferation as elsewhere. Stalwart supporter Kathleen Freeman, usually suffering sensationally at the hands of Jerry's slapstick, is even allowed to switch sides for once—while Buddy Lester climbs new peaks of inebriated inspiration, including an unforgettable cab-door slow-burn—then saves the day after Jerry's trick has been exposed and only the threat of suicide remains. A work of disconcerting containment.' — Cinema-scope



Trailer

Excerpt
________________
The Big Mouth (1967)
'If Thomas Pynchon were a filmmaker instead of a novelist and had directed only The Big Mouth, he might have understandably left it at that—so we should be grateful Jerry stepped in and continued. In the film, individual identity implodes (its arbitrariness, a key Lewis theme, becomes fully threatening) while paranoia is rampant, possibly even inevitable as the only sane reaction to an insane world governed by unspeakable forces—no wonder Jerry as Gary Clamson gives up speaking as the narrative progresses, amplifying the link to The Bellboy with its (almost-)mute Jerry and vacationland premises, this time San Diego in full colour and turned completely sour. Mild-mannered bank examiner Clamson's annual fishing holiday disintegrates after he (literally) reels in his gangster double and is given a treasure map, which Fu Manchu-type enforcers (ridiculous fake beards included) try to retrieve, resulting in three nervous breakdowns, each hood frozen into an eternal stage of comedy: a dumb dog, a stooge (Larry Fine), and a Buddy Lester showcase of twitching nerves and garbled speech. Police are of no help, but suffer their own breakdown, sidetracked into debating the meaning of their own codes; an FBI agent turns out to have long retreated into mental collapse. Jerry disappears into disguises (Kabuki in Sea World?), but there is no refuge, only hysterical extension (as in the Möbius strip chase moment and the good ol' leg-stretch gag) or elliptical reduction, as overall breakdown leads towards wanton aggression in all directions. (This is especially true of the finale, in which several protracted showdown possibilities—helicopter rescue; then Clamson cornered by gangsters on the shore only to be saved by the unlikely reappearance of his double—are telegraphed via a handful of quick shots.) Meanwhile, Robert Aldrich's house composer Frank De Vol strolls around to intermittently interrupt the proceedings as narrator, madly dashing off in the end to expose that he's not wearing trousers. Painfully funny indeed, The Big Mouth precedes Preminger's Skidoo and Edwards' The Party by a year, and like those films is a visionary splintered-society satire cutting through delusions. (What's real? Advertising and Col. Sanders, who appears in an otherwise pointless cameo.) Only complaint: it should be longer.' — Cinema-scope

Trailer

Excerpt

Excerpt
_________________
One More Time (1970)
'Understandably, but unfortunately, neglected even by Jerry enthusiasts (and not included in the retrospective, but unearthed on an old VHS tape), this is the only film Jerry directed without starring in: a sequel to Salt and Pepper (1968) with Sammy Davis, Jr. and Peter Lawford as the eponymous groovy-guys duo drawn into a murder plot. Which brings us to the problem with the narrative (much more pronounced here than in Three on a Couch), which weighs down the film with exposition and weak comedic banter, filmed competently enough and allowing for occasional auteurist insights. (There's a good reason why Jerry usually prefers a freewheeling structure.) But the interest lies elsewhere, in digressions like a butler serving a meal so slowly that inserts show Lawford growing a beard, flowers withering, and white streaks appearing in Davis' hair, or a non-sequitur trip to the cellar leading to a monstrous line-up unique in horror history, as Davis' Hammer pals Christopher Lee and Peter Cushing cameo unbilled in their signature roles. Sudden urges for punchy visualizations are welcome, but rare: at a funeral, the leg-parade of hot black-clad groupies sidetracks an assassin's cross-haired gaze; a weird explanatory flashback while looking at the painting of a castle (the corresponding picture-postcard view on film comes with the end credits). But Jerry is always tickled by performance, notably Davis' songs and comedy routines, which obviously cannot compare to the Jer. His actors put on acts for each other (a costume party included), and Jerry lavishes the insistent attention on them that he usually centres on himself. It is at times hard to bear, leaving the audience with a koan to contemplate: What's Jerry without Jerry? (A bandleader's voice.)' — Cinema-scope

Trailer
______________
Which Way to The Front? (1970)
'Probably the most sustained demonstration of rhythmic brilliance in Jerry's work. He starts out bored at a board meeting, sucking on a pacifier, as palpable exhaustion, even despair, hangs over his richest man in the world, Brendan Byers III, and his staff. These protracted silences are followed by an increasingly breathless movement to a pile-up of rat-a-tat pseudo-Teutonic gibberish, mostly—but not only—by Jerry himself, who is seen preparing by listening to "Music to Mein Kampf By." Confronted with the draft board's rejection (the one word that the supercapitalist cannot bear), Byers III insists on "every man's right to be killed fighting for his country." The year is supposedly 1943—the insert of the date itself a quiet joke in the opening scene, with decor, attire, haircuts, etc. undisguisedly contemporary, as are later stylistic choices like transition swish-pans and punch line freeze-frames. But how far can you be from Vietnam? The absolutely idiotic yet stroke-of-genius coda even continues (ending) the war in Asia, Jerry-trademarked buck teeth and all. Before that (and long before Tarantino), this Jewish retribution fantasy updates the old Nazi impersonation shtick to The Dirty Dozen (1967) times: buying his own army, Byers starts a private war, leading first to his German double Field Marshal Kesselring, with everybody in the platoon getting to strut their version of his silly walk, before Kesselring is captured in a surreally spasmodic scene, then abruptly replaced by Byers, causing a topsy-turvy confusion. (Soon after, Jerry-as-Byers-as-Kesselring mutilates/decorates a German soldier bearing Lewis' own birth name, Levitch.) As a finale, there's the uncanny meeting of finance and Führer, who first performs The Great Dictator (1940) ballet in slow motion, then does a satchel-with-a-bomb exchange pas de deux with Jerry. Which way to the Clown? The mind boggles.' — Cinema-scope

Excerpt

Excerpt
________________
The Day the Clown Cried (1972)
'Jerry Lewis has sworn repeatedly over the years that he would never let the 1972 movie about a clown who led Jewish children to their deaths during the Holocaust, which he directed and starred in, see the light of day. In the film, Lewis plays a down-on-his-luck German circus clown named Helmut Doork, arrested after drunkenly mocking Adolf Hitler and placed in a concentration camp awaiting trial. He later boards a train headed to Auschwitz packed with Jewish children, and, once there, is forced to perform for them, Pied Piper-style, as they are led to the gas chambers. Helmut joins them in the gas chamber in the film's final scene. The unseen film, its premise seemingly ripe for epic failure, has grown into a cult-obsession for cinephiles over the years. Those few who have seen it say it is as bad as it sounds: "You're stunned," says comedian and The Simpsons voice-actor Harry Shearer, who has seen the full film, of the movie's awfulness.' — The Hollywood Reporter

Excerpt

rare clips from the film set

Jerry Lewis answers THE DAY THE CLOWN CRIED question
_______________
Hardly Working (1980)
'What a comeback: "Jerry Lewis Is Hardly Working," is the pun in the credits, and the shorter, lesser US cut is even front-loaded with a montage of signature moments from earlier films, set to the famous typewriter sketch accompaniment, as if Jerry needed a reintroduction after a decade of big-screen absence. Made on the cheap and on the spot in Florida (closing a circle with The Bellboy), this may be the most melancholic film in the Jerriad despite numerous uproarious bits like the Japanese chef assault. In The Family Jewels, Jerry's classic clown make-up masked the bad, here it can no longer mask the sad: Bo Hopper, insecure circus performer, has his brief moment of affirmation, then the banks close down his tour. "There is no place for clowns in this world," Bo later muses (except for politics, he adds: Hardly Working was released first in West Germany 11 days after Ronald Reagan's inauguration, and over a year later in the US), and his attempts to gain employment are inevitably foiled by a natural penchant for disaster (demonstrations range from elaborate slapstick at a gas station to an off-screen symphony of shattering glass as he's shown out of a mirror factory). Applying himself as a mishap-prone postal worker, Bo gradually manages to fit in, until he succeeds with a postal delivery tour de force of mechanical precision—he's become a cog in the machine, but realizes it will cost him his soul. It's the outsider's fictional last stand in a real landscape of economic decline, still saturated by commercial content, with Jerry's generally overemphasized product placement reaching the point of inversion: the world itself has become a billboard. It's product as magic potion, as phrased in the opening narration of The Errand Boy (1961), whose depressive undertow has spread outwards from Hollywood to conquer the Earth. Down to Jerry's disappearance into the landscape in an undistinguished last shot, this would have been a perfect final film.' — Cinema-scope

Trailer

Excerpt

Excerpt
_______________
Cracking Up (1983)
'Thus, inevitably, he made another, making the ever-present concept of suicide in Jerry's films (literally or artistic, attempted or accidental) the through-line for a last loose, soaring series of sketches, stripped down to essentials. Jerry—"Who else?" asks the credits, while Marcel Marceau beautifully sings the main theme—plays Warren Nefron, first seen failing to end his life (loose noose, etc.) until a gunshot is discharged into a TV set, which shoots back: the world reclaimed as stage for a final performance, including a bit of bank-robbing turned musical show for the surveillance camera, or minutes of meticulous slipping and sliding on squeaky furniture and a red studio floor in the office of a psychiatrist whom Warren regales with his grotesque family history reaching back to 15th-century France. There are further misguided suicide attempts: dousing himself in gasoline, Jerry casually searches his pockets only to realize he has forgotten a lighter, then stoically wanders off in wet defeat as the wind whistles. Ultimately redemption is glimpsed, although the rest of the world is instantly engulfed by chaos again. A tacked-on last scene shows Jerry leaving a screening, asked how the movie was: "It's really good, you know!" The only possible shortcoming, as pointed out by Jerry expert Chris Fujiwara: "Too entertaining."' — Cinema-scope

Excerpt

Excerpt
*
p.s. Hey. So this will be my last live p.s. for, I would guess, approximately a week as I'll be caught up in the screenings of PERMANENT GREEN LIGHT and traveling. If you're in SF (Feb. 3, 4) or LA (Feb. 7) please come. You'll get restored posts in the meantime, and I'll give a heads up about the exact date of my live return in the posts' truncated p.s.es once I know. Thanks! ** David Ehrenstein, Hi. I know, I remember. It was beautiful even to drive by that. Thanks about my lag. Unfortunately I jump on a plane to SF today, but I'll be fine. ** Nik, Hi. Oh, my trip has been about warding off sleepiness so far and trying to extend the time of my bedtime so I won't be too zoned out for the screenings starting tomorrow. We'll see. There are screenings in San Francisco tomorrow and Monday, and then Zac and I will drive back to LA for the one here. Other than that, see some friends, I hope. As far as DVD extras, other than an interview, I don't know. That might be it. On the LCTG DVD, we had a scene we'd shot but decided not to use in the film that we liked, so that was the Extra. Oh, good news about Peggy Ahwesh's class. I would have imagined that will be pretty cool. That's a nice first film combo. Yes, I've seen both, and it's a sharp juxtaposition. I'm a big Maddin fan. Thanks a lot. You have swell weekend, and, well, next week, and I look forward to talking with you again pronto. ** _Black_Acrylic, Thanks, Ben. I'm off to SF today, but hopefully that'll work. Oh, shit, should I remove that link? I doubt they'd be able to find it, but I'm happy to. Great luck with the applications. ** Damien Ark, Hi, Damien! Yeah, the PGL + Puce Mary combo should be pretty killer. They're a good couple, I think. Well, that is indeed extremely good news, man! Whoa! Killer! Yes, I will share right now, for sure. And I'll get to it asap, of course. Fantastic! Everyone, A great treat! The awesome scribe Damien Ark has some excerpts from his forthcoming novel 'Fucked Up' available for your reading pleasure on the Expat Press site, and, needless to say, I super encourage you to reward yourselves with a read. Here. Again, congrats! That's really such good news! Take care, buddy. ** Keaton73, Ooh, beautiful destruction. Nothing better? ** Okay. This weekend I return to life my post making the case for Jerry Lewis as a filmmaking auteur, which is a controversial idea outside of France, I think. Give it a chance. The blog will see you on Monday, and I will rejoin it and see you again in some days. Have great weekends, etc.!