* (restored)
_________________
Sometimes stuff happens in Marikina that I just, for the life of me, CANNOT explain. They're not bad things. Just very STRANGE things for a sleepy little town like this. For instance this nameless sculpture by a nameless artist that sits right in front of the Marikina Health Center along Shoe Avenue. This statue used to be tucked away behind the Marikina Wet Market but it gained such a confused, cult following that the city government decided to put it somewhere more visible and central. BECAUSE WHO WOULDN'T WANT TO SEE THIS, RIGHT? Who wouldn't want to see a rough, plaster sculpture of a doctor (wearing a stethoscope) holding a bucket to what seems to be a kid's butt. I don't know. I DON'T KNOW. DOES THE WORLD MAKE SENSE AT ALL?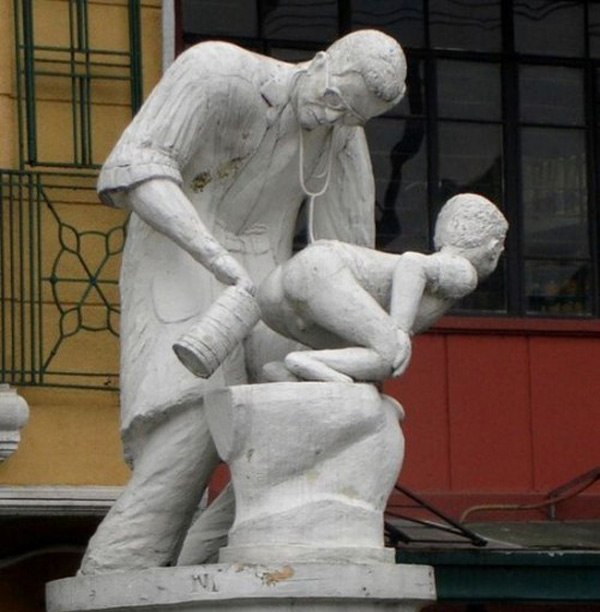 __________________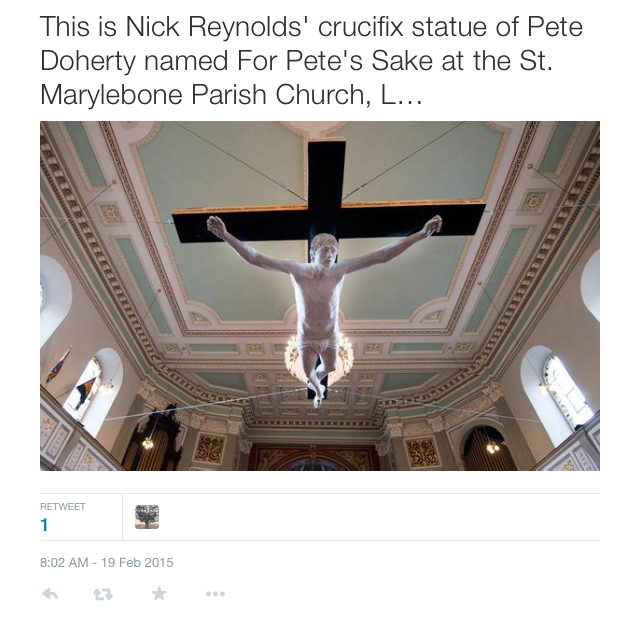 _______________
Statue on State Street, Santa Barbara: Man offering Hershey Bar to child.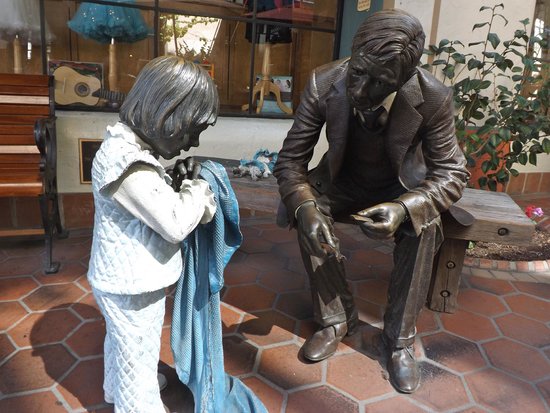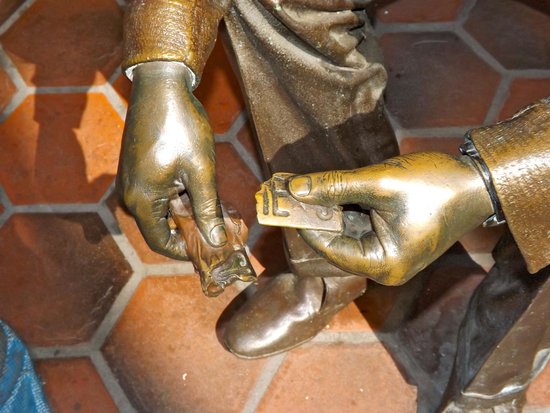 ________________
An ancient statue made as an offering to Osiris, the Egyptian god of death, that is currently housed at the Manchester Museum in England has suddenly started spinning inside its closed display case — and no one seems to know why. A time-lapse video released by the museum shows the 4000-year-old relic of Neb-Senu slowly turning around inside its case without any apparent assistance from the outside world. Found in a mummy's tomb some 80 years ago, the statue has been kept encased at the museum ever since. Its current caretaker, Campbell Price, was the first one to notice the strange phenomenon, and says he first realized something was off when he found the statue askew, reset it, and then found it askew again the following day. "In Ancient Egypt they believed that if the mummy is destroyed then the statuette can act as an alternative vessel for the spirit," Price, and Egyptologist by trade, told the Manchester Evening News. "Maybe that is what is causing the movement."
_________________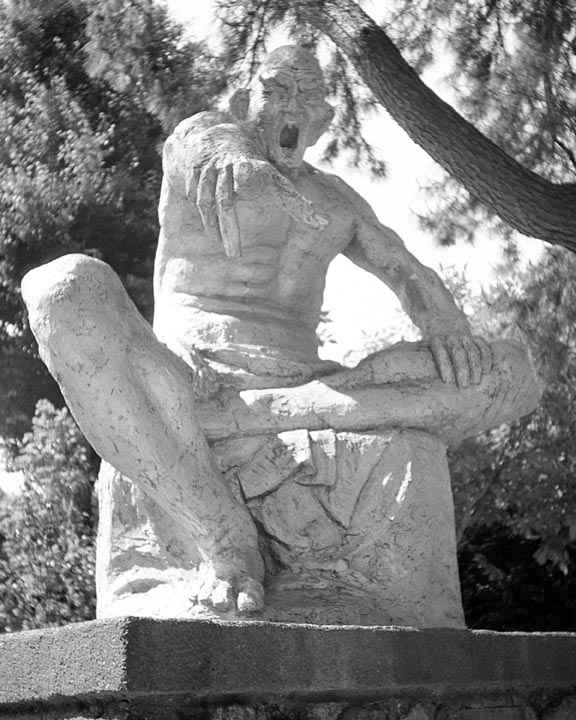 _________________
If you're thinking this looks like a shit statue, a lot of people agree with you. But you'd be wrong. It's also a shit fountain. It's called Cocozao. It's located in the town of Ponta Grossa, Brazil, and it's actually supposed to represent a local tree called the Araucaria pine. For reference, see the photo of an Araucaria pine below. But for those thinking of packing for a pilgrimage to pay respects to Cocozao, the people of Ponta Grossa finally bowed to national pressure in 2009 and demolished the statue.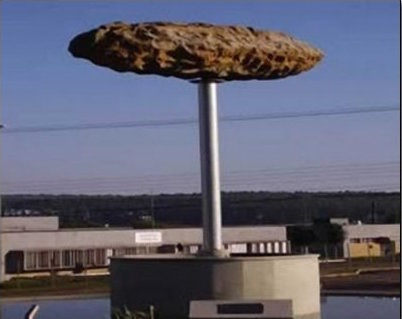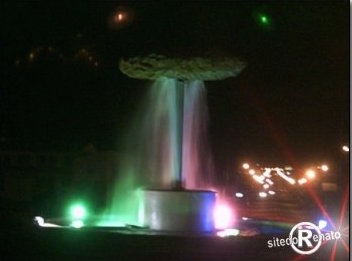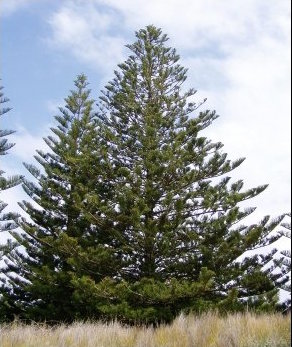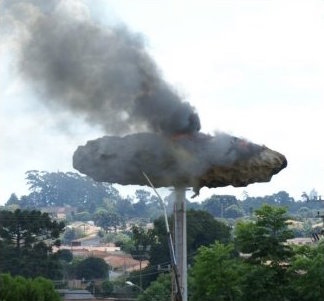 _________________
An unfinished 27-meter stone statue of Soong Ching Ling (1893-1981) in Zhengzhou, Henan Province, has been quietly removed, Xinhua News Agency reported on July 4. The controversy over the statue of Soong, who is also known as Madame Sun Yat-sen, first emerged in November 2011, when the Fujian-based Quanzhou Daily reported that the Henan Soong Ching Ling Foundation would spend 120 million yuan (US$19.58 million) on the construction of the statue to mark the 100th anniversary of the 1911 Revolution that toppled the Qing Dynasty (1644-1911). Zhao Zhimin, a representative from the foundation, confirmed that the Henan provincial government was investigating the matter, but declined to comment further. The statue's former site, near the Henan Soong Ching Ling Foundation, in downtown Zhengzhou, is now surrounded by scaffolding and a thick protective net.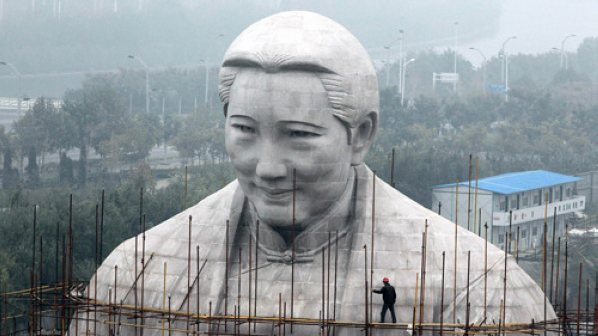 _____________
Jennifer Lawrence has revealed that she no longer has her Oscar statue as it gave out a 'weird energy'. Jen won the Best Actress gong in February for her role in Silver Linings Playbook but she felt uncomfortable with having the award. 'My parents took it back to Kentucky, because it just kind of puts a weird energy out,' says Jen, 22.
________________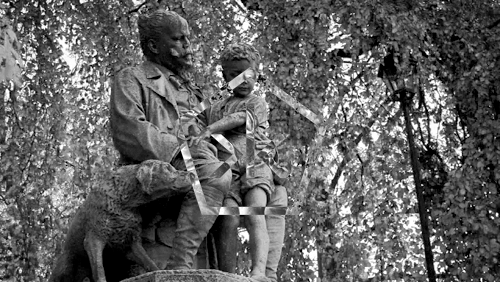 _________________
The Denver Airport has been plagued by conspiracy theories about its true purpose almost since the day construction crews broke ground on it in the mid-1990s. For example, the giant, red-eyed horse sculpture at the gates of the airport really did kill the sculptor who created it. He died of blood loss when part of the statue fell on him in his studio. In the snippet of a conspiracy video about DEN below, the narrator speculates about how this bloodthirsty horse sculpture might be connected to time travel.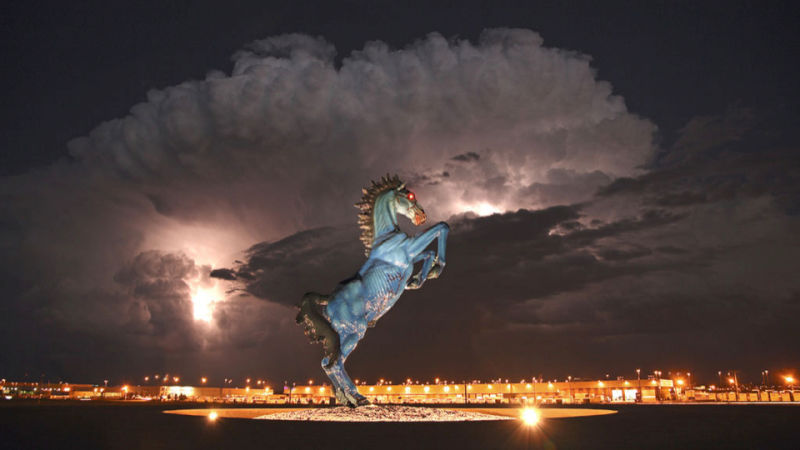 _________________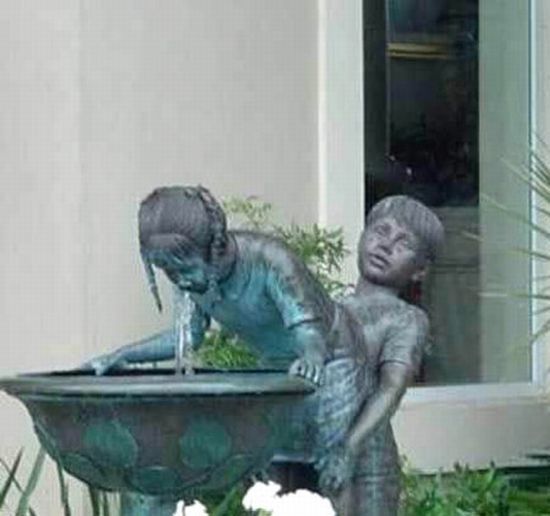 __________________
David Hasselhoff has decided to have a bit of a clear out in time for summer and is holding a huge auction of his belongings – including this 14-foot statue of himself. Although real-life Hasselhoff measures in at 6ft 4in, this statue is approximately 4.2 metres long. Adorned in the iconic Mitch Buchannon red trunks, the model has a pre-sale estimate of $20-30,000 (£12-18,000).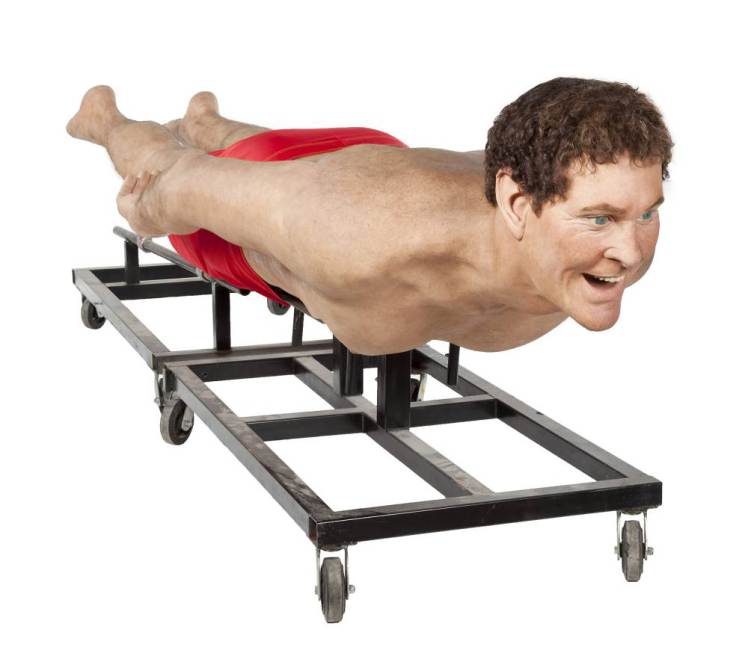 __________________
A six-storey statue of Jesus Christ in a midwestern US city was struck by lightning and burned to the ground, leaving only a blackened steel skeleton and pieces of foam that were scooped up by curious onlookers yesterday. The King of Kings statue, one of south-west Ohio's most familiar landmarks, had stood since 2004 at the evangelical Solid Rock church along the Interstate 75 highway in Monroe, just north of Cincinnati. The lightning strike set the statue ablaze around 11.15 pm on Monday night, Monroe police said. The sculpture, about 19 metres (62 feet) tall and 12 metres wide at the base, showed the figure of Jesus from the torso up and was nicknamed Touchdown Jesus because of the way the arms were raised, similar to a referee signalling a touchdown in American football. It was made of plastic foam and fibreglass over a steel frame, which was all that remained yesterday.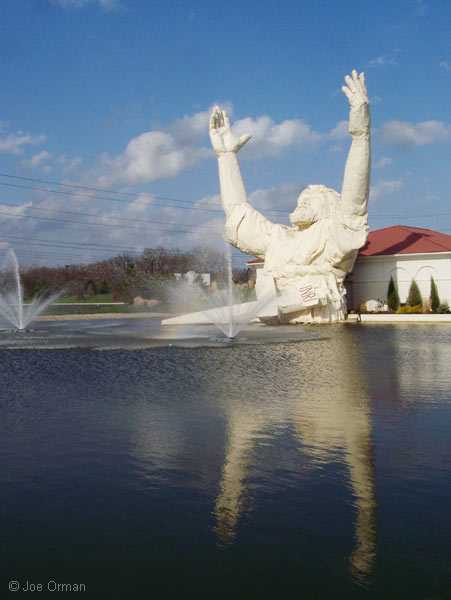 _________________
Jordan Wolfson's piece (Female Figure) 2014 is an animatronic robot statue that dances in front of a large mirror, while at the same time seeking eye contact with the spectator.
__________________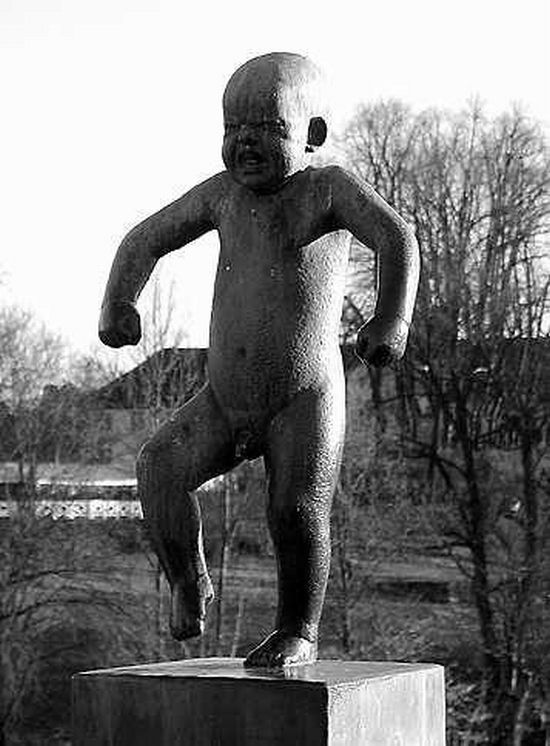 __________________
An emotionless Abraham Lincoln places one hand on the head of a topless woman in ecstasy and the other on the head of a naked boy. Nothing about this sculpture works. The individual parts are twee and clichéd. There's no coherence, either spatially or conceptually. Even by the standards of 1939 each part is curiously dated–look at the woman's hair: it looks like a style from the 1910s. The sexualised woman jars so heavily with the austere Lincoln that you can hardly compute what's going on. Look around online, you'll see most people's minds immediately sink into the gutter. Which, honestly, is hardly the viewer's fault. The work is horrible. By all accounts the sculptor, Clyde de Vernet Hunt was completely taken with his work. He exhibited a plaster version in Paris in; the figures apparently represent Faith (woman), Hope (boy) and Charity (Lincoln). Hunt brought the plaster back to the USA in 1938 and cast it in bronze for the World's Fair. But how did three so different figures come together in one work? If we go back a decade, to 1918, we find Hunt exhibiting two works in Paris: Nirvana, a naked woman in ecstasy and Fils de France, a nude boy. At roughly the same time, he cast a statue of Lincoln. In 1928, he smooshed all three sculptures together and called it the Lincoln Trilogy.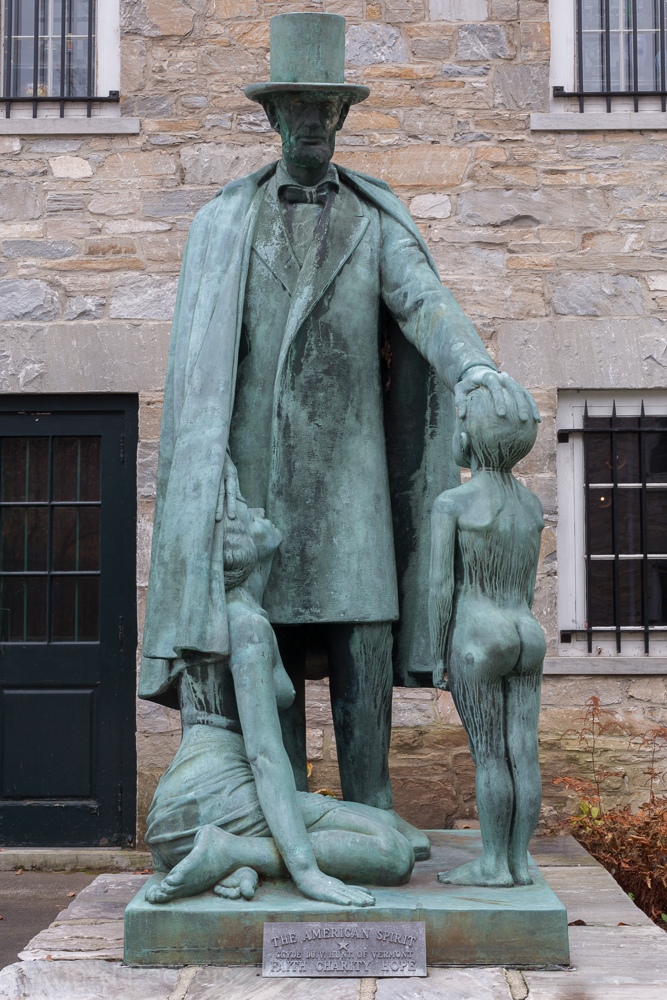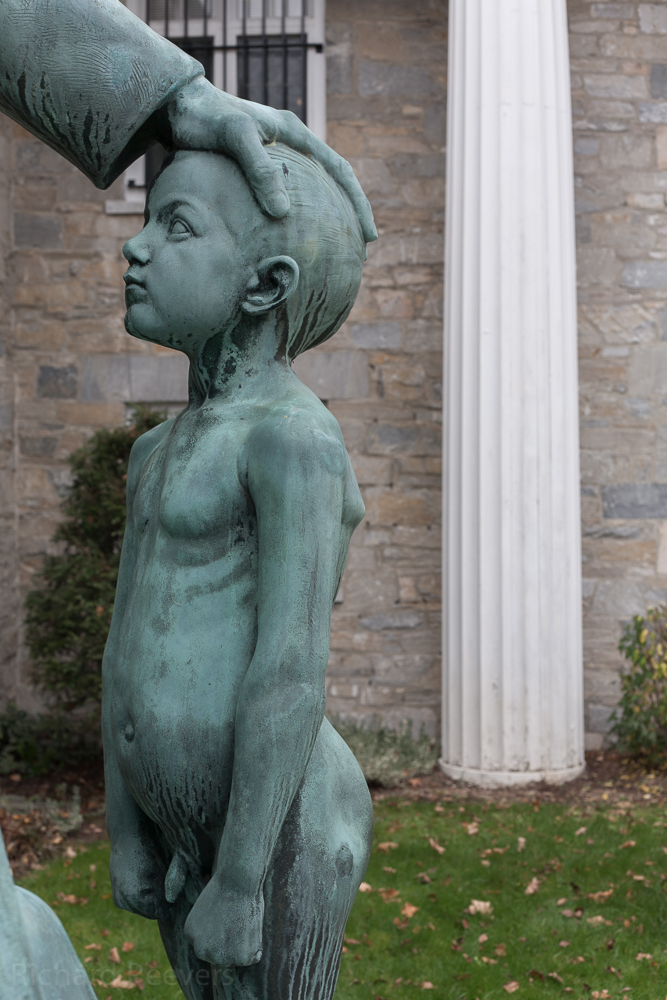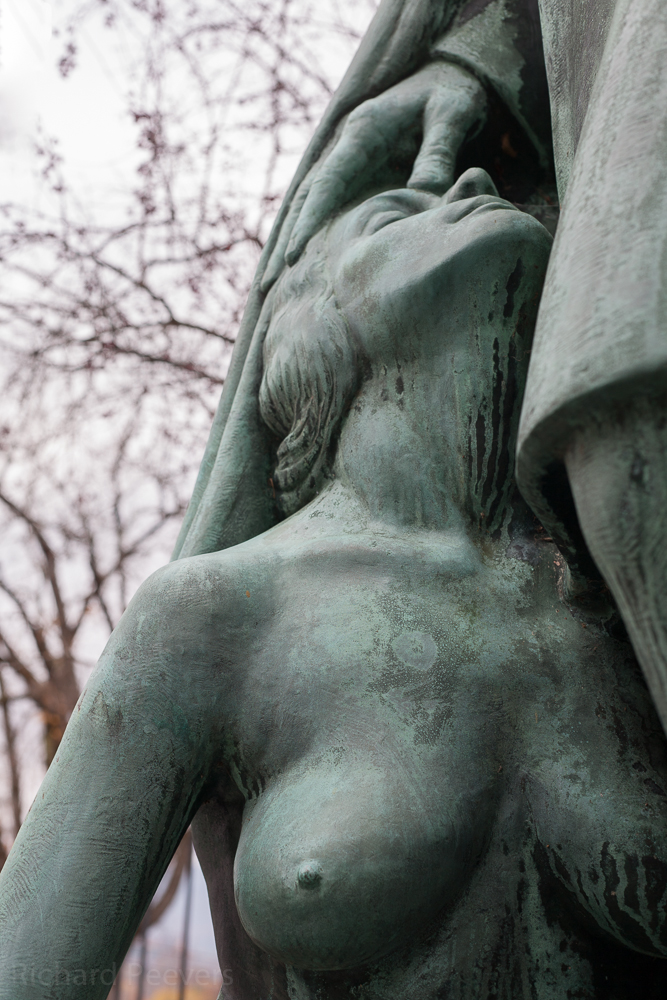 __________________
Deep in the forest of Parikkala, in the easternmost part of Finland, lies the sculpture park of Veijo Rönkkönen. The park is a lot to take in, the first time you visit. Finding yourself surrounded by hundreds of statues, grinning at you with their real human teeth, is enough to spook you into turning back as soon as you set foot in the park. Veijo Rönkkönen, a former paper mill worker, completed his first sculpture in 1961, and now his yard, and the path leading to it, are filled with over 450 statues, 200 of which are self portraits of the artist in Yoga positions he has mastered so far. The statues have loudspeakers hidden inside them, and the sound effects add to the eeriness of this place. Although he has had the chance to exhibit and even sell his artworks, in auctions, Veijo Rönkkönen has never agreed to showcase his art. Every time he was asked to showcase his work, the near-hermit always replied he needed to discuss it with the statues first.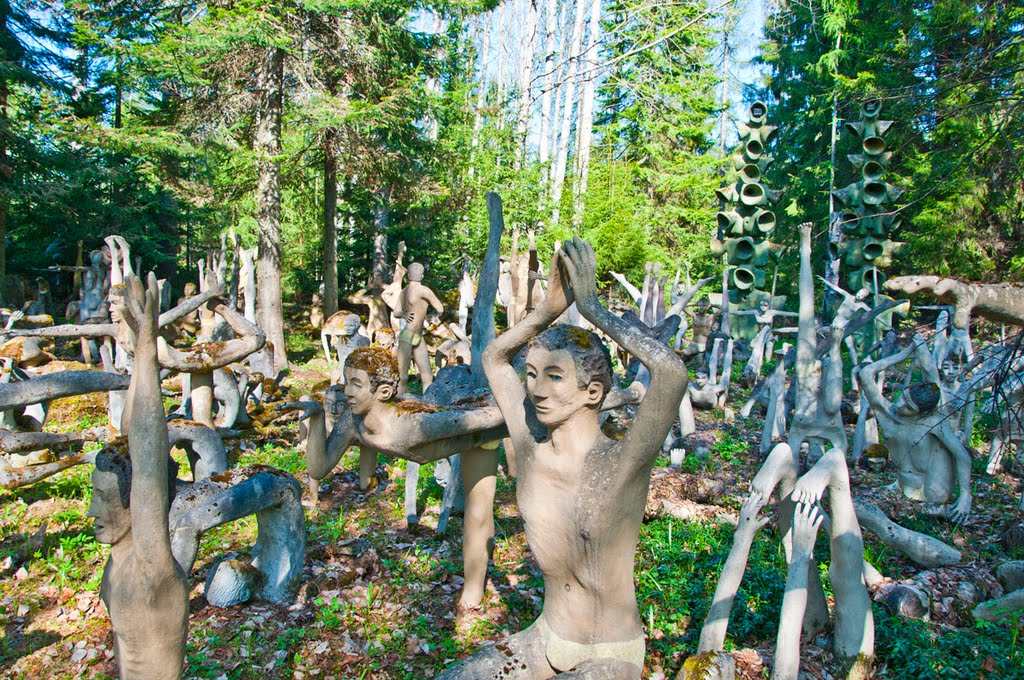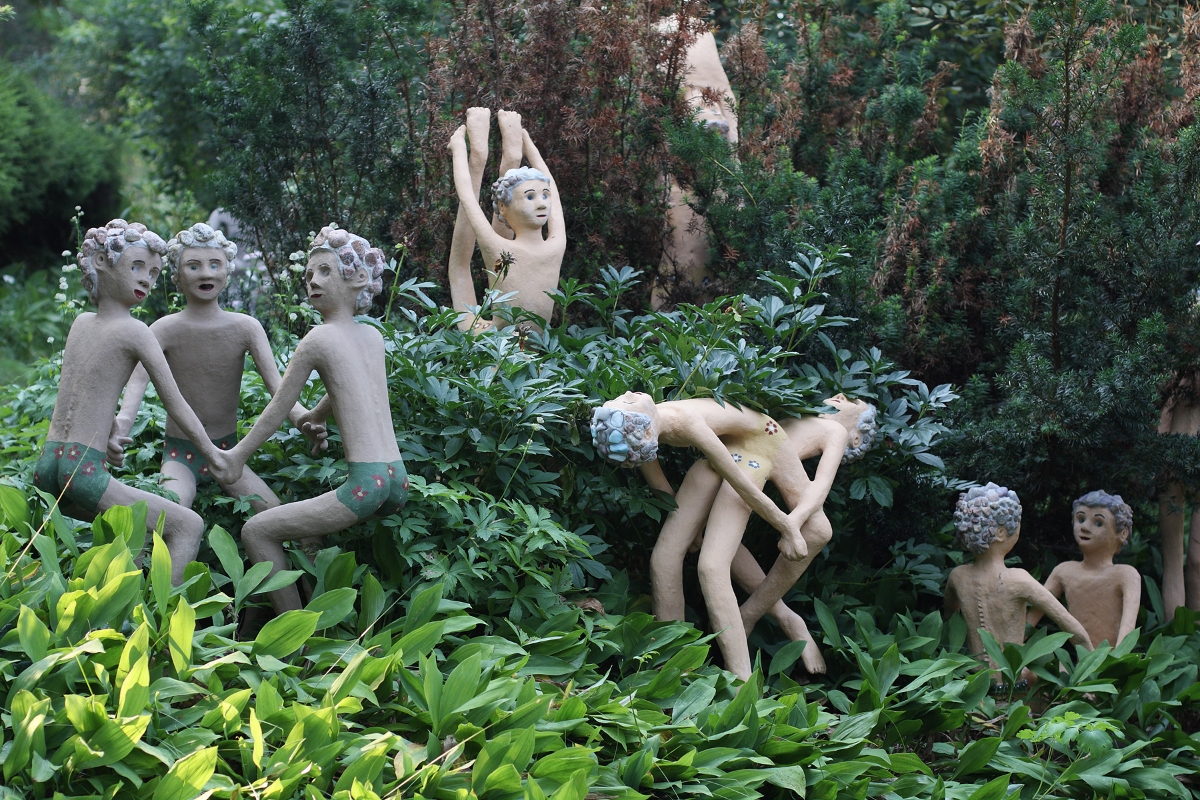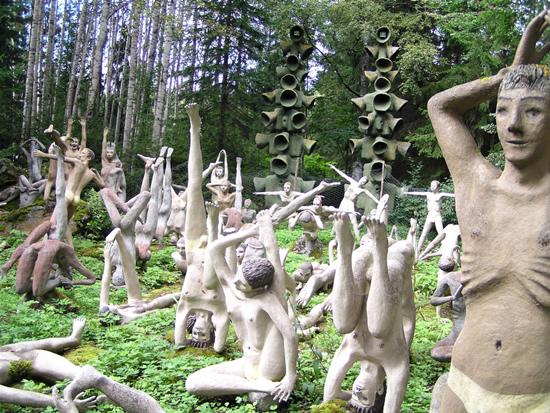 __________________
US sculptor Daniel Edwards has unveiled his most recent masterpiece, which is a bronze metallic statue of Justin Bieber and Selena Gomez fused together. The Bieber and Gomez sculpture has been dubbed 'Justin and Selena as One' by the artist, and it depicts the duo looking like conjoined twins rather than boyfriend and girlfriend, as they are joined half-way across their bodies. Although Edwards obviously has great talent in the technical department, both Bieber and Gomez are still teenagers, and it makes us a bit squeamish to gaze at the pair in a semi-nude state together.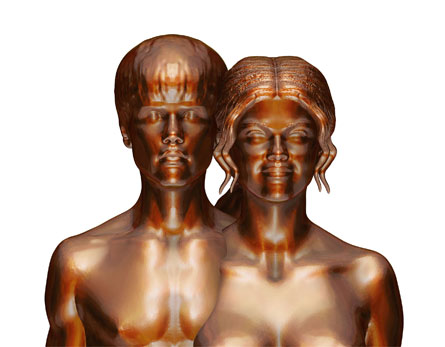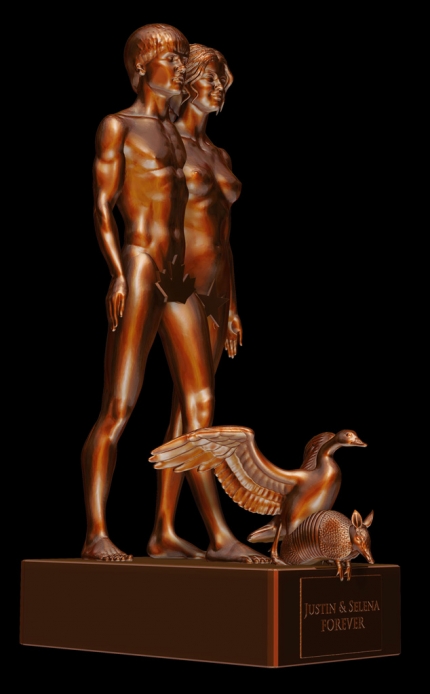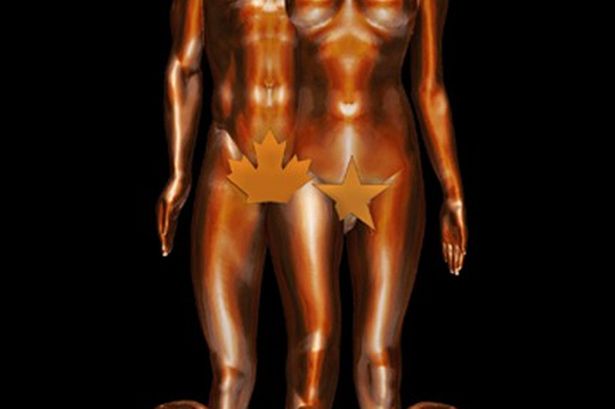 ___________________
Big Tex, the metal cowboy whose slow drawl of 'Howdy, folks!' made him an icon of the State Fair of Texas for 60 years, was destroyed in less than ten minutes Friday when flames engulfed his 52-foot-tall frame.
___________________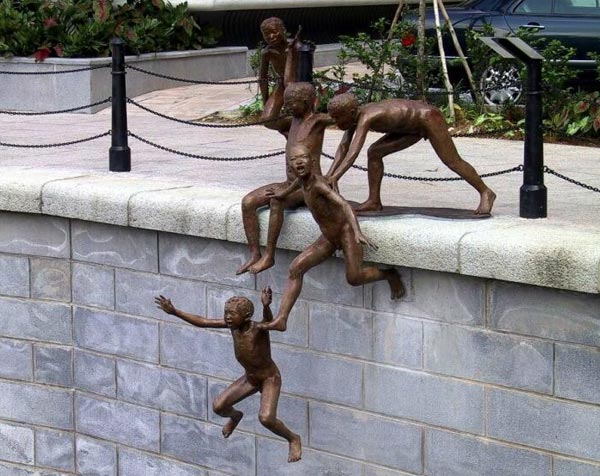 __________________
This is a video news report about a 9-foot, 1-ton goat-headed Satan statue being unveiled in Detroit. The highlight is a fast-talking satanist guy who sermonizes to the news reporters. Sadly, 'Weird Satanist Guy' is actually 'Weird Gamer Guy' (aka Andrew Bowser), and he wasn't even being interviewed, he just cleverly spliced his own videos into the news report after it came out.
___________________
The Curiosity Rover has spotted a weird 'dark lady' on the surface of Mars. UFO Sightings Daily says that they can clearly see breasts – meaning it IS a woman – and that a statue would have weathered away, so it almost certainly IS a living being. 'Its hard to tell if this is a living being, or a statue of a being from long ago. However, a statue that small would be eroded and destroyed easily, so it has a higher chance of being a living being. Also it is facing the Mars rover…watching it from a distance.'
_________________
I have a friend in town and we were walking around the common and the garden yesterday and came across this statue. Does it seem a little weird to anyone else? I really just question the adult who picked it out. * Ewww. I've never seen that one. Is it newly placed? I thought I'd recognize any statue on the Common… It's disturbing. * I think it has been there. I told my sister about last night and she said she noticed it a couple years ago and thought it was odd.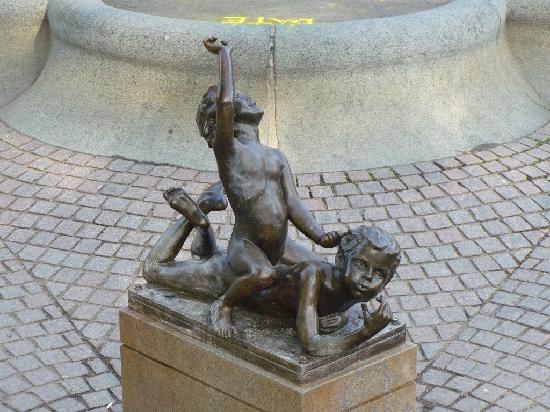 ________________
For nearly 15 years, an animatronic avatar of former president Lyndon Baines Johnson held court at the museum, moving and gesticulating to a recording of Johnson's folksy yarns. The eerily lifelike and life-size figure wore a cowboy hat, Western boots and a checked shirt, cordially leaning over a ranch fence, a length of coiled rope in hand. But when the museum, which attracts an estimated 100,000 visitors annually, began planning its overhaul several years ago, museum curators decided the orchestrator of the Great Society and the Master of the Senate needed a makeover, too. Gone are the countrified clothes and the ranch fence. Instead, the 36th president now wears a charcoal suit and tie, with no hat, and stands before a podium.
__________________
Donald Baechler's "Walking Figure," first constructed as a papier-mâché model, is a richly textured female form in mid-stride, whose spindly arms and legs jut out from her diamond-shaped body. Her expression betrays contented determination-like a young woman scurrying toward a rendezvous with a new boyfriend or darting off to a vacation spot. Baechler was commissioned about five years ago by New York real estate developer Rechler Equity Partners, the developer of an industrial park at Francis S. Gabreski Airport in Westhampton Beach, N.Y., to create a 30-foot, 5,000-pound aluminum version. It now adorns a traffic circle at the airport. Since Baechler's work has almost always been shaped in some form by his travels to distant ports, one can't help but feel the sculpture's location to be poetically appropriate. The "Walking Figure" was installed in early June and gave rise to some grousing from local residents. "I'm not a connoisseur of art, so what can I say?" Mayor Conrad Teller told Newsday. "I have a lot of people who have seen it and don't think it belongs [at] an airport." Local businessman Tony Intravaia told the New York Observer, "It is art. But does art look good? No."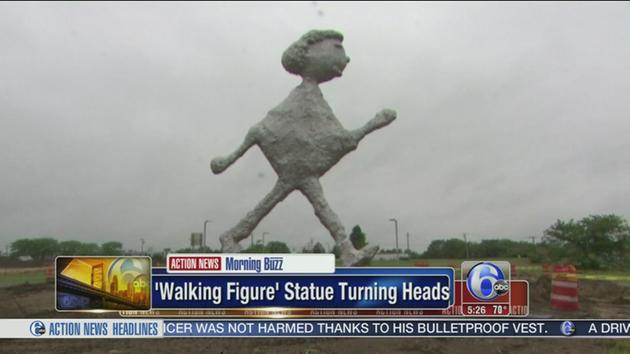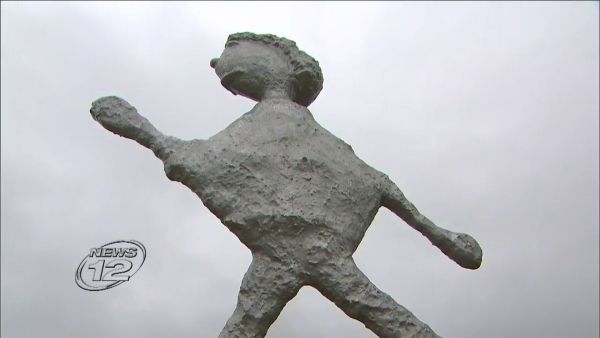 __________________
While wandering around Montmartre, you might bump into this statue/sculpture  Le Passe-Muraille (the Passer-Through-Walls). Le Passe-Muraille is the title of a story by Marcel Aymé about a man named Dutilleul who discovers that he can walk through walls. The statue is situated in a place named after Marcel Aymé in Montmartre. You can see how his lower hand is shiny from all of the tourists taking pictures pretending to pull le passe-muraille out of the wall.
__________________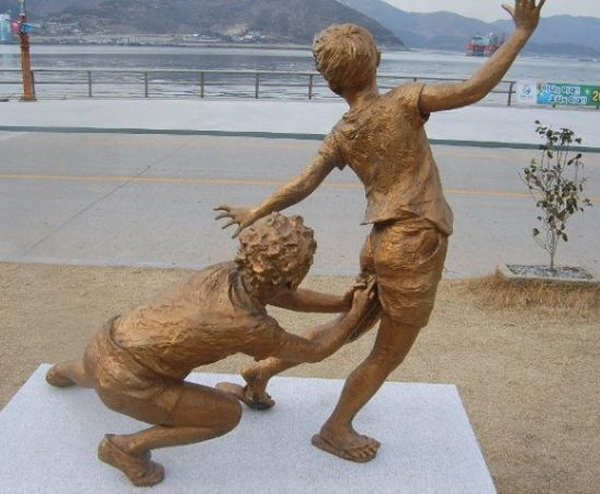 __________________
There's something weird about the Nelson Mandela statue in Pretoria. This week, a very small bronze rabbit was discovered inside the ear of the Nelson Mandela statue outside the Union Buildings in Pretoria. The tiny rabbit is believed to be the first of its kind inside the ear of a monument made in the likeness of a major world figure. Though it looks like it won't be for long. The department of arts and culture has written to sculptors Ruhan Janse van Vuuren and André Prinsloo, asking them to remove the rabbit as soon as possible, according to South Africa's News 24. They also asked for a written apology addressed to the Mandela family. The sculptors said they placed the rabbit in Mandela's ear as a hidden joke since the artists were under a tight deadline to complete the statue and the Afrikaans word for "hare" ("haas") also means "haste."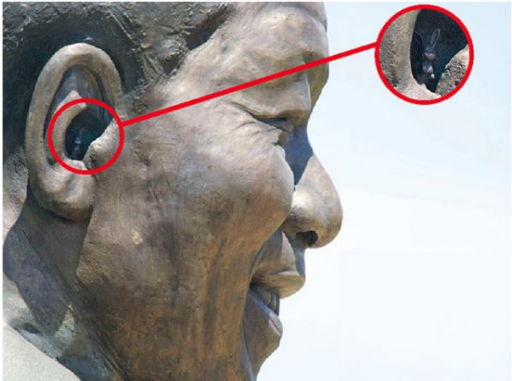 ___________________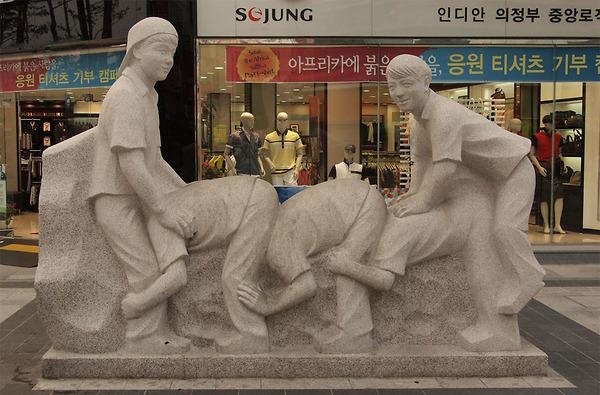 ___________________
A strange statue was left on an old fountain in the East Hampton Library's construction area sometime in the wee hours of last weekend, but they haven't the slightest clue who it could have been or why. It's fairly light for a statue, weighing in at about 50 lbs, and seems to be made out of red clay that has been painted over. Perhaps the most intriguing part of the odd find is the inscription on the back of the statue, a well worn and barely visible cursive scrawling of the words "My Wife Forever Della Penna". Local man Steven Rothman pointed out that the name Della Penna matches the victim in a grisly murder that occurred just a few steps away in the 70's, a murder that to this day has not been solved. From wikipedia: "Dolores Della Penna (December 13, 1954 – July 1972) was a 17-year-old Philadelphia schoolgirl who was tortured, gang raped, murdered by dismemberment and beheaded in the Kensington neighborhood in July 1972. Della Penna's torso and arms were later located in Jackson Township, New Jersey, while her legs were found in neighboring Manchester Township near the border with Jackson. The young girl's head is believed to be located within a wall in "Turtles" former home in Tacony and the house has yet to be searched by law enforcement, and no bikers have yet been arrested in the case." Please note the fact that the girl's head is still missing. The library might want to go ahead and have that statue x-rayed before they decide to put it up for display. Maybe it's a stretch, but bodies encased in statues are nothing new.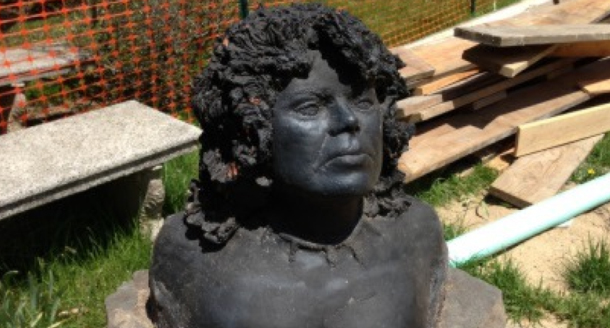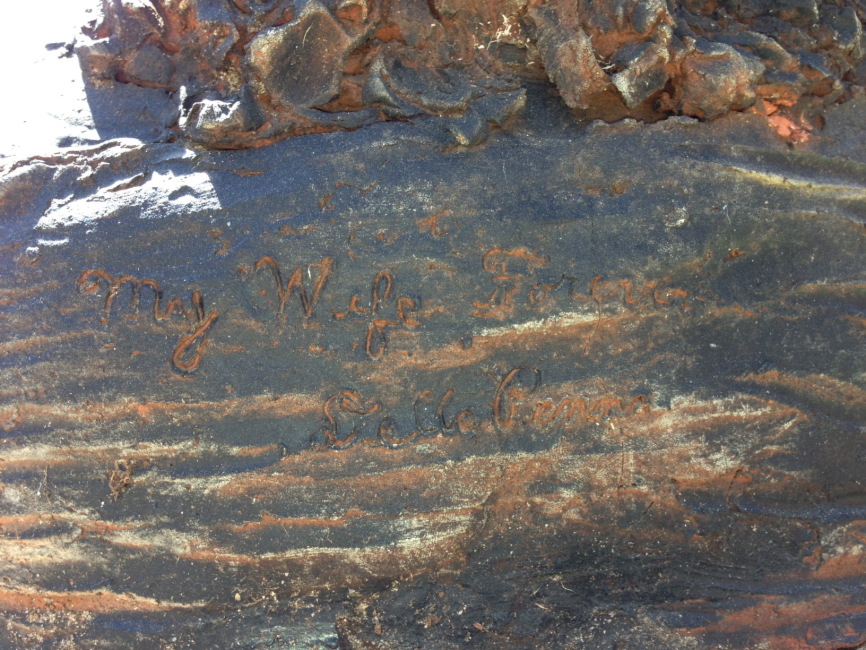 __________________
A Pennsylvania teen may face up to two years behind bars for allegedly taking a photo of himself simulating oral sex with a statue of Jesus. The photo was taken in front of Love in the Name of Christ, a Christian organization in Everett, Pennsylvania, and posted on Facebook back in July. On Tuesday, the 14-year-old — whose name has not been released by police — was charged with desecration of a venerated object, the Smoking Gun reported. If convicted, he could wind up spending two years in a juvenile jail.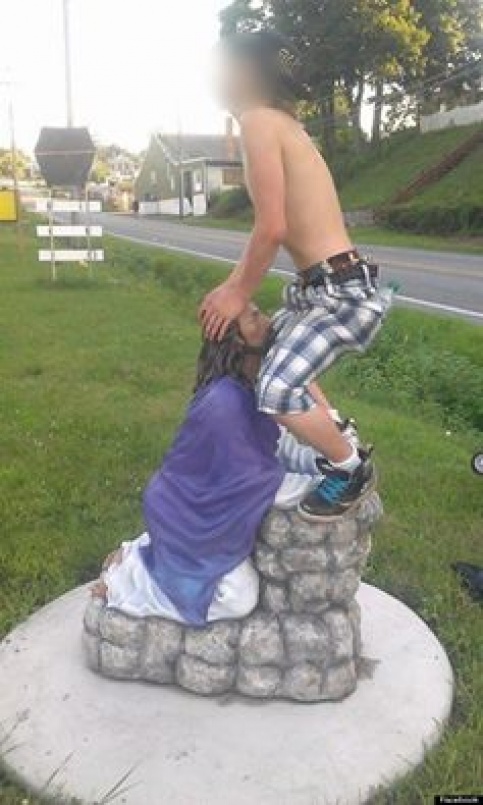 _________________
A hairdresser adds the finishing touch to a statue of Rolling Stones lead singer Mick Jagger at the Grevin Wax Museum in Prague on April 24, 2014.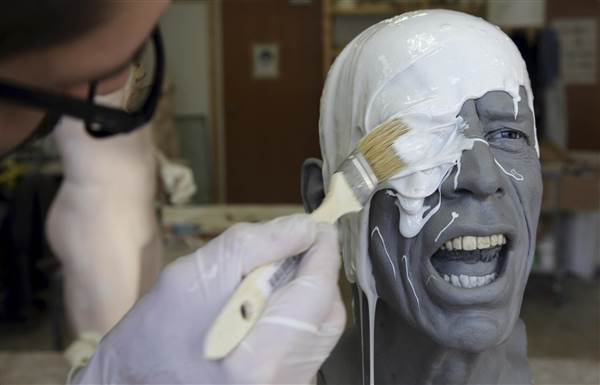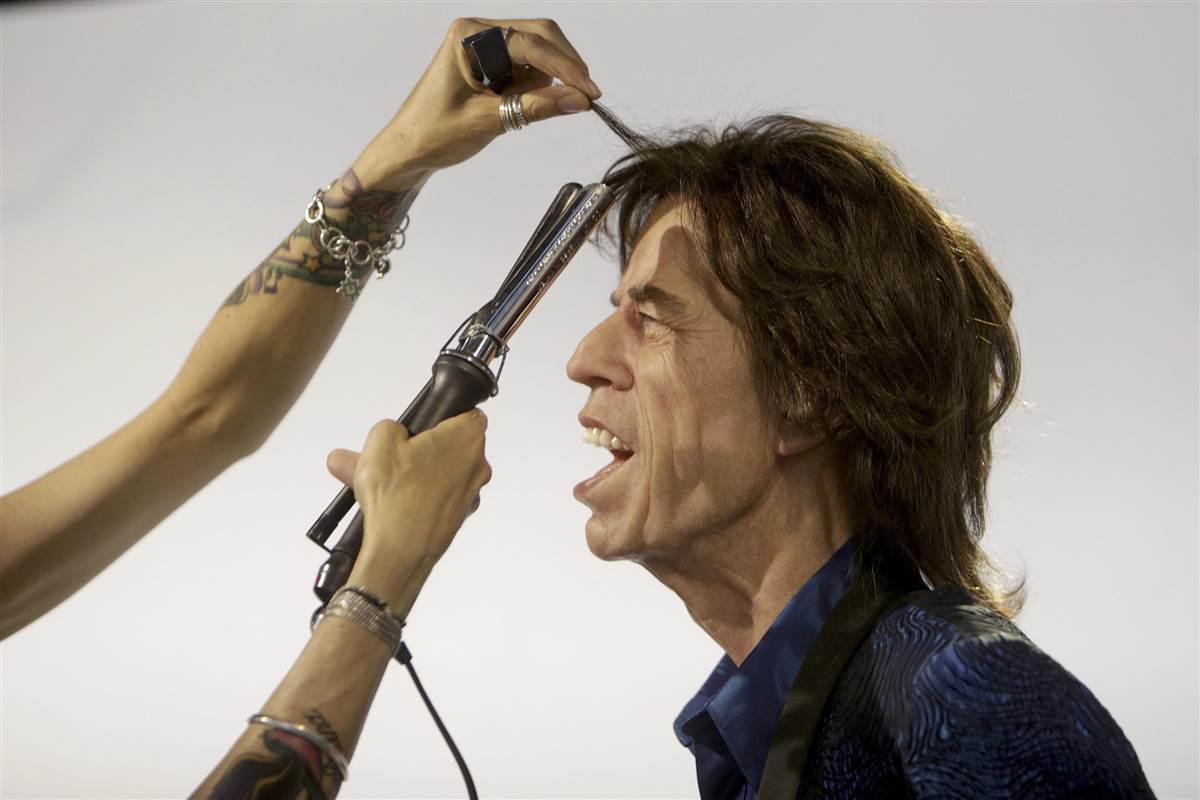 __________________
In April of 2013, citizens of Luoyang in east-central China's Henan province were excited about the soon-to-open Hualong Amusement Park with an enormous gold-toned Buddha statue at its heart. Imagine the shocked silence when the covers came off the statue, revealing what incredulous netizens quickly dubbed the "Big Maitreya with the Swept-back Hairstyle." When pressed, park managers admitted the statue's head was modeled after a local entrepreneur who believed his grinning golden visage would help "inspire young people." After a few days of scathing and unrelenting criticism, park visitors arrived to find the statue headless. As for the missing head, it turned up shortly thereafter mounted on a small, nondescript building some likened to a public restroom.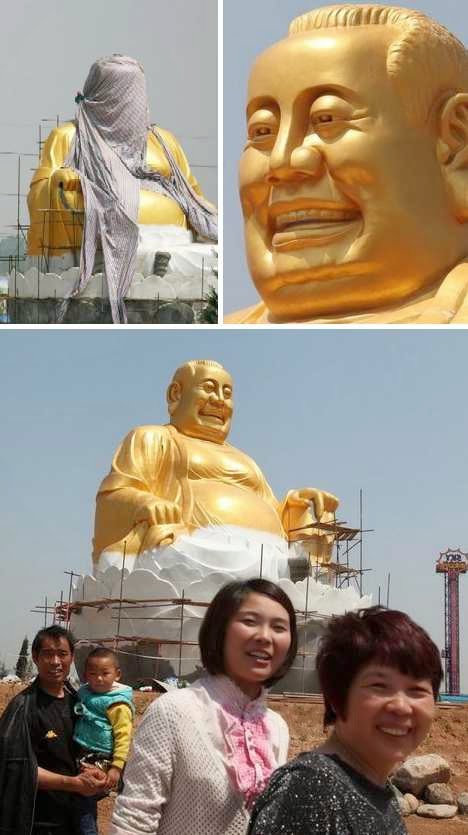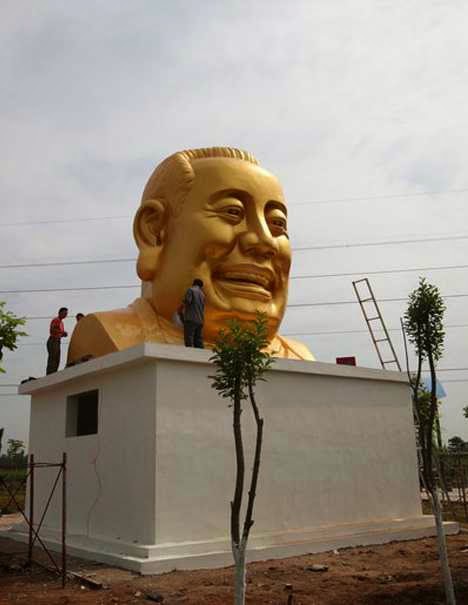 __________________
Sitting in a shop window in Chihuahua, Mexico, is the form of a young woman dressed in a bridal gown. If you look closely at the mannequin, you'll see a frightening amount of detail. From her real, human hair, her lined hands, and even the veins beneath her skin. And if its real-girl appearance wasn't weird enough, she just happens to bear a striking resemblance to the original shop keeper's deceased daughter. The young woman tragically died on the morning of her wedding, after suffering a poisonous spider bite. A recent death, and a reappearance of the eerily lifelike mannequin, conveniently dressed in a wedding gown . . . it's not surprising that many people claim that the mannequin is actually the preserved body of the young woman. Her name has long been forgotten, and now she's simply called "La Pasqualita," after her mother, shopkeeper Pascuala Esparza. The devastated mother issued statement after statement that the mannequin is just that—a mannequin—but to no avail.
_________________
As a well-known statue located between the Mirage and Treasure Island on the Las Vegas Strip, this brass figure with a partial bust of Siegfried and Roy and the head of a brass lion is a must-see. The sculpture sits protected behind a gate. By night, the lighting casts eerie shadows across the likeness of the two renowned performers.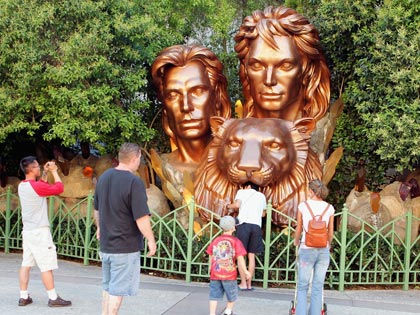 _________________
Lenin Statue, Sukleia, Moldova: Years after the fall of the Soviet Union, the kids smashed the statue's head off. It stayed with a crushed head covered with plastic bag for years, but finally the local Red Party members have hireed a sculptor to restore it. Well, there is something strange now with his head.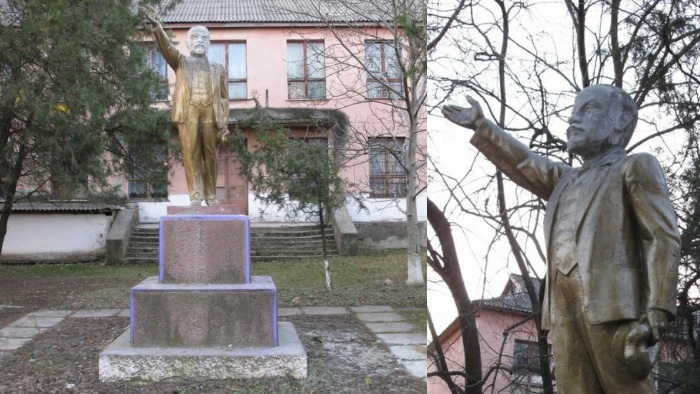 _________________
The Madrid Museum of Wax has a statue of Cristiano Ronaldo in it. It cost 31,000 Euros to make. Cristiano saw his statue at the museum. He liked the statue. He liked that statue so much he commissioned one just like it to be put in his house.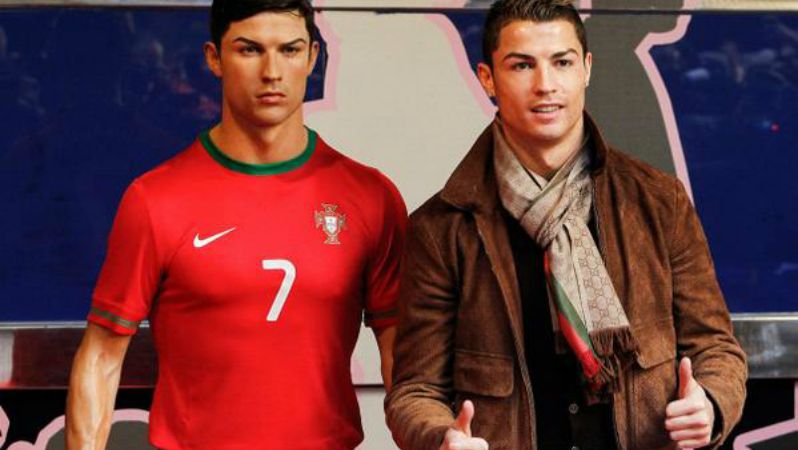 ________________
DISNEY ANIMATRONICS JUST GOT CREEPIER: THEY CAN NOW THROW A BALL AT YOU
__________________
Probably the most genuinly terrifying thing at Dreamworld Park in Bangkok was the statues of naked babies outside every toilet. Most of them were black too. I only mention this because it's weird because the number of black people you see in Thailand is none. These made me terrified and feel disgusted at the same time.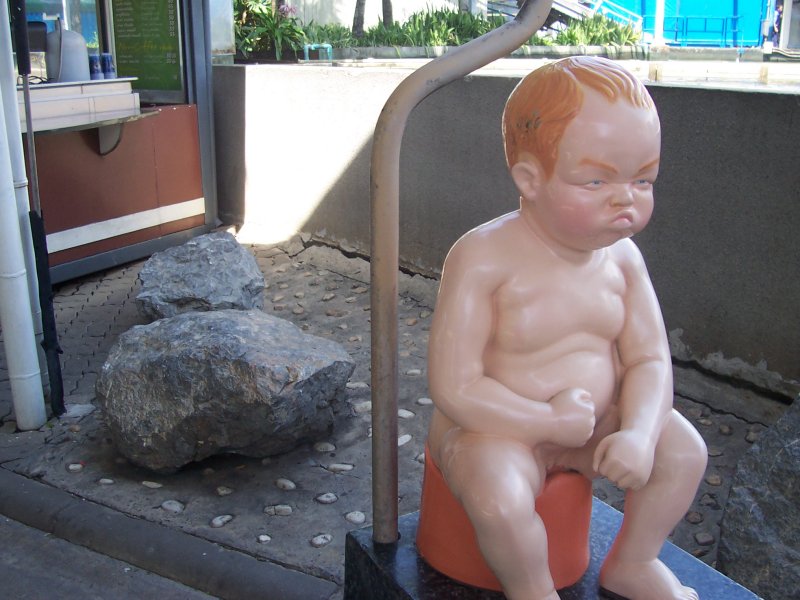 _________________
If you've ever wondered what happened to all the Big Boys' statues from yesteryear, then wonder no more.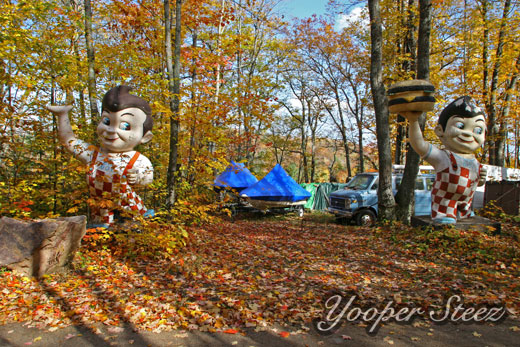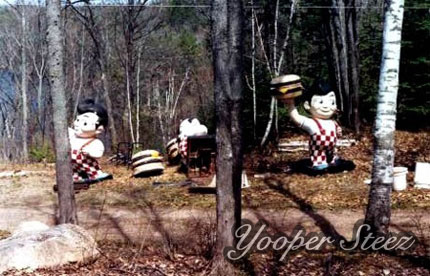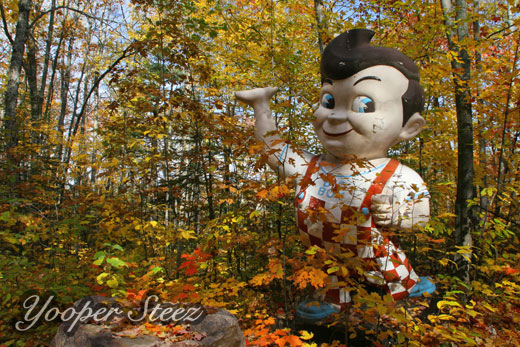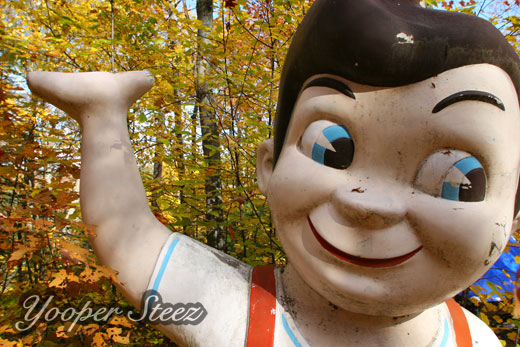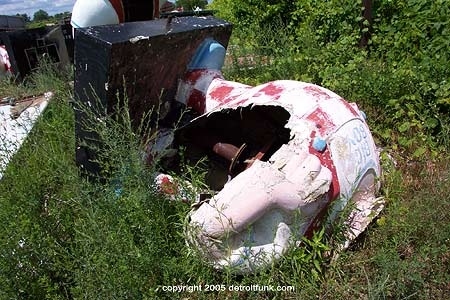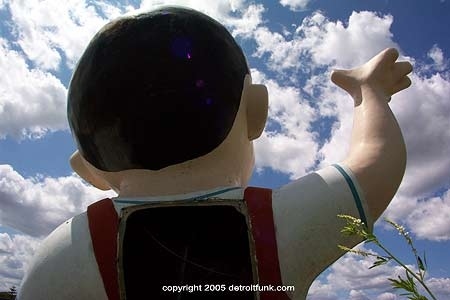 _________________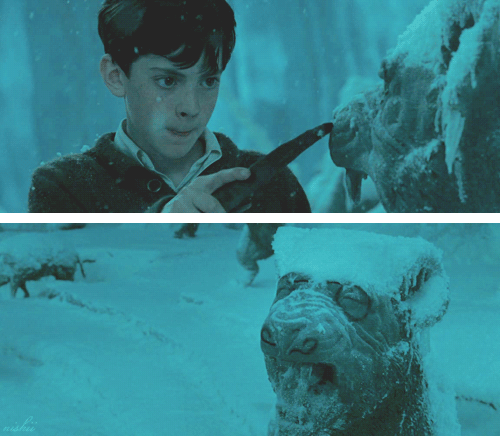 _________________
Located about an hour outside Ulaanbaatar, the capital of Mongolia, is this massive monument to Genghis Khan. Placed far from any metropolis, the spot was chosen because, according to legend, it was there where Khan found a "golden whip," which he holds in his right hand in the statue. Not only is this epically huge statue situated in the middle of nowhere and made from 250 tons of reflective stainless steal, but it commemorates a warmongering dictator who's military conquests are said to have taken somewhere around 40 million lives.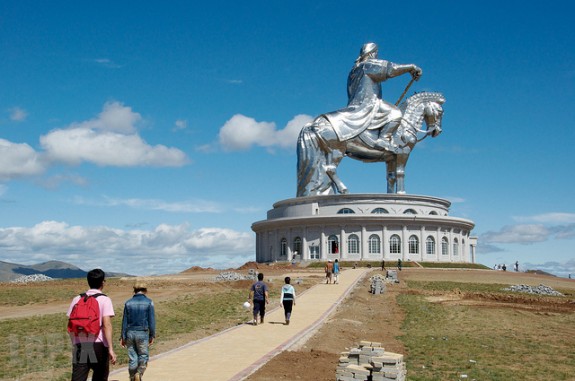 ___________________
An arch with statue in Ankara, Turkey erected in honor of the popularity of the 'Lord of the Rings' films in Turkey that contains what officials of the city claim is a working portal to the Lord of the Rings universe.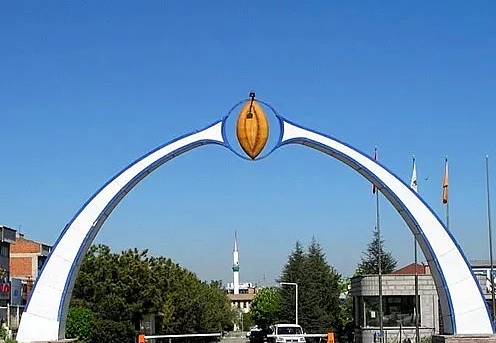 _________________
The gravity defying floating baby statue in Singapore.
___________________
Queen star Roger Taylor annoyed his bandmate Brian May by "nicking" the Freddie Mercury statue from the front of the theatre which staged the play 'We Will Rock You', Ben Elton has claimed. The hit musical, which was written by Elton and based on Queen songs, finally closed in May after 12 years at the Dominion Theatre. The giant, golden statue of the late Queen frontman Mercury, which towered over the entrance of the London theatre during its run, now stands in drummer Taylor's garden. But Elton told Radio Times magazine that the Queen drummer whisked the statue from the West End theatre to his home while guitarist May was away. It's in Roger Taylor's garden, which I believe Brian May is not happy with. Freddie was their brother, they were a collective, so Roger or Brian should have it. I think Brian was away. So, Roger stole Freddie from Brian."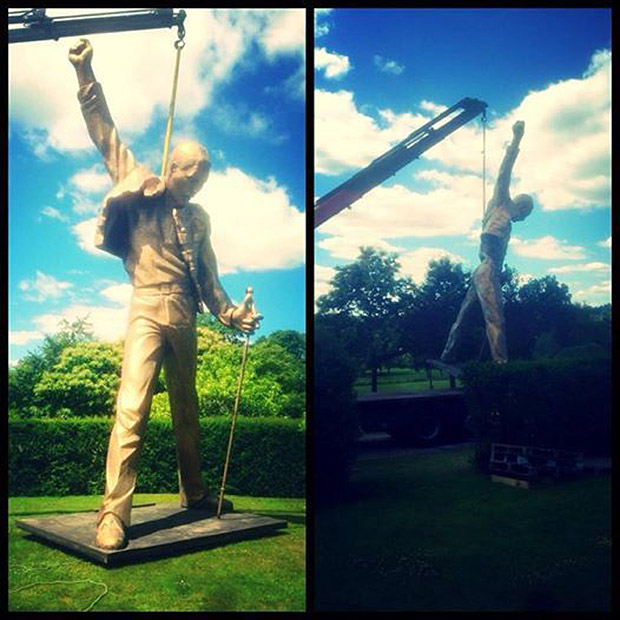 __________________
Statue honoring a girl who was cannibalized by her own family.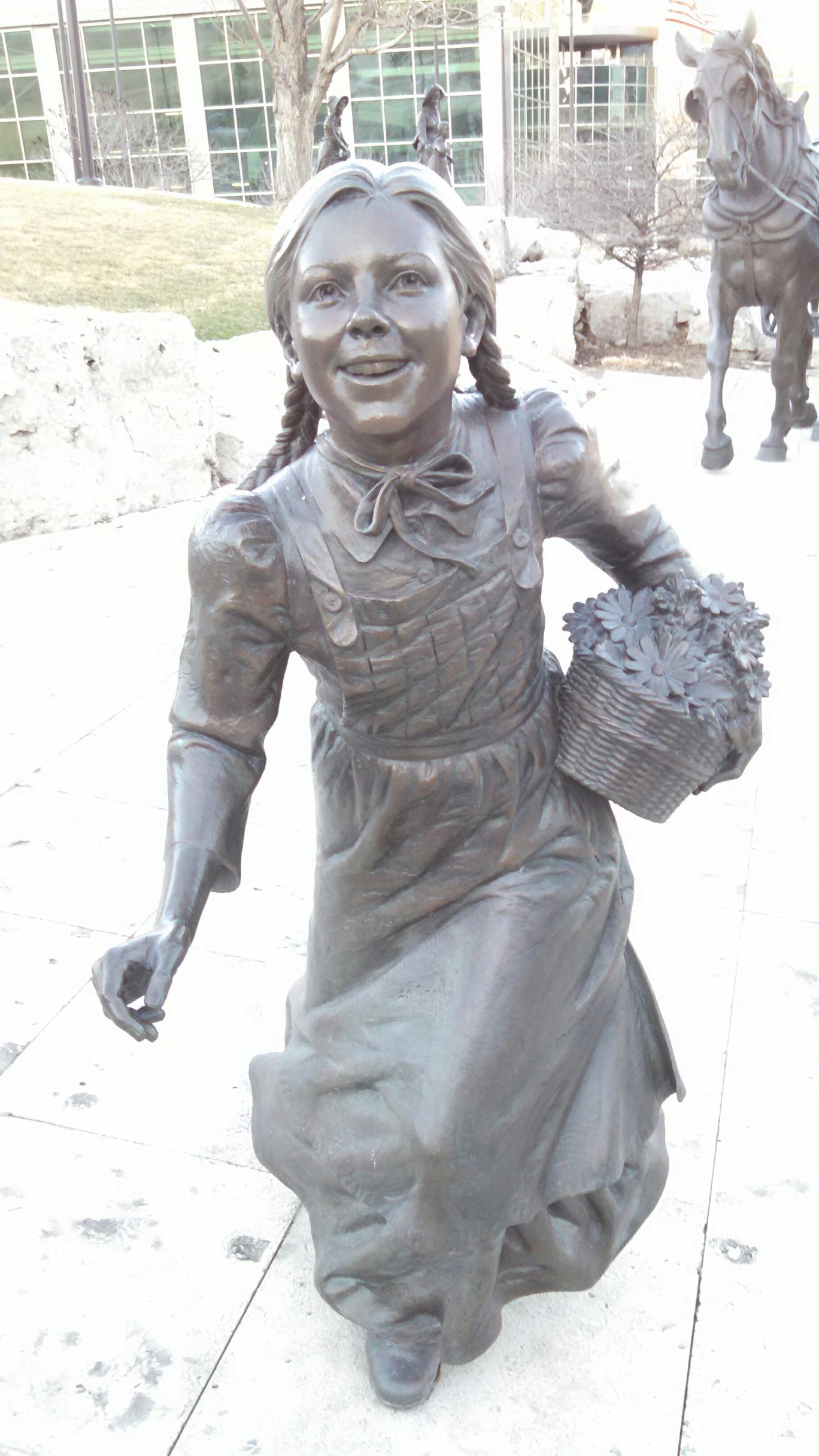 *
p.s. The p.s. will return tomorrow, and if you've left any comments while it was away, a jet lagged version of me will respond to each and every one of them in the morning Paris time. See you then.