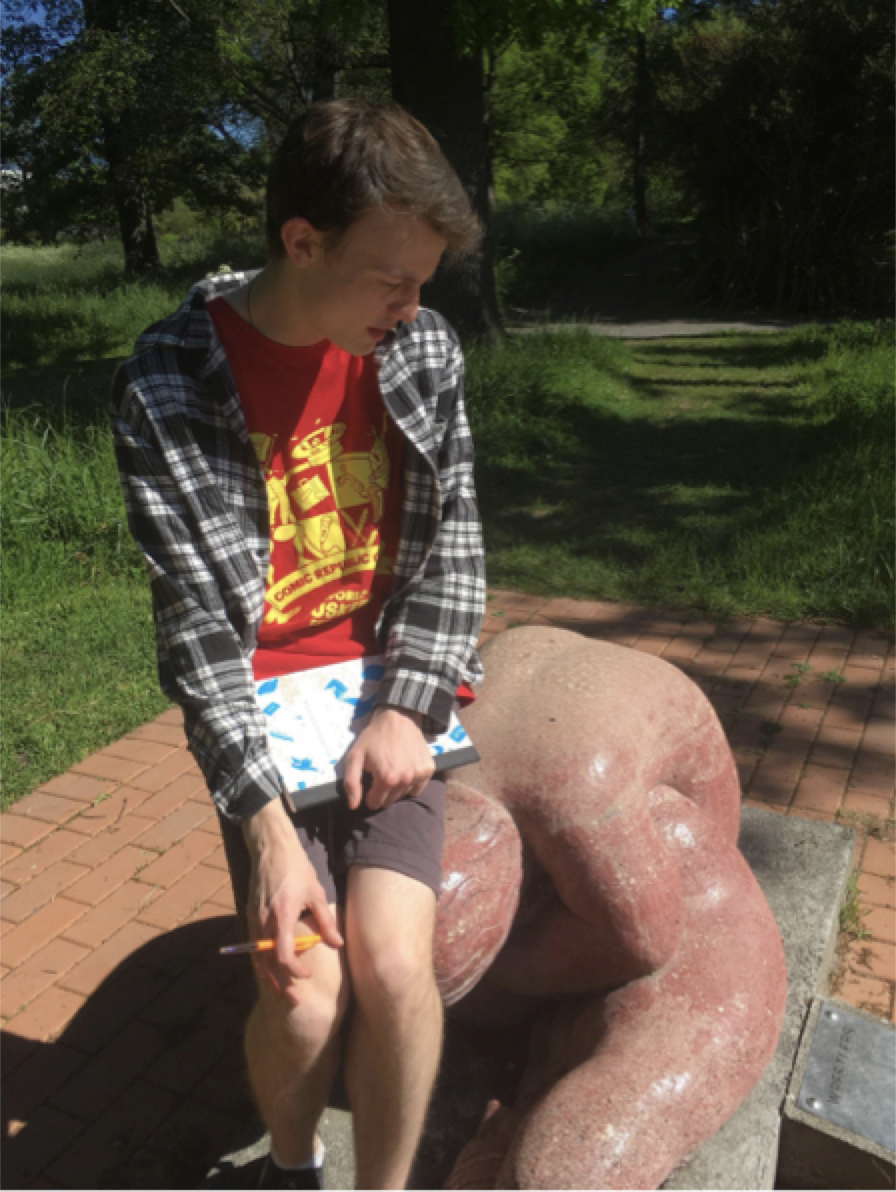 'As a poet, filmmaker and critic, Josiah Morgan possesses a singular and captivating perspective. His work reveals unique conviction and a passionate fixation on the relationships between content and form. His range of influence is impressively far-ranging—Morgan shows commitment to avant-garde filmmakers like Peter Hutton and James Benning, and to a wide range of literary figures, from James Joyce to Stephen King to Rainer Maria Rilke. To encounter his work is to engage with an explosively creative mind—many of his ideas feel radical, most of them are surprising, and all of them are fascinating. ' – Mike Thorn, author of 'Darkest Hours'
'Not sure if uncultured enough to get this, or you are trolling me.' – preisman, Letterboxd ("Triptych From Napoleon")
'For a few moments, […] Josiah Morgan shows the world we leave behind. In and out again. In and out again. Round and round, eternal cycles. Presence and ever more pronounced absence.' – Tom Sheridan, Letterboxd ("the five and a half minute hallway")
__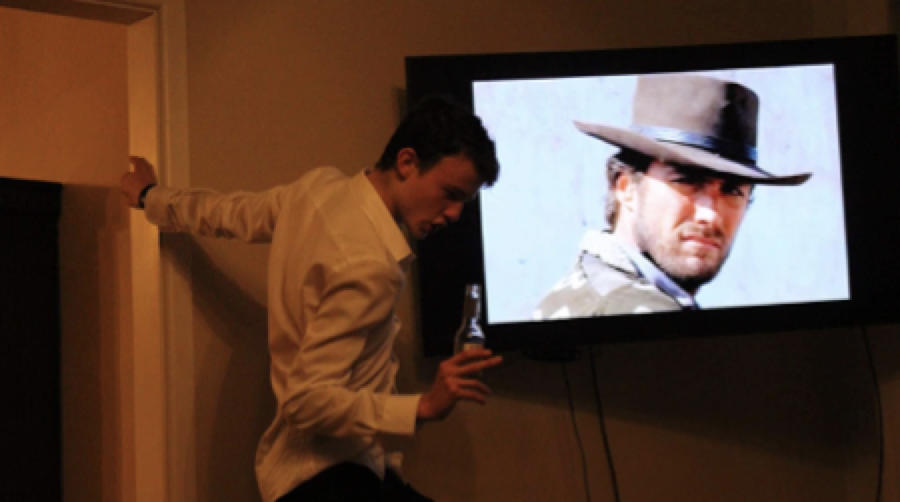 __
Interview with Adam Cloutier
AC: What is the intent of writing this as it appears visually (to me the reader) – and in this instance I'd ask about the three act structure – I mean to ask about the intent of the three act structure…
JM: I see "Inside the Castle" as a transient piece of work, sculpted by the time spent with it, making it, receiving it. Act One is very much representative of a presence and now-ness, act two is deeply rooted in reproducing the past (through the photographs and images hinted at in act one), whereas act three was my attempt to break free from any predestined aesthetic purpose, to build an aesthetic in words and not syntax.
AC: Given the appendix,: what is the importance of the artwork of others to you writing what you have?
JM: Inside the Castle is the culmination of three years of thinking and feeling that has largely been guided by an awakening inside the homes of texts by James Joyce, Dennis Cooper, William H. Gass and a few others. Most of those awakenings actually come directly from your recommendations, Adam: your insistence on a search for aesthetic as opposed to narrative unity has directly burrowed its way into intense import in my writing. Inside the Castle is referential to other works, yes: I actually see this as part of the ongoing cipher. I view the appendix as an added piece of the puzzle that in part should complicate the text – the only real text that can be used to decipher Inside the Castle is Inside the Castle. In the appendix, I've added a citation for the 'slave andy' tumblr porn site. The key: "there is no awareness of my personhood."
AC: We must always remember to paraphrase Beckett and Federman's paraphrasing of Beckett that language is what helps us get to where we are going and prevents us from getting there – I bring it up to ask about what you find most interesting in writing in a visual manner (outside of the necessity of it)? is it the freedom to sculpt your own form, the ability to both throw readers off and help them understand, or is it all of this and more?
JM: Important too, to paraphrase Beckett when asked to explain his own work; to drill a hole into language and find what's behind — I am interested in aesthetics because the prison of a text is the binding it's held inside. My words are held within the structure that binds them on the page. Anybody can use the word "eats" but its manipulation as a visual body belongs entirely to me in its transmission to the reader. I do believe there is a responsibility on the behalf of the creator to make any work as clear as possible. That doesn't mean I'm interested in my work being easy, but once you find the key to the work it should be easily penetrated.
AC: The difference (and similarity) of the refined and the raw is something i've always been interested in and I;m a big fan of how Inside the Castle feels often like both at once or both juxtaposed or any other iteration that involves the two of them, where I find many artists work with one or the other. Does this observation have any relevance in how you see your work as a final product (rather than solely the knowledge of your work on it to make it what is)?
JM: Oh, fuck, I love this question. My artistic home is in the theatre, as both actor and director. I fully believe that the most interesting theatrical work is that which provides a fine line, a risk of failure constantly. I am uninterested in theatre that is perfect, I am interested in the moment a mistake is made that can't be renounced, and how the performers then act to save themselves – when I direct, I build traps into our rehearsal and staging process for the actors to organically fall into every night.
Effectively, I am uninterested in competency. I want to fail hard or fly hard and do this through rejecting rules. Anyone with a decent vocabulary can write coherently if they use grammar correctly. I'm uninterested in 'correct,' and more interested in what we can find when we stray from 'the right' path. For what it's worth, Chuck Palahniuk is a great example of competency and Don DeLillo is a great example of a perfectly honed balancing act.
[Some time passes in which we discuss William H. Gass and Jeff Witscher among other great artists].
AC: Do you mind if we switch to a conversation type mode?
JM: You are a great conversationalist.
AC: I noticed no Poe or Baudelaire in the appendix. You are clearly not a fellow countryman.
JM: I have to admit I've never read Baudelaire. Poe is a master but Schmidt did all the referencing one could possibly do. On the Schmidt note, one of the rejection letters for my writing asked me "is there really a need for so much ejaculation?" I think a lot of that comes from a place of a social fear of sex.
AC: My questions haven't even touched on it explicitly but I guess this could be phrased into one, how essential is the explicit description of sex to your writing not just in its final form but how it plays into your forming it?
JM: I don't think my work is about sex as much as sex is a key element to my work. Inside the Castle is, in broad terms, about the translation of mind to body, the translation of fiction to non-fiction, the translation of youth to growing up, but sex becomes a key element in all realms.
AC: I like that you use translation rather than the perhaps more popular transition because it successfully shows that these are two related but separate things.
JM: I'm not necessarily interested in easy. I think sex should be very, very hard, and incredibly honest. And honesty is hard. The trick is then to translate that honesty into an honest text. My body does not lie when I fuck, and I don't want my words to lie either – but no text is honest – so whilst my words tell the truth, they tell their own truth and form their own body, their own very, very hard sex.
AC: Text is as false as all other images but that doesn;t stop us from using likeness and claiming citations from above just as we can say it comes from ourselves…
JM: The key to all fiction is in its likeness to non-fiction. Can I ask you a few questions?
AC: Sure.
JM: What art are you interested in?
AC: Art that recognises image for its falsity and plays with it, and to a lesser degree art that recognises narrative for its falsity and does something with that recognition (especially playing with it, in the sense of Raymond Federman or Tsui Hark).
JM: Are you able to provide a framework for why you avoid narratives in your own work?
AC: It is mostly out of my complete lack of interest in creating something beyond the images (words included) I make when I feel there has been relatively little done in the sole interest of images (text included). The need for dependance on nothing but the ghost it is because when it has been done it is nothing short of perfection.
JM: As for Inside the Castle, what do you think it accomplishes? I'll sit out of any response to your answer to this question, because it's mostly narcissistic.
AC: Inside the Castle accomplishes what it intends to and what it didn't but now does, if I want to be vague. If I'm being specific it both convulses and examines these convulsions without making demons of them while confronting all ends on itself only stopping when it needs to.
JM: To close, how have you been?
AC: Doing pretty well and it's hard to complain about anything but the want of time (especially when i get to see the clouds move for 30min on lunch and know that's my allowed vision for the day if I'm closing which I usually am. I'd like to start brewing beer but it's hard to want to do that on top of making art and buying beer from so many people who do it so well especially when there are two of the best breweries I've ever been to within five miles of me. All of that takes a lot of time.
__
Josiah Morgan's film criticism (and sometimes just play)
JM's My [under-used but functional] website
JM's goodreads incl. literary criticism
__
Numerous films that JM has made are on his youtube, three favorites below…

They Tried Fixing The Sky

WE SHATTER(ed the c)LOUD(s)

the five and a half minute hallway
__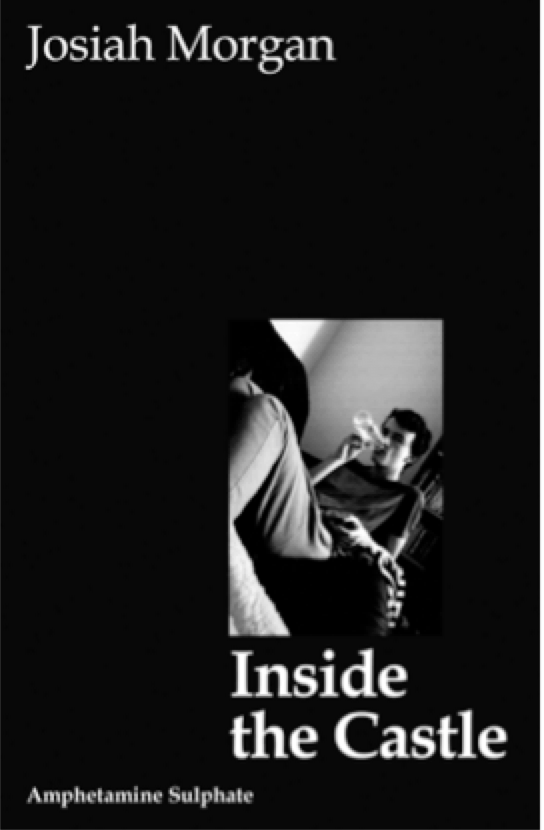 Inside the Castle
'"This is a burned book. Adam's stuck between its teeth. I'll take a sick day and still run away. Fuck this, my sinuses are thrown overboard – dirty spa, eating cars, shoeshine. Mixed signals. Interrupted messages. How "the mind" (concrete, abstract, unsolid) works drunk, high, watching Mad Max on breaks (fifteen minutes) while working fast food (fifteen months)."'
Inside the Castle explores the intersection of reality, memory, identity and fiction in the context of a loose narrative not easily decoded. It is Josiah Morgan's debut publication.
Buy Inside The Castle
Josiah Morgan on Instagram
Adam Cloutier on Instagram
*
p.s. Hey. This is an awesome weekend because the blog gets to help christen the spanking new and first book by not only an amazing new writer but a guy that this place gets to call a distinguished local aka JM. Please spend your local weekend investigating the post and Josiah's book, and you are highly urged to get yourself a copy before they vamoose because Amphetamine Sulphate's books don't always keeping rolling out forever. And please say something or other to JM before the weekend is though. Thank you, and huge thanks and mega-congrats to you, Josiah! ** JM, There you are! So happy to be able to add the blog's two cents to your book's birth! Hm, interesting, and thanks for spreading out your opinion on French cinema. I think I understand what you mean, certainly in Truffaut's case. I've never been a big fan of his. I do really like the Jean-Pierre Leaud films, but essentially because I love Leaud, and I remember thinking 'Jules and Jim' was pretty great, but I haven't seen it in ages. I guess it's what you think about when you think about when you hear/see the words 'French cinema'. I immediately think Bresson, Tati, Godard, Rohmer, Resnais, Akermann, and other (to my mind) pure and great auteurs. Off the top my head, I don't think I agree with you about Rivette. But, anyway, yeah, got it, and respect. And, yeah, happiness incarnate about your book's big arrival! Enjoy your whole weekend! ** h, Hi. Yes, what a huge loss. So huge it's hard to get one's mind around it. ** Amphibiouspeter, Hi, man! It was so great to get to meet you at the screening! No, I didn't hear the about that little record player. Ooh. Record Store Day in Paris is so shit it barely exists. Anyway, thanks a lot, and have a swell weekend. ** David Ehrenstein, FaBlog time! Everyone, Mr. E has updated his FaBlog, and it looks, at a glance, like Roger Stone is its current culprit. Here. ** Bill, Hi. Yes, it's one of things where one just illogically assumed Mekas would live forever. I get the vinyl thing, although not enough to buy a French turntable. My vinyl acquisitions are visual artworks. Ha ha, well, we were only there 1 1/2 days, but yeah. Yes, I know, new Evenson, whoo-hoo! ** Keaton7, I'm trying to think of a great song that has the word 'name' in the title, I don't know why. I think there must be tons, I don't know why. I haven't gotten Brussels's vaunted charm yet myself. There's this kind of dissonance and constricting that happens to the sound of music when it's played from vinyl that I can't describe but do like. And then there were a bunch of great records that seem like they were produced specifically to be heard on vinyl and that really haven't made the transition to mp3 or even CD with their powers in tact, like, oh, 'Psychocandy' and 'Locust Abortion Technician' are the first that spring to mind. ** Dominik, Hi, Dominik, old buddy! Oh, well, everything about the London screening was wonderful. It was a packed house, and a lot of artists and people I respect were there, and, afterwards, the response was so enthusiastic and smart and understanding of the film. Zac and I are very proud of the film and confident about it, but it's an amazing and joyous thing to have so many people express such pleasure and admiration for it. So, yeah, it was really rewarding. David's non-fiction, and I think 'A Supposedly …' is probably his best non-fiction collection, is so funny and brilliant, as good as his fiction, I think. I think you'll enjoy it. My weekend … seeing Christophe Honore's play 'Les Idoles' tonight. Zac and I need to finish finessing the French PGL poster and hopefully the French trailer. Starting to get ready for the big trip to the West Coast next week. See how big the protests are today. This and that. Ah, it sounds like a pretty nice cocoon, though, so enjoy the hell out of it because you'll probably miss it when you get busy-ed up again. Let me know how it transpired. See you soon! ** _Black_Acrylic, Yeah, right? I saw Jeff Mills do his thing once, and, yeah, it was pretty spectacular. ** Tyler, Hi! Okay, should we email? I'm denniscoopeer72@outlook.com. I'll also be in LA for a while starting on the 5th. Oh, do come see the 'PGL' screening on the 7th if you're free. Anyway, that sounds intriguing. Let's see what we can figure out. Thanks! ** Kyler, Hi. I miss my turntable, which still works, I think, but is in LA. No, I don't have Medicare or SS. Certainly not here where I'm not official. But I don't I have it in the US either since I've never had a real, proper job in my life. The 'senior' status thing is so fucking weird. I still try to evade the discounts and things whenever possible. It's too spooky. ** Right. Return to celebrating Josiah's book's emergence into our consciousness, please, and give him some kind of shout out. See you on Monday.