* (restored)
_____________
Ghost Ship (Morey's Piers, Wildwood)
Ghost Ship is a horror attraction on the Mariner's Landing Pier at Morey's Piers amusement park. It is the most recent and only attraction that uses real actors within it, has spectators walk around the attraction and ride in the cart. It is covers 15,000 square feet (1,400 m2) of the pier, and lasts 15 minutes; making one of the biggest and longest running attractions in the park. The ride is intended for kids 10 and up due to its intensity ; such as grotesque medical experiments, blood, radiation scars, facial deformities, and the involvement of a claustrophobia room. While a strict no running policy is enforced, the attraction does have a series of "sissy exits" placed throughout the attraction if the ride becomes too intense.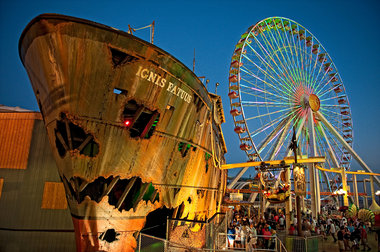 _____________
Hotel Krüeger (Parc d'attractions Tibidabo)
And we went in the Kruger Hotel which was freakin scary! There were a ton of rooms and it had real people dressed up in costume from all the major horror movies, there was freddie, chuckie, the girl from excorsist, hannibal, texas chainsaw man. I actually peed myself from fear.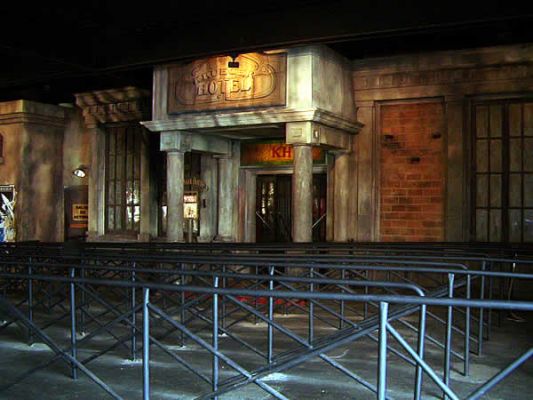 ______________
Hotel Gasten (Liseberg, Gothenburg)
In a small hotel, near the Liseberg Harbour, strange things are going on. Mysterious people seem to be living inside the old building. What they are doing there and why, no one seems to know. The only thing is – that those who check in at the Gasten Ghost Hotel can never be sure that they will ever check out again…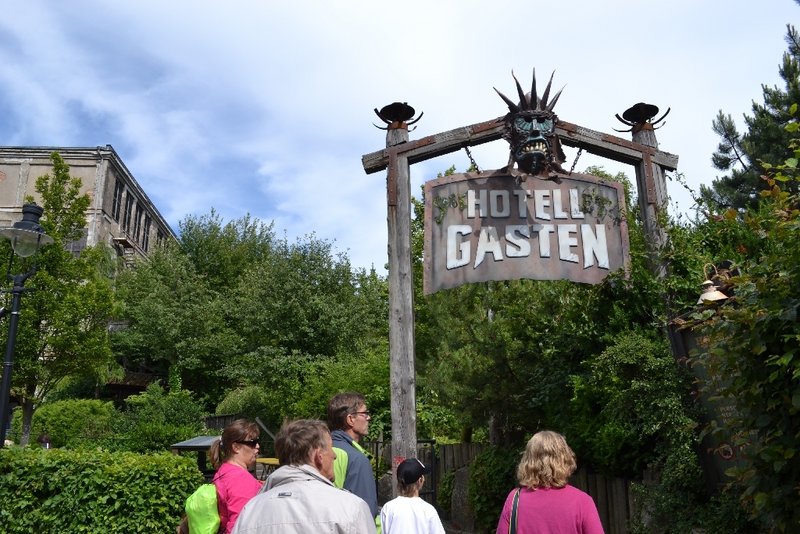 ______________
Mukuro-ya (Yomiuri Land, Kanagawa)
This is the attraction that walk in the cursed inn. It seems to appear spirit of actress who died in accident at "Mukuro-ya"Inn. Occasionally it seems to hear her sad voice from phonograph. We were given the mission to stop the phonograph to release a pathetic her soul.We walked the first floor and the second floor of the long corridor in the haunted house of retro atmosphere. The inn was very warm, and the scent of cypress. Mission was successful, but it was disappointing haunted house was not very scary.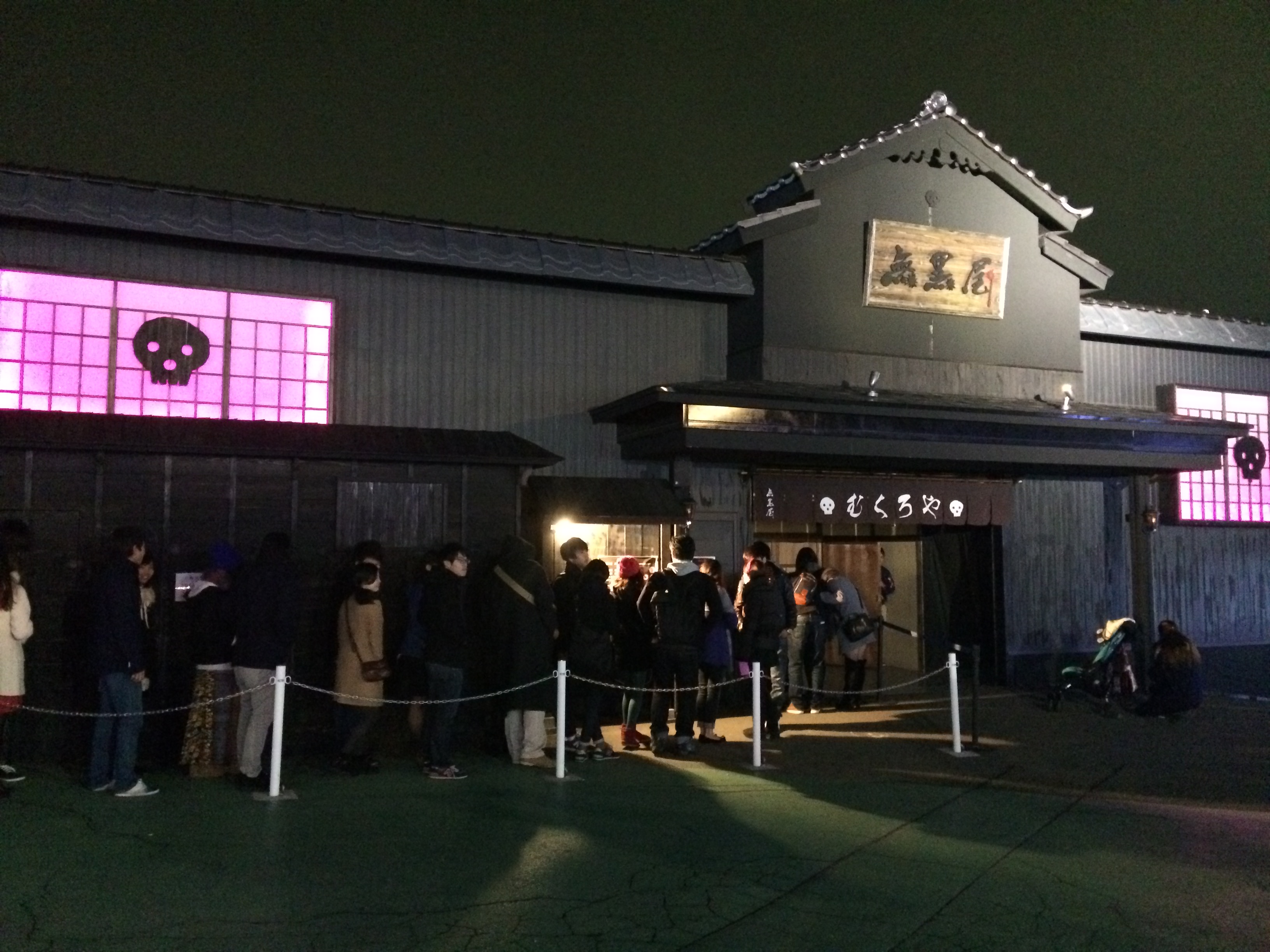 _____________
Dr. Frankenstein's Haunted Castle (Indiana Beach)
Dr. Frankenstein's Haunted Castle was voted the world's #1 walkthrough attraction in 2006. When it is all said and done, you will have walked through dark hallways, a scary prop around every corner. You will also see colorful and scary skeletons hanging inside of cages. The hanging skeletons, and even chests with skeletal heads that pop out at you. You will also see cages of eerier screaming going all around you. The wall are dark and painted with all types of scary figures, you will hear screams of small girls and the halls will be infest with fake rats. You can actually see rat tails protruding out from underneath the walls. They even have a skeleton band called the "Shock Rattle Band". This ride will positively make your head spin. This ride has been at the park since 1983 (The original castle ), and as far as I know there have been no incidents or any accidents that were reported just small bumps and bruises.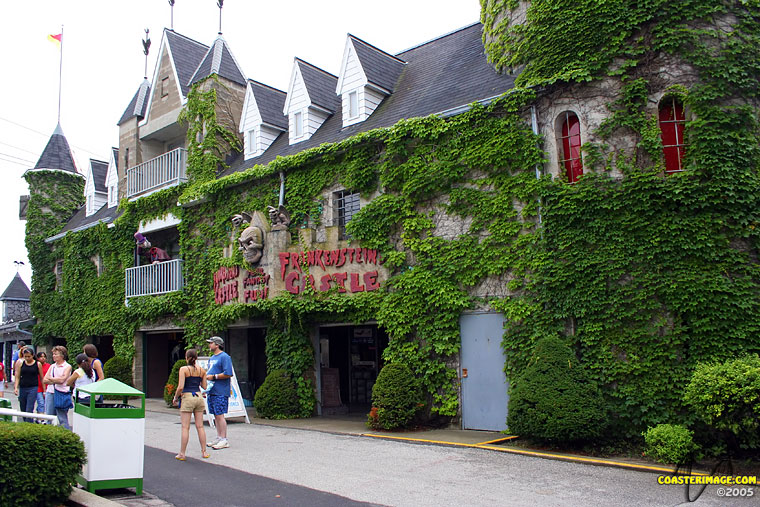 ______________
Spookslot (Efteling, Kaatsheuvel)
Long, long ago, when in times of storm and high water the Maas could still reach the foot of this fortress, the fourth Viscount of Kaatsheuvel Capelle lived in this castle. He collected fairy tales and legends from around the world and … practiced magic. He could make the flowers sing and the walls dance. There was only one obstacle in his life, the wicked witch Visculamia. She lived under lock and key in nearby Druinen. She wanted to take his tales away from him. One day, when the witch was on the prowl disguised as an untempered young maiden, she was caught by the gardener of castle 'De Efteling. By the three judges of the Duchy she was condemned to the stake in the eastern wing of the palace. With her last breath she spoke a curse in which the Viscount was doomed forever to find his last story …: his daughter, Esmeralda. And every time the water of the Maas rises, the enchanted crow of Visculamia strikes the clock at twelve. Then the corpse of the gardener who betrayed her dangles from the bell cord again. The judges who condemned her, wail from the attic window and in the catacombs the count chases his daughter, without ever finding her… While the flowers sing and the walls dance. The witch's throws her curses into the sarcophagus where the remains of the Count lie trapped. On the south hill of the yard his daughter will find no peace. And this will continue for many a year, until the song of flowers the owls' eyes doth close, lulls the evil crow, and the curse is broken ….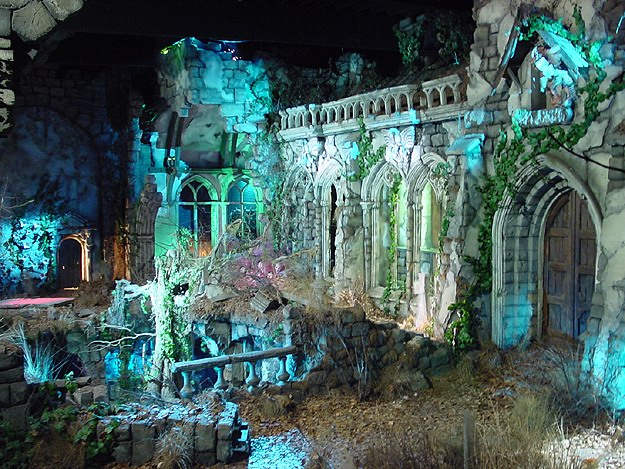 ______________
Pasaje Del Terror (Blackpool Pleasure Beach)
The Pasaje Del Terror is an interactive and realistic horror experience. Interactive walk through horror show with live actors. The most famous characters from the horror genre come to life within the confides of The Pasaje Del Terror to produce a unique, terrifying venture where the public become …. THE VICTIM!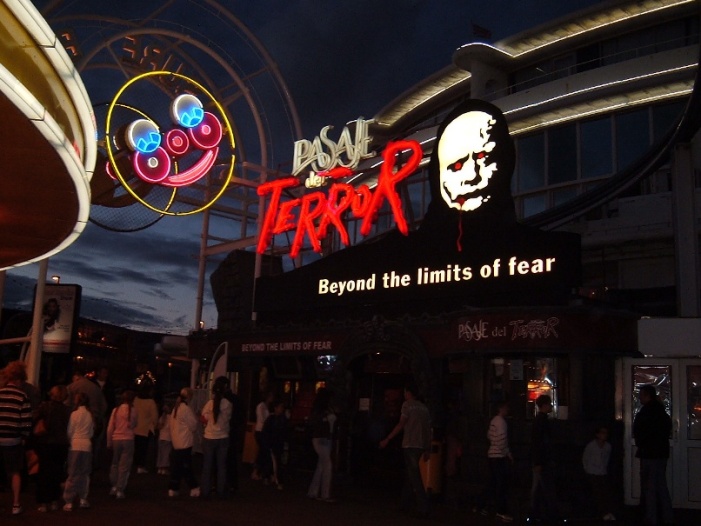 _____________
Vampire Infestation (Six Flags Mexico)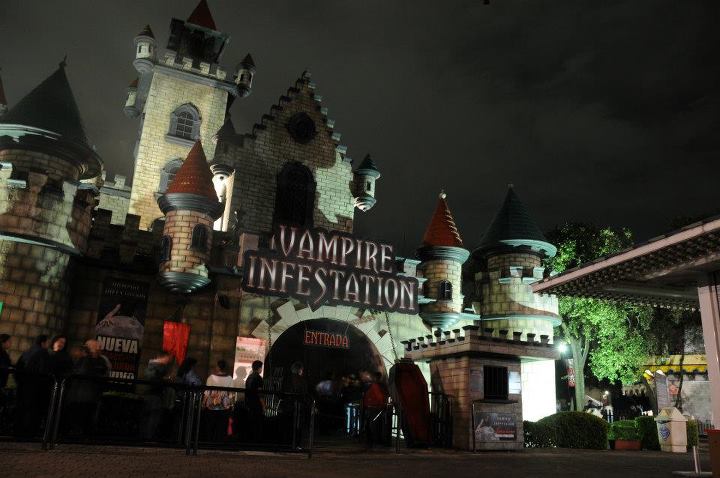 ______________
Fantastic Spooky House (China Dinosaurs Park)
Here is 'walk-through' footage of the Fantastic Spooky House, at China Dinosaurs Park, Changzhou, China. They really love their horror walk-through attractions in China! This one had the odd actor or two inside the attraction….making it extra fantastic.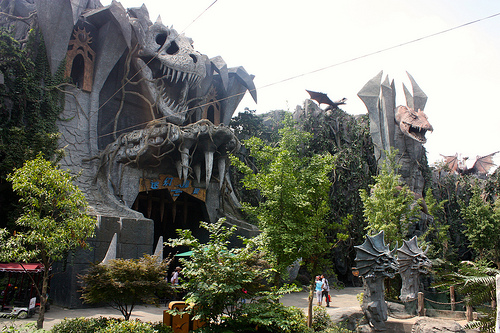 ______________
Legends: A Haunting (Kissimmee)
For undertakers, healthy townsfolk equal unhealthy business. Coffins lie empty and cremation ovens grow cold. If everyone lives, the undertaking business dies. But the Ashdown family had a solution… Since 1889, Ashdown and Son's Undertakers have offered affordable, high quality funeral services to the good people of Old Town. In that time they have laid thousands of clients to rest… Unfortunately, many of those clients were still alive… a minute matter to these murderous morticians. You see, death is how the Ashdowns make a living and business has been very good… til' now. It seems the dead won't stay dead and those brave or foolish enough to venture into the haunted funeral parlor of the Ashdown's might find themselves trapped between the wickedness of the living and the wrath of the dead.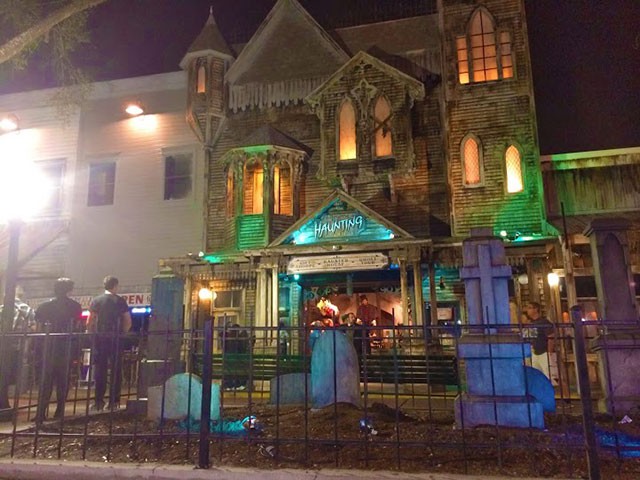 _____________
Phobia (Mirabilandia, Savio)
Are you ready to experience absolute terror? Explore pure fear and face frightening experiences in a world inhabited by sinister entities. They will scare you beyond all limits, all along your way. You have been warned…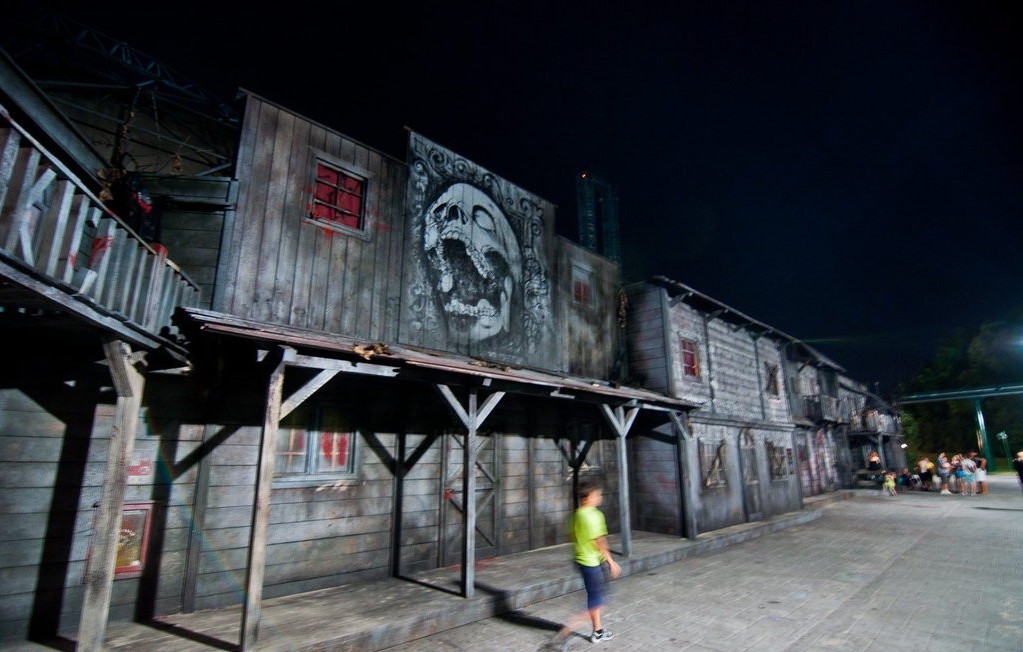 _______________
La Maison Rouge: Labyrinthe de la terreur (La Ronde, Montreal)
La Ronde turns the fear factor up a notch by offering a new and haunting attraction. Visitors of the Maison Rouge — Labyrinth of Terror will be terrified at every turn. The sound of the terrifying laughter inside will freeze the blood of those who dare to visit, and send them running for their lives. Minimum height requirements: 1.37 meters or 54 inches. This attraction is not recommended for children under 13 years old.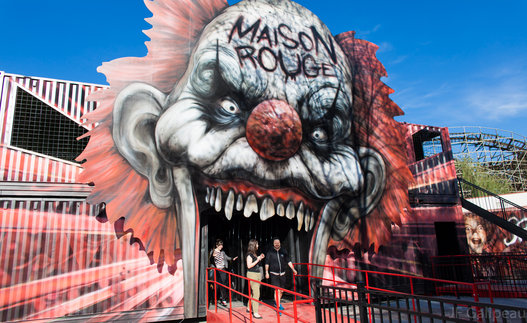 ______________
Ripleys Haunted Adventure (Royal Garden, Pattaya)
Visitors to the resort town will be scared stiff by Ripley's Haunted Adventure. Located on the 3rd level of the Royal Garden Plaza adjacent to Ripley's Believe It or Not! Museum, this spook filled attraction is a replica of the original, 20th century warehouse of the Grimsby and Streaper Casket Company. This abandoned structure is the backdrop for one of the scariest mysteries of modern times, complete with disappearances, foul play, and periodic visits from the other side. For your terrified pleasure, the masters of oddity, Ripley Museum, have resurrected the haunted tale of these partners and their establishment. Visitors, both Thai and foreign, will get the scare of their lives when they visit Ripley's Haunted Adventure in Pattaya.This 'spooktacular' attraction that horrified thousands around the world has been transformed into something never before seen in Thailand.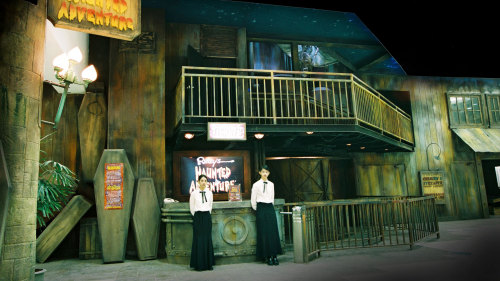 _______________
Haunted Mayfield Manor (Galveston)
Dr. Mayfield welcomes you to his home where you will meet ghosts and ghouls; you may encounter the strange shadow people that dwell in our attraction. BEWARE! The young doctor is quite insane so his actions can be unpredictable! Visits to the manor are continuous during operating hours. Upgraded tickets allow you to get to the head of the line during busy times. You may buy your tickets online or at our box office at the Manor. Haunted Mayfield Manor is located on the Strand at 23rd Street next door to its sister attraction Pirates! Legends of the Gulf Coast.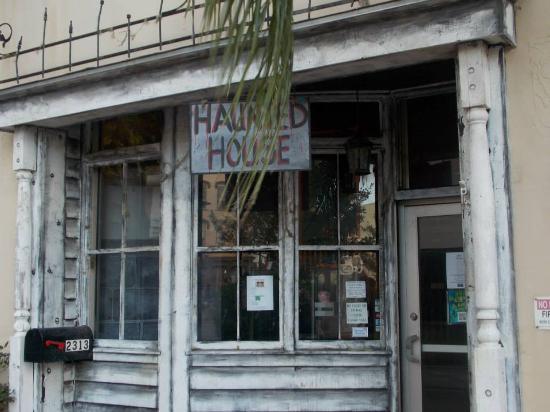 _______________
Kammokuja (Linnanmäki, Helsinki)
The frightening 3D-adventure will bring you up close and personal with horrors ranging from snakes to Hannibal Lecter. Don't get lost in the maze! Riders must be at least 120 cm tall. Kammokuja has no wheelchair access. Recommended for children over 12 years of age.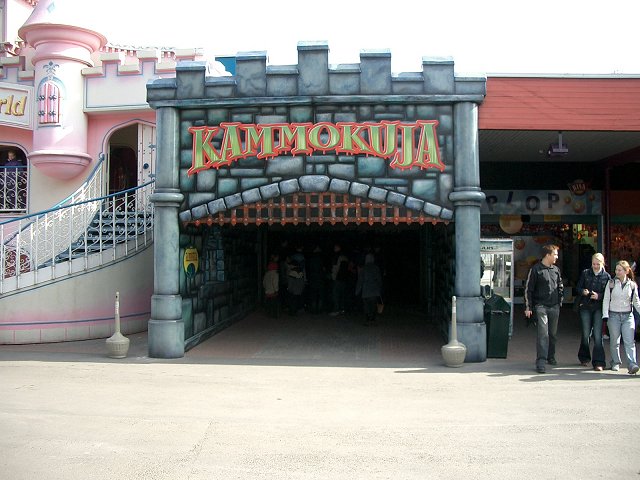 _____________
Pirate's Cove (Waldameer, Erie)
Waldameer park has announced plans to eliminate all traces of urine from the "dark ride" known as the "Pirate's Cove" by 2017. "This is quite an ambitious project for us" said park spokesman Joey Bagadonuts. "for both time and cost, this project is the equal to the new wave pool. "Not all patrons are in favor though. "For me, it's removing memories" said longtime park enthusiast Glen McDevers. I first urinated in the Pirate's cove in 1974 when I was 8 years old on a school picnic". McDevers, now living in Pittsburgh, remarked "Every summer I bring my family up to Erie and smelling that urine is like stepping in a slighty fetid time machine."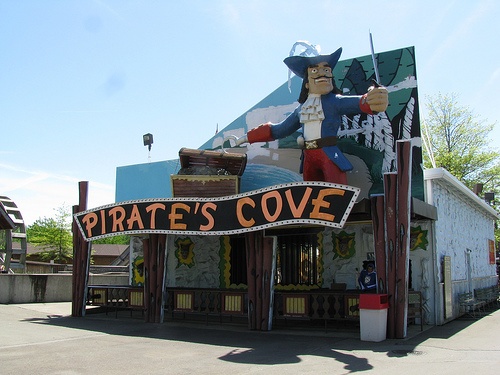 ______________
Horror House (Movieland Studios Italy)
Two years ago, I was lucky enough to experience a haunted house with live actors in Tibidabo. At the time I remember thinking that actors made the attraction much more interesting, although it would be fair to say that the Tibidabo attraction wasn't particularly frightening; rather, it was a cute attraction suitable for the entire family. Movie Park has gone for the other extreme with the Horror House, building what is without question the most terrifying walk through attraction I have ever experienced anywhere. The park brochure proudly proclaims their success; "In 2004, 33% of our visitors did not even see all of the attraction". It is not hard to see why. Groups of eight guests at a time enter the house by descending a floor in a lift. The staff have the group forming a human chain with one lucky person leading the way through near darkness. I had strategically managed to locate myself in third place in the chain, with Gordon leading the way under serious protest. He did try to bow out of this role but I would not allow it, as the next person in line would have been eleven year old Luke and this would not have been fair at all, as he was clearly having difficulties even in second place. On more than one occasion he jumped out of his skin, and Gordon complained later that the grip on his shoulders had gotten tighter as the attraction progressed. Many of the scenes within were references to famous movies, such as Nightmare on Elm Street, The Exorcist, Psycho, Friday the 13th, and more. Actors played their part in developing the experience, with some grizzly specimens jumping out to scare the hapless victims just trying to escape. Others, including one covered in blood, chased us through some of the scenes. It is to our credit that the whole group made it to the end, but it was not easy, and some club members of more nervous dispositions elected to sit out the attraction altogether.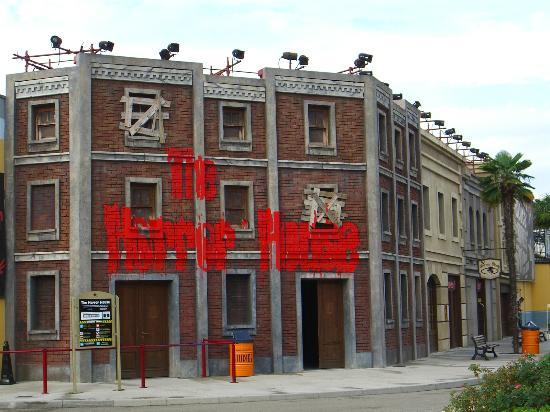 ______________
Hocus Pocus Hall (Chessington World of Adventures)
Naughty goblins are running riot in Hocus Pocus Hall at Chessington! Put on your 3D specs and brave the haunted happenings in this crazy mansion filled with wacky magic and mischief.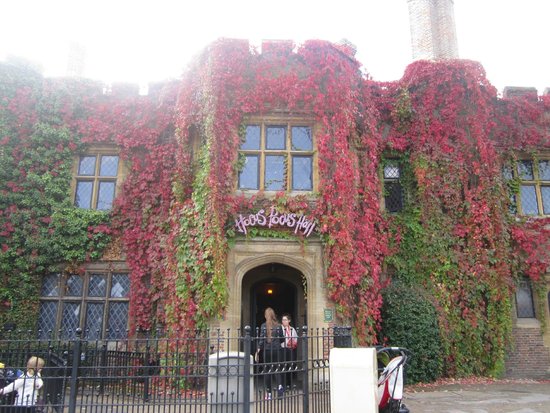 _____________
Super Scary Labyrinth of Fear (Fuji-Q, Japan)
A rendering of "Fear" so terrifying that those who experience it are beyond hope of being saved The longest and scariest haunted house in history. All rooms and corridors redesigned! Also with new rooms including "The Quarantine Ward," "The CT Scan Room," "The Diagnostic Exam Room," "The Third Operating Room," "The New Mortuary," "The Second Long Corridor," and "The Bacteria Lab." With the longest route in history at 900 m and lasting over 60 minutes long! The level of "labyrinthine" twists increased with a complete renewal of the entire route, and you will be gripped with a terror that you're "never going to get out alive…"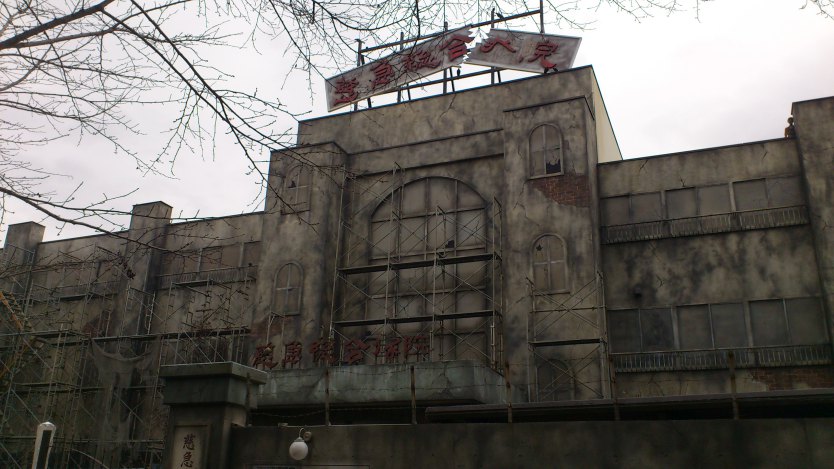 ______________
Raven's Grin Inn (Mount Carroll)
The Ravens Grin is not your typical haunted attraction; it is so much more. At this event, you won't find the typical things that you commonly see at other October attractions like spinning vortex tunnels, chainsaws, and strobe lights. Over the years, the structure itself, which was built in 1870, has been everything from an Oldsmobile dealership to a brothel. On their trek through the Raven's Grin, customers wind their way through coffin shaped hallways and underground passages, encountering a unique collection of interesting artwork and displays along the way. There are also a couple of fun slides inside the house, which the Ravens Grin has become famous for. The slide in the "Bad Dreams Bedroom", which is quite an intense experience, stretches from the top floor of the house, down to the stone-walled wine cellar, 24 feet underground! It is definitely a thrilling ride and it's worth going to the Ravens Grin just for that experience alone.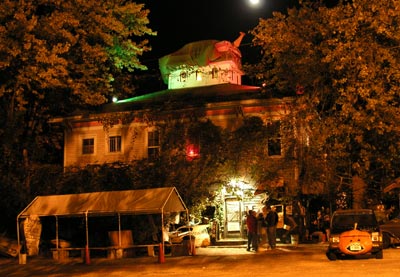 _____________
Fright Walk (Santa Cruz Beach Boardwalk)
Located on the Boardwalk, you can see and hear Fright Walk as you walk up walkway 2 from Beach Street. They have eerie music pulsing, red lights shining, a fog machine at full Pacifica levels, and characters roaming around in front. The Boardwalk lends itself nicely to this atmosphere, as it is a little eerie and desolate at night. It's times like these that your really get the feeling that they chose the right location for the film Lost Boys. More than once I looked around to see if Kiefer Sutherland was lurking about, or maybe that was just wishful thinking. We entered Fright Walk in our own group and did not run into any other parties inside – which I always enjoy. Fright Walk has a fun-house feel to it as you roam through corridors and rooms, and at one point, halls of full-length mirrors. Apparently, I am very scary to look at, as I scared myself no less than five times by turning a corner and coming face to face with my reflection in the mirror. I'd step back to go the other way, only to be confronted and scared by myself again in another mirror! This is an old, standard fun-house trick, but it shows the old standards really works here. Fright Walk has lots of simple but effective scares and is more animatronic-driven than actor driven. And while the animatronics were nicely done, we would have liked to have seen less of the mechanics of them (as we've said about other haunts) and better timing of when they "go off" so we're not passed them when they do their thing.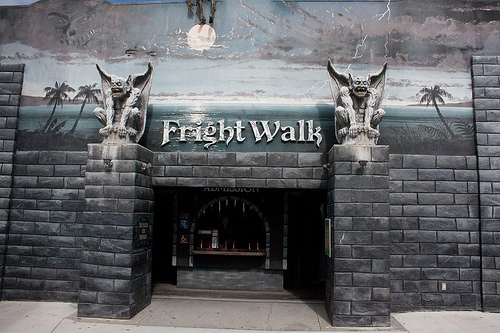 ______________
The Walking Dead Experience (Parque de Atracciones de Madrid)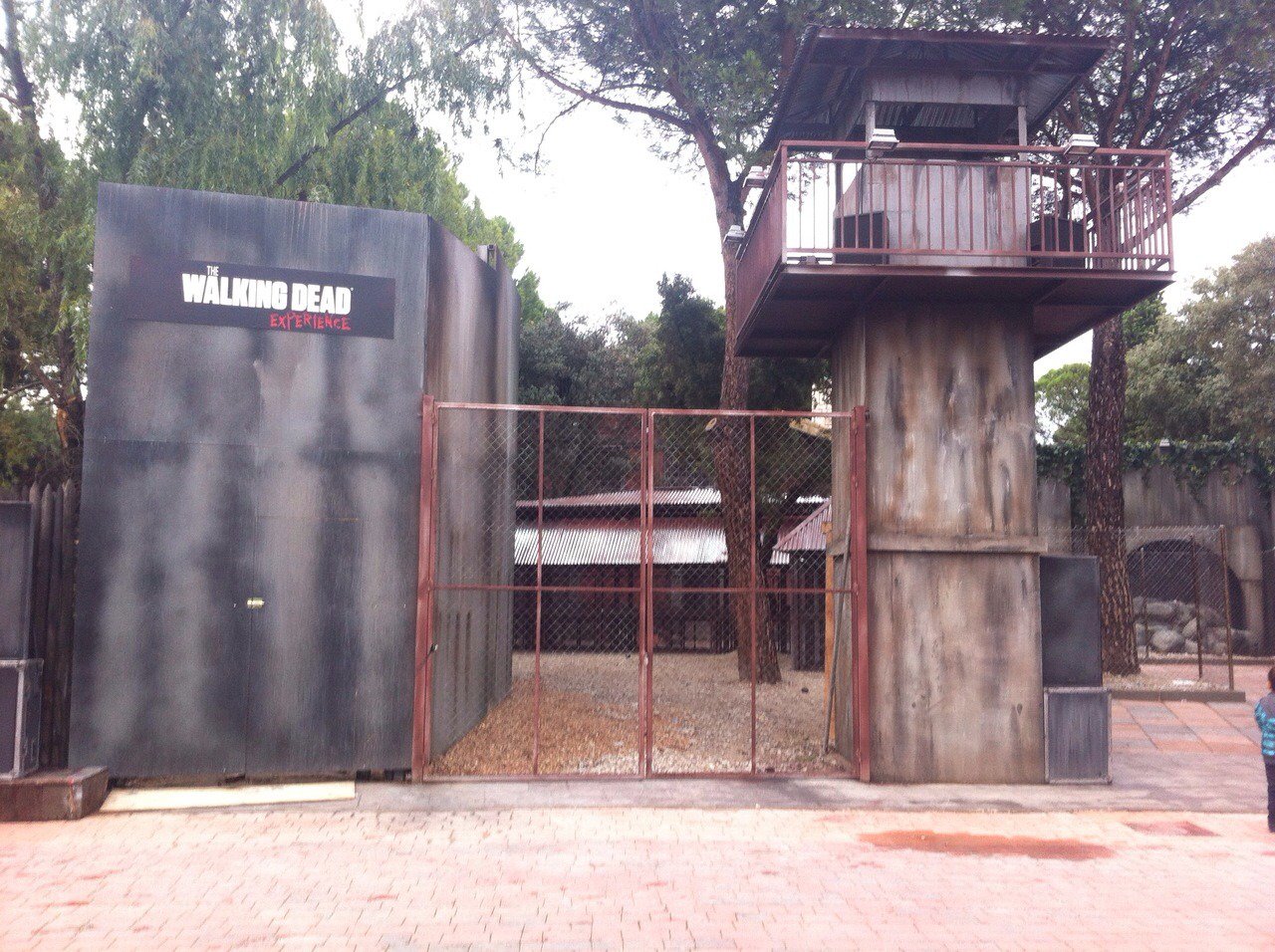 _______________
The Forbidden Caves (Bobbejaanland, Lichtaart)
Bobbejaanland Theme Park in Lichtaart, Belgium, has just premiered The Forbidden Caves, a high-tech 3D media-based thrill ride created and produced by Super 78 Studios. Only the second "Immersion Tunnel" attraction in the world, The Forbidden Caves takes guests on an action-packed subterranean adventure filled with supernatural creatures. Visitors to the Southeast Asian rainforests of Khyonesia travel deep underground to join "Jasper DuBois' Amazing Cave Tours." They soon discover that they are trespassing into an enchanted domain, encountering giant insects, stone statues come to life, and a colossal final "guardian" standing tall over a lava-filled chasm.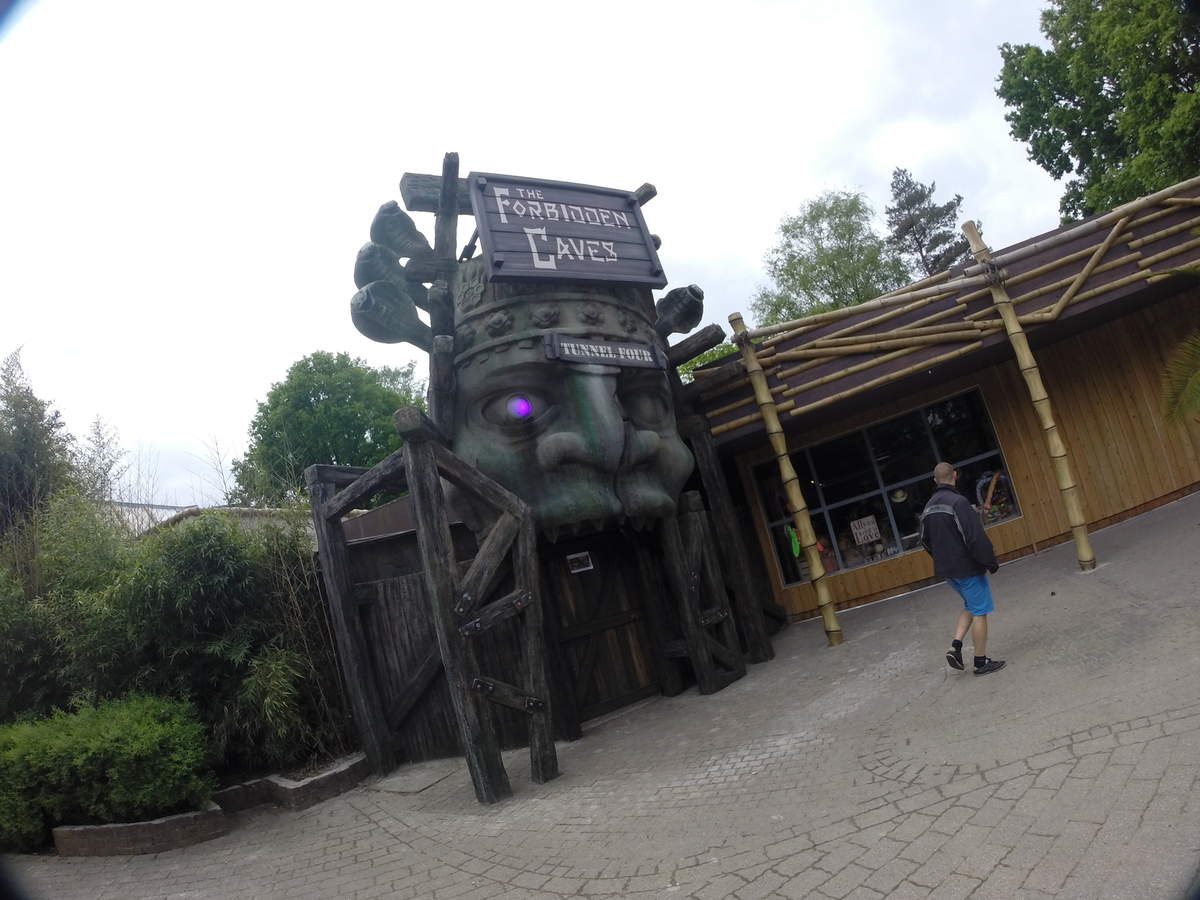 _____________
Pierce County Asylum (Tacoma)
Of the haunts I've been to this is one of the better ones. I don't get scared so I won't rate it on my sense of fear. However, I had a couple of teenage boys with me & one of them screamed like a girl almost the entire time. The asylum was elaborately planned out & the rooms were theatre-worthy. Haunted hollow was also really good. There was no excessive strobe use which was great because I get migraines, & the use of animatronics was both amusing & well thought out. The intro to Haunted hollow is one of the best I've seen. The detail put in to each room justifies the cost you pay for the tickets.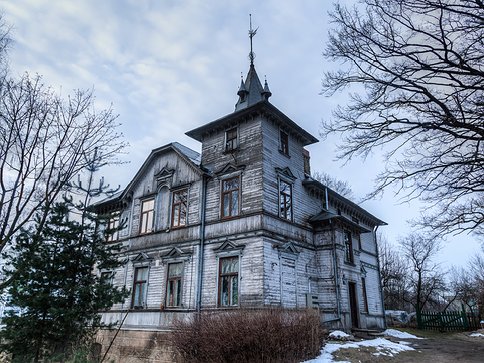 ______________
Spökhuset (Gröna Lund, Stockholm)
Situated in Gröna Lund is the Spökhuset. It is a haunted house and it is definately the scariest I have ever been in. It is very dark so you hardly see a thing. Real people come scare you from behind, and at some point it feels quite terrifying. This place is not really for chickens, since quite often people come out of the house crying!!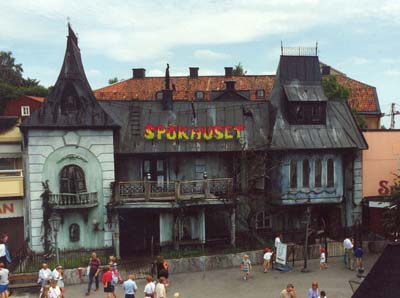 *
p.s. Hey. ** Bernard, Hey, B! First indeed. I'm in your time zone. Thanks about the blog's recent hits. Yeah, I sort of don't get true pleasure from something if it isn't difficult for me, and, if I still had a therapist, I would ask her why. I saw that M. Lally did  a reading there with Terence Winch. That's sweet. I need to remember to pick up Michael's book while it's something that would be on an accessible store shelf. It would be curious to see him again. Oh, I'll be there at PS on the 28th. They can't do the piece without me, But I'll literally have to grab my 'suitcase', run outside, and catch a car to the airport the minute the bows have been taken. If you're in NYC earlier and free, let me know, and let's meet up. I'm good. All is good, I think. Yeah, I think so. You too, I think. ** Steve Erickson, That's a decent reason not to do it, yeah. At least in the current day. Don't know if I can get through that podcast, but I'll start it. Everyone, Steve Erickson has a tip. Steve: 'This podcast, presented by Film Comment, features three queer film critics talking about various issues about queerness, film and criticism for 76 minutes, and I don't expect everyone here to find that fascinating, but I found it very interesting.' ** David Ehrenstein, Hi. That Fleetwood Mac track is too late in the FM game for me, but thank you. Yeah, Chereau, yes. His operas are still performed quite frequently in Paris at least. ** Misanthrope, Hi. Glad the headache has dusted you off or you have dusted it off, I guess, or something of that nature. Big nice day to you. ** Nik, Hey, Nik. Awesome! Yes, 'Fable' is a bit of a cult thing even within Pinget's work, I think partly because he semi-renounced it later in life, I can't remember why. Yeah, the East Village … I mean I certainly get the difference. There must be a billion boutique-y restaurants here now, and so on, but it's really very pleasant, as it was, and there are stretches where it feels and even looks really a lot like it did in the 80s, 90s. I hate nostalgia. I think it's one of life's sneakiest and worst enemies, and there's a lot of it at play in the diehards' decrying of what the EV has become. Things change. I think it's more useful to study the shifts than to make mountains out the molehills that used to inhabit its storefronts. Or something. Cool, you'll be at the opening. Hopefully we'll be ready by then. I think we will be. Fingers very crossed if you need them on the submissions. Would imagine not, but, yeah, submitting is hellish, so my fingers are both twisted together and on the case. News when there is some, please. ** JM, Hi, man. Pinget's killer, yeah. I still didn't read your piece on the film due to necessary out-of-house time — I don't like internetting on my phone, I don't know why — but I think today. Things are good, or they seem good. I guess that's the most realistic thing you can say. Hope everything goes swimmingly with you. ** Bill, Hi. Oh, cool you're seeing 'Crowd'. Sitting closer is definitely better. The closer you sit, the more you get to see my work in the piece, which is only really visible in the performers' faces and body language. So that's very good. There's no audience interference or -play or anything like that, don't worry. Hope you like it. ** Paul Curran, Hi, Paul! Yeah, man, huge up on the XRAY piece. That is part of your new novel, right? Man, definitely work on that thing. It couldn't be more promising. ** Right. I'm using my powers of restoration to indulge my Halloween loving side. Also, Zac's and my next film is set in and around a Home Haunt, so you'll likely be seeing more haunted house related stuff in the future than you'll want to see. Oops. See you tomorrow.