* (restored)
s—-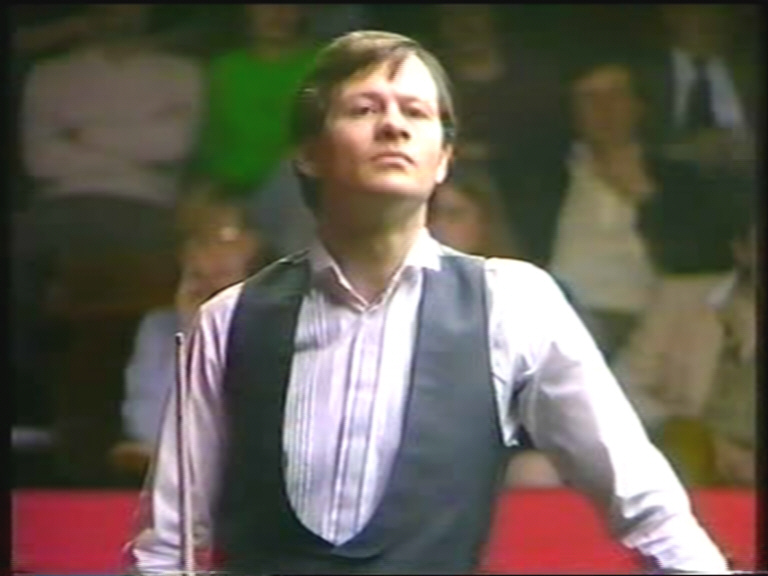 'Alex "Hurricane" Higgins was snooker's anti-hero, seeking neither acceptance nor respectability. A fast, flamboyant shotmaker in his prime, whose acute non-verbal intelligence instantly read the implications of any configuration of the balls, he constantly undermined his extraordinary talent with self-destructive excess. Higgins died on July 24th, aged 61, after a long battle with throat cancer.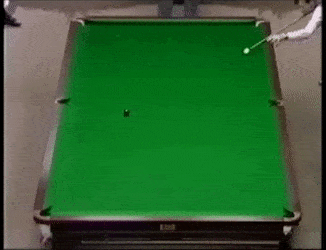 'His 16-15 semi-final win over Jimmy White in the 1972 World Snooker Championships provided the most often reprised item from the BBC's snooker footage. Trailing 0-59 in the penultimate frame, Higgins produced, like a gunfighter down to his last bullet, a clearance of 69 to level the match and added the decider comfortably. This was the death or glory situation in which he revelled. His compulsive urge to live on life's dangerous edge, stronger than any mere desire to win, was like an addiction to the thrill of gambling. Always at his most dangerous and most fascinating in a situation of peak emotional intensity, he accessed a similar seam of inspiration in the final when, from 15-15, he ran through a trio of frames to beat Ray Reardon 18-15.
'Beginning when he won the Northern Ireland Amateur Championships at 18, tales of Higgins' dashing centuries, bust-ups, punch-ups, drinking, gambling and women spread through the snooker world. His challenge matches against the late John Spencer, then the reigning world champion, packed venue after venue as he acquired an army of supporters who were to give him their unqualified support throughout his career. Even at that early stage many questioned how long he could last with such an uninhibited lifestyle. He drank heavily; only a boxer could have collected more black eyes than he did; he was thrown out of clubs; a tour of India lasted only a day before he was sent back to England in disgrace on the first available plane.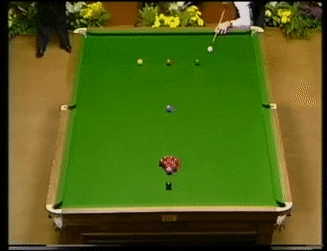 'Umpteen fines for miscellaneous disciplinary offences were shrugged off until Higgins prevaricated over giving a urine sample for a drug test at the 1986 UK Championship. When the tournament director tried to hurry him, Higgins headbutted him. Higgins was at the centre of the ensuing scrum that spilled out into a corridor and resulted in his being fined £200 for assault and £50 for criminal damage to a door by Preston magistrates. A disciplinary tribunal chaired by Mr Justice, now Judge, Lightman fined him £12,000 and suspended him from five tournaments. On his return, he was again in the news after a row with his girlfriend, Siobhan Kidd, a psychology graduate he had met while she was working as a waitress. When she locked him inside her flat, he attempted to crawl round her building on a ledge only to plunge 25 feet to the pavement, breaking bones in his foot.
'Siobhan was the love of his life but she departed finally with a fractured cheekbone for her trouble. Out of his mind with rejection, he threatened, backstage at the World Team Cup, to have his team‑mate Dennis Taylor shot the next time he visited Northern Ireland, reducing him to tears with vicious verbal abuse of his late mother. Disciplinary action was pending from this when, after losing in the first round of the 1990 World Championship at the Crucible, he punched the WPBSA's duty press officer on his way to the obligatory press conference. This was nothing personal, simply an expression of his consuming rage against any form of authority. He was suspended for a year and docked so many points that his ranking fell to 120.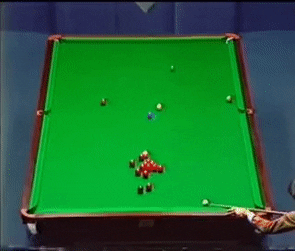 'His last match on the circuit was in August 1997 in a qualifying event in Plymouth. He lost 5-1, became truculent, was escorted from the venue by police and was found at 4am sprawled on the ground outside a nightclub, the victim, so he claimed, of an unprovoked assault with an iron bar. Quickly discharging himself from hospital, he made his way to the Manchester home of a girlfriend, Holly Hayse, who stabbed him with a kitchen knife when an altercation broke out. Higgins declined to give evidence against her.
'Sporadic attempts to compete on the fringes of the professional circuit were cruelly unsuccessful as he lived out his declining years in a small flat in sheltered accommodation. In his prime, he could play brilliantly in an imitable way even, at times, well enough to give himself the illusion of the omnipotence he craved to keep at bay the vulnerability he feared. When snooker could no longer serve as the glue to hold his life together he made no concessions, no pleas for sympathy.' — The Observer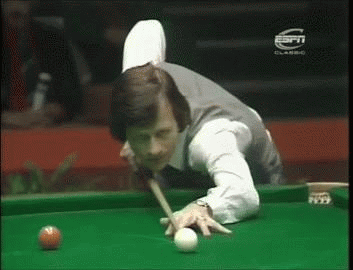 Alex Higgins: A Complete One-Off @ Snookerscene
Alex Higgins History & Stats @ Global Snooker
The extraordinary life of Alex Higgins
___
Plays

From 1979 World Champs match against Terry Griffiths.

Some exhibition shots from 1975.

Century break by The Hurricane! from 1985 UK match against Jimmy White.

Angry Alex Higgins

Unusual shot by Alex Hurricane Higgins to beat Steve Davis 1987

1989 Snooker Irish Masters, Alex Higgins – Stephen Hendry, epic Final!

ALEX HIGGINS – FLASH SHOTS

Alex Higgins BBC Documentary – The People's Champion

Alex Higgins' Final Battle
____________
Jimmy White: 'I'd have died if I'd beaten Higgins and won the world title in 1982'
Donald McRae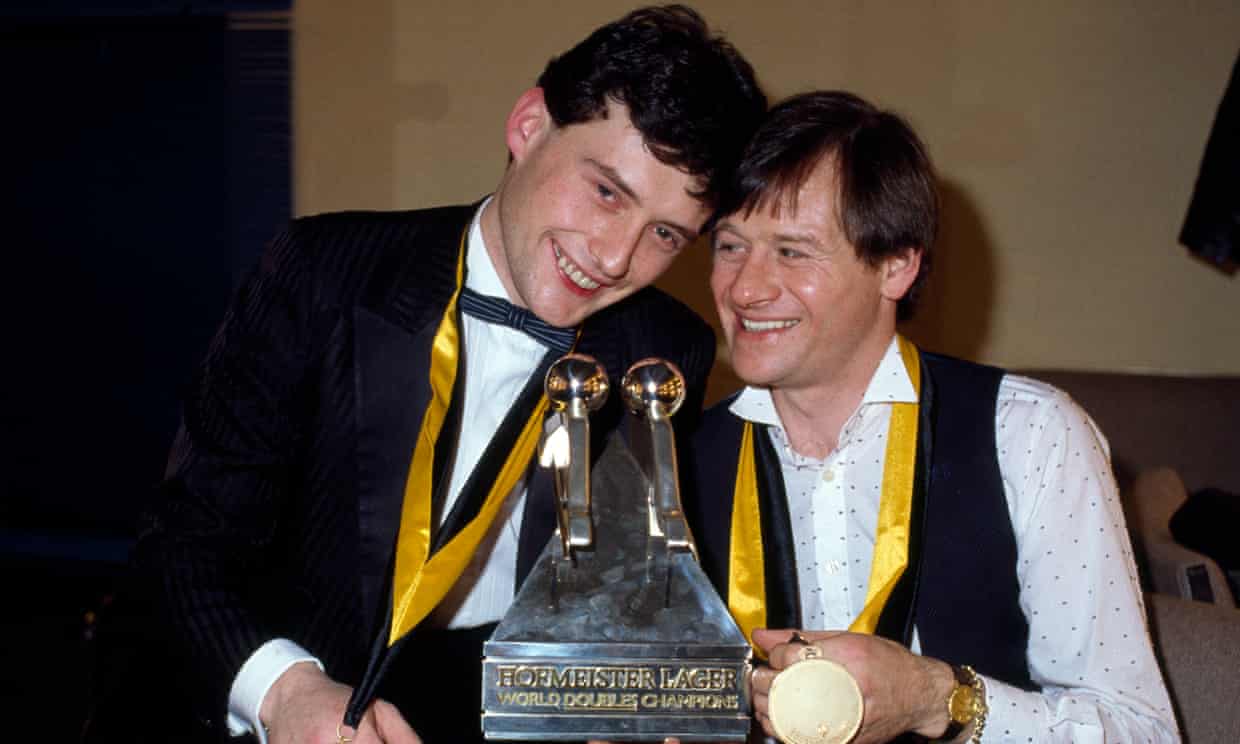 When we remember Alex Higgins, his fellow snooker genius and reprobate who died in 2010, Jimmy White suggests that losing their epic semi-final at the worlds might have saved him.
"I would've died if I'd beaten Higgins and won the world championship in 1982 because I'd just found cocaine and I liked to drink," he says. "I always liked cocaine – whether drunk or sober. It was no one's fault but my own. I'd just become famous, because we only had four channels in them days and, instead of queuing round the block to get into a West End nightclub, I was getting the treatment. I had such fun, even though I can't remember much."
Years of cocaine use led to the dark spiral of crack. "I'd knock about with Kirk Stevens [the former snooker pro from Canada] and he'd be on crack. One day I tried it. It's the most addictive thing ever. Kirk had no idea how to get cocaine. But I'd come from the street, so I knew 20 dealers. For me to get cocaine was easy. So I became hooked on crack for a few months. It's like being an alcoholic. The first hit is the best – like your first drink. When you're smoking crack it's pure but you never hold on to that first hit either."
How did he kick crack? "I couldn't get any money out one night. I had drained one account completely. I got the heebie-jeebies. I had a day trying to think and then I knew. I had to stop."
Higgins, in contrast, could not save himself. "I first played Alex in an exhibition when I was 13," White remembers. "He came to a working men's club in Balham, which my dad ran, and tried to chat my sister up. So my brother wanted to knock him out. It was the most horrendous first meeting with your hero ever. I should've known.
"But the only time I fell out with Higgins was when I had a mansion in Surrey. Swimming pool, snooker room. Higgins came over and we went drinking. My friend drove us in a Mini Metro. We were drinking all day and I decided to drive after another two gallons of wine – for which I apologise. I crashed into a wall. The windscreen flipped out and Higgins, who never wore a seatbelt, flew out."
White shakes his head. "Higgins stands up and he's shouting: 'I've got nine lives, baby!' I'm feeling sober now and I drive to my house … the windscreen wipers are attacking us. I drive into the garage and the engine falls out. If we'd been driving we could have been seriously hurt. But Higgins is flying, saying, 'This is great!'
"After I get my friend to pick up the windscreen, because it's got my name on the tax disc, I feel safe. But I'm not ready for Higgins. He takes me to the snooker table and says: 'Let's play for money, baby.' He wouldn't stop. I threw him out. He knew the neighbour and I didn't get on so he went next door and said I'd attacked him. That was Higgins."
What happened when they next saw each other? "He said: 'Hello, babes. How are ya?' He had ways where you'd be fuming with him and then he'd say something and you'd forget about it."
In the grip of throat cancer, Higgins barely ate in the last months. "It was horrific," White says. "As much as me and his sisters done things for him it was no good. They did far more than me, obviously, but he fell out with them. So he wasn't found for 10 days. He died of malnutrition. It was horrendous."
White and the sisters had raised money to buy a new set of teeth for Higgins's ravaged mouth. "We raised three chunks of money for him," White says. "But you give money to a gambler it's like giving heroin to a junkie. The money just made him eager to gamble more. I think Guinness kept him alive – the iron in it – because he wasn't eating much. He was his own worst enemy."
The funeral was delayed to allow White to return from Thailand. "When I got the call saying he had died, I was numb. It was evil." White helped carry Higgins' coffin and "4,000 people lined the streets. It was unbelievable – but so sad."
Higgins's last world championship title came in 1982 when, in that unforgettable semi-final, White was 15-14 ahead. White was 51-0 up in the next frame, which would have won him the match, when he gave Higgins, who had been drinking heavily, a chance. Taking on shots that needed outrageous courage and daring, Higgins cleared the table with a break of 69. "That was his best. There were three or four shots in there which – under the pressure – will never be repeated. The drunker he got, the calmer he got."
White looks away, lost in the memory. "I was in awe of him. I was watching my hero playing. That clearance is the best ever made."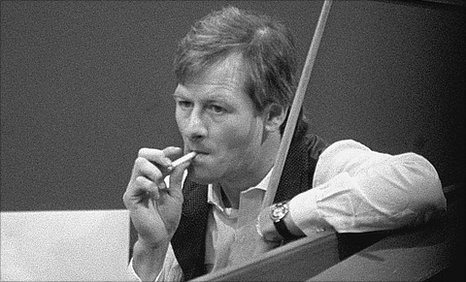 —–
*
p.s. Hey. There's a new, long, very thoughtful essay on Diarmuid Hester's Wrong, my writing, and Permanent Green Light called 'On Dennis Cooper and Becoming-Nothing' just up on Los Angeles Review of Books if anyone's interested. Here. ** David Ehrenstein, Especially Blanchot by far for me. ** Misanthrope, I always try to see people I meet as blank slates and disavow as many preconceptions based on looks or gender or race or age or the identity politic as possible and let them (with my instincts in tow) fill in whoever they are. It's very rare that I've gotten bamboozled. I'm kind of disassociated from how I look. I don't now what to do with how I look other than to maintain it in a basic way. Tomorrow we're getting a murderous 104 degrees F day here, the first truly awful day of the summer, and I'm 'praying' it's a 24 hour novelty act. Me, I say err on the side of being overly precautious re: the pandemic, and more power to places that enforce strict rules, especially over there in the US where the chaotic 'guidance' has been a complete fucking mess. So I guess just deal with it, is my advice. ** Jeff J, Hi, Jeff. 'The Last Man' is sublime, I think. What he does/pulls off there is unbelievable if you're interested in what he does. Hope you like it. Yes, I listened to the Julian Calendar EP. Excellent! Especially the first two tracks for me. Congrats! Everyone, Jeff Jackson's fine musical unit Julen Calendar … and here I turn the wordage over to Jeff … 'finally released some new music. First of four EPs. Post-punk, sinister groove, dark lullaby. Really happy with how it turned out. You can download/stream it here.' Highly recommend that you stream it. Glad the screenplay is going well. Me? Finished some new GIF wall works that actually open in a gallery show tonight. Doing some editing/dramaturging with Gisele on her new piece. We won't have an official answer on the TV project until early September, but, barring an enormously unexpected turn, I think it's dead as the veritable doornail. Gisele is looking into turning it into a feature film, but we will see. Fund-raising/strategising on the new film. There's a possibility of bringing a great particular co-producer that would make the fundraising much easier and ease the issues of shooting the film in English and in the US, so we're waiting anxiously to see if that pans out. My first attempt to turn the TV script into fiction was a bust, but, actually, in the past week I have a new idea of how to possibly revamp that in a way that could maybe work really well. So I'll be trying that out over the next week or so. I think there's a way that it can work really well, but I have the find the right approach. Great to see you, bud. ** _Black_Acrylic, Hi. Well, 'Death Sentence'; is my l=favorite, but 'The Last Man' is incredible. It's a harder book to find, but Jeff Jackson says he found a downloadable pdf, so that might work. Oh, I see, about he storage, etc. Yeah, that makes sense because, yeah, really, who has any idea what your world or mine will be like in even a few months. Makes sense. Cool you got 'Wrong(ed)'. ** Sypha, Hi. I, of course, don't know the HBO show because I don't watch TV. Weirdly, I've never read 'Watchmen'. I remember sort of enjoying the film. Or at least thinking that Jackie Earle Haley and his character were great in it. ** Max B, Hi, Max! Oh, cool that Screen Slate reran that. I really love Benning. He's definitely one of my filmmaker gods. His films are not easy to see. He used to have a kind of secret Vimeo account where most of his films could be watched for free, but either he's taken it down or it has become even more secretive. My favorite is '11 x 14′, but it's super hard to see. 'One Way Boogie Woogie', another favorite, seems to be on youtube very unexpectedly, at least at the moment. Honestly, I love everything he's made. So you can kind of just try what you find. Good to see you. You good, surviving, etc.? ** Damien Ark, Hi. Oh, that makes sense that you're in guro, no surprise. I've been tempted do a commission with a few of the especially amazing artists for a project. Might still. I'm glad you had a feeling-filled birthday for Jon. Yes, indeed, I do love Sparks. Oh, whoa, congrats big time for your piece being on Hobart! That's so awesome! I'll, of course, go read it asap. Everyone, Excellent writer and fine fellow Damien Ark has his first novel coming out later this year, and there's a preview excerpt from it just up on the Hobart site called OPANA, DYING, IN BALTIMORE: AN EXCERPT FROM FUCKED UP. Obviously, I'm seriously suggesting that you who are reading this go check it out. Right here. ** JoeM, All is right or re-right with the online world. Oh, that's not too bad, your schedule. I mean … I don't know if congrats are appropriate under the circumstances, but not bad. I feel way too outside of things to know what's good or bad or right or wrong, but I do really hope that Scotland breaks off from the biggie UK. And not only because you'd still ostensibly be in the EU with us over. But that is an opinion influencer. ** Ian, Hi. Ha ha, not as often as you would think. It's more like people would often say, 'I bet you get called Dennis the Menace' a lot more than anyone actually calling me that. I'm glad the guro nagged at you. It nags at me, obvs. I guess so-so is better than not-so? Hoping for steady if not speedy improvement. And I hope you can set up your writing such that you can dive in. How are setting it up? Is it something describable? (I'm a bit of a process junkie). Thanks, I'm good, or will be once the heat wave that arrives tomorrow dies a hopefully quick, painless death. Take care. ** Bernard Welt, No, you're the only one, B. It's touching. ** Steve Erickson, Eek. Trust/hope all is right throat-wise by this morning. Everyone, Mr. Erickson weighs in on the raging 'cancel culture' debate via think-piece called 'Who's Waging & Winning the Cancel Culture War?' if you want to know. Here. Oh, really? My Facebook feed was stuffed with people mostly ripping Shane Carruth a new one yesterday or the day before, I can't remember. ** Nik, Hi, Nik. Oh, awesome! It's so insanely great, right? What an especially mind blow of a thing from the great mindblower. Enjoy the idyllic and natural. That sounds really nice. Things are still very good here. No huge change, still very reopened and chill, although the possibility of a downswing forever looms. But, no, things are really just fine here relative to most everywhere else from what I can tell. Really good to see you! Catch me on your stuff whenever you feel it please. ** Corey Heiferman, Hi. I'll go hear your gig add, thank you. I think I'm sort of an oblivious to my home surroundings type other than very minimal cleaning. I've still never even put up a piece of art though intending to do so for years. But I'm an oblivious dresser too. Whatever covers the body and doesn't give me an allergic reaction is my modus operandi. Other than 'late next year', I know zip about my novel's release date. I'm assuming it'll start getting nailed down maybe late this year. Bon day. ** Right. I thought I'd throw you blog readers a wild card today and restore this very old post about 'Hurricane' Higgins. Back in the mid-80s when I lived in Amsterdam, I had about a year where I was obsessed with watching snooker on TV, and Higgins was the fascinating snooker star for me. So at some point years ago I remembered that and decided to do a thing about him. And here it is. See you tomorrow.