______________
Vanderlei Lopes Gold Leaks (2017)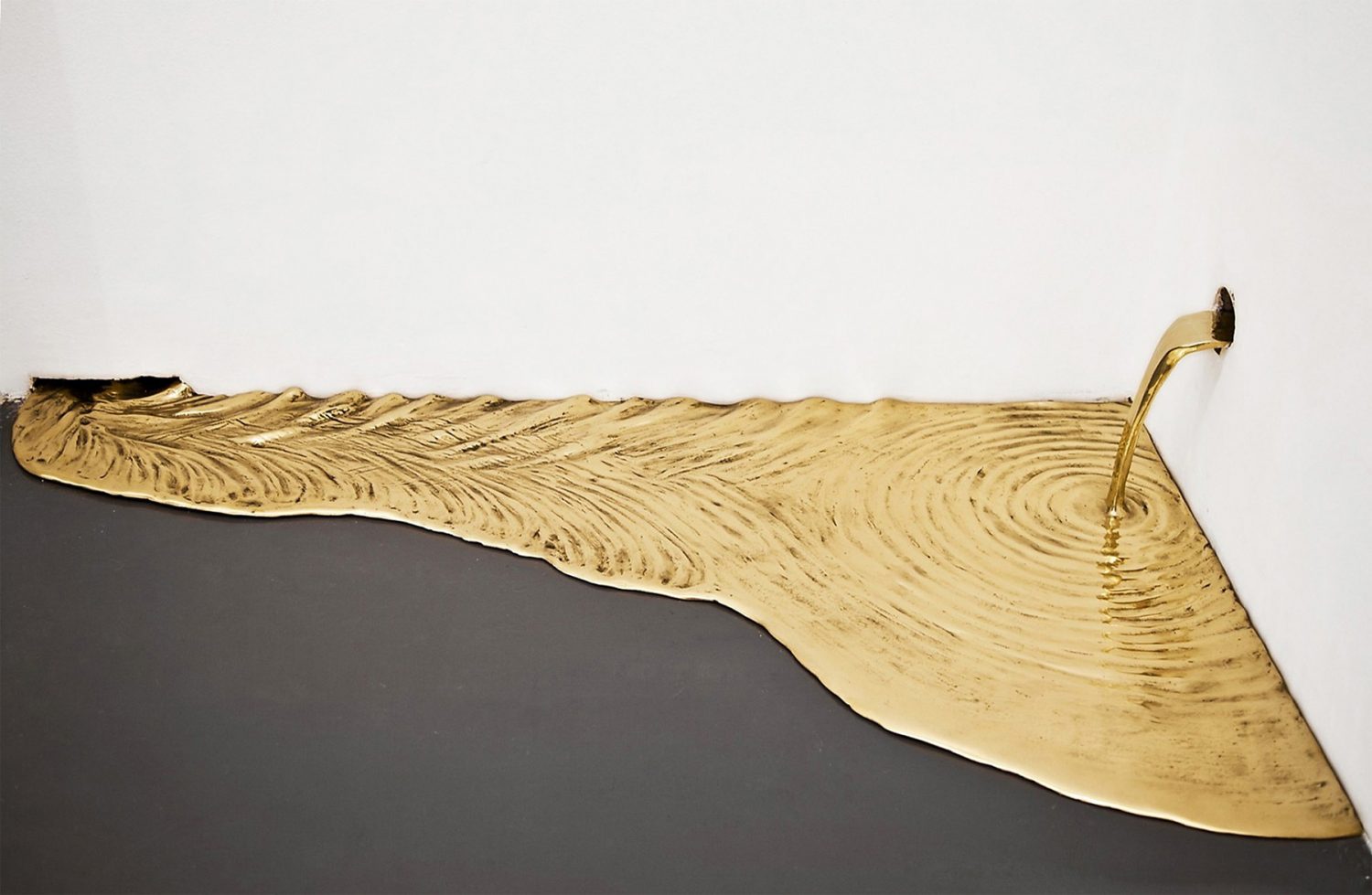 _______________
Alessandro Scali Giphoscope Raro (2015)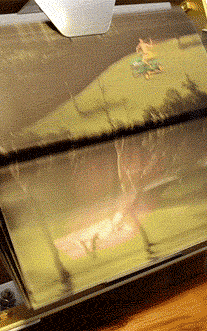 _______________
James Lee Byars The Death of James Lee Byars (1982/1994)
_______________
Louise Bourgeois Arch of Hysteria (1993)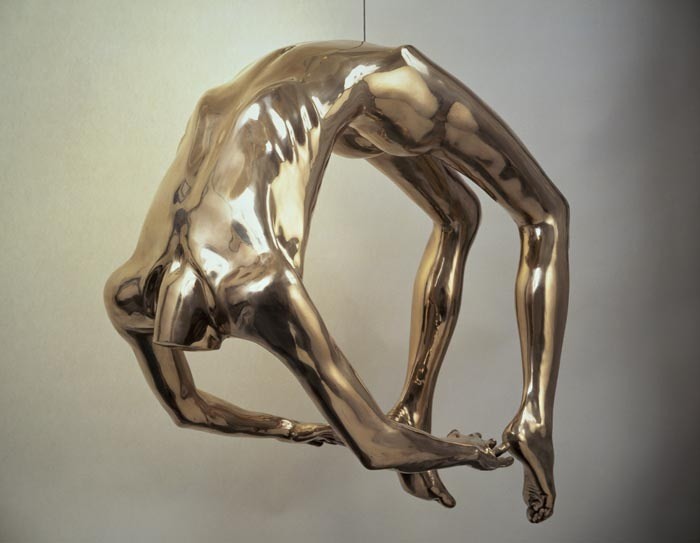 ______________
Mercedes C63 AMG Vestita d'Oro (2009)
_______________
Ewan David Eason Paris (Greater) (2014)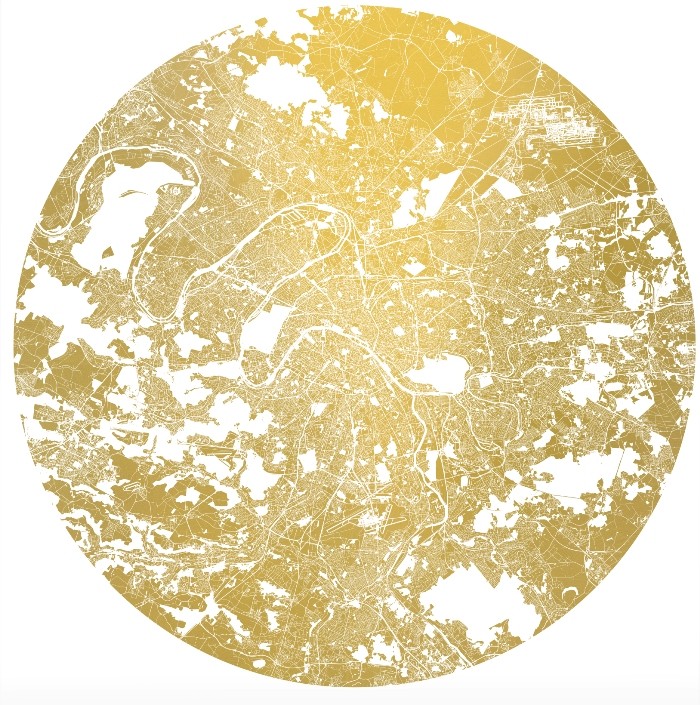 ________________
Talya Miller The Old Testament (2013)
_______________
At $425 a pop, your shit will be flecked with pure gold flakes when you swallow these luxurious vitamins by artist Tobias Wong.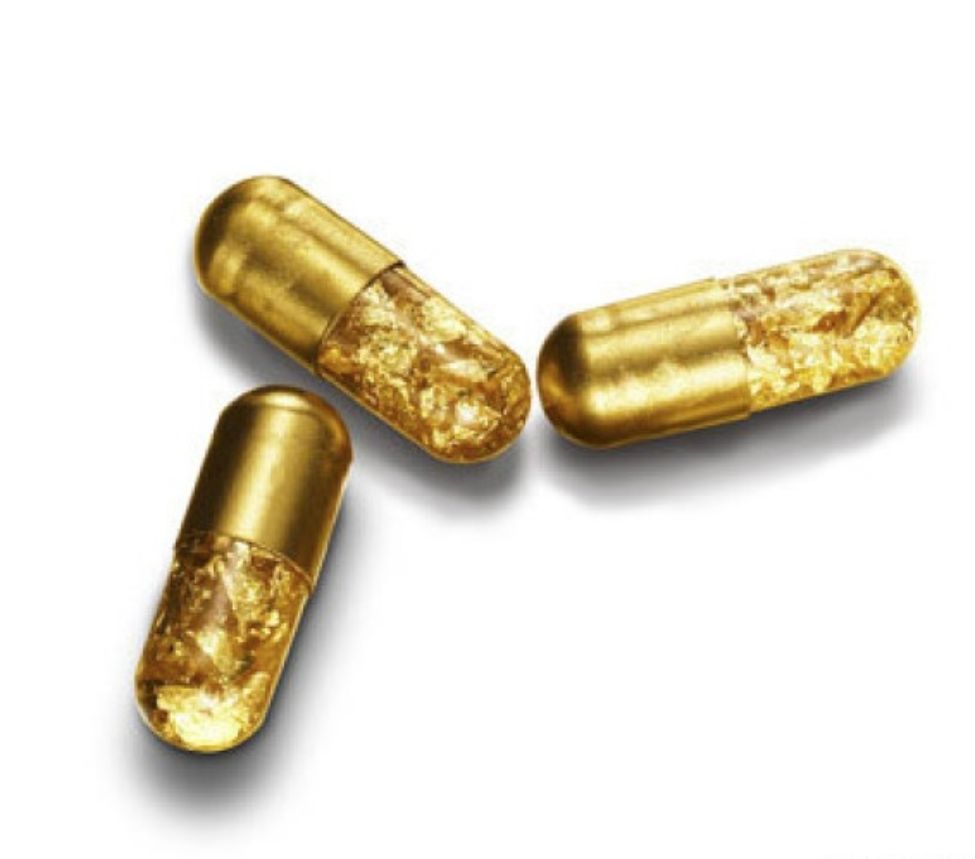 _______________
Nuno da Luz Wilderness (2015)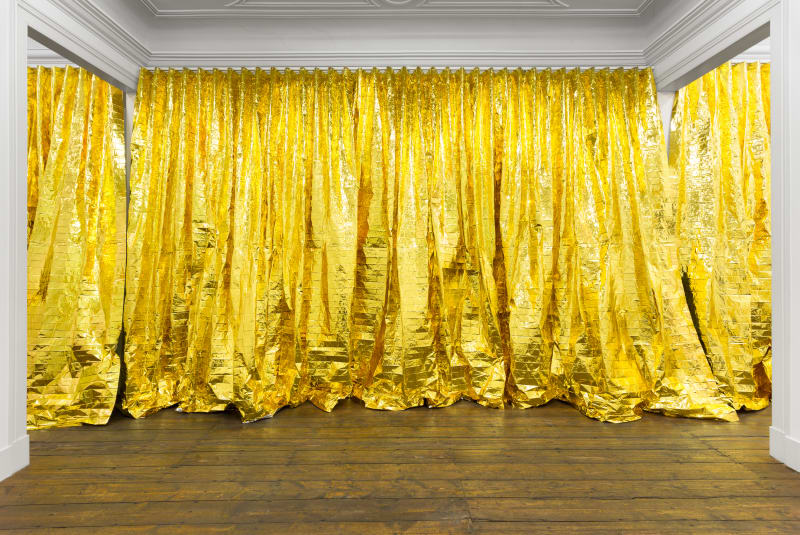 _______________
Takashi Murakami Oval Buddha Gold (2007-2010)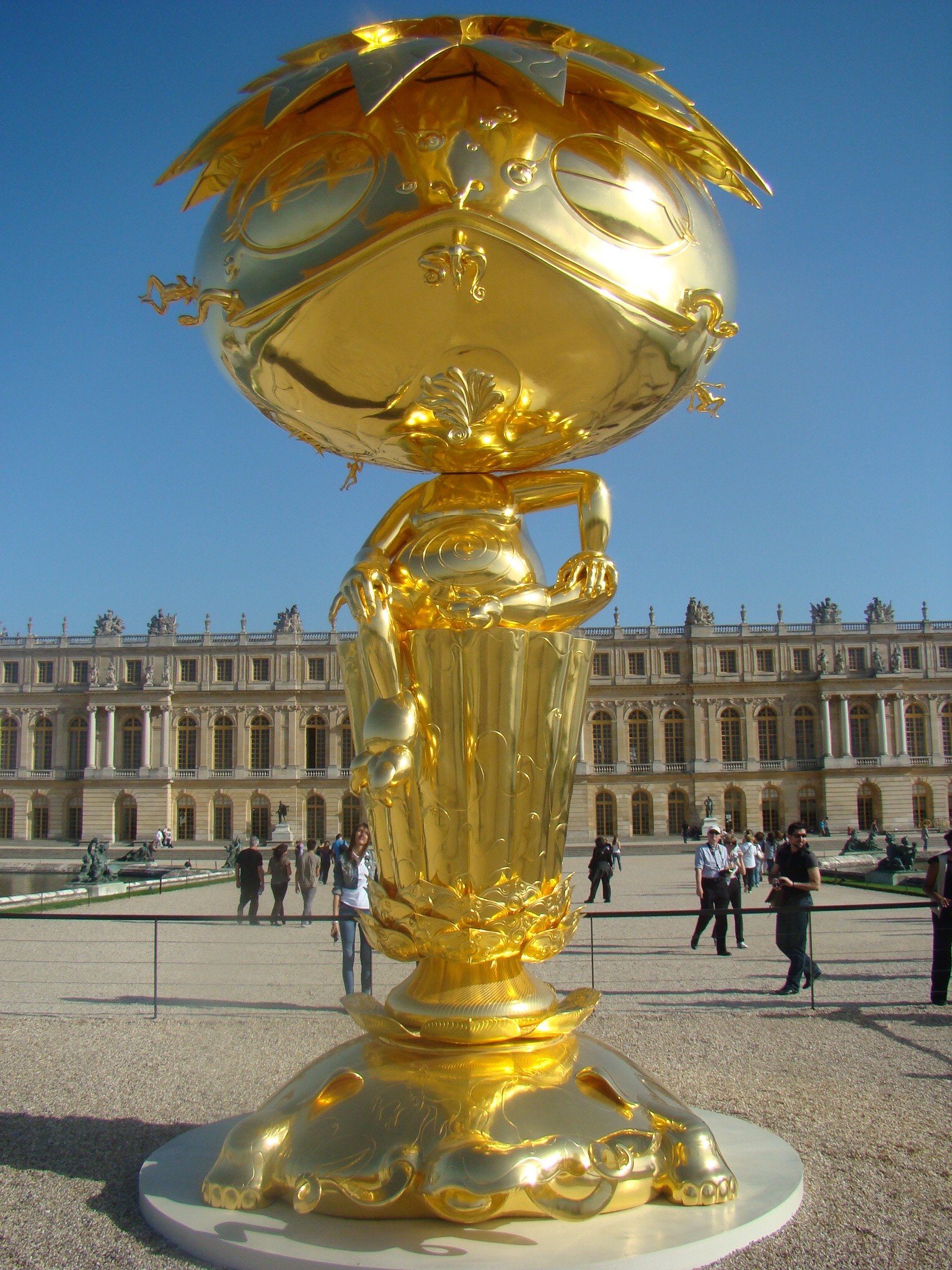 ________________
Ray Harryhausen Hera Masthead (1963)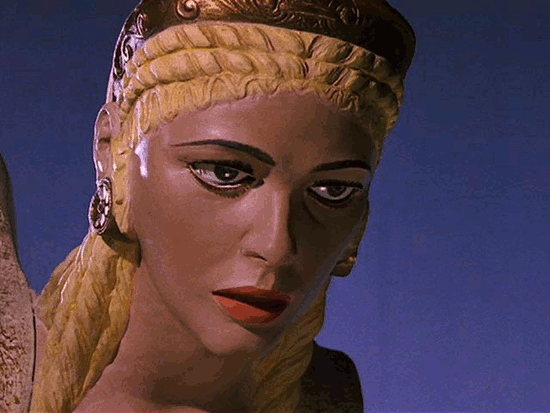 _________________
The King Zilla HIDE AKI | Golden Slave (still) (2013)
________________
David Spriggs Gold (2017)
________________
Anish Kapoor Gold Corner (2014)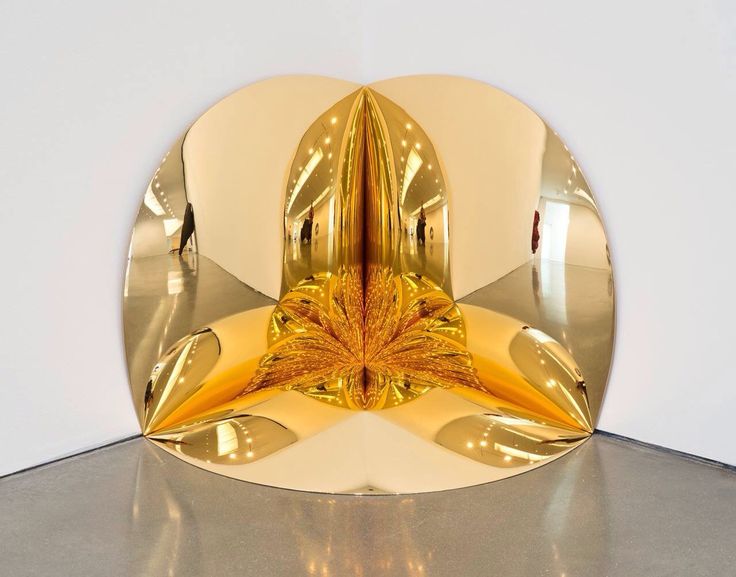 ________________
Richard Orlinski Gold Wild Denim (2011)

________________
Kim Connerton Pre-Life (gold box) (2013)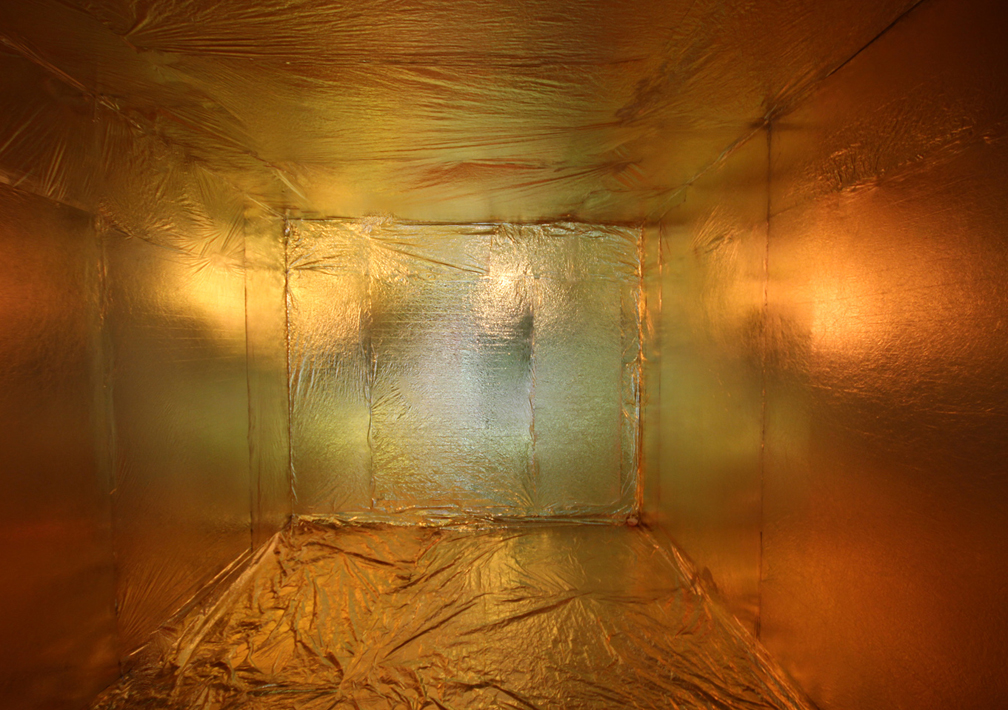 ________________
Relic Entertainment Dawn of War 3 (2017)
________________
Marc Quinn Pamela (2010)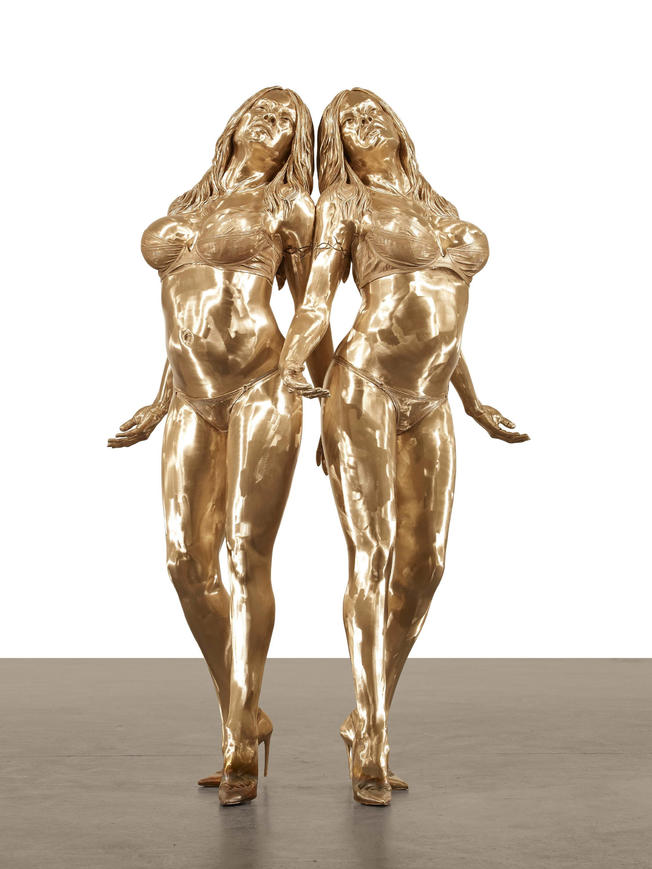 ________________
Ragnar Kjartansson Woman in E (2016)
________________
Aili Schmeltz Bling (2008)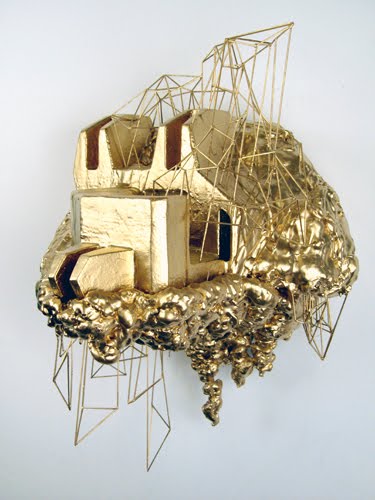 ________________
Lita Albuquerque Gold Suits no. 1-3 (2011-2012)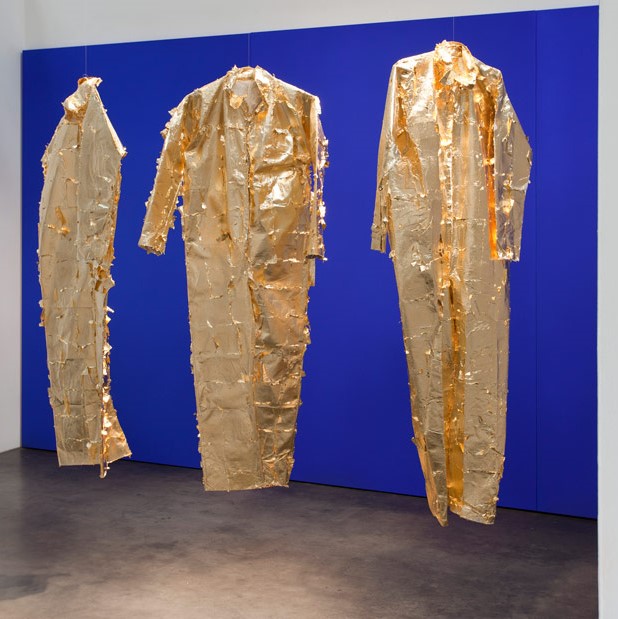 ________________
Felix Gonzalez-Torres Untitled (Golden) (1997-98)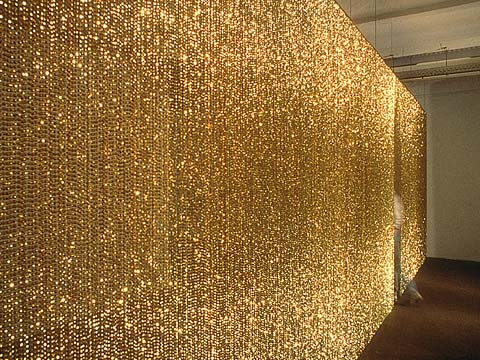 _______________
Nile Red Mercury dissolving gold (2017)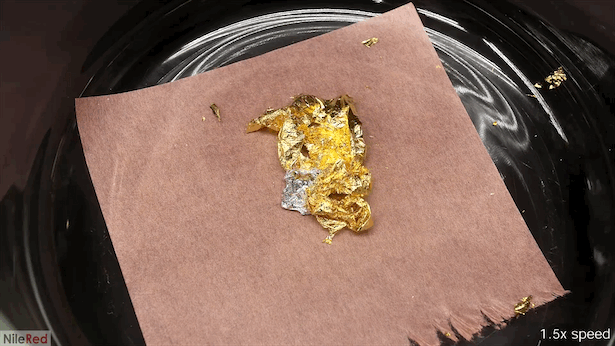 ________________
Shilpa Gupta There is no Border Here (2006)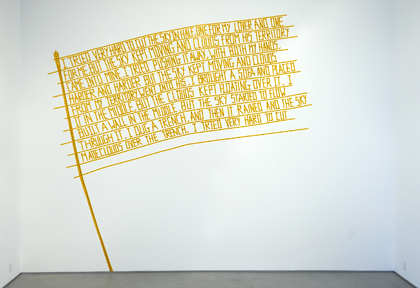 ________________
At the price of $25,000, the Frrozen Haute Chocolate contains a variety of cocoas from over 14 countries, milk, whipped cream, La Madeline au Truffle shavings, and 5 grams of 24-carat. To ensure your money's worth, it comes in a goblet that is banded with gold and decorated with diamonds: 1 carat of them, along with a take-home golden spoon.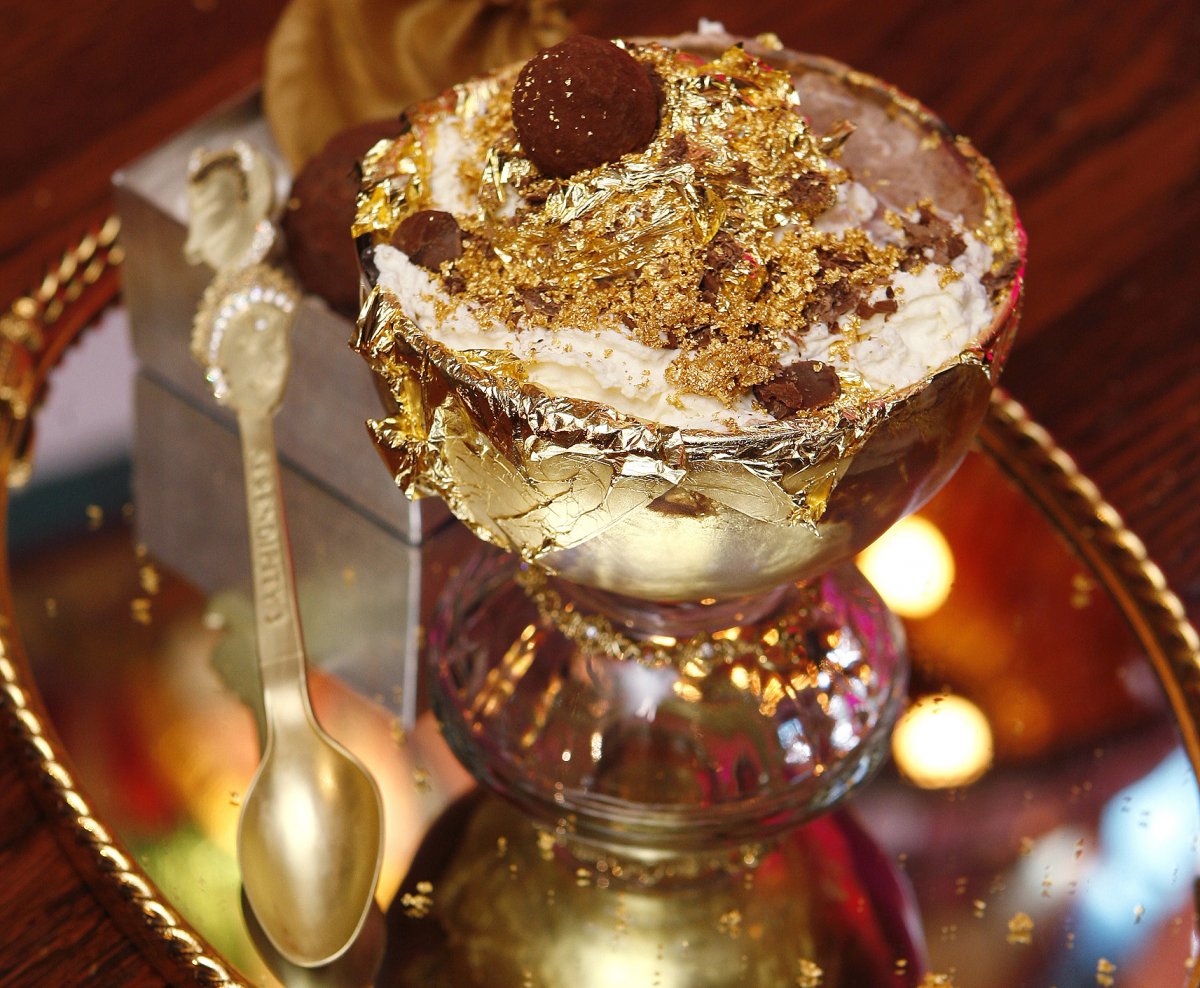 ________________
Yves Klein TABLE MONOGOLD (1963)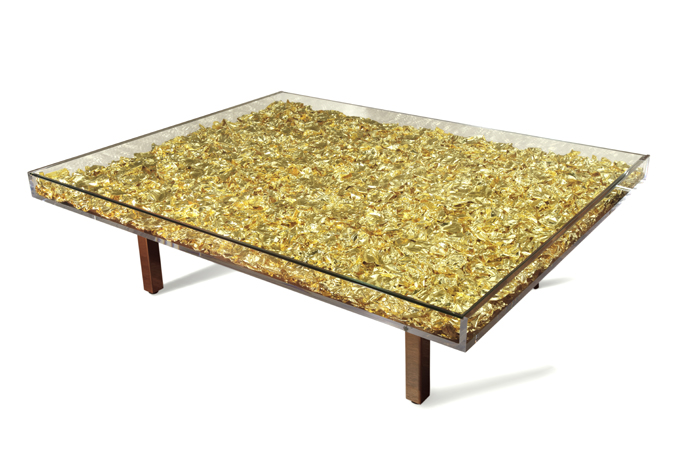 ________________
Super Mario Bros. X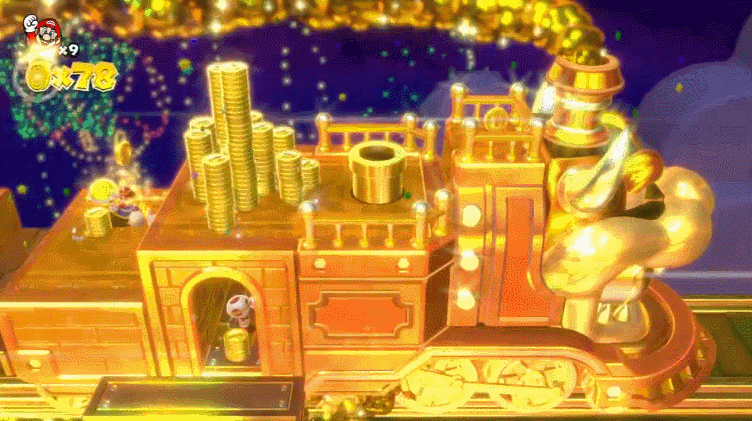 ________________
Kevin Francis Gray Face-Off (2010)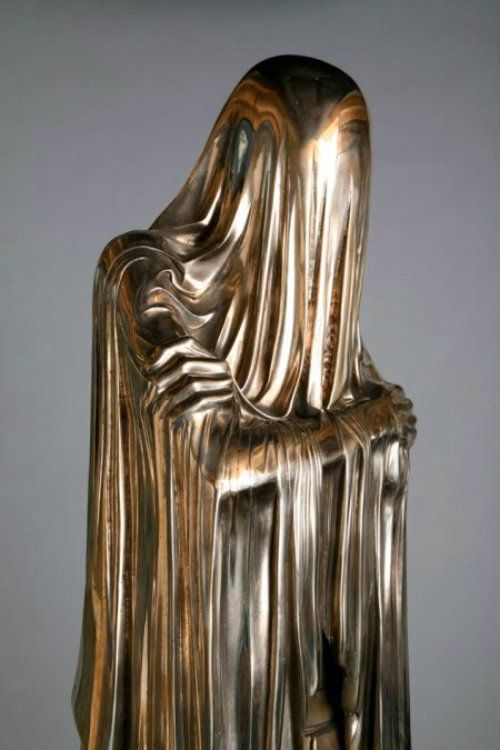 ________________
Philippe Parreno Speech Bubbles (Gold) (2015)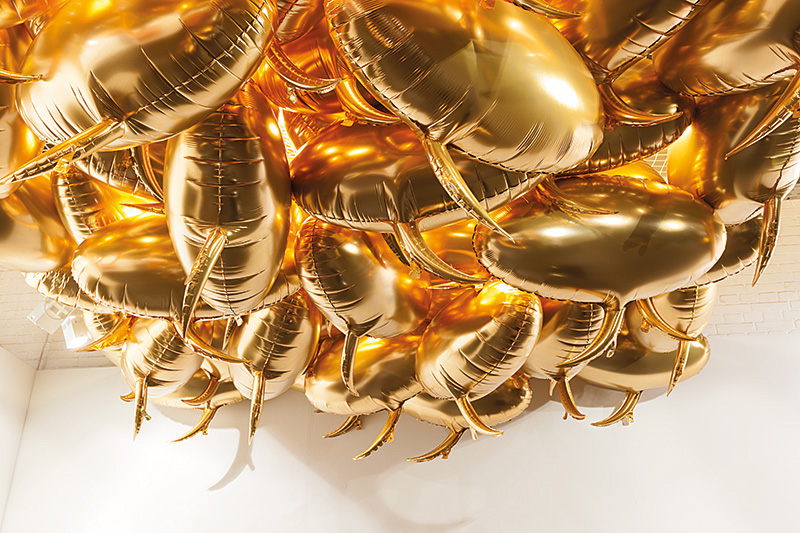 ________________
Danh Vo Promised Land (2013)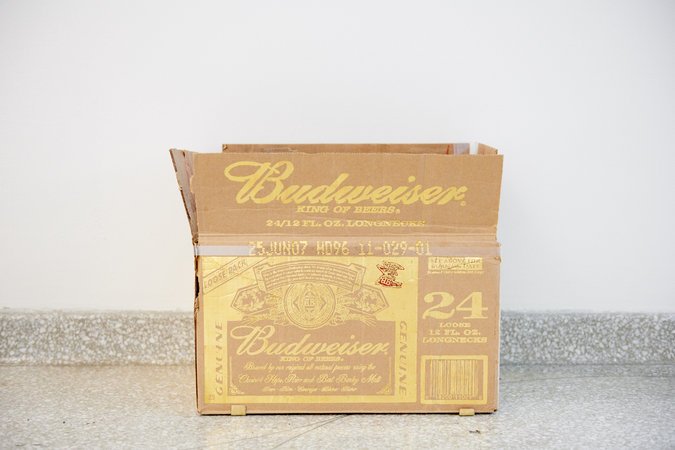 ________________
DAIRAKUDAKAN Kinpun-Shou (2008)
________________
Sherrie Levine Fountain (After Marcel Duchamp) (1991)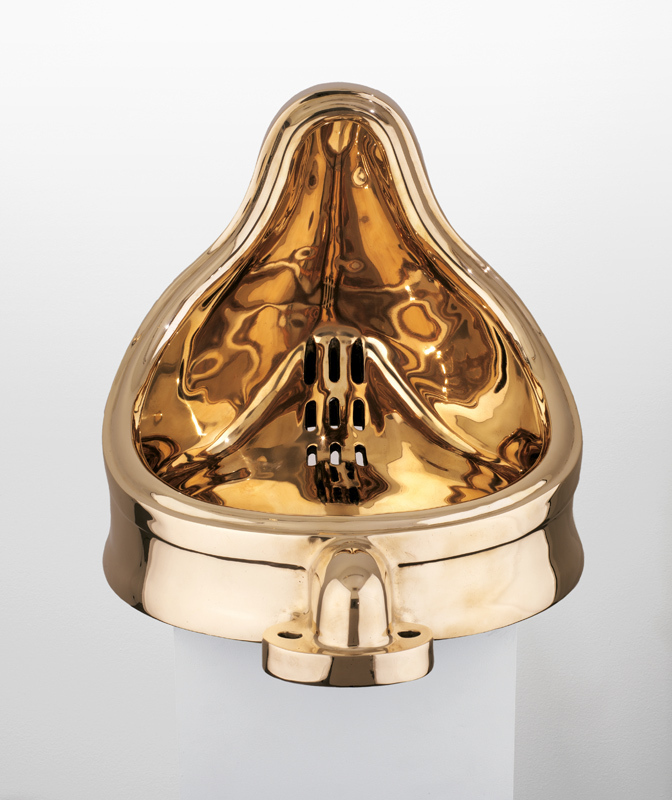 _________________
Liz Glynn Ransom Room (2014)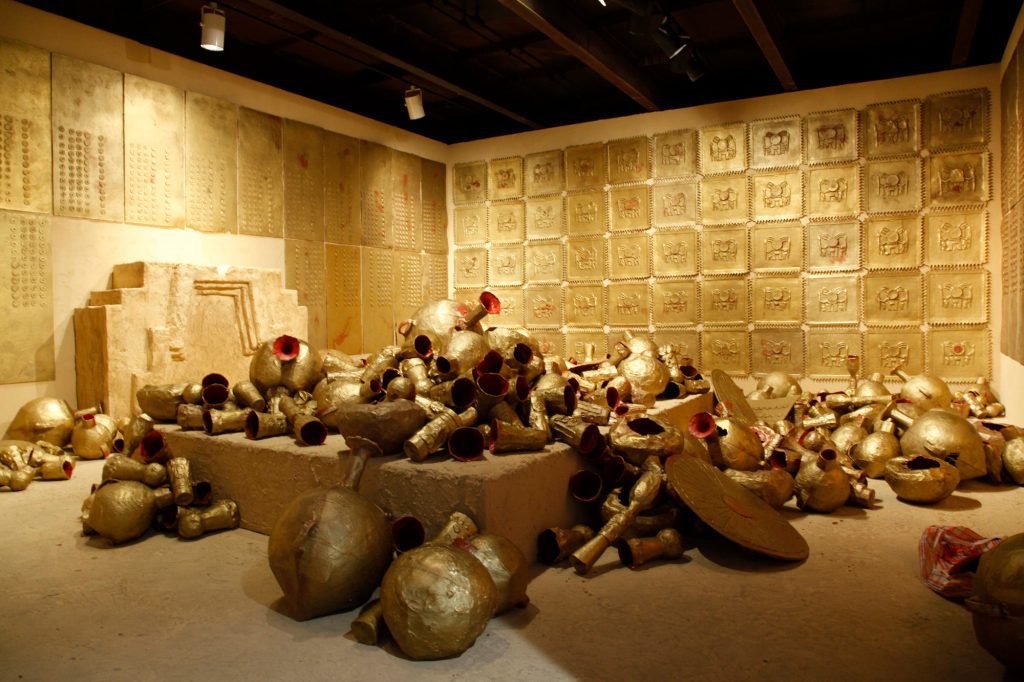 _________________
Crista Bellion Gold Sugar (2014)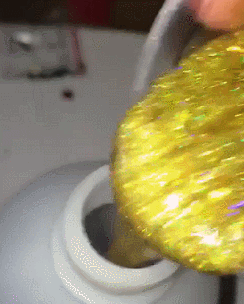 _________________
Sylvie Fleury Caddy (2000)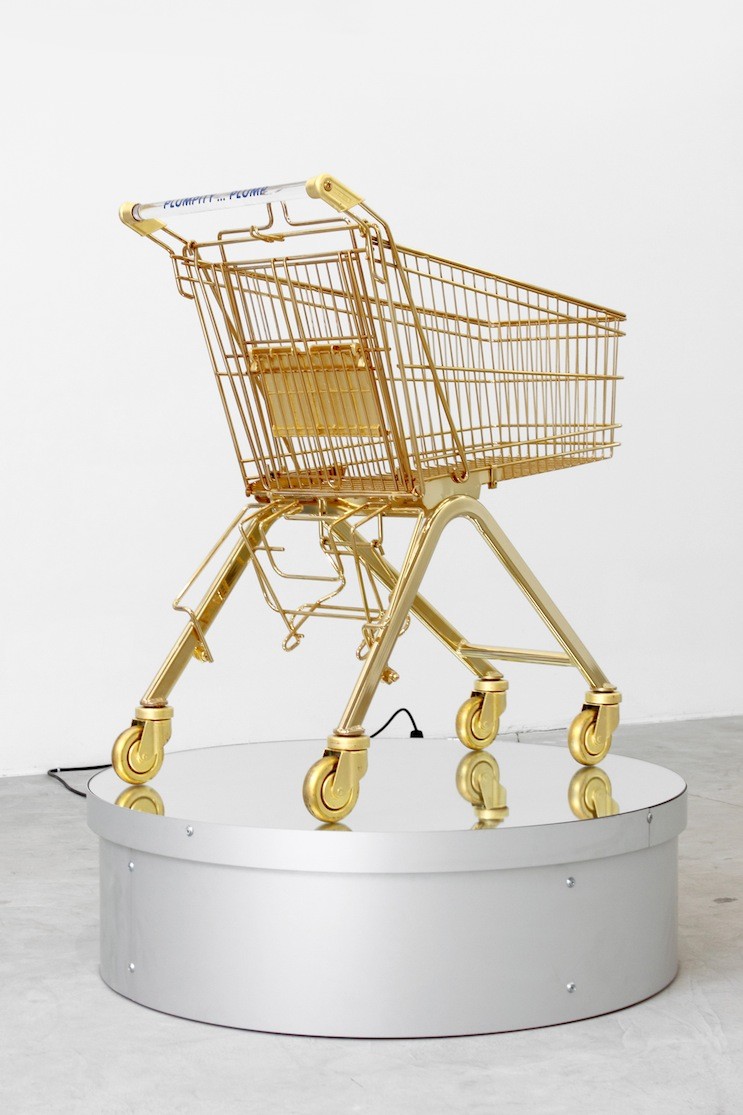 _________________
Yoko Ono Golden Ladders (2016)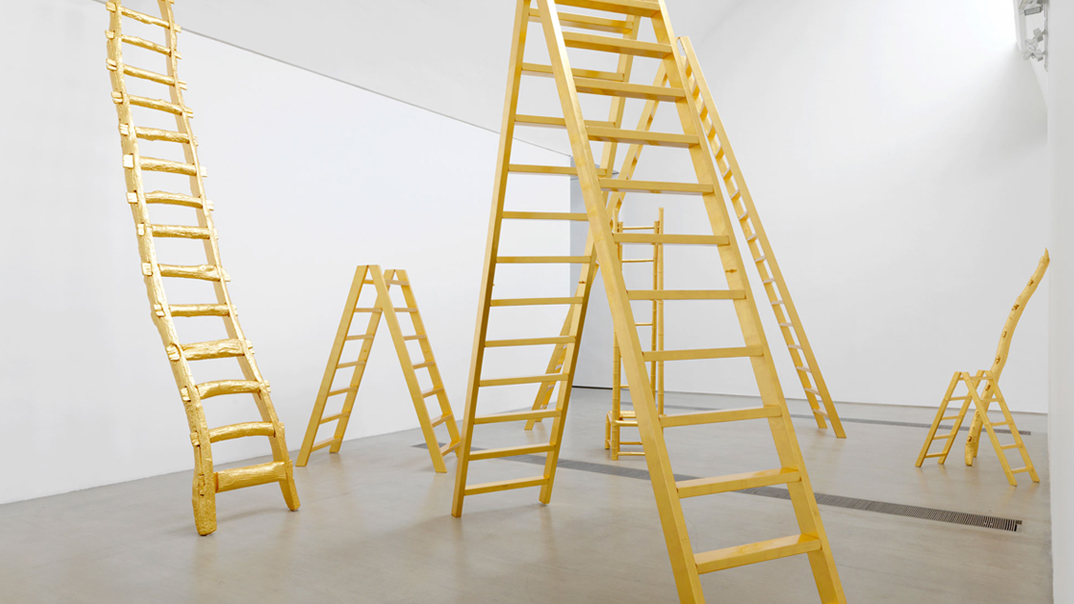 _________________
Boris Petrovsky The Global Pursuit of Happiness (2012)
_________________
Thomas Hirschhorn CNN (2002)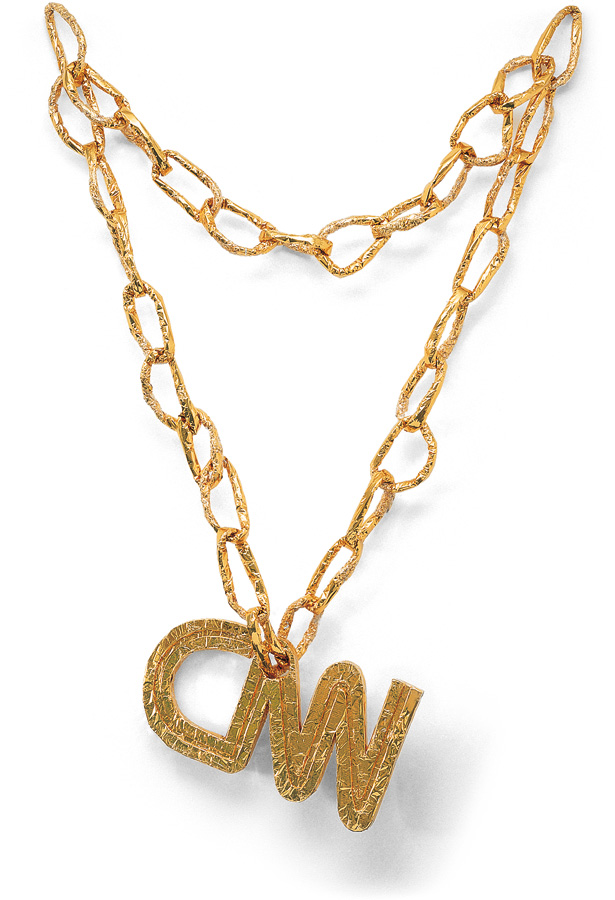 ________________
Rudolf Stingel Untitled (2012)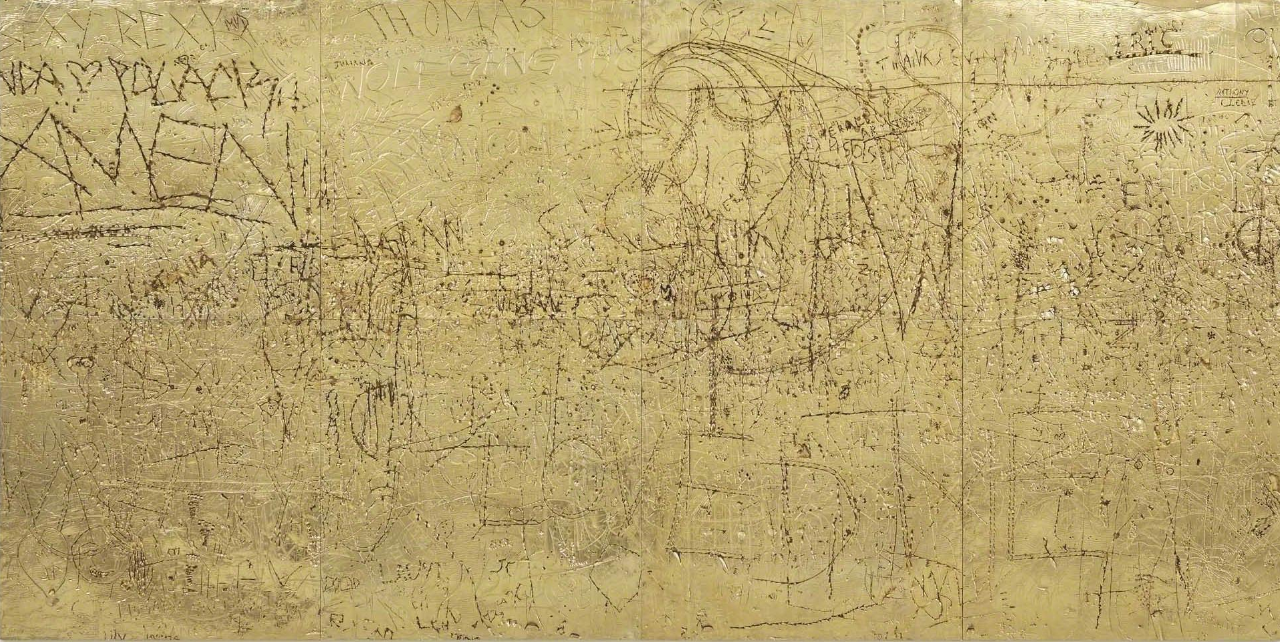 ________________
Paul McCarthy Gold Butter Dog 1 (2003)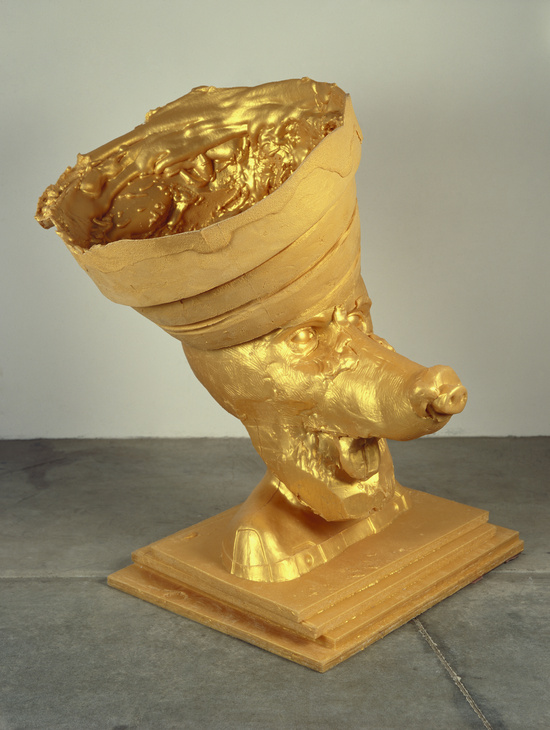 ________________
Rebecca Baumann Cascade (2011)
________________
Peter Gronquist Dolce & Gabbana (2015)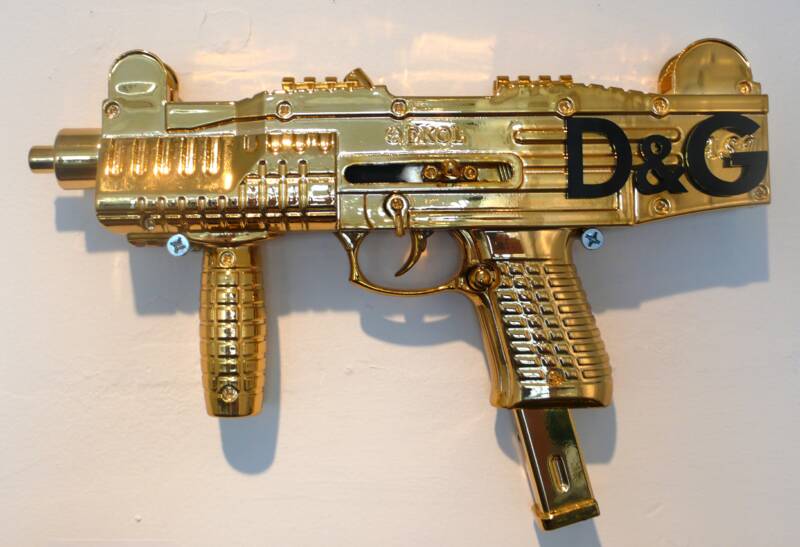 _______________
GTA San Andreas L96A1 Gold (2017)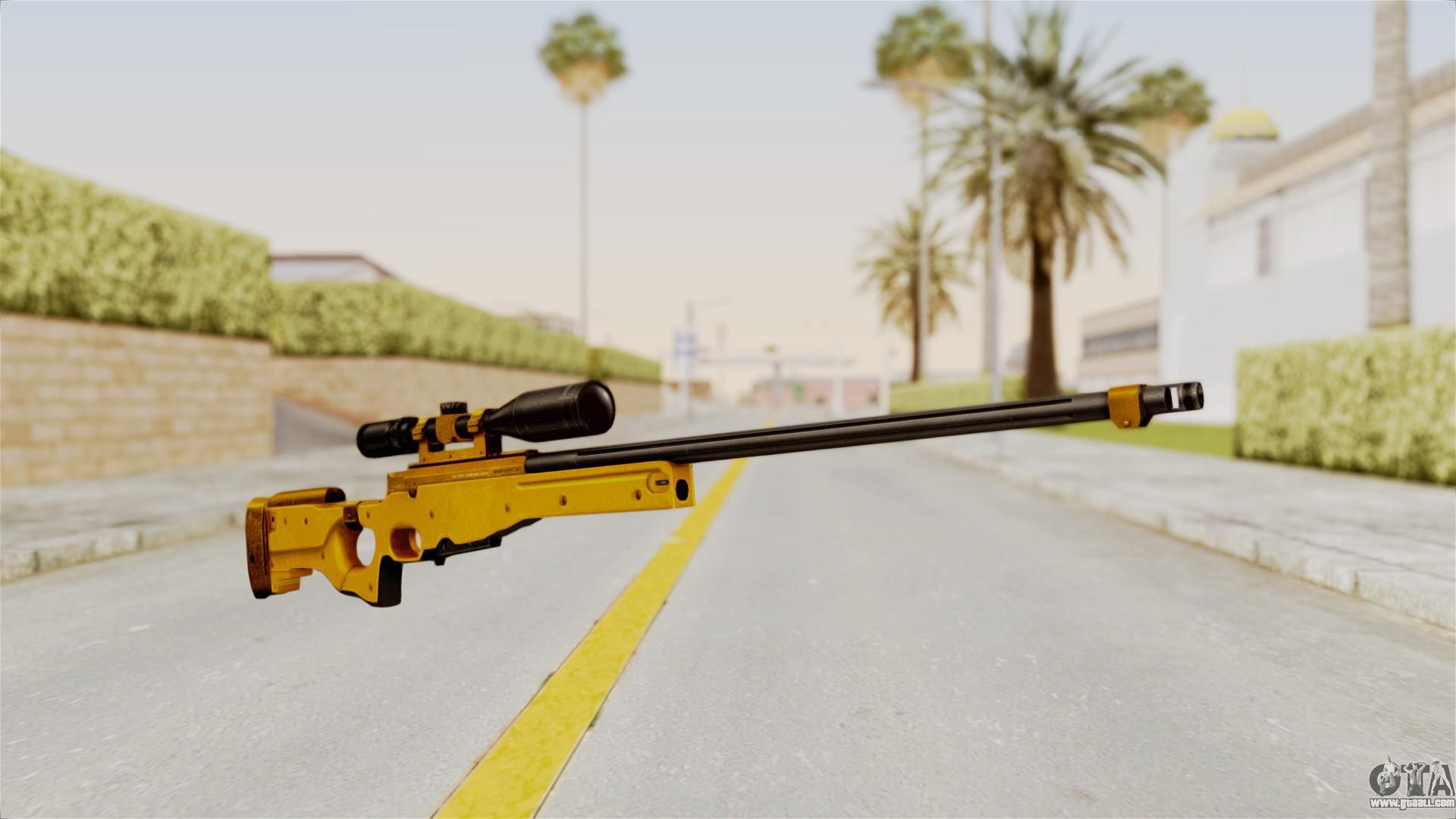 _______________
Maumorgo The 40+ jury members of the 2015 Laus Design Awards with hidden cuneiform messages referring to the Anunnakis who landed on planet earth to steal our gold so that the could restore the atmosphere of their planet Nibiru (2015)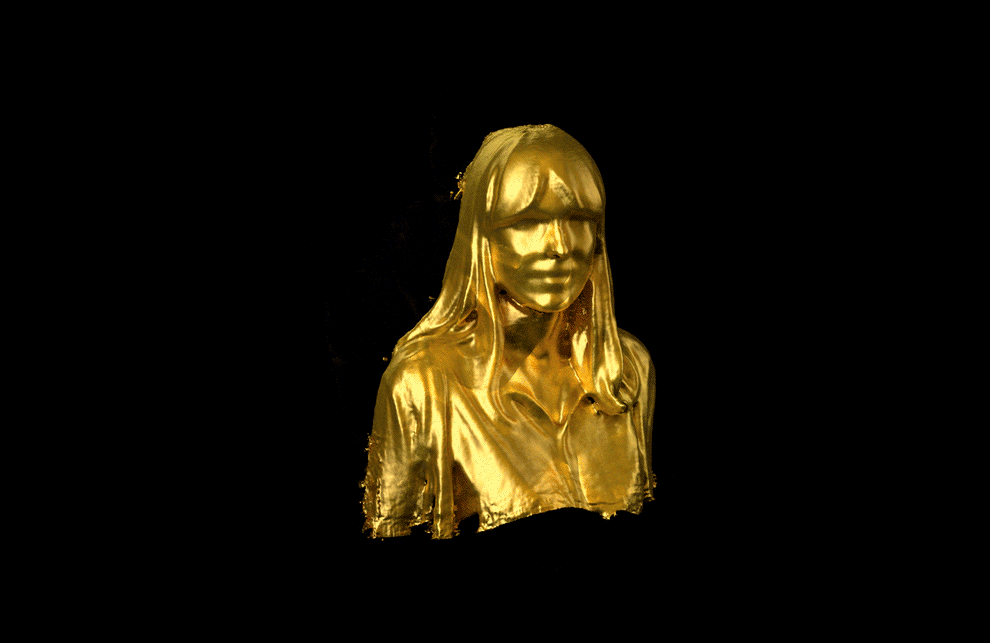 _______________
Ricochet Studios Accident (2010)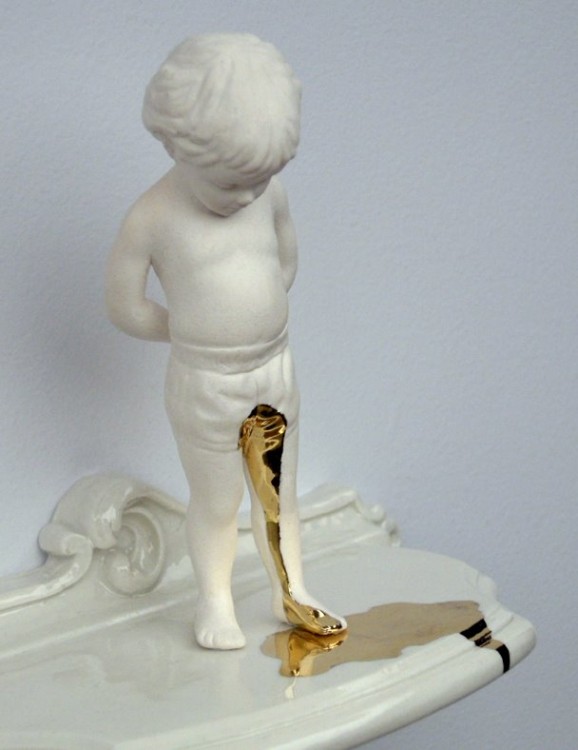 _______________
Thomas J. Moran Our President (2013)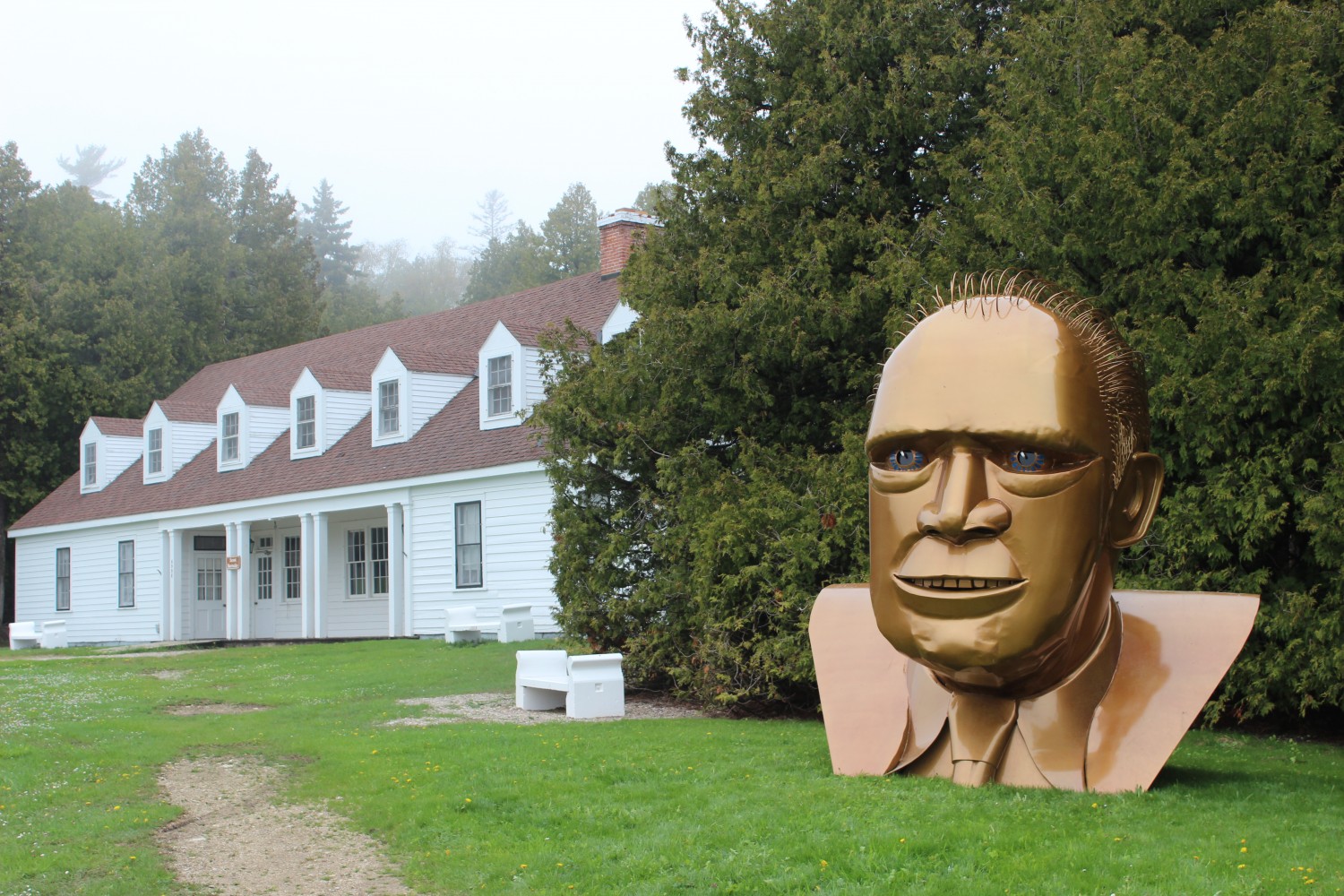 _______________
M.I.A. Bring The Noize (Matangi Gold Edition) (2013)
_______________
Vintage Boopie Style Gold Bubble Knob Ashtray Dish (?)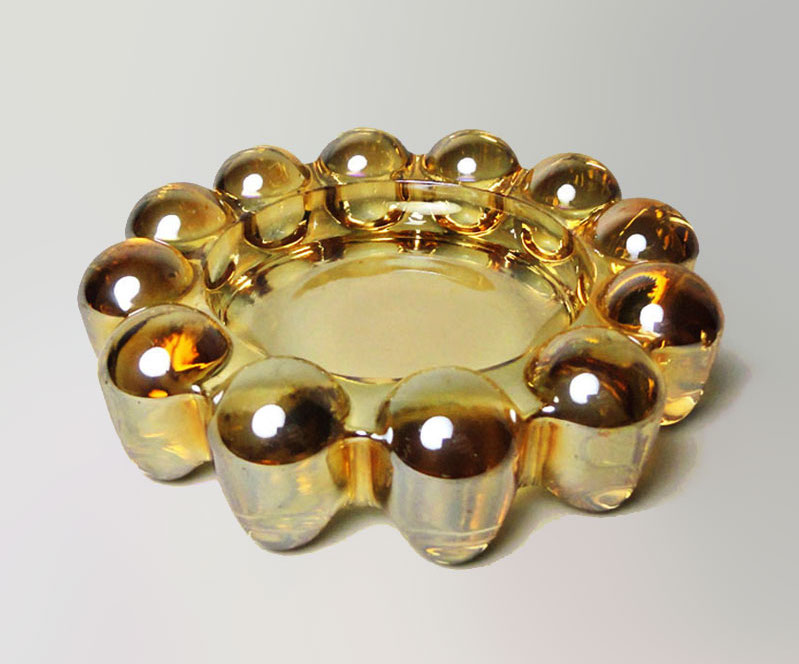 _______________
Dominic Wilcox 24ct gold leafed skimming stone with individually 'made to fit 'leather belt pouch (2009)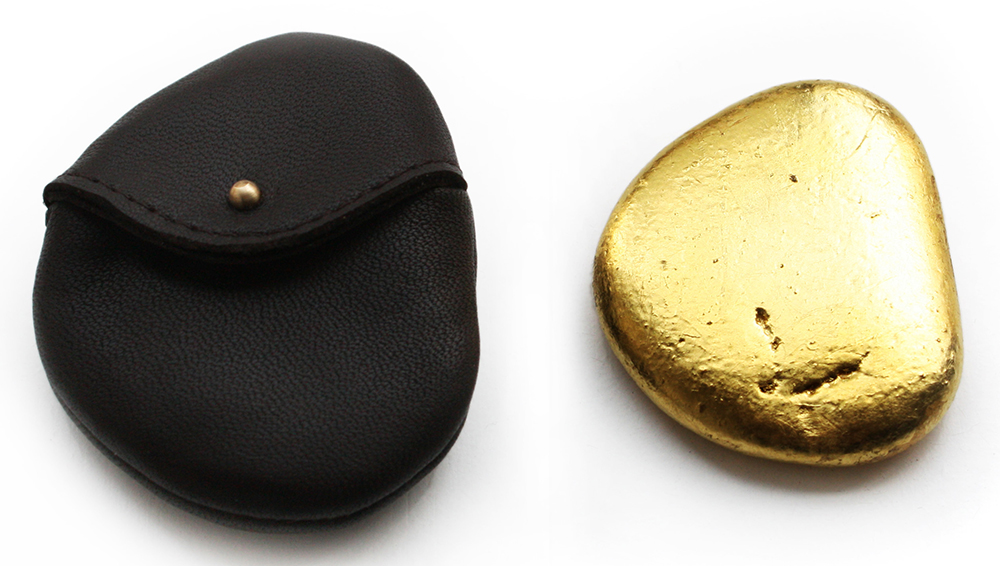 _______________
Casey Curran Bequeath these Seeds (2016)
_______________
Dust 6 Gold Fucking Japanese Geisha (still) (2016)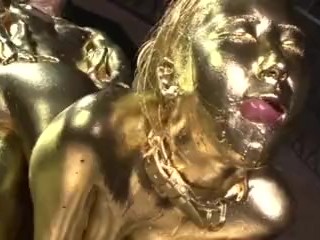 ________________
James Caldwell Unknown (2008)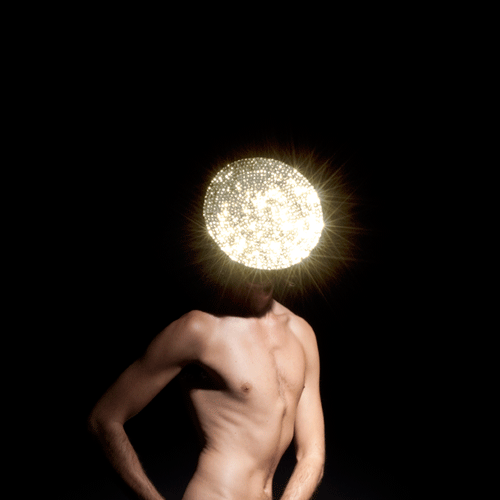 ________________
Mathias Kiss Golden Snake (2015)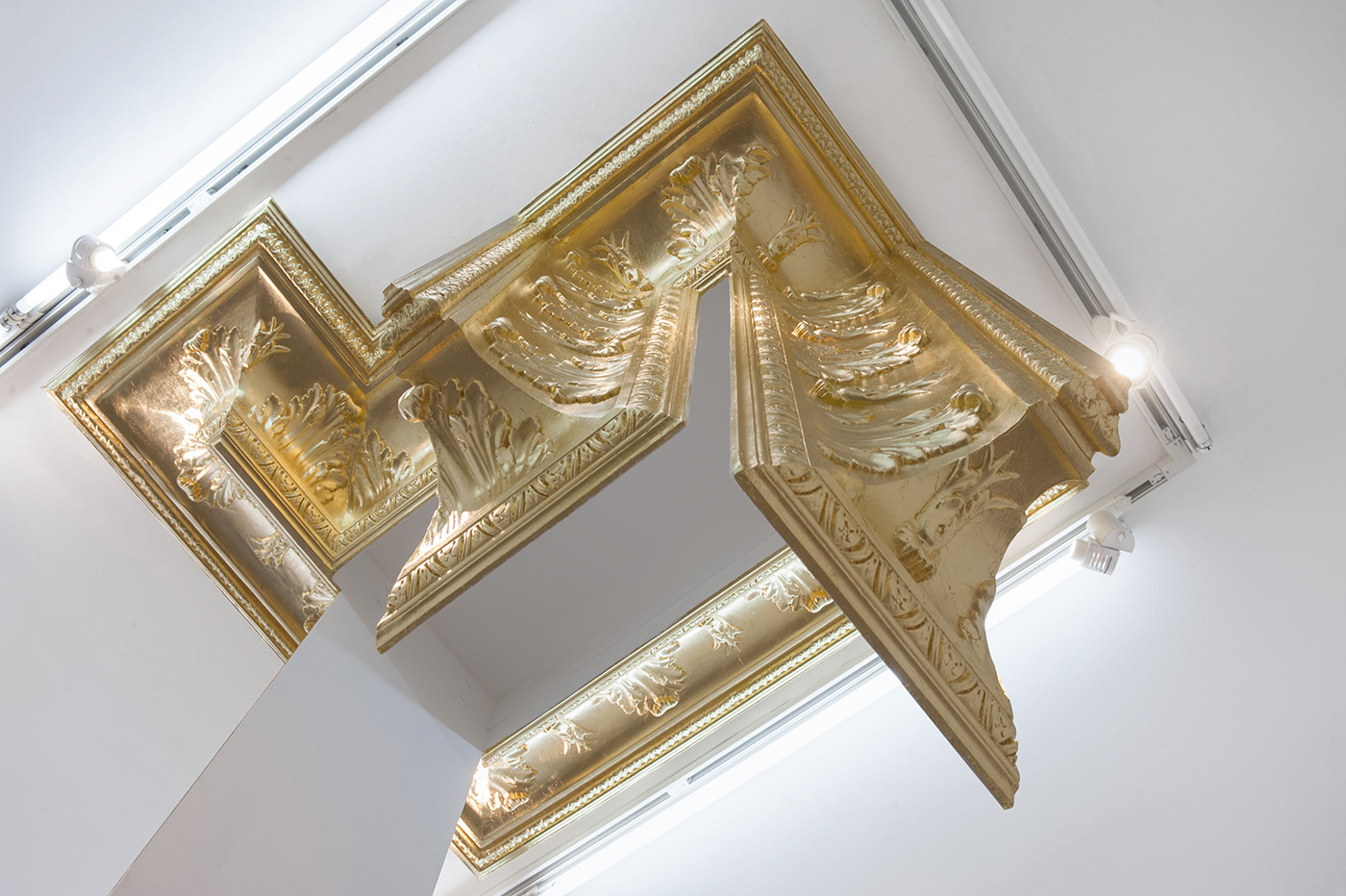 *
p.s. Hey. ** David Ehrenstein, Not me, ha ha. Unfortunately — or fortunately? — AttentionSeeker's visual is a coopted model/actor. I don't know Algernon Blackwood, but, thanks to you, I soon will. ** Nick Toti, Excellent! About the successful and even intriguing screening. I'll bet that was disorienting. Do you feel like the new score pulled out any unforeseen nuances or anything? Happy to have helped on the traffic front. Bon day! ** Sypha, Hi. As always, I do think there could be the most infinitesimal chance that in fact Cameron Dallas has gone to the dark side. Btw, I set up the Neo-Decadence post, easy as pie. Looks great. It'll pop up here on the 28th, as planned. Thank you again, James. ** James Nulick, 'Whores' are all kinds off fellas offering all sorts of different experiences, man. You are (were?) where I was until almost you got there. Cool. I do know Wilcox Manor. Pasadena was my stomping grounds when I was growing up. Good question about Californians. I would ask the same about the French. The Getty nice, Counterpoint Books! That's right near my LA pad. In fact, driving by it on my recent trip, I was happily surprised to see it still exists. Hm, well, your sister is only one big reader, you know. But you seem to think she's right, no? Back to the drawing board. Titles are important. But then scads and scads of people don't seem to be bothered that 'Call Me By Your Name' is a truly awful title, so … Other than my back, I did have a good time in LA, yes. Tokyo! Safe trip home! ** Wolf, Ha ha, nice. Dennis La Malice. I'm assuming you know that's a phrase from the French version of 'Jerk', and that Jonathan C. delivers it in a memorable, singsongy way. Sounds like you saw plenty at MoMA, so no big. Envy that you got to see the Club 57 show. Grant Wood, huh, very interesting. Huh. I'm, going to google him and revisit his odd, iconic thing now. Huh. Damn, you did have a good trip, at least the NYC portion. I did finish the first draft of our new film script yesterday. Whoo-hoo! I'm sure there'll be plenty of revising once Zac goes over it and marks it up, but we're close. I can't wait to get it solidified so we can get it translated into French and then finessed so we can give it to our producer and, assuming he likes it, and he would be a fool not to, which he isn't, we can say, 'Raise the money!' I am productive, I guess. Yeah, the waiting on these film projects is hell. It's the only thing I don't like about making films. Love to you. ** Dóra Grőber, Hi! Oh good, we had a tired mind meld. I finished the film script, hooray, so I'm going to try to watch that doc before I have to dig back into the TV script. Luckily or unluckily, our producer's promise to get us her edit on Sunday, proved, as usual, to be bullshitting. No, about finishing the TV script before the club thing. We'll be working on the TV project for months, and the club thing would be in late May. We'll see. Ha ha, oops, about the alarm triggering. Kind of scary that it didn't lure the police. Yeah, that's scary. Good to know, though, like you said. My day was finishing the draft of the film script, and a friend of mine, Rico, who's the star of the second sequence of 'LCTG' and also was one of the dancers in Ishmael Houston-Jones' and Chris Cochrane's and my soon to be revived piece 'Them', popped through Paris, and I met him for a coffee at Gare de Lyon, and that was nice. Thank you about the Biennale thing. Yeah, that's pretty cool, no? I'm excited. How did Tuesday handle you? ** _Black_Acrylic, Hi, Ben. Thanks, man. Very sorry that I didn't get the thing to you last night, but I'll get it to you today. Sorry for that delay. ** Steve Erickson, Sounds really interesting about your script thinking. I'm glad your computer's problem turned out to be easily fixable. I hope it's running silkily smoothly. I didn't see your FB thing about the Spielberg, but nothing you say is a surprise. I am vaguely curious to watch him try to do that, or rather how. It's interesting, or can be, seeing someone stretch too far. Well, yeah, re: the 'Good Time' crits, and then there are films highly acclaimed mostly or even only because they're solid and read as anti-rascist. ** Chris Goode, You're back, cool! Biblical, nice. Speaking of, yeah, I think I've gotten pickier with the escorts and slaves over time. Or weirder. Or I raised their bar. Or tilted it. Reaching for 'The History of Airports' was like fishing around in an apple tree and winding up with a golden apple in my hand. A rather transparent attempt to suit my praise to today's general theme, but it's true too. Yes, send me new stuff. That would be awesome. Oh, uh, I feel nervous about putting my postal address here. Is that weird? But … but … my new post-Google murder email address, if you don't have it, is: denniscooper72@outlook.com. Strange that I would think sharing my email address is more doable than my snail mail one. I don't think whoever wants to rob or kill me wants to do those things badly enough to figure out the two door codes it would take to break down my apartment's door. Anyway … Fascinating about your Jake Bilardi piece. Wow. Strange how resonant he was, is. I hope they mount that proposed show of yours and that, yeah, I can see it if they do. I think Zac and I ended up deciding to think of Bilardi as a great magician, like, I don't know, David Blaine to the max with eight billion times the ambition and commitment. Or something. Well, given the arrival of that fantastic guaranteed four year income re: your work, the problematic part is more mysterious, but then there's no reason why the up- and down-sides should be connected. Would, yes, love to Skype! Zac and I will be away in Torino showing PGL starting Monday and coming back home on Wednesday, but, otherwise, I'll be free as the bird. Shall we? Shall we make a date? ** Misanthrope, Oh, 2005, okay. It turns out I haven't read it in any case. Oh, you know, I can appreciate Chabon's and Self's skills and general thing. I'm just not interested at all. Nothing there for me. I want to be thrown and dazzled and full of wonder about how a writer managed to create what I'm reading, and I don't get that with them. My weirdness. I'm way into things that should make sense but don't, as you know. Whoa, how does it mow? It is louder than hell? ** K0eton, Your name is the infinitely giving gift. Yeah, what were you saying? Ha ha, I liked it though. Work from home, cool, like, how? Or I mean what? Ace that story. Be one with it. ** Nik, Hi, Nik. I'm good. The producer feedback sucked, but we're trying finagle our way around it. Well, an interesting thing about Gisele is that, although she is a director and choreographer, what she studied in school and got her degree in was puppetry. She studied at the big puppetry-oriented university here in France, which is coincidentally located in Rimbaud's hometown of Charleville. So puppets, ventriloquism, dolls, and all that stuff is in her DNA. I didn't have any pre-existing interest in puppetry apart from my novella 'Jerk', which she/we ended up adapting for one of our works. With Gisele, she has an idea of what she wants and then I realise it via my own spin/ interests/ skills as a writer. I'm her language-based minion, in other words. Through working with her, I've gained an interest in puppetry, for sure, but that interest remains pretty much confined to my collaborations with her. You're going to move, you think? I do think Gisele's work is very European in some way. Maybe in the sense of her use of puppetry too. When we've performed works in the US, people always talk about how European the work is. I never think of it that way, but I guess I get the difference. Have a swell day, man. ** Okay. Today: random idea I had about gathering golden art and things and stacking them up to see what that made. See you tomorrow.