______________
Dave Muller Karen Carpenter Empty Drum Kit 4 (2013)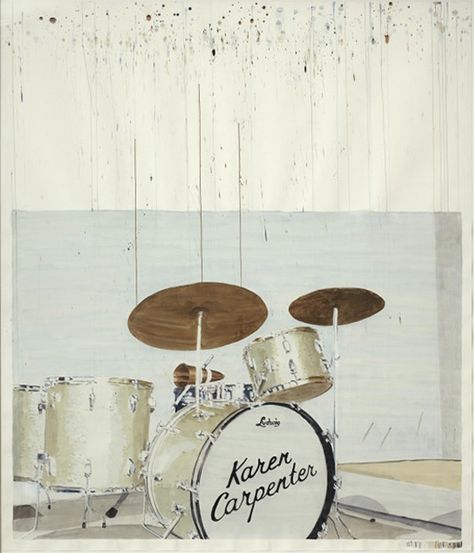 ______________
Alicia Eggert Pulse Machine (2012)
'This electromechanical sculpture was 'born' in Nashville, Tennessee on 2 June 2012, at 6:18 PM. It has been programmed to have the average human lifespan of babies born in Tennessee on that same day: approximately 78 years. The kick drum beats its heartbeat (at 60 beats per minute), and the mechanical counter displays the number of heartbeats remaining in its lifetime. An internal, battery-operated clock keeps track of the passing time when the sculpture is unplugged. The sculpture will 'die' once the counter reaches zero.'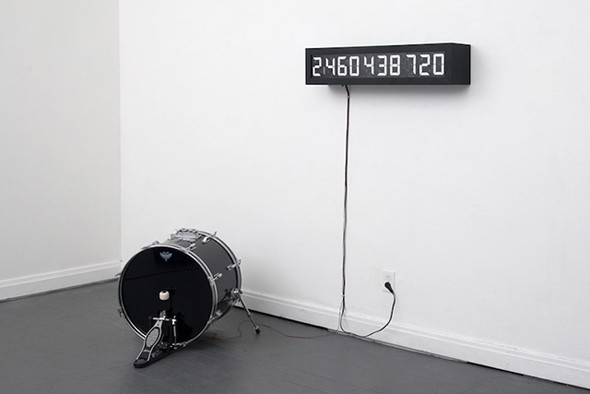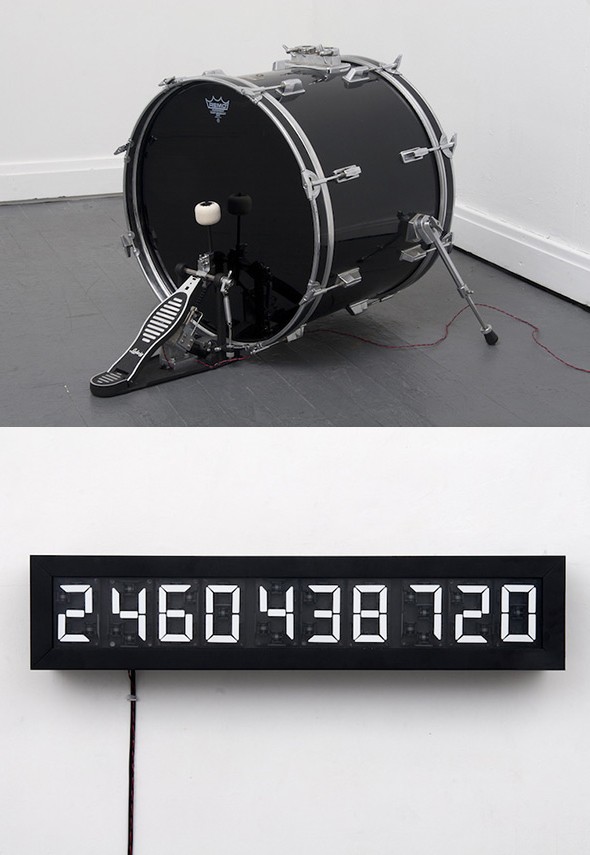 ______________
Stéphane Vigny Sans Titre (2012)
'Witness the dozens of cymbals arranged by Stéphane Vigny into a musical landscape, which is subtly brought to life by the discreet triggering of a mechanical vibration.'
______________
Terry Adkins Muffled Drums (2003)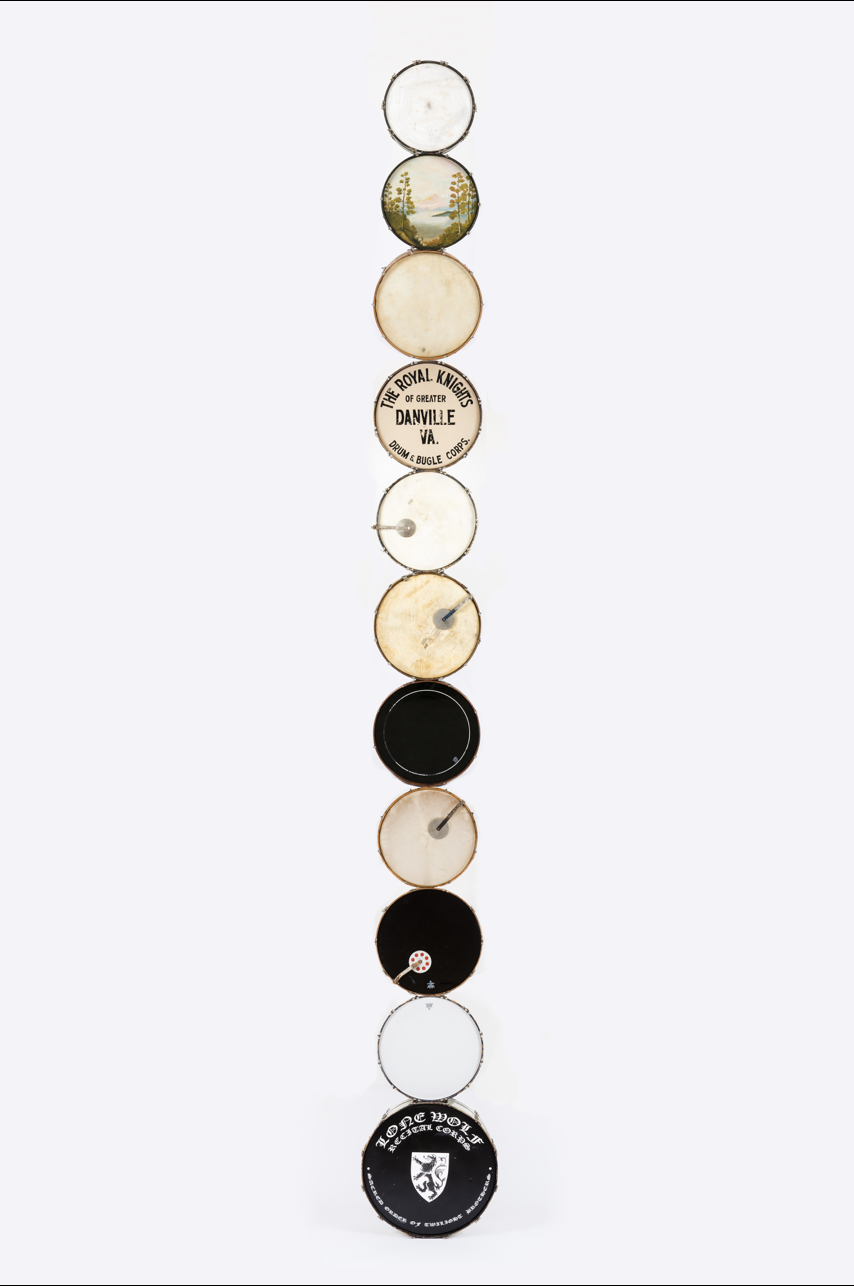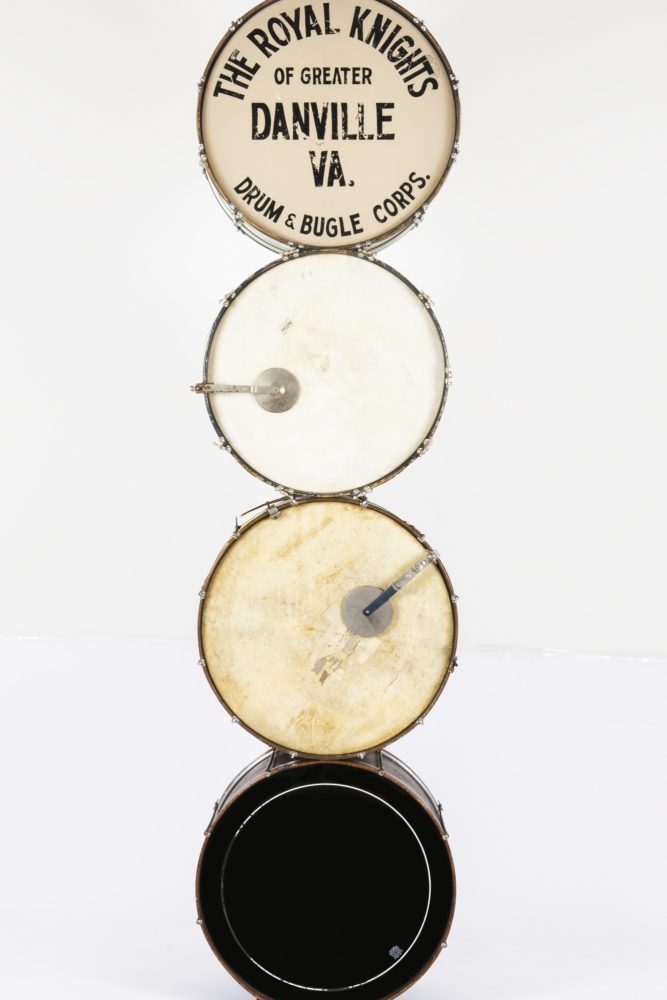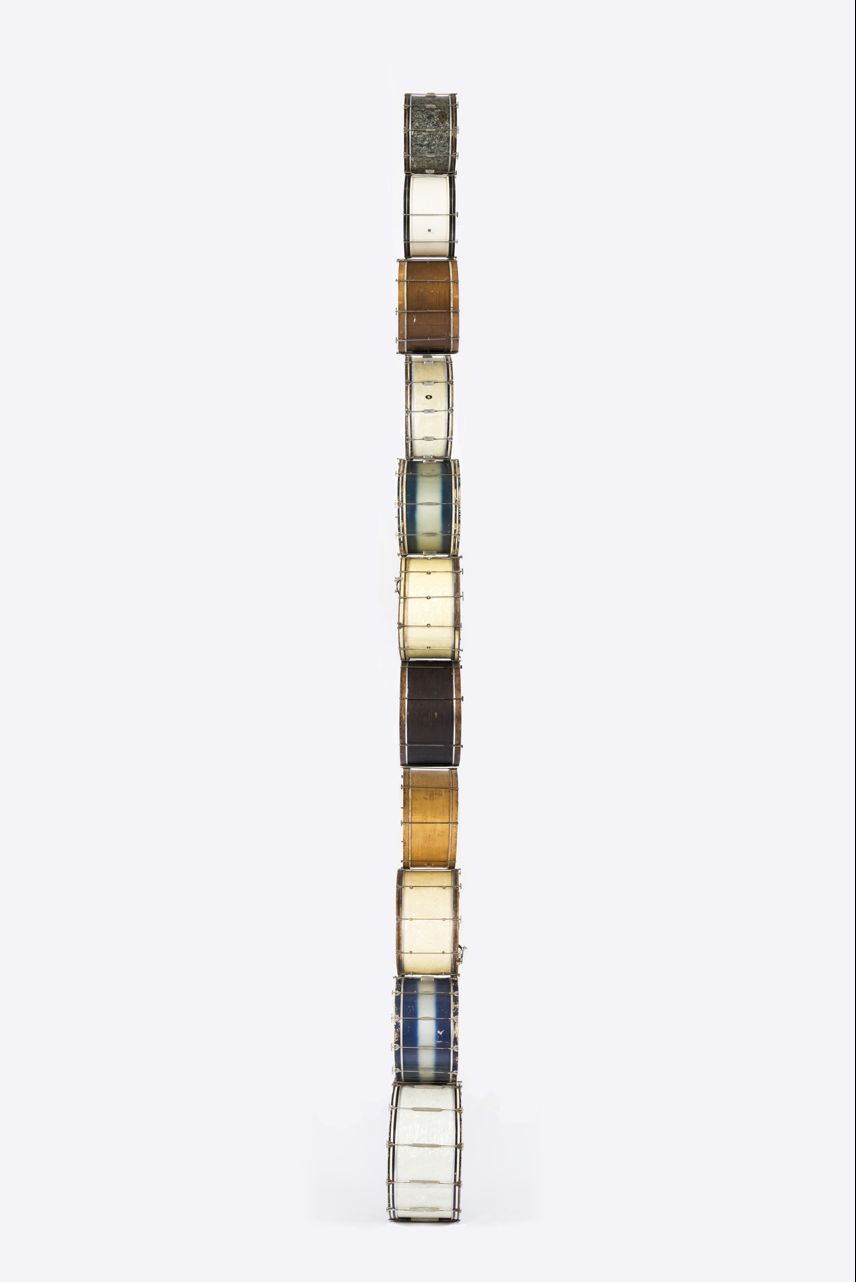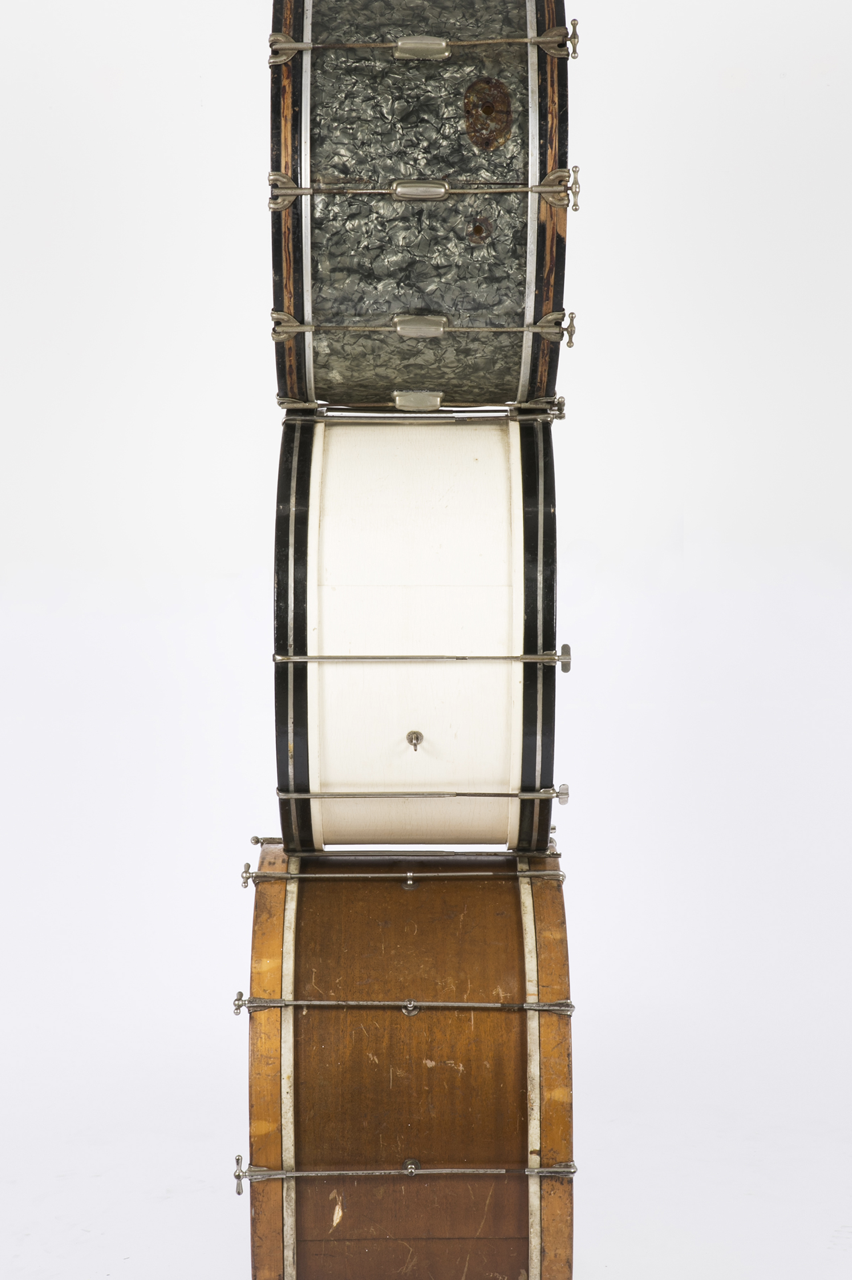 ______________
David Shrigley Headless Drummer (2012)
______________
Michael Sailstorfer Drumkit (2005)
'Michael Sailstorfer fuses two loci of masculine aggression in Drum Kit, a drum kit fashioned from the scraps of an LAPD police car. The drummer and police man are recurrently imagined as rogue figures, however the police officer only becomes one when teaming up with other officers to create "force." The LAPD is one of the most violent police departments in the United States and the drummer is perpetually cast as the craziest band member in our pop cultural memory.'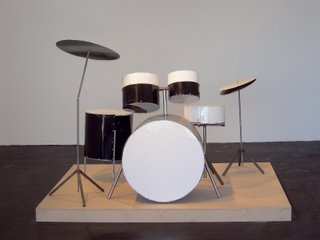 _____________
Terence Koh Sprungkopf (2006)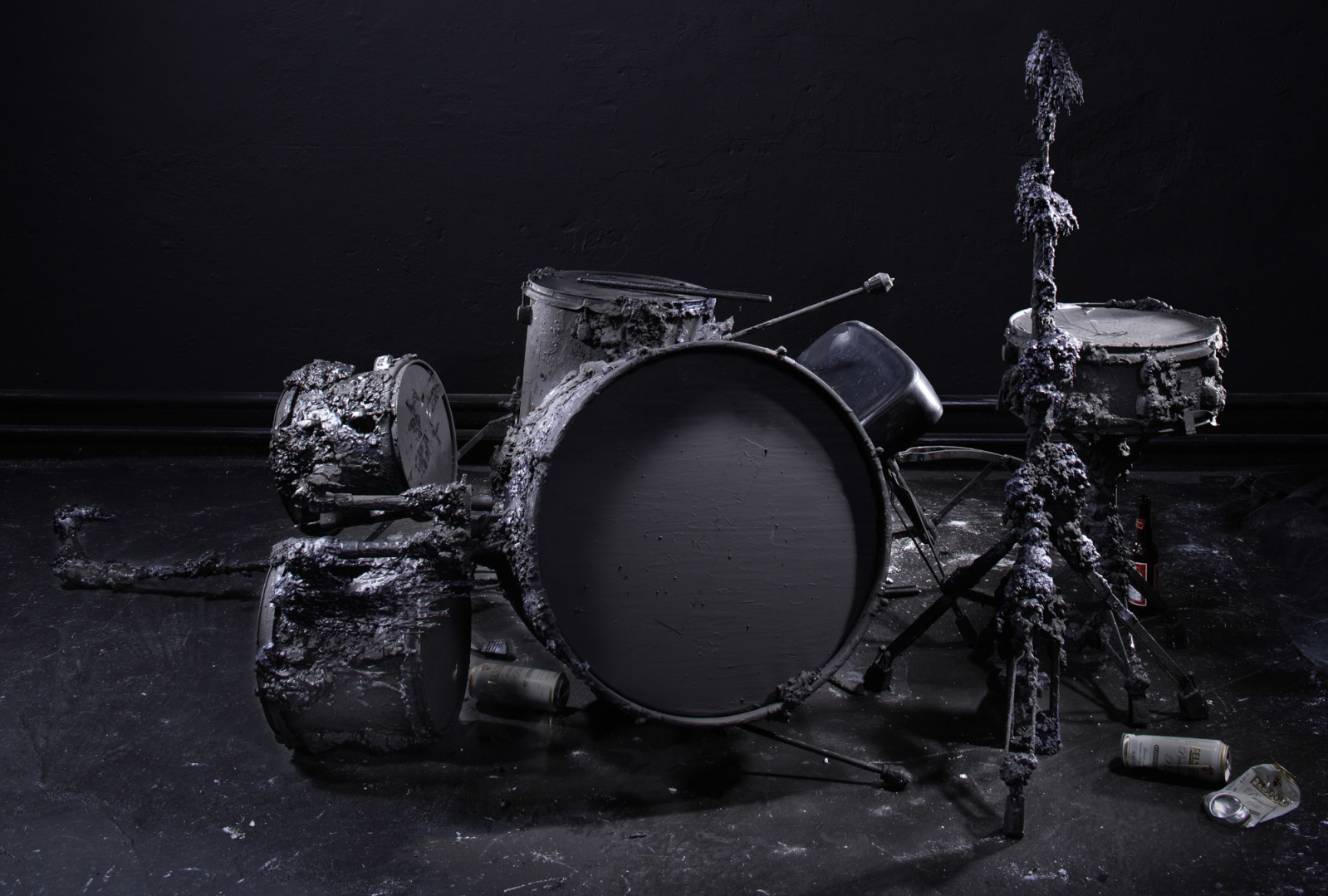 _____________
Christoph Büchel Minus (2002)
'A punk-concert was held inside a room at the Kunstverein Hannover. Immediately after the show, the entire room was frozen.'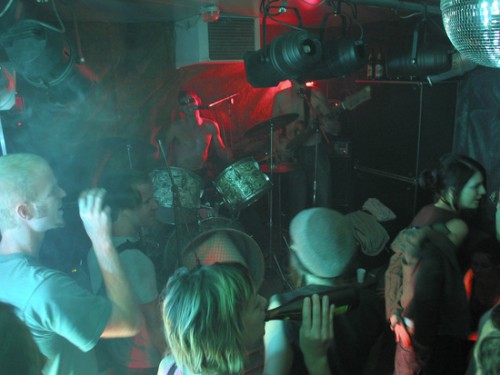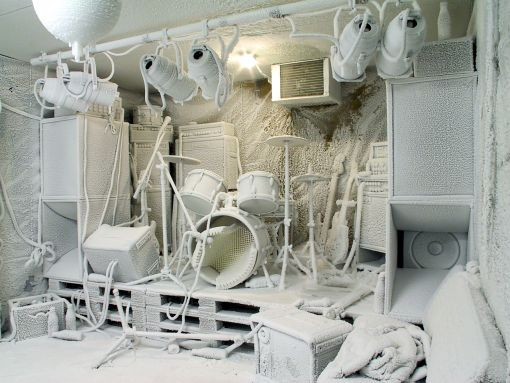 ______________
Fabienne Audéoud, John Russell & Wayne Lloyd The withdrawal from conversation/return to the oceanic: the weight of the breast. Twenty women play the drums topless. (2002)
______________
Ivan Navarro Wail (2010)
Neon light, plexiglass drums, metal, mirror, one-way mirror and electric energy.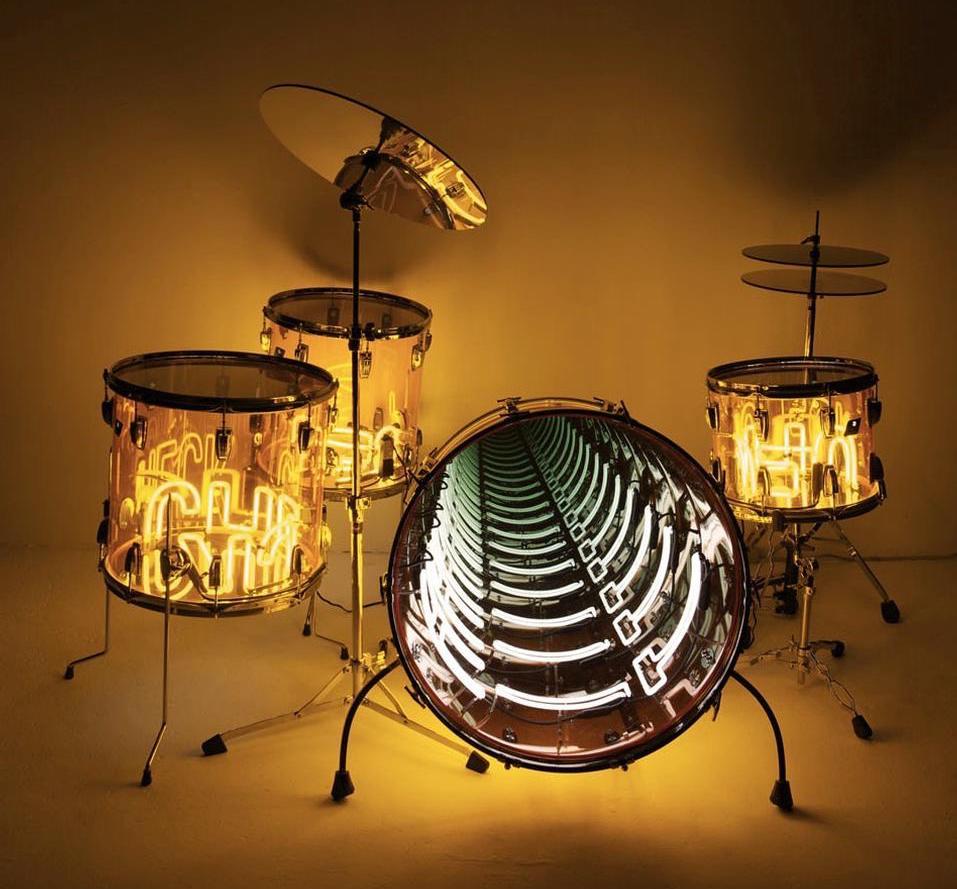 ______________
Samson Young Nocturne (2015)
'For this work, Young collected video recordings of night bombings – predominately U.S. attacks on the Middle East, ranging from the Gulf War to ISIS – and edited the found footage into a six hour-long film, which plays mutely on his laptop computer. As he watches, the artist uses household objects and "live foley" techniques to reproduce the sounds of explosions, gunshots and debris as accurately as possible. This work is conceived of as a "Sonic Warfare Training Program," with the artist taking on the role of training combatant; by the end of the show, he will know the aleatoric composition by heart. His "sound effects" are broadcast on-site via pirate radio frequencies, accessible via FM receivers both within and outside of the gallery.'
________________
Pascal Grandmaison Manner (2003)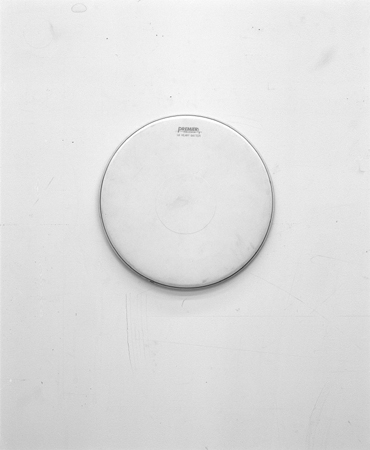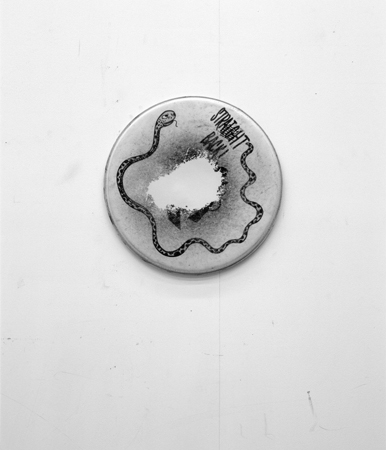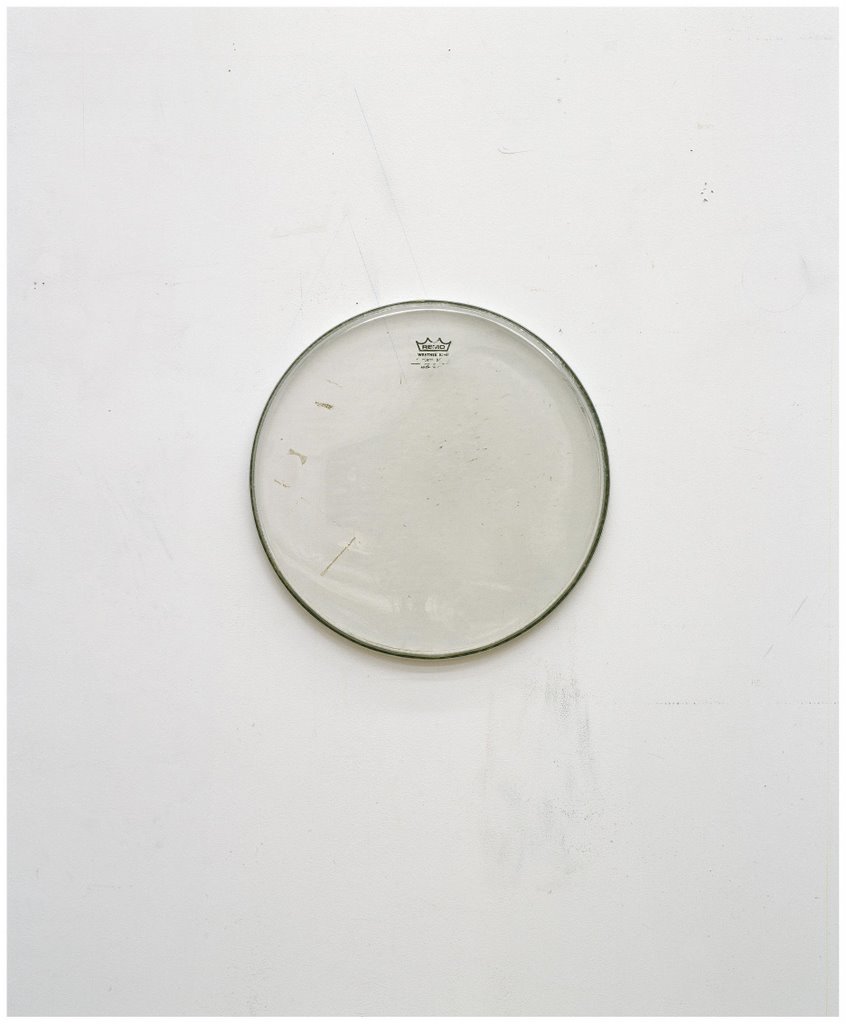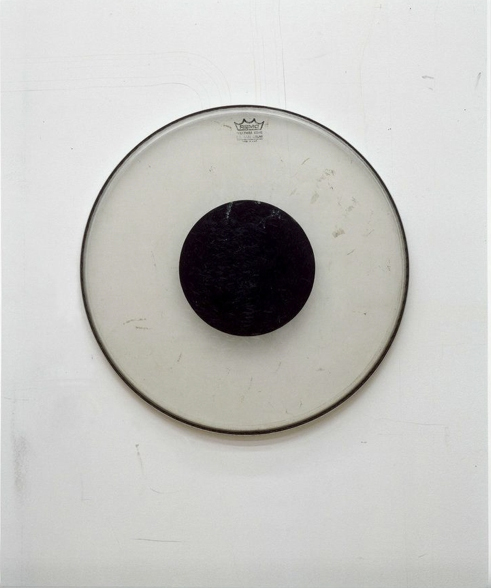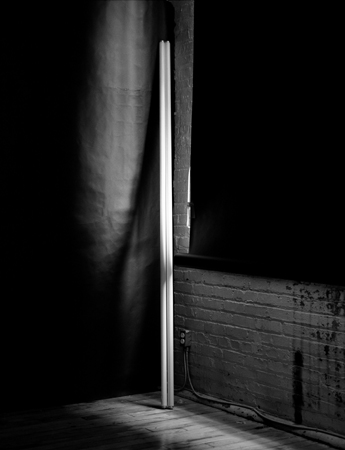 ______________
Krištof Kintera Bad News (2011)
'Bad News, created in 2011, represents a devil who, head leaning on a drum, reacts to his listening to a radio airing announcements about catastrophes, speeches by dictators and Heavy Metal music hitting the instrument like a maniac.'
______________
Naama Tsabar Twilight (Drum Case) (2006)
'Encasing a whole drum set into an instrument case extended to such a size that it nullifies its usability. It is transformed into a giant stage, substituting a backstage functionality with a performative, front-stage one.'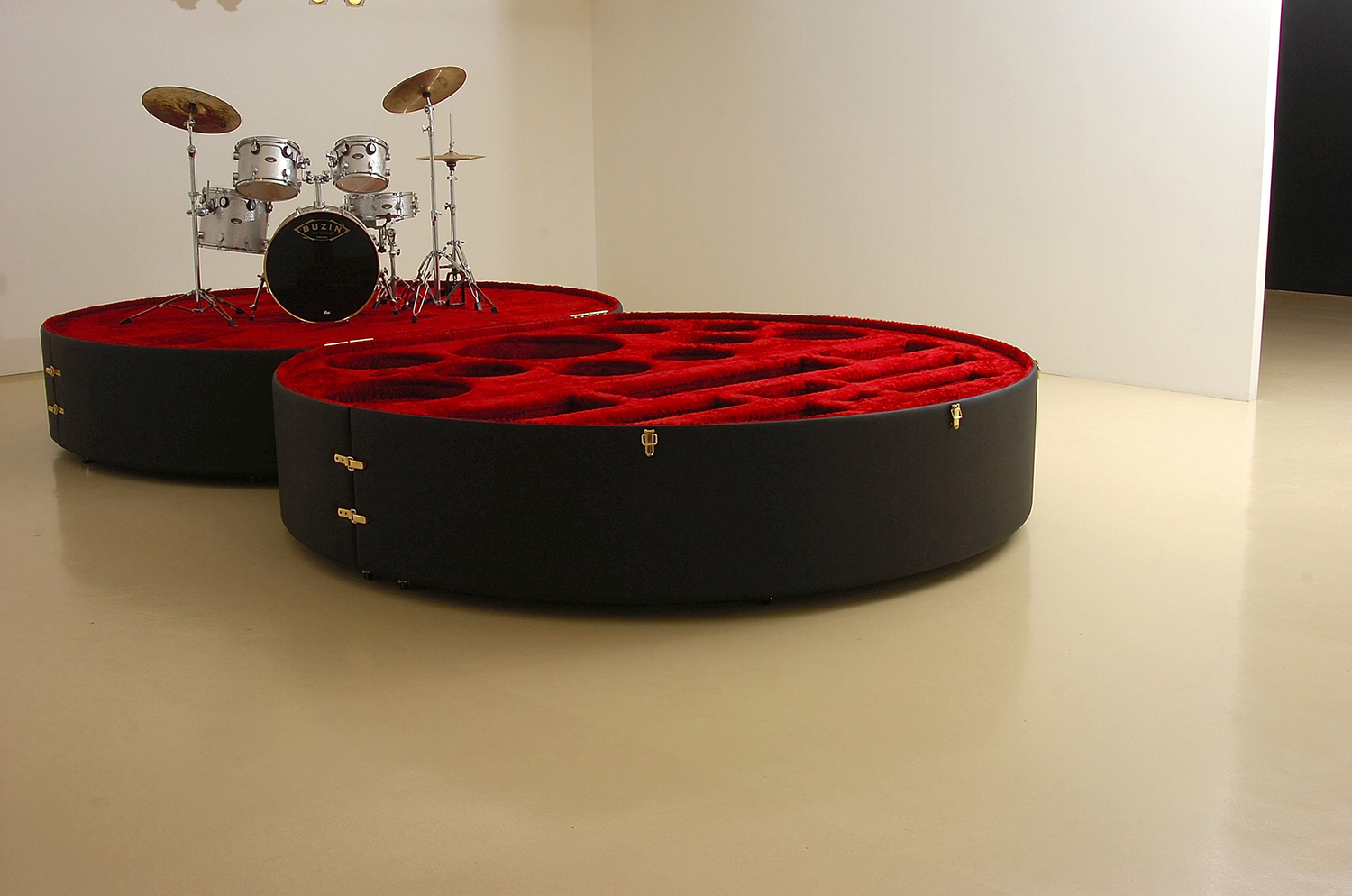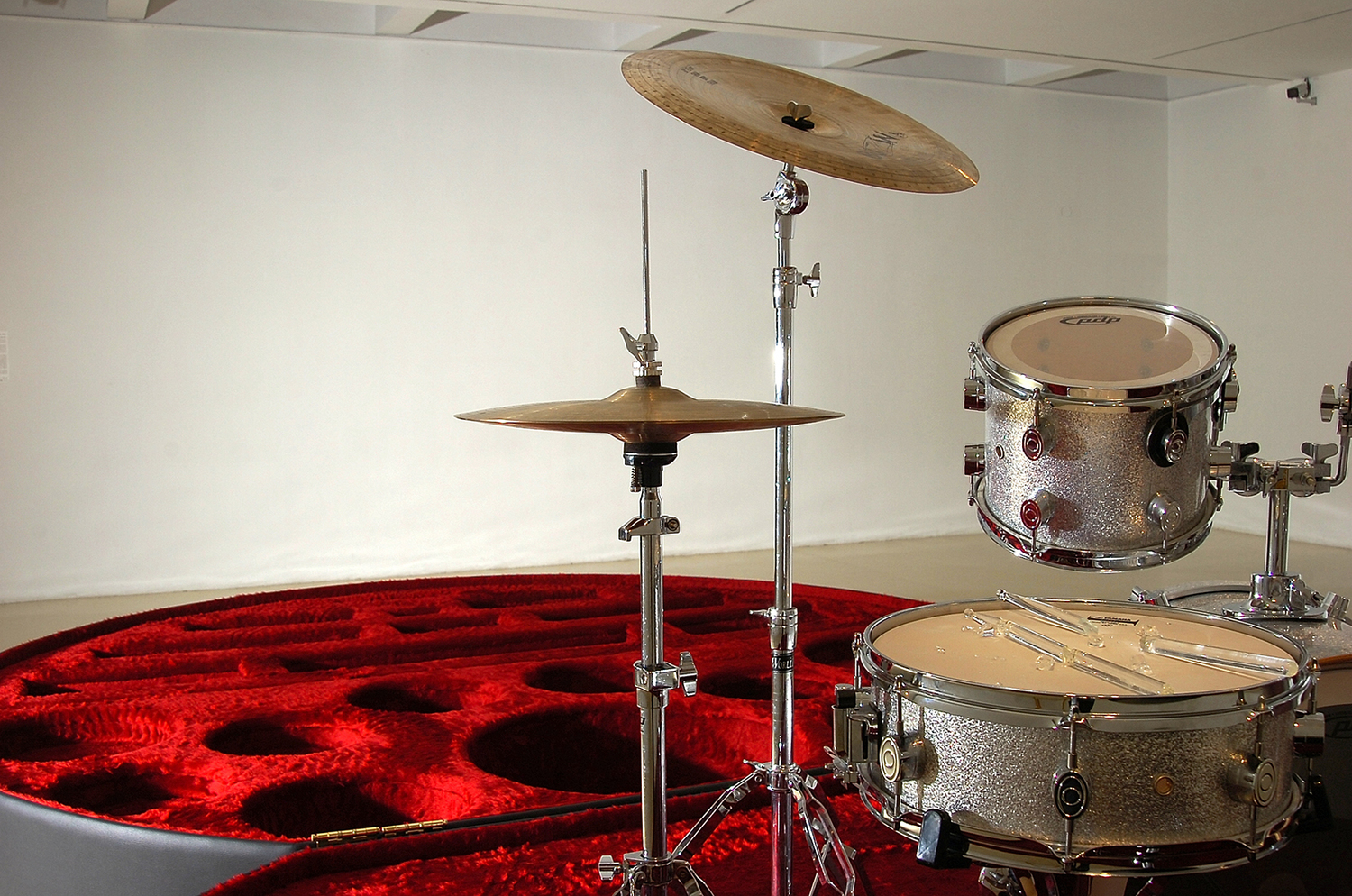 ______________
Dolphin Explosion performs "Boogie Man" with guest drummer Mike Kelley (2006)
______________
Pedro Reyes Disarm (Mechanised) (2012)
'Disarm (Mechanized) is an ambitious installation, comprising of 8 mechanical musical instruments, resulting from Pedro Reyes' international project in which illegal firearms were used to fabricate musical instruments. Musical instruments were created from firearms, including revolvers, shot-guns and machine-guns, which were crushed by tanks and steamrollers to render them useless. These were offered to the artist by the Mexican government following their confiscation and subsequent public destruction in the city of Ciudad, Juarez. From the 6,700 destroyed weapons the artist received from the Mexican Secretary of Defence, Reyes created two groups of instruments including Disarm. This installation of mechanical musical instruments can either be automated or played live by an individual operator using a laptop computer or midi keyboard.'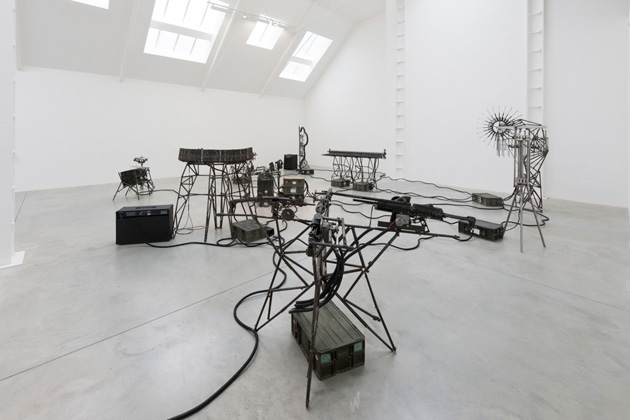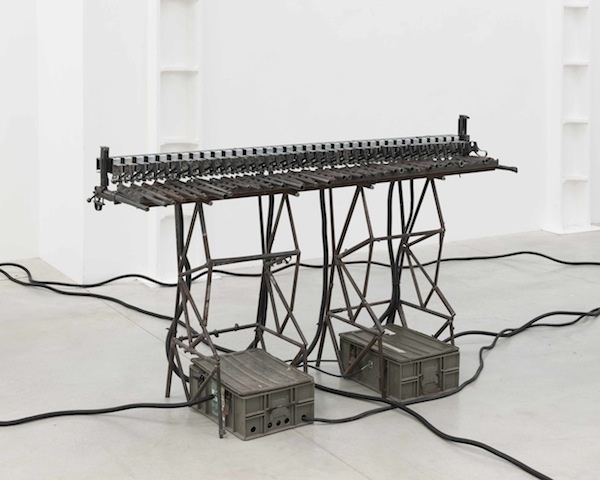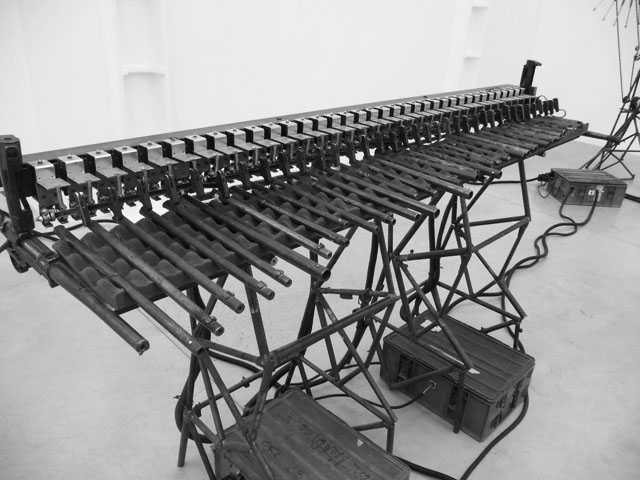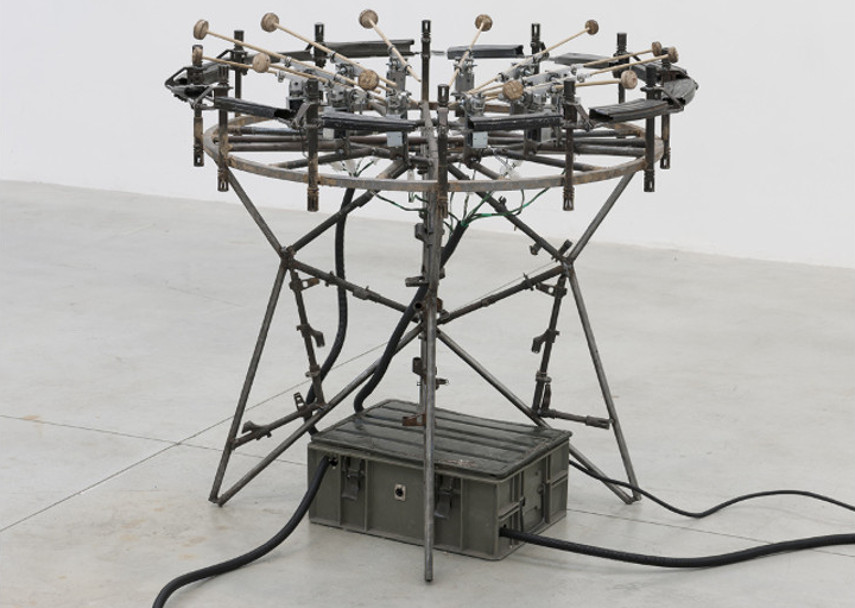 ______________
Ed Ruscha Double Americanisms (2019)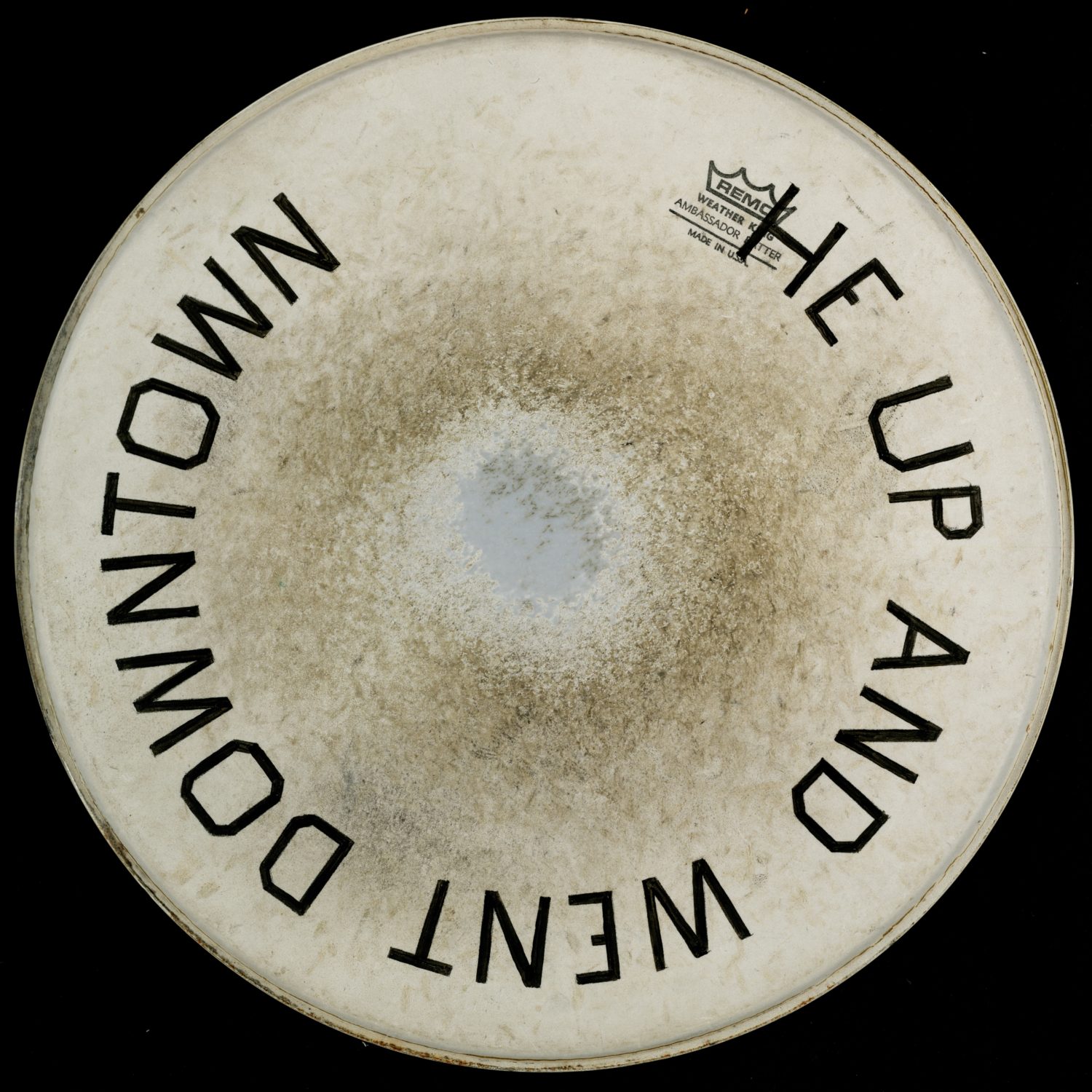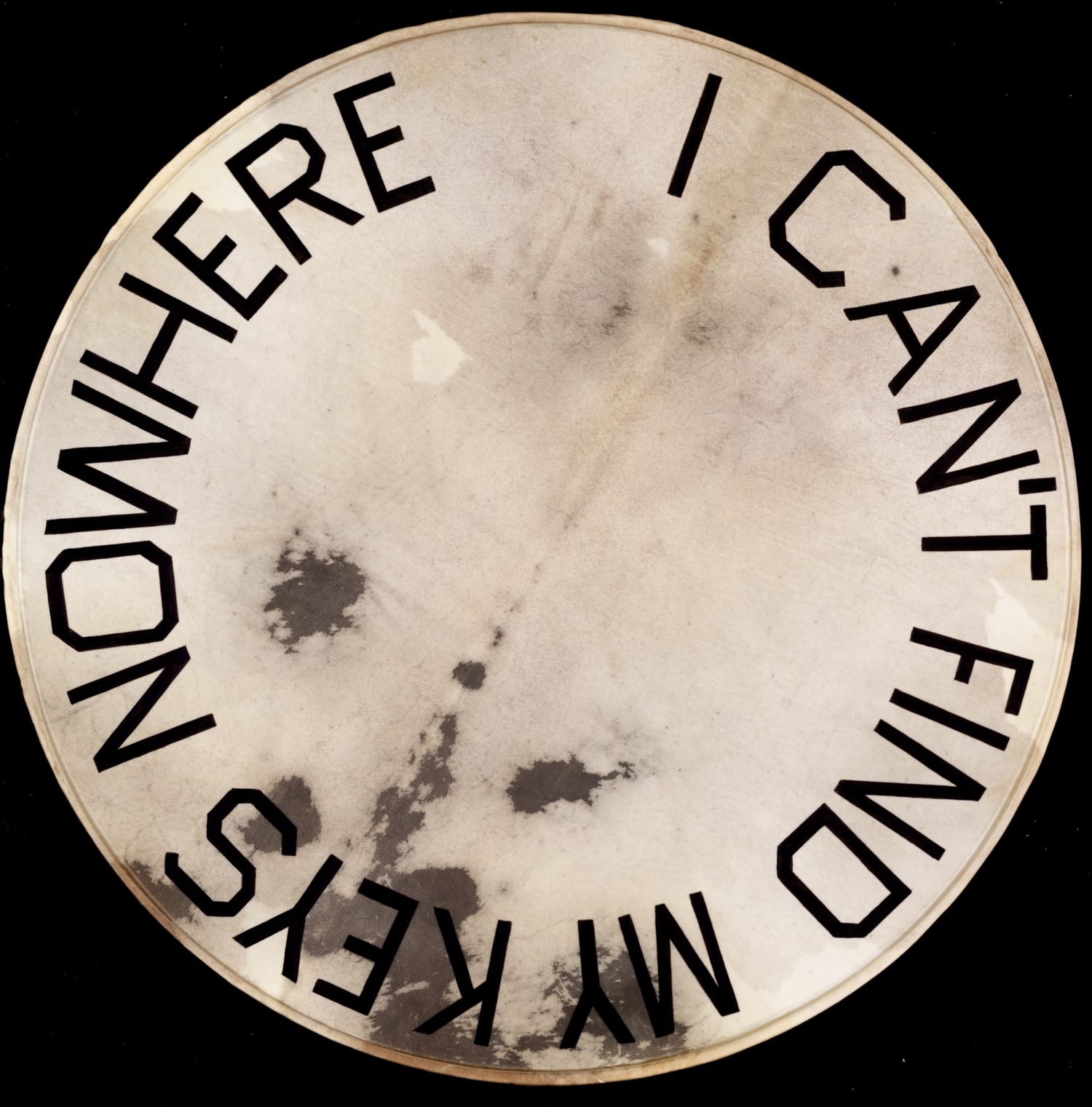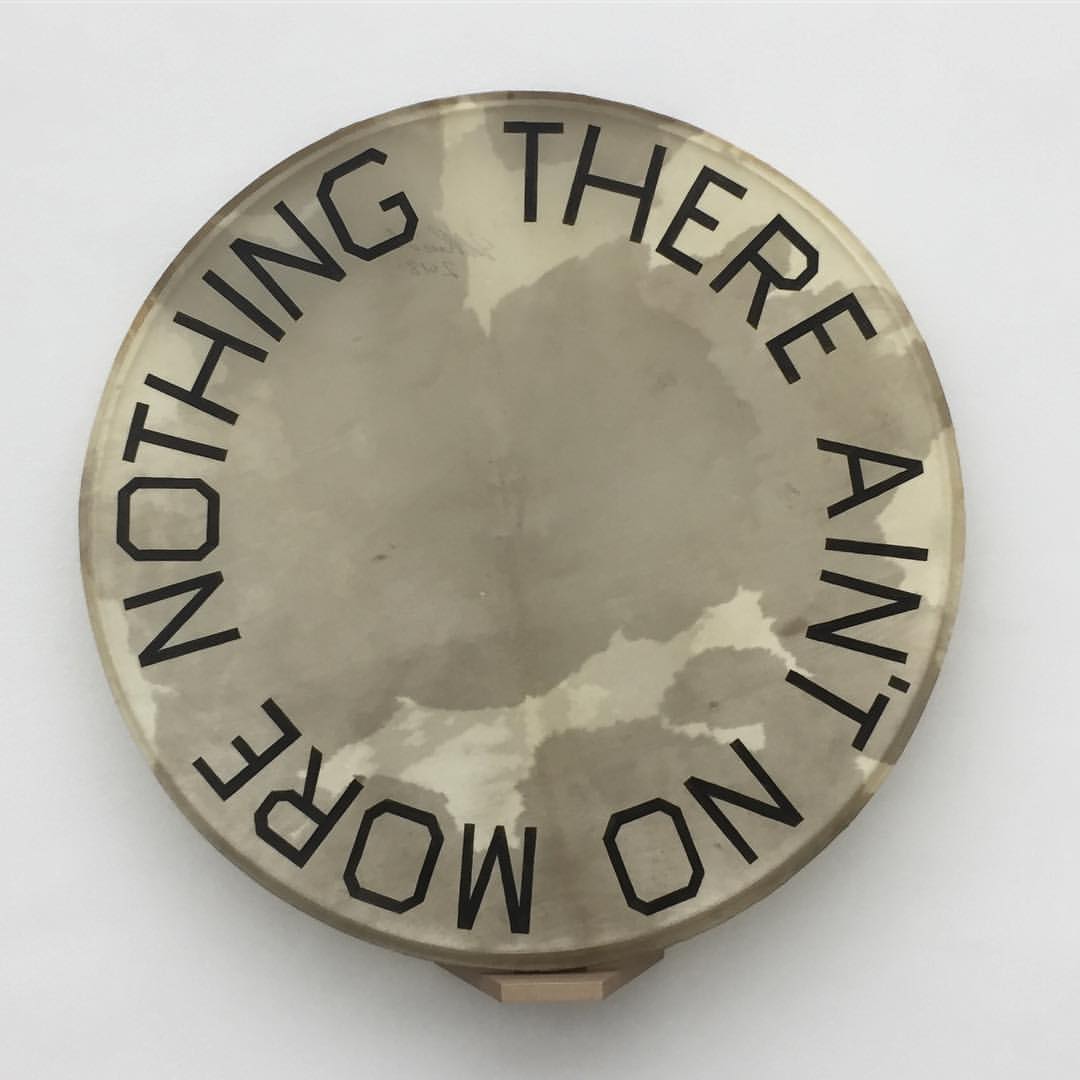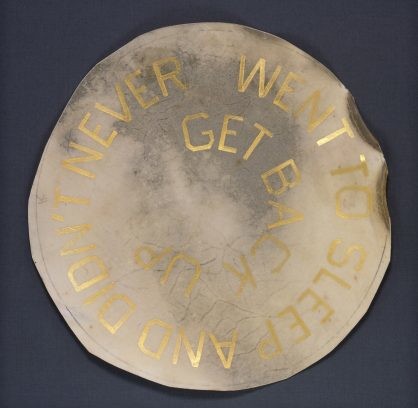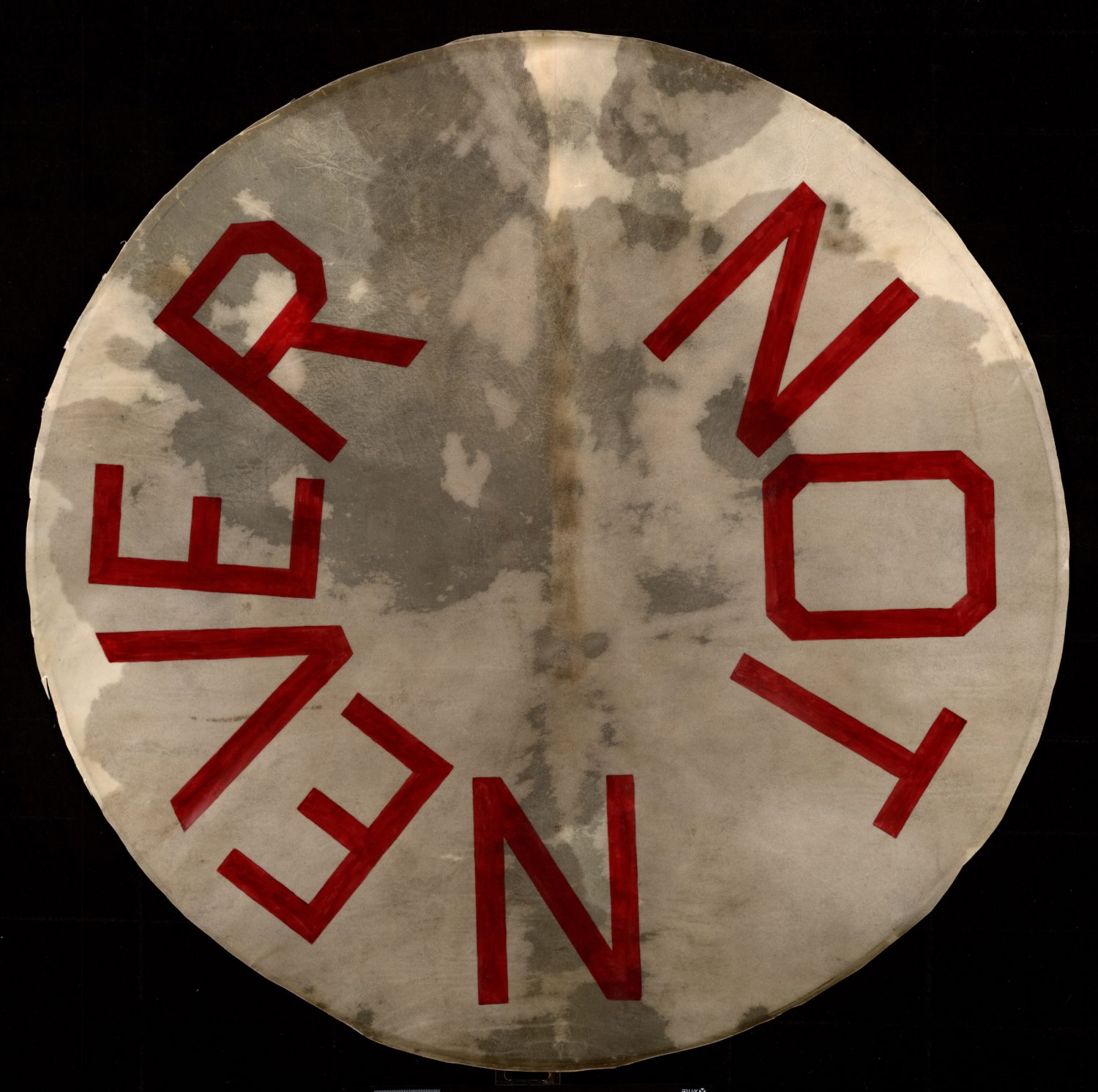 ______________
Yuko Mohri THE BEGINNINGS (or Open-Ended) Part 1 (2015)
______________
Jonathan Polkest Drum Fusion (2008)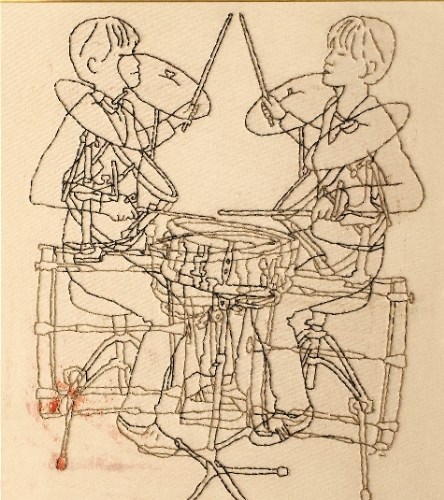 ______________
Christian Marclay Museum Tinguely Performance (2018)
'On the 26th of January, as part of a two-day international symposium, performance artist Christian Marclay took up the challenge to interact with the artwork of Jean Tinguely. Joined by Okkyung Lee (Cello) and Luc Müller (Percussions), the trio performed a concert in the midst of machines created by Jean Tinguely and other material found in the museum by interacting with them spatially and by the sounds they produce.'
______________
Los Carpinteros Congas (2015)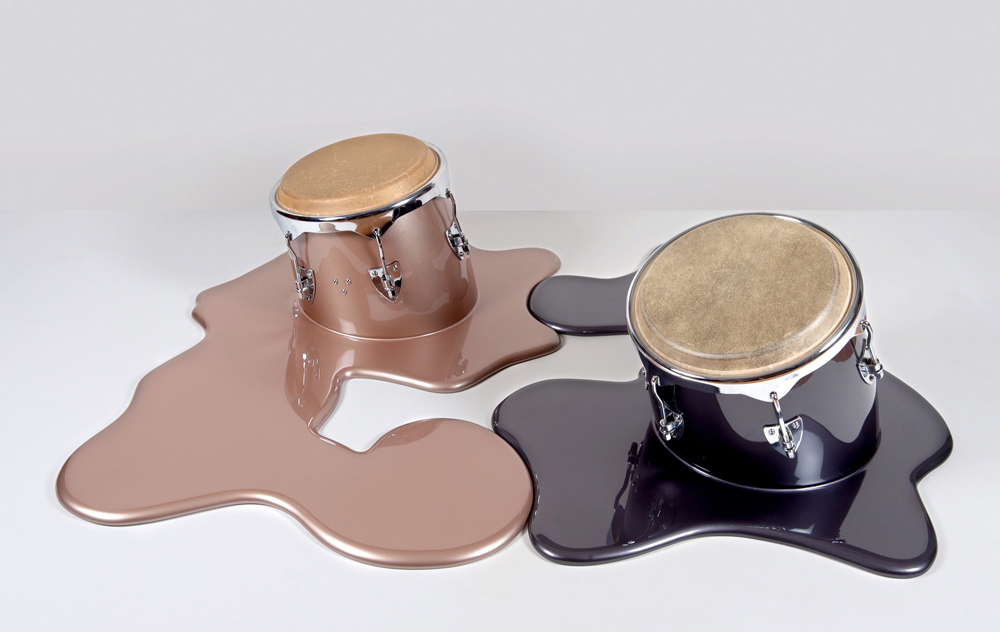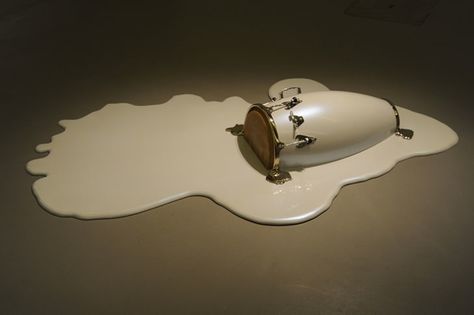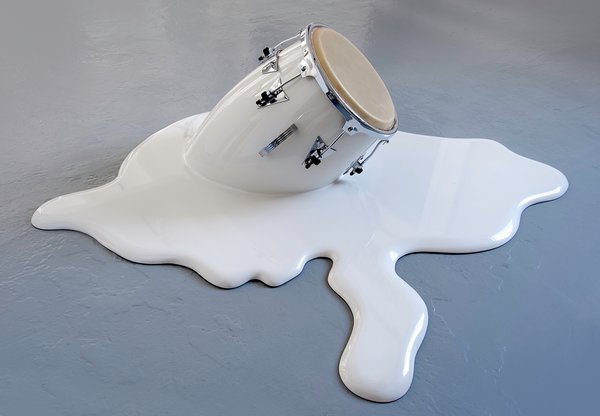 ______________
Anri Sala Still life in the Doldrums (2015)
______________
Michelangelo Pistoletto Terzo Paradiso (2003-2013)
346 cymbals, lids, 120 x 640 x 1120 cm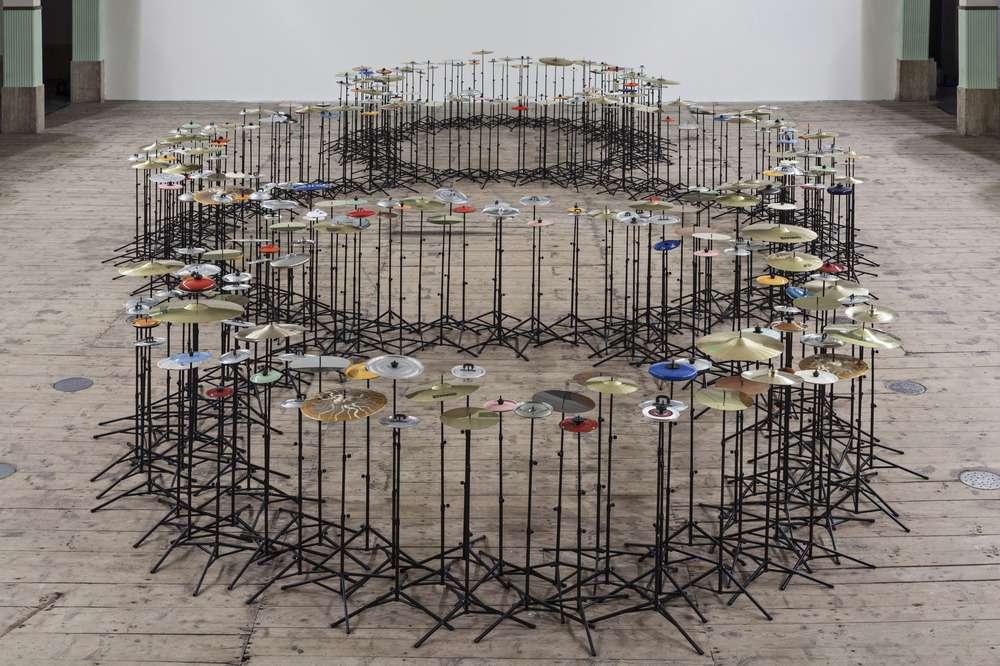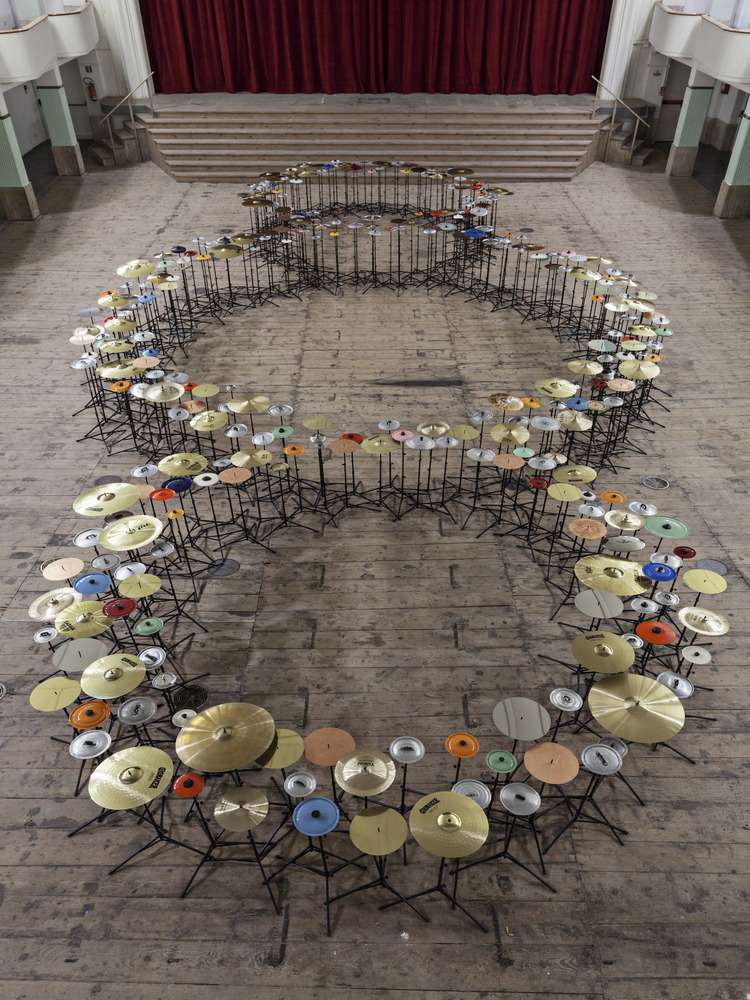 _______________
Open Reel Ensemble Tape Tapping (2018)
'Japanese musicians Ei Wada, Haruka Yoshida, and Masaru Yoshida create reverberating drum beats on the outstretched tape of cracked open reel-to-reel tape recorders from the 1970s and 1980s. The group, appropriately named Open Reel Ensemble, produces an intriguing timbre that more closely resembles a synthesizer than an analog drum. The group has created the soundtrack for Japanese designer ISSEY MIYAKE's last four seasons.'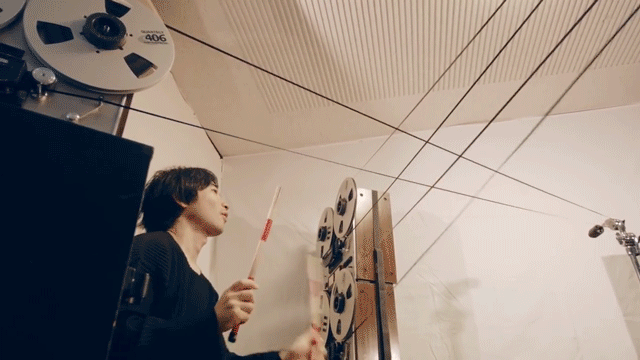 ______________
John M Armleder Furniture Sculpture 189 (1988)
'Furniture Sculpture 189 is a quasi-symmetrical composition consisting of a silent drum kit standing in front of a horizontal yellow canvas with two strips of mauve at each end, hung very low, so that the drums share the same visual space. The title of the work is a nod to its musical genealogy. Indeed, Furniture Sculpture echoes Erik Satie's experiments in Furniture Music from 1917 on. This was music designed to create a mood rather than be listened to: as Satie himself wrote, it 'claims to contribute to life in the same way as a private conversation, a painting in the gallery or the seat one is, or is not, sitting on'. While Furniture Sculpture may be read by analogy as installations contributing to an 'art of ambiance', the use of a silent drum kit in Furniture Sculpture 189 also gestures to Cage, a major influence on Armleder's performances.'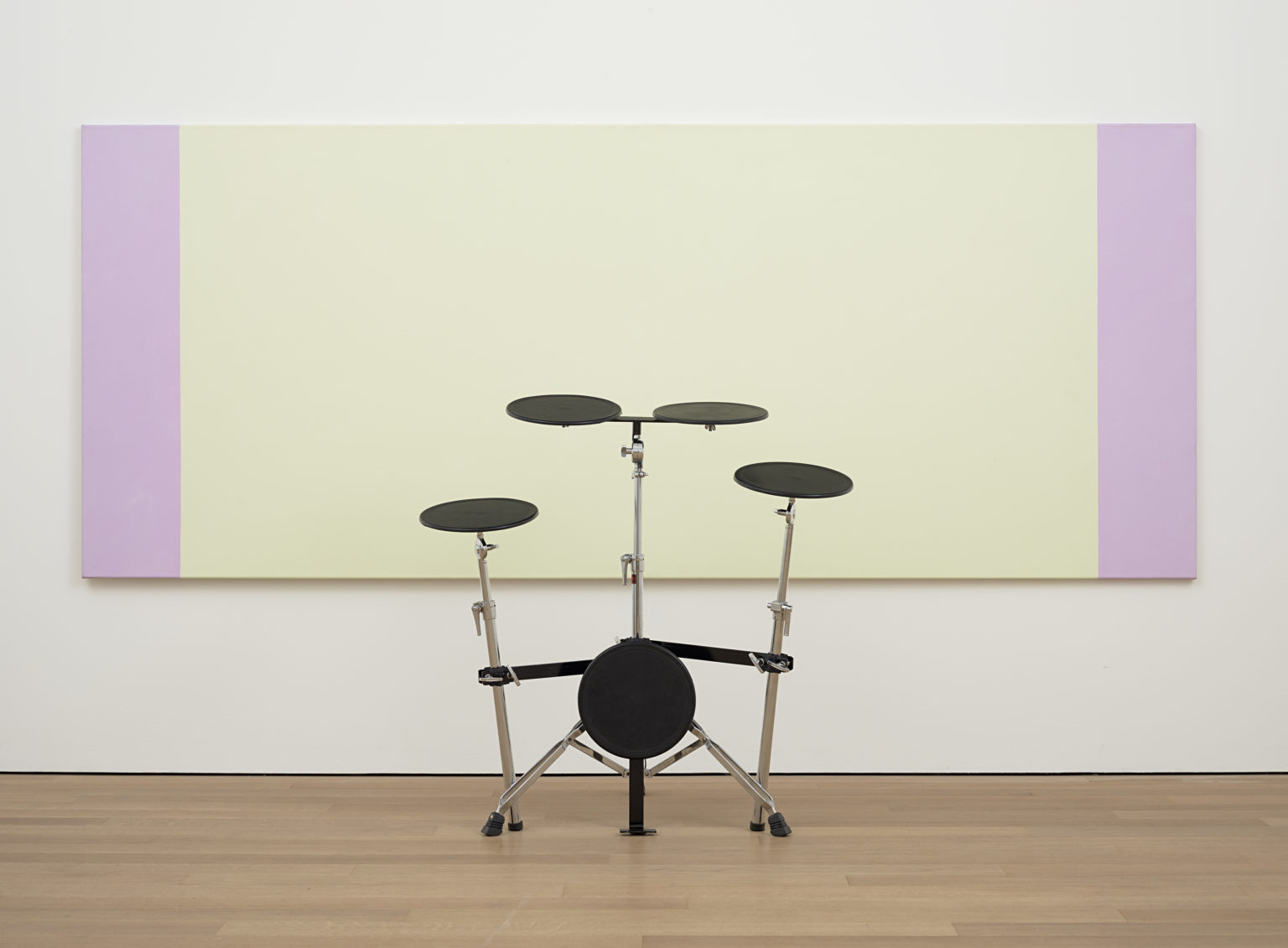 ______________
Alex Gawronski The Old Man With the Big Long Horn (He's the One Who Isn't There) (2016)
'The title of this installation, The Old Man With the Big Long Horn (He's the One Who Isn't There) paraphrases a lyric from seminal experimental-absurdist 'band' The Residents. The creepy apparition conjured in the song is that ugly thing, ignored by reason and self interest, that is nonetheless ever present and inescapable. Inserted through the wooden monolith, a TV depicted a close-up of a musician (Jack Wotton) simulating a beat from Jean Luc Godard's 1967 film Weekend. In a scene towards the end of that film, a rock drummer plays over farcical events like the blackly humorous cannibalisation, by a group of deluded 'revolutionaries', of a wholly unlikable bourgeois couple. The lose-lose scenario depicted speaks of a contemporary world devouring itself.'
______________
Dawn Kasper Cluster (2016)
Cymbals, cymbals stands, ardunios, motors, motion sensors, power strips, extension cords and AC adapters, dimensions variable.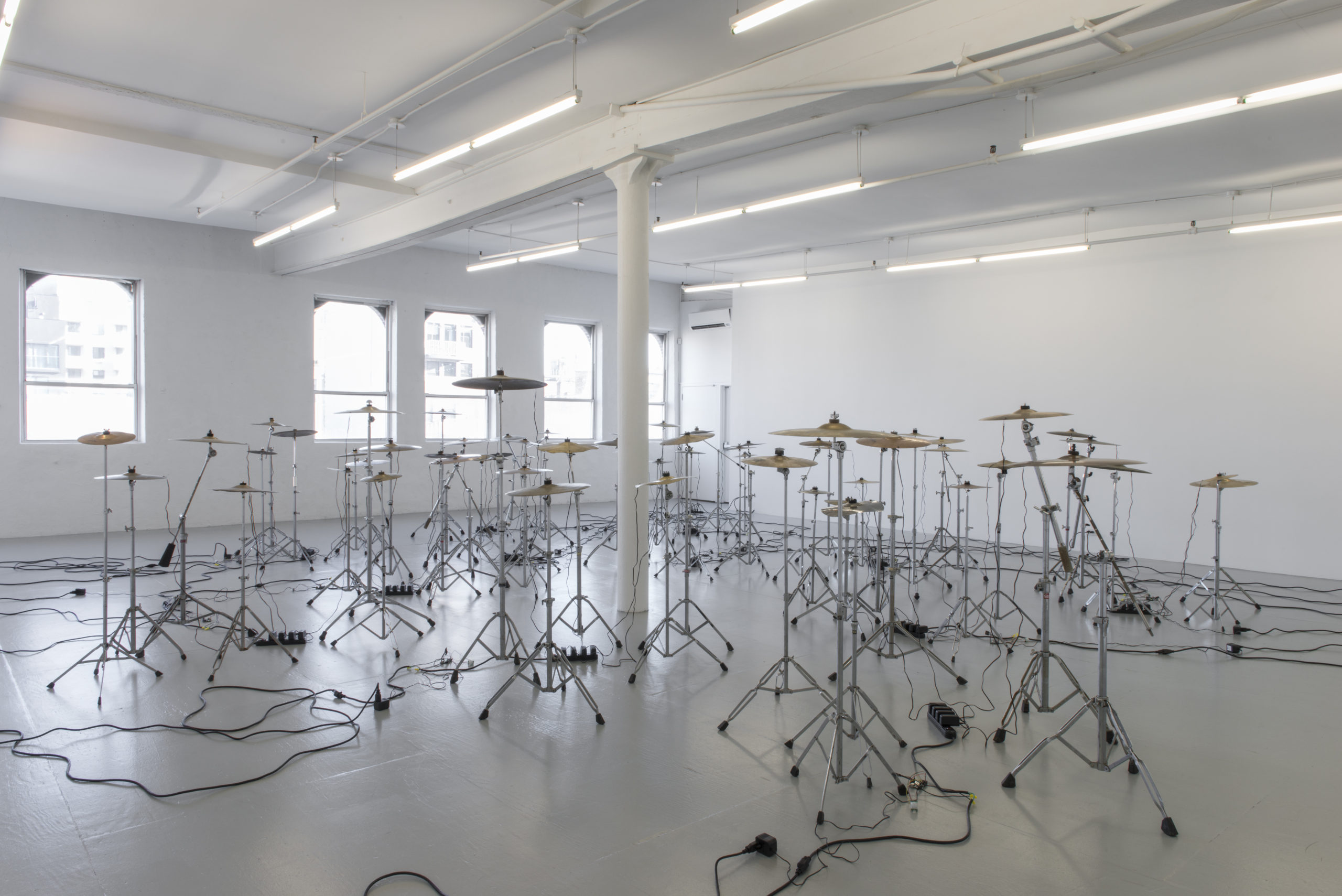 ______________
Claes Oldenburg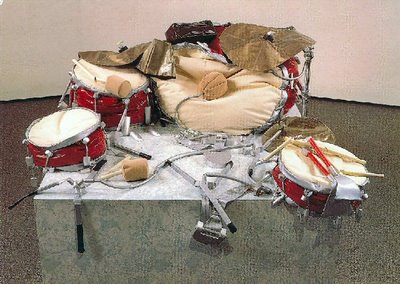 Drum Set (1967)

Miniature Soft Drum Set (1969)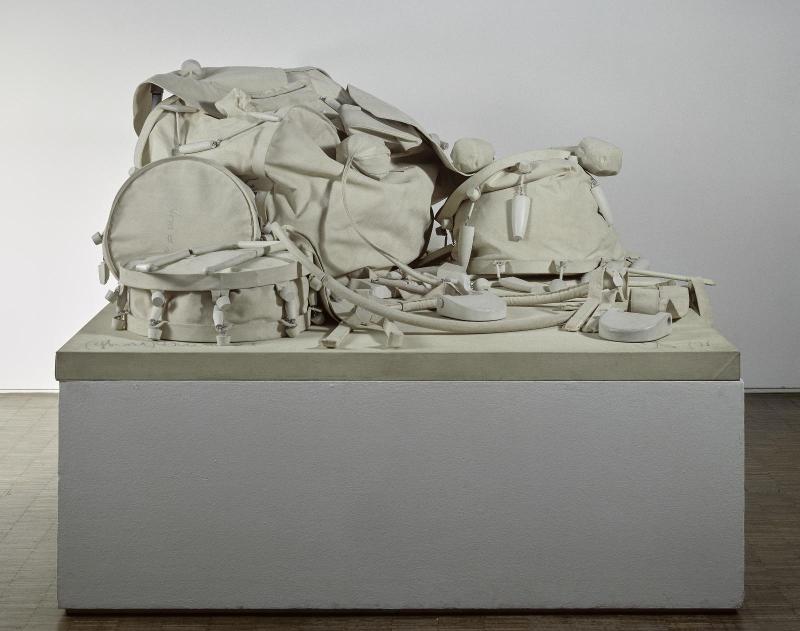 Ghost Drum Set (1972)
______________
Jean-Lucien Guillaume Chocolate Drums (2000)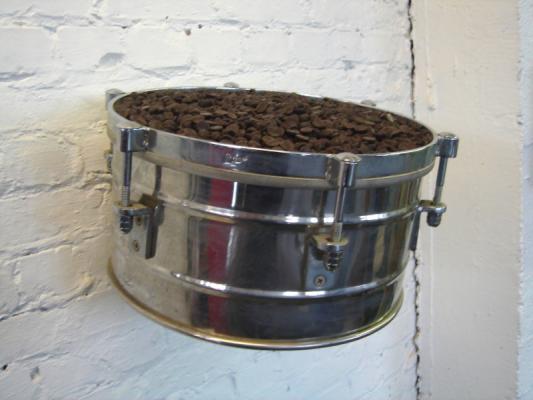 _______________
Takeshi Ikeda Band of the Night (2005)
'I and my friend destroy earnestly the drums made from styrene and corrugated paper. This work is made by the basis of the influence of the idea which records the song for 1-30 second on a 7-inch record in large quantities. This idea was borne by the trend of hardcore punk from the first. At the exhibition, all possible drums were made among one day, and it repeated destroying every day. The wreckage of the broken drums so, then day by day stacks and goes up to the hall.'
*
p.s. Hey. ** Milk, Hi. Thank you very much, Milk. And thank you very much for being part of it. ** Thomas Moronic, Hi, T! Great Korine reverie on your part, and yes! I'm good, all things considered. Meaning healthy but partly stir crazy like everybody. And you? How are you employing your isolation? Yes, I had thought I could announce my novel's US publisher last week, but it should be any day now. Highly compressed locked down love too you, pal and sir! Oh, you know, I'm way down to make a 'welcome to the world' post for your book if you want to send me any supplementary stuff to use or anything. ** David Ehrenstein, Harmony got the single and only really good performance out of Franco in 'Springbreakers'. And I guess he's fairly funny in that film about 'The Room'. Otherwise, snore. A friend of mine is actually using the lockdown to read Proust, so there you go. ** Misanthrope, Korine haters tend to be secretly conventional fussbudgets. I haven't filed my taxes in a couple of years out of laziness or something, so I don't think I'll be getting a check. So, is your novel now truly ready for the hideous conveyer belt to fame and glory? Kidney stone, ah, right makes sense. Ouch. ** Tosh Berman, Hi, Tosh. I'm so, so sorry to hear about your uncle's scare. I'm happy that everything worked out for the ultra-best for him, and here's heavily hoping that continues. Scary. My friend Sabrina told me you're reviving 'Tea with Tosh' for the 'Made in LA' show, which is awesome news, obviously. Hang in there, bud. ** Bill, Hi. Oh, Korine's films are a billion times better than Larry Clark's, if you ask me. I think your lockdown just got extended to April 30th if I read my news through un-coffee-d eyes correctly? Yes, your gig is up just when I need it most! Sweet, I'm there today. Everyone, artist/music maker Bill Hsu did a gig just before the world collapsed at Peacock Lounge in San Francisco (3/5/2020) in a trio format under the rubric Bjll Dingalls (Tom Djll, Bill Hsu, Matt Ingalls), and you can not only hear but watch it here. I'm heading over there shortly. 'See' you there? ** MyNeighbour JohnTurturro, Hey, man! Surreal, you bet. It's Dada and even Actionist. Every time I'm out in Paris I feel like I'm on the level of a really good but very vexing video game. I haven't seen 'Beach Bums'. I heard such bad things, and I love all of his films, so I've been wary. But I need to. I think 'Julien' is my favorite too. The two films he wrote for Larry Clark are the only films of Larry Clark that I like. Korine is a wonderful writer. His novel 'Crack Up at the Race Riot' is recommended if you haven't read it. You like Horse Lords too, cool. I've mostly been listening to scattered tracks. The recent albums I love are the new Destroyer, the new Thomas Brinkmann, the upcoming Yves Tumor. But I'm going on an album hunt today. You recommend anything in particular? It's really good to see you! ** wolf, Wooly Bully! Up? Being is up. I feel like everyone I know including me is just being right now. I'm okay. As an often stay-at-homer, I think I'm spared the the higher level stir craziness maybe. Semi-accustomed, I guess I would say. Yes, the control freaks are waving their freak flags wildly, that's for sure. Social media is like Attack of the Killer Bees. It would be a great alternate energy source if things worked that way. I'm doing that imaginary retrofitting too. Huh. Definitely helps reorient the brain cells. Yes, let's do a Skype catch up! That's a stellar idea! Any time you want basically. I'm a 24/7 sitting duck. ** _Black_Acrylic, Hey, Ben. I'm with you. Ah, you have plenty of time to suss out the perfect story. I can't wait to read it. ** Dominik, Hi, D! I'm happy my blog upped your weekend! Yay! Thanks about our producer. I think she'll be fine. Most people who get it end up fine. So far. As you'll see when you read my new novel, which is entirely about George's effect on me, having his and my mutual friend Lee to talk with is meaningful indeed. I can't say that my weekend was all that much. Doing the regular of late. Uh, Skyped with an editor of Artforum and might be doing some GIF works for their next issue, which, no surprise, will have to be online only. Other than that, just watching and listening and reading and doing (within reason) and going out a bit. Like you, it sounds like. God, things had better be at least back to semi-normal by the end of August, holy god! You sound good. I'm good. Any particularly good entertainments or ideas come to your mind and/or eyes/ears today? Big love, me. ** KK, Hey, man! Greetings from the heart of my solitary confinement to yours! I haven't seen 'Beach Bums'. I've been scared of it, but I'm getting less scared by the minute. I haven't been up to much. Working a bit, imbibing books and music and streaming stuff. Making the blog. Planning and scheming about future projects that will require being outside my apartment. That kind of stuff. I used to do yoga for several years. It was definitely a good thing to do. But I got too busy or bored or something after a while. I'm sorry to hear about your grandma. Curious to hear how the online classes work. No, long story short, my struggle to get a Switch has yet to pay off with one actually arriving, but I'm still on the hunt for a plausible way to get one reliably delivered. I played the first 'Animal Crossing', and it ate me alive, so I won't play the later iterations, but its having eaten me alive is a compliment to it. Great Akermann, no? I'm reading a couple of new Amphetamine Sulphate books and a bunch of poetry (which suits my current attention span) and … I forget. My roommate used to cut hair for his living, so my head is covered or uncovered as the case may be. You stay as well as humanly possible too! ** Steve Erickson, Ah ha! Everyone, Mr. Erickson has used part of his quarantine downtime to become a budding Beat maker, and he has uploaded one of his initial beaty works onto Soundcloud. Let's go listen, shall we? Here. Wow, that is trippy: that doc streaming on Pornhub. Sounds good. I'm there. My weekend, described with appropriate brevity somewhere above, was … fine. Yours? Baxter Dury … maybe I've heard the name? Is he related to Ian? He might be kind of exaggerating about the 'famous in France' thing, or maybe not? I'll look around. ** Jeff J, Thanks, man. I have not seen 'Above the Below'. You can bet I scoured the internet for it when making the post, but it wasn't anywhere. Still haven't seen 'Beach Bums'. Still intend to. Thanks for reminding me: I'll try to get those Gould works today. I totally agree that 'Portrait of a Young Girl at the end of the 60s in Brussels' is one of Akerman's greatest films and very, very strangely overlooked. Cool about your writing momentum. I need some. I'm going to go try to find mine. ** Okay. Today, it's simple: drums. See you tomorrow.