* (Halloween countdown post #6)
____________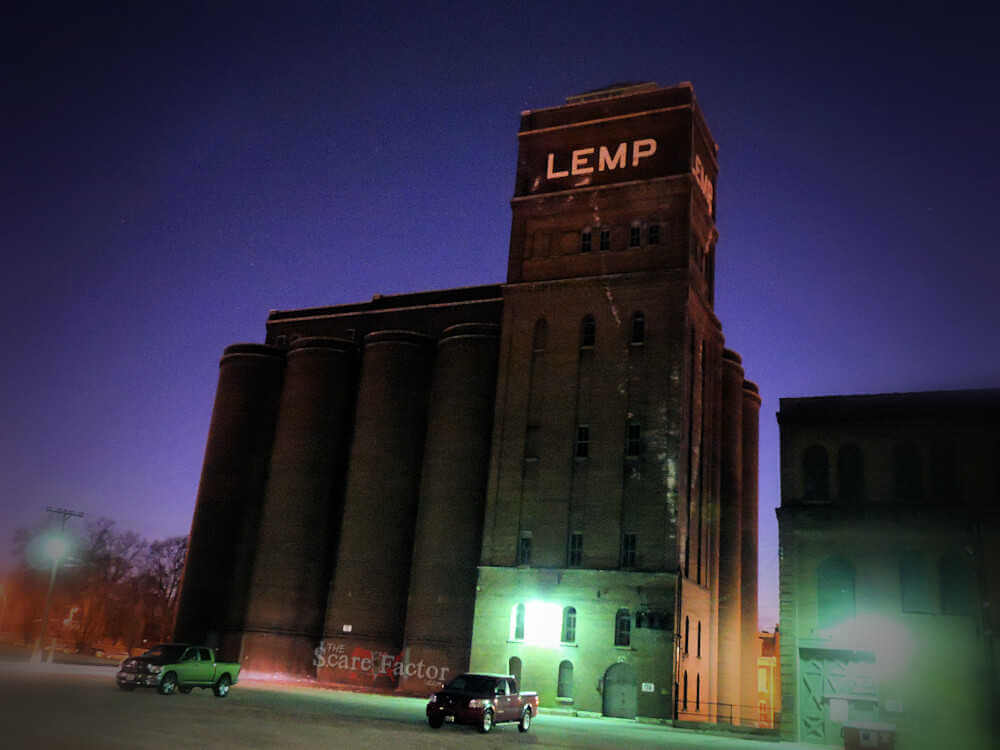 Lemp Brewery Haunted House
St. Louis
The all-new Lemp Brewery Haunted House is ready to make you scream. House of Occult located deep underground where NO ONE CAN HEAR YOU SCREAM. Come face to face with demons, confusing mazes, inside a pitch black cavern of the occult. Lemp Brewery is the most famous haunted place in American prepare to go into the abyss to scream Are you ready for St Louis' only REAL haunted house bring your friends and scream together.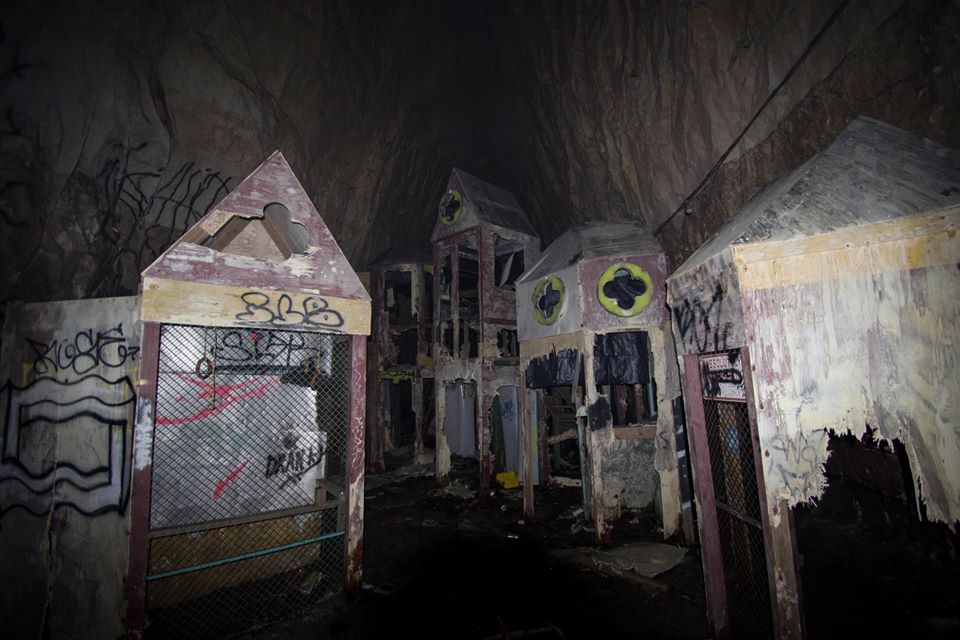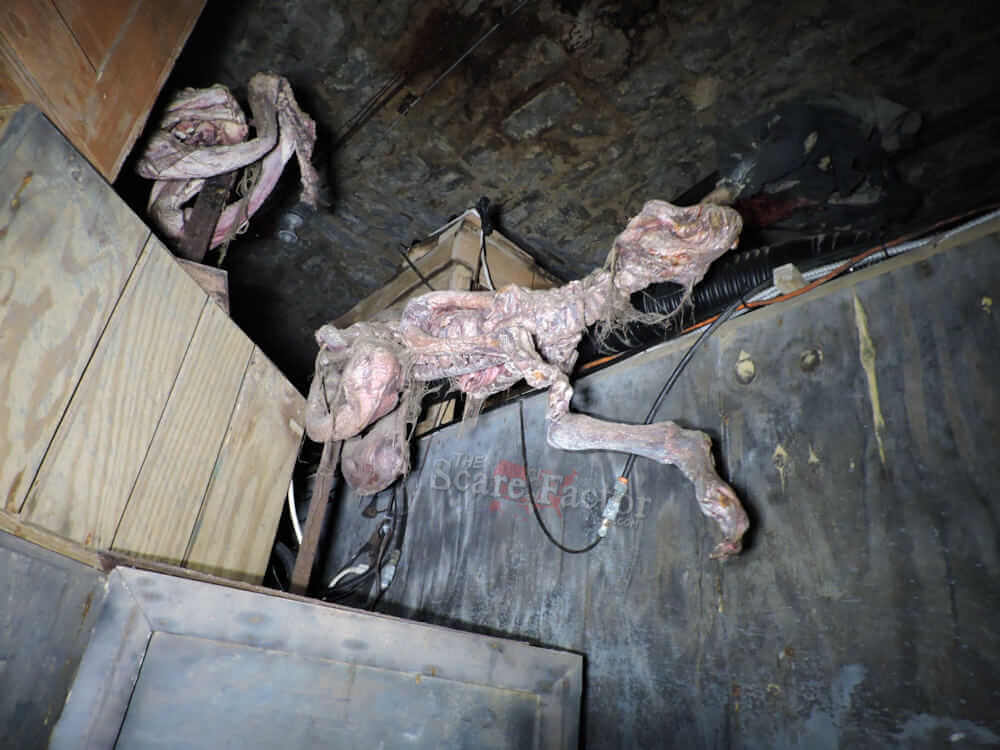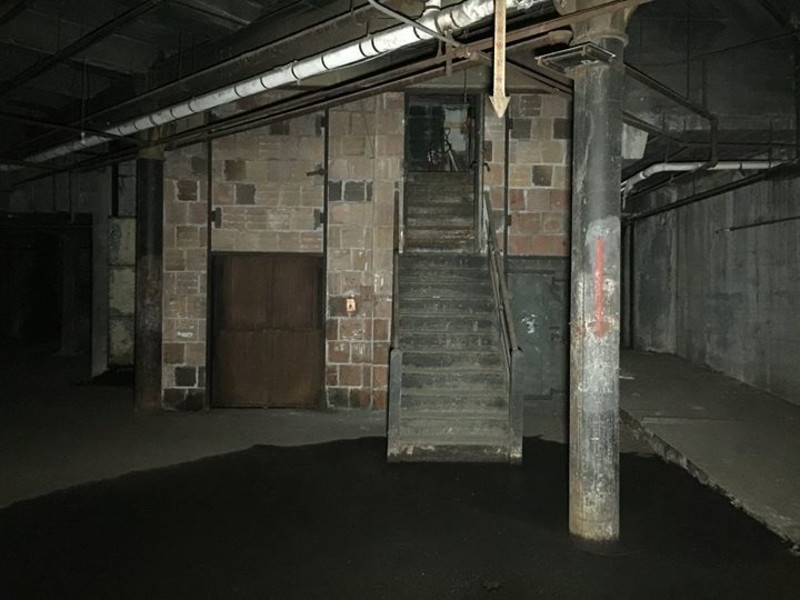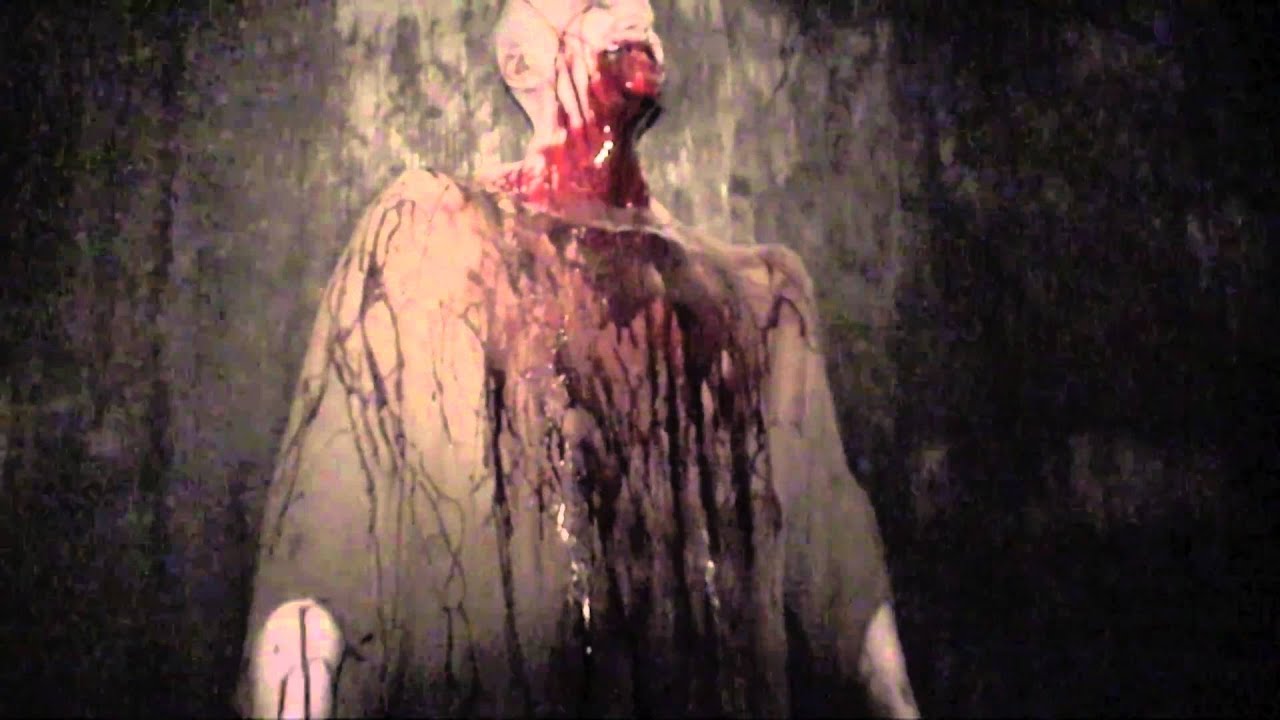 _____________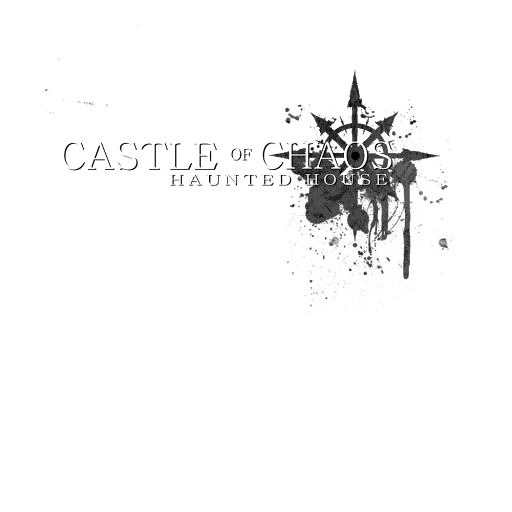 Castle of Chaos
Salt Lake City
Castle of Chaos started providing truly extreme events during the 2018 Halloween season. Their overnight events, currently offered monthly, run from 10pm to sunrise. Since this is literally an underground haunted house, participants may have difficulty knowing how much longer they have left. They offer five levels, each with an associated contact level. Level 1 will repel monsters, while level 4 will add in full contact. But Level 5 will attract the most aggressive contact from the monsters inside.
As the night begins to unfold, this experience starts with escape room-like gameplay. But, unlike most escape rooms, guests will be snatched from the comfort of their group for intimate, one-on-one physical interrogations. For the rest of the night, a common room serves as a home base where participants can watch horror movies with the other surviving guests, or try to sleep between visits from the tormentors who will be more than happy to show off the "special" rooms of the haunted house. Just remember, guests are never truly alone; the tormentors will remember everything – and may offer sadistic bargains to lessen the torture, but according to the waiver, they also may lie.
The physical intensity is high, but can be increased beyond the base level by request when guests are videotaped reading the waiver. Most people do not make it through the entire night – even with the default intensity. Although there is a safeword, it can also be waived on video, but guests might not enjoy the results of doing so…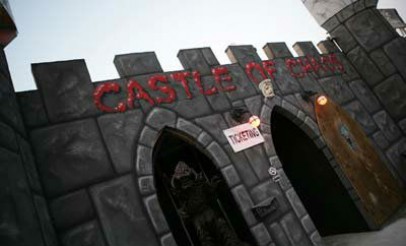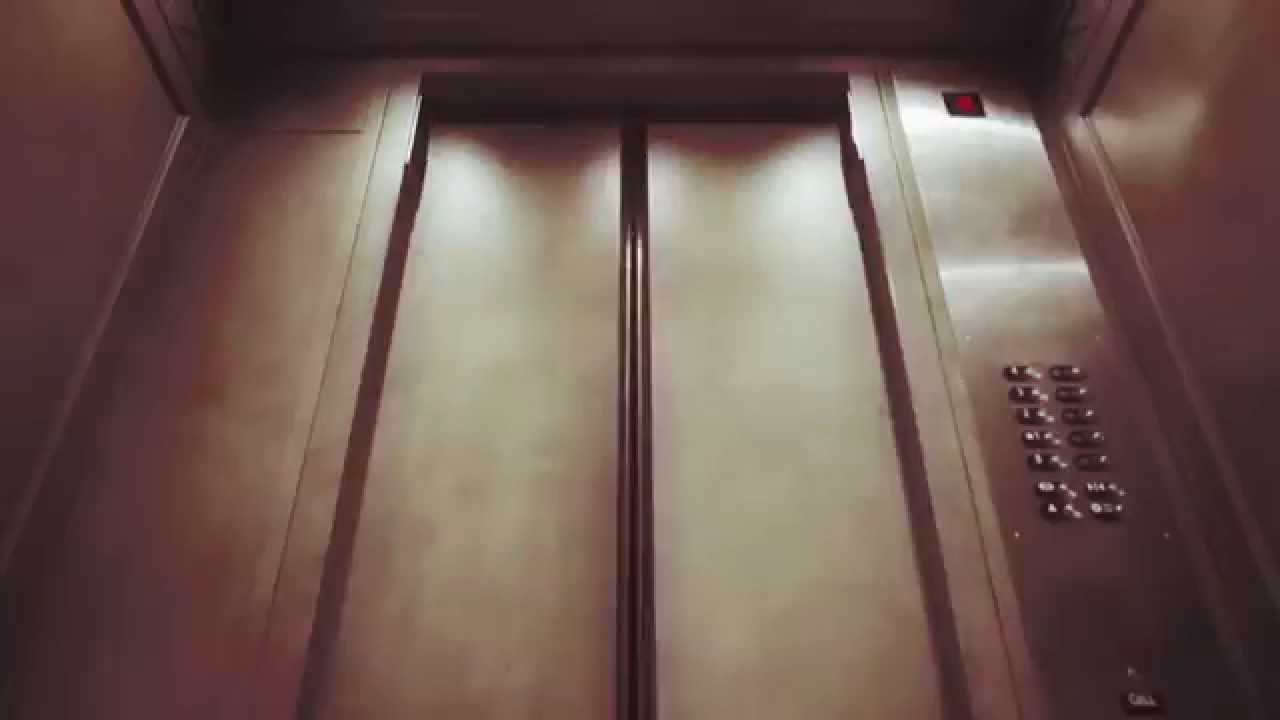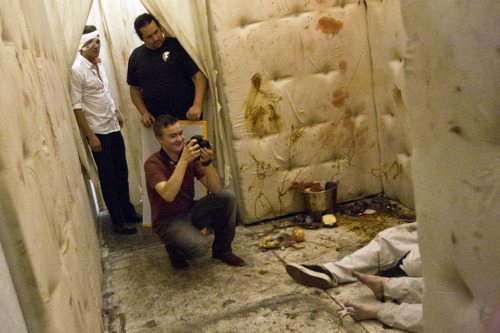 _______________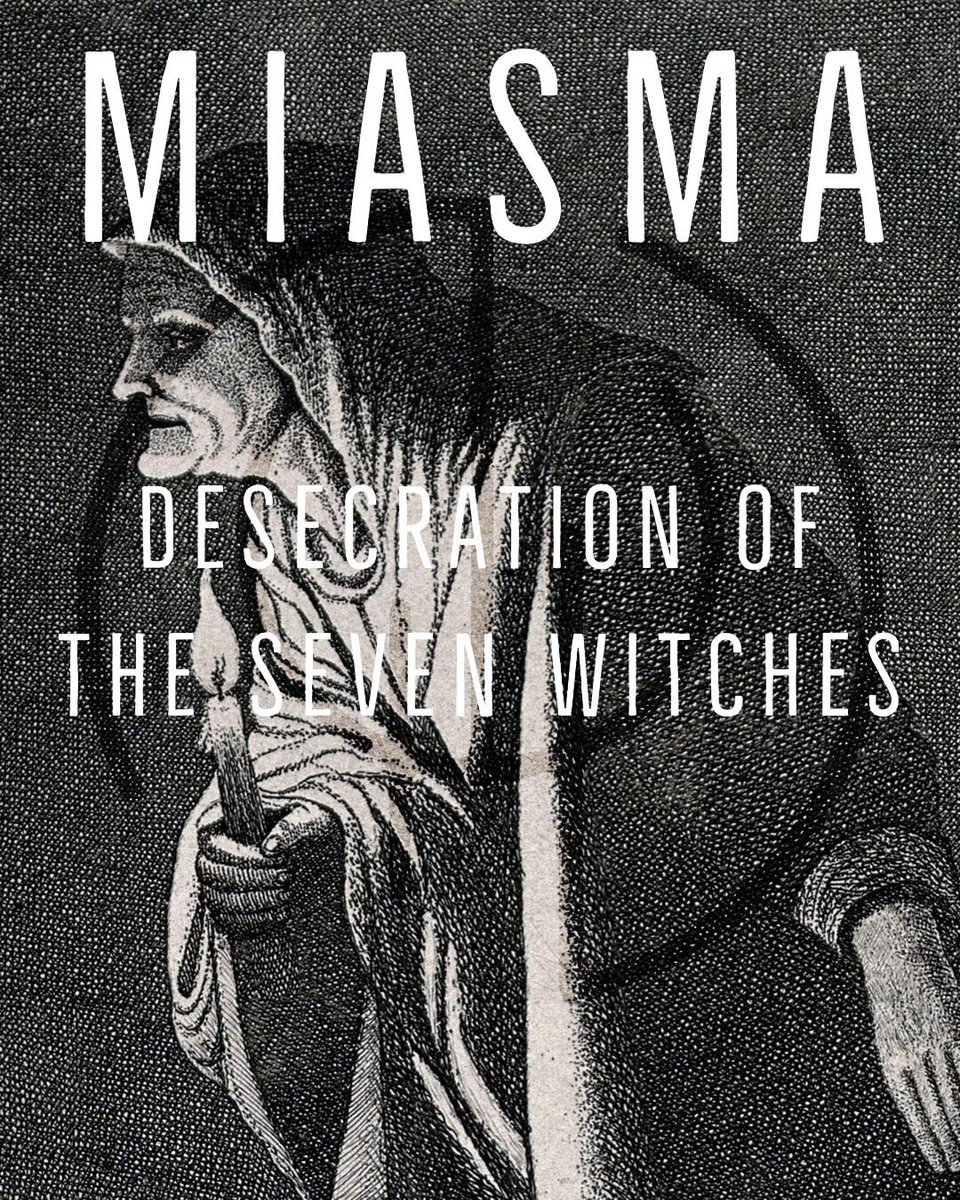 Miasma
Chicago
Miasma: a terror experience is an adults only, immersive horror experience. Guests enter alone, must sign a waiver, and comply with everything Miasma requests of them.
Guests will encounter tense physical and psychological situations and are encouraged to heed all miasma warnings before choosing to participate. A safety word is provided for those who wish to end their experience for any reason.
Located in the 60657 zip code, the exact location is revealed to guests only twenty four hours before the event with instructions on how to proceed. Miasma is personal, extreme, and not for the faint of heart.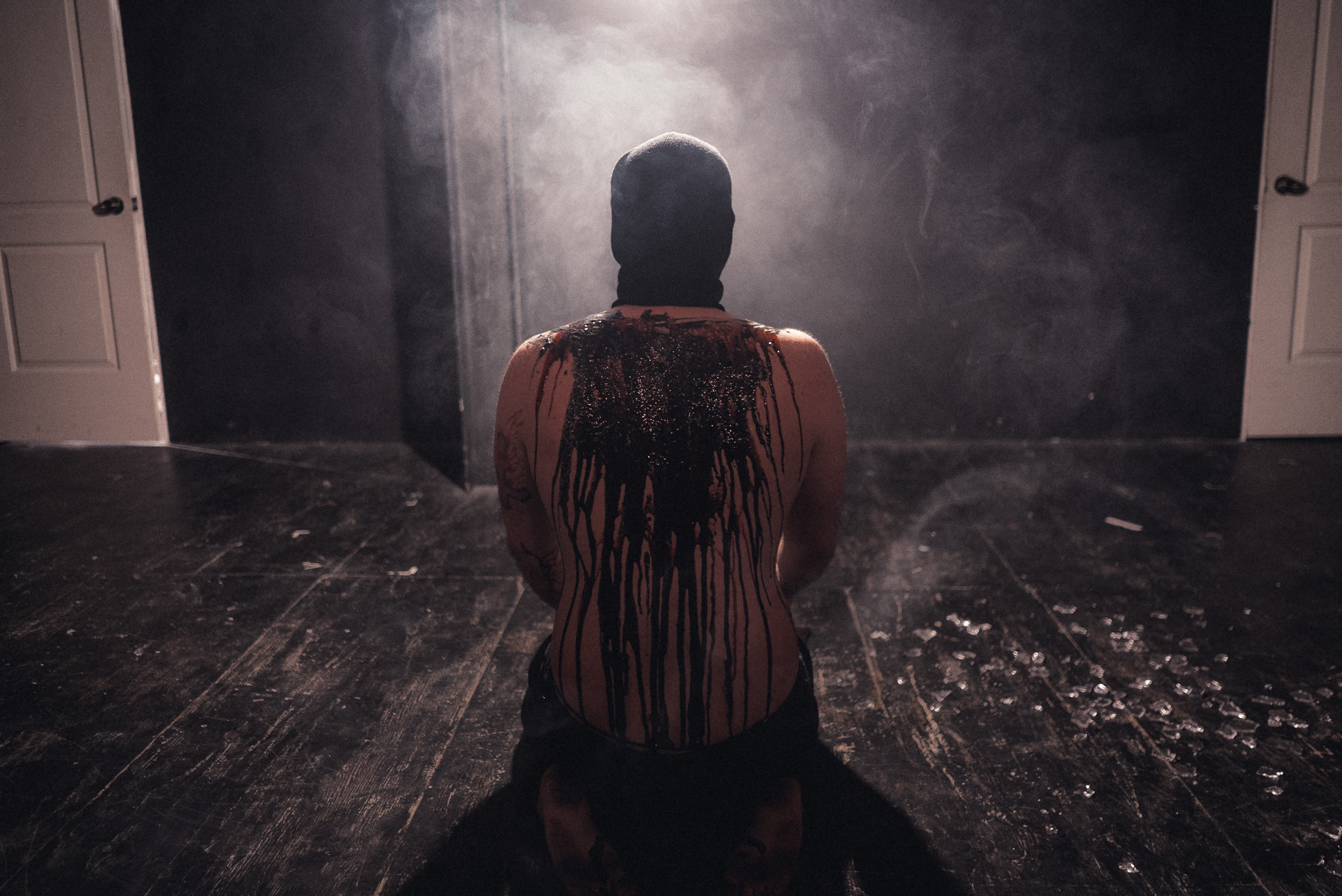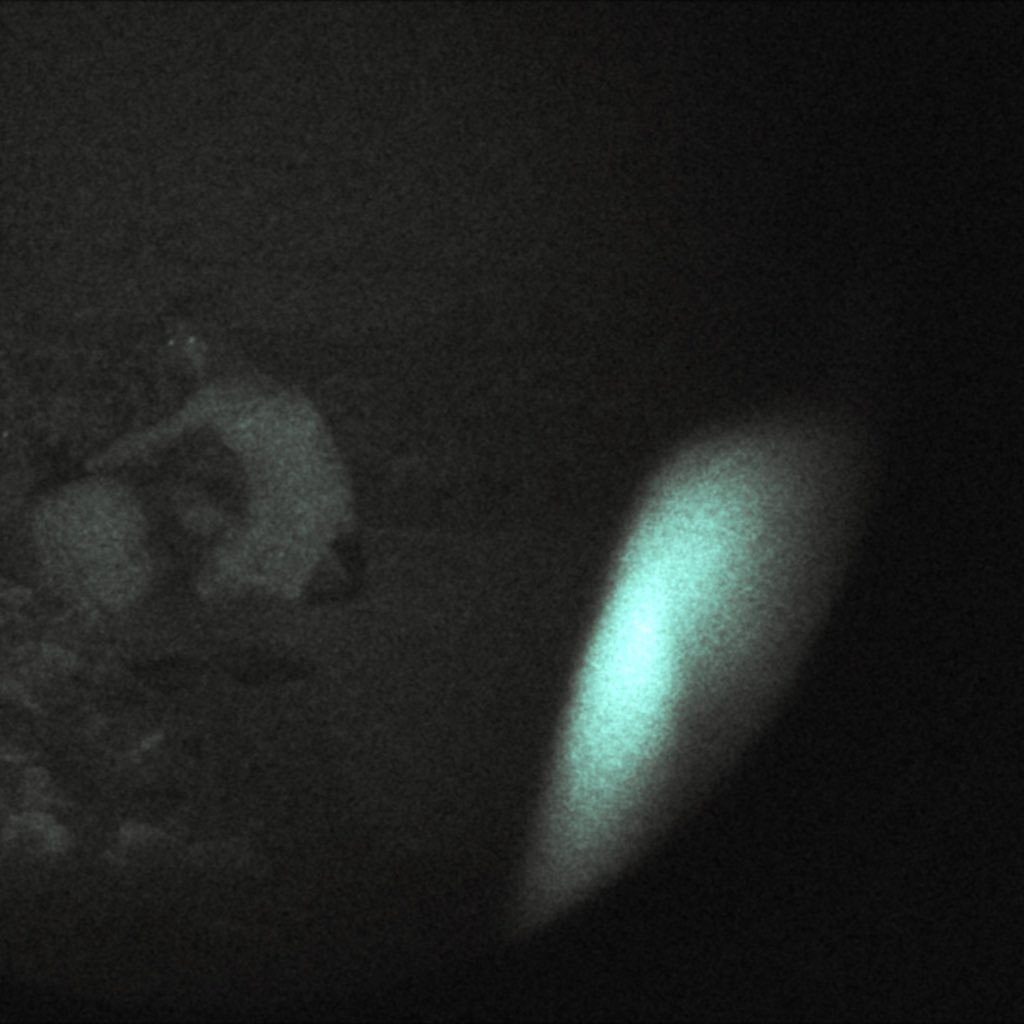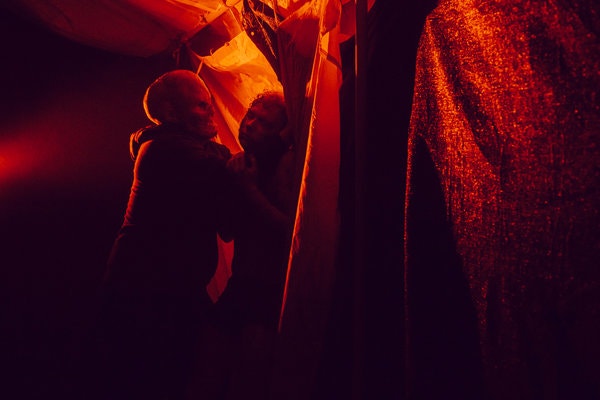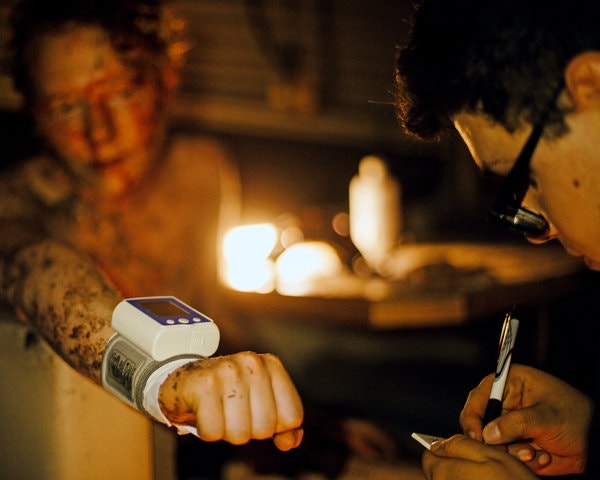 _______________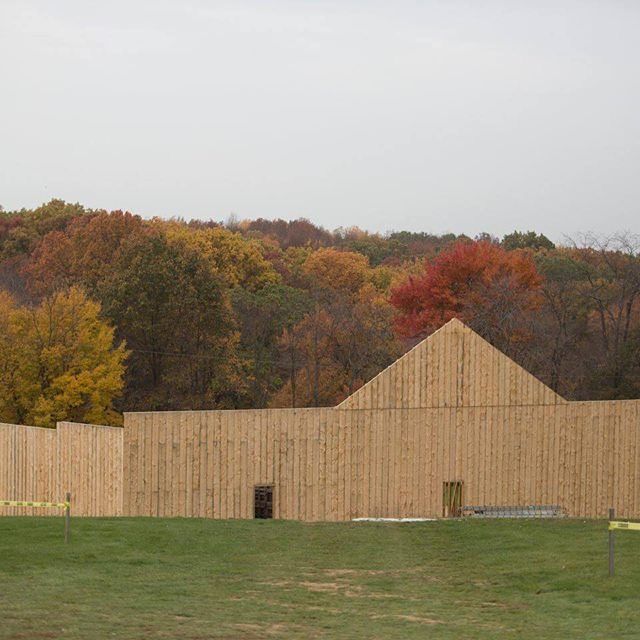 Eerie Acres Farm
Butler, PA
Eerie Acres Farm's haunted house is the stuff of nightmares. WE FARM FEAR. Inside, demented surgeons, raving lunatics, and blood-curdling clowns creep around corners and behind curtains. WE FARM FEAR. After fright-filled expeditions, the farm's food trucks and beer garden provide welcome relief.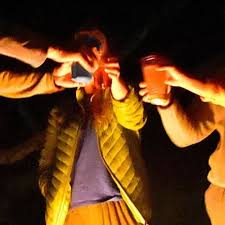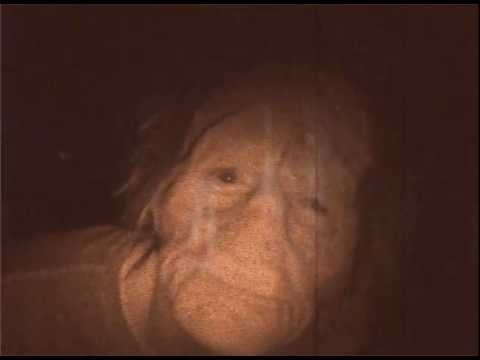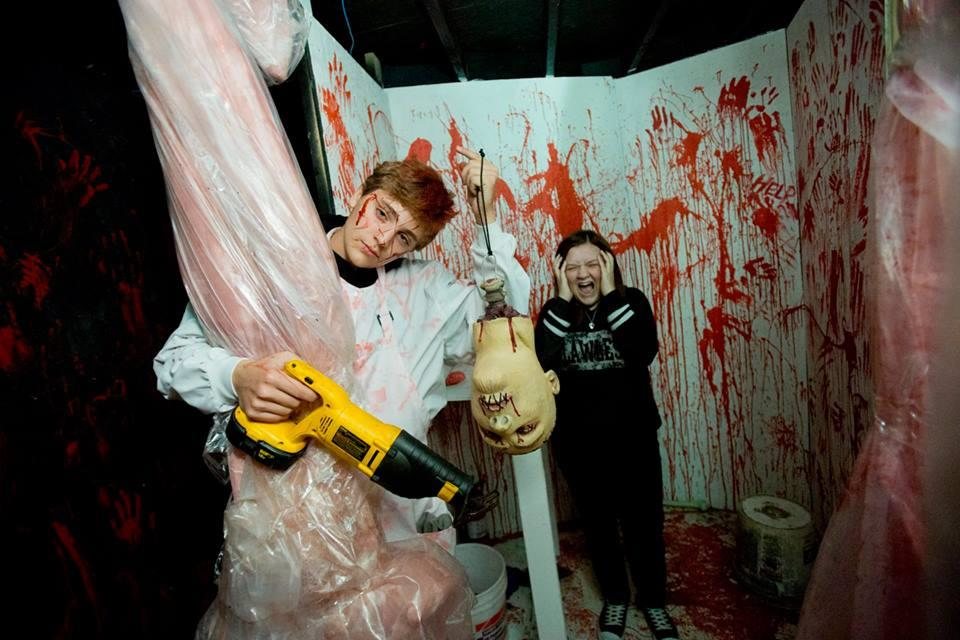 _______________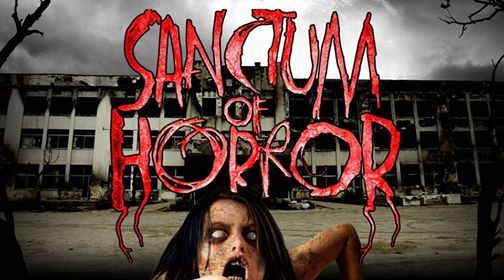 Sanctum of Horror
Mesa, AZ
The Kauls have been putting on Sanctum of Horror for more than a decade. It came to life 12 years ago as a small haunted house the family built at their four-bedroom Gilbert home and slowly evolved into a professional attraction.
"It was just this silly thing," Shawn says. "Our kids came home after going to see a haunted house in a friend's neighborhood and were like, 'Can we do something like that in our garage?' So we set up some black Visqueen in our three-car garage in this U-shaped path with makeshift operating tables and boiled pasta with food coloring for guts. It was corny, but fun."
A lot's changed with the haunt over the last decade. "It just kept getting bigger and more elaborate," Shawn says. "We had all these tunnels and facades and things. We were spending $3,000 to $4,000 every year but didn't want to stop doing it. We wanted to get more into it, so we decided to go pro."
After six years at the Kaul residence, they started putting on Sanctum of Horror in the parking lot of Power Square Mall in Mesa in 2012. Two years later, they moved to Superstition Springs Mall. The Kauls estimate that several thousand people visit Sanctum of Horror each year, a far cry from the 120 that turned out back in 2006.
"We just keep getting bigger and bigger and bigger each year," Shawn says. "It keeps on being a success, and we've got no plans to stop anytime soon."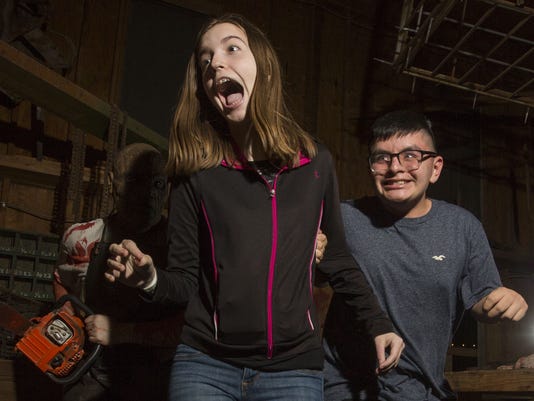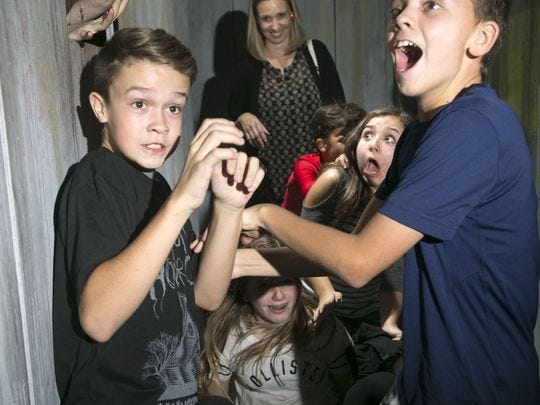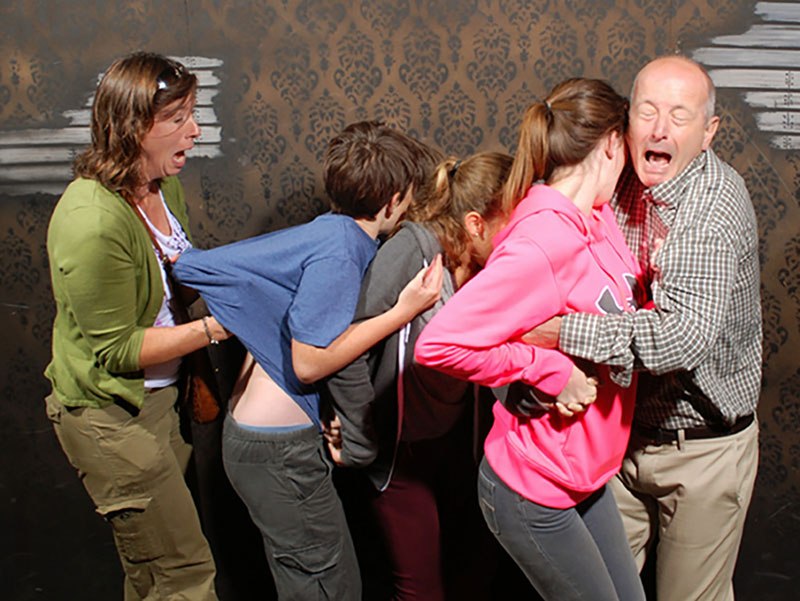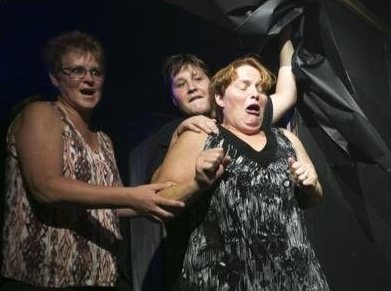 ______________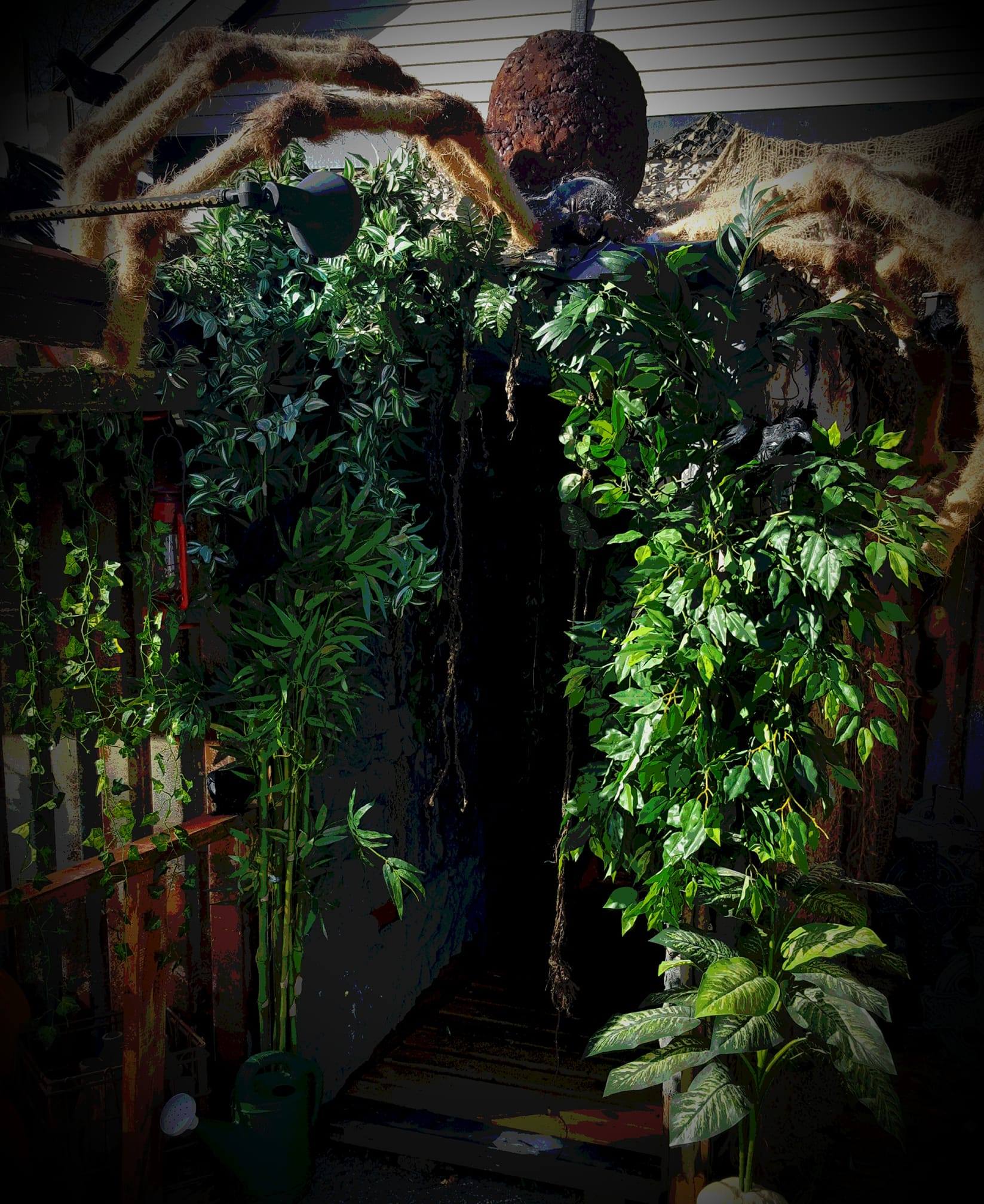 Anmore Manor
Anmore, BC
High up the winding hilltop, surrounded by a dark forest stands a lonely little house people refer to as Anmore Manor. The caretakers of the manor are said to be a little crazy and wander all hours of the night through the many halls and labyrinth of rooms. Hold on to all your limbs and watch out for the cannibals.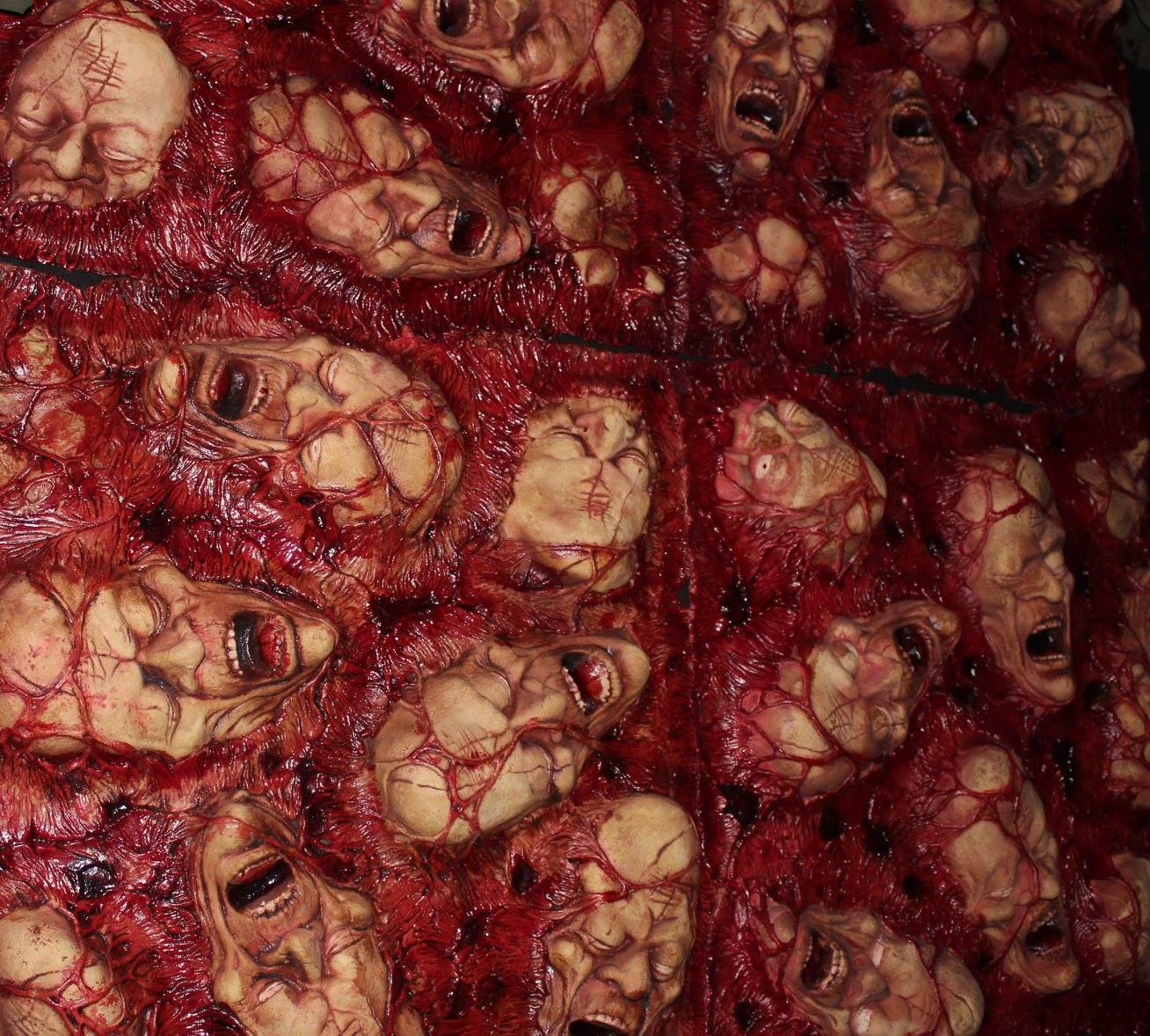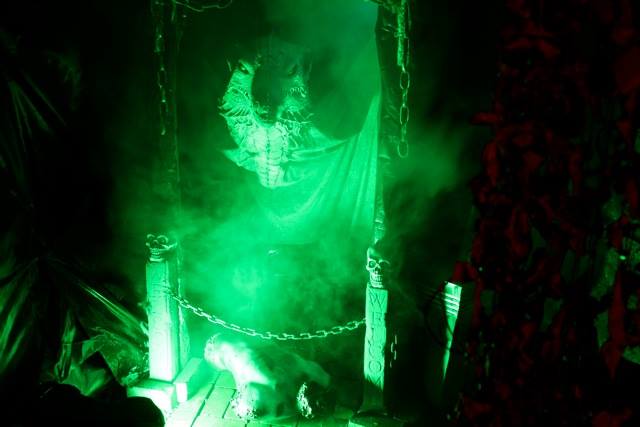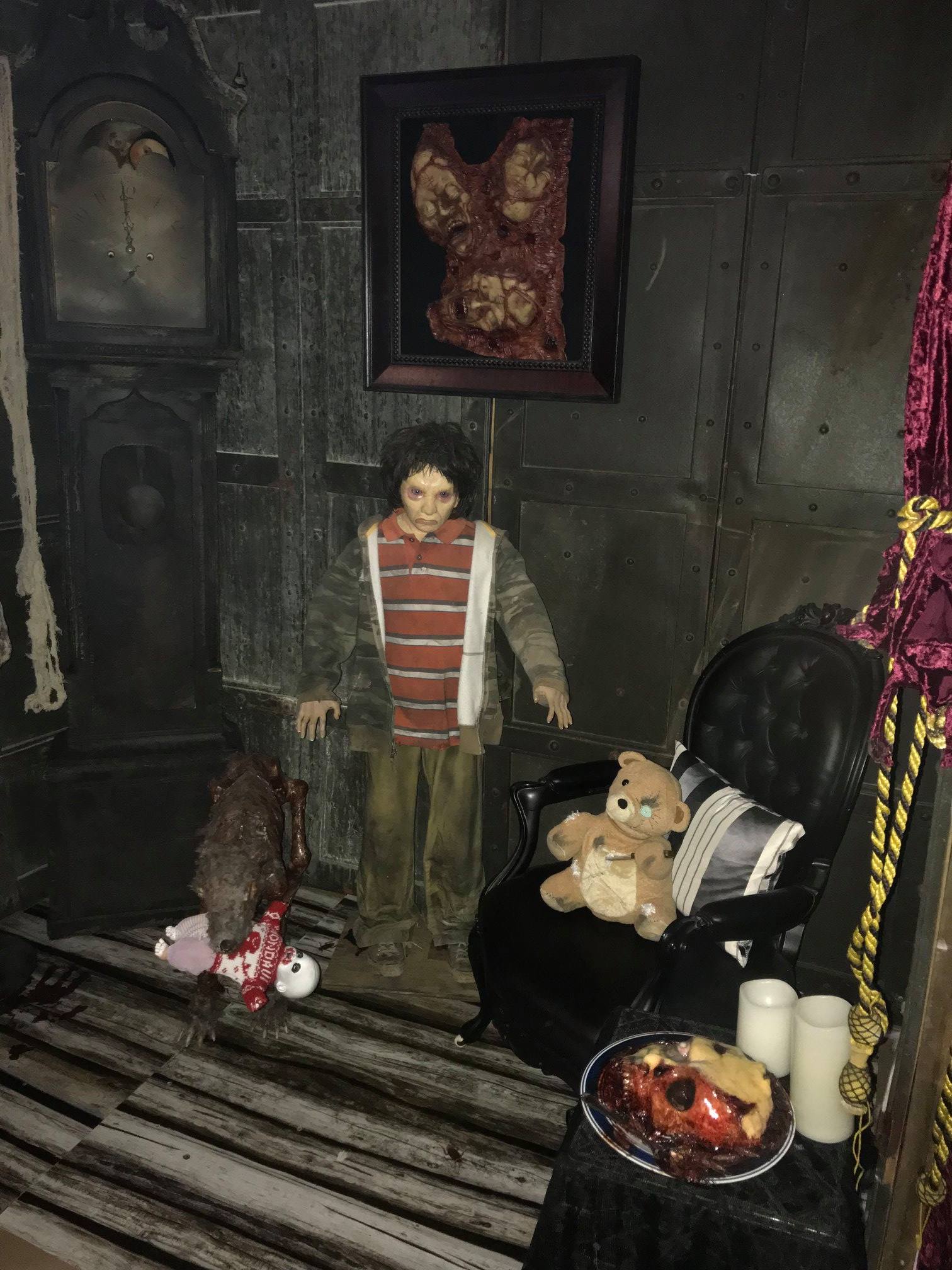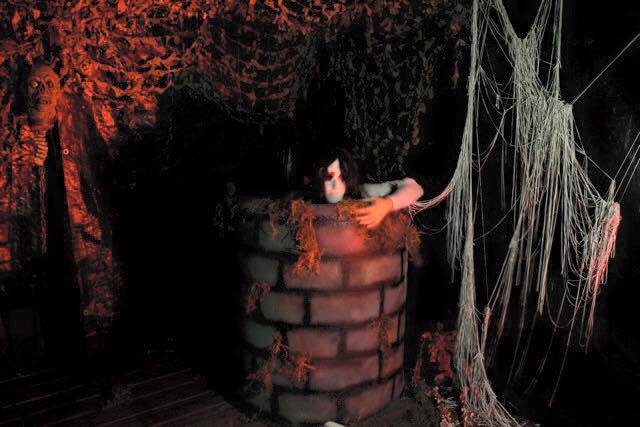 _______________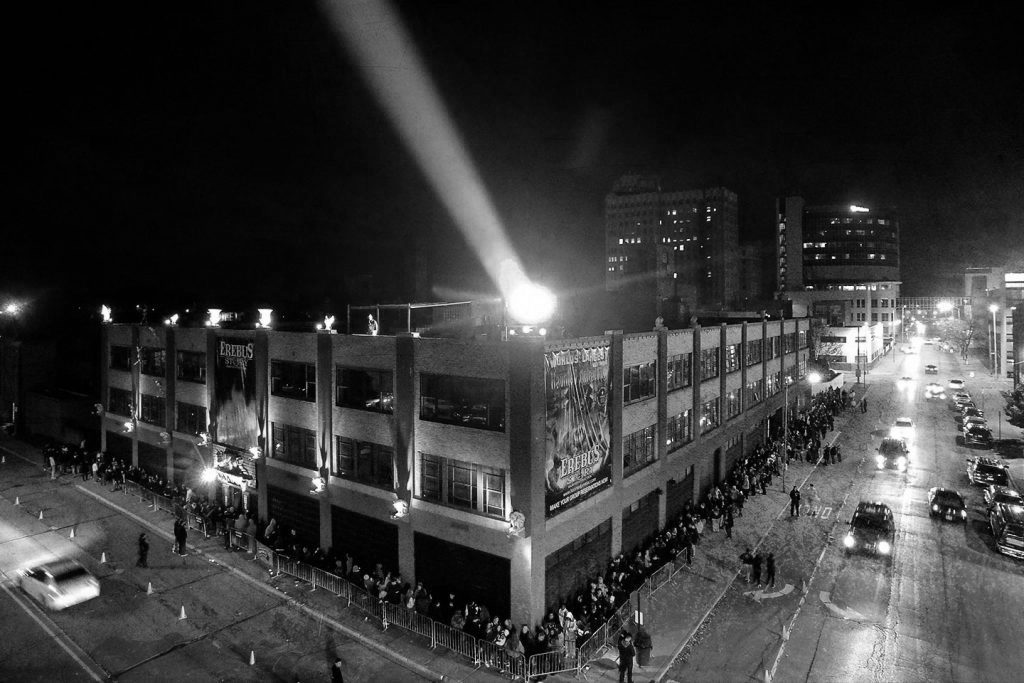 Erebus
Pontiac, MI
Michigan's Erebus Haunted Attraction has been named the number one haunted attraction in the United States by USA Today in its 2019 10 Best Readers' Choice Travel Awards. The world-renowned 4-story fortress of fear kicks off its 20th season of spine-tingling chills and thrills this Friday, September 13.
Known for burying guests alive, its Dungeon of Dread filled with unnerving, tormented souls that make blood run cold, its Undead Dolls Quarter, where toys that once filled the dreams of children are now a living nightmare for adults, and more; Erebus consistently ranks as one of the world's scariest haunts.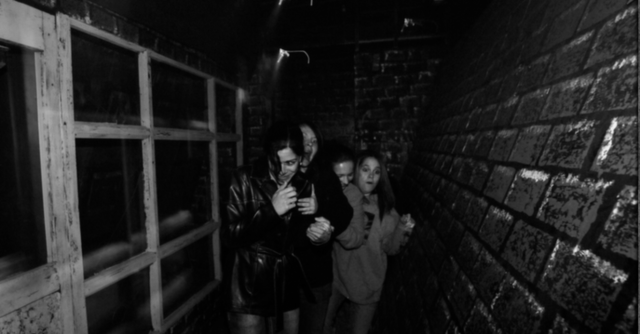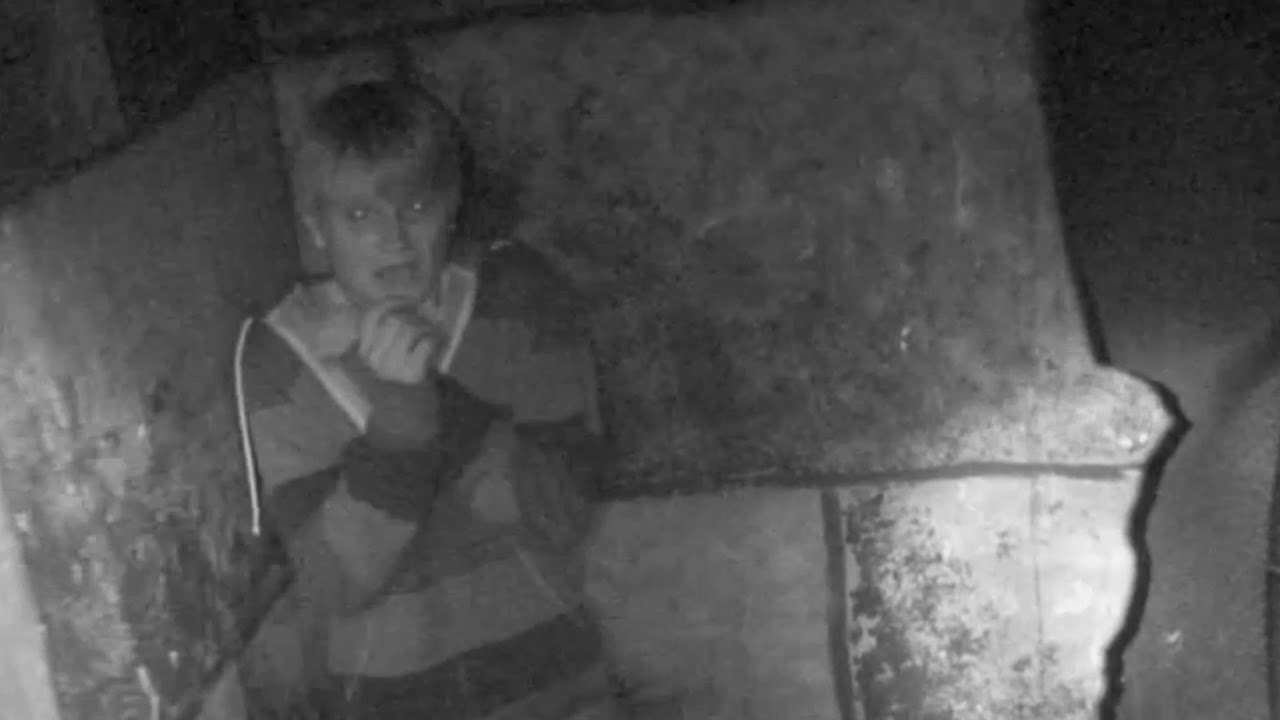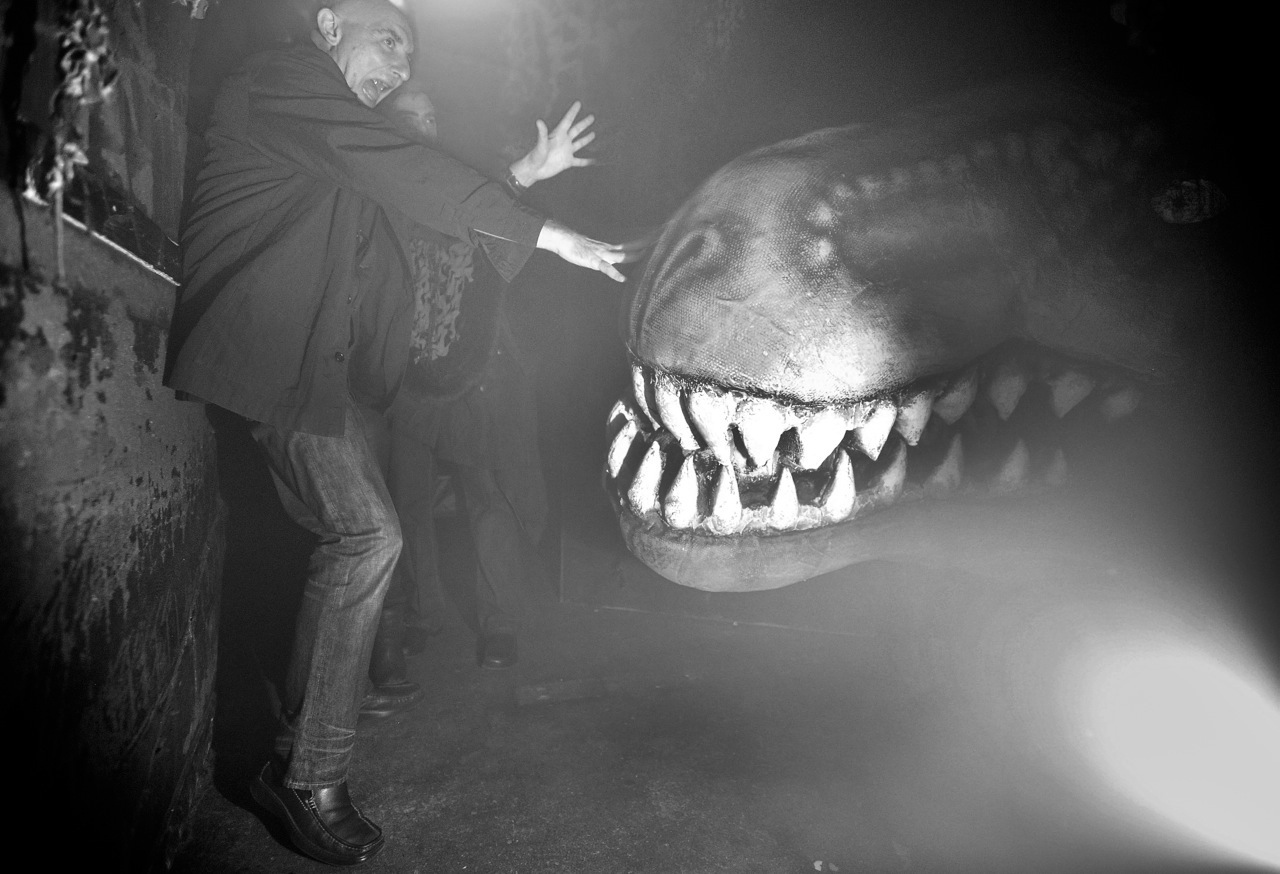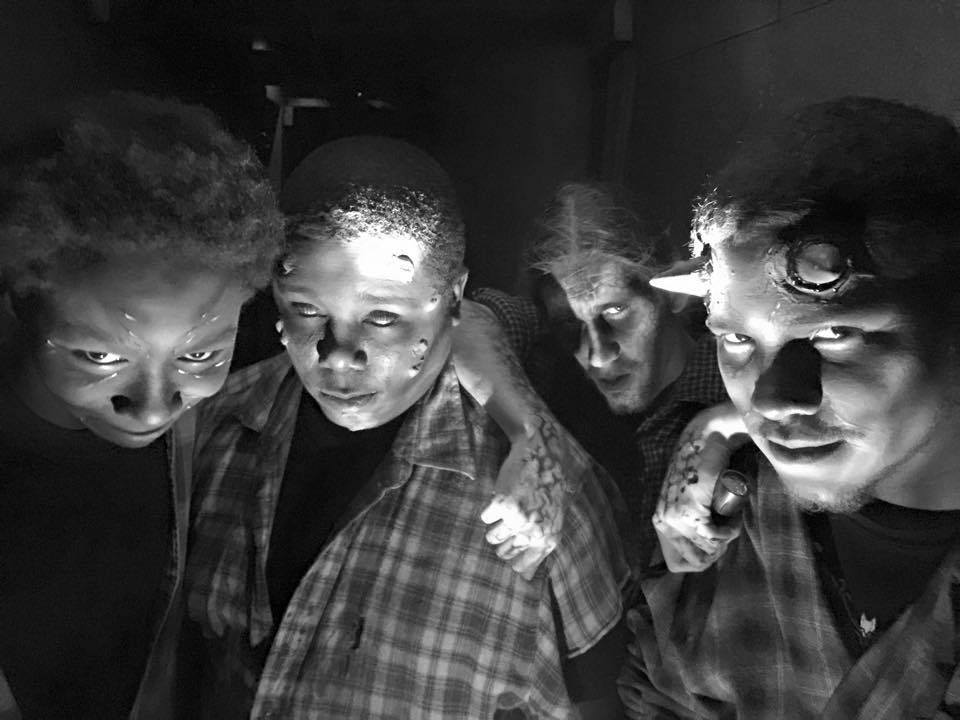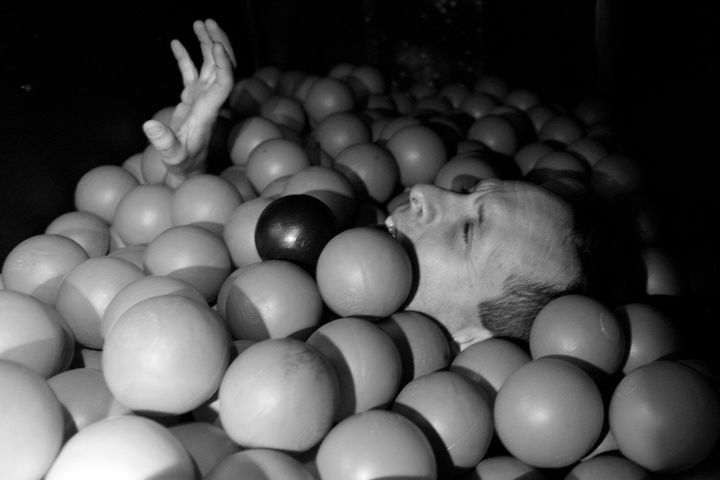 _______________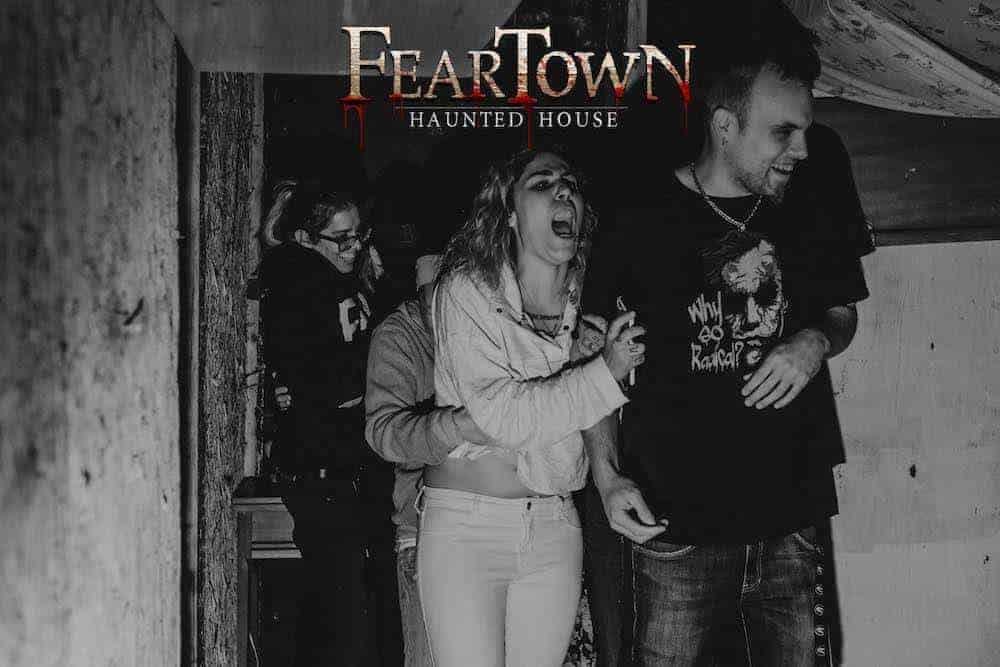 Fear Town
Seekonk, MA
Fear Town Haunted House is a massive, 45 minute long outdoor haunted attraction that is unlike anything you have ever experienced. Located deep in the woods at Seekonk Speedway, Fear Town will take you on a terrifying journey in and out of the run-down buildings that have been hidden for decades. As you progress through the trail, monsters will come at you from all angles to try and make you a permanent resident.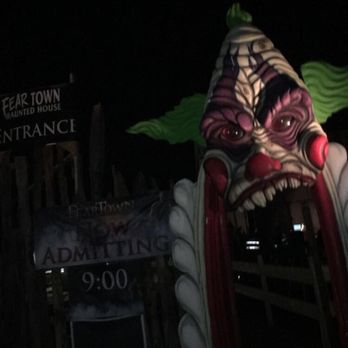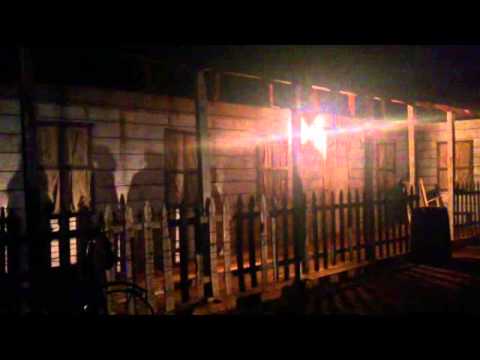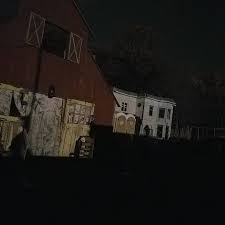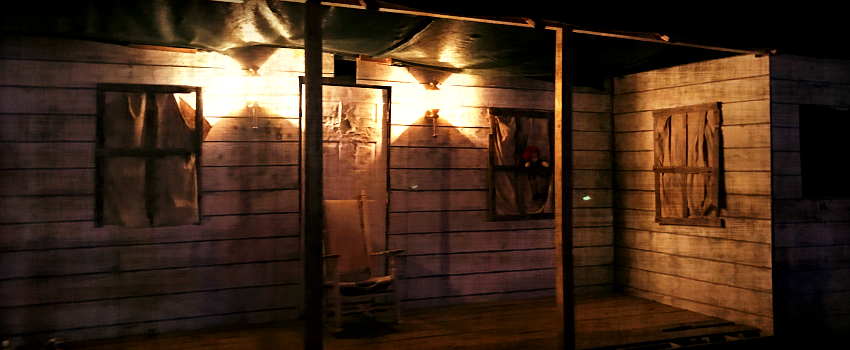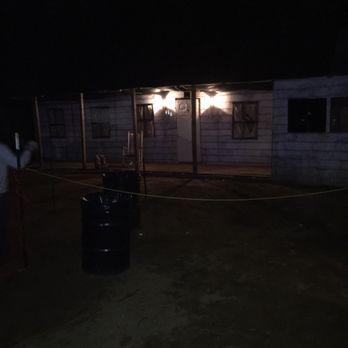 _______________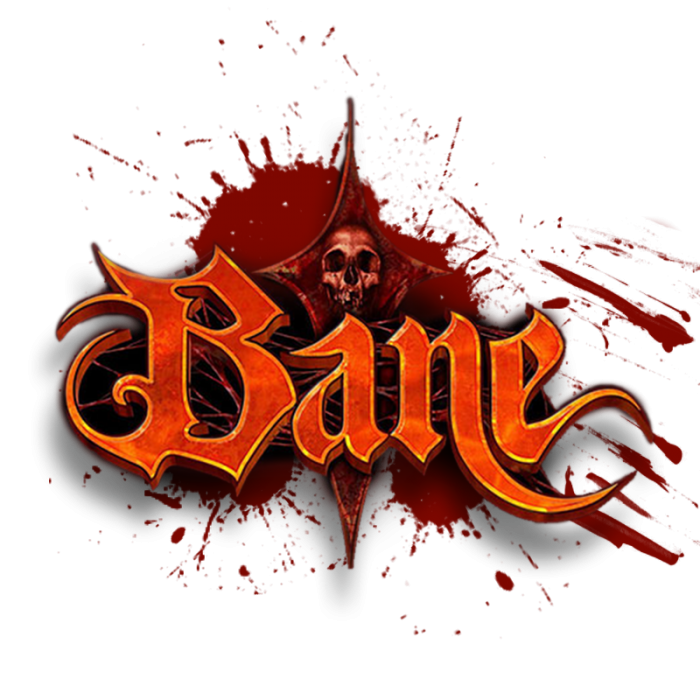 Bane Haunted House
New York City
Bane Haunted House was named "The Scariest Haunted House" by The Star-Ledger 5 years in a row and listed as one of the most terrifying in the nation by Buzzfeed. We play on every one of your fears; claustrophobic, separation anxiety, clowns, and more. This year Bane is even more interactive than ever with a brand new entrance and a terrifying exit! Get ready for the scare of your life!
Visitors may have to climb up, jump over, crawl through, and spin around what lurks inside the haunted house for a spine-chilling, interactive experience. We are the only haunted house in the state that does not use animatronics. We have 100+ live actors prepared to scare you within our 40,000 square foot building every night!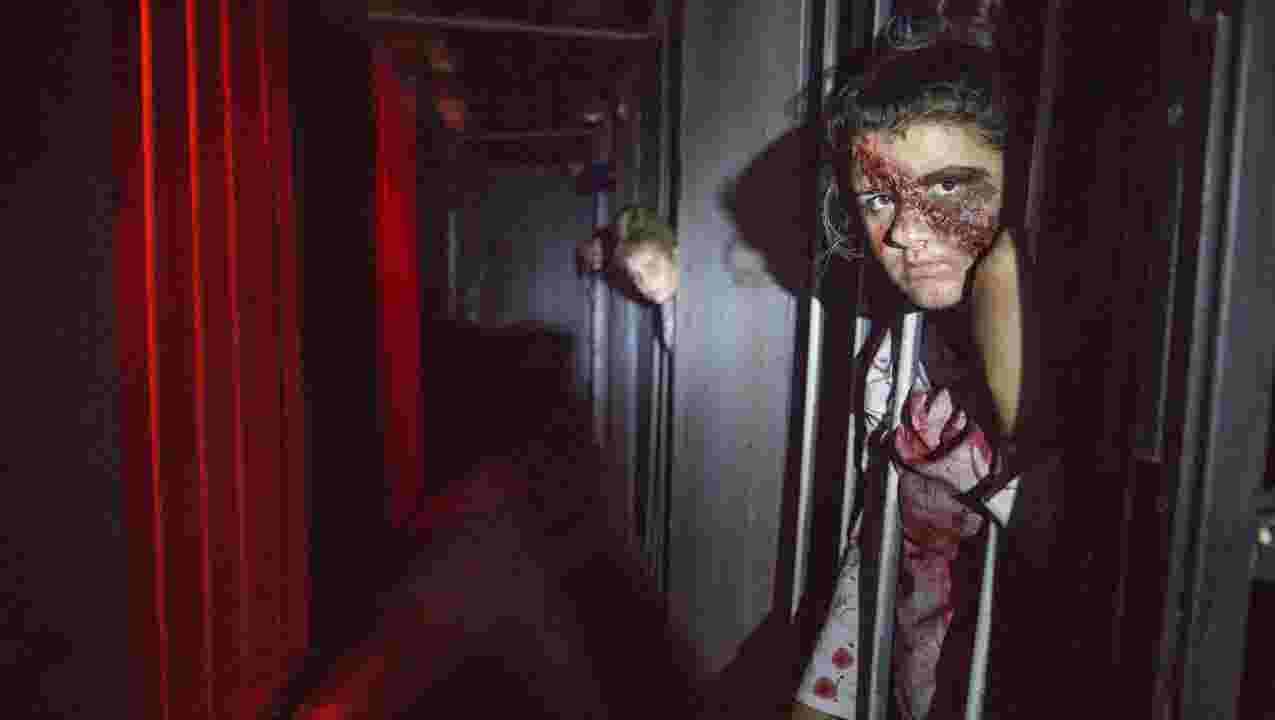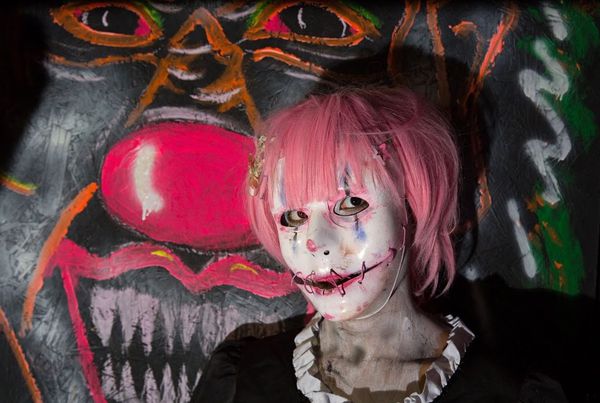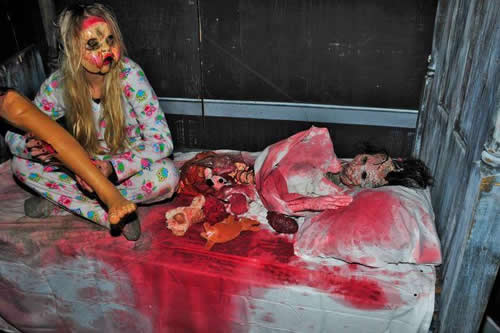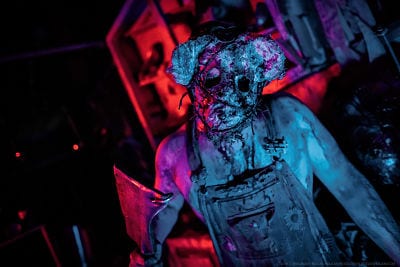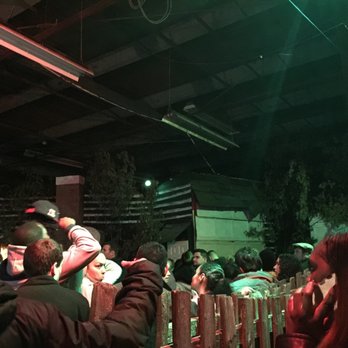 _______________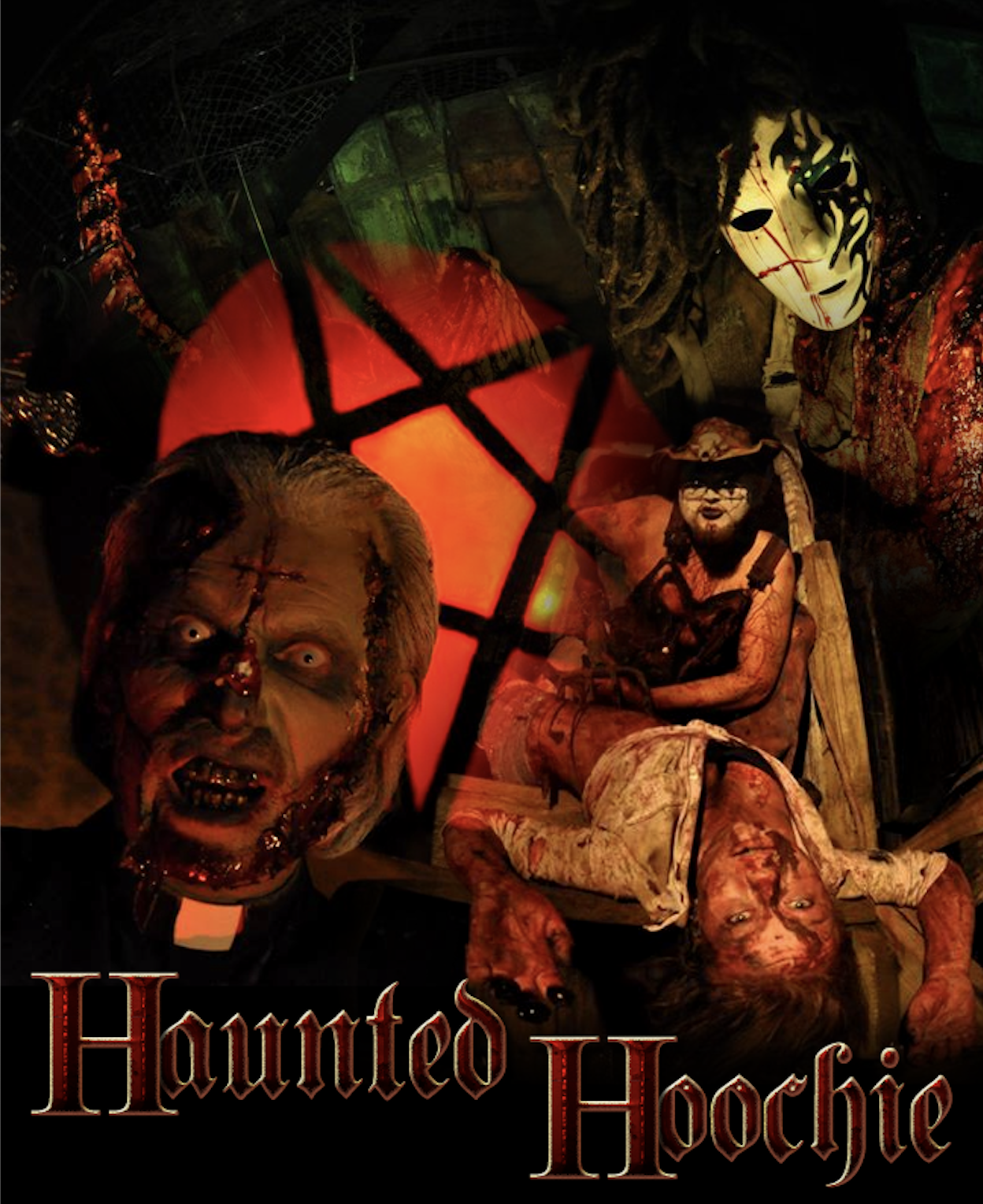 Haunted Hoochie
Pataskala, OH
Haunted Hoochie is advertised as "The Worlds Most Extreme Haunted House". This is a strange haunted attraction that is working hard to make you sick. This is not your typical haunt attraction. It is very "hands on" and you should expect to be touched, grabbed, and maybe even choked or dragged. The unusual house opens Friday and Saturday from 8:30 pm until after the bars close. Thursday from 8:30 pm to midnight.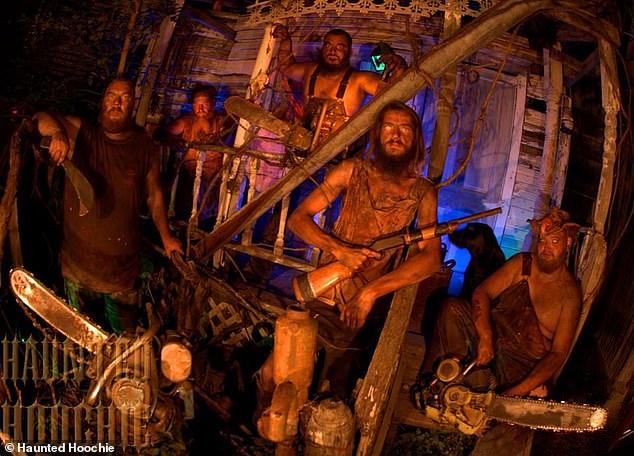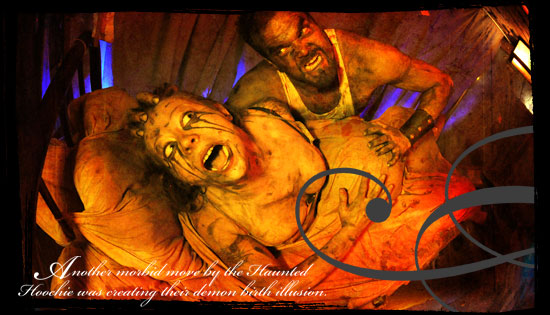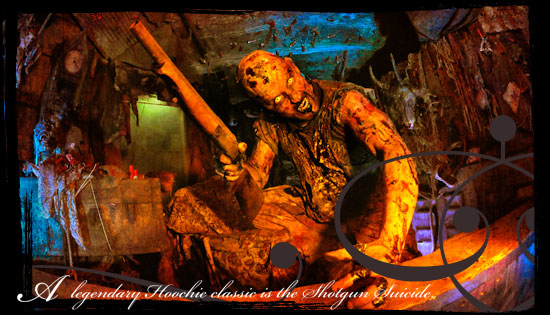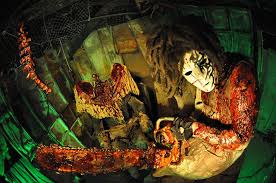 _______________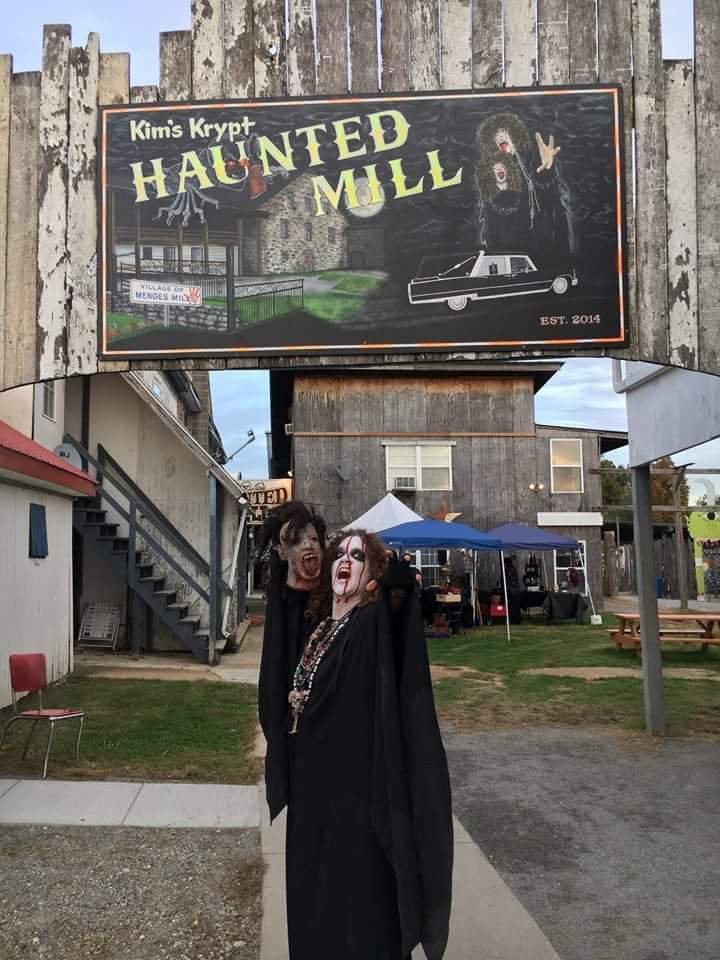 Kim's Krypt Haunted Mill
Spring Grove, PA
Kim's Krypt Haunted Mill in PA, is nestled on 64+ acres located in Spring Grove, PA. Kim Yates purchased this haunt in August of 2014 after falling in love with this old world haunt's atmosphere. She's is adamant about keeping the mystique and uniqueness alive in this legendary haunt by incorporating her own twist of creative treachery throughout. Once you experience and visit her attraction you will be hooked!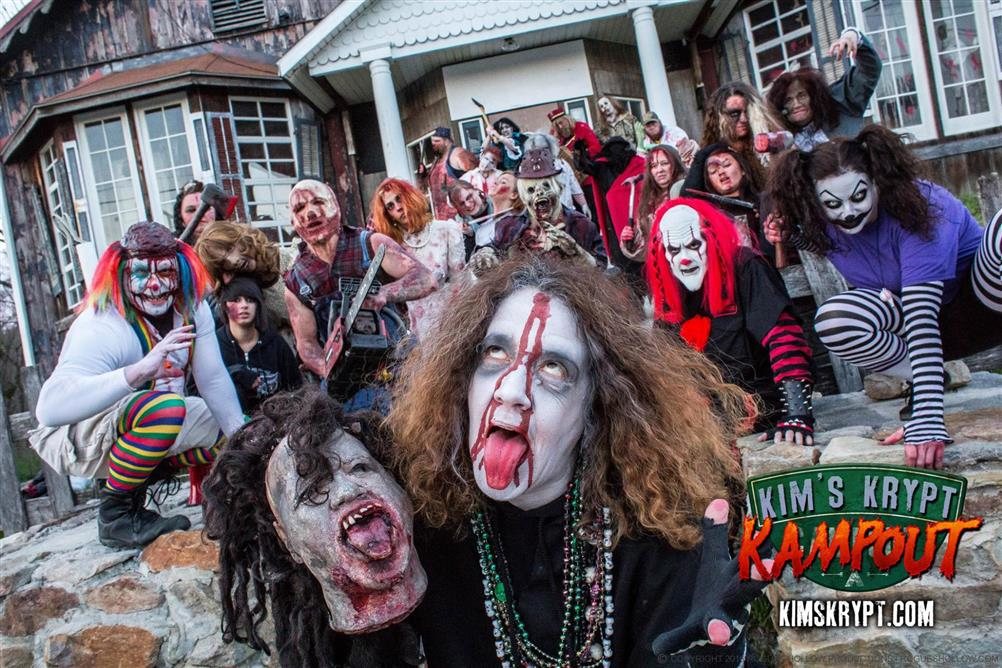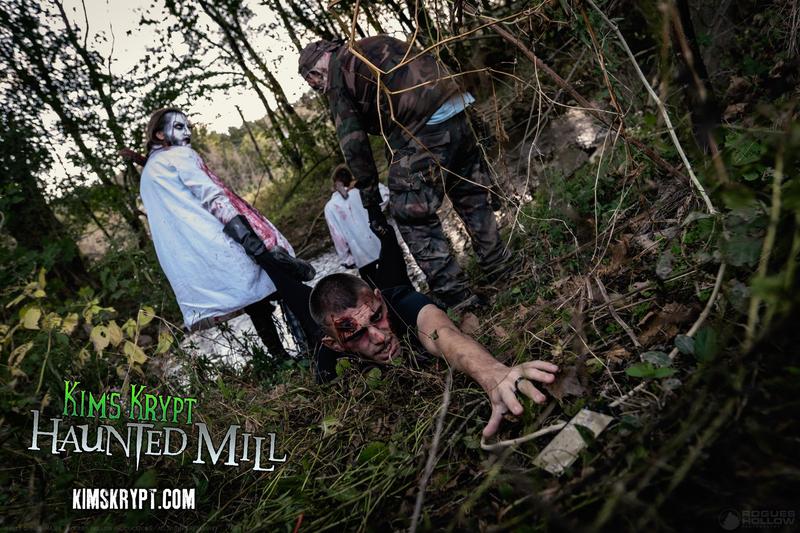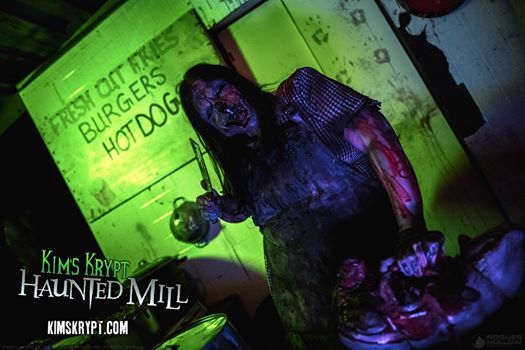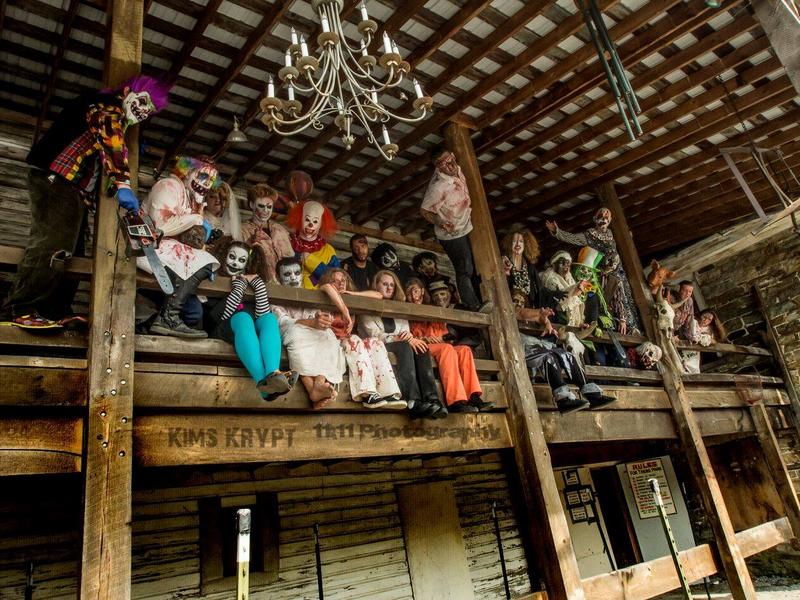 _______________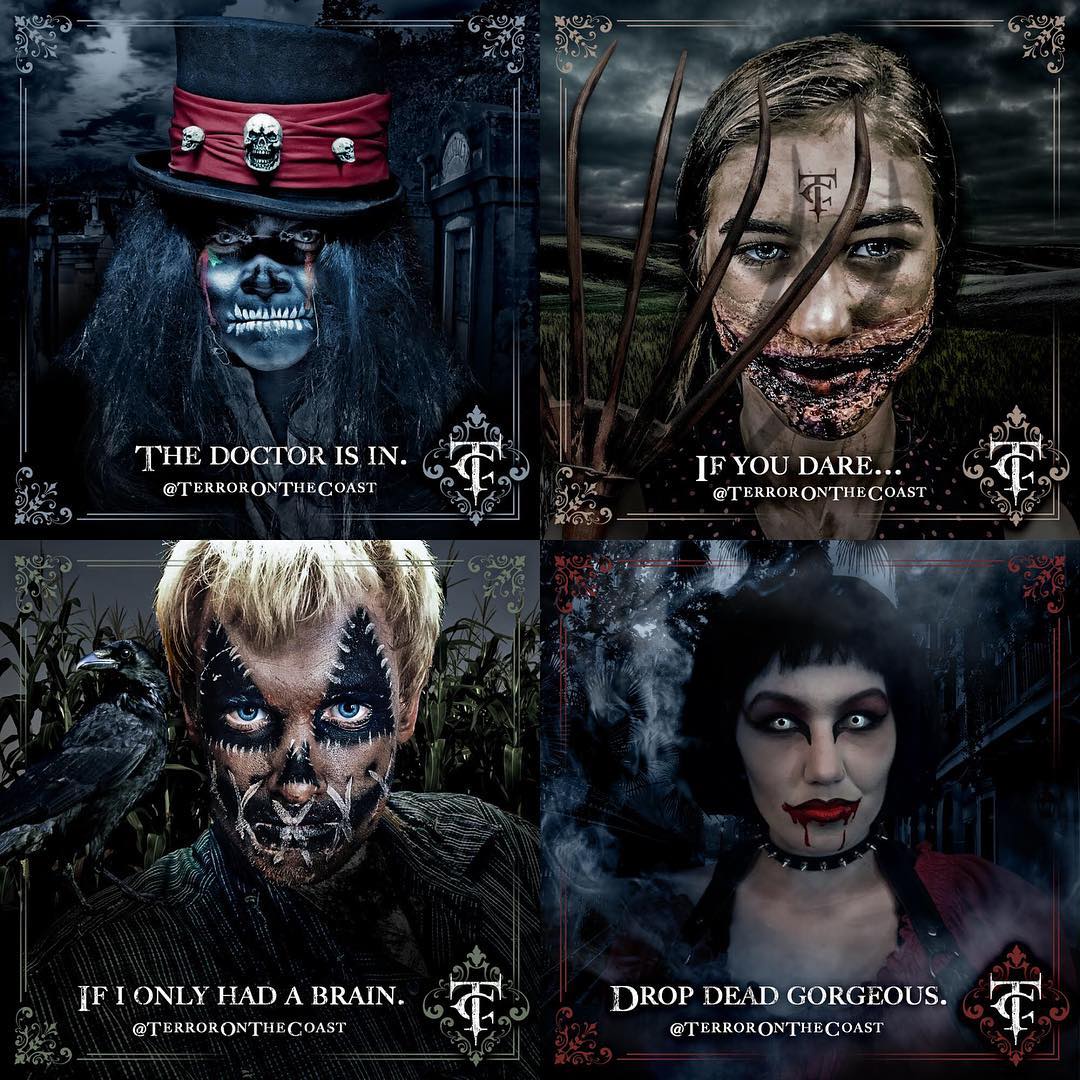 Terror on the Coast
Gulfport, MS
Two businessmen with connections to the movie industry are getting ready to present Terror on the Coast inside a huge warehouse in Gulfport. This haunted house promises to be unlike any other. "It's going to be a very scary experience," said Kevin Mitchell.
Mitchell and his business partner, Lawrence Barattini, have turned an abandoned warehouse into a haunted house called Terror on the Coast. The duo own thousands of movie props used in the film industry. They decided to build sets and use actors to create a frightful experience.
"This has been a dream of ours to bring this stuff to life and bring something to the Coast that the Coast has never seen with movie sets in a haunt," Mitchell said.
Terror on the Coast is inside the old milk of magnesia plant off Highway 49. The brain trust behind the project provides film props and builds sets for the movie business in Louisiana, and they've brought it all to South Mississippi for Terror on the Coast. "You can expect motion picture quality props and set building. It's not your typical haunted house. It's over the top," said Barattini.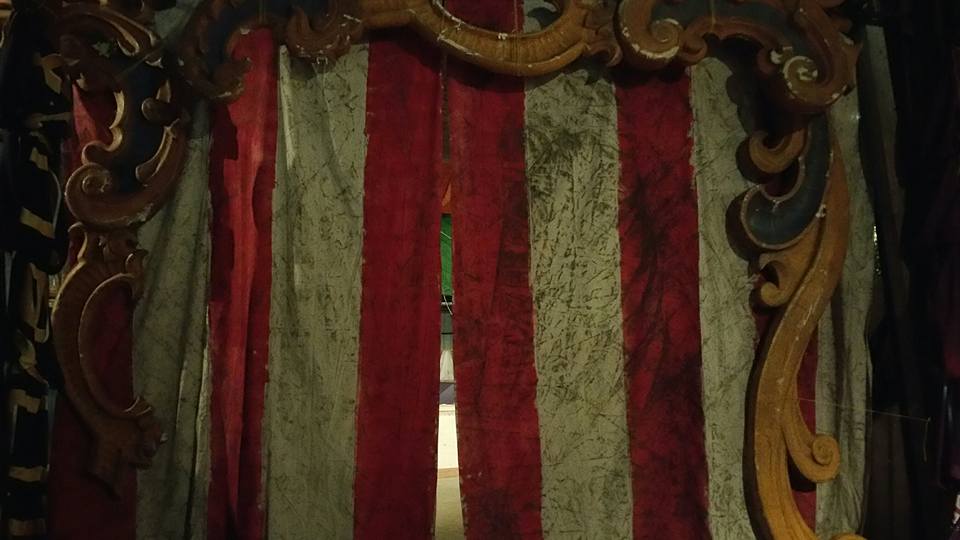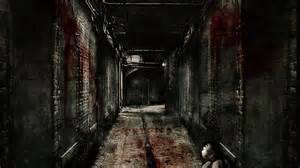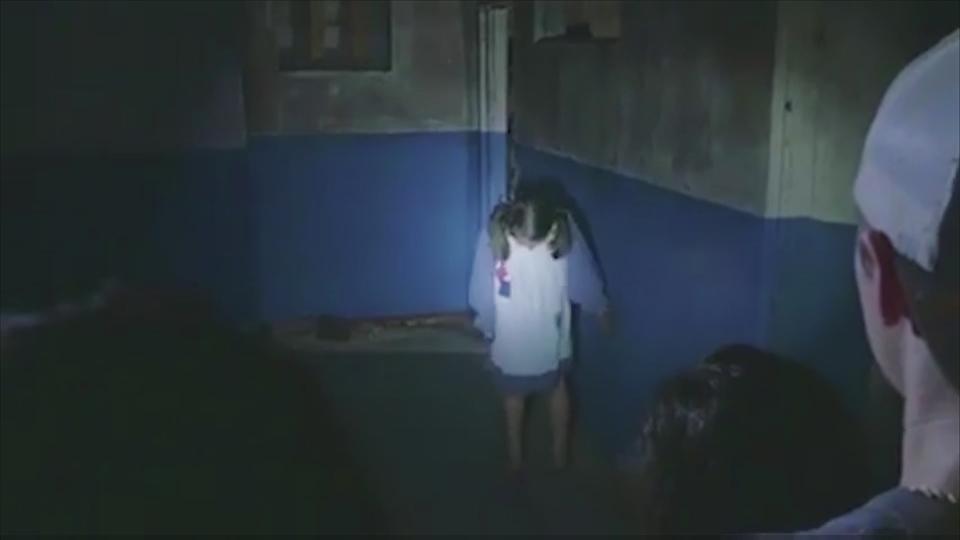 _______________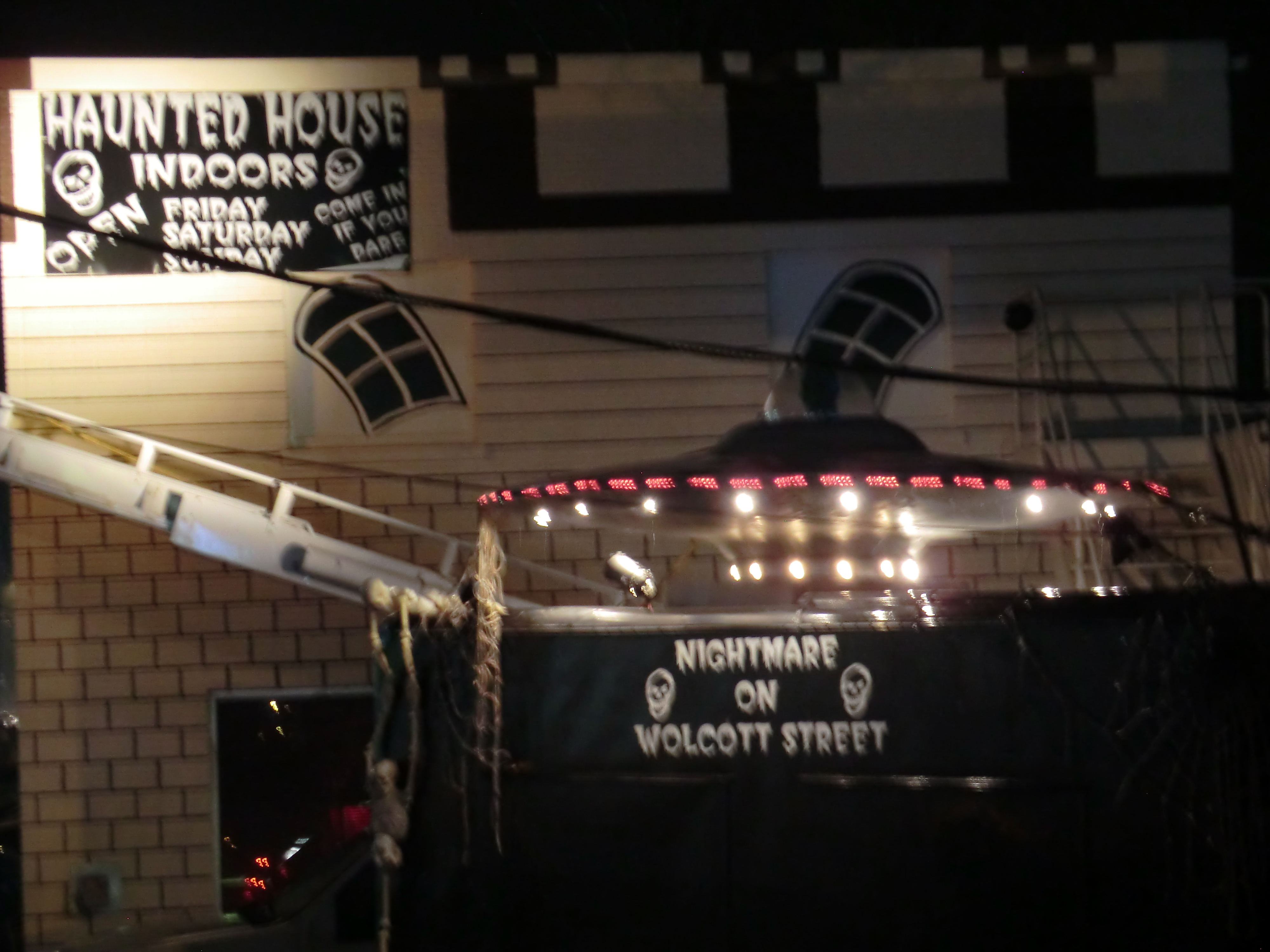 Nightmare on Wolcott Street
Waterbury, CT
Nightmare on Wolcott Street reserve the right to refuse admission to anyone. You will experience intense audio lighting, extreme low visibility, strobe lights ,fog ,damp or wet floors, special effects, sudden actions, and an overall physically demanding environment. You should not enter haunted house if you suffer from asthma, heart condition, prone to seizures, physical ailments, respiratory or any other type of medical problems, or are pregnant or suffer any form of mental disease including claustrophobia.
Do Not Enter the attraction if you are intoxicated, wearing any form if cast, medical brace, using crutches, or have any type of physical limitations.
Do Not enter the attraction if you are taking medications or using drugs of any type. You will not be admitted if any of these conditions are to be notices by our staff.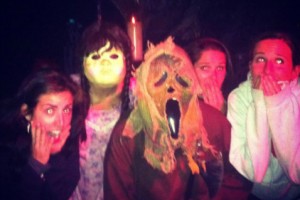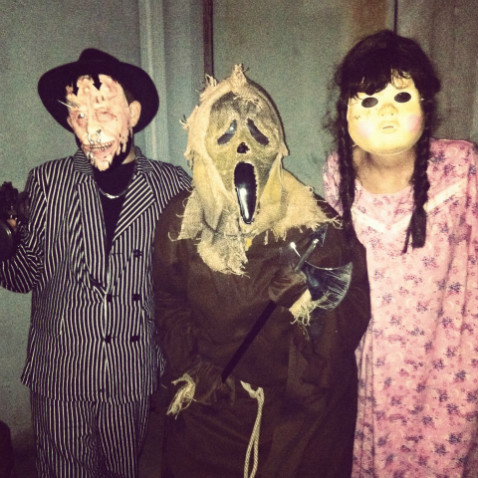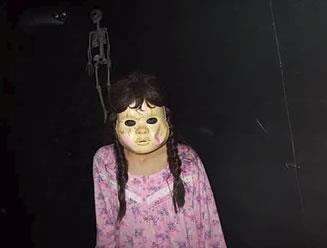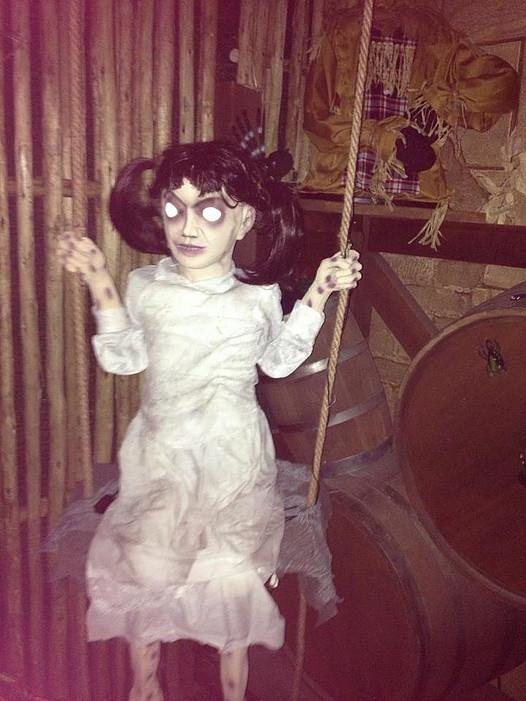 _______________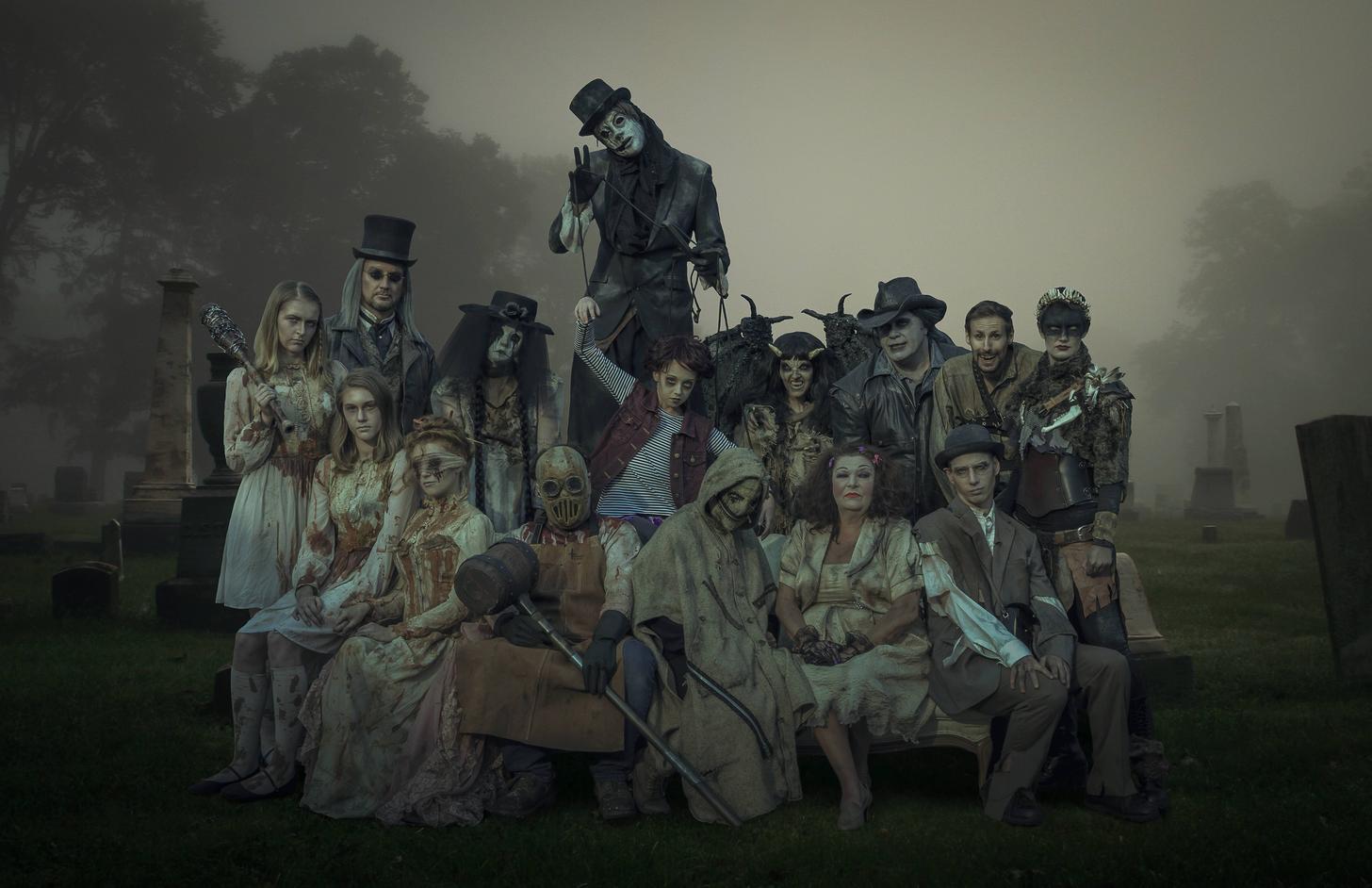 Rutherford Manor
Edmonton, Alberta
Nox Flesher, was an exceptional child, always designing and creating gadgets for the family home. He was considerably younger than his siblings and spent a great deal of time on his own as a boy. Many called him peculiar, sullen and said he lived in his own world. As a young adult he became more withdrawn, and began focusing his resourcefulness on mastering the skills of his forefathers. Nox attended university and excelled in the sciences. He immersed himself in the study of biology, chemistry, physics and anatomy. While at school he met his longtime partner Lilith.
lilithLilith was timid; an outsider who rarely spoke with people. She preferred the company of her plants and animals. She studied botany and agriculture while at school and spent countless hours in the laboratory creating hybrid plants, germinating seeds and whispering to her lab creations. Lilith ran into Nox late one evening while looking for samples of night blooming Jasmine. Nox was seeking a nocturnal creature for analysis and study. Their mutual interest in alchemy and proclivity for invention made them kindred spirits. Nox and Lilith were inseparable after that fateful night.
As time progressed they have become increasingly secretive, feeding off each other's dark obsessions and enabling each other's distorted genius. The couple has two children, Mallory and Adolf; they were raised in isolation, without attention, discipline or affection. The two adolescents fend for themselves, while Nox and Lilith continue their pursuit of finding a sustainable food source. In the early days their experiments were carried out on animals, neighbors pets would go missing, wildlife taken from the grounds of the Manor. Lilith, working with her plants, dispensed apothecary to Nox to "inoculate" his specimens. She has mixed countless failed potions and destroyed many inferior plant hybrids. Nox invents crossbreeds as well, although his conceptions deviate from the horticultural arena Lilith endeavors to work in. His mongrels were born from animal, plant or humanoid composites. These hideous, pitiful creations suffered horribly during their short lives.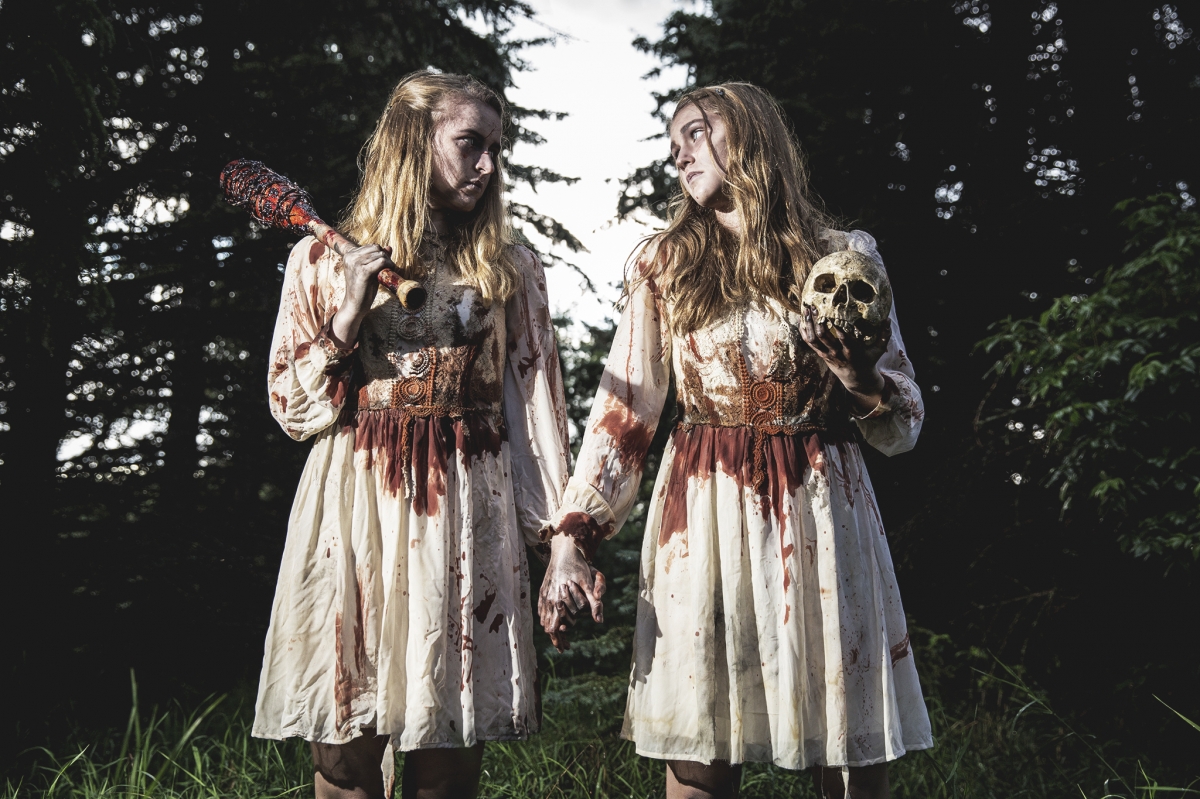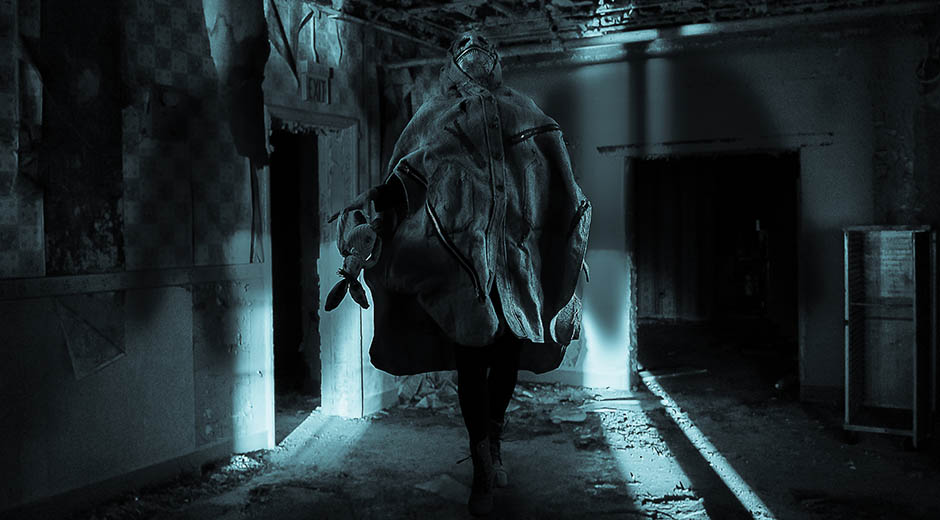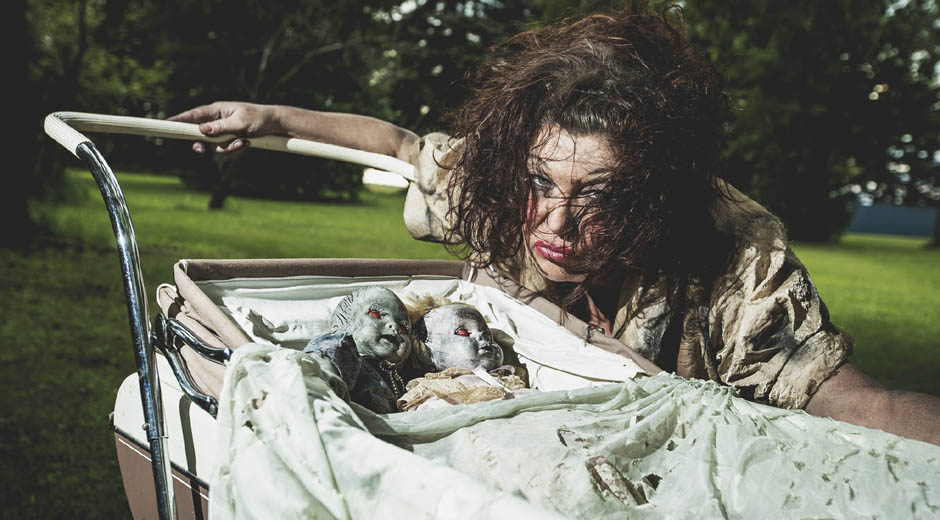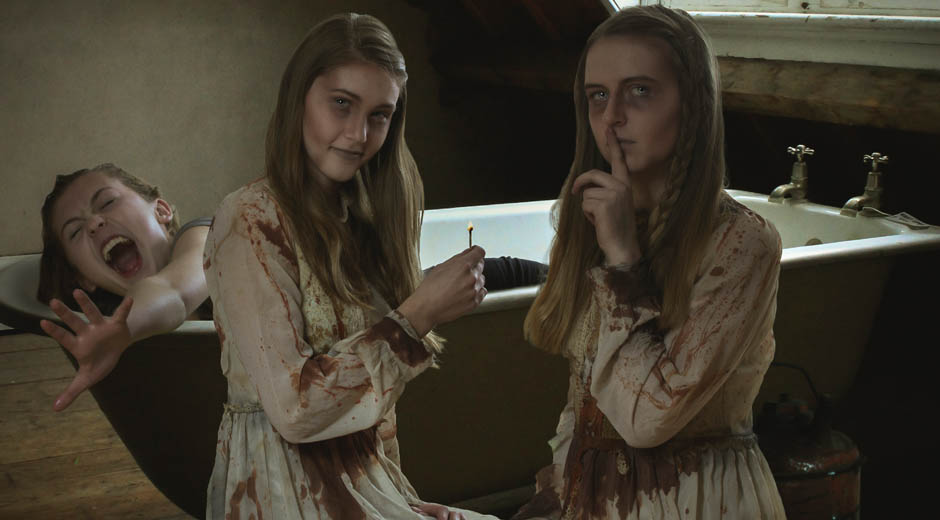 _______________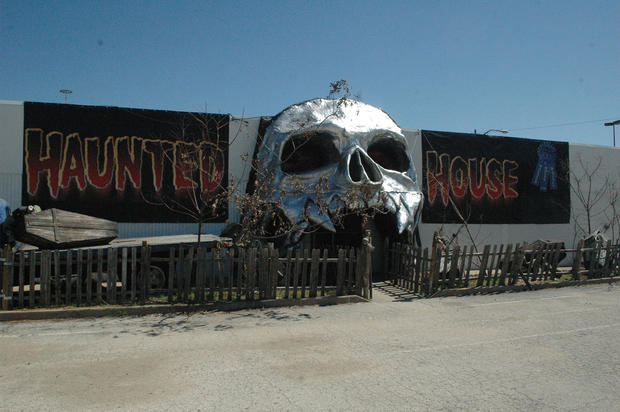 Cutting Edge Haunted House
Dallas
Cutting Edge Haunted House is a dark attraction filled with terrifying live actors, amazing special effects and incredible monsters. Celebrating its new Guinness World Record, this intense, cutting edge, multi-story, multi-themed haunted attraction is widely considered to be one of the best Haunted Houses in the nation, full of chilling detail and unbelievable scares!
Located in a 100-year-old abandoned meat packing plant in a section of Fort Worth historically dubbed as "Hell's Half Acre," the Cutting Edge Haunted House is built upon a foundation of fear. The meat packing equipment from the Old West is still in use, but now it is a two-story human processing area. Realistic looking human mannequins are hoisted up to the second level and brought through the entire meat packing process until the conveyor system brings the butchered corpses back to the first level. The old meat-packing plant in downtown Fort Worth is a great home for the fantastic special effects that our loyal customers have come to expect." It takes visitors an average 55 minutes to explore Cutting Edge Haunted House. The walk-through is replete with frighteningly-realistic props
Cutting Edge Haunted House has established a reputation for being one of the best haunted houses in the nation. The new Guinness World Record has helped to solidify Cutting Edge Haunted House's standing as one of the country's best and largest haunted houses. Come see what new horrors lurk in the twisting corridors of Fort Worth's ultimate haunted house.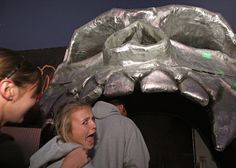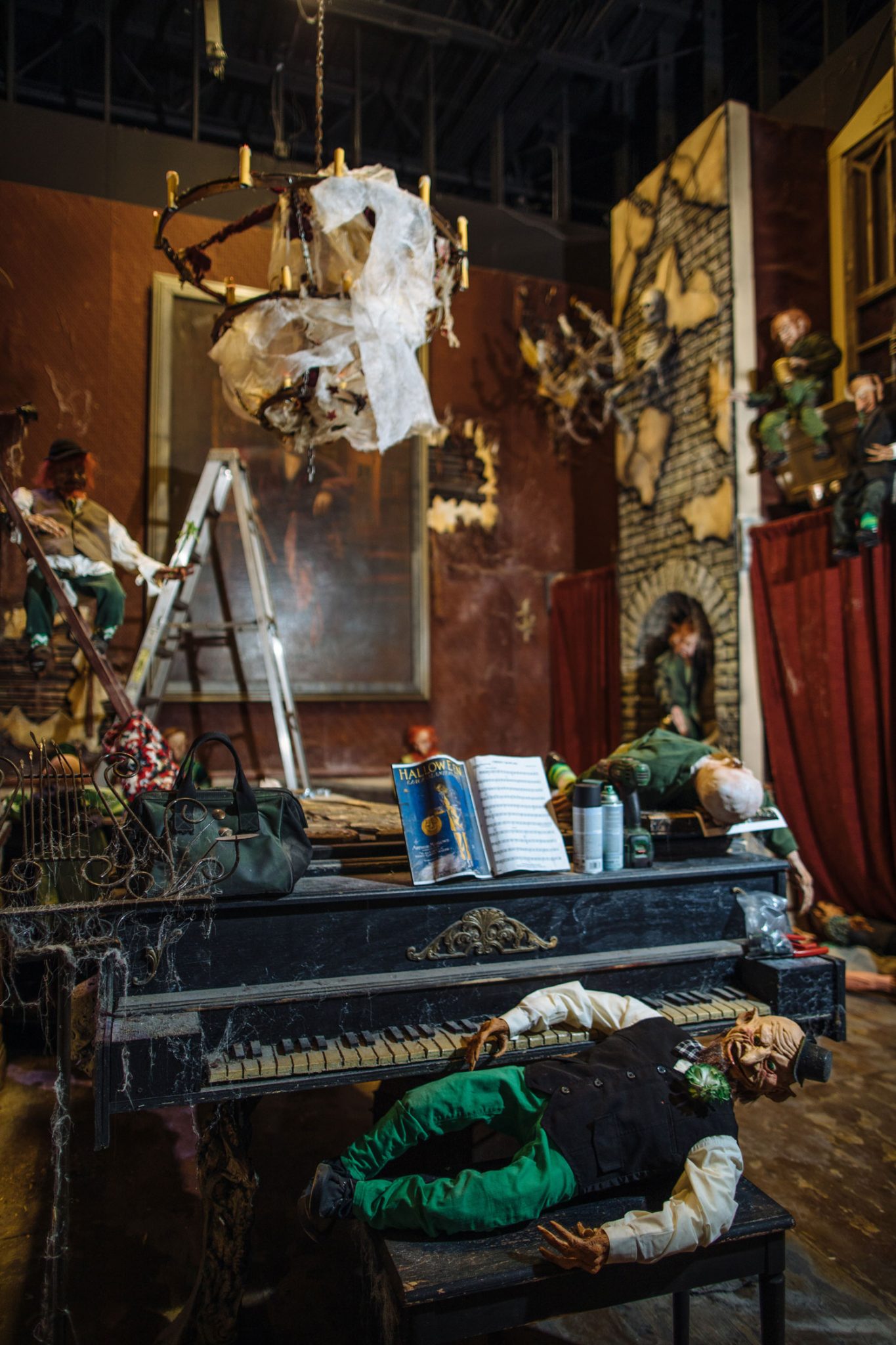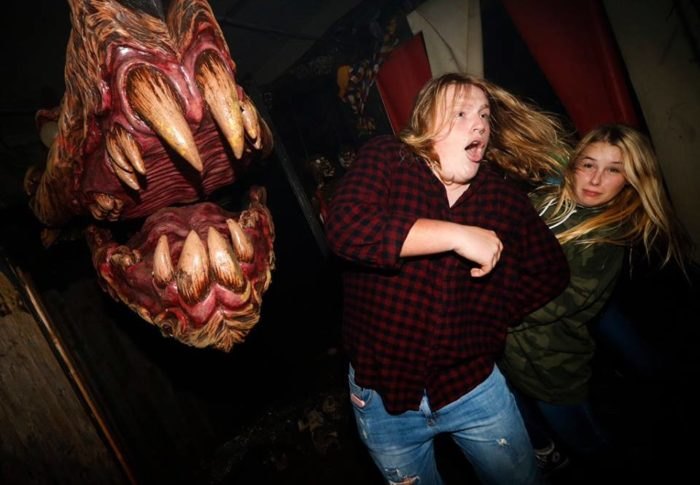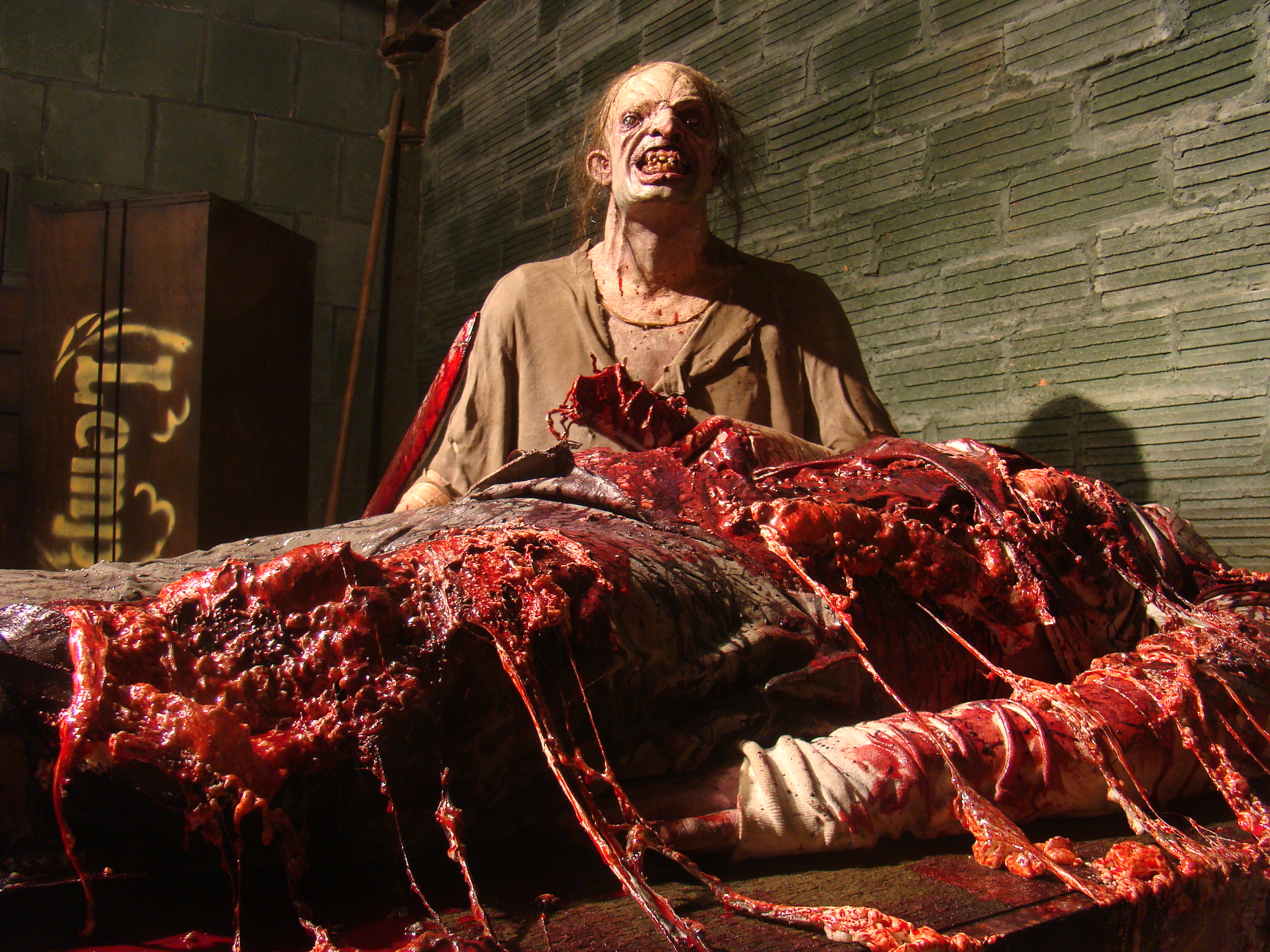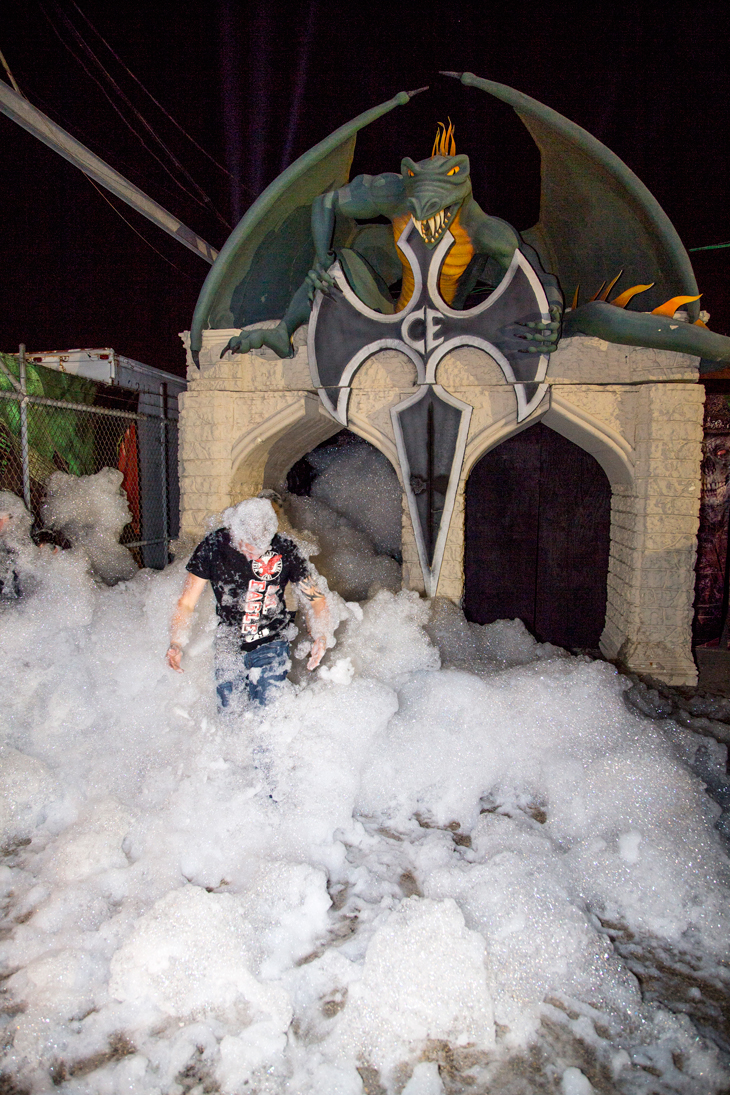 _____________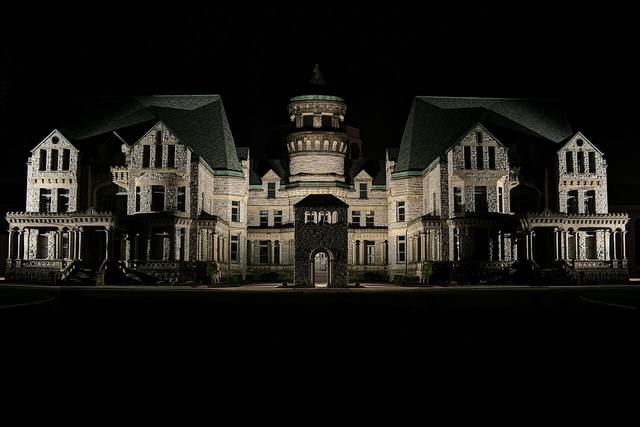 Escape from Blood Prison
Mansfield, OH
Doors slamming, visitors being pushed or touched, and equipment failure are some of the many experiences ghost hunters find when traipsing around the dark building during the twilight hours. The allure of such activity has sparked the interest of many paranormal shows that highlight haunted facilities such as the OSR. This magnificent haunted structure has been featured on My Ghost Story, Paranormal Challenge, Ghost Adventures, Ghost Hunters Academy, Ghost Hunters, and Scariest Places on Earth. There's a lot of activity that happens in the darkness, and reports from investigators that paranormal activity is at its highest during and after Halloween because the spirits have been disturbed.
Plan to be immersed into the terrifying haunted prison culture. Throughout the prison areas, crazed inmates and guards roam, waiting to make you the next addition to their putrified hordes. With a band of criminals, guard clowns, insane iconic gangsters and madmen, be prepared to scream. With a seasoned cast of actors and fiends, prepare to be treated to a festival of fear. Plan a trip today, because this might just be the scariest haunt experience of your lifetime!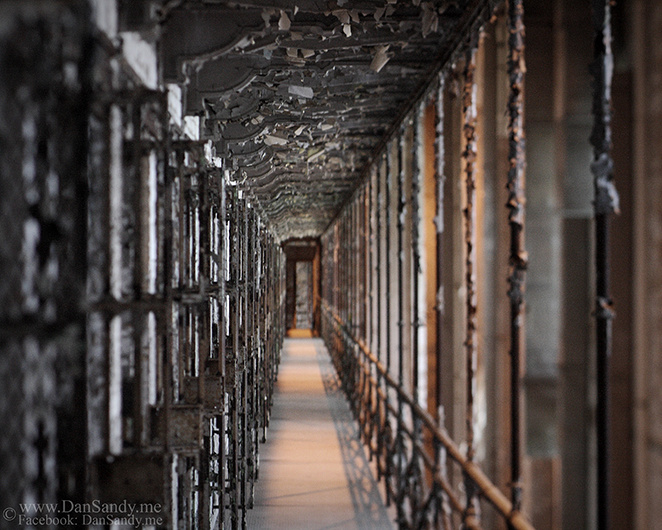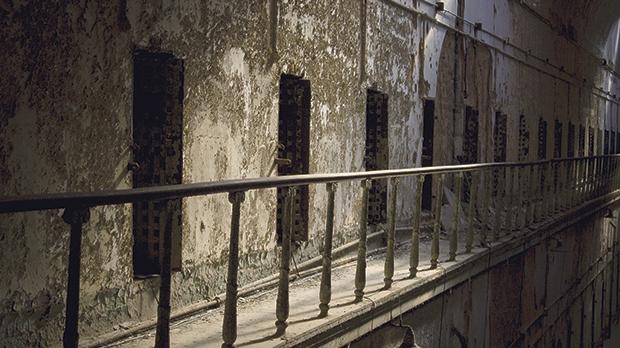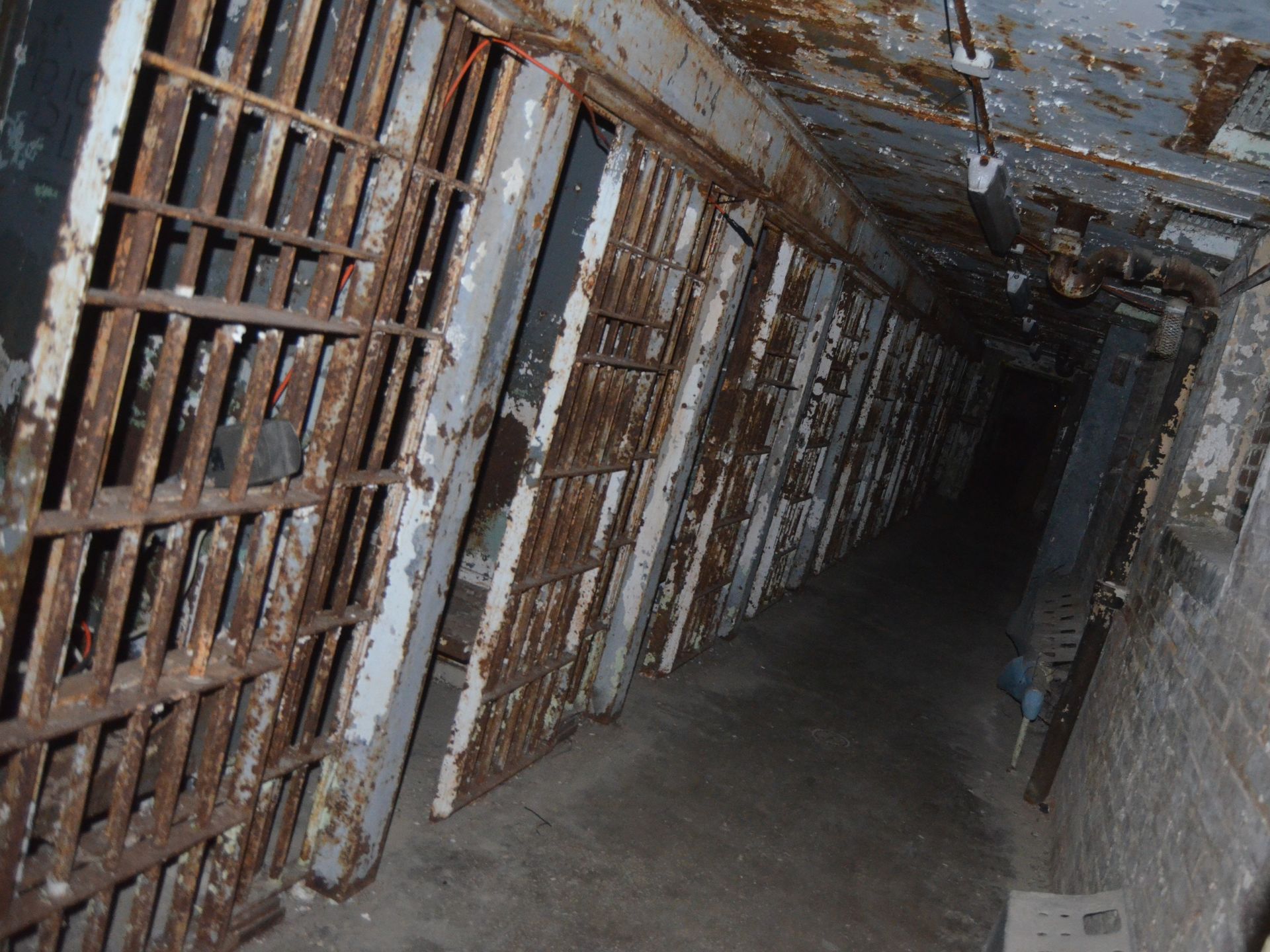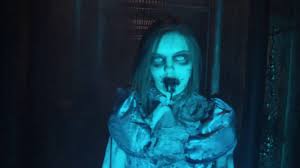 _____________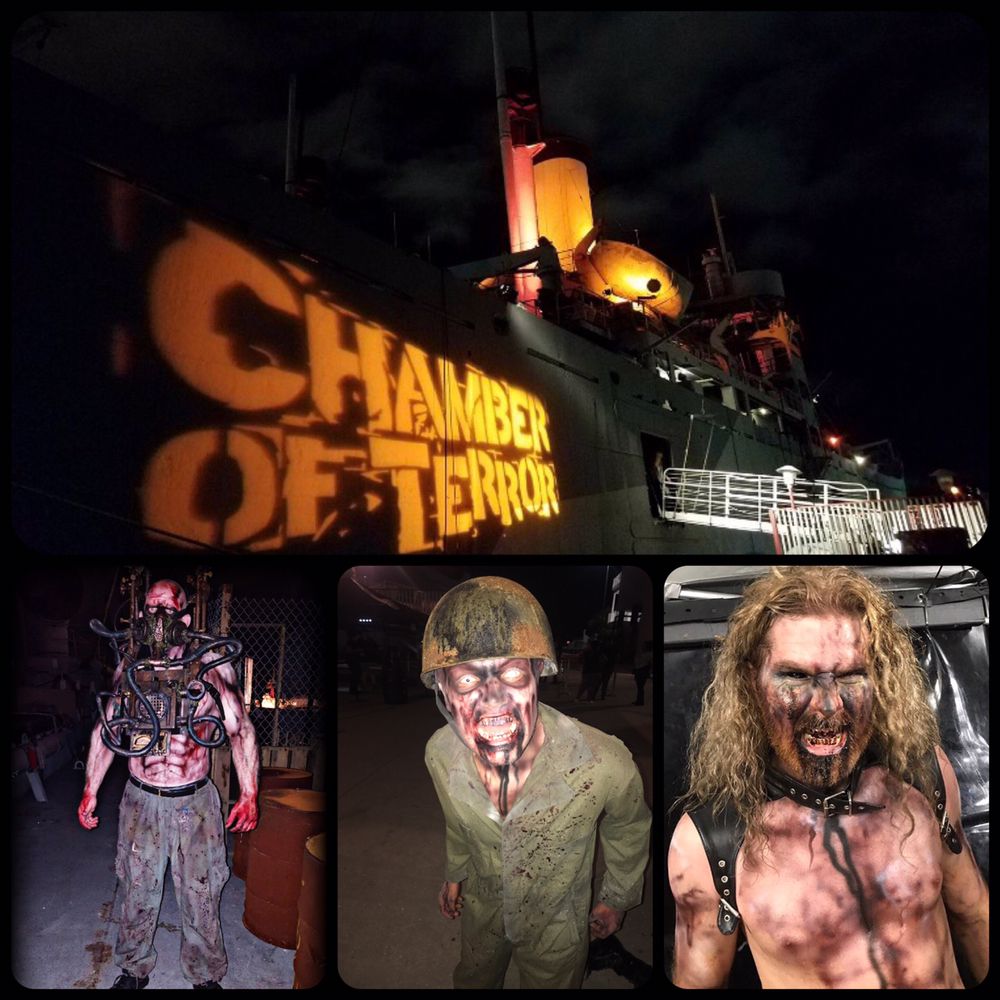 Chamber of Terror
Tampa
After years of heinous crimes and vicious murders, Captain Berwick and his Henchman return with evil intentions. Although the ship and its many inhabitants are in a state of anarchy, they don't dare disobey the Captain.
Once aboard, your life is at the mercy of Berwick and his malevolent crew. You will be lowered deep into the hull of the SS American Victory where evil is unleashed before your very eyes. As you tread through the dank depths of the ships cargo hold, sinister creatures and hostile soldiers lurk ready to strike. Enter the living quarters and make your way through the corridors where lost souls wander aimlessly.
Attempt to survive hordes of undead crew members while crossing the weather deck, as you venture through the ship you will witness the mayhem that Berwick and his crew inflict on their victims as you try to keep from becoming one of them. Evil is everywhere aboard this rotting vessel.
Will you survive this nautical nightmare?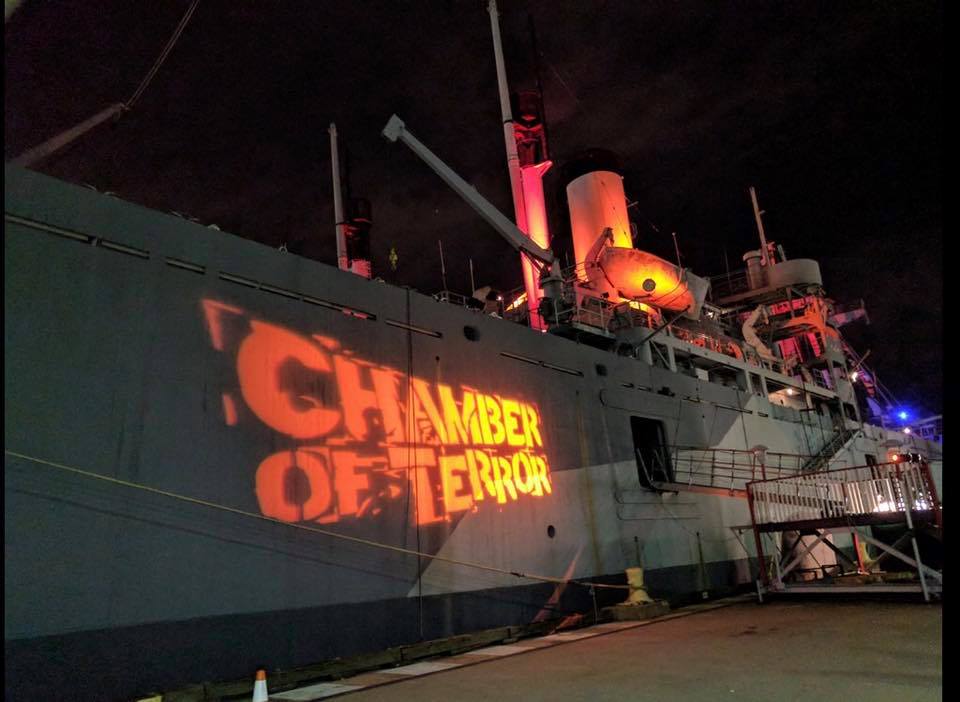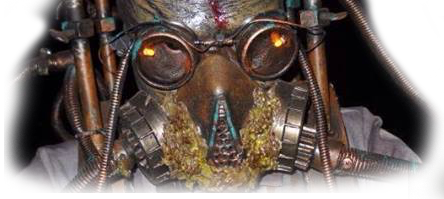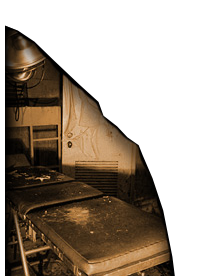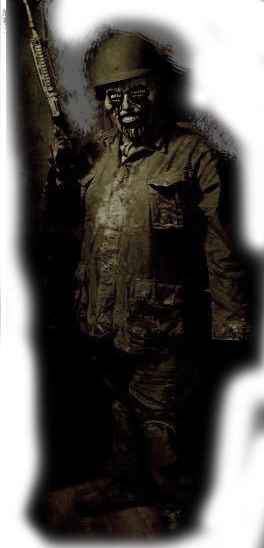 ______________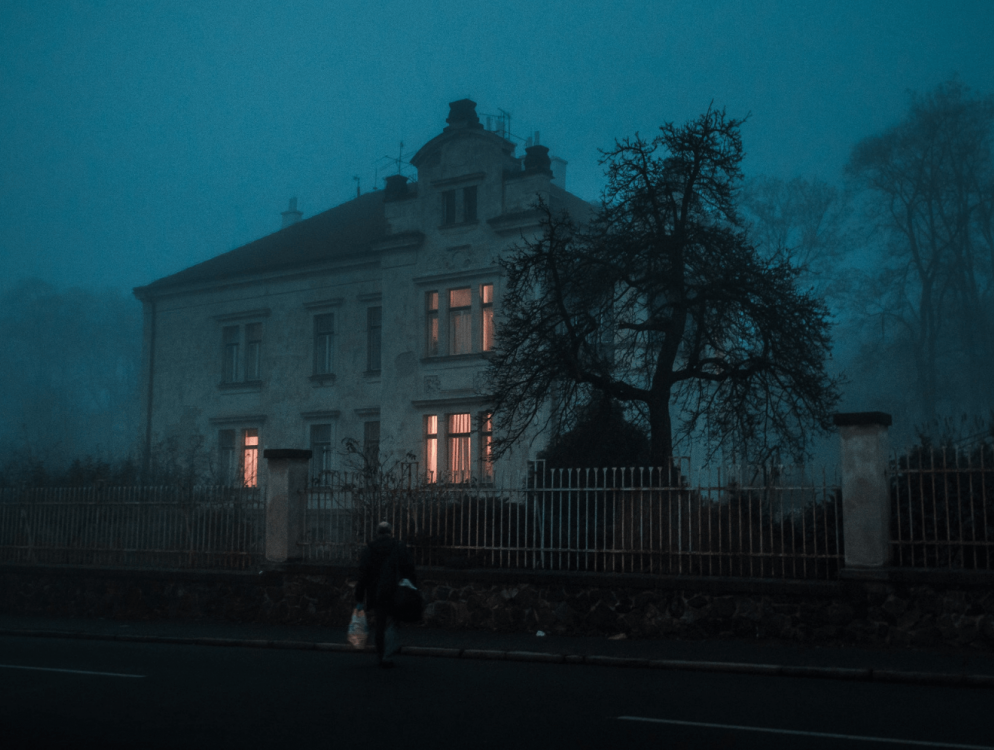 Haunted Hollow
Warrenton, VA
This haunted trail in and around the barns of an abandoned haunted farm will leave you breathless or gasping for your last breath…come if you dare! There are no refunds! Enter at your own risk! You will experience intense audio and lighting, extreme low visibility, strobe lights, fog, damp or wet conditions, uneven footing and physically demanding environment. You acknowledge that you assume all risks of physical, emotional or mental injury and property damage.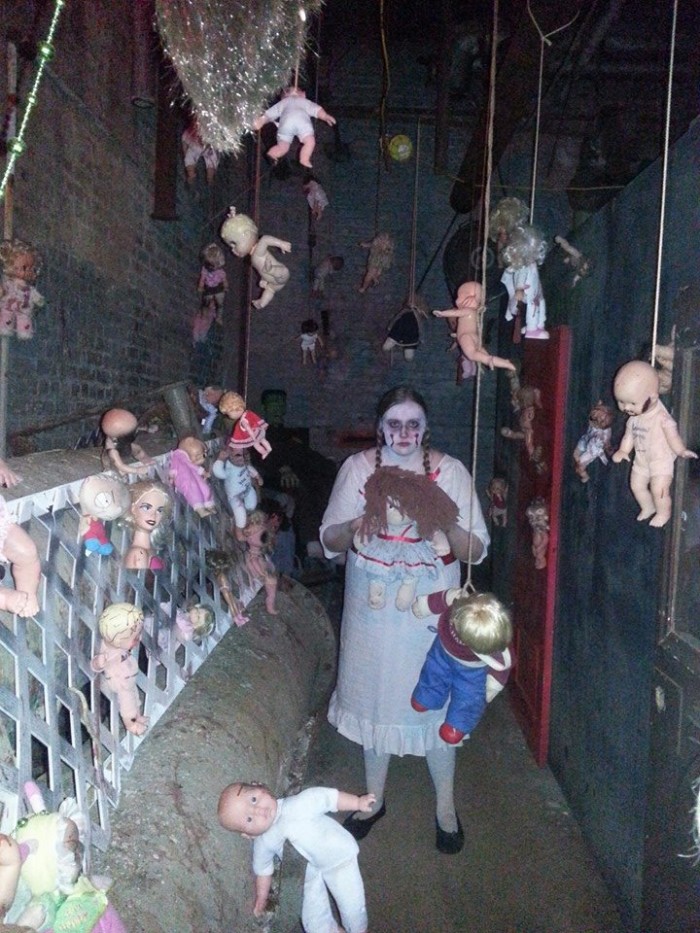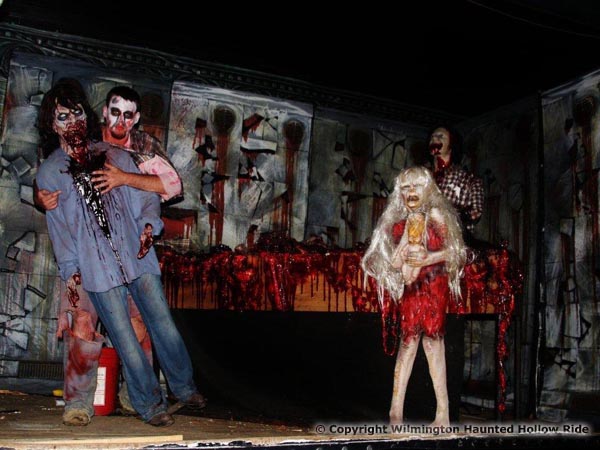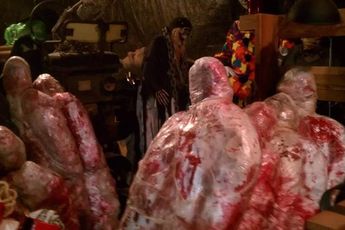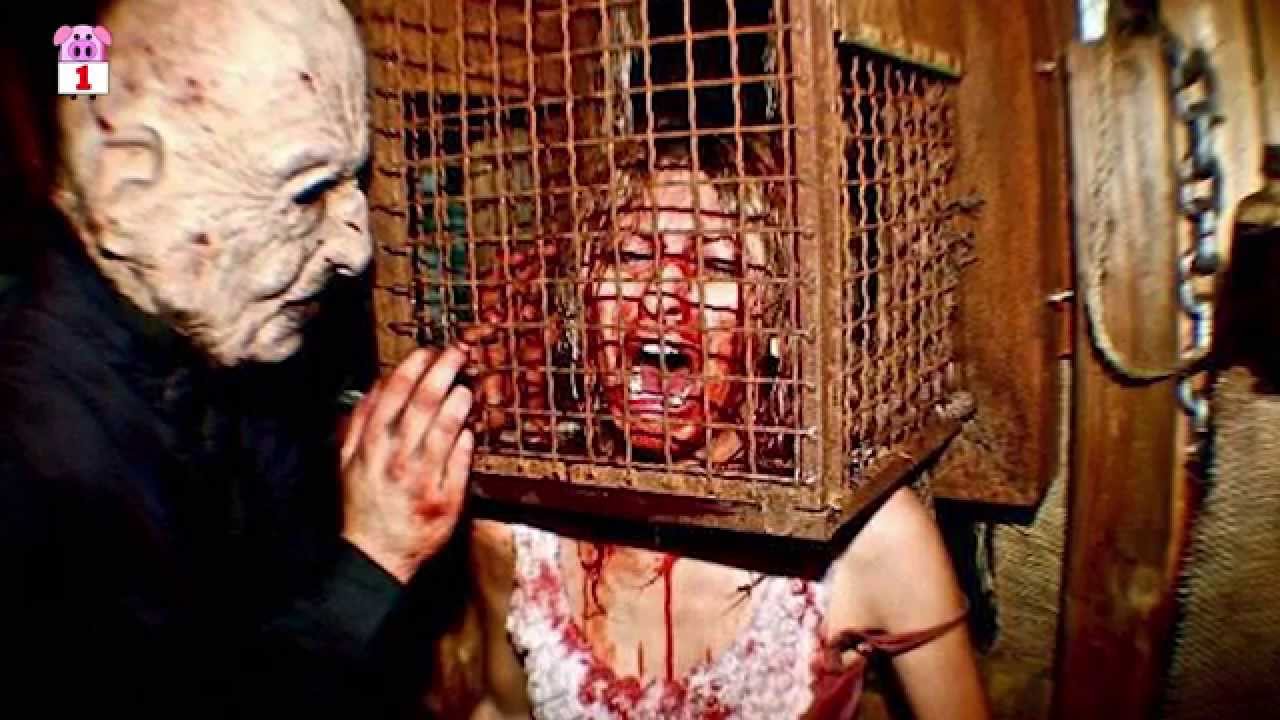 _______________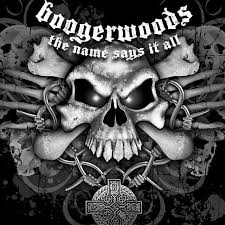 Boogerwoods
Rockwell, NC
Boogerwoods is a walking trail through fourteen different scenes of murder, mayhem, madness, and mirth. Be prepared to do some walking, climbing stairs, sliding down slides, and squeezing through mazes. Nearly every scene has a building to enter and will require a step up (or step down when leaving). Your ever present guides are here to help with this, but in a group of 8 to 12 people, those in the middle may not hear the warning of steps to come. Just remember – if your guide says, "duck!" they mean duck and if your guide says, "get down," it's time to boogie!
Your guides, even though they are always in character, will always be there to help. For scenes you may not be able to handle, they will take you around the scene to meet up with your group. The guides are also equipped with flashlights and radios in case of any sort of emergency, or just to help navigate around roots and up stairs. The front-of-house staff are friendly and engaging; be sure to stop off in the merchandise booth to talk to the ladies about the history of the haunt.
Let your guide know if you have motion sickness!!!!!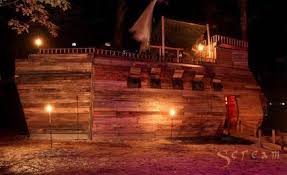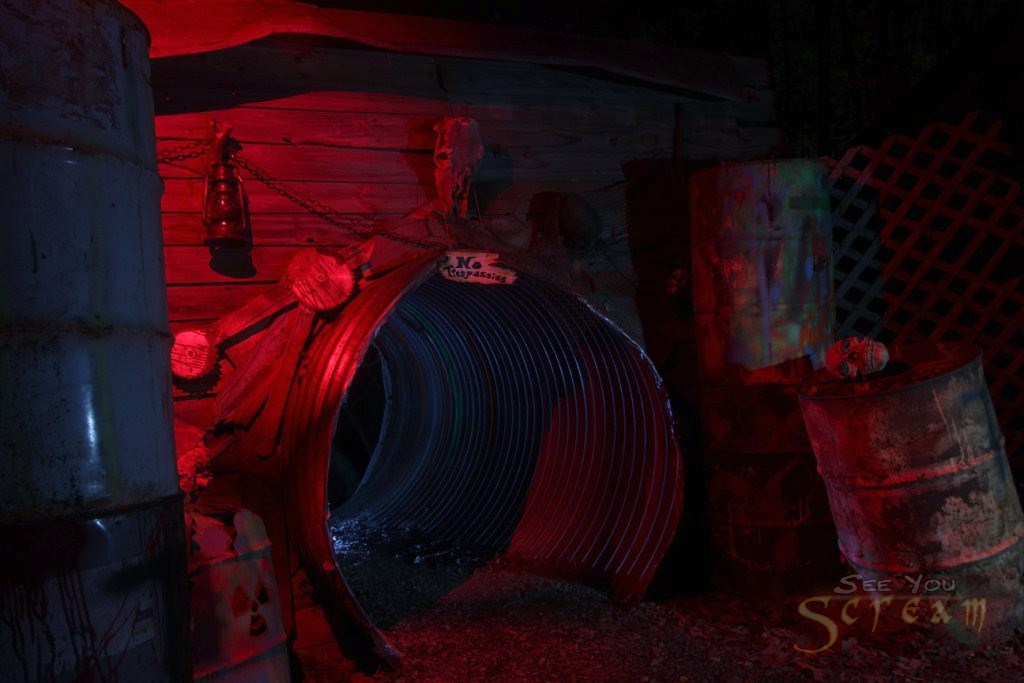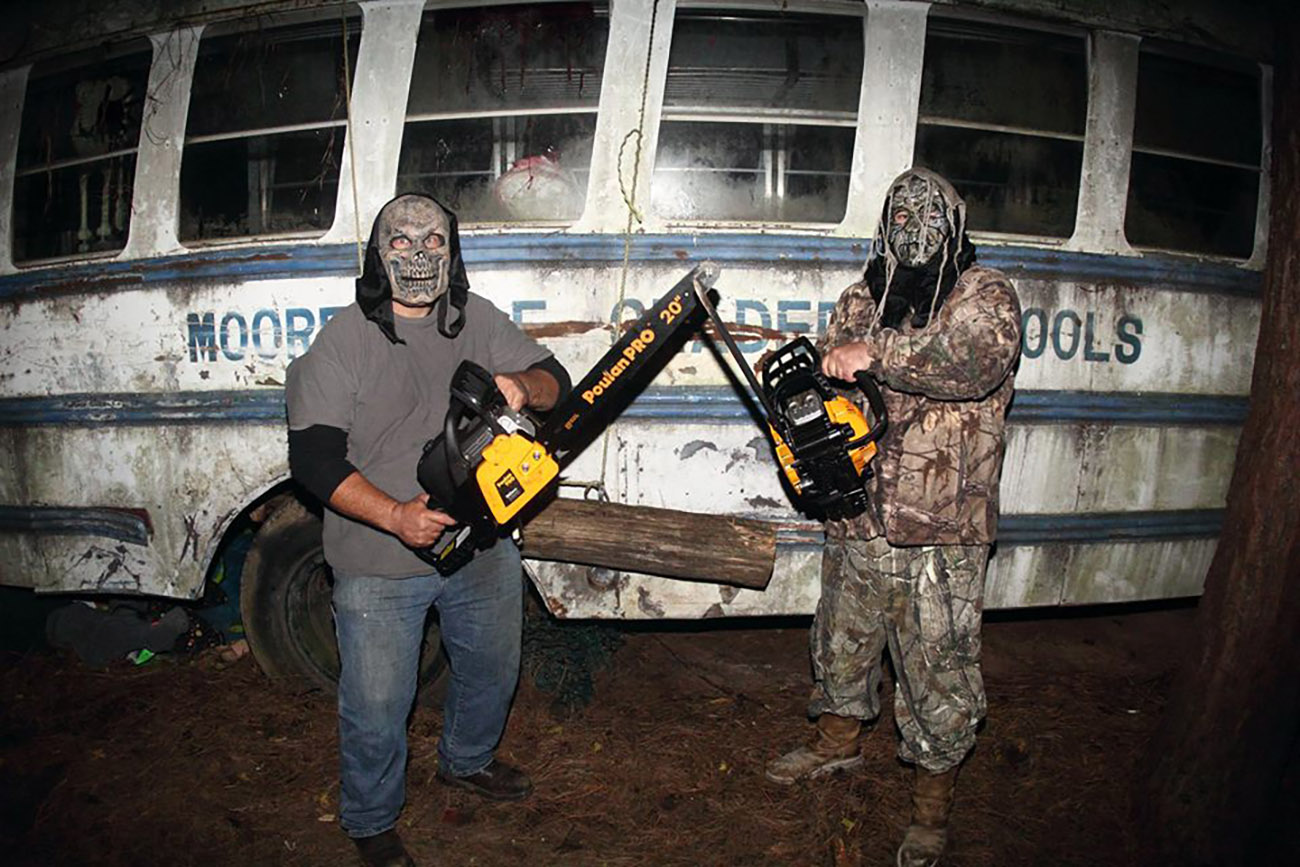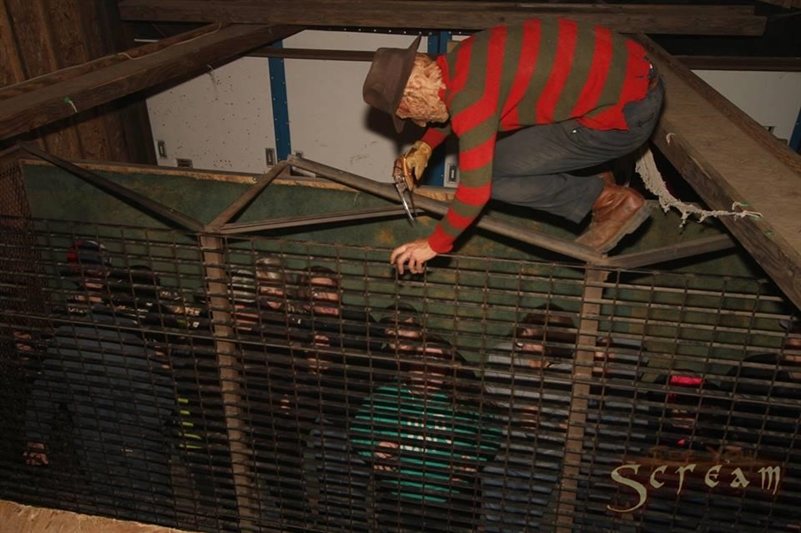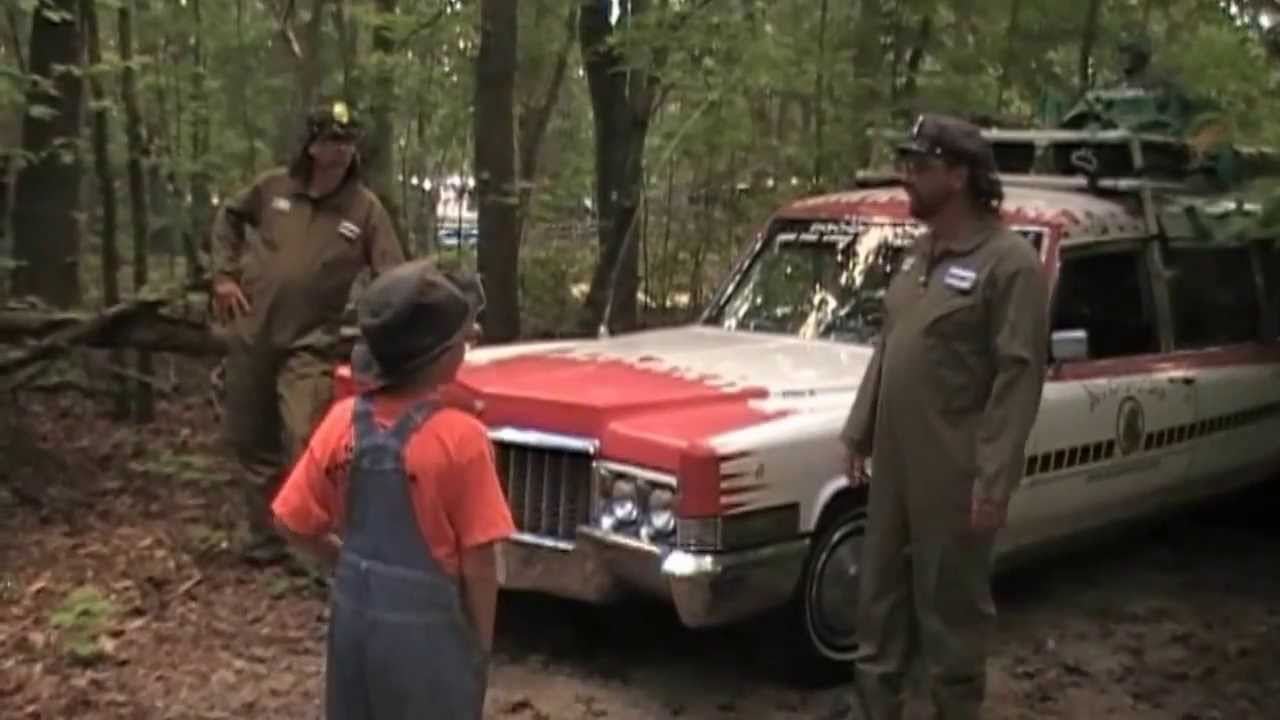 ______________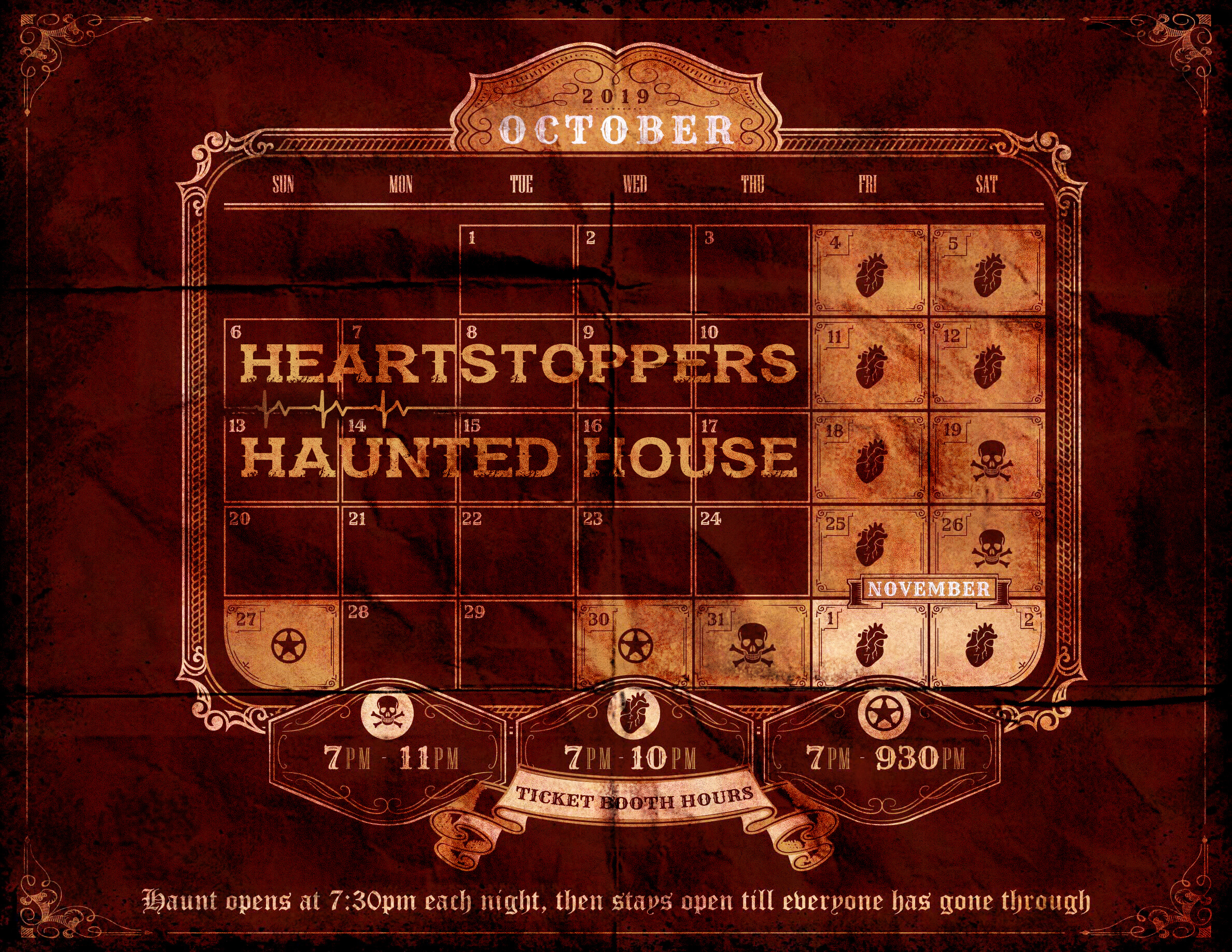 Heartstoppers Haunted House
Rancho Cordoba, CA
The Saga of the Ghàst family continues, Steamghàst Asylum has jumped ahead 12 years and is now known as The Ward. A museum and hospital research facility with a dark secret.
Deadlands, the original zombie western haunt, is being greatly expanded to include some outdoor interactive scenes along with several new buildings.
Underland is being upgraded to incorporate many new characters and trippy 3D effects.
The dark catacombs of Murk have been shifted around with new creatures around every corner. How fast can you find your way out?!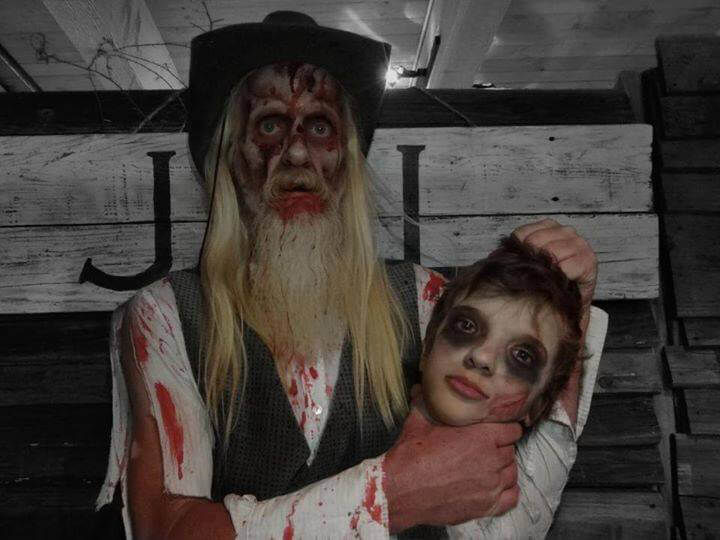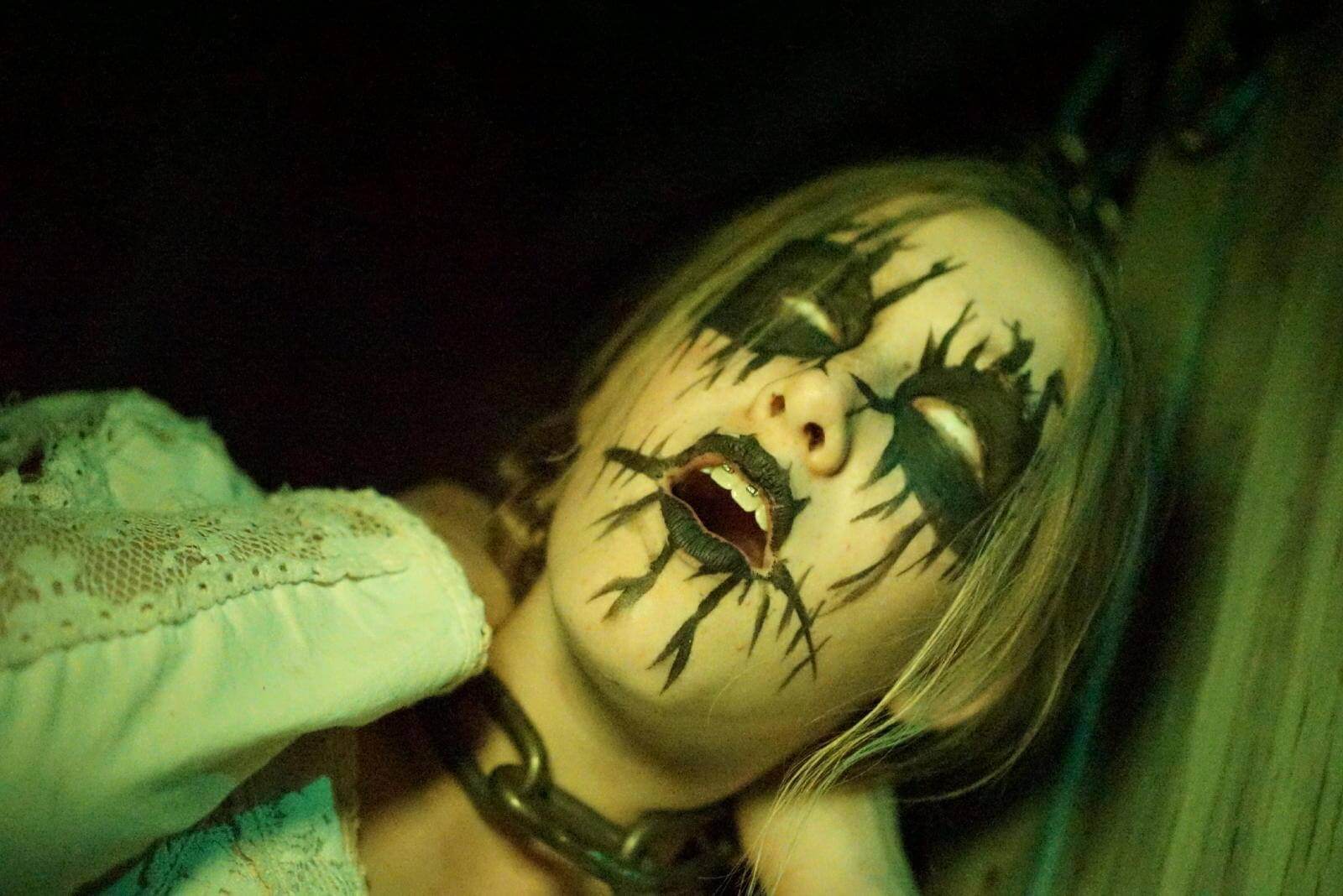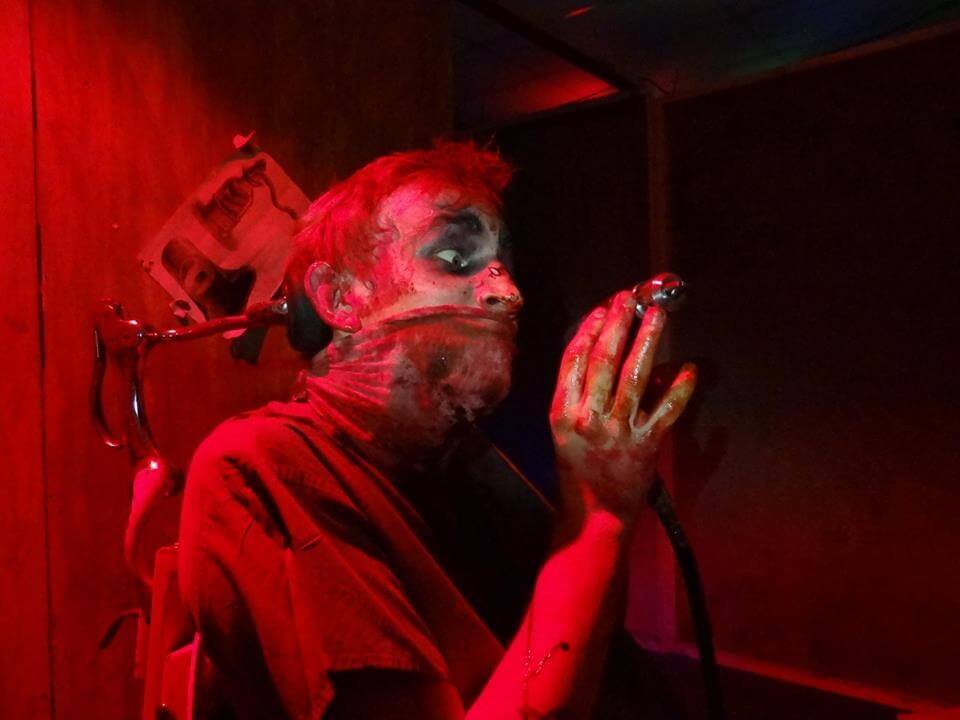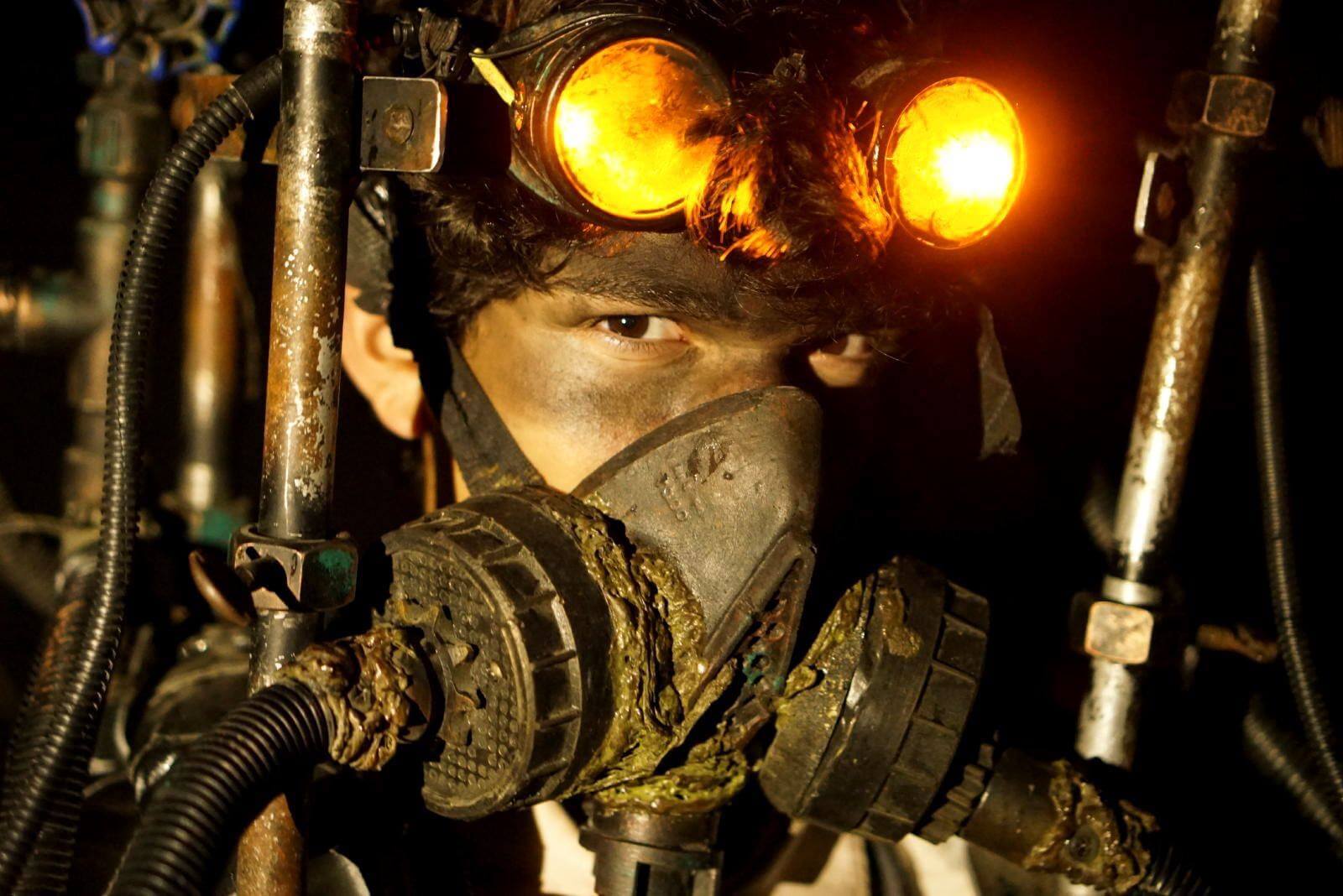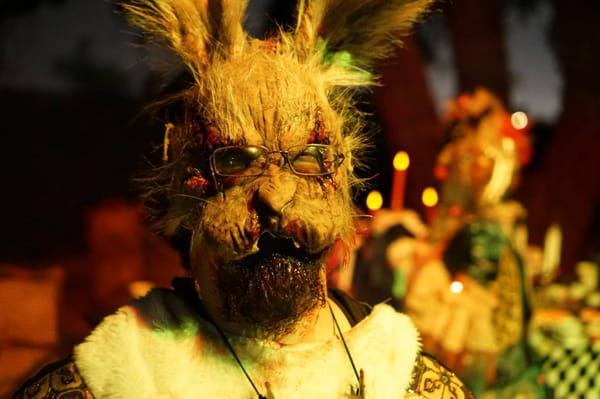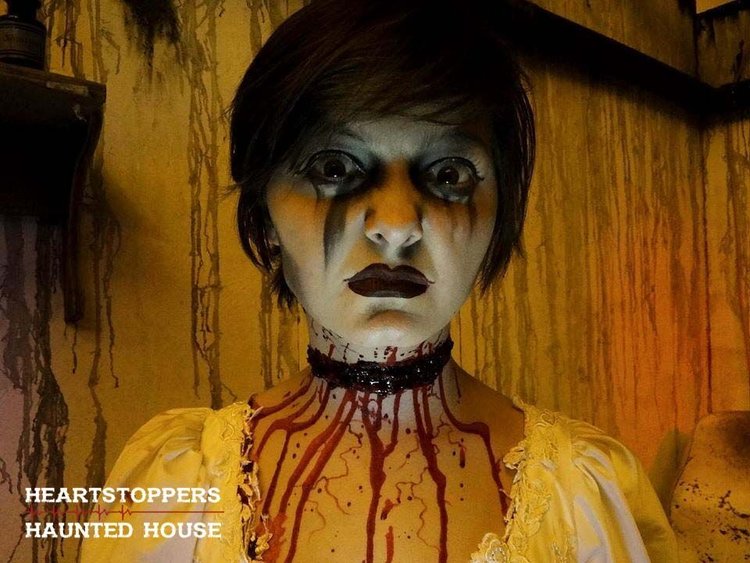 ______________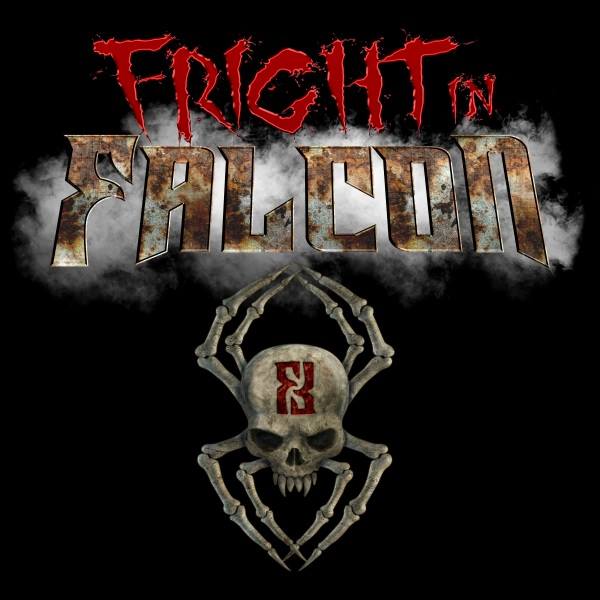 Fright in Falcon
Colorado Springs
Strobe lights, fog machines, loud sounds, and other disorienting effects are used in this haunted house.
Anyone that experiences athsma, seizures, vertigo, or similar symptoms should not enter this haunted house.
It is our job to scare you. You enter this attraction at your own risk. By entering this attraction, you represent that you voluntarily and expressly agree to release, discharge, and hold Fright in Falcon and other patrons harmless from any and all legal liability, property damage, or medical liability, AND PERSONALLY ASSUME ALL RISKS.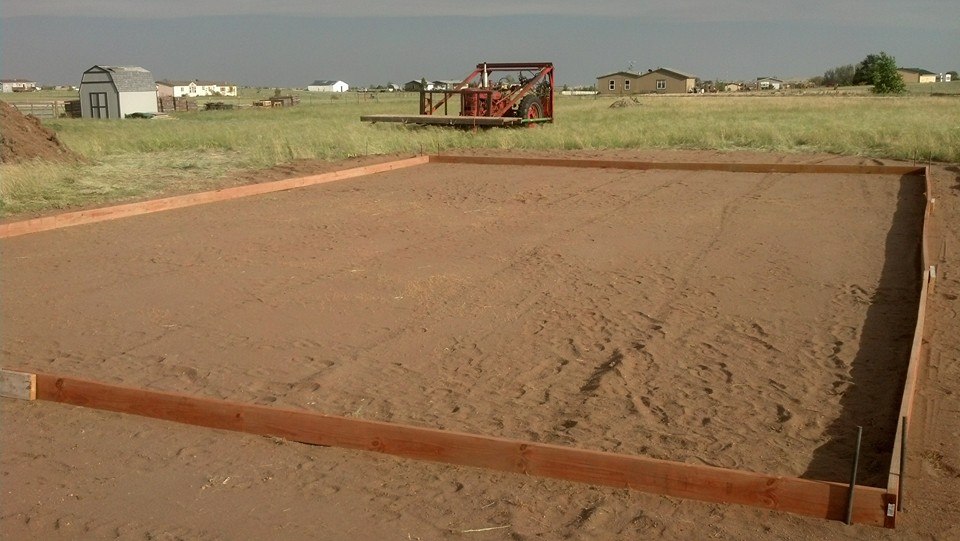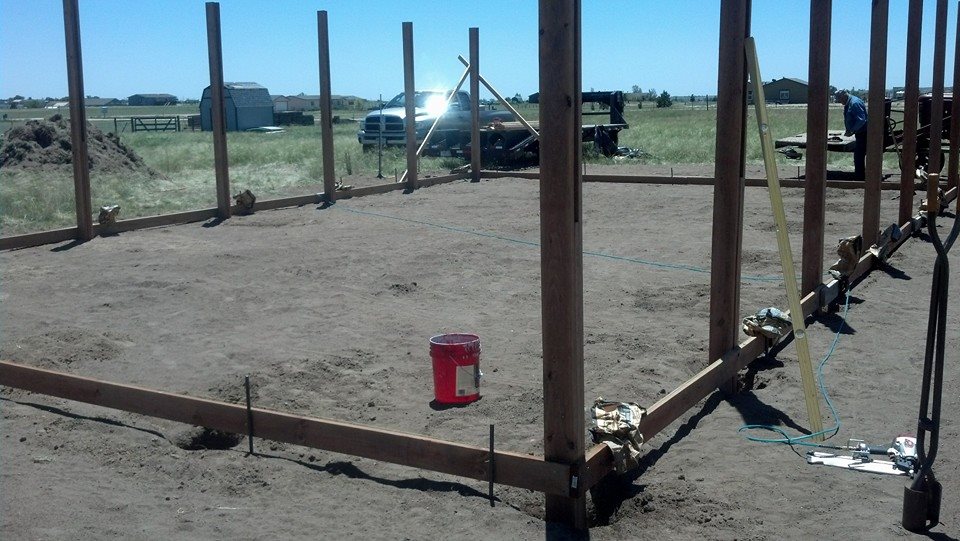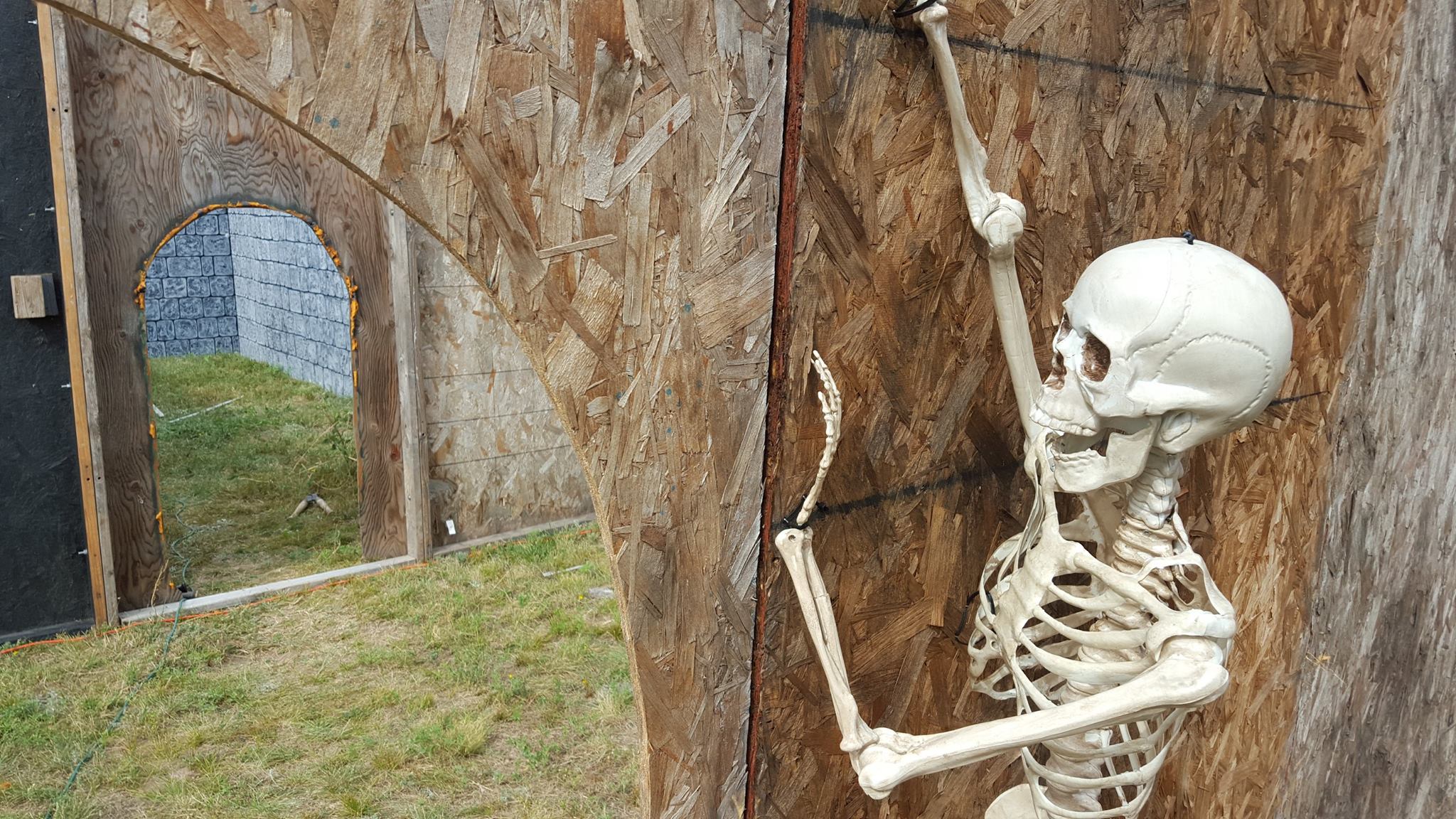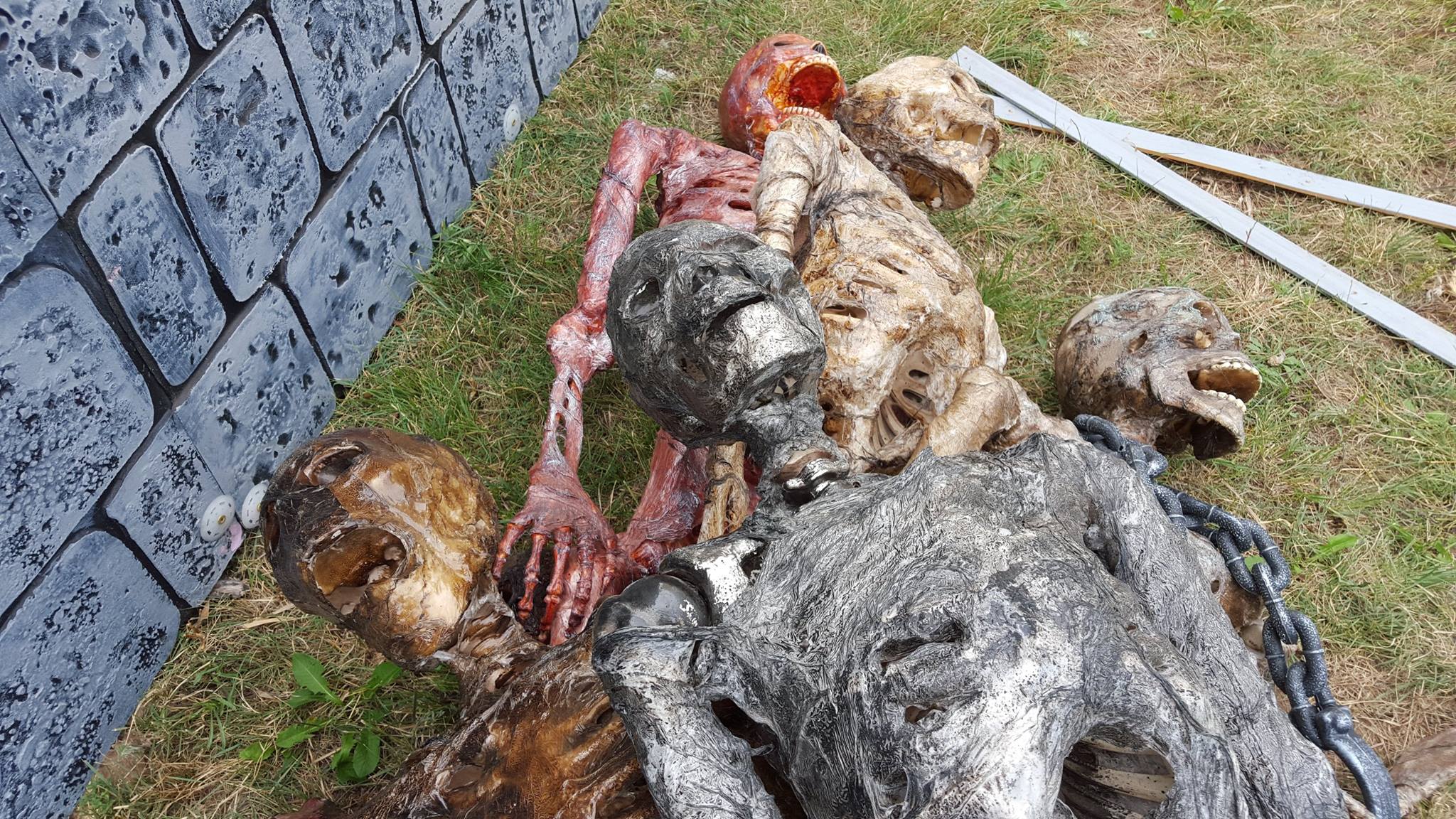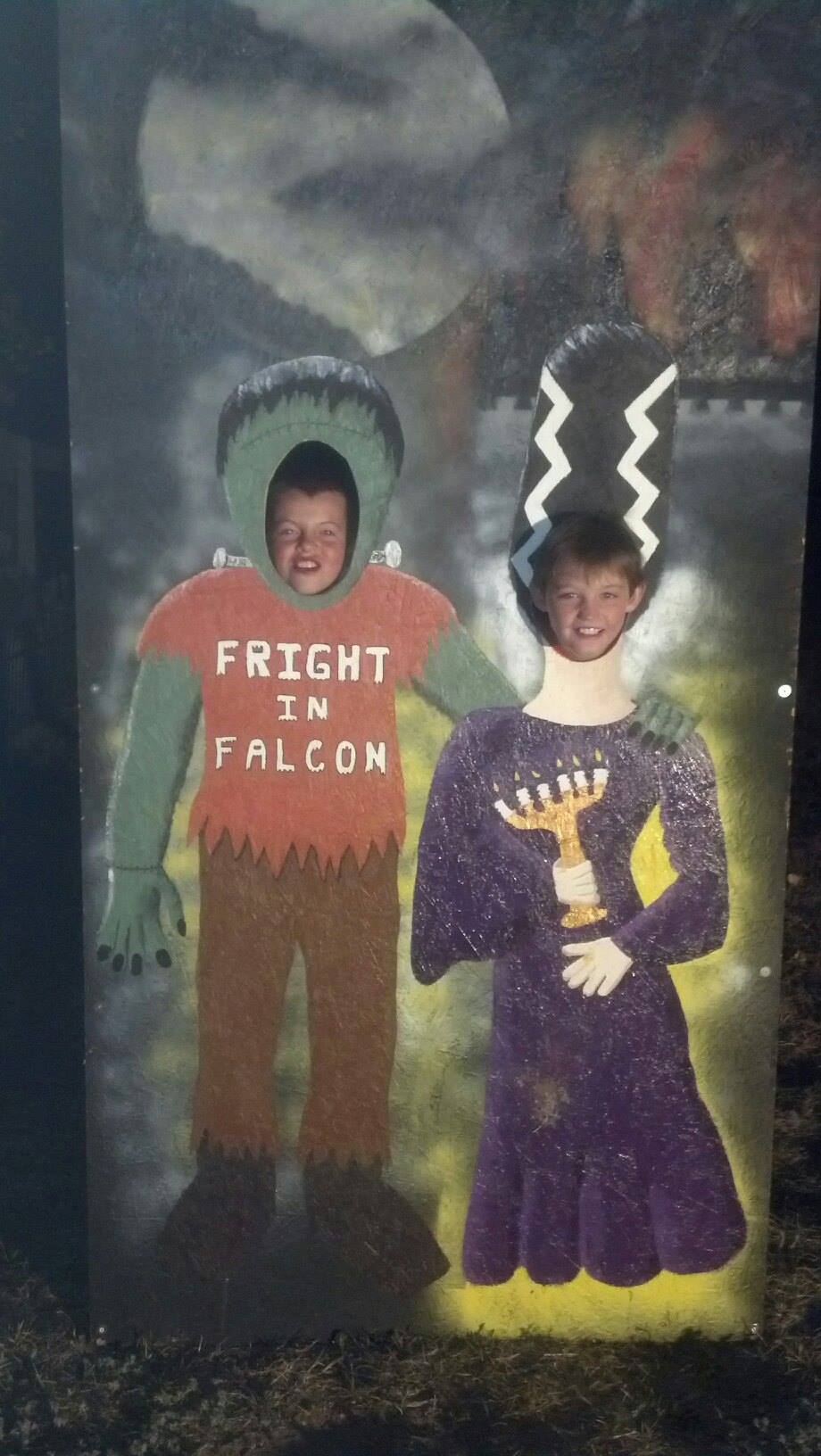 ______________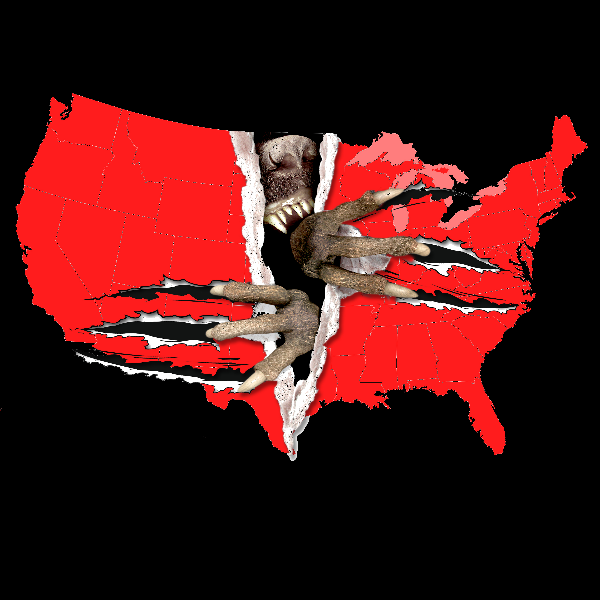 Psycho Trail
Blackwood, NJ
"we wnt last year and it freaked me totally the fuck out, can't wait to check it out in October"
"we went last year and hate clowns, and they had a 3d clown!!!!"
"wasn't scary at all!!! the actors are all a bunch of kids that don't know what theyre doing. only good things about this attraction are that its cheap and the lines arent long… but thats only because no one wants to go to it"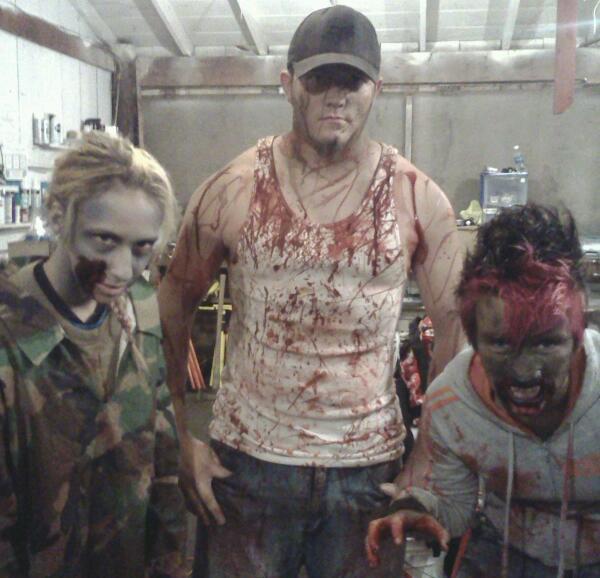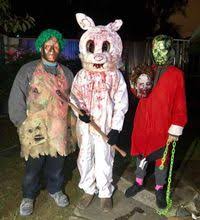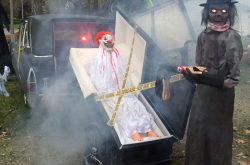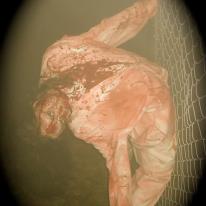 ______________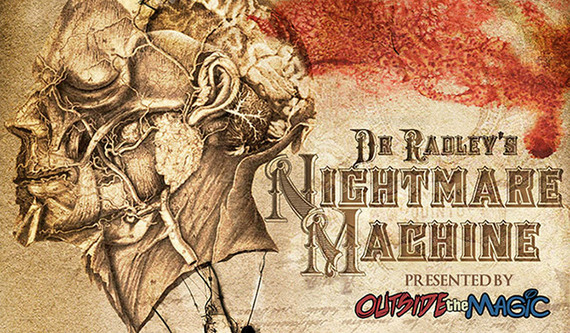 Dr. Radley's Nightmare Machine
Saint Petersburg, FL
The Radley Haunted House is a new way of turning horror into a completely immersive environment. A new Haunt deticated to bringing you professional production quality experiences.
This haunted attraction is a must see, has been compared to Halloween Horror Nights quality. This is a short, but completely immersive experience that is sure to terrify you. Probably not appropriate for children under the age of 8. This is a very dark space with slight changes of elevation in the dark. Please be careful not to damage our sets or hurt our actors. Property owners and adjoining property owners are and will not be liable for any damage to your belongings, liable for any accident that may occur or liable for any lost articles.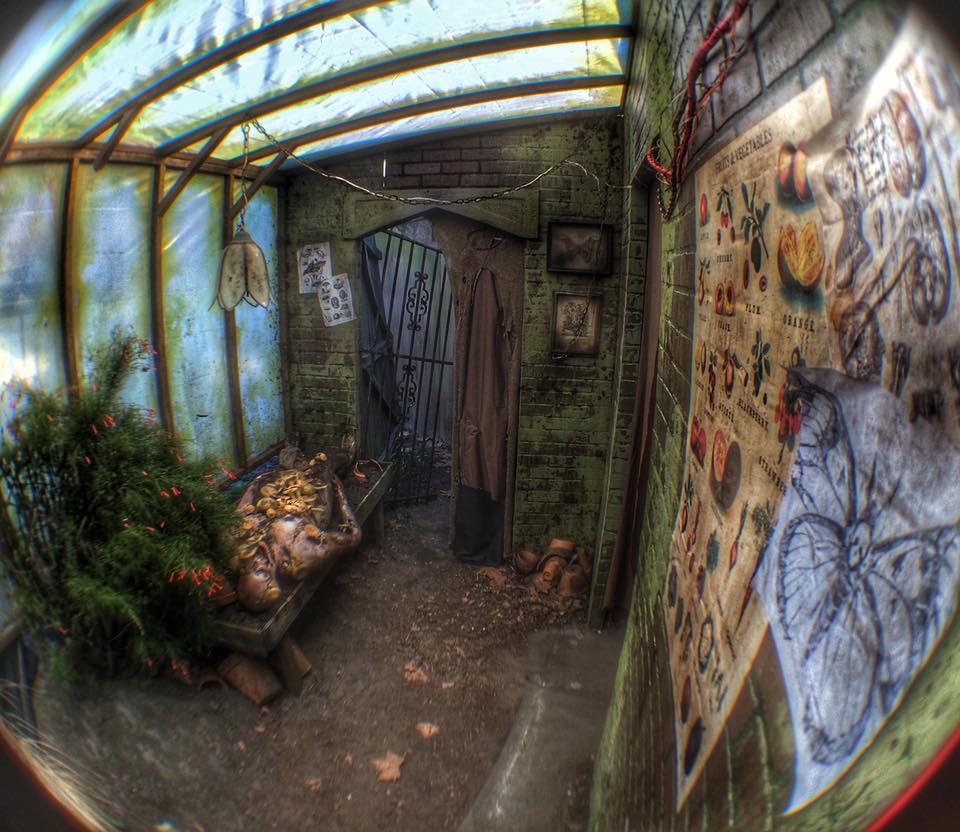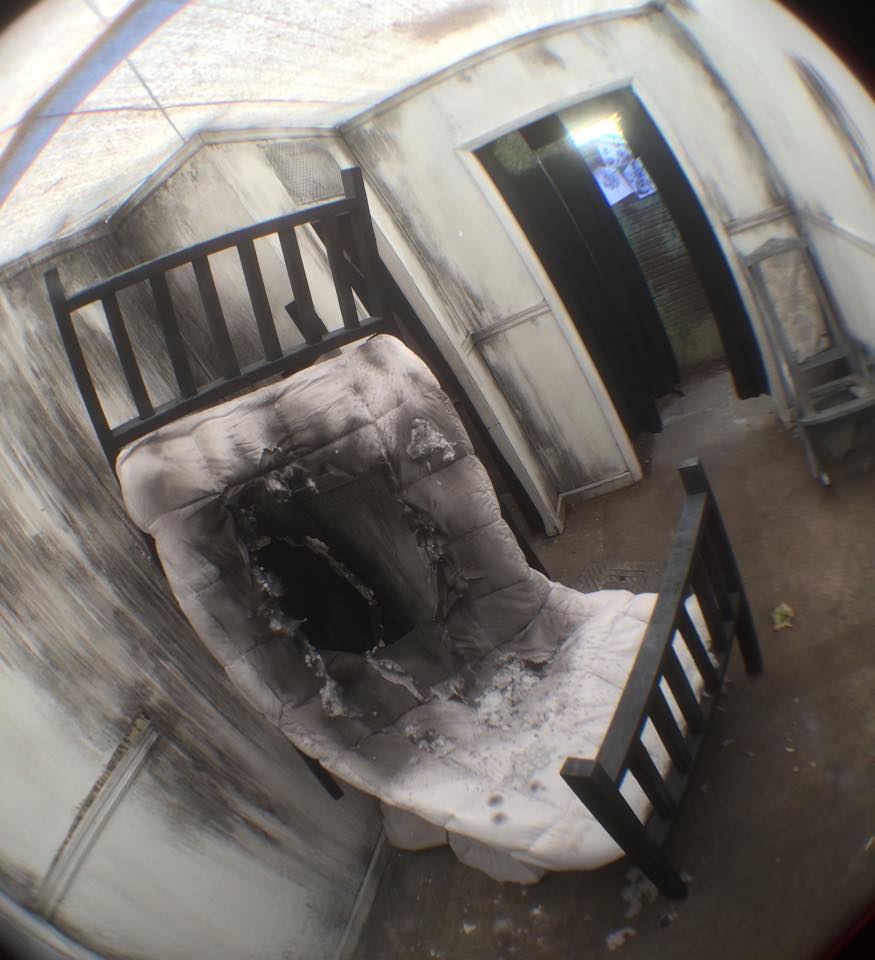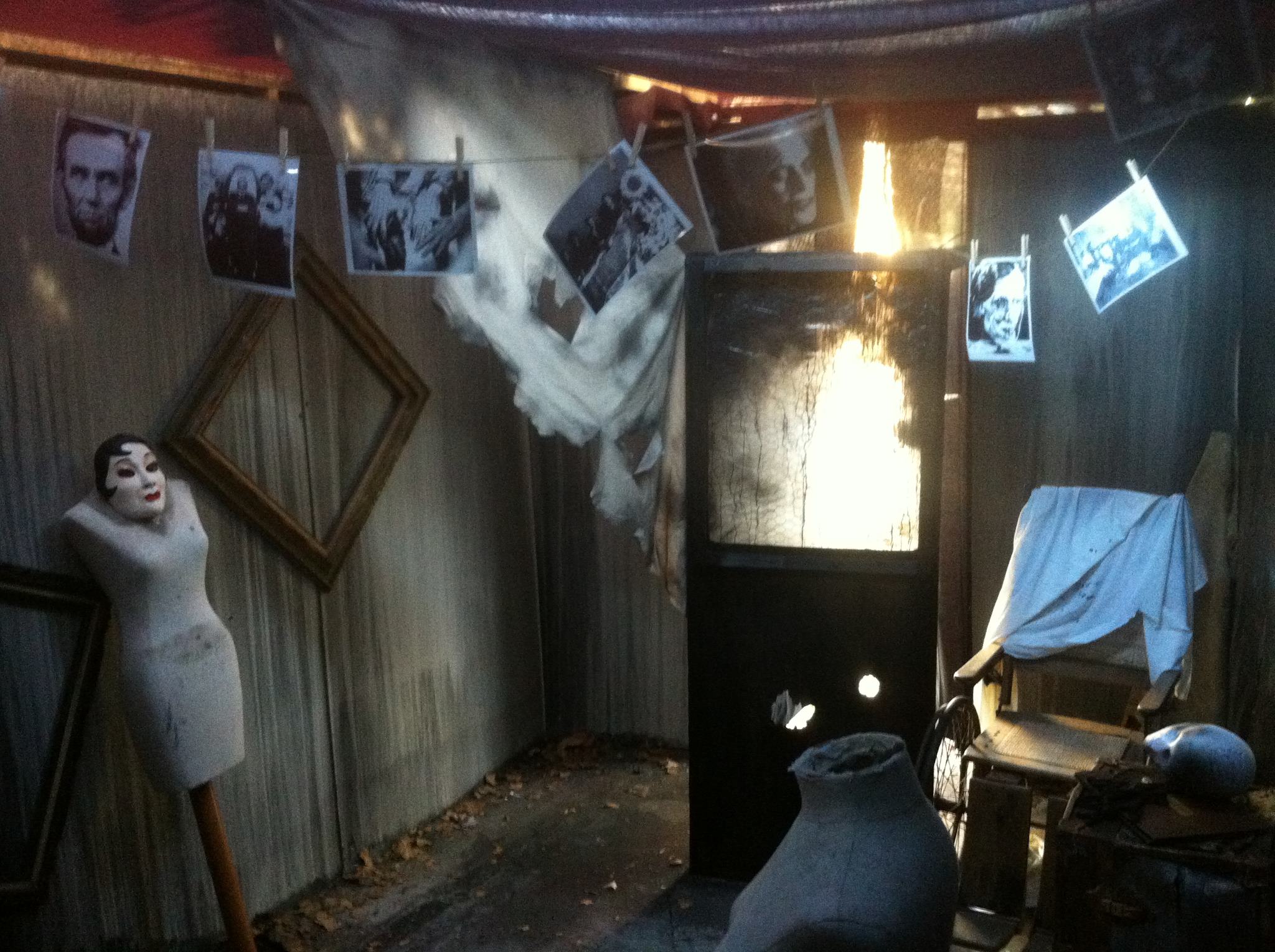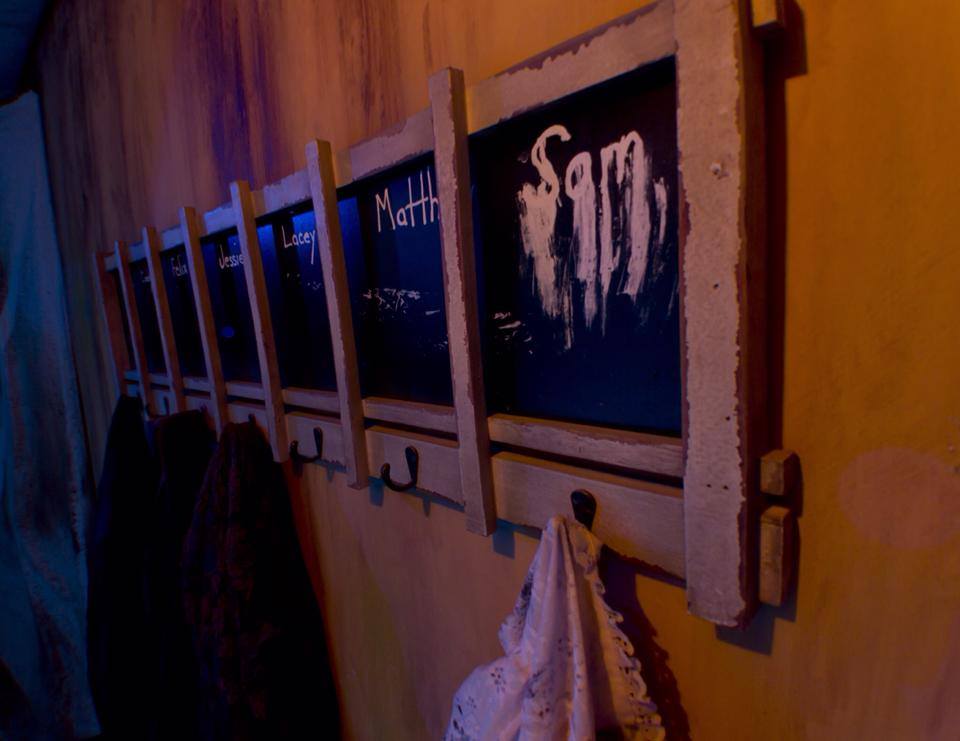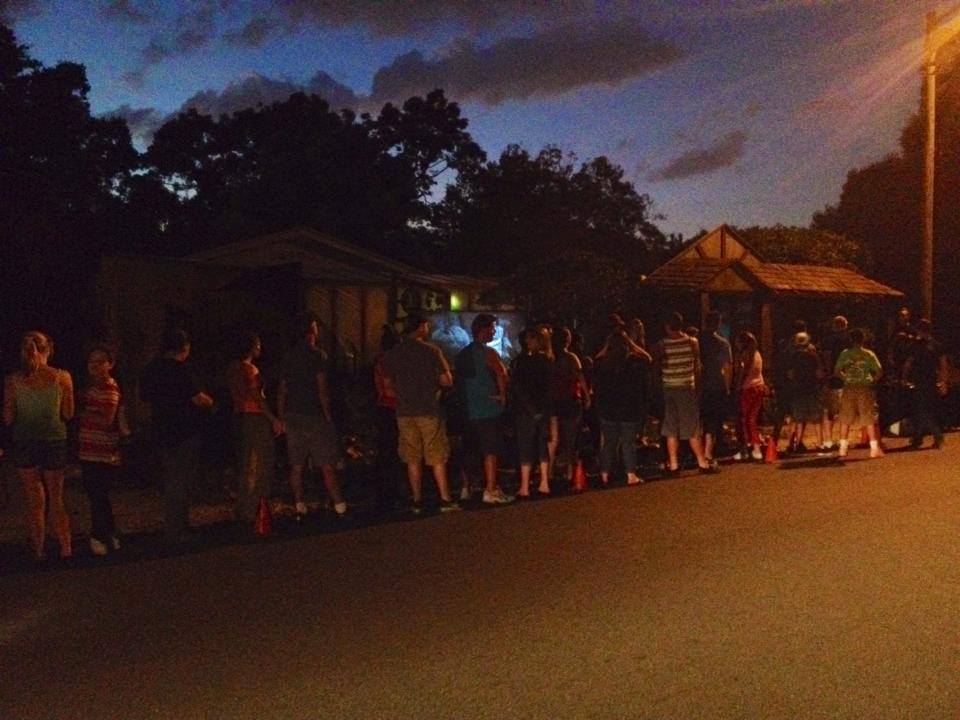 _______________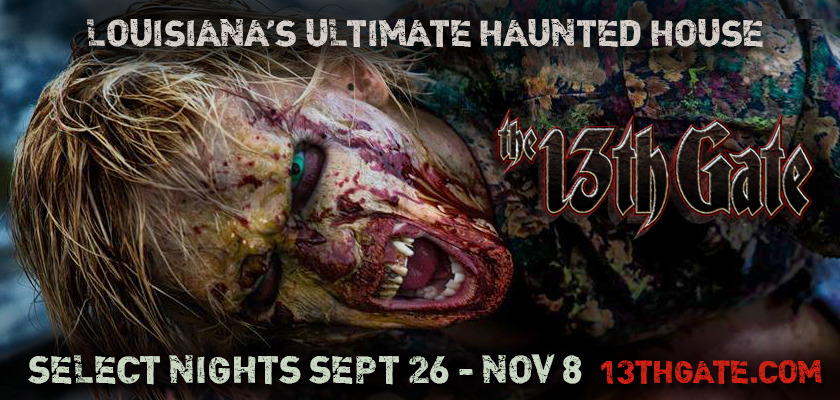 The 13th Gate
Baton Rouge
The 13th Gate is a haunted attraction that is known for its extreme ultra-realism and is one of the most detailed haunted houses in existence. The artists behind the massive dark attraction are experts at blurring the lines between horror and reality, and guests frequently wonder between screams whether what they are experiencing is real or not. The Attraction's level of detail, set design, and effects combined with their impressive actors and incredible makeup effects can only be compared to a Hollywood movie. The attraction features a real snake-infested Louisiana Swamp, nightly voodoo shows, claustrophobic cellars, hidden subterranean passages and even a prehistoric ice cave all seamlessly woven together and nothing short of masterful. The haunted house is constantly changing and growing from year to year so guests never know what to expect around the next terrifying corner.
From crawling though a crematory oven and an old hearse to being lost in dark underground tunnels or even finding yourself standing on a rickety bridge overlooking hundreds of live snakes, this 40,000 square foot haunted house is definitely not recommended for the faint of heart (nor is it recommended for anyone who is pregnant, has a pre-existing heart condition, is very young, or has a weak bladder)!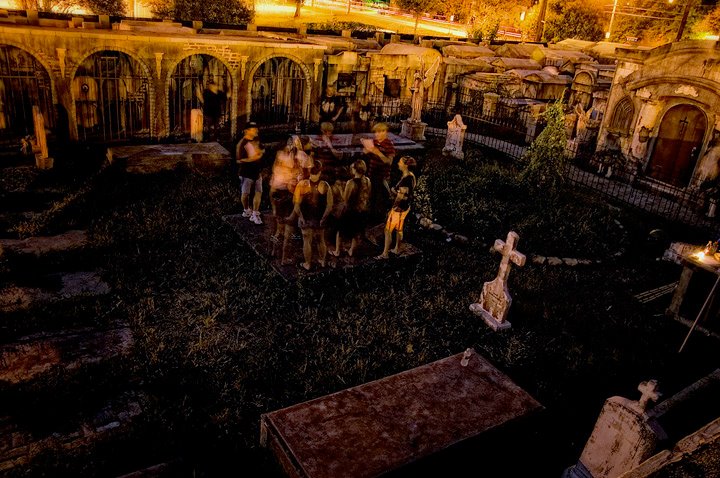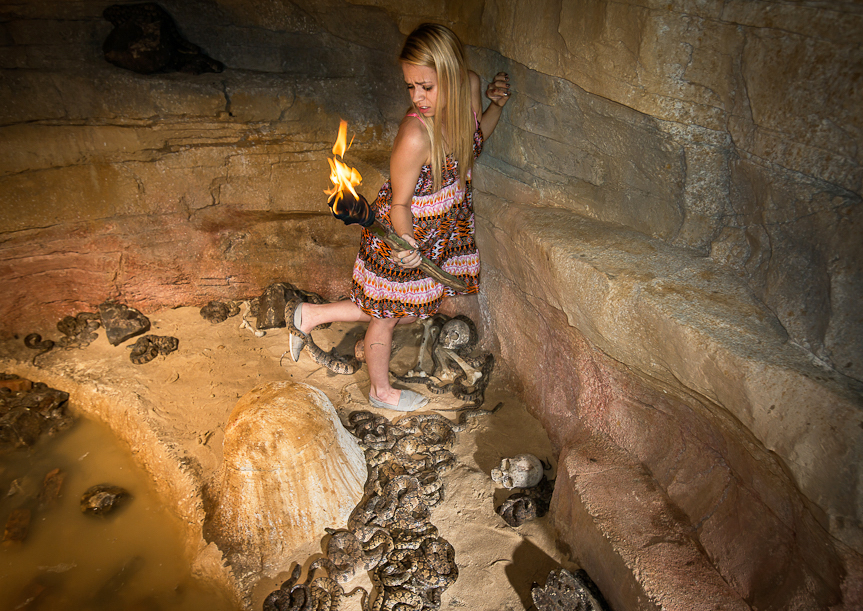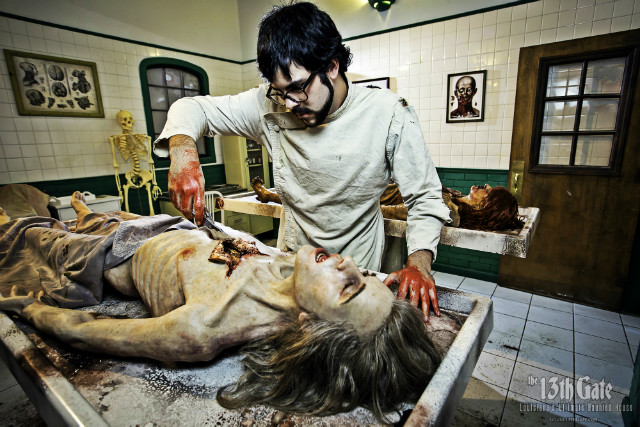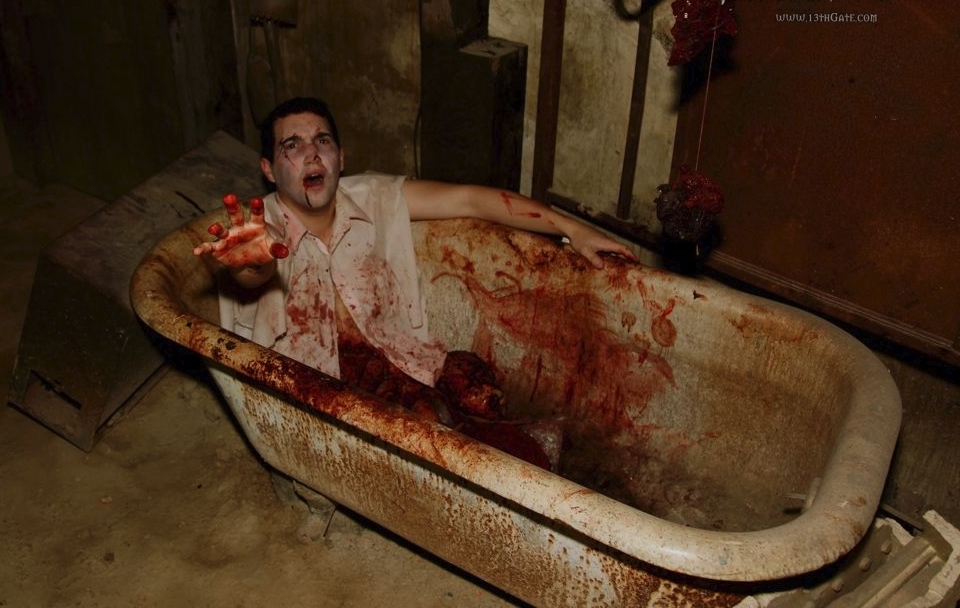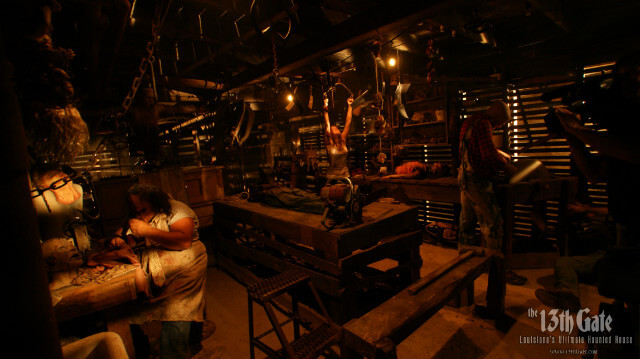 *
p.s. Hey. ** David Ehrenstein, I, of course, agree with you entirely about Sarraute! Everyone, Mr. E's FaBlog adds a thing to the hot-button 'Ellen Degeneres likes George Bush' blowback here. ** KK, Hi, man. 'Tropismes' is very great, a key book, I think. I did a post dedicated to it. I remember that Kathryn Harrison book. It was kind of a big, semi-scandalous deal at the time, as I remember. It's good? I was always suspicious of it, I guess because when the mainstream lit world declares something scandalous, it so rarely is, to me I mean. But I'll have a look. Prejudices are bad. Congrats on your car's health. The new Miike sounds tasty. My next film biggie is a big, multi-media 'all day' event here with/around Godard's 'Image Book' tomorrow. Good to see ya. ** Sypha, It's a goodie. Thank you for posting your cake on FB. I adored it and wished my stomach had been its grave. Wow, you think you can remember every film you've ever seen? That's some memory. I don't think I could begin to do that unless someone wanted to name every single movie that came out since I was sentient while I said yes or no. Have fun with that. It does sound fun. ** Steve Erickson, Rammstein have their fair share of train spotters or dissecting beloveds for sure. I had a guest-hosted post about Damon Packard a very, very long time ago. So long ago that it would be  hopelessly out of date. Hm, I'll see what's online and try to do a new one. Good idea, thanks. I haven't seen any of his films in ages. ** _Black_Acrylic, Hi, B. I know 'The Designated Victim', but I think I've only seen clips. I'll hunt it. If Pierre's in it, I'm there, simple as pie. ** Keatzert, Bonjour, mec. I don't get the feet thing. I mean I get it, I just don't get feet being lordly re: the libido. But, boy, is feet a big thing amongst the slave set these days. I have to weed through hundreds of them when I'm making those posts. Weed through because I have yet to find a feet slave who has anything interesting whatsoever to say about it. Right, losmovies.com, right, I did forget. Thank you! I just … bookmarked it forever. Germany = opulence … I'll have to think about that. 'Low Tide'? Hm, okay, I'll check into it. That dream of yours was … opulent? Like Germany? No, no, not opulent … what's the word … damn … I can't remember, so I'll just have to go boring and say 'interesting'? Are The Dead Milkmen still working their moment on the concert circuit, I wonder? Find ghosts. Tell them hi for me. ** Right. Today I present the broader picture version of my yearly 'haunted house speculative best of' post for those of you scattered across the big USA or, if elsewhere, those of you who have experienced the enlightenment of embracing haunted house attractions as an art form worthy of contextualisation with sculpture, painting, installation, photo, video, and all the other already vaunted physical forms in which creativity manifests. Enjoy the hell out of today, literally, please. See you tomorrow.