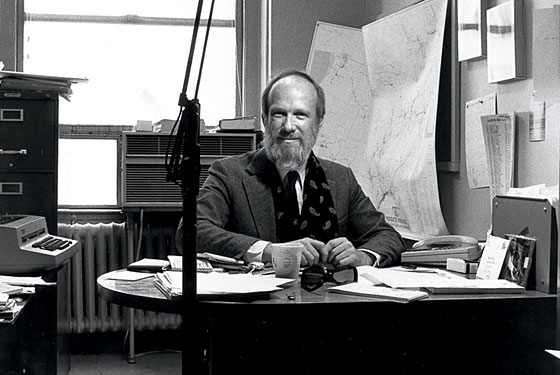 GWST
George W.S. Trow is one of the most fascinating figures of the century that ended 16 years ago. (all things considered, not a long time at all.
"George William Swift Trow, Jr. (September 28, 1943 – November 24, 2006) was an American essayist, novelist, playwright, and media critic. He worked for The New Yorker for almost 30 years, and wrote numerous essays and several books. He is best known for his long essay on television and its effect on American culture, "Within the Context of No Context," first published in the November 17, 1980 issue of The New Yorker, and later published as a book This was one of the few times that the magazine devoted its central section to one piece of writing".
And no wonder.
Trow's central thesis is that television has destroyed American culure — particularly its upper levels, which most fascinate Trow, even though they were disappearing at the moment he was memorializing them.
(Wkiki continues:)
"Trow was born in an upper-middle-class family in Greenwich, Connecticut. His father was a newspaperman. Trow studied at Phillips Exeter Academy, and graduated from Harvard University in 1965. There, he was president of The Harvard Lampoon. He later served as an editor for its offshoot, the National Lampoon, working with young humorists like Michael O'Donoghue. He served on active duty in the U.S. Coast Guard. In 1966, Trow took a position at The New Yorker, writing articles for the magazine, especially in the section "The Talk of the Town," and contributing short fiction. He worked under editors William Shawn (1951-1987) and Robert Gottlieb (1987-1992), whom he saw as mentors.
In 1994, when new editor Tina Brown invited Roseanne Barr to oversee a special issue on women, Trow quit the magazine in protest. He abandoned the house he was building in Germantown, New York, and traveled around North America, living in Texas, Alaska, and Newfoundland. Several years before his death, he moved to Naples, Italy. He died there in 2006, officially of natural causes.
Trow was socially ambitious: throughout his life, he was "striving to be part of the '10 percent of people at Harvard who wear tuxedos to their own little events in their own little buildings and you can see them out on their balconies with their tuxedos and their often very beautiful girls who are also similarly there from the Vanderbilts and the Astors.
Throughout his career, Trow analyzed mainstream American cultural institutions to understand how the culture had changed from the newspaper-reading, eastern Establishment-dominated world of his childhood in the 1940s and early 1950s, to the ahistorical, tabloid sensibility born in the Jazz Age and propagated by television.
The appeal and value of Trow's work can be difficult to communicate, because the style "in its very essence resists summary. Summary, of course, flees from detail, whereas for Trow the details are the notes without which there is no song." Some critics have found Trow's works impenetrable and elitist; some argue that Trow's nostalgia for the pre-television era was misplaced, because the subsequent civil rights movements had made American culture more democratic.
Trow's only novel, The City in the Mist, (1984) did not impress critics. They were put off by its minimalist style and lack of plot, narrative momentum or involving characters. The book, which moves from the mid-19th century to the present, tracks the energy in three intertwined families, from the masculine vitality of a thuggish Irish immigrant to the weak flame of his elderly bachelor grandson, who lives on his income in two rooms in New York City, and spends his time caring for his clothes and going out into what remains of Society. The central concerns of the novel – the decline of masculine energy and the replacement of masculine social authority by feminine social authority – Trow later addresses explicitly in My Pilgrim's Progress.
"Within the Context of No Context," which was edited by New Yorker editor William Shawn, was published in book form in 1981 accompanied by Trow's profile of music mogul Ahmet Ertegün. In 1997, "No Context" was reprinted with a new introductory essay, "Collapsing Dominant."
In "No Context," Trow pointed out the role of television in the destruction of American public culture and Americans' sense of history. "Middle-distance" institutions that had long given Americans' lives real contexts (such as fraternal organizations, bowling leagues, and women's clubs), had disappeared as people stayed home to watch television. Their replacements, television shows, were false contexts designed to be just compelling enough to keep people watching. What remained as real contexts for Americans to live in were "the grid of two hundred million" (the U.S. population at the time) and "the grid of intimacy" (the immediate family). Celebrities had a real life in both grids, and only they could now be complete. Deprived of real context, everyone else now wanted to be celebrities themselves.
Trow argued that as marketers segmented the viewers into demographically defined groups, and pitched advertisements and shows to particular niches, viewers for the first time learned to see themselves as part of an age-related demographic group rather than as part of a linear flow of people from the past into the future. In consequence, demography had replaced history as the default context for understanding the world. Things were now valued not on an absolute scale, but by discovering if one was in tune with one's group. Trow illustrates this point with a reference to Family Feud, where a contestant was asked to guess "what a poll of a hundred people had guessed would be the height of the average American woman. Guess what they guessed. Guess what they guessed the average is."
"No Context" ends with a narrative memoir of Trow's experiences working two summers as a guide at the 1964 New York World's Fair. His summary of the Fair: "At the Fair, one could see the world of television impersonating the world of history."
In an obituary for Trow, the novelist and screenwriter Michael Tolkin is quoted as saying that "No Context" is no longer fashionable because "It's not a polemic for change. It's just a cold description of where things are going. There aren't many books that are unafraid to be that negative."
In his essay "The Harvard Black Rock Forest," Trow criticizes another mainstream American institution, Harvard University (which he had attended). The Black Rock Forest, 50 miles north of New York City along the Hudson River, had been donated to Harvard as a nature preserve for scientific studies. Trow writes about the Harvard administration's indifference to the property except as a profit opportunity, and its eventual rescue and dedication to educational nature studies.
A memoir, My Pilgrim's Progress: Media Studies, 1950-1998, analyzes the cultural world of the United States in the 1950s, at the transitional time when television began to take over American culture. The book is written in a conversational style, sometimes transcribed from audiotapes. Trow "swirls" between pop and mainstream cultural icons, such as Doris Day, Alfred Hitchcock, Elvis Presley, and Dwight D. Eisenhower. The book cover has a photograph of President Eisenhower, whom Trow admired as "the guy of guys". Trow asserts that the models of masculine adulthood presented to his generation by the official mass culture were so out of date or irrelevant that being in/on/with television (and adopting an ironic attitude to one's self) was the only possible choice.
Some reviewers were put off by the book's haughtiness, elitism, or repeated statements of authority, e.g. "You'll have to trust me on that one."
According to a close friend, Trow was "extremely upset" by the critical reception of Progress. After that, he only published one known article, a critique of television news anchor Dan Rather.
In addition to his nonfiction, Trow also wrote casuals for The New Yorker, many of which were "subtle to the point of unintelligibility."
The Tennis Game (1979), ISBN 0-8222-1120-3, a play, produced Off-Broadway in 1978 starring Linda Hunt. Prairie Avenue, a play. Elizabeth Dead, a play produced in 1980 at Cubiculo Theater in New York City, starring Linda Hunt. It is a 75-minute soliloquy in blank verse spoken by Queen Elizabeth I just before her death. Bullies (Boston: Little, Brown, 1980), ISBN 0-316-85305-4, a collection of short stories originally published in The New Yorker. Within the Context of No Context (1981), ISBN 0-316-85306-2, a long essay (119 pages). The City in the Mist (Boston: Little, Brown & Co. 1984), ISBN 0-316-85307-0, a novel. The Harvard Black Rock Forest, (1984), republished (2004) by the University of Iowa Press, ISBN 0-87745-895-2, a long essay. Prison-Made Tuxedoes, a play incorporating performances by the Frank Morgan Quartet, produced in 1987 at the Theater at St. Clement's, New York City. My Pilgrim's Progress: Media Studies, 1950-1998 (1999), ISBN 0-375-40134-2, a memoir of the American 20th century. "Is Dan Mad? The Mind of an Anchorman" (c. 1998), an online article about news anchor Dan Rather. Screenplay credits include collaboration on the films Savages (1972) and The Proprietor (1996)
As Aiel Levy's New York Magazine article explains, Trow liked black guys.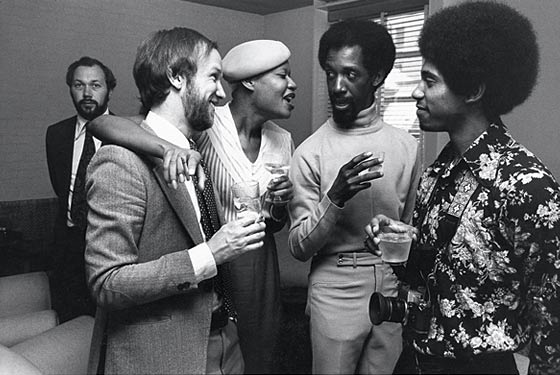 Trow and friends
Nothing wrong with that — or atypical for a memebr of his class and time. But this nostalgia de la boue was haunted by its opposite. Trow was haunted by a nostagia for an elite whose time had come and gone.
Some choice excerpts from Levy's essay explains the phenom:
"In the late afternoon in the late forties, young George William Swift Trow Jr. would stand in front of the window of his parents' living room in Cos Cob, Connecticut, watching and waiting. He did not watch television, of course, he watched the street, until he saw the form of his father, crowned by a fedora. They would wave at each other, and then his father, a city editor of the New York Post, would come in, put down his stack of newspapers, hug his wife, and put his fedora on his son's head. Everyone knew who was an adult and who was a child in this kingdom; everyone knew the rituals. Another: From the time Trow was 7 years old, his father made sure that he read (at least) the Herald Tribune and "knew how to follow the story over from page 1 to page 32, folding the newspaper while existing in a small confined space," as in the subway that Trow would one day take to his own job in New York City."
Remindful of Andy Warhol's "Hapiness is a Job in New York".
"And in fact Trow did wear a fedora for a while—to the great amusement of his colleagues—when he was a young writer at William Shawn's New Yorker. "This is the sixties, so to wear a fedora is some kind of a big statement," says Jonathan Schell, who, like Trow, graduated from Harvard in 1965 and was swiftly hired by Shawn."
Obviously Tom Wolfe ripped him off.
"There was much of Trow in that hat: his Shawn worship, his interest in considered and dapper self-presentation (something he shared with his friend Diana Vreeland), the fact that his father and his father's world and, most important, the loss of his father's world were never far from Trow's mind. "I know he was sort of engaged in a conversation with his dad in his thoughts, and that he was very, very influenced by his dad's view of the world—either to argue for it or against it," says Ian Frazier, Trow's New Yorker colleague and close friend for many years."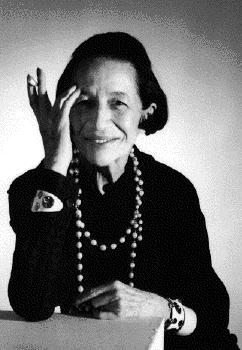 (Diana Vreeland)
Thus Trow's baroque nostalgia for a world he hardly knew from the standpoint of a new world he was very much part of but also deeply suspicious of.
"Irony has seeped into the felt of any fedora hat I have ever owned—not out of any wish of mine but out of necessity. A fedora hat worn by me without the necessary protective irony would eat through my head and kill me," Trow wrote in his famous essay "Within the Context of No Context," first published in its entirety in The New Yorker in 1980 and later republished as a book. "It turns out that while I am at home in many strange places, I am not free even to visit the territory I was expected to inhabit effortlessly. To wear a fedora, I must first torture it out of shape."
It was a book about how television had ruined everything. Trow was right. And now the internet has hammered the final nail into the cultural coffin.
"Trow spent the last years of his life living the radical rootlessness he'd prophesied in "Within the Context of No Context": "at home in many strange places." He sold the house he had designed and built in Germantown, New York, and cut off almost everyone he knew. He drove his pickup truck to Alaska, Texas, Newfoundland, and Nova Scotia, where some friends of his came to get him after neighbors complained that he'd taken to going outside without any clothes on. They found him very thin, living on Scotch and sardines, and checked him into McLean Hospital, the famous psychiatric institution outside Boston. After Trow got out, he moved to Naples, Italy, popping up once in a while as a voice on the answering machine of an old friend, never leaving a number. Twice, he was visited by DeCourcy McIntosh, his best friend from Exeter, and told him that he was never coming back.
Trow's body was discovered by the Italian police in his apartment in late November last year, days after his death."
Very Denham Fouts.
"George was from the very preppy end of Exeter, in terms of how he conducted himself, how he dressed, how he spoke, and how he saw himself, how he was trying to pass," says Jacob Brackman, who, after his own stint at The New Yorker, later became Trow's friend and neighbor in the Hudson Valley, where they ran a theater together for a while with Tim Mayer. Mayer, who was in the class below them, was very involved with the theater and became a playwright after Harvard; he wrote the book for the Broadway production of Gershwin's My One and Only, starring Twiggy and Tommy Tune. Mayer and Trow became close when they wrote the 1964 Hasty Pudding show together. But Trow's real home at Harvard was the Lampoon, the magazine he wrote for throughout his Harvard years, and edited as a senior.

(My One and Only "Kicking the Clouds Away")
"Though Trow fetishized the aristocracy and was fluent in their mores and markers, he was not actually quite one of them. He was half-Irish, and not from old or big money. "But he had paid a lot of attention to New York aristocracy, of which his parents were a poor relation," says Hendrik Hertzberg, who lived in Pennypacker Hall with Trow freshman year. "He was pickled in it."
"And then, a few classes behind Trow, was one of his best friends and fellow geniuses, Doug Kenney. Kenney (along with Henry Beard, class of '67) became enormously successful spinning off the Harvard Lampoon to create the magazine National Lampoon, to which Trow was a frequent contributor. Kenney ultimately moved to Hollywood, where he wrote Caddyshack and Animal House, which brought in more money than any comedy had before it and helped fuel both his cocaine habit and his friendship with John Belushi."
Yuck.
The recent, mercifully forgotten movie about the Lampoon Drunk Stoned Brilliant Dead doesn't mention Trow at all.
"Trow was not the only member of the triumvirate to die early or mysteriously. In 1980, at 33, Kenney was found dead at the bottom of Hanapepe cliff in Hawaii after a vacation with Walker and Chevy Chase. (Kenney left a note in his hotel room that read, "These are the happiest days I've ever ignored.") Mayer, who had first battled lung cancer at Harvard, died from it after years of hard drinking, smoking, and coke-snorting in 1988. After Mayer died, Trow essentially adopted his live-in girlfriend; they were roommates for about a year. Brackman describes her as a "lower-class hash slinger … It was strange enough that Tim was with her, but when George took up with her?"
That's what Gay Gentlemen do — something straights will never understand.
"But then Trow had always had a soft spot for the troubled and the criminal—the flip side of his attraction to the top of the heap was his interest in the bottom of the barrel. Though many of his closest friends never met a lover or boyfriend of Trow's, the one several recall was a man named Gerald who was in and out of Rikers Island. "He delighted in trying to shock me with stories about this outlaw boyfriend, this almost thug of a black guy," says Ken Kleinpeter, who met Trow upstate shortly after Mayer died, when Kleinpeter had just left a career as a musician in Manhattan to become a farmer."
"George didn't like guys who were like him; he liked rough trade," says Brackman. "He had a completely other life, which was his homosexual life, which was the Anvil and Rikers Island characters that he never brought around. When we were at Harvard, nobody was out of the closet. George, even twenty years out of Harvard, still wasn't talking about it."
IOW a very Proustian existence.
"Trow lived on Grand Street for many years, and later in Hell's Kitchen. As reclusive as he was in later years, in those days he was a blue-eyed social butterfly, dressing in a way that added to the powerful effect of his intellect. "George had really fabulous clothes that you couldn't even believe because they were just so perfect," says Frazier. "I remember he had a coat, some fabulous coat from somewhere, it was like a gray-and-black tweed herringbone, and I thought it was so cool that I went and got one. I called George from Brooks Brothers and said, 'I just bought a herringbone coat.' He said, 'Oh, great!' Then he paused. 'Is it big herringbone?' I said yes. George said, 'Definitely not.' "
"Trow delighted in the way Vreeland whitewashed the bottom of her shoes; he showed Frazier the silky insides of his jacket pockets. He was "aesthetic to the tips of his toes," as Jonathan Schell puts it (although, Trow later wrote, "I was always very careful in my relationship with Diana Vreeland to distance myself from these men," who were her walkers)."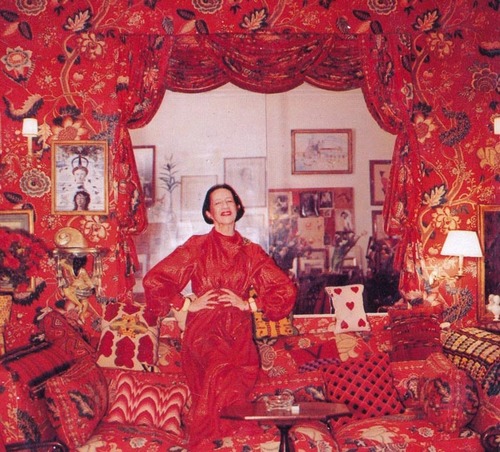 DV
Having known Mrs. Vreeland as I did when I worked at the Metropoitan Museum (she was a total delight without a snobbish bone in her body) I know what Trow was wary of. There's no way he could have countenanced being a "pet" like Andre Leon Tayy.
"Already, Trow was toying with the themes that animate his masterpiece, "Within the Context of No Context": the decline of the intellectual elite, the rise of a fame-based hierarchy, the end of adulthood. Reading that essay now is a little like driving through a really intense blizzard. Beautiful, scary, dizzying. Scary because you know that the conditions in which you are traveling may be terminal, but also because everything is so surreal you can't be entirely sure you aren't already dead."
In this sense the book was a kind of suicide note.
"There were always things about George Trow that were unusual. He had always been a bit manic and extravagant in his gestures; there was that famous laugh. "It was high and piercing, much too loud and alarming, and it became a way of punctuating his conversation," says Kathryn Walker. "It was high style, à la Vreeland." He had always been very sensitive, and not so much easy to antagonize as peculiar in what would infuriate him."
"It's possible, of course, to think that all Trow's elegant ranting amounted to cultural elitism. That of course he mourned the end of Wasp hegemony with its wisdom and history and moral clarity and—by the way—ethnic and economic exclusivity: He was its embodiment. Though not the son of a Vanderbilt or an Astor, he was still the great-great-grandson of a prominent New York City printer named John Fowler Trow (who invented a kind of early version of the phone book, the Trow City Directory). He still went to Exeter and Harvard, where he wrote his thesis about Edith Wharton and her treatment of social hierarchy. And he is now, as they say, a Dead White Male."
A dead white male longing for a live black one.
"But as much as a certain kind of contemporary academic likes to try, it's silly to dismiss Trow as a nostalgic snob. It misses the point. Trow's rather amazing accomplishment was to make a whine about decline thrilling instead of boring, shocking instead of predictable. And while the intensity and singularity of Trow's work had everything to do with his talent, it was also inseparable from another truth: that George Trow was slowly going crazy.}
Very Jane Bowles.
"Trow seems never to have quite made peace with his own sexuality. "I think that he had an old-fashioned discomfort with the subject and with the application to himself," says McIntosh. "In many ways, George longed to be absolutely normal." He had been taught certain rules, certain rituals with which to pursue happiness—the folding of the newspaper, success in the world of letters—and they were failing him."
IOW Gay Liberation had no effect on Trow.
"Many friends say that the departure of Shawn was the fundamental trauma of Trow's adulthood."
An adulthood that was also a form of childhood.
"He seemed to distance himself from people who loudly proclaimed their Jewishness," writes Shawn's son Allen in his memoir Wish I Could Be There. William Shawn "seemed to shrink from identifying himself in any open way with a group that had been despised," and it is little wonder. If a person imagines there is safety and sanctity in the world of traditional literary New York (or any traditional sphere), it simply wouldn't do to focus too finely on being Jewish or gay."
A vanquished order.
"Trow saw (Tina) Brown seeking to steal the tacky glow of fame (buzz!) from celebrities, and, according to DeCourcy McIntosh, Trow believed Brown was also attempting to use him as a liaison to the gilded world of old New York. Trow wrote Brown a furious letter of resignation, likening her to someone selling her soul "to get close to the Hapsburgs—1913."
"He disappeared!" says Evie Chanler. "He didn't want us to know where he was."
"He was obviously looking for something that he hadn't found," says her husband. "Then he finally ended up in Naples! Naples was always considered a rather louche city—he may have been somewhat drawn to that side of it, I'm sure I don't know. I mean, we all knew that when Shawn left The New Yorker he kind of collapsed. Poor George."
According to the American Embassy in Naples, on Trow's death certificate the cause of death is "acute vascular episode." All other information about the case is being kept confidential at the request of Trow's next of kin, his 88-year-old mother, Anne, who still lives in Connecticut."
RIP
And now to close the Merchant-Ivory masterpiece Trow scripted with Michael O' Donohue.

(Savages)
*
p.s. Hey. I'm very happy to bring the blog back to life via this excellent post on the fascinating writer George W. S. Trow by the honorable writer, critic, and d.l. David Ehrenstein. I've been a fan of Trow's writing for a long time, but David's post introduced a lot of work and back story I hadn't known. I hope that whether you're a Trow-familiar or not you'll scour the Day and talk to Mr. E. re: your thoughts, opinions, and so on. Thank you! And thank you, David!  Other than that, it's good to be back and it's lovely to see you all. I'm medium-bad jet lagged this morning, so please forgive any signs of my haziness as I catch us up. ** Todd Grimson, Thanks a bunch retrospectively, Todd! ** Dóra Grőber, Hi, Dóra! How have you been? When do you move, or have you? No, not yet right? My haze is showing already. Way too much happened in the past 10 days to fill you in about them completely, of course, but everything went really well, I think. We shot a ton of footage, from which I feel pretty confident that we can cull a really good 4 minutes, but we'll soon see. The completed video is due November 1st, so we have a little time to figure it out. And you? How are you and what has been happening in your life and your art and everywhere else? ** H, Hi, h. Thanks! I am a bit of a fake food fantatic, although not really miniature fake food, more the lifesize, spookily convincing kind. I hope you've had a wonderful spate of days. ** David Ehrenstein, Hi, David. Thank you again so much for the fine, fine post! Oh, marvelous about the published excerpt! Everyone, While I was away, a chapter of David Ehrenstein's seminal memoir-in-progress 'Raised By Hand Puppets' was published, and this is a rare treat, folks. If you haven't already taken advantage, I hope you will now. The excerpt is called 'Museum Hours', and it's right here. I suppose you're right about my Radiguets. Holy whoa, I don't know if I'm glad to have seen Antoine Monnier all grown up or not. Wow, where did you find that photo? You just never know what biology is going to do to you, do you? ** Tosh Berman, Hi, Tosh. Me too, very much, about Kappabashi. It's such an embarrassment of riches that I've never been able to narrow down which fake food item to buy. I always want them all. ** _Black_Acrylic, Hi, Ben. I'm hoping your cold is better by now, and I'm assuming that I will know for sure as I make my way through time. And now I see your cold has lifted, as wished! I did see the Ian Curtis rollercoaster thing. Really funny. Thank you! And now you'e back in Dundee! Your comments collected into an epic minimalist narrative with a happy ending no less. I'll go watch your film! Everyone, Here's _B_A. Follow his lead if you know what's good for you. _B_A: 'I'm listening to the Twin Peaks soundtrack LP on Damn Fine Coffee coloured vinyl, and very nice it sounds too. This is a short film I made of my brother unpacking the record last week.' ** Kathleen, Solia, Spam, spam. ** Ferdinand, Hi, man. How far are you in that story now? I hope you've found the labyrinthine possibitlies in the confessional first person. I'll check Scratch Massive as soon as I've had a nap. And HTRK too. You shared a story? Is it the same one? I won't subject it to my semi-dead brain of the moment, but I'll read it greedily once I've re-awoken my faculties. Thanks! Everyone, Again while I was away, writer and d.l. Ferdinand offered all of us a golden opportunity. Please accept it, if you haven't. Here he is to explain: 'After commenting on the first Film post here (Queer cinema) I was inspired to write a short story. I thought of it as an exercise in writing more than say as a story with some kind of moral. It's my third short story and I thought of sharing it here. If anyone sees any missing coma's or feels like saying yeah ok I read it whatever, feel free to write a comment where it appears here on my blog. It's called Family vacation and I hope it's not boring, the style its written in. The word count is exactly 1001, so its a very short read. Interesting reading. I'm not so sure Mr. White is a must-read, but there are probably more whose disagree with me about that than not. The others all sound like writing and brain food/ nourishment to me. I did see 'Swoon' back in the day. I'd like to rewatch it. ** Gary gray, Howdy, Gary. That Big Bird thing, ha. That's a trip indeed. You still on it? I've been good, just blah jet lagged at the moment, but good. And you? ** Griffyn, Hi, Griffyn! It's really nice to see you! Sorry it's taken me so long to say so. That really sucks about your lingering illness. Have the days in between your comment and today brought you health and relief, I hope? I've written to Sheree Rose about what's going on with 'Book of Medicine'. I haven't checked my mail thoroughly, so hopefully she has written back, and I'll let you know. It would be so great if you guys can make it over here for 'Kindertotenlieder'! I can get you guys in, obviously, so just let me know. And it would be really great to get to talk more and in-person and to see Chris too! Thank you a lot for filling me in about your work. Is it possible to get/read your pieces in the lit journals by any means? And I definitely hope you'll do the chapbook, and I offer my enthusiastic encouragement on that. The work sounds fascinating, as does the possible related show. Oh, I just saw your offer. Yes, I would love to have a look, yes, definitely. If you need my email it's denniscooper72@outlook.com. Thank you! I'm very excited to read your work. You must be just on the cusp of starting your PhD. Best of luck with the beginning, and fingers crossed that it goes as interestingly as it sounds like it would. xx ** Steevee, Hi, Steve! Anything's possible, right? There was some reason why 'Fat Girl' got left out. I think a lack of clips, although that would be strange. Anyway, it only wasn't there because there was some weird reason why I couldn't include it. Oh, I remember having this conversation with you before where you said you think 'Anatomy of Hell' is her worst and I said it's one of my favorite films of hers. Well, now I'm back, so do I get to hear about your new screenplay, please? I look forward to reading your NYFF overview. Everyone, do go read Steevee's overwview of the New York Film Festival. Here. ** Damien Ark, Hi, D. You were feeling that one? Good stuff re: Taylor Mead, man. Thanks.** Bill, Morning, Bill. Thank you re: the escorts. My pleasure, as ever. Oh, gosh, what is 'Being Human'? I embarrassingly don't know. ** Bear, Hey there, Bear! Happy to see you! I've been in Japan twice for a few weeks each time. I'm totally besmitten with Japan. Zac and I are going to celebrate the completiuon of the shooting of our new film early next year by using that as an excuse to visit there again. I was only in Hiroshima for one day, so I just saw the stuff that tourists go there to see. I didn't get a chance to get a handle on the city at all. How are you? What's new? ** Daniel, Hi, Daniel! It's a pleasure. Yeah, that escort profile definitely hit me where I live too. Thank you! ** Quyen, Hi, spam. ** Adele, Hi, spam. ** Armando, Hi, A! Bela Tarr does seem like he would be gloomy. Oh, actually Zac and I don't want to work with actors, but someone asked for an ideal actor to work with, and Duvall sprang to mind. I think she is retired, so that's perfect for us. Maybe she's retired enough to qualify as a non-actor. Really? I still read and get a lot out of Artforum. I'm really sorry you were feeling like crap when you commented. I guess I just find it a more interesting idea that Dahmer didn't do it. That gives the idea more freedom or something. ** Bill (again), No, no, thank you! It was an honor to breathe life back into it. Oh, shit, I'll go fix those links when I finish up here and maybe after I try to get a couple of hours of needed shut eye. Thanks! ** Riley, Tanya, Margarito, Spam, spam, spam. ** The View Beyond Parallax… more reads for the week of Friday, September 23 – Parallax View, Hm, I can't tell if you're spam or not. I think so, right? ** Grant Maierhofer, Hi, Grant! Thanks, buddy! ** Misanthrope, Hey, George! I have heard tell that they're scary, yes. That makes a lot of sense. Big dog is squared away in the house du dogs! ** Zack, Spam. ** Martin Rass, Hi, welcome! Oh, I didn't see your messages. My old email address is dead now. I'll look at Facebook. My new email, if you want to resend the email, is denniscooper72@outlook.com. Thank you a lot about the invitation. I'm very interested to learn about that. ** Scott McClanahan, Hi, Scott! Thank you so much! Always a true pleasure and an honor to have you here, maestro! ** Misanthropik, Hi. welcome to here, and thank you a lot for that info! ** Raymond, Hey! Aw, thanks a lot! Wow, I didn't know about those three. Is that really true about Kubrick and 'Heathers'? Holy shit! ** Nicolas Valle, Greetings, Nicolas! It's very good to meet you. I didn't know of those two projects. Bertolucci doing 'Red Harvest'? In the '80s, I'm guessing. Thank you! ** Paul, Hi! That's completely news to me. Fascinating! Crazy. Thank you very much! ** Eric, Hi, welcome, Eric. Now that's an extremely curious project. Huh, I wonder what shape that would have taken? Do you know more about it? Thanks ever so much. ** John Maguire, Hi, John. Thank you for coming in here. What a great find that lost film project is. That's nuts. I'm going to go see if google turns up anything more about it. I really appreciate the share. Take care. ** Nick Toti, Hi Nick! Good to see you, man! Ha, that's wild. Does the Terry Southern screenplay exst in a readable form, do you know? I would love to read that. Thanks a whole lot! ** Esoth, Yes, indeed. I should do an entire post just about those multiple failed attempts. Much appreciated! ** Ronn, Hi. Ha, I actually saw that 'would of', and I actually debated whether to line-edit whoever's text that was or not, and, for forgotten reasons, I let it lie. Thanks. ** Jamie McMorrow, Jamie! Hi, pal! Yeah, I just got back from making a music video with Zac. Uh, I'm not sure if I have clearance to name the band yet. I'll check. I'm happy to be Paris. It's very nice and fall-like finally. Grey and borderline-drizzly. Moving to southern France does not seem like a bad idea whatsoever. Is that feasible? I'm having trouble sleeping too. Dreaded jet lag. Oh, well. Really good to see you! I look forward to catching up and much more! Bunch of love back to you! ** Oh my God, we're back in the present again. Please return north and see what Mr. E. has cooked up for you. Thank you. And I will see you tomorrow.