* (restored)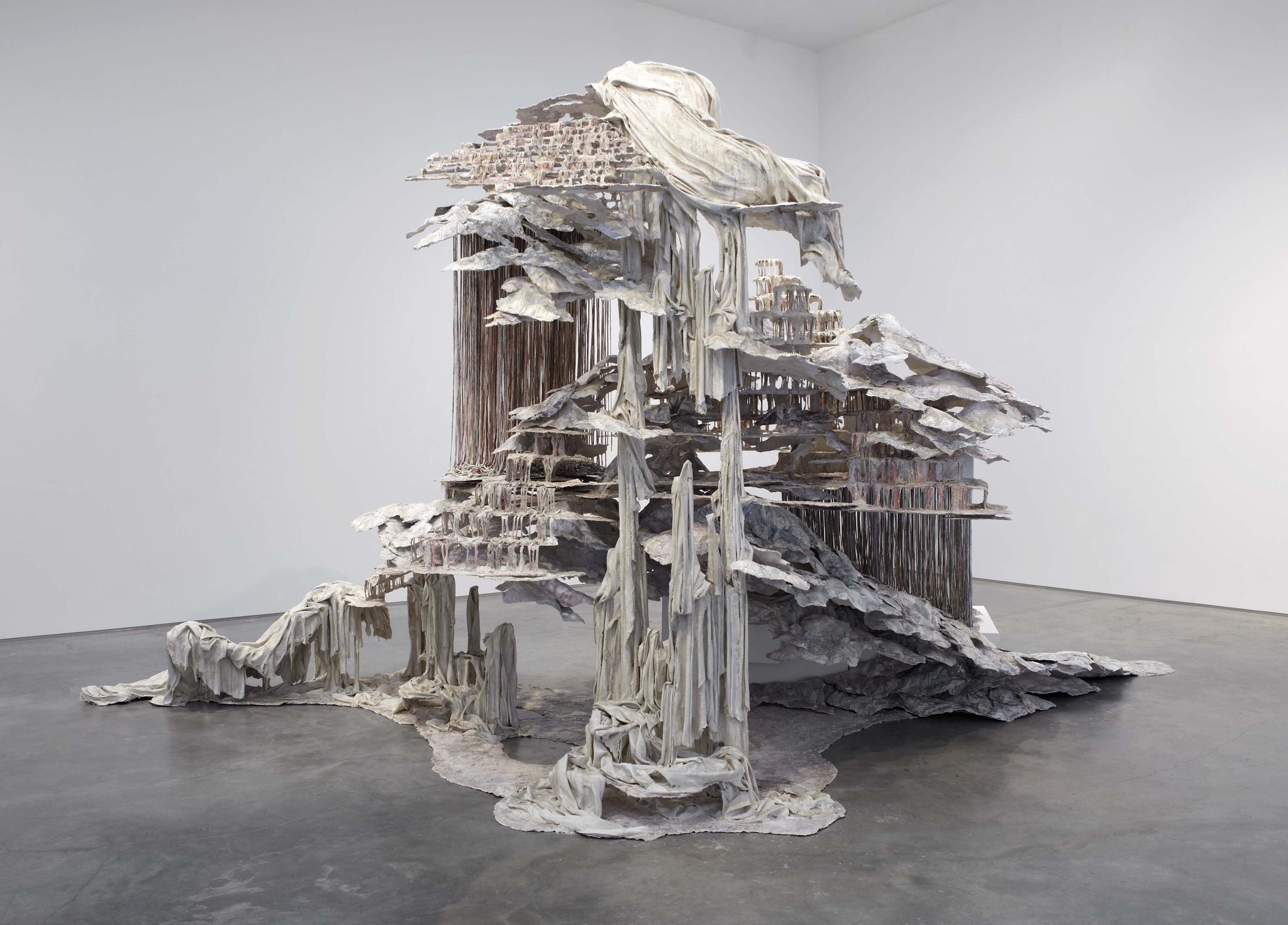 Lee Bul (b. 1964, Korea) grew up in Seoul and received a BFA in sculpture from Hongik University. Considered one of the leading Korean artists of her generation, she has achieved international recognition for her formally inventive, intellectually provocative oeuvre. Demonstrating virtuosity across diverse media—from drawing and performance to sculpture, painting, installation and video—her multifaceted production is representative of the most innovative aesthetic currents shaping contemporary art in the global sphere.
Lee Bul's work has been featured in solo presentations at museums throughout the world, including the Museum of Modern Art, New York (1997); Kunsthalle Bern, Switzerland (1999); Fabric Workshop and Museum, Philadelphia (2001); MAC, Musée d'Art Contemporain, Marseille (2002); the New Museum of Contemporary Art, New York (2002); Le Consortium, Dijon (2002); Japan Foundation, Tokyo (2003); The Power Plant, Toronto (2003); Museum of Contemporary Art, Sydney (2004); Domus Artium, Salamanca (2007); Fondation Cartier pour l'art contemporain, Paris (2007–08); Mori Art Museum, Tokyo (2012); MUDAM – Musée d'Art Moderne Grand-Duc Jean, Luxembourg (2013-14); and most recently at the Ikon Gallery, Birmingham (2014). Forthcoming exhibitions will take place at the Espai d'art contemporani de Castelló, Spain (2015) and Musée d'art moderne de Saint-Etienne, France (2015). She has also participated in major group exhibitions around the world, and in 1999, she was awarded an Honorable Mention at the 48th Venice Biennale for her contribution to both the Korean Pavilion and the international exhibition curated by Harald Szeemann. The artist currently lives and works in Seoul, Korea.
From here: http://www.lehmannmaupin.com/artists/lee-bul
——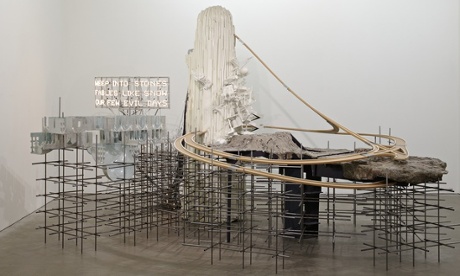 Nothing's perfect, but that doesn't stop us chasing the dream – a Catch-22 that has long fascinated Korean artist Lee Bul. In the 1990s, her cyborg sculptures took an obsession with prosthetics and plastic surgery to a gleaming conclusion: ideal robot women. More recently, she's turned to the futuristic architectural fantasies of the early 20th century. Elaborate sculptures and installations are crafted from twisted metal, decked in crystal beads and chains, set in mirrored boxes or hung from the ceiling like castles in the air. Hectic and gorgeous, they suggest another kind of post-human world, where shimmering modernist buildings lie in seductive ruin.
Bul was born in 1964 in a remote South Korean village where her dissident parents were in hiding from the oppressive government. Something of a renegade in the Korean artworld, she made her mark in the late 1980s through outlandish street performances. Her first sculptures were designed to be worn: covered in freakish protrusions and decked in sequins, they suggested a metamorphosis that was both grotesque and sensual. In the late 1990s her sci-fi inspired, mutant cyber-women, with missing heads and limbs like the female torsos of Renaissance sculpture, established Bul's international reputation. As with the cyberpunk novels of William Gibson, her work pointed to a terrifying future where technology is less freeing than debilitating.
The past five years have seen Bul make a break with this aesthetic, though beauty gone mad remains an abiding theme. Her 2007 series, Sternbau , was inspired by visionary architect Bruno Taut's proposals for a crystalline city in the Alps, which date from 1917; darkly sparkling, chandelier-like hanging sculptures sprawl outwards, laden with out-of-control décor. An installation from the same year, Heaven and Earth, explores her own country's embattled modernisation: in a scruffy, white-tiled bathroom resembling a torture chamber, a bath is filled to the brim with foul-smelling black goop. Reflected in this well of horrors is an ice-white sculpture of Baekdu mountain, the mythical birthplace of the Korean nation. Luxurious and sinister, Bul's art mines a terrible beauty that seems to stretch endlessly into past and future, grimly dehumanising and forever compelling.
Taken from/continued here: http://www.theguardian.com/artanddesign/2010/jul/21/artist-week-lee-bul
——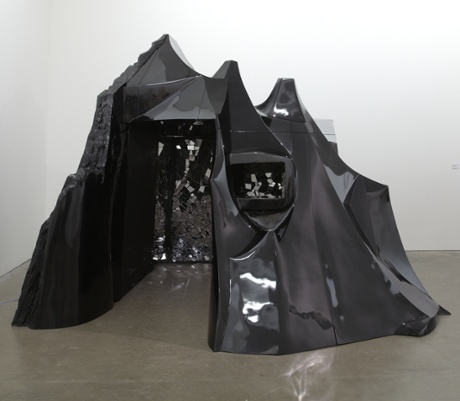 Like a lighthouse perched on seaweed-covered rocks, a temple stands on a landscape of black hair, atop a structure that is taller than I am. The whorls and skeins of hair form a canopy over the wall of an ancient building that is pierced by empty windows. Beyond the wall is another landscape of undulating hills, with a writhing highway whose multiple exits go nowhere. With me so far? It is confusing. The entire structure stands on a concrete pillar set on to a rock at its base. The rock is impregnated with large crystals that seem to have grown there.
Is Lee Bul's Excavation, 2007 a model of a place, or an image of a body – the spirit up there in the temple, the comings and goings of the highway like speech or thoughts, the lower functions rooting us to the earth?
There is an awful lot of fabrication and jiggery-pokery in Lee Bul's constructed worlds. But there are no people, even though a few figurines, like the ones that populate model railway sets, would add a sense of human scale.
In another model that looks like a towering mountain of petrified goo, a pylon flashes an illuminated sign that reads Weep Into Stones … Fables Like Snow … Our Few Evil Days. The phrases come from Hydriotaphia, a meditation on mortality by the 17th-century English writer Thomas Browne, which inspired WG Sebald's tour of East Anglia in his novel The Rings of Saturn.
Here, Browne's words illuminate a psychological terrain that has its roots in South Korea, where Lee lives and works. Elsewhere in her Mon grand récit: Weep into stones … is a scale model of the studio she occupied in Seoul in the late 1980s. It was on the top floor of an abandoned tower block, the typical remorselessly utilitarian architecture of a country under a military dictatorship. Her idiosyncratic art resists the conformity of the culture she grew up in, and constantly returns to the idea of a failed utopia, dreams of a better future and the ruins of the past.
It also revels in its own excess. Or rather, she points out both the plenitude and complexity of the world – and our inability to control it all. So it is with her work. Sometimes dark and doomy, frequently decorative and definitely strange, Lee fills two floors of the Ikon in Birmingham with sculptures and maquettes, installations and drawings. One work is a maze of screens and mirrors, culminating in a chamber of infinite reflections and bright lights, your own shadow disappearing in a vortex. This is fun, but infinity mirrors are such a cliche.
The exterior walls of this maze have been papered with pages, in English and Korean, from American psychologist Julian Jaynes's The Origin of Consciousness in the Breakdown of the Bicameral Mind. You can only read fragments – the pages are disordered, pasted upside-down and semi-obscured by deliberate stains.
Lee's references add heft to what she does, and help her work come alive, but they don't always make it better. I get lost among all the ramifications in her more complicated works. Look – there is a tiny jade-green model of Tatlin's Tower, no bigger than a peanut! And here are dozens of drawings. The best are those with pendulous bulges and pouches, their phallic and breast-like and shoe-like forms. They remind me of the early drawings of Eva Hesse, and their almost human forms provide relief.
Elsewhere Lee has installed "cyborg" creatures and sculptures of vomiting dogs. These had yet to be unleashed on my visit, which is a pity. I do like a vomiting dog. Twinkling lights, more infinity mirrors, and a tunnel that's mirrored on the inside and like a ramshackle shanty on the outside, through which you can stoop and crawl, give her show a kind of fairground liveliness. There is so much going on everywhere that the whole exhibition becomes an obstacle course. There is no let-up, and after an hour or two, you wonder if there is any way out.
Taken from/continued here: http://www.theguardian.com/artanddesign/2014/sep/11/lee-bul-review-techno-terror-sculpture-south-korea-ikon
——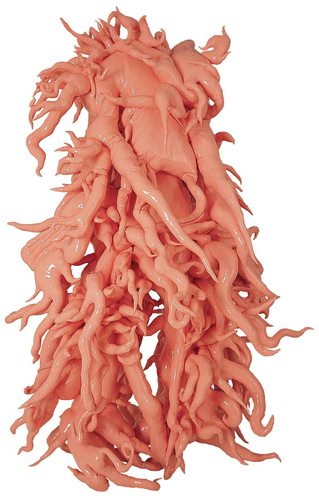 Monster: Pink
1998 / 2011
The monstrous and phantasmic bodysuits she wore during those performances eventually developed into sculptural artworks such as Monster: Pink in their own right. Through various sculpture series including "Cyborg," "Anagram," and "Live Forever," Lee investigated the limits of human desire, ideals and potential.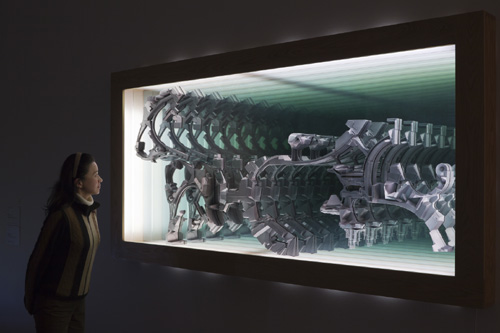 Untitled (infinity wall)
2008
In the "Untitled (infinity)" series, which is fixed to walls or the floor of the gallery, Lee uses mirrors to create illusions in which oddly shaped objects resembling fragments of architectural models appear to continue endlessly into the distance. Thus the desire for immortality, which was apparent in "Live Forever," is here transferred to the spatial concept of infinity.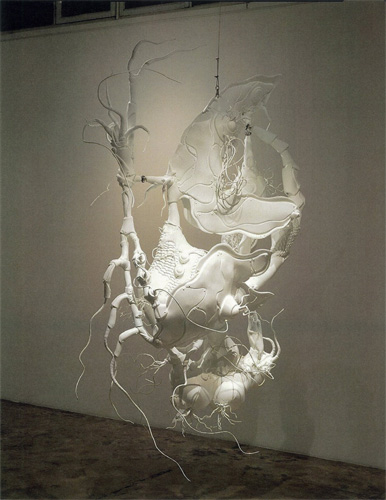 Chrysalis
2000
The works in the "Anagram" series, which takes its name from the English term for changing the order of letters in a word to make a new word, consist of various parts that are joined together interchangeably with the result that their appearance reminds us of plants or insects. Many references to literature can also be found in the works. For example, the work Chrysalis refers to a stage in a moth or butterfly's development, but one may recall at the post-apocalyptic world found in John Wyndham's science fiction novel The Chrysalids (1955), in which society attempts to eradicate animals and plants made mutant by exposure to radioactivity and humans who do not conform to strict norms.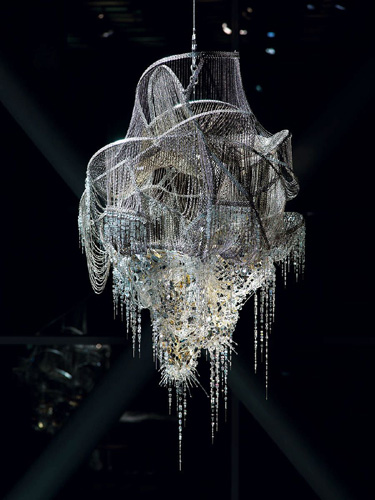 Sternbau No. 4
2007
In 1919, the German architect and urban planner Bruno Taut, who is best known for works such as his Glass Pavilion (1914), became inspired by the fantasy novelist Paul Scheerbart's essays on Glasarchitektur (Glass Architecture)(1914) and thus developed what he called Alpine Architecture(1919), in which buildings are giant artworks arranged in mountains as a kind of ornamentation. His ideas of Sternbau, which glitters like a star or a glass building reflecting the sunlight, resonate with Lee Bul's ideas of an ideal society, a fantasy landscape. It also reflects the notion of the incompleteness of utopian architecture theories. Several of Lee's "Mon grand récit" works thus suggest the influence of such.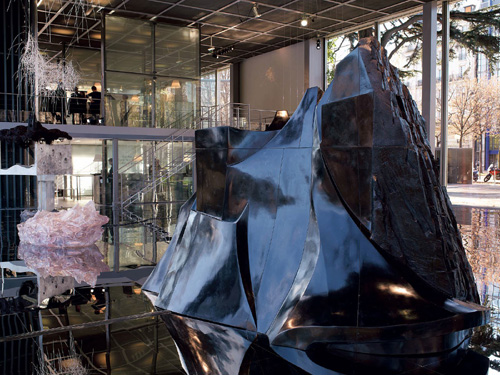 Bunker (M. Bakhtin)
2007
Bunker (M. Bakhtin), which looks like a black rocky mountain, has a cave-like interior that can be entered through a large fissure. The invisible key to this work is the ghost of Yi Gu, the man who was born as the heir to the Korean Imperial family and died in 2005. Lee Bul is fascinated by the dramatic life Yi led in the shadows of the modern development that occurred under Park Chung-hee's military dictatorship. Inside the cave, Lee juxtaposes the sounds of the visitors' footsteps with vibrations from locations that had significance in Yi's life. In this way, she creates an amalgam of history and Yi's memory with contemporary times.
Taken from/continued here: http://www.mori.art.museum/english/contents/leebul/introduction/
——
——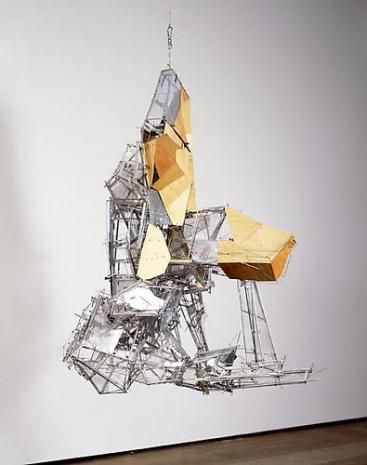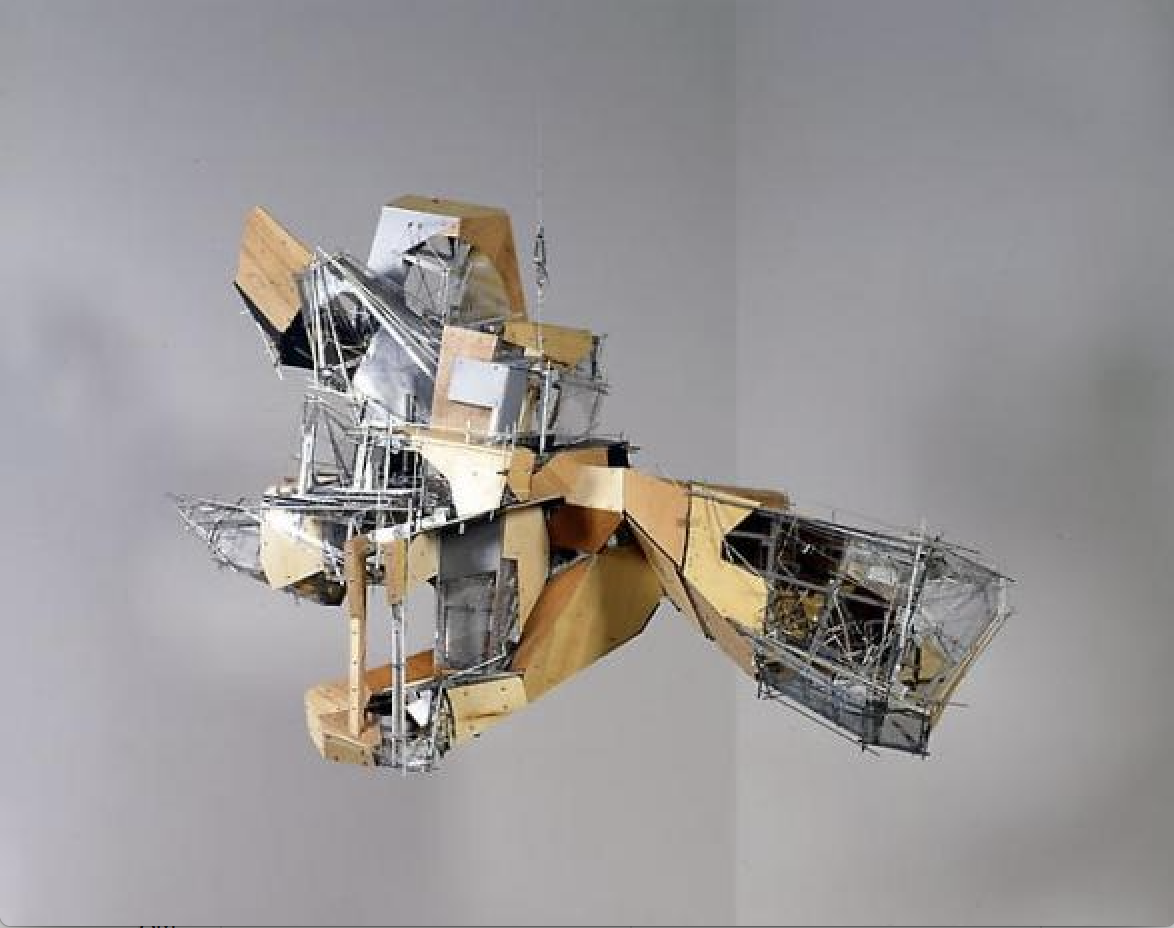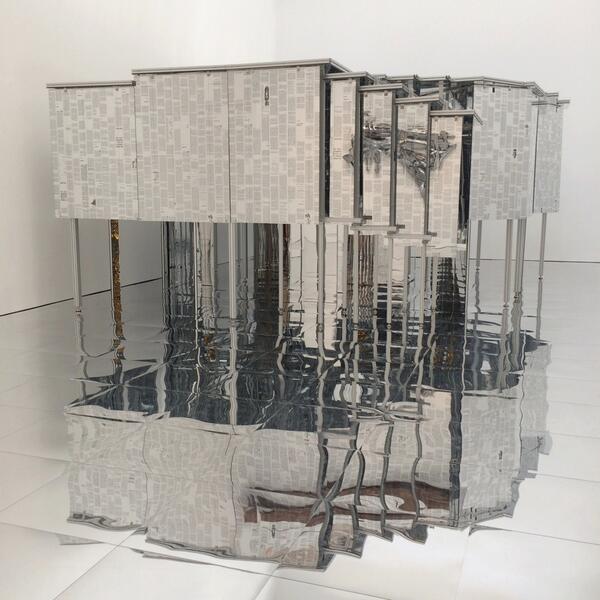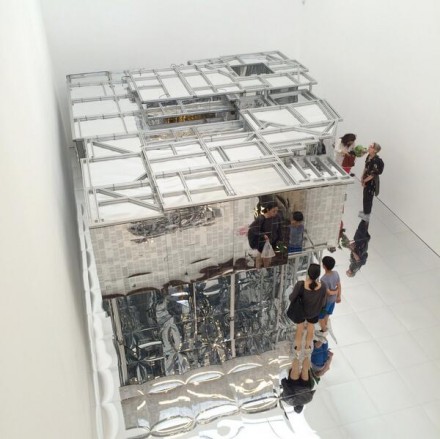 ——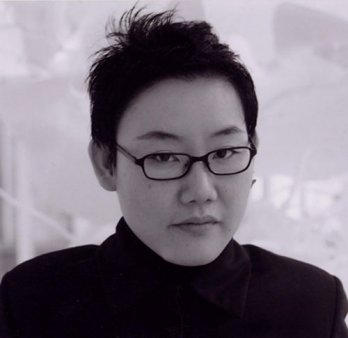 Lee Bul's Official website: http://www.leebul.com/
*
p.s. Hey. Today I'm reviving the honorable Thomas 'Moronic' Moore's visit to the work of artist Lee Bul for you from the dead blog's archives. Dig in, please. Also, I'm off to London for the weekend for the screening of PERMANENT GREEN LIGHT and a group reading/performance event focused around Artaud. That means you'll get a post tomorrow but no p.s., and I'll be back to confer with commenters again on Monday. ** Steve Erickson, Cool, hope you get to interview him. I'll catch up with your latest pieces when I get back. Everyone, Mr. Erickson has two ways for you to go today. First, here's his review of the film ASSASSINATION NATION, and, second, here's his interview with RaMell Ross. ** Jamie, Day of days, Jamie! Yeah, I would say Schutt's books are generally very good and very worth reading. I'm good, just getting ready for the Eurostar experience and then whatever London has in store. I'll look for Kate at the Artaud thing. No doubt, none at all, that your webseries will be exciting. Is that work still going well? Oh, okay, an orchestra playing Daft Punk? Hm. I imagine the orchestra members thinking or saying, 'Jesus, the shit I have to do to get people under 60 in the theater these days.' Thanks about London. Yeah, fingers crossed that the assembled like 'PGL' and that my quite non-Artaud-like stuff gives the Artaud-revering crowd some feels. I hope your weekend updates the encyclopaedia. Butter post-scone love, Dennis. ** H, Hi. No, there was no unfinished comment, that I saw anyway. I did not know that about 'Un Lac', no. Huh, very interesting. I don't think I know Vesaas's work at all. I'll rectify that. Have a lovely weekend. ** Right. Off I go to Gare du Nord, and off/back you go into Lee Bul's work maybe? In any case, the blog will see you tomorrow, and I'll see you on Monday.