* (restored)
—-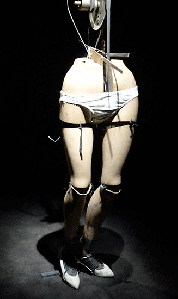 'The French artist Gilbert Peyre (born 1947) is impossible to classify: artist, inventor, D.I.Y. genius, mechanic or in the words of Ben Vautier a 'Realist Tinquely'. But Gilbert Peyre really has nothing in common with any artistic movement at all. Since the beginning of the 1980's he has enjoyed himself by endowing sculptures / objects with the ability to move which he shows in the window of his Montmartre studio before exhibiting them, for example, in the provinces, Paris (Centre Georges Pompidou, Halle Saint Pierre) and Berlin.
'In his own sculptur Opéras as well as in his plastic art installations Gilbert Peyre makes alive his wishing, tender, fragile, affecting machines and denounces with a humour tinted with surrealism the ridiculous agitation of our society which does not stop taking itself seriously. Successively Plastic Artist, Stage Director, Visionary, this unclassable artist is mixing with grace the technology, the drama, poetry, the absurdity, and with nothing, says all to us.
'Peyre is perhaps best known outside of France due to the prominent appearance of his mechanical devices in the films Delicatessan, City of Lost Children, Alien: Resurrection, Amelie, and Micmacs by the director Jean-Pierre Jeunet. French art critic Gilbert Lascault says: "The cosmos of Gilbert Peyre is at the same time a museum of Arts and Métiers, an engine room, a funfair, a music hall, an opera, a spectacle of conjurer or magician, a phantasmagoria, a ceremony, a liturgy, a cavalcade, a procession, a zoo, a circus, an orgy, a mechanical comedy, a comical apocalypse".' — Le Petit Festival du Theatre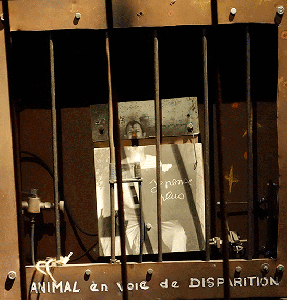 ______
Interview
________
L'exposition Jean-Pierre Jeunet/Marc Caro/Gilbert Peyre
à la Halle Saint Pierre (2019)
____
Further
Gilbert Peyre Site
Gilbert Peyre @ Facebook
Gilbert Peyre @ youtube
Book: Gilbert Peyre, Fun de chantier'
____________
Gilbert Peyre's studio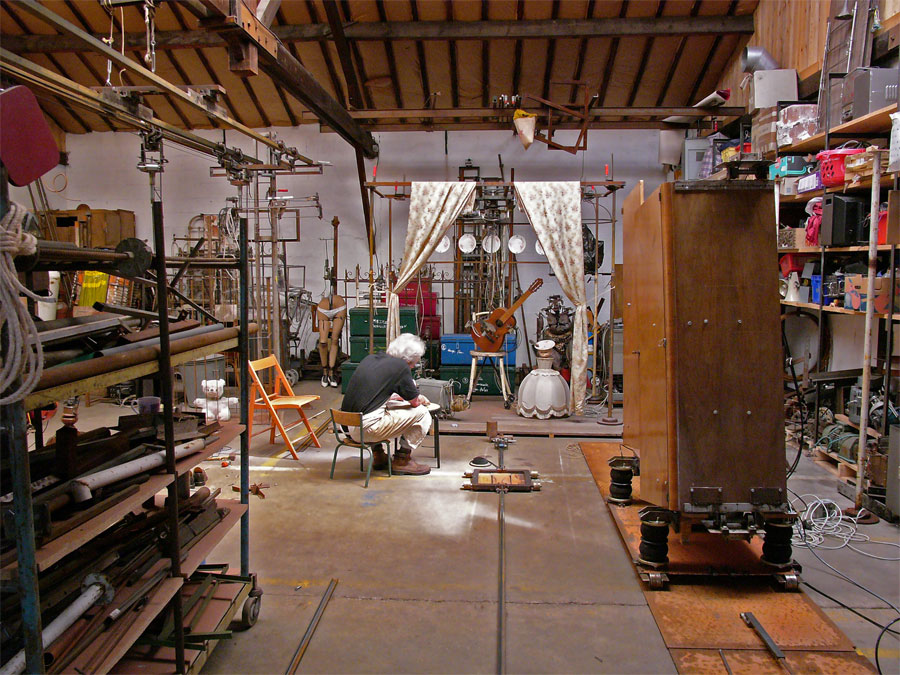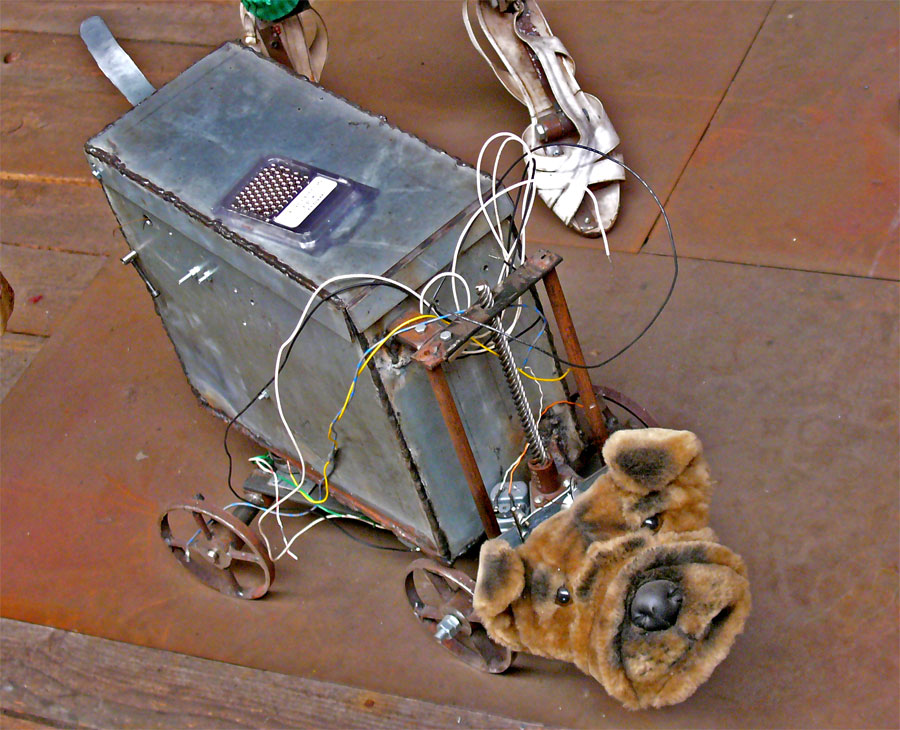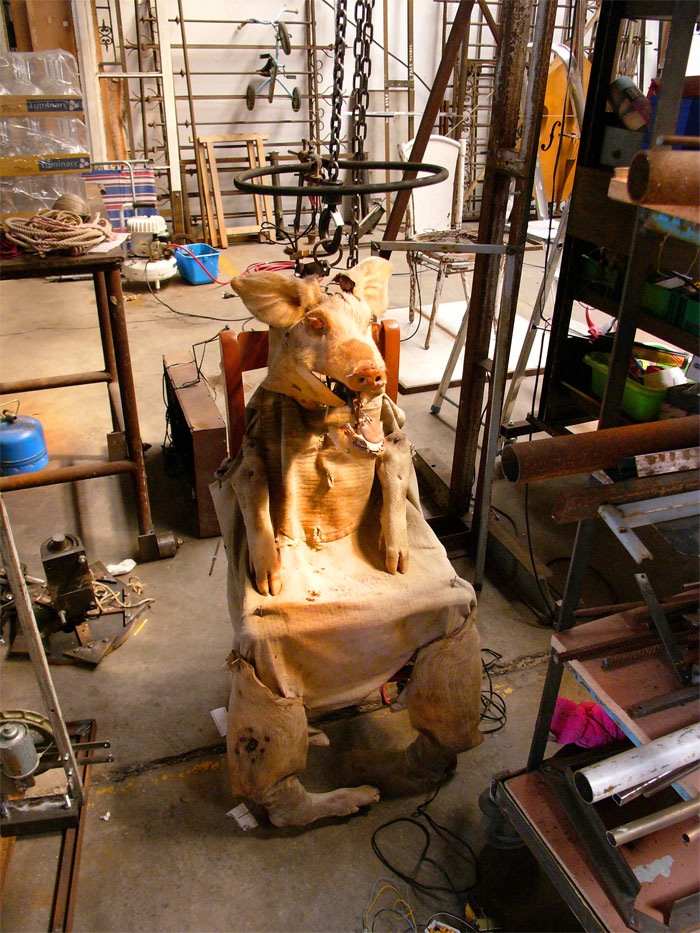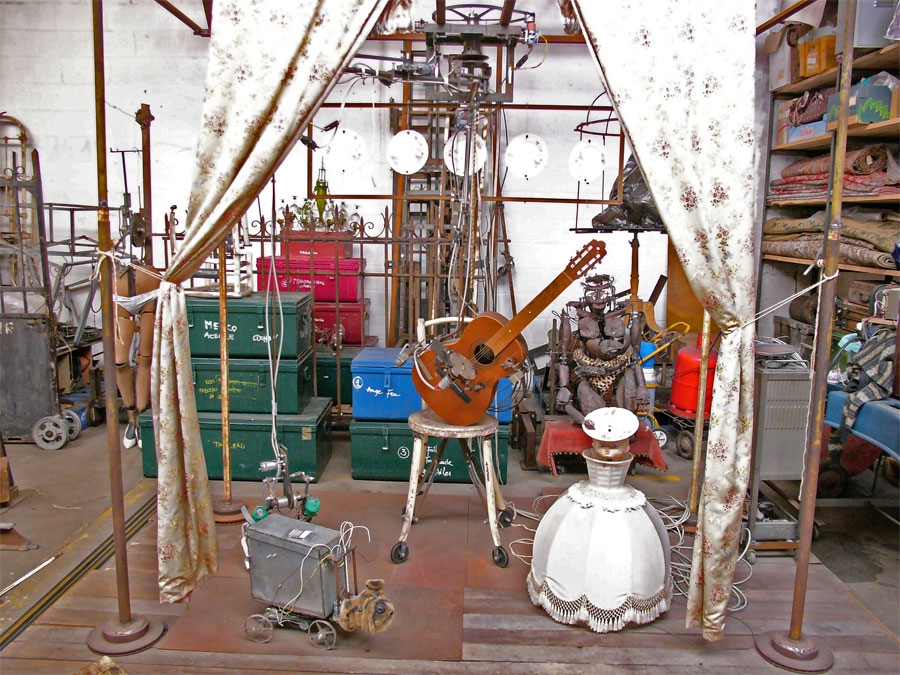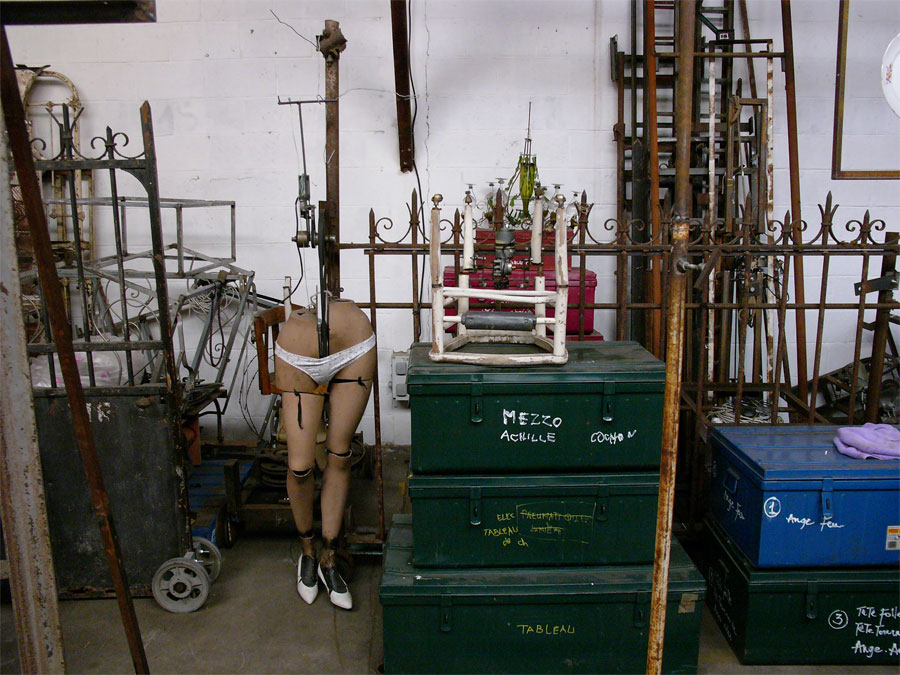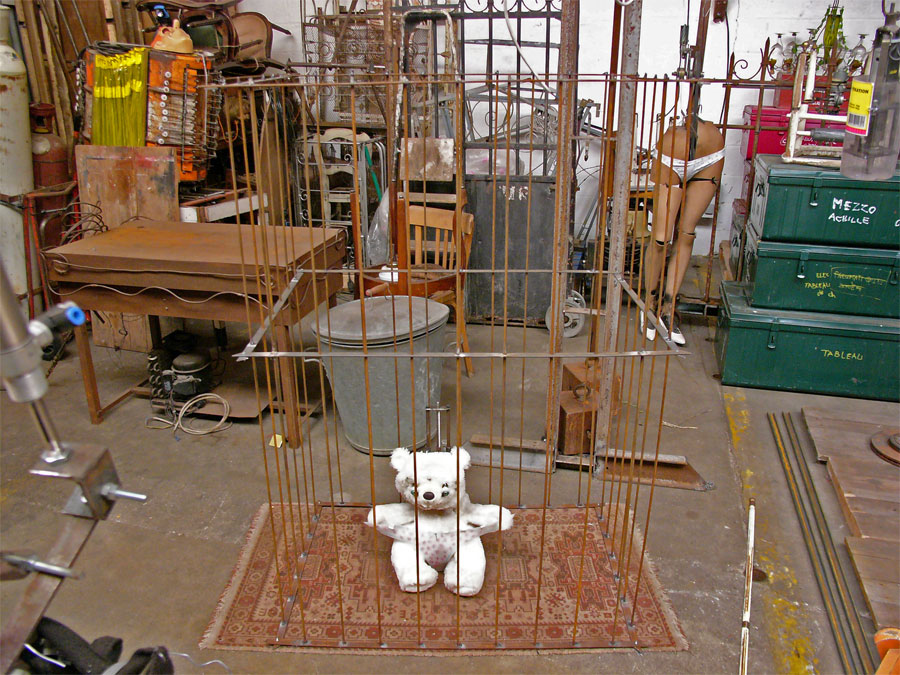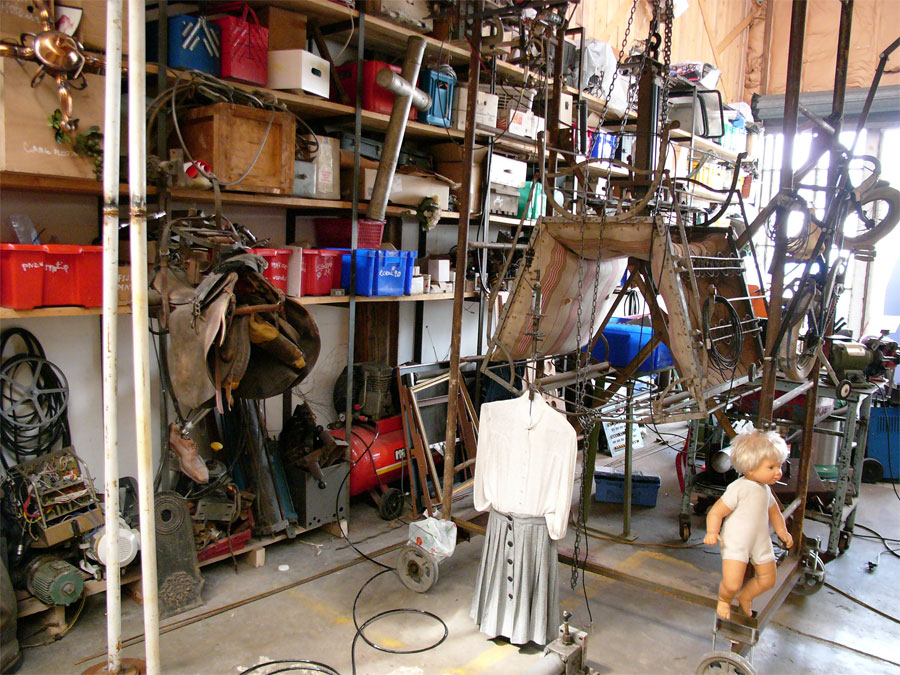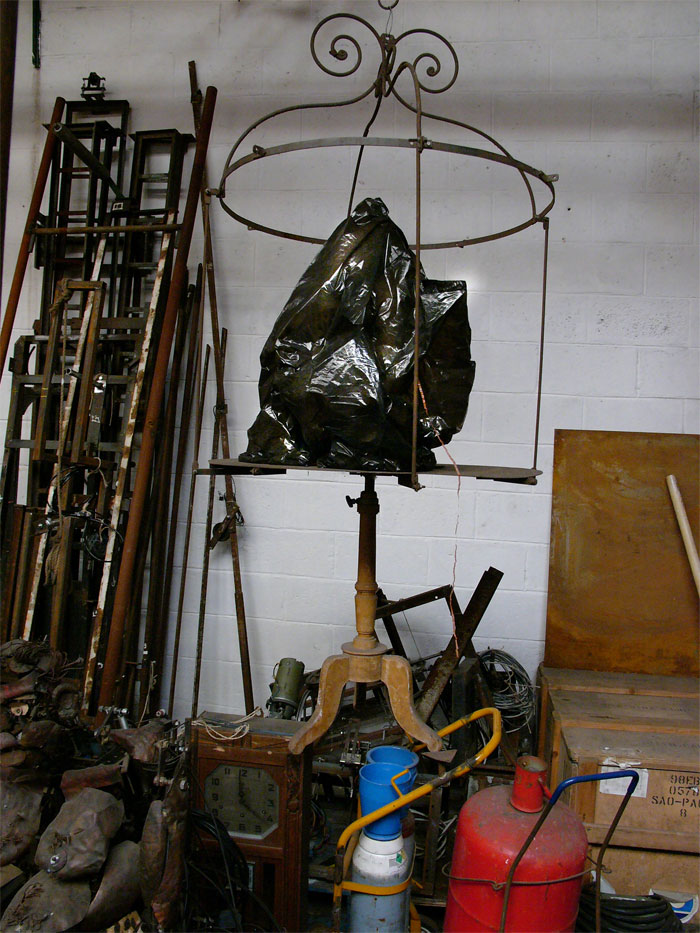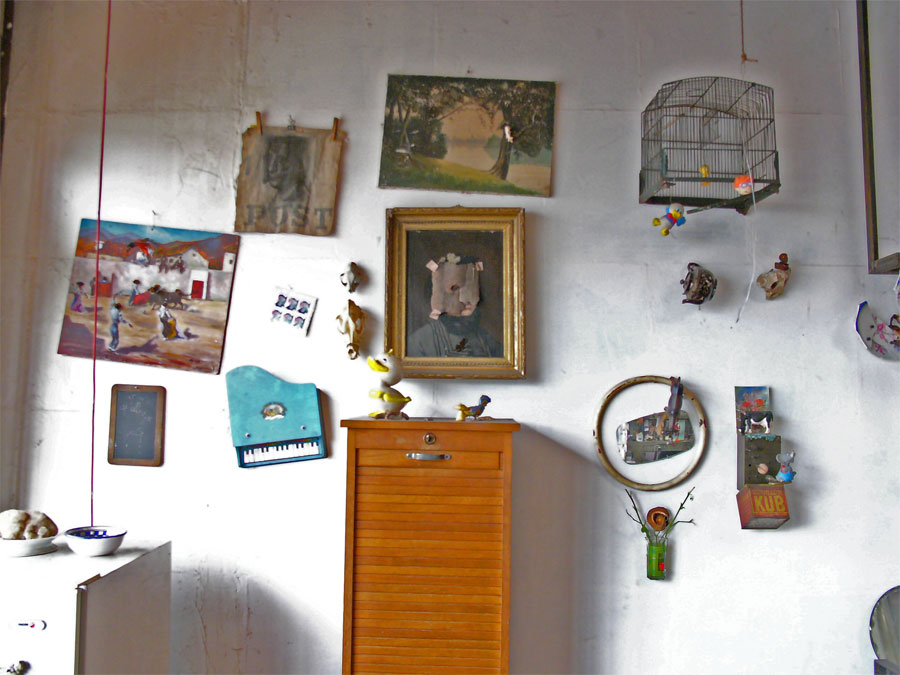 ___________
from Cupidon, Propriétaire de l'immeuble situé sur l'Enfer et le Paradis (2009)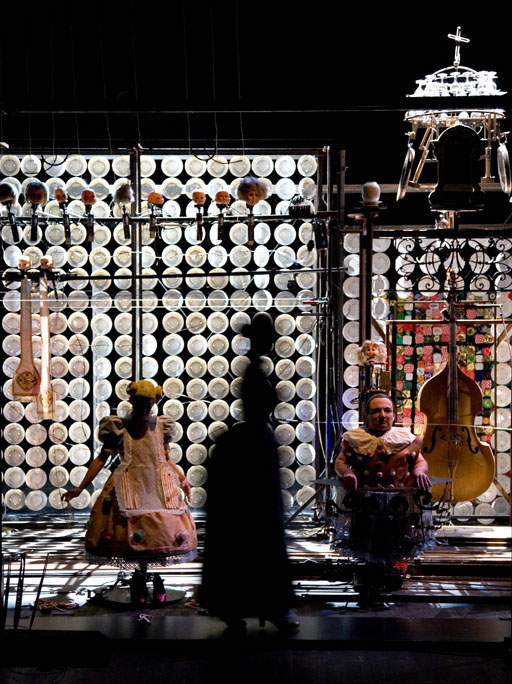 'Visual artist and self-taught director, Gilbert Peyre is an inventor of automata. He sets objects in motion and for so long he has only worked from mechanical and pneumatic systems, he now calls on computer sophistication and surrounds himself with very specialized engineers.
'But what dominates in this new proposition is the mechanical strangeness. Lights, colors, voices, sounds, music, tones, movements, appearances … everything is astonishing, everything is enigmatic. Peyre leaves everything in suspense. He does not give us the keys to his kingdom, he lets us watch him for an hour … and then, hop, the protagonists go backstage …
'We sit in front of this sculpture which never ceases to come alive. We enter the book of a cruel and sarcastic, libidinal and sentimental tale, enchanting and distressing, funny and moving.' — Armelle Héliot, Le Figaro

The Making of "Cupidon" sculpturOpéra de Gilbert Peyre
____________
Selected works
'La peur au ventre' (2018)
'Le Piano' (2011)
'Mangemange' (2008)
'Haltérophile' (1987 – 1990)
'Ballerines' (2009)
'Aquarium' (1990)
'le distributeur d'idées' (2009)
'Rap Danse' (1998)
'J'ai Froid' (1998)
'Rampeur', détail de"Cupidon" (2009)
______________
3 portraits of Gilbert Peyre (in French)
—-
*
p.s. Hey. ** JoeM, Hi. Friends that can't argue are either barely friends or really good friends. ** Misanthrope, Ha ha ha, that's so true. Huh, great, about David. Very good to hear. Just reading your thought about it makes me crazy too. But you should be all computerised again as of today, am I wrong? ** Golnoosh, Hi! Yeah, nice dress, no? Thank you kindly about my posts, I do my best. I actually publish posts from my old blog here frequently. Today's, for example. Whenever a post has an asterisk leading to the word 'restored', it has been reconstituted from my old, murdered blog. No, the old blog wasn't diaristic, or not the posts. I was never interested in that. There were a lot more regular commenters years back, and that space could get pretty diaristic and very personal. I did sometimes do posts that were more personal and about my life or my work. But, for me, the blog became overly personal in general with fights and psychodramas and too much stormy, emotional goings on here, and it was exhausting, so, after one particularly messy blow out, I decided to do the blog in a less personal way, and I'm very glad I did. I think, given how I think about the blog now, I would feel uncomfortable restoring the more personal historic posts. It doesn't feel right to me. But I might change my mind, you never know. Thank you for being interested in the blog's history. It's funny in Diarmuid's book because he mainly writes about the blog as it existed back in those wilder days, and it's been years since it was really like what he mostly describes. Take care, have a fun, post-heatwaved day. ** David Ehrenstein, That Sondheim guy has a quote for everything. ** Sypha, Oh, huh. Shows you how much I keep up on Tibet's stuff, which means basically not apart overheard bits and pieces now and then. The 'My Loose Thread' paperback cover is definitely in the running for the all-time worst of my book covers. It's true, it still annoys me, especially since the 'MLT' hardcover looked so great. I don't even have copies of a couple of the books of mine you don't have. I live in fear of someone ever reprinting 'Antoine Monnier', but luckily I don't think there are more than a surviving handful out there. I only saw it offered for sale once for many thousands of dollars, and some weirdo bought it! ** Daniel, Hi, Daniel! Kind or true? I say the latter. Whoa, more rare things by you. Thank you so much! Wow. I don't know Iñigo Manglano-Ovalle. That looks very intriguing. I'll investigate that work. How's the Giorno? Loveliness to see you, D! ** _Black_Acrylic, Hi. I like Jim Lambie. I recently did a Zoom interview thing with Richard Hell, and on the wall behind him was what I thought was a gold record, and I was very curious what record of Richard's could have gone gold, but it was a Jim Lambie painting. Yes, you got the better weather too. It's almost heavenly here today. And you managed to do a new episode! Excellent! Cant wait! ** Steve Erickson, Hi. Yes, the 'Violet Quill' lionisation wouldn't happen now for the obvious reasons. New Queer Cinema definitely cut way into the popularity of reading fiction amongst gay guys, and when gay characters started showing up in TV series, that was kind of the final blow to the so-called golden age of gay lit. Hope all goes well with Robbins. I've heard Duma somewhere, not much though. I'll dig further. ** Right. I feel pretty sure that a good 90+ % of you out there will not know the name Gilbert Peyre as his work is pretty much completely unknown outside of France other than the fair likelihood that you've some his robotic contraptions without knowing it in Jean-Pierre Jeunet's films like 'Delicatessan' or 'Alien: Resurrection' or 'Amelie' and so on. He mostly shows his things in his workshop in the Montmartre area of Paris, but there was big retrospective here a few years ago. His masterpiece is the opera 'Cupidon', of which there are some clips in the post, which is really amazing and will ideally travel outside France someday. Anyway, I did this post on him many years ago, and here it is again. Have fun. See you tomorrow.