* (restored)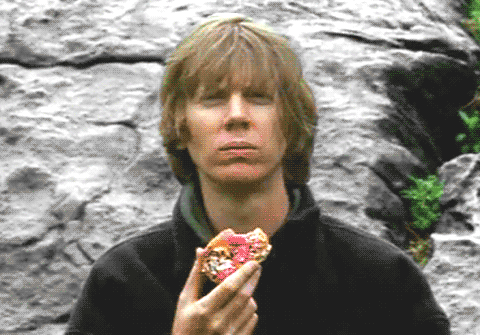 'I certainly don't sit around in the morning making
pancakes listening to Whitehouse or
anything.'
— Thurston Moore
—

Solo Artist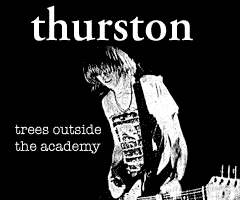 Trees Outside the Academy (Ecstatic Peace, 2007): 'Thurston Moore's first solo endeavor since 1995's Psychic Hearts will allow the noise police to stay away. The Sonic Youth ringleader goes at it acoustically, far from his customary cacophonic experimentation, forming a venturesome trio with the Fleeting Skies' Samara Lubelski (violin) and SY's Steve Shelly (drums) and giving his lyrical verve the latitude it deserves. There's a euphonious, near pop-like palpability to tracks like "Frozen Guitar," "Fri/end," and "Honest James," the latter spurred on by the vocals of Christina Carter (The Charalambides) and a guitar intro pawned from the Byrds' "Feel a Whole Lot Better." The isolation of the quieter songs allows Moore's voice to flicker on lines such as "The pearl meets light/And the light gets lost" in the numbing "Silver Blue," or in "The Shape Is in a Trance," where he reveals "I'm not the one they called/But I showed up anyway." So did Dinosaur Jr's J. Mascis, whose notorious guitar heightens the volume on matching instrumentals: the daunting "American Coffin" and the six-minute title song, which ends bluntly before a final hidden track featuring a 13-year-old Moore making inordinate sounds with scissors, coins, and an aerosol can.' — Scott Holter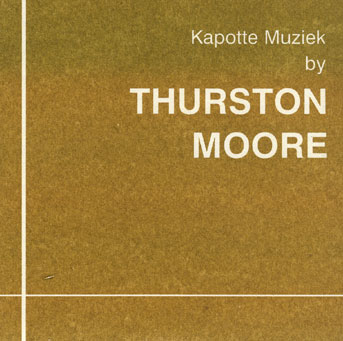 Kapotte Muziek (Korm Plastics, 2007) Number 12 in a series of reworkings of Kapotte Muziek live recordings. In the past composers like RLW, Tietchens, Illusion of Safety, Leif Elggren, a.o. were invited by Kapotte Muziek to rework some of their work. For number 12 Thurston Moore accepted the invitation. So Kapotte Muziek delivered a recording from a concert that took place on april 16th, 2002, at Flywheel, Easthampton. Thurston Moore reworked it two years and a few months later, on a day in june. The result is a 25 minute piece that is offered now by this new Korm Plastics release.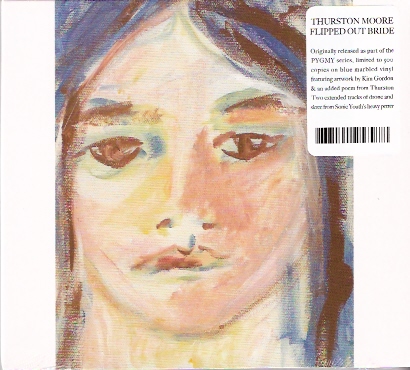 Flipped Out Bride (Blossoming Noise, 2006) Two extended tracks of drone and skree from SONIC YOUTH heavy petter. Featuring artwork by Kim Gordon. Flipped Out Bride was originally released as part of the pygmy series, limited to 500 copies on blue marbled vinyl.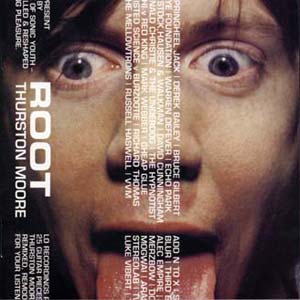 Root (Lo, 1999) Guitar Pieces by Thurston Moore Remixed and Reshaped By: Stereolab, Derek Bailey, Alec Empire, Mogwai, Luke Vibert, Underdog, Merzbow, Blur and many more.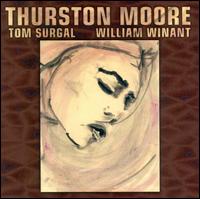 Piece for Jetsun Dolma (Victo, 1996) '…accompanied only by two excellent percussionists…Moore revisits his gonzo, guitar-shredding youth, using harmonics and various extended techniques, and coaxes as many different sounds as possible out of his electric guitar….liberating stuff…' — Option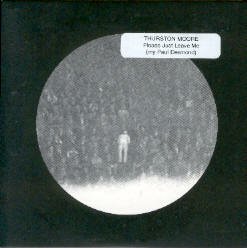 Please Just Leave Me (my Paul Desmond) (Pure, 1996) In a jewel case with new & unique color xerox artwork. This Thurston Moore CD is 31 minute solo guitar work that mixes electronic high pitched drone and spacious assembly.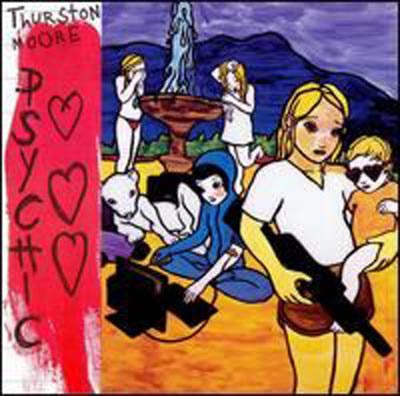 Psychic Hearts (Geffen Records, 1995) 'What's most impressive about Psychic Hearts is that it paints a 3-D portrait of Thurston Moore the artist, who has often come off as too cool, detached and attitude-laden for his own good. The album doesn't hold together as seamlessly as Sonic Youth's classic Daydream Nation or sustain the momentum of Sister or Dirty. It probably won't win as many new converts as the Sonics' major-label debut, Goo. But as a coherent statement of purpose, as confirmation that Moore remains committed to experimental music and fascinated by the precarious relationship between high and low art, Psychic Hearts offers hope for an endangered species: genuine alternative rock.' — Rolling Stone

Thurston Moore – Trees Outside The Academy interview

Thurston Moore – Ono Soul (live)

Visual Artist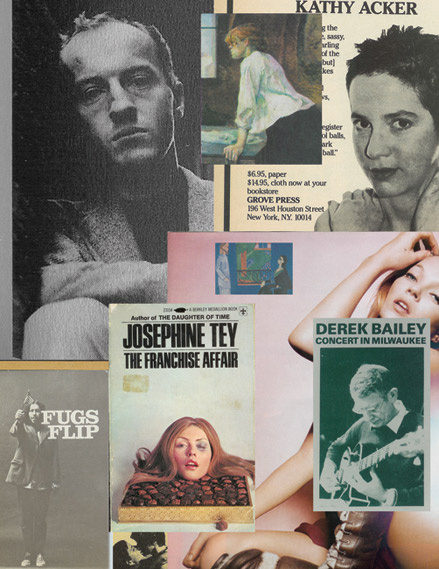 Thurston Moore
STREET MOUTH #15 – Acker
2006
Archival Ink Jet Print
24 X 21 1/4 inches
Thurston Moore
STREET MOUTH #17 – Roxy Eno
2006
Archival Ink Jet Print
24 X 21 1/4 inches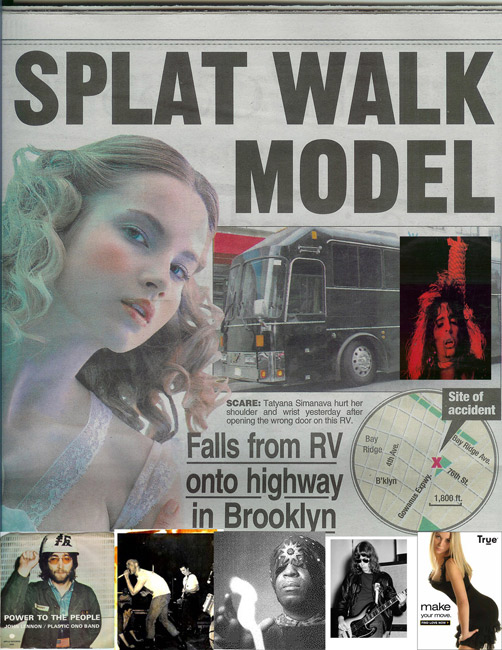 Thurston Moore
STREET MOUTH #18 – Splat No. 9 D O A
2006
Archival Ink Jet Print
24″ X 21 1/4″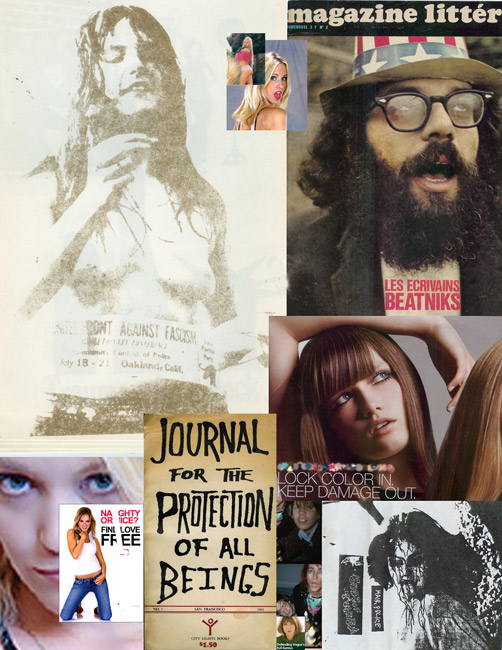 Thurston Moore
STREET MOUTH #20 – ALLEN
2006
Archival Ink Jet Print
24″ X 21 1/4″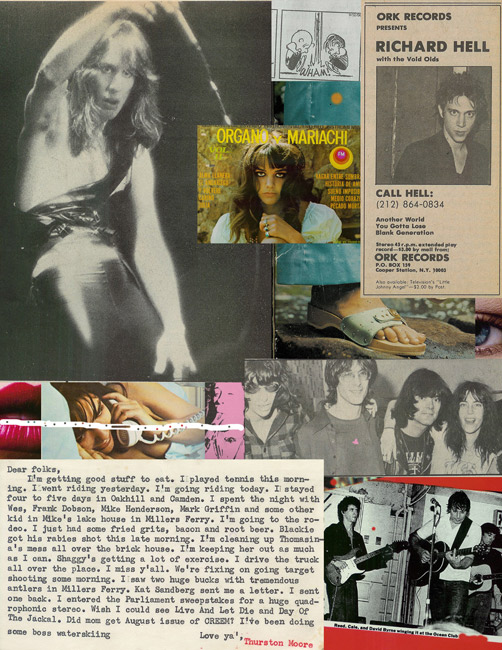 Thurston Moore
STREET MOUTH #21 – Todd
2006
Archival Ink Jet Print
24″ X 21 1/4″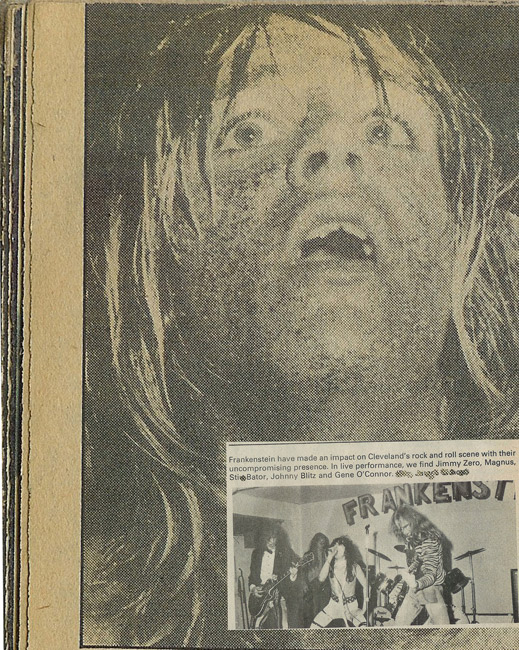 Thurston Moore
STREET MOUTH #22 – Iggy
2006
Archival Ink Jet Print
24″ X 21 1/4″
Thurston Moore 8-2005
That J.W. would fetishize a detail from a 1st generation US hardcore LP and present it as art resonated with me instantly. I, too, had a direct fascination with that particular subculture though from a distinctly different arc. I was already somewhat established as an experimental, post no wave downtown NYC art rock musician. A situation which gave immediate validity to be a bedfellow with any chosen discipline. Hardcore, as exemplified by the east coast faction of Dischord Records (Minor Threat, SOA, Void, Faith et al), NYC (Urban Waste, pre-hip hop Beastie Boys, The Nihilistics), Mid West (Negative Approach, Necros, The Fix), L.A. (Black Flag, Adolescents, Wasted Youth) and S.F. (Flipper primarily) was an incredible movement in its first generation. It took punk as an elemental tool towards an alternative teen identity recasting the music as a loud/fast cultural collective. As the players were so young their ritualistic dance and statement of purpose was deliriously genuine. In retrospect it is as vivid a living rock and roll subgenre as no wave, reggae, hip-hop, it's predecessor of punk and the avant-garde transitions of glitter and glam. I am indeed a solid decade older than Jocko and was in full puppy love with glam as it strutted it's gutter trash exotica through early 70s NYC and beyond. When the Ramones, the Heartbreakers, Television, Patti Smith, Richard Hell, Talking Heads, Blondie et al began their earliest prowlings it was a delectable manifestation of what the New York Dolls, Lou Reed, Eno, Wayne County had been threatening and flirting with. The intellectualism of William Burroughs, the sex rock of Marc Bolan, the drop-dead insolence of Iggy Pop etc. etc. had lit the fuse and 1977 introduced probably the last great pre-wired introduction of culture shakers of the 20th century.
I so personalized myself into this history that I needed to clutch at any documentation of it in order to breathe. Of course the 80s/90s would lead me off into a whole new pertinent trajectory of community beyond glam, punk, no wave, hardcore but I always felt the romantic pull of nostalgia to these seismic periods and how they constructively inform me as an artist – be it music, literature or what we have here.
This series of collages entitled Street Mouth (1-14) I had been working on since seeing the early "poem-posters" of Charles Henri Ford which along with the living poetry of Ted Berrigan and friends on the mid-60s East Village, seemingly introduced Warhol to such starlit epiphany. Almost all the photographs are by a regal scene of photographers who will probably be livid at these appropriations. Leee Black Childers, Mick Rock, Bob Gruen etc. are as significant as the subjects they shoot and as the actual photos themselves but I am basing the work on exercises I did as a teenager cutting out pictures from Rock Scene, Creem and Circus magazines and collaging them as an obsessive diarist. Doing this work now utilizing some kind of punk Photoshop method where I can actually drop myself and other referentials into the pieces has allowed me at age 47 to create an ongoing open-heart bio-historagophy.
__________________________

Magik Markers

'Taste'
Magik Markers @ Ecstatic Peace
Dead Machines

Dead Machines live @ ATP
Dead Machines @ Ecstatic Peace
Turbo Fruits

'Broadzilla' live at SXSW
Turbo Fruit @ ECstatic Peace
Pagoda (featuring Michael Pitt)

Live at PA's Lounge
Pagoda @ Ecstatic Peace
Be Your Own Pet

'bicycle, bicycle, you are my bicycle'
Be Your Own Pet @ Ecstatic Peace
—-
_________________________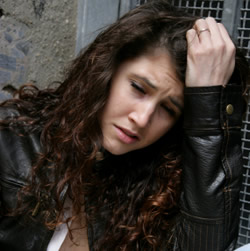 Thurston counsels troubled teens!
Dear Thurston, There's this guy that I really like. He tells everyone that he doesn't even like me as a friend, but when we're alone together we do things that are reserved for people who think of each other as more than friends. What do I do? A friend, more, or less? Huntley, IL
The guy's a jerk. I know that won't discourage you from liking him, but he's got a major personality flaw: disrespecting you. Be careful of this kind of butthead, because his sleaze behavior may rub off on you, and then your life will become more and more hellish. Next time you're alone with him and he tries to get "friendly," tell him your friend Thurston Moore wants to kick his ass. And then tell him why.
(more)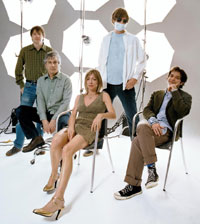 Thurston: 'Sonic Youth should've broken up'!
"The Pixies reunion was a real success, and Dinosaur Jr. seems like a big success, and both those bands play as good as they ever did. Mission Of Burma blew my mind when they came back. "But a band like us never did break up. Which was to our own detriment. "What would have happened if we did break up after (classic 1988 double album) Daydream Nation – or even after (1990's) Dirty – and had gotten back together two years ago? "You'd be interviewing me at the Chateau Marmont as I'm waiting for my limousine. We probably would have made so much money. "This was our biggest career faux-pas – not breaking up."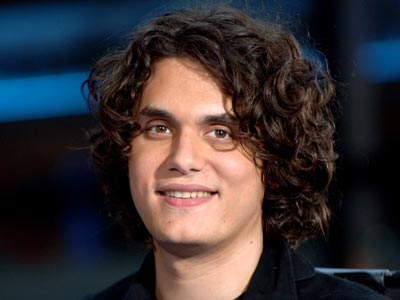 Thurston Attacks Young Rockers!
"I am playing with Yoko Ono, and she's well past 70 and she rocks. Neil Young rocks. It's certainly not John Mayer or Avril Lavigne. Those people don't rock. If that's the young generation in the culture, then forget it. In the underground, the old guys are cool. I like the fact that the older we get the more we can rock."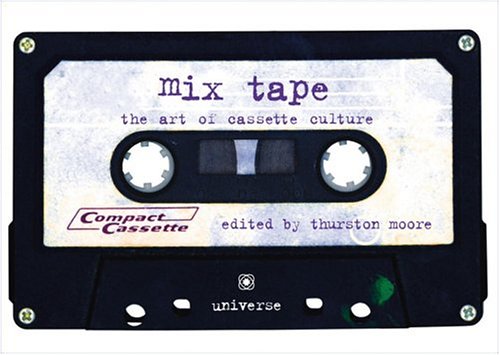 Thurston Shames the Music Capitalists!
"Once again, we're being told that home taping (in the form of ripping and burning) is killing music. But it's not: It simply exists as a nod to the true love and ego involved in sharing music with friends and lovers. Trying to control music sharing – by shutting down P2P sites or MP3 blogs or BitTorrent or whatever other technology comes along – is like trying to control an affair of the heart. Nothing will stop it."
(more)
Buy 'Mix Tape: The Art if Cassette Culture', edited by Thurston Moore (Universe, 2005)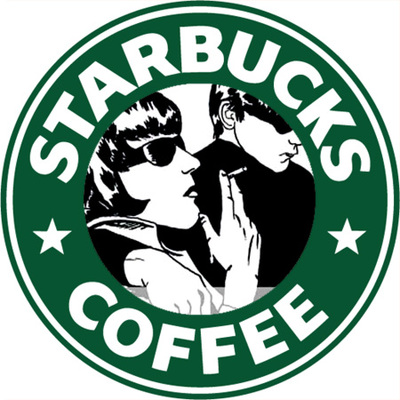 Thurston … Sells Out?!?!
NEW YORK (Billboard) – In an interview published recently in Pitchfork, Sonic Youth guitarist Thurston Moore mentioned that the band needed to record a new song for a Starbucks compilation. Within minutes of his remarks hitting the Internet, chat rooms and the band's fan sites were awash in cries of "foul" and "sellouts."
Q: Are you surprised by the uproar your comments have caused in the blogosphere?
Moore: I never thought of it as being more radical than recording for Universal Music. They're both corporations that have ties to things that people find sort of problematic. The compilation came out of the idea that I wanted "Rather Ripped" to be in Starbucks stores because that's where people were seeing CDs. They aren't going into record stores anymore. So, we approached Starbucks. But it was too late. You usually have to get that (process) going six months prior to the release. So we thought, "Let's make a record that would be very appealing to that situation." … I guess, for some, Sonic Youth represents something that they don't really equate with Starbucks. But I kind of like the absurdity of it. Sonic Youth has always, in a way, made itself available to the super mainstream.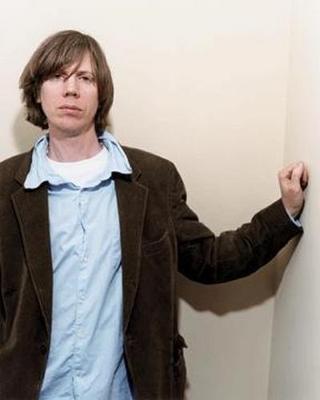 Thurston Grilled About His Deepest Secrets!
What is your principal defect?
Uncoordination in my fine motor skills.
What is sexy?
Physically, whoa — I mean, I don't just like one aspect of sexiness, but I am certainly more into, shall we say, Buxomity than Slenderifousness.
If you were to ask any two questions of any two people, what would they be and whom would you ask?
Gerard Malanga: What was it like to stare into the face of Edie Sedgwick? Keith Richards: What was it like to stare
into the face of Anita Pallenberg?
What is humanity's biggest failing?
The ability to rationalise the art of the swindle.
(more)
—-
_________________________

* 'Phoner': my liner notes from Sonic Youth's 'Sister'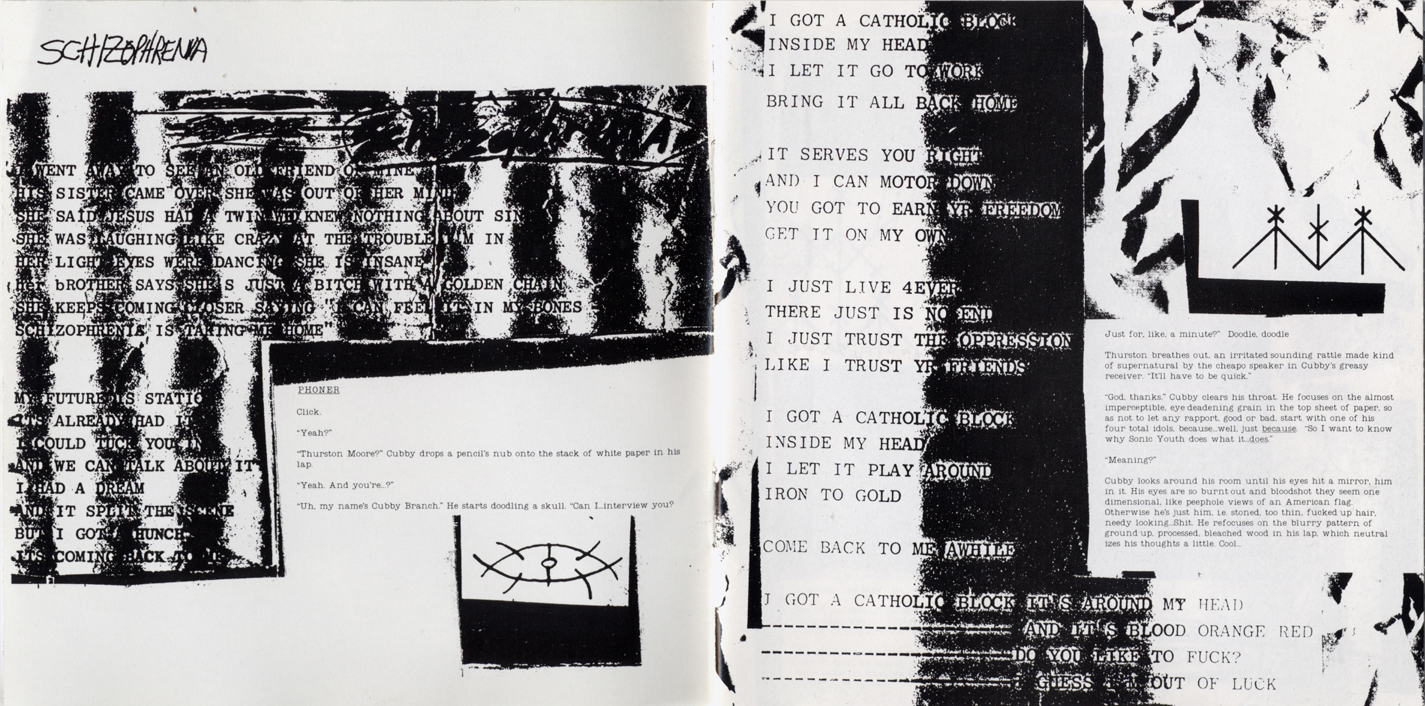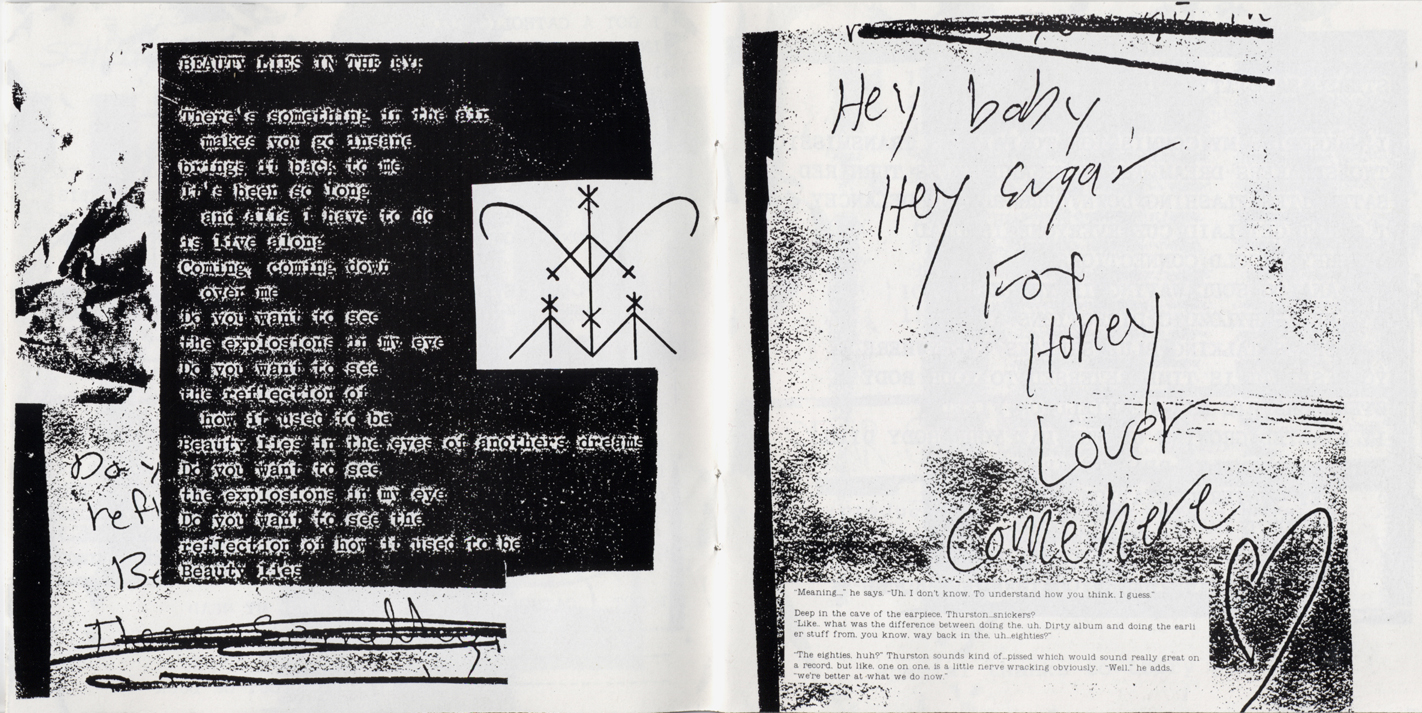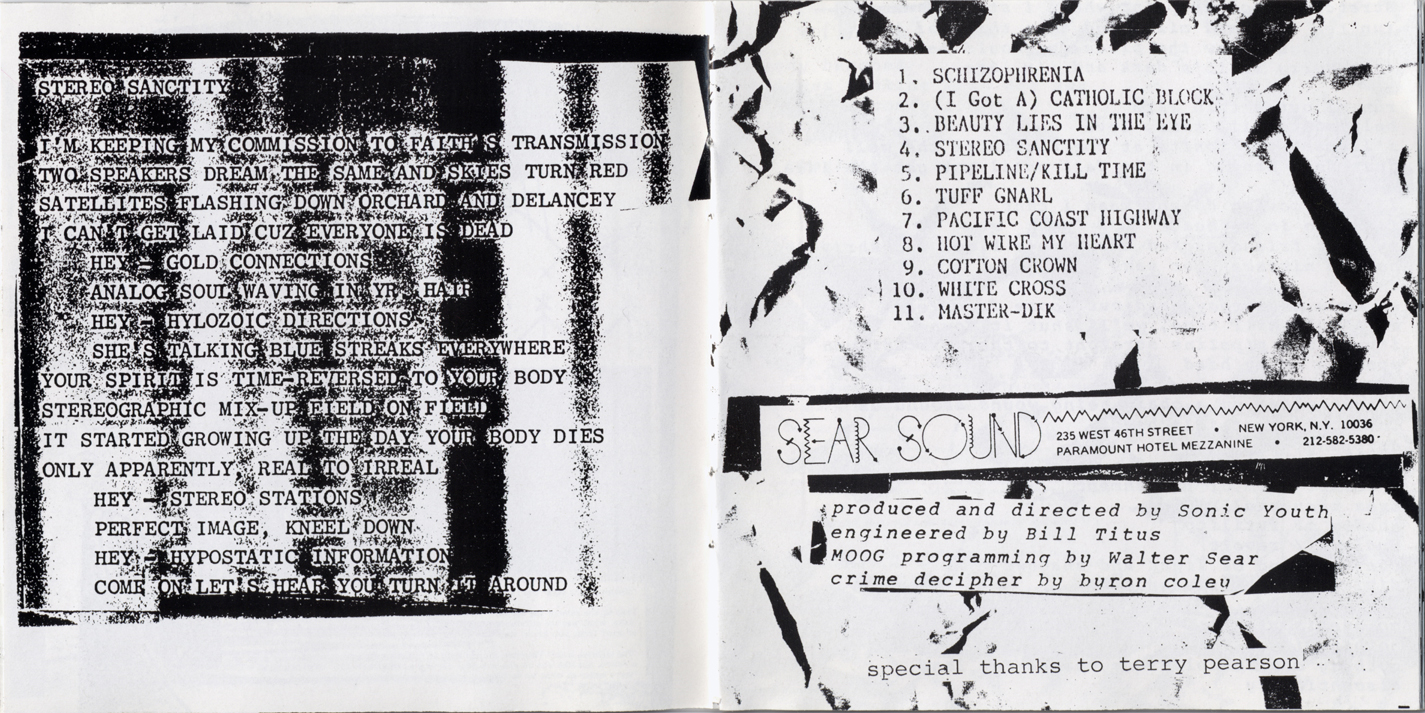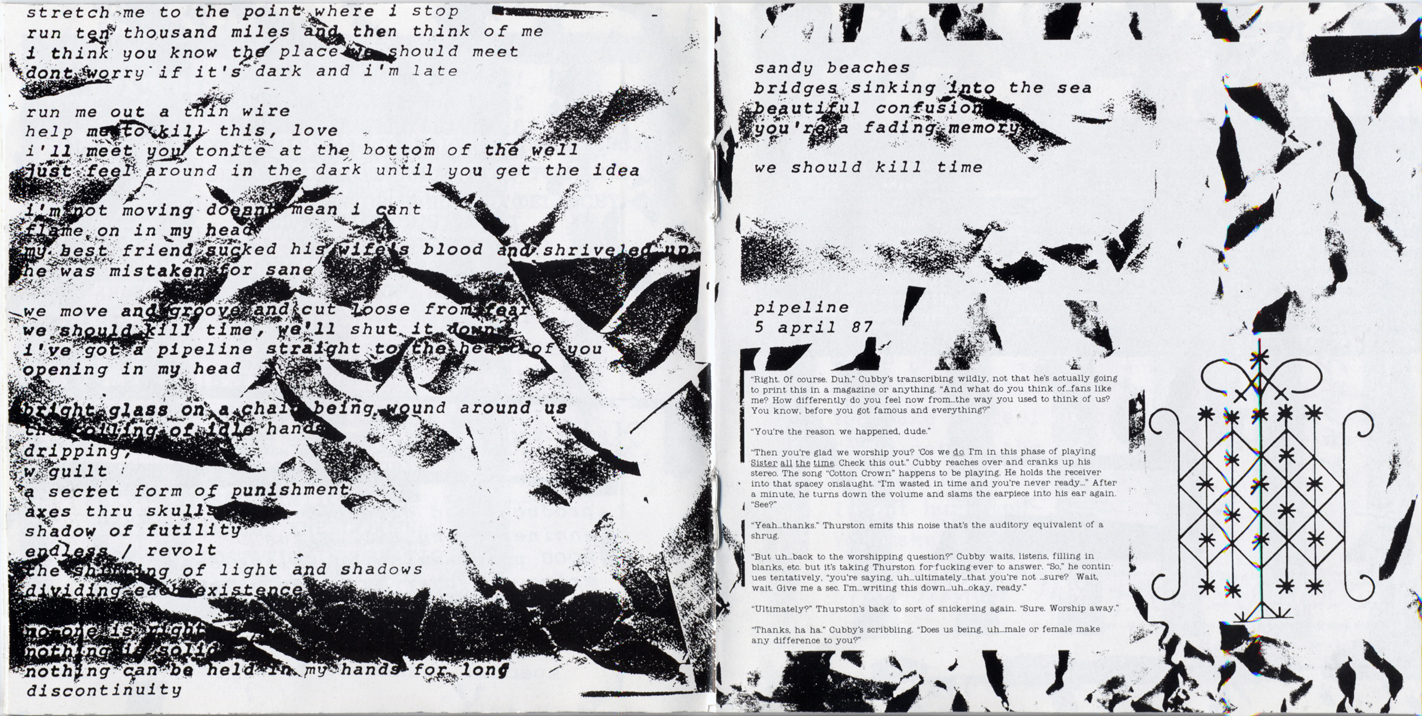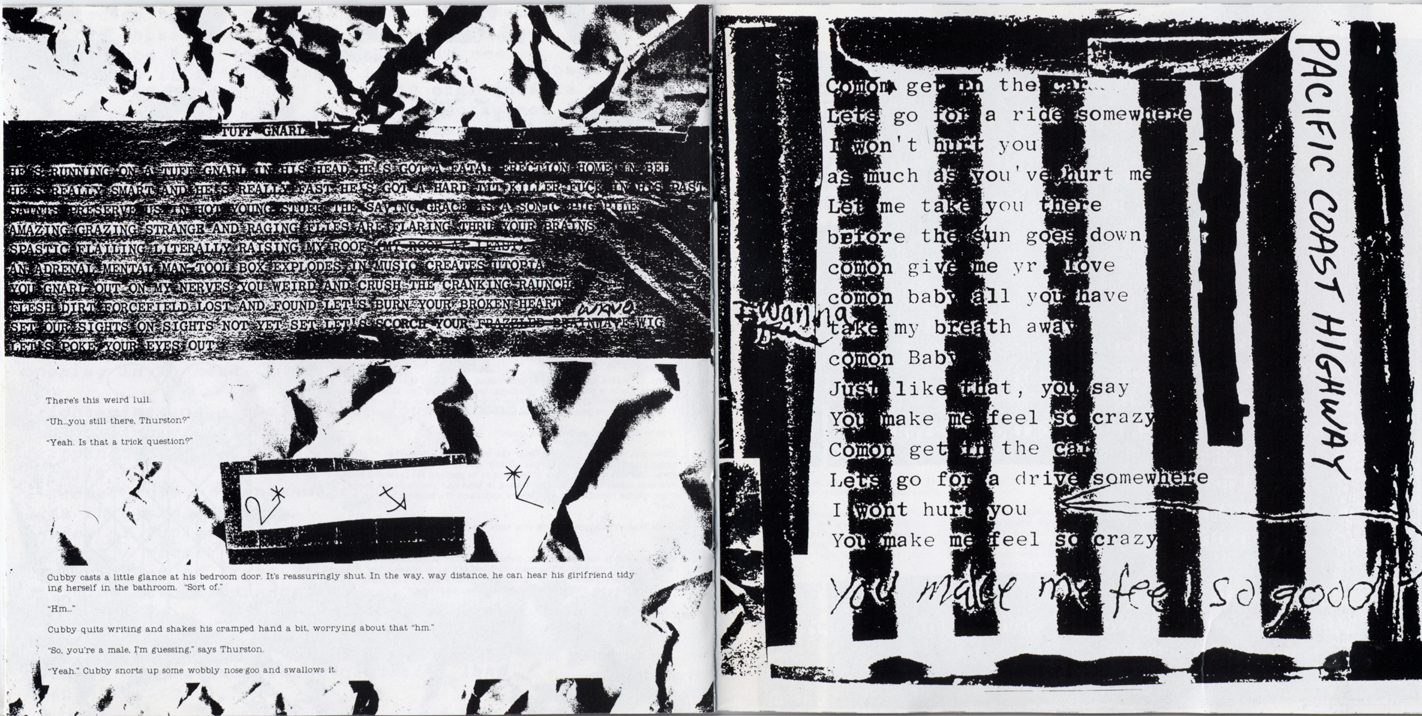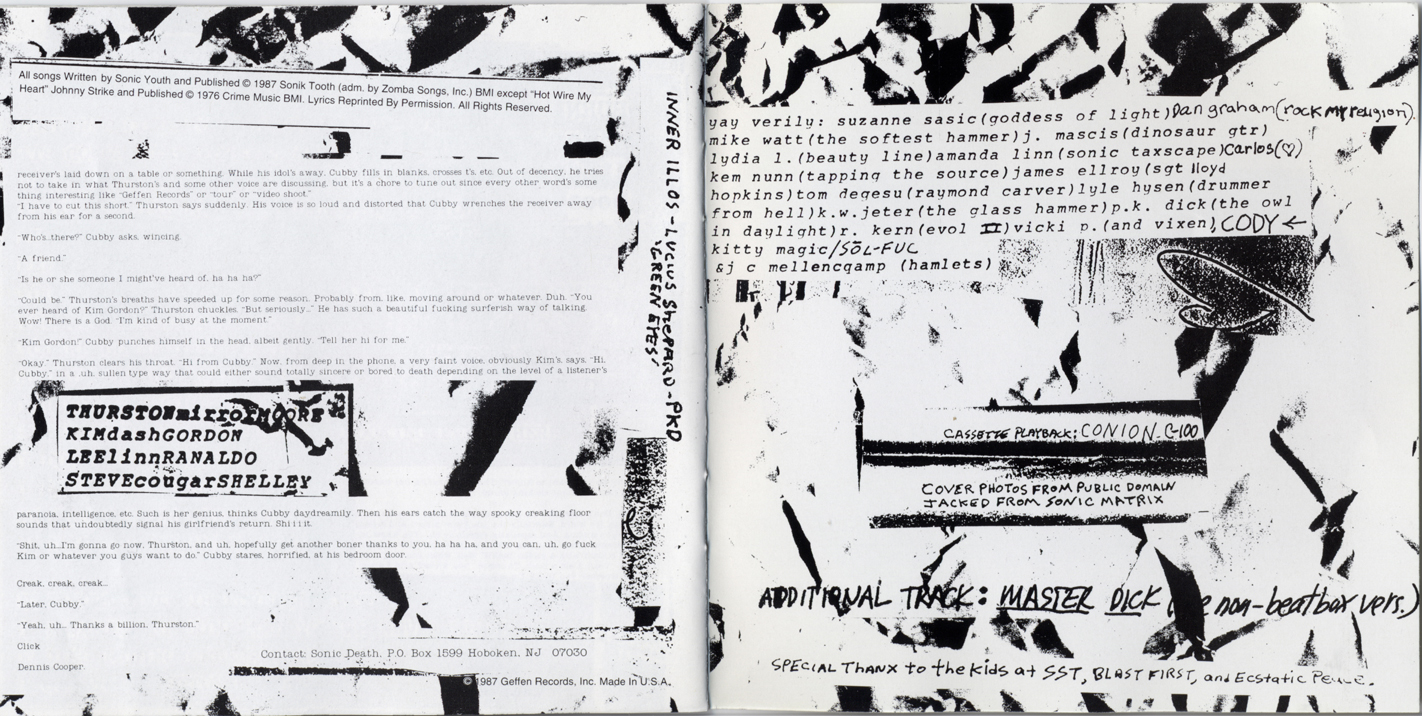 _________________________

clouds/prayers for milk jane
clouds/prayers for milk jane – she hitched from wonderland to new freedom– memory serves me fondly w/jane milk jane stealing wallets from rides dashboards. kicking coke machines busting phones – jane made LOVE cuz fucking was for dups – she was into hippie cumming to an END — milk jane knew about punk before the magazine was called PUNK – where the fuck is milk jane milk jane – pot pot and chicken fried steaks and milkshakes – jane hitched everywhere – thats how i lost track – so i moved to newyork — she liked anything – i liked onething: newyork – fuck l.a. – germs are OVER – milkjane probably could've loved the germs – probably desperately could've had germs burn and beat don bolles head to the wall stick nipple in his face, laff and leave him –stranded–. she'd do that to hippies – punkx would've been more fun – but she split – we split right before punk – she made a salad and ate it – she was into making salads and then hitching to this shit bar in brewster and we'd just fucking sit there and watch older fucks burn OUT — i heard about the ramones but it was too late – milk jane kinda booked – was gone – maybe she would've held me back from the snob art soho circle of sput. –but that would've sukked – i needed to witness such now-white-SMASH — milk jane is married dead happy burnt –write me mj read this in a bookstore one chance in a fuckingmillion – read this and write me . write me write me write me write me write me write me before its too late – before i lose everything i can hardly smell anymore – you were everything i can remember. and memory is nothing but the smell of your legs 1/2 drunk, no future, thai stick in the graveyard –
*
untitled
black hair patty waters 1966 patti smith 1974 black eye james chance 1978
black man schooly d 1985 black woman jeanne lee 1972 peace to be black free
to be black
out
*
ode to a nurse
belong
ing
to
nothing
I
underestimated
yr worthlessness
no values
no time to fight
fuck with me and I will drink you
down
the british girl who paints her body
has one chance
to get my attention
I wish hard enough
and am impatient
*
this is allen ginsberg:
baby girl reaches for his face
his nose
glasses
anything
tries to stick her thumb in his mouth
a curious and favorite past-time
children everywhere
do it
the viscuous
pulpous
mouth
and now:
heres one
with beard!
shes 3 yrs old
he sucks her thumb
into his mouth
and out
and in
here is a grown up
who's into it
unreal
*
Top ten from the free jazz underground
No matter how you listen to it JAZZ is ostensibly about FREEDOM.
FREEDOM and the MYSTERY surrounding it.
And, like MUSIC, it is an ABSTRACT.
It's SHAPES, FORMS (SOUNDS!) are DISTINCT and PERSONAL and SENSITIVE to each player's DESIRE.
And the DESIRE is INFINITE.
FREEDOM is not just another word for nothing left to lose.
We know this from MESSAGES beamed from the space-lantern of his cosmic highness SUN RA! The MESSAGE was clear:
"NOTHING IS."
Buy TM's poetry book 'Alabama Wildman'
Buy copies of TM's 'Ecstatic Peace Poetry Journal'
—-


Thurston Moore and the Bang on a Can All Stars

Thurston Moore & Mats Gustafsson – Live session

Thurston Moore & Nels Cline live at Rhino Records, 1996

Clark Coolidge & Thurston Moore, Maison de la Poésie de Paris

MIRROR/DASH (Thurston Moore & Kim Gordon) @ 21 Grand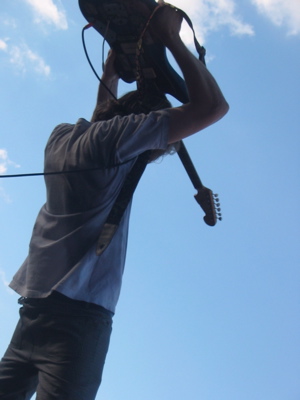 FRED JUNG: How did you develop an interest in improvised music?
THURSTON MOORE: Improvised music as a genre, I was somewhat unaware of in the Eighties. I started playing music around '76,'77 in New York, when I moved there as a teenager, playing in punk rock bands. I moved there specifically to do that. I was eighteen and I was responding to underground music that was in New York, Television, Patti Smith, The Ramones, and stuff like that. Moving there and getting involved in that community, there is different facets of music that were interlinked with the punk rock scene, specifically the poetry scene that Patti Smith, Tom Verlaine, and Richard Hell, certainly had a connection with, which sort of was connected to people like Allen Ginsberg. So it was much more of an exploded scene. There was a lot of different music going on. There was a lot of indigenous kind of ethnic music on the street and there was a lot of avant-garde jazz music that you would see peripherally as a teenager then. It wasn't until I met Kim (Gordon), my wife, who plays in Sonic Youth, and she grew up listening to jazz with her friends on the West Coast, John Coltrane, etc. I became interested in it through her. I started really listening to classic Sixties jazz, to Coltrane and Mingus and to Ornette, and became very immersed in it, especially the New York school of it, and reading Leroi Jones' writings on it. Black Music, I believe the book was. That really opened up my ears to people like Frank Lowe and Rashied Ali and Milford Graves and some of the more expanded playing ideas. The idea of improvisation in jazz was elemental. I never really thought about it. As far as the way I was approaching music myself, the idea of creating compositions with us getting together and playing free and making composition from ideas that were coming out of this free playing, I never thought it as belonging to any school of improvisation. I found out about a club called the Saint and this was a little club on the Lower East Side that was curated and run by John Zorn. I knew about John Zorn because he was around town and he was part of the scene of slightly older guys who still had facial hair, which in punk rock, you didn't have facial hair. You cut your hair. But these guys weren't punk rockers. They still had beards and stuff. I remember going to the Saint because it was a hangout of some sort and there were these musicians who were playing unorthodox music, really, their instruments were unorthodox and the way they were set up was not very typical either. They were playing music that seemed to come out of the language of jazz, as far as it being improvised music, but it was something wholly other. It was completely free improvisation. It was somewhat interesting to me, but I didn't pay attention to it. I didn't get a handle on it and I wasn't really that interested because the energy was so sublime. I was a little too young to hear it as anything of any importance to me. At some point, I discovered, just by the fact that there was a record store in Manhattan that sold only jazz records and it was an extension of this record store on St. Mark's Place called Sounds and they opened up a store on 9th Street, which was where they shuffled all their jazz stock and sold it really cheap. I started going there because I was looking just for some more records that were akin to Coltrane and Mingus. Within all these records were a lot of European records by people on independent labels such as Peter Brötzmann, Derek Bailey, Evan Parker, and these were people I knew were sort of part of what was being presented at the Saint. I became curious about it and I picked up a couple of them because they were cheap enough. Nobody bought these records at all. There was no hip cache to them like there is now at all. It was pre-CD too. Especially Derek Bailey, they really made me curious in a way as to who these people were because their music was so open ended and all about these communications that they were dealing with each other and I didn't know how to look at it historically. One thing that really helped was a book that came out by John Litweiler called The Freedom Principle. He also wrote the Ornette Coleman bio. Litweiler's book really showed the historical correlation between the European improvisers and American avant-garde jazz, Art Ensemble, Anthony Braxton, and the loft jazz that was going on in New York, primarily free jazz players, Milford Graves and what Archie Shepp was doing and the radical composition that Bill Dixon was doing. There was some commentary in there, especially by Brötzmann, where he said that one point at a young age, American jazz was very important to their development as far as players and their language, but at some point, they really broke away from it and developed and created their own identity outside of the genre of jazz as free improvisers, a whole other musical genre, to the point of it being this interesting geographic thing such as the ICP, people in Holland, the Instant Composers Pool. Their whole idea is spontaneous improvisation being played with the idea that you are creating spontaneous compositions, that they are compositions and it is not just jamming or free blowing. You actually have a sense of composing on the moment and also Derek Bailey saying things like how he didn't understand why everybody didn't respond to this music because it is more true to the actual nature of life, which is organized, yet completely improvised. I thought those were fascinating insights to what they were doing. It really opened it up. It wasn't until I saw Derek come to town and play a duo with Paul Motian and I saw the level of years and years of sophistication that was going into what he was doing and how pure and how simple it was and how affecting it was and that really sort of blew my mind. I started really getting involved. This is all sort of late Eighties. I just really got involved with tracking it. The whole thing about independent, underground punk rock music that I was involved with had to do with a whole do it yourself esthetic, outside of and below the radar of the mainstream with a network of people who were creating their own labels and distribution, which we were very proud of. Then I saw that this had been going on at an even more grassroots level with the global free improvisation scene, artists creating their own labels and who were buying these records? Maybe a few academics and radicals like John Zorn, but it wasn't a big music at all. It was catering to each other musically. To me, they were creating documents to communicate with each other, these records, which they would all sort of send to each other to hear. According to Evan Parker, they would listen to records on ESP, which was a small label out of New York that concentrated on avant-garde jazz playing and there was a lot of extended and experimental reed playing and all kinds of instrumental playing on those records that was pretty far out. He said that what they were really interested in were those moments that were at the beginnings and ends of songs, where the players were really sort of creating these little sounds, these spiky sounds. He said that that was what he and Derek really concentrated on and they wanted to create a whole music out of that, that kind of tension and release. They pretty much got to that territory on the first couple of sessions and everything is an extension of that to this day of a lot of what they're doing. It is kind of a wild musical world they have created.
(cont.)
—-
__________________________

________________________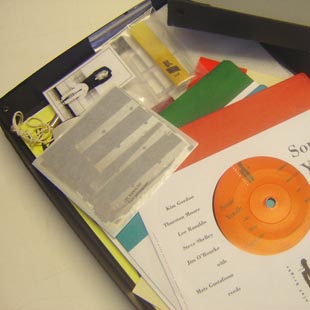 The Black Box (Art & Music Edition, 100 copies, 2000)
'Records and objects from various artists and musicians. Objects by Thurston Moore, Kim Gordon, Mats Gustafsson, Loren Mazzacane Connors, Sven-Åke Johansson, Carl Fredrik Reuterswärd, Barbro Ravander, David Stackenäs, Frauke eckhardt, Clara hall, Roza czulowska, Lee Ranaldo, Leah Singer, Sofia Kroon, Lotta Melin. Records by Crazy wisdom Sound System "Our pleasure indeed" & Random Buffs "Take six" vinyl single, Jim O'Rourke "jim : computer : hotel" cd, Lee Ranaldo, Thurston Moore, Steve Shelley, Mats Gustafsson "Without Kim I+II" cd, Sonic Youth w/ Mats Gustafsson "Lightning" vinyl EP, David Stackenäs "Stumble in the jungle" & "Rumble in the angle" vinyl EP, Zeitblom & Uwe Warnke "Liegend/Im fall" cd. Released during Kulturbro 2000. English. Edition 100. Published 2000.
6000 SEK
_______________________

Visionaire No. 53: Sound
'If you close your eyes, what sense takes over? Do you consume the world in sound bites? Are you moved by the art of noise? Issue 53 of Visionaire — produced this time around in collaboration with the British car manufacturer, MINI — is dedicated to the theme of Sound. Packaged inside a specially produced domed case, it consists of five 12-inch vinyl records, imprinted with images (picture discs), that together contain more than 100 minutes of sound content–from audio experiments to unreleased songs, samples and spoken word pieces. Also included is a MINI Clubman "Vinyl Killer" record player: a battery-operated toy car, containing speakers and a needle. As the little car moves along a record's groove, it plays each track, acting as a fully portable record player and sound system. Beyond all this, the issue also includes two CDs with all of the sound content gathered digitally, as well as a booklet of credits and instructions. Contributors include: musicians David Byrne, Courtney Love, Michael Stipe, Adam Horowitz (Beastie Boys), Antony & the Johnsons, Thurston Moore and Kim Gordon (Sonic Youth), Nick Rhodes (Duran Duran), Karl Bartos (Kraftwerk), Andrew WK, Chan Marshall (Cat Power), Danger Mouse, Malcolm McLaren, Ruyuichi Sakamoto; artists Robert Wilson, Yoko Ono, Christian Marclay, Doug Aitken, Gary Hill, Sylvie Fleury; DJs Miss Kittin, Trevor Jackson, Towa Tei, Michel Gaubert; fashion designers Alexander McQueen, Helmut Lang; bands Littl'Ans, Fischerspooner, Unkle, Animal Collective, SunnO))) and many more.'
PUBLISHED BY: Visionaire Publishing, LLC
FORMAT: Dome Case,13.25 x 3.5/5 12-in. records/2 audio CDs/vinyl killer record player
ISBN: 9781888645682 ISBN10: 1888645687
PUBLICATION DATE: 12/01/2007
_________________________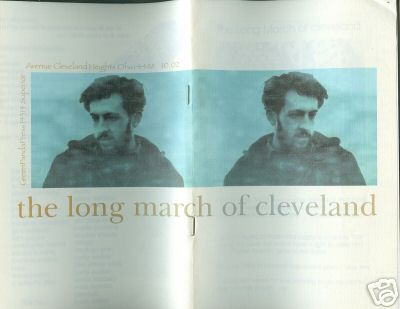 Long March of Cleveland (Green Panda Press, 2001)
An anthology of art and poetry dedicated to the late outlaw poet D. A. Levy and the literary history of Cleveland, Ohio – the capital of underground mimeographed poetry in the sixties and seventies. Contributors include d. a. levy, rjs, Thurston Moore, Alex Gildzen, and many others.
_______________________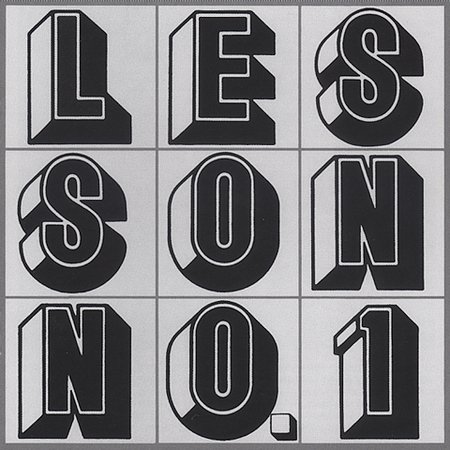 Glenn Branca Lesson No. 1, Symphony #1, Symphony #2, Symphony #3
"After playing in the seminal and influential New York City no wave rock outfits the Theoretical Girls and The Static, Glenn Branca made his first strides towards the more ambitious guitar symphonies he'd become famous for with his first solo release Lesson No. 1 in 1980. Lesson No. 1 For Electric Guitar is perhaps his most accessible piece of the period. It is a concise yet extended statement of forward motion, guitar motives repeating in a manner recalling the minimalist of Philip Glass, but unlike Glass, with a maximilist approach to sonic density and bombast. Upon its initial release as the first record on the influential 99 Records (Liquid Liquid, ESG, et.al.), Lesson No. 1 was paired with Dissonance, a more daring experiment that explodes sonic dissonance with rock and roll energy. For this reissue, Acute Records has added 'Bad Smells' (featuring Sonic Youth's Lee Ranaldo and Thurston Moore), composed as a dance piece for choreographer Twyla Tharp in 1982. And if that wasn't enough, Acute has also included an 18 minute quicktime video of 'Symphony #5', recorded in 1984 at what was to become the legendary New York City venue The Kitchen."
2004 CD on Acute (ACT5, US)
_______________________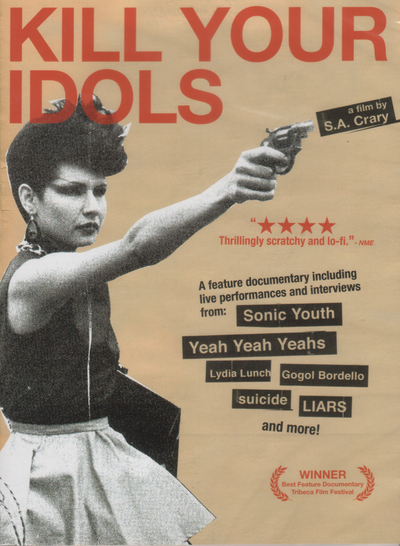 Kill Your Idols, dir. SA Crary (Palm Pictures/AK Press)
'Kill Your Idols is a guide to New York's buzzing downtown underground post-punk scene. Director S.A. Crary kicks things off with the birth of No Wave in the late 1970's, providing an angular rush with a priceless collection of live performances from Suicide, Teenage Jesus and the Jerks, the Theoretical Girls and DNA. From this initial explosion of artistic energy, the film moves through the 1980's, passing the torch to Thurston Moore and Lee Renaldo of Sonic Youth and Michael Gira of Swans, before crashlanding in the noisy Now! of the Yeah Yeah Yeahs, Black Dice, Liars, A.R.E. Weapons and the Gypsy stylings of Gogol Bordello. Interviews connect the threads between the past and the present, an ever-fertile scene is defined, celebrated and trashed with equal amounts of enthusiasm, and the creators of some of the most challenging rock music of all-time get to explain what they do, why they do it and where it's all heading.'
(Almost) complete discography of TM's recorded contributions
__________________________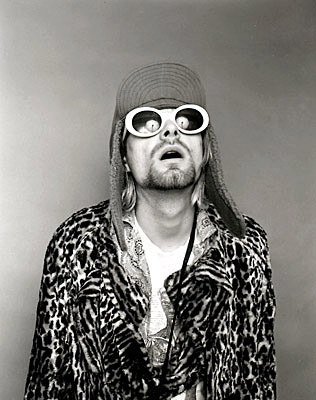 When the Edge Moved to the Middle
New York Times, 2004
The boy looked just like Kurt Cobain. He was no more than 19. Same yellow hanging hair, fallow blue eyes, the sad square jaw, innocent and adult.
We were in a Brooklyn basement full of artists and sound-poets gathered to watch musicians throw down extreme noise improvisation. One performer played records with two customized tone arms on his turntable; the discs broke and scratched, creating shards of hyperfractured beat play. He was followed by a quartet of young women scraping metal files across amplified coils mixed through junk electronics. I was to perform a spontaneous guitar/amp feedback piece with a stand-up bass player on loan from his teaching post at Berklee College of Music and a free jazz percussionist who had traversed through New York's downtown underground in the 60's. Not your typical night of alternative rock.
And I had a feeling this kid was looking for alternative rock. It was the year 2000. Kurt had died six years earlier, and through whatever fleeting friendship I had with him, this ethereal look-alike saw me as some connection. (cont.)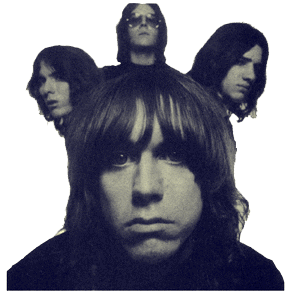 The Stooges
Rolling Stone, 2005
For me, the Stooges were the perfect embodiment of what music should be — of wanting it to be alive, riding the edge of control. Their music was total high-energy blues, with the contemporary freakout of Jimi Hendrix and the free-jazz spirit of John Coltrane. Iggy wanted the Stooges to be what he'd seen in Chicago as a young guy — these old bluesmen playing so hard that, as Iggy once said, the music drips off you.
I was fourteen when I first saw a picture of Iggy onstage: shirtless, with his body spray-painted silver. He was sweating — it looked like glitter sweat — and he had a chipped tooth. He looked young and on fire. But Iggy's parents were intellectuals — his father was an English teacher — and that gave him an edge. He had focus. Iggy believed what he was doing was important — this self-reliant, anti-establishment art form. (cont.)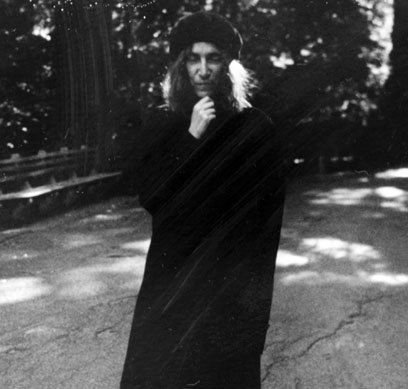 Grabbing Ankles: Patti Smith Interviewed by Thurston Moore
Bomb Magazine, 1996
Patti Smith was, and is, pure experience… Her reign in the '70s as a street-hot rock & roll messiah seemed to exist from a void. No past, no future — "the future is here," she'd sing. I'd hear tales of romance, the girl with the blackest hair hanging out at recording session writing poetry. But I didn't know her. I could only embrace the identity I perceived. I was impressionable and she came on like an alien. The first time I met her was in 1975 in a magazine. It was two poems about three wishes: rock & roll, sex, and New York City. Her photo was stark — no disco color flash. It was anti-glam, nocturnal starring eyes, black leather trousers. She was skinny and smart. She posed as if she were the coolest boy in the city. And she was. I could only imagine her world through her poems: telling, truthful, dirty, hopeful. I wanted to meet her and take her to a movie, but she was so unobtainable and fantastic. I could only entrust my faith to the future. The future would allow me to have a date with Patti Smith or at least hang out with her. And the future seems to have come. It seems to be happening, it's happened. It's here.
Patti grew up in south Jersey in the '60s. As a teenager she became involved in a succession of religious experiences: "Catholic lust," an intense relationship with the Jehovah's Witnesses, and a full-on romance with Tibetan Buddhism. She completely immersed herself in the genius of Bob Dylan and Arthur Rimbaud. She loved (and loves) rock & roll with an unbounded passion. It instilled beauty and vision to a complex life of dreams. (cont.)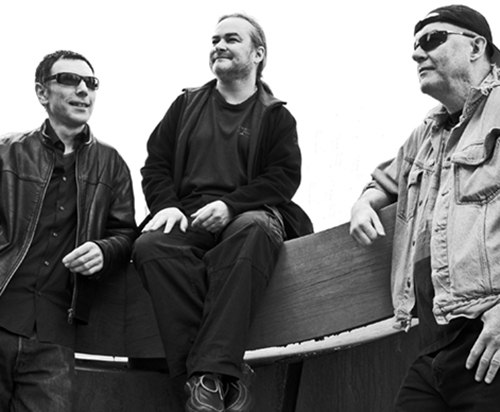 Bull Tongue
by Thurston Moore & Byron Coley
Arthur Magazine, 2007
Trans Industrial Toy Orchestra's Alzheimer Underground LP (Ti Prod) [www.transindustriell.de] is a pip. They are a German troupe where the decidedly fluxus membership play and record by reading words without "e" with nuts cracked in a nut cracker and reading backwards while tearing a sheet. They also utilize record players in aurally illegitimate ways. Sounds dada, bizarre, unlistenable? Actually yes and no: it is indeed a fucked up thing but quite alluring in its tribute to brain blankness.
Very nice slab here from Liverpool's Solar Fire Trio (Invada) [www.invada.co.uk]. Formed in '05 by Spiritualized saxophonist, Ray Dickaty, alto player Dave Jackson and drummer, Steve Belger, their eponymous debut LP is classic squee-pileage in the post-ESP tradition. Unlike some Euro players, these three base their sound on loose sonic collisions and and interwoven blather in ripely extended fire-form, all revolving around theories of meat and its ability to burn. Solid, savage blurt.
Debut release by Weak Sisters is a cassette called Subterfuge (Basement Tapes) [myspace.com/boilerroomemissions]. Awesome cut up screams and dead-time pronouncements make this release unbearably savage. The fact that it's not just wank but pretty taut and focused nihilist sense-slicing makes for killer listening. Weak Sisters is basically a solo spurt of Will van Goern of Other People's Children and word on the streets of Fort Collins, Colorado is that this tape don't come close to his live actions. Hopefully, we shall see. (cont.)
—-


'Death Valley '69'

'Silver Rocket' live

'Brave Men Run' live in '85

'Mildred Pierce'

'Sunday'

'The Simpsons Theme'

'The Diamond Sea' (Live Germany 1996)

Sonic Youth in China

'Incinerate'

'Do You Believe in Rapture'
Tons more Sonic Youth videos
Sonic Youth official
Sonic Youth unofficial
—-
*
p.s. Hey. To those of you who are having problems interfacing with the blog/comments, a report has been made to my hosting site, and I expect to hear from them with some kind of answer this morning. Hopefully whatever the issue is can then be resolved. ** Gregoryedwin, Hi, Greg! Big up! Is it true, that old saying, the 'terrible twos'? I have friends who have told me that, in their case at least, the 'wonderful ones' hasn't proved to be exactly true. Awesome that you're managing to find time/brain to work on your 'novelist/bookish' thing! I think I'm like you re: breaking with past works when something new calls. What do I know, but I think, possibly by default, that that's the only way to try to keep dipping your work in greatness. It sounds extremely exciting and is definitely extremely exciting to think about over here. Ultra-ultra always ongoing very best to you! ** Wolf, Oh my goodness, thank you, I don't deserve it, Sublime Wolf! Well, my Ariana meet up was a comedy of errors. I said, 'Meet me outside metro exit 1 at Republique' not knowing there was a giant demonstration going on there. So I get there and all the exits are closed except one far flung one where everyone is being herded out. So then I spent an hour shuttling between eagle-eyeing the exitees at the far flung exit and the exterior of the closed Exit 1 and never saw her, felt woeful, and came home. Turns out she was doing the exact same thing but didn't see me either. So, long story short, I'll see instead in the next few days, and I can and will give her your massive hug. Zac is from some little town down south whose name I always forget, and his mom lives in Nice. Is Nice in Provence? I don't even know. Bad Francophile. I'll do the same thing with my upcoming week. Ooh, a collaborative project, fun! No, I haven't seen that Quai Branly show yet, but it is severely in the cards for likely this week. As is the 'artists and robotics' show at the Grand Palais. News as/after it happens. Love, bud. ** Chris Cochrane, Hi, Chris! Yes, I'll be astral projecting bouquets towards you 'Them' guys today. I arrive in the afternoon on the 7th. Is there a rehearsal that afternoon? If so, maybe I can catch it, or maybe we can meet that afternoon/evening for a catch up. I've always found it very valuable to stay friends with exes when possible, yeah. I want skinny! Lots of skinny! (You know me). ** David Ehrenstein, Hi, D. That is very true and very cool, yes. ** Sypha, Hi. See note at the top. I hope things can be righted. It's very frustrating for me as well as y'all. Congrats on finishing the big BEE reread! Any new or unexpected insights? ** Alex rose, Hi, Alex!! Well, those books are brand new, so I've barely even myself. Don't know that Jon Fosse book, but I will. Oh, so cool, thank you so much about 'LCTG'. I'm thrilled, and Zac will be when I forward your words to him as he's a big fan of your work as I probably already said. Thank you, Alex. I'm excited for you to see 'PGL'. It's a step up, I think. Love you too! Is all upwards and sonic and right in your world? ** Jamie, Hey, hey! I'm good. Oh, on your face, Jesus! So sorry. That's … ouch. My brother has impetigo too, and his is always on his neck, which is bad, more debilitating than my arm one, but not as bad as face. At least you get your MRI today. I hope that goes super smoothly. I suppose you won't hear the results straight away? Did they say anything? Yes, I really, really hope my host can solve these fucking blog problems. It's annoying and stressful all around. Sorry. My day was an attempted non-meet up with a friend (see: my response to Wolf), a crazy storm that dropped huge hail stones on Paris even though it was 22 degrees (!), some work, some daydreaming, so-so. I hope your today marks the beginning of the world at large ship-shaping itself into your personal Eden in which you will frolick 24/7 even when you're eating dinner and unlocking the door of your apartment. Punk rock love, Dennis. ** Steve Erickson, I will hereby never look at Film Twitter, thank you. Gaspar is actually a really funny guy, a card. Like I said, I am in the process of trying to see if the blog problems can be fixed. Yeah, writing for Pitchfork would be cool. I still look at and sometimes read the reviews there almost every day. I didn't hear that about Moor Mother, but that is very intriguing, and obviously I think Moor Mother is amazing pretty constantly. ** _Black_Acrylic, Hi. Yeah, blog problems, sorry. If they can be fixed, they will be. Ha ha: 'HRH Meghan, Inverted', so simply effective. Shit, wtf (!) about the Generator. Man, I hope that gets sorted out pronto. How stressful. ** JM, Goodishness is inherently transformative, obviously, and, I don't know, but I think you'll beyond sort it. Just a feeling. My instincts are pretty good. Not paranormal good, but their track record is decent. ** Misanthrope, G. Like I keep saying, don't know, re: the comments thing, but maybe/hopefully I will this morning. Sick of this shit. Chu Bops breaking or crumbling into pieces plus wondering how much that company paid for the rights to the albums' cover art or whether they were instead paid by the record companies due to the publicity factor constitutes my entire memory of them. ** Kyler, Oh, thank god, finally someone not having problems with the blog. Thank you. Such a good feeling when you finish the final revisions. Enjoy. A Day would be A-okay and cool, of course. You have to get permissions for quotes? In my novel 'Guide' there were really a lot of quoted song lyrics from different actual songs, and Grove Press's lawyer said permissions weren't needed, but maybe it's different with lyrics. ** Bill, Hi, Bill! Gotcha re: the snippet. Yeah, I do that too with the phrases and sentences and stuff that I manage to wrest from the upper echelons of my muse when in-between things and commit to scraps of paper. Have a sweet Wednesday. ** Okay. Today's post is really old, 11 years old! It's way out of date about Thurston and his work. But someone asked me very nicely to put it back up, if I didn't mind. And I didn't mind, clearly. So, outdated but still fun, I think, Thurston stuff for you today. See you tomorrow.