* (restored)
—-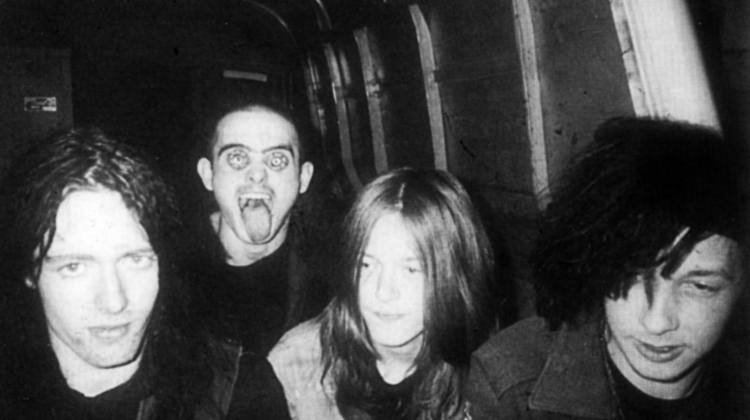 "You Suffer" is a song by the British grindcore band Napalm Death, from their debut album, Scum. The song has earned a place in the Guinness Book of Records as the shortest recorded song ever. It is precisely 1.316 seconds long, or a second long.
http://en.wikipedia.org/wiki/You_Suffer
Live
Video variations
Cover
Slower
800x slower and pitch corrected
100 times

—-
*
p.s. Hey. ** Milk, Hi. Thanks a lot for the book tip. I didn't know it, and it looks good, and I'll look into it. Everyone, Milk recommends this book. Take care. ** David Ehrenstein, Hi. Yeah, I've always had a very busy, multi-tasking brain, it's weird. Yes, RIP Juliette Greco. The French are in mourning. ** _Black_Acrylic, The Ashleigh Bryant Phillips stories are wonderful. The DCA is back, excellent. Well, see how it goes. Better safe than sorry and all of that. xo. ** Damien Ark, Hi, Damien. The blog was down for repairs for a few days. I only saw 'Cruising' when it was first released and don't remember it well. I didn't like it that much at the time, not at all because of the depiction of gays that people were up in arms about — that just seemed silly to me — but because of something in its construction or something. I should watch t again. Generally movies from that era tend to seem really alive nowadays, so it wouldn't surprise me if it has gained strength. No idea if 'Stranger of the Dark' ripped it off. I don't think I know that film. Hugs. ** Dominik, Hey!!! Well, the thing is that the repair force at my hosting site says they won't repair my blog if those posts remain, so if something like what happened happens again, I'm fucked. Unless I can find an outside source to do the repairs. A bit vexing. I have to decide soon since there's a slave post scheduled soon. If nothing else, I'll surely have to remove the more explicit photos with hard-ons and things. Maybe that would be enough. I can't tell. Zac and I and a couple of other friends went to the Halloween haunted house at Le Manoir de Paris last night, and it was really great. Cool you socialised. It's nice to be with others, right? An underrated pleasure, ha ha. Photo shoot: how so? Of something or of you or of you guys orof  just whatever caught the eye? Ah, that's some great love. Elias is kind of my very favourite singer in addition to his other attributes and his coolness as a person. (Zac and I hung out with him once, and he and I text occasionally). A poppered up love on prep getting cumdumped for 10€ a pop, Dennis. ** Armando, Hi. I'm seeing a doctor about my toe in two hours, so hopefully that'll start doing the trick. We just got new harsher measures laid down yesterday. Everything must close at 10 pm, no gatherings over 10 people, all sports things canceled, etc. I like Tom Waits just fine, I just rarely listen to him for some reason. Yes, there were a lot of vegetarian Syrian options, and they were very yum. Ernest Hemingway? Wow, uh, hm … I remember liking 'The Old Man and the Sea' for some reason. I remember thinking he wrote good sentences. Yours? Glad you liked 'Climax'. Maybe you'd like 'Enter the Void'. That's my favorite of his. You take good care too, pal. ** Brian O'Connell, Hi, Brian. Welcome. It's great to meet you, and thanks for entering. And thank you for the kind words about my work. That means a huge ton. As I explained to Dominick, I'm kind of in a quandary about the escort/slave posts, and WP doesn't get the conceptual stuff about them, and they're being very vague. I might try toning down the photos so they're not X-rated. Best guess is that's their biggest problem. I'm glad the books popped out to you. Wow, that is quite the double bill, and John is hosting in person? At a drive-in? It's exciting that drive-ins are coming back. Kind of a really underused form. That should be cool. Report back if you don't mind. I haven't seen 'Salo' since it had a weird, sneaky theater release way back when it was fresh. I didn't like it much at the time, partly because of love/loyalty to the novel, and partly because I was in the middle of thinking a lot about the un-representable and how to represent it. At the time I thought representing explicit sex/violence visually without the depictions becoming merely shocking/kitsch was impossible, and I had issues with the 'Salo' decisions. But I think if I watched the film now, I'd quite like and admire it and not be so rigid about that issue since I've settled on my own ideas about that kind of representing. So I should rewatch it, and your assessment makes total sense to me. Anyway, it's great to talk with you. Do please feel far more than free to come back and hang out inside the blog whenever you like. Take care. ** politekid, Hey, O. Your second comment arrived in perfect shape. Your first comment seems not to have arrived, sadly. Grr. Recreation? ** Bill, Hi. The book that looks good to you is terrific. She's very good. Me too, re: Spheeris. I can really surprise myself sometimes. I quite like Spheeris's 'Suburbia' and 'Decline Pt. 3' especially. We're starting to get things closed down here, so who knows if movie theatres will still be open for long. It fucking sucks. My toe will be seen, handled, judged, and ideally on its way to nonentity status again in about ninety minutes, give or take. ** Steve Erickson, Hi. Good question about the Zoom thing archiving, I have no idea. I guess I'll know by tomorrow. Thanks, hopefully I'll get a lot more than pain killers since the toe is still swollen and purple after almost two months, so I think some kind of repairing is in order. May our respective doctor visits today result in our mutual relief. ** Right. I'm restoring this total blast of an old post kindly made for the blog many years ago by d.l. Schlix, and it's a goodie, if you ask me. Dig in. See you tomorrow.