* (restored)
—-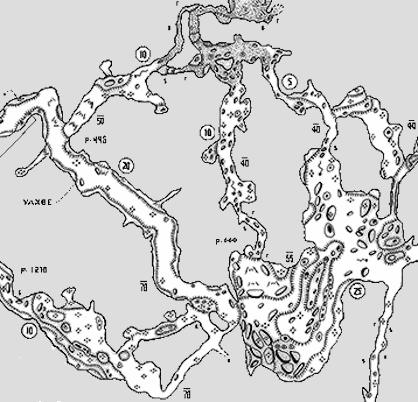 'A British diver and his German partner have discovered what they claim is the world's largest submerged cave system – effectively an underground river – beneath Mexico's Yucatán Peninsula. Stephen Bogaerts and Robbie Schmittner had spent four years exploring whether the Sac Actun system links to other cave networks before they made the final connection that revealed a single system that is 198.25 miles long. Sistema Sac Actun is a classic fault and fracture depicted anchailine cave formed predominantly in the Carrillo Puerto Formation of the Yucatan Platform 1.6 to 24 million years ago.
'The two divers entered the system separately on January 23, 2007 through an entrance (cenote) named Calavera, which is Spanish for Skull. The cenote gets its grim name from the 3 circular openings in the roof of the cave that resemble the eye sockets and mouth of a skull when viewed from above. Calavera is also known as Temple of Doom. The divers worked their way through huge chambers and tiny tunnels to meet up at the connection point they had always believed they would find. Mr Schmittner was carrying a bottle of champagne, which they left secured to the spot.
'Mr Bogaerts is from south London but has spent much of his life exploring caves around the world. He settled in Mexico eight years ago. The 42-year-old explorer says that putting Sac Actun at the top of the global table of submerged cave systems is far from the end of the story. He and Mr Schmittner are working on exploring whether Sac Actun connects to a 58km-long system called Dos Ojos. It could yet prove to be the longest cave system of any kind – a record held by the 360-mile, dry Mammoth Cave system in Kentucky.
'The Yucatán Peninsula – particularly the area running south from the resort city of Cancún, on the north-eastern tip, along what is known as the Riviera Maya – is full of holes, in large part because of the combination of porous limestone bedrock, rainforest cover and relative flatness. Over the millennia the substantial amount of rain that falls here has meandered its way towards the sea, turning slightly acidic because of the dissolving rock, and carving out an extraordinary underground labyrinth. The caves are entered via open pools known as cenotes. There are 55 cenotes in the cave.' — collaged

________
10 Cenotes
all texts by Steve Bogaert
Carwash

Carwash was one of the first cenotes to be found and dived by explorers. It got its unusual name as years ago local Taxi drivers used to take their cars there to wash them. Its proper Mayan name "Actun Ha" means Cave Water. During the summer months there is typically an algae bloom at the surface of the cenote sometimes several meters thick which reduces visibility considerably. At other times of the year lots of tannic acid laden water is washed into the cenote and creates an amazing band of orange water at the surface tinting the sunlight shining down through the Lily pads in glorious shades of red, gold and brown. It is like seeing a sunset underwater. The entrance of the Cavern is very wide with a lot of light penetration and has a screen of dead trees in front of it creating the cool effect of a drowned forest.
Angelita

An enchanted island under the water surrounded by a mist shrouded lake through which reach the branches of a drowned forest like the gnarled fingers of demons and creatures of the dark and hidden places. As soon as you descend below the hydrogen sulphide layer into the saltwater you will be in the dark, the ambient light trapped by the cloud above. Do you dare to dive below the mysterious thick cloud of hydrogen sulphide to discover what lies beneath?
(Calavera) Temple of Doom

Calavera or Temple of Doom is not just an interesting "hole in the ground", but a cavern dive of a different type. To enter the water some courage is needed as the diver needs to jump 3m/10ft down or climb the steep ladder. Some of the best places inside the cenote are The Madonna passage, The Hall of Giant Rooms and the Coliseum Room and The Tanic domes circuit. The limestone displays a snow white ambiance with crystal clear blue tint water. There are several large rooms and a variety of passageways with cave formations located in several areas.
Casa Cenote

Casa Cenote is unique in that although at the moment it is still a cenote separated from the ocean by a short land bridge that land bridge is slowly disappearing. The Halocline depth varies considerably as well and multiple haloclines are often visible at different depths in the water column which can trap different colored silts and sediments giving each layer a distinctive coloration like a psychedelic cocktail. With such changeable conditions no two dives in Casa Cenote are ever alike. It has an almost alien or otherworldly feel and has often been likened to a Salvador Dali picture or an underwater Gaudi garden.
Chikin Ha

Chikin Ha is a very large half moon cenote with a massive undercut ceiling and crystal clear water. One enters through a large halocline tunnel giving a great view of the calcite rafting, large breakdown formations and massive breakdown piles decorated with fossils, crystal formations and speleothems.
Barbie Line

Barbie line leads the diver into a very large open cavern area with lots of light penetration before doubling back on itself through the "time tunnel" a beautiful phreatic tube with an amazing view out of the cavern at the end. Barbie line has is decorated with many beautiful columns and enormous Stalagmites and Stalactites formations, all rendered unearthly by a disorienting light show.
Bat Cave

The Bat Cave is highly decorated with many intricate and delicate speleothems. The entrance takes you through small, dark areas and into a large air filled underground cavern with a solution chimney entrance in the ceiling that lets in light. As the name suggest the Bat Cave is home to many bats that roost high up among the stalactites covering the ceiling.
Pet Cemetery

Pet Cemetery was given its name by the cave diving explorers who first discovered it because of the various animal skeletons found in the cenote and you can still see the lower jawbone of a tapir as well as the fossilized remains of an extinct prehistoric camel. It is probably the most decorate cavern of all andit can be quite dark in places as there is not much ambient light penetration.
The Pit

For a long time "The Pit" was a closely guarded secret and very rarely dived due to its remote and inaccessible location. The Pit is also the deepest cave so far discovered in Sac Actun with a maximum depth of 120m/400ft. Much like Angelita as you descend further you will see an island appear out of a cloud of hydrogen sulphide. This is probably the most awe inspiring and spectacular site in the Sac Actun system or perhaps any underwater cave system in the world.
Zapote

Cenote Zapote is named after the Sapote (from the Nahuatl "tzapotl") trees growing nearby. The Sapote is an evergreen tree native to southern Mexico measuring about 20m /70ft tall which are cultivated for their soft edible fruits, the medicinal oil obtained from their seeds and their wood. Zapote has quite a long drop from the land surface to the water surface of 6m/20ft but access is easy via a set of stairs. Zapote is another sinkhole cenote with the typical hourglass profile. Floating at the surface in the roughly circular pool the sheers walls rise above you like the ramparts of a fortress and once you start your descent they get progressively narrower until a depth of 20m/66ft before starting to open back up again.
_____________________
The Discovery of Hoyo Negro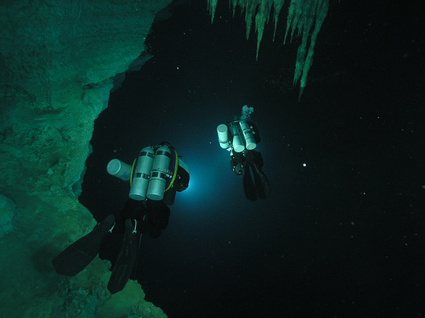 'We started the exploration while following the main tunnel and progressed relatively fast by using scooters to cover more terrain. After about 1,500 feet [450 meters] we began to see the light of another entrance, so we headed towards it and surfaced. After about 400 feet [120 meters] the tunnel narrowed to form a circular shape, almost like a huge cement pipe. I made one tie-off and, while waiting for Franco to complete his surveying effort, I took a good look at the strangely shaped tunnel.
'All I could see was the whiteness of the cave walls along the sides, and beyond that it was all black. I thought to myself that this is either the largest tunnel I have seen or there is something unusual at the end of it. After Franco caught up, we continued for another 200 feet [60 meters] and eventually reached the end of the tube-shaped tunnel. To our surprise the floor disappeared and all we could see was blackness in all directions. It felt like we had reached a big drop-off or the edge of a canyon wall. We tried to slow down our heart rates as we were not really sure of what to do next.
'The immense size of Hoyo Negro is difficult to comprehend. Once you enter the pit you cannot see the floor below, and all that can be seen in front of you is a black void — an inviting entrance to the abyss. While we tried to conducted mapping and surveying of this unfathomly immense pit, we noticed some peculiar things sitting on the distant bottom. When we finally reached the floor, we saw what looked for all the world like a mastodon bone. We couldn't believe that, and no sooner had we turned around when we to our total amazement spotted a human skull resting upside down with other nearby remains at about 140 feet [43 meters] depth.
'The human we found with the megafauna remains in Hoyo Negro represent the oldest evidence of humans yet discovered in the Americas. Although a number of early archaeological sites have been excavated, only few sets of Paleoindian remains have ever been found. During the Late Pleistocene, these caves were dry. The first people to occupy what is now the Caribbean coast of Mexico wandered into these caves, where some ultimately met their demise. As the last glacial maximum came to end, the melting of the polar ice caps and continental ice sheets raised sea levels worldwide. The caves of the Yucatan Peninsula filled with water and the First Americans were hidden for millennia — only to be discovered by us within those dark reaches.' — Alex Alvarez, Franco Attolini, and Alberto (Beto) Nava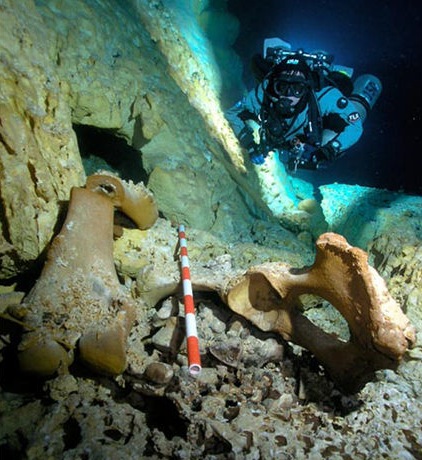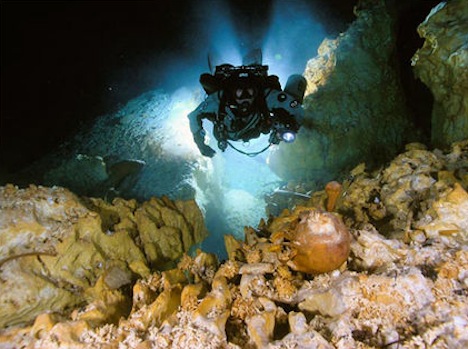 ______
The cave
_______
In motion

Snorkling

Diving
_______
In repose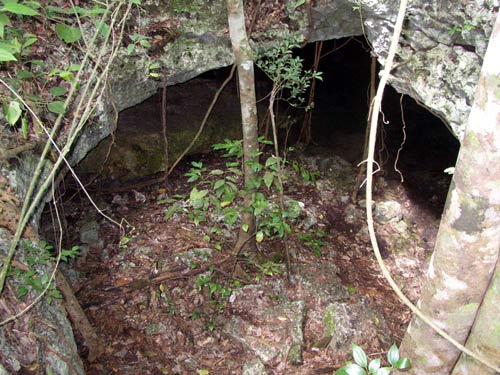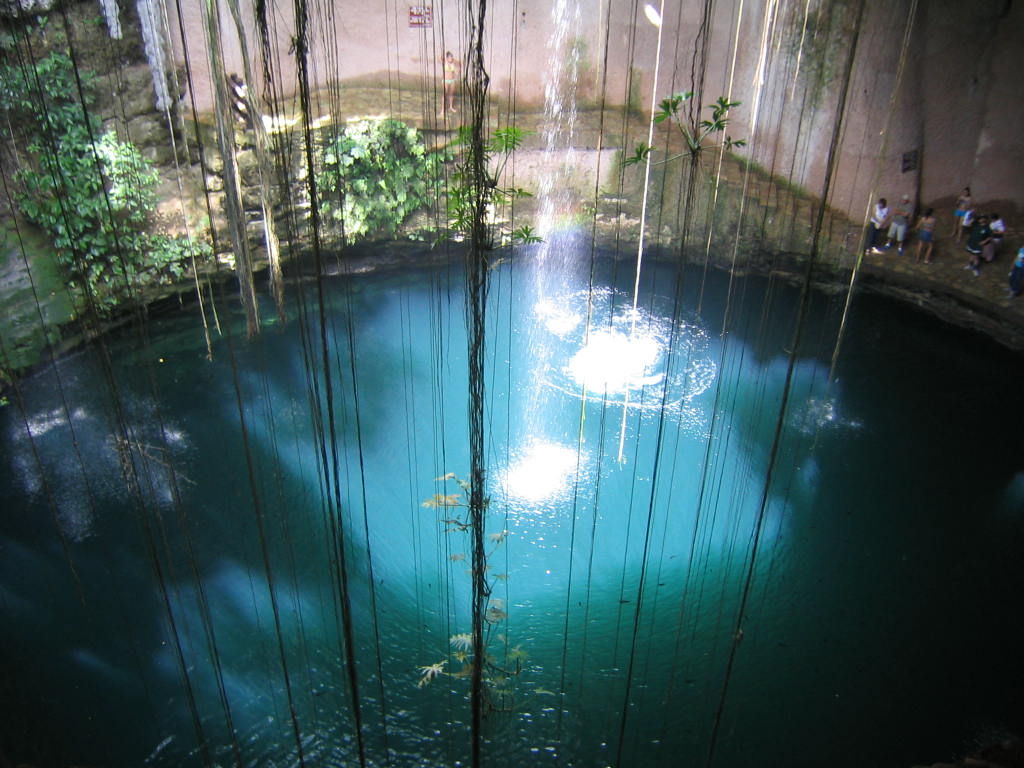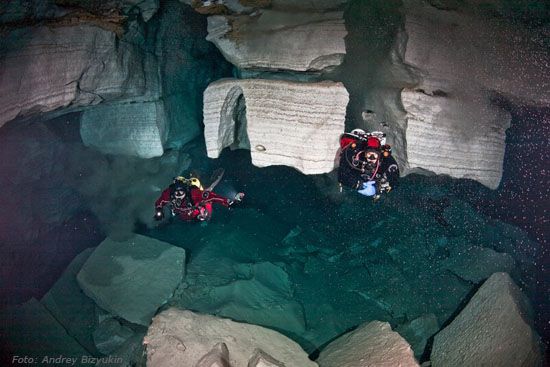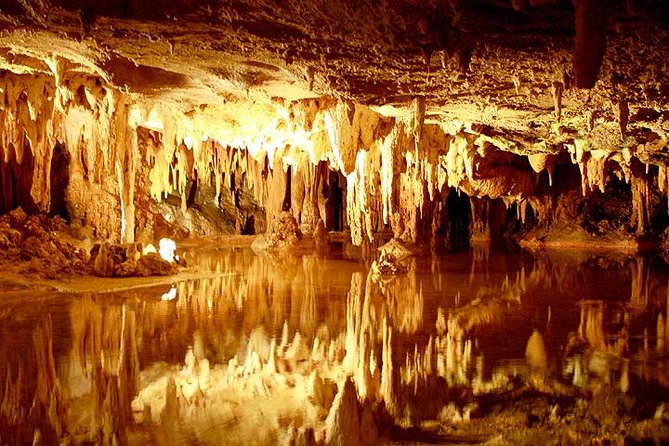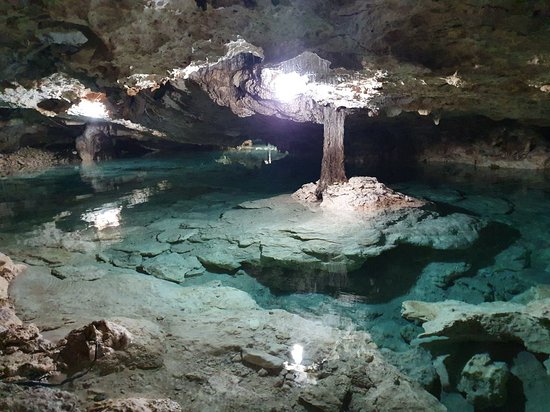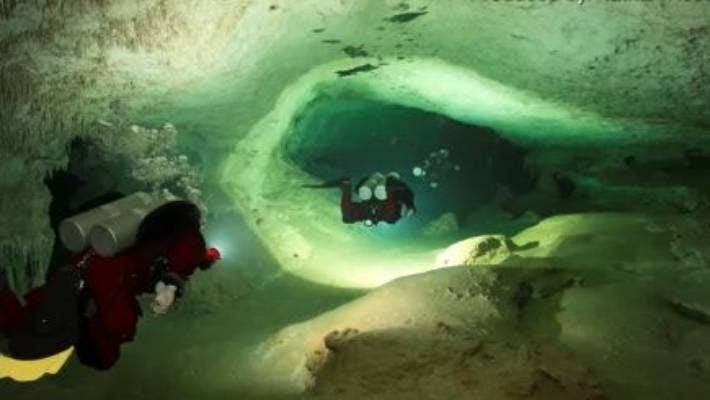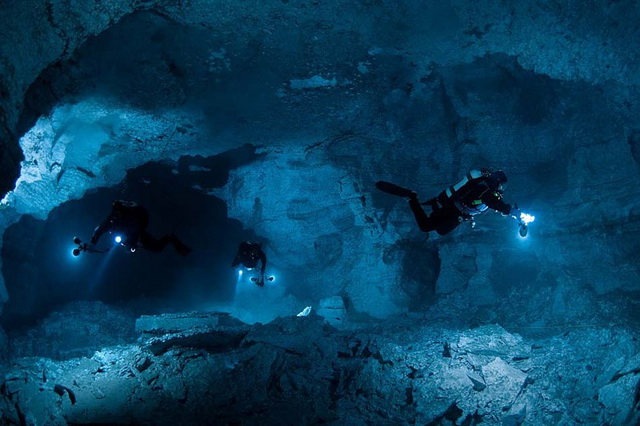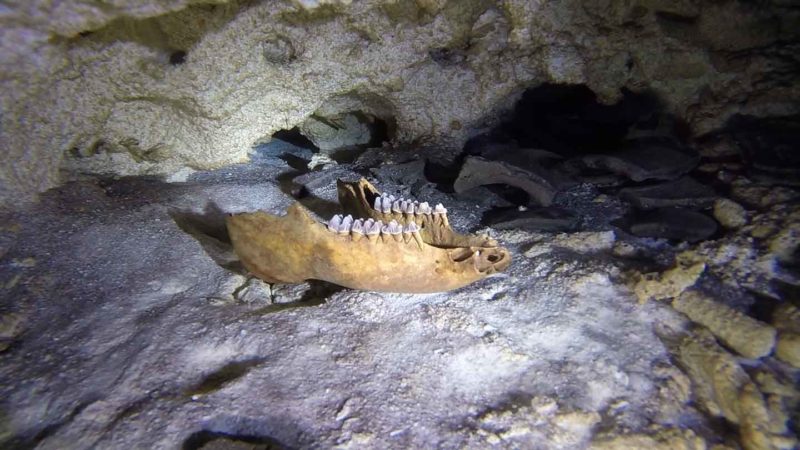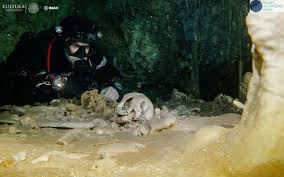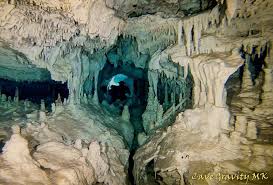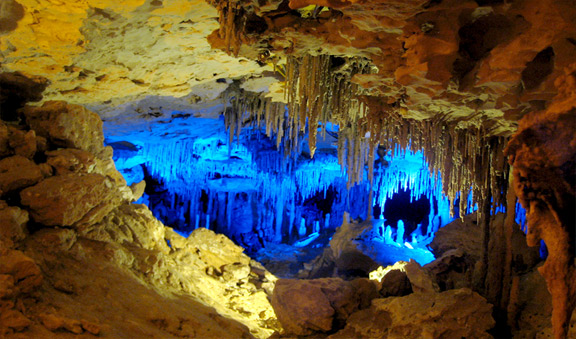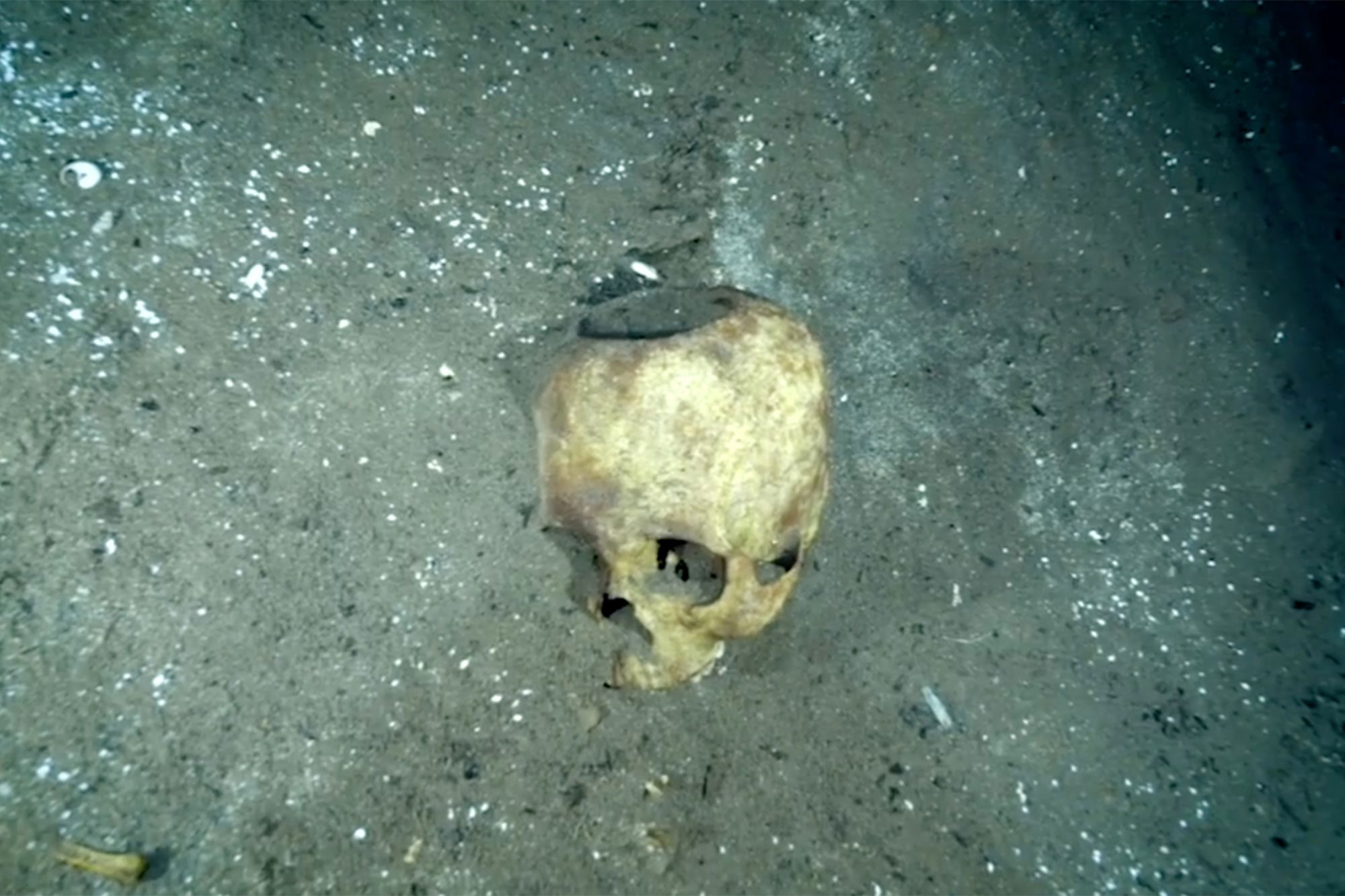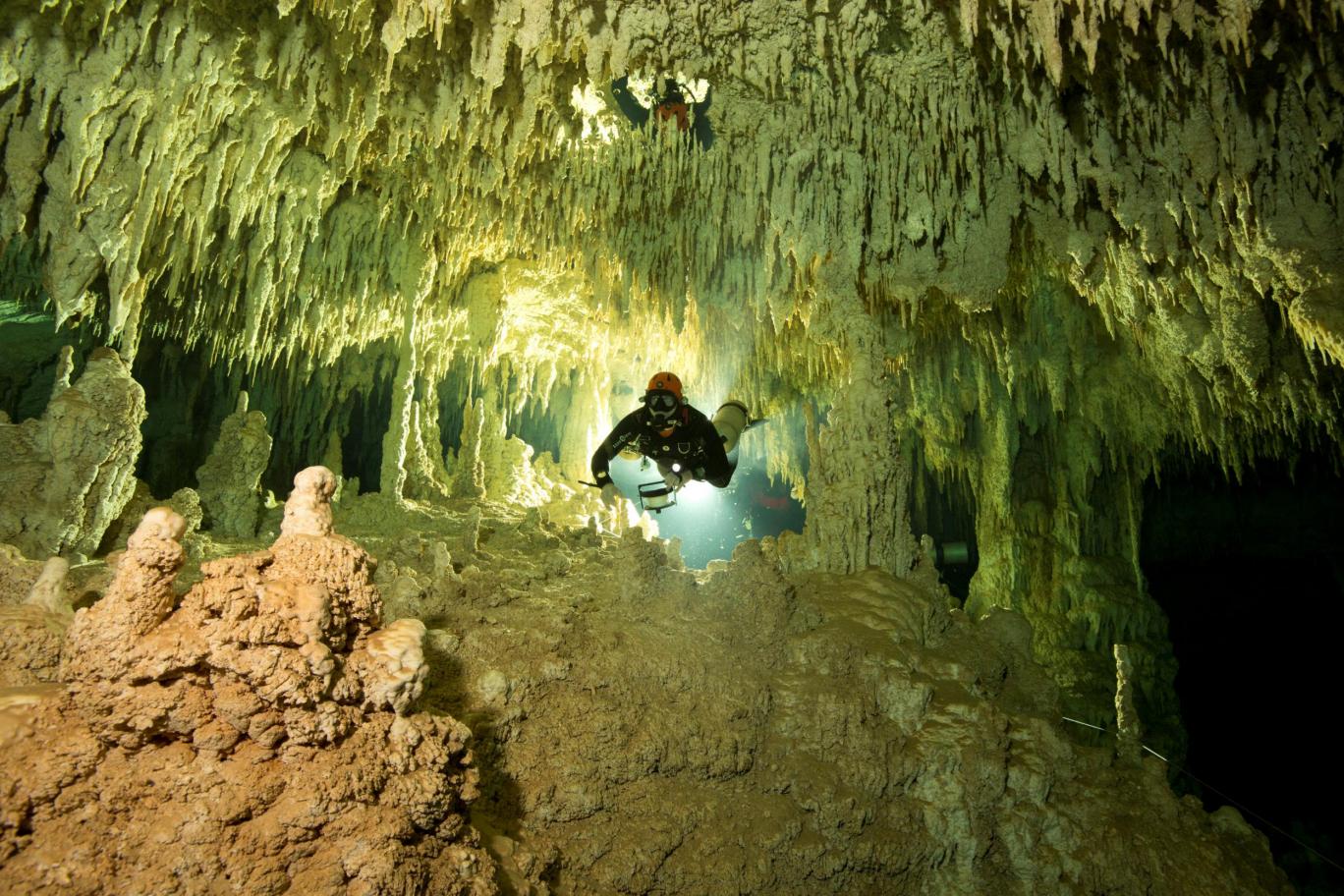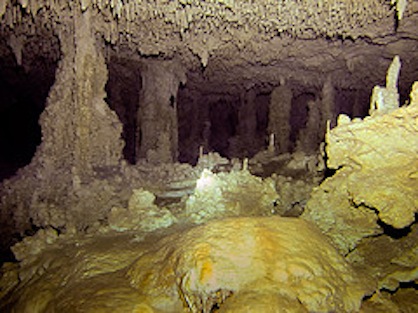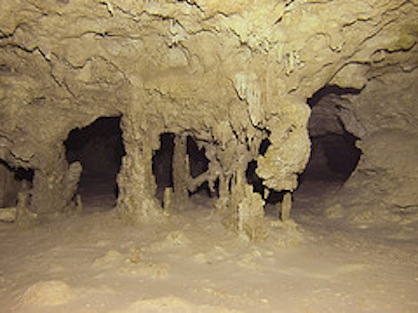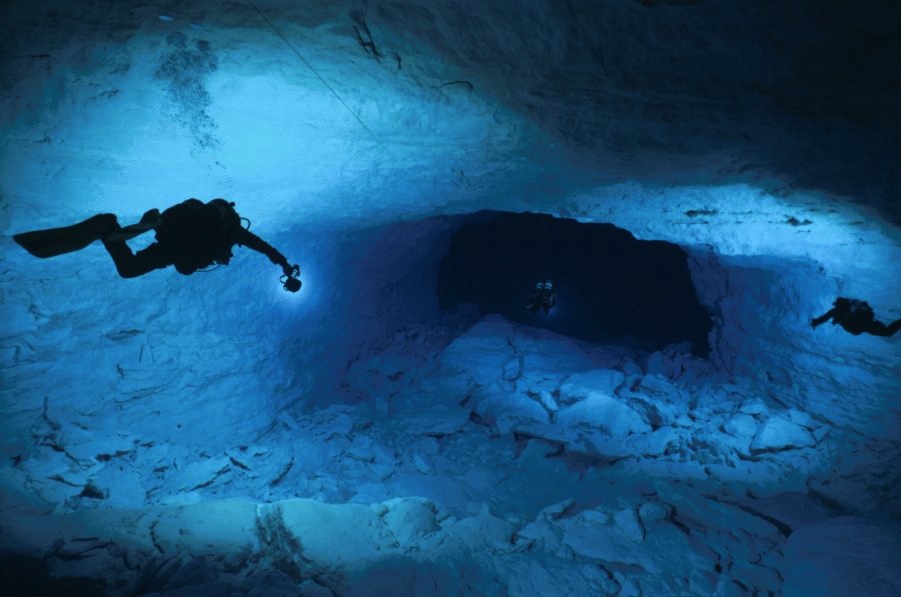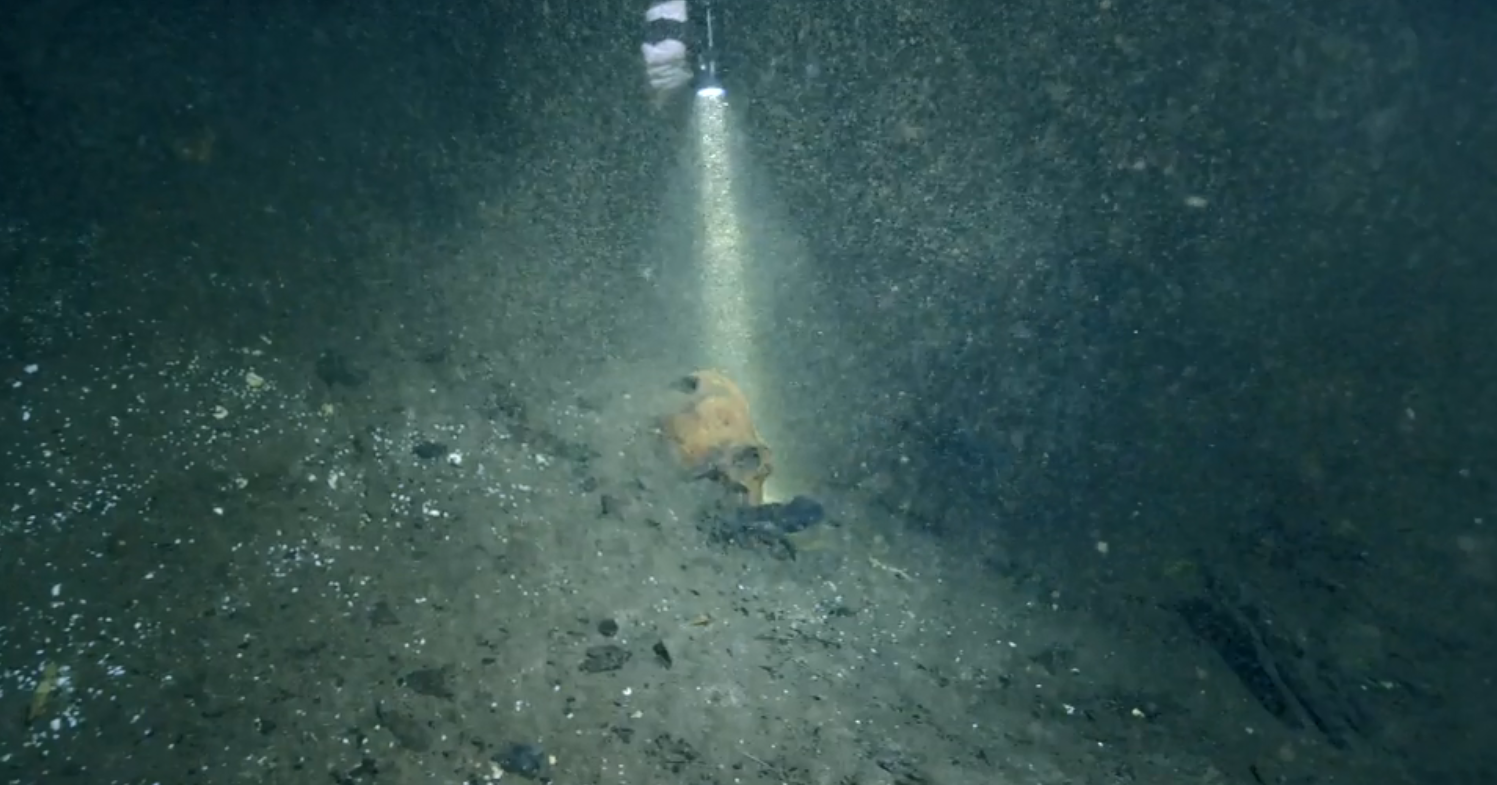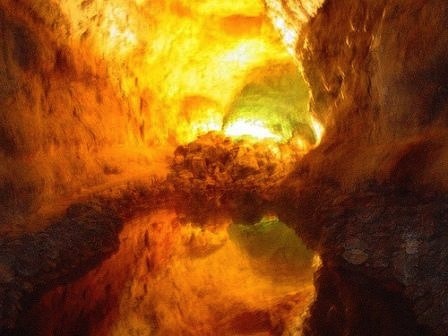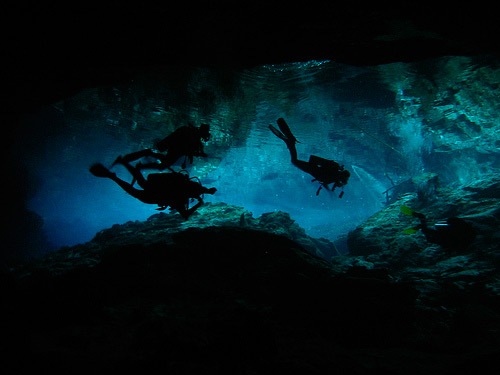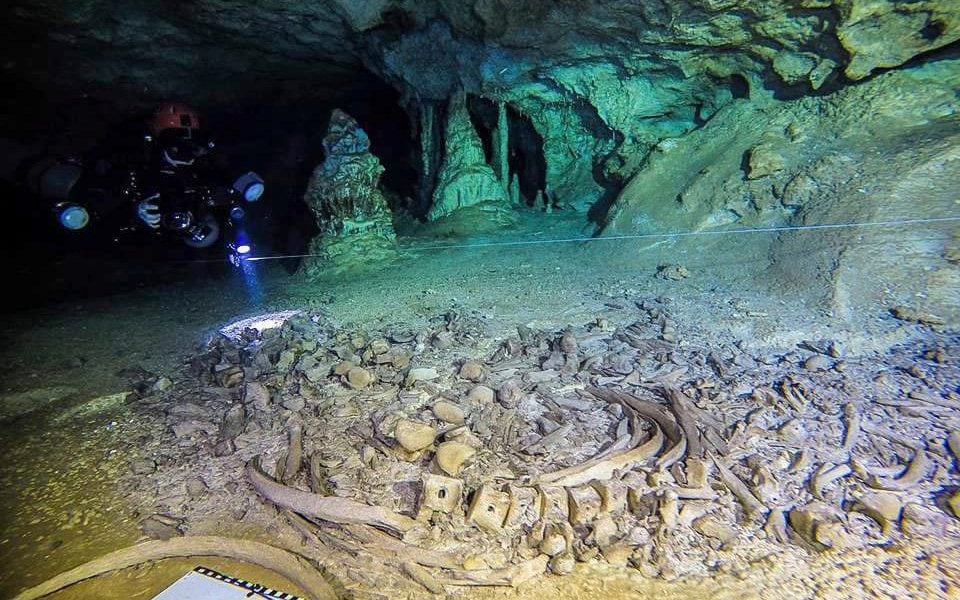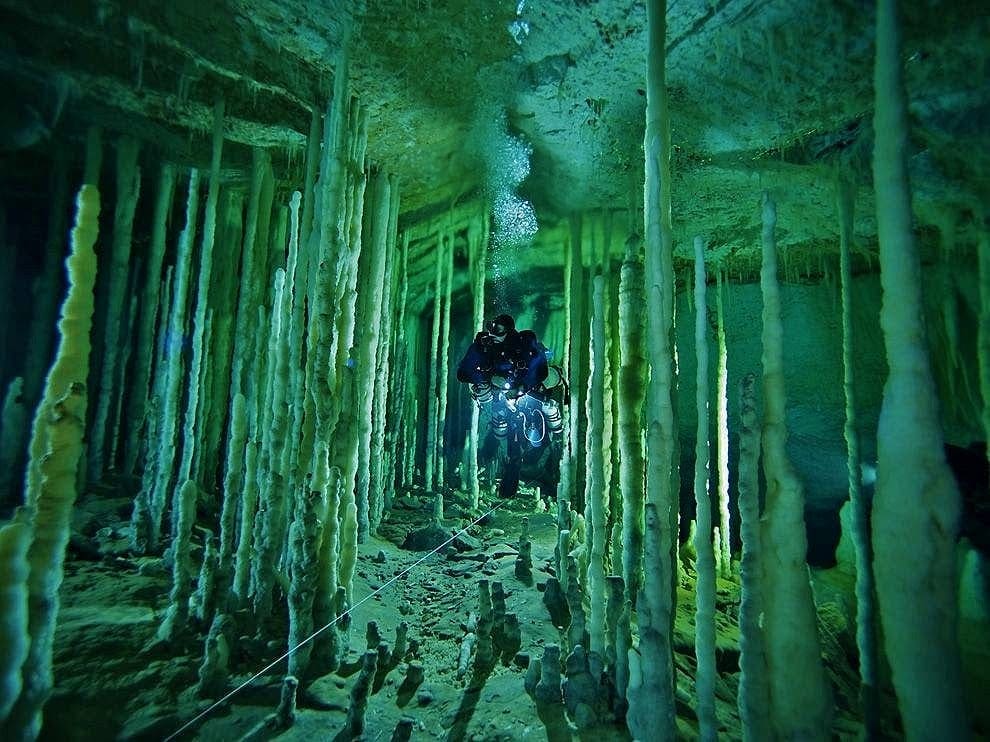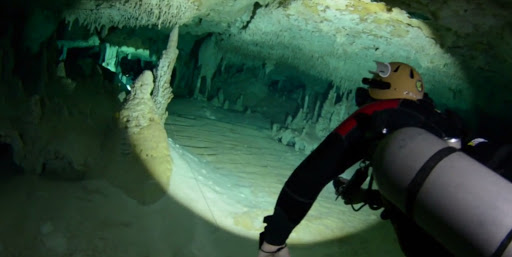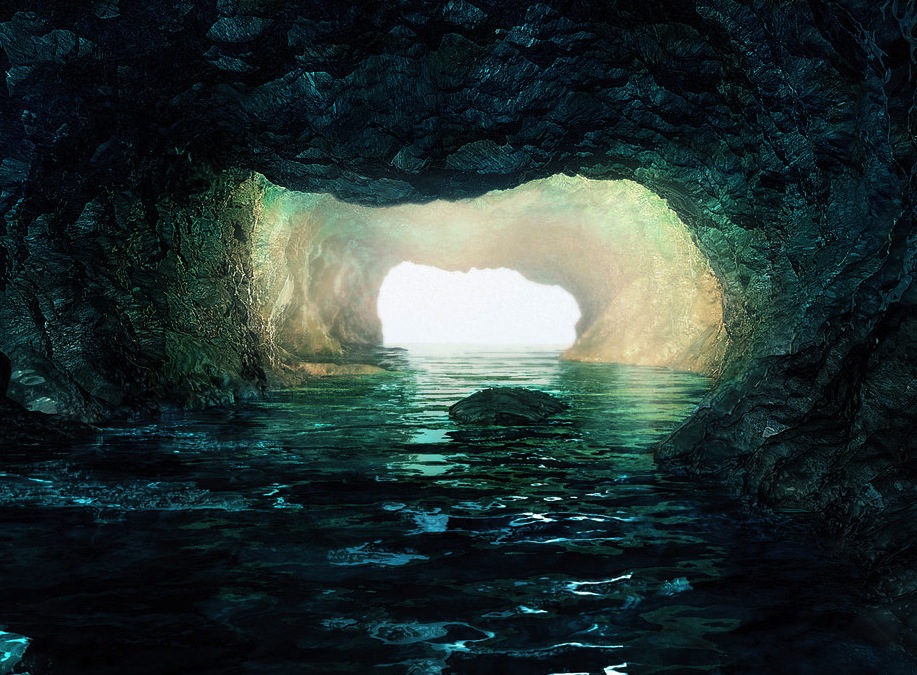 —-
*
p.s. Hey. ** Misanthrope, Hi, G. Glad to hear the medical shitshow your mom was caught up in is back to being just a show now. Now you can just enjoy David's shitshow, ha ha. My new plan is to try to pretend the hacking attempt isn't happening, although with alert emails continuing to arrive every 30 seconds 24/7, it ain't gonna be easy. Fuck knows what it's about. Given its utter lack of success after so many non-stop days, it feels like the hacker is just into banging its head against a wall or something. ** Dominik, Hey!!! Thanks. I'm going to see if there's a way that I can fool myself into ignoring the hack. I haven't found 'It's a Sin' yet, but I'm looking. You're right, that love would be unbelievably buff by now not to mention probably dead of exhaustion. He'd make a good slave. Love crowdsurfing at any gig or concert in the world, he's not picky at this point, G. ** David Ehrenstein, Hi. Tom Waite? Any relation to Geneviève? I finally found your email and wrote to you. ** _Black_Acrylic, Definitely into the image of you mending in a luxury hotel. Any highlights so far? ** Bill, Hi. Thanks. Oh, well, yeah, you wouldn't want to actually read any of those Stalag fictions, as I would imagine those samples made very clear. Ah, finally I will be ready for bandcamp Friday! Thank you a lot, Bill! ** Damien Ark, Yep, just as weird as it seems. Good to see you! ** Tosh Berman, Thanks, Tosh. At the moment it feels like a perpetual motion machine is trying to hack in here, but … ** Jack Skelley, Jack Skedaddle! Yeah, I'm avoiding the Skellington nickname like the plague, you'll be happy to know. Luckily or not, I think my acid masterpieces are beyond compost. Thanks about the obnoxiousness. Fistfuls of cheesy Paris souvenirs, man! ** Steve Erickson, Nope, it/they remain tireless. The Heard/Depp thing is a brawl of ugliness, yeah. Not that some people without apparent lives aren't being fiercely side-taking, at least in my feed. I remember you mentioning that about the doc. Oops. ** Brendan, Ha ha, yes, about 'Hogan's Heroes'. I loved that show as a kid. I can't imagine rewatching it, but I still think it's a clever, legit TV series premise, which makes me cancellable, I'm sure. Luckily, so far, my hacker seems to be a masochist as well as a sadist. Love, me. ** John Newton, Hi. I don't think the Stalags are very readable unless one is into the trashiest camp crap. Coffee and green tea are my last remaining recreational drugs. Enhancing my own clarity is kind of nice, though. I'm into it. ** Brian O'Connell, Howdy, Brian. Oh, wow, cool, that the post's stuff aligned with your pre-existing interests. Mm, no, no special thoughts on the phenomenon, at least this morning. Just kind of a 'huh'. Writing first drafts of fiction, unless I'm super obsessed or something, is a 'let's get this over with' thing for me. With film, it's a lot more fun, I guess because you have a lot of company. I have a thing for award shows, I like the form for some reason. But the Oscars is only interesting, sort of, because it's the Big Dog of award shows. But who wins and stuff seems utterly meaningless, and unless you're into rooting for a film to make lots of money, it just seems like mega-publicity. Yeah, sure, respecting without adoring, I think that's legit and pretty common, no? True love, even between you and art, is naturally a rarity, I think? Sorry about the little depression stint, but, yeah, I hear you. I battle depression onsets quite a bit these days, and I'm not a naturally depressive guy. Bring back the world ASAP please! Oh, that's not a plea to you, but rather to … whatever forces. Thursday seems ideally ripe for both of us, so let's see. ** Okay. Today I thought I would try to take your minds off of aesthetically demanding things by restoring this old vacation-style post. See you tomorrow.