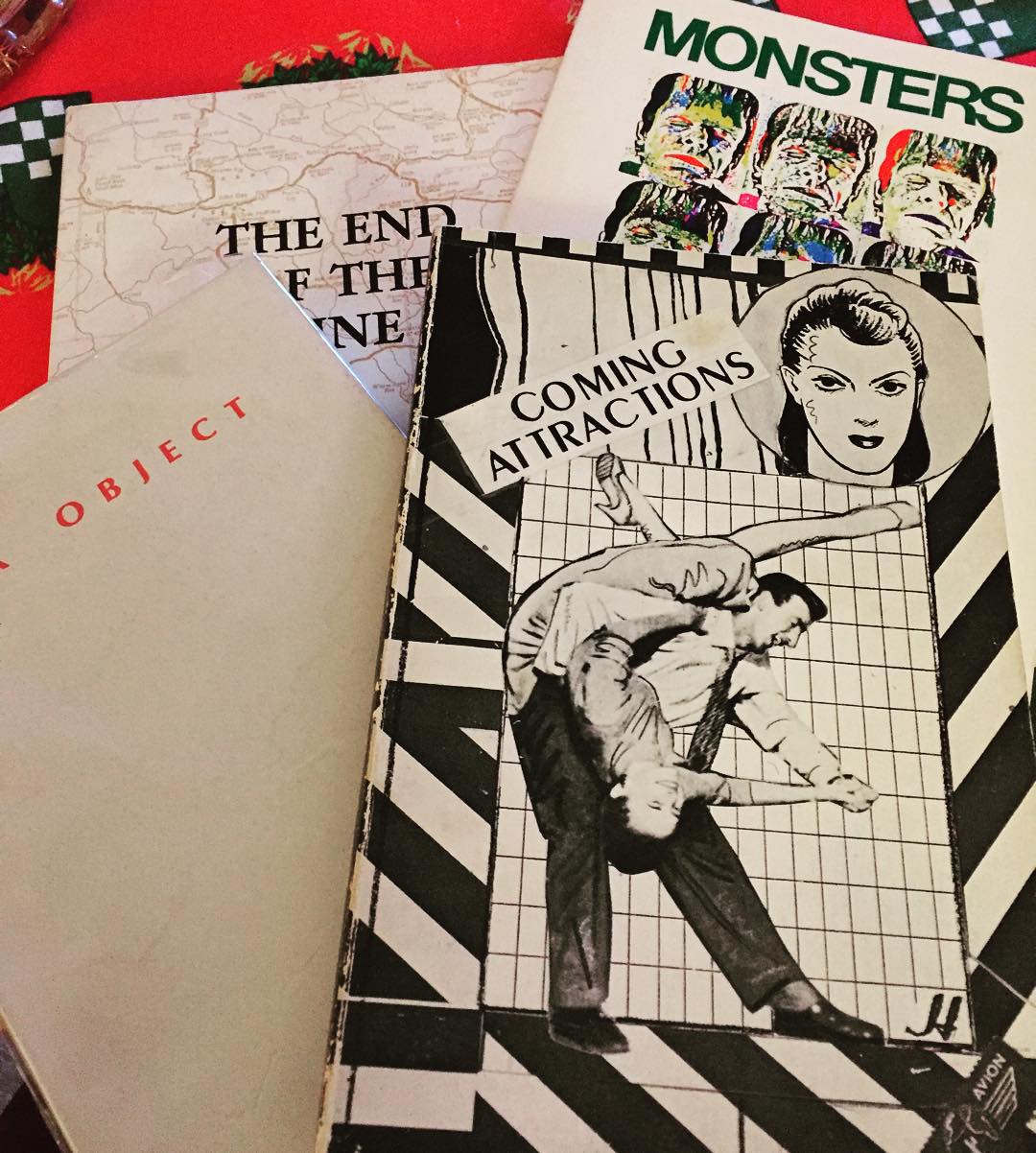 Little Caesar Press (1976 – 1982)
Editor/publisher/designer/typesetter/distributor: Dennis Cooper
3373 Overland Avenue, #2
Los Angeles, California 90034
'Dennis Cooper started Little Caesar Magazine in 1976 as a literary journal with an anarchist, punk rock spirit. From its humble beginnings as a skinny, low-tech zine dominated by poetry, it grew into a book sized magazine featuring poetry, fiction, portfolios of art and photography, essays, special theme issues, and interviews with a wide range of writers, artists, and pop culture figures (ranging from teen idol Leif Garrett to musicians like Johnny Rotten and Gram Parsons to porn director Toby Ross, to name but a few).
'In 1978, Cooper started Little Caesar Press, which wound up publishing 24 books of poetry and fiction by young and established contemporary authors (Joe Brainard, Amy Gerstler, Eileen Myles, Peter Schjeldahl, Elaine Equi, Ronald Koertge, Gerard Malanga, Tom Clark, et. al.), as well as the first and only English language translation of Arthur Rimbaud's final work, "Travels in Abyssinia".
'By the time the magazine ceased production after twelve issues in 1982, its contributors included such people as Andy Warhol, Lou Reed, Nico, Debbie Harry, Brian Eno, and many others.
'These days, issues of Little Caesar are highly sought after and have sold on the collector's market for as much $800.' — DC.net
Books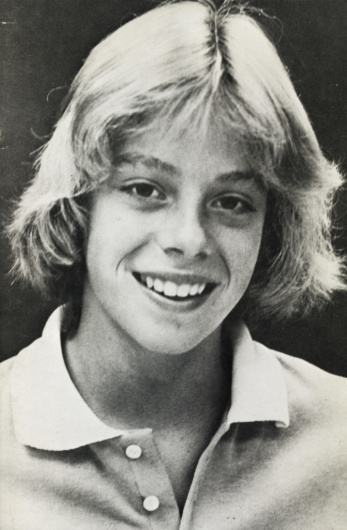 Dennis Cooper TIGER BEAT (1978)
poetry
Limited signed edition w/ art insert: 15 copies
1st edition: 500 copies
2nd edition: 350 copies
3rd edition: 500 copies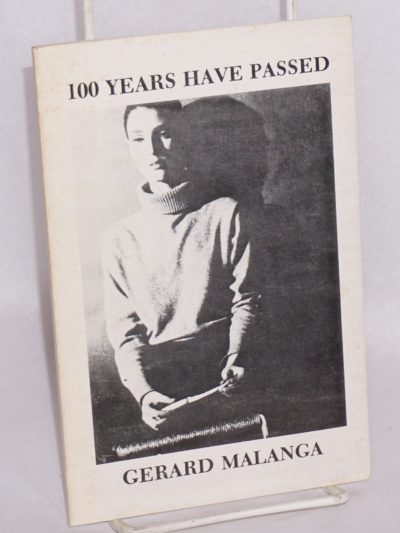 Gerard Malanga 100 YEARS HAVE PASSED (1978)
Cover photograph by the author
prose poems
Edition: 800 copies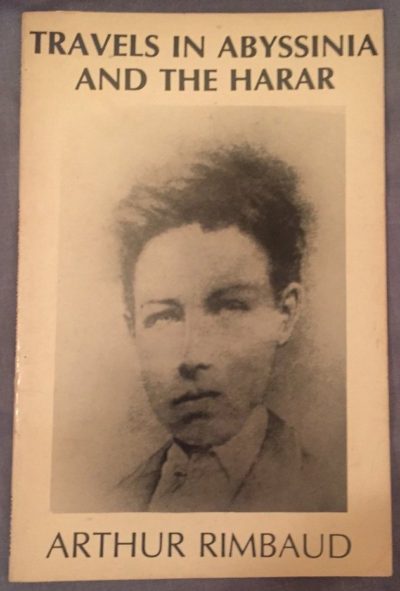 Arthur Rimbaud TRAVELS IN ABYSSINIA AND THE HARAR (1979)
Translated by Scott Bell
previously unpublished non-fiction
1st edition: 1000 copies
2nd edition: 1500 copies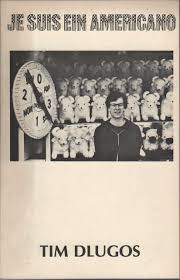 Tim Dlugos JE SUIS EIN AMERICANO (1979)
Cover photograph by Richard Elovich
poetry
Edition: 800 copies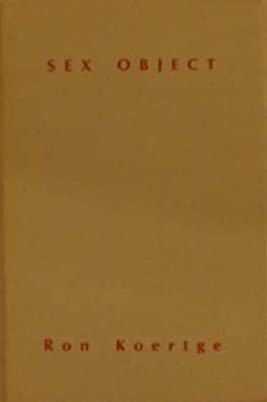 Ron Koertge SEX OBJECT (1979)
poetry
Edition: 800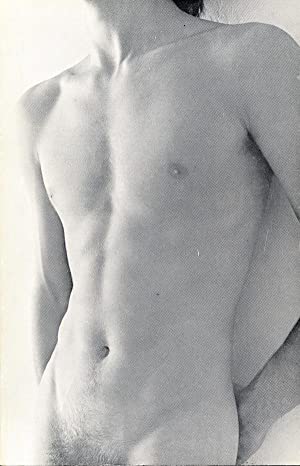 Oswell Blakeston JOURNEYS END IN YOUNG MAN'S MEETING (1979)
Cover photograph by Peter Warfield
prose poems
Editions: 800 copies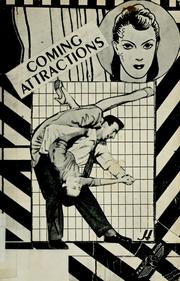 Dennis Cooper, editor COMING ATTRACTIONS: AN ANTHOLOGY OF AMERICAN POETS IN THEIR TWENTIES (1980)
Cover art by Duncan Hannah
featuring Charles Baxter, Donald Britton, Peter Cashorali, Kevin Jeffery Clarke, Joel Colten, Dennis Cooper, Tim Dlugos, Elaine Equi, Cheri Fein, Bob Flanagan, Brad Gooch, Steven Hall, Steve Hamilton, Wayne McNeill, Eileen Myles, Anne Pitrone, Jerome Sala, Jack Skelley, Stephen Spera, David Trinidad, Diane Ward, Bernard Welt
Edition: 1000 copies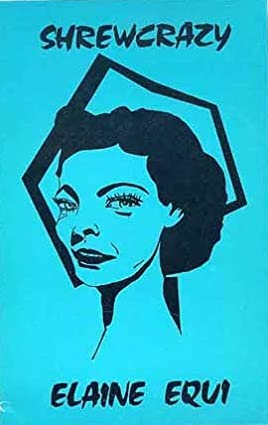 Elaine Equi SHREWCRAZY (1981)
Drawings by Steven F. Giese
poetry
Edition: 800 copies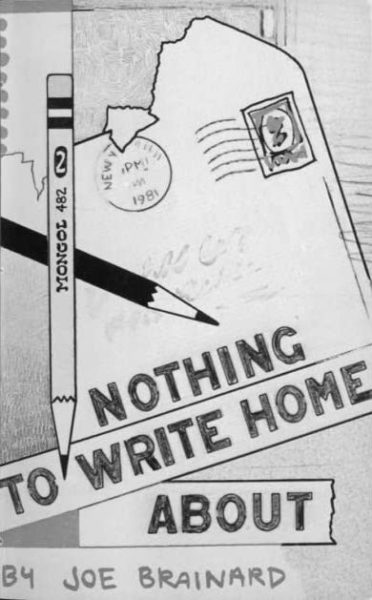 Joe Brainard NOTHING TO WRITE HOME ABOUT (1981)
Cover art by the author
poetry
Edition: 1000 copies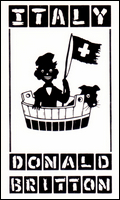 Donald Britton ITALY (1981)
Cover art by Trevor Winkfield
poetry
Edition: 1000 copies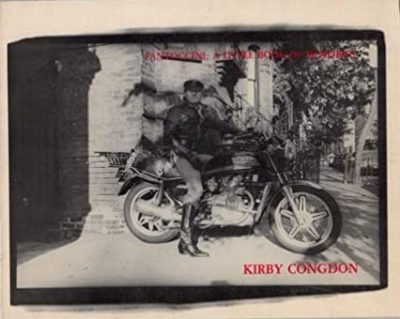 Kirby Congdon FANTOCCINI: A LITTLE BOOK OF MEMORIES (1981)
Cover photograph by Nita Bernstein
prose poems
Edition: 1000 copies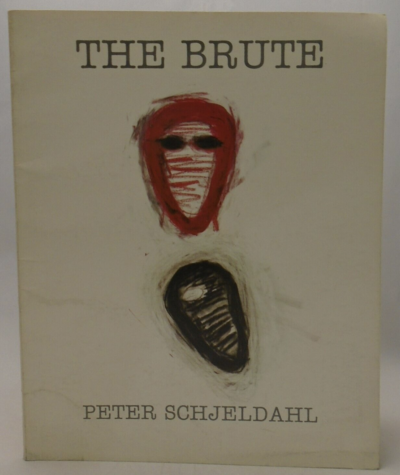 Peter Schjeldahl THE BRUTE (1981)
Cover and drawings by Susan Rothenberg
poetry
1st edition: 1000 copies
2nd edition: 800 copies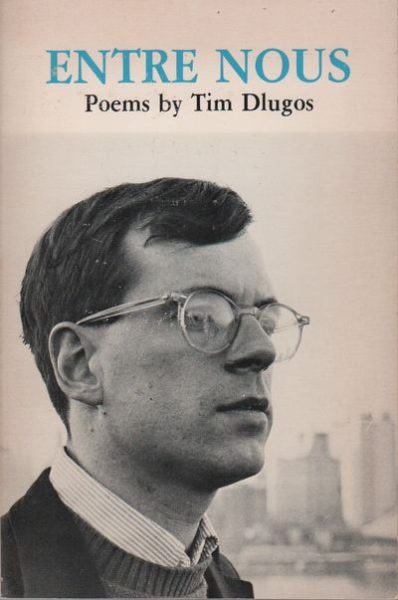 Tim Dlugos ENTRE NOUS (1982)
Cover photograph by Rudy Burckhardt
poetry
1st edition: 1000 copies
2nd copies: 800 copies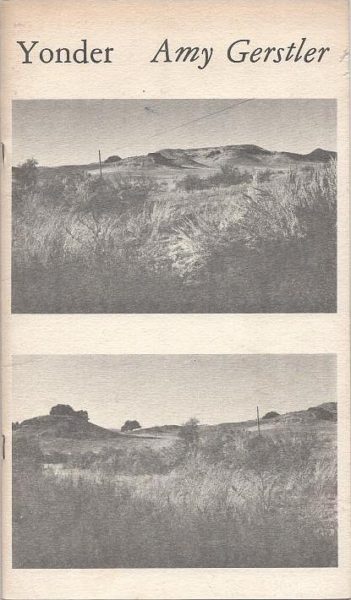 Amy Gerstler YONDER (1982)
Cover photographs by Judith Spiegel
poetry
Edition: 1000 copies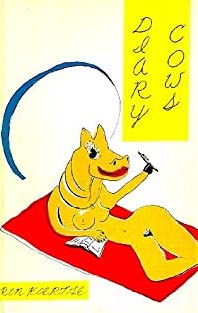 Ron Koertge DIARY COWS (1982)
Cover art by Bill Womack
poetry
Edition: 1000 copies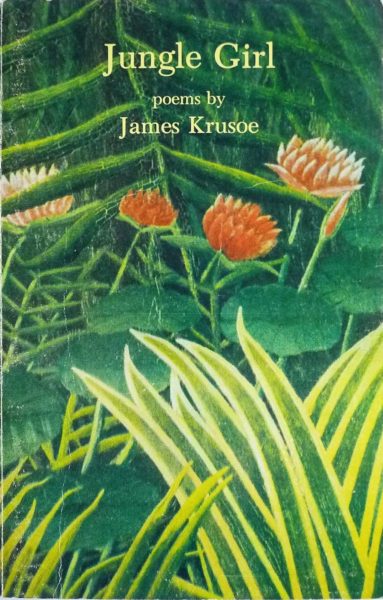 James Krusoe JUNGLE GIRL (1982)
Cover art by Henri Rousseau
poetry
Edition: 1000 copies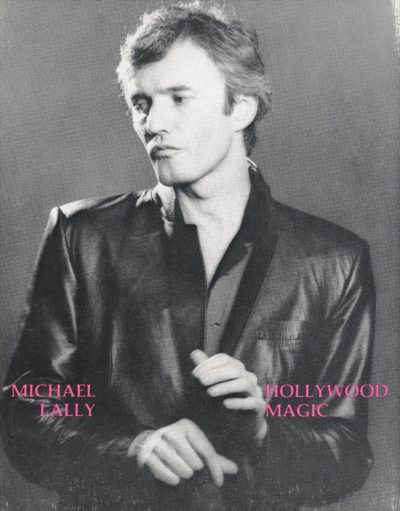 Michael Lally HOLLYWOOD MAGIC (1982)
Cover photograph by Lynn Goldsmith
poetry and prose poems
Edition: 1000 copies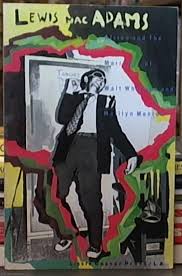 Lewis MacAdams AFRICA AND THE MARRIAGE OF WALT WHITMAN AND MARILYN MONROE (1982)
Cover art and fold-out poster by Henk Elenga
poetry & prose poems
Edition: 1000 copies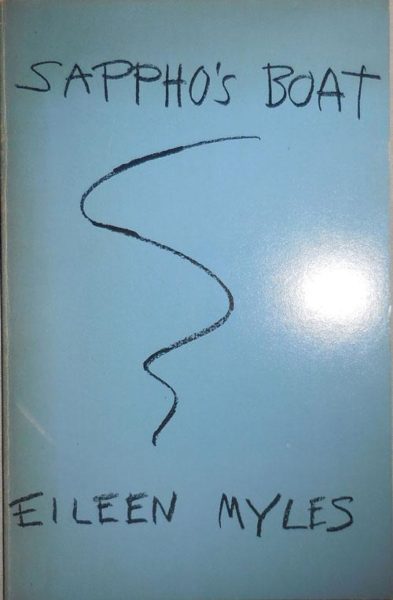 Eileen Myles SAPPHOS BOAT (1982)
Cover art by the author
poetry
Edition: 1000 copies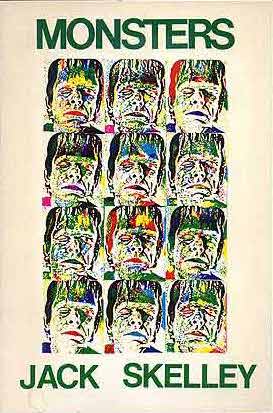 Jack Skelley MONSTERS (1982)
Cover designed by Stephen Spera and Sheree Rose
poetry and prose poems
Edition: 1000 copies
Planned but never published
Steven Hall NEW AND IMPROVED (1983)
Cover photography and design by Sheree Levine
poetry
Brad Gooch JAILBAIT AND OTHER STORIES (1983)
Cover photography by Rainer Werner Fassbinder.
stories
Anne Pitrone THE POVERTY JOURNAL (1983)
Cover art by the author
fiction
Little Caesar Press Catalog (1982)
Cover art and design by Henk Elenga
Edition: 1500 copies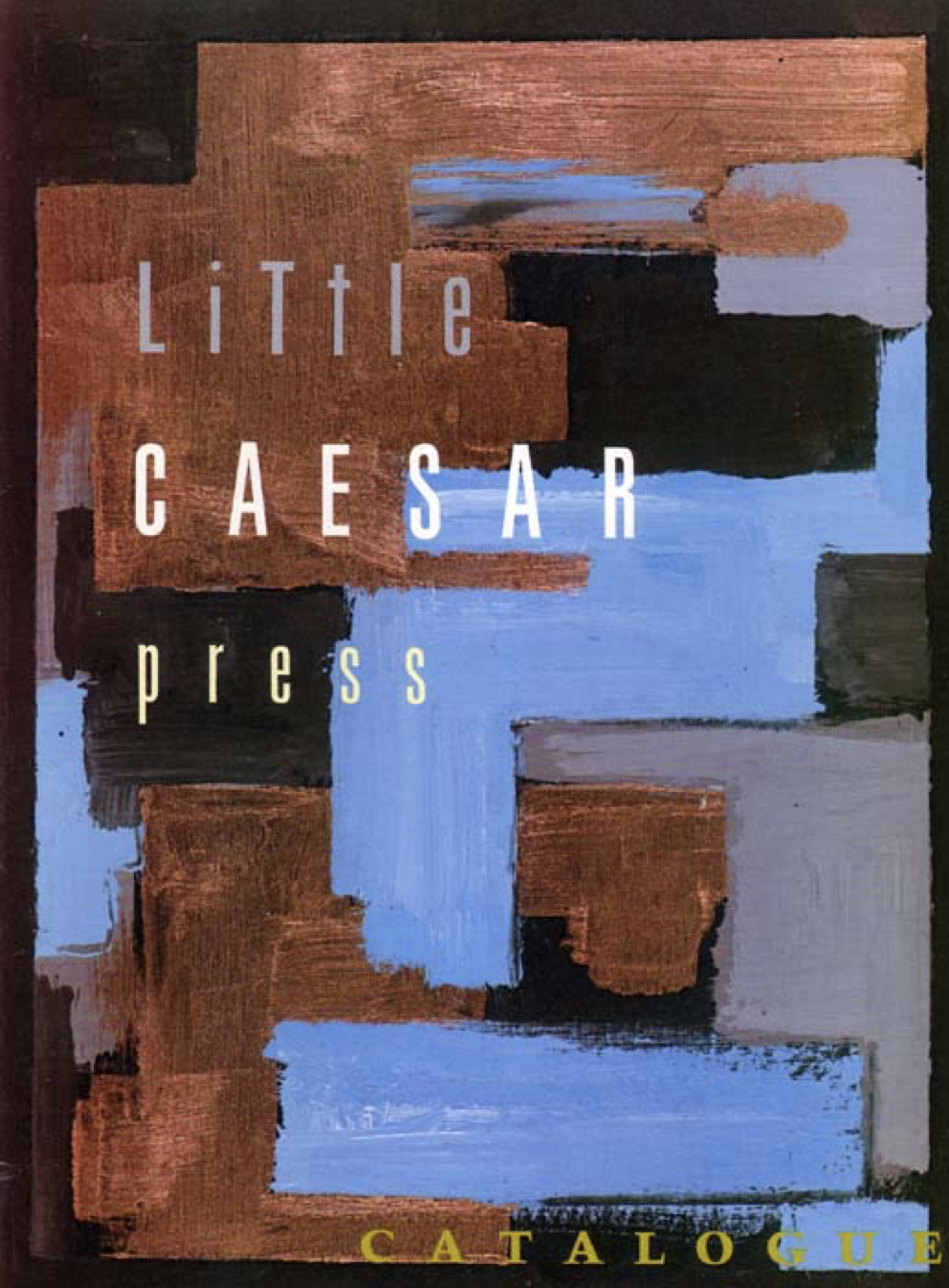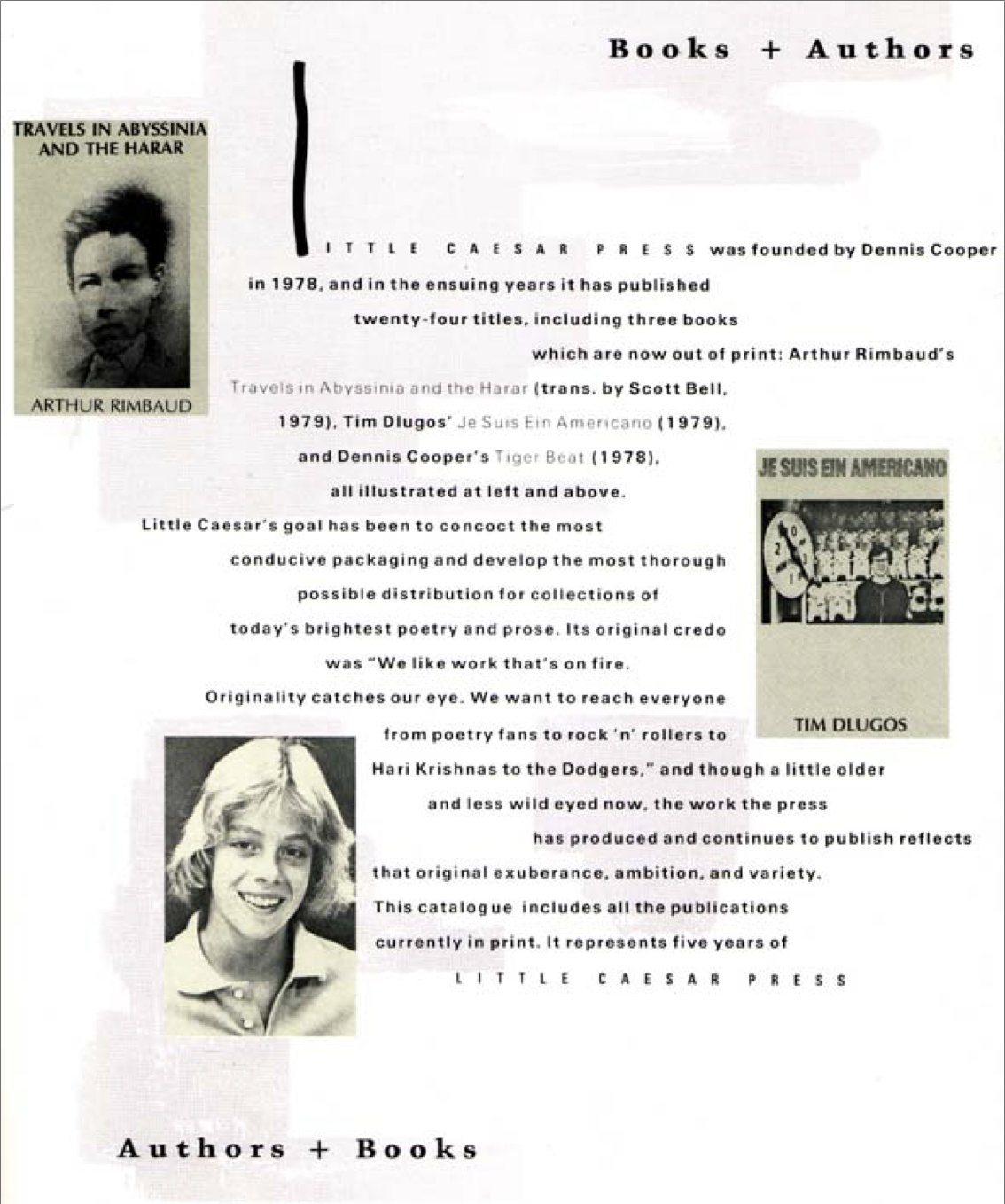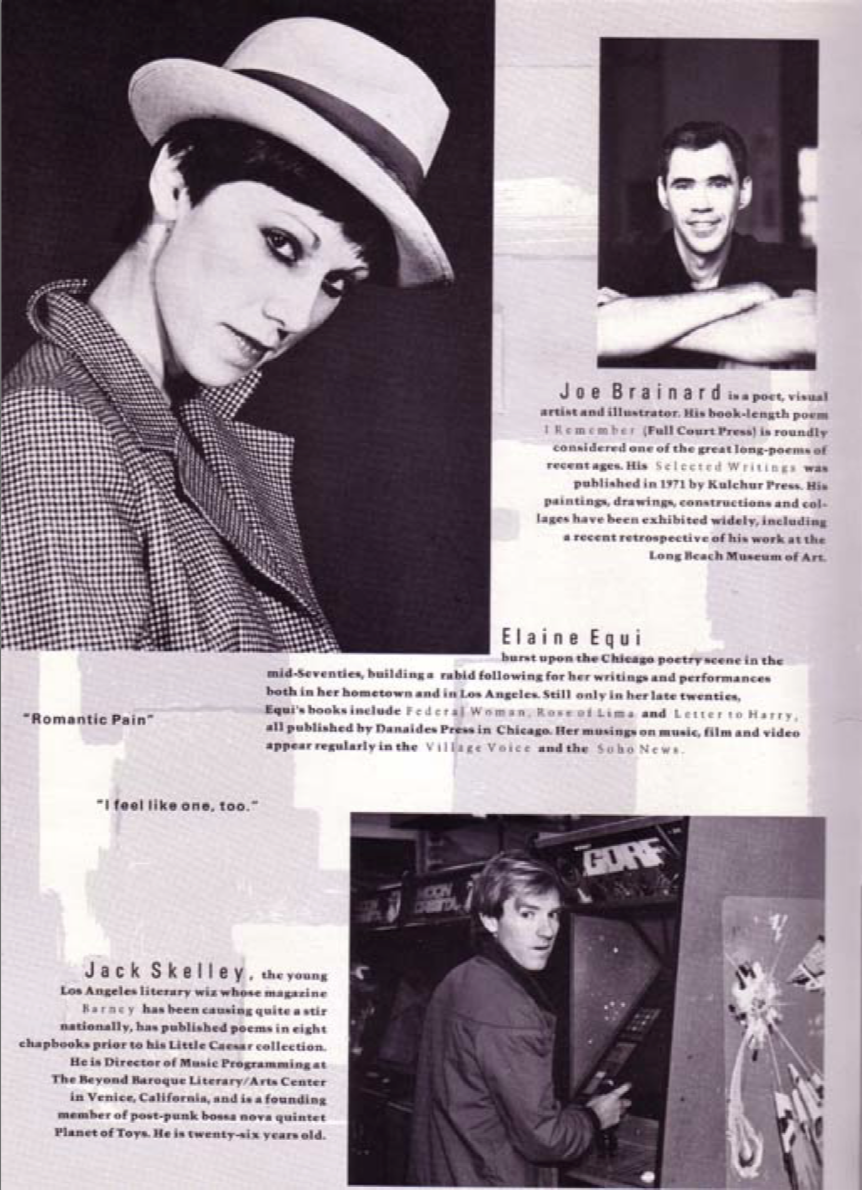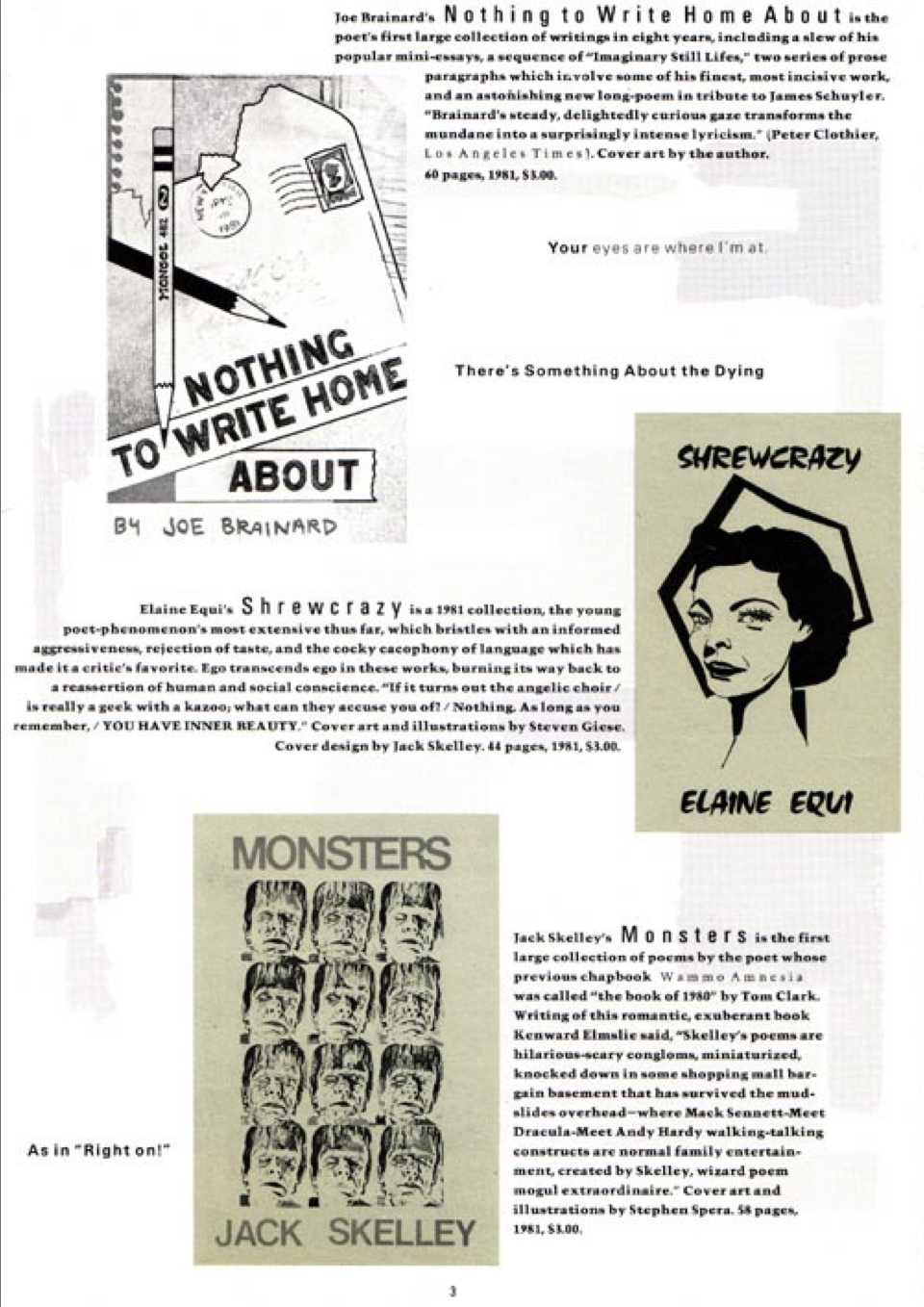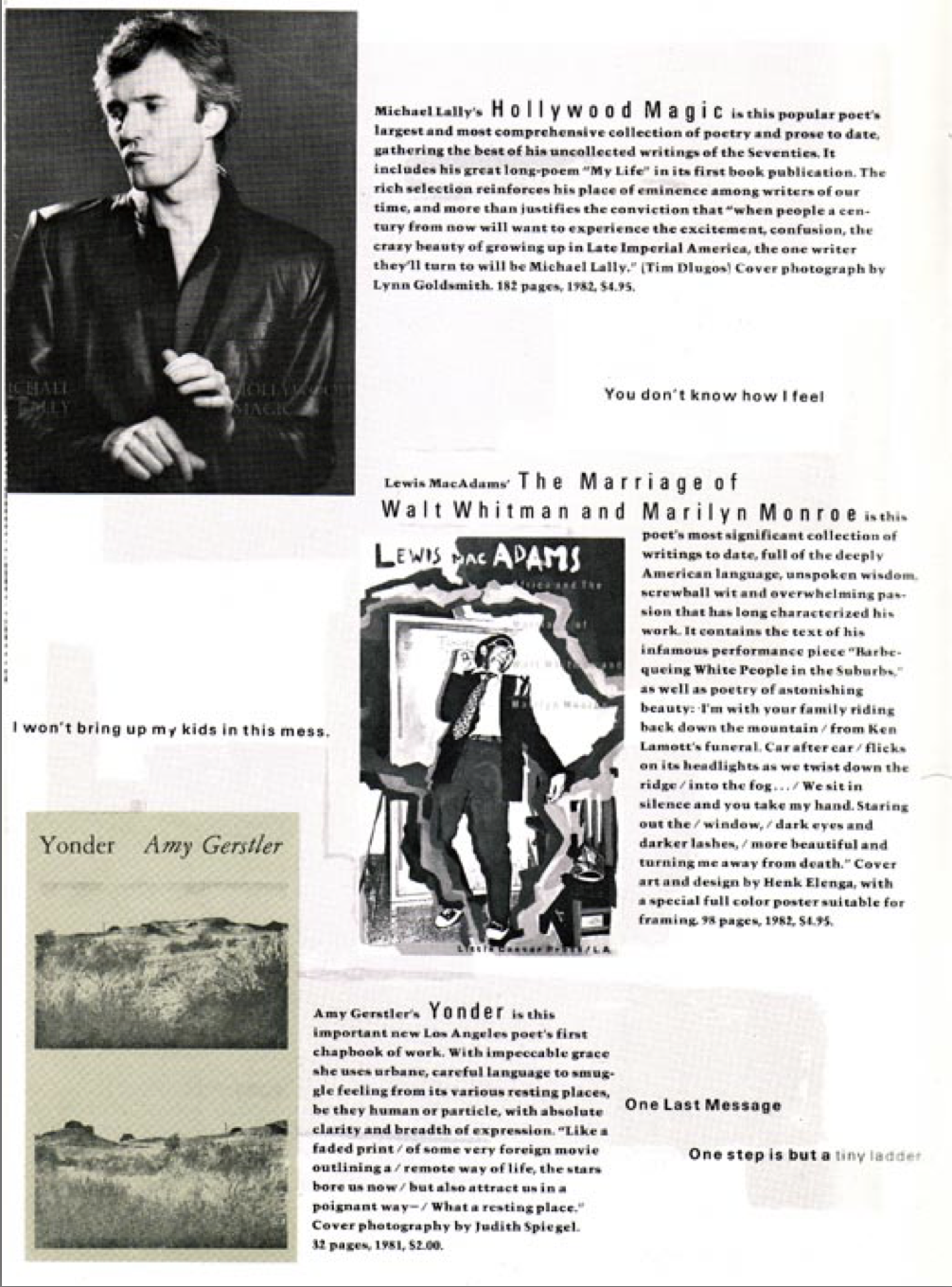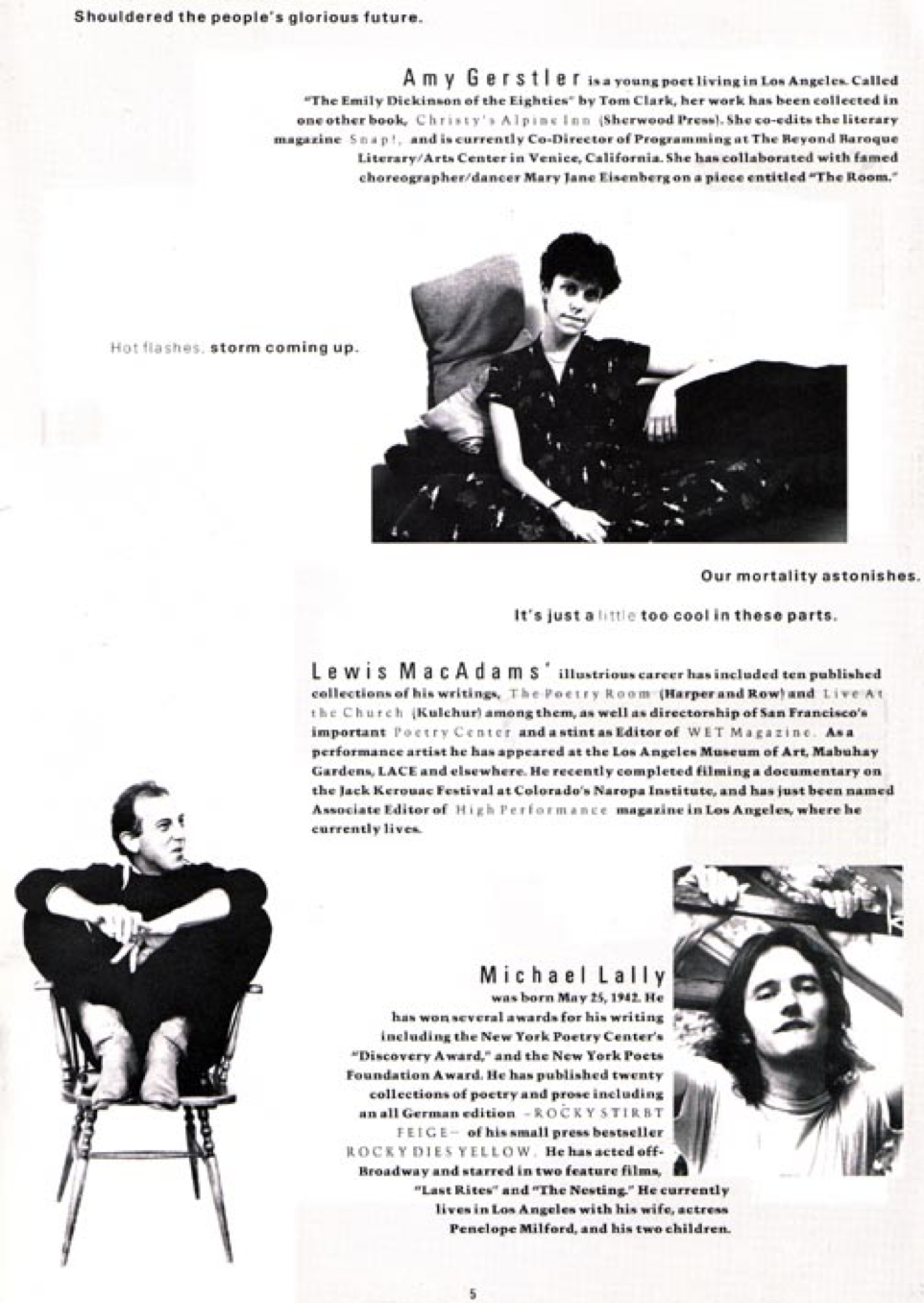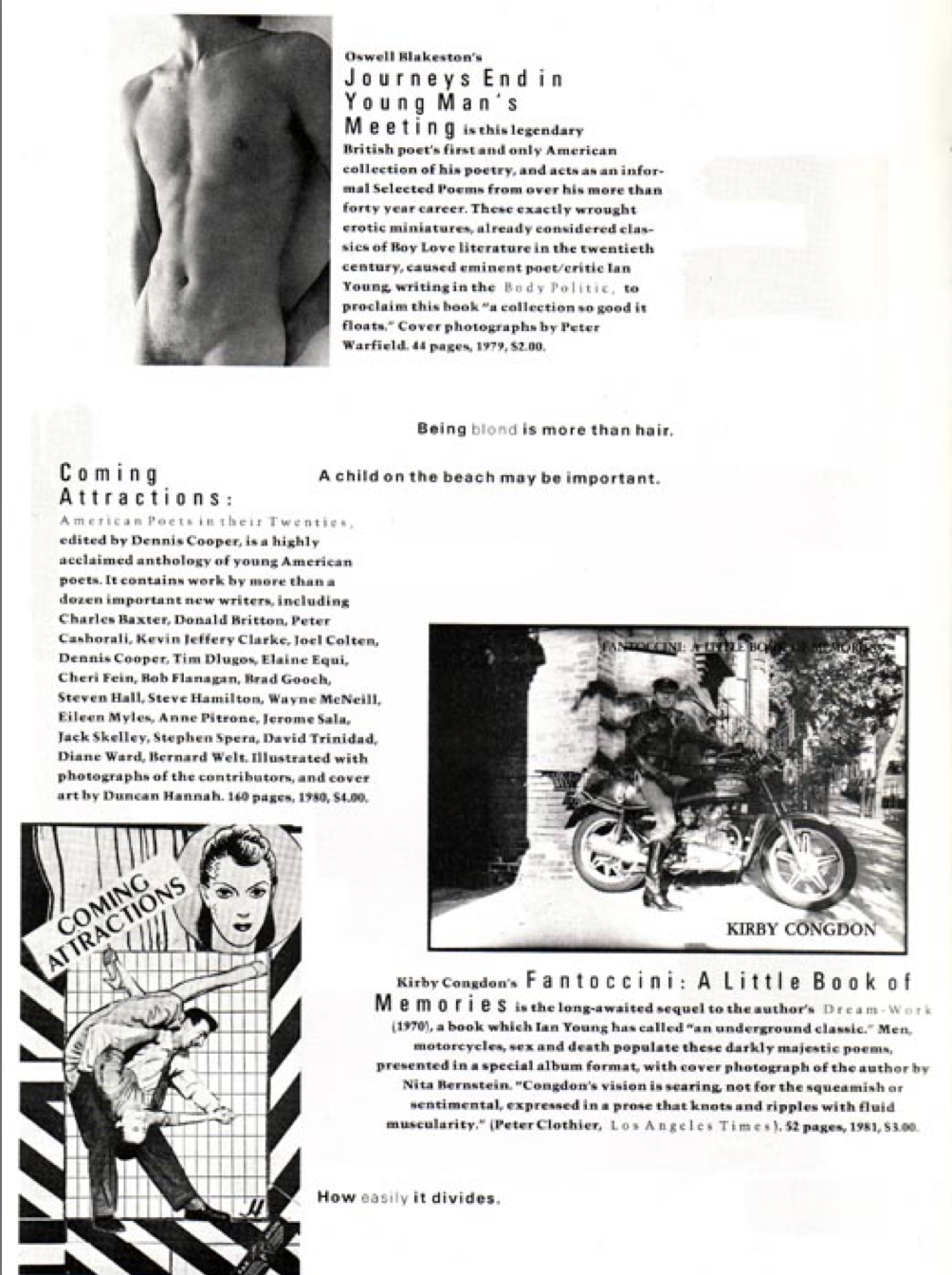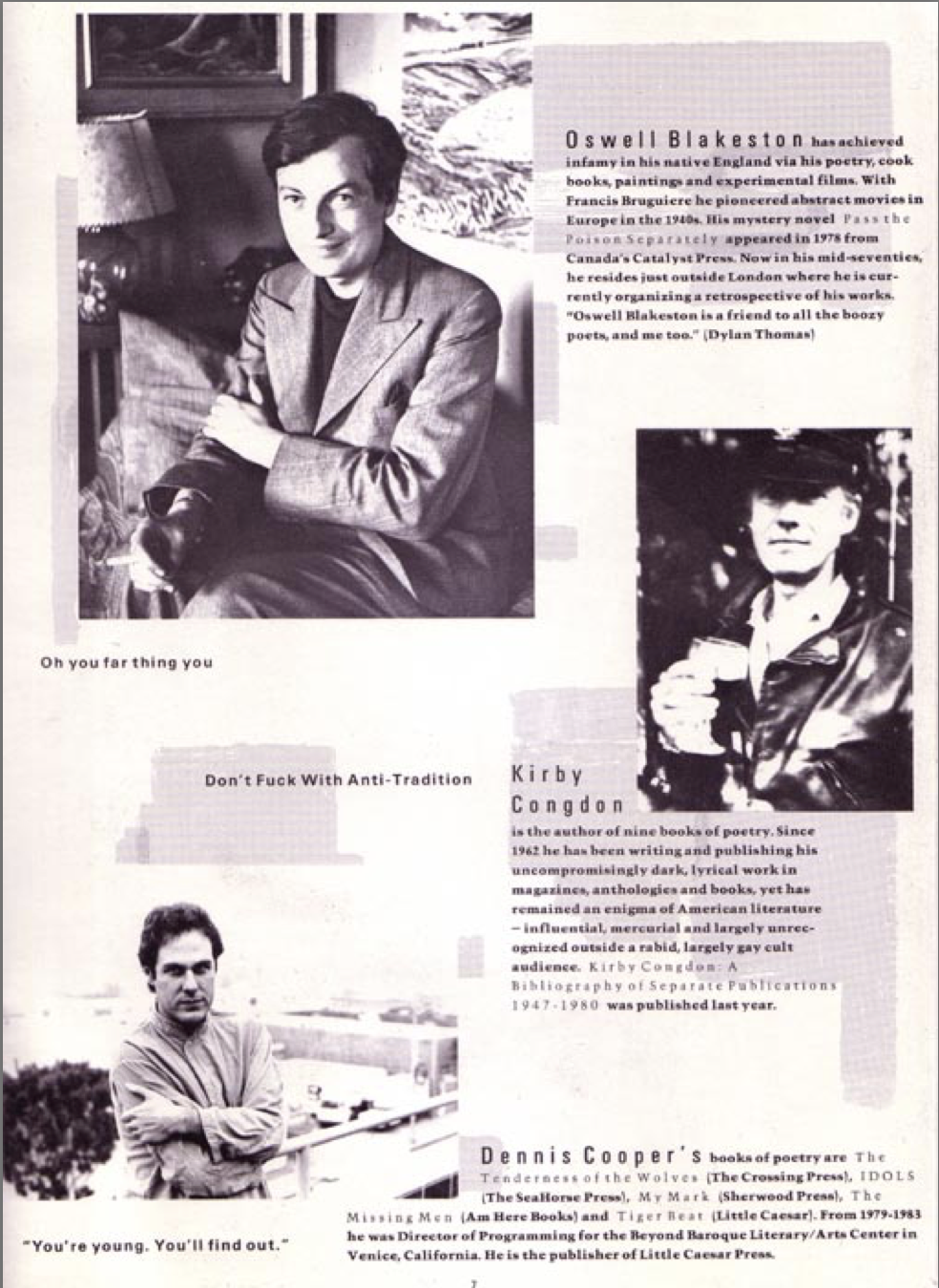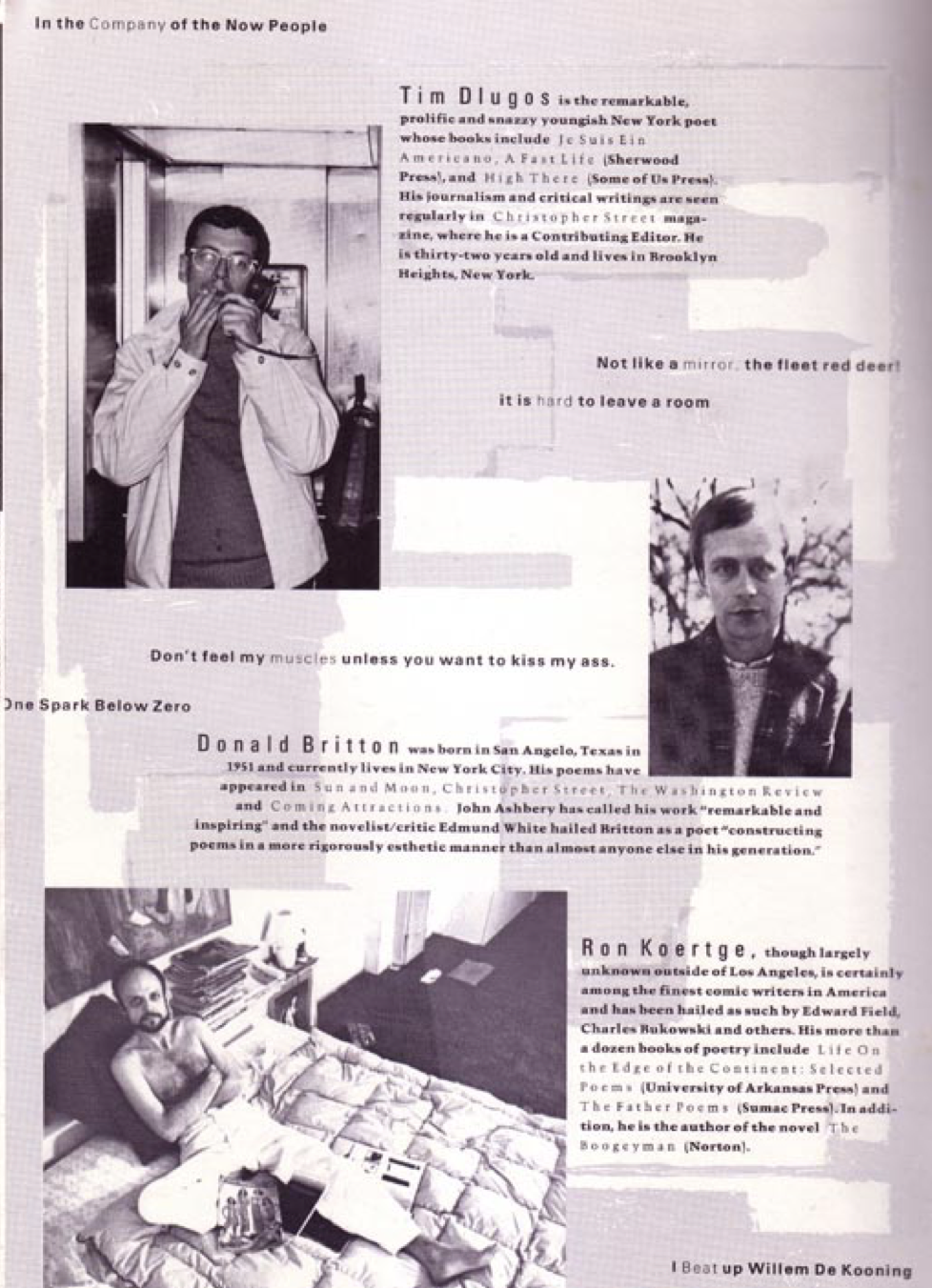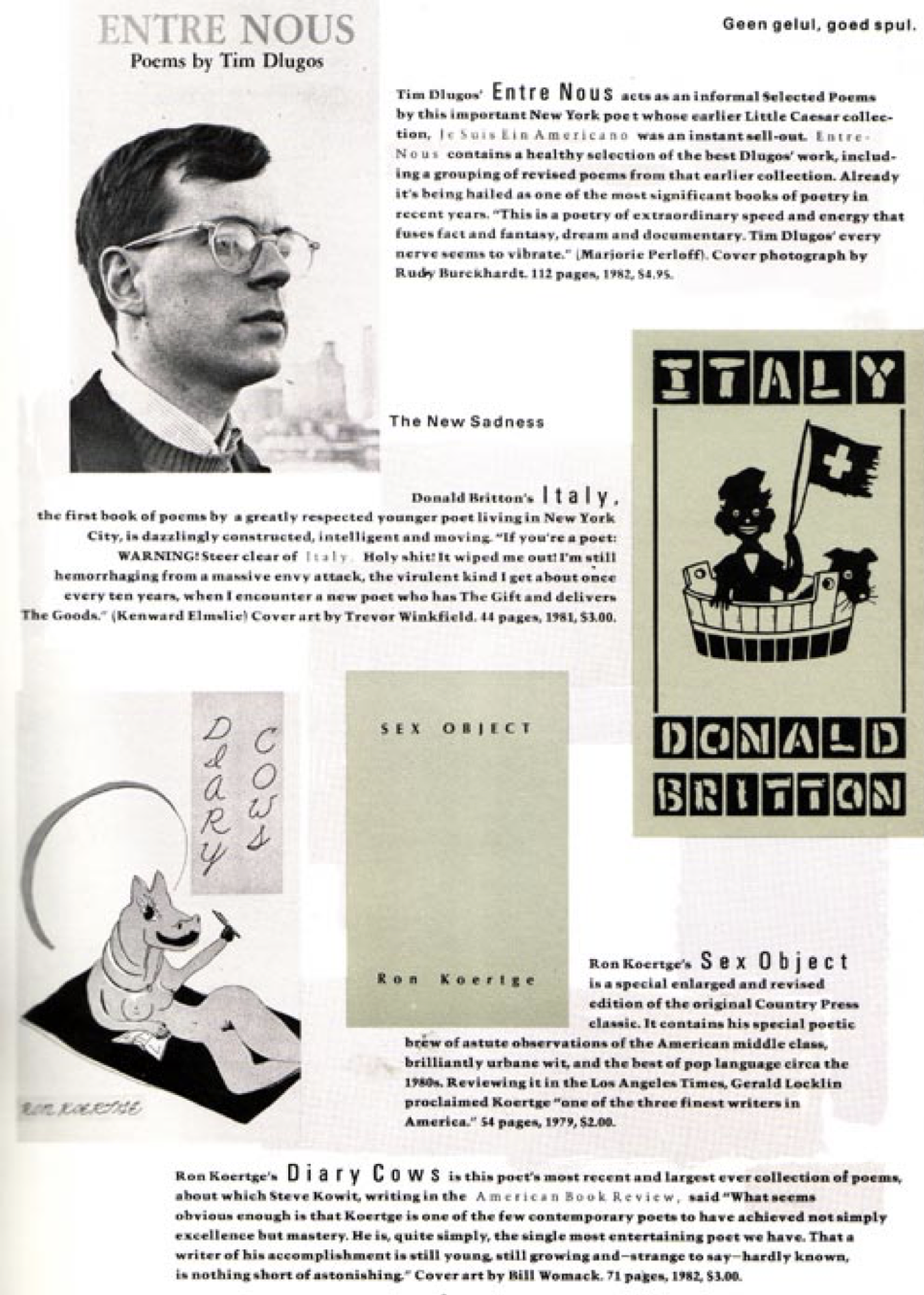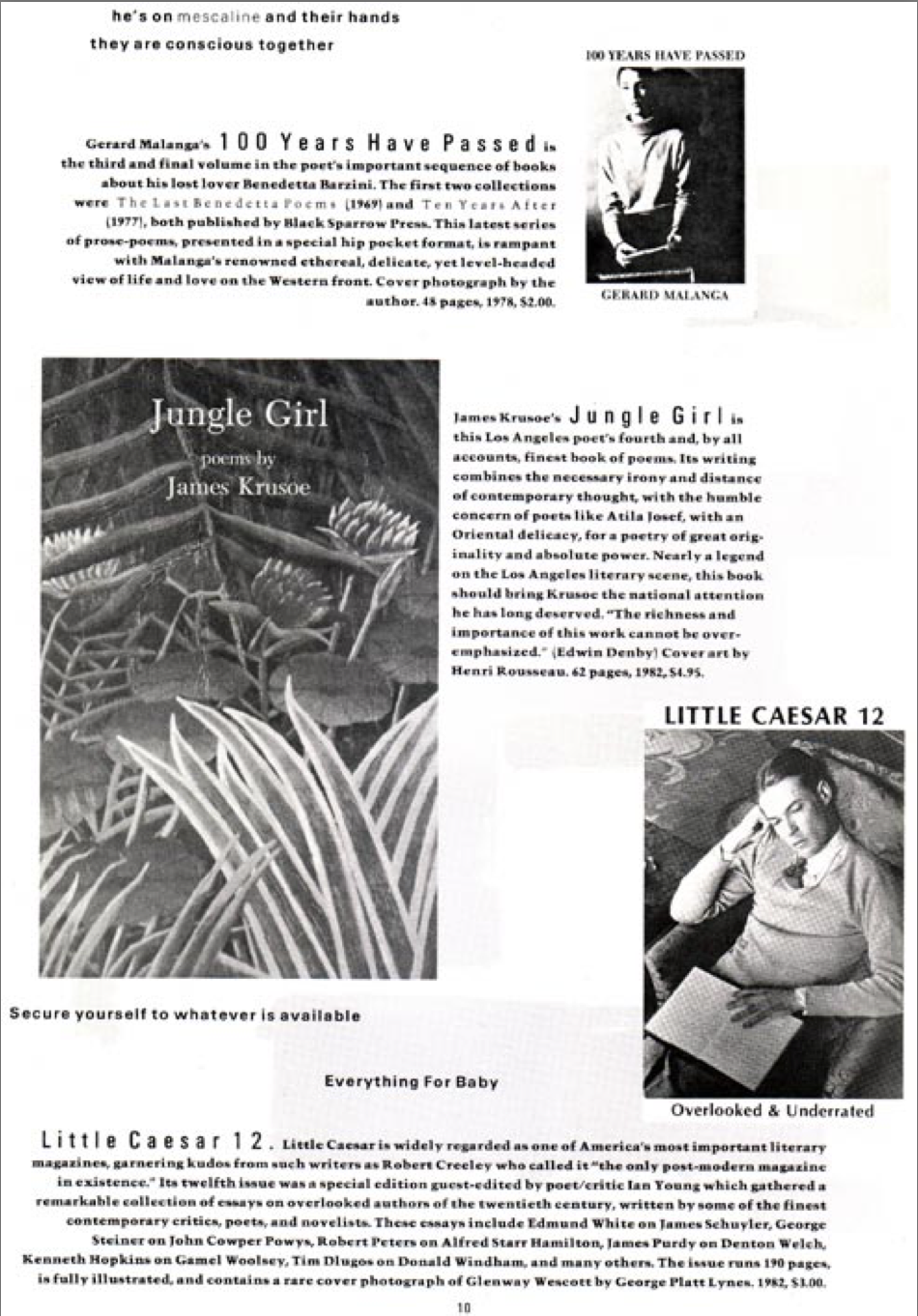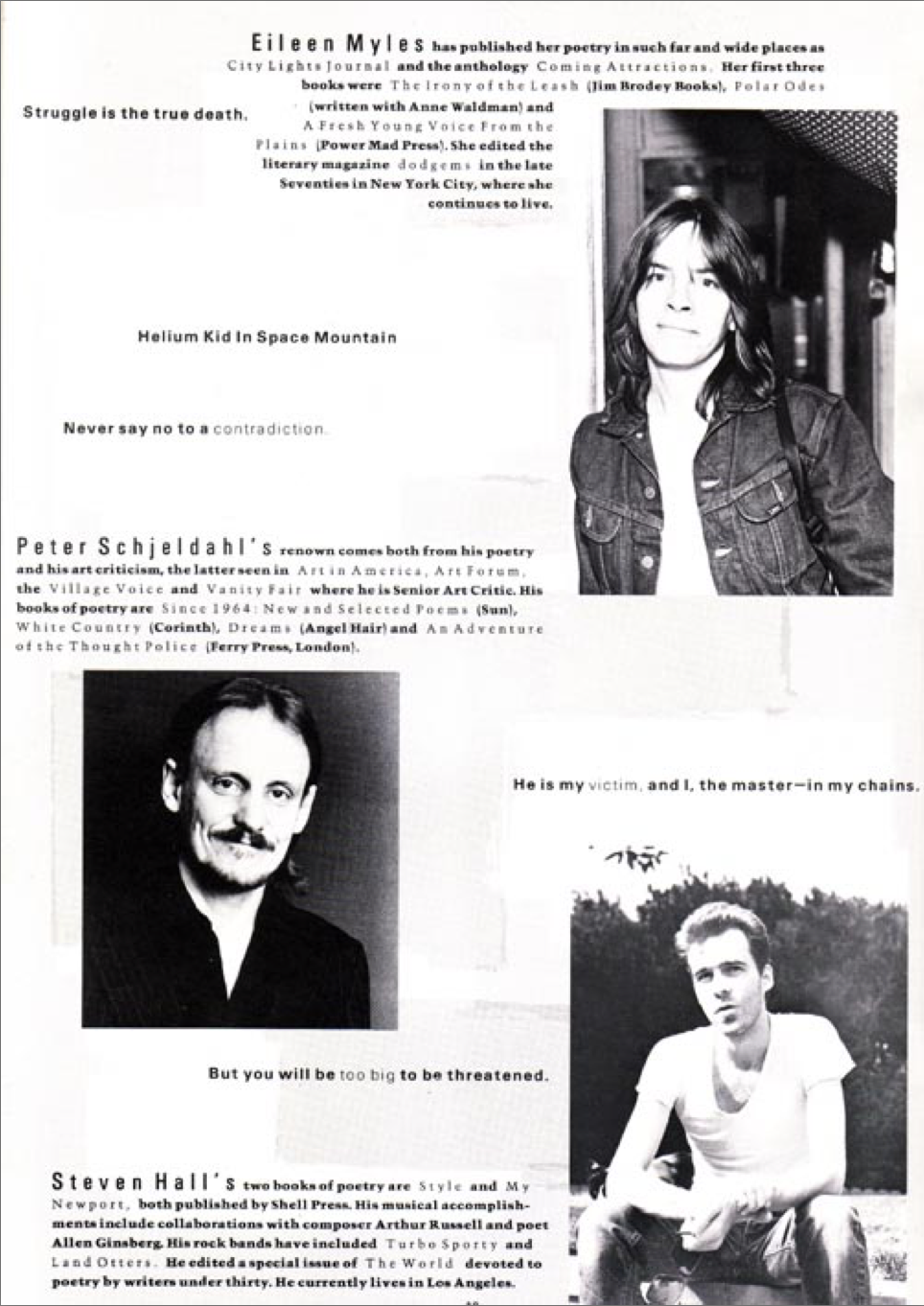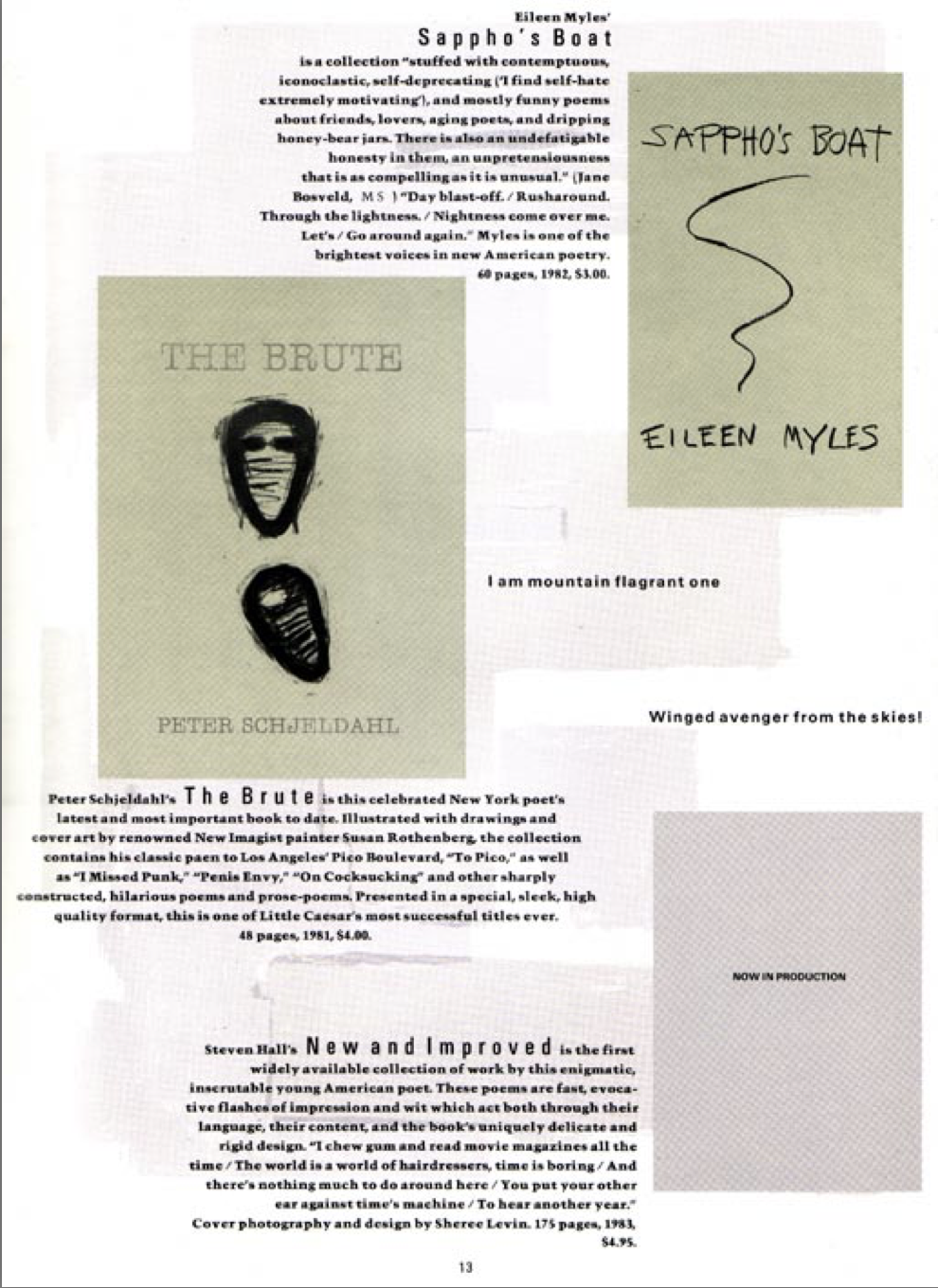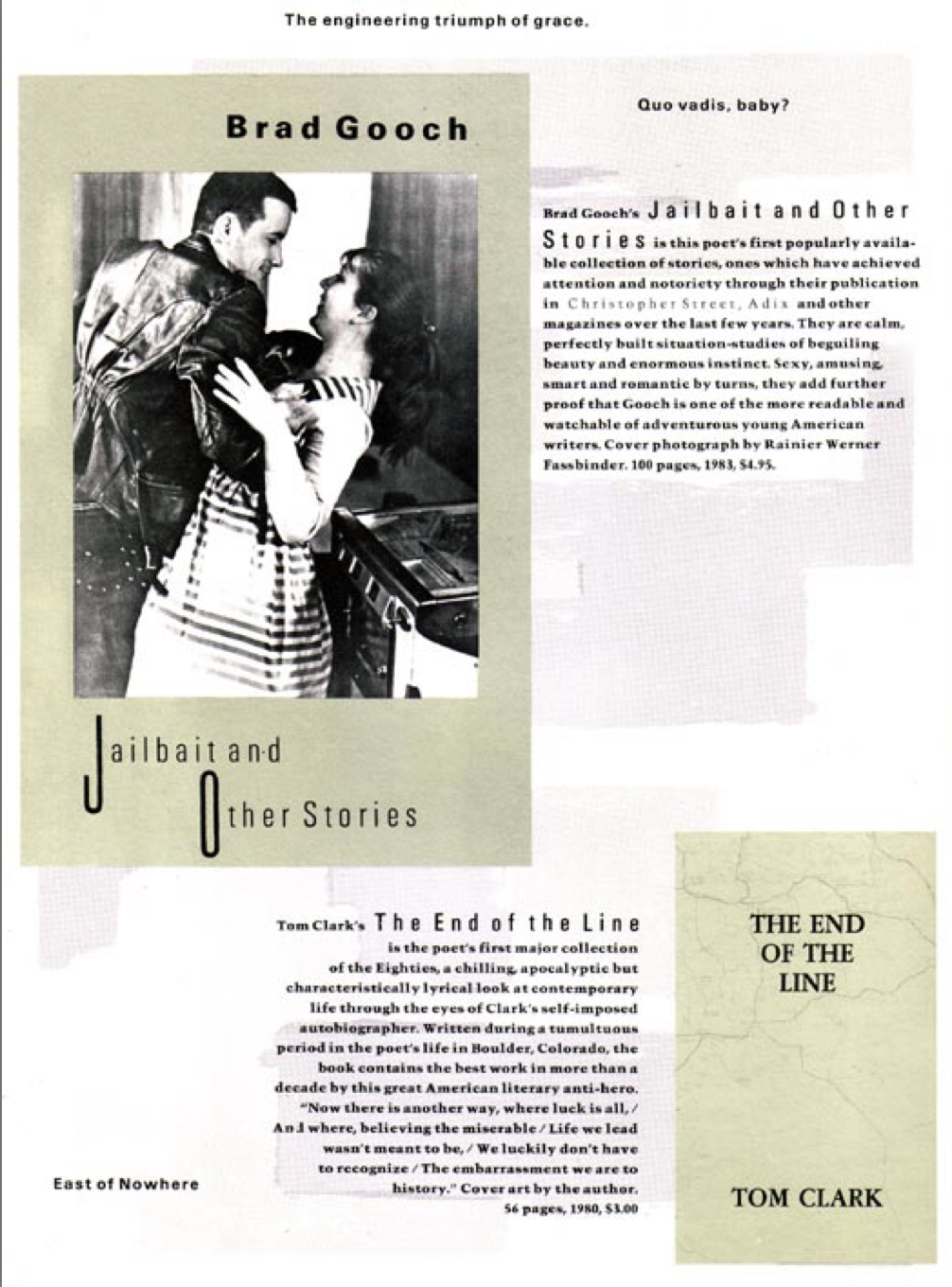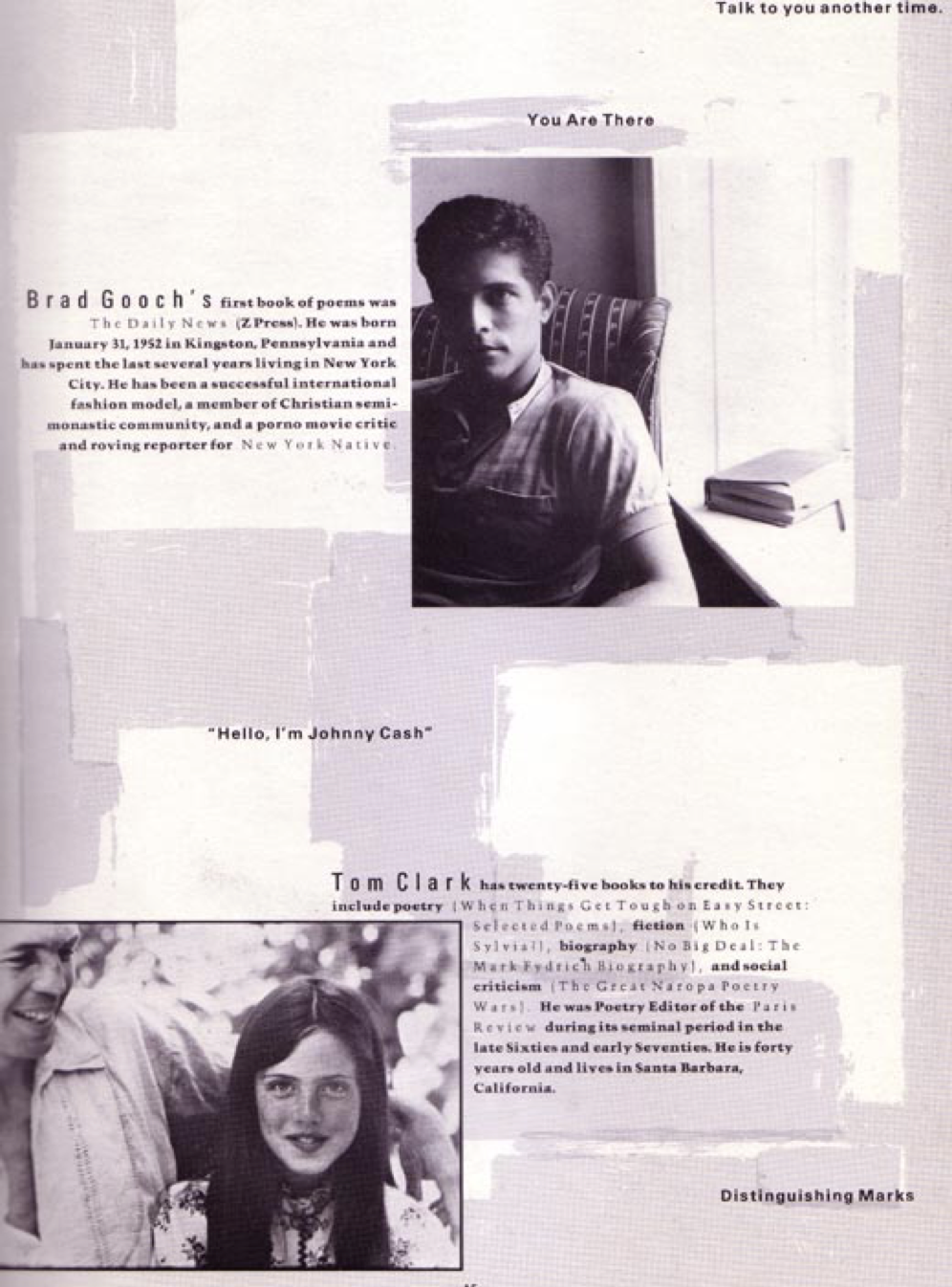 *
p.s. Hey. Author/musician/d.l. Jeff Jackson recently kind of suggested that I make a post about Little Caesar Press, the little publishing house I ran in the late 70s and early 80s. So here it is. I don't have copies of the books here with me or any illustrative evidence, so the post is pretty bare boned. But maybe it'll be of interest if any of you are curious to see what the press put out during its short existence. And feel more than free to ask me anything about the press or the individual books if you want. As I don't have copies of Little Caesar Magazine and would need to have them here or do research that I can't at the moment to represent them adequately, I'll save that for a future post about the magazine itself. Anyway, hope there's something here for you. ** David Ehrenstein, Hi. Disturbing about your high school friend. I think the fact that porn could only be watched in a theater where one had no control over the manner of its presentation in those days made all the difference. And that context suggested that porn could try to compete artistically with non-porn films. Viewers allowed the porn to go off in narrative or experimental directions and accepted them because they had no choice. There are some very indie, experimental porns being made out there in the margins, and it wasn't that long ago that there were a few ambitious porn makers like the Czech company Man's Best who made huge, elaborate, multi-part historical costume epics starring young street hustlers, but it does feel like a lifetime ago now. ** Armando, Hi. The multi-posted comment didn't bother me in the slightest. I only mentioned it because commenters often can't see their own comments here so you would know that happened. You can relate whatever you want to me. if you don't want me to respond honestly to something you write, just let me know. I hope your mood and the world around you have improved or will ASAP. ** _Black_Acrylic, Hi. Ha ha, weirdly, weirdly even to me, I read the Guattari book under recently lockdown and it totally hit the spot. Don't know why, yeah. Aw, good on you guys for rescuing the poor hedgehog. Paris has this really great pigeon rescue group that collects injured or ill pigeons when you alert them and nurse them back to heath. Considering the general disdain for pigeons, that's pretty cool of them. ** John Christopher, Hi. Oh, wow, that's a curious Bresson to start with. Interesting. It's a fave of mine. No, Bresson's performers are always only in one film. He wanted the performers to always be unknown and unfamiliar so viewers would watch the films with no outside associations or foreknowledge that they were going to be watching an actor act. None of his performers were trained actors. The main guy in 'FNoaD' I met and spent an evening talking with him about 10 years ago. He's a physicist. Extremely nice guy. That was his only acting gig ever, although he did stay close with Bresson and work behind the scenes with him on later films. Happy you've had your first Bresson experience! ** Misanthrope, Well, yeah. You know me: I personally find no value whatsoever in trying to understand or assess someone using the filtering of preset categories, generalisations, collective identifiers, and so on. For me that approach is the enemy of true understanding of people and what they do, but that's just me. Ha ha, yes, I say go Horshack while you're still young enough to pull it off. ** Jeff J, Hi, Jeff. Hope this post fills the bill even in a rudimentary way. It's a terrific book — the Guattari — if you're ever in the mood. Also, he's kind of hilarious. Ah, I think I remember you telling me about those filmmakers you know when you were here. I'll go try to hunt down other works by them, and maybe I'll get lucky and meet them here somehow. Because of the COVID thing, Jeremy's Klossowski book was delayed and isn't out yet. I actually made a trip last week to After8 specifically to buy it, and they said copies won't be available until the beginning of June. You can preorder it now. ** Steve Erickson, I know about the Evangelion film, but I haven't seen it yet. Yeah, I've heard it's fascinating. I'm waiting/looking for an opportunity. Uh, I have no idea whether that happened for MUBI Europe. Wow, I'll go check. That would be amazing. Thanks for the alert. ** Okay. Little Caesar Press is your blog meal today if you're hungry for it. See you tomorrow.