* (restored)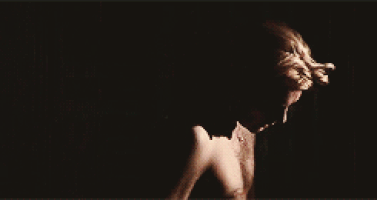 "I need love! Avete capito? The endless theme of my life is my longing for love. I just can't get enough love." — Helmet Berger
'Unfortunately, Helmet Berger's autobiography Ich has not been translated into English yet. So it is my duty and a pleasure to introduce you to the contents of Helmut Berger's autobiography and provide you with a few anecdotes from the life of this great actor who was born in 1944 in the small Austrian town Bad Ischl. He wrote the book together with his friend Holde Heuer, a journalist from Munich.
'As a sort of prologue Berger tells the reader: "Yes I am tainted by the beautiful things in life. But to all those who only want to see my as an agent provocateur and an excentric I can only say: With every day of my life the number of people I don't give a damn about grows and grows. All my friends know: This book belongs to Luchino Visconti the great director. By the end of the book all my readers will know that the world is not only round and that love is the only true source of life."' — Holde Heuer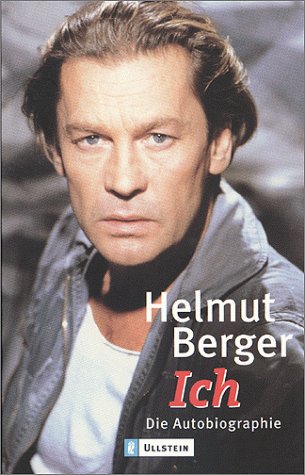 Berger begins with his biggest personal problem: He has two sides – one nice and kind as an angel the other bad as the devil. He goes on and tells the reader a few examples of people who got to know his dark side: Alain Delon who wanted to take his part on Visconti's side.
"I fucked Delon's wife Nathalie. I really liked her. We had fun in bed together with Maria Schneider who became famous on Marlon Brando's side in The Last Tango in Paris. To make my success complete I contacted a journalist and made sure that Delon got to know about the whole affair. It is dangerous to pick a fight with me."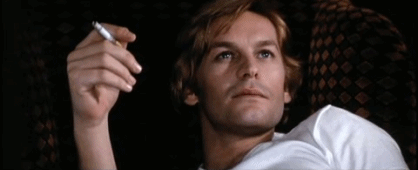 Richard Burton was an alcoholic and had another quarrel with his wife Liz Taylor. Berger sprayed chocolate truffles on a couch just before Burton lay down there. When he stood up again to go to the film set his trousers were all brown. Berger: "Richard looked shit."
"Sometimes I don't understand myself. I drink all night long I fight I destroy bars… I ask myself why I have to do this. After one of my excesses I was imprisoned in Rome for four days. A terrible time. But that other thing in me was stronger once again. That satanic devil just won't let me be."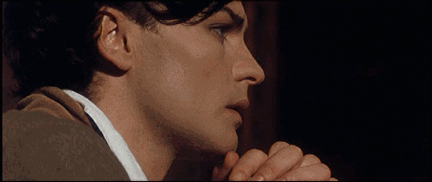 He then goes back to 1974 and talks about the famous "Bad taste" Party on his 30th birthday in the famous "Jackie O."Nightclub in Rome. Everyone: Valentino, Bianca Jagger, or Ursula Andress dressed in strange kind of ways. The more cocaine there was the crazier the party people became. Everything was fun to Berger back then. Over the past few years he became more and more thoughtful about many things in his life.
After arriving in London, Berger took his first acting lessons and worked as a waiter in an 'In-Restaurant' on King's Road and as a model. All of the houses of the stars (for example Cat Stevens) were open, joints were smoked and free love – to be precise: orgies – were en vogue. Berger made his first sexual experiences involving men.
"There were so many of us. You touched your neighbour. It just happened. You are relaxed, a bit high, you caress and want to be caressed. Everything gets very erotic and you feel horny. You undress. Feel free from rules and morals. Oh, I, I, you play with yourself and with others. We are all sisters and brothers. A sweet boy turns me on, it feels natural."
His first LSD-experience was in the USA, during the promotion-tour for The Damned (it must have been 1969). He was there together with his friend Ylia Suchanek from Austria. Berger took it in the house of Hair producer Michael Butler, "a master of this drug". He describes his trip – thank god, a good one! – and tells the reader that it is necessary to drink a lot of juice to clean the body. No alcohol! But we all love Berger because he is so human. He makes mistakes. Berger's cocaine-career started in 1971 in Rome (Nightclub "Number One").
"It was the jet-set-drug. If everybody was on it, I had to be too. You know, I am very easily influenced by other people. I like modern things. I wanted to be "in" back then. Immediately I took half a pound…"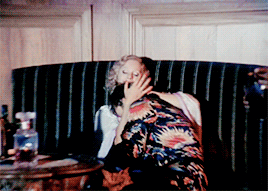 The craziest thing happend on the ball of Monte Carlo. Berger sniffed cocaine of bad quality. Then he sat down to eat, but a fart become very liquid and landed in his trousers. He wore white trousers! So they became brown and he could not stand up and had to sit still from 9 till 4 in the morning. All his friends thought he was sick because he did not want to dance with them – usually, Berger is a passionate dancer. After he got home he changed his clothes and danced ecstatically in a club because he had to get all the stress of the evening out of his head.
"I become the opposite of what I really am. A person that I hate. This liar, this monster, this anti-human being, it acts as if it were the devil himself. A horror! It started after Visconti's death in 1976. The shock of my life. I used strong alcoholicas, drank them more and more often. I knew: My life is divided in the Helmut Berger before Luchino Visconti and the one with L.V. And, of course, the one after L.V. And this one could be a nightmare."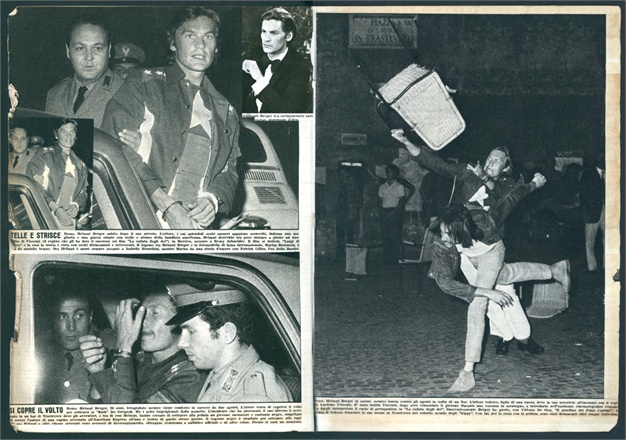 If Visconti was the Number one man of his life, actress Brit Ekland is the Number one woman. They are friends for over thirty years and he says he loves her since then, but there was always something between them. Back then Ekland was married to Peter Sellers (who died because of a overdose of cocaine; Berger: "Brit had such energy, he could not keep up with her pace".) Then she was the wife of a rich man from Venice and then she was married to an American film producer. After that she married singer Rod Stewart. Berger even made a marriage proposal to her after her divorce from Stewart during a dinner in his flat in Rome. But Ekland didn't answer. Maybe Ekland knew that it would not work and that Berger is not the guy to live with for the rest of her life.
"Love is easier with men. They all have a mother complex, they don't look at the eyes of a woman or at her hands, but at her breasts. Men don't think about love and rainbows. You go out and then you do it, simply because you are horny. You say "Ciao" afterwards and not "Ti amo"."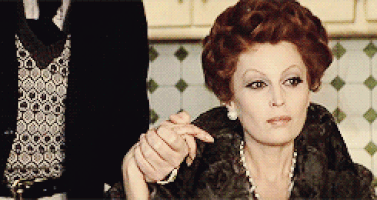 Then Berger prints a few recipes from himself and his mother which, as he says, "a lot of my friends ask for all the time". They include the famous Wiener Schnitzel (Berger's recipe, most embarrasingly, is not right), but also a nice pasta alla gecca (with the "gay sauce", as he likes to call it: You mix small chopped tomatoes, mozzarella cheese, garlic, basil, salt, pepper and olive oil. Then you put it in the refrigerator over night. On the next day simply pour it over spaghetti al dente. A nice summer dish, we tried it.) or the traditional Italian vegetable-soup Minestrone (basically you can take all vegetables of the season, add some soup, you can also add mini-pasta. Berger says you should not add tomatoes because the soup gets too sour, but we don't think so. When you serve it, add a little parmesan cheese!).
His first meeting with Luchino Visconti was fate: When they had lunch, Visconti would not leave Berger for one second, but the young men was afraid of his feelings. Berger wanted a real relationship. He wanted to live in Paris. And – he wanted luxury. They lived together in Paris. He tells us that Visconti was the man, he was the woman in their relationship. So Visconti was the one who was the sexually more active part. Visconti was a bit conservative. Visconti wanted correctness. As a result, Berger has a few strange obsessions now: He is hooked on cleaning his flat up, it cannot be clean enough. Then he loves to rearrange his furniture – all night long. And he has a passion for packing suitcases. He describes it as a sort of science. He says he needs a whole day to pack his thing when he travels. The most important thing is that his clothes do not have creases afterwards. He prefers rearranging his furniture or cleaning his flat to drugs and alcohol nowadays. But he sometimes still feels the need to drink or to other nasty things.
"I will be Visconti's widow until the end of my life. Sometimes a merry one, sometimes drunk, even hysteric, but always mourning. He did not really show feelings. But his films show his understanding for the real truths and necessities of life."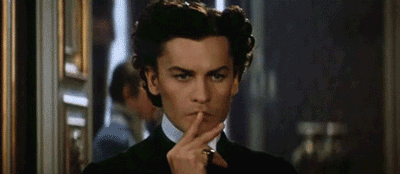 Sometime when Visconti wrote scripts, Berger visited pop-concerts. He loved and still loves the Beatles, the Rolling Stones, Bob Dylan. The Beatles played a concert in Rome in 1967. Visconti wanted to make Berger happy, so he invited the Fab Four to a private dinner. They talked about music. Visconti said that pop and classical music should come together, they should make a concert with Leonard Bernstein. The Beatles were enthusiastic about this idea, but their manager did not like it. It was too soon for such a project back then. Berger liked all four of the Beatles, but he had the best relationship to Ringo Starr, they are still friends. The superstars were all a bit shy and nervous because of Visconti. But when he talked about his opera productions for too long, they also got a bit bored. Still they talked until six in the morning. Visconti wanted to understand Berger's passion for pop music. He was the perfect host, but after the Beatles had left he said: "Why don't they cut their hair?" Berger also wanted to have long hair, but Visconti had forbidden it.
Berger talks about his friendship with Rolling Stones singer Mick Jagger. They were partying in New York, Paris, everwhere. No city was safe from them. Bianca Jagger was there, too. Berger liked both of them, he even landed in bed with them. But he tells us that there was no sex. The window of their hotel room was open, so they awoke at noon. Beneath their window was the garden of the hotel, with an outdoor cafe. Mick and Helmut could not fall asleep again. Angry, as they were, they urinated on the heads of the guests of the cafe. Of course, their hotel bill was enormously high. There are bans on Berger entering the Paris "Plaza", the Munich "Four Seasons" and "Palace".
"Without sex I get nervous and hysterical. I take a cold shower. I am not one of those men who have to fuck every night. My libido is quite controlled. I need one or two drinks before I can really feel free. When I was young, I wanted to be seduced. Now I take all the pretty young men into my bed and say: 'Rock me, babe.' My affairs never last long. I often ask myself 'Why?'. I am too critical. I am bossy, aggressive. I ask for too much. If I think about it, sex really is not that important for me. Why not masturbate for six months?"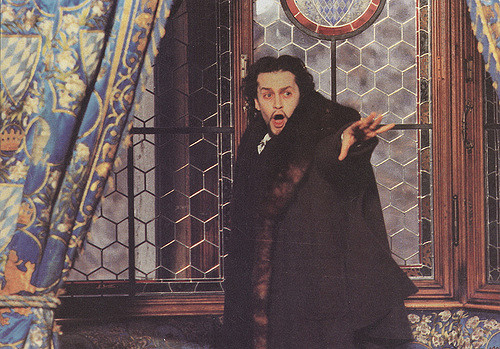 Then Berger tells us about The Damned, the fact that he was very nervous when the shooting started and could not sleep. Berger is really a shy person. His biggest problem is his fear that people do not love him. Of course, the premiere of The Damned in New York was a success. And of course, the boy from Austria was nervous again, so he needed a few Bloody Marys. His friend Egon von Frstenberg lead him to the club "The Glory Hole", a nasty place. There were holes everywhere. The two men put their private parts in there. You never knew who or what was behind there. They had great fun there an stayed until six in the morning. Visconti had to leave America soon (he was not wanted as a communist and only allowed to stay for the premier of The Damned. Visconti did not like the USA anyway, but he must have enjoyed the "dirty" T-shirts Berger brought him.)
Berger went skiing again in the winter time. Visconti wanted him to go to Kitzbhel, because he thought that Berger would only be doing nasty things in St.Moritz. Of course, that could not stop Berger. He spent the annual income of many people in four weeks (although he had a cheap room). Visconti feared that Helmut hurt himself when he skied, so he had a good insurance for Ludwig II. which started a bit later. Berger liked playing Ludwig and still can identify with this man who was against war. He says that Ludwig is the role of his life. He was very nervous at the shootings and could not sleep. (I guess there is a little Ludwig and a little Helmut in all of us).
"Who understands the schizophrenia of an actor? You play a role for months, as if it was your real life. Then you are at home for a while, but after that you play the next role. What a chaos. And then there are all the people, they want to know what sort of life you lead. The looks behind your back. I don't feel good all the time. It is a very exhausting job. And if I have a problem, I simply leave and travel around. That's me. I don't want to talk about problems. I just leave."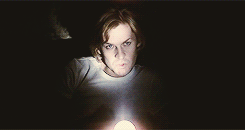 When Visconti did not go to Salzburg in one of the following years, Berger gave wild parties. But the wildest parties were those with his craziest clique, rich friends from Paris. They were in St-Tropez over the summer. "We let girls from Sweden fly in. We fucked them for three days and sent them home again. We were a famous clique, but people did not really like us, especially the nobility."
Berger writes about his friendship with Liz Taylor. They shot Aschermittwoch ("Ash Wednesday" 1973) together. Richard Burton was very jealous when Berger and his wife had to play a love scene. They all celebrated new year's party in Switzerland afterwards, Burton broke his arm, because he was drunk and fell. Berger liked him, although Burton often treated his wife Liz Taylor bad. At the same time, Visconti suffered a stroke after cutting Ludwig II. the whole night through. One half of his body was paralyzed after that. Visconti had smoked 80 cigarettes a day his whole life. Berger went to Paris again and talked to Romy Schneider. Her brother was a famous doctor and chief of a hospital in Zürich, Switzerland. They brought Visconti there for his operation. It was a success. After some time he even started to walk again. Visconti could not stop working. Berger was very tired so Visconti told him to visit Florinda Bolkan in her house in Rio de Janeiro. Florinda and her friends behaved strangely. Berger knew that something was wrong. After a few hours they told Berger that Visconti had died while Berger was flying from Rome to Rio.
"I had a black out. I beat up Marina, Florinda's friend. After I had come to my senses again, I packed my suitcases and drove to the airport. I wanted to buy my first-class-ticket to Rome, but the Italian "Alitalia" took me to Rome for free. There was a state funeral for Visconti. Everyone was there: the government, Fellini, de Sica, Claudia Cardinale, Alain Delon, everyone. They all wore dark sunglasses. Only I didn't. I wanted that people could see my face. I wanted to say goodbye to Luchino naked. Everything else seemed unreal to me. I was acting in a film, without sound, without soul, without Luchino. I was alone. God, I think I deserved it. No! One year later, March, 17, 1977, I wanted to follow Luchino. I believed and hoped to meet him in his new world. What should I do down here on earth withouth him? My preparations were perfect. I had collected all the pills I could get. When I had enough pills, I was happy and swallowed them. But by chance, Maria, who started working in the afternoon already arrived in the morning on that day. She found me. I don't know if this was good or not. I don't know that, even now, twenty years later. Scusi! My feelings jump from yes to no, just like a Yo-Yo. Done, basta! Let's think big. I was never interested in mediocrity. I wanted to play big parts."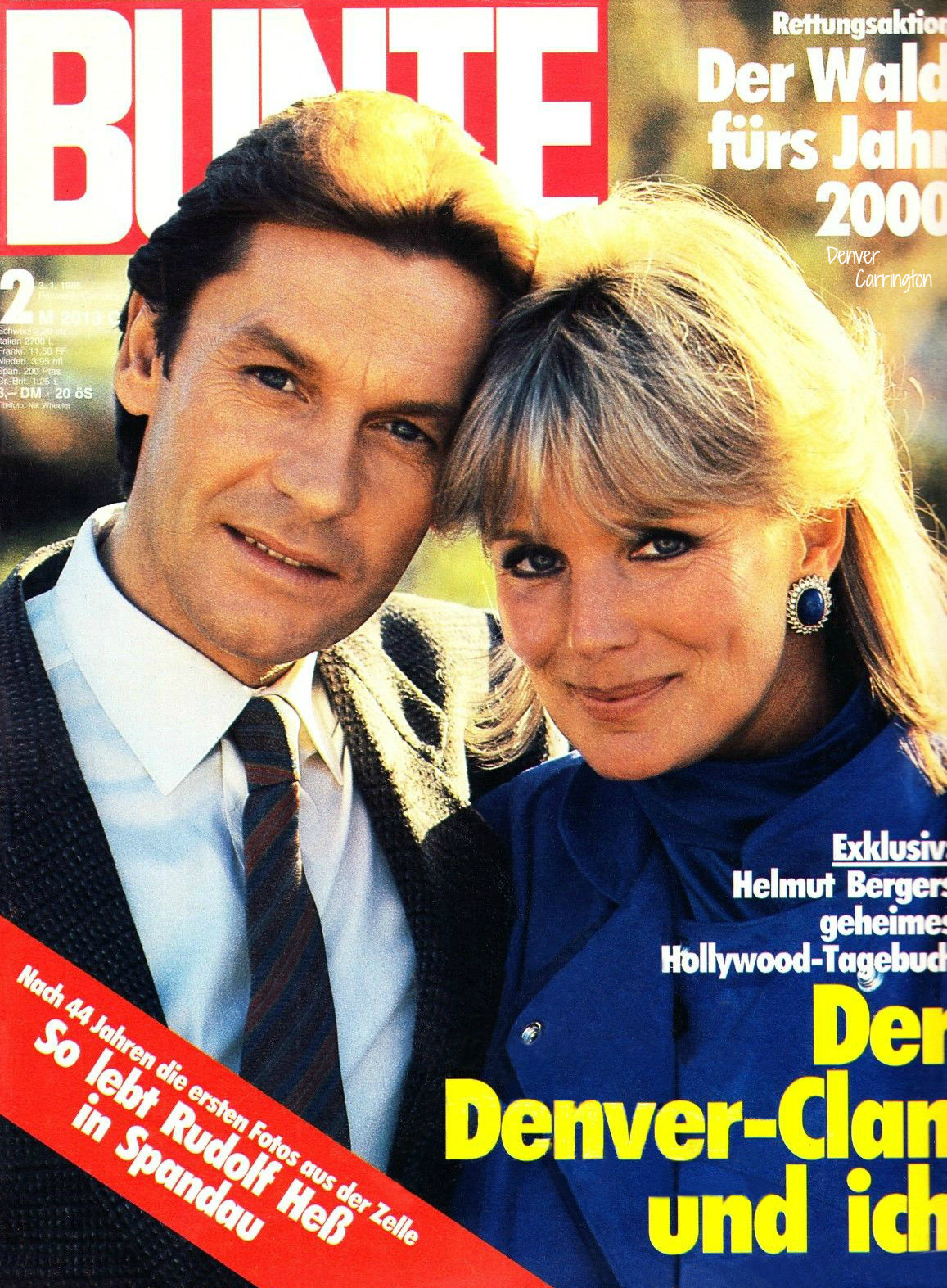 And so he did, in The Voracious Ones (Sergio Gobbi), Vittoria (Antonio Ribas) or in the American movie Entebbe with Liz Taylor, Richard Dreyfuss, Kirk Douglas, Burt Lancaster and Linda Blair.
"Linda Blair – we had a wild, fast flirt. We had an affair in the Chateau Marmont in Hollywood. But I also had sex with her brother. He seduced me. It was a family-affair. I hope that God will not damn me."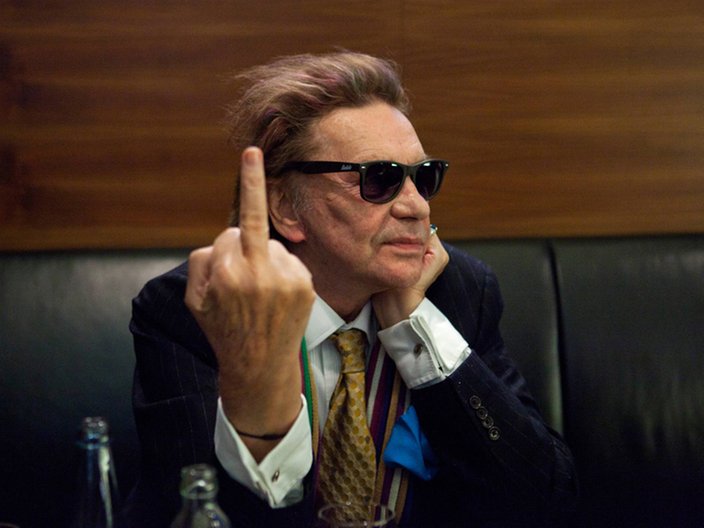 When Berger became a member of the cast of the TV series Dynasty – Denver Clan he was not allowed to even speak to colleagues and friends who played in Dallas, because there was a rivalry between the two tv-series. His colleagues Linda Evans, Joan Collins, Pamela Sue Martin and John Forsythe were friendly in the beginning, and so were Spelling's secretaries. But Berger immediately realized that they did not mean what they said. As said before, he never liked America and its citizens. The Denver people said that Berger was not allowed to meet people like Nicholson or Marlon Brando because everyone in Hollywood knew that those people were sniffing cocaine. He was also not allowed to visit the best night club, "Studio One", because it was known for his homosexual guests.
"I could not believe it. All those jerks. Puritans. But secretely they all watch porno movies. I did not follow their rules. I had to come to the office every second day. They told me that my role would slowly disappear, if I would not do what they said. I answered: 'You really believe that I stay at home and don't meet my friends? Really? Heil Hitler.' So I was only part of Denver for eleven episodes. In the end my airplane crashed against a mountain."
"I was out of my mind for the next years. For the other directors I was a 'Viscontian' actor. Without Luchino I was not half the man and actor I used to be. He had tainted me. Tainted by the beautiful things in life. The taste in his films, the style, the design. … All those things were reasons for my suicide attempt. I want quality in the films. Is that too much? The producers fear that I want my own make-up artist, Alberto del Rossi, that I want my own secretary. They fear class and style. But I believe in the creative power in artists. I don't give up. A project with Fassbinder did not work out. He wanted to work with me. I sat in the cafe and waited. He arrived an hour late together with a friend, just as I was about to leave. He was full of cocaine. I told him that I could not talk to him in the state he was in. And I left. Fassbinder tried to get me for two of his films later. But I did not like the fact that Fassbinder never had a script and only followed his intuition. And I also did not like Fassbinder's looks, his dirty leather-clothes and that he had not shaved for days."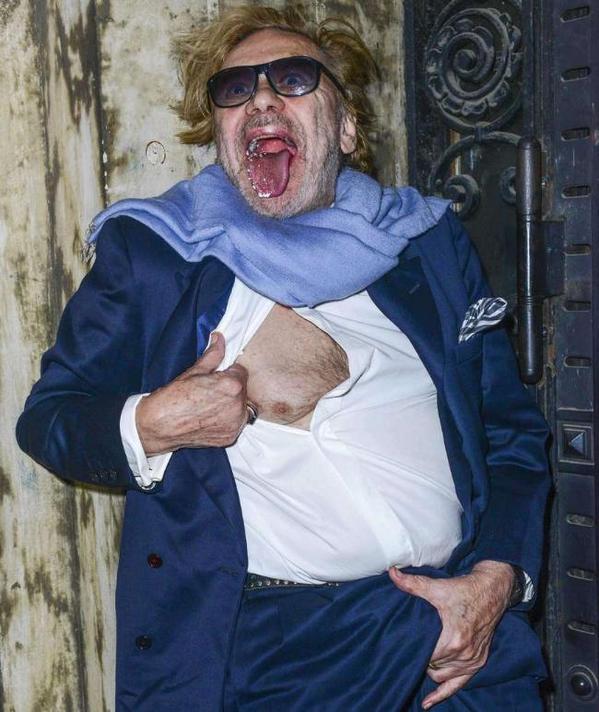 A very strange fact is that Berger says he is attracted to Fidel Castro, he calls him "a sexy bitch" and states that Cuban men are "well-built". Berger would like to be alone with Castro and a video camera….!
"I take a lot of power from nature nowadays. I go to the country, visit friends in Upper Austria and relax. I read Musil and erotic books. My wildest days are over. Only sometimes I allow myself to act crazy. When I travel. Shopping- and party-orgies. But even when Luchino was alive I could have a quiet day without any action. Well, of course I became a bit restless on the second day. If I don't feel free, I just leave. There are so many beautiful things, I would not want to miss them. I went out or drove to Ischia. You know, life goes on. And today? I am still curious about new roles, new impressions, my friends and about myself. You know, I like myself. I am what I am. Take me or leave me!"

Helmut Berger ICH ICH ICH

Helmut Berger interview naked in bed with a cigarette talking about Visconti

Helmut Berger on German TV in "Harald Schmidt Show"

Helmut Berger – Aufstieg und Fall eines Weltstars
*
p.s. Hey. If it matters, my wish for you in the USA today is that you'll vote (if you haven't) to disempower Trump and the Republicans with every possible means at your disposal. ** Jonathan, Hey, buddy! Totally sympathetic to lots going on and work juggling. My Halloween was a big fat zero, but I hit the awesome Le Manor de Paris twice in the days leading up. I had a feeling or more than that you'd big up the extreme metal logo stack. Haino/Duncan, nice. And mega-congrats on the National Gallery score! Your piece sounds really great! Now I want to solve you like a puzzle. Good job. Paris ain't bad. November is the best. Buches are imminent. I went to Salon du Chocolat, and they had a little preview display of some of them. A coupla goodies. Shit, I think there was at least one Danish chocolatier at the Salon, but I think passed it by. I am a god damned fool in retrospect. Sweetness seeing you, J! I hope every second of your today comes gift-wrapped. ** Steve Erickson, Ah, well, you tried. Phone-wise. Eek about the hacking. I did see F. J. Ossang's '9 Fingers', at Rotterdam. Honestly, I thought it was an insufferable, irritating, laborious arty-farty wank. As did Zac, our PGL producers, and three of the PGL actors, so I know I'm not crazy at least. I think it might be my pick as the worst film I've seen in 2018. So, ha ha, yes, I've seen it. ** David Ehrenstein, Ha ha. ** Kkeyttonn, It's true that I don't know the magnitude of your wrath, and it sounds like I hope I never do. I don't think I like wrath. Well, maybe my own, but my wrath is stingy. I went off on one of my brothers about 9 years ago and used every facet of my way with words to shred him into a million itsy-bitsy pieces for about 3 hours non-stop, but, generally, I just stress out verbally. Chocolate mousse for breakfast on a consistent basis would thicken the old waistline, yeah. That term "light-sail" is nice. As is your speculation as to its component. Oh, for a corpse painted day! Wouldn't that be refreshing! Thanks, bud. I'll try. Same to you. ** Dominik, Hey, big D! Great to see you! I'm pretty good, I guess. You win on the Halloween-at-the-computer contest, it sounds like. I think I've heard the name Dragula. Huh, that sounds refreshing. I like your two faves a bunch. All right, I'm going to go find what there is of Dragula on youtube and etc. Thank you! Will do about the Prague show. We did go to Salon du Chocolat. It was fun and exhausting, and I came home with loot. A lot of amazing Japanese chocolates (they're my fave), chocolates from the Ivory Coast, Senegal, China, Ecuador, Finland, etc., and a crazy Swiss chocolate advent calendar. I'm so sorry to hear you've been sick. Stuff is going around here too. Are you better? How's your troublesome foot? This week I have a lot TV script work to do. And fun on the sidelines of some sort yet to be determined. You have a spectacular week! How and what was it? ** Shane Christmass, Ha ha, I think it's both at the same time. Yeah, I have these jags where I pound my head into smithereens with extreme metal. Brief jags, but fairly regular. Yes, yes, I loved the artworks you sent! I have them in a folder, and when I need a non-caffeine tweak, I open the folder and press hard on one. Thank you! They're awesome! Gary's great. ** Misanthrope, You and David need to change the prescription on your bifocals. Dearly Departed is a 90% adorable name. Biopics always suck, don't they? I can't think of one I've seen that didn't, at best, involve impressive bits of acting in a landscape of meh. If there's a movie that smells more like diarrhea from the future than an Elton John biopic, I'm at a loss. Well, of course PGL is the best film you've seen this year! Or any year! ha ha. But I digress. ** Corey Heiferman, I did indeed! I can't draw either. I used to be able to. Kind of. I don't know what happened. Ah, Coil, nice, thank you for that, pal. Have a sweet and spooky day. ** Right. Today's revived dead post is the result of a special request from a self-muting yet self-described addict of this blog. Might be fun for you too? See you tomorrow.