* (Halloween countdown post #13/rerun)
______________
An Ohio woman's Halloween decorations were so bloody terrifying and realistic, that she had to remove them out of fear for her family's safety. Apparently the vibe in the neighborhood and the reaction she got for the gory décor made her a bit uncomfortable.
Vicki Barrett, the mother behind the gruesome setup, didn't understand all the attention her yard was suddenly getting, considering this is the third year she went all out with her Halloween celebration.
Apparently parents thought it was inappropriate to have bloody dummies and bodies dangling from trees in the front yard, mostly because Barrett lives down the street from an elementary school.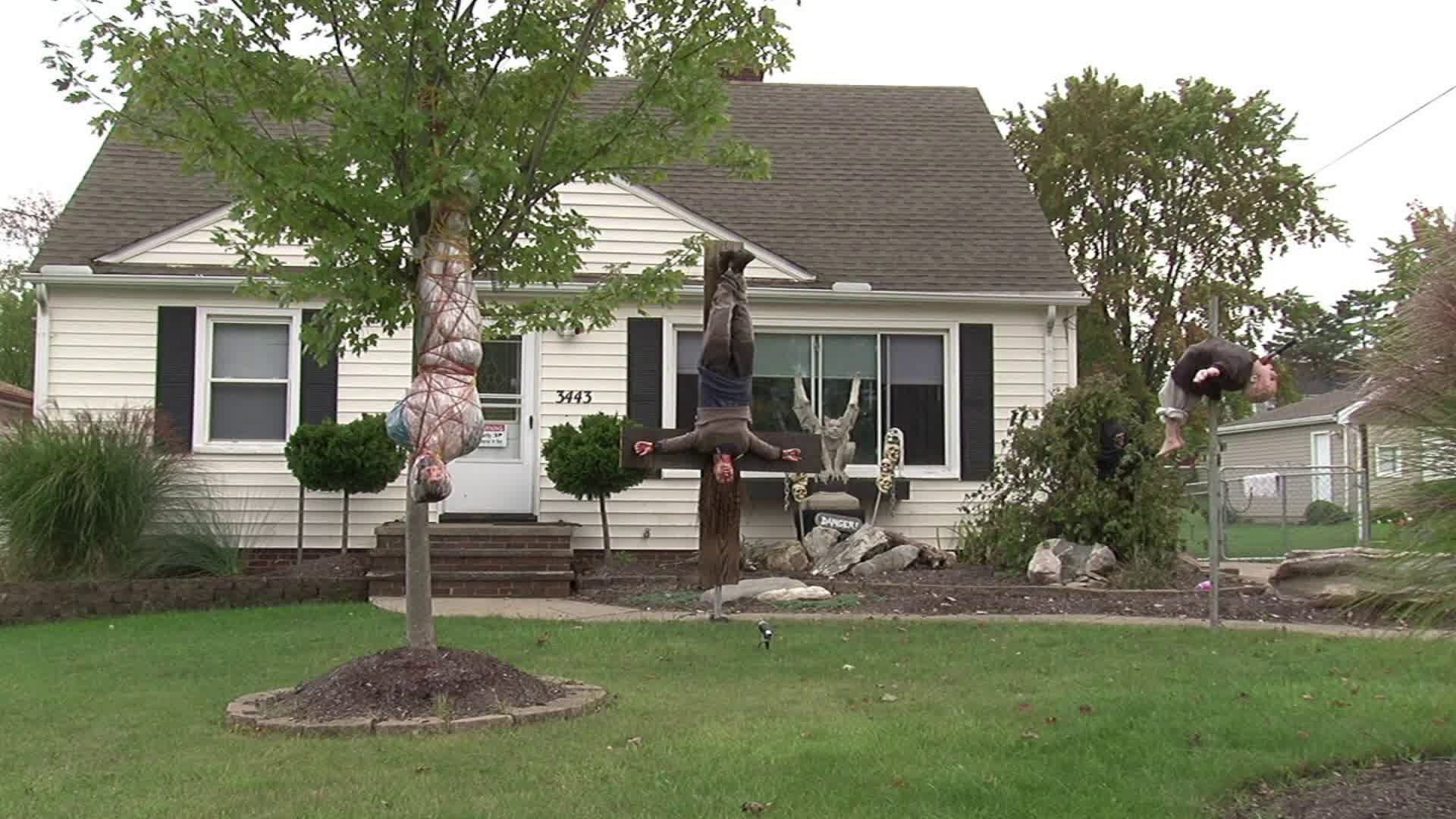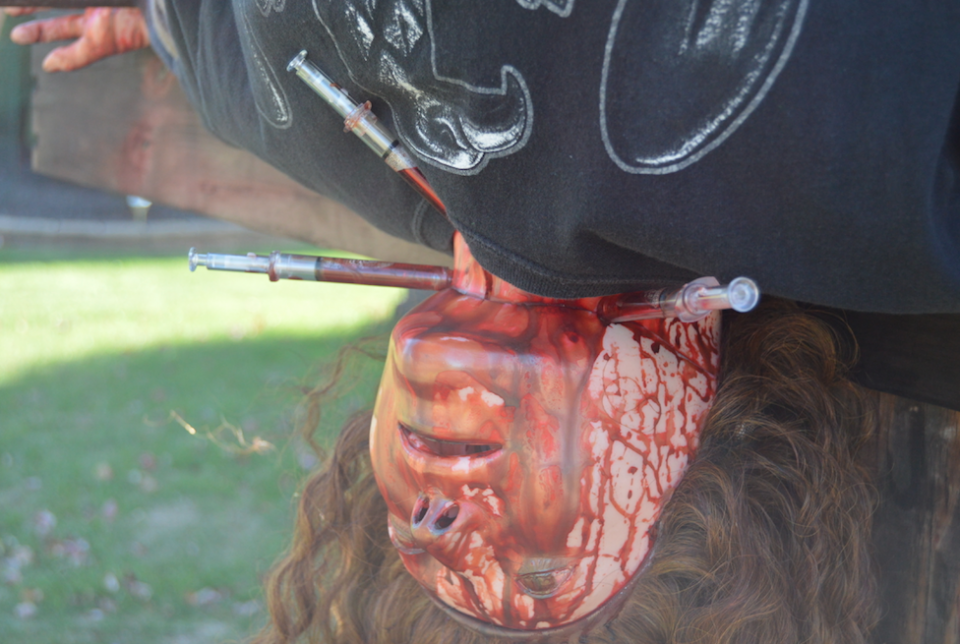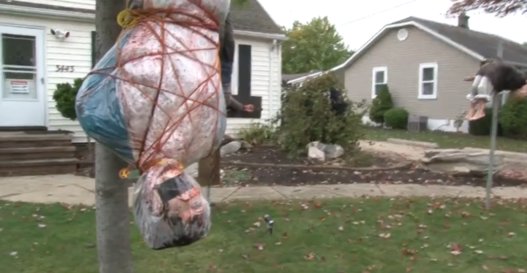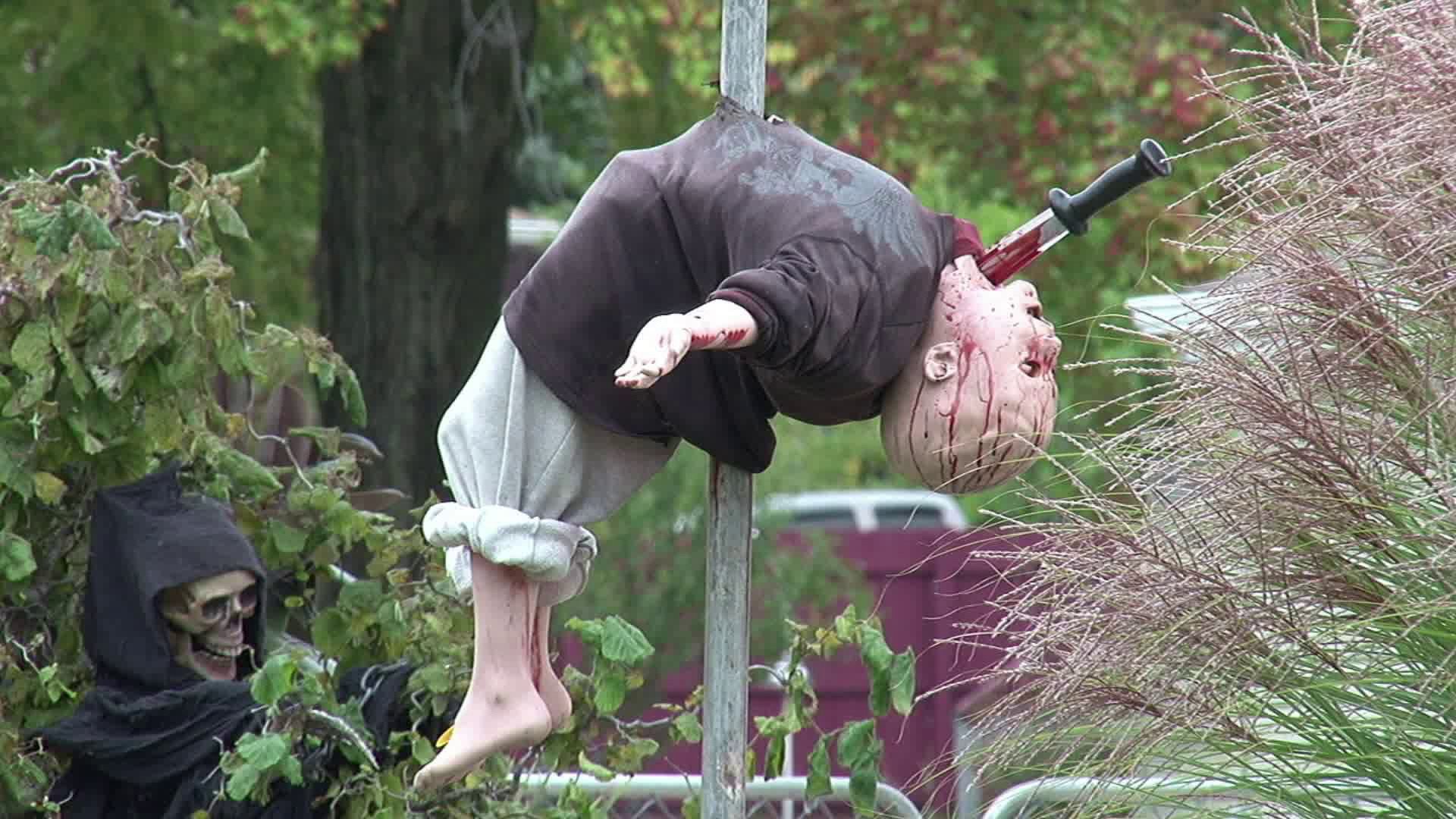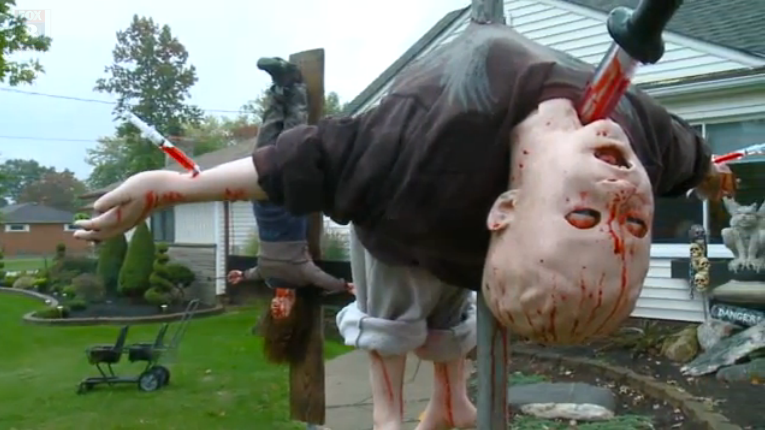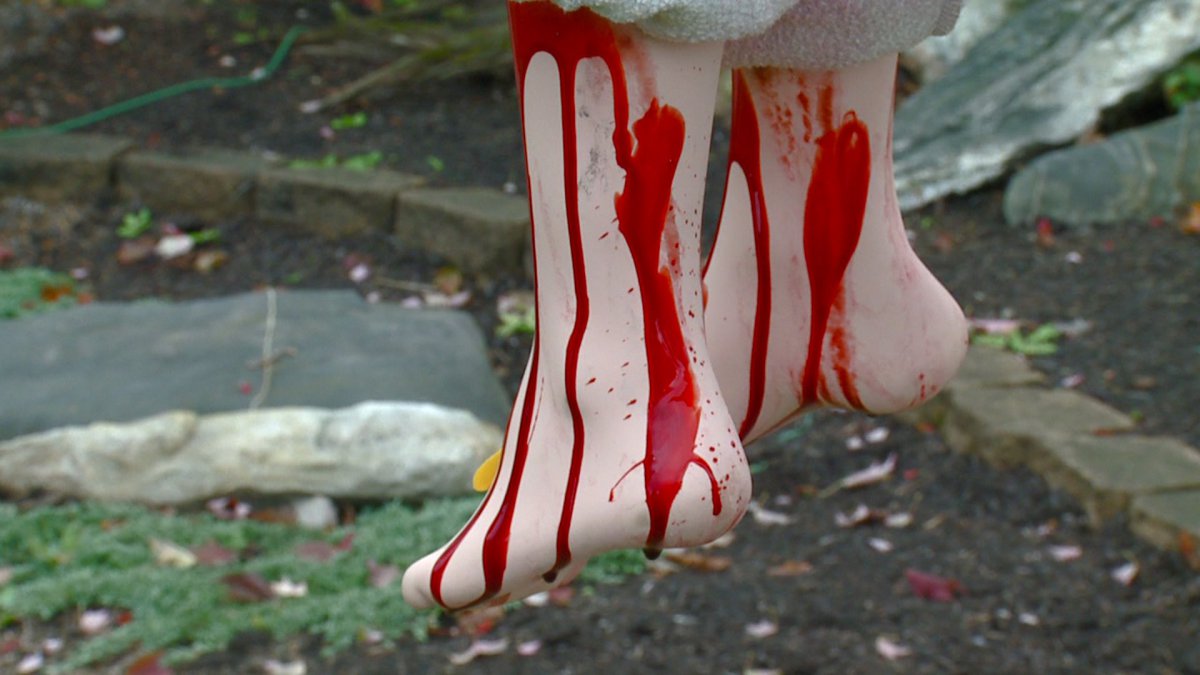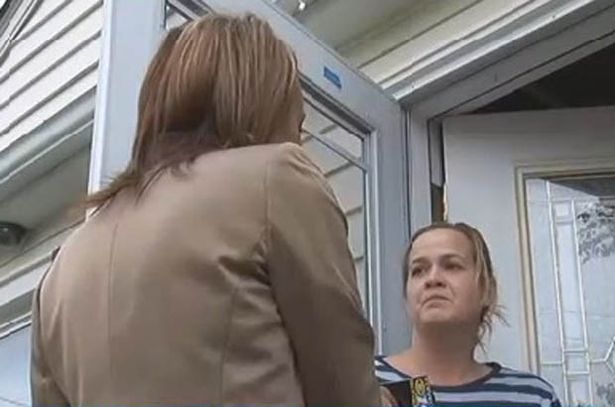 __________
Nick Thomas' Halloween display on Conan Doyle Road in Naperville has grown over the years, and now includes over 2,000 pieces with lights and synchronized music. Visitors to the cul-de-sac have also grown — he estimates about 8,000 people visited last year alone — which is why neighbors raised concerns about traffic and safety with the Ashbury Homeowners Association board. The board notified neighbors via its October newsletter that a "Holiday Decorations Rule" was voted on and passed at its Sept. 21 board meeting. The rule limits a person's decorations to 50 percent of the yard, excluding lights, and restricts the display to 30 days before and after the holiday. For Thomas, that means his four storage units filled with decorations will remain unopened this year. The 600 bags of candy he buys each year will not be purchased. The donations he collected last year for Gigi's Playhouse — in the amount of $6,500 — won't be collected.
___________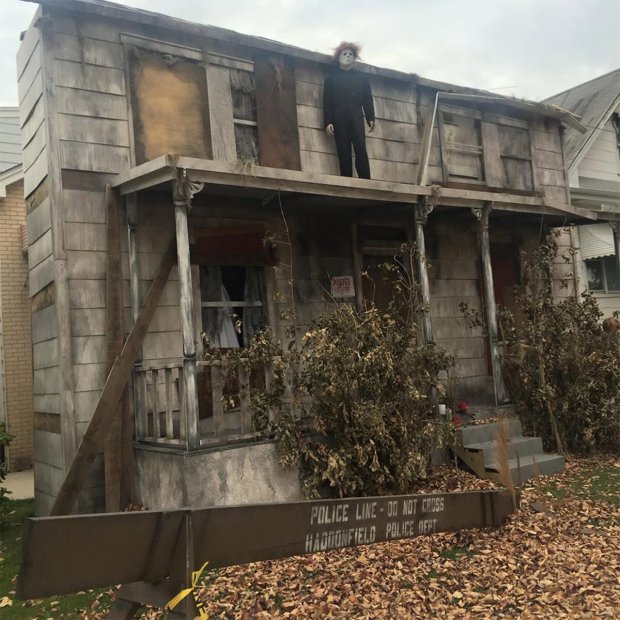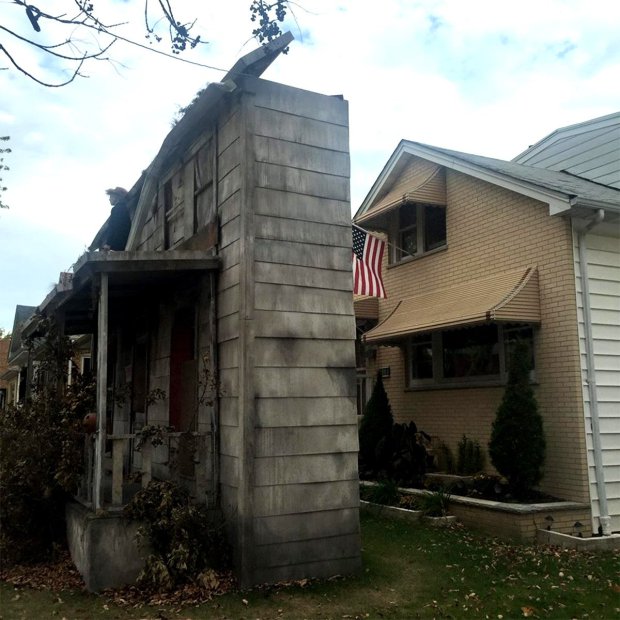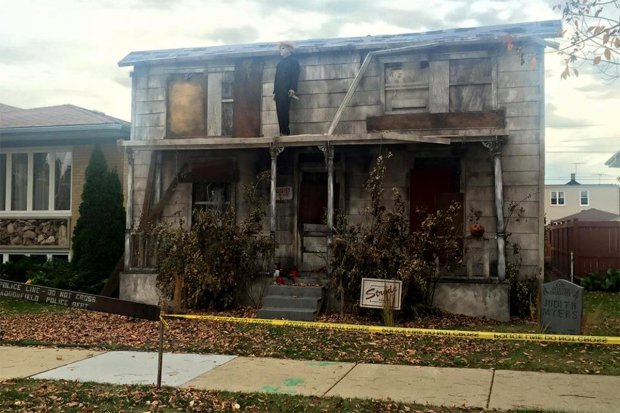 ____________
A Halloween display created to gross out 12-year-olds is the talk of a St. Louis Park neighborhood. Some parents think the hanging "bodies" — next to Sunset Park, at a school bus stop — are too gruesome. The real-looking corpses dangle by their heels from a maple tree, trussed toe-to-head in clear plastic and dripping with fake blood.
The creatively creepy display was concocted by Kevin Amlee and his 12-year-old stepson, who wanted "to make something that would gross out his friends," Amlee said. The gory display was a topic of conversation on a Facebook moms' group this week. A member posted a photo of the dangling bodies, along with a plea for advice on what she could do about them. "I'm all about freedom of expression, but young children (including mine) live in our neighborhood and are traumatized by it," she wrote.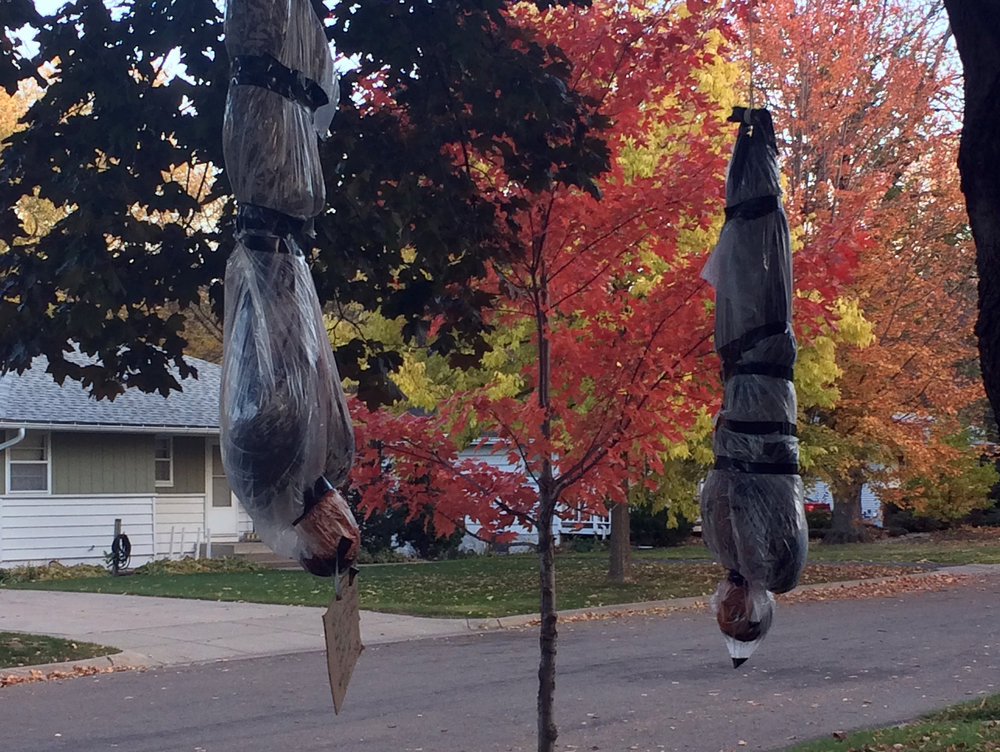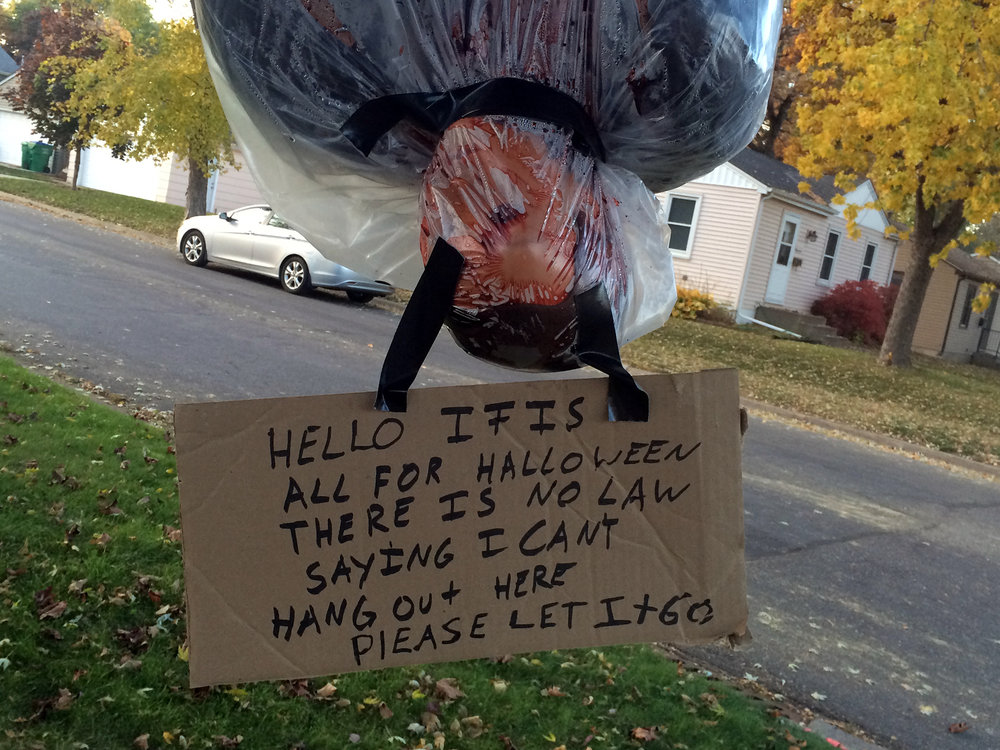 ____________
This video shares our western themed Halloween front yard for 2013. The theme was an old abandoned western mining ghost town called "Grave Rock Gulch" The haunted old west town was complete with an Undertaker Facade, Train Depot Facade, Dentist and Barber Shop Facade, an Old Spanish Mission Facade, Hotel and Saloon Facade, Southwestern Jail, General Store Facade, an Old Mine Shaft Facade, Water Tower, working Water Wheel, and Mining Area with Sluice.There are several static, motorized and animated props as well as pneumatic air powered props hiding around the town. There was a gold panning for body parts station for the little ones in the fully functioning mining area. We designed the haunt to make people feel as though they just walked into a little spooky ghost town straight out of a cartoon. All the scenery and many of the props were designed, handmade, modified, and painted by the two of us. Some of the props we had this year were a motorized kicking legs stuck in a wood coffin, a hidden air cannon inside a travel trunk, a pneumatic train station ticket stamper, a pop up dead customer of the town barber, several sculpted foam props like cactus, a giant tooth, motorized bell, working 3 tier fountain, working hand water pump, a detonating box for the mine, plaster castings of skulls, a pneumatic thrashing hangman, Several store goods like crates, jars, and supplies left and abandoned, and what western town isn't complete with out a farting town drunk in the jail cell.
_____________
A Brooklyn filmmaker has turned her porch into a surgical torture chamber teeming with mutilated baby dolls—a display gruesome enough to terrify kids and turn stomachs. Anyone strolling along Bergen Street in leafy Boerum Hill is in for a shock at her stoop: a collection of creatively butchered infant dolls and — their tormenter— a grinning, pumpkin-headed surgeon.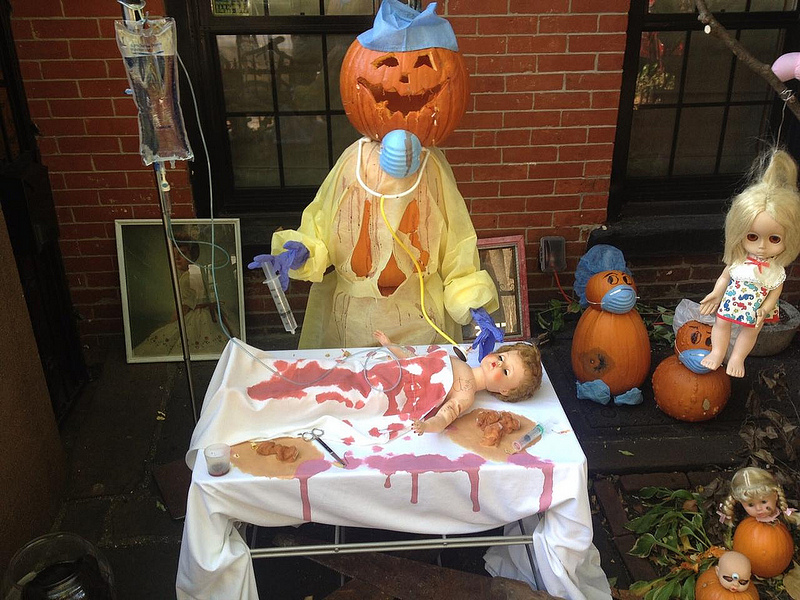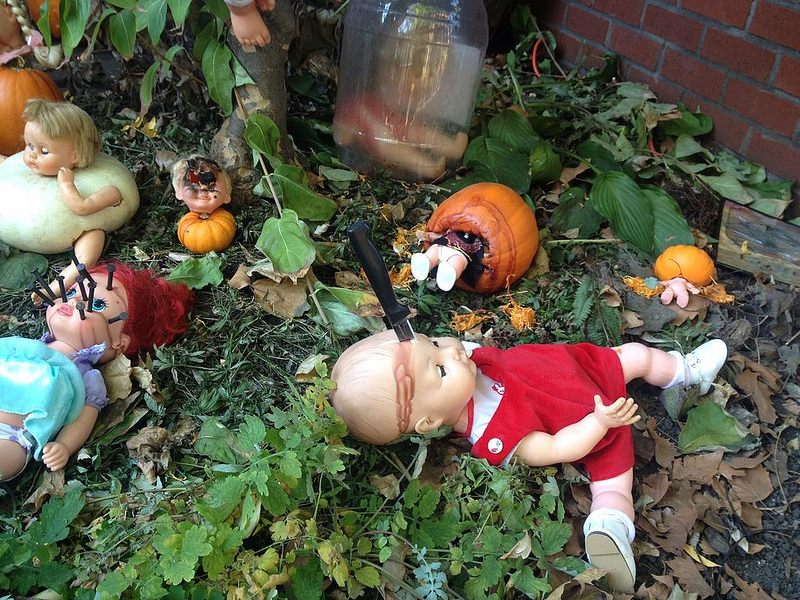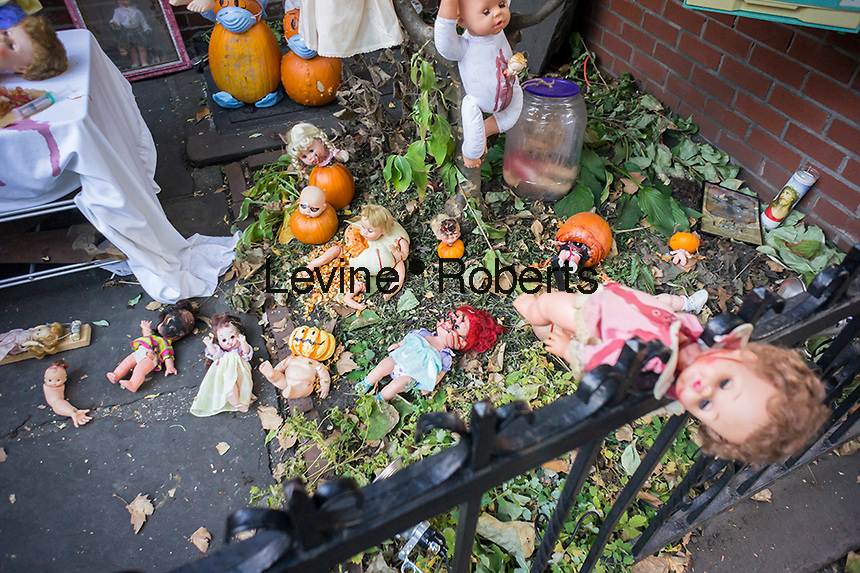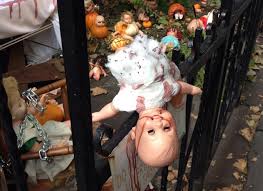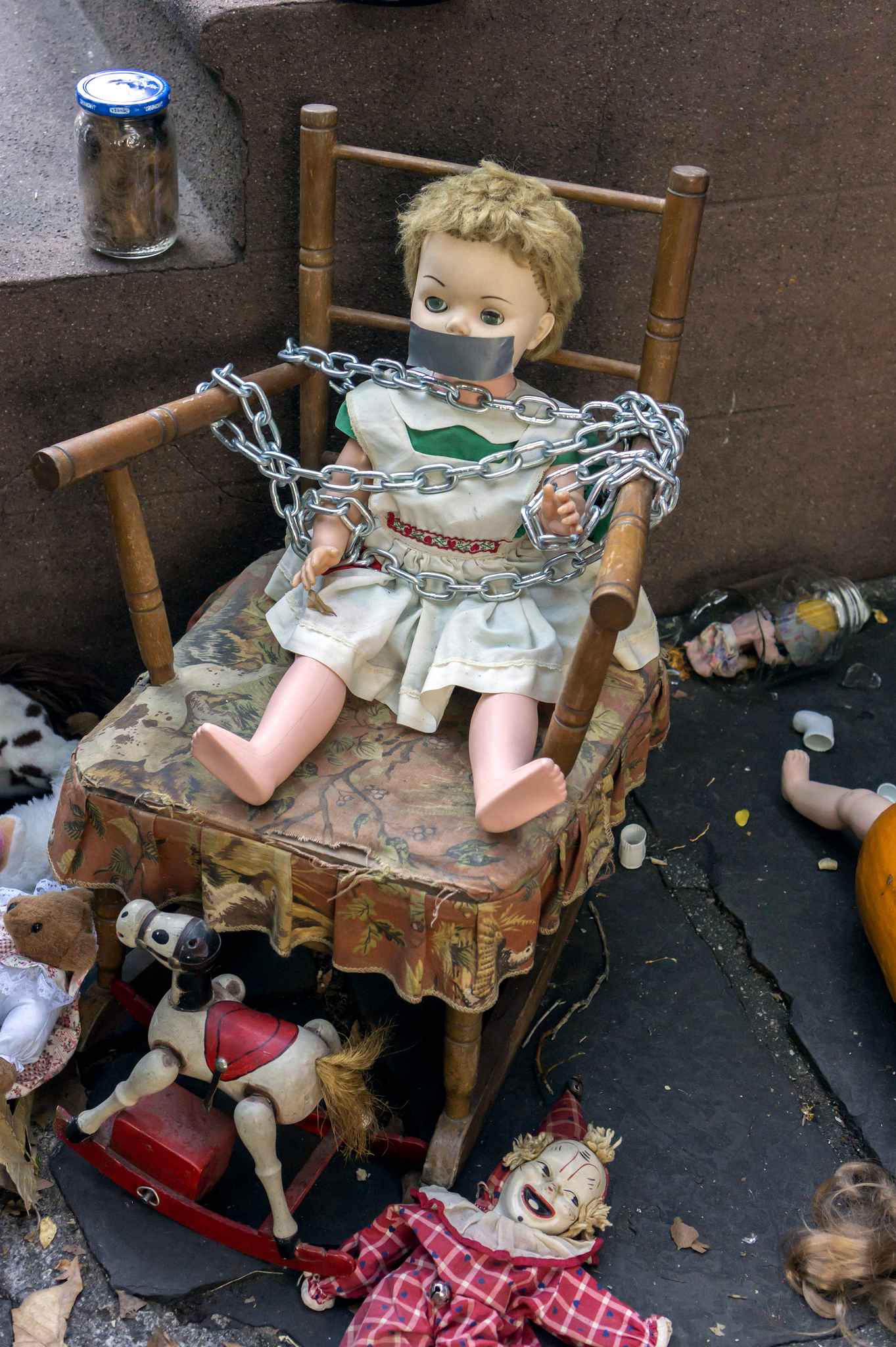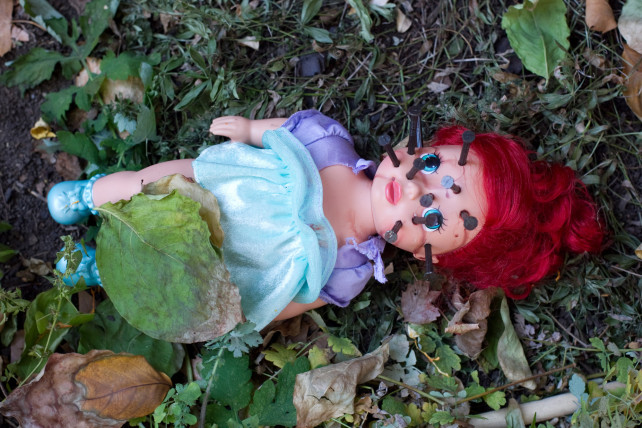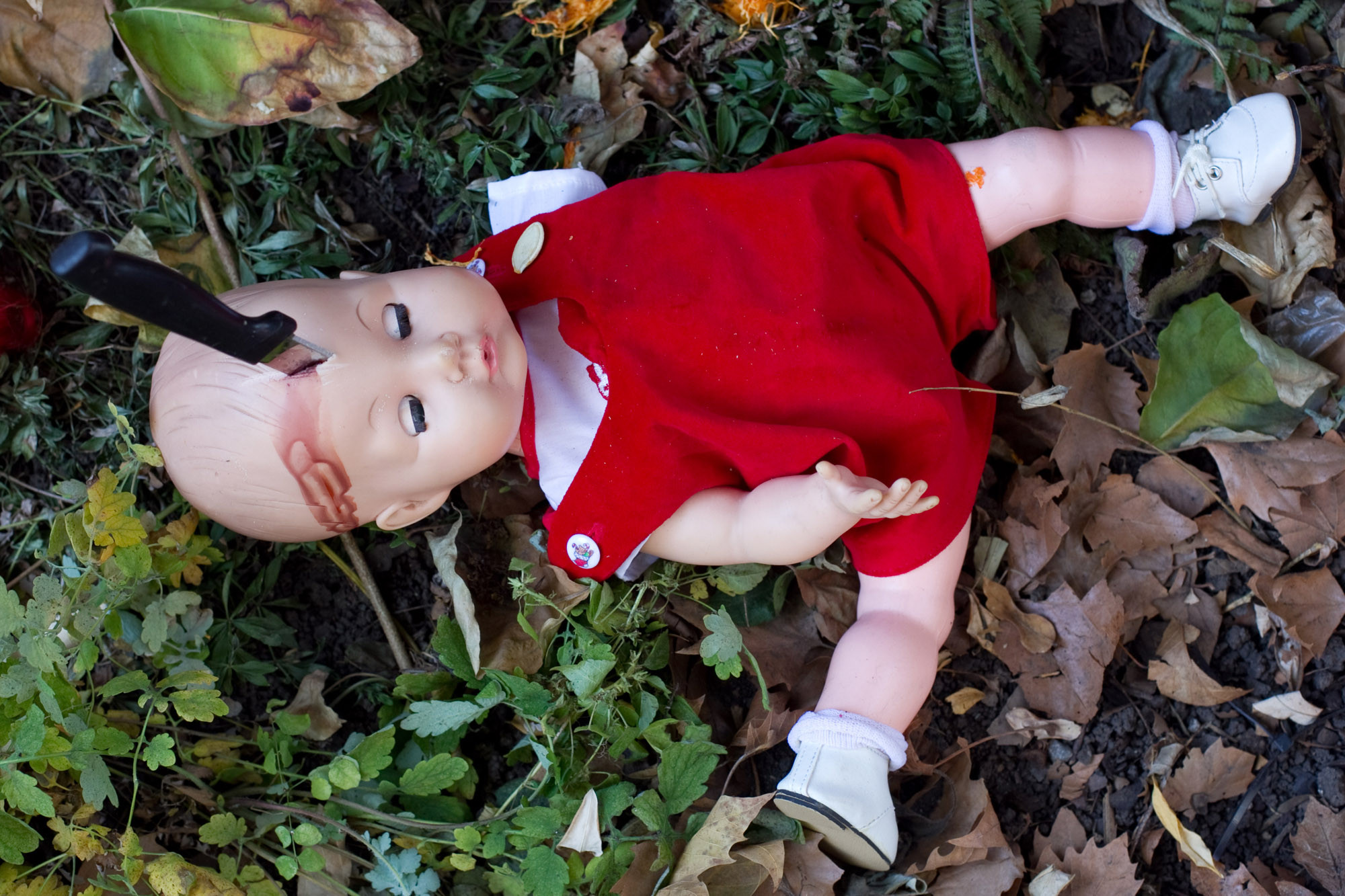 _____________
williamson halloween house where your worst nightmares come alive
_____________
One man lies on his stomach on the driveway. Blood is splattered along the garage door that smashed his head and presumably killed him. Another man lies a few feet away, run over by a truck.
The scene in a middle-class Oklahoma neighborhood made of single-story homes and well-manicured lawns seems out of a horror story because, well, it is. The two accident victims are in fact dummies, created as part of a family's vivid Halloween display to shock and frighten. And it certainly has. At least one woman has called 911 to report that a man's head had been shut into the garage door.
Jennifer Mullins, of Mustang, said she got the idea for the macabre scene from the social media site Pinterest and showed her husband, Johnnie, who was happy to scare up a display while he was on worker's compensation and unable to work. Using Johnnie's work clothes and blankets for stuffing, the couple first placed one life-sized dummy at the garage in early October and the next day, placed one next to the truck. A sign above the dummy in the garage door reads "you're next."
"People think we went too far, and you know, we're devil worshippers and we must not be Christian folk," the 32-year-old mother of two girls said. "They've said all kinds of stuff. But we're normal. We love Jesus."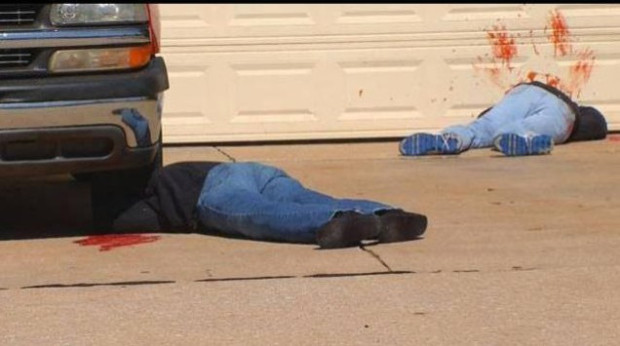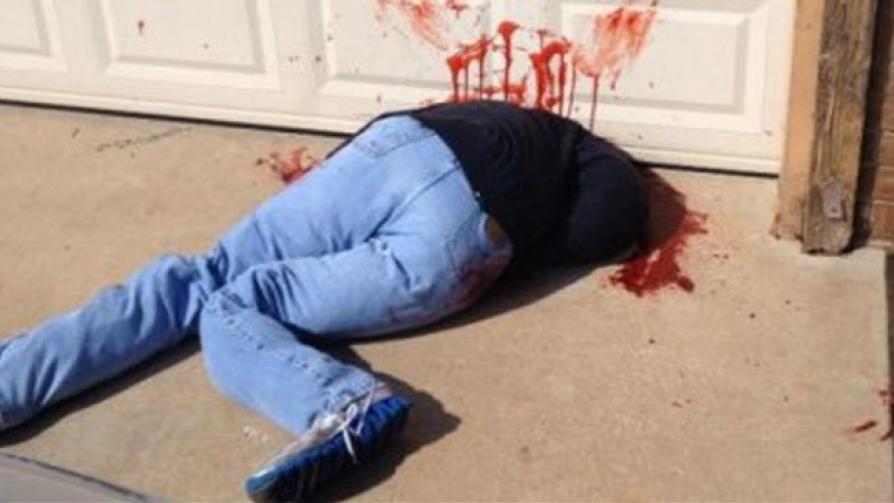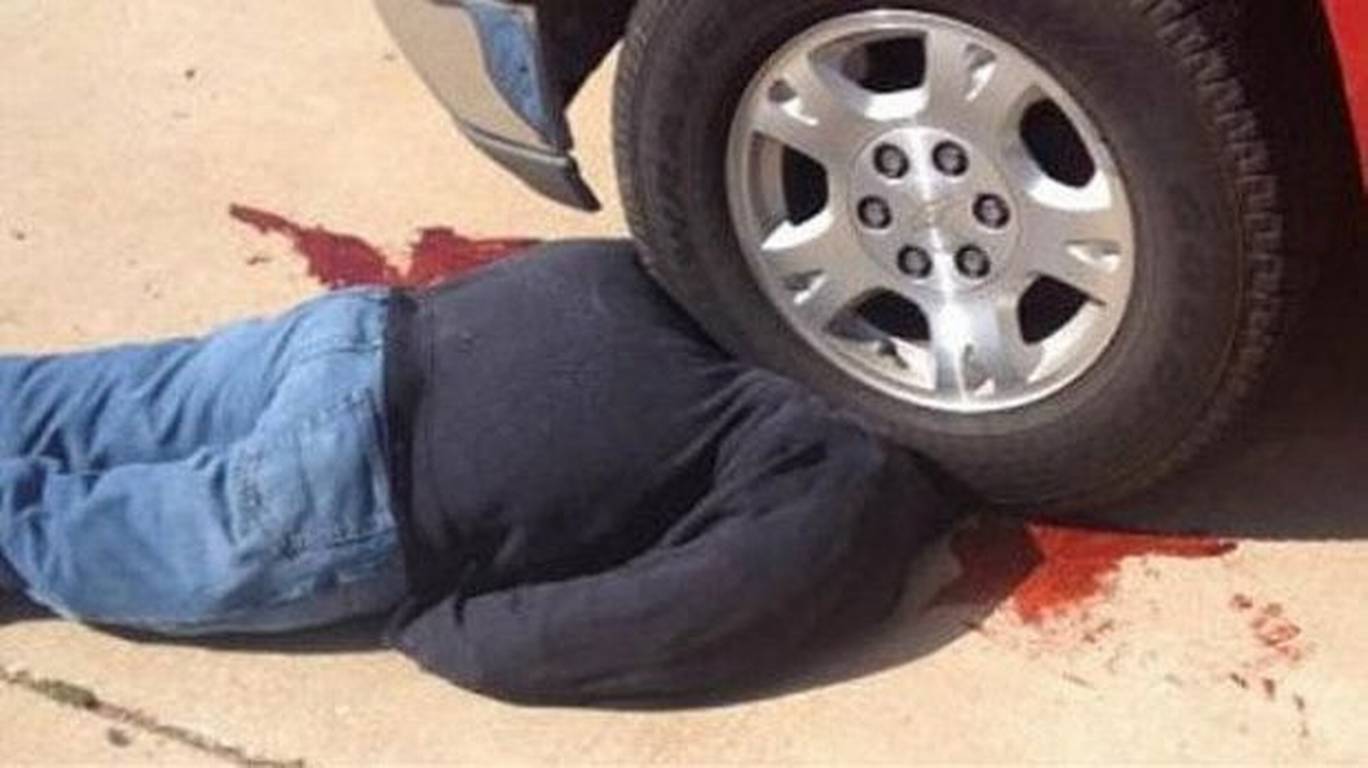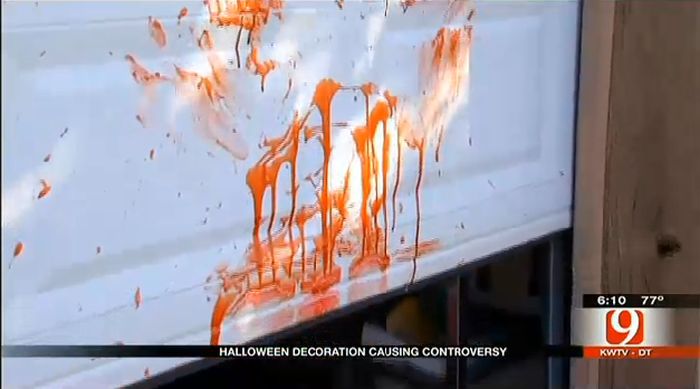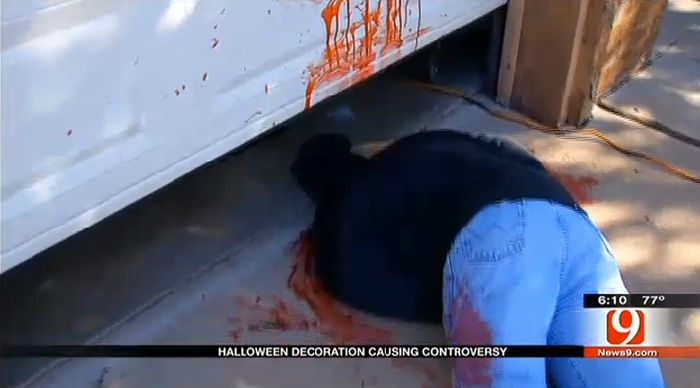 ______________
6 House Mappers
This is what our house will look like for Halloween this year. This was shot from the sidewalk in front of our house.
Well, the house needed a little something new for Halloween. It was a hoot, although the house was a mess afterwards! On a technical note, the original recording was a bit dark, so we've done a little video "optimization" to make it stand out.
This is what trick-or-treaters were greeted with when they came to my house on Halloween, 2015. Only one, short-throw projector was used for this effect. I used Sony Movie Studio Platinum to compile and edit the video.
House Mapping for Halloween 2015. Used Multiple HD Download files of 6 "characters" from AtmosFear FX. Projectors used: Main housed used a BenQ MW817st , MX813st and MS504. The MW817ST does the "Heavy Lifting" . It handles the full house and garage doors. The woman in the upstairs window is actually the MX813st rear projecting on a white shower curtain. I tried having her projected by the 817st but the rear projection behind the window looked more realistic. The ms504 was for the pumpkins out on the side of the yard.
Creepy Halloween projection mapping on a home videoed live 2015 featuring devils, snakes, a Werewolf and more! Projection mapping created by Project Thelda.
Using 5 projectors we created a pretty scary scene.
Halloween 3D Projection mapping on our house, O Fortuna
_____________
A Halloween-obsessed homeowner is terrifying his small Pennsylvania neighborhood with blood-splattered dolls, severed plastic heads and even a cannibal bunny in his front yard. This year, his lawn is strewn with bloodied limbs, a skeleton in chains and hanging heads. Possessed baby dolls line cages – which he picked up from flea markets – while hanging along the fences are more plastic dolls with black eyes and signs across their chests reading: 'Help me.' Painted tombstones placed in the front yard show the names of his family and children. And sitting on the porch is a large pink stuffed rabbit – with blood gushing from its mouth.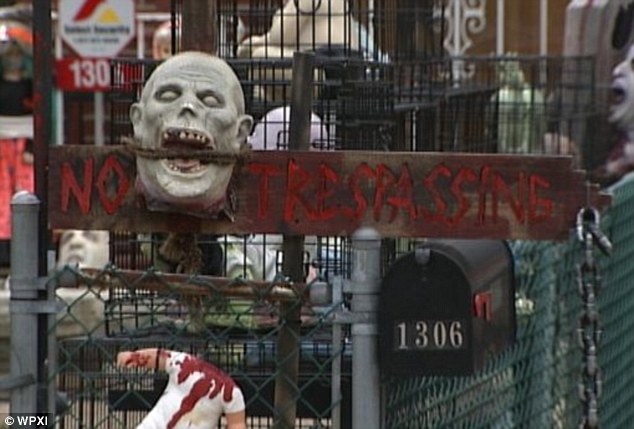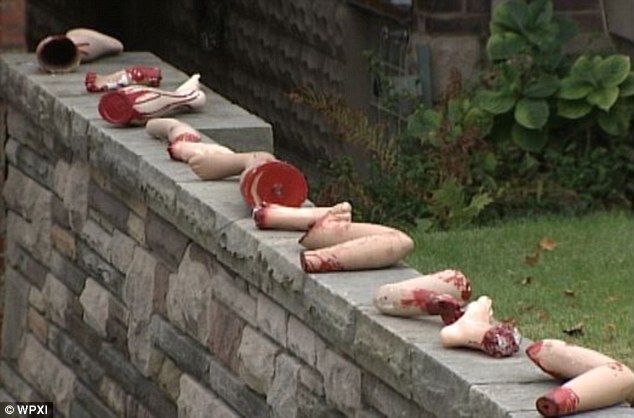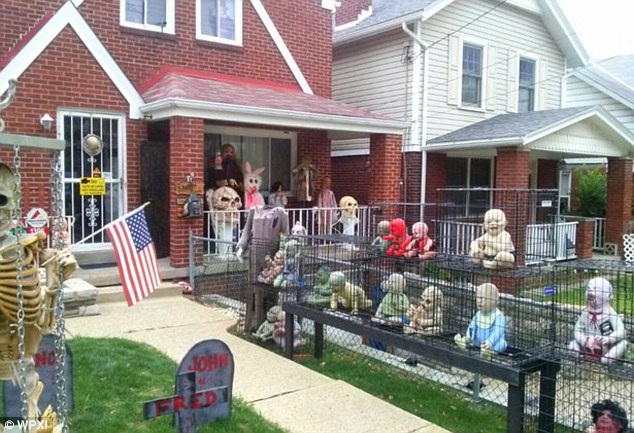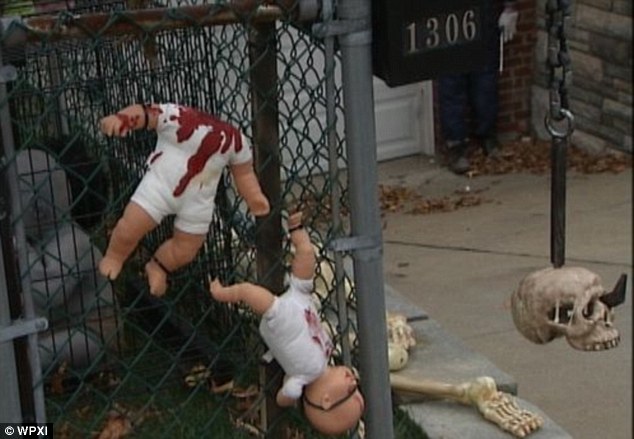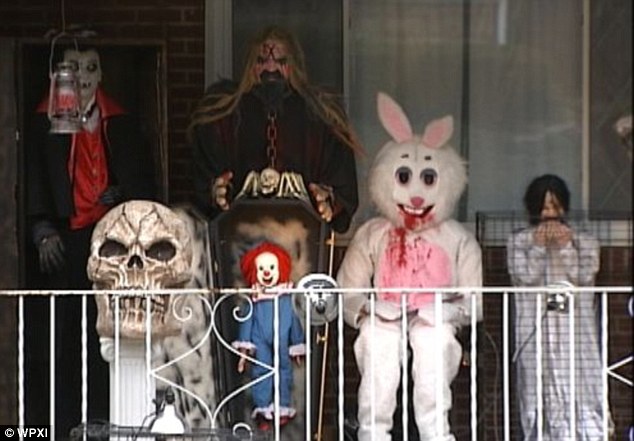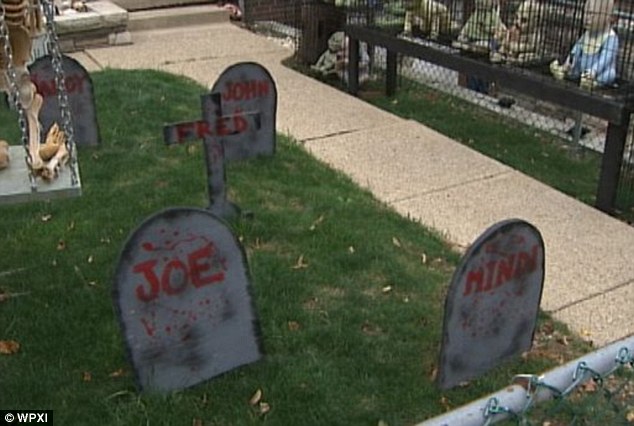 _______________
Halloween House, Bush Street, Mountain View, CA
____________
Colorado's most extreme yard and garage haunt just got better! It's out first year at the new location, and we've created a free haunted walkthrough the likes of which have never been seen! It took the average group about four or five minutes to complete the tour, which winded through three thematic areas; a canibal barbeque joint (Uncle Bubba's BBQ), a repair shop owned by killer West Virginia hillbillies (Body Repairmen), and a creepy basement infested with serial killers (UNEARTHED: Into the Cellar).
_____________
A Halloween-loving New Jersey family has their Bellmawr neighborhood more creeped out than spooked with a front yard holiday display of bloody babies hanging from nooses. They also just happened to be named Krueger.
Even the fact that the three young Krueger children spent hours on the unsettling creation isn't enough to convince some unimpressed residents.
'I like to see witches, you know goblins and ghosts, not hanging babies,' creeped out neighbor Toni Flaherty told Fox 29 Philly. 'It's not scary, It's gross. It's disgusting. It's horrible.'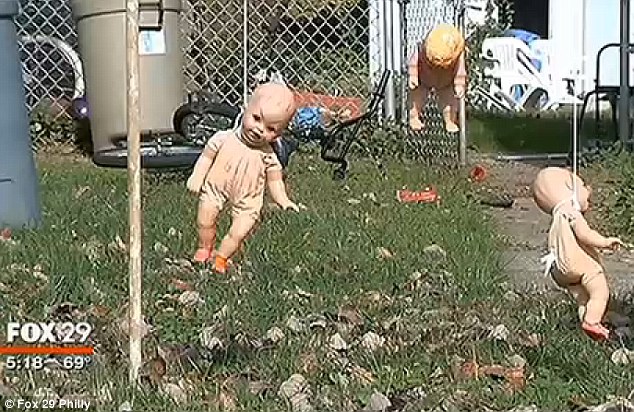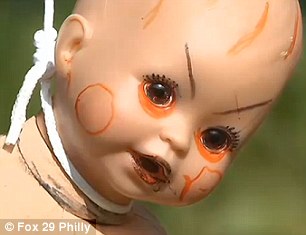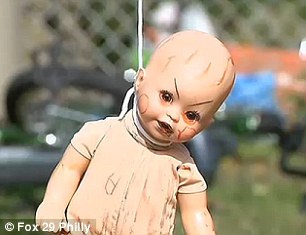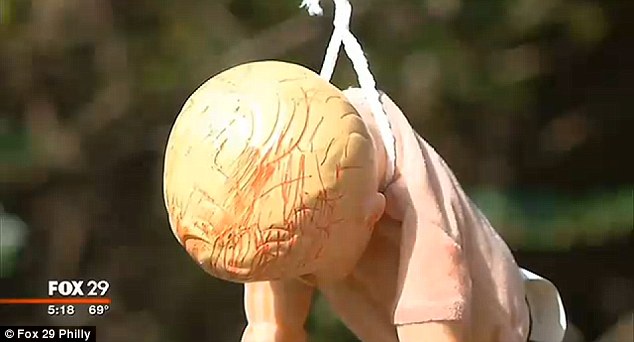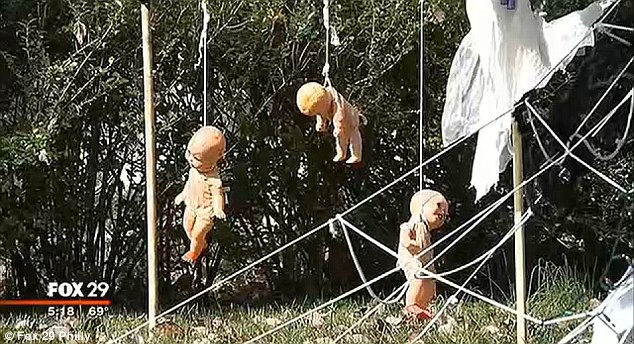 _____________
A Detroit woman decided there were scarier things in the news to put in her Halloween display than killer clowns. Larethia Haddon placed six dummies in her yard, each depicting a a real-life horror. With help from her grandchildren, Hadden dressed the dummies up to depict terrorism, police shootings, the Flint water crisis and other realities.
Last year, Haddon displayed one dummy that appeared to be a dead body laying face-down in her yard, which scared people and promoted calls to the police. This Halloween, Haddon and her family said they wanted to send a message.
"We're trying to do something positive instead of just having a dead body laying in the yard," Haddon told Michigan Live. "We need to stick together more. And if we don't, this scene in my yard is going to be reality every single day."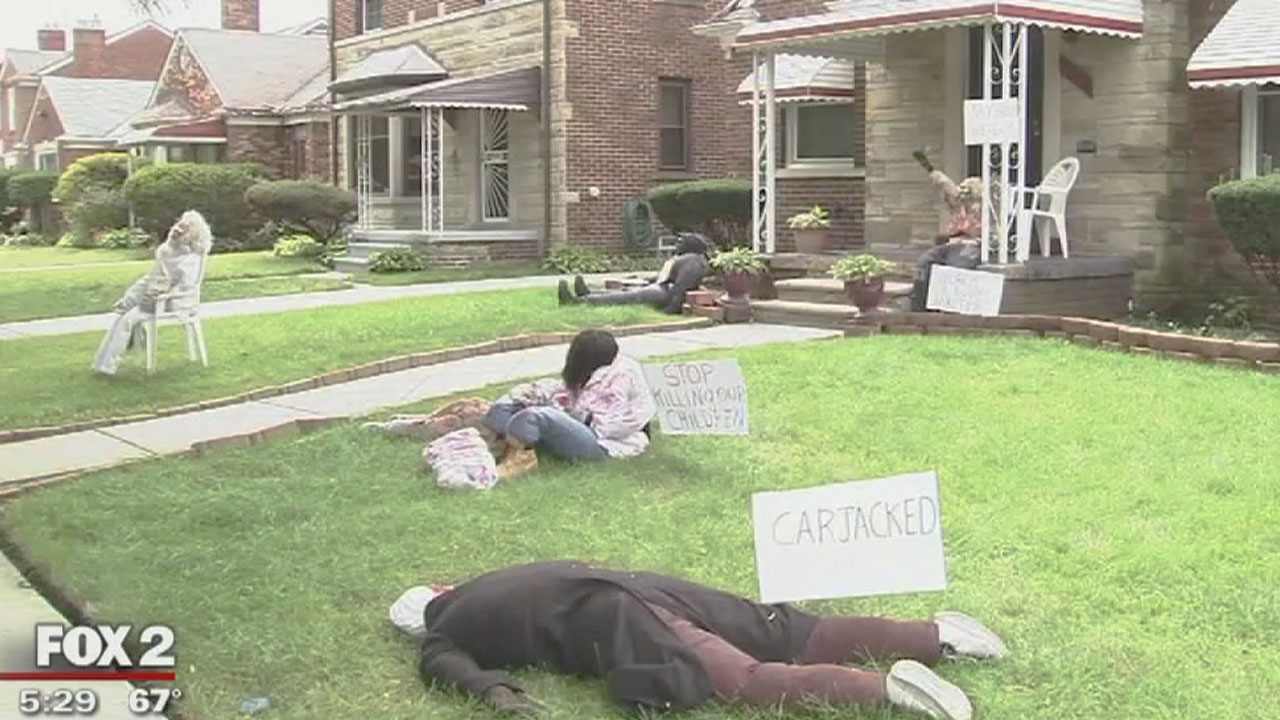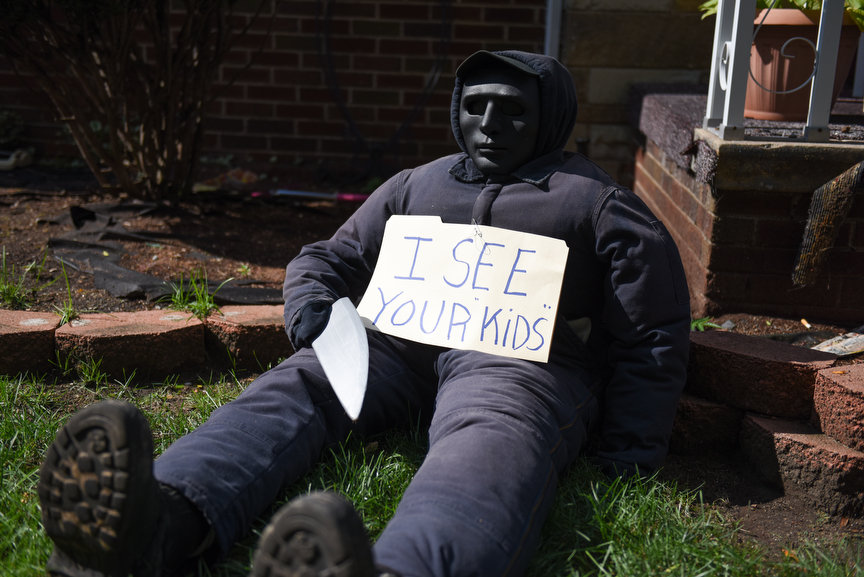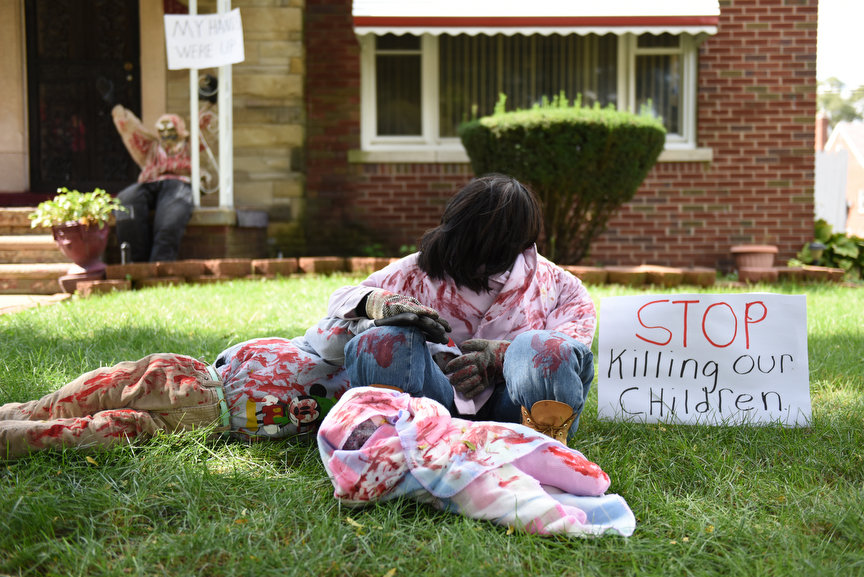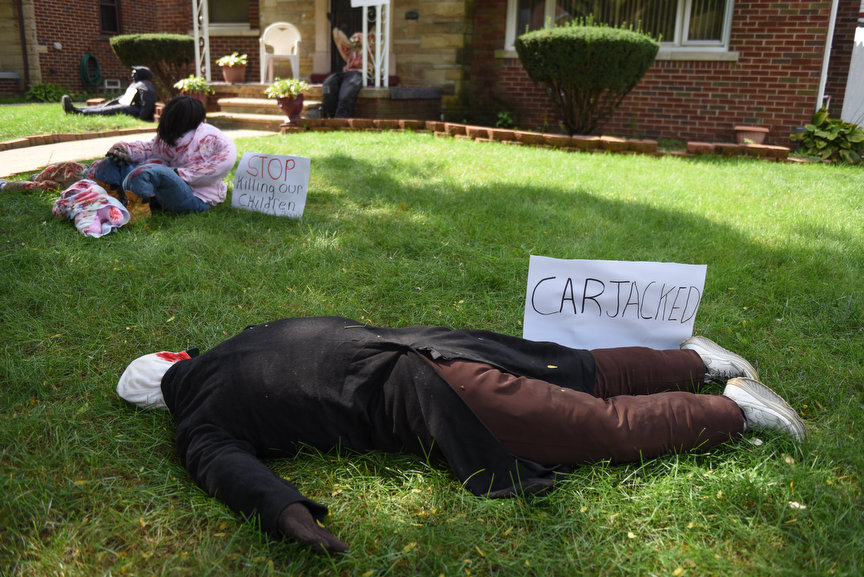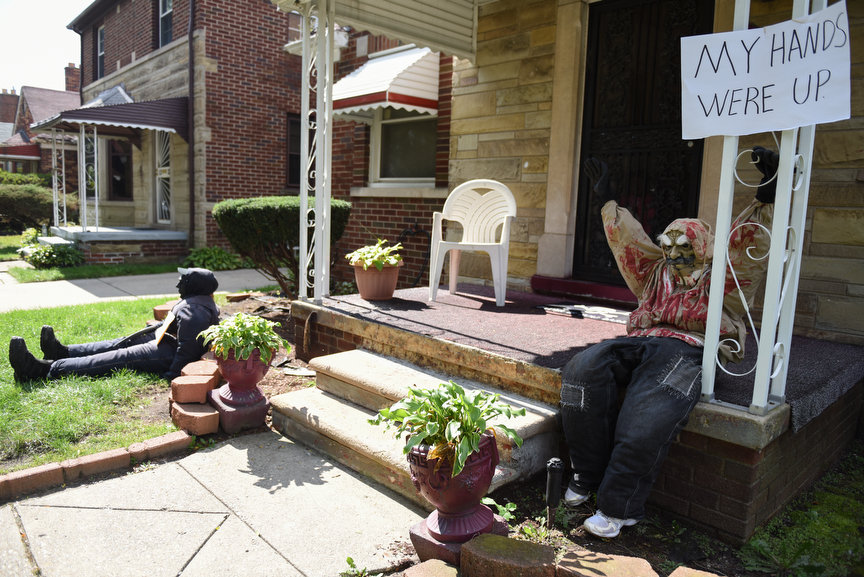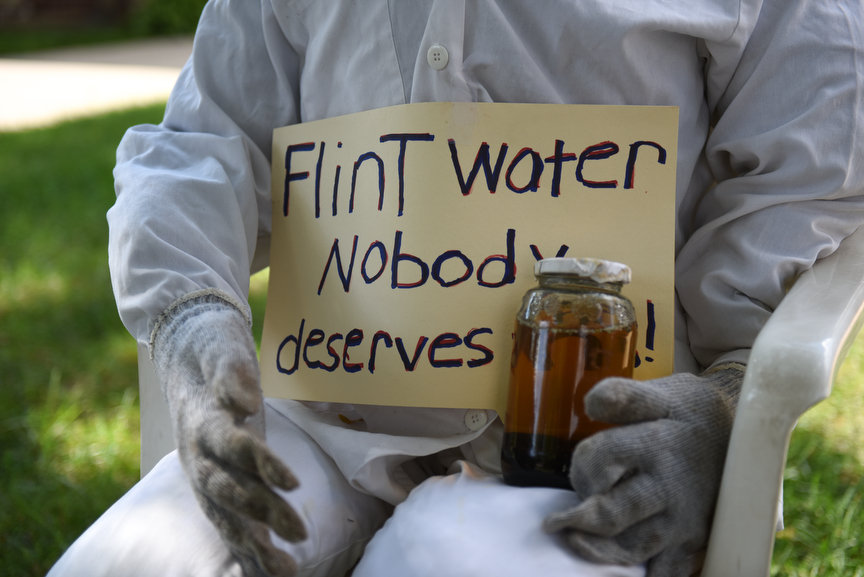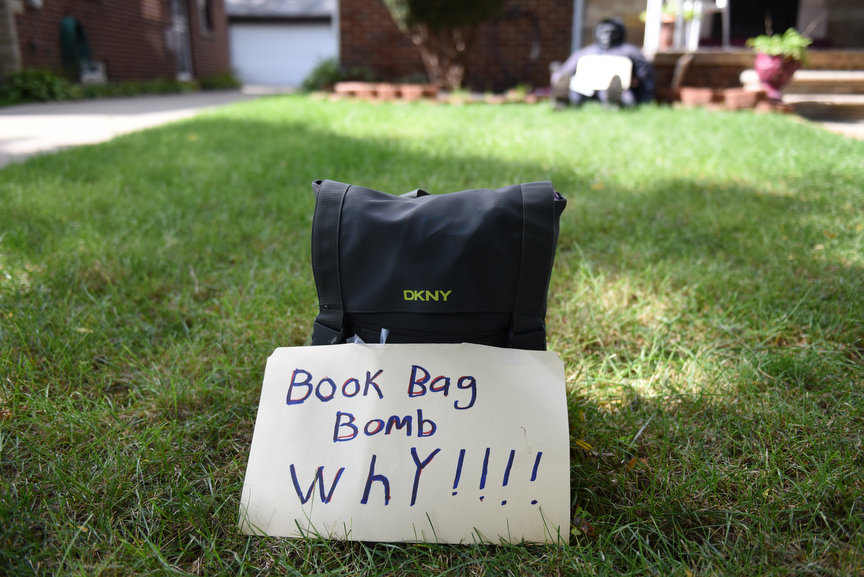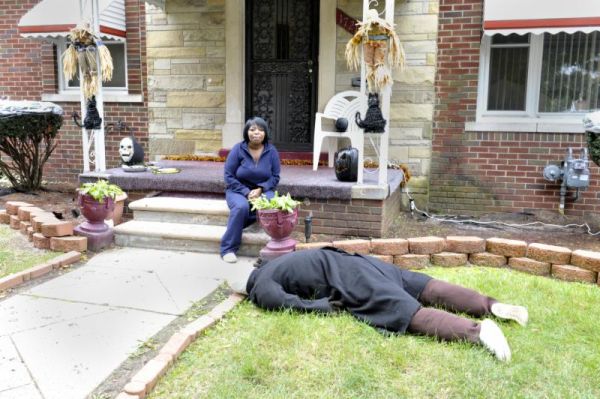 _____________
No one could accuse Jonathan Ross of not taking Halloween seriously as preparations got underway for his annual star-studded bash at his Hampstead home. The whole exterior of the TV host's three-storey property was in the process of receiving a ghoulish makeover on Wednesday, as builders got to work transforming the family house into a spooky castle. The 52-year-old will be hoping to trump last year's celebration which was attended by Gwen Stefani, Stephen Fry, Bryan Ferry and Chloe Moretz.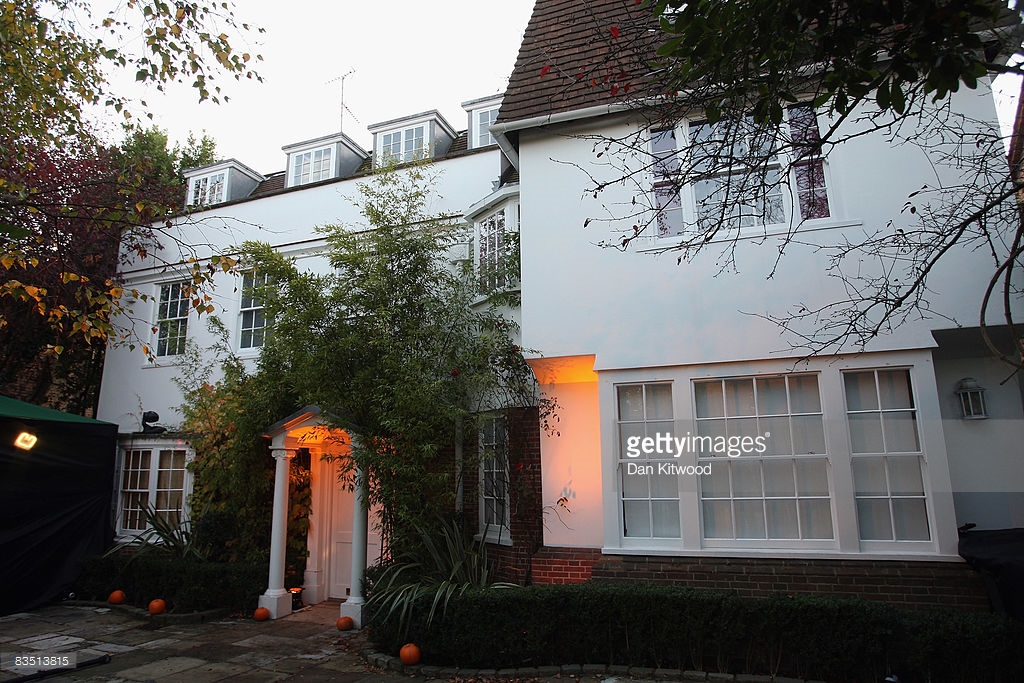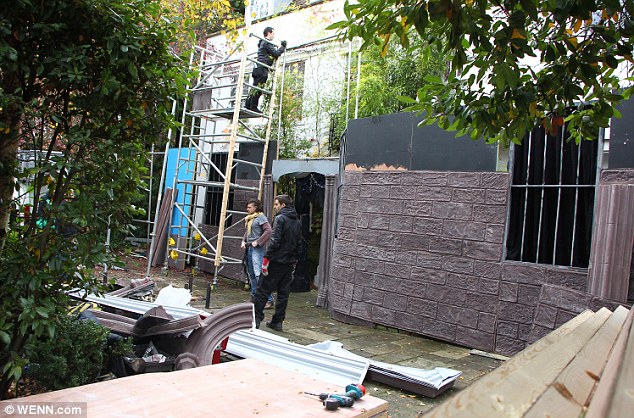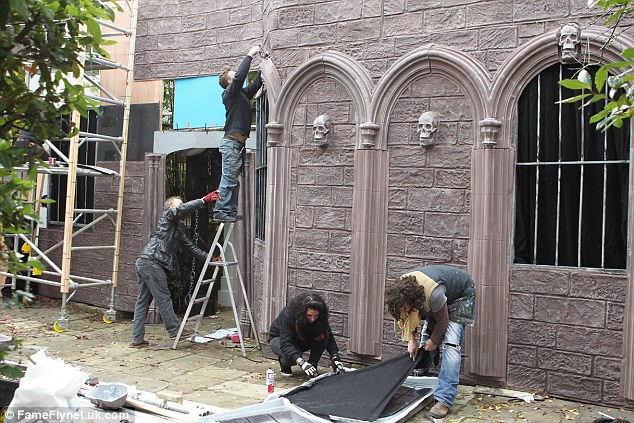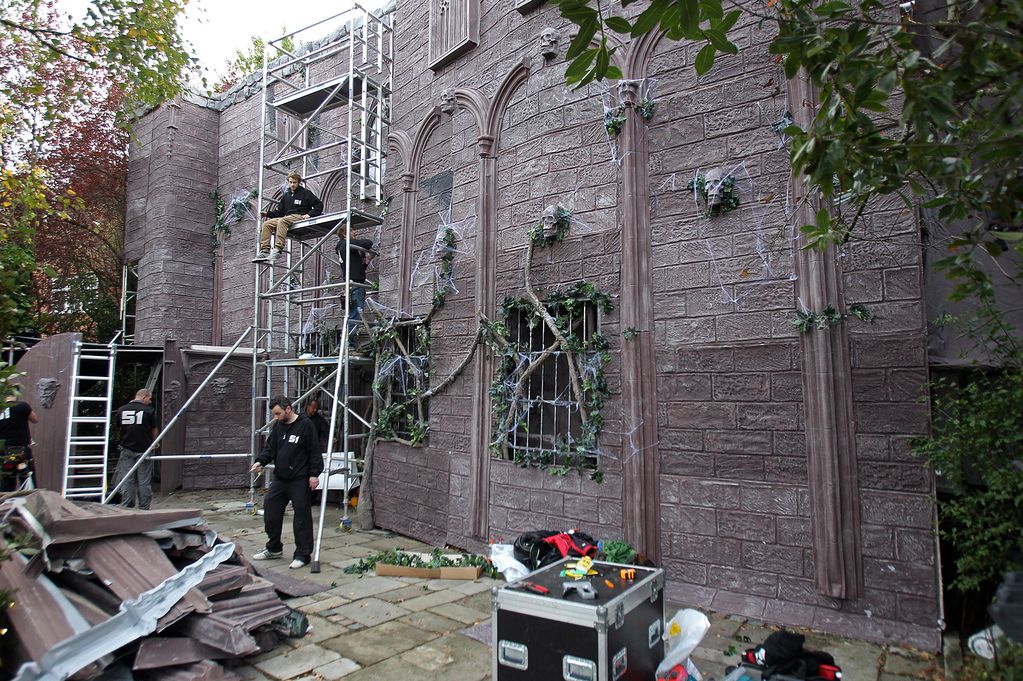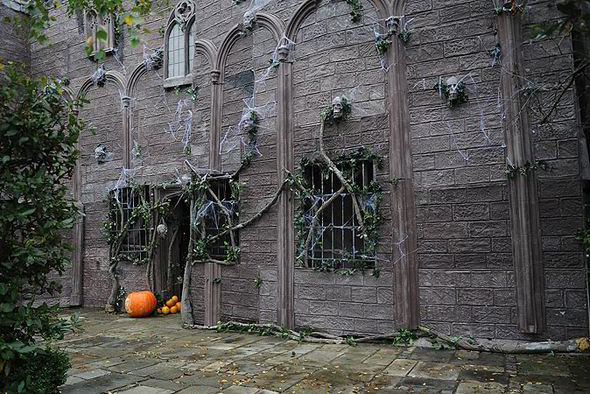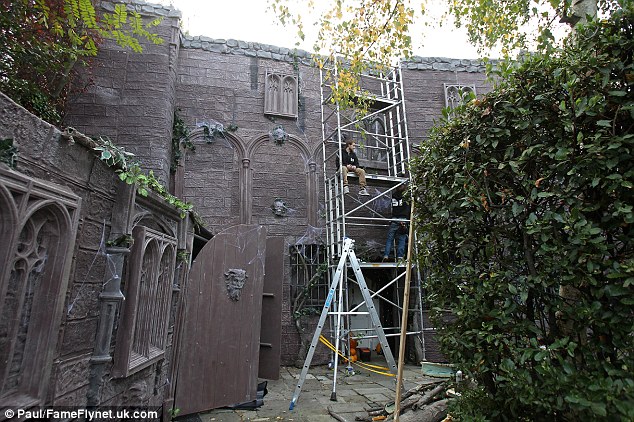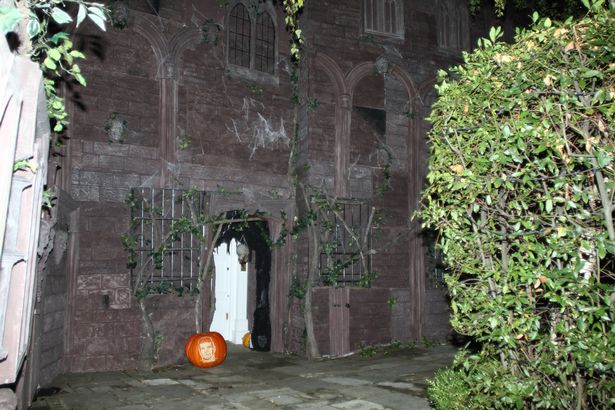 _____________
Jenns Haunts Halloween Yard Daytime Walkthough and Video of yard haunt after five hundred kids went through my Halloween yard display!
______________
A man who put up a gory Halloween display of disembowelled corpses outside his home has been told by police to tone it down after a passer-by said it made their child cry. James Creighton, 25, has decorated the outside of his house with skeletons, bloodied corpses and cobwebs every year since 2009. But he had a nasty shock when two police officers knocked on his door to tell him a parent had complained it was frightening children.
Creighton said: "The police came round knocking on my door. They said they were sorry to disturb me but they had a complaint from a member of the public who walks past my house in the morning. Apparently their child starts crying every time they walk past my house. I was shocked – more to the point that the parent couldn't come to the door themselves and speak to me personally, but had to get the police involved and waste their time.
"Police have asked me to put black tarpaulin along the fence so the kids can't see it, but why should I do that? It ruins the whole rest of the display for everyone else. All the other kids love it. It is just this one who doesn't like it."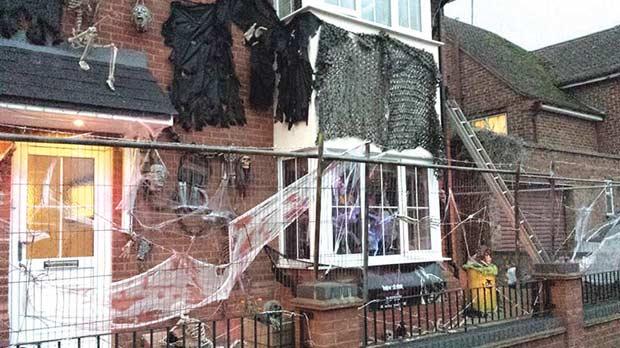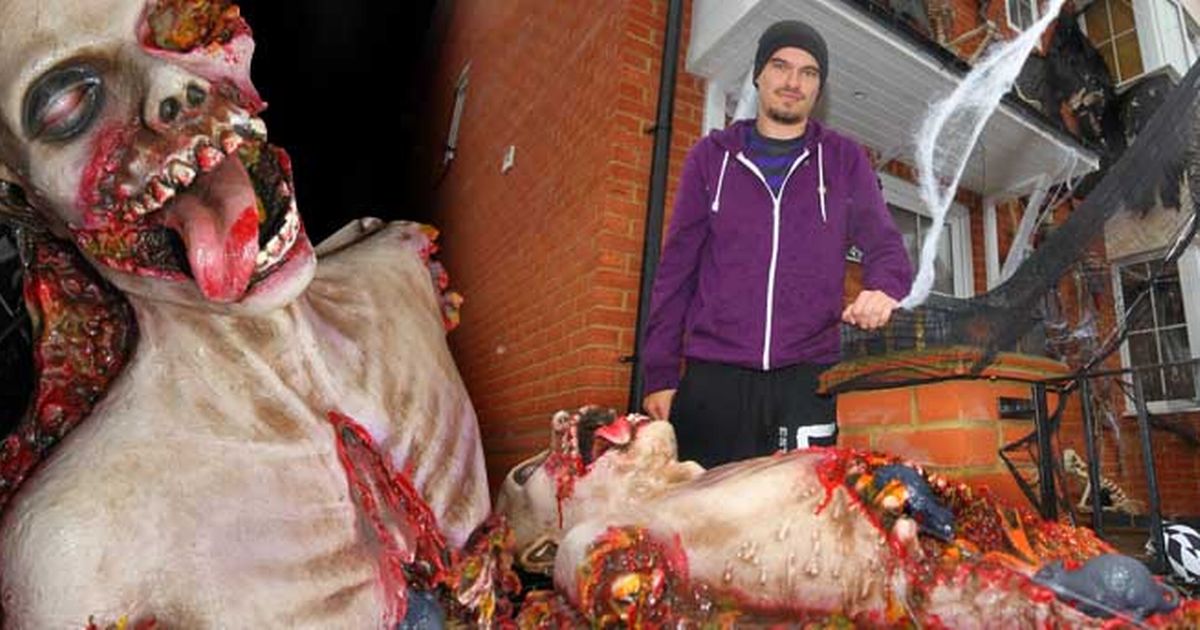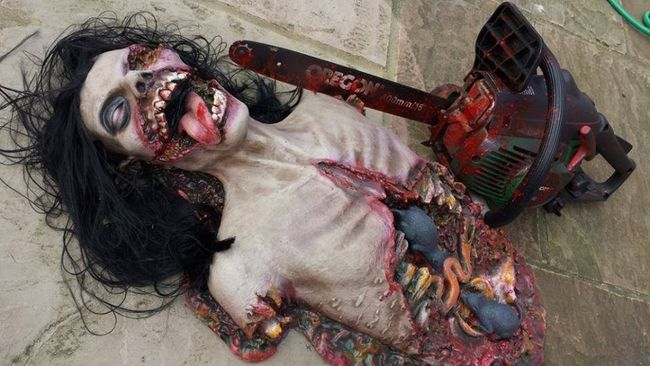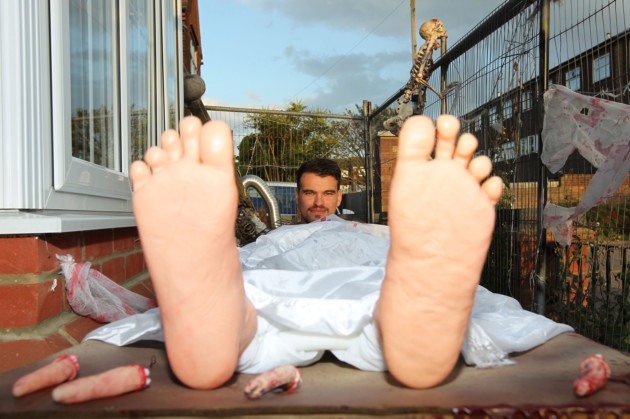 _____________
Residents feel neighbors went too far with Halloween decorations.
______________
Kyle Chen didn't give one piece of candy to a trick-or-treater in 1998. Now hundreds stop by just to see his house. Chen moved to Wauwatosa in 1998 and flocks of trick-or-treaters would completely ignore his street on Martha Washington Drive. He found out they were headed to Two Tree Lane to see the decked-out houses and their Halloween decorations. He had to do something.
The house today is a macabre scene of ghouls, goblins and ghosts. Life-sized mannequins with melted faces fall out of broken windows on the home's second story. Dozens of rats and crows infest his lawn, some perched as ghoulish sentinels. A spectre holds a flickering lamp, beckoning unsuspecting trick-or-treaters to the asylum.
The coup de grace, however, is Chen's moving ghoul-suit — 12-feet tall, draped in black rags and is worn like a backpack. Since the suit doesn't require stilts, the Chen family can run after trick-or-treaters, chasing them down the road.
Chen said he likes to stand motionless in his yard, waiting for unsuspecting trick-or-treaters to wander within chasing distance. The suit makes such a presence that, one Halloween, his wife told him firmly not to scare a little girl who wandered into their yard. "This is Halloween," Chen whispered to her before tearing after the little girl, causing her to run squealing from the house. He was scolded by his wife until the year she wore the suit. Her personality completely changed and she wanted to instill fear in the children, he said.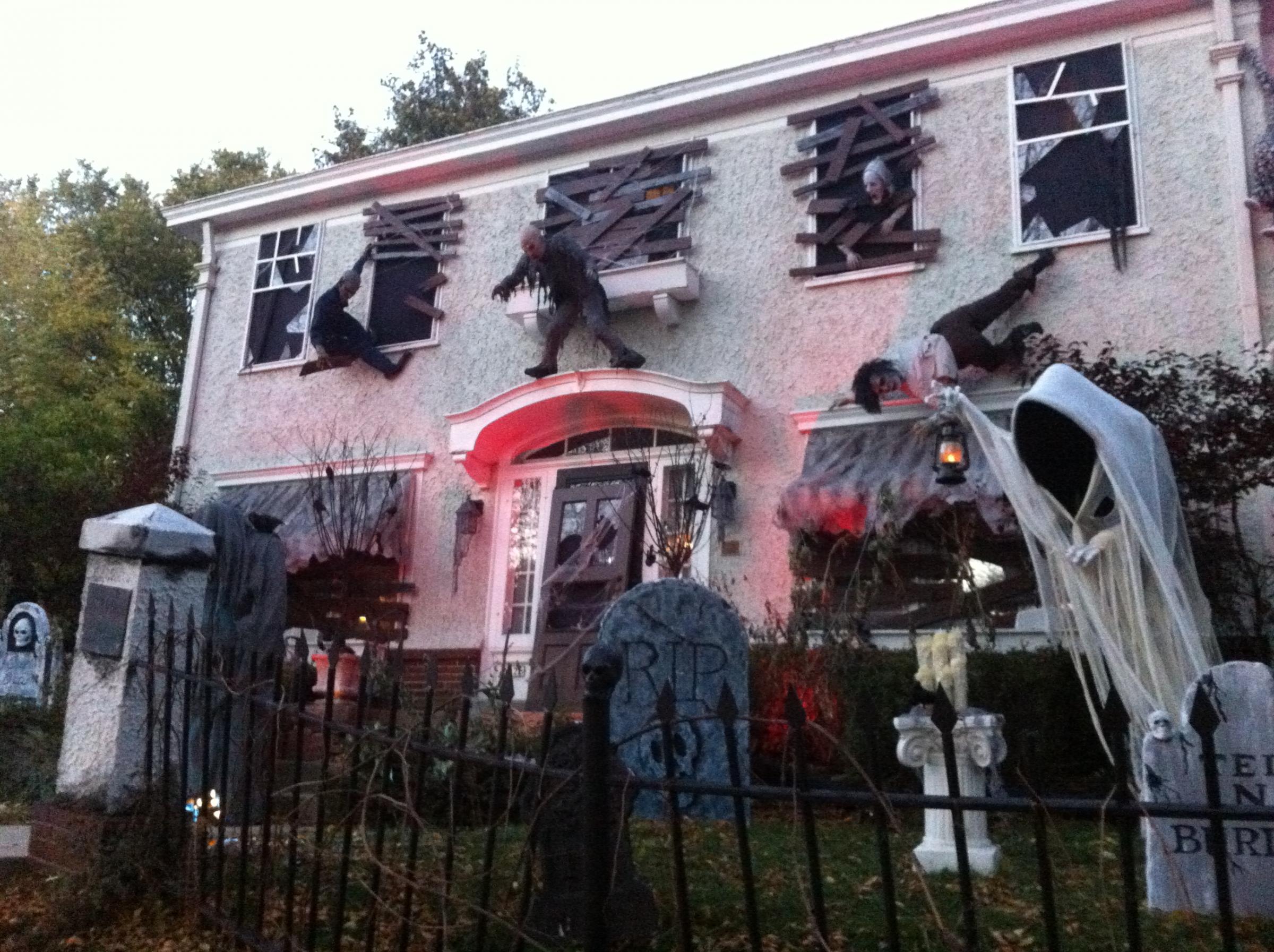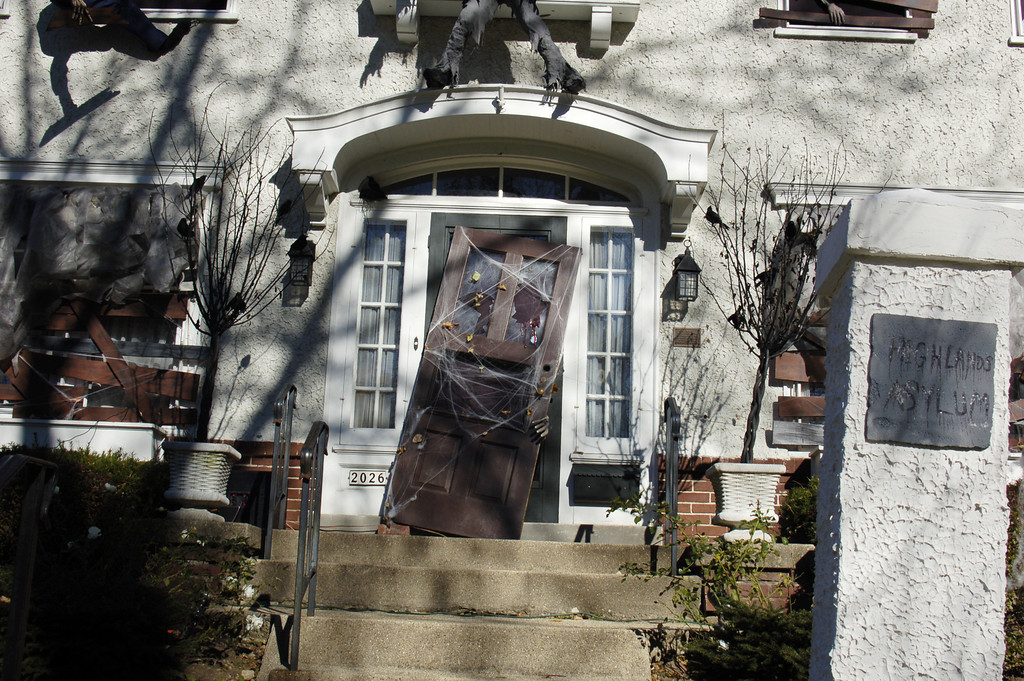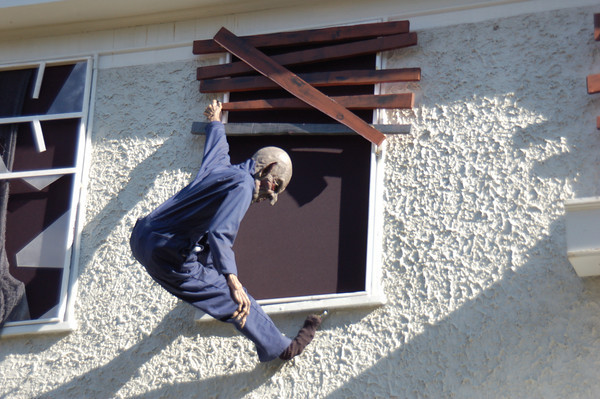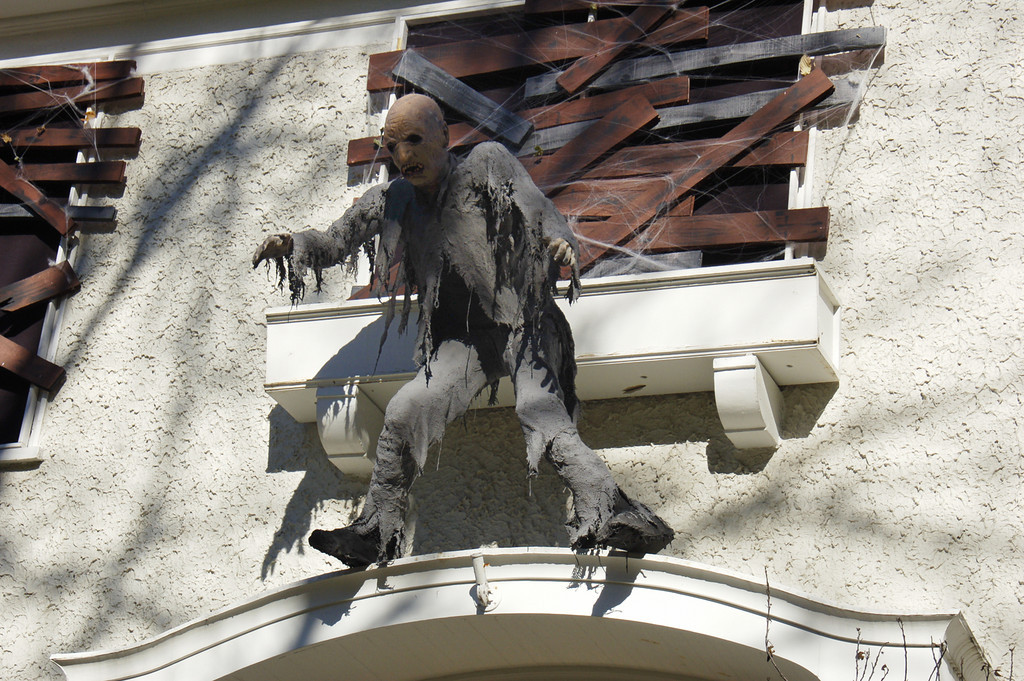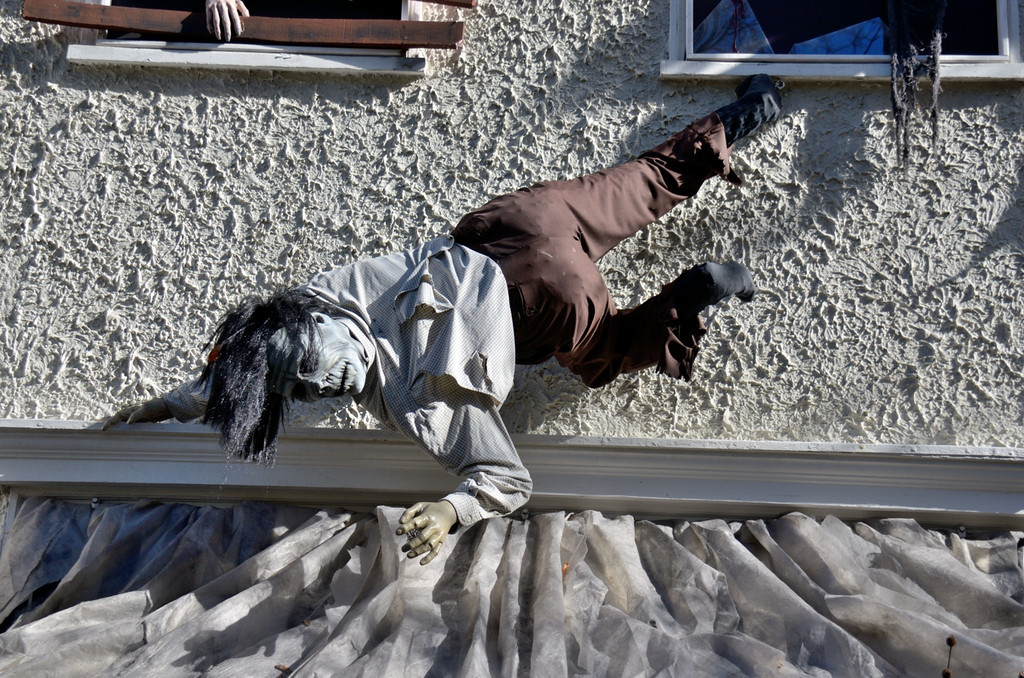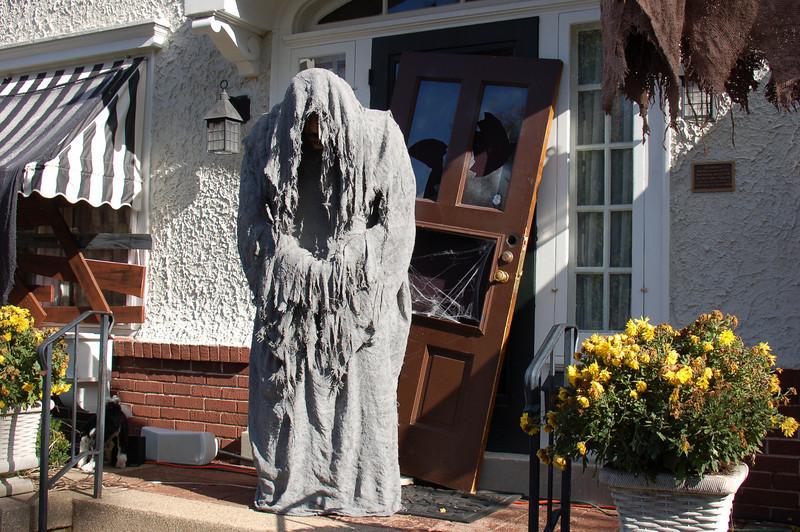 __________
Miscellaneous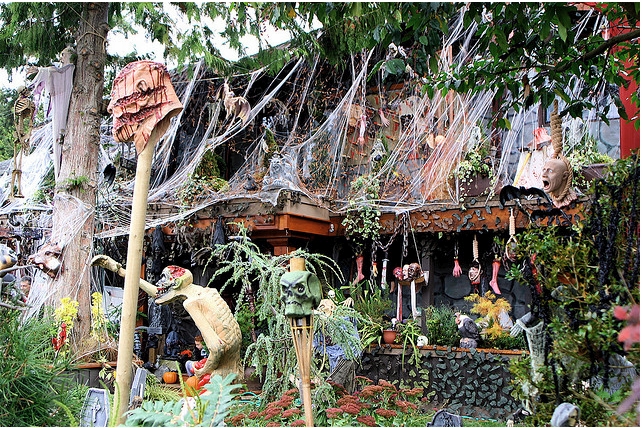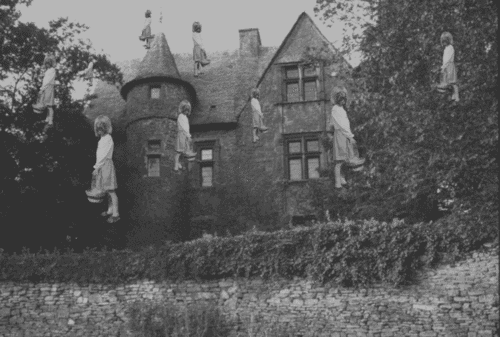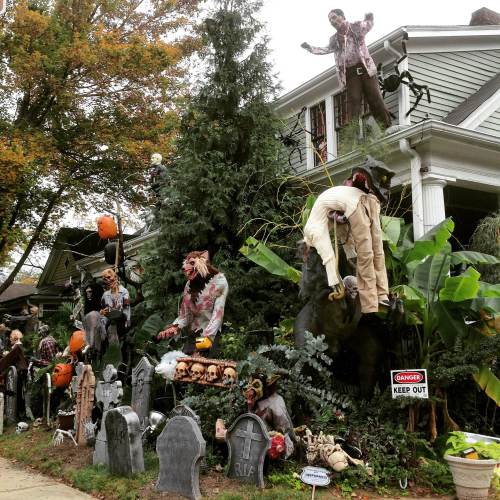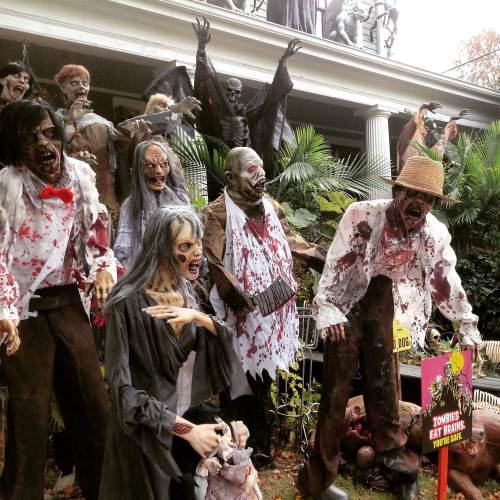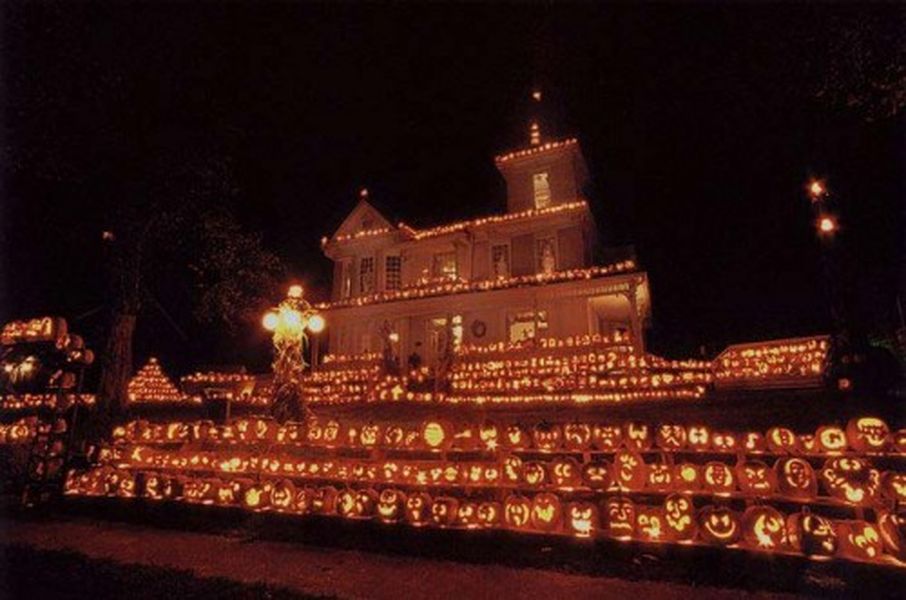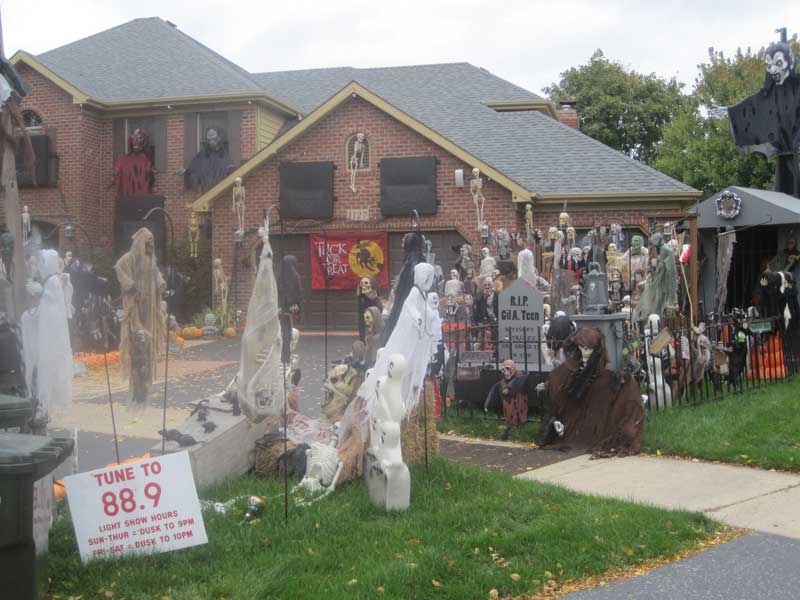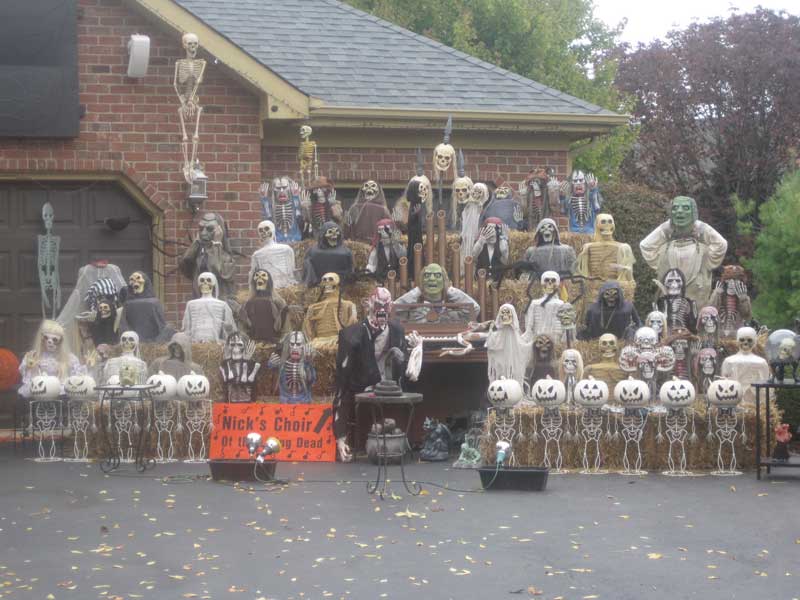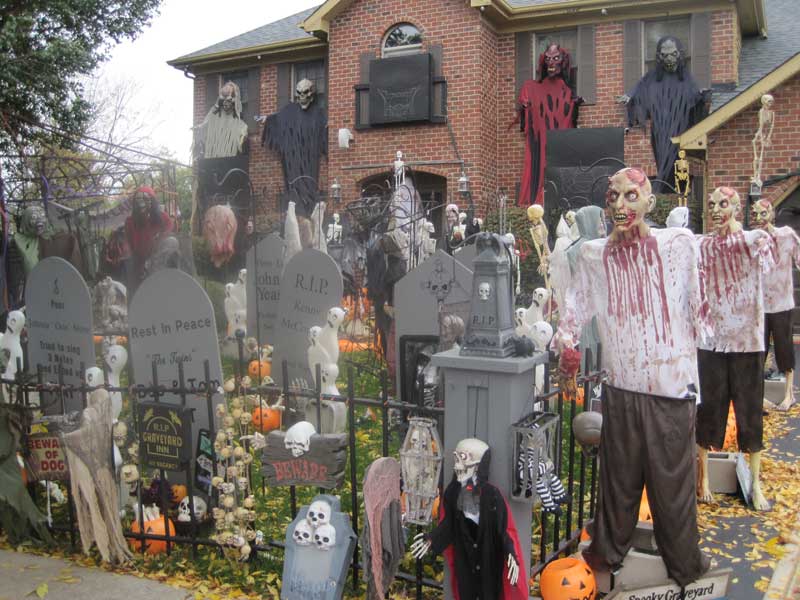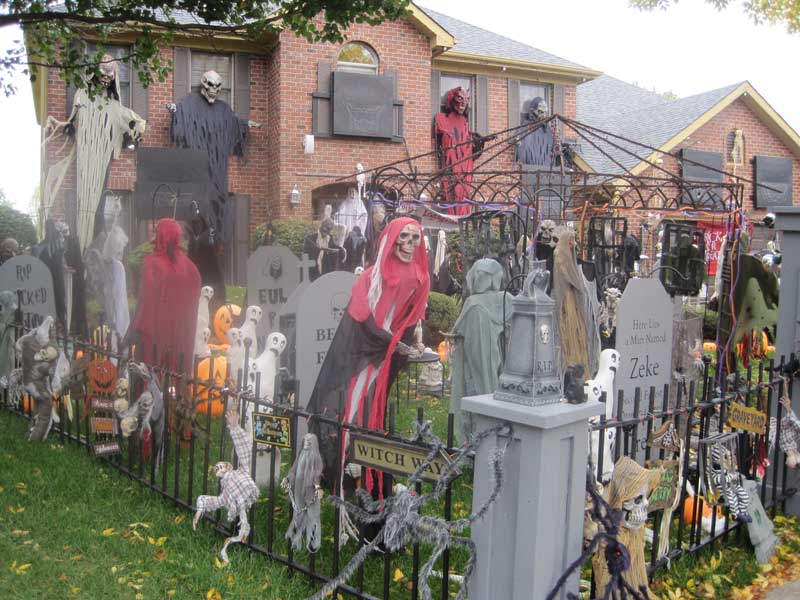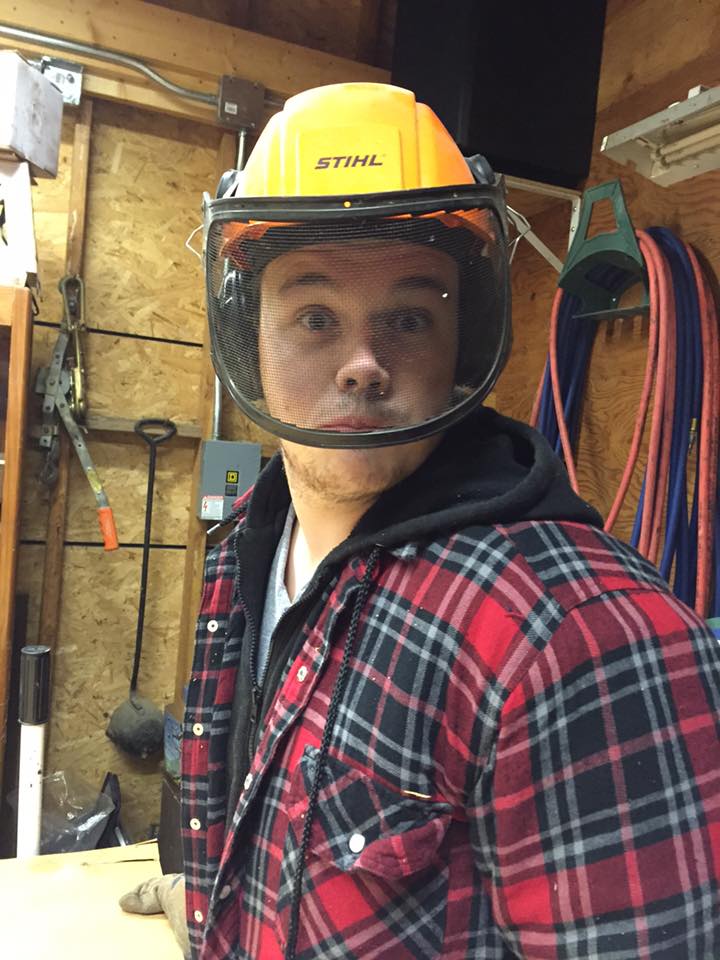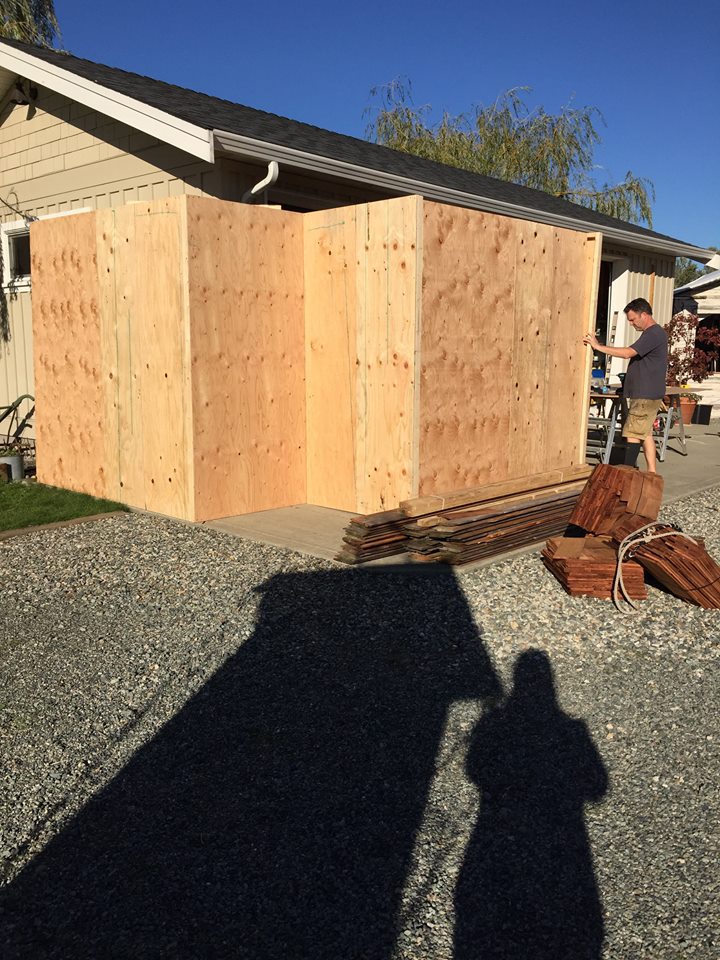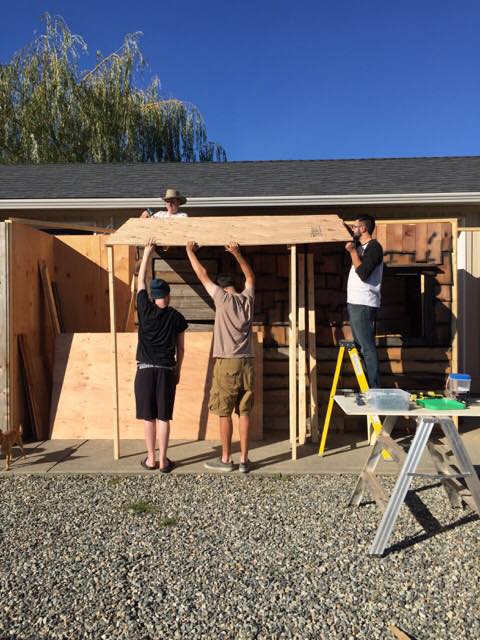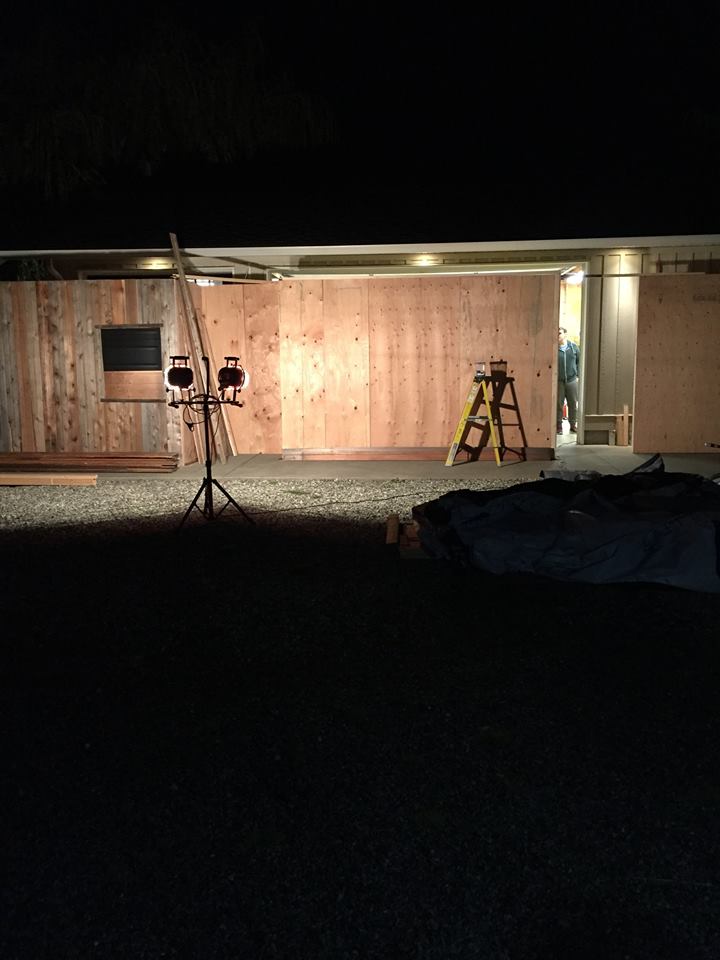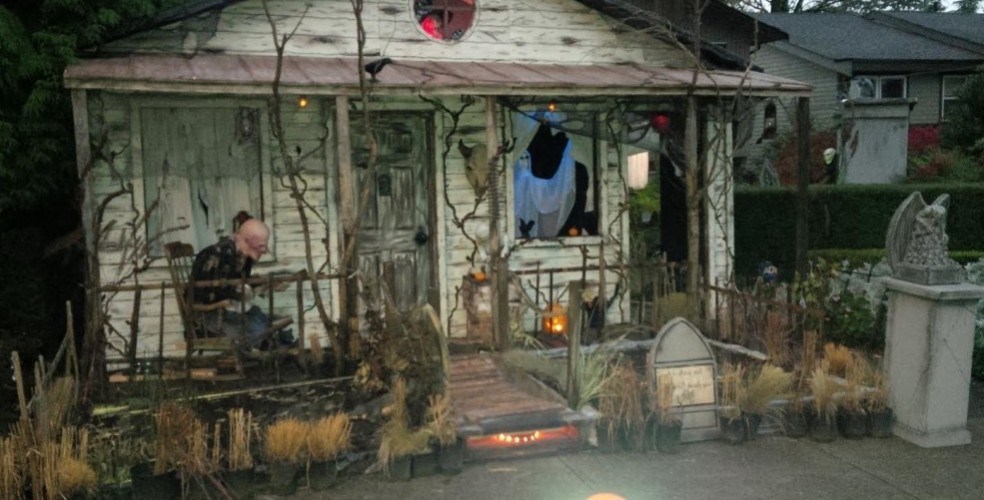 _____________
Every Halloween for the past four years, 18 year-old Cleveland high school student Frank Mischen has taken over every inch of his family home, inside and out, to create what he calls "the slaughterhouse living environment of his dreams."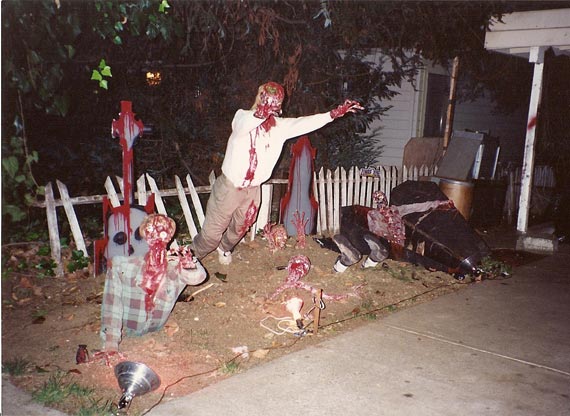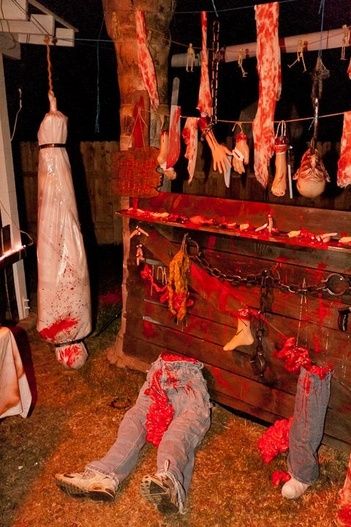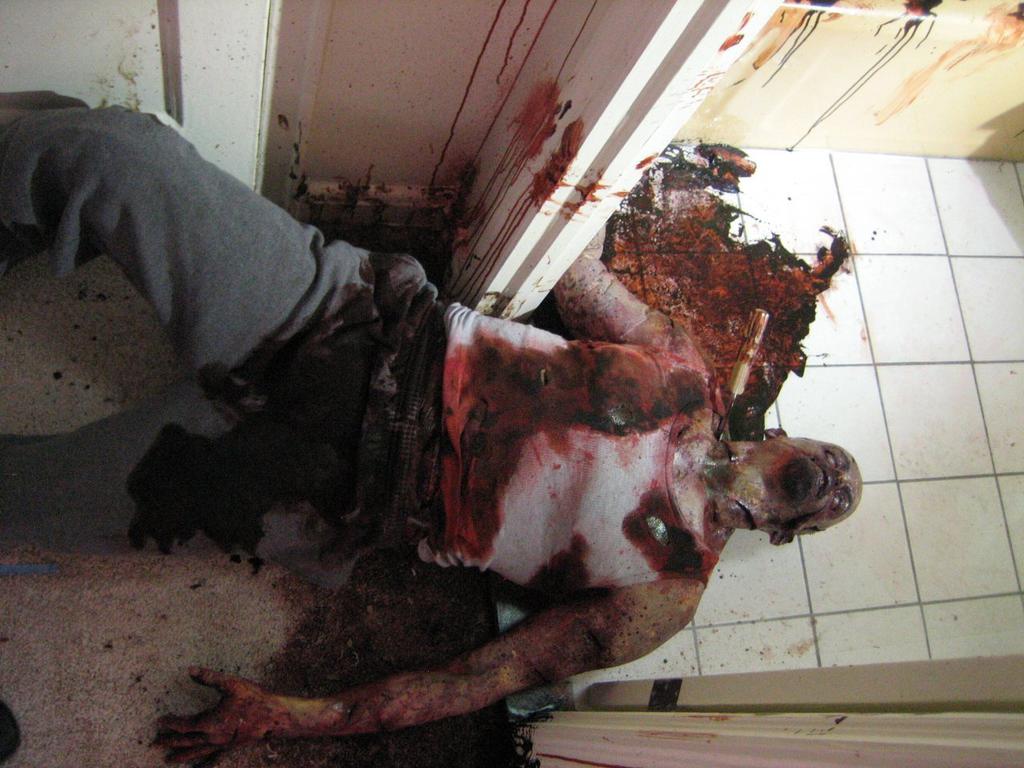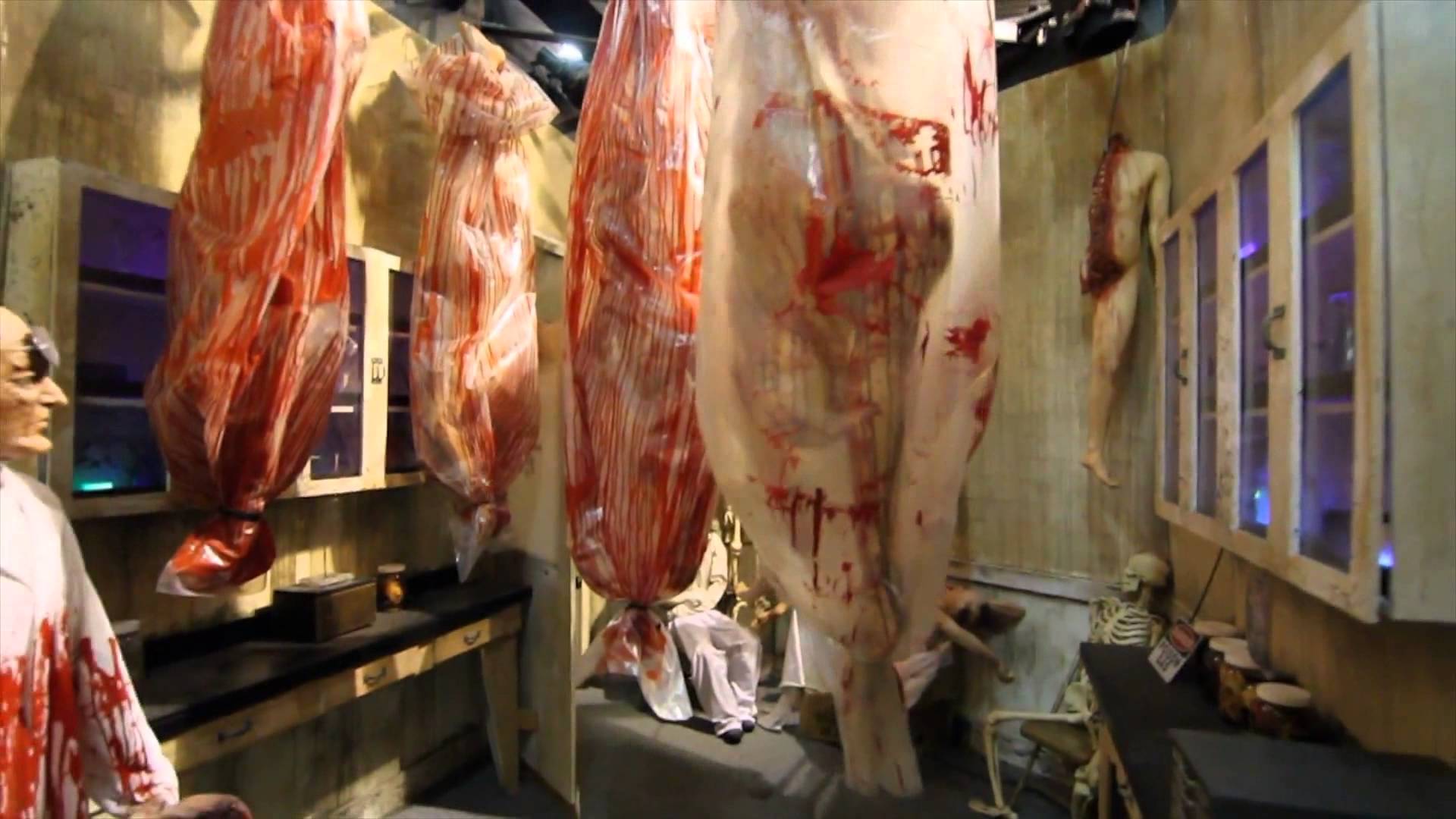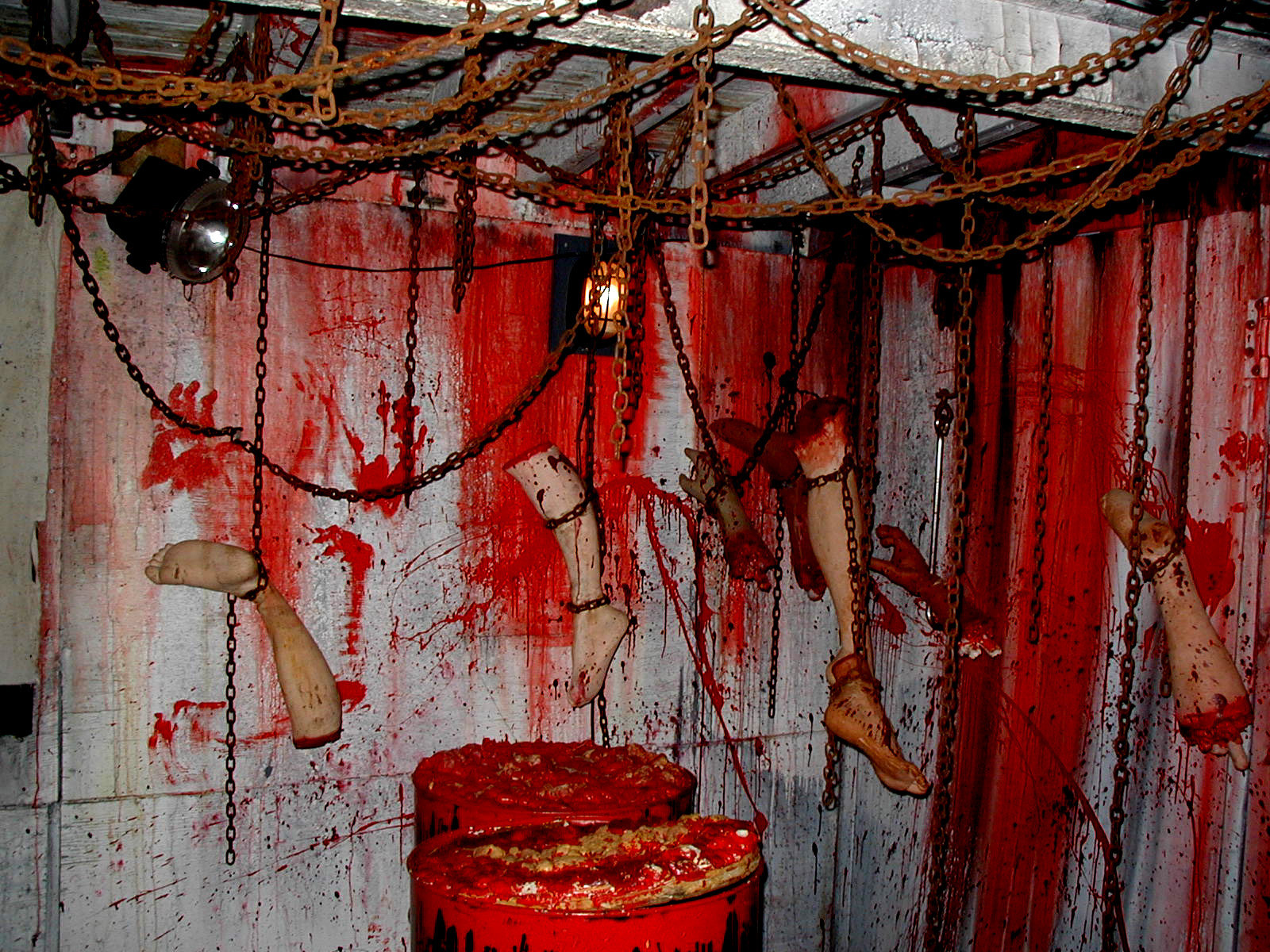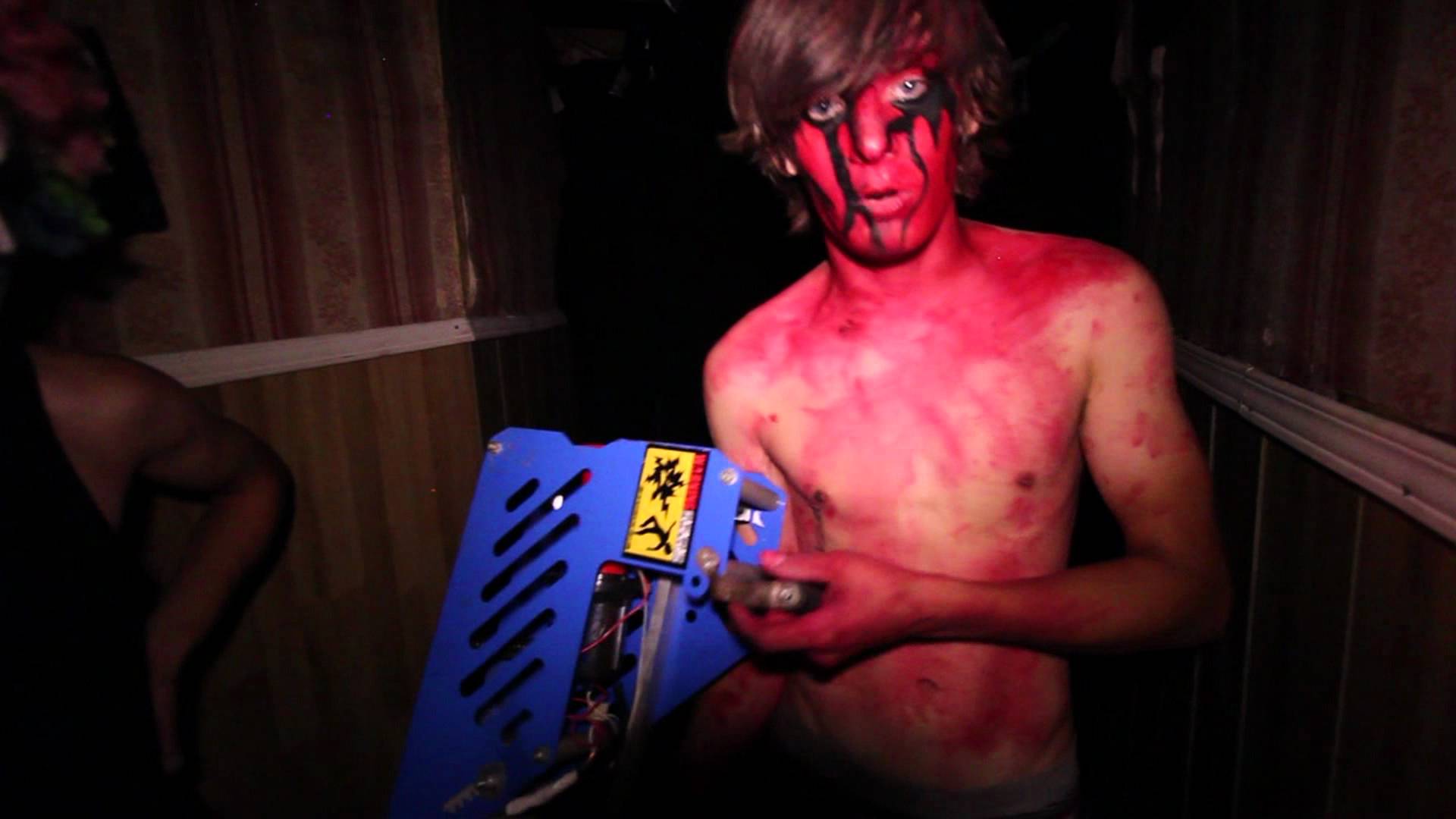 *
p.s. Hey. Happy day before Halloween. Here's hoping you present the spirit as fully as these folks do, although in your own inimitable fashions, of course. As for me, I have now explored 27 home haunts, scary mazes, and/or haunted house attractions, and I'll be adding about five or six more tonight.