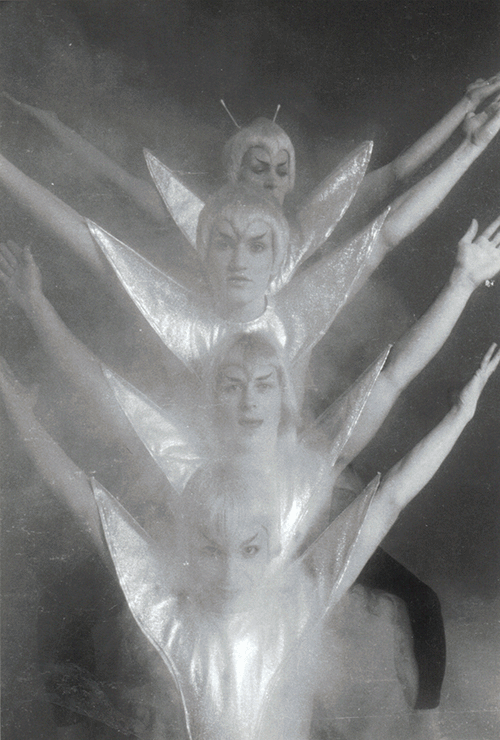 NEO
Milk 'N' Cookies
Blackfoot Sue
Jobriath
Jet
Mick Ronson
Hello
Brett Smiley
New York Dolls
Space Waltz
Mott the Hoople
Iron Virgin
Suzi Quatro
Smokey
Silverhead
Sparks
Cockney Rebel
Alice Cooper
Supernaut
Sweet
_____________
NEO Tran-sister (1976)
Neo's first proper release was their "Trans-sister" single, released on Jet Records in November 1976, but Jet ultimately decided to drop the band from their roster before releasing their debut album. Then, Martin Gordon left to form the Radio Stars, and to complicate things further, North had to return to the States because his work visa had expired. Neo's album ultimately did get issued on the UK's Aura imprint in 1979 — as a North solo album titled Neo — but by that point North was already back in NYC, releasing music on his Neo Records imprint.
_____________
Milk 'N' Cookies (Dee, Dee You're) Stuck On A Star (1975)
Milk 'N' Cookies were a band in the wrong place at the wrong time. If they'd shown up a few years later, they could have been part of the poppy end of the late-'70s/early-'80s punk/new wave explosion. If they'd made their name a year or two earlier, they could have been part of the glam explosion that inspired them. And if they'd been from Los Angeles or the U.K., they'd probably have found friendlier press. But it was their fate to emerge in Long Island, New York in 1974, where they didn't fit in with the sound of the day. They had to settle for being an influential and revered cult item instead of achieving genuine rock stardom.
_____________
Blackfoot Sue Sing, Don't Speak (1972)
Blackfoot Sue was a British pop/rock band, formed in 1970 by the twin brothers Tom and David Farmer and Eddie Golga. A single released in August 1972, "Standing in the Road" on the Jam label No. JAM 13, reached number 4 on the UK Singles Chart. Lack of further tangible success left them labelled as one-hit wonders. However, they did have another record enter the UK Singles Chart. "Sing Don't Speak" reached number 36 in December 1972. Further unsuccessful singles appeared on the DJM and MCA labels. According to Allmusic, "they were written off as a teen sensation and broke up in 1977".
______________
Jobriath Ecubyan (1973)
Bruce Wayne Campbell (December 14, 1946 – August 4, 1983), known by his stage name Jobriath, was an American rock musician and actor. He was the first openly gay rock musician to be signed to a major record label, and one of the first internationally famous musicians to die of AIDS.
______________
Jet Nothing To Do With Us (1975)
Jet were a glam rock band from London formed in 1974. They released one album in 1975 before splitting up, with the bulk of the band going on to become the punk/new wave band Radio Stars.
______________
Mick Ronson Only After Dark (1974)
For inspiration, Ronson relied on Annette Peacock's 1972 album I'm the One; he used the title track and her arrangement of Elvis Presley's "Love Me Tender". Two songs were co-written by Ronson with Scott Richardson, who had been involved in the Ann Arbor music scene since the mid-'60s and came to prominence as lead singer of the SRC. Richardson was brought into the Bowie camp by Angie Bowie, who met him through Ron Asheton of the Stooges. During the recording of the album, Ronson considered putting together a new band with Richardson, Aynsley Dunbar, and Trevor Bolder, to be called the Fallen Angels, but plans fell through.
______________
Hello New York Groove (1975)
The band's biggest success came in the UK and Germany in 1974. Their Top 10 hits in the UK Singles Chart were "Tell Him" (a cover of The Exciters 1963 hit) and "New York Groove", the latter of which was written by Argent band member Russ Ballard. "New York Groove" was later covered to provide a solo Billboard Hot 100 chart hit in the U.S., for the rock guitarist Ace Frehley of the band Kiss. In Germany, their subsequent singles "Star Studded Sham" and "Love Stealer" reached the Top 20, but failed to chart in the UK where glam had fallen out of favour.
_______________
Brett Smiley Space Ace (1974)
Smiley began his career as a child actor, playing Oliver on Broadway. In 1974, Smiley—who, at the time, was managed and produced by Rolling Stones manager Andrew Loog Oldham—recorded an album, Breathlessly Brett. The album, which included the songs "Va Va Va Voom" and "Space Ace", remained unreleased until 2004, when RPM Records included it as part of its Lipsmackin' 70s collection. In 2004, rock biographer Nina Antonia published a book about Smiley, The Prettiest Star: Whatever Happened to Brett Smiley. Smiley still performed occasionally until 2015 in New York City, and was recording songs for a new CD. He died on January 8, 2016, after a lengthy battle with HIV and hepatitis.
_______________
New York Dolls Jet Boy (1973)
The New York Dolls created punk rock before there was a term for it. Building on the Rolling Stones' dirty rock & roll, Mick Jagger's androgyny, girl group pop, the Stooges' anarchic noise, and the glam rock of David Bowie and T. Rex, the New York Dolls created a new form of hard rock that presaged both punk rock and heavy metal. Their drug-fueled, shambolic performances influenced a generation of musicians in New York and London, who all went on to form punk bands. And although they self-destructed quickly, the band's first two albums remain among the most popular cult records in rock & roll history.
_______________
Space Waltz Fraulein Love (1974)
Space Waltz was a New Zealand glam rock band fronted by Alastair Riddell. In 1974, they had a no 1 hit in New Zealand with "Out on the Street". In 1974, the group's image created a bit of a stir when they appeared on Studio One's New Faces. They went into the finals but were unsuccessful. However they were a hit with the rock fans. They were noticed by EMI and the label promptly signed up.
_______________
Mott The Hoople Marionette (1974)
David Bowie had long been a fan of the band. After learning from Watts that they were about to split, he persuaded them to stay together and offered them "Suffragette City" from his then yet-to-be-released Ziggy Stardust album. They turned it down. Bowie also penned "All the Young Dudes" for them and it became their biggest hit.
_______________
Iron Virgin Rebels Rule (1974)
Iron Virgin were a Scottish glam rock band. Their early stage garb has been compared to A Clockwork Orange, with their later stage costumes similar to American football uniforms, but with added iron chastity belts. The band formed in Edinburgh, Scotland, in 1972 where they were discovered by Decca Records producer Nick Tauber and signed to the label's "progressive" offshoot, Deram. Their first single was "Jet", a cover from Paul McCartney's Band on the Run album. Recorded in December 1973, the song was released in February 1974. It was getting exposure until McCartney himself issued his version as a single, effectively smothering Iron Virgin's recording.
_______________
Suzi Quatro 48 Crash (1973)
In 1972, Quatro embarked as a support act on a UK tour with Thin Lizzy and headliners Slade. Rak arranged for her to use Thin Lizzy's newly acquired PA system during this, incurring a charge of £300 per week that enabled the Irish band to effectively purchase it at no cost to themselves. In May 1973, her second single "Can the Can" (1973) – which Philip Auslander describes as having "seemingly nonsensical and virtually unintelligible lyrics" – was a No. 1 hit in parts of Europe and in Australia. "Can the Can" was followed by three further hits: "48 Crash" (1973), "Daytona Demon" (1973) and "Devil Gate Drive" (1974). "Can the Can", "48 Crash" and "Devil Gate Drive" each sold over one million copies and were awarded gold discs, although they met with little success in her native United States, where she had toured as a support act for Alice Cooper.
_______________
Smokey DTNA (1976)
John "Smokey" Condon was a bewitchingly beautiful Baltimore transplant, himself no angel after spending his teenage years partying with the John Waters crowd. EJ Emmons was a budding record producer from New Jersey, already starting to work in small studios around Hollywood. Condon had marched in New York the night after the Stonewall Riots in 1969, and so by the time he and EJ created Smokey, they weren't about to hold back. Released in 1974, first single Leather b/w Miss Ray wasn't just openly gay, it was exultantly, unapologetically gay, examining front-on the newly-liberated leather and drag scenes thriving in America's urban centres.
_______________
Silverhead Hello New York (1973)
They recorded two studio albums, Silverhead (1972) and 16 and Savaged (1973), and were a part of the glam rock music scene of the 1970s. Though they had no real commercial success, Silverhead were serious role models for many sleaze bands in the 1980s. In the UK they played support to bands such as Nazareth at Finsbury Park and Osibisa at the Brixton Sundown, and were the lead band in the Dagenham Roundhouse. Work on a third studio album (working title 'Brutiful') started in 1974, but the group disbanded in July 1974 before it was finished.
_______________
Sparks In The Future (1975)
Sparks' Indiscreet was released in October 1975, nearly a year after their previous album. It was not as successful as Kimono My House or Propaganda; reaching #18 on the UK Album Chart and #169 in the US. The group's next two albums were even less successful in Europe and the US. They would not garner significant attention until 1979's No. 1 In Heaven. "Get In The Swing" and "Looks, Looks, Looks" were released as singles. Like the parent album they were only moderately successful reaching #27 and #26 in the UK.
_______________
Zolar X Space Age Love (1974)
From 1973 to 1981 Zolar X became legendary on the west coast USA for dressing and acting like space-aliens 24 hours a day. They spoke ceaselessly in an "alien language" of their own invention, which would amuse, but often infuriate the public at large. They are referred to as "Los Angeles' first glam rock band" in the 1998 book Glam by Barney Hoskyns.
_______________
Cockney Rebel Cavaliers (1974)
Steve Harley managed to irritate a significant segment of the music press with his self-aggrandisement, even as their music was getting rave reviews and gaining a wide audience. It was becoming clear that Harley regarded the band as little more than accompaniment to his own agenda, and already there were signs that things would not last, despite their having a big hit with their second single, "Judy Teen". In May 1974, the British music magazine, NME reported that Cockney Rebel were to undertake their first British tour, with the highlight of the itinerary being a gig at London's Victoria Palace Theatre on 23 June. There then followed the album The Psychomodo. Following the European single "Psychomodo", a second single from the album, "Mr. Soft", was also a hit. "Tumbling Down" was also issued in America as a promotional single. By this time the problems within the band had already reached a head, and all the musicians, with the exception of Elliott, quit at the end of a successful UK tour.
______________
Alice Cooper Reflected (1970)
Pretties for You is the debut studio album by American rock band Alice Cooper. The group had yet to develop the more concise hard rock sound that they would become famous for. Most of the tracks feature unusual time signatures and arrangements, jarring syncopation, expressive dynamics, sound effects, proto-glam attitude and flamboyance, and an eclectic range of music influences.
_______________
Supernaut I Like It Both Ways (1976)
This Perth, Australian band's self-titled debut album was released in mid-November 1976 and peaked at No. 13, achieving double gold certification. By November they had supported gigs by "Lou Reed, Suzie Quatro and Sweet and wherever they play there is raging hysteria." Julie Meldrum of The Canberra Times described their performance in Narrabundah, "trouble began when Perth rock group Supernaut, which thrives on 'bopper' appeal, came on stage. The crowd made a rush for the group and many had to be forcibly removed. Alter the group finished its set organisers had to appeal for the crowd to move back from the stage 'or else someone will get hurt'."
_______________
Sweet Sweet F.A. (1974)
The band was formed in London in 1968 and achieved their first hit, "Funny Funny", in 1971 after teaming up with songwriters Nicky Chinn and Mike Chapman and record producer Phil Wainman. During 1971 and 1972, their musical style followed a marked progression from the Archies-like bubblegum style of "Funny Funny" to a Who-influenced hard rock style supplemented by a striking use of high-pitched backing vocals.
*
p.s. Hey. ** h, Hi! Yeah, 'Happenings' were interesting work. Well, some of them. And artists still make what are technically 'happenings', but they're tagged interactive performance and things like that. Oh, I don't know what I learned from Shimamoto. I haven't thought about it that way. Something, surely. I'm good. Right now the script of the new film is being translated into French, so we're on hold until that's finished. Then we'll need to go over the translation meticulously and get the detailing and nuance-shifting right. Thanks about the gif work. And thank you so much again for the links you sent me. I'm excited, and that's so thoughtful of you. Take care. ** Steve Erickson, Hi. I didn't find them devastating. They had their POVs and they carried through on those. Chotiner's agenda was that Bret wrote a book about politics, and he was looking for 'gotchas', and Bret's point was that he was writing about the response to politics. That's what I saw. And until I read the book itself, it would be presumptuous to take a side. I hope the Kamran Heidari Q&A managed to circumvent the technical issues. ** David Ehrenstein, Really glad you enjoyed it. ** KeatonDeer, Me either. I live right next to Madeleine, and I still forget it's a church all the time. I never find churches evil. They're like overblown travel agencies to me. I'm immune to their poetry. Most of the Notre Dame glass is okay. Weirdly enough. Paris is already in the 'pull up your bootstraps' phase. Its okay. Thank you. ** Damien Ark, Hi. Oh, right, I need to overhear that new Beth Gibbons thing. It has been a pretty sweet music year so far, I'm down with that idea. I' m gonna check out the things you're into that I don't know. Thanks, man. Yes, in fact Mr. Nulick's book has a 'welcome to the world' post all to itself that's coming up here on this coming Saturday. ** Sypha, Yeah, I guess The Matrix was a phenom, you're right. I haven't watched 'Twin Peaks' 3 yet because I've had non-stop work outputting to do, and I fear that it will sweep me in so deeply that that will fuck with the writing, much of which is 'assigned' and has no room to go astray. That's basically why. That's also why I still haven't played the latest 'Zelda'. Painful. Very cool about getting your own new hardcover in your very mitts. which reminds me I still need to order a copy. ** Corey Heiferman, Oh, what nice timing. I love when that happens with posts. It's such a gamble on this end. Art can contextualise basically anything, it's so cool. I have the second part of the 80s/90s LA performance artists posts coming up, and one of the artists in the post's most famous work is an audio recording of him fucking a corpse in a morgue. So there you go. ** Misanthrope, Hi. All interesting art is fun. Or my idea of fun to quote that author you like. I guess me too about differences in opinion being an opportunity for thoughtfulness. I'm just not interested in getting in arguments, which are inevitably majority emotion-based, with people with whom I have no emotional relationship otherwise, i.e. people on social media or in comments sections. I find that, by which I guess I mean the adrenaline or whatever rush of getting emotionally overwrought, really unproductive. In that case, I prefer to read the angry comments of people I disagree with and think about where their passion is coming from and speculate as to why. Mark's book, so good, right? ** Okay. I was in whatever mood I was, and that mood made me want to make a gig post featuring selective examples of Glam Rock from the genre's center and more outer reaches, and that's your meat and potatoes and dessert and beverage for today. See you tomorrow.