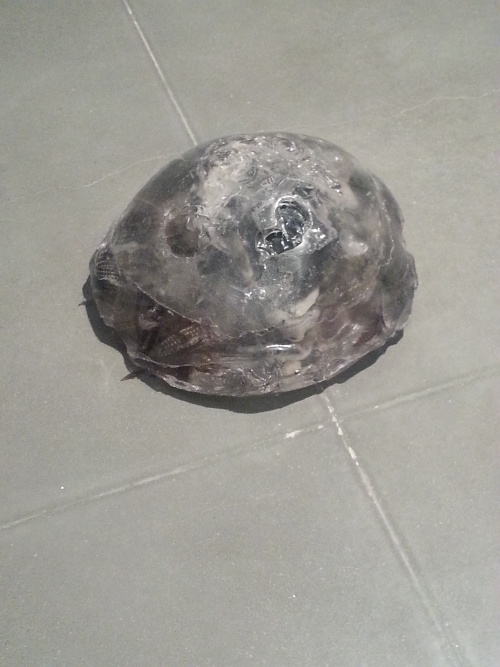 Untitled (Foodchained), 2013
'The 28-year-old, Virginia-born Kevin Beasley is an artist-in-residence at the Studio Museum in Harlem. Over the course of his residency, Beasley's temporary space has become a tossed salad of rubber, resin, boxes of cassette tapes, and antique audio equipment, materials that correspond to the two fundamental threads of his recent work: sculpture and sound.
'His work utilizes media including sculpture, photography, sound, and performance to navigate notions of origin and identity. Familiar objects, personal effects and sound elements from various sources are manipulated, distorted, and mixed, acts of removal from their original context that simultaneously investigate their histories. Through this process, they are broken into minutiae and partial forms and also expanded – gaining resonance and new meaning.
'Beasley's sculpture and performance begins with the insistence on the most basic yet complicated aspects of being – what we know to be present is relative to our own ability to conceive it and because we are unable to experience it or to perceive it with our senses does not mean it is not there and that its being there is in fact so vital and foundational to everything that follows. While a significant amount of his materials are personal, their inclusion is not to posit an autobiographical narrative nor are they there to signify or testify to his particular lived experience. Rather they indicate the importance of origin and identity for Beasley as something which is always suspect and that he is constantly negotiating.
'The work evolves out of an inventive, performative process that incorporates found materials into composite objects. Beasley gives structure to these materials using a mixture of polyurethane foam and resin; during the half hour the compound takes to set and harden, the artist is able to push and mold the objects into their sculptural form. His sculptures trace the movements and actions of the artist's body while also themselves resembling bodies or flesh, though fragmented or dismembered. Reworking traditions of Process art and assemblage, Beasley's sculptures are rooted in the personal and particular contexts of their materials and in the urban, postindustrial landscapes in which the artist has lived, including Detroit; New Haven, Connecticut; and New York.' — collaged
______________
@ a Kevin Beasley show

Kevin Beasley show/opening at Neal Davis Gallery

Kevin Beasley's Raw Materials | Art21 "New York Close Up"

Jlin | Performance from Kevin Beasley: A view of a landscape
_____
Further
Kevin Beasley @ The Butchers Daughter Gallery
Kevin Beasley @ Art Slant
Kevin Beasley @ Facebook
'Latency: A Collection of Work by Kevin Beasley'
'Kevin Beasley: Shaking the Museum
'The New Futurists: Kevin Beasley
'KEVIN BEASLEY IN NEW YORK'
'And in My Dream I Was Rolling on the Floor'
'From Ashy to Classy Mix I (Valley of Ashes)'
'The Young Guns: 8 Whitney Biennial Artists Born After 1980'
____________________
I Want My Spot Back (2012)
interview from Mousse Magazine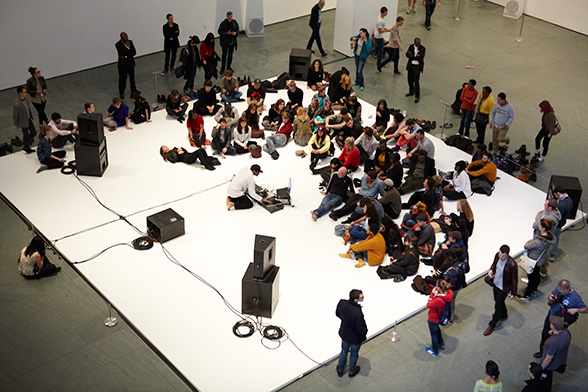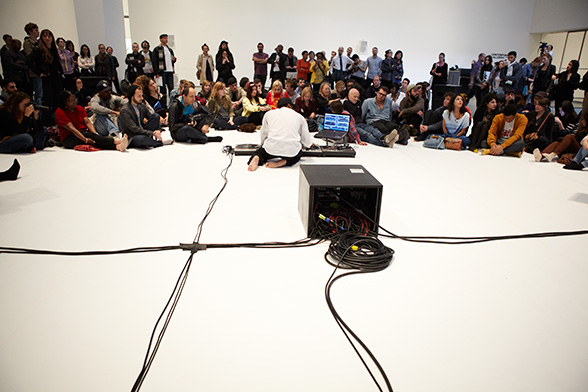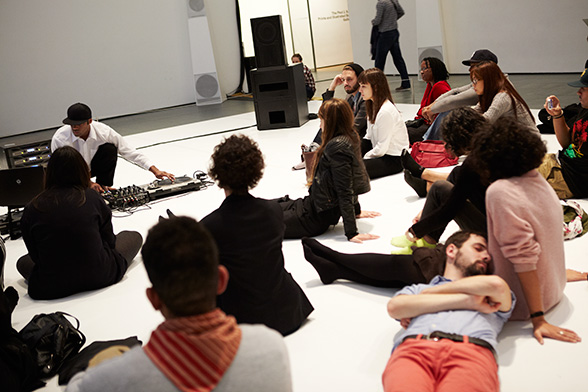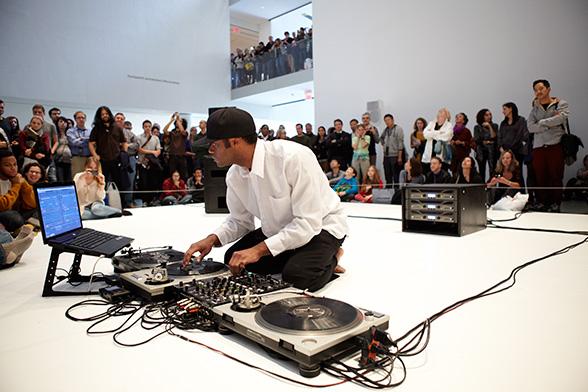 'Several years ago Kevin Beasley shook up the Museum of Modern Art in New York—literally. Just out of grad school the artist presented his sound performance, I Want my Spot Back, for which he processed voices of dead Hip Hop rappers and transformed them into bloodcurdling wails blasting through the entire Museum's Atrium.'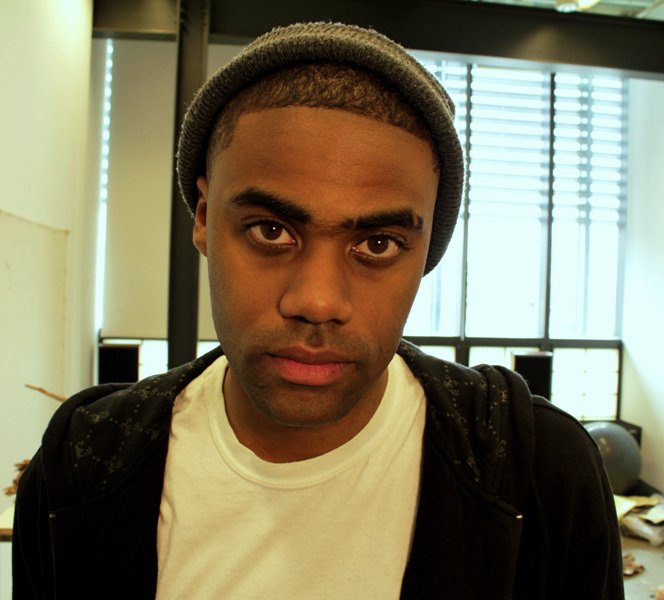 We are standing in the MoMA Atrium, the scene of the crime, so to speak, where you…
Kevin Beasley: Where the blood was spilt.
Yes, where you performed I Want My Spot Back almost exactly one year ago. How would you describe the piece to someone who wasn't there?
KB: I performed as part of Ralph Lemon's, Some sweet Day series, which he had conceived for the MoMA Atrium. The performance consisted of me mixing "acapellas" from early-to-mid-Nineties deceased rappers. It was a project I'd been working on for probably about a year and it kind of culminated here—in its best iteration—because it was a real physical exploration, even in the way I was trying to gather the music or gather the sounds, and what I was thinking about in terms of where the sort of body is in these voices and these spaces. Doing it in this space allowed for all of that to be extrapolated because of its cavernousness. It was kind of crazy, I remember Ralph saying, when we were walking to do the first performance, Ralph was like, "I'm scared, man." [laughs]
What was so scary about it?
KB: The fact that it was so loud and so obtrusive. From an earlier iteration, I knew people were really struggling with the aggressive nature of the tracks. They were all a cappella versions, but the way I had expanded and extracted the frequencies and the different layers within those vocals made it very powerful. In order to hear and feel it that way, it just needed to be amplified that much and the Atrium is a transition space, people are passing through. The Edvard Munch Scream had arrived as a special loan in the Painting and Sculpture Galleries that week, so people were mainly coming for that—not expecting this very overt sound from which they couldn't escape.
I remember the sound penetrating everything; my body, the space, the walls, the adjacent galleries, the windows and skylights were shaking. It was very overwhelming. Were you aware of the audience reactions during the performance?
KB: There was constant movement happening, that I caught in my peripheral vision. Once, towards the end, I noticed that the group of people had really thinned out. People were kind of like, "okay, I've had enough" [laughs]. I'm also in the center of it, it's really visceral for me too, but I was working to try to maintain that feeling for myself as it was happening, because I'm trying to reinvent it as it happens.
With the live mixing?
KB: Yes, there is a lot of pre-production in this piece, a lot of manipulation and moving frequencies and things around. But the live performance is really the opportunity for me to expand and dig deeper, changing the pitches, controlling things with my hands—I didn't have a given set list. There was the first track which was this Biggie interview and then there are a couple parts that I kind of wanted to do something with. In Tupac's Smile there's a part where Scarface says, "And now a moment of silence, let us pray." From that moment on, I kind of reel in all the other sounds and honor whatever is in the track. But it's always evolving, I don't know when that's going to come and if and how it's going to happen, what's going to be layered. It's like being a club DJ, you have your tracks, but when you are mixing them you have to react and respond to the moment.
How did you start making the work?
KB: Initially, it came from this interest in speaker building. I started DJing and it made me get back into Hip Hop; like Biggie, Gang Starr, Big L, and Tupac, something I grew up with. I was very interested in actually just playing with it (Hip Hop) and it made so much sense to me, because at the time I was making objects; to me it was beyond just dance or meeting a crowd, it was another tool that I had in my studio and I was really interested in really thinking about: like what is my relationship to this music? How has it shaped me? I think that that sort of questions made me say, "well, maybe I should just go back to it in a way, and try to explore what it was in the music that I was so drawn to." I was very into P Diddy, he did a lot of really amazing stuff in terms of production, obviously the whole Death Row thing was really—the way like gangster rap on the West Coast was just very sort of definitive and broke out. I then said, "okay, what is the most sort of human bodily thing in all of these tracks?" And that's their voices, their presence. So I just started searching for a cappella tracks and I got really interested in listening to the breathing in between, like Biggie was a heavy breather you know [laughs].
You were interested in the breathing?
KB: [laughs] I felt, "I should really listen to that and see if I can extract the low frequencies from just his breathing"; and then I started to slow the tracks down. (In the past) I had a drum teacher who told me, "You know, if you want to become a better drummer, then you should play everything really slowly to understand time, to understand the feel of something." I guess that was just kind of a natural thing for me, to slow the music and these voices down and then it gets into the actual recording devices, into the production, the timbre and the quality of the voice, the quality of the instruments being used to record. That also interested me, because of the high production values of this rap from the early-to-mid-Nineties—the golden age of rap.
You mentioned earlier that Ralph told you he was scared, right before the first performance. I remember him being very worried about the piece being too loud and aggressive, that it would get shut down. Did you intend the work as an attack?
KB: That wasn't the intention. For me it was a matter of necessity. During the rehearsal we were asking for more speakers, to make sure there were no pockets where people could escape, because that kind of immersion could allow people to hear and feel what I was trying to do, like exploring something within that space.
But some people did perceive it as an aggression. We received a lot of complaint notes from visitors that day.
KB: The most angry letter said, "Never let Kevin Beasley in the building ever again, Jesus Christ people!" [both laugh] You know, when I first saw them I thought, "where is the positive letters?"
Most of the other work you have been making manifests itself in sculptures. How does sound play into that?
KB: Yes, I am mainly doing sculptures, but sound for me is just as physical, tactile and experiential as any other material, and there is also an equal amount of play, if not more. With this piece, sound was being translated into another kind of material and then came back out through this very physical experience; through dancing, through reverberations in the floor and the wall. I find this very interesting because it's another material I can use to help understand myself and my environment: where am I located, where are other people located in relationship to me? It helps me bridge social aspects, like "how can I understand someone else through this kind of material?" and "how can they understand me through it?" For me, this gets into art making in general.
____
Show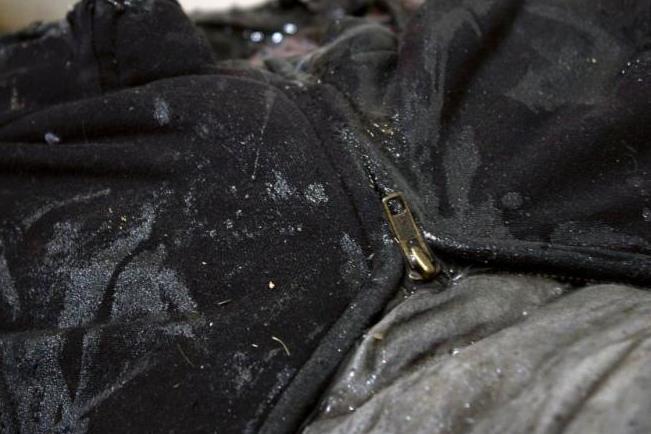 Untitled (Wrong), 2013 (detail)
resin, body pillows, t-shirt, hooded sweatshirt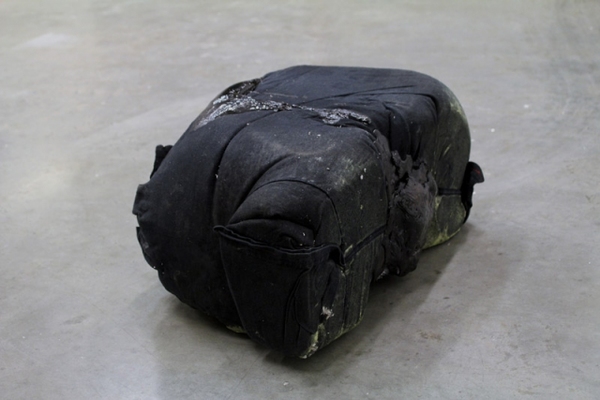 untitled (helmet), 2011
t-shirt, polyurethane foam, plastic, spray paint, paper pulp
Strange Fruit (Pair I) and (Pair II) (2015)
… incorporate the sounds of the museum into sculptures made from sneakers, foam, resin, and other materials.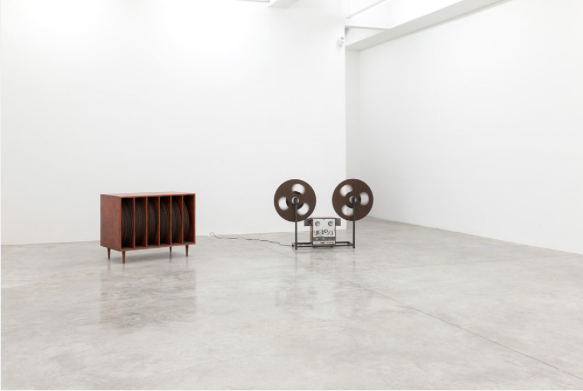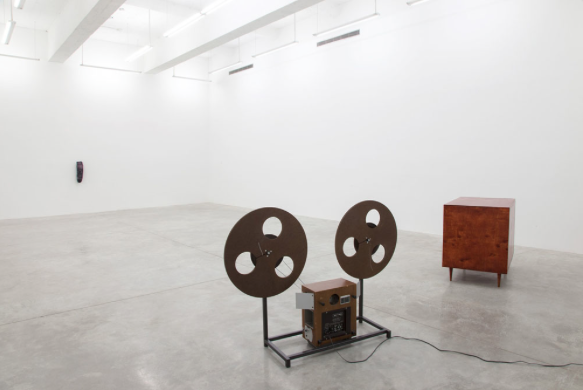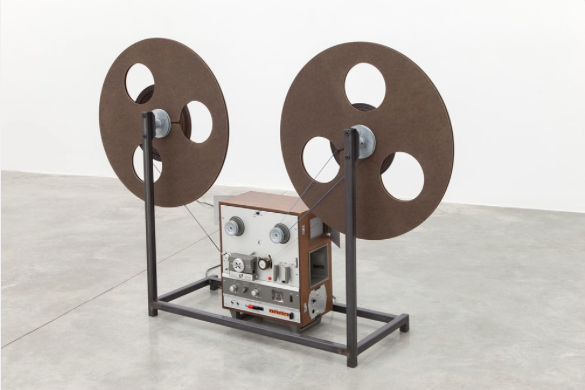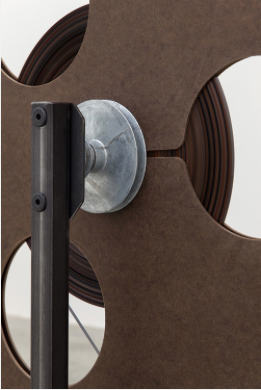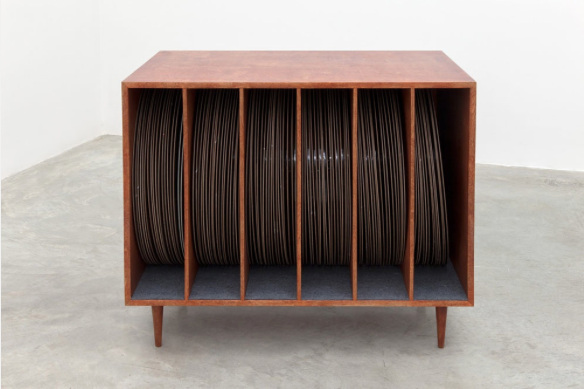 …for this moment, this moment is yours…, 2013
Steel, masonite, wood, felt, acrylic, rubber bands, cassette tape, Akai x-1800SD reel to reel player
'Beasley has sourced approximately 4000 cassette tapes from family, friends, record stores and the Internet. Ranging from commercially sold audiobooks, popular music, independent labels, mixtapes, and home recordings, they have been cut and spliced together to create 52 reels, holding approximately 40 hours of sound and music each. These reels exist as mixes – combinations of various sounds by a number of authors that play constantly during the gallery's opening hours, corresponding to a cycle of human consistency. Spanning intentions, genres, and decades, the resultant sound demonstrates a complex relationship with the history of the work's materials. Their obsolescence at the same time triggers a series of familiarities and emotional connections.

'Played through a reel-to-reel player, an incompatible device, both sides of each tape are heard at once. Interrupting even the most familiar of referents is a layered, alternate track (albeit played in reverse), an ambiguous and sometimes unintelligible sound that asserts itself as an unknown entity. The work hinges on the presence of a listener yet the exhibition itself represents only a partial span of its length with the same sound never played twice. Over the course of the exhibition, performances by Beasley and invited guests will occur in the space, with a live recording made on the reels. Replacing the previous recordings, these newly introduced elements contribute to the ever-evolving nature of the work and its experience; it is growing and deteriorating at the same time.'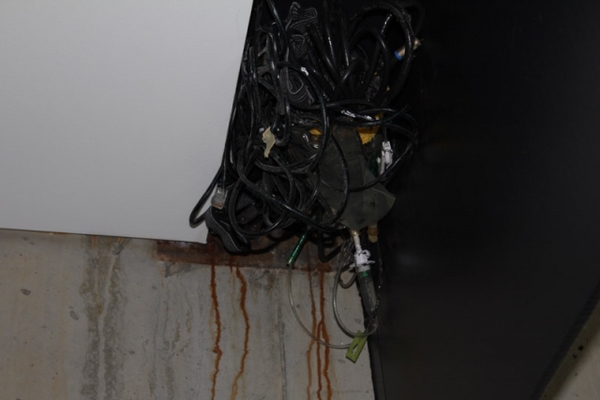 lord have mercy, 2011
Ethernet cable, coaxial cable, polyurethane foam, plastic, sweatband, underwear, Medical IV
A view of a landscape (excerpt, 2019)
Taking the noise generated from a running cotton gin motor, Taja Cheek and Kevin Beasley manipulate and distort the sound into an immersive aural experience.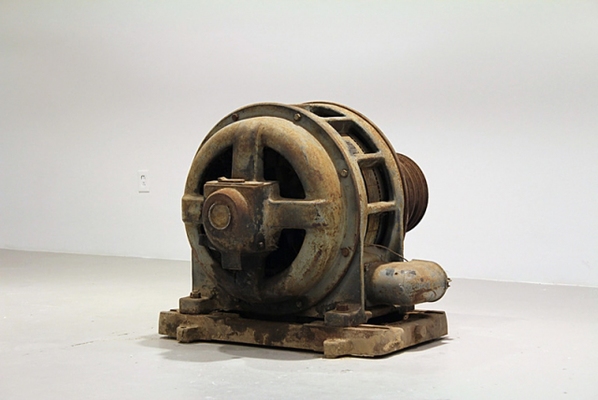 untitled, 2012
Cotton gin motor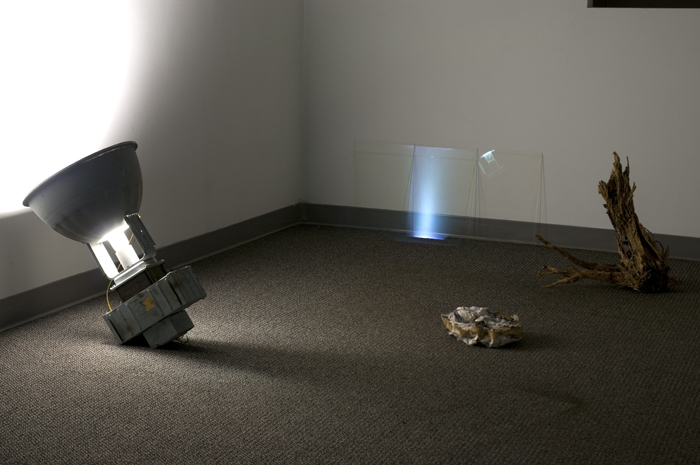 untitled, 2010
various items and mediums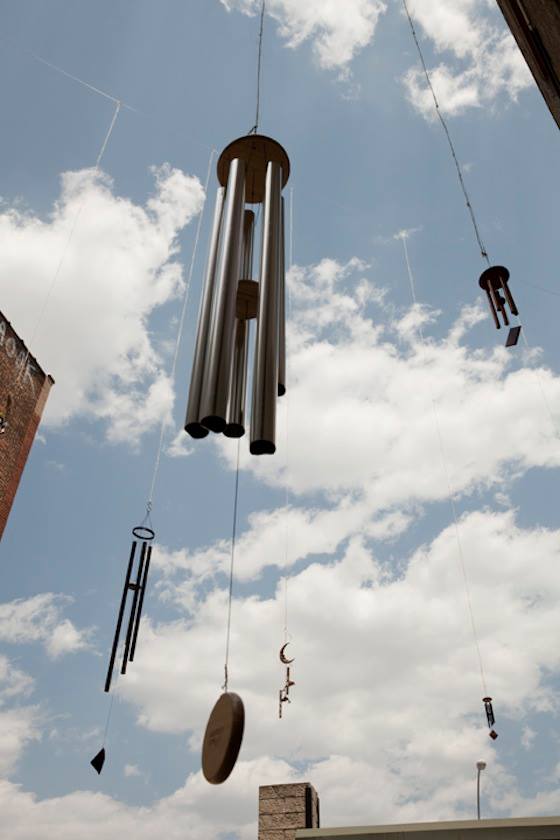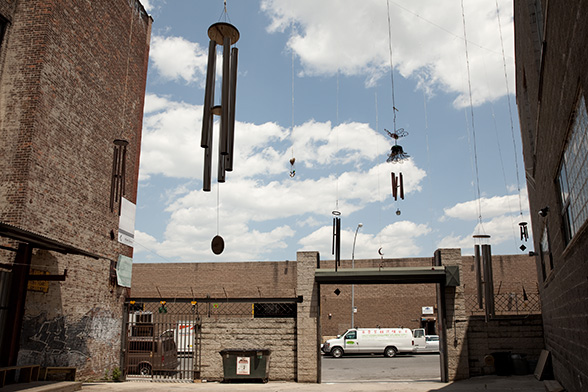 …all different: for I do, I suppose, partake, 2013
Various items & mediums, performance
'When one strikes a bell there are several tones that prevail, yet the hum tone is one that lies an octave below the strike tone, the resonance being that of multiple tones within one note/or tone of an instrument. A layering that happens at the time of the actual singular act where a multitude is always produced. So what happens when "we" recognize the initial parts as a multitude and seek to expand that multitude exponentially?

'…all different: for I do, I suppose, partake of multitude is an exhibition by Kevin Beasley, comprised of two parts: a site specific installation made from 30 varying wind chimes and a performance building live feed from the installation and pre-recorded sound bites.'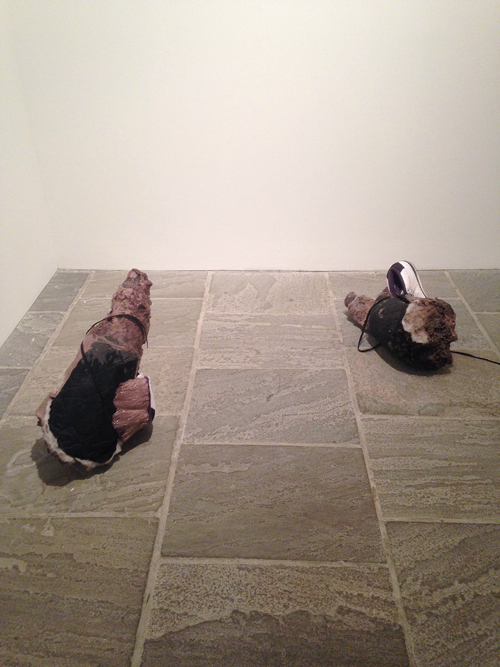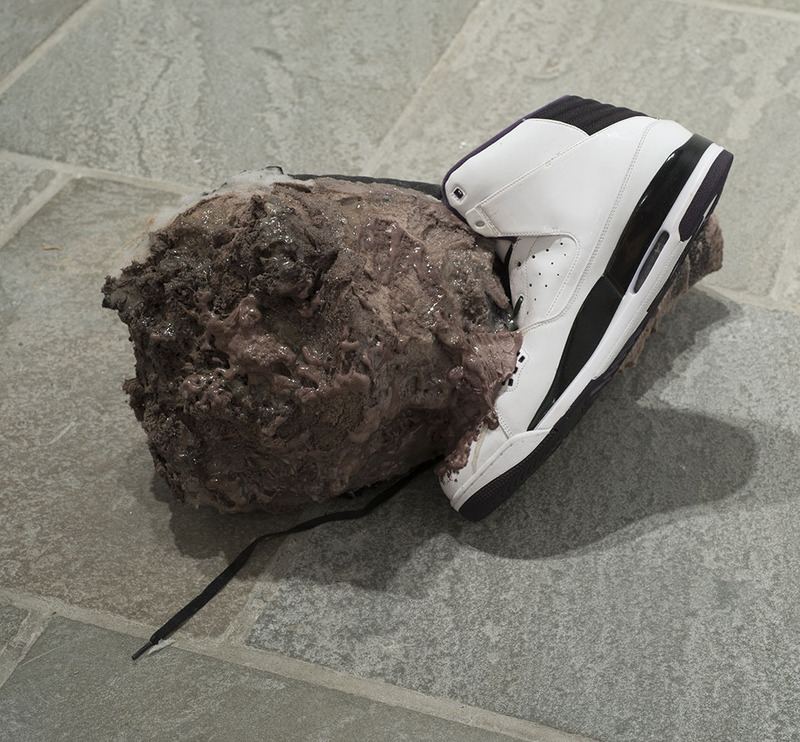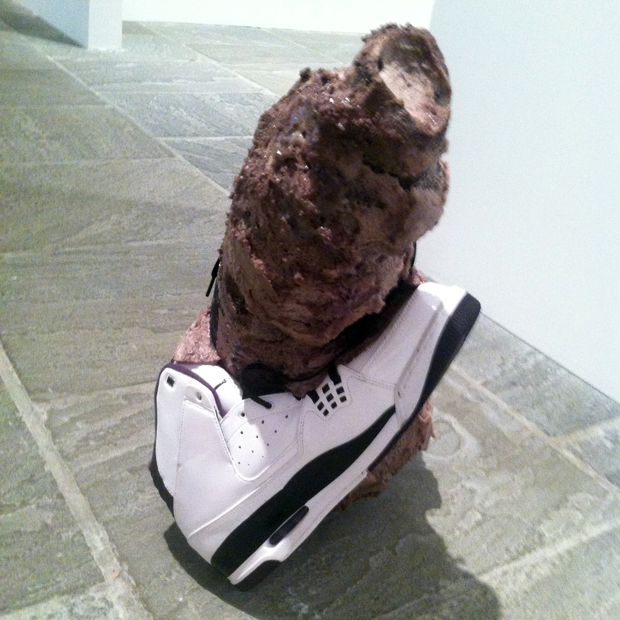 Untitled (Jumped Man), 2014
Polyurethane foam, resin, soil, coat sleeve liners, and a pair of Nike Jordan size 18 shoes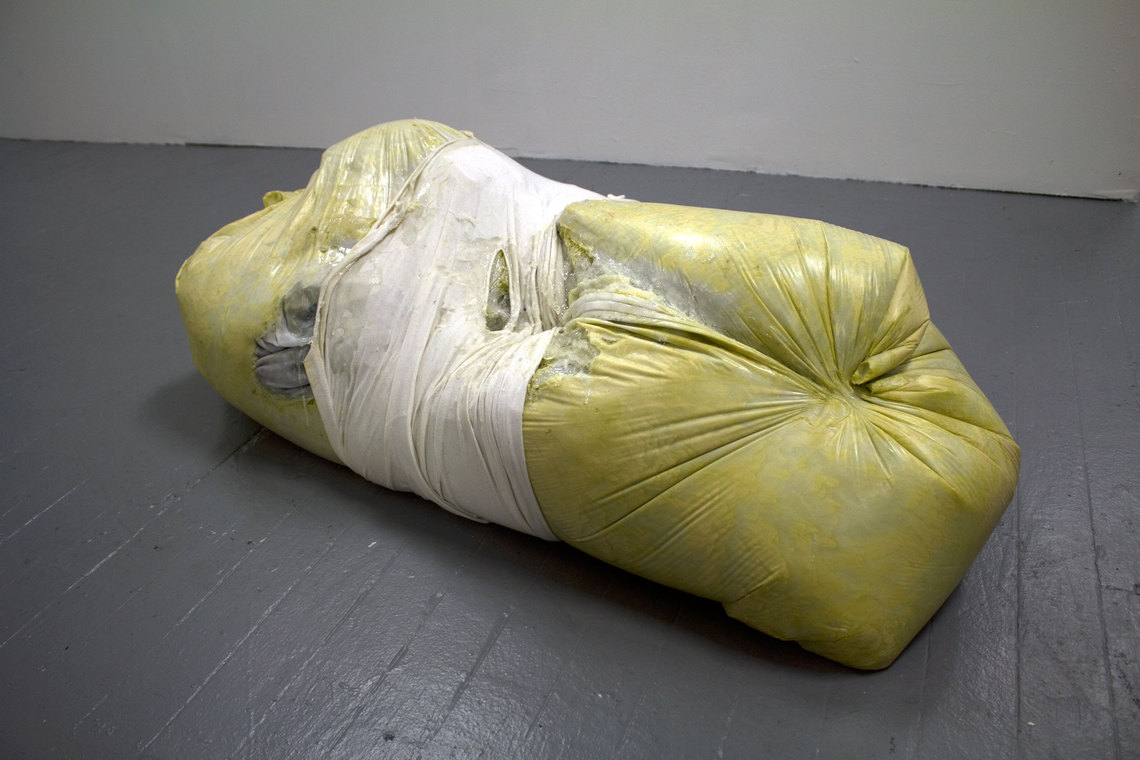 Untitled (Sack), 2012
Foam, resin, T-shirt, mattress cover, cotton, and thermal shirt
Untitled Stanzas (excerpt, 2015)
An immersive sound installation presented at the High Line at the Rail Yards, the performance featured live and recorded sounds found in locations throughout the park.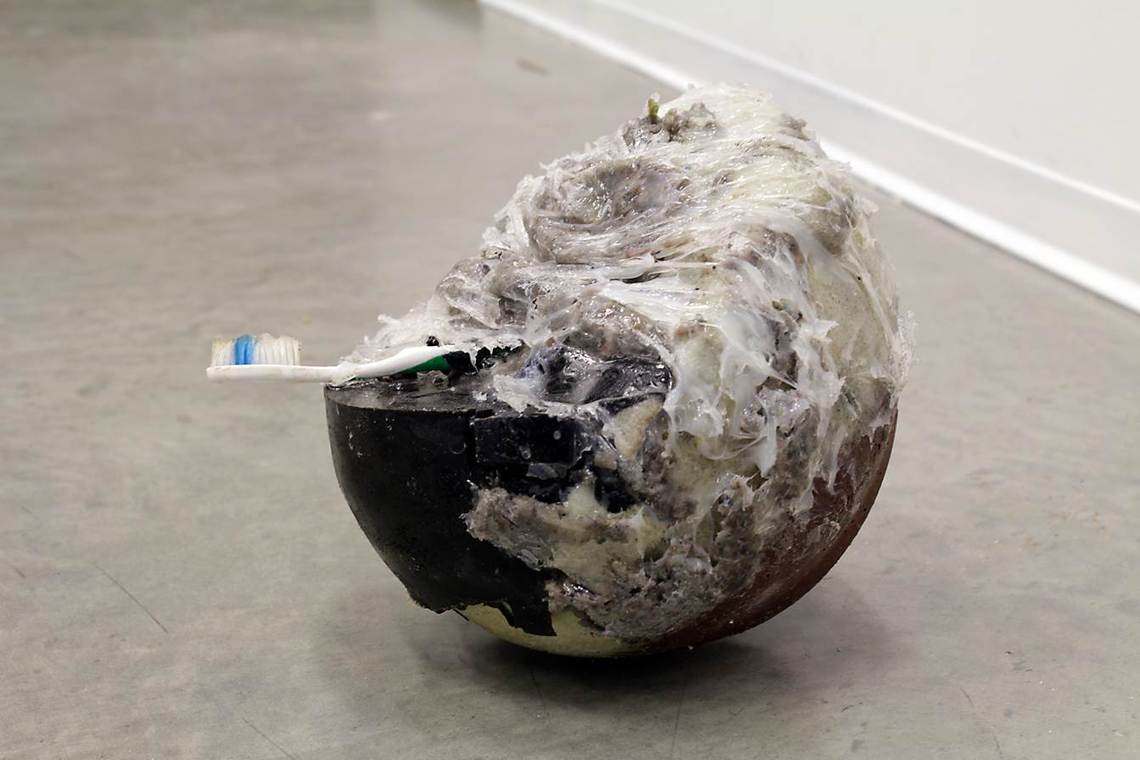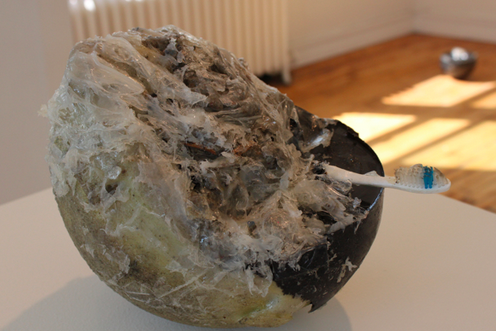 untitled (cranial brush), 2011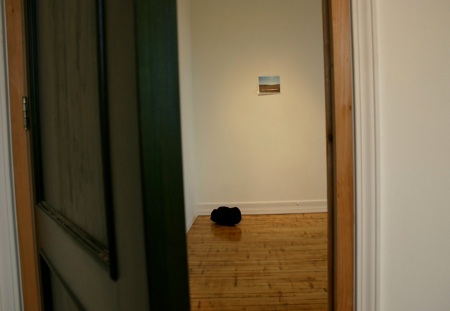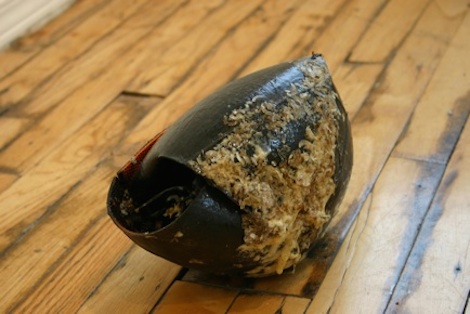 Your Natural Growth (Once Hyberbolic), 2010
basketball, cellulose, cast acrylic, polyurethane adhesive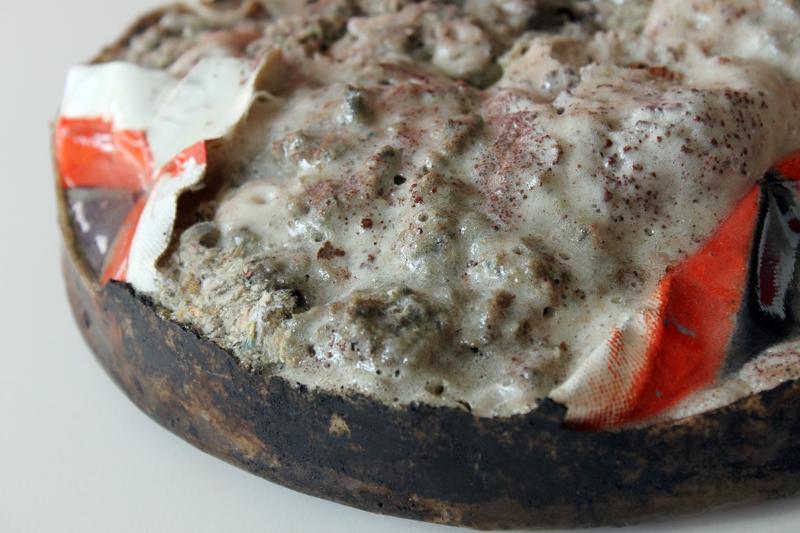 Untitled, 2011
glass, latex, oil painting, paper pulp and cast plastic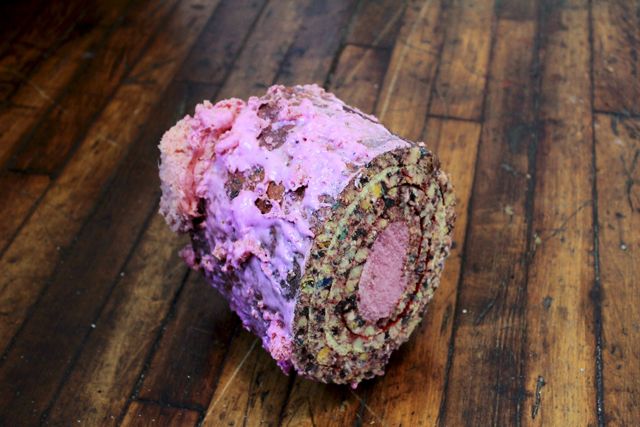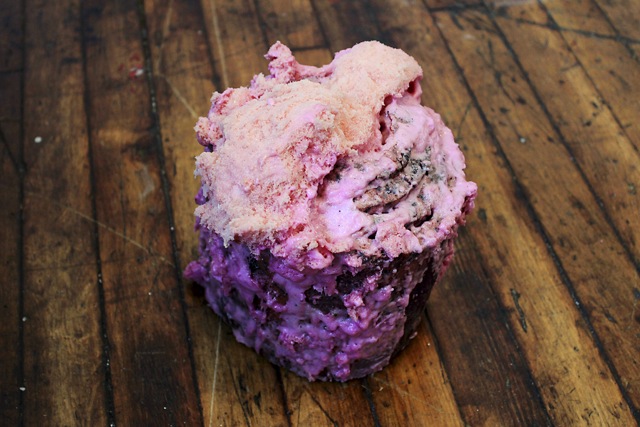 Untitled (swallow), 2013
foam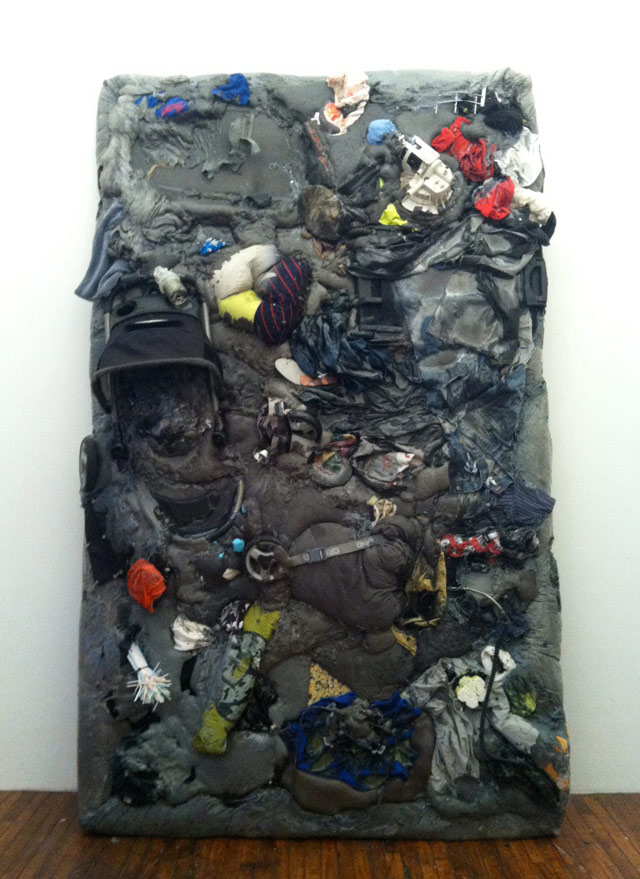 Untitled (2013)
'Beasley's sculpture trapped a mess of domestic objects in a monolithic slab of what looked like concrete or tar. Pieces of a stroller and a suitcase are buried alongside Q-tips, clothing, and a coat rack, all of them splayed throughout the black, surfacing here and there in semi-recognizable form. You imagine someone kicking out a cheating spouse and dumping the contents of their life on the street, and then the artist strolling by and casting the whole thing. The work feelsalternately familiar and alienating; it's hard to tell if you want to lie down on it or run away.' — hyperallergic.com
*
p.s. Hey. ** David Ehrenstein, Hi. Well, sure. Candace and Edgar Bergen (and Charlie McCarthy) are the loose-ish inspiration for the main characters in our forthcoming TV series for ARTE. ** Amphibiouspeter, Well, hi there, Peter. Very good to see you! They're freaky. Or let's say the TV series I'm cowriting is about a ventriloquist and her dummy, so we're counting on that. Well, I certainly know where Cesar Aira was coming from apparently, yes. Interesting. I'm well, good, busy, busier than even usual, but, good, yes. And you? ** Bill, Hey. Well, we are kind of approaching Halloween. But then the approach for me begins on November 1st. New gear, excellent! I'll ask what gear even though I don't know much of anything about gear. Three weeks … ah, dude, you can do it. That's exciting! ** _Black_Acrylic, Hi, B. See, I did not know Lord Charles. I bet Gisele does though. And that clip is mightily impressive, that's for sure. ** politekid, Hey, Oscar! It's always a great boon to see you here. Wow, thank you for the insider report on life at TM. It sounds or at least feels hectic. But it's obviously good that your compadres are groove-balls too. Maybe when TM has a super exciting, edgy show the crowds will rise to the occasion. What's up now? Hold on. Oh, yeah, not that exciting, although I thought the FW show was kind of good/weird when it was over here. Do cool people go in the shops? I guess they might. I don't think I've been in one of the shops there. I feel like I just take a hard right into the Tanks and then maybe head upstairs maybe. Super envy re: your access to the backwoods hallways and stuff. If Zac and I get over there while you're still there, I might put a toy gun to your head and make you take us behind the scenes, but, no, that would get you fired. Never mind. Oh, fantastic about the exhibition text being public! I'll go read it as soon as I dot the final 'i' here, and I'll get my related thoughts to you somehow. Everyone, You are in for a serious because the very wonderful writer and many other things/talents Oscar Nearly has had a thing he wrote for an exhibition published/posted online, and his brain plus fingertips do always killer things, so do go over here and upgrade yourselves by reading 'Tom Hart's Bones' by Oscar Nearly. Highly recommended, duh! Awesome, man! Come back soon. ** Steve Erickson, Hi. Well, yes, it's very good to remember how incredibly fluid what constitutes 'great' and 'heroic' and 'admirable' always is. Great luck with your Floria Sigismondi interview! ** Right. Today my galerie hosts a show by the very interesting younger artist Kevin Beasley, and I hope you'll tour it and find what you find there noteworthy. See you tomorrow.