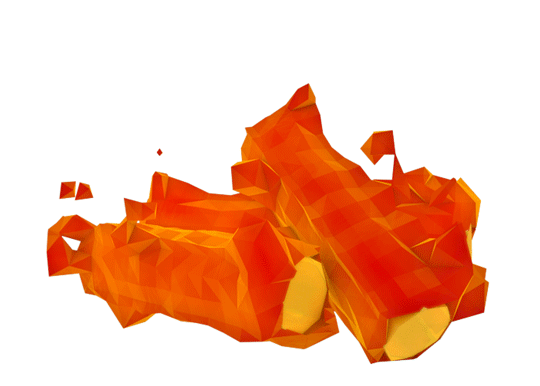 'The earliest recipe of the Bûche de Noël shows up in Pierre Lacam's 1898 Le memorial historique et géographique de la pâtisserie. The earliest mention however is a couple of years earlier in Alfred Suzanne's 1894 La cuisine anglaise et la pâtisserie where he notes in passing that it is (was?) the specialty of a certain Ozanne, presumably his friend Achille Ozanne (1846-1898). Of course we have no idea of what this looked like. An article in the French newspaper Figaro adds an interesting tidbit (see Pierre Leonforte, "La bûche de Noël : une histoire en dents de scie," Figaro, 17 December 2000): according to Stéphane Bonnat, of chocolatier Félix Bonnat her great grandfather's recipe collection from 1884 contains a recipe for a roll cake make with chocolate ganache. Admittedly she makes no claim to this being the first bûche de Noël.
'One of the famous stories about this French dessert is associated with Napoleon Bonaparte of France. He issued a proclamation, as per which, the people of Paris were ordered to close the chimneys of their houses, during winters. It was thought that entry of cold air into the houses was causing spread of illnesses and the proclamation was aimed at prevention of such diseases. It was during this time that Buche de Noel or yule log cake was invented in Paris. As use of hearths was prohibited, they needed some sort of traditional symbol that can be enjoyed with family and friends during the festive season that falls in winter. Thus, this cake became a symbolic substitution around which the family could gather for storytelling and other holiday activities.
'It makes sense that the cake, like so many other Christmas traditions (think Santa, decorated Christmas trees, Christmas cards, etc) dates to the Victorian era, to a time of genteel, bourgeois domesticity. In France, in particular, a certain romantic image of peasant traditions had become part of the story the French told themselves about themselves and while the average Parisian bourgeois could hardly be expected to hoist logs into their 4th floor apartment, they could at least show solidarity for their country cousins by picking up a more manageable bûche at the local pâtisserie. That the result was a little kitsch fit the middle class sensibility too.' — collaged
________________
This year's candidates
_______________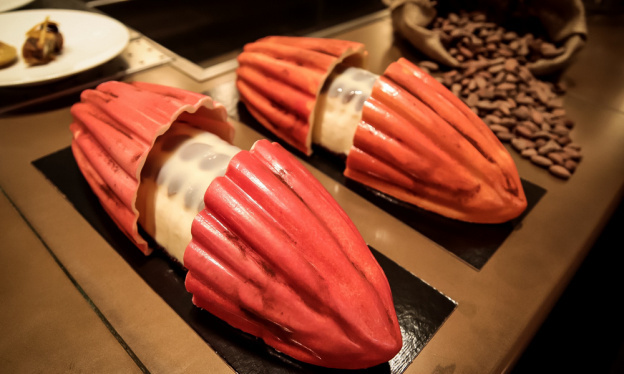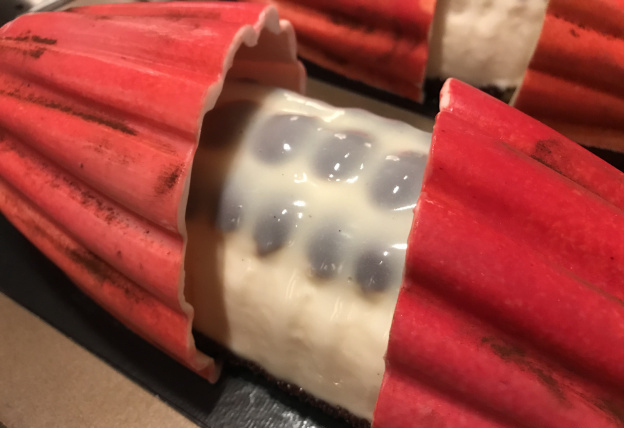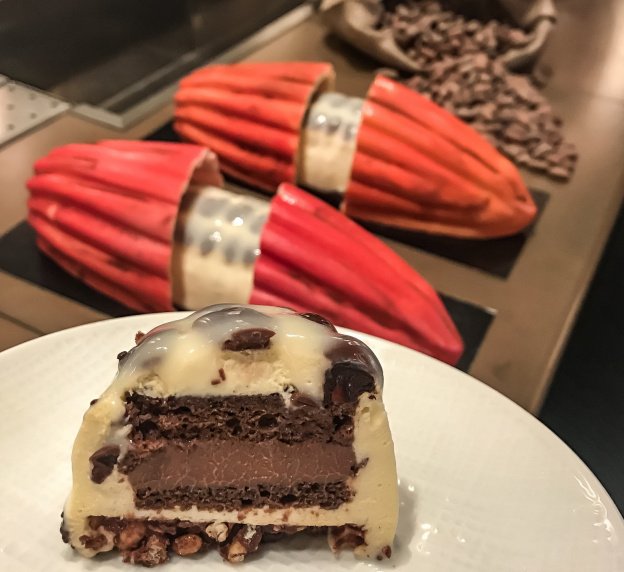 Park Hyatt Paris-Vendôme pastry chef Jimmy Mornet bet on cocoa for his yule log 2018.
Mornet was inspired by a treasure found in Guadeloupe: cocoa. The palace pastry chef wished to work with cocoa bean to the extreme. As an outcome, he has concocted a splendid trompe l'oeil yule log brilliantly recreating the famous pod. Sliced it show the mucilage.
In terms of ingredients, note that it has the particularity of being gluten-free. Far from being a drawback since by using rice flour, this yule log is even creamier and lighter, what a happiness! The chef also used beans from Bali. In addition to chocolate, Jimmy Mornet added black rice bringing some body to the dessert.
Composition: smooth mousse infused with black rice, puff rice crunchy, roasted cocoa beans and 68% Indonesian dark chocolate cream.
Book this chocolate creation from December 1, 2018. Available on sale from December 21, 2018.
_______________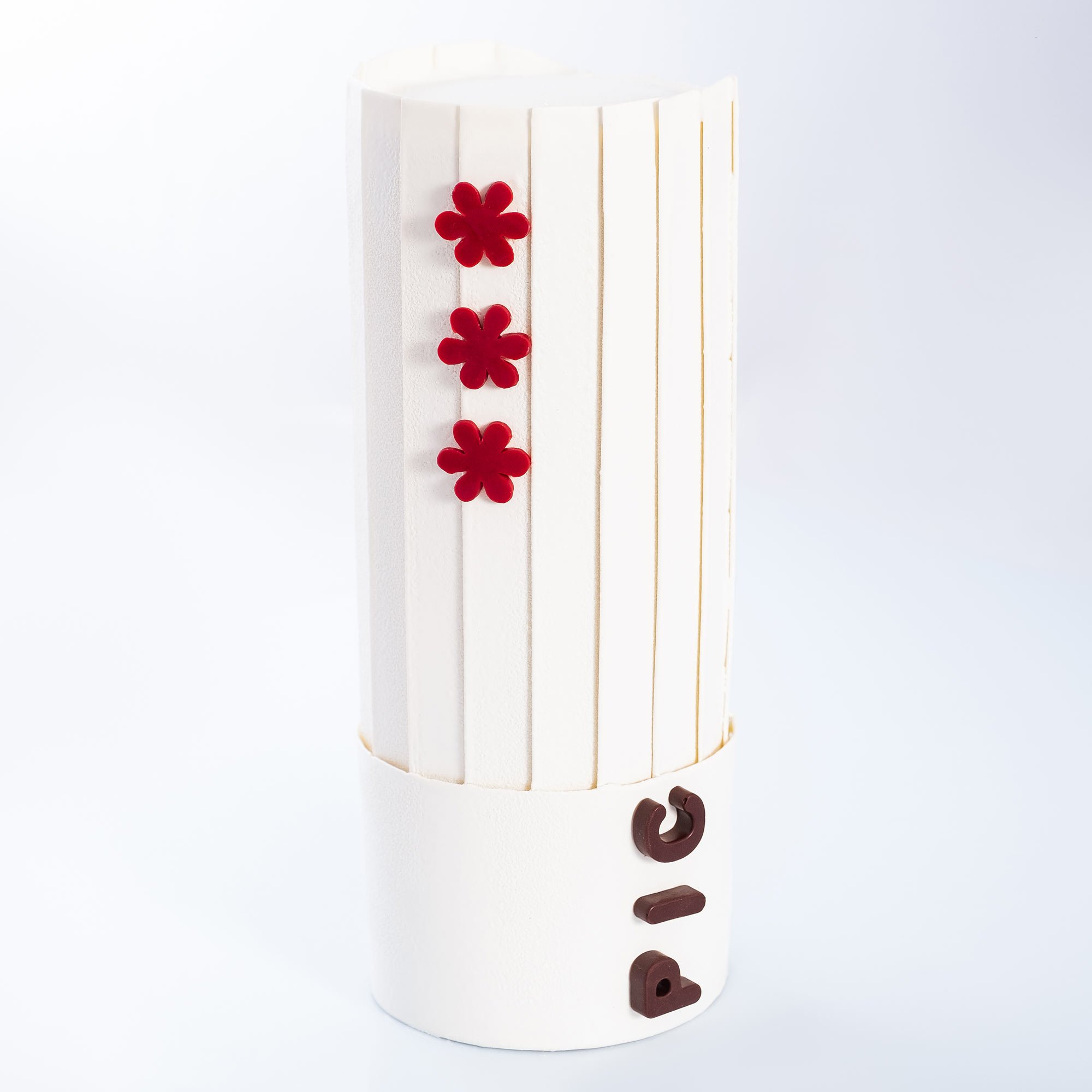 BÛCHE DE NOËL "TOQUÉE" À LA POIRE ET AU CHOCOLAT PAR ANNE-SOPHIE PIC, 120€
Restaurant La Dame de Pic – Paris – 20 rue du Louvre 75001 Paris
________________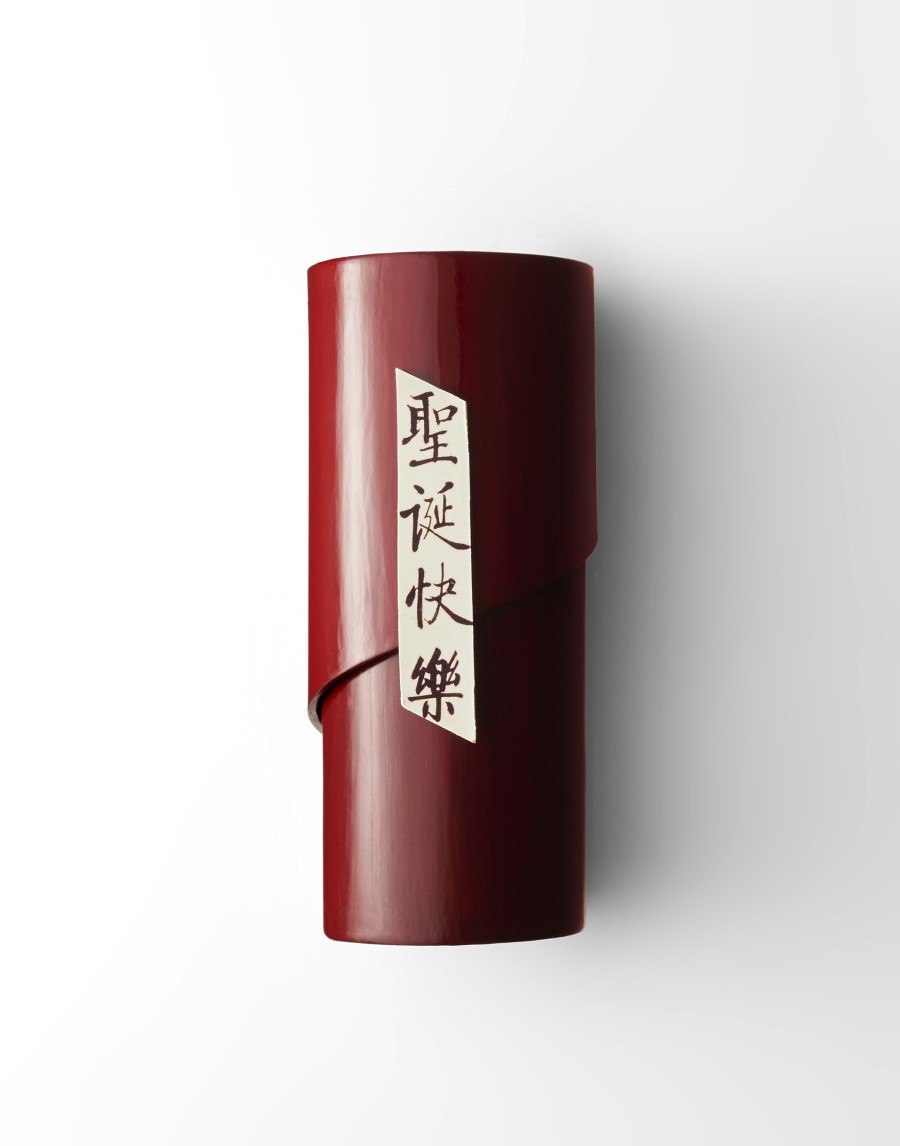 With his "L'écrin" yule log, Dominique Costa of The Peninsula Paris bets on modernity while remaining in line with the place Asian origins and twisting it with a French pastry know-how.
But what does this palace yule log have in store? Your taste buds will fall for the charm of chocolate mousse smoked with sandalwood, harmoniously mixed with the sourness of a soft mandarin – passion fruit heart. Finally, there goes the crispy buckwheat biscuit topped with dulce de leche cream.
The sweet-toothed foodies can find the "L'écrin" yule log in limited edition from December 17 to 31, 2018 for €98 (serving 6 to 8 people) and upon booking at least 48 hours before.
_______________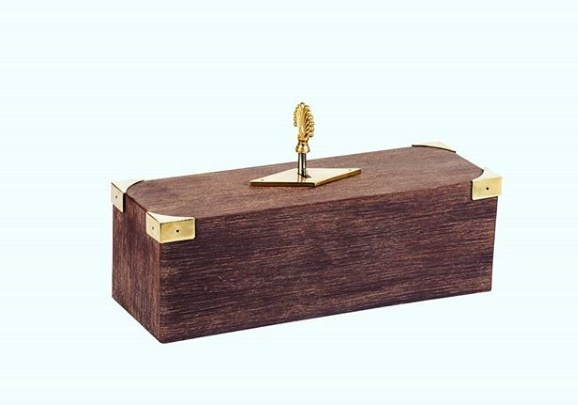 Available in store starting December 8, 2018 the La Clef d'Or yule log is shaped like a treasure chest combining estheticism and love of good food. No need to say this yule log will create quite the surprise and the amazement in all your foody guests.
In terms of flavors, this creation perfectly combines touches of chocolates, passion fruit and toasted hazelnuts.
Box made of 42% chocolate with passion fruit notes, toasted hazelnuts and milk chocolate
Only upon order starting December 8, 2018
Rate for 6/8 servings: €75
________________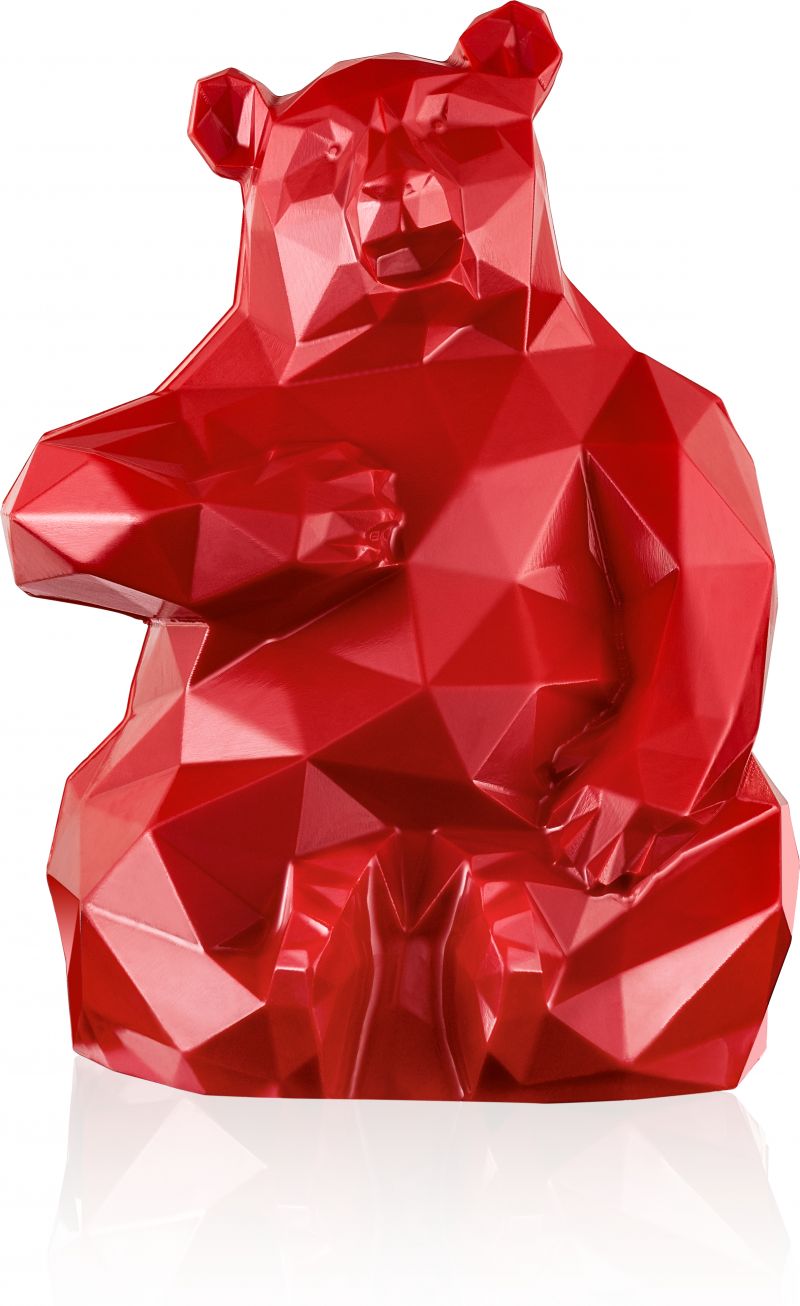 When a star chef and an artist team up to create a Christmas log, it gives a geometric and delicious red panda: drawn by Richard Orlinski, the best-selling French artist in the world, he hides a nutty-orange crunchy biscuit, caramelized hazelnuts, an orange marmalade and a light vanilla mousse.
Richard Orlinski x Pierre Gagnaire log
BREWERY FOUQUET'S
46 av. George V, 75008 – M ° George V (1) – Tel: +33 (0) 1 40 69 60 50 – Limited edition on order until Dec. 2018: € 95
________________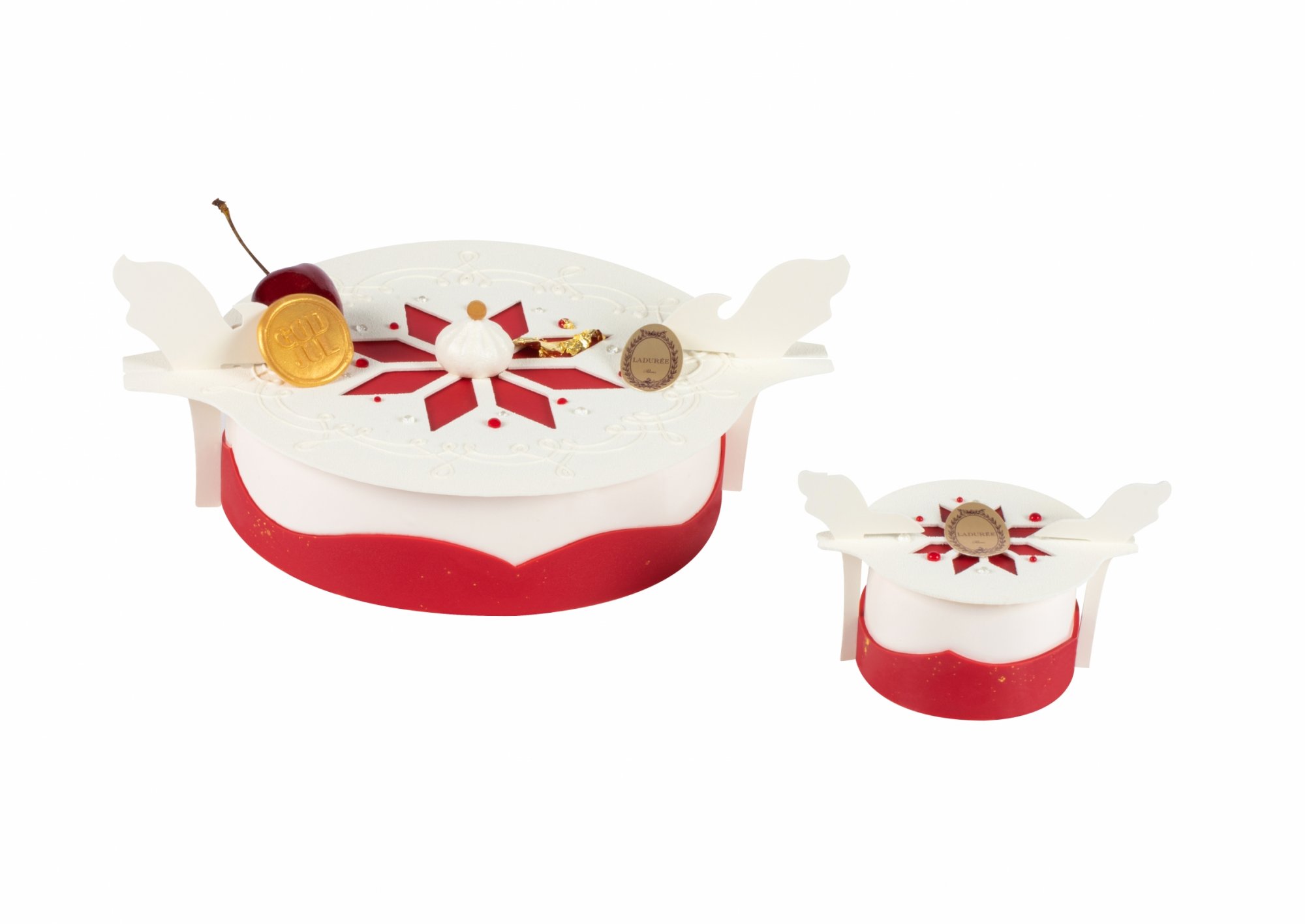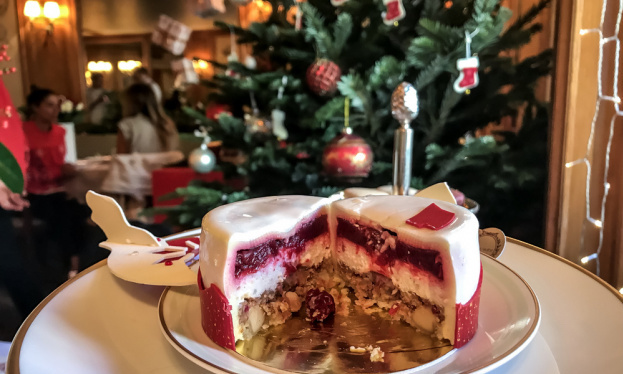 This winter, Sverre Saetre invites us to experience a Scandinavian Christmas alongside Ladurée. To do so, the Norwegian pastry chef came up with a signature yule log: "Tine".
This yule log colored with red and white displays an original shape inspired by the traditional wooden boxes, the "Tine" to be pronounced "tee-nah". In Norway, the latter is often used to transport pastries and other sweet treats during family reunions or big family events.
To make us travel to northern Europe, the Norwegian chef was inspired by the typically Scandinavian flavors. The "Tine" signature yule log is made of a whipped ganache like a rice pudding, a morello cherry and spices compote as well as a delicious rose mousse. The whole lays on an almond dacquoise and a crispy macadamia nuts base.
To enhance the whole, the log is topped with the "Selburose", an 8-arm star depicting a rose coming from the city of Selbu in Norway. And to bring the final touch to his creation, Sverre Saetre put a small golden dot signed "God Jul" to wish us a "Merry Christmas" in his birth-language.
"Tine" signature yule log
Available starting December 19, 2018
Rate: €68 – 6/8 servings
Available in individual version – available starting December 5, 2018
Rate: €9.50 to take away
_______________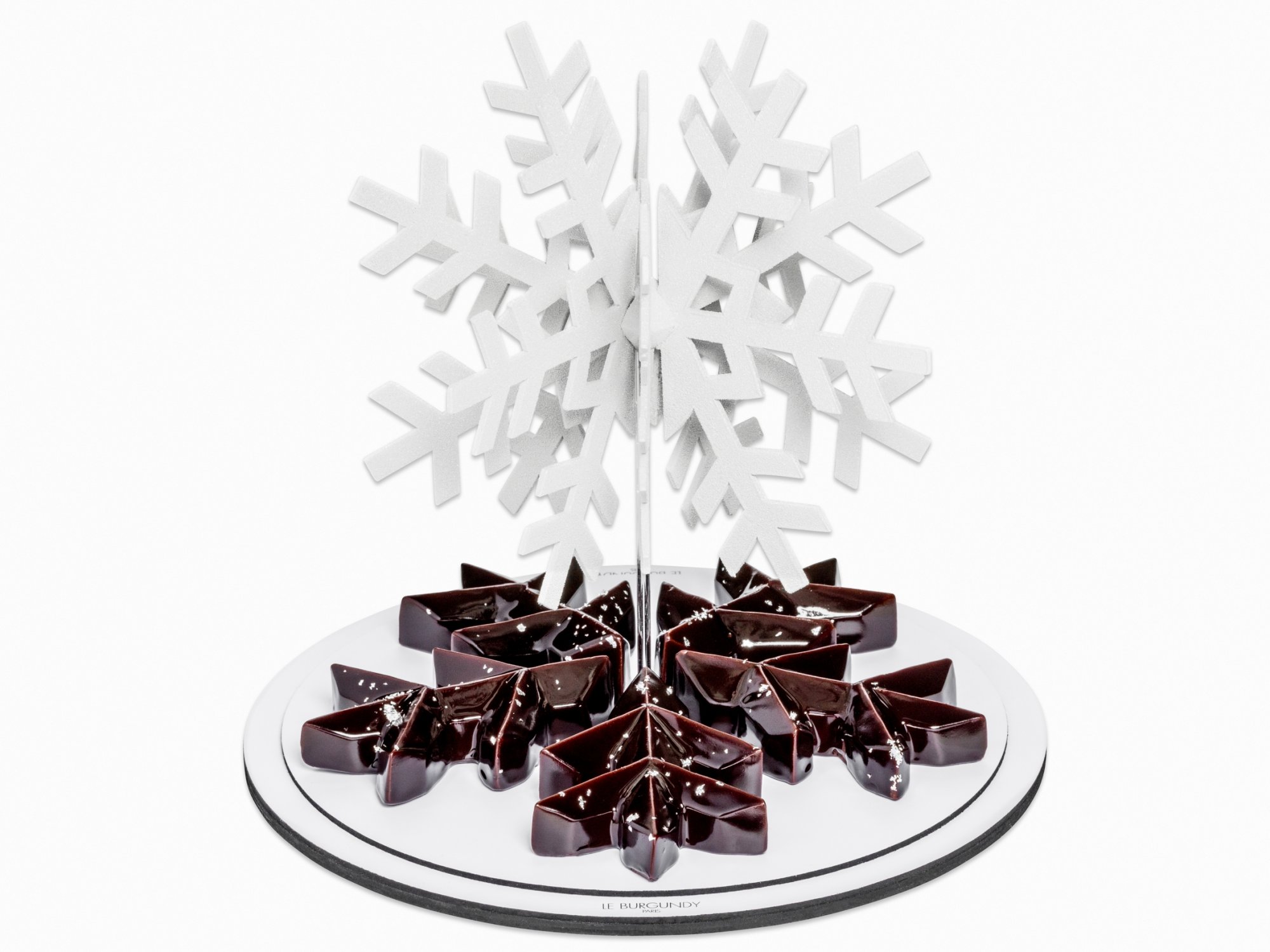 Called "Le Flocon du Burgundy Paris" [Burgundy Paris Flake], this yule log is a creation with a clean design in 3 dimensions revealing an incredible assembling work wonderfully mixing chocolate-caramel and chocolatey branches put on a transparent plexiglass structure.
"Visually speaking, I wanted to transcribe the alliance between the two fantastic worlds, the Holidays one and the High Jewelry one around a creation reminding us of childhood taste. The idea is to be able to present it as a centerpiece on the table and serve it cut into six very distinct slices." Burgundy Paris pastry chef Pascal Hainigue tells us.
In terms of flavors, this entremets bets on 62% cocoa Macaé dark chocolate from Brazil and caramel.
To go even further in the greed, this yule log unveils several layers including first of all a flour-less dark chocolate cake, then a crispy cookie based on "crêpe dentelle" sprinkles, a dark chocolate mousse and a soft heart based on caramel cream and cocoa beans nibs and finally a shiny glaze enhanced by some gold leaves.
Please note this sublime yule log will be available to order in limited edition starting December 1, 2018 for €110 (serving 6 people). It will be also possible to discover the flavors of Burgundy yule log through a revisit by the plate at the new Le Charles bar and Le Baudelaire restaurant from December 15 to 26, 2018.
_______________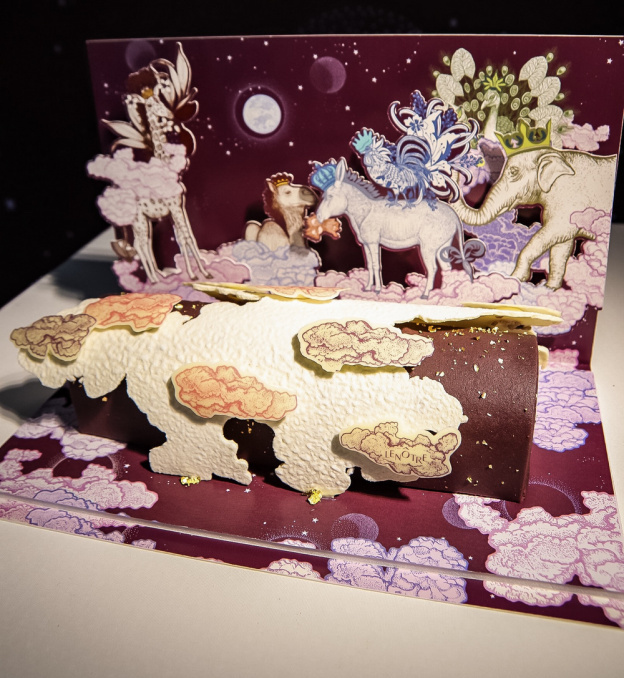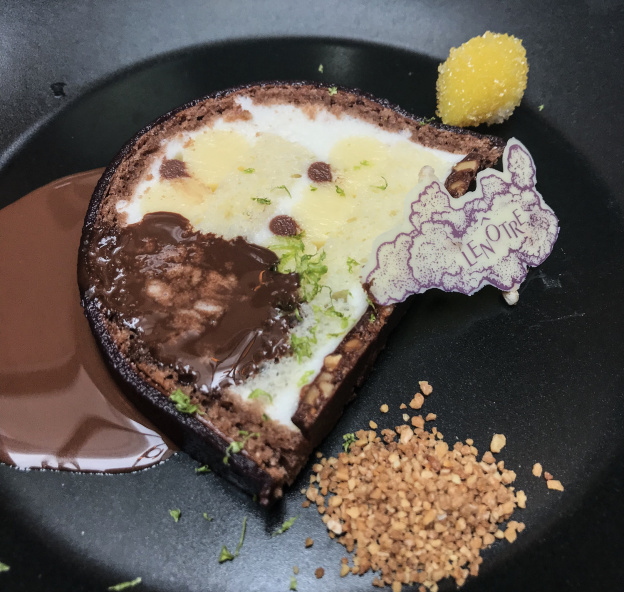 This year Maison Lenôtre Chef Guy Krenzer and his teams put on a spurt to offer the "Odyssée Gourmande" collection; a collection created in partnership with French artist Michaël Cailloux. Seduced by Michaël Cailloux's colorful work filled with green, animal and cosmic details, Guy Krenzer wanted to tell about the antic travels combining pagan legends and winter solstice to the tale of the Mages.
And the outcome is esthetically marvelous and taste oh-so good. This signature yule log 2018 by Maison Lenôtre invites us to a travel thanks to flavors from the three continents which are the birthplace of the animals in the tale.
First of all, there's Asian lemon, then African chocolate and finally European hazelnut. To make you drool even more, this "Odyssée Merveilleuse" yule log hides under a delicious layer of almond paste and biscuit, a crispy biscuit with cocoa and hazelnut, a cream with lemon zests, an explosive light baba soaked with lemon juice and finally a gourmet lemon-infused egg whites mousse.
And for even more greed, three delights are available as sides to remind you of the presents brought by the Mages.
First, there's a chocolate coulis with no added sugar (a blend of cocoa beans from Tanzania, Ghana and Sao Tomé) to serve warm, then small "Candi" lemons made of almond paste symbolizing gold and finally crispy toasted and caramelized hazelnut sprinkles for the myrrh.
And in addition to be delicious, this creation is beautiful, topped with large clouds cut in white chocolate and roasted puff rice.
"Odyssée Merveilleuse" yule log – Limited Edition
Price : €120 for 12 persons
Upon order from December 8 to 24, 2018
________________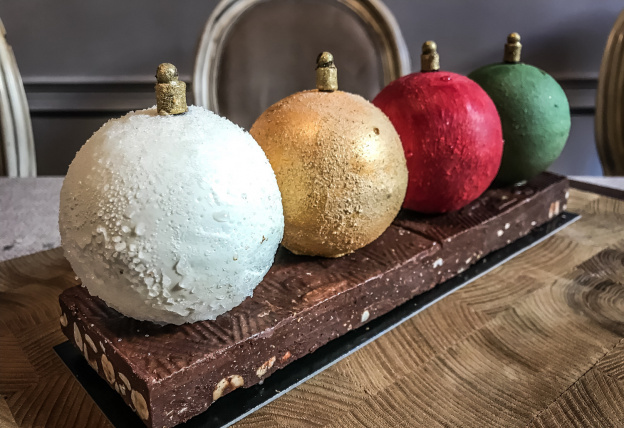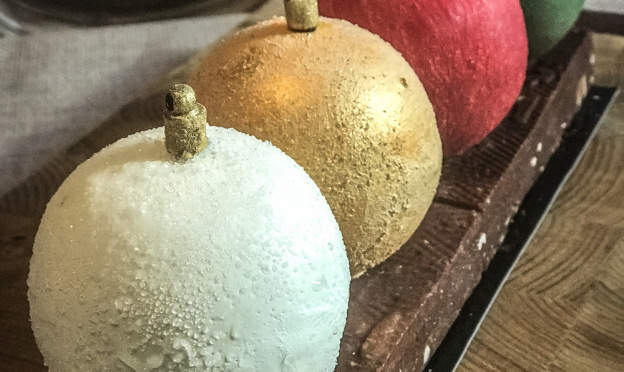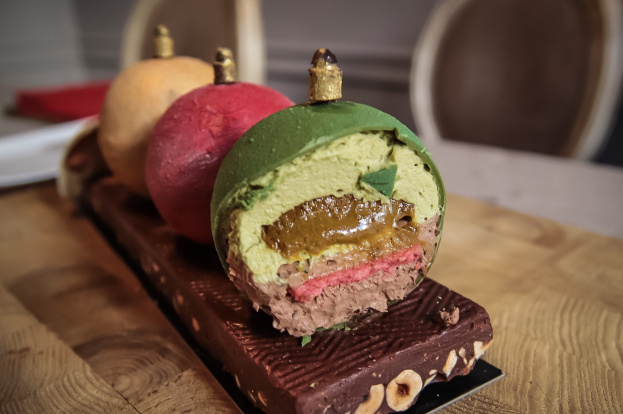 Michele Dalla Valle, Hôtel de Berri restaurant executive chef, came up with a yule log inspired by the Zuppa Inglese, a cake coming from Tuscany.
For those who don't know it, Zuppa Inglese is traditionally made with sponge fingers soaked in alchermes – a liquor based on plants – and set in layers and covered in crème patissiere.
On a torrone bed covered in chocolate, Michele Dalla Valle put four tasty and colorful Christmas bulbs each flavored differently. We find a vanilla bulb with caramelized hazelnuts for the crunch, a pistachio bulb with fizzy praline for the regressive aspect, a raspberry bulb with fresh fruits and a dash of sourness and finally a lemon bulb with a well-seasoned jam to bring some bitterness.
This yule log is available from Monday December 10, 2018 at Le Schiap restaurant and Le Bizzaz bar at Hôtel de Berri. Allow €15 per slice or €70 (available for sale upon booking) the yule log serving 6 to 8 people.
______________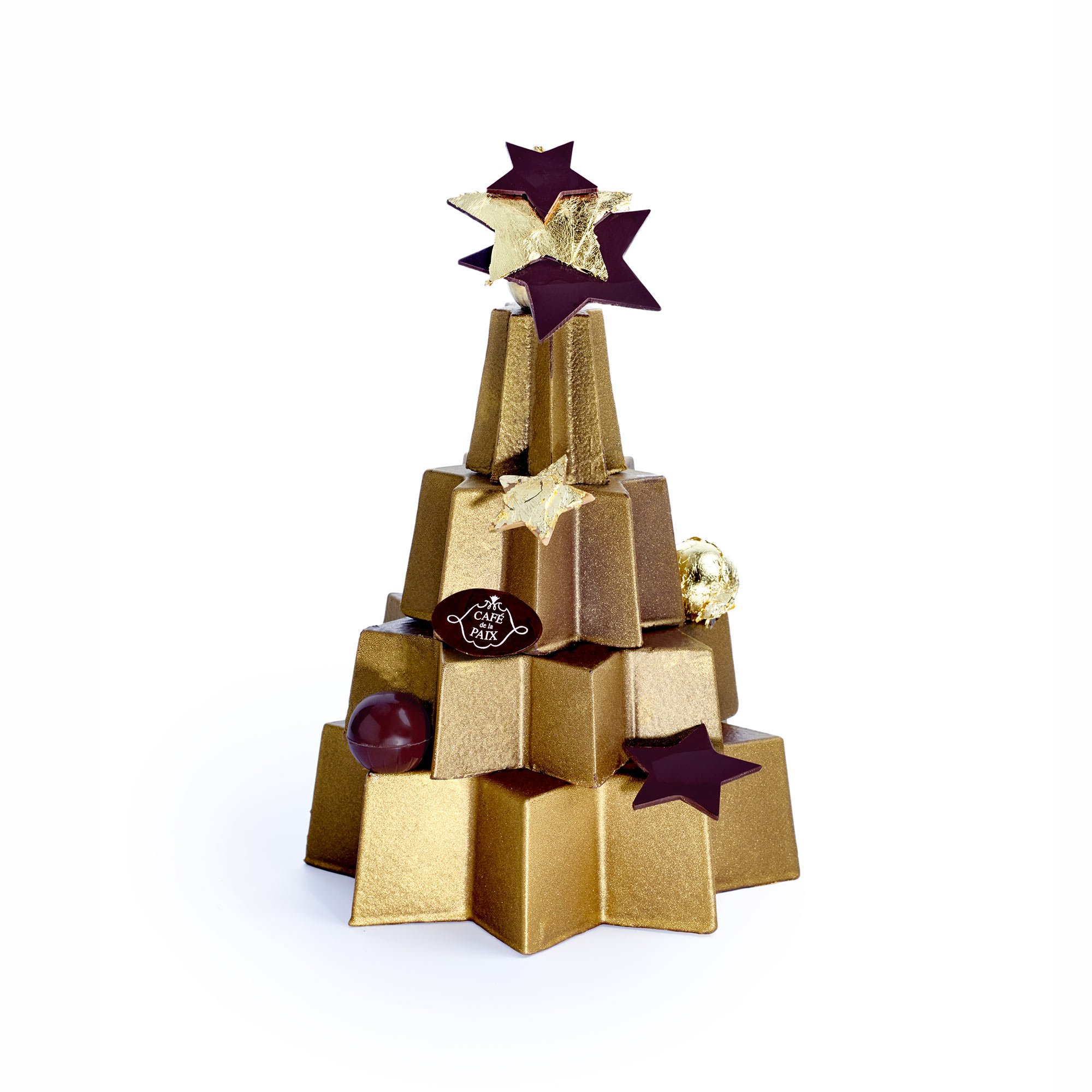 "There's no Christmas without a tree!": in view of this fact, Café de la Paix pastry chef Sophie de Benardi came up with a wonderful yule log 2018 shaped like a… pine tree.
Raw, nature and without fuss at the same time, this creation unveils different layers in a game of superposition and several flavors: chocolate and pine cone.
To go further in the tasting, know that this yule log contains a dark chocolate mousse infused with pine tree, a pine cone cream and a crispy biscuit with pine nuts, a chocolate Sacher biscuit the whole surrounded by a fine layer of dark chocolate.
Displaying woody and scented notes with light bitter notes, the whole is mixed with the gourmet flavors of cocoa, this creation 2018 will catch many foodies' eyes.
This yule log 2018 by pastry chef Sophie de Benardi is to be enjoyed on the spot, at Café de la Paix or to take away (to order 48 hours prior) from December 15 to 29, 2018.
Allow €75 for this yule log to share with 6 or 8 people.
______________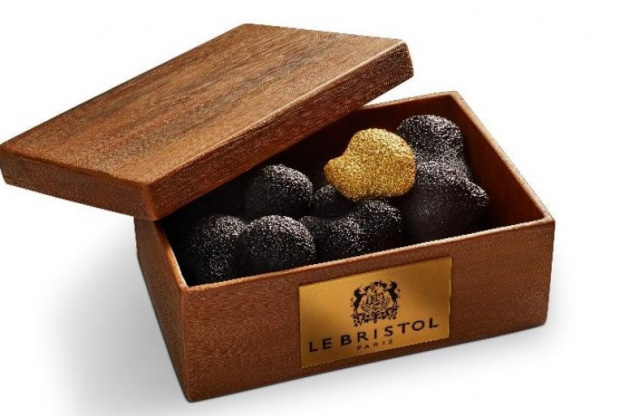 This year, Hôtel Le Bristol Paris pastry chef Julien Alvarez presents an incredible truffled yule log!
Trompe l'oeil log, this creation is first and foremost a feast for you the eye. We discover a splendid box that we could think is made of wood, but wood is actually made of an exquisite crunch.
Inside? Soft hazelnuts cakes truffles hiding a running gianduja heart, a light vanilla cream and of course… black truffle.
Foodies can find this incredible yule log by Julien Alvarez exclusively at Le Bristol Paris, in limited edition, for €140 for 8 servings.
_______________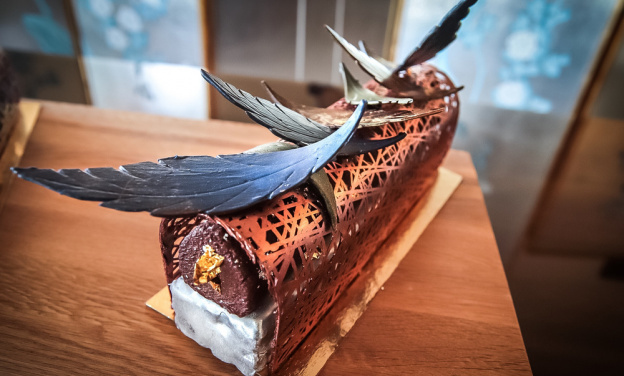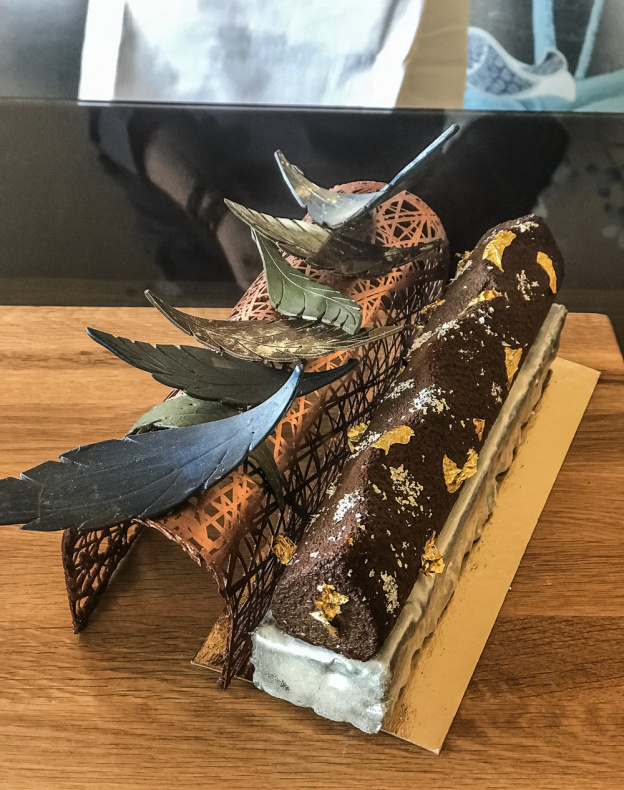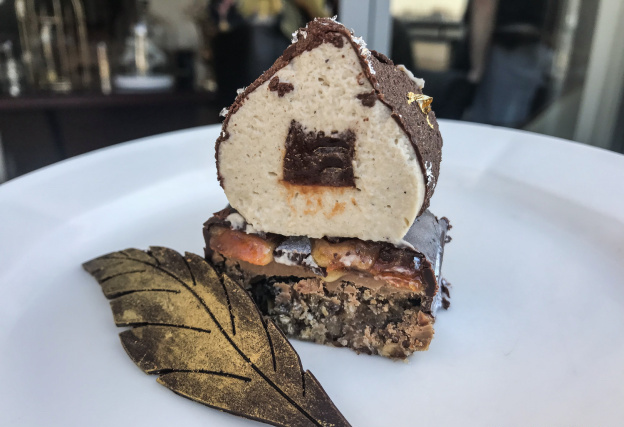 Hôtel du Collectionneur chef Bryan Esposito came up with a beautiful copper cage made of dark chocolate and topped with beautiful iridescent feathers.
Once the cage is off, we discover a yule log that's more gourmet than anything with comforting winter flavors. I'm talking sweet woody-scented mousse infused with pine cones and containing a heart made of dog rose confit, topping a three walnuts and chestnuts chunks biscuit enhanced with a layer of kumquat fruit marmalade.
Opening Time: From 10 December 2018 to 25 December 2018
Hôtel du Collectionneur, 57 Rue de Courcelles, 75008 Paris 8
Prices: 8 personnes: 75 €
_____________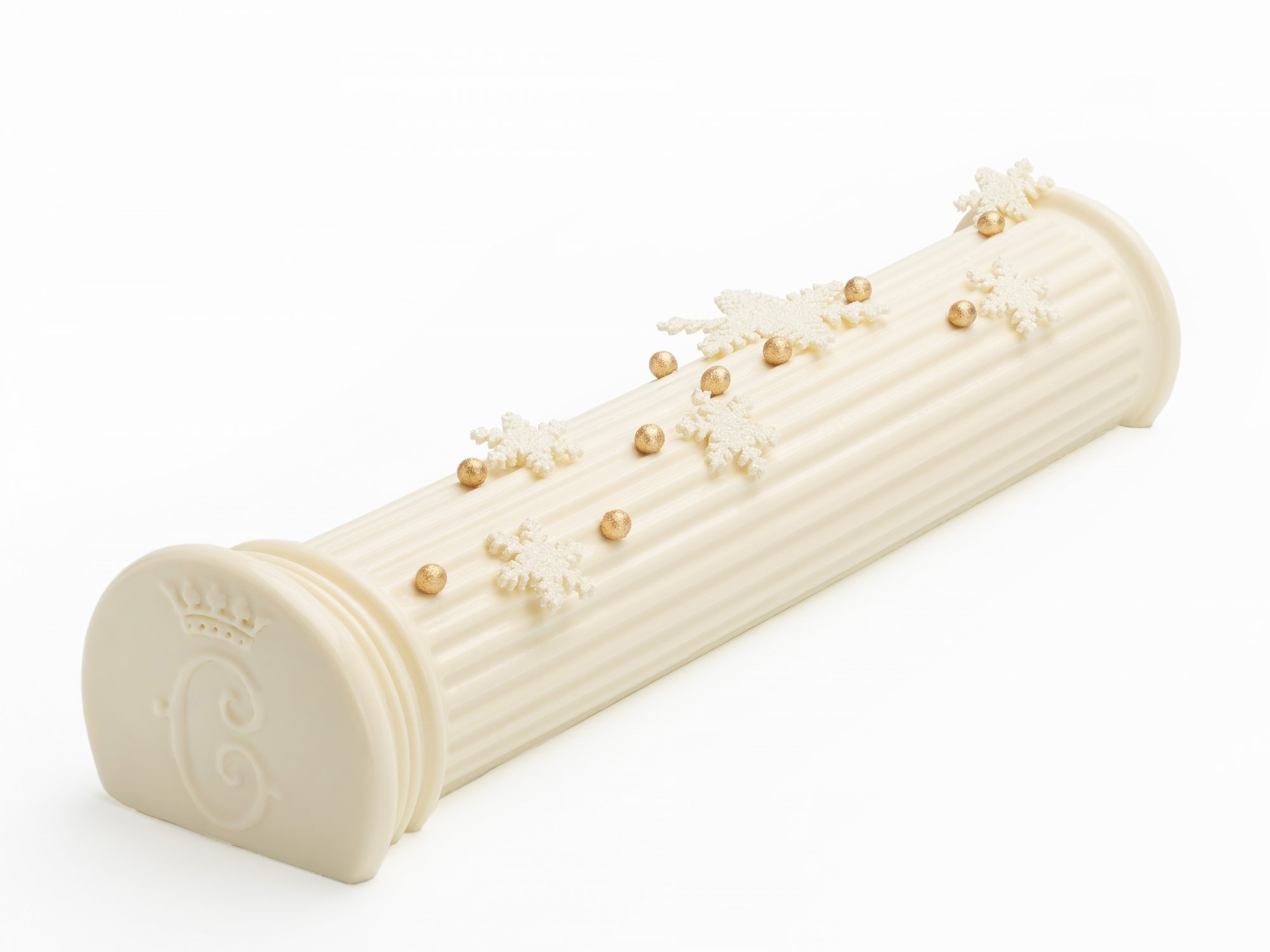 To celebrate the end of year celebrations, Pastry Chef Pablo Gicquel of Le Crillon has designed a Christmas log, a nod to the mythical address of the Place de la Concorde since it is inspired by one of the fluted columns of the Marie-Antoinette Suite where once, the famous queen would have taken her piano lessons.
Almonds from Languedoc, tangy jam of blueberry and blackcurrant cooked over a wood fire.
Available from December 1st, 2018 to January 6th, 2019.
(For 6 to 8 people). 120 €
________________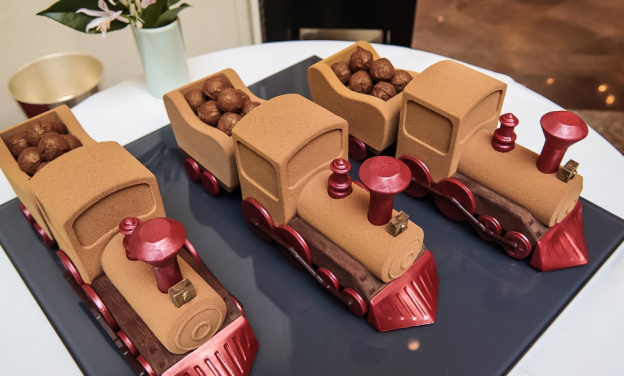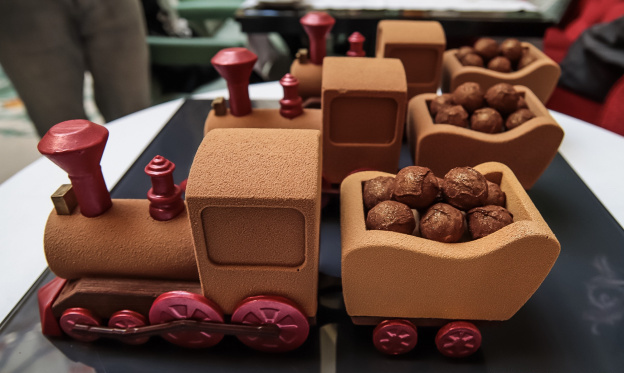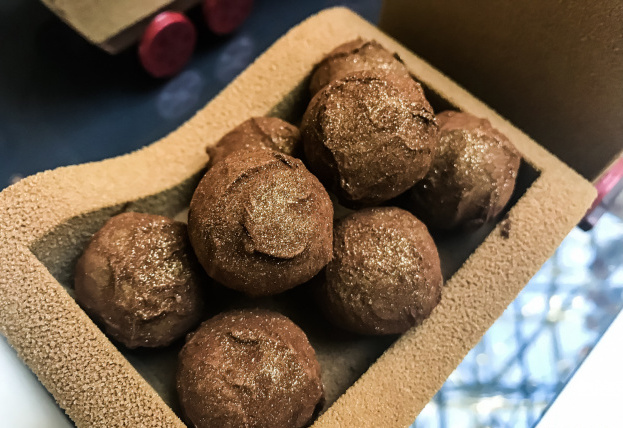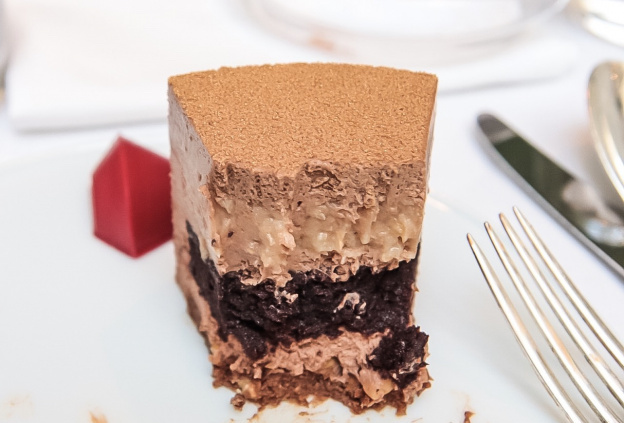 Every year Shangri-La Hotel Paris chef Michael Bartocetti creates a new yule log each one more original than the last. After amazing us last year with his spinning top, the chef plays again the childhood card by offering us a train: the Shangri-La Express.
Think: a light chocolate mousse with lemongrass and a fresh and delicious banana confit with vanilla and lime. The whole topping a crispy peanut and salt flower biscuit and a flour-less dark chocolate cake. In terms of décor, note that the bumpers and the chimney are filled with the excellent peanut praline coated with white chocolate. The little train wagon is stuffed with chocolate/lime truffles with a lovely fizzy taste.
PRICES: 8 personnes: 128 €
________________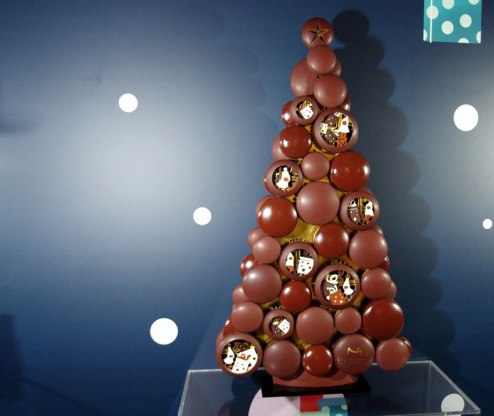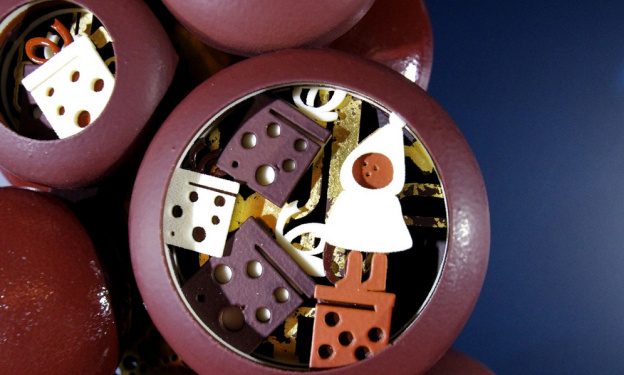 As always, Nicolas Cloiseau from La Maison du Chocolat wanted to dazzle us, surprise us and seduce us with his creations concocted especially for these end-of-year celebrations in 2018.
Nicolas Cloiseau and his team have thus imagined this crafted tree of 78 dark or shiny dark chocolate bubbles, of six different diameters, including eight skits chiselled with overlays of dark chocolate, milk, ivory, or covered with gold! By getting closer, we discover the elves and gifts ready to be delivered.
Sapin Bulle de Rêve
Price: € 1,400
One size 5.5kg and 80cm in height
Available in stores from November 14, 2018
______________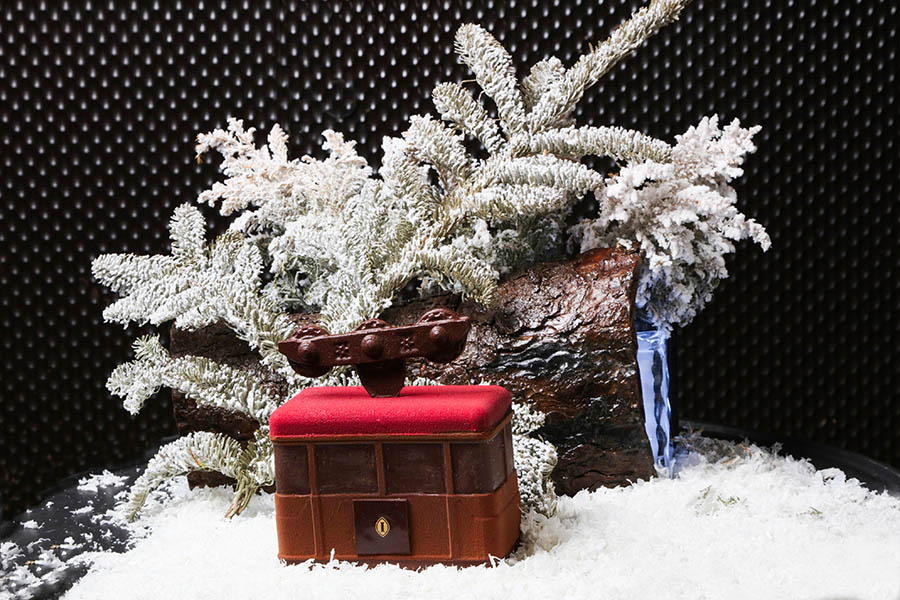 The greediest among us will not miss to stop at the InterContinental Marseille – Hotel-Dieu, the most luxurious and most majestic hotel in Marseille, perched on the hill of the Panier, to taste the log concocted exceptionally by its Pastry Chef, Yoan Dessarzin. Named "Altitude 26.16", it drew inspiration from the mountains and snowcapped peaks, the central theme of the school's 2018 Christmas. In the shape of a red and brown gondola, an indispensable means of transport in the mountain resorts, the log, topped with its chocolate pebbles, hides under a chocolate mousse of Brazil Cuvée Limeira 50% a soft biscuit with hazelnut from Piedmont, a compote of cassis and a Lincang Tea Jelly from Yunnan. The mixture gives the delicious log notes of citrus fruits and red berries.
"Altitude 26.16é : 85 euros pièce (pour 4 à 6 personnes)
Précommande obligatoire 24h à l'avance au 04 13 42 42 40
"Le Castel" : 45 euros (pour 6 personnes)
______________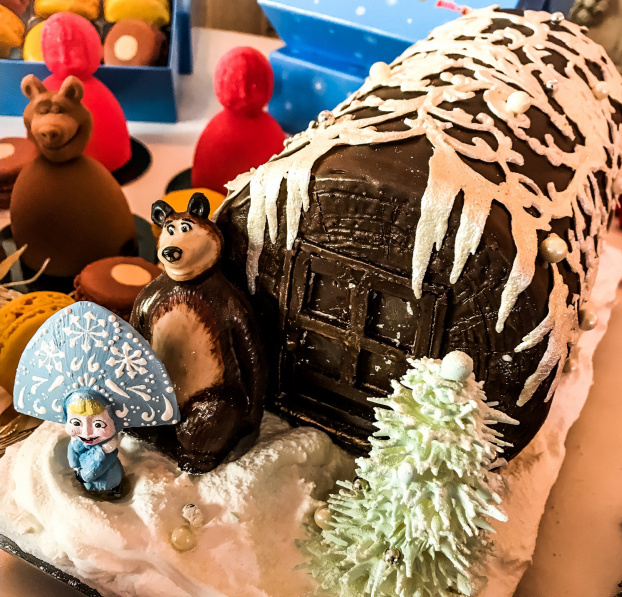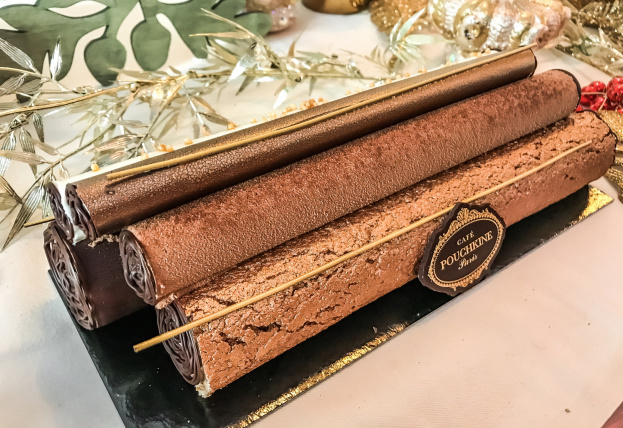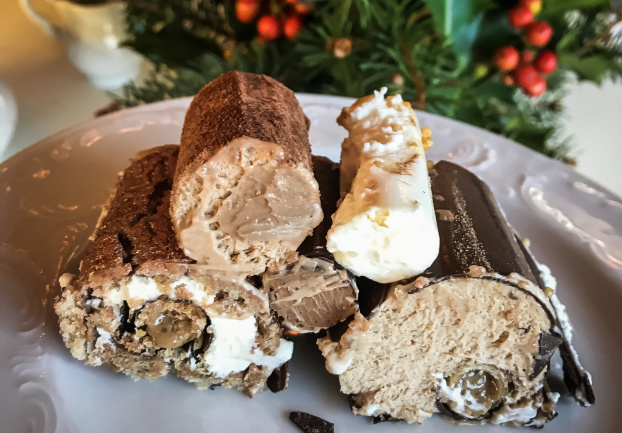 The youngest foodies will be in heaven since Café Pouchkine has decided to join forces with Masha and Michka the two heroes of a Russian animated series created in 2009.
For these Holidays, they will be found on an exclusive yule log that will satisfy small gourmets' taste buds. Next to them, Michka's beautiful house to be enjoyed and made of a nougat cream, a caramelized pear compote, a honey madeleine cake, a honey whipped ganache and a crispy almond biscuit.
For the others, Café Pouchkine reveals the "Cigarette Russe" yule log. It's not only beautiful and graphic, this yule log has also been created by pastry chef Nina Métayer. Reminding us of the famous "cigarette cookies", this yule log is a skilled blend of flavors and textures: hazelnut, bergamot and chocolate.
Masha and Michka yule log
Available from December 14, 2018
Rate: €80 for 4 to 6 persons
______________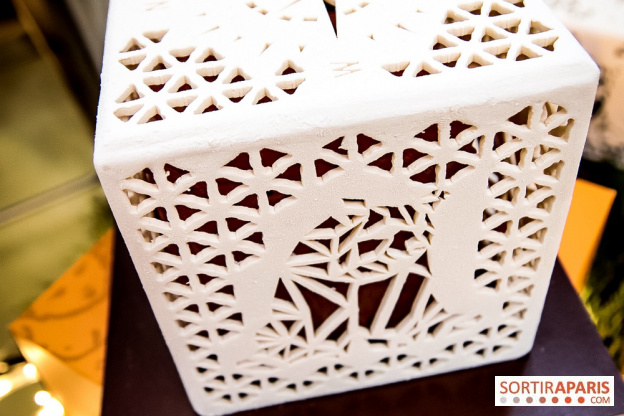 Frédéric Cassel, a French pastry chef who was introduced to high-end pastry by Pierre Hermé, is one of these chefs, and today he presents his Christmas log for 2018: Origami, Les Animaux du Pôle.
This immaculate white log is a marvel of fabrication. Composed of a Sacher biscuit, a chocolate-raspberry cream and a chocolate mousse Illanka 63% Peru, it will surely delight young and old.
Horaires: Du 1 décembre 2018 au 31 décembre 2018
Frédéric Cassel 71-73 Rue Grande 77300 Fontainebleau
______________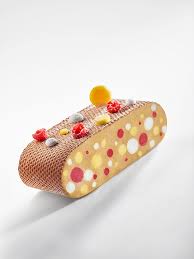 Sylvain Faisan "Studio Equino" Buche ltd. ed. call for price
________________
The Bûche Orphéo by Pierre Hermé will make chocolate addicts melt with its Grand Araguani Pure Venezuelan origin chocolate melts in the mouth thank to a fine layer of hazelnut praline!
Opening Time: From 15 December 2018 to 31 December 2018
Prices: Bûche pour 3/4 personnes – à partir de: 48 €
______________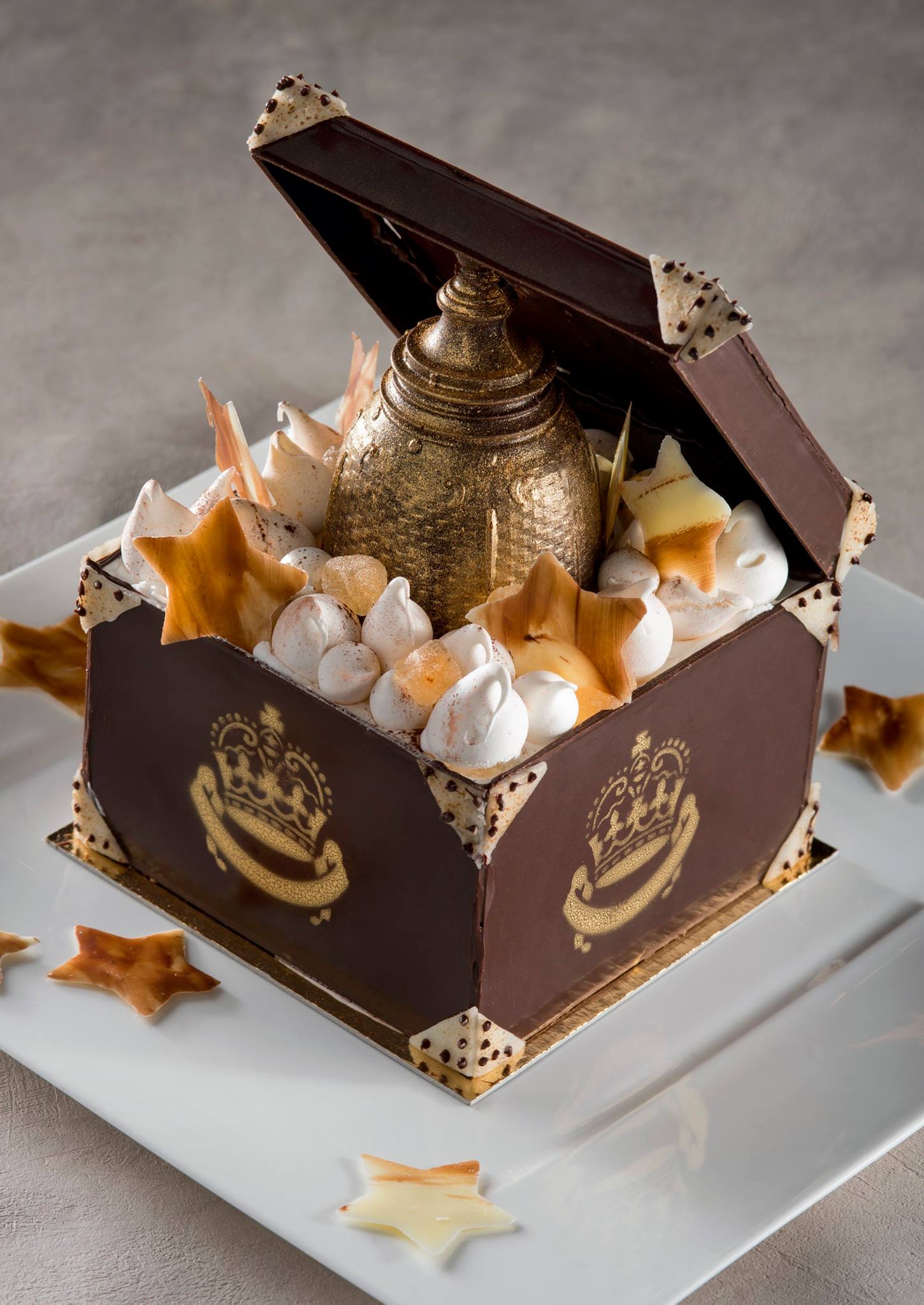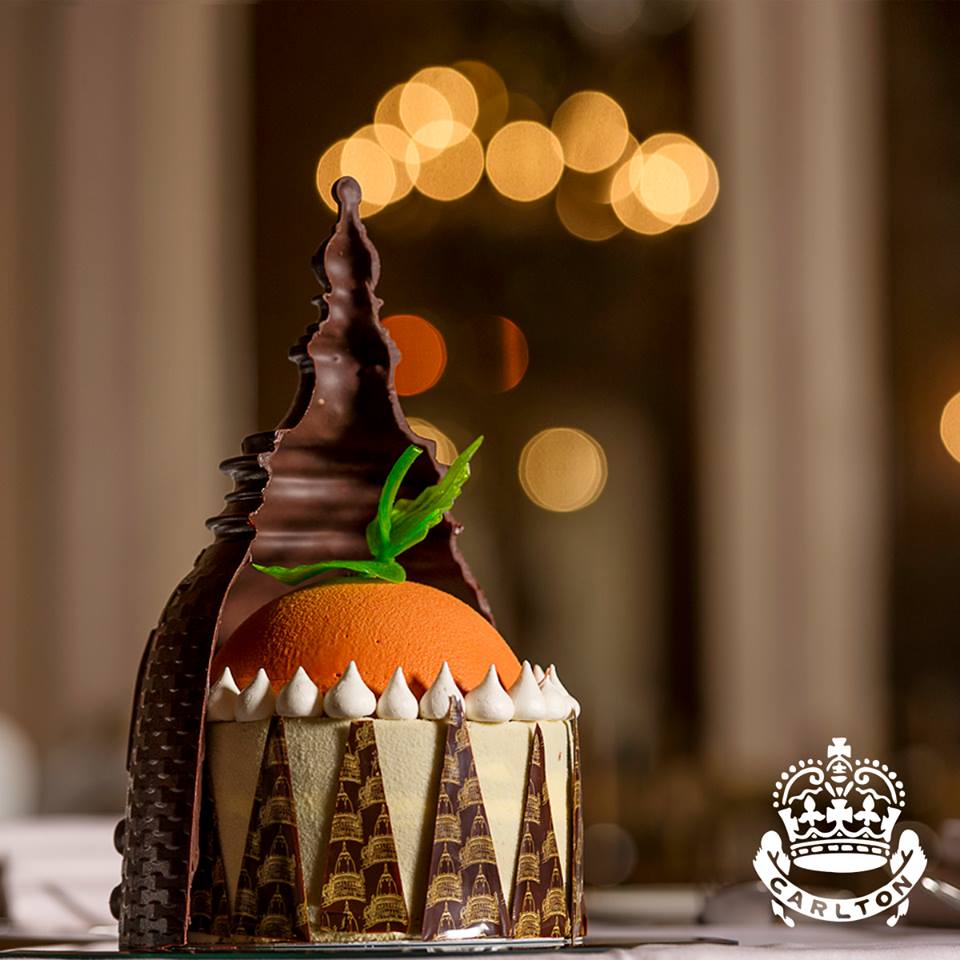 This special InterContinental Carlton Cannes log has to be reserved 48 hours in advance. To celebrate the end of 2018, our Chef Pâtissier, Hubert Coulange, was inspired by the famous century lemon tart of the InterContinental Carlton. His creation, combining tradition with modernity, could almost be put under the Christmas tree. Its original chocolate design reveals the soft lemony flavors of the French Riviera.
Price : €75 (6 people)
________________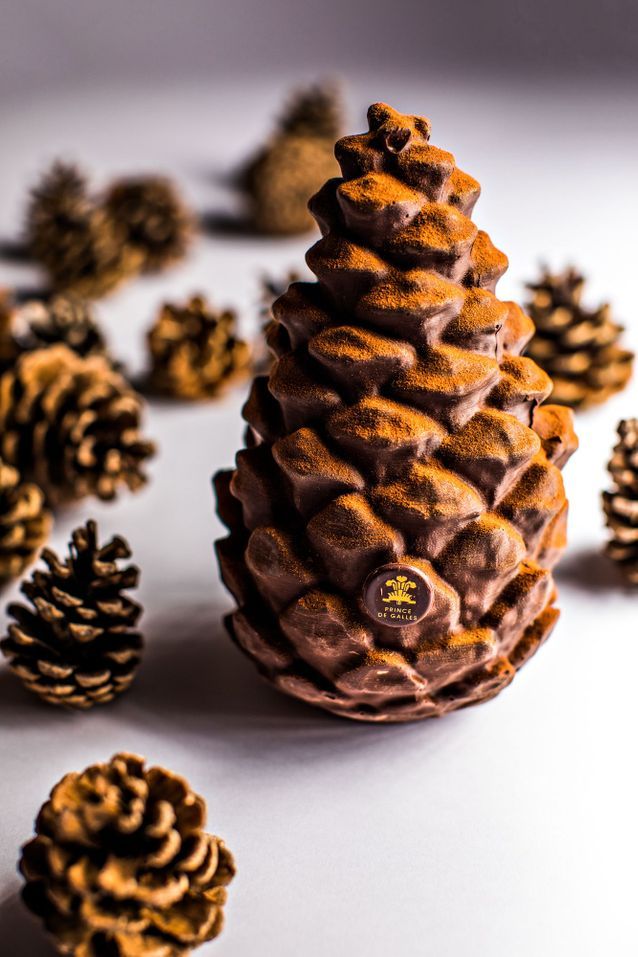 Bûche "Cône" by Chef Nicolas Paciello for the Hotel Prince de Galles. 6/8 parts. 95 €
A crunchy dark chocolate Jamaya 70% shell with a creamy milk mousse with honey in the heart. The sweet malty flavor of fir honey is then contrasted by a soft biscuit with fleur de sel that reveals its subtle taste.
On sale take away from December 17th.
Available at the bar Les Heures from December 10, the share: 18 €
______________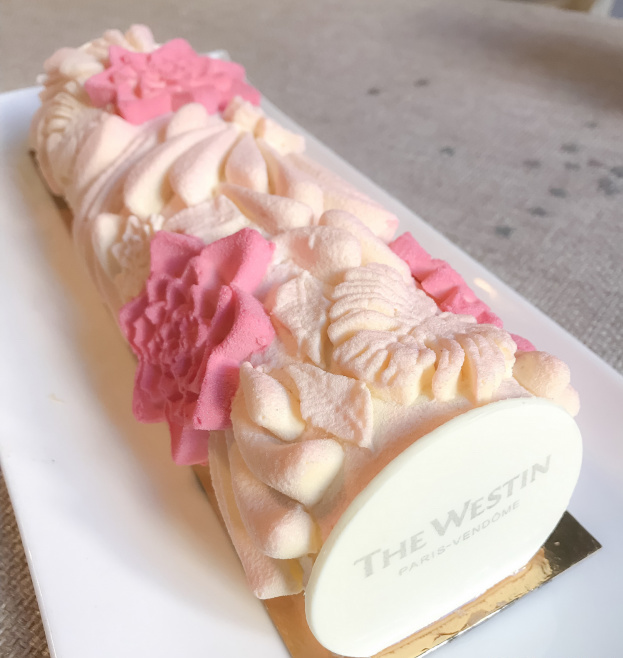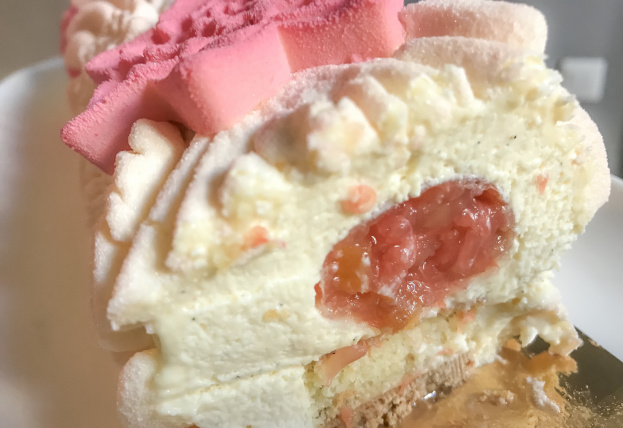 This year, David Réal and Florence Lesage, respectively executive chef and pastry chef for The Westin Paris-Vendôme Hotel, offer a trendy boho chic yule log 2018.
Called "Gypset", this ultra-gourmet creation is dressed in a lovely pink velvet coat covered in precious pink flowers; it blends Tahiti vanilla with pink grapefruit and blue tea scented with cherry blossom. Delicate and unexpected flavors.
In the details, the almond biscuit is made of a crunchy praline with a slightly salted crumble, puff rice, pecans, hazelnuts, almonds and a dash of milk chocolate.
Serving 6 to 8 people – €80
From December 1 to 23, 2018
Upon order
_______________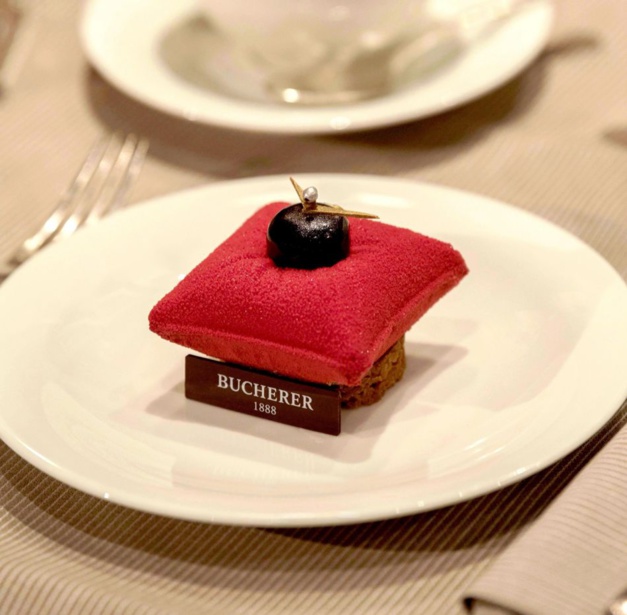 Inspired by Bucherer's watchmaking passion, Westminster Hotel pastry chef Bryan Esposito appropriated the codes of the pocket watch and imagined himself as an English lord comfortably seated in a club chair at Duke's Bar, to create this piece to chew refined and greedy.
For this dessert, Bryan Esposito chose his ingredients carefully. As always by the way. In fact, this chocolate mousse Esmeralado (from Costa Rica), combines Genepi jelly, hazelnut biscuit and cashew nuts.
When developing his creations, this bold leader always keeps in mind the quote of Salvador Dali "beauty will be edible or will not be" to combine greed with pleasure of the eyes. This pastry does not escape the rule and reveals the needles of a clock on a dome in the heart of a red box surmounting a Breton shortbread.
An invitation to discover "By Bucherer's Time" at the famous Duke's Bar at the Westminster Hotel between 4pm and 6pm from November 6 to January 31.
_______________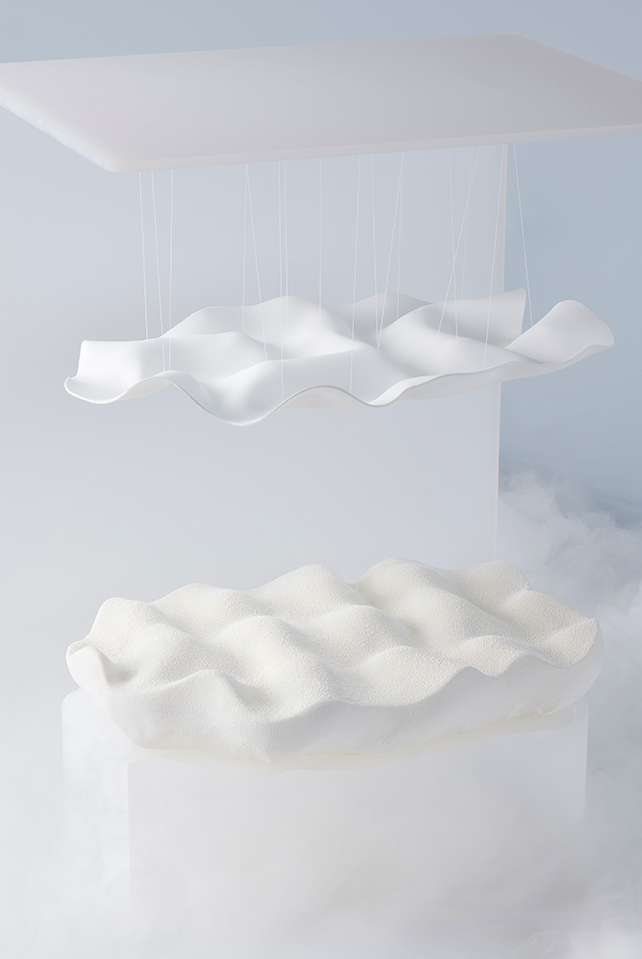 Arthur Fèvre is the Pastry Chef of the two-star restaurant Le Pressoir d'Argent at the InterContinental Bordeaux – Le Grand Hôtel. Every year he designs an extraordinary Christmas log, for 2018 the theme is the meeting of levitation & immaculate white …
The Christmas log this year takes the shape of an opaque white winter landscape, imbued with lightness and purity. Consisting of two parts, the piece is surmounted by a veil suspended by about twenty white threads. As in lift in the air, it creates a feeling of floating motion. Below, the cake itself mimics the curves of this veil. Powdery, it evokes an immaculate snowy world.
Ingredients: Crispy praline and biscuit Dacquoise walnuts Guillou orchards, compote of pear Comice, creamy honey chestnut of the beekeeper "The swarm of the queen" and light mousse with yogurt of Perigord vanilla Pompona.
_______________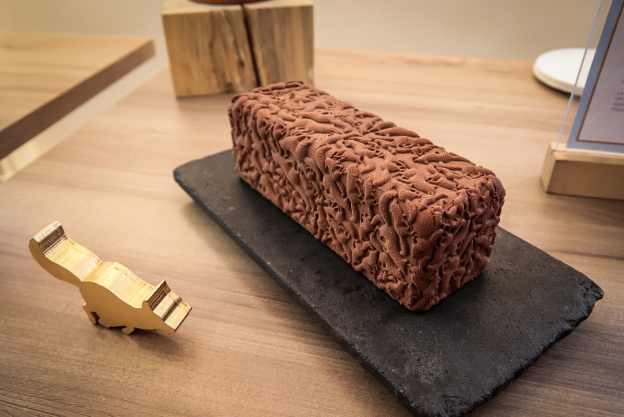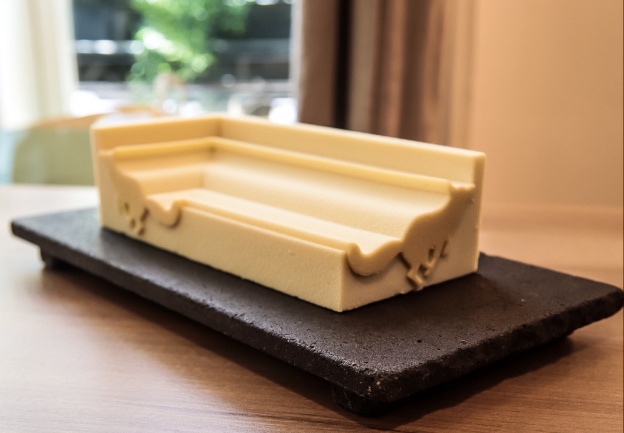 Once again, Pastry Chef Yann Couvreur dazzles our eyes and fills our taste buds with his 2 beautiful and gourmet Christmas logs designed especially for the end of year 2018 celebrations.
First there is the signature Bûche. Rectangular, this log proudly displays little foxes as a decoration.
But under this chic design and sprinkled with cocoa, lurks a light mousse with blue vanilla, a soft pecan nut cake, a crunchy vanilla praline Pecan, a tasty caramel salt heart and roasted pecan nuts and finally a praline Pecan flower of salt.
For less connoisseurs, know that blue vanilla is harvested on the island of Reunion. For the Log Signature, it has been finely chiseled inside the foam.
This signature log is sold in a beautiful setting on which we also find the fox, now an edible emblem.
Then discover the "35 Haussmann" Bûche made of a thin layer of white chocolate, a light mousse of almond milk, a compote of fresh tangerine, roasted almond paste, a hint of fleur de sel and a soft biscuit with almonds.
Be aware that this log, in the form of Haussmannian decorative moldings, is an exclusive to find at the store Yann Couvreur Galeries Lafayette Gourmet.
Horaires: Du 1 décembre 2018 au 26 décembre 2018
Tarifs à partir de : 32 €
________________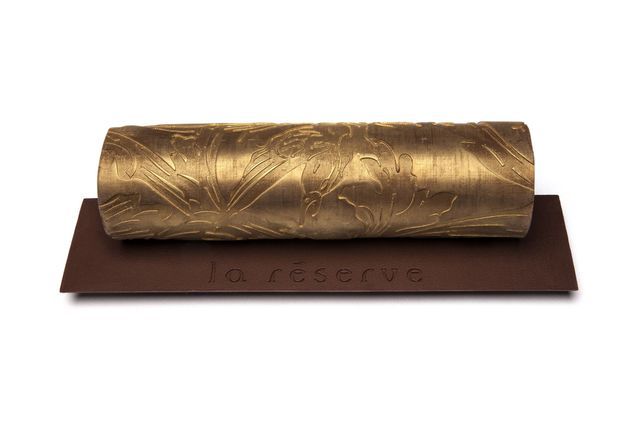 Beautiful and tantalizing: here's the creation thought up by La Réserve Hotel & Spa Paris team for these new Holidays.
Inspired by gold leather decorating restaurant Gabriel, La Réserve Paris two-Michelin star restaurant, the two chefs came up with a yule log perfectly reminds us of this both noble and elegant material.
Then, we discover a delicate coating covering the typical embossed design of gold leather.
In terms of flavors, the yule log bets on originality with Michel Reybier champagne as the main ingredient.
For the rest of this champagne yule log, chefs added exotic fruits flavors – mango, passion fruit, pineapple, coconut – to ultimately offer a blend of notes that are surprising and delicious.
This yule log is to be enjoyed obviously with a glass of Michel Reybier champagne!
Please note this yule log 2018 will be available at La Réserve Hotel & Spa Paris (upon booking) for €95 the yule log serving 6 to 8 people.
_______________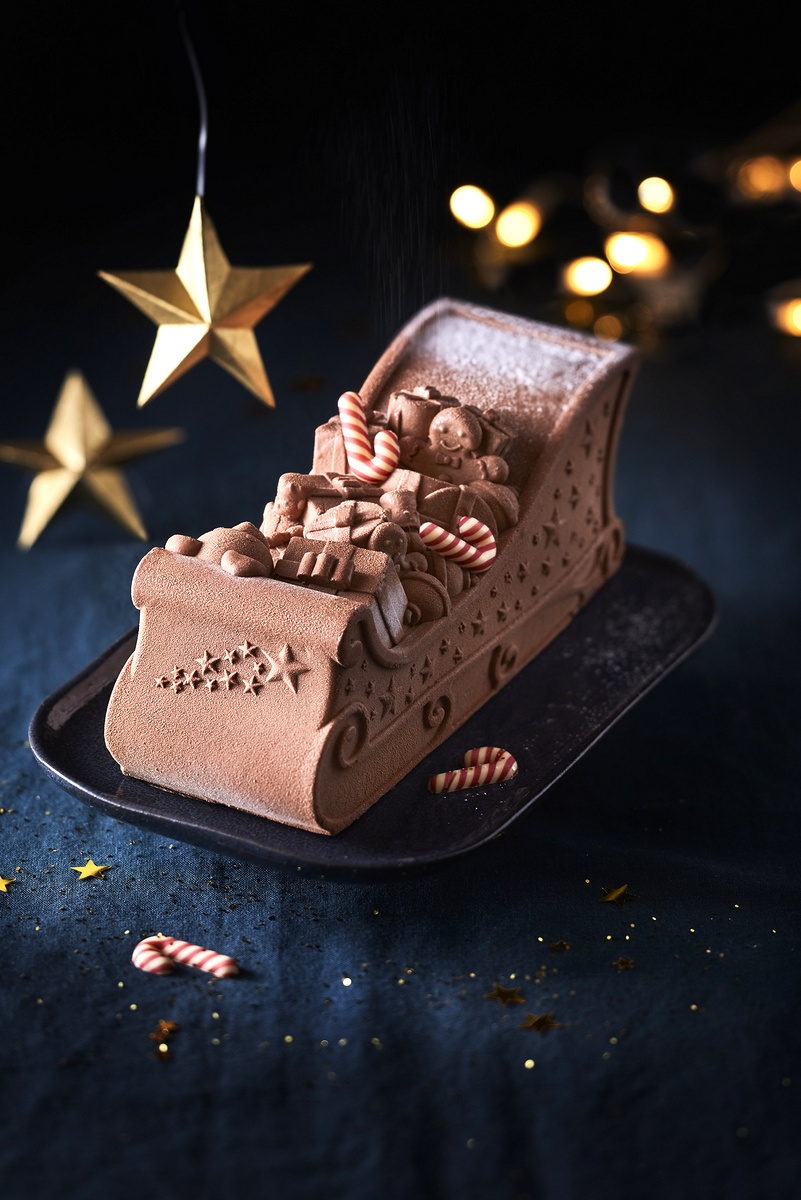 The Christmas dessert 2018 from Picard.
Santa's ice-cold sled (8 parts, € 17.95) is based on dark chocolate ice cream, vanilla ice cream, cocoa biscuit and hazelnut inclusions.
Depending on the stores, the yule log wil, be available from Friday, November 30, 2018.
_______________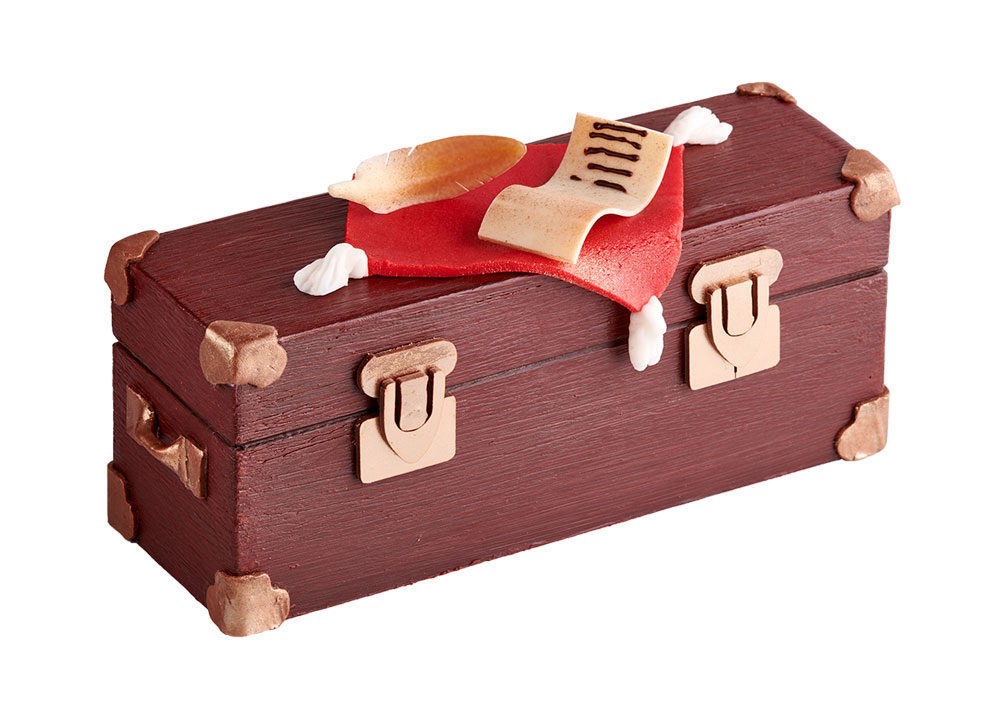 As always Maëlig Georgelin realizes a very figurative log. This year The Santa Claus Trunk available at the Little Prince in Auray, Etel, Baud and Carnac. Inside this chocolate trunk, we discover the gift of Santa Claus: a Black Forest revisited! A soft cocoa and chocolate-covered biscuit, a Dark Peru Chocolate melting cream, "Amarena" candied cherries, an ultra light vanilla cream and very thin dark chocolate leaves. Limited series, for 6 people 55€.
_______________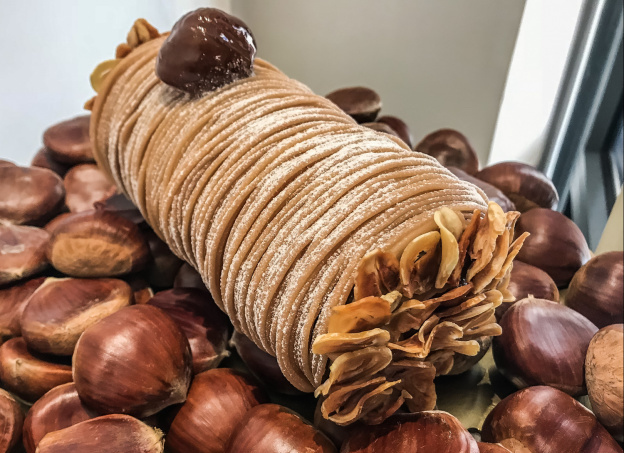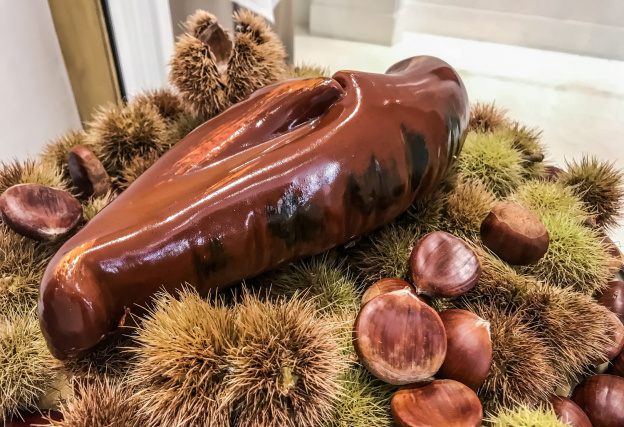 The Bûches de Noël et Galettes des rois of the Kings 2018-2019 Cédric Grolet au Meurice
This year, it is not one but 2 logs presented to us by Hotel Meurice's Cédric Grolet for the holidays of Christmas 2018. One for the shop and the other for the restaurant the Dalí.
This year, the talented chef returns to the traditional tastes of his childhood by highlighting the chestnut through revisit one of his signature dessert: Mont Blanc.
At the shop, you get the brown poached Christmas dessert: not always easy to work the iced chestnut without going to pastries too sweet. To overcome this, the chef chose to make his logs from the raw product. So he chose to work with his team the fresh chestnut to provide an ideal balance for his Christmas log.
The poached brown log, available to take away from December 18th.
3 to 4 people or 6 to 8 people. 50 euros – 98 euros.
Meurice pastry by Cédric Grolet, 6 rue de Castiglione 75001, Paris
From Tuesday to Sunday, from noon.
The Log with smoked chestnut is to discover at Restaurant Le Dalí, from December 5 to 31, 2018 (every afternoon from 15:30 to 18h except 25 December), lunch or dinner 25 euros per share.
Under a delicate chocolate shell, we find the mousse and its creamy heart with chestnuts as well as the crunchy chestnut cracker-lemon hazelnut praline.
*
p.s. Hey. People who've been attending this blog at length know that, when Xmas season rolls around and French patisseries set to outdoing each other with the originality and splendors of their special Xmas cake offerings, it's an annual tradition here to line up said offerings in the context of a beauty pageant type of post, and today is the 2018 edition. Like I (and local friends) do every year, I/we will be purchasing and eating probably two (or three) of the contestants. While I look them over and mull, you are invited to window shop or vote for your favorite or whatever you like. In any case, that's your local weekend. ** David Ehrenstein, Mahler would have had a field day. If he didn't. There are also a shitload of extremely terrible French films that will never be released or seen outside of France that cavort in that setting. ** Bill, You're like the little Dutch boy with your finger in the leaky dam, god love you. The Meinhof book is gorgeous, right? Yeah, Martin and Karolina's books are always sights to behold at the very least. Pray tell what events you hit this weekend. I'll do the same, starting with Hatsune Miku 'live' in concert tonight. ** MrsKeatonclaus, I can tell. And you're festivizing me too. Me too, on the jeans. I'm spooked by the idea that Gap could go out of business. One of the problems with La Defense is that, after you check it out visually, do a 360 and so on, there's nothing there. It makes the Champs Elysee seem like the bad part of town. It's like Epcot. Twink bottoms are like Pret a Mangers, who do make a very good egg salad sandwich, to be fair. Except pickier. I'll be off to enjoy the gray and chill at some point. May our psychic paths cross. ** Dominik, Hi, Dominik! I'm good, how are you? Apparently it snowed for about 20 seconds the other day in the part of Paris where Zac lives but not in mine. Do you prefer the shop dead or crazy? I'm betting dead? My week was okay. I did go to the Xmas Fair just last evening. It's shockingly pretty and enjoyable. They did a very good job. It has all the usual Xmas-y huts selling scarves and hot wine and raclette and trinkets and stuff, and they also have lots of rides, even a Xmas-themed dark ride. I might go back. Otherwise, it's mostly been TV script work which remains a total pain, but oh well. Tonight I'm going to see the Japanese holographic pop star Hatsune Miku in concert, and that should be cool, especially because every Cosplay kid in Paris will be there decked out and excited. Have a fantastic weekend doing everything you most want to do! ** _Black_Acrylic, Hi. Yes, I will re: Glasgow. I'm excited too! I was thinking that your class seemed really,  really short, so I do hope they do the logical and right thing and extend it. ** Steve Erickson, France has a paucity of streaming services, or good ones. There's been talk of the Cinematheque possibly starting one, which is hugely sensible and would be great, and it would be government funded and therefore doable with high quality even. Great about your editor's enthusiasm! I don't know Tropical Fuck Storm, no. Hm. Not sure if I'm in the mood for that sort of sound, but I'll dip and see, thanks. Yeah, the raves on the new 1975 album are nuts. They're pretty clever, maybe too so? The new 10cc? So maybe it's warranted? ** Misanthrope, Happy that one of my boys put stars in your … eyes? Oh, right, I remember that film now, or I remember you or others talking about it. Right. Okay, wow, LPS is being a total asshole. Sorry, but, yeah, he sounds like a Trumper without the politics. That's disappointing. Ugh. ** Okay. You're invited and welcome to be the judges of this year's Buche crop, if you're so inclined. See you on Monday irregardless.