______________
Steven Quinn Clown Face (2014)
'In his series Clown Face, the artist creates new, more cheerful characters, for old actors and actresses. Using found images of old Hollywood's stars, he stencils clown makeup over their faces, with spray paint.'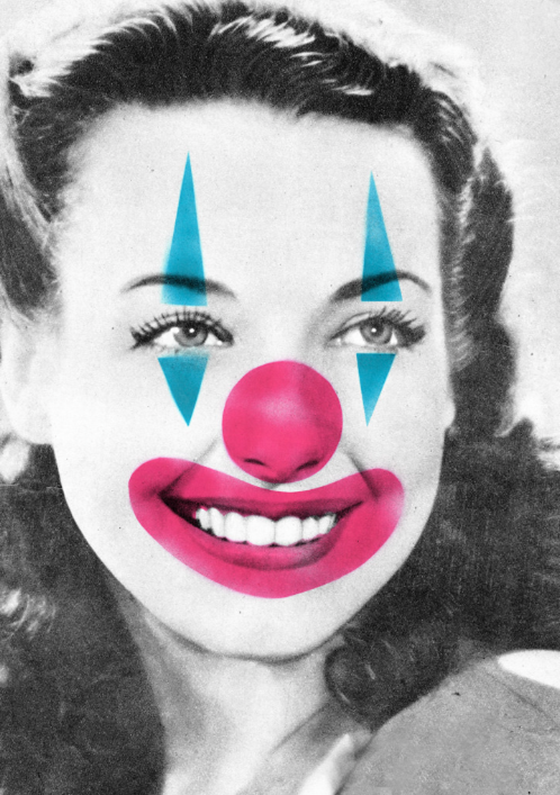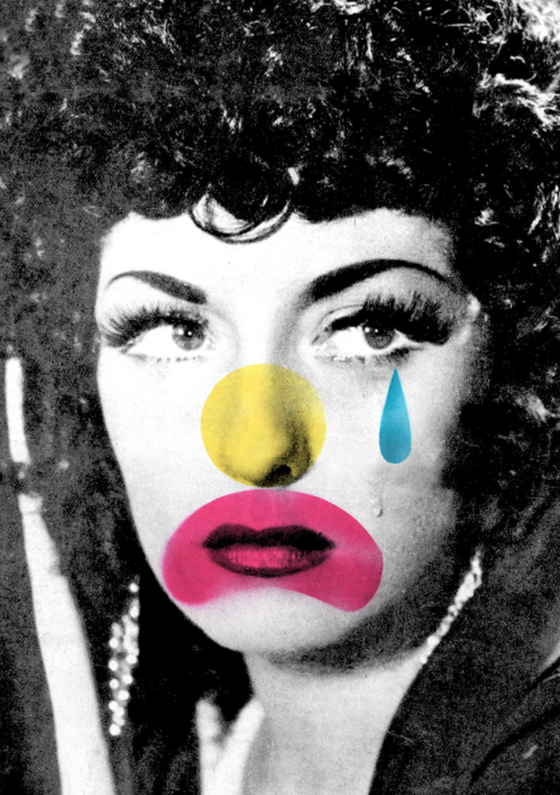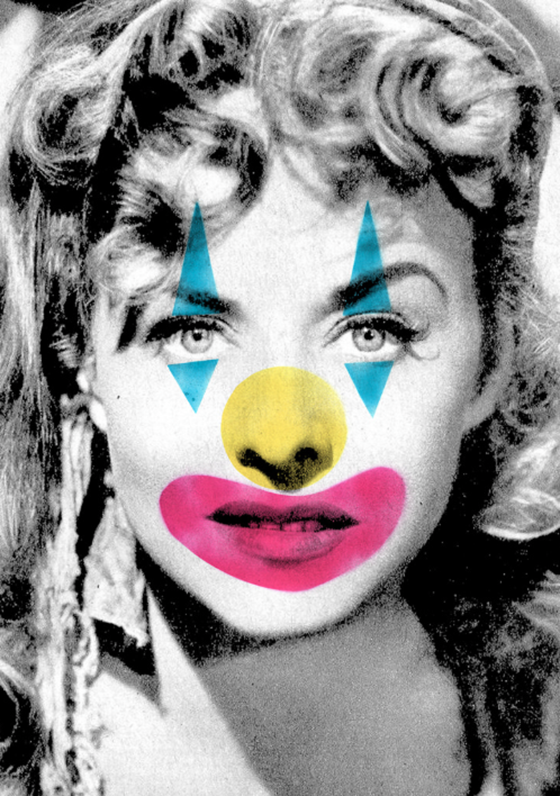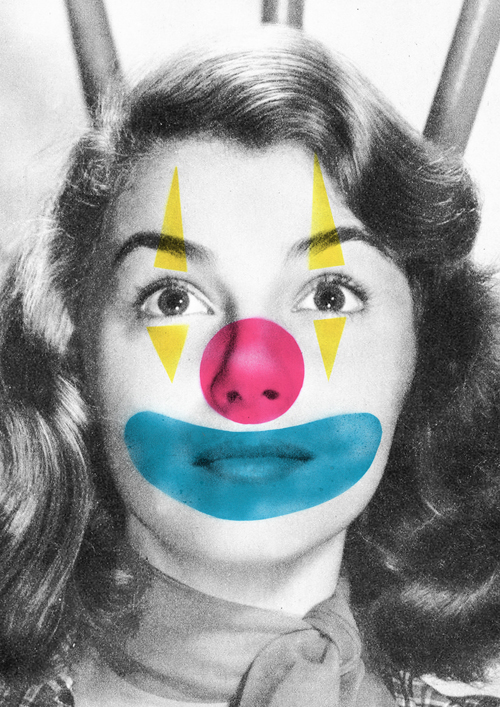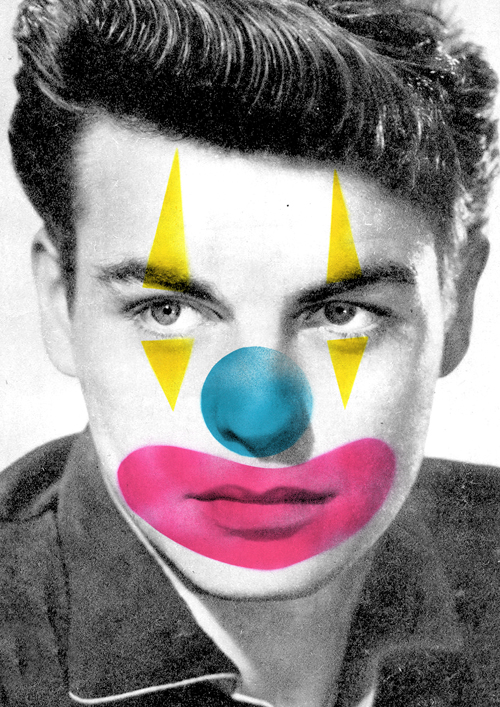 ______________
Yishai Jusidman Clown Spheres (1990)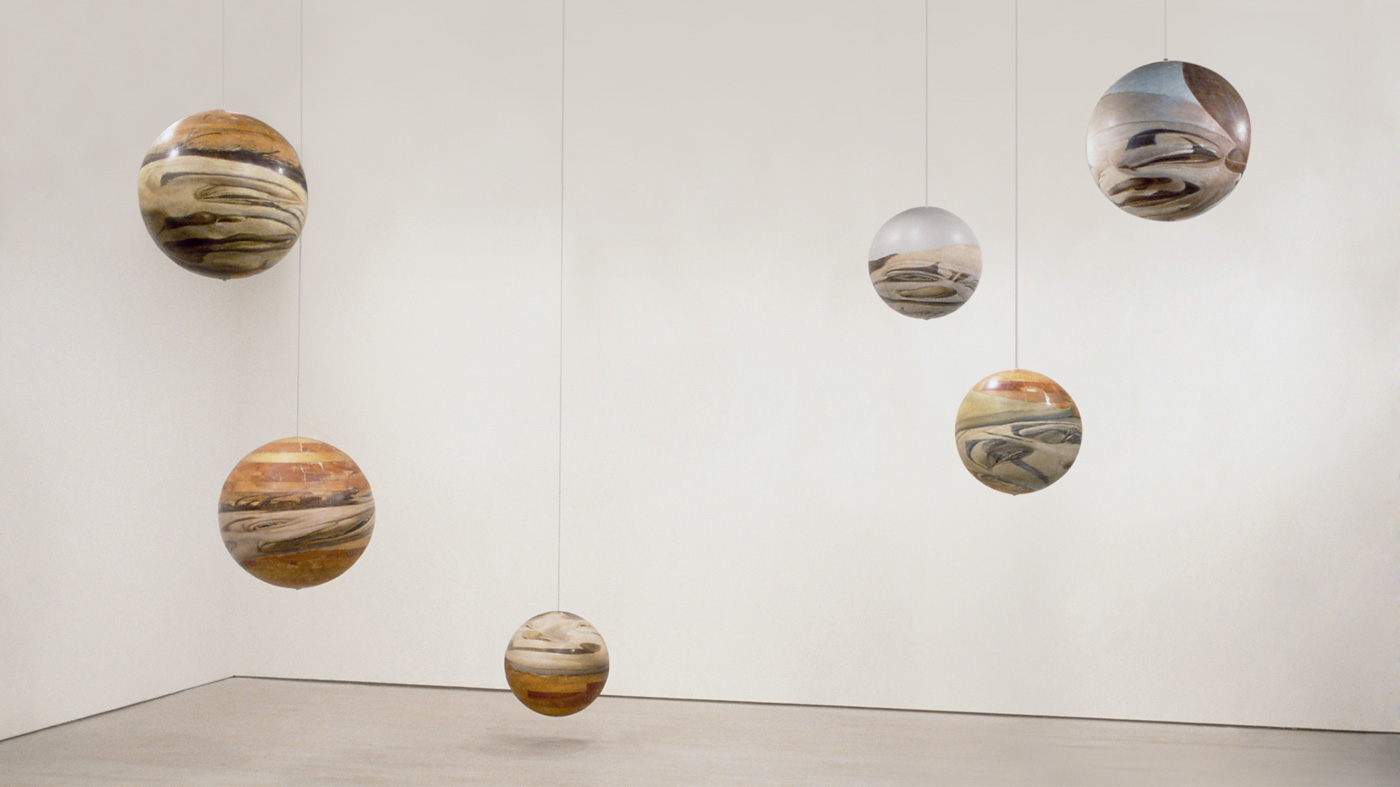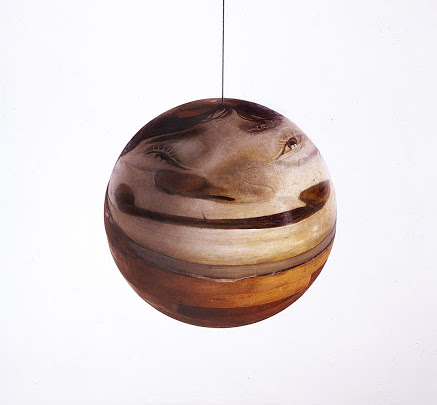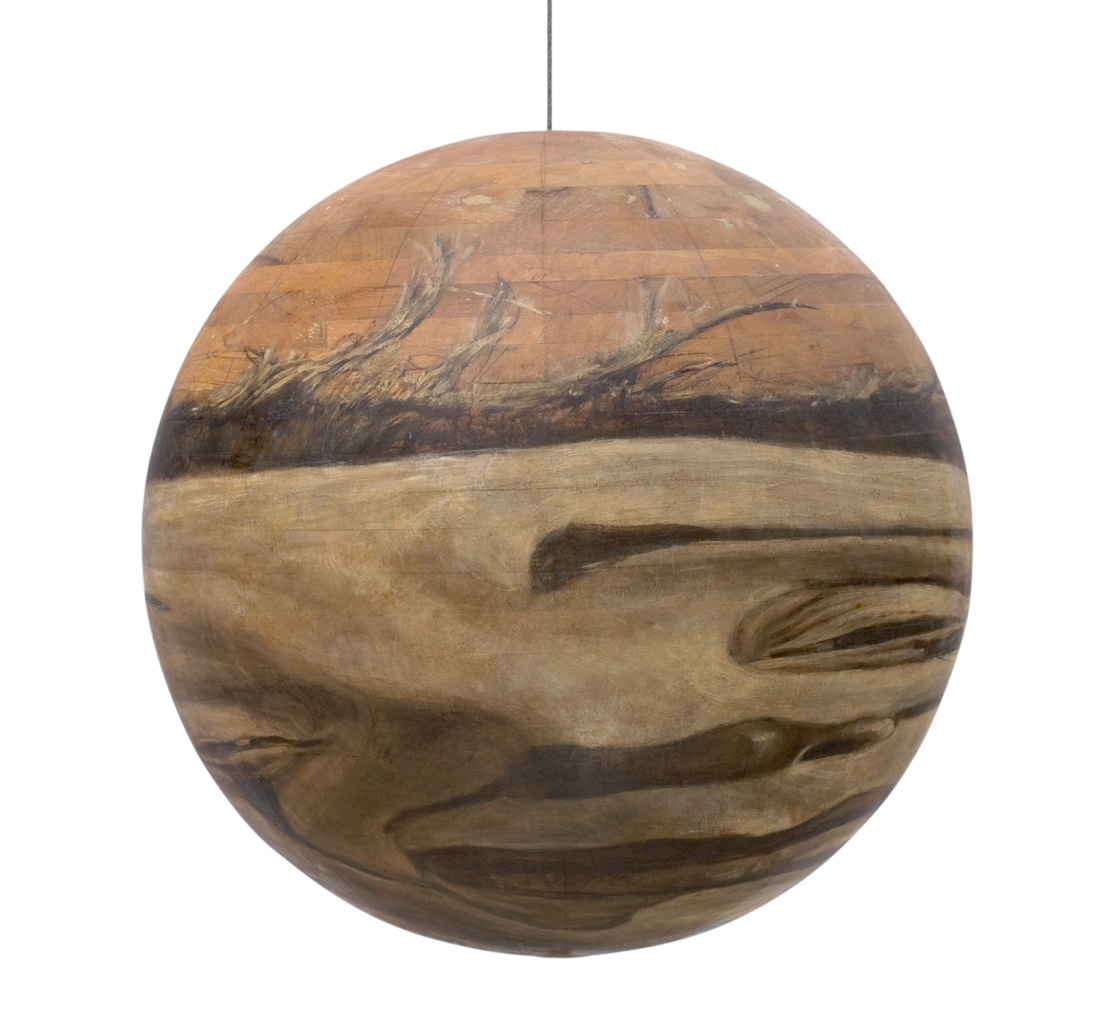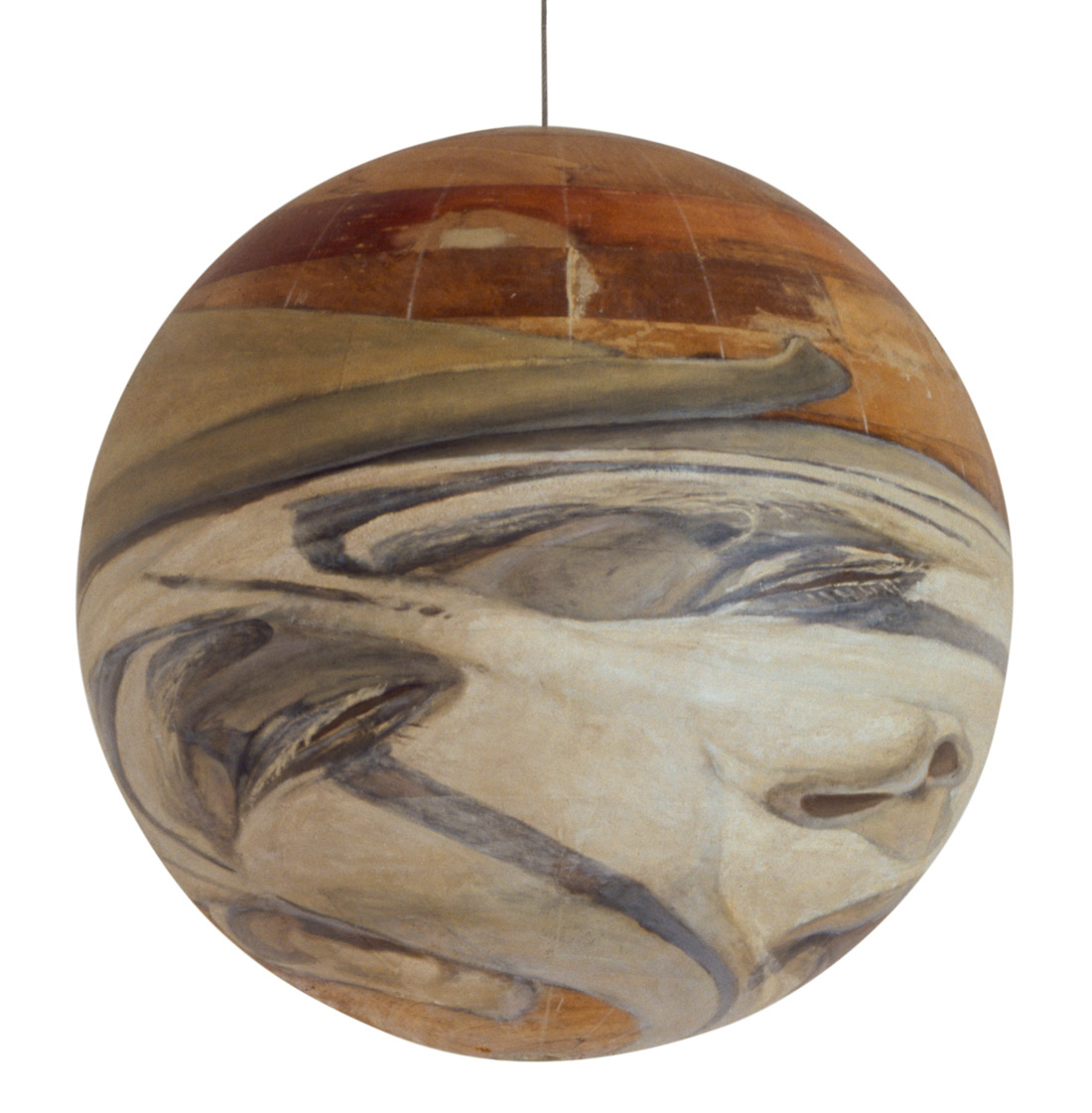 ______________
Clown Core Hell (2018)
'Clown Core perform their song "Hell" while inside of a large Porta Potty. According to Urban Dictionary, clowncore is a style of music "having fast paced beats and usually containing a combination of D'n'B, trance, hip hop, acid, and circus music."'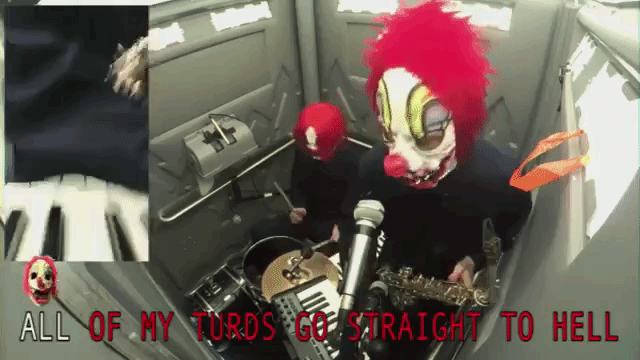 ______________
Cindy Sherman Various (2003)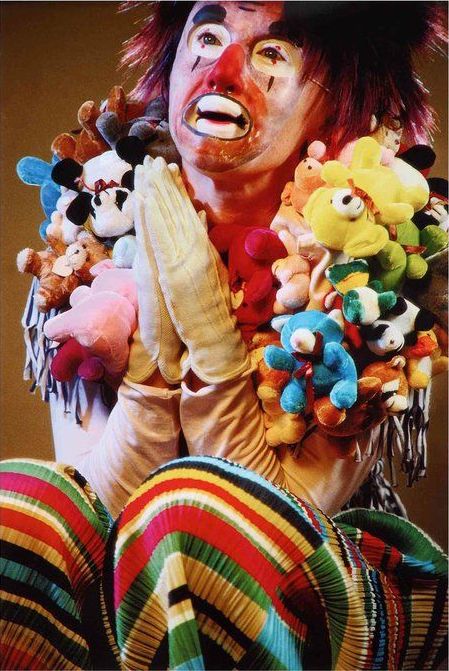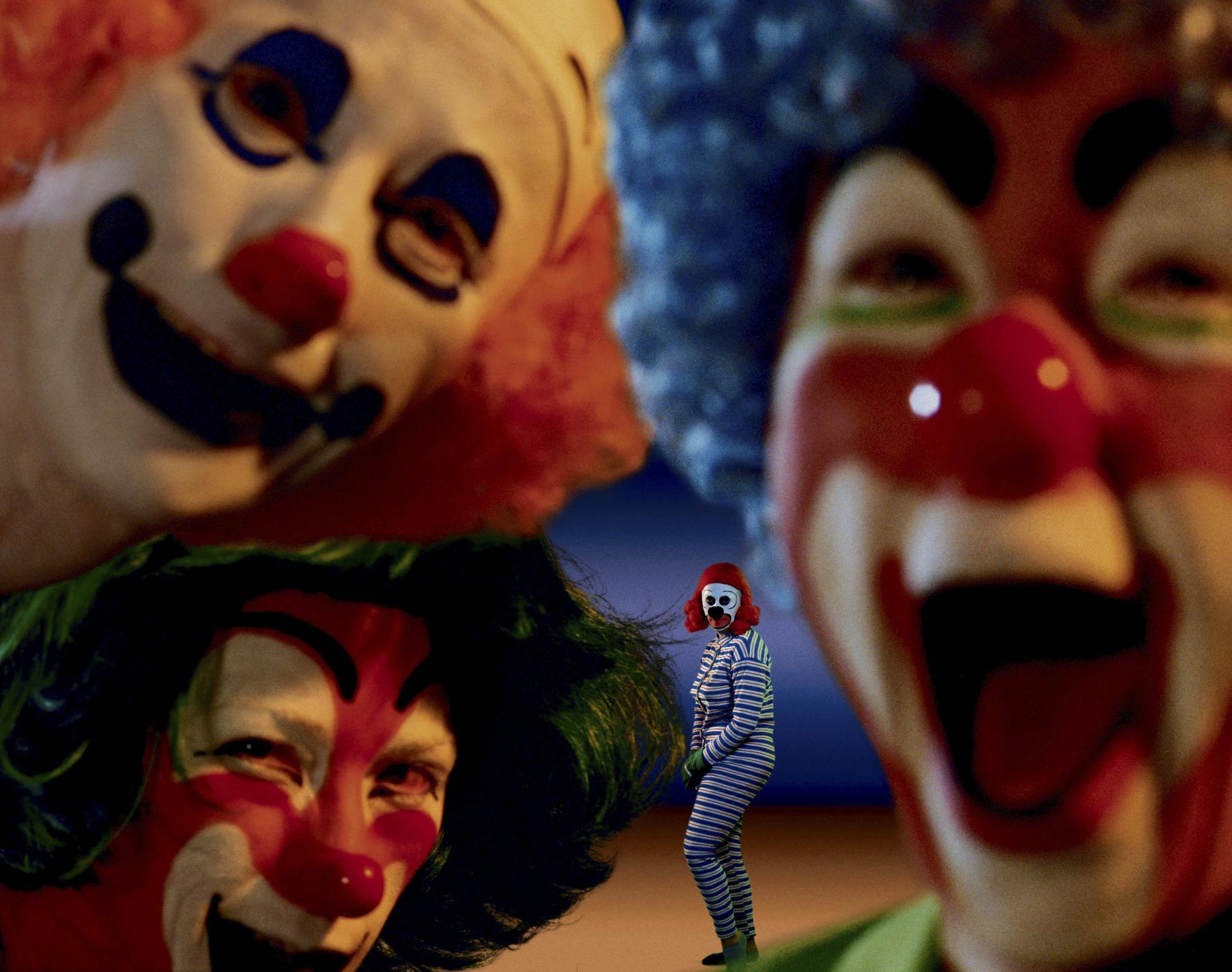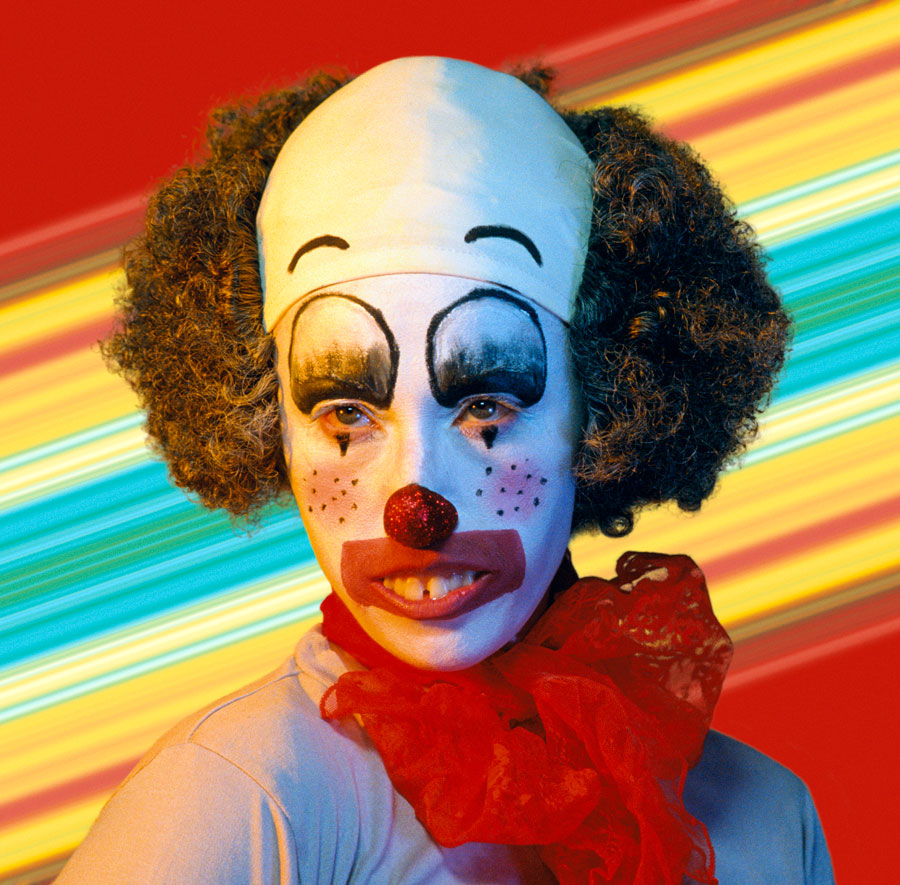 ______________
Aziz + Cucher By Aporia, Pure and Simple (2011)
'By Aporia, Pure and Simple is a multi-channel video installation in which Aziz + Cucher appear in an absurdist, clownish performance that alludes to the daunting and seemingly futile task of engaging with existential questions as they piece together video footage from their travels to the Middle East.'.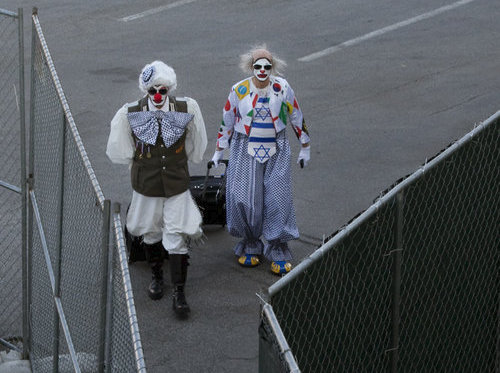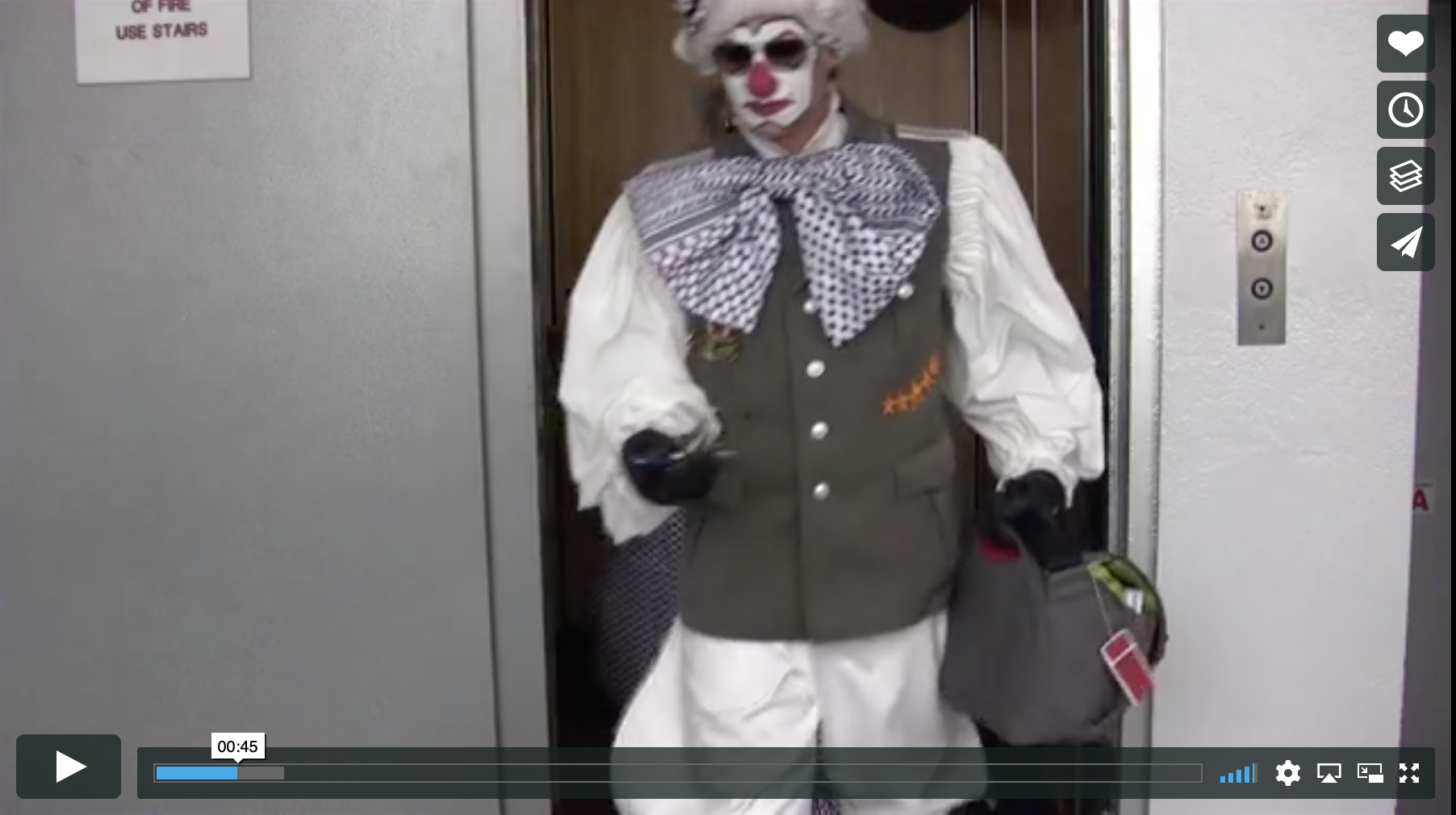 ______________
Allison Schulnik Clowns (2008)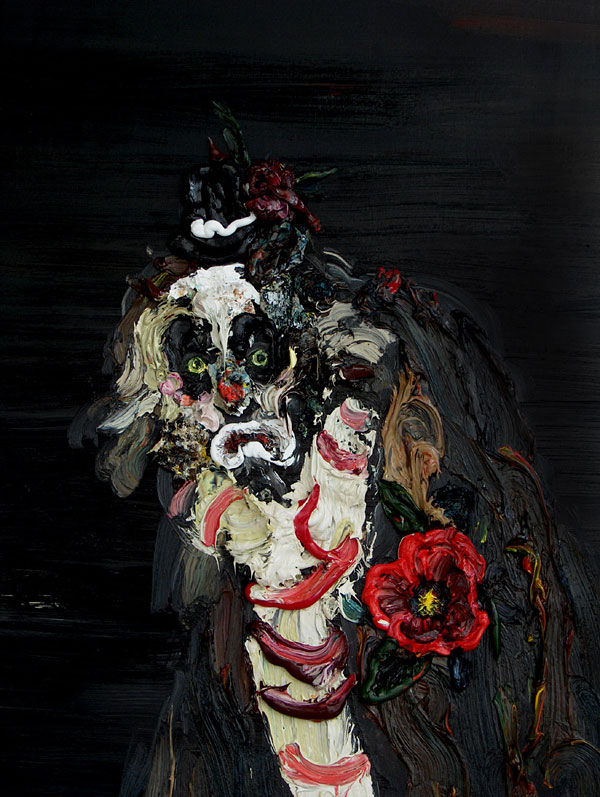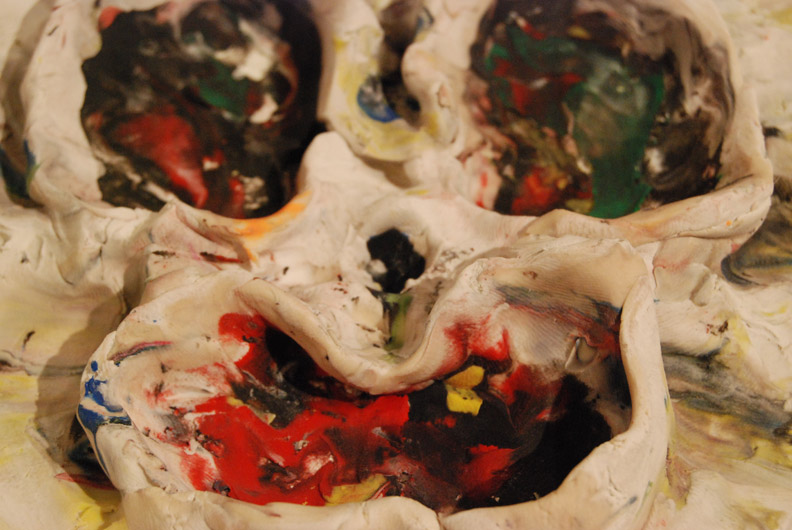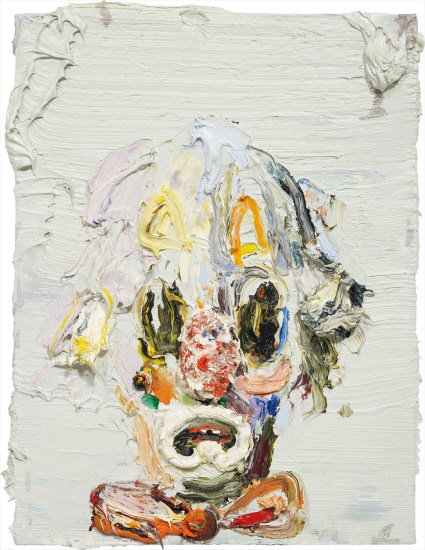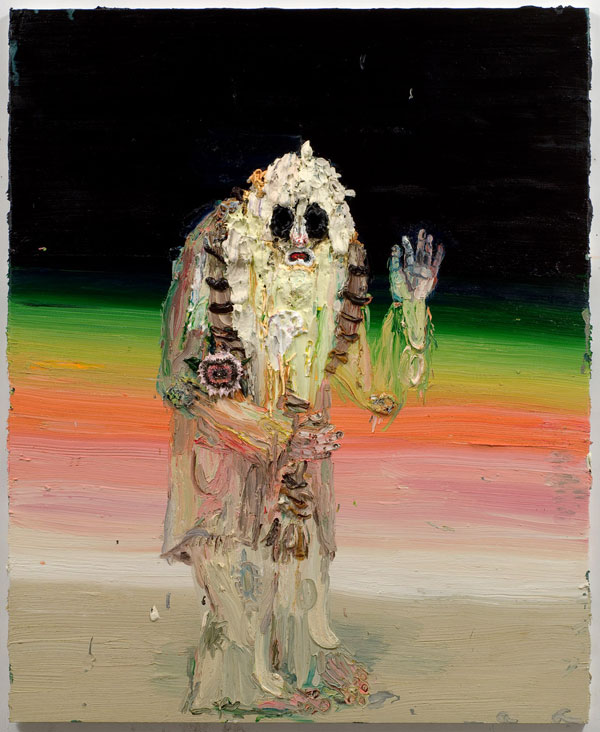 ______________
Llefen Carrera Clown (2019)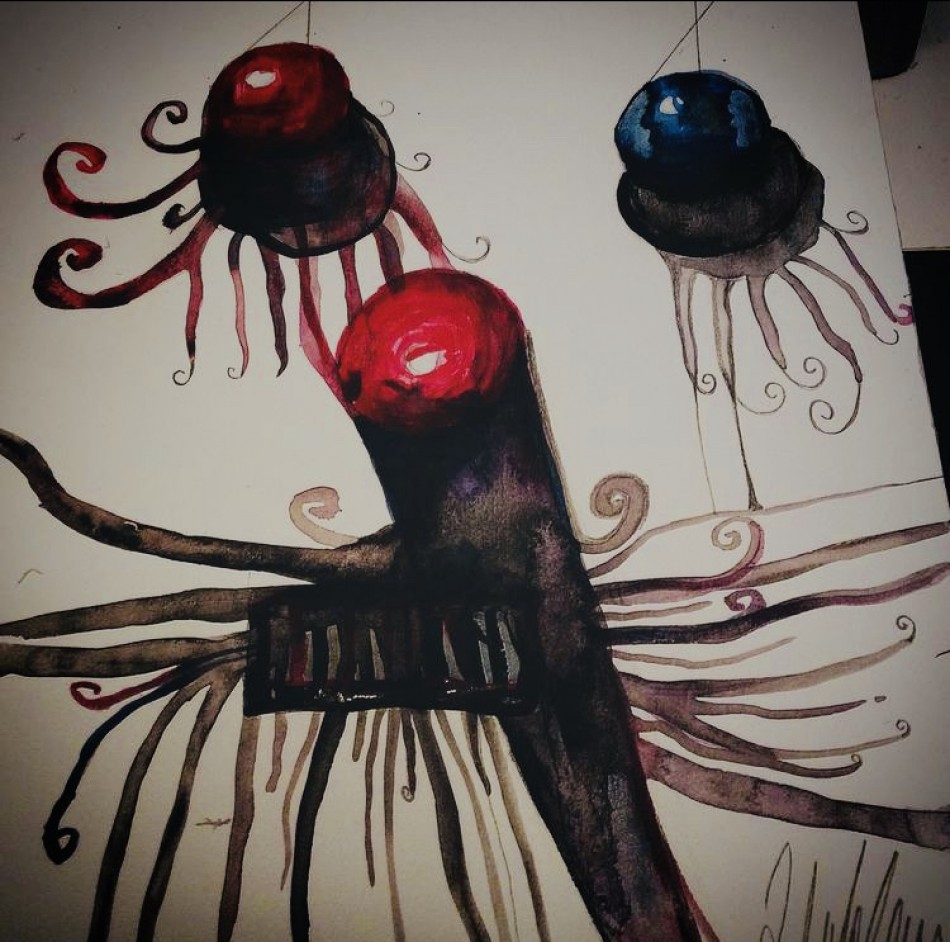 ______________
Piek! Clown (2001)
'Clown is an installation in which the spectator is one of the main characters. When looking through a peeping hole in a blue wall, one sees a projection of a forest. In that forest a half naked clown is trying to get her trousers out of the trees, in which she almost succeeds. It seems that she isn't enjoying her 'act' but what the reason of the 'act' is doesn't become clear. The clown isn't the only one in the forrest: the spectator is also appearing in the projection. He /she is watching from behind a tree at the jumping clown.'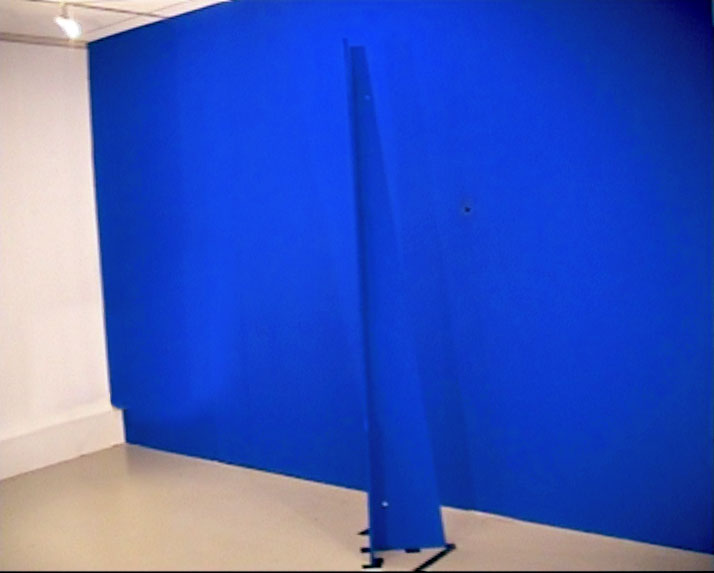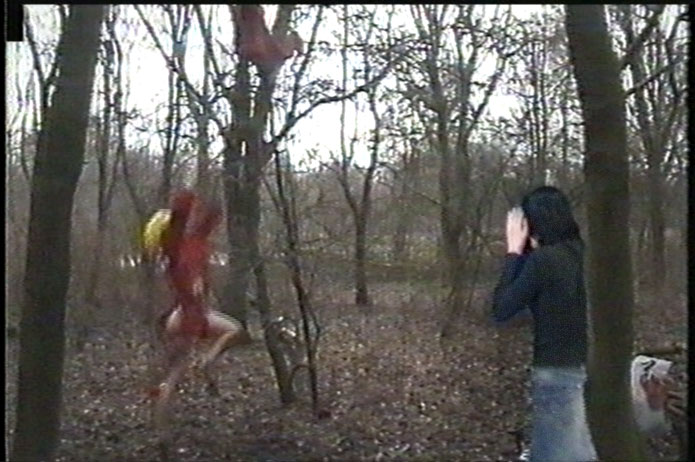 ______________
Tim Shaw The Birth of Breakdown Clown (2017)
'Breakdown Clown is an outsider, a bit like a priest or a shaman or a therapist. The program malfunctions, data gets mixed up, and out of the mouth of the clown come wonderful nuggets of truth mixed up with verbal madness. The clown doesn't look like a clown, and that's OK—clown imagery is not for me, it's too decorative. I'd intended a large, perhaps asexual figure, but in its present form, it's quite masculine, although that might change.'
______________
Wayne Thiebaud Clown Paintings (2000 – 2018)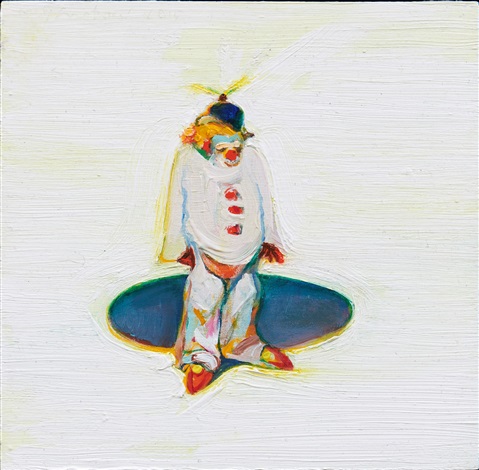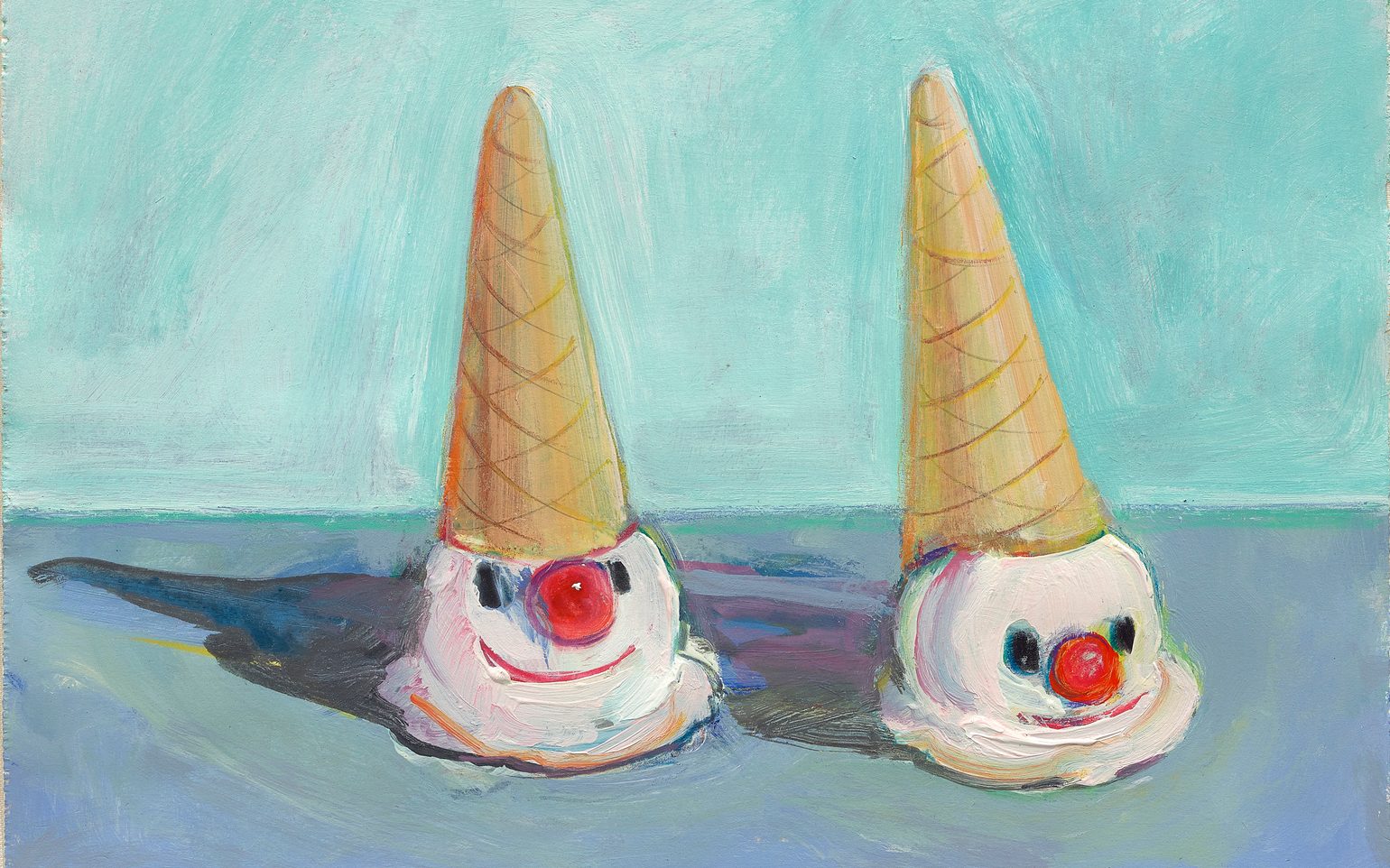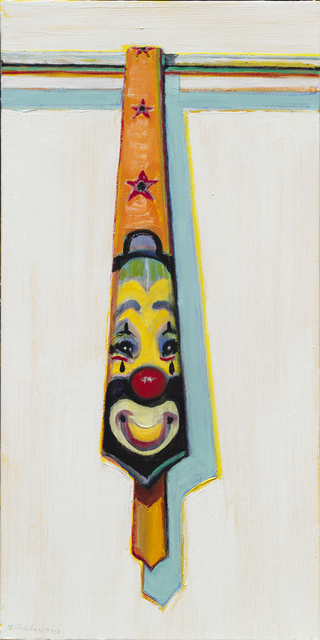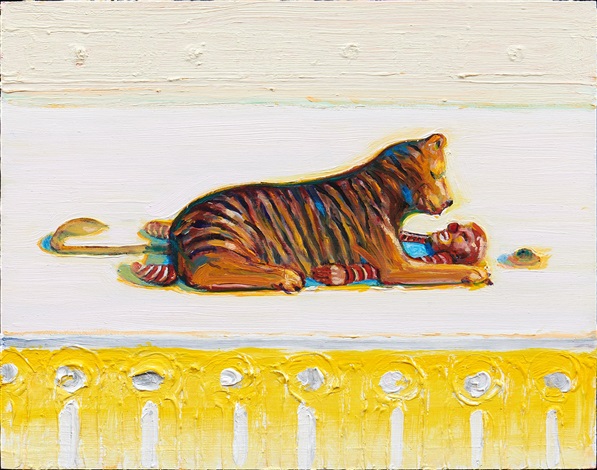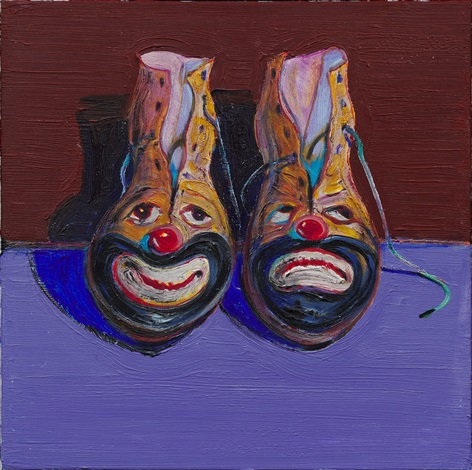 ______________
Brian Whiteley Clown Masks and Performances (2016)
'Performance artist Brian Whiteley dresses up as the clown of your worst nightmares in order to explore ideas of fear and phobia. You may not see him at first, as he lurks in a Chicago graveyard on a brilliant, spotless day. It takes you a few moments to spot him as he passes from gravestone to gravestone. The sun is bright, and at first he's just a coloured speck, distinguishable by his trio of balloons and oversized clown costume. Whiteley is a former clown himself (he attended clown school at the age of 12).'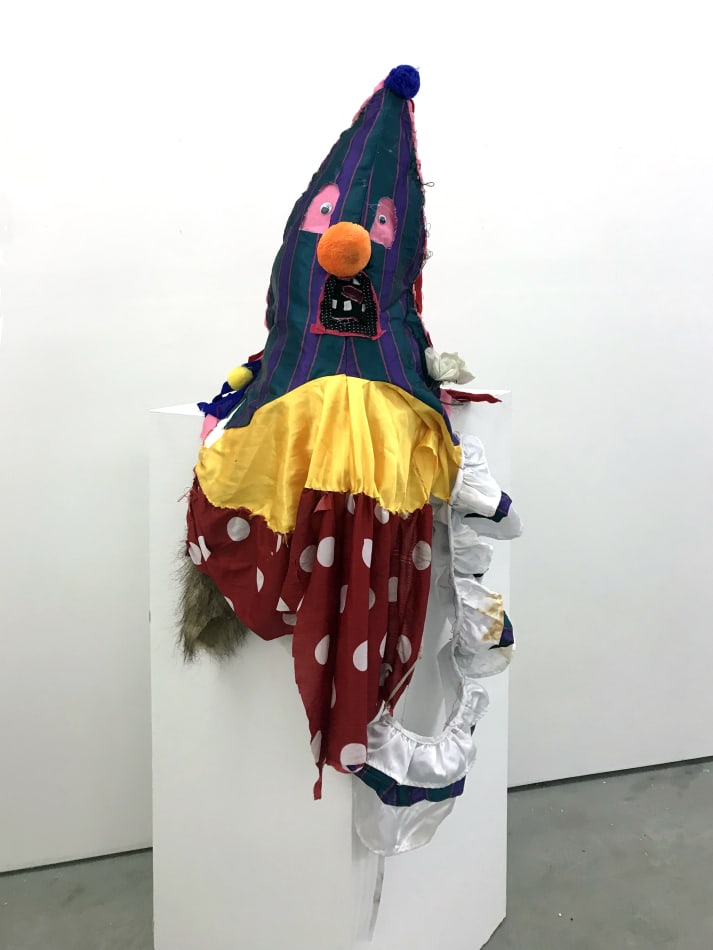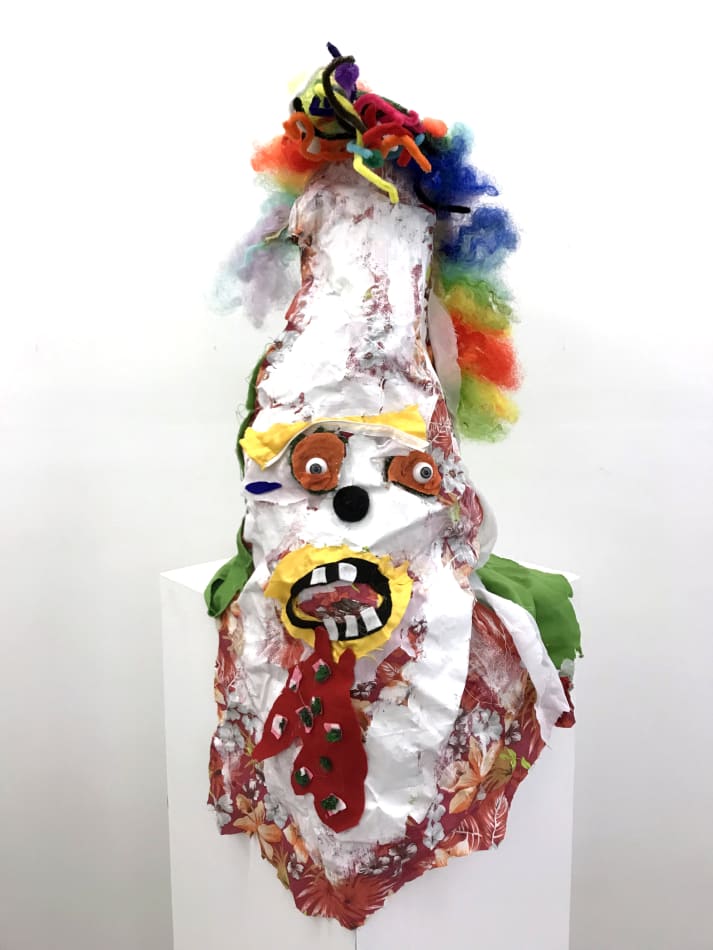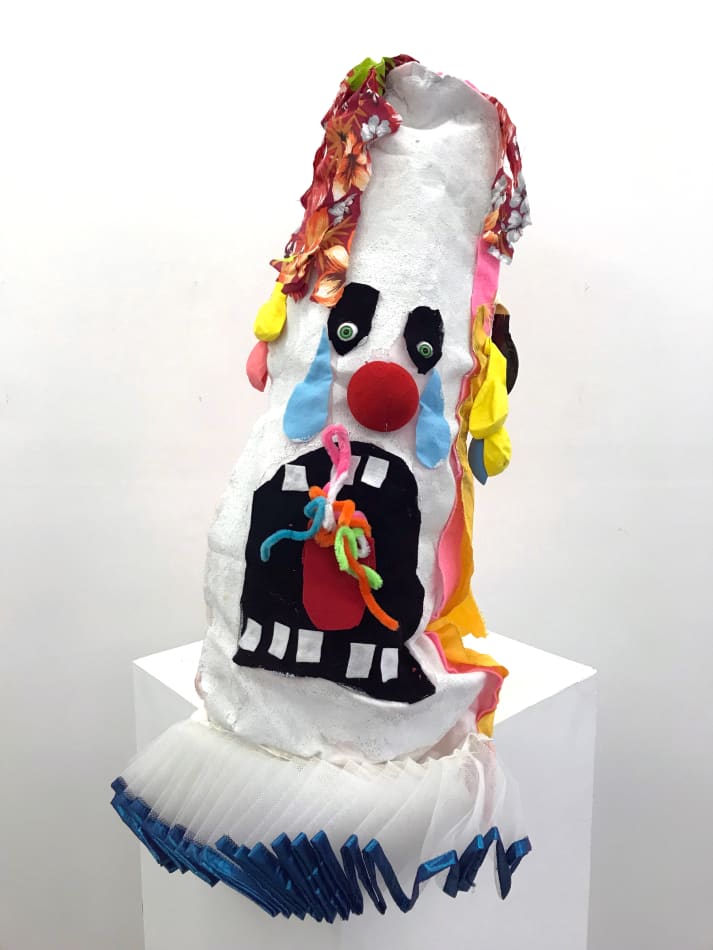 ________________
Lucio Fontana Clown (1949)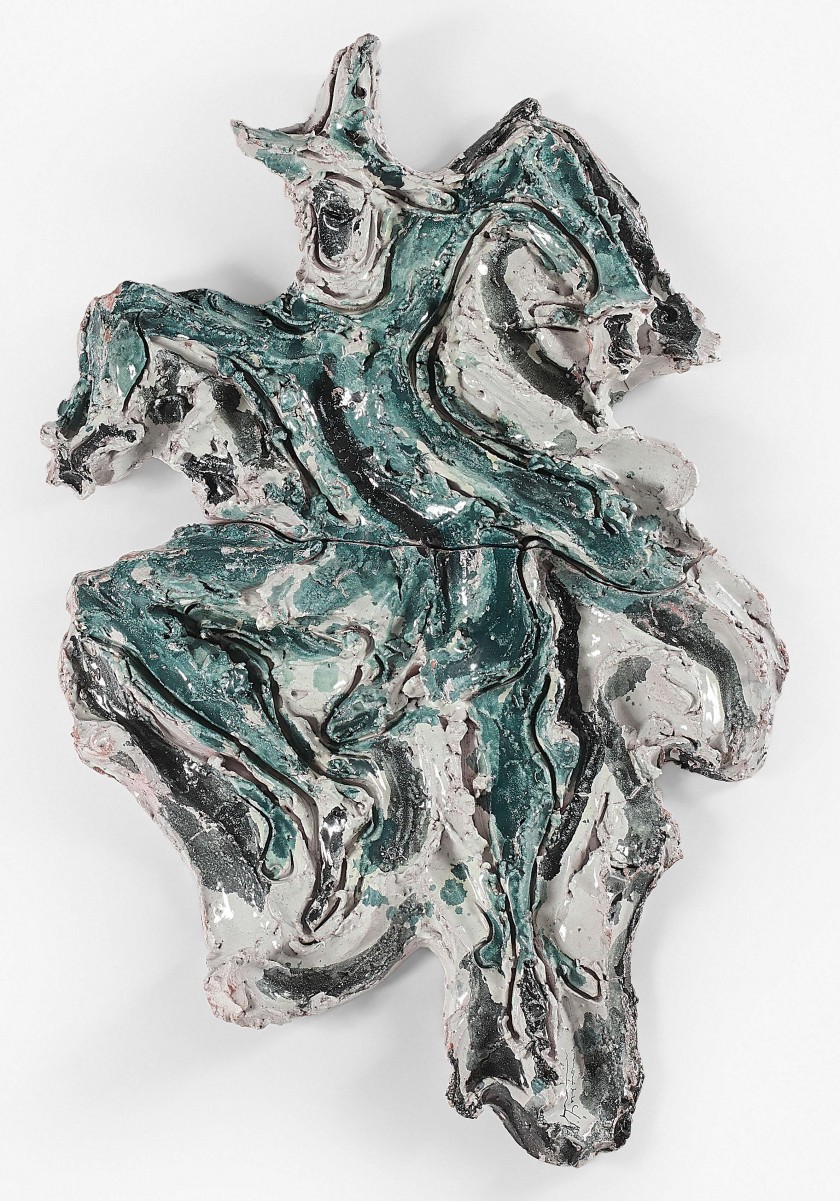 ________________
Ugo Rondinone let's start this day again (2017)
'Life-size clown sculptures pose within a gallery to emphasize their introspection and melancholy. In a world that seems increasingly divided between scary clowns and jovial ones, Rondinone provided a third choice: silently contemplative clowns. His exhibition saw 45 of these unsettlingly life-like sculptures — with closed eyes, red noses and Pierrot-white faces, dressed in a riot of neon, sequins, tulle and teeny, tiny black hats — lost in a surrounding world of color so intensely alive it should make them want to jump and dance… but they didn't.'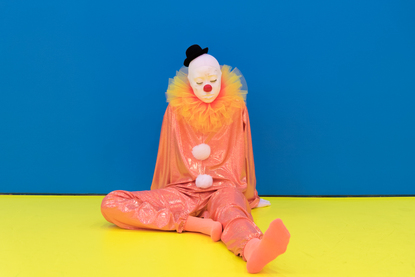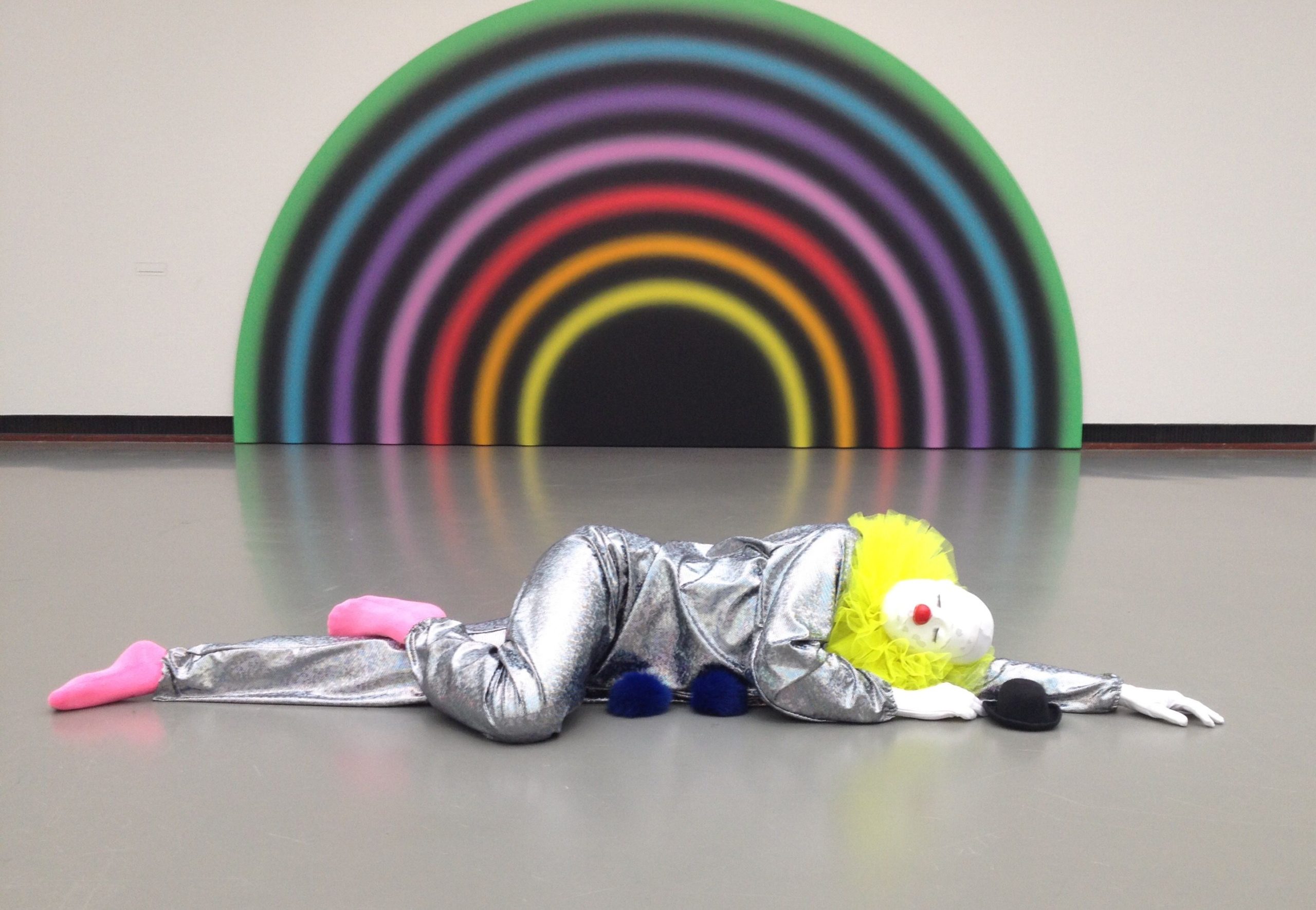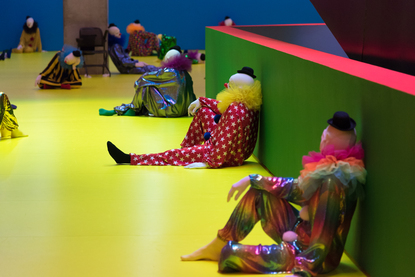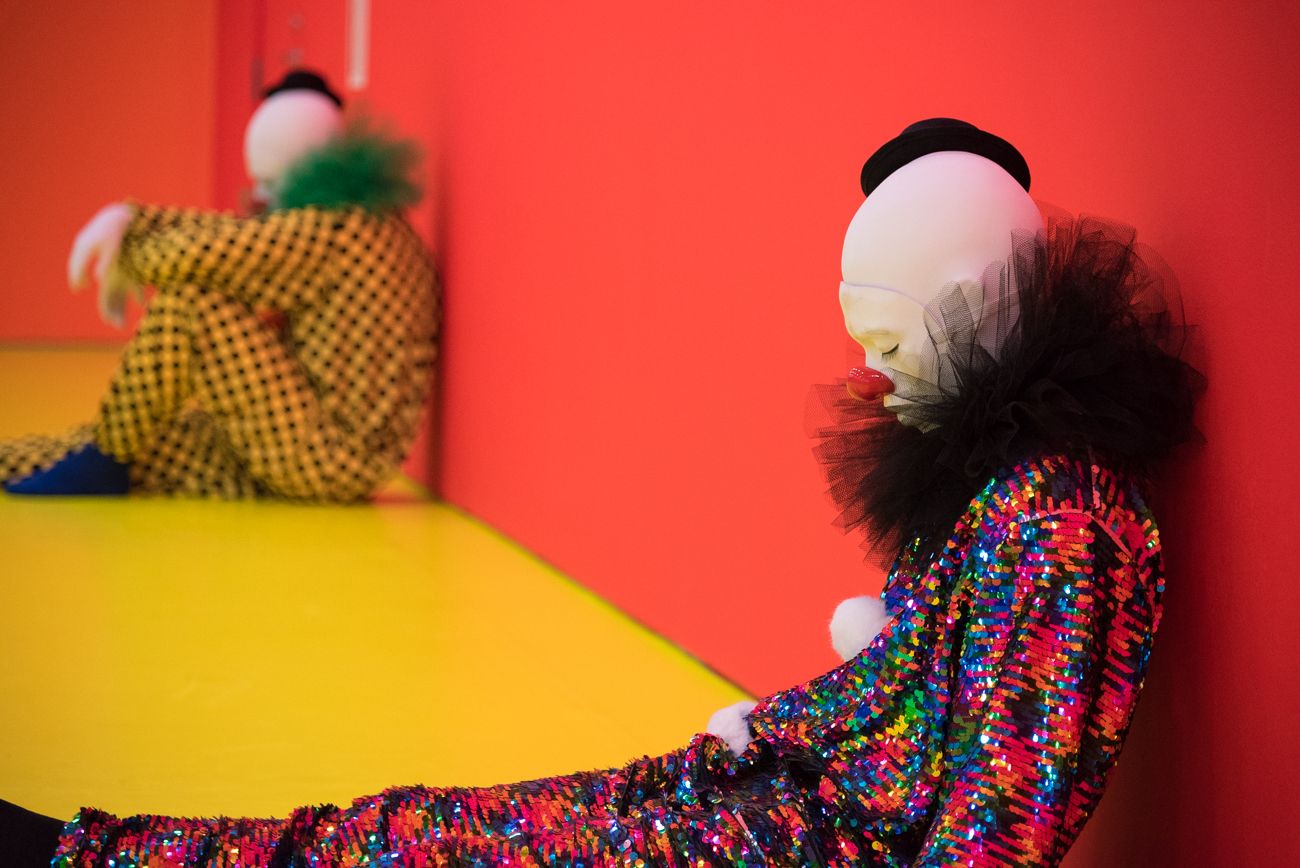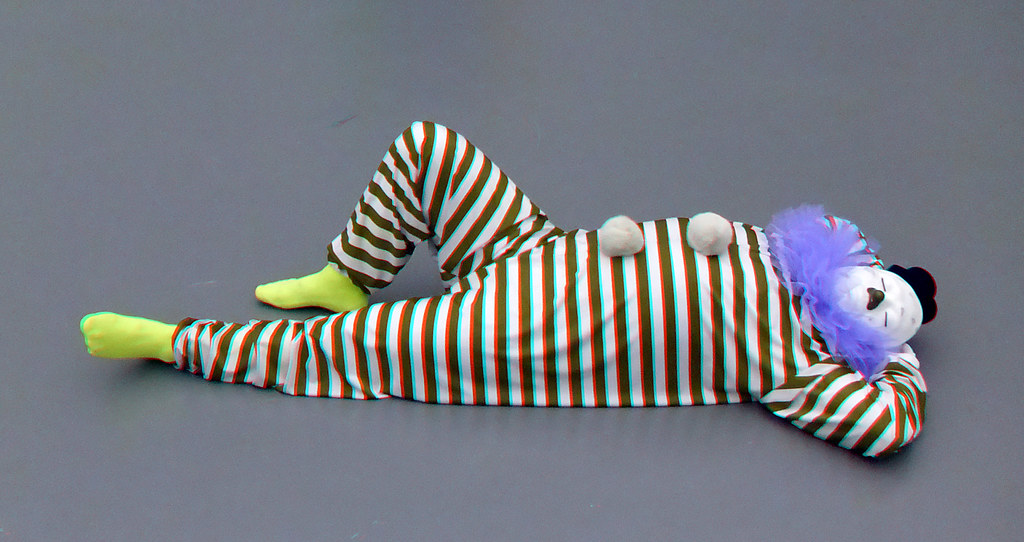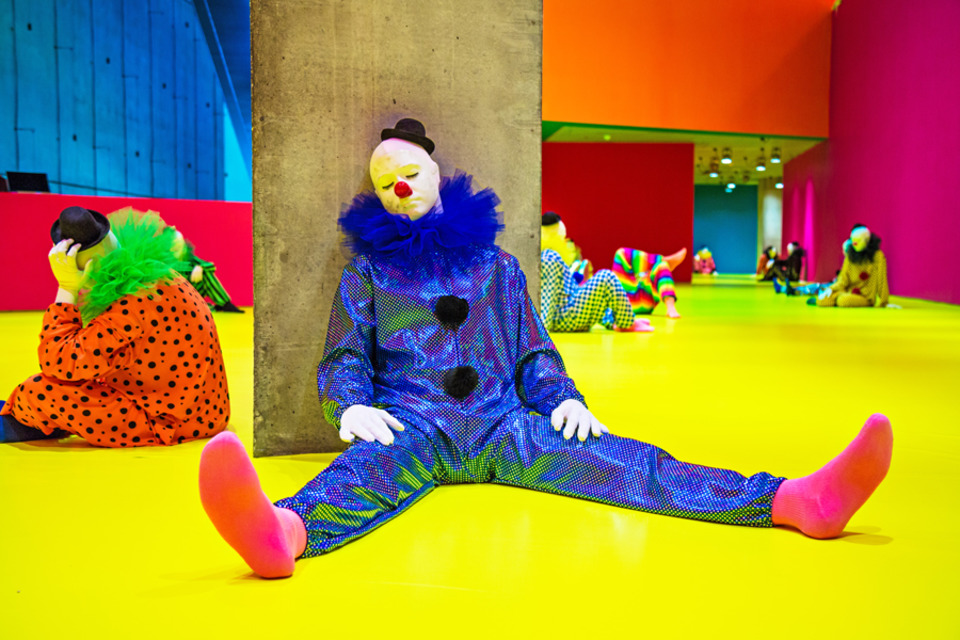 ________________
Larry Ogle Bear Problem – SOLVED (2017)
________________
Jani Leinonen Mc Jesus, Mc Buddha (2019)
'On Friday, the 11th of January, hundreds of Christians demonstrated in front of the Museum of Modern Arts of Haïfa, Israel, protesting about the exhibition of a piece of art entitled "Mc Jesus" that depicts a crucified Ronald McDonald. The people who participated in the manifestation tried to break into the museum to remove the blasphemous piece of artwork but were restrained by police.'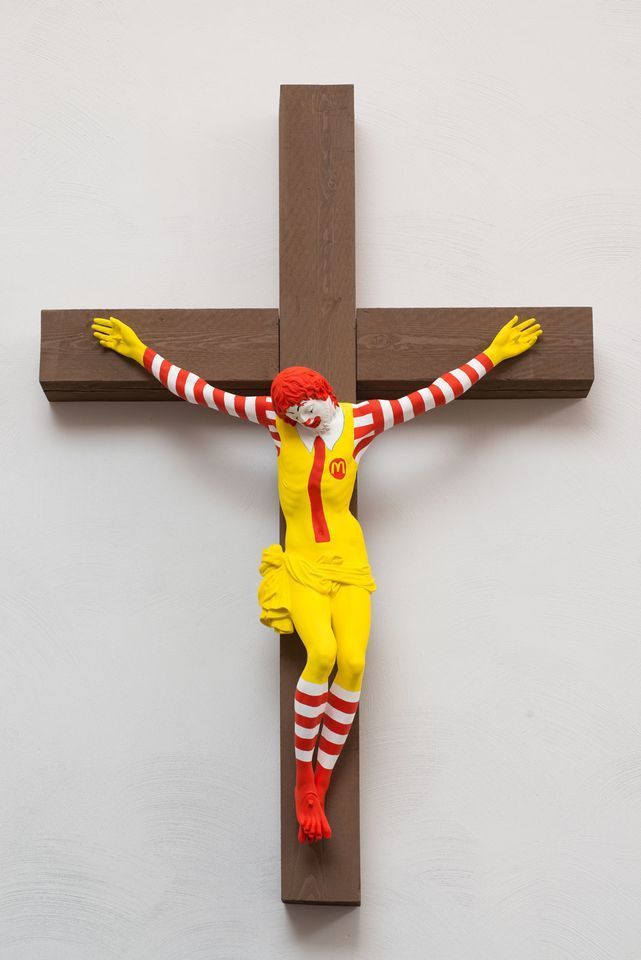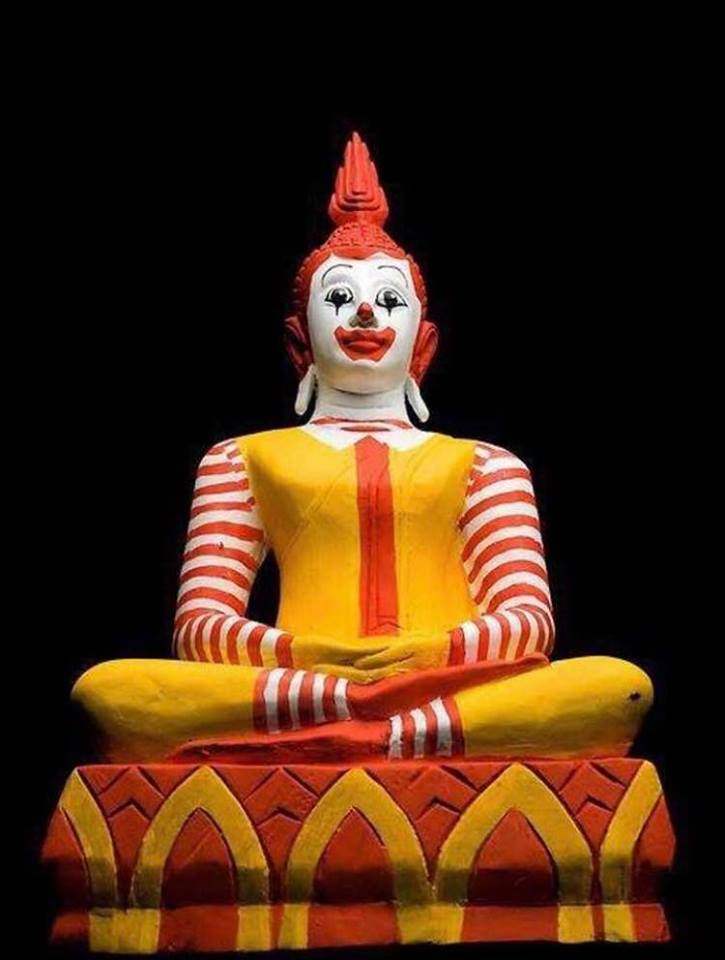 ________________
James Ormsbee Chapin The Merry Clown (1941)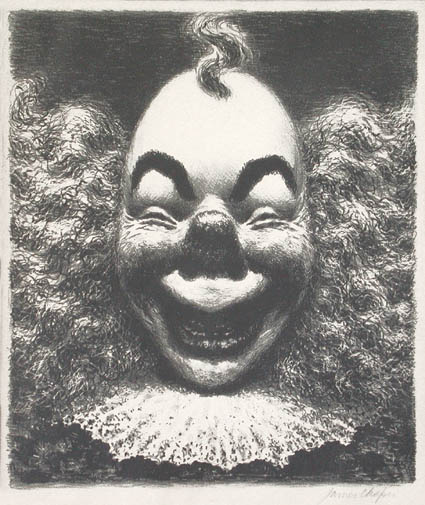 ________________
Marnie Weber Giggle of Clowns (2009)
'In the fairytale of Marnie Weber's Giggle of Clowns (2009), a group of twelve surrounds a flower-laden corpse, shocked at the prospect of adventure without their ringleader. This corpse has returned to her higher calling to lead her all-female rock band called The Spirit Girls on their quest for spiritual salvation. The clowns are aghast: the fun is over.'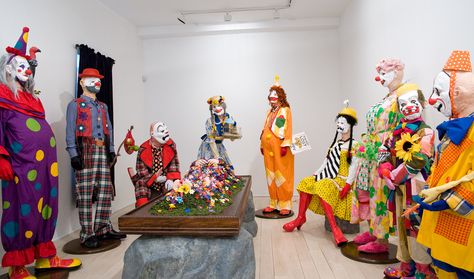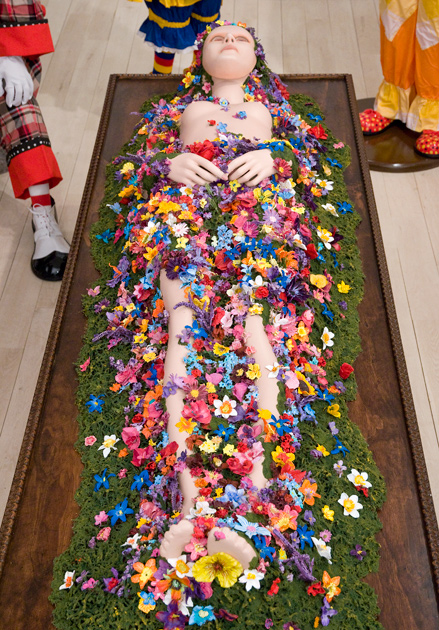 ________________
Kathryn Andrews Run for President (2016)
'The title of LA-based Kathryn Andrews's first solo museum show in the US refers to a presidential campaign by—surprise!—Bozo the Clown. Fifteen seductive yet chilling sculptures, made since 2011, many of which amend certified movie props (among other political footballs thrown from the collective unconscious), will be appointed to a wild exhibition narrative for which Bozo's largely forgotten 1984 bid serves as a backdrop.'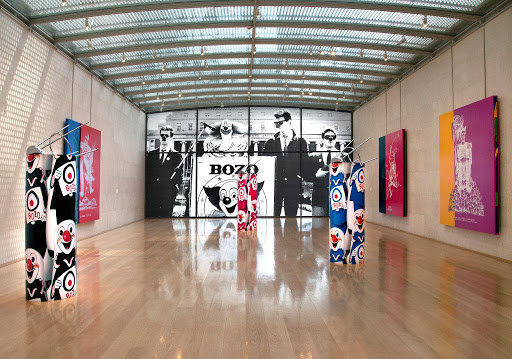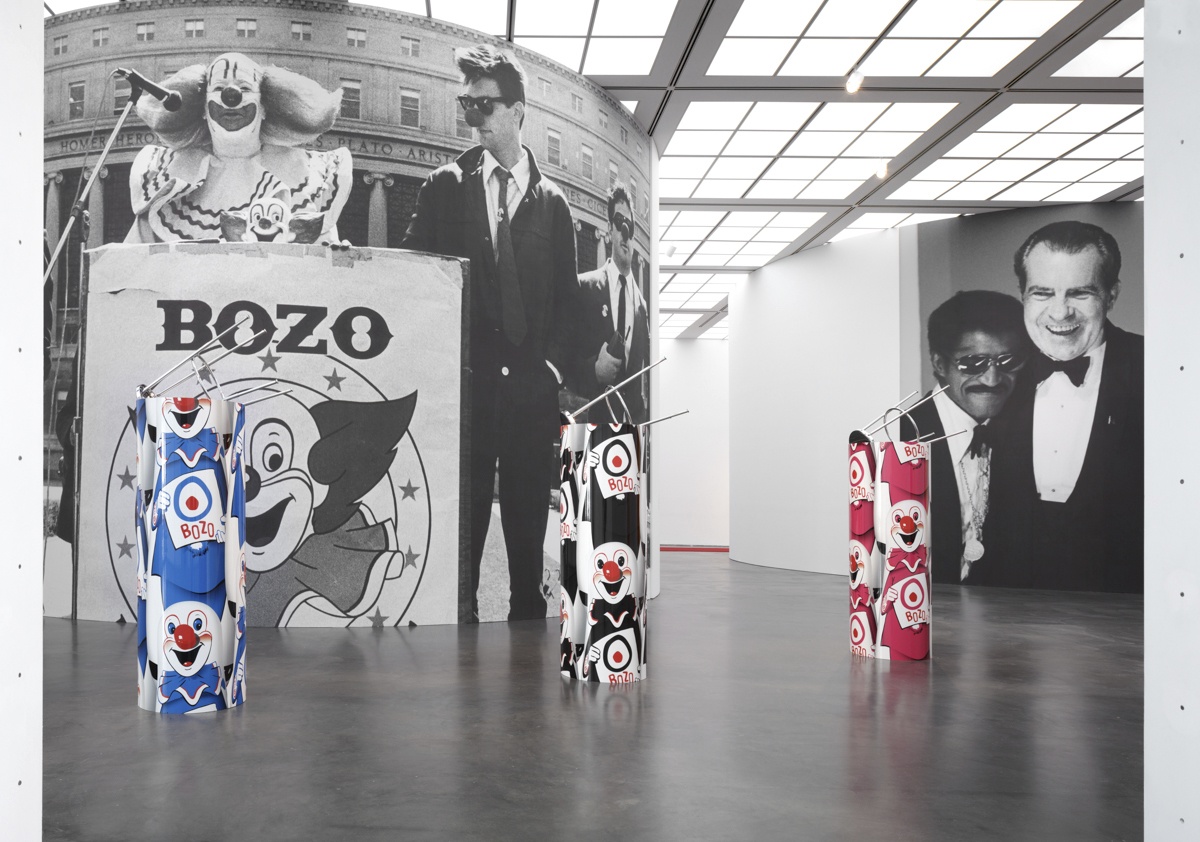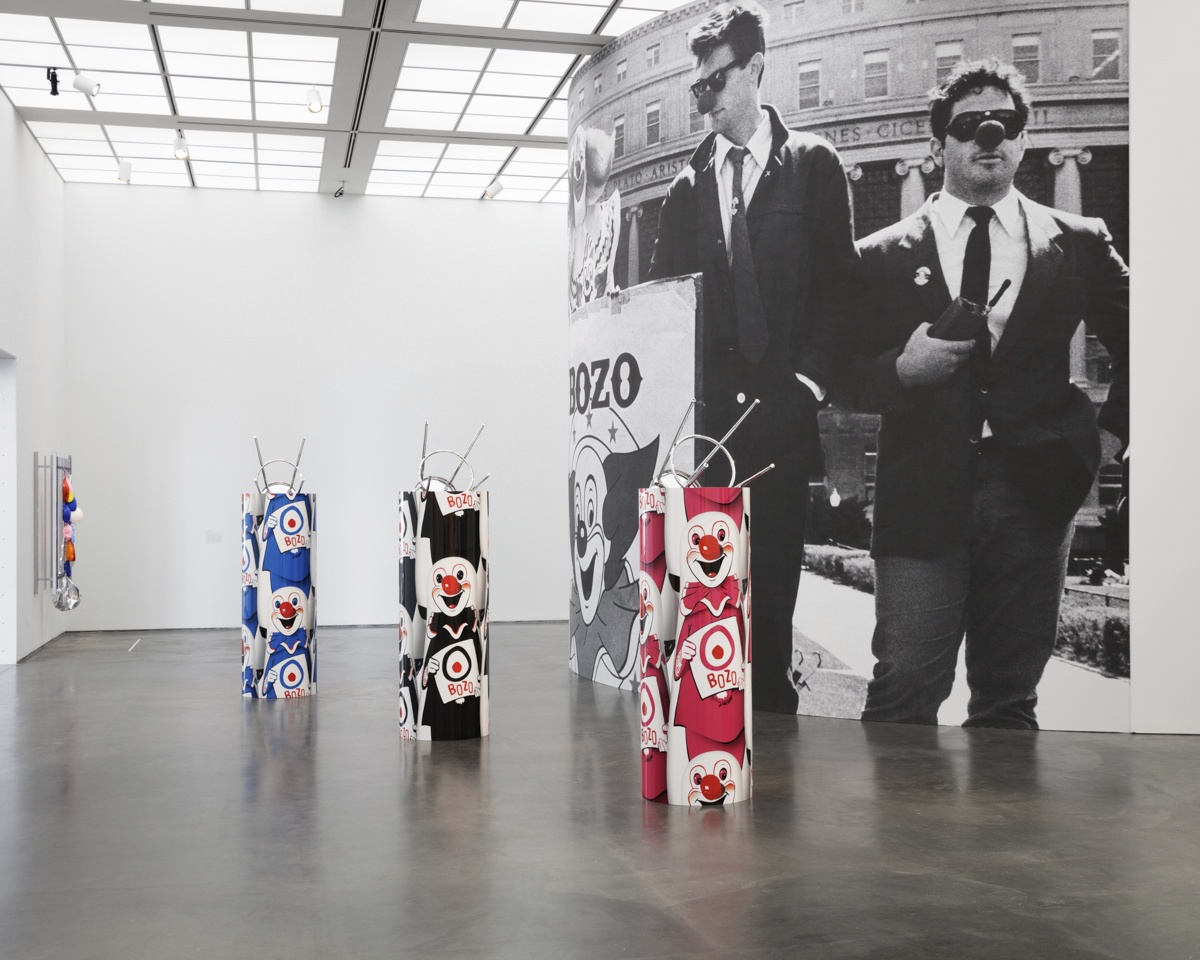 _________________
Bruce Nauman Clown Torture (1987)
'Bruce Nauman, through his Clown Torture, delves into what is known as torture comedy. However, what you will not see clearly is the identity of the person undergoing torture. The work doesn't show us the exact kind of torture the clown faces. If you are keen enough, though, you will realize that the tortured party is the one watching all of this unfolding – you! The loudness, the mess, and the screaming clown, among other features all torture your senses. Here, Nauman reminds us that art doesn't always have to be beautiful. It can be quite ugly too!'
_________________
Michael Rees Pneumatopia (2018)
'The sculptures become clownish vessels that not only contain something, but that alter our perception of what's on the other side. And by adding a layer of imagery when we view the sculpture through the tablet imagery — ants seem to emerge out of a clown's head — we either become closer to the object because we've entered into its distorted psychic space, or further metaphysically removed because we become focused on the small screen in front of us. Either way, Rees destabilizes the here and now within this constantly shifting, trippy environment.'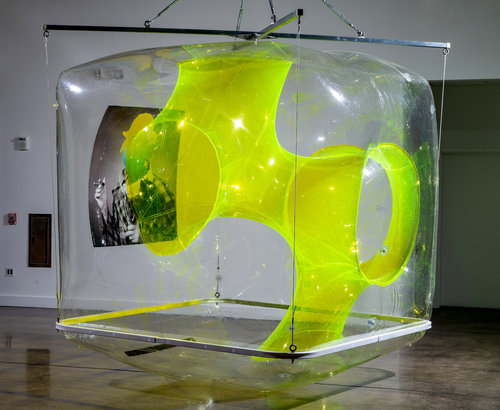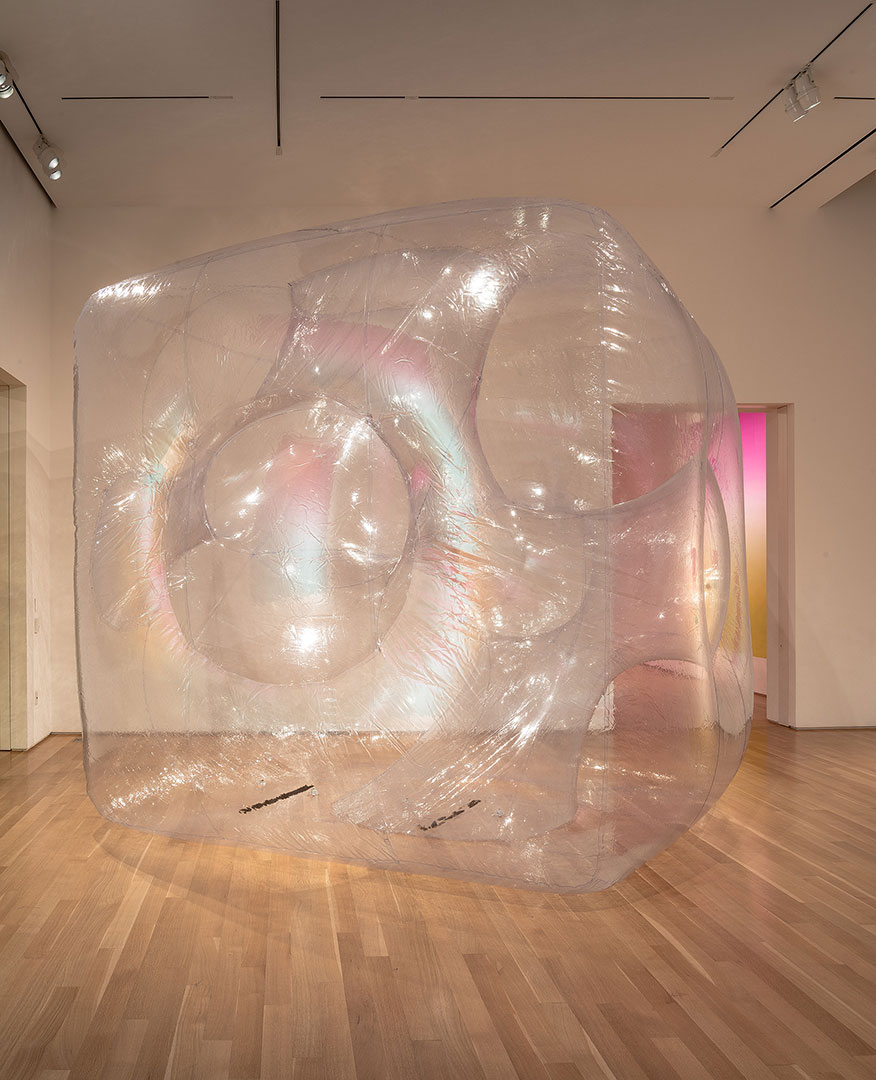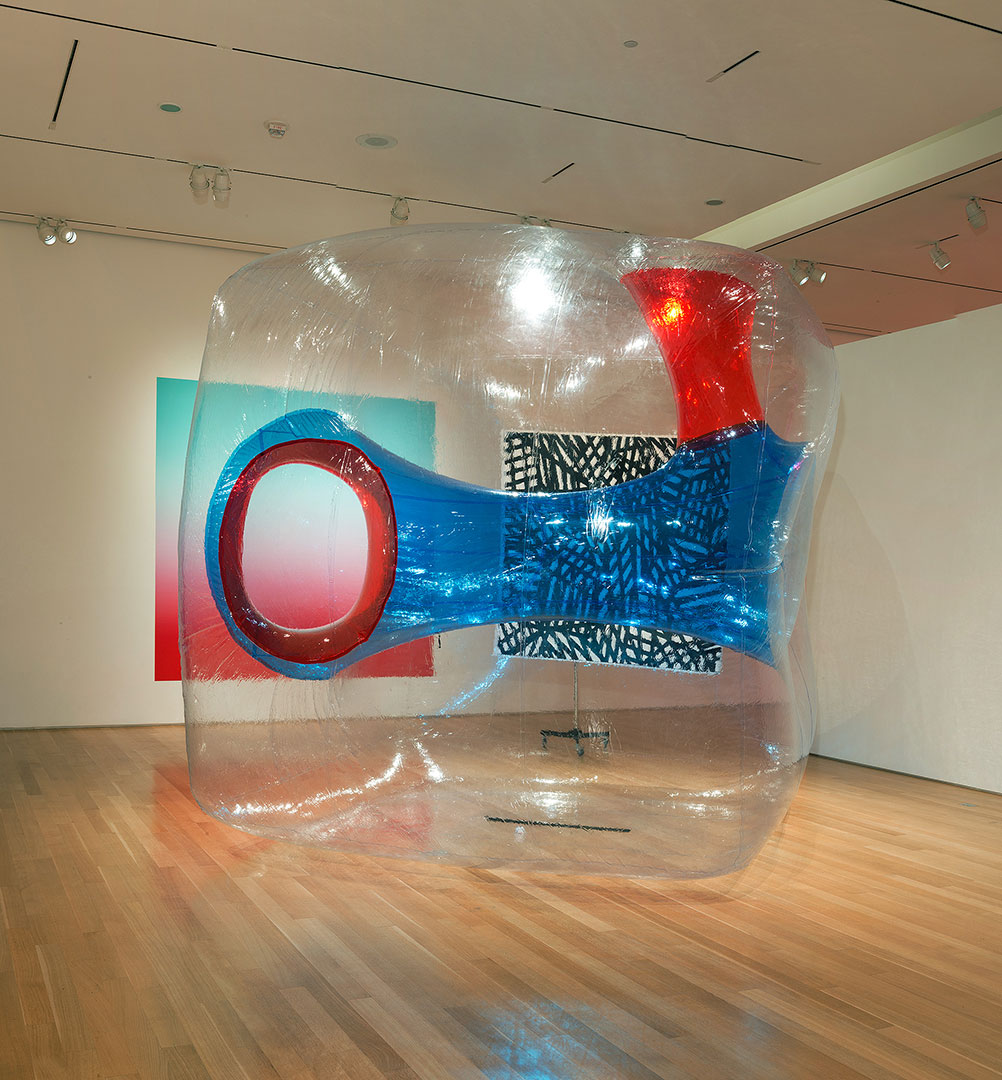 _________________
Czech Technical Institute Blind Juggler (2011)
'"Blind Juggler" is an impressive machine that has no sensors or cameras. Instead, it relies on mechanical feedback and some fancy math to control the trajectory of the ball and keep it airborne. The Blind Juggler debuted back in 2009, but creators Philipp Reist and Raffaello D'Andrea introduced an interesting wrinkle for version 2.0 by turning the entire thing into a pendulum that passes the ball to itself. Clearly, the next step is face paint and a red, foam nose.'
_________________
Georg Baselitz Clown (1981)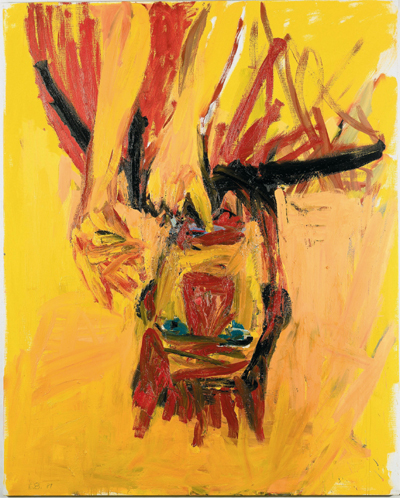 ________________
Sean Landers Clowns at Sea (2011)
'Landers embraces his anti-hero fully however, freeing him from the circus and sending him around the world as skipper of a disturbingly un-seaworthy and shape-shifting vessel. He eschews the laws of physics and narrative continuity in this series – the captain's wheel shrinks to flimsy inadequacy and expands to dwarf the helmsman. Though the artist is an experienced sailor, the details of the boat are purposefully wrong or missing; the jib is not tied to the boom, the gunwale appears to consist of carved wooden bannisters, the wheel sometimes faces the stern. His brave avatar is far from land, in a deliberately inadequate craft. The ocean is rendered more authentically – shifting from green to blue to calm to roiling – indicating that on some level this journey is real. Despite the perceptual ambiguities and challenges present, this voyage is not entirely doomed.'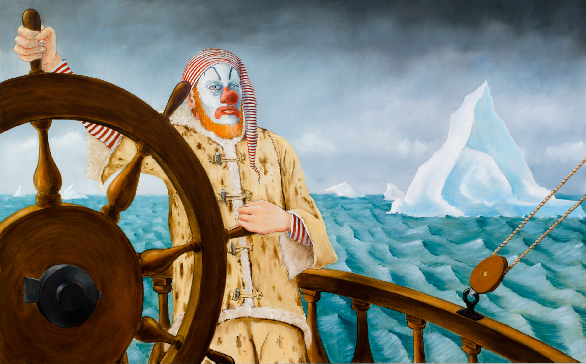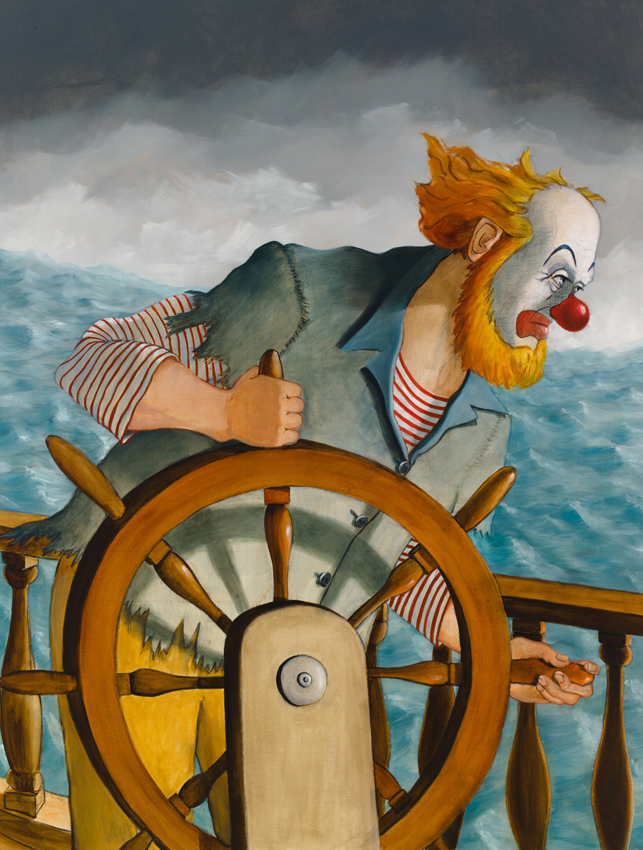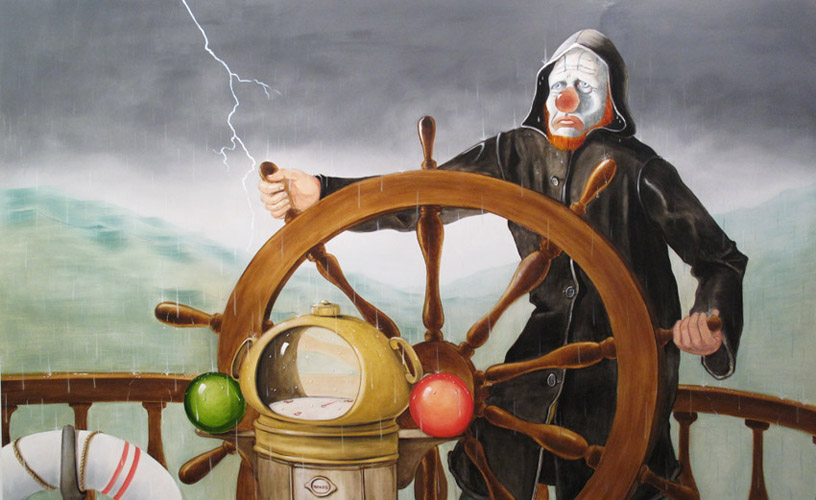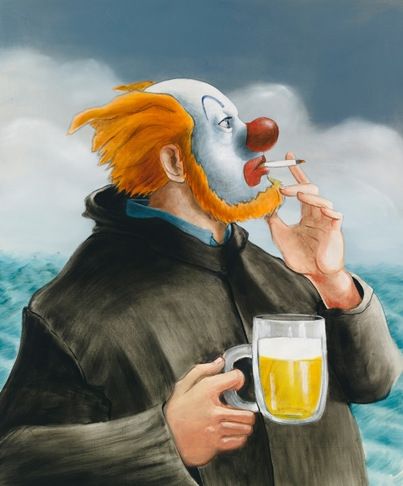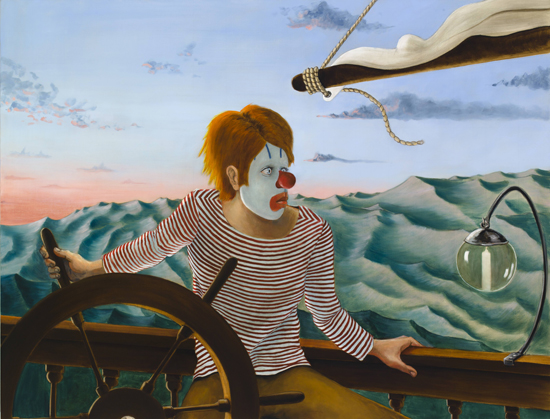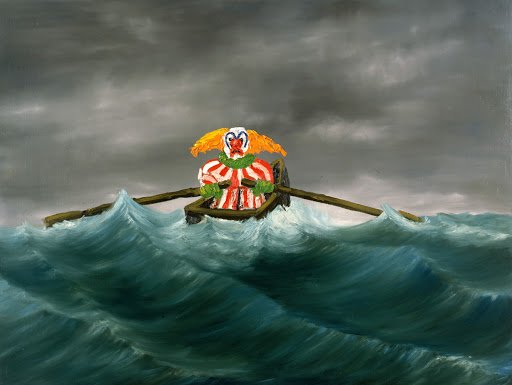 ________________
Ben Clown Bomb (2012)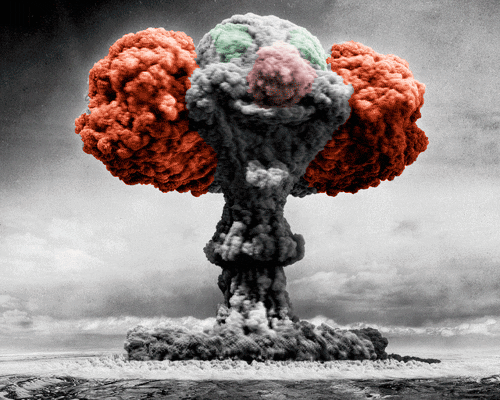 ________________
Life of a Craphead Entertaining Every Second (2018)
'The title of this exhibition comes from a Nam June Paik quote: "I am a poor [wo]man from a poor country, so I have to be entertaining every second."'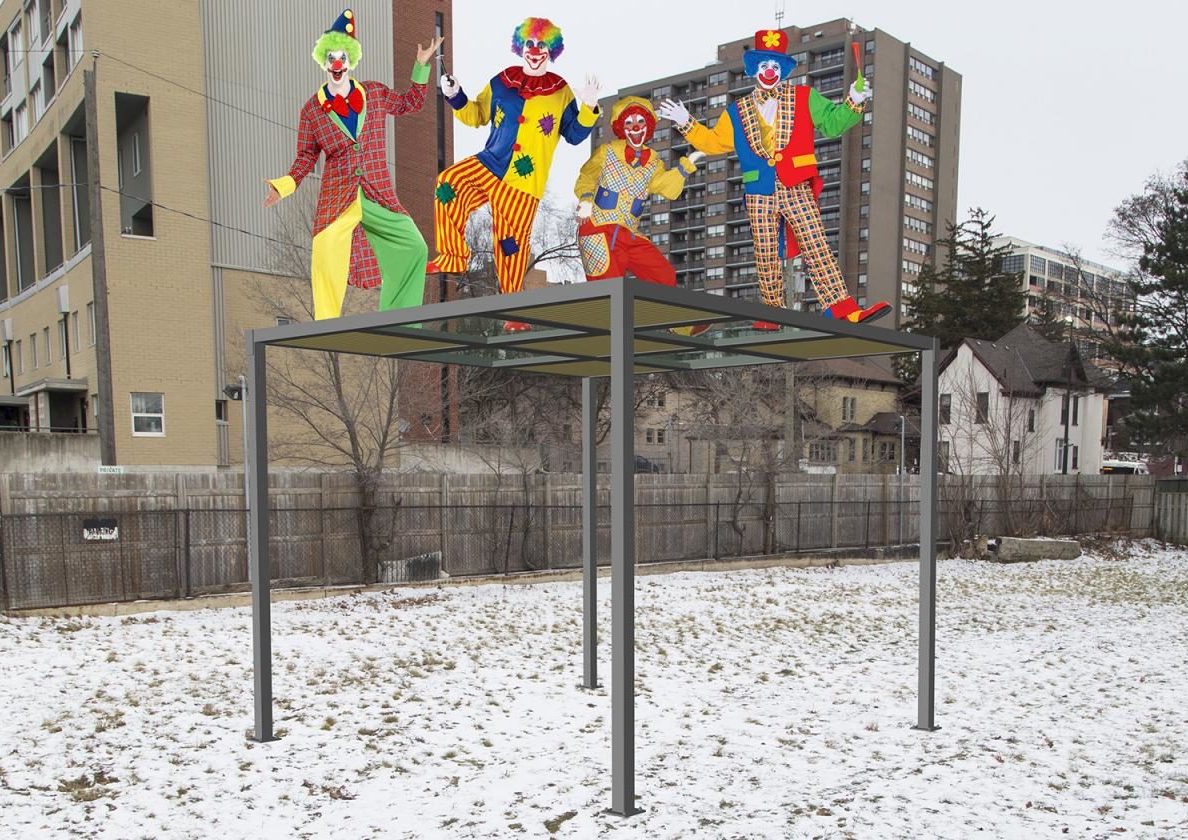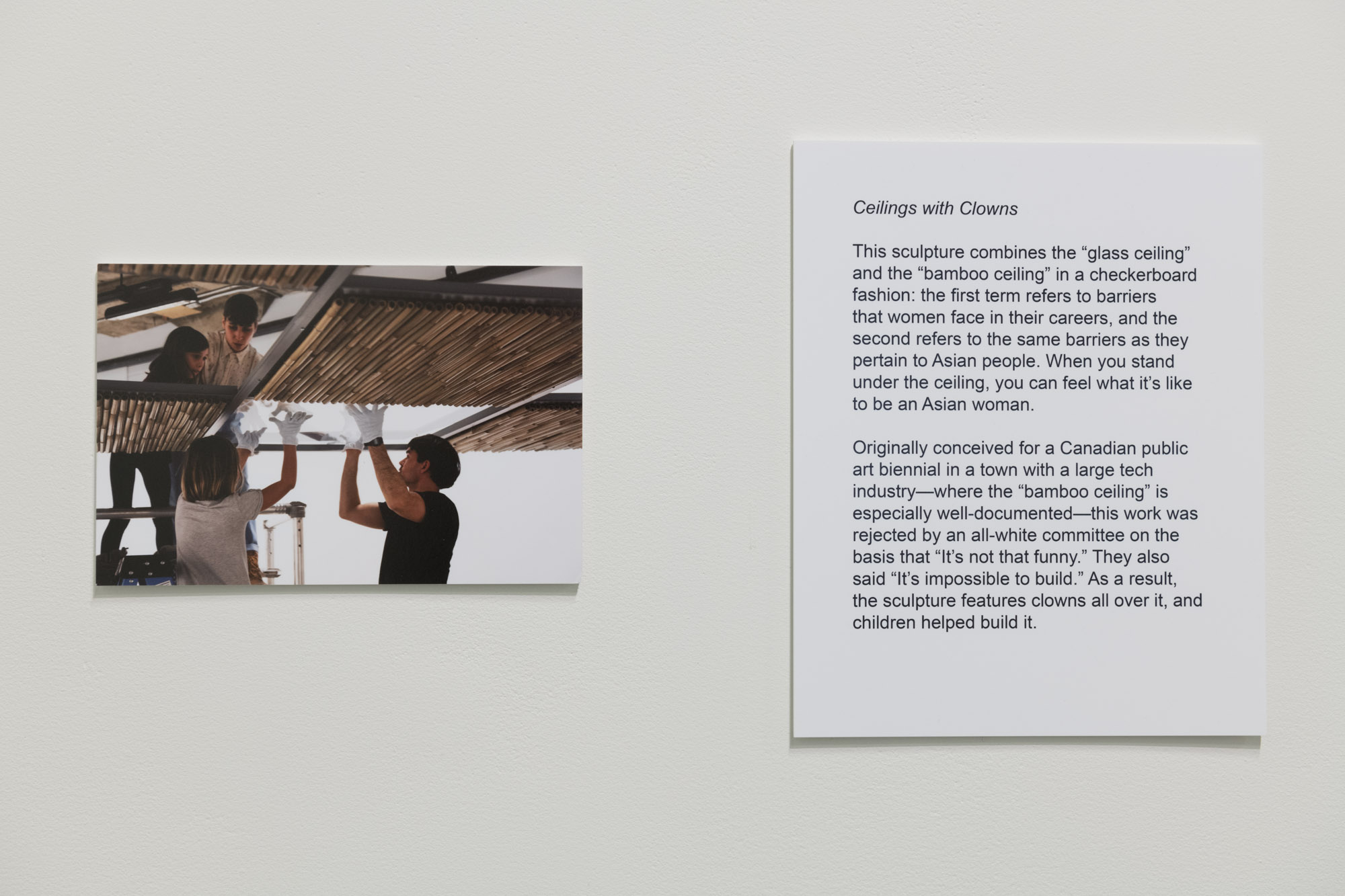 ________________
Paul McCarthy Pirate Party (2005)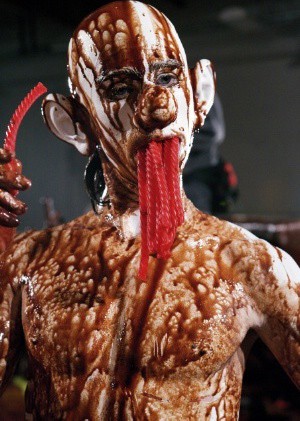 _________________
Max Streicher Endgame (Nagg & Nell) (2019)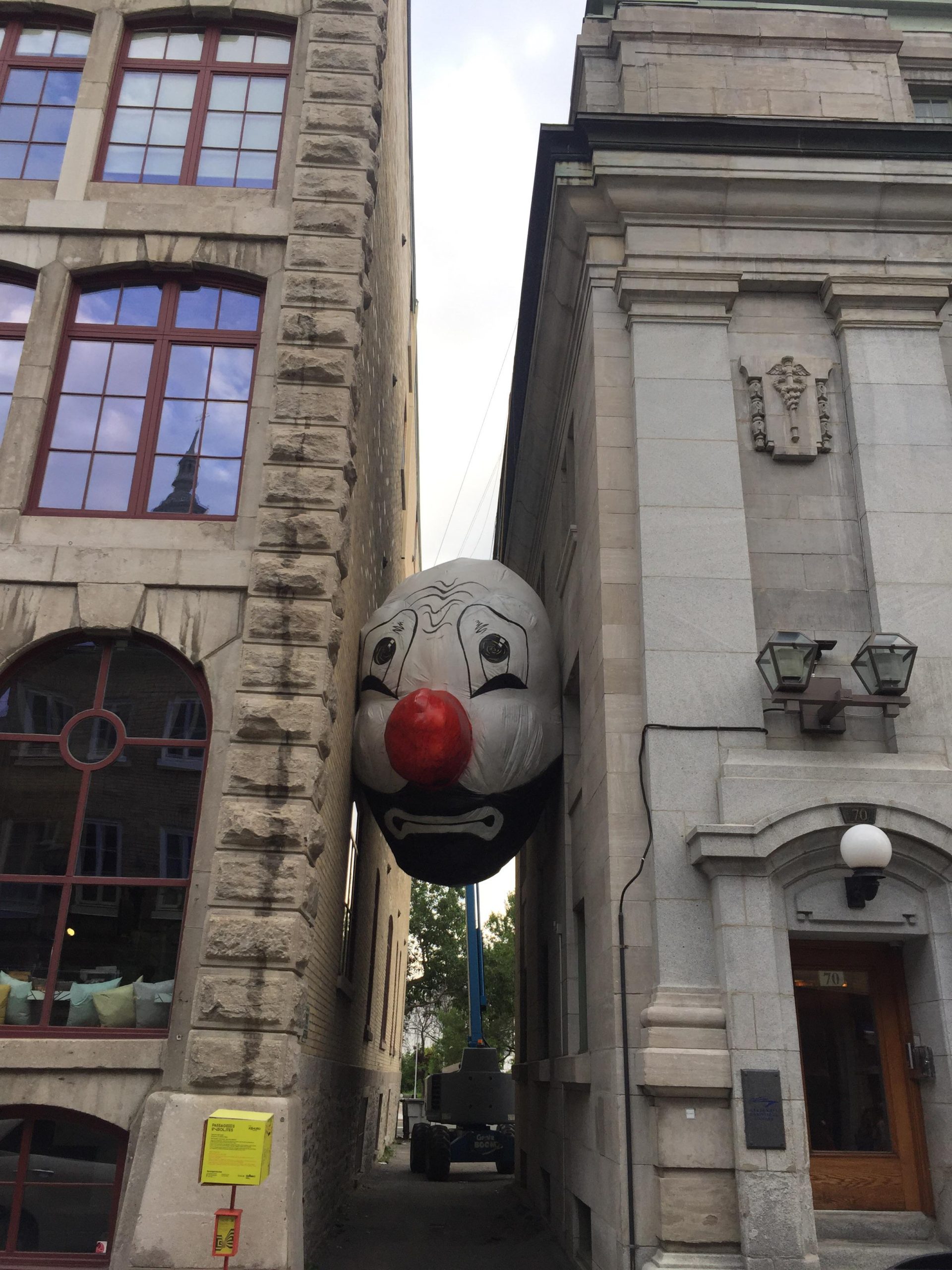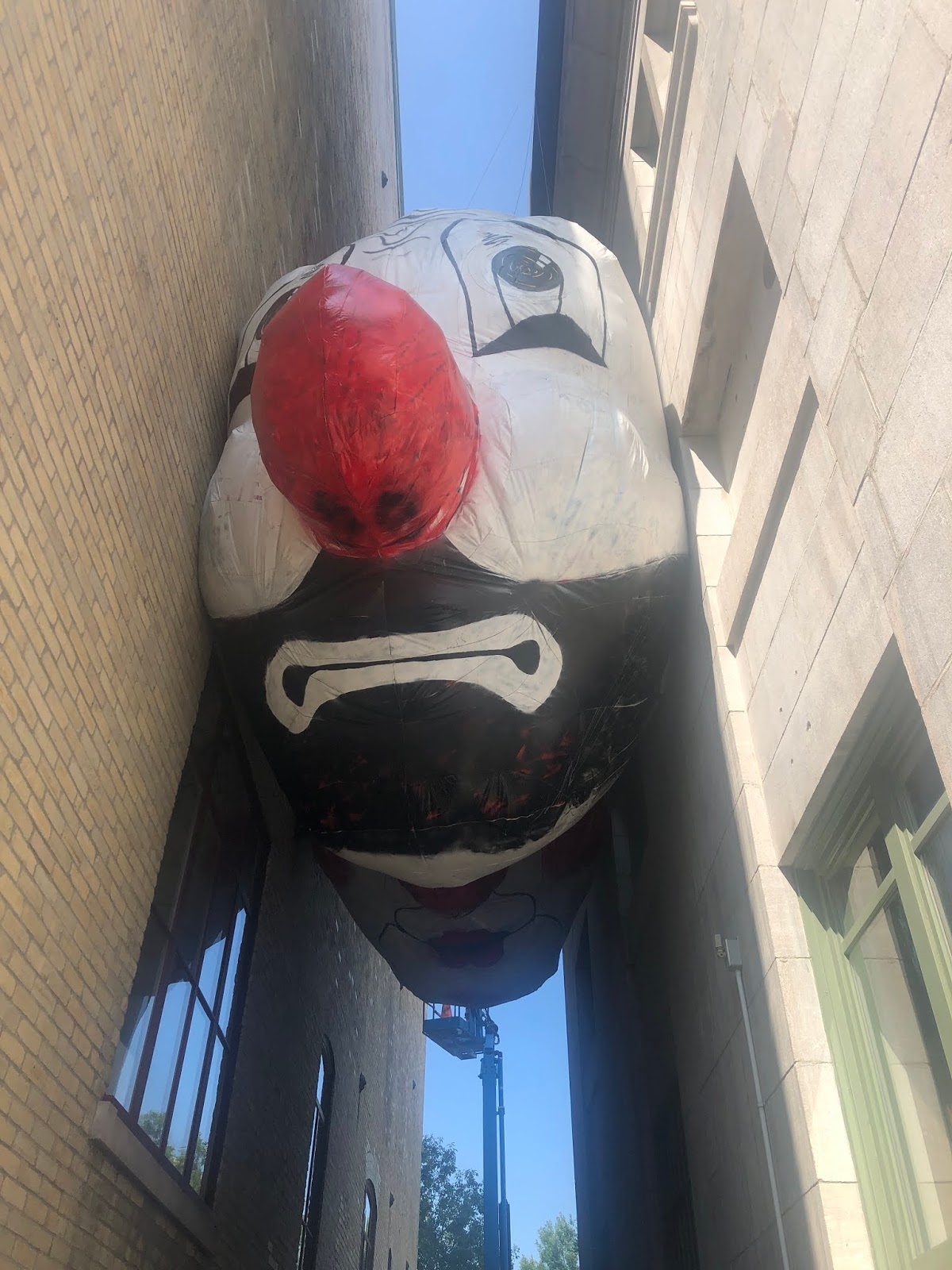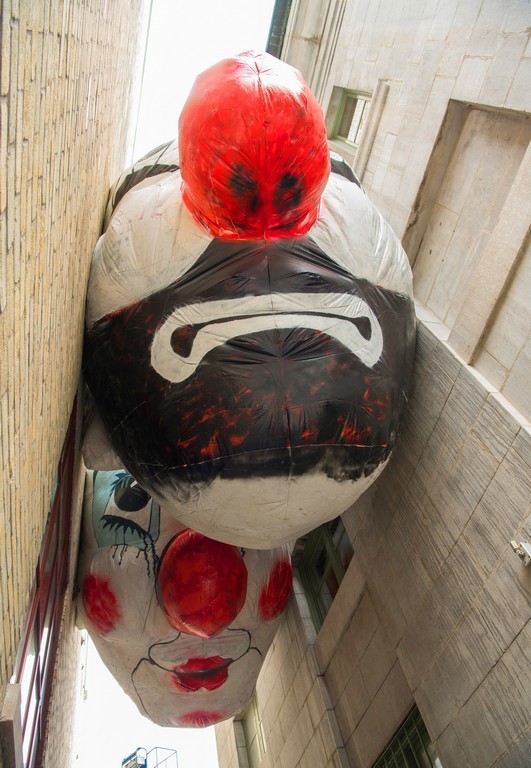 _________________
Jumex Spraypaint (2019)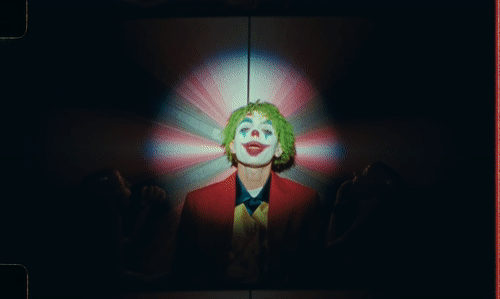 _________________
Luke Stephenson The Clown Egg Register (2017)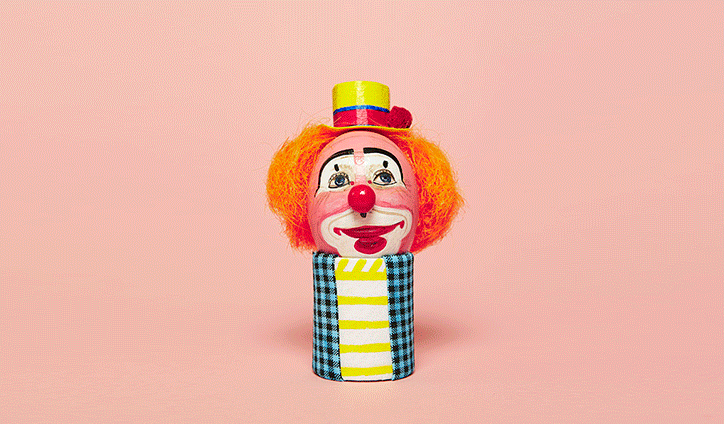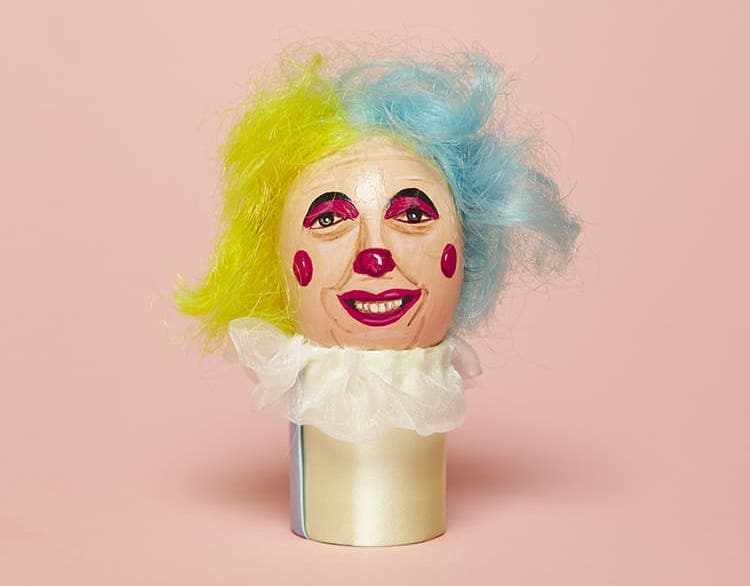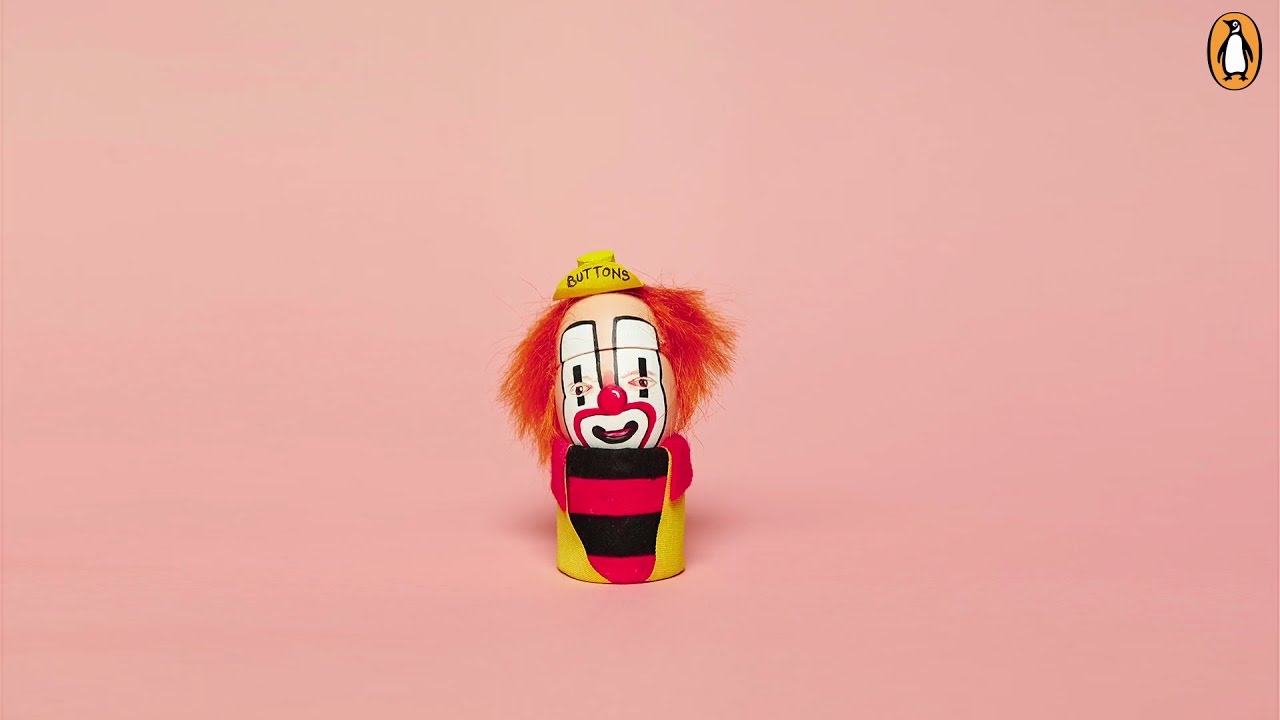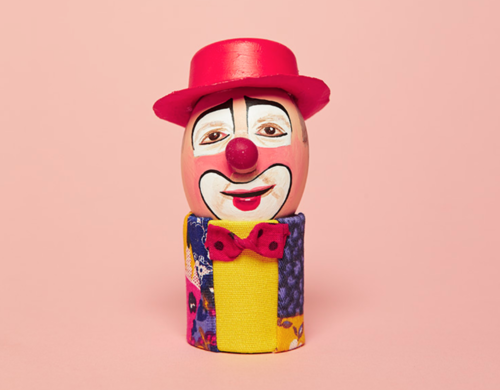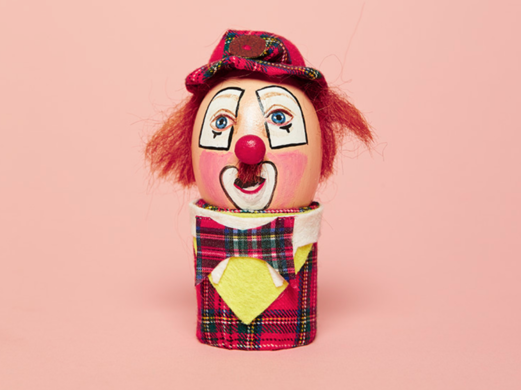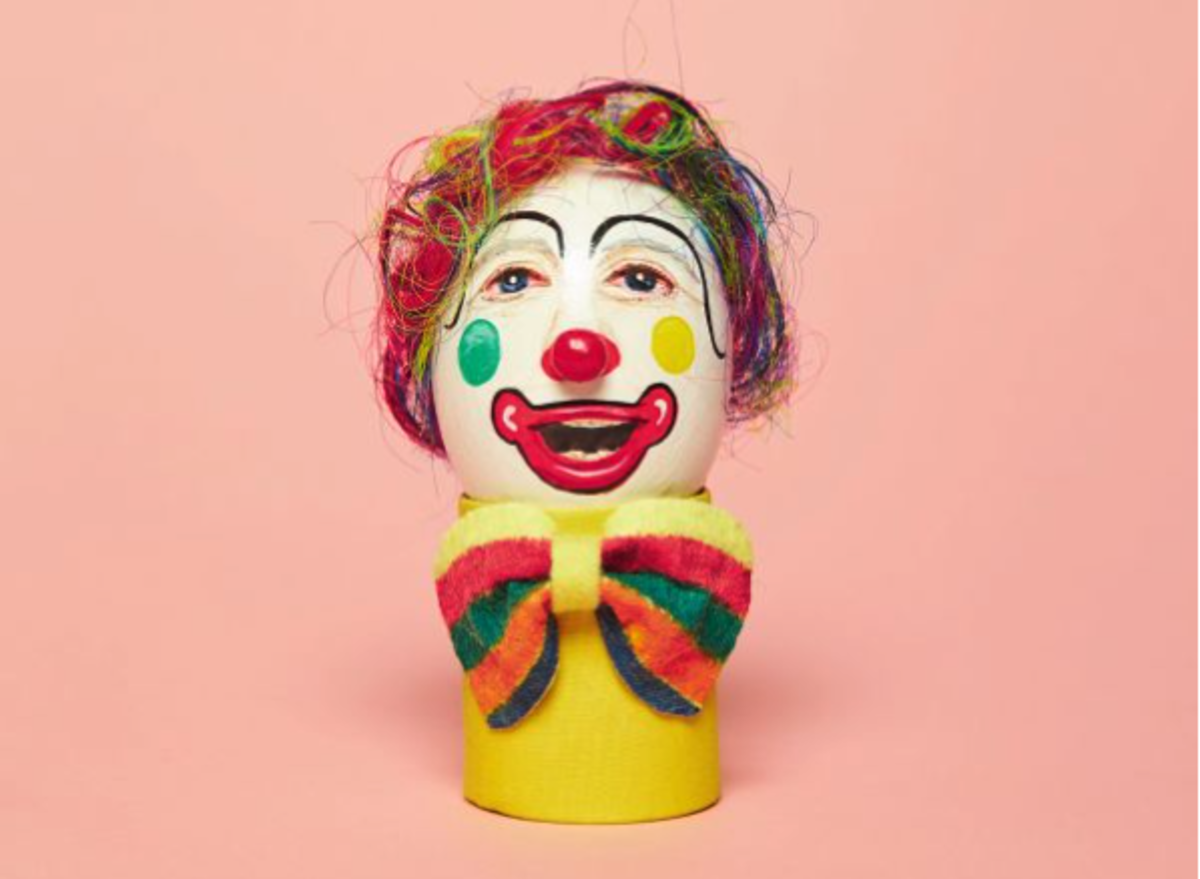 ________________
Jeffrey Vallance Clown Family Tree (1998)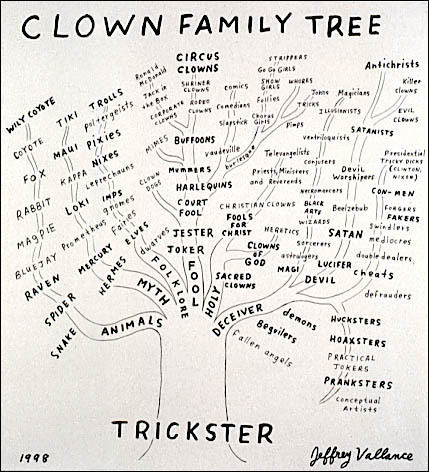 ________________
Angus Fairhurst & Damien Hirst A Couple of Cannibals Eating a Clown (1993)
'This 22 minute-long video is an exercise in extreme deadpan. Hirst and Fairhurst, sitting in a pub dressed as clowns, competitively tell each other stories in the style of British humorists Peter Cook and Dudley Moore. But instead of jokes or amorous conquests, the two friends reel off morbid accounts of accidents, wallowing in the graphic details, until they burst into laughter.'
________________
Marion Peck Red Clown, Blue Clown (2019)
'I have long enjoyed painting clowns. Clowns have depth. They are disturbing, like strange spirits, mysterious characters emerging from the depths of the psyche, which is why many people fear them. Clowns convey pure emotion. It can be very cathartic to paint them. The paintings I made for Red Clown, Blue Clown allowed me to express some of the intense, difficult feelings I have living in these crazy times, when everything seems poised to fall apart.'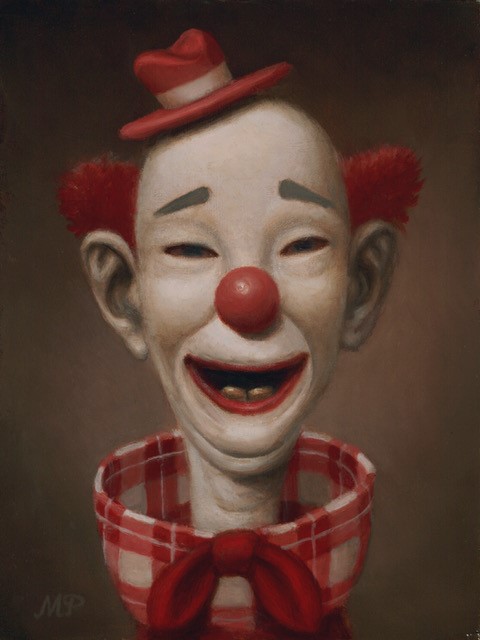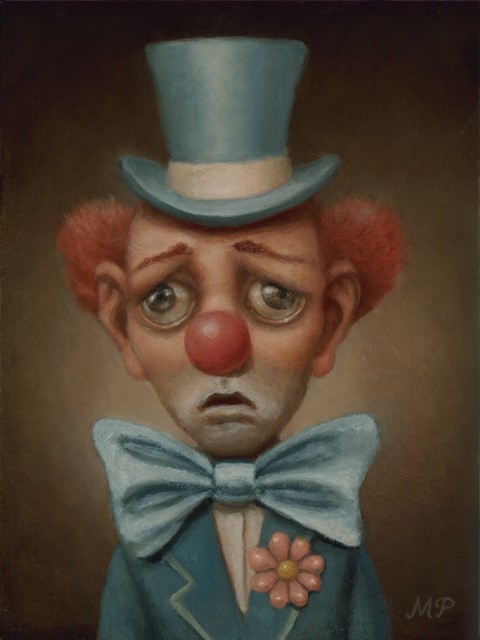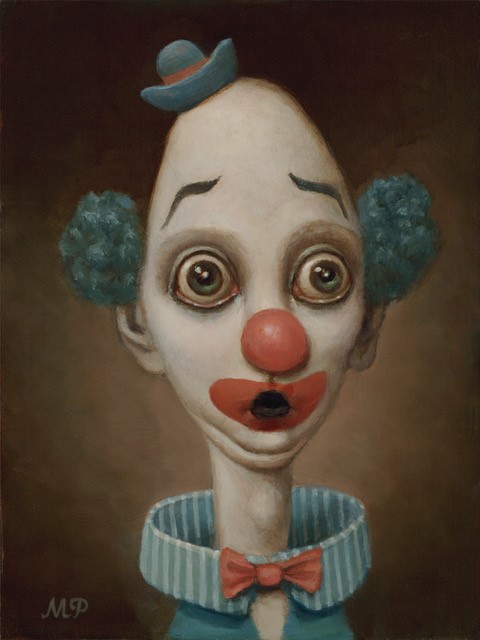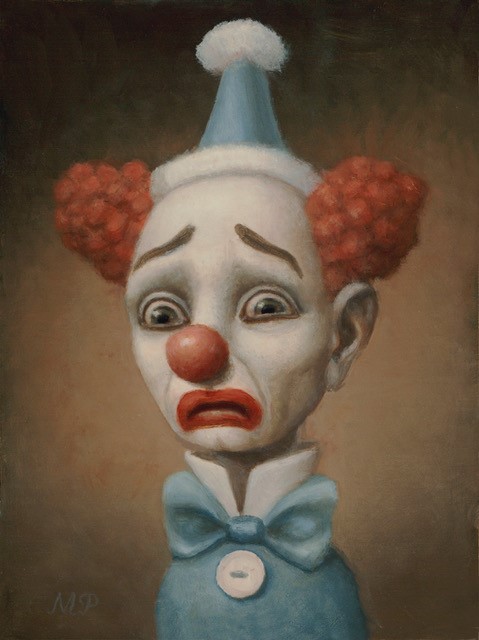 ________________
Wild Bill's Nostalgia Shop (1992 – 2018)
'Wild Bill's Nostalgia Shop opened more than 3 decades ago. Last year, its founder passed away and his family says they can no longer maintain the store. This is the store's final weekend.'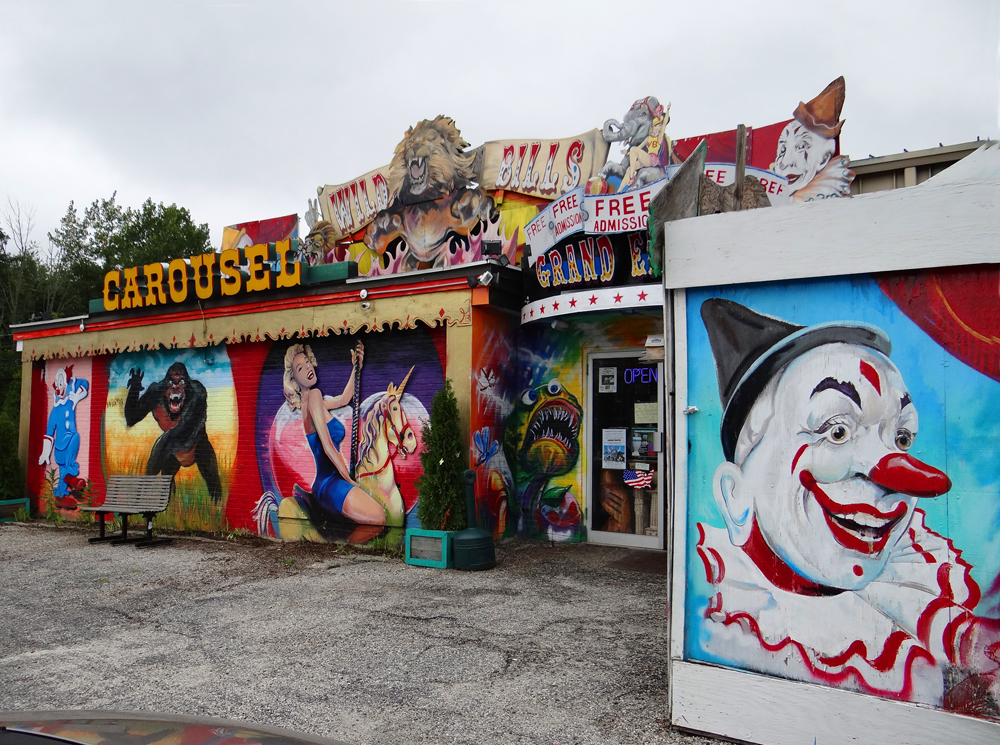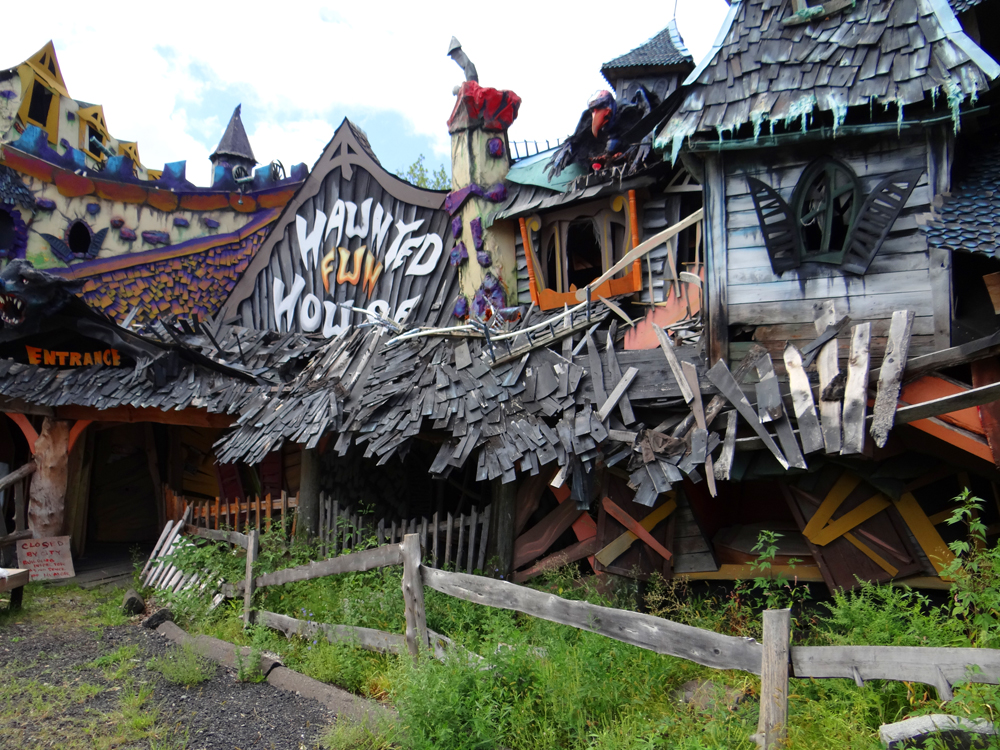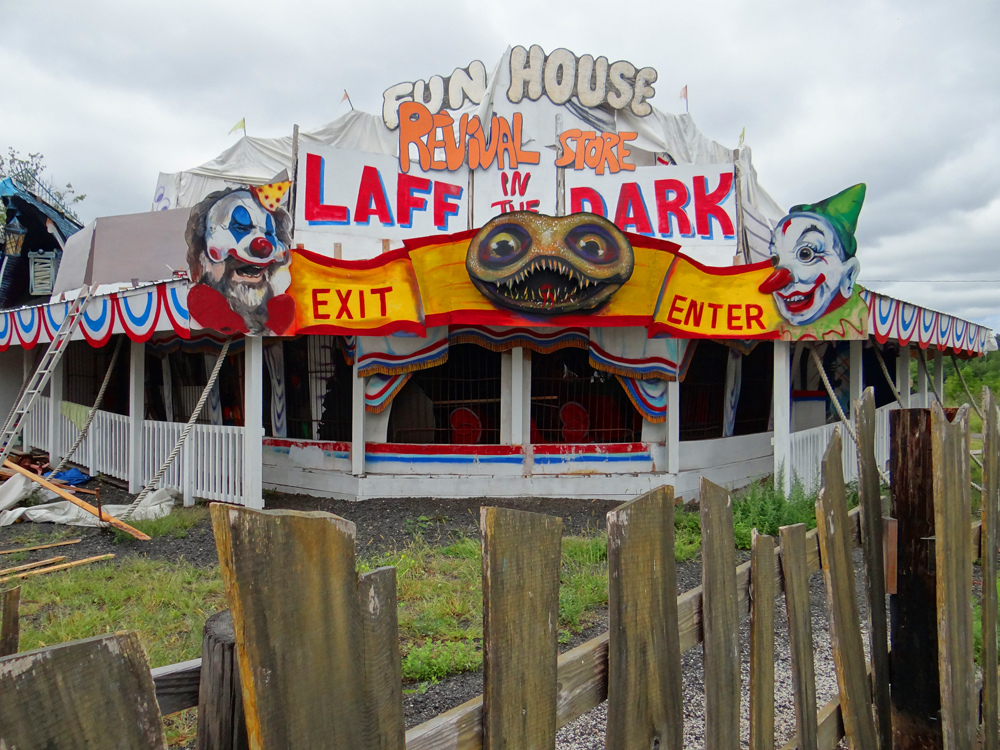 ______________
Jonathan Borofsky Ballerina Clown (1989)
'When it was first unveiled, the sculpture caused a big stir in the community, not just for its odd aesthetics – it looks like a female ballerina with a large clown mask and gloves standing on a crate – but also because it would kick out one of its legs continuously and "sing." This 30-foot tall giant would "dance" and belt out the Sid Vicious version of the Frank Sinatra classic "My Way" throughout the evening to the chagrin of its neighbors. Needless to say, the song was the first to be cut out (a few days after its debut) due to complains coming mostly from the condominium residents that reside in the building, followed by the shutting down of the "kicking leg" a bit later. For its 25th anniversary, Ballerina Clown began "kicking it" again according to an arrangement with the current Renaissance housing association and former owner Harlan Lee.'
______________
Erwin Olaf Paradise Club (2001)
'Never has coulrophobia been realized so perfectly than with this glossy, sinister, saturated clown bondage-fest.'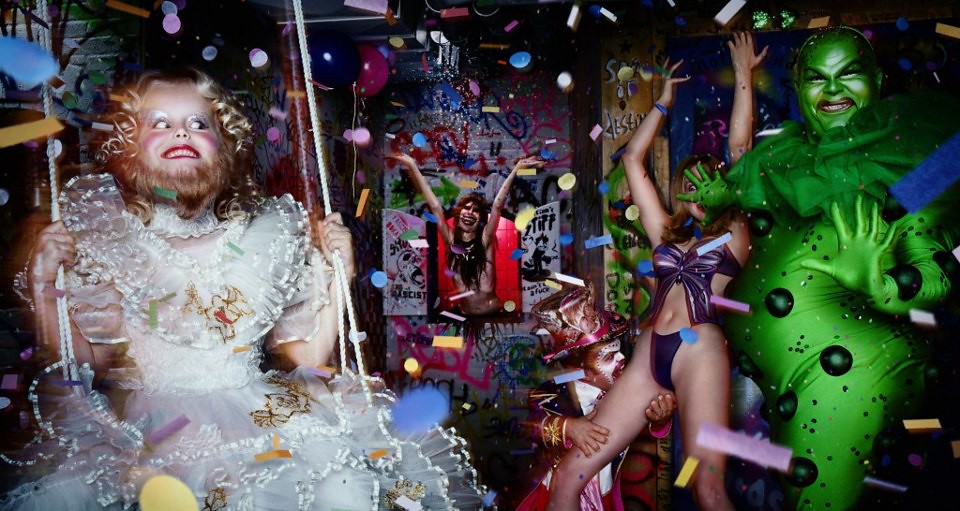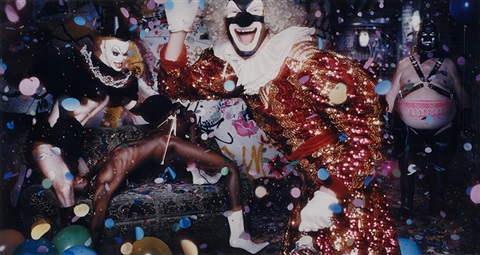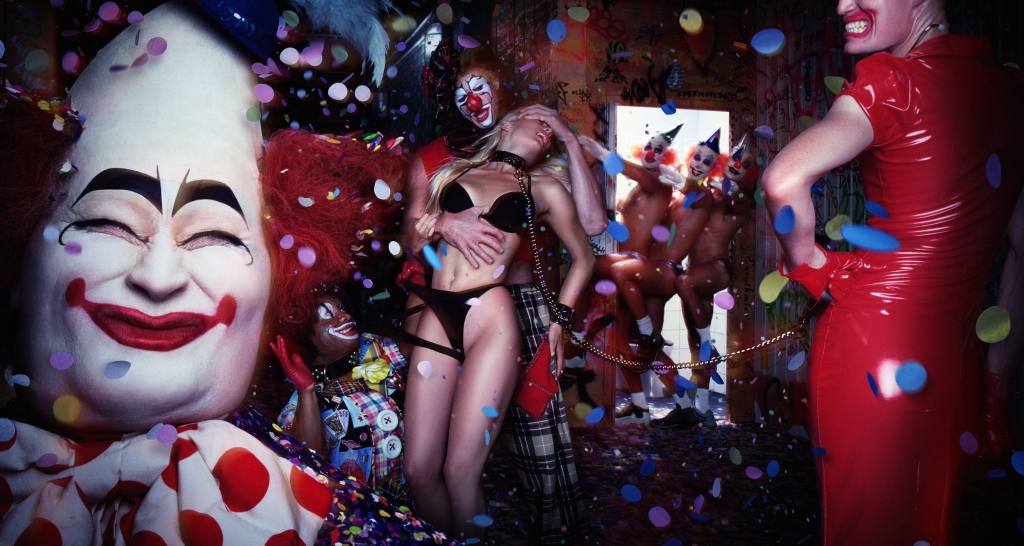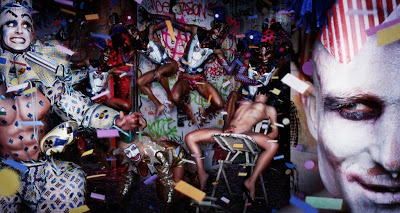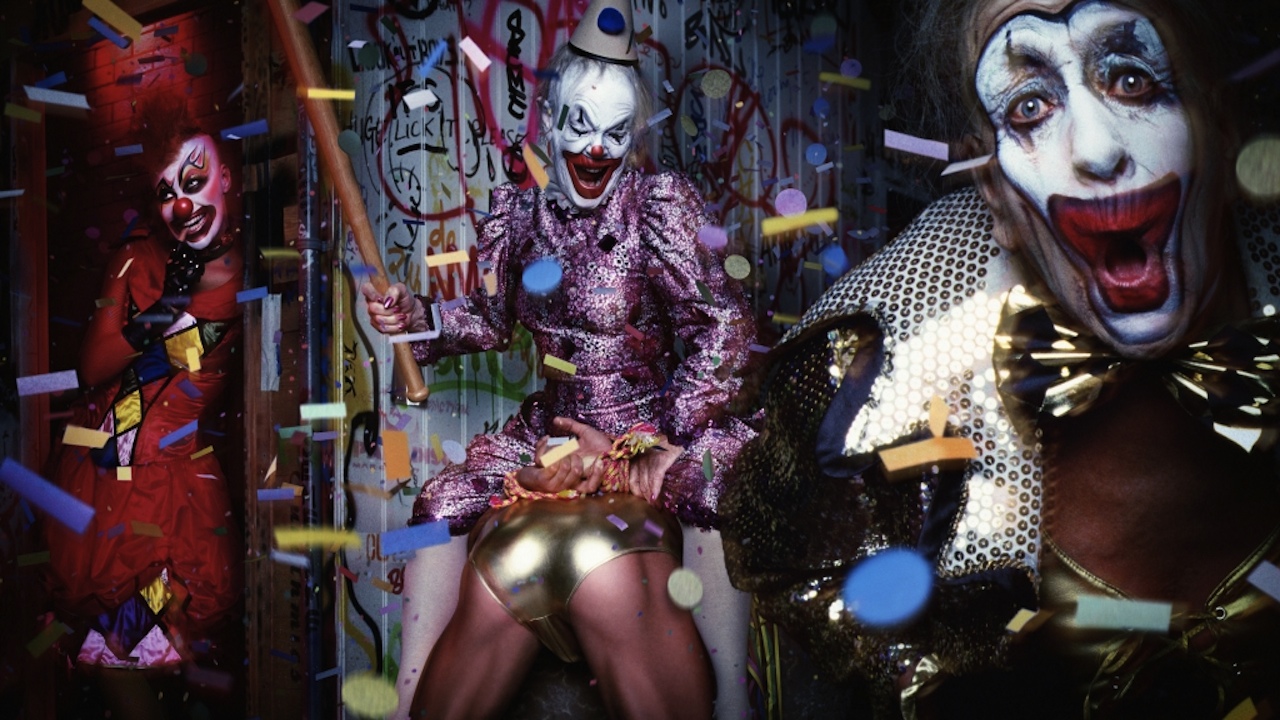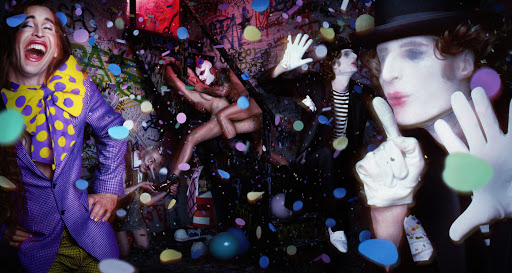 *
p.s. Hey. Yesterday Artforum started hosting a short, sequential GIF work by me entitled '7 Days' and will be posting one entry per day for a week. Here's a link to yesterday's initial entry, and they'll be posting the second sometime today. And so on. ** Quinn R, Hi there, Quinn! I'm healthy and fine, just fending off increasing quarantine-related boredom, basically. Paris is still as dead as a doornail and as quiet as a mouse. People are getting accustomed to it, and they seem much less frightened and friendlier when you come across them when you're out. I have yet to have a policeman stop me. They're around, but they're acting quite sympathetic from a distance. Cool that you're able to write fiction right now. I'm envious. I think your prognosis makes sense. The big worry is that a big swatch of the arts support system (small publishers, galleries, performance venues, etc.), and especially those that support daring work by young artists/ writers/ performers, etc. are likely to get decimated by the lockdown. My fear is that the actual work that results from this will be stellar but the system that's now in place to make that work public will be in ruins, at least for a while. Maybe not, but that's my fearful guess. Wow, you're collaborating with Diarmuid! That's extremely cool. He's a pip. I will def. keep my eyes out for that and also alert me when it's available if you remember and don't mind. It is remotely possible that Paris will be up and running to some extent by late May. It's hard to tell. Obviously, if someone manages to find a useable vaccine/treatment ere too long, things could start righting themselves. So, yeah, wait and see. Flaubert is incredible. 'Sentimental Education' is my favorite. Wondering about R-G's opinion myself, I just did a search and found a quote where he says he opposes the concern for realism in Flaubert, preferring in his work to observe 'objective chance'. So there you go. I know about the new English Sade edition, but I haven't poked around in it yet. I'll go find the LARB piece. Thanks a lot for letting me know about that. I'm not up to a whole lot, ha ha. Trying to work, working a little, planning things, etc. I'm listening to a melange of stuff from now and the past mostly. I do love the new Yves Tumor album. Been spinning that a lot. Reading: some Amphetamine Sulphate books, a novel called 'Graveyard of Bitter Oranges' by Josef Winkler, … others. I'm thinking about fiction I could write and doing what planning/scheming I can re: raising funds for Zac's and my new film, mostly fishing around for possible private investor possibilities and waiting for yes's or no's on some grants we've applied for. Blah blah, basically. Great to talk with you Hang in there! ** David Ehrenstein, Hey. I agree. Oh, thanks for the link to that piece on Sade! ** _Black_Acrylic, Hi Ben. Happy to have initiated your relationship with R-G. ** Tosh Berman, Hi, T. 'The Voyeur' is a goodie, obviously. Ha ha, so true. The rise of toilet paper from 'oh, that' into a fount of consciousness. Have the best weekend you can, sir. ** Steve Erickson, Hi. You saw Nick Toti's italicised message to you in the p.s.? Ah, excellent! Everyone, Mr. Erickson reviews a new album that I personally think is extremely easily one of the very best albums of this year this far, Yves Tumor's 'Heaven For the Tormented' right here. When Zac and I went to the Twisted Experiental haunt last Halloween, it wasn't crowded so we talked to them for a while. We had been the very first customers at the first haunt they'd ever done when they were 12, 13, and they remembered us, which was cool. I'm emailing with the main guy, Zion, right now. As I think I mentioned, they're doing a haunt in the big 'Made In LA' art exhibition this summer/fall, and it's to be themed around the work of the writers of my generation who were based around Beyond Baroque, with the rooms themed around our writings, so we're talking about my room. He wants to do a multi-channel projection of one of the sections of my GIF book 'Zac's Coral Reef' that's a simulation of a dark ride, and his ideas about how to do that are brilliant, so we're discussing that and the possibility of them working on Zac's and my new film. I didn't know about the 'scambaiting' videos until you just mentioned them, but I'm starved for fun, so you can bet I'll check them out, thanks. ** Dominick, Big D! I just laid out the film collaboration idea to Zion, the main Twisted boy, yesterday, and I'm waiting to hear if he/they are into it theoretically. If so, I'll send him the script and a link to 'PGL', etc. Fingers crossed. Good, good, keep writing, and don't worry about the mess. You'll have plenty of time to de-mess it if you end up needing to. That's always my policy. Your day sounds pretty all right. Mine … uh, emails, phone calls with friends. Gonna start working with Michael/Kiddiepunk to ready the new GIF novel for publication. I used to be really obsessed with this ultra-extreme manga/anime/3D rendered stuff called Guro when I was working on 'TMS', and I seem to have reignited my fascination with it out of boredom, so I've been looking at Guro and thinking about what else I could creatively with it as an impetus. I went off on an 80s New Wave music video trek on youtube for no good reason. Not much else really. I would say it's the weekend so who knows what might happen except that every day is the weekend right now. How did you ace yours? Escapist love, Dennis. ** Thomas Moronic, I was the lucky one to intro you to R-G? That's cool. His films are way worth getting to know. My personal faves are 'Slow Sliding of Pleasure' and 'Trans Europa Express', but they're all very worthy. You good? Are you managing to write at all? ** Corey Heiferman, Hi. You're lucky too be able to kill/max out time writing. Congrats! Full-time job … like what? Time for me is completely a mess, neither fast-moving nor sludgy. I don't know what's happening to the time, but I don't like it. Oh, shit, I'm so sorry about your dad. That's so stressful, and what a dreadful time for that to happen. Are you Skyping or its equivalent with your family? Best of the very best wishes to your dad, your family, and you. No, strangely or not, the French are not hoarding toilet paper, which seems very sane of them, I must say. They aren't really hoarding anything, as far as I can. They were hoarding pasta for a while, but now those shelves are stocked again like in the good old days. You know, I've been in a lot of bathrooms since I moved over here, public and private, and I have never once seen a single bidet. I think that might be one of those French stereotypes that isn't really true like beret-wearing. ** Misanthrope, Yeah, just oddball timing on your end of the blog weirdness. That debugging page, which is where I wound up too, was totally Greek to me as well. Good luck with the listing. I guess ask friends who have agents for ideas or recommendations? I can't recommend mine for reasons I dare not make public. Huh, that's some timing on your 'Voyeur' read. Yeah, 'The Erasers' is like R-G for those who want to read him but don't really like reading him. ** Jeff J, Thanks, Jeff. Yeah, I do believe all those GIFs are from 'The Man Who Lies'. Good eye. I didn't really know R-G personally, but I was around him several times. He was good friends with Gisele. He came to see a couple of our works. His wife, the writer Catherine R-G, was the star and co-author (with me) of our second collaboration, 'Un Belle Enfant Blonde', so he was at the premiere for that. So it was more like I was in his presence than knew him, but he apparently really liked my work, which, as you can imagine, was a life highlight for me. He nominated 'God Jr' for one the big French literary prizes. Pretty cool. No, I haven't yet read that newly translated early novel, which shocks me as I type that. Yes, really nice that Artforum is publishing my GIF work. I'm also really happy to be back in their 'pages' again. Hoping the sky starts cooperating with your biology ASAP, of course. Last thing you need. I hope you have a super swell, sinuses-unimpaired weekend, buddy. ** sleepyj, Hi! So nice to see you! I'm surviving this thing and, you know. finding pleasure where it can be found. Thank you so much about 'PGL'! I'm very happy to hear that. Thank you! Yes, we're in the early stages of our next film, and it'll definitely get made just as soon as we can raise the money. Thank you again. Have an awesome weekend! ** Okay. What does the world most need in these dark times? Pleasure, laughter, amazement, the simple things. And who better to provide us with those simple but invaluable pleasures? Well, clowns, of course! So my blog is doing its part this weekend to spread clownishness far and wide. Just kidding, naturally. See you on Monday.