_____________
Argentinian artist Eduardo Navarro's latest series of drawings, inspired by quantum physics, is entirely edible. They are displayed under red heat lamps, like chicken eggs about to hatch. He'll be cooking three nights during the exhibition, serving up three artworks each time. Each of the images illustrates the "holographic principle," a concept in physics postulating that "information in the universe can only be scrambled but never destroyed".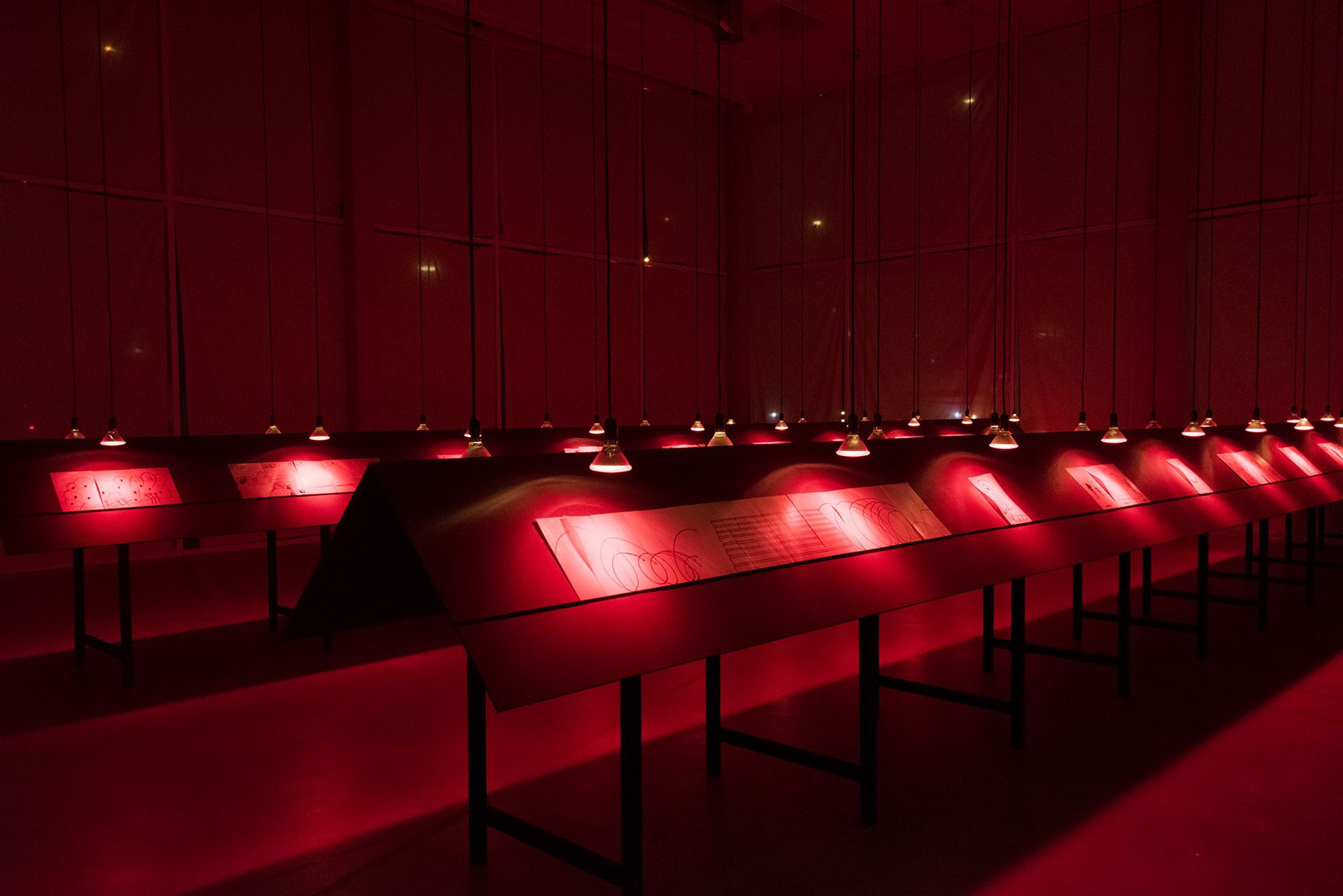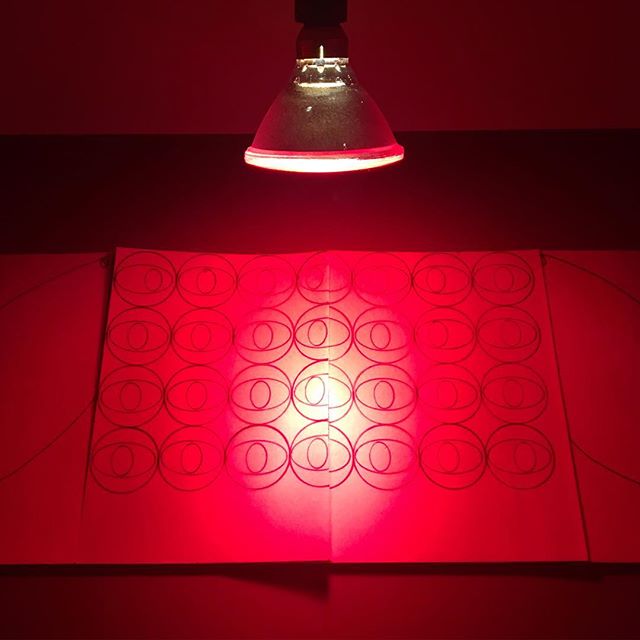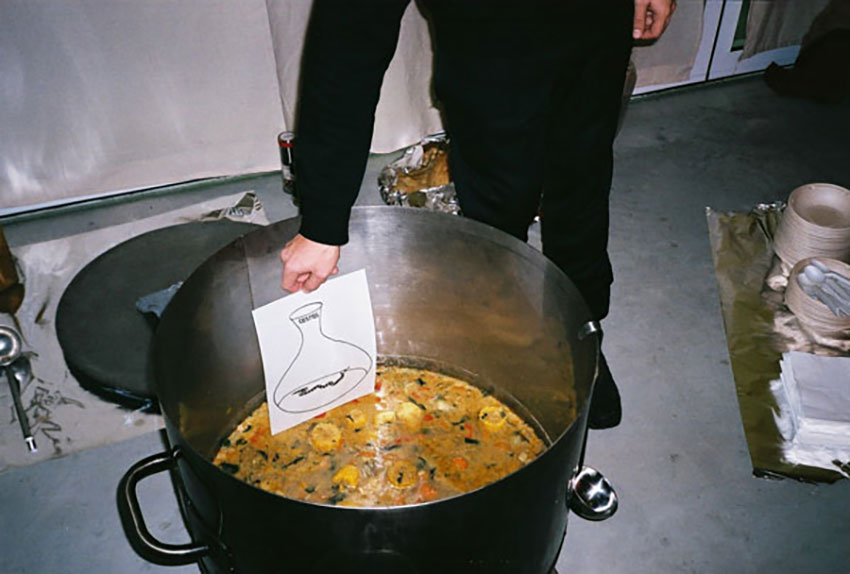 _____________
September Split Edible Ephemera (Year of the Horse Snack) (2014)
Dry-salted horse meat, bitter rowan jelly (rowan berries, water, sugar), Norwegian birch, silkscreen print, CNC engraving, vacuum sealed storage bag, jar with lid, felt garment.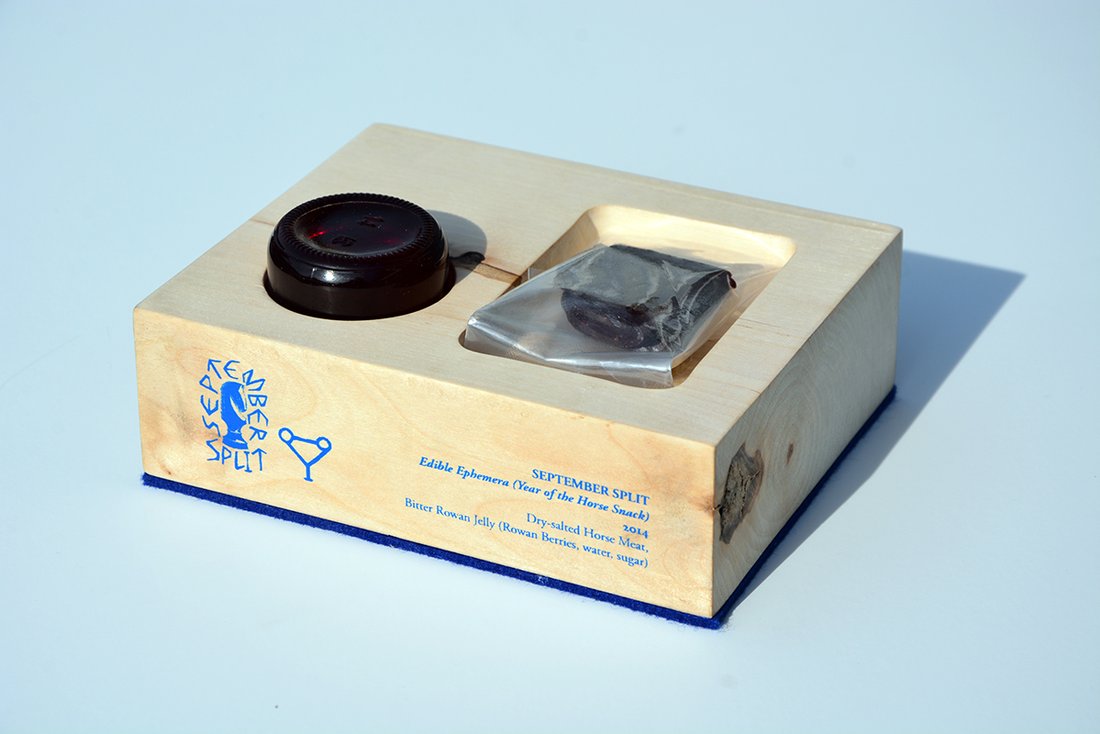 _______________
Artist Dimitri Tsykalov produces raw meat representations of guns, some of which come with vegetable or fungi bullets.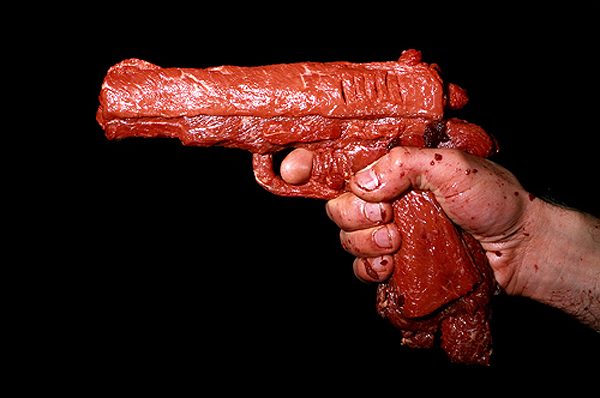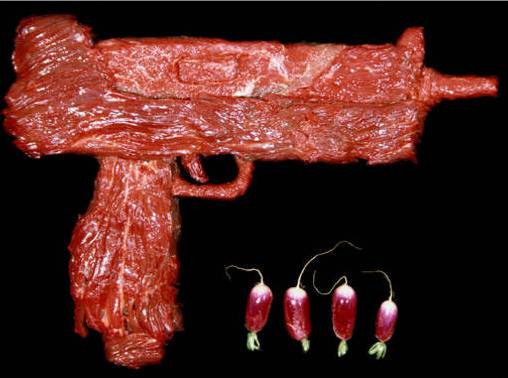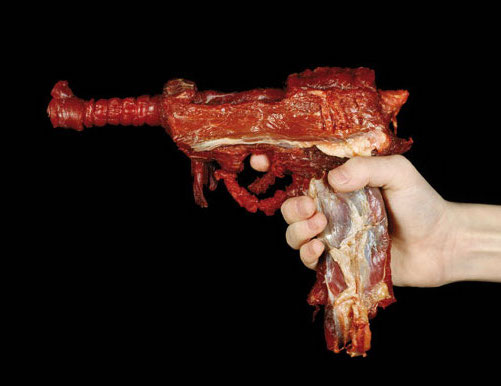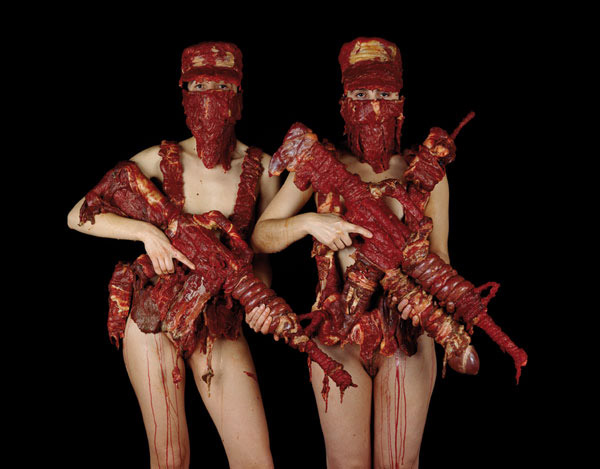 _______________
Researchers at MIT and Brigham and Women's Hospital have designed and demonstrated a small, ingestible voltaic cell that is sustained by the acidic fluids in the stomach. The system can generate enough power to run small sensors or drug delivery devices that can reside in the gastrointestinal tract for extended periods of time.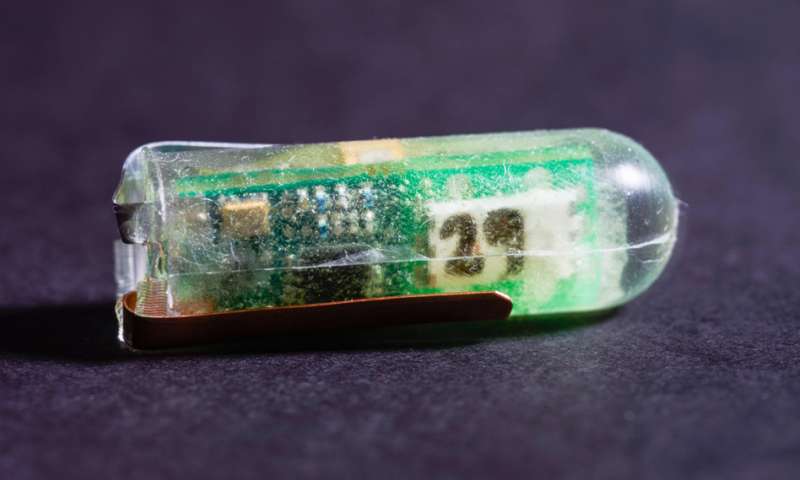 ______________
Using individually wrapped pieces of candy and fish-shaped soy sauce packets, an anonymous trio of artists known simply as three have constructed a number of works that invite viewers to interact with them. Their installation titled Tokyo Electric displays a 3 meter-tall box designed in the scale of the Fukushima nuclear power plant. The structure deliberately includes 151,503 colorful fish-shaped soy sauce containers, which is the exact number of displaced citizens in the aftermath.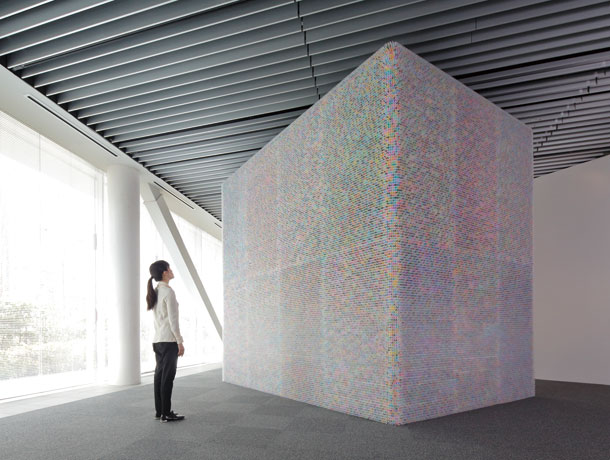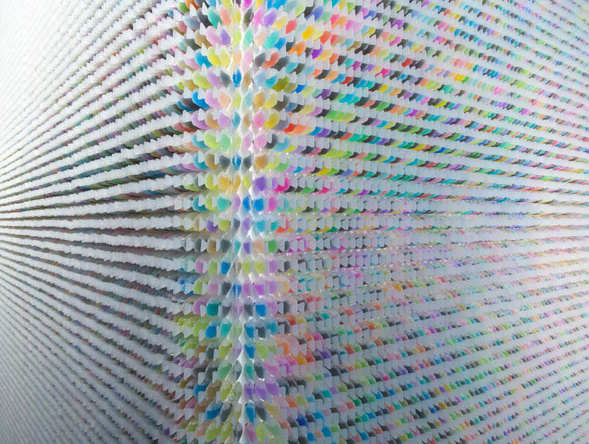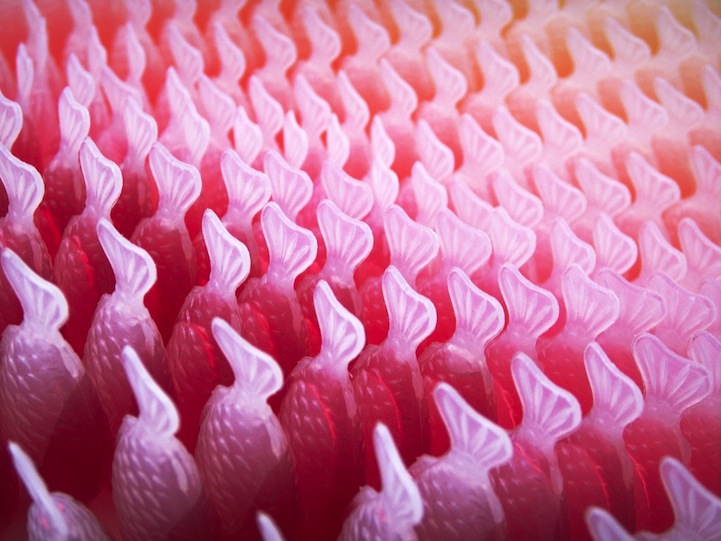 ______________
ÉCAL student Erika Marthins has combined a series of different technologies with food to create an interactive dessert that moves, makes noise and refracts light. Aiming to offer interesting alternatives to the average sweet treat, Marthins used edible robotics, light-shaping technology, and digital data information in the making of the dish.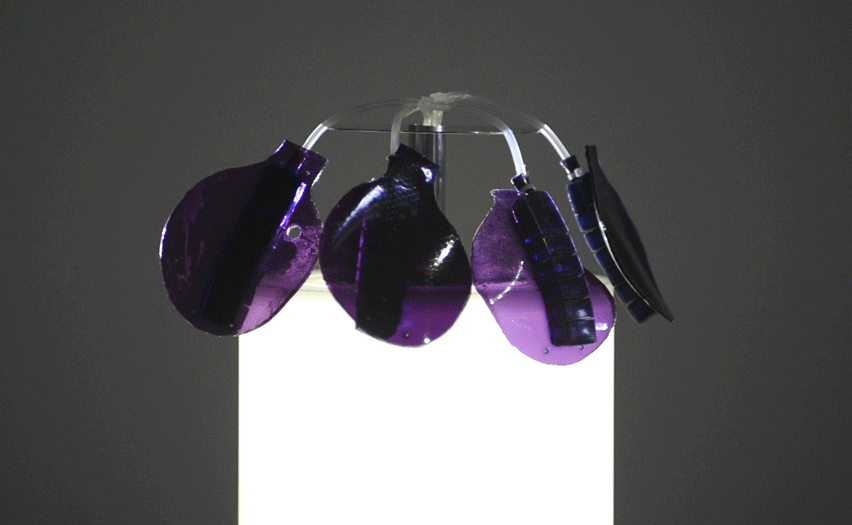 ______________
Filioppo Ioco Untitled (2010)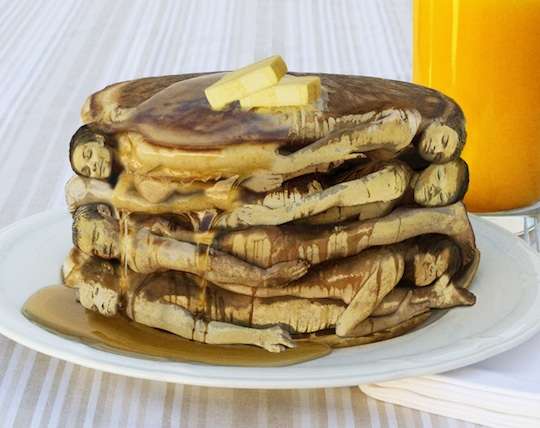 _______________
For Adrian Villar Rojas' latest exhibition ('Theater of Disappearance') at the Museum of Contemporary Art Los Angeles, I created an array of experimental cake sculptures. In tandem with the natural rock formations surrounding the immersive installation, over 70 cakes were baked to create a conversation between both sedimentary forms and textures. The cakes represented a sense of nostalgia, hidden in a timeless landscape of collected, yet abandoned artifacts.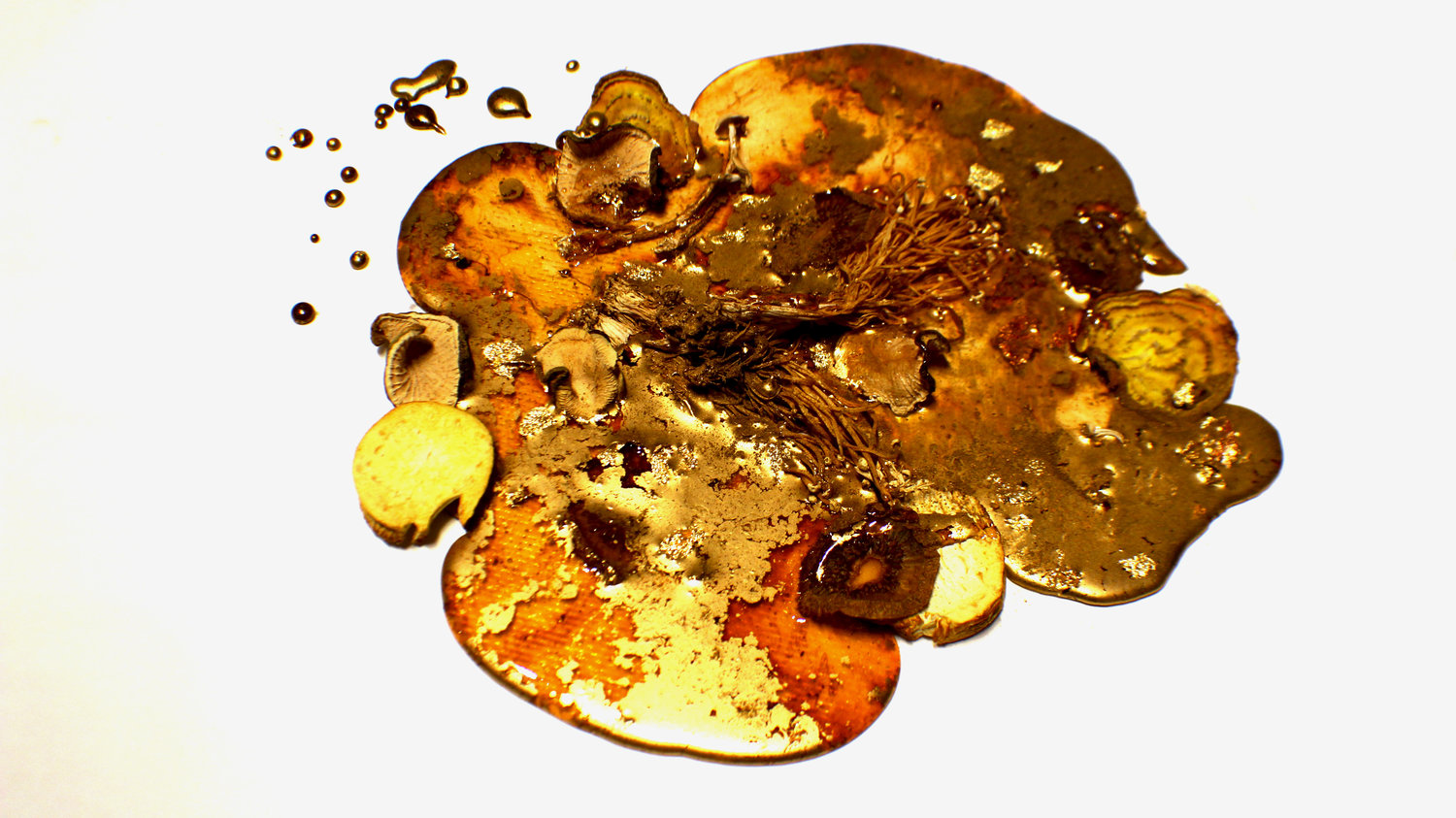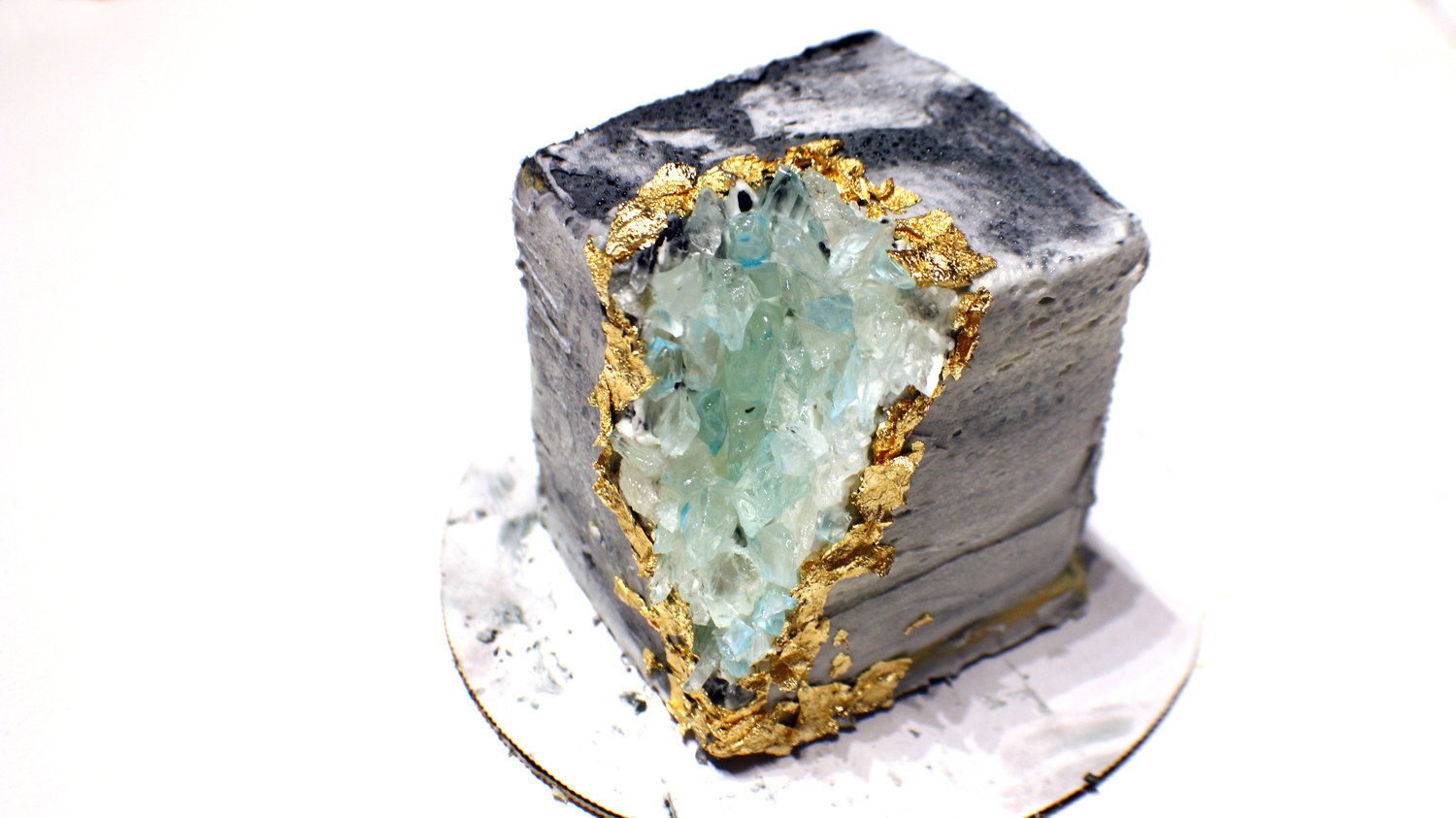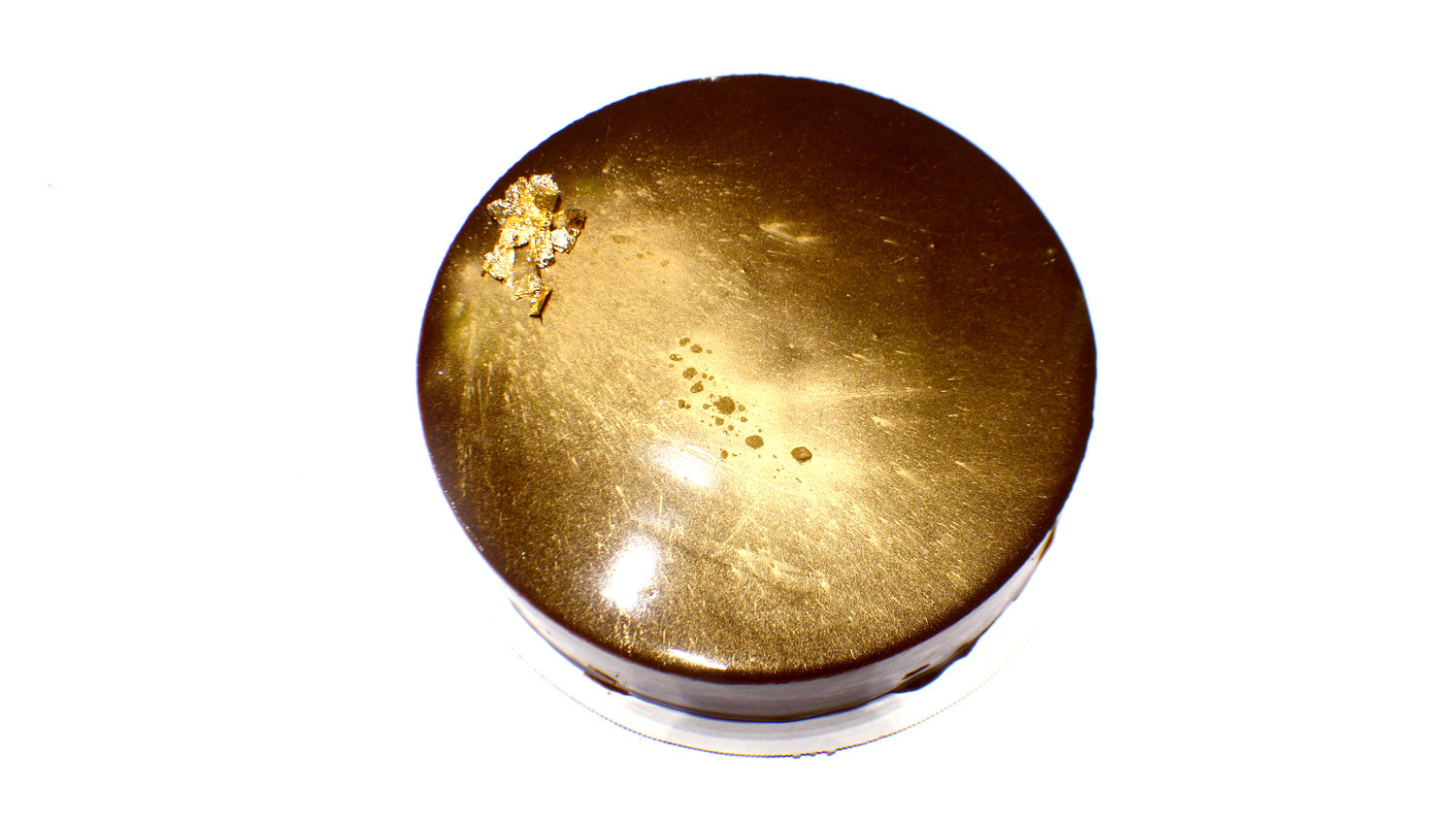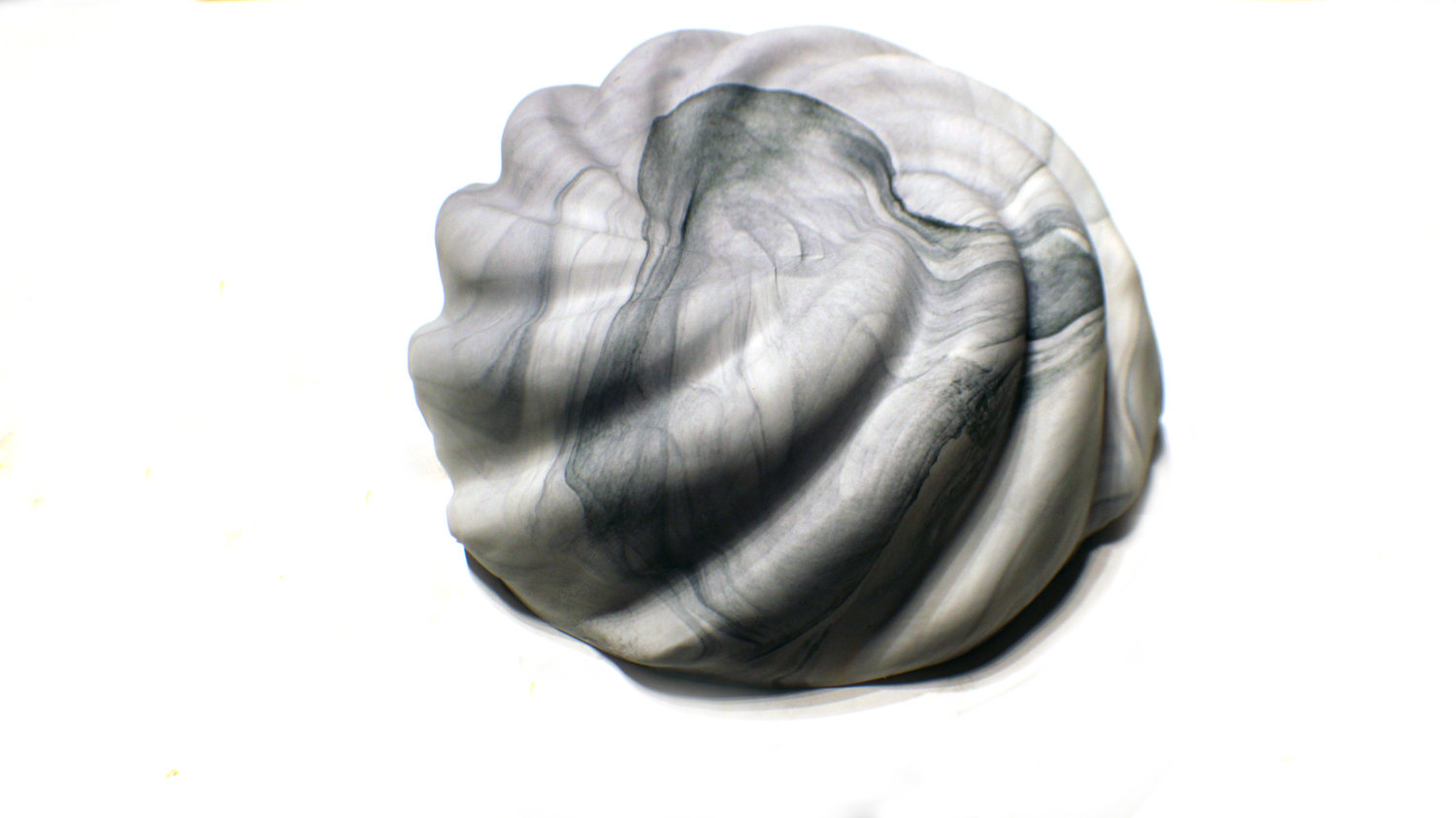 _________________
Scottish artist Anya Gallaccio has created Stroke, which involves an entire room coated in chocolate which visitors are allowed to touch and taste. "The idea of a chocolate room is one thing and the reality of a chocolate room is very much something else," says Gallaccio.
________________
No architectural model lasts forever, but Liz Hickok's facsimiles have less time than most: hardly a week before the mold sets in. That's because Hickok's choice material comes not from the art room but from the lunchroom. Despite its undeniable kitsch, Hickok swears she's not in the urban Jell-O model business for the novelty. "It's because it's alive and changing, just as our real cities are," she writes in an email. "By using a medium that is perishable I can speak to the fragility and impermanence of our cities." In her biggest Jell-O landscape, San Francisco, the buildings, only inches high, are cast in molds using regular store-bought Jell-O or straight gelatin. Hickok alters the water content of the mixture to maximize the resilience of her structures. Once assembled, she's never sure how the landscape will evolve. For a recent model of San Francisco, Hickok says that "over the course of the installation, some of the buildings molded, some of the buildings melted, and some hardened into rocks. It is very hard to predict what it is going to do, which is one of the reasons why I love the material."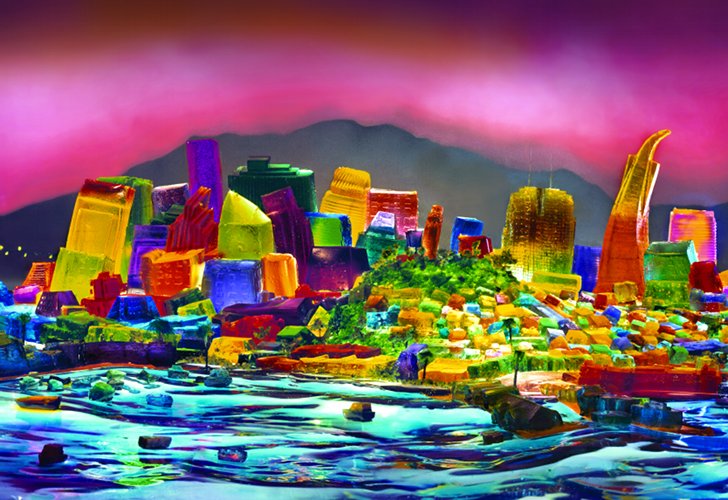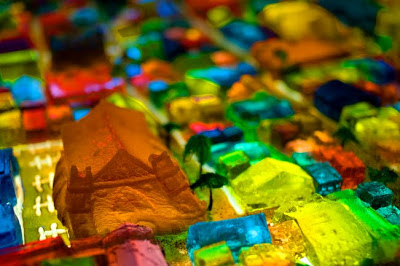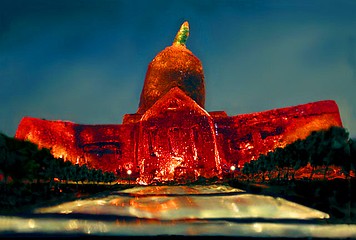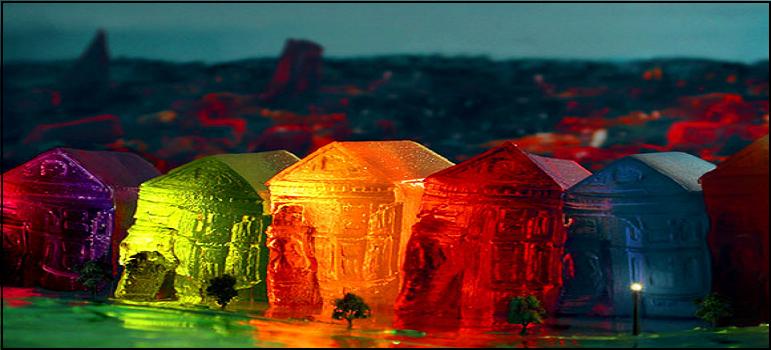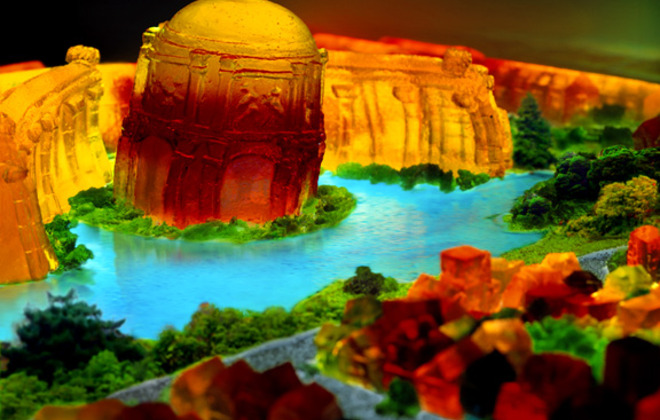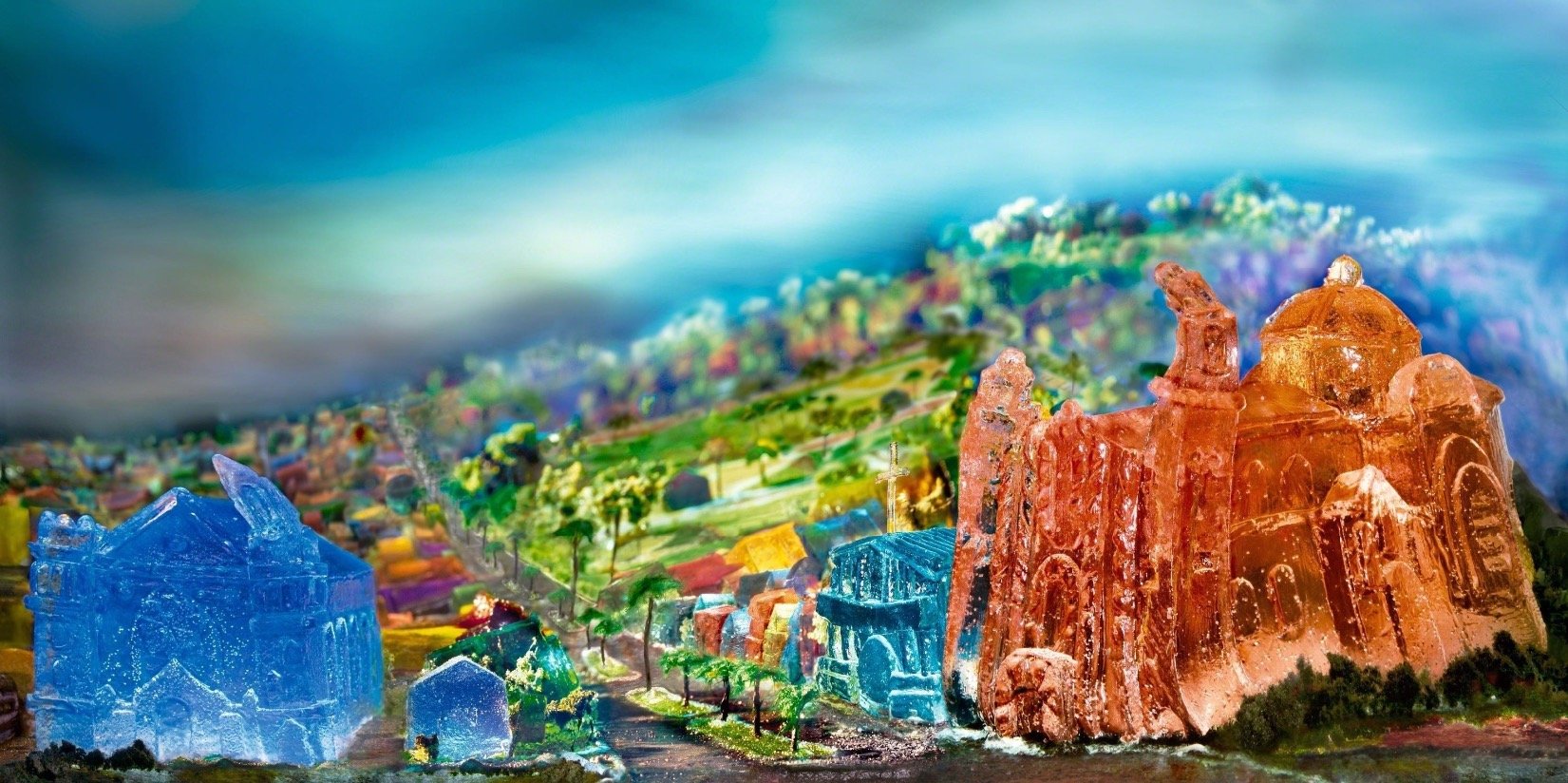 _________________
Candy maker extraordinaire and owner of sweets shop Ameshin Shinri Tezuka continues to wow Tokyo with his amazing amezaiku animals. Amezaiku is an ancient art of candy crafting. Artists create skillfully sculpted sweets that depict impressively realistic animals, from expressive koi fish to seemingly slippery octopuses. While the art form has been around since the 8th century, very few practitioners remain today. At just 27 years old, Tezuka is the youngest known amezaiku artist.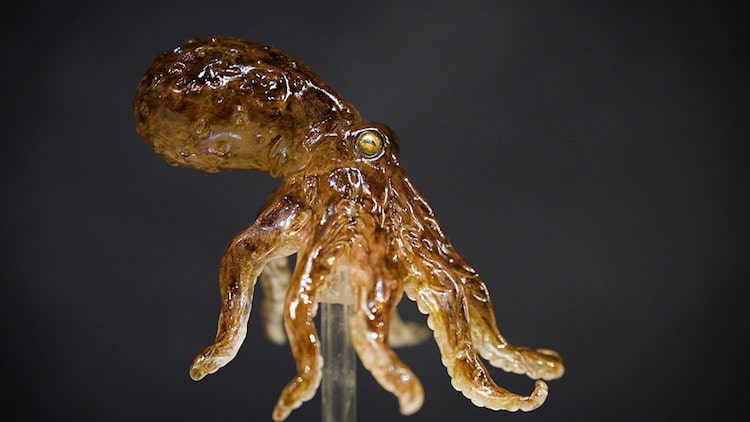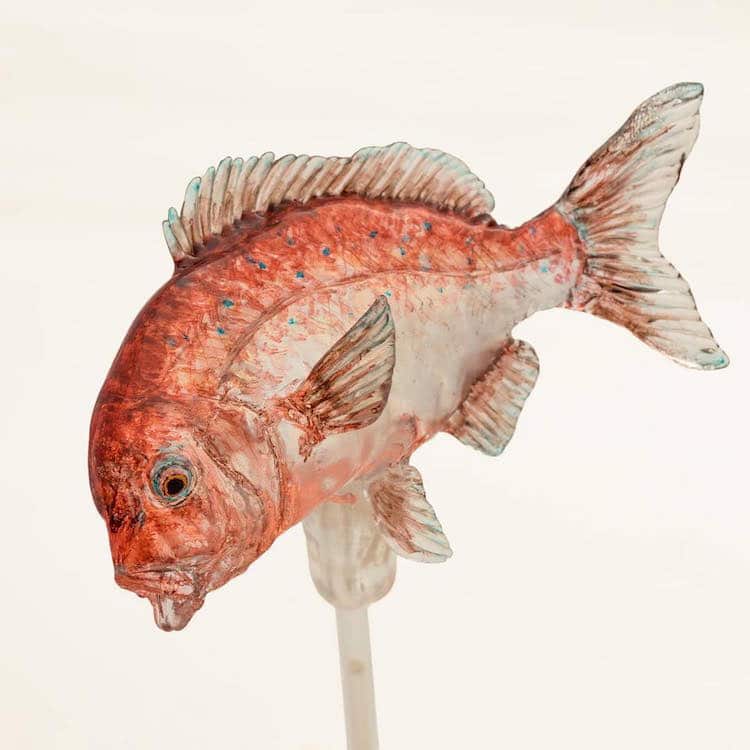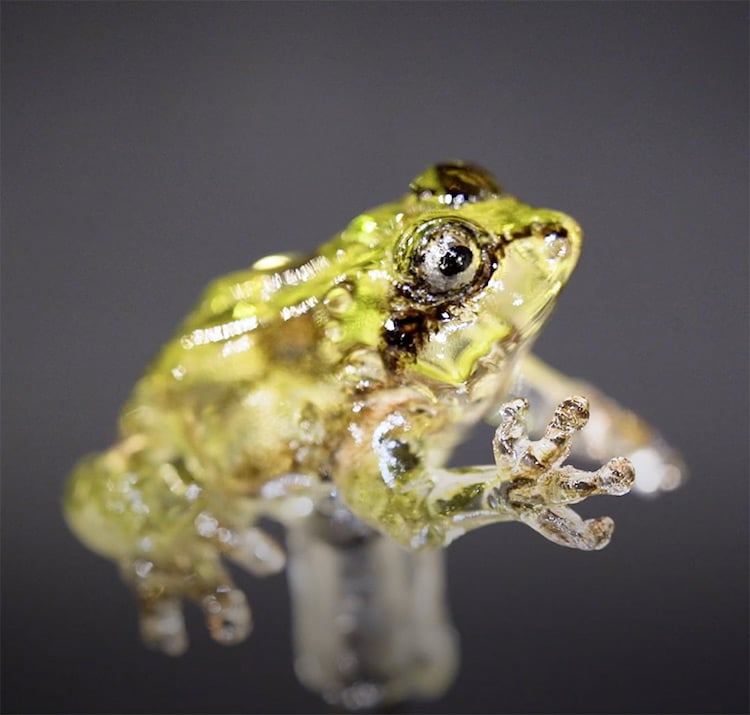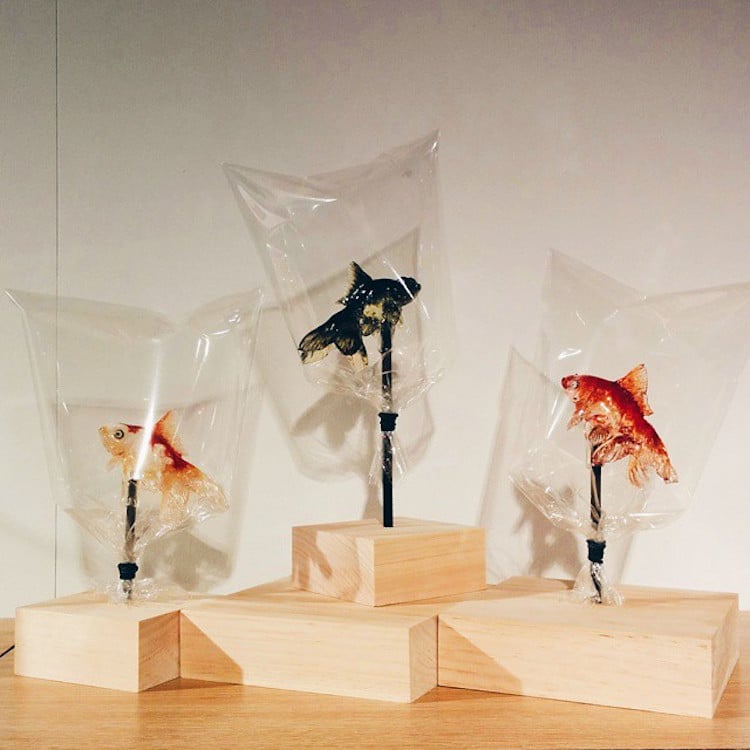 _________________
Artist Jennifer Rubell created a cell padded with edible cotton candy.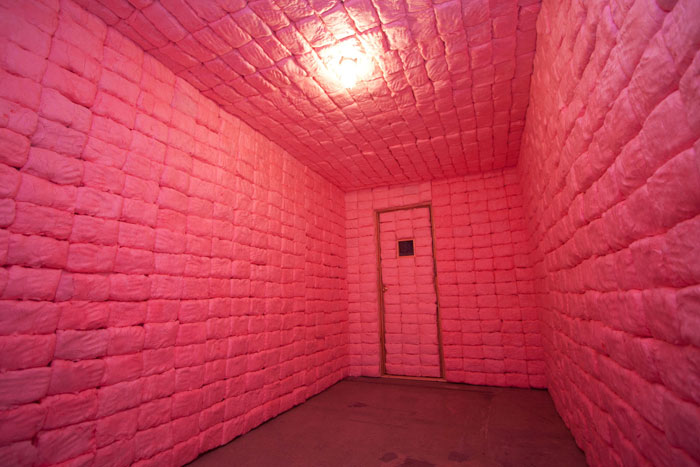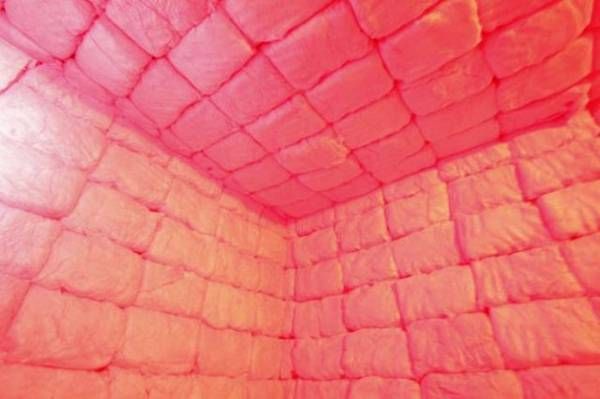 _________________
Gameboy Mania & Jami Behrends Super Mario Cake (2014)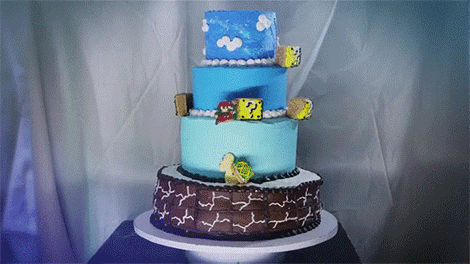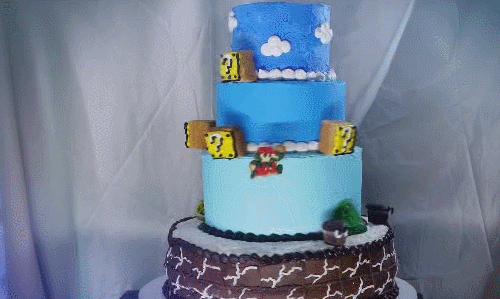 _________________
Sarah Lucas' 'Nud Cycladic 14' reimagined as a vegan lemon sponge cake.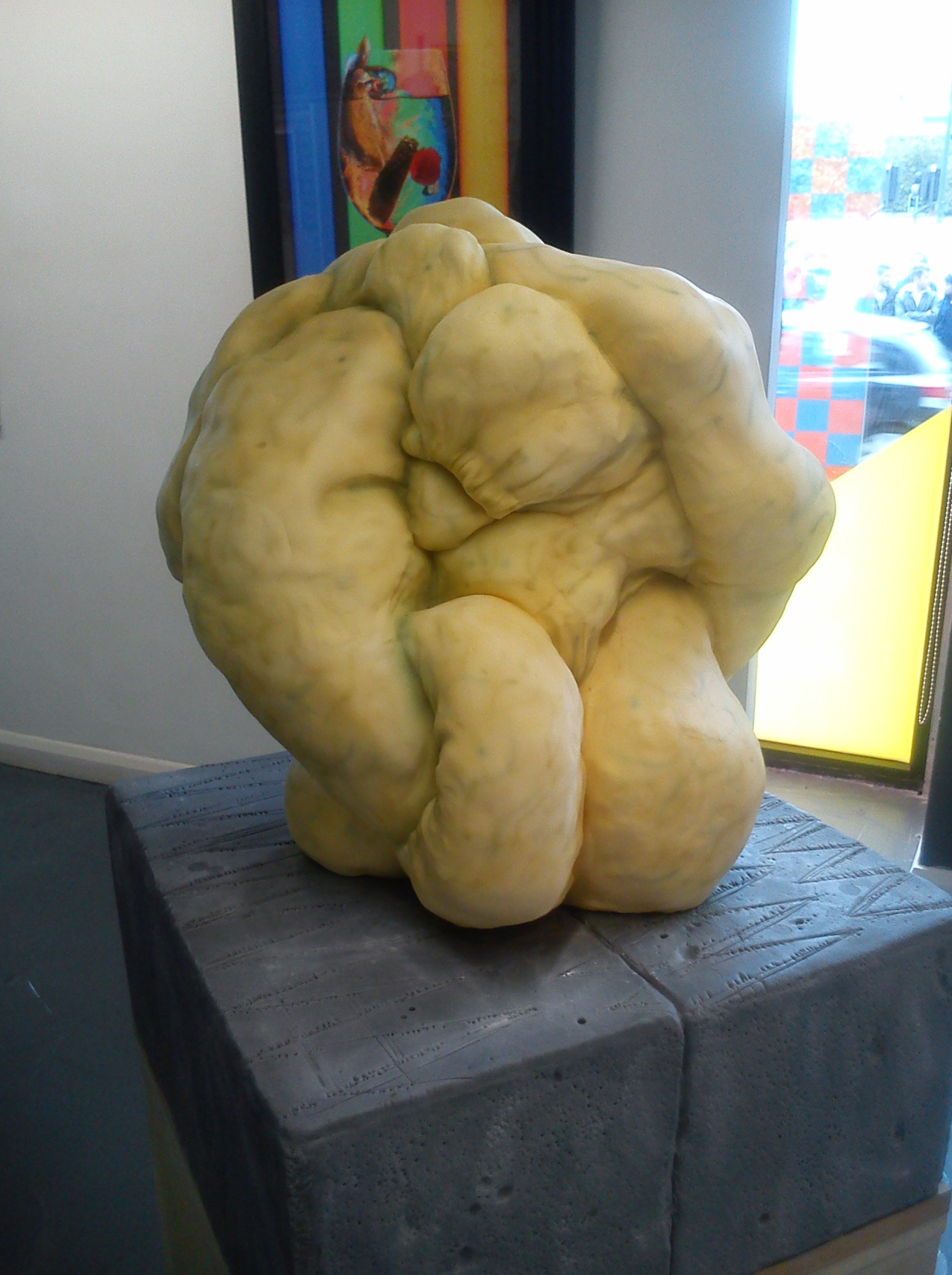 _________________
Natacha Lesueur Untitled (1995)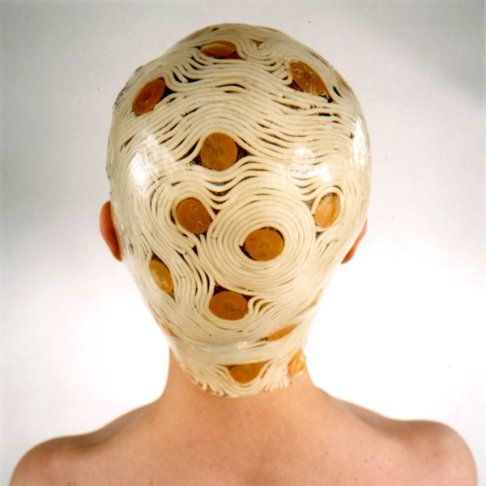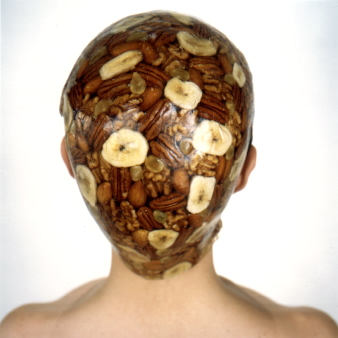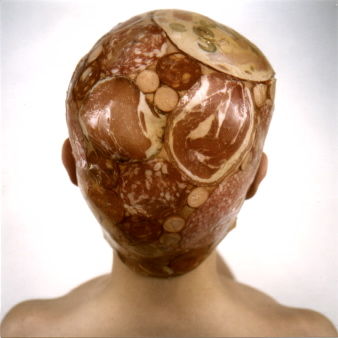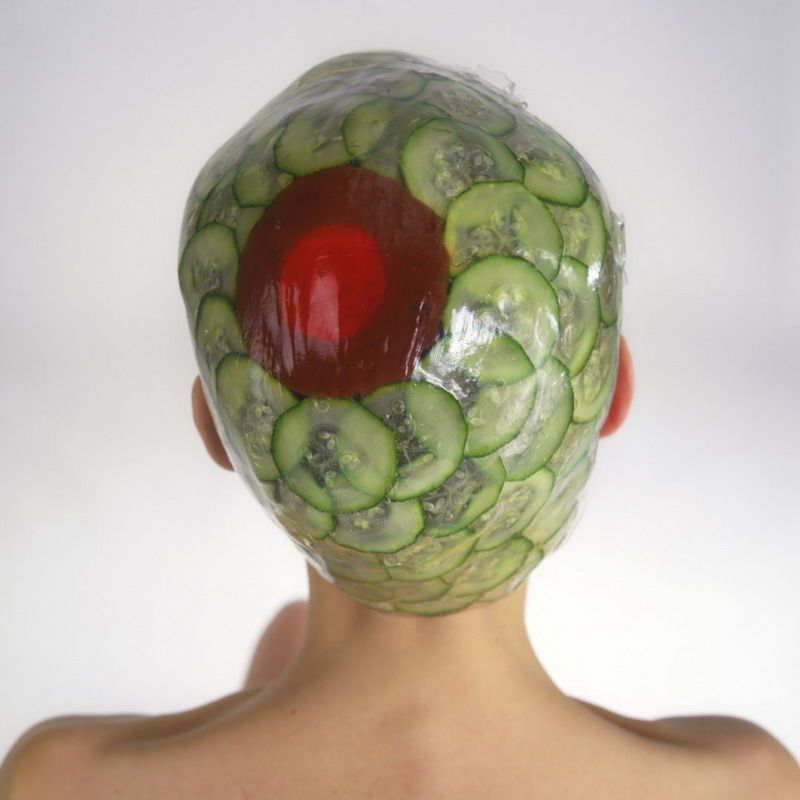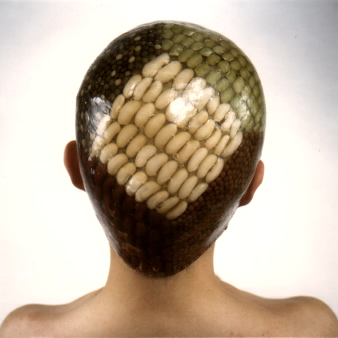 ________________
It took 56 hours to complete, was made from 4,640 chocolate sticks and 10kg of Belgian chocolate, measures 120cm by 120cm and contains 143,840 calories – but this edible labyrinth will only take a few hours to eat. The maze is the brainchild of YouTube vlogger Doug Armstrong, from London, and food artist Prudence Staite, from Tewkesbury, Gloucestershire, who created their chocolate warren in homage to the Maze Runner film.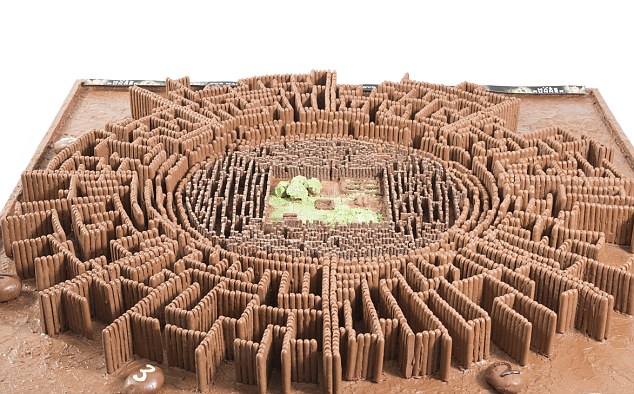 _________________
Was chosen to take part in an amazing art piece done by the artist Brandon McGill titled DUALITY. Was along with seven other young guys painted from head to toe very imaginatively with edible paint. This was followed by an art auction where invited guests bid on the artworks, meaning the edible painting not us. Those with the top bids could take us into private rooms and remove the artwork, which, yes, meant licking the painting off of our bodies. I was bought by a group of five men who had me back to a sticky version of my old self in what seemed like no time at all.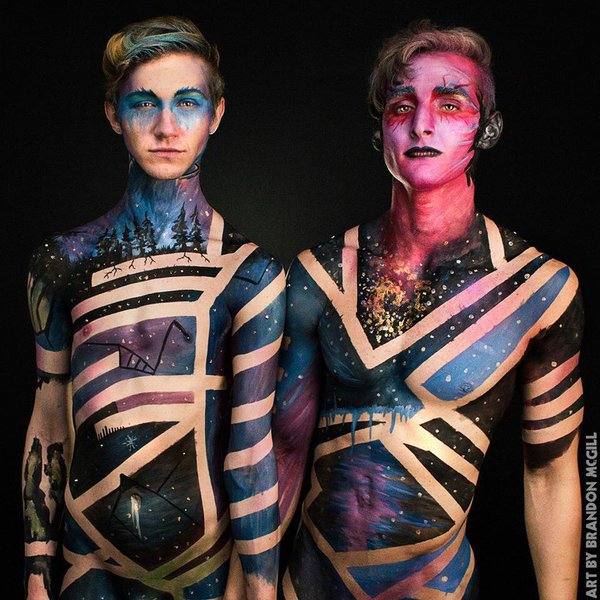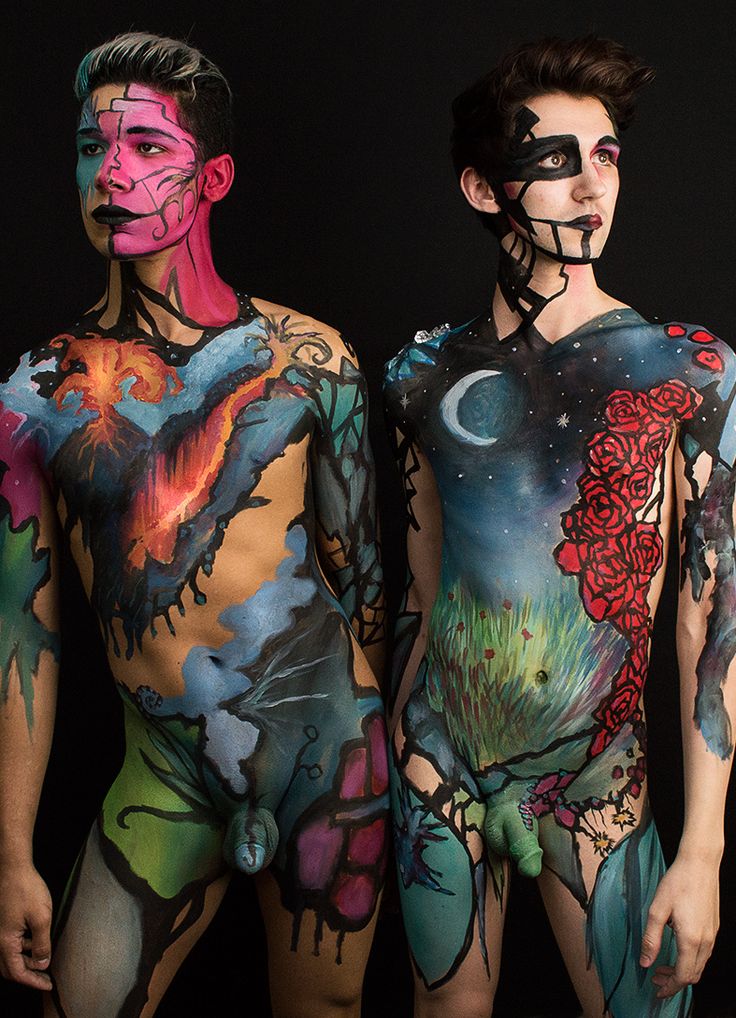 _________________
Architect-turned-pastry chef Dinara Kasko constructs cakes inspired by mathematics and sculpture. Pairing algorithms with her architectural background, she precisely pieces together cakes that look more like experimental works of art than ephemeral, edible confections.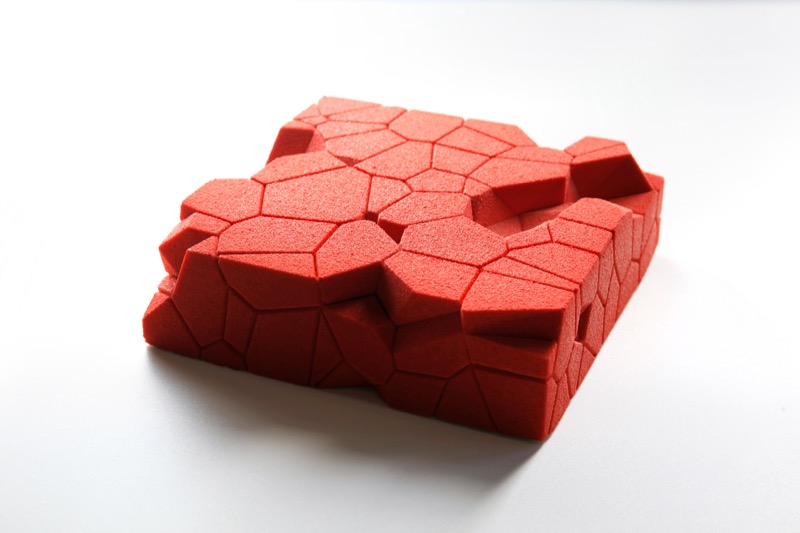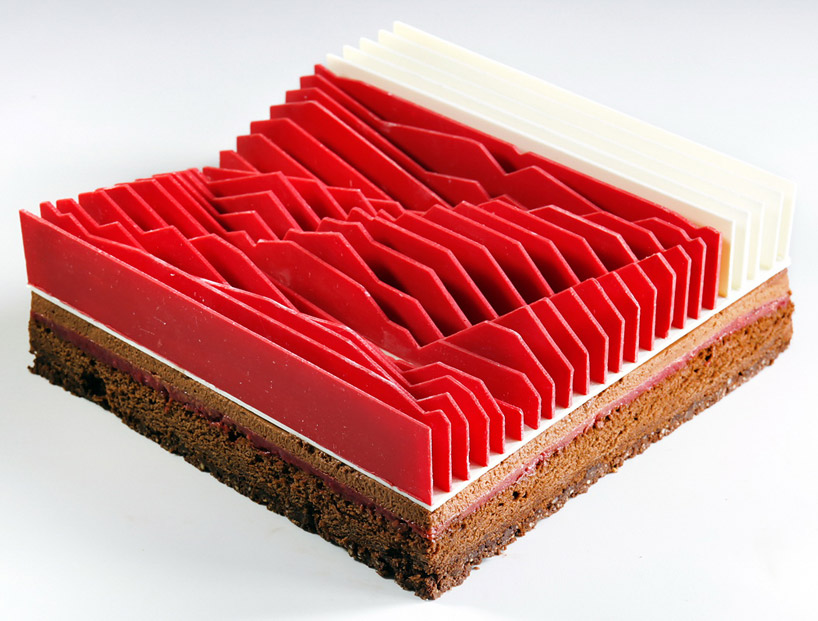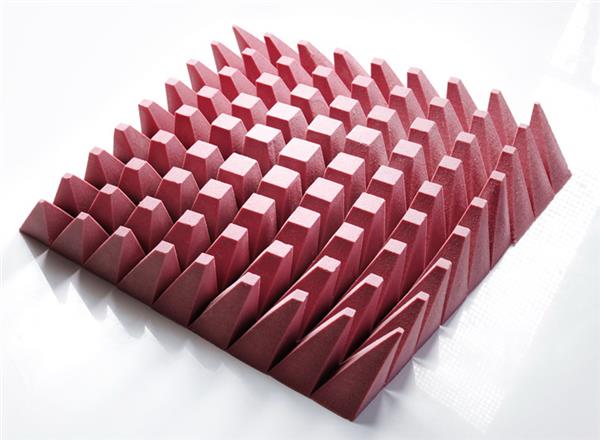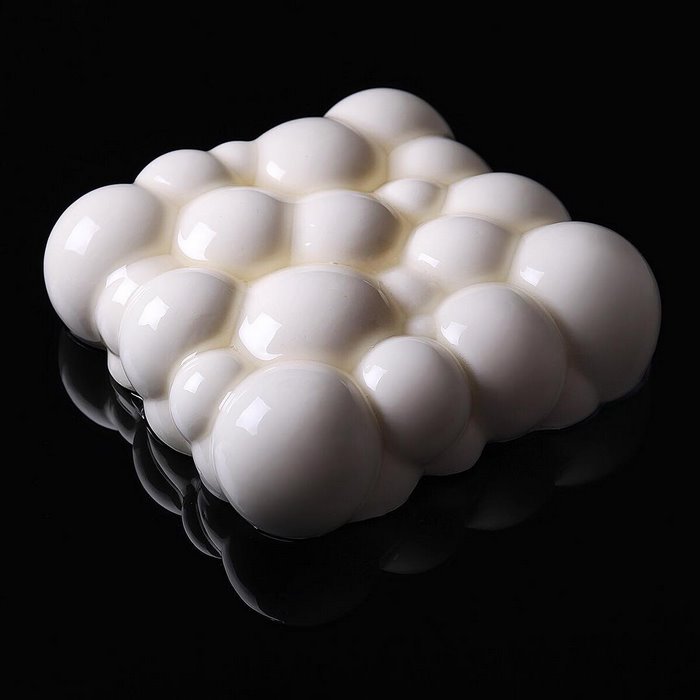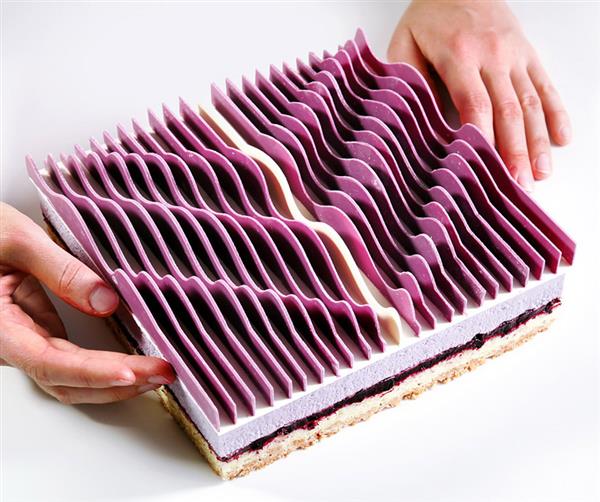 _________________
A lumpy mound of a black rock-like substance dominated the space during He Xiangyu's Cola Project. The substance was boiled down cola drink, a process developed by Xiangyu in 2008. With his team of factory workers, he "cooked" thousands of litres over a span of a year to create the crystal forms resembling coal. The work focuses on the materiality of Coca-Cola rather than the pervasiveness of the corporate identity of the product.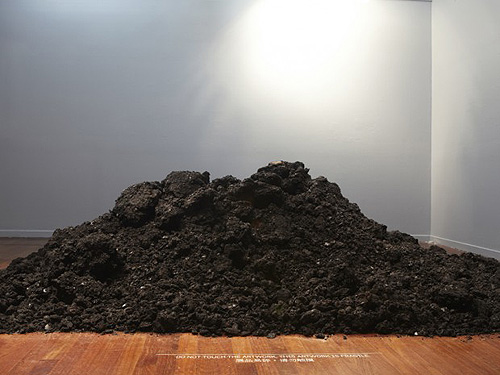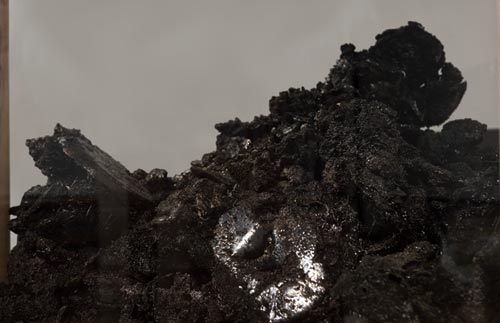 _________________
The Real Cookbook from German design agency Korefe is a delicious creation made of 100% fresh pasta. Flip it open for some inspiration, and tear out the pages to use as sheets of lasagna. For both the seasoned chef and the novice cook, just bake the book and eat!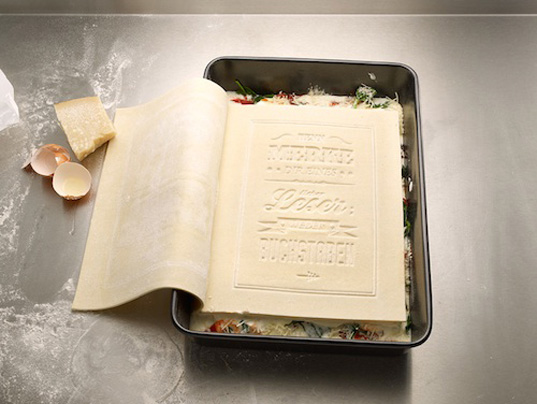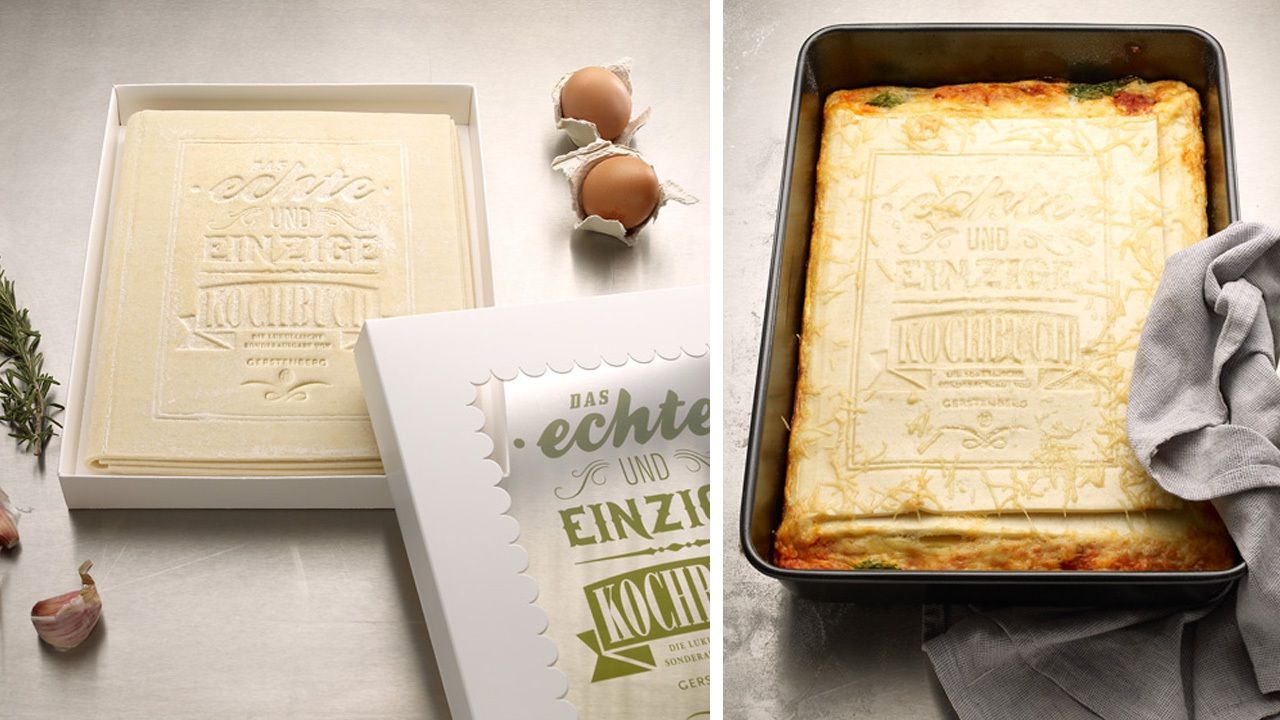 ________________
Maurizio Savini is an Italian sculptor known for making art out of chewing gum.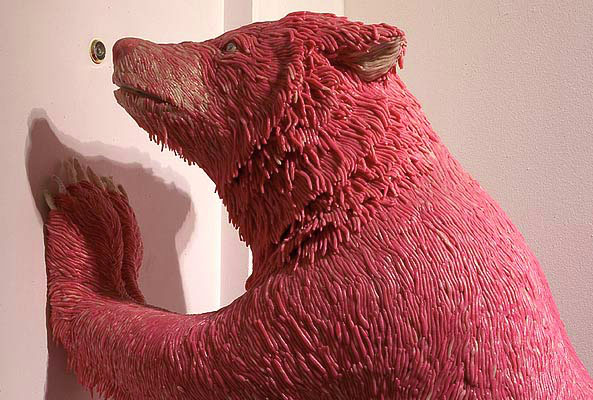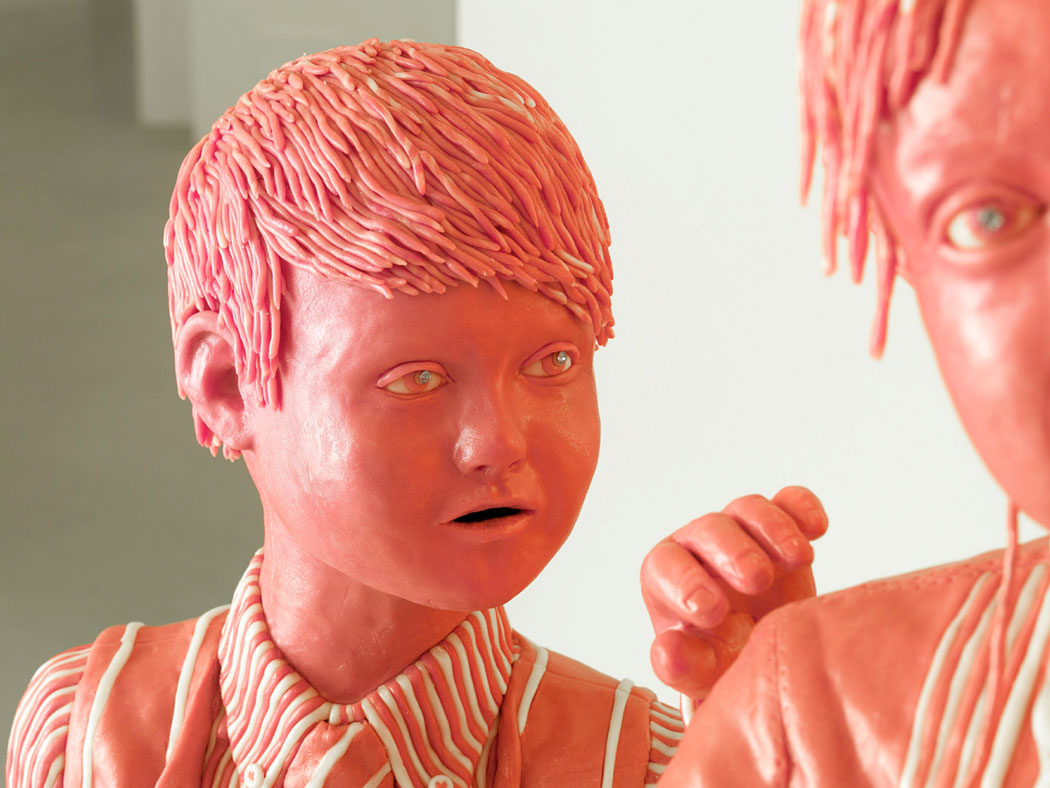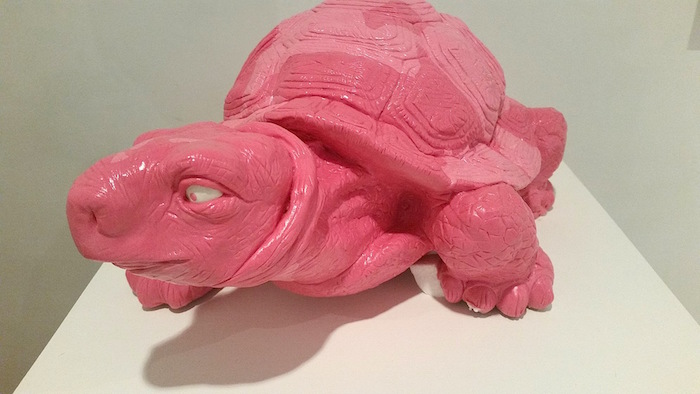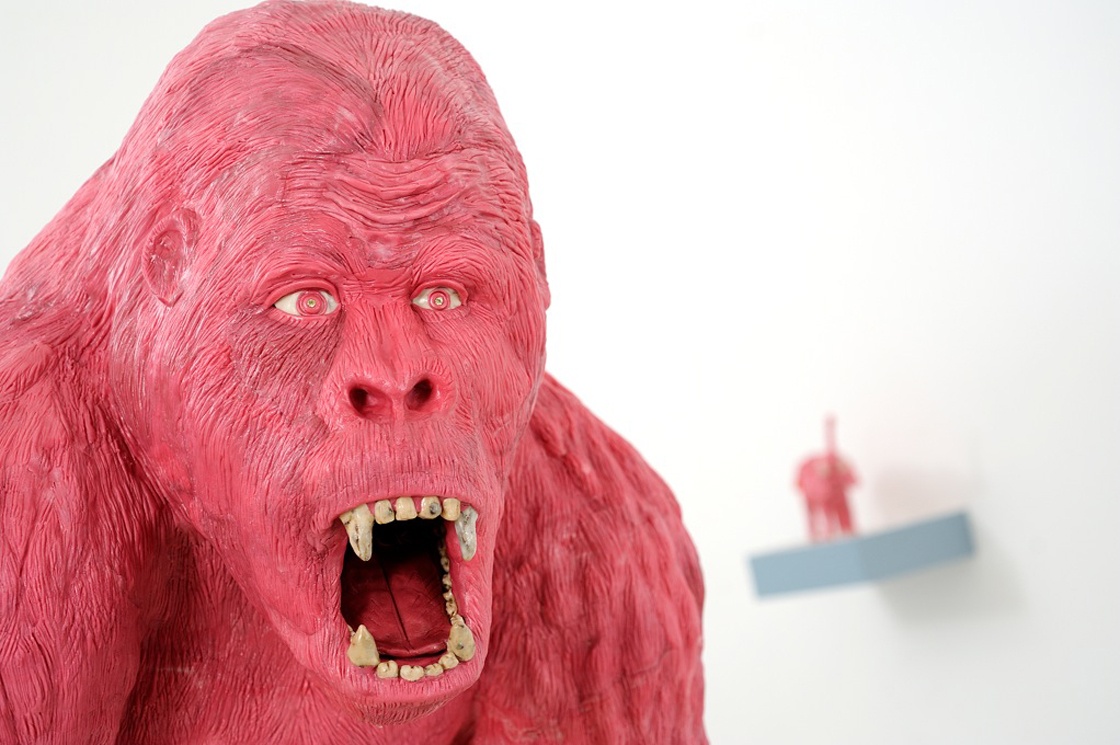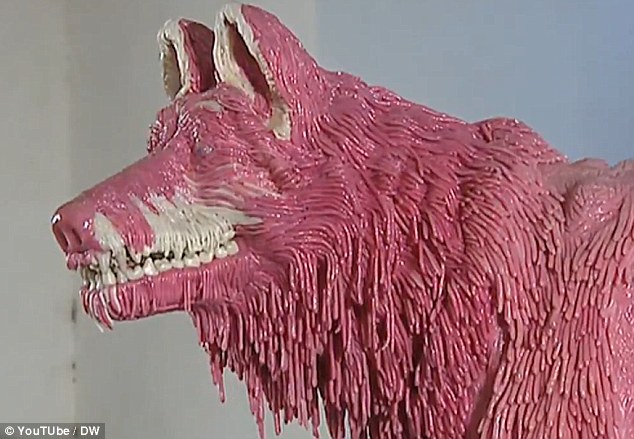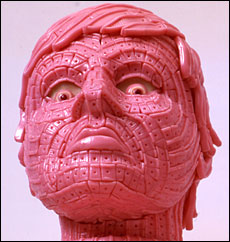 _______________
Bob Trotman Cake Lady (2002)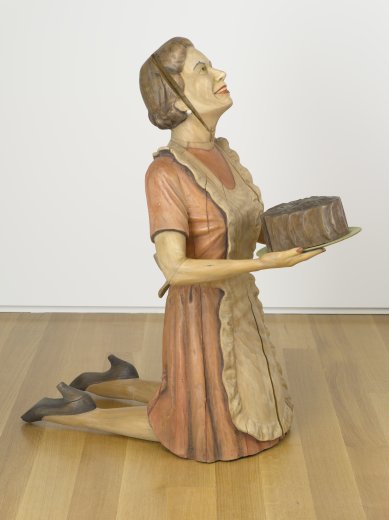 _______________
1. Put 5 Peeps in a microwave-safe bowl and microwave on high for 30 seconds. 2. Using a spoon, stir in about 1 teaspoon neutral oil until the mixture is stringy and combined. 3. Slowly stir in confectioners' sugar until you've reached your desired consistency (we used about ¼ to ⅓ cup sugar). 4. Transfer the slime to a work surface lightly dusted with more sugar. Cover your hands with sugar to prevent sticking. Knead gently until the slime is smooth.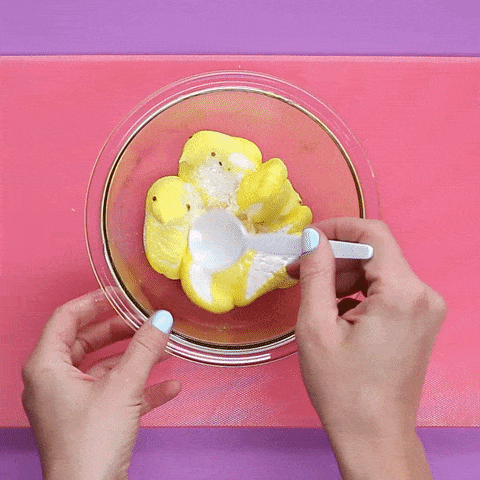 _______________
Highlights from the Texas State Fair 2011 Butter Sculpture Show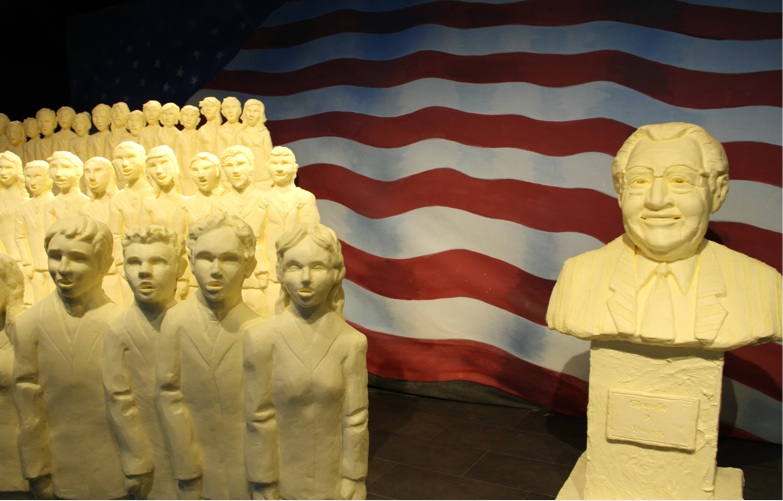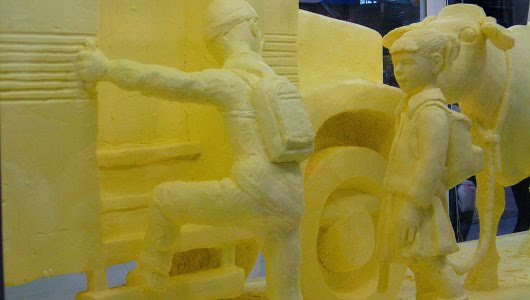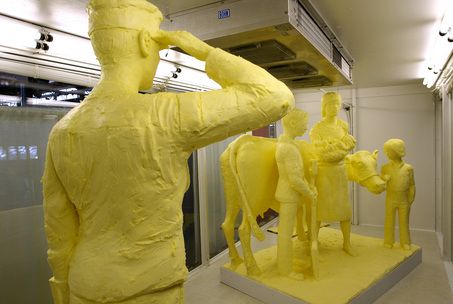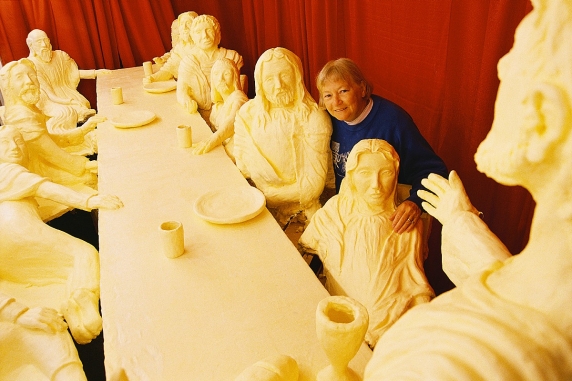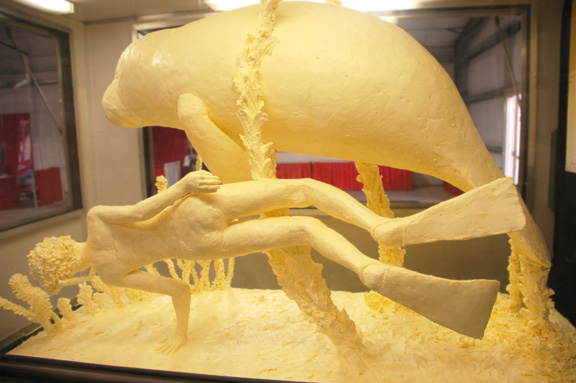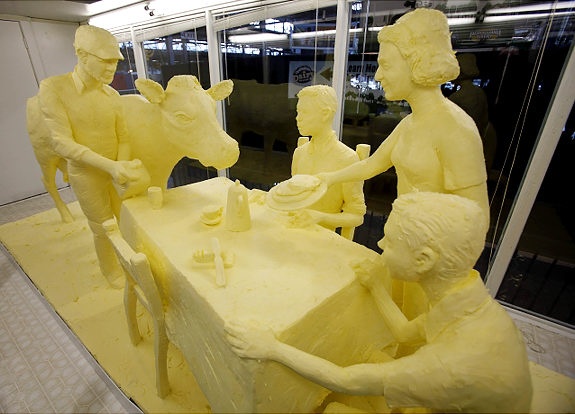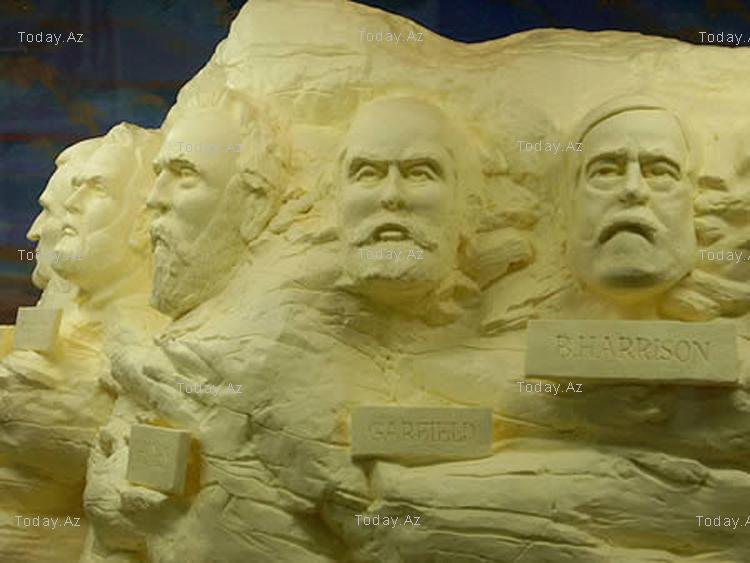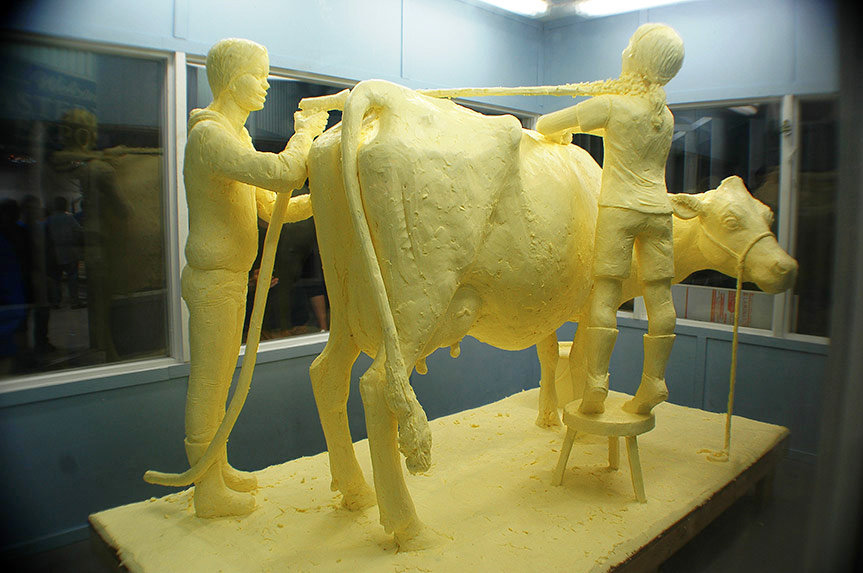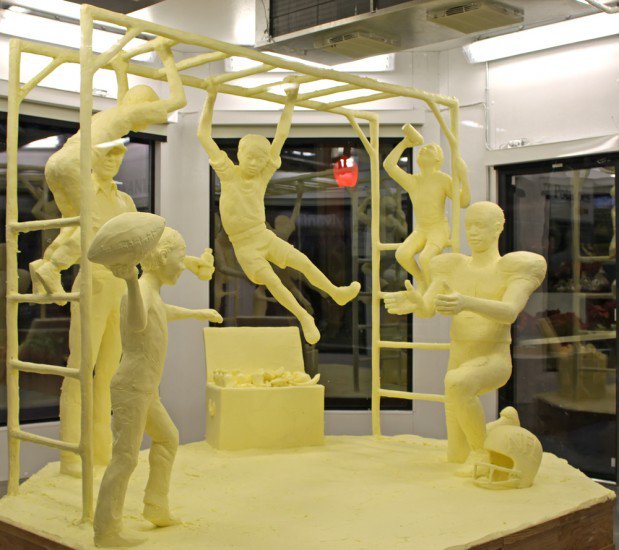 _______________
Jasmine Rae Cake (2017)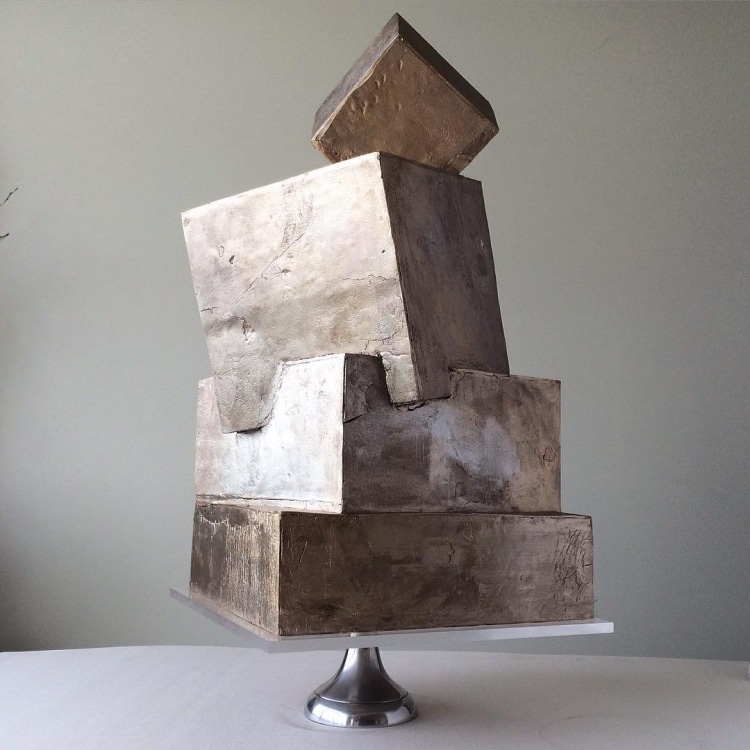 ________________
A London-based patisserie is selling edible tampon, soaked in blood. Luxury macron brand, OhLaLa, are selling this one-of-a-kind 'bloody' delicacy for a good cause. The boutique bakers created the "world's first Bloody Good tampon macarons to highlight a real issue for women around the world," as stated on their website. They joined hands with Bloody Good Period (BGP), a charity organisation that aims to create a sustainable flow of sanitary protection for those who can't afford to buy them. Thus, people who end up buying these gory tampon boxes will be contributing for the noble cause. Ten pounds from every box will be donated to "help the fight against period poverty that affects 1 in 10 women in the UK alone, with proceeds raised going toward buying period packs for asylum seekers, refugees and women with low income," the website added. The artists made the tampon as real-looking as possible and even added a blue string, which the makers say is also edible and are made of raspberry.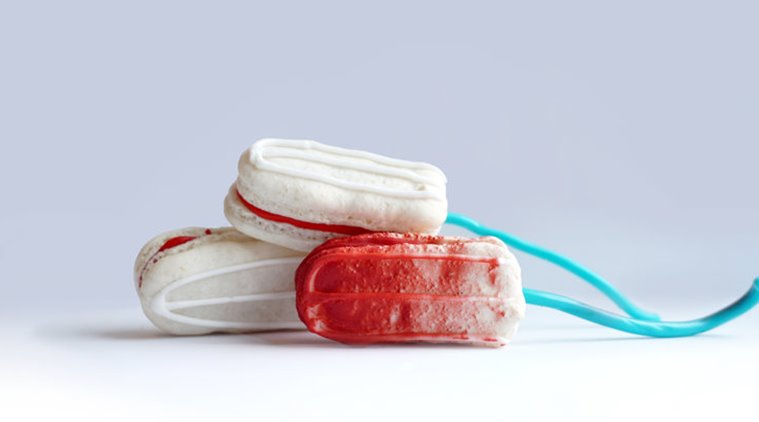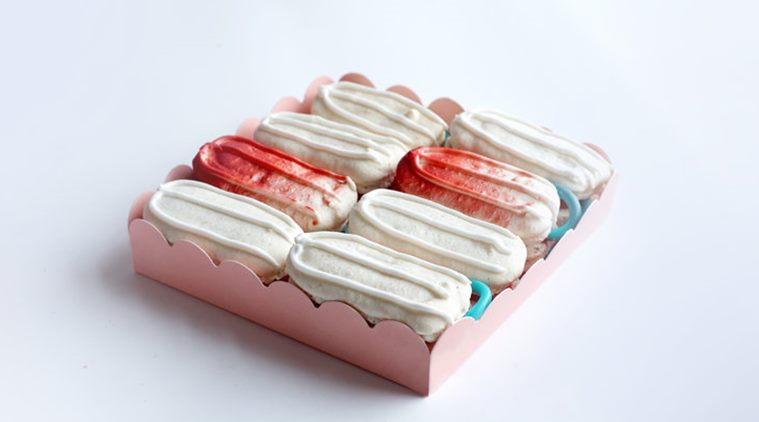 _________________
Artist Carl Warner's Foodscapes series uses real food, meticulously and painstakingly arranged on large plates to resemble landscapes, both well-known and imaginary. While there is also some photo editing at play, the attention to detail is clear in each and every one.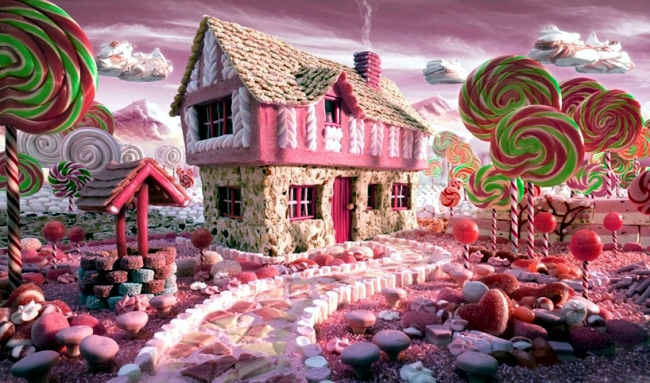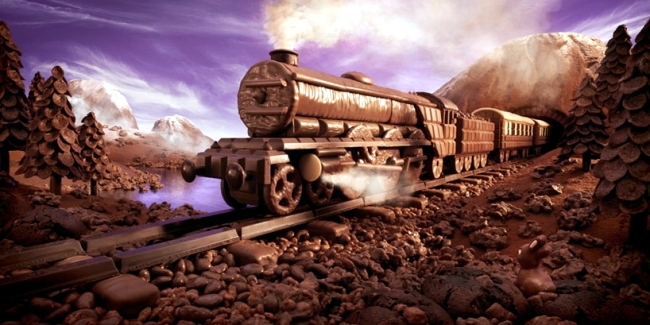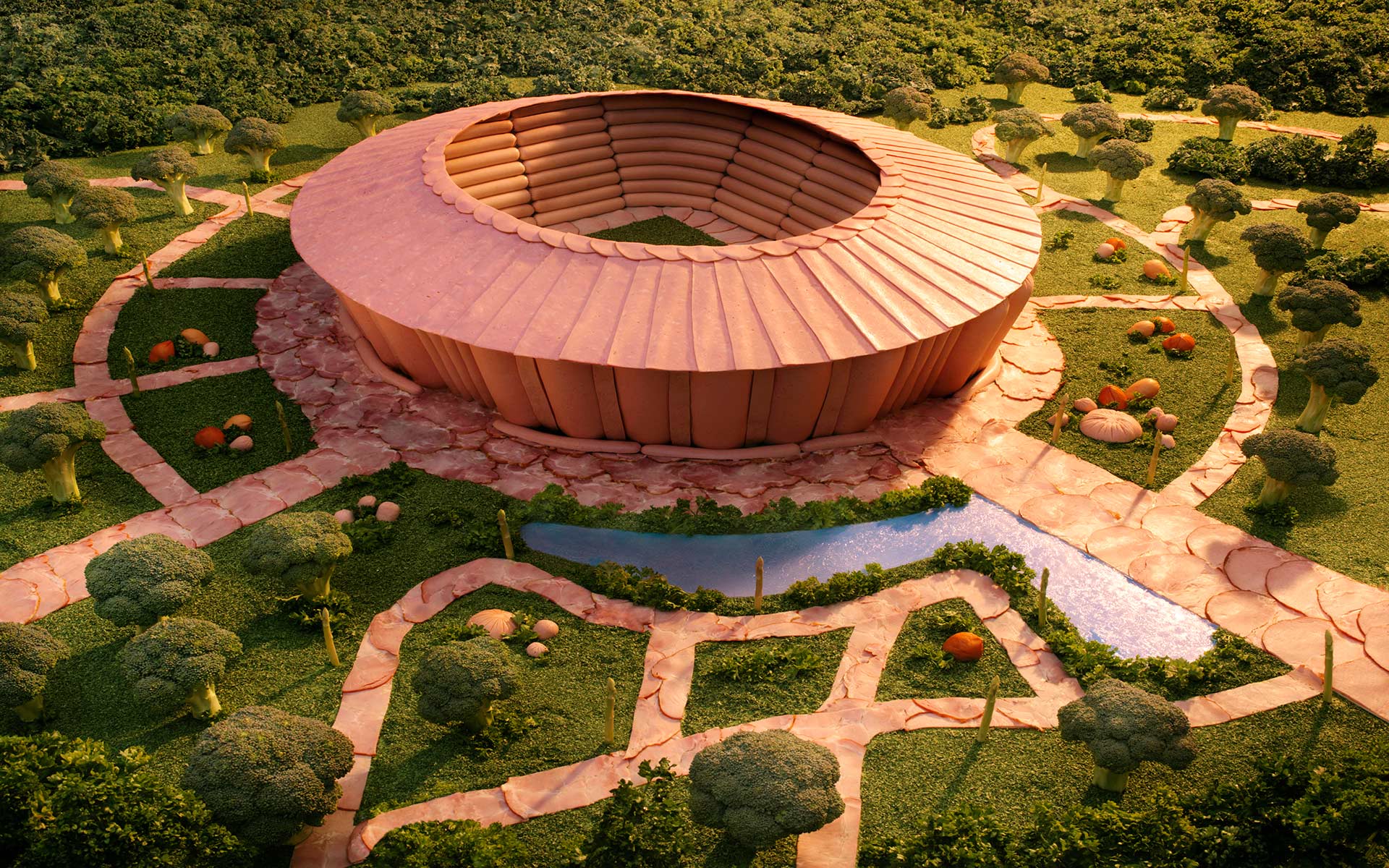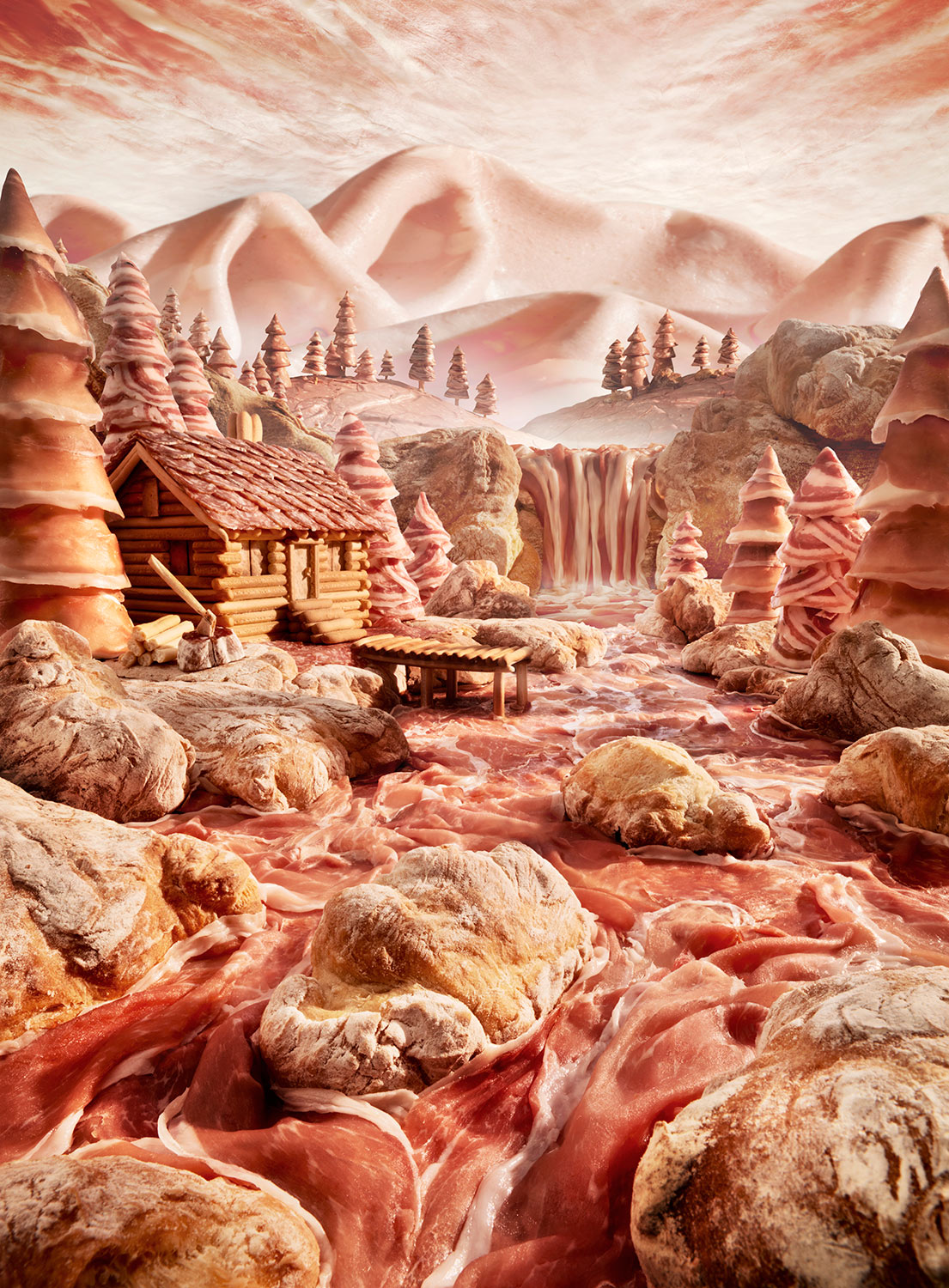 _________________
"The domestic landscape reflects our culture, our taste and our habits," say the designers Lanzavecchia + Wai. "Ostensibly living intact through good times and also adverse ones, the domestic objects become invisible to us over time with their familiarity. How can furniture react to times of crisis? The decorative elements that were once appreciated, suddenly become superfluous and should evolve to reflect a new era of austerity; the objects become edible and offer themselves to be consumed when needed."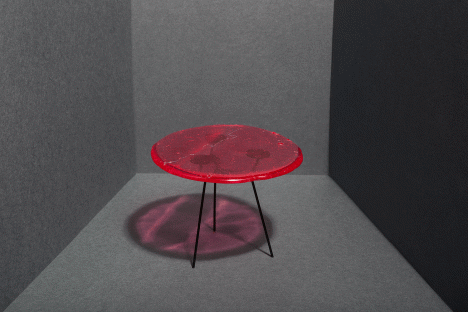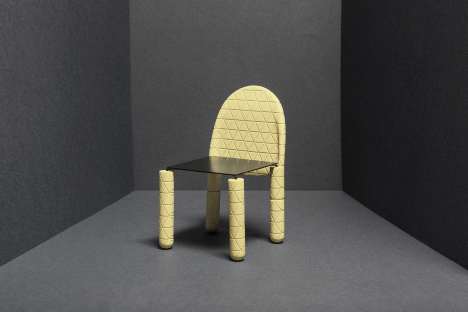 _________________
Plastic water bottles might soon be a thing of the past thanks to these edible water bubbles created by an innovative sustainable packaging start-up based in London, UK. The bubbles, called the Ooho!, are created by encasing a blob of drinking water within an edible membrane.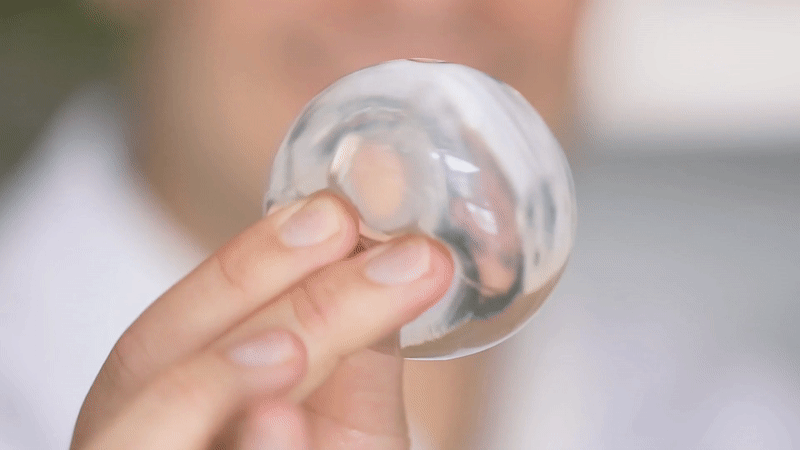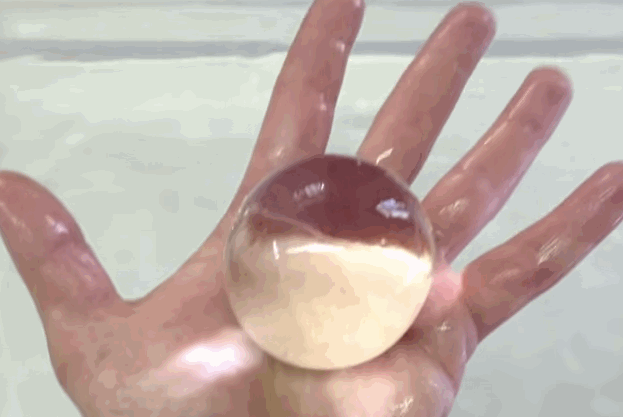 *
p.s. Hey. ** David Ehrenstein, Morning! ** Steve Erickson, Thank you again so much for the weekend, Steve! I'll test out the Jamie Isaac, thanks. Good luck on the pitching. Legal versions of drugs are inevitably so bad. I remember when there was legal Ecstasy going around in the rave days. It was just herbs and a bit of legal speed mixed in, and it was very decaf. ** Alex rose, Hi, Alex! Oh, yeah, visual arts … I haven't found a reliable central source. Here and there. I'm lucky because Paris has become a fairly big hot bed for new and old art over the past years, so I can wander around the Marais and do tons of galleries, for instance. Obviously, that really helps. Nayland's cool. Yeah, his work is kind of almost always possessing of something delightful in some odd, interesting way. Loved the picture! And all the newer work, so, so beautiful, man! ** H, Hi. Yeah, that sounds good. A little too busy on my end too, but what else is new, I guess. Happy Monday! ** Alistair, Hi, A! I thoroughly enjoyed the new Noe. It's definitely a return to form after the miserable (I thought) 'Love'. The filming is wild, disorienting, riveting. Very 'him'. The cast — all non-actor 'krunk' dancers — are all over the place as actors — the dialogue is all improvised — but the dancing is fantastic. The ending kind of just fuzzes out, and some of the very dramatic stuff is a little contrived, but it's so mesmerisingly and kind of exuberantly filmed that the whole thing is very pleasurable. Definitely see it. Thank you a lot about the gif book. That's such a good Didion quote, eh? Yeah, I think I know where you are. It sounds exciting, man. That's great to hear! The best high ever. xo ** Paul Curran, Hi, Paul! Yay! So great to see you, my friend! Thank you so much about the gif book. That really means a lot. Hm, no, no particular existing music in mind when making them, but I have making music in mind, for sure. It's kind of a mixture on the order of the narrative/image combo. It has to be because my source is pre-existing gifs. I have a general narrative or theme trajectory in mind when I start, and I usually start by hunting suitable images, but the narratives get distorted and reshaped sometimes wildly along the way since 'writing 'is based in 'juxtaposing'. One of the really exciting things about writing gif stories is that it's intensely generative from beginning to end. It's not like first constructing a narrative and then editing/revising it a la writing fiction, or not very much. I always recommend trying working with gifs as fiction because it's so concentrated and yet the fiction never really settles into a form whereby you end up spending time just refining it. It's always thoroughly maleable, if that makes sense. And the freedom you have by not having to put the narrative the topmost level as you basically need to do in written fiction is very exciting. How's everything with you and your work and life and with amazing Tokyo? ** _Black_Acrylic, Hi, Ben. So sorry for the commenting gyrations yesterday. Seven of your comments showed up, so they all are arriving and registering even if they don't tell you so. Fuck this ridiculous comments-related problem. I really hope someone somewhere can figure it out. It's mindbogglingly weird. So sorry. I'll track down the Barney Farmer book, thanks a lot! ** Jamie, Hi, J! I'm good. Weekend was kind of lazy but nice. Started planning for my long NYC trip that starts on Thursday. Saw the new Gaspar Noe film, which is a lot of fun. I'm praying to Whoever that the money that was supposedly wired to me on Friday arrives in my back today because I'm pretty fucked if it doesn't. So I don't know if I've been paid, but, even if I have been, it's not doing me any good yet. Big secret news! Promise you'll leak as soon as you won't get in trouble for leaking. Ooh, I'm very intrigued. May today put flowers in your hair as a famous song of the late 1960s urged people to do when they went to San Francisco. All across the nation, such a strange sensation love, Dennis. ** Misanthrope, Hi. Generally the animal lasts for, oh, three or four performances, so I would guess we will need to have two? Just a guess. I remember when Hell's Kitchen lived up to its name. ** Statictick, Hi, N! I'm good. Thanks about 'ZCR', man. A book to start? It depends on their thing, I guess. 'God Jr.' is a soft entry. 'The Marbled Swarm' is a complex entry. 'The Sluts' is a hard entry. Or other. Well, I'm certainly very happy to hear about your rear view mirror medical mess and that Dilantin is out of your hair and life. I need to go to a dentist so bad I can taste him or her. But … Anyway, very excellent news, pal! ToF is a super skilled draftsman, and there is a kind of obsessive aesthetic and other focus in his work that is quite impressive, but, it's not my thing either. I do really like GB Jones' homage-y, diverge-y series 'Tom Girls'. Enjoy the wedding. Dressing visibly nicer than usual is all that's required, I think? ** JM, Hey. Your first comment did show up. Yeah, yesterday seemed to be a particularly technically fucked up day for some people. The whole thing is an ugly mystery. Yeah, I kind of loved 'Singular Pleasures'. Mathews is kind of an across the board pleasurable eyeballs and brain date. You good? Things getting intense? ** Jeff J, Hey. Thanks a lot, man. I worked on that story a bit between its original appearance and the book version, but mostly on small things. I read 'Speedboat' a long time ago. At the time, I couldn't figure what the fuss was about, but my head was elsewhere, and I've been meaning to revisit it and her work in general. Congrats on the de-raccooning. Interesting about the gig. So will you rearrange songs to fit those needs or stick to playing songs that are already quieter/weirder. or … ? It sounds like it will be a very interesting exercise for the band's work is nothing else. Thanks about PGL's American dist. I think the idea at the moment is that it will get some kind of limited release in NYC and LA, minimum, and hopefully also here and there if theaters are interested. No sense of when. It's still festival chasing time probably until the fall. But thank you a lot about the local thing. That would be fantastic! I can put you or whoever in touch with the US powers-that-be when the time comes. PGL-related: I can't say much at all about this yet, but, if you were to find yourself in NYC in earlyish-mid-September, there's going to be pretty great related event going on there around then, details and dates to come. ** Nik, Hey! Hm, no, I really love her stories in general. I can't think of a particular fave off the the top of my head, but I'll give that a think. Yeah, we're super curious to see what ARTE thinks of what we've proposed. I assume TV is a really particular thing, and none of us have ever worked in that arena before, so it will be interesting and hopefully not disappointing to find out how adventurous they are. We really tried to write a TV series and not some wild three-part movie or something. Anxious to hear, I guess probably or at least initially in the next couple of weeks. Now Zac and I are trying to finalise the script for our next film so we can give it our producer to start to fundraising part. It's close to being finished. That's the main thing. And we want to make a short film, 15 minutes long maybe, while we're waiting for that to be ready, so we're talking about that and getting ready to write it. And we're going to put together a book related to 'PGL', and we're actually having our first meeting about that today. So that, plus upcoming rehearsals and performances 'Them' are my immediate happenings. How's the writing going? ** Okay. Here's a thematic post about edibility. See if it leads to anything inside you. See you tomorrow.