______________
The Museum of Funeral Customs (Springfield, IL)
'The museum was near Oak Ridge Cemetery, the site of Abraham Lincoln's tomb. Collections at the museum included a re-created 1920s embalming room, coffins and funeral paraphernalia from various cultures and times, examples of post-mortem photography, and a scale model of Lincoln's funeral train. A gift shop provided books and funeral-related gifts, including coffin-shaped keychains and chocolates. The museum was closed in March 2009 due to poor attendance.'
______________
Farm Implement Museum (Bloomfield, CT)
'When former migrant worker Wentworth T. Phillips opened his museum, he received an $80,000 loan from the Small Business Administration to develop the museum's six acres of land and to cover initial operating costs. He also received two grants, for $10,000 and $25,000, from the State Department of Economic Development. Otherwise he has run the museum single-handedly, taking in less than $2,000 a year. Since 1980, he said, he has made only one loan repayment. In 1987, the Small Business Administration began foreclosure proceedings on his house, which he had used as collateral, said Hunter Lohman, deputy district director for the administration's office in Hartford. Mr. Phillips has been allowed to remain in his house, where he operates an antique and clock repair business. However, Mr. Lohman said if Mr. Phillips did not repay the loan shortly his house and museum collection would be auctioned.'
____________
America's Black Holocaust Museum (Milwaukee)
'America's Black Holocaust Museum (ABHM) was a memorial dedicated to the victims of the Black Holocaust. It was founded in 1988 by James Cameron, the United States' only known survivor of a lynching. Cameron died in 2006; in 2008, the museum's board of directors announced that the museum close because of financial problems.'
____________
The Kerosene Lamp Museum (Winchester Center, CT)
This is the Kerosene Lamp museum. It is no longer open; the proprietor died a few years back.
____________
The Liberace Museum (Paradise, NV)
'The Liberace Museum housed many stage costumes, cars, jewelry, lavishly decorated pianos and numerous citations for philanthropic acts that belonged to the American entertainer and pianist Wladziu Valentino Liberace, better known as Liberace. The non-profit museum funded the Liberace Foundation for the Performing and Creative Arts. The museum closed to the public on October 17, 2010, due to a drop in admissions. In January 2013, the Liberace Foundation announced plans to relocate the museum to Downtown Las Vegas, with a targeted opening date of January 2014. Those plans never materialized.'
______________
The Umbrella Cover Museum (Peaks Island, OR)
Nancy Hoffman's museum (1994 – 2013) began when she realized that so many umbrella covers get tossed aside, but kept for no real reason. Until its closure due to lack of attendance one could visit the museum by taking the ferry from Portland to Peaks Island.
____________
Hua Huan Museum (Kyoto, Japan)
_______________
Eight Track Museum (Dallas, TX)
'Established 2010. Preservation and presentation of all audio recording formats from the 1800's to present day, while focusing on the 8 track tape.Visitors may photograph, video, and linger. Fantastic t shirts and yes, 8 track tapes, for sale in the gift shop. Visits are available by appointment. Closed 2016.'
____________
Charles Ives Birthplace Museum (Danbury, CT)
'I am a little hesitant to pronounce this place dead just yet, so let's call this venerable museum more of a zombie than a corpse. The house is a mess; with a caved in ceiling and no wiring and who knows what else. It is estimated that it would take a million bucks to restore it to be an awesome museum, drawing international visitors interested in Ives's early life. I wish them all the luck in the world, as Ives is easily one of the most important American composers in history.'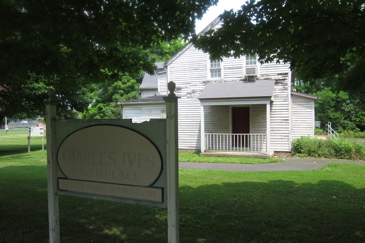 _____________
The Warren Occult Museum (Monroe, CT)
'Ed and Lorraine Warren are some of the most well-known names in paranormal research in America. Ed spent his childhood in a haunted house, and not long after they were married, they found themselves drawn to some of the most haunted locations across America. They're perhaps most noted for winning a court case for a woman and child who claimed their house was haunted and uninhabitable – something that hadn't been disclosed at the time they signed the lease. The Warrens found proof for her that held up in court, and their recently closed museum held almost countless other examples of their work. Many of the artifacts that made their way into their possession were on display in the museum, and this was one place that you definitely, absolutely, 100 per cent for sure didn't want to touch anything… because you might have been taking home more than you came with. You could see Satanic idols, conjuring mirrors, real shrunken heads, masks, instruments that are said to play themselves, and not a few possessed items.'
______________
The Burnt Food Museum (Arlington, MA)
Containing "some of the best carbonized culinary artwork in the world," the Burnt Food Museum was started when founder and curator Deborah Henson-Conant put some apple cider on the stove to heat up, got distracted by a long phone call, and came back to find the cider burnt down to a black crust. Until her death in 2015, submissions poured in from all over, like "Kruncheroni 'N Cheese," from a couple whose son messed up microwaving mac and cheese and hid the burnt remains under his bed in shame, and "Honey, I Found It!," a pan of cooking utensils accidentally melted to a baking sheet left in the oven for storage.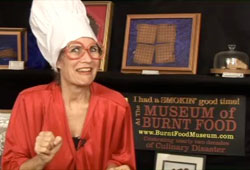 _____________
The Al Capone Story (Chicago)
'Opened in 1995, It featured animatronic figures.This show explained the 1920's and the Capone story from beginning to end. The museum was closed for many reasons. 1) It didn't make the owners the money projected. 2) The owners were offered more than what they had paid for the property. 3) The protesting by the Italian community of Chicago, who was upset at the glorification of a criminal. They had opposed the project from it's inception and during it's short existance. The city and Mayor Daley was quite happy to see it go.'
______________
The John Lennon Museum (Saitama, Japan)
'To those of you who've loved the John Lennon Museum: John Lennon's destiny spanned the whole world. His spirit came alive through movement, and without movement, it dies. If the Museum which houses his spirit never moved, it would be a grave, not a Museum. John does not have a grave. When he passed on, I publicly announced that I would not be holding a funeral for him. I did so because I knew his spirit would live forever. After ten years here, John's spirit is now moving on—looking onward to the next journey. Thanks to your love for the Museum, what we'd thought would be five years became ten. 

I'm so grateful to those of you who've loved the John Lennon Museum. John's spirit lives on in each one of you, and I know your spirits will be the power of love that brings peace to the world. Thank you, everyone!' — Yoko Ono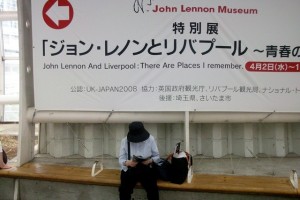 _____________
UCM Museum (Abita Springs, LA)
'A labor of love for artist John Preble, the UCM Museum (pronounced "you-see-'em museum) opened in 2000 and featured everything from the "House of Shards," bejeweled with chunks of shattered pottery, to "Aliens Trashed Our Airstream Trailer," a mobil home impaled by a flying saucer. Elsewhere, the museum housed Buford the Bassigator, a collection of pocket combs and paint-by-number masterworks, a shrine to Elvis, and a miniature river town.'
_____________
Mickey's Museum (Coffs Harbour, Wales)
_____________
The Tooth Fairy Museum (Deerfield, IL)
'The Tooth Fairy Museum was located in the split-level ranch home on 1129 Cherry Street in suburban Deerfield, Illinois. Created in 1993, the non-profit Tooth Fairy Museum was operated by Dr. Rosemary S. Wells, a former professor at the Northwestern University Dental School. She was considered be the world's tooth fairy expert. The museum portion of her home contained more than 100 tooth fairy dolls, about 700 drawings by kids, books, pillows, paintings, sculptures and boxes designed to hold baby teeth. Upon her death on May 18, 2000 at the age of 69 at the Whitehall North Nursing Home, her husband sold all of her memorabilia which represented tooth fairies from many different ethnic groups and cultures.'
______________
Glore Psychiatric Museum (St, Joseph, Missouri)
'Located in Saint Joseph, Missouri, the museum chronicled the life of not only the St. Joseph State Hospital, but the mental health division that was once called State Lunatic Asylum No. 2. Developed by former employee George Glore (Glore passed away in 2010), the museum showcased nothing short of torture devices once used in the treatment of the mentally ill not only at the asylum, but throughout history. Some of the older pieces included the Lunatic Box, which was exactly that – a large box where people would be forced to stand, for hours in darkness and isolation, until they were deemed calm enough to be released back into the general population. Just as nightmarish was the Tranquilizer Chair, where patients were strapped in order to allow the doctors to perform their treatments with relative ease. There was the Bath of Surprise, which dumped a patient into ice water, there were bleeding knives that were once used to drain blood from patients to cure a variety of illnesses, and there was even a giant treadmill, which was little more than a hamster wheel for patients who needed a little more exercise than normal to release their pent-up energy. Artwork done by patients over the years gave visitors a look into the more intimate thoughts of the people who were being held at the hospital, and another creepy piece of artwork was made up of nearly 1,500 items extracted from the stomach of a patient – including nails, spoons and the tops of salt and pepper shakers.'
______________
Salisbury Cannon Museum (Salisbury, CT)
_____________
Morbid Anatomy Museum
'The Museum was conceived, organized and planned by Joanna Ebenstein, Tracy Hurley Martin, Colin Dickey, and Aaron Beebe and located at 424a Third Avenue in Brooklyn, a former nightclub building the interior of which was re-modeled by architects Robert Kirkbride and Tony Cohn in 2014. In Ebenstein's words, the new space was designed to give a home for a "regular lecture series and DIY intellectual salon that brings together artists, writers, curators and passionate amateurs dedicated to what [Joanna Ebenstein] sums up as 'the things that fall through the cracks'". The space focused on forgotten or neglected histories through exhibitions, education and public programming.[7] Themes included nature, death and society, anatomy, medicine, arcane media, and curiosity and curiosities broadly considered. The artifacts featured in its rotating exhibitions were drawn from private collections and museums' storage spaces.'
_____________
The Bagpipe Museum (Ellicott City, MD)
'The museum displayed a collection of over a hundred bagpipes from throughout Europe, and maintained a large collection of bagpipe recordings and publications, as well as reproducing rare sheet music for the pipes.'
_____________
The Women's Museum: An Institute for the Future (Dallas, TX)
_____________
Submarine Museum (Middletown, CT)
'Ben Bastura and his brother started this outstanding museum in 1954 and added to it ever since. It was the largest privately owned Submarine Museum in the United States. It was a totally private endeavor that had been Ben's avocation over the years. He had 18 full file cabinets that contain a wealth of pictures and information on every boat from the USS HOLLAND to the newest Trident boats. Ben lived in an old fashioned duplex which was approximately 70 years old. Bernard occupied 3 rooms as living quarters, the other 9 rooms, upstairs and downstairs were used for the museum.'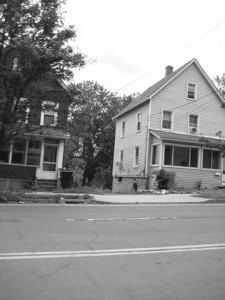 ____________
Hollywood Erotic Museum (Hollywood, CA)
'The Hollywood Erotic Museum was an adults-only museum located on Hollywood Boulevard in Hollywood, California specializing in sexual history in Hollywood. It closed down in mid-2006 due to lack of business. The museum featured many different items, including original etchings by Pablo Picasso as well as a legendary stag film dating back to 1948 that is allegedly of Marilyn Monroe having sex with an unnamed man. The video owned by the museum is the only known copy in existence.'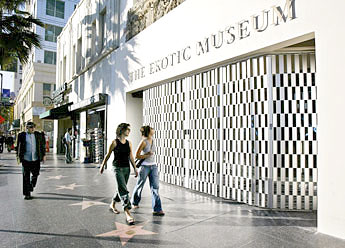 _______________
The International Banana Club Museum (Apple Valley, CA)
Ken "T.B." (for "Top Banana") Bannister dubbed himself leader of the International Banana Club in 1972 as a way to get his name out there during a convention, and soon started receiving gifts of bananas and banana paraphernalia from around the world. He created the museum (a room in his home) in 1976 to house all that banana action, and adopted the persona of "The Banana Man," appearing on countless TV shows, and accepted applications to join the club (where you could earn a doctorate, or "PhB," in Bananistry).
____________
Fresno Metropolitan Museum (Fresno, CA)
'The son of famed photographer Ansel Adams is suing California's Fresno Metropolitan Museum to keep the bankrupt museum from selling six works by his father. He says the sale would violate a donation agreement. Museum officials have been talking to various auction houses about selling the works, including "Moon and Half Dome," in order to pay off creditors.'
_____________
Graceland Too (Holly Springs, MS)
'Graceland Too was Paul MacLeod's two-story home and shrine to Elvis Presley in Holly Springs, Mississippi. It was open to the public twenty-four hours a day, every day, all year. The house was crammed with Elvis paraphernalia to the point of being a fire hazard. MacLeod was renowned for his eccentricity, based upon his reverence for Elvis, and his claim to drink at least two dozen cans of soda per day. The town's assistant director of tourism, Suzann William, claims MacLeod is Holly Springs' number one tourism attraction. The house was originally painted pink, then white, and in 2012 it became a vivid, Mediterranean blue with American Flags and painted navy blue pine trees. On July 15, 2014, a man named Dwight David Taylor Jr. was shot by MacLeod just inside of the front door of the house. According to police, Taylor banged on the door of the house around 11 p.m. asking for money. He tried to force his way into the home and broke the glass on the front door. After Taylor refused to leave, MacLeod shot him. Taylor died from a gunshot wound to the chest. MacLeod cooperated with police and was released. No charges were filed. On July 17, 2014, MacLeod was found dead on the porch by someone driving by the house around 7 a.m. MacLeod's attorney, Phillip K. Knecht, said in a statement that MacLeod had been "battling ill health for some time". He added, "We can't be sure of anything right now, but nothing points to suicide or foul play. We await an official autopsy, but his ill health, combined with the stress from Monday's tragedy, leads me to believe it was a very unfortunate natural occurrence". The contents of Graceland Too went up for auction on January 31, 2015. Well over 100 people showed up for the auction on the Graceland Too site, many having travelled hundreds of miles in the hope of buying an Elvis treasure or a memory of Graceland Too. Many in the crowd were disappointed and dispirited when the entire lot of items was sold for a reported $54,500 to an anonymous buyer from Georgia.'
_____________
Numismatic Museum of Aruba (Oranjestad, Aruba)
_____________
Museum of Witchcraft and Magic (Gatlinburg, TN)
'The World of the Unexplained was opened in 1972 by Ripley's Believe It or Not! in Gatlinburg, Tennessee, originally called "Museum of Witchcraft and Magic". In 1975, due to pressure from the local churches and religious groups in the area, Ripley's changed their names to "World of the Unexplained" and re-outfitted them with new attractions. With the popularity of the television show "In Search Of", Ripley's hired the show's narrator, Leonard Nimoy, to film a short introduction to visitors at the entrance to the museums. The museums displayed not only witchcraft attractions but new ones that featured Bigfoot, flying saucers, the Bermuda Triangle, werewolves, and a fortune teller with a talking crystal ball. In 1985 the museums closed down for good, due to poor ticket sales.'
____________
The Frank Chiarenza Museum of Glass (Meridien, CT)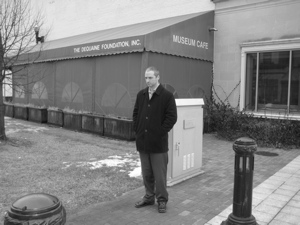 ______________
Shania Twain Centre (Timmins, Canada)
'A Shania Twain museum in Timmins is being turned into an open-pit mine after tourists stayed away in droves. It just didn't impress them much. According to the Canadian Press, construction of the museum and related attractions gobbled up $10 million in public funding. By 2010 attendance was so low and operating losses so severe that welcoming each museum-goer cost taxpayers $33.72. That's a staggering burden. Theoretically, it would have made more financial sense to hand a $20 bill to prospective visitors arriving at the door and telling them to shove off.'
______________
Audrey Hepburn Museum (Tolochenaz, Switzerland)
_______________
Presidents Park (Williamsburg, VA)
'"Move over Mt. Rushmore! You've got company!" So proclaims the brochure for Presidents Park — a wooded retreat in the Black Hills of South Dakota, where citizens can stroll peacefully among the giant heads of the nation's Chief Executives. Presidents Park is open year round; the asphalt in the parking lot was one month old when we stopped by in 2003. That year, David Adickes, the sculptor who rendered the gargantuan Sam Houston and Houston airport's George HW Bush statue ("Winds of Change"), opened Presidents Park (and a duplicate near Williamsburg, Virginia in 2004). The 43 heads are arranged chronologically along a path winding up into a rocky knoll of tall pines. George Washington, generally accepted in history as the first President of the USA, looks over the snack bar. The busts are 16-20 feet tall, with the seven greatest Presidents' heads rendered at about 12 times life-size. Each head is accompanied by an informational display. The climb up the head path is gradual, but a little strenuous for seniors. Knowing their likely audience, the park provides motorized golf carts, and warming enclosures and rest areas along the way.'
_____________
R.M.C.M. Ramones Museum (Berlin)
'If you suffered from horror vacui this was the best place 2 b. Combining the basic punk aesthetic with a wunder kammer, u got 2 travel back to those years when Punk meant something more.'
_______________
Carbo's Police Museum (Pigeon Forge, TN)
'Carbo's Police Museum was another long time attraction that existed in Pigeon Forge. Its biggest selling point was that it had a nice collection of artifacts related to legendary hardass Southern Sheriff Buford Pusser. Buford was well known do to the fact that they turned his life story into the movie "Walking Tall", which was later rebooted to feature The Rock. Buford was notorious for carrying around a board with him to show that he literally carried "a big stick". During his time as Sheriff, Pusser would be stabbed 7 times and shot eight. He also slapped around a young Jimmy Buffett. Buford would battle local moonshine and prostitution rings, which led to the murder of his wife. Buford himself would die in a mysterious car crash that is often thought to be sabotaged (although some claim he was simply driving drunk). The Drive By Truckers have asong about the Sheriff called The Buford Stick. The museum had Buford's stick on display as well as the wreckage of the car he died in. The Museum went out of business a few years back and is now a t-shirt shop.'
_______________
The Rosa Ponselle Museum (Meridien, CT)
'With an upcoming concert tribute to Rosa Ponselle, money from a fund in her name will be depleted. Coupled with the closure of the Rosa Ponselle museum, it appears the last of the famed opera diva's bequest to Meriden will soon be gone. In a concert billed as "The Final Tribute to Rosa Ponselle," the Greater Hartford Opera Ensemble will perform arias sung by the Meriden-born star, and various operatic selections, including music from "Tosca," "La Traviata" and "The Merry Widow." The performance begins at 4 p.m. June 14 at the Augusta Curtis Cultural Center, on East Main Street. "We know this is going to be the last of the money from the foundation, but Rosa Ponselle's is a voice that will live on in history for years," said Nancy V. Stewart, artistic director of the opera ensemble. "That is never going away. She was a great, great star, a diva."'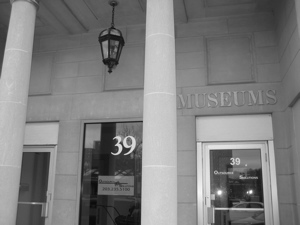 _______________
National Shaving and Barbershop Museum (Meridien, CT)
'A casual offer from his mother of his "grandpa's old shaving mug and straight razor" set Lester Dequaine on a quest that has grown to such an impressive size that his vast collection of barber paraphernalia could have filled a museum. Then it did. The National Shaving and Barbershop Museum opened in 1999 in Meriden, Connecticut in a 1920s building bought and lavishly restored by Dequaine, a retired businessman. Then, in 2005, it closed.'
______________
The Dog Mushing Museum (Fairbanks, AK)
'Bouchard's International Dog Mushing and Sled Museum closed its doors for good Aug. 26. Museum owner Kyia Bouchard confirmed the closure in a phone interview Thursday. "I went broke. There was no support from the town or the people," Bouchard said. "So I'm selling it. There's a couple dog mushers that are interested in opening a museum." Bouchard is disappointed with the community's lack of support. Despite racking up 190 Trip Advisor reviews in 11 months, many of them five-star reviews, she said people weren't drawn into the museum.'
_____________
World's Smallest Museum (near Phoenix, AZ)
'The World's Smallest Museum was only 134 square feet, so it didn't take long to see everything.'
_____________
National Pinball Museum (Washington, DC)
'Ah, pinball. I love pinball. I'm not sure where this love came from. I have an early memory of playing pinball in a hotel arcade on family trip to New Jersey. I grew up with friends that had pinball machines in there homes. Yup more than one friend actually pinball machine there house. Must be a North Beverly thing. Personally I find the history pinball pretty cool. Although I had actually read an article somewhere on the history of pinball so I didn't feel the need to spend tons of time looking through that part of the museum. Pinball is definitely a large piece of Americana. I found the pinball machine area a bit small but lots of cool and interesting games. Was extremely impressed by the big sister's pinball skills. had no idea she could play like that, but I digress. We got lucky and the pinball museum was running a special that admission for two was $21 and we got 8 free games, but we didn't know this and would have been willing to pay the normal $13.50 each plus gaming costs. Was also disappointed in the giftshop selections. Not much there was hoping for some postcards to send to other pinball loving friends but no such luck. Got a magnet for the bf.'
_____________
The Bead Museum (Glendale, AZ)
'The Bead Museum was founded to establish a haven for a permanent collection of beads and adornments of all cultures, past and present, which would provide an enduring opportunity for the study and enjoyment of these magnificent examples of art and ingenuity. The Bead Museum served the public through exhibitions and programs designed to heighten awareness of peoples' ideas about themselves and their world through the study of beads.'
_____________
Sparta Teapot Museum (Sparta, NC)
'The museum drew mainly from the teapot collection of Gloria and Sonny Kamm. The Kamm Collection, comprising more than 6,000 teapots, is the largest teapot collection in the USA and arguably the world. The Sparta Teapot Museum received its official 501(c)(3) status from the Internal Revenue Service in November 2005. This designation made the Museum a charity organization. In 2006, Congress controversially appropriated nearly $500,000 in federal funding for construction of a new building for the Teapot Museum, but the project was canceled before any of the money left federal hands.'
______________
The Conspiracy Museum (Dallas, TX)
'The Conspiracy Museum was a private exhibition of conspiracy theories in the West End Historic District of downtown Dallas, Texas (USA). R.B. Cutler, self-described as an "assassinologist", opened the museum in 1995. The Conspiracy Museum was located across the street from the Kennedy Memorial in Dallas, Texas in the Katy Building. The museum was not limited in scope to the conspiracy theories surrounding the assassination of John F. Kennedy, but it also covered Robert F. Kennedy, Martin Luther King, Abraham Lincoln, and Ted Kennedy's Chappaquiddick incident. Cutler's argument was that all these conspiracies can be tied together. The museum was often overlooked by visitors heading to the more well-known Sixth Floor Museum. The museum closed on December 30, 2006, having lost its lease. The building's owners announced that a Quiznos sandwich shop would take its place.'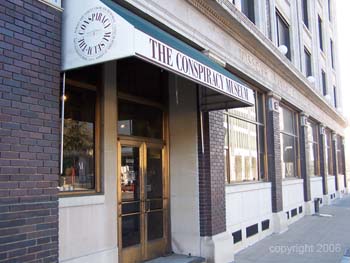 ____________
Smith Museum of Stained Glass Windows (Chicago)
'The museum was located along a strip of shops, theatres, and restaurants, and admission was free. Most of the windows in the museum were illuminated with artificial light to highlight the colors and intricate details. Since each piece was protected by a layer of bulletproof glass, patrons were encouraged to come close to the works and even bring food into the galleries.'
_____________
Madison Museum of Bathroom Tissue (Madison, WI)
'The Madison Museum of Bathroom Tissue was established in 1992, and closed in 2000. The museum was co-founded by Carol Kolb and was located at 305 N. Hamilton in Madison, Wisconsin, United States, in a second-floor apartment three blocks from the state capitol. At its peak, the MMBT's permanent collection contained approximately 3,000 rolls of toilet paper. The toilet paper's origins ranged from the bathrooms of other museums, like the Metropolitan Museum of Art and the Guggenheim, to American tourist destinations like Wall Drug and Graceland. The museum also had European, African, Australian, Canadian, and Mexican toilet paper as well as a collection of toilet paper from bars and restaurants located in Madison. The Manufacturers Wing contained a collection of retail samples donated by toilet paper manufacturers.'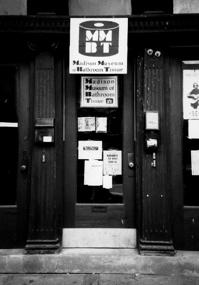 _____________
Concrete Heritage Museum (Concrete, WA)
'The museum was founded in early 1980s by a retired Concrete judge, Herb Larsen. The museum incorporated historical collections related to the national cement industry. Just before closing in September 2009, the museum opened an exhibit displaying the contents of the time capsule that was interred on August 11, 1932 by the now defunct Superior Portland Cement Company.'
_____________
Dinosaur Walk Museum (Pigeon Forge, TN)
'Dinosaur Walk Museum featured life-size sculptures of dinosaurs. All of the exhibits, which represented 47 species, were recreated life-size and were based upon actual fossil records. Some of the exhibits included: Tyrannosaurus rex, Platecarpus, Parasaurolophus, Daspletosaurus, Deinonychus, Coelophysis, Velociraptor, Troodon, Plesiosaurs, Oviraptor, large and small flying reptiles and the skulls, bones, and skeletons of prehistoric mammals, fossils and other items of interest. Hand painted murals surrounded the 17,000-square-foot (1,600 m2), two-level museum. The museum also featured two high-definition movie theaters with continuous educational dinosaur movies, hands-on activities for children, and a gift shop.'
_______________
Kissimmee Horror Memorabilia Museum (Kissimmee, FL)
'The museum's moldering remains at 4710 East Irlo Bronson Memorial Highway are now used as a training area for the Fire Department.'
_______________
Ancient America (Boca Raton, FL)
'E. G. Barnhill was fascinated by American Indian culture, which he studied and collected in his spare time. In 1953 he opened a museum, Ancient America, on twenty-five acres on US 1 in the area that is now the upscale Sanctuary community of Boca Raton. The grounds included an ancient Calusa Indian mound and burial ground which he excavated, with the help of archaeologists, and prepared for display to the public by tunneling into the mound and installing glass walls so that the contents could be seen. Ancient America only lasted a few years. When visitors didn't show much interest in his museum Barnhill sold the land and packed up his artifacts, grousing that "all these tourists are interested in are dog tracks and nightclubs."'
_______________
Tom Gaskins' Cypress Knee Museum (Palmdale, FL)
'Come see Tom's knees said the crudely made signs, fashioned from twisted cypress tree parts with big black letters. Lady if he won't stop, hit him on head with shoe. You might still be miles from Palmdale on US 27, and Palmdale was miles from much of anything, but you knew that Tom Gaskins' Cypress Knee Museum awaited ahead. In the 1930's Tom became fascinated with cypress knees, those knobby protuberances that cypress trees grow from their roots up above the surface of the swamp water that often surrounds them. He collected them, especially those that looked like something else to him, be it a person or even a "Lady Hippo Wearing A Carmen Miranda Hat." And he performed experiments on them, making them grow around objects like coke bottles or a telephone receiver, and he tried to control their shapes with wire and weights. Tom wanted to share his cypress knee fever with everyone so he opened a roadside museum, gift shop, and cypress knee factory where he peeled and polished cypress for sale to the tourists. Tom Gaskins died in 1998. Tom's son, Tom Jr., tried to keep the museum open, but was hampered by an edict by the Lykes company, which owns much of the land in that area, to remove the famous signs from their property. Then thieves broke into the museum one night in 2000 and carted off many of the best pieces, delivering the final blow, and museum shut its doors.'
_______________
The Tragedy In US History Museum (Saint Augustine, FL)
'Sometimes, all it takes is a man with vision — and a complete lack of taste. The Tragedy In The US Museum sign L.H. "Buddy" Hough was such a man. When President John F. Kennedy was assassinated in 1963, Buddy was suddenly inspired. Why not create a museum dedicated to all the bad things that have happened in United States history? He quickly secured Lee Harvey Oswald's bedroom furniture and anything else he could get connected to the Kennedy assassination, including a car that Kennedy had once ridden in previous to the shooting, and a wax figure of Oswald himself. Other morbid memorabilia secured by Buddy included a train whistle from "the wreck of the old 97," a mummy, and what were supposedly the death cars of Jayne Mansfield and Bonnie & Clyde (although, actually, the Mansfield car was the wrong make and the other car was apparently a prop from the Bonnie and Clyde movie).'
_______________
National Museum of Patriotism (Atlanta, GA)
_____________
Foamhenge (Natural Bridge, VA)
'As its name suggests, Foamhenge was a one-to-one scale replica of Stonehenge, made of foam. It was identical to the original, save the flecked gray paint, the accompanying statue of a deadhead-ish Merlin, and the fact that it was erected several millennia later. For twelve years, the henge garnered a steady stream of visitors and enough press to be mentioned in the same breath as the area's actual ancient rocks. Its creator, an artist named Mark Cline, called it his "foam-nomenon": the unlikely culmination of his career as a sculptor of roadside attractions. But Foamhenge closed for good in August 2016 when the property was repurposed as a state park.'
_______________
Bonnie and Clyde Ambush Museum (Gibsland, LA)
'After the multiple robberies, kidnappings and murders (at least 13) across the States, Bonnie and Clyde's story came to an abrupt and bloody end when they were ambushed by police and gunned down on a lonely strip of road in the northern Louisiana woods in 1934. The officers responsible for bringing to the end one of the most spectacular manhunts of the 1930s were Frank Hamer, B.M. "Manny" Gault, Bob Alcorn, Ted Hinton, Henderson Jordan and Prentiss Morel Oakley. After his death, Ted Hinton's son, L.J. "Boots" Hinton, opened the Bonnie and Clyde Ambush Museum filled with the story of notorious pair. In the museum, which was situated until its demise just 8 miles from the ambush site, you could view genuine artefacts from the era such as one of Clyde's Remington shotguns from the car which they were in when they were shot, glass from the bullet-shattered windscreen of the car, Bonnie's red tam (hat) and replicas of the tombstones of Bonnie and Clyde.'
_______________
Museum of Holography (Chicago)
'Went here when the posted hours said they'd be open, but they weren't open. No note, and no response to the buzzer. I asked the cat who appeared to be trapped between the glass door and the inside security gate, but she was more concerned with sunbathing.'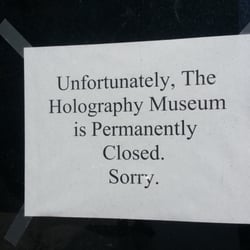 ______________
Hedrick Tractor and Truck Museum (Woodland, CA)
'I was super impressed with this museum. There were so many different models of tractors in here. You could spend hours making your way along this collection. The building itself must've been 50,000 sq feet at least. I was really impressed with the level of detail on each placard and the collection as a whole. Totally kid friendly but the collection was interesting enough that adults totally enjoyed it. Price was totally reasonable and the gift shop had a nice selection. Also plenty of good parking.'
_______________
Canadian Potato Museum (O'Leary, Canada)
'Oh, the fates were cruel to me this day. I happened to pass through a town that shared my last name, and in that town I stumbled upon a giant fiberglass potato. In front of a potato museum. Which had gone out of business a week before. Now, really. That's just not fair.'
*
p.s. Hey. ** David Ehrenstein, Hi. I hope so anyway. My fave Altmans are 'McCabe & Mrs. Miller' and 'Three Women'. He must've been quite a guy. ** Steve Erickson, Yeah, agreed, about Altman's 70s work. 'Images' is such a strange and aesthetically ambitious film. I need to rewatch that. Psychedelic mushrooms have definitely done no harm to human evolution. Only saw 'Secret Honor' once. Didn't think much of it at the time (which was upon its original release). I'll retry that too. 'Three Women' is just amazing. I sometimes think Shelley Duvall's performance in it might be my all-time favorite example of acting. Okay, now I have to read that three-word review. Christigau used to do phrase and sentence-long reviews. I still remember his clueless and embarrassing 'clever' review of 'Here Come the Warm Jets' upon its release, which was, in its entirety, 'When is Patty Duke putting out a new album?' ** Jeff J, Hey, J. Thanks, bud. Yes, indeed, his 70s run is easily as great to fascinating as any same period run by, well, any other American director, I would say. Oh, okay dig, gotcha re: your question. Okay, I'll go find those posts and maybe run them all in one big shebang. I'll probably feel compelled to update them a bit. Thanks for wanting to see them. Cool, I'll head over to that essay. Everyone, Here's Jeff Jackson: 'There's a very cool essay about photography in novels that includes a detailed dive into Mira Corpora and how Michael Salerno's opening and ending images work in the context of the novel. It also examines work by Nicholas Rombes, Konrad Bayer, Wright Morris, and Dubravka Ugrešiƈ. The PDF is viewable here.' ** Jamie, Jay-muah! My question mark was answered, let's see … by waiting for a Fed Ex package to arrive and signing for it. By going to visit with my friends and blog vets Michael and Bene and their non-blog vet child Milo. By going with them to the great DVD store Potemkine and browsing. By returning home by a combination of walking and metro. By finishing my edit of an interview I gave to a French magazine. By trying to put my mind unsuccessfully so far to coming up with a title for a big upcoming project. By following the horrible Barcelona thing via TV. By eating and emailing and eventually realizing I was sleepy and sleeping. Assuming your day today is a question mark, and it is, how was yours answered? Cake! A huge slice! In the bath! Why is that combination so incredibly enviable? Jonathan sounds like a guy whose mind works faster than his thoughts? Oh, gosh, those aren't primo Altman films. Must sees, in my opinion: 'McCabe', yes, and 'Three Women'. I hope your work went so well that it felt like you were still eating cake in a bathtub. Defiantly walking under a ladder love, Dennis. ** Nick Toti, Hi, Nick! Cool, don't hesitate! Have a fine Friday! ** _Black_Acrylic, Hey, Ben. Do catch 'Three Women' if you get the chance. Have a swell day! ** Right. So I decided to make a stack of defunct museums showing only their exteriors and see what happened. What happened? See you tomorrow.