* (restored/expanded)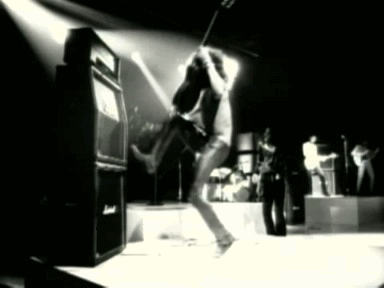 ______________
Guy Goldstein Yes/No Questions (2014)
Yes/No Questions uses a dozen amplifiers whose fronts are covered with a photographic print of drum leather, usually found on snare drums. The sounds coming from the amplifiers are those of voices repeating the words "yes" and "no" in different languages. The sound waves create ink stains on the print of the drum leather. This embroidery appears as a violent act, which injures the canvas in a desperate attempt to give form to the inherently formless stains.
____________
Ceal Floyer 'Til I get it Right (2012)
Ceal Floyer's sound installation 'Til I get it Right seems to be a comment on the artist's strive for perfection. It's a loop that is created from a song of the same title by the American country music singer-songwriter Tammy Wynette. Ceal Floyer just used the lines "I'll just keep on" and "'Til I Get It Right," to create an endless mantra-like soundtrack.
_____________
Gilad Ratman Five Bands from Romania (2015)
In Five Bands from Romania, Ratman invited heavy metal bands to bury their amplifiers in a deserted field and play a single piece of music together. The work is experienced by the viewer in two different dimensions: a fairly silent open space, and a full descriptive sound inside a sound-room whose sculptural presence dominates the floor. The project explores the culture of heavy metal and its role in reflecting the political changes in Eastern Europe at the beginning of the '90s in its creation of a feedback system that addresses issues of compression, identity and territory as well as notions of community forming.
____________
Kaz Oshirx various works (2002 – 2009)
Early in his career, Oshiro became known as a master of deception. He recreated ordinary household objects such as kitchen cabinets, microwaves, mini fridges, guitar amplifiers, and stereo speakers. What first appears to be a three dimensional object reveals itself, upon closer looking, to be a painting on canvas. Complete with markings resembling ordinary wear and tear endured by objects that figure into everyday life, Oshiro's works are made using a realist technique, which is so convincing that the paintings can be easy to miss as they blend into the environment. Assembled from stretched canvas, Oshiro's paintings are complete with painted fixtures, which aid in the deception. The unraveling of deception only happens upon inspection behind the façade and through openings in the back of the work.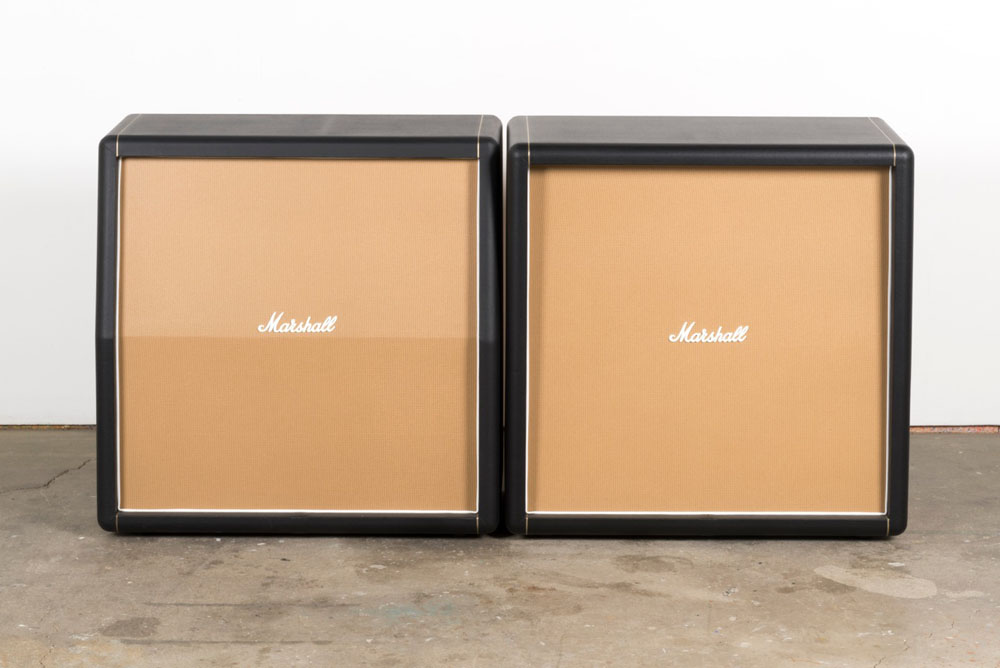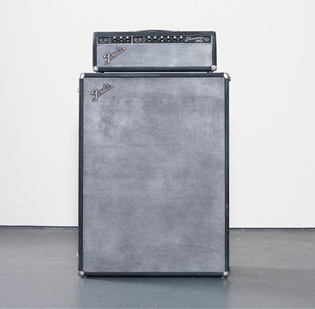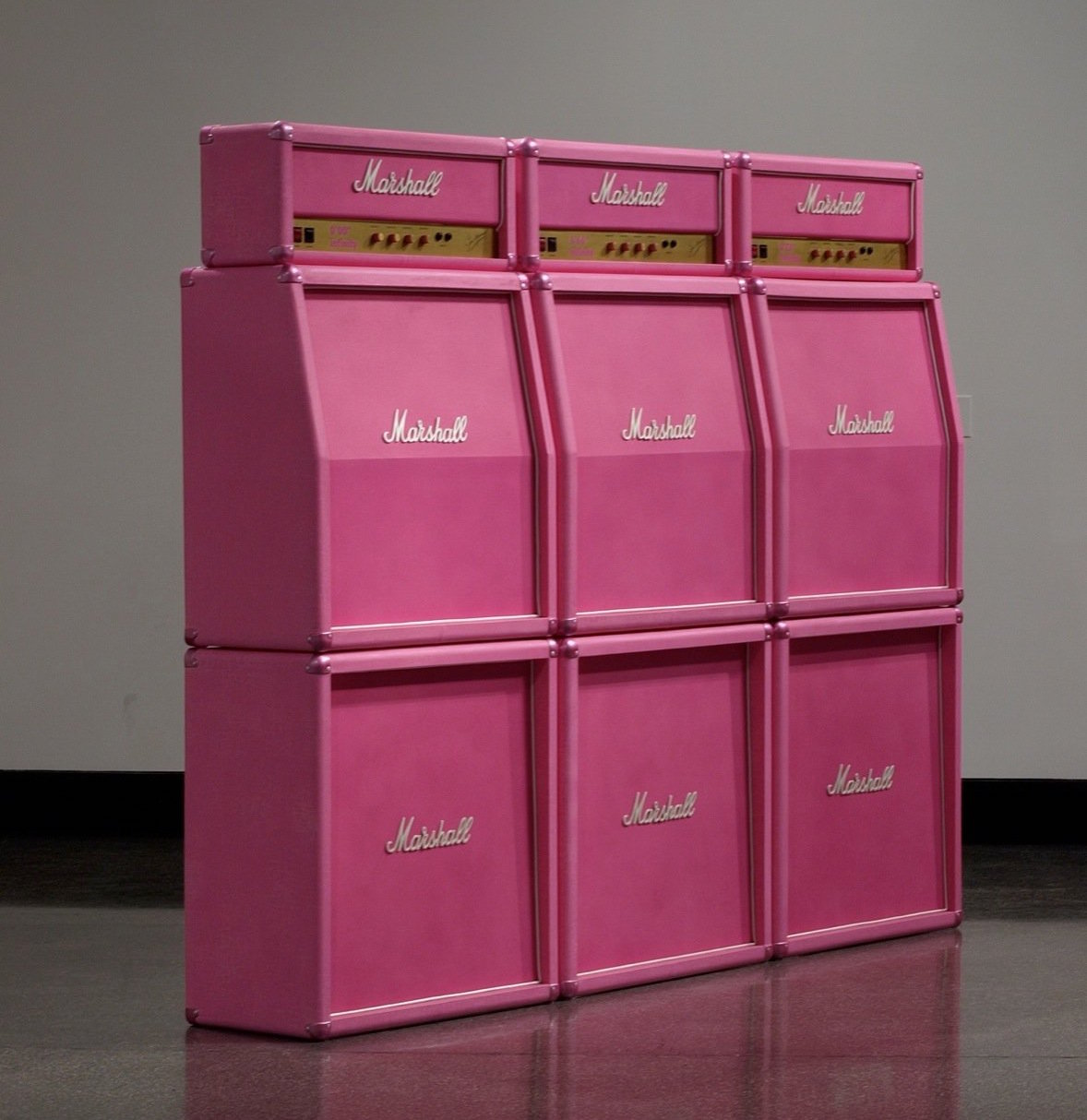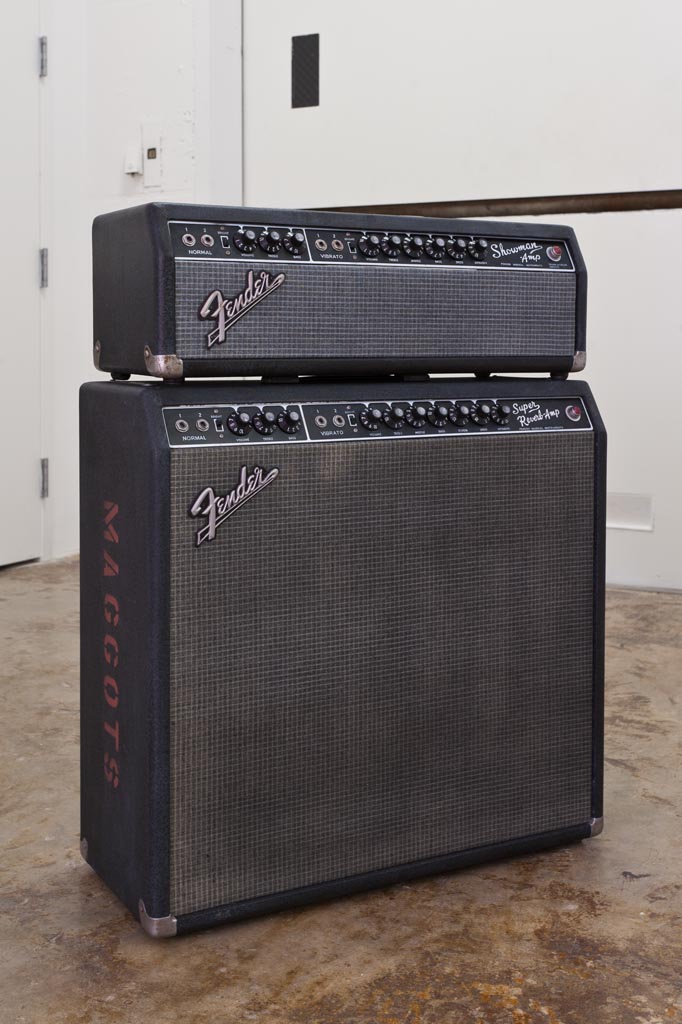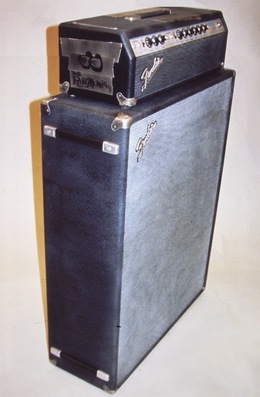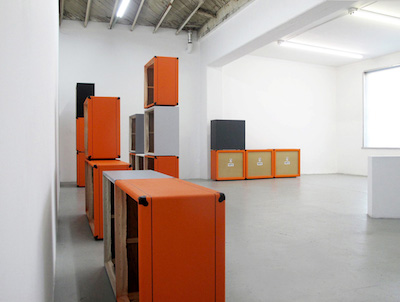 ______________
Maya Dunietz Thistle (2016)
Thicket is a tangle of thousands of iPod ear buds that reverse the music listening experience they usually offer from the intimacy of the individually chosen stereo sound to the public space of the installation that they form. The multichannel soundtrack with which the digitally steered amplifier creates a sound landscape that the visitor can wander around also serves as a second experiential layer that abstractly overlaps the invisibly reverberating matter of this work. This work of art, thus, explores the common ground between sound art and art installations. Its ephemeral sound patterns also escape categorization, as one's trajectory through the space of this work creates a largely random, individual hearing experience of a modulated, elusive score made of musical citations and found sounds.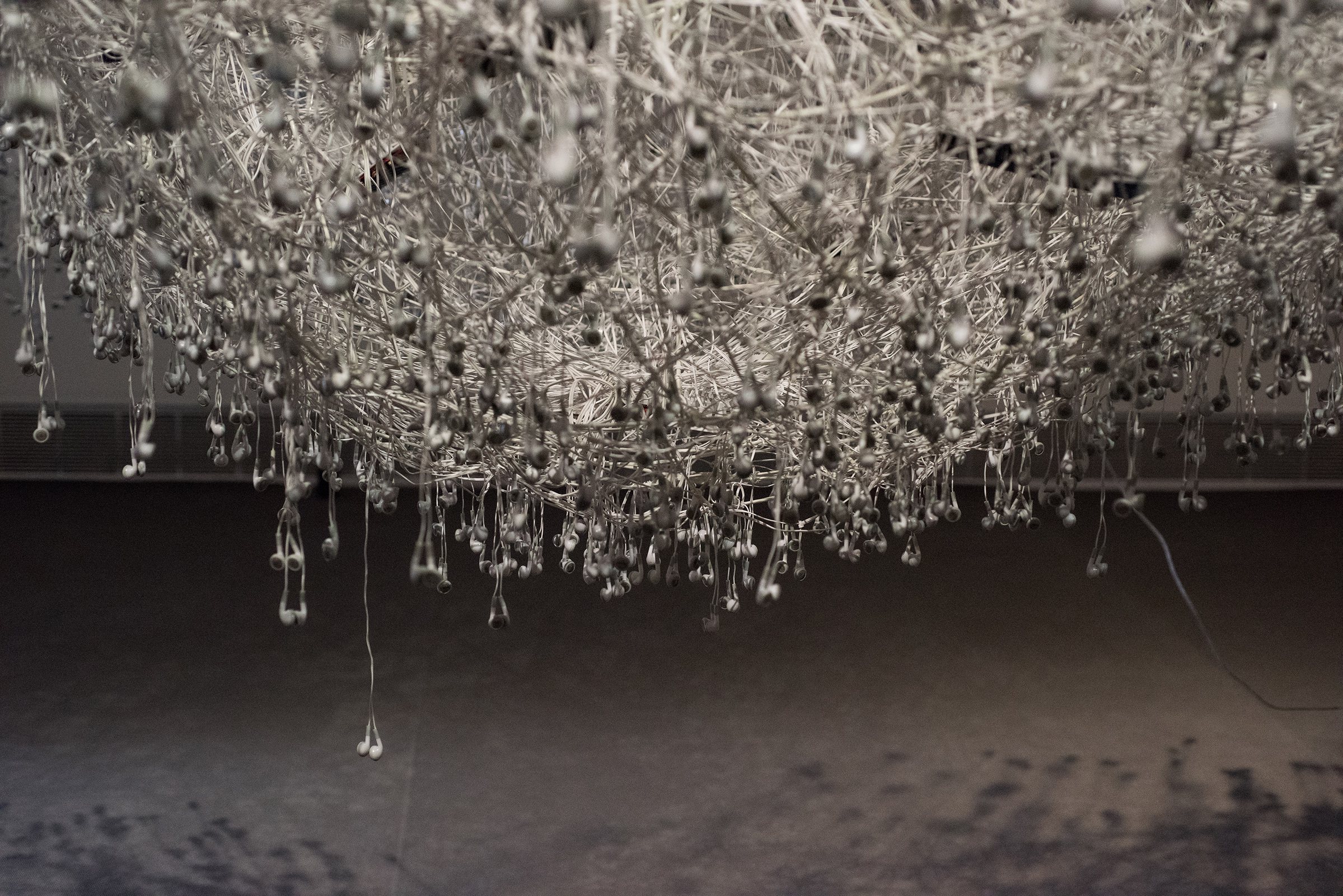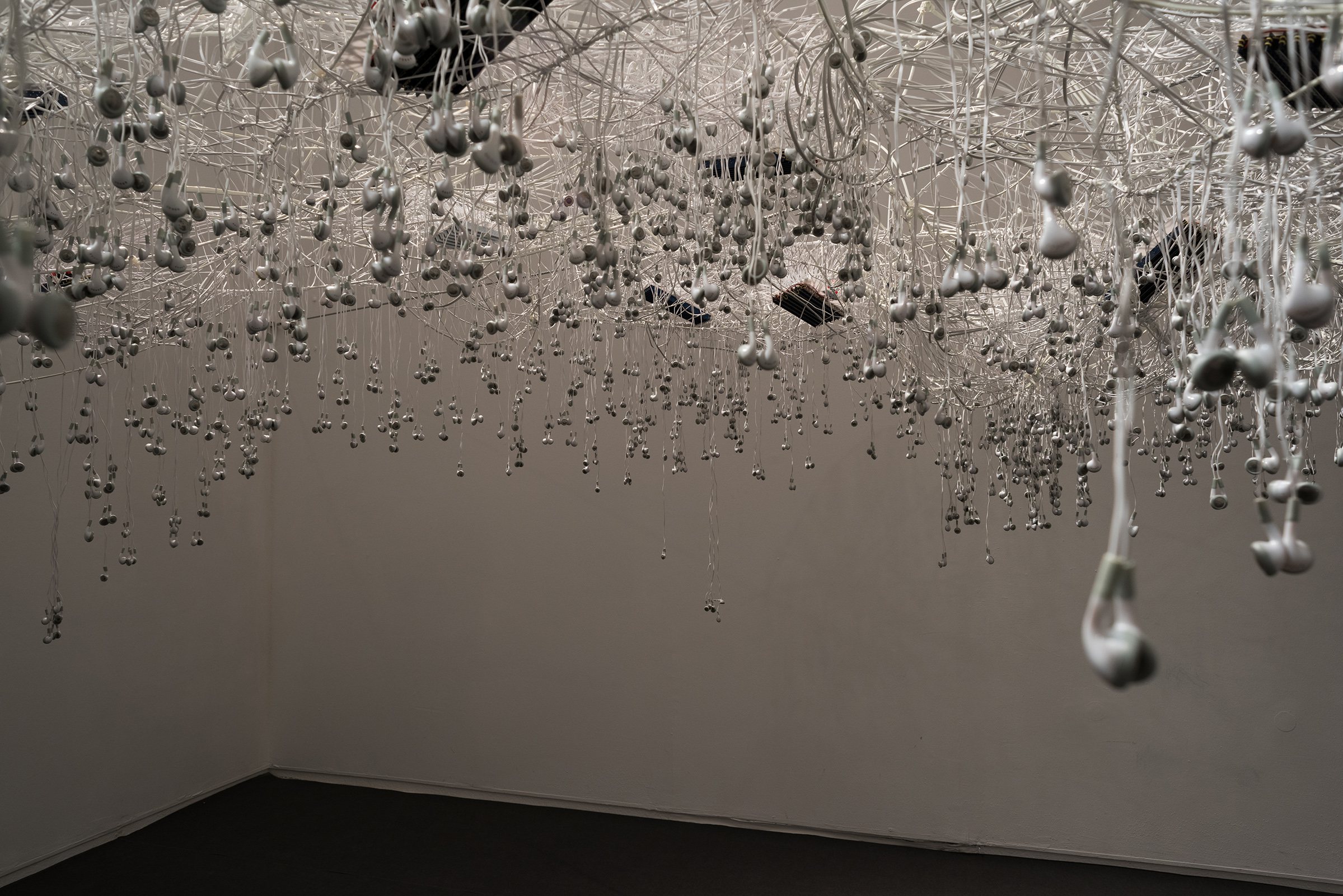 _____________
Byoungho Kim Three Hundreds Silent Pollens (2009)
aluminum, piezo speakers, microspeaker, condenser microphone, mixer, amplifier, 600 x 900 x 450 cm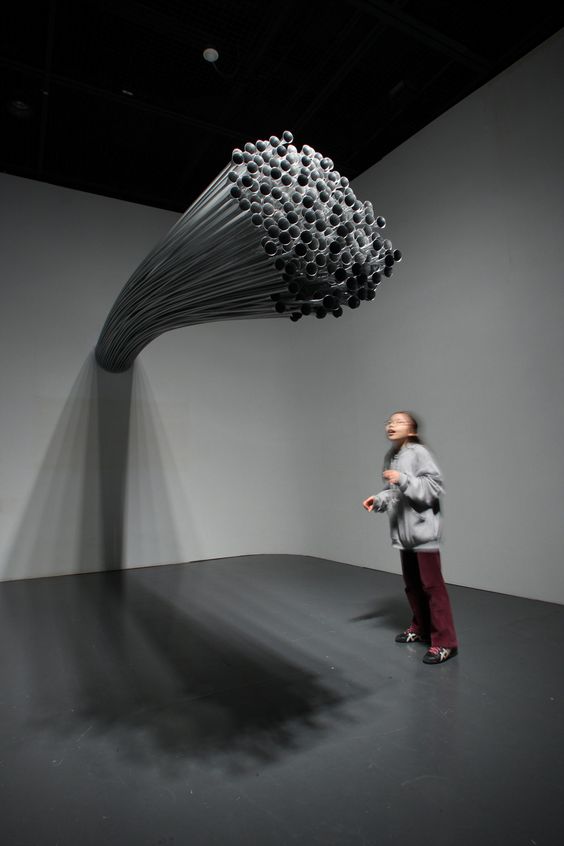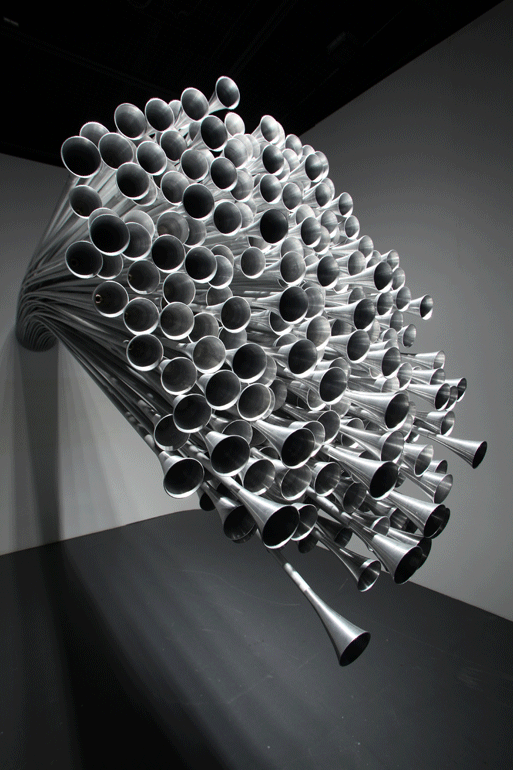 ____________
Alberto Tadiello Melisma (2014)
_______________
Banks Violette SunnO))) / (Repeater) Decay / Coma Mirror (2006)
At the Maureen Paley Gallery in London, June of 06, Violette created sculptural representation of SUNN O)))s entire backline in cast resin and salt, including amplifier stacks, instruments, effects & accompaniments. In addition, black laquered stage platforms and sound panels were created as a basis for the groups actual backline setup, and a selection of drawings were presented within the context. The result of this performance and collaboration, which was conducted in a sealed gallery space, was intended to generate a feeling of absence, loss and a phantom of what once was'.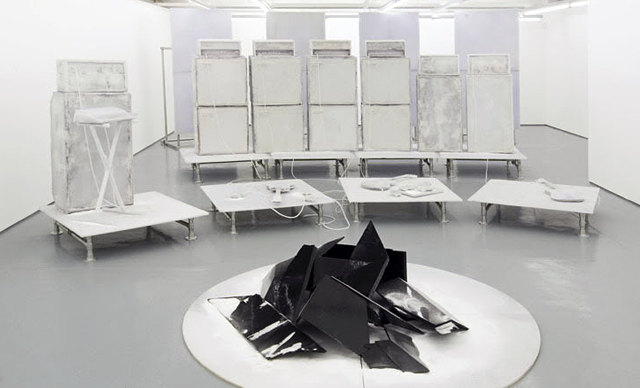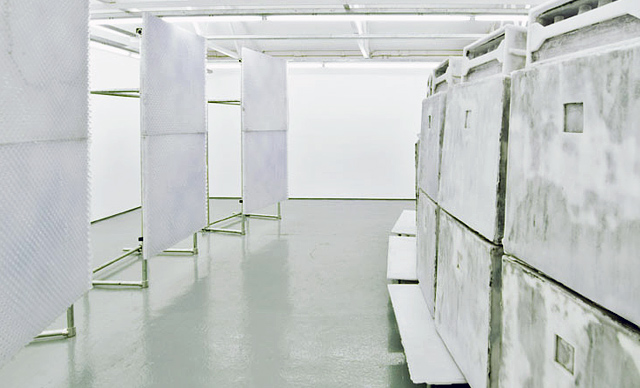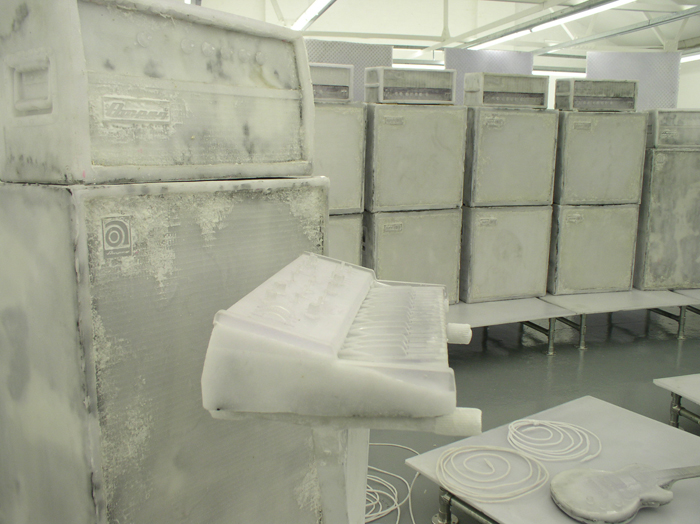 _______________
Gyula Várnai The Form of Thought (2001)
sound installation wood, cloth, cables, 2 amplifiers, 8 speakers, computer, sounds of arrows shot and hitting the target), 180 × 1500 x 110 cm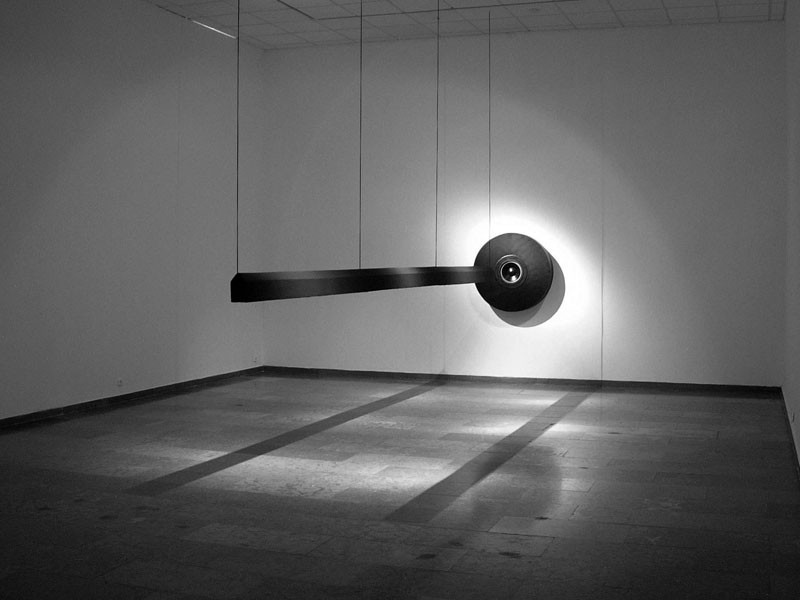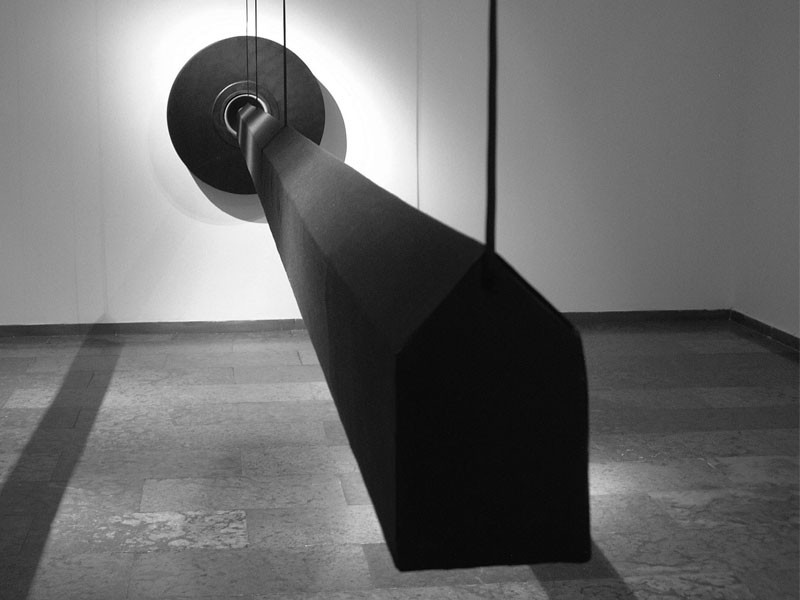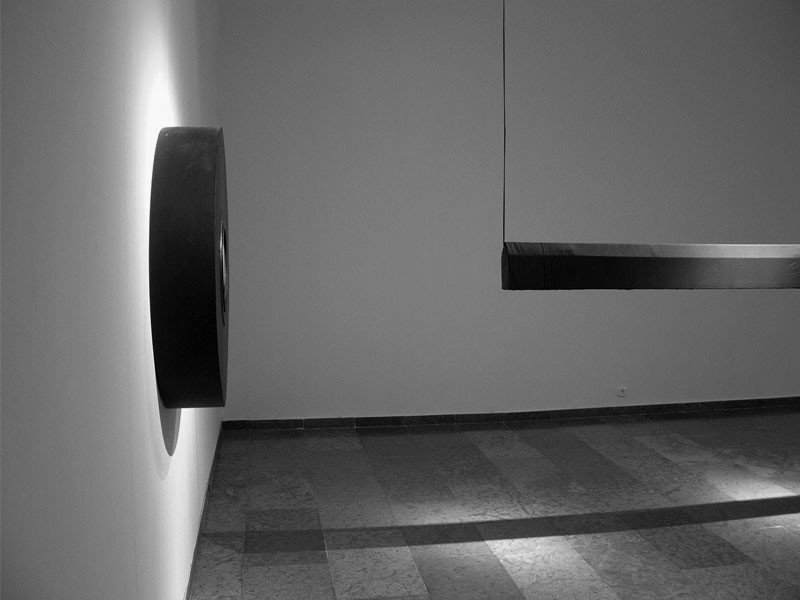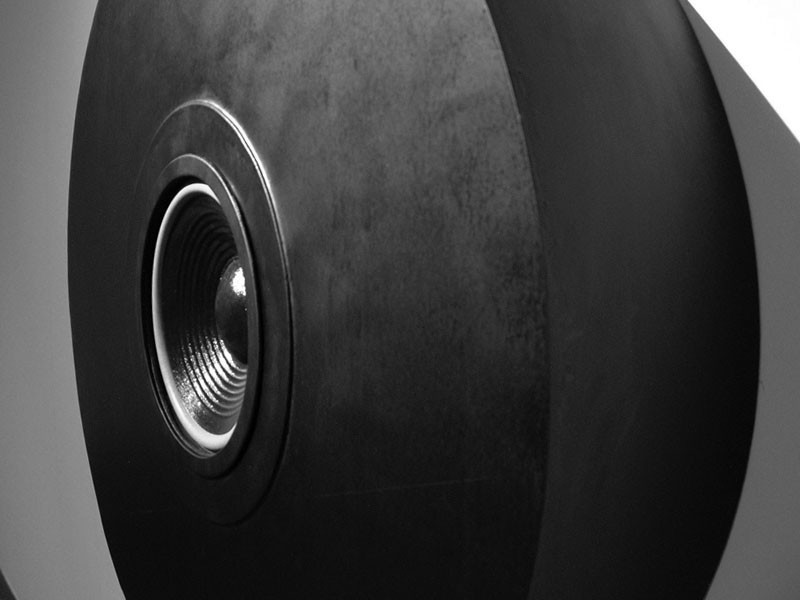 ________________
Ariel Bustamante Volumen Sintetico (2011)
The work is composed by 1629 earphones embedded in a 180 cm diameter wooden parabolic antenna and 24 electronic boards that distribute sound from a mp3 player to each earphone. The parabolic geometry allows for all the sound sources to coincide at a focal point one meter away from the structure's center, which results in a noticeable increase in the general volume due to the addition of each earphone's low decibel intensity. Another characteristic of this work is that the disposition of the earphones causes the sound to stop being individual and become public. This is due to the fact that the earphones are exposing their faces, or their speakers' fronts, which are usually hidden inside of the ear. This disposition of elements refers to a large speaker, a medium that reproduces sound; however, this is not a neutral medium, like the common home speaker.
______________
Paul Kos The Sound of Ice Melting (1970)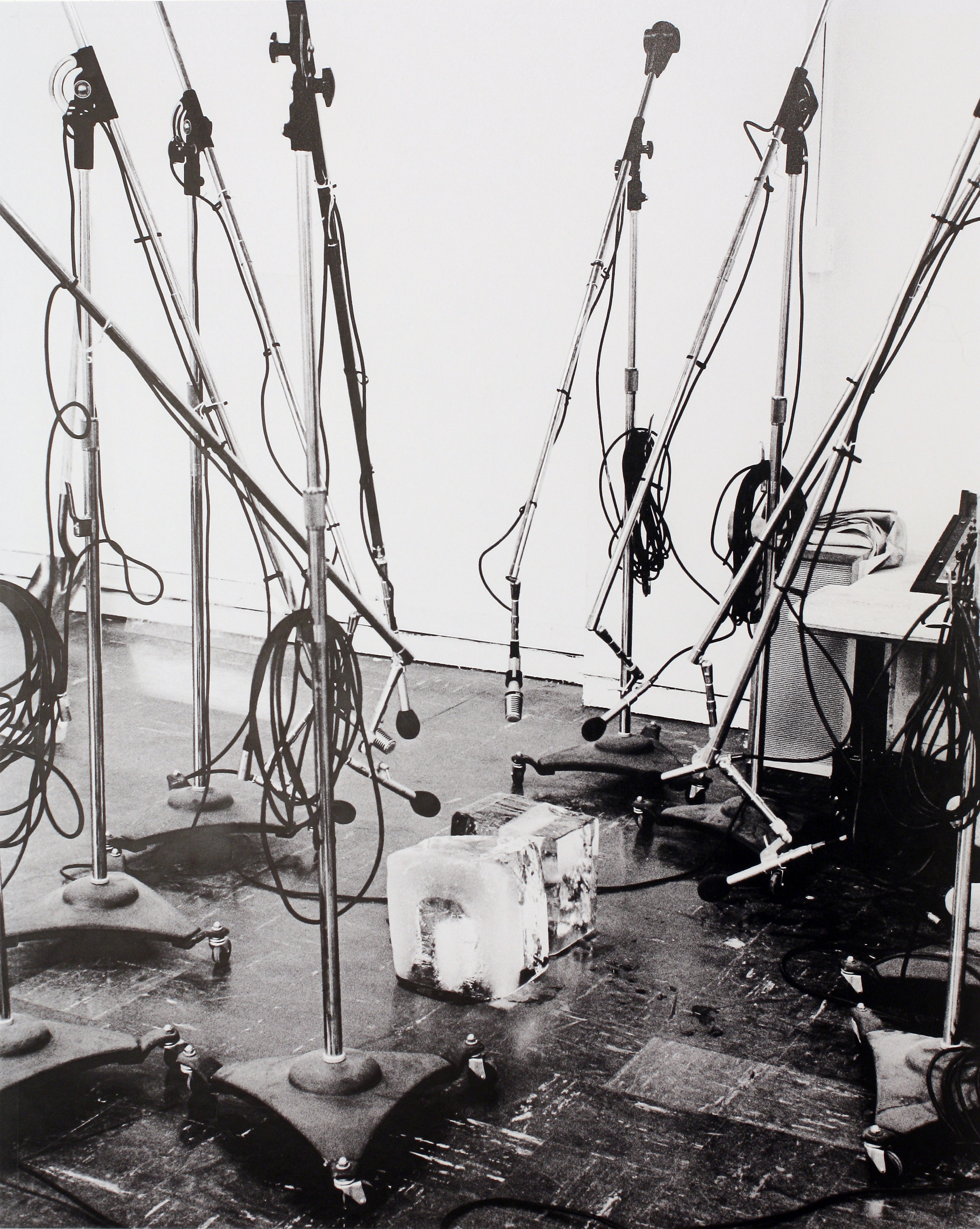 _____________
Richard Garet Before Me (2012)
Garet's work takes many shapes, from sculptural installations to digital projections to live performances. Before Me fits into the first and last categories: it is a sculptural assemblage of outmoded technologies, and the spinning marble amounts to a live performance of sorts. The work's centerpiece is an old LP record player with its platter upside down and revolving at 33 ½ revolutions per minute. The marble at the upturned edge can advance only slightly before its momentum is overridden and it rolls back to its starting point. This action continues endlessly, suggesting the plight of Sisyphus, a king in Greek mythology who was compelled to push a boulder up a mountain only to have it repeatedly fall back to the mountain's base. Garet explores what is often considered background noise, and here the background (the platter on which a record is typically placed for playing) is central to the piece, the director of the marble's fate.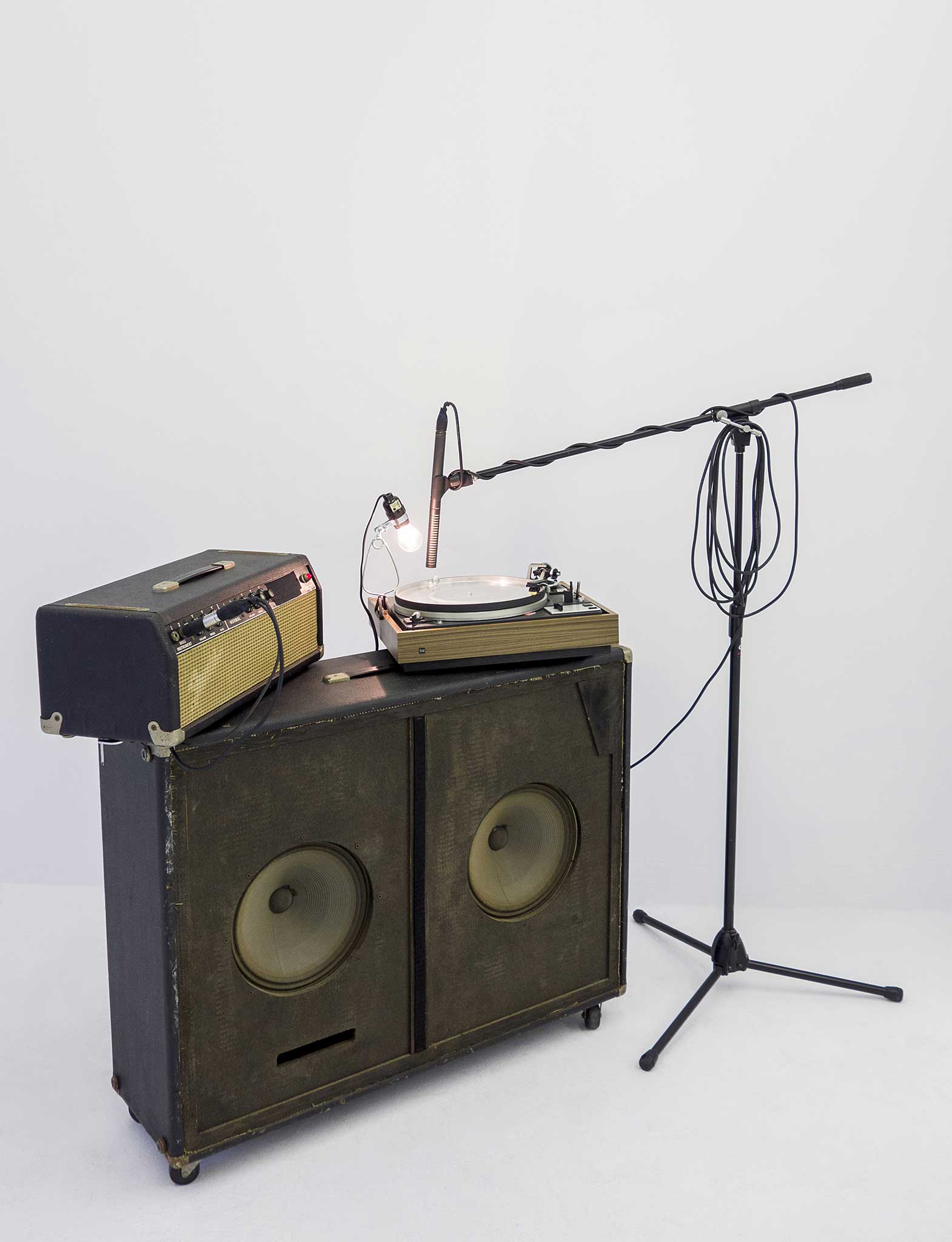 __________________
Michelle Jaffé Wappen Field (2011)
Wappen Field is a sculpture and sound installation comprised of 12 chrome plated steel helmets resembling face guards. Each helmet's dedicated speaker transforms the sculptural installation into an immersive audio environment. Vocal recordings originally created by Ayelet Rose Gottlieb, culled from seven diverse performers, are composed by Michelle Jaffé & spatialized algorithmically by David Reeder in SuperCollider.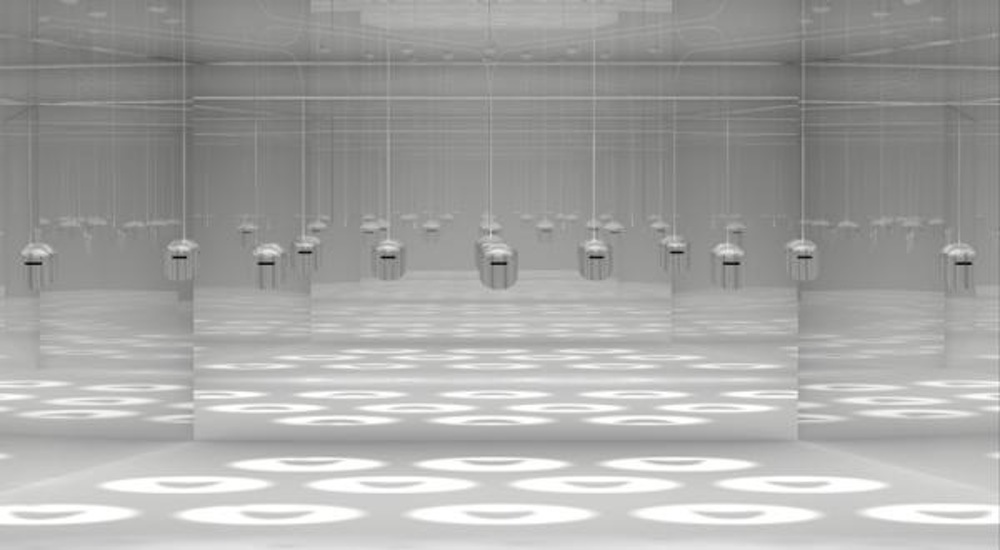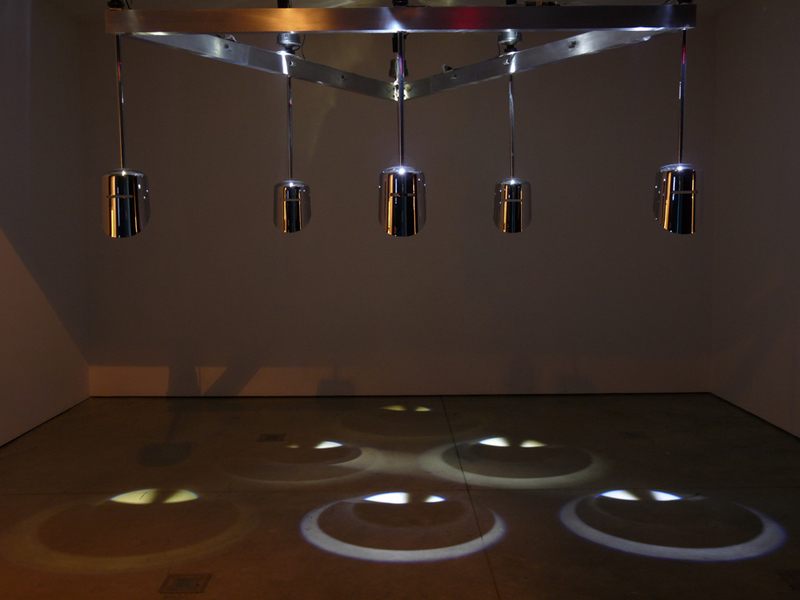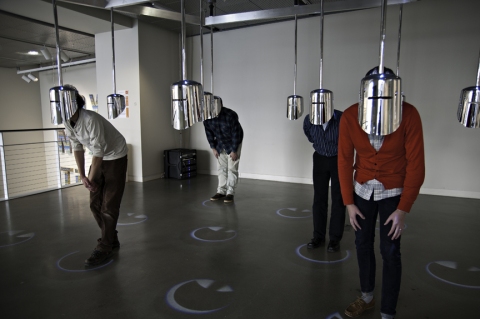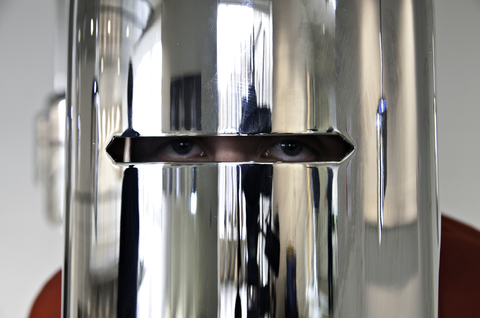 ______________
Jeroen Diepenmaat Ode … (2015)
"Ode…" consists of 83 music boxes in a forest in Diepenveen in the Netherlands, all playing two notes when a cord is pulled. When multiple boxes are activated, the noted come together, creating a melody. Just like two people can meet each other coincidentally, and can become inseparable.
_______________
Omar Velázquez Pariah (2015)
Pariah explores the origins of noise and power through chaos theory elements, and how these may relate to the practice of art and rock n' roll aesthetics. On opening night, several guitarists performed and took part of the work. A metal barricade with LED police traffic light bars ghostly lighted the space as they played cathartic riff rituals. During museum hours, visitors can freely manifest themselves physically and mentally by playing an A minor-tuned custom made guitar at a low 432hz frequency.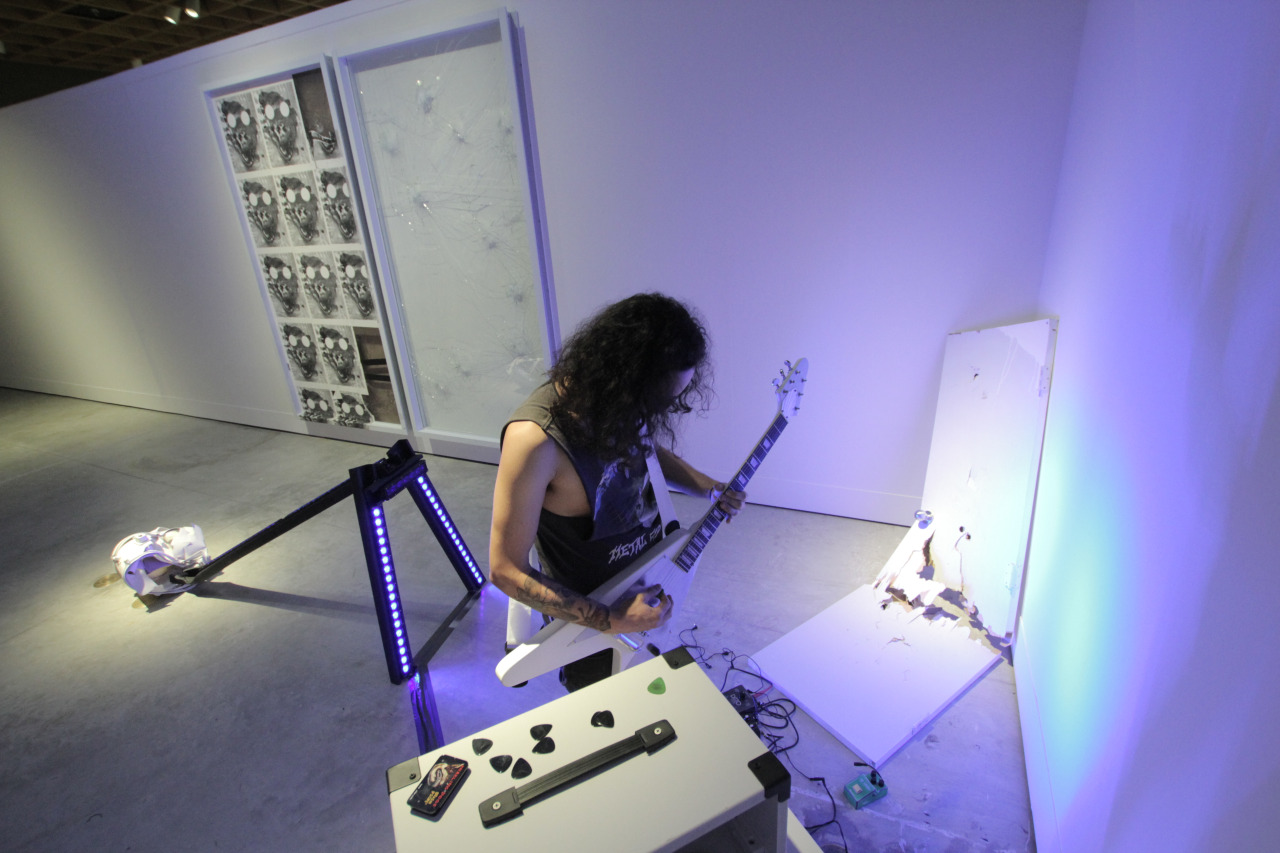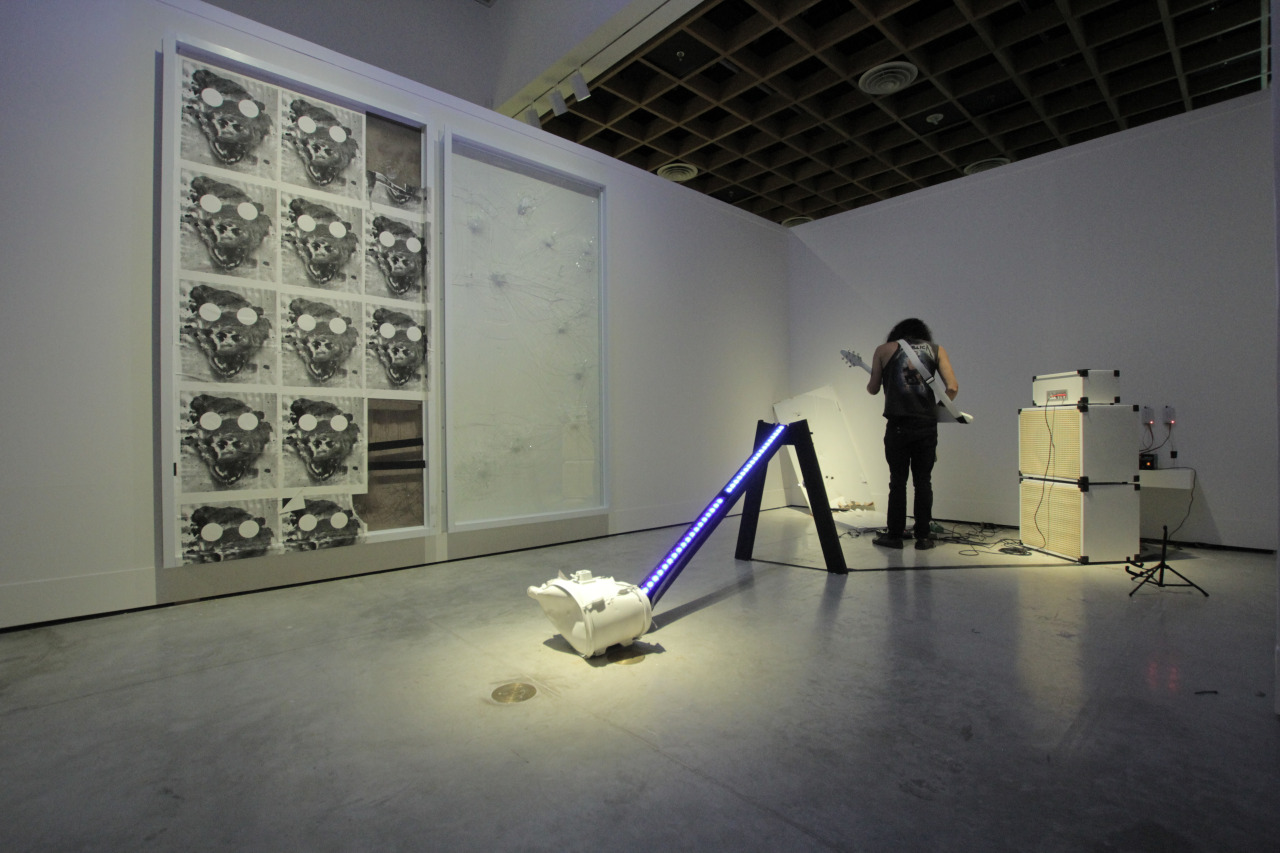 ________________
John Wynne Untitled installation for 300 speakers, player piano and vacuum cleaner (2010)
John Wynne's installation is at once monumental, minimal and immersive. It uses sound and sculptural assemblage to explore and define architectural space and to investigate the borders between sound and music. The piece has three interwoven sonic elements: the ambient sound of the space in which it is installed, the notes played by the piano, and a computer-controlled soundtrack consisting of synthetic sounds and gently manipulated notes from the piano itself. Because none of these elements are synchronised with each other, the composition will never repeat. The music punched into the paper roll is Franz Léhar's 1909 operetta Gypsy Love, but the mechanism has been altered to play at a very slow tempo and the Pianola modified to play only the notes which most excite the resonant frequencies of the gallery space in which it is installed. Sound moves through the space on trajectories programmed using a 32-channel sound controller, creating a kind of epic, abstract 3-D opera in slow motion.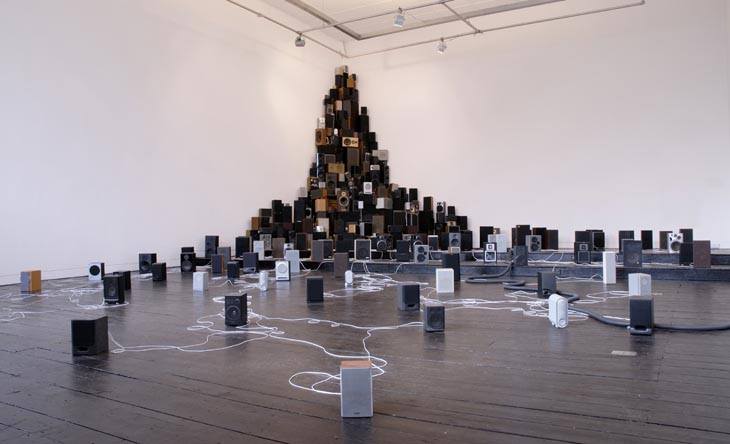 ______________
Sergei Tcherepnin Motor-Matter Bench (2013)
Rigged with transducers, Sergei Tcherepnin's Motor-Matter Bench (2013) welcomes sitters, and then, through bone conduction, they'll hear a composition. Their bodies will actually transmit sound.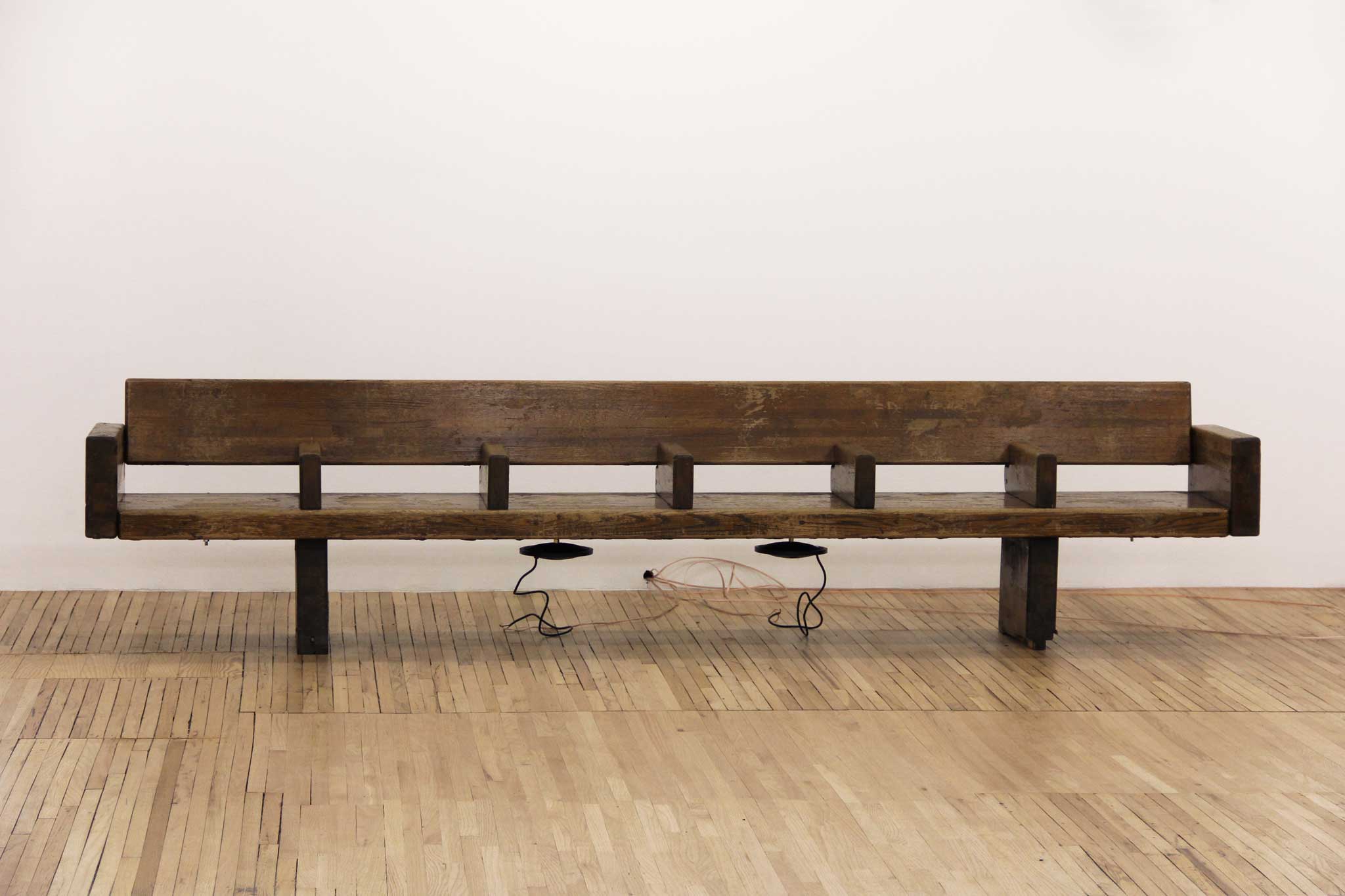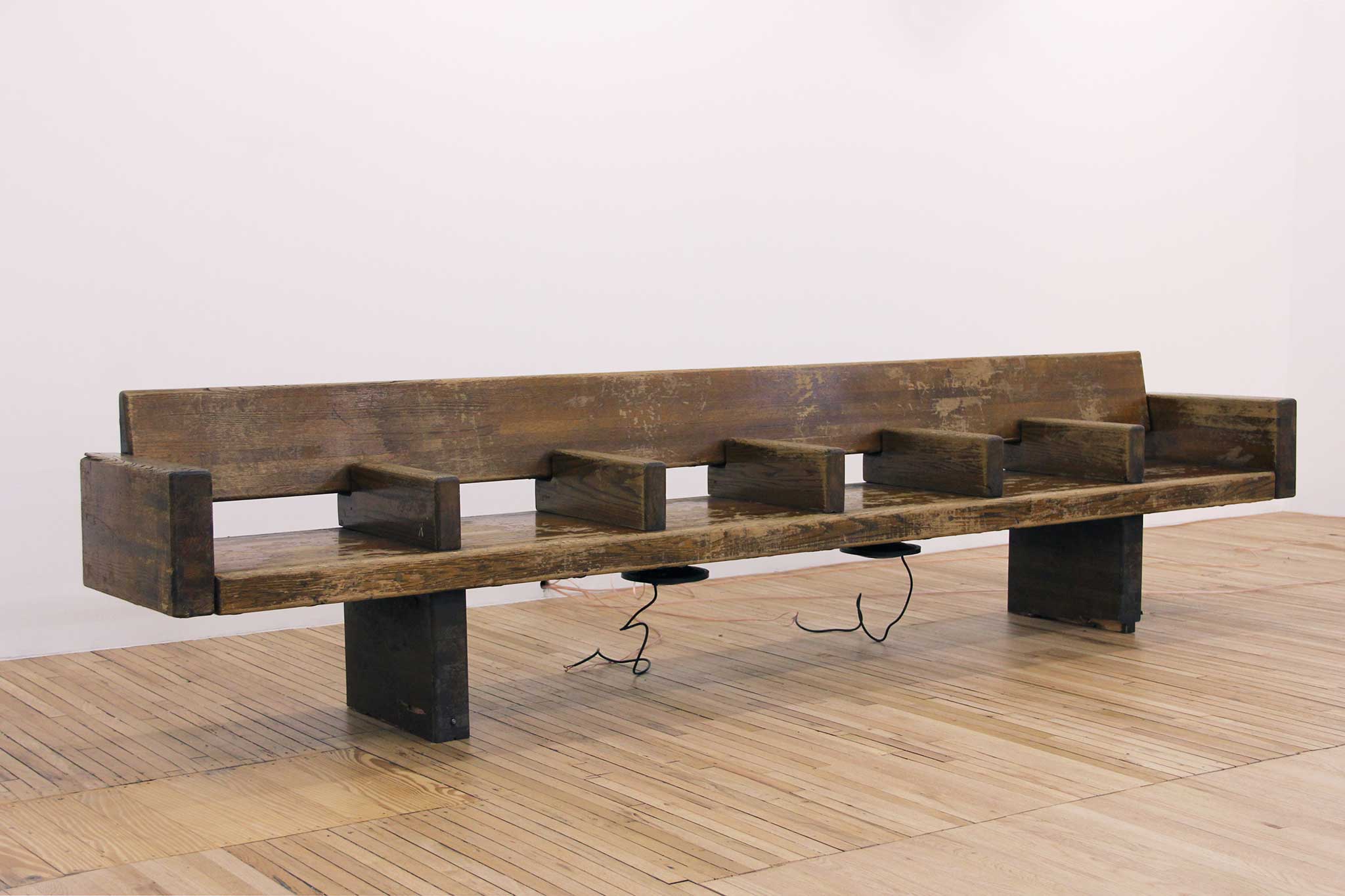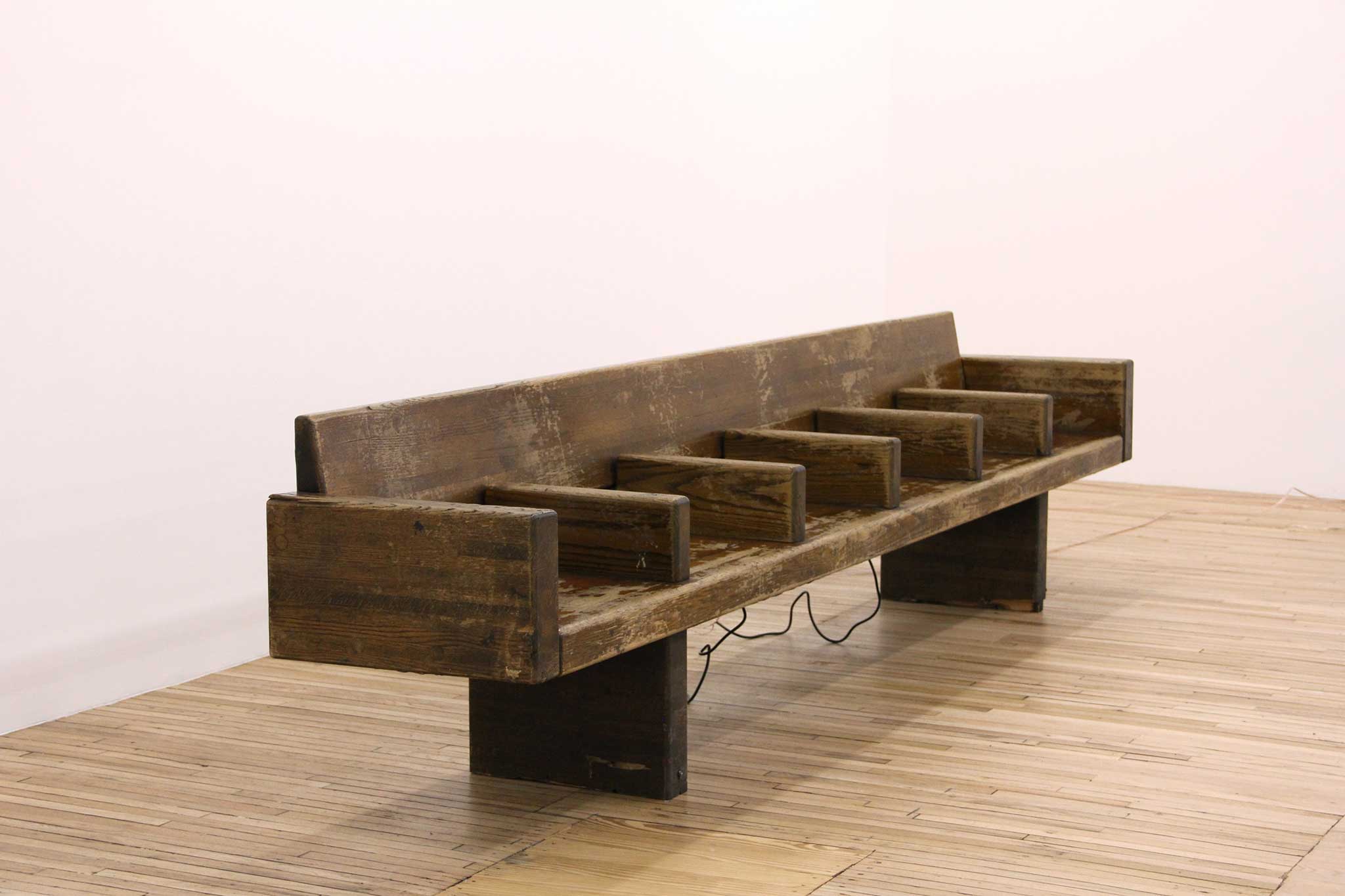 ______________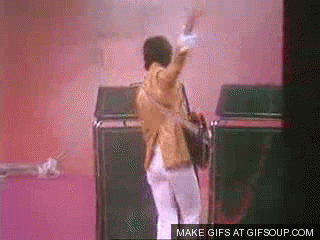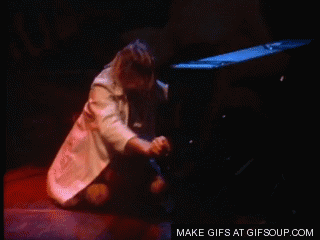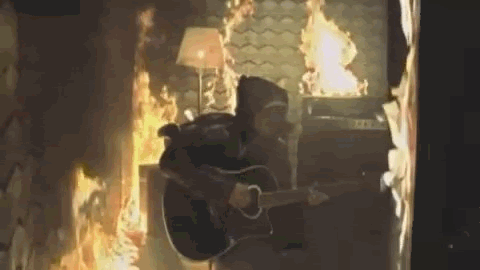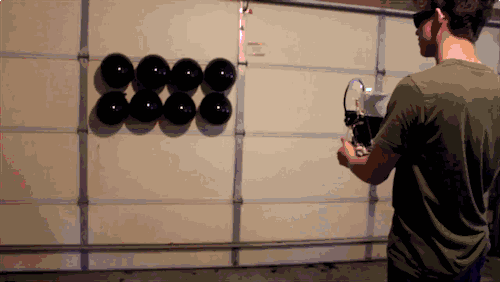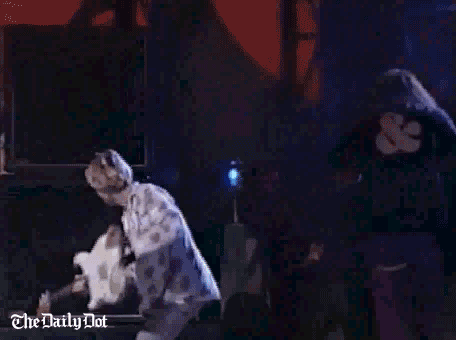 _______________
Darren Bader Antipodes: Parmigiano-Reggiano (detail, 2013)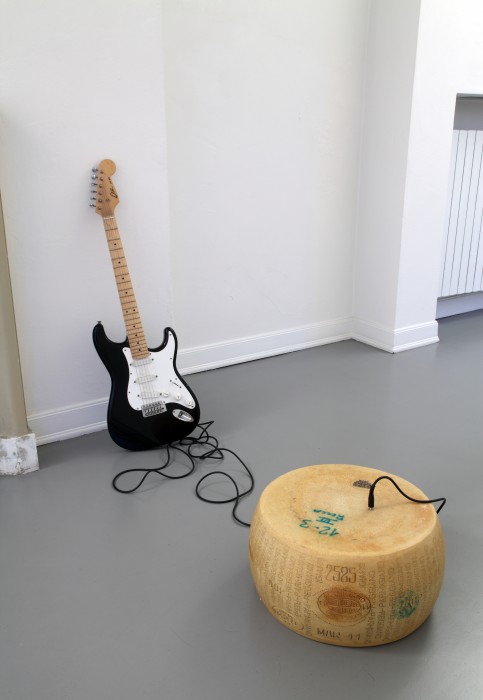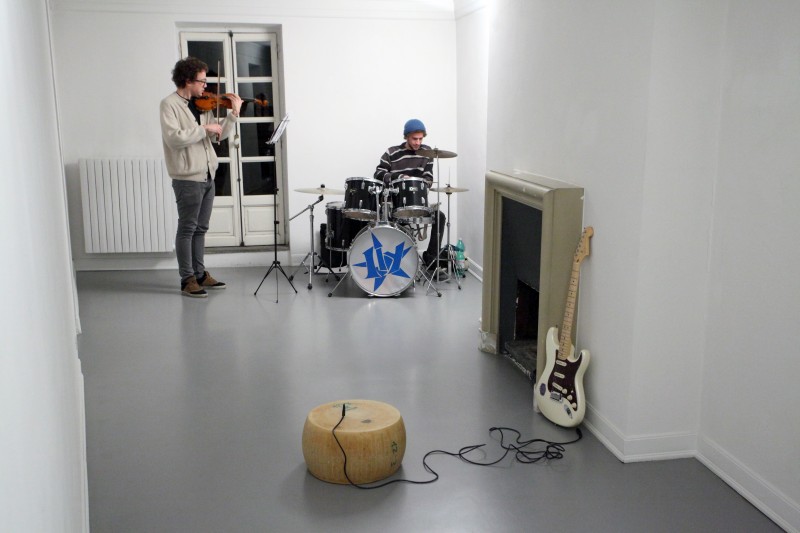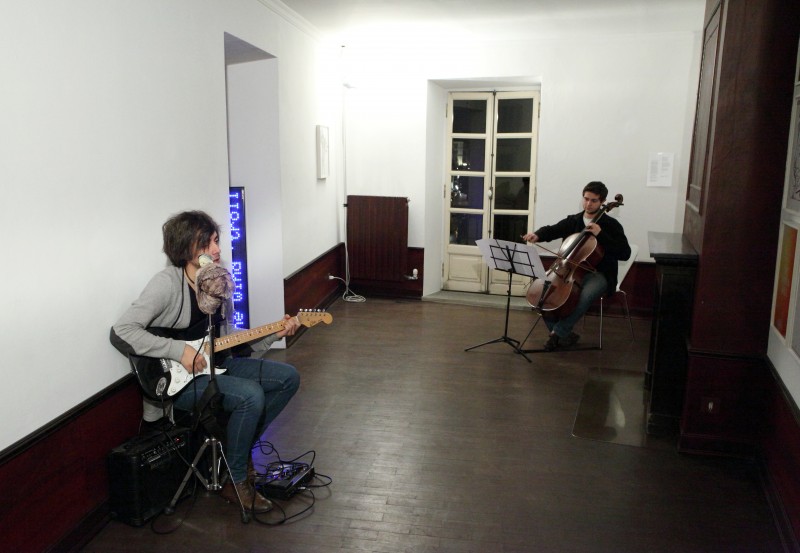 _____________
Wei-Hao Tseng Talking Forest (2016)
In his project, Tseng tries to unite the consciousness of the audience, image, and sounds in order to complete an artwork with motions, image, and sounds. He uses electricity conducting inks and pencils as mediums to create sounds from the resistance noises generated by feedback loop of amplifier. The unique sounds made by the mediums are their ways to communicate and transfer. In fact, Tseng's work has transcended the pure exploration of sounds, bodies, technology, and interaction. His work brings us to the ground of new media art, showing a distinctive art form and expression belonging to this era.
______________
Martin Kersels Buoy (1999)
mixed media including a mirror ball, a Walkman, an amplifier, a speaker, a tin can, a flashing light, and a motor.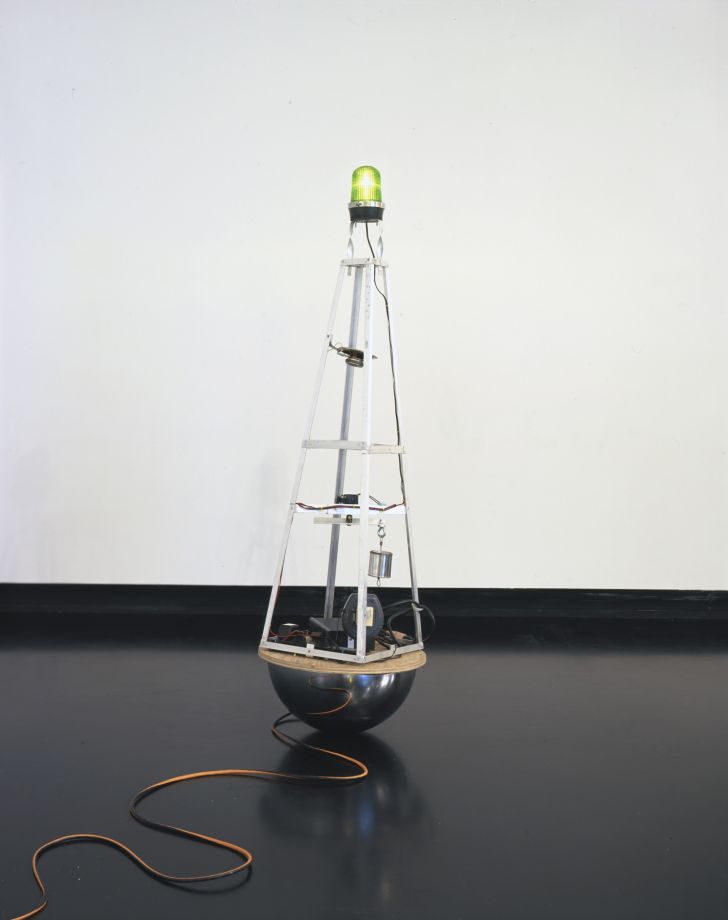 _________________
Lisa Kirk Untitled (Speaker) (If You See Something… Say Something… soundtrack included) (2011)
maple, oak, 24.75 x 16.25 x 12.25 in.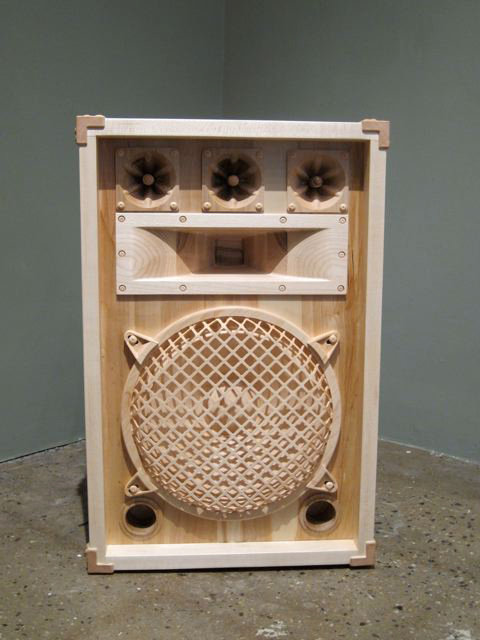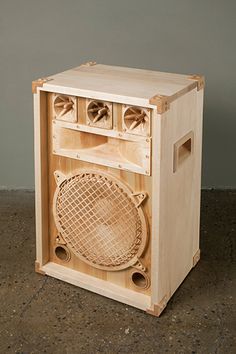 ______________
Christian Skjødt Illumination (2014)
Illumination is created specifically for an 18th century wine cellar in University of Latvia's Botanical Garden in Riga. The work is an examines the translation of the outer circumstances, harvesting the energy from the sun (via 100 solar modules), and bringing this into the cellar in the form of sound (via 10 autonomous analogue systems). Here the sounds are spatialised, where it investigates the special acoustics of the dome shaped wine cellar. Each system/speaker is tuned to the Concert A (440 Hz) under optimal sunlight conditions, resulting in microtonal cluster-type texture due to the weather conditions and the rotation of the planet.
_________________
Anthony Johnson Memoirs of a Wall (2012)
As my day-job over the past fifteen years, I have worked in behind-the-scenes roles within the art industry, predominately installing and de-installing artists' works and exhibitions in galleries, museums and other public and private spaces. In the process of developing the idea of Memoirs of a Wall, I followed a line of thought that started with the chronological gap in between exhibitions on a gallery's annual calendar. The role of exhibition installer entails operating within the fallow grey zone on the exhibition calendar, and within the non-exhibited gallery site as a space of labour, when it is in-between exhibitions, and neither here nor there. These notions of inter-state times and spaces were given further form by the given architecture of the Carnegie Gallery, where a façade of white gallery walls stand autonomously within the large heritage-listed council building. I think of it as a room trying to disguise itself as another — architectural cross-dressing, if you like. Between the original walls and the display walls, there runs a long tight corridor only forty centimetres wide, along the longest wall within the space, and accessible only by ladder. I began thinking of this difficult to access passage as an analogy for the grey area I occupy in my roles as an artist and an exhibition installer, to that chronological gap between exhibitions – the space of nothing. For the work, Memoirs of Wall, all the pre-existing anchor point holes of the longest wall in the Carnegie Gallery were re-perforated from the back of the wall to the front. As you'd expect, the vast majority were in a central horizontal band along the length of the wall. Then with a hammer, I punched out two eye-holes for myself in the centre of the wall. Throughout the exhibition opening, I wore the wall like a mask, with my eyes visible to the audience from within the gallery space, who could then visually engage with me. Within the gallery, a microphone on a stand was adjusted to touch the wall at the point where my mouth would be relative to the eye- holes. This microphone was 'live' and connected to a small amplifier positioned next to the stand. However I remained mute throughout the performance, but the volume on the amplifier was tuned relatively high, to pick up on sound within the gallery. The monotonous drone of the crowded space resulted in a low pitch drone, but at times it neared a point of high-pitch feedback. The shriek of feedback never quite happened, but the immanent threat of the wall screaming created anxious moments within the crowd, and groups would pause conversation to quieten the threatening din. This reflexive adjustment occurred numerous times throughout the performance, the amount of noise in the space shifting, particularly in relation to people's proximity to the wall. The work thus introduced a participatory element, which established a spatial audial rapport between the audience and the wall I occupied.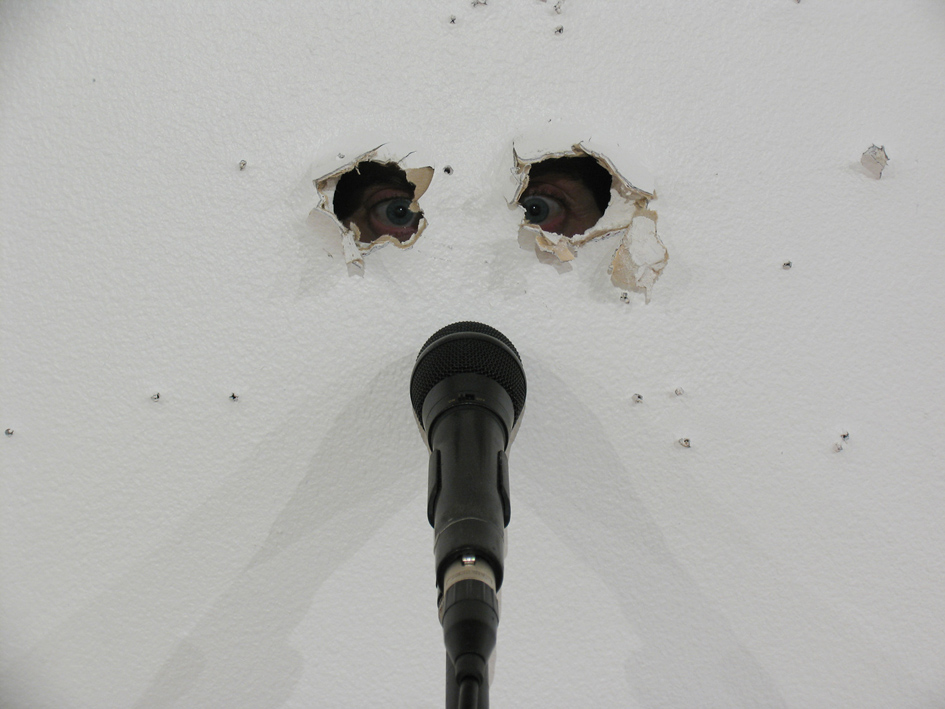 ______________
Tim Bruniges MIRRORS (2014)
Acting as "sound mirrors", these curved surfaces collect, compress and amplify all sound occurring in front of them. When received, sound is pushed outward along the edges in the opposite direction. Because the two slabs are placed in front of each other, sound is being transmitted back and forth over a ~8 meter distance, constantly amplifying the sound in the room. This all is supported by a second layer of sound: two speakers and a microphone embedded in the parabolic reflector, amplifying the sounds in the room and playing them back with different layers of digital delay, creating a tension with the purely acoustic "delay".
________________
Nicky Teegan Prayer Battery (2012)
The cult demands complete fanaticism and dedication to these devotional objects. These objects are charged with a spiritual dimension. They are mystical beings. This is a space of worship, fetish and indulgence for the cult. A shrine is built in which all of the objects are directed towards. It is a void, a cite of incantation or prayer. A drone plays towards the void, it is a charge, resonating throughout the space, generating a state of hypnosis. The drone is powered by a another devotional object, a prayer battery, containing the charge of chants and rituals powered by the cult. Footage of a ritual is played in the corner of the room looping eternally. The figure is shrouded by protective material. Canonised, it holds a relic of the void and performs a ritual of devotion towards the poster on the wall that depicts a utopian world in which these mystical objects originate from.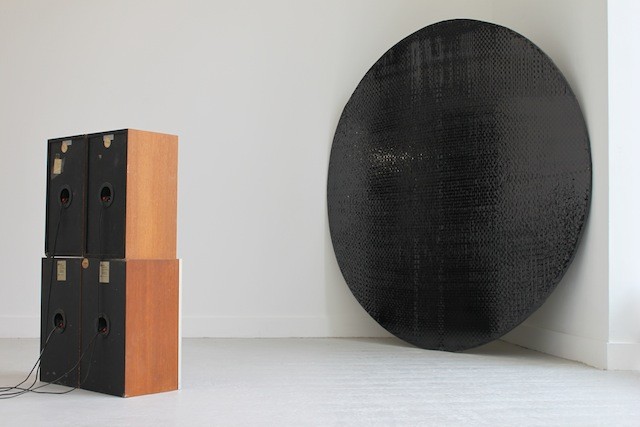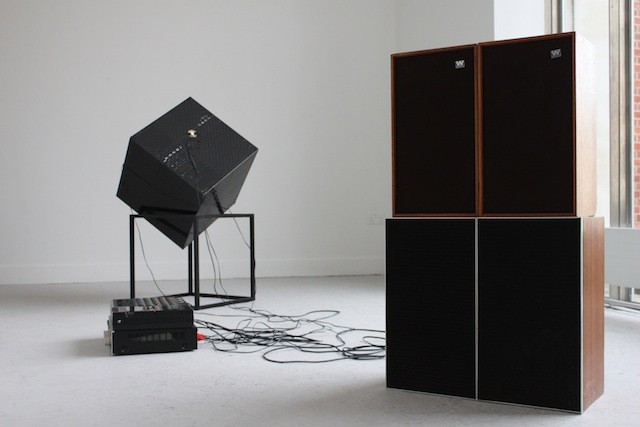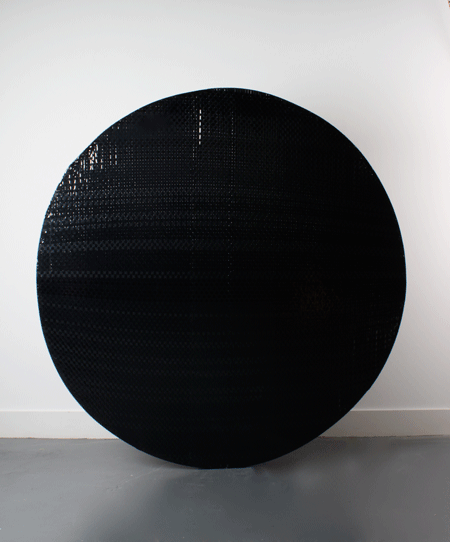 _____________
Haroon Mirza /o/o/o/o/ (2013)
Mirza has long doctored records or fashioning his own handmade vinyl substitutes from corrugated card or Perspex, but is just as likely to attach a transistor radio to a turntable, or hook up a portable CD player to a bucket of water, creating discordant hums, buzzes and bursts of feedback. For his new show, Mirza has pulled apart stereos, lighting systems and computer circuits to construct new phonographic hybrids that seem to switch on and off of their own accord. Every click of a device is important in the scheme of things; every movement combines to create a new composition in Mirza's looping, interconnected soundscapes.
____________
Yoshihiko Satoh Present Arms (2002)
Yoshihiko Satoh takes mass-produced goods that have become part of our every day life, enlarges and/or multiplies them, creating sculptures that unleash the energy residing in their function and shape. In 2002, he won the Kirin Art Award Grand Prix for "Present Arms", a 12-neck guitar conceived as a challenge to a rock guitarist he idolizes.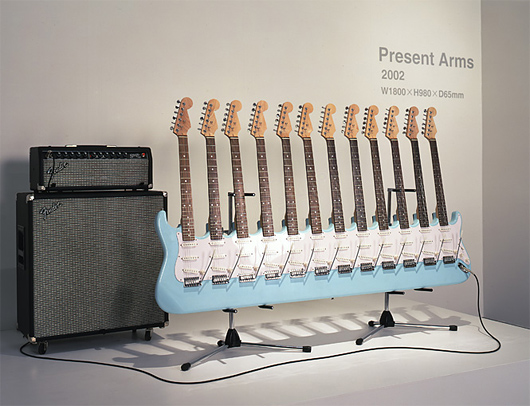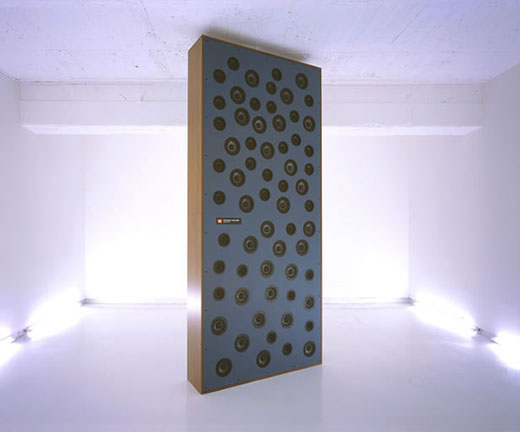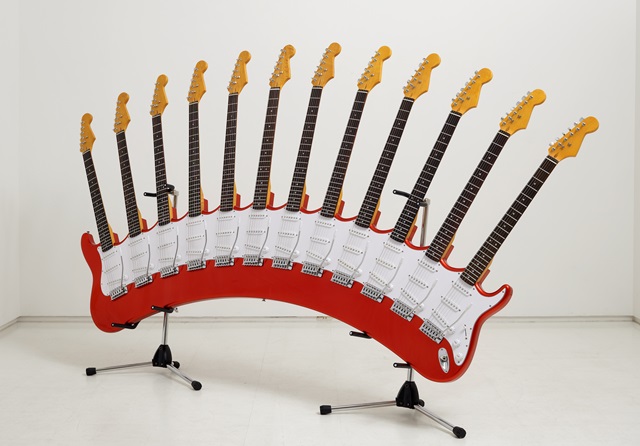 _____________
Ceal Floyer Scale (2007)
Often suffused with a distinctly wry sense of humour, Floyer's works have an offbeat quality, with the dialectical tension inherent in commonplace representation being inserted into revelatory notional compositions. In Scale, the artist exploits the dual meanings of the title itself, verb and noun, as speakers serially mounted to recreate escalating steps play the sound of footsteps ascending and descending. The footsteps scale the speakers, while the speakers play back a new kind of "scale" – liminal rather than musical.
*
p.s. Hey. I'll return tomorrow. Here's 'Amps', back from the dead.