* (Restored)
'In the late eighties, hardcore punk was dying on the vine. Many of the great bands had decided that they'd rather play metal or reggae and so the scene was beginning to wither and crack. But the whole genre was given a shot in the arm by the unlikeliest of bands from the unlikeliest of places.
'The band was Old Skull and came out of Wisconsin, formed by the Toulon brothers, Jamie and J.P. and their friend Jesse Collins-Davies. The Toulon brothers were nine and ten years old respectively and Jesse was ten. The brother's father, Vern Toulon, was friends with Robin Davies, a member of respected Wisconsin band Tar Babies and Davies suggested his stepson form a band with the Toulon brothers. Once the deal was sealed, Old Skull came together about 1987. Quickly developing a reputation for their age and the subject matter of the songs, they managed to snag a deal with Restless Records and entered the studio with future Garbage member and producer Steve Marker and their fathers, the trio cranked out a noisy album of pre-adolescent hardcore entitled Get Outta School in 1989.
'The songs were a blend of speed and pure, youthful punk energy and the band were seen as either a complete joke or the real thing. They got write ups in Rolling Stone, Newsweek and People magazine and were seen on tour with The Flaming Lips and GWAR. But problems started as people began speculating that Vern Toulon had actually written all the songs and was pulling the strings behind the scenes. These questions were never given credible answers and so the mystery still surrounds.
'After a lineup change which saw Collins-Davies leave the band and a new drummer being brought in, the original version of Old Skull fell apart by late 1990 and the kids went back to school and the name went quiet. That is until 1992 when a new Old Skull album entitled C.I.A. Drug Fest was released. This album was produced by Vern Toulon and saw the inclusion of another set of brothers, Chris and Josh Scott on guitars and vocals. J.P. and Jamie had switched places with J.P. playing drums and Jamie singing. The resulting record is extremely difficult to listen to as a punk record. It seems like a lot of noise masquerading as songs. But it is worth to own just as a novelty.
'After a little touring in support of the record, the band disbanded for real and the members all began growing up and moved on with their lives. The Scott brothers dropped off the face of the earth entirely while the Toulon family as a whole went underground. During the band's initial early days, the Toulon's parents had divorced but the brothers kept going. Then sometime in the '90's, their mother was reported killed in a train accident but not much else was known beyond that. By that point, the world had forgotten Old Skull and the Toulon's began a very rough patch in life.
'In 2001, it was reported that Vern Toulon had passed away after years of alcoholism, an affliction that had gotten so bad that he was reportedly panhandling on the streets of Madison. The brothers didn't say anything regarding his passing and nothing further was heard of the Toulon's until a couple of years later when both of them reemerged in New York, squatting on the streets with what were called 'crust punks.' This group of punks were living on the streets of NYC and started making music dealing with their plights. Jamie in particular became a founding member of Star Fucking Hipsters, a side project of one of the more renowned of these bands, Leftover Crack. J.P. formed Planned Collapse and began playing small clubs around New York.
'In 2005, the brothers reemerged on stage at CBGB as Old Skull playing a show with some friends backing them up. It would be one of the last times the brothers would be seen playing music. About this time, J.P. began dealing with a pretty nasty drug problem, one that would land him in jail and rehab over the years. But by 2010, it looked like J.P. had beaten the habit and had moved in with his son in an effort to keep himself clean. But then on November 13, 2010, it was reported that J.P. Toulon had passed away. No formal cause of death was ever announced but it had been reported that he'd been hospitalized with pancreatitis in the preceding months. In an even sadder twist of fate to all of this was that J.P. died the same day as Jamie's birthday.
'The small community of devoted Old Skull fans were devastated and word went out all over the Internet in memory. Jamie Toulon, on the other hand, was struggling with depression and continued living on the streets, just barely getting by. In the summer of 2011, he somehow wound up in Lynchburg, Virginia, which is where this author went to college. Having graduated three years before and moved back home, I never had a chance to run into Jamie but I would like to believe it would've been interesting and might have made for a great interview. How he wound up in the same city where I found myself as a writer and as a person is something I'll always wonder about. Unfortunately, I never got to find this out.
'In June of 2011, Jamie committed suicide in Lynchburg, tragically bringing an end to Old Skull and the sad history of the Toulon family. It was incredibly heartbreaking for friends and fans of the band to hear the news. What made it even worse was that his suicide came seven months after J.P.'s death. With Jamie's death, fans made tributes and posted messages but in the mainstream, his death was not reported at all, as opposed to J.P.'s death.
'While the Toulon brothers met very young and extremely tragic endings, the other founding member of the band has led a very successful life; Jesse Collins-Davies is now a DJ in Wisconsin and has a very successful career going for himself. It has been over twenty years since the first Old Skull record and during that time, there has never been one definitive interview chronicling the band's career. Now with Collins-Davies the only surviving member of this teenage punk band, he might come out and do an interview and people will be more than ready to hear what he has to say.' — Pete Crigler, Perfect Sound Forever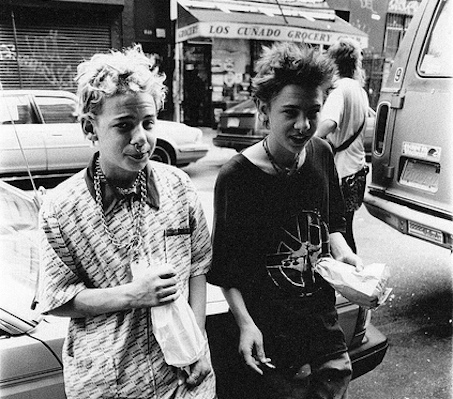 JP and Jamie Toulon, early '90s
My Life with Old Skull (1994 – 2011)
'When I was about 10 years old, my older brother Ben, who got me into bands like Minor Threat and The Dead Kennedy's, turned me on to a band called Old Skull. This was around the time they released their 2nd album CIA Drug Fest. At the time their 1st album Get Outta School was released, the members of Old Skull were between the ages of 8 and 10. I was immediately drawn to them. I did not care that they couldn't play there instruments. I knew that didn't matter. As a very rebellious child I thought there could be nothing cooler than having a punk band at such an early age.
'A few years later, my brother made some random decision to move to Madison, Wisconsin. A couple weeks after his big move (he was 16 by the way), I received a call from him, "Hey, I made some cool new friends out here. JP and Jamie Toulon. They're brothers and they where in Old Skull. After Madison got old, Ben and JP decided to move to NYC and be squatters together. Train hopping was involved as well somewhere within these years. Jamie ended up moving to NYC sometime in the mix as well.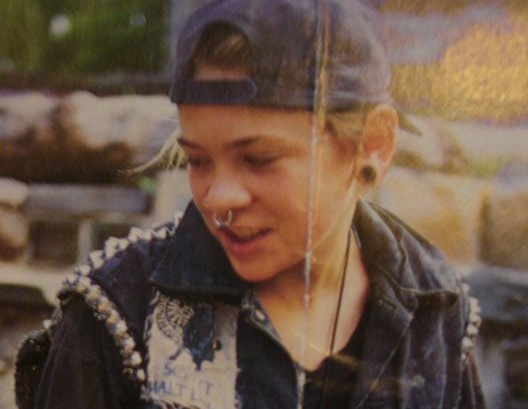 JP Toulon (around the time I met him)
'JP was 15 when I met him, I was 13 I think. We ended up becoming good pals during the times that Ben would bring him up to visit. Mainly we just watched a lot of television together and would crack jokes. BB guns where a big part of our relationship as well. Jamie and I never got to close. He was a serious loner in most peoples eyes.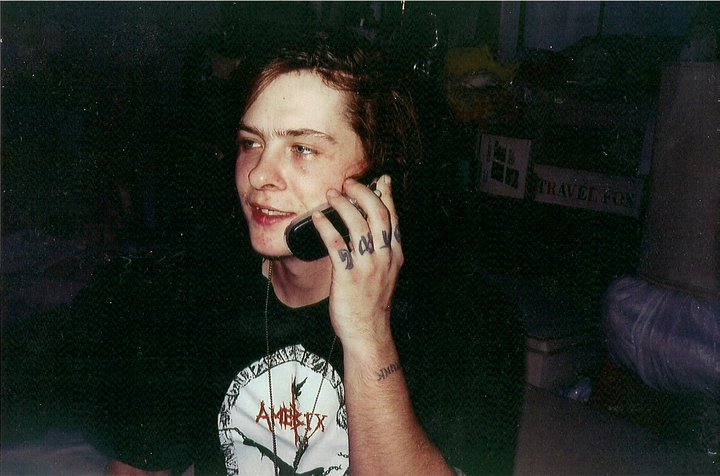 JP Toulon
'JP and Jamie's father had died of a heroin overdose at sometime or another. Their mother, hit by a train. This was probably a big factor in why they fell into deep dark drug addictions. My brother became a big part of that as well. Sometime, somewhere down the road, I had joined them. Ben was not supportive of my decision but at times he was forced to overlook that. There I was, going on dope runs with my childhood heroes. I thought I was bad until I saw JP do things like stick a syringe in his neck because all the veins in his arms had collapsed or shoot 10 bags at once. I am not calling myself a saint. I would constantly go on benders, run out of money, get sick, repeat. it turned into a scheduled agenda. I'll spare the real gory details.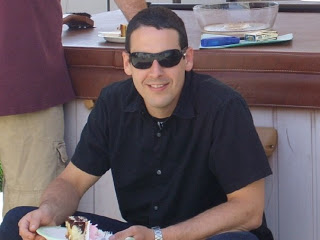 My brother Ben
'To make a long story short, my brother, who was doing quite well, had one of his little slips about 3 years back. He was found dead on a bathroom floor. One year later JP died of a speedball overdose (cocaine and heroin mix). One year after that, Jamie hanged himself. But no matter how skeezy JP was, everybody loved him. He was one of the funniest and most charismatic people I have ever known. I haven't even thought of doing hard drugs ever since my brother died. He left behind a beautiful little girl named Adelaide, she to me is better than any drug ever created. JP left behind a beautiful son named Aiden, who is the same age as my niece. My brother played a huge role in making me the man I am today and I am extremely thankful for that. I always count my blessings and I still think Old Skull is fucking awesome!' — Andy Animal, Andy's World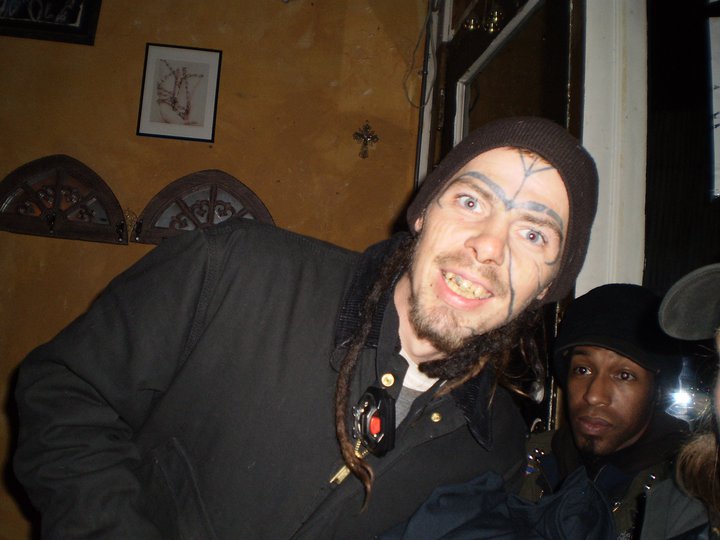 Jamie Toulon
Further
Old Skull @ Wikipedia
Old Skull @ Dead Punk Stars
Old Skull @ Myspace
the adventures of jeff & unkajeff: Old Skull
'Old Skull are young and half-informed'
'Is it cruel … ?'
'"The Gospel According to…" Presents…Old Skull – Get Outta School'
'old skull: the hardcore punk shaggs'
'Old Skull Brother J.P. Toulon Found Dead'
'Jamie Toulon died'
Gallery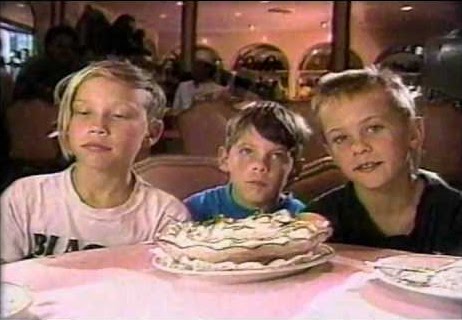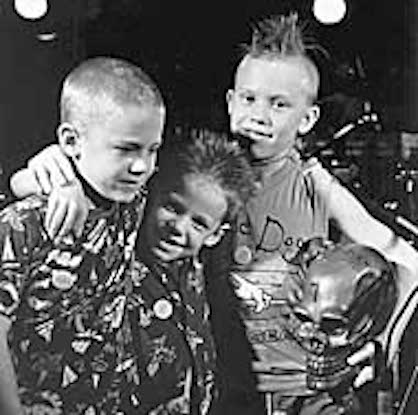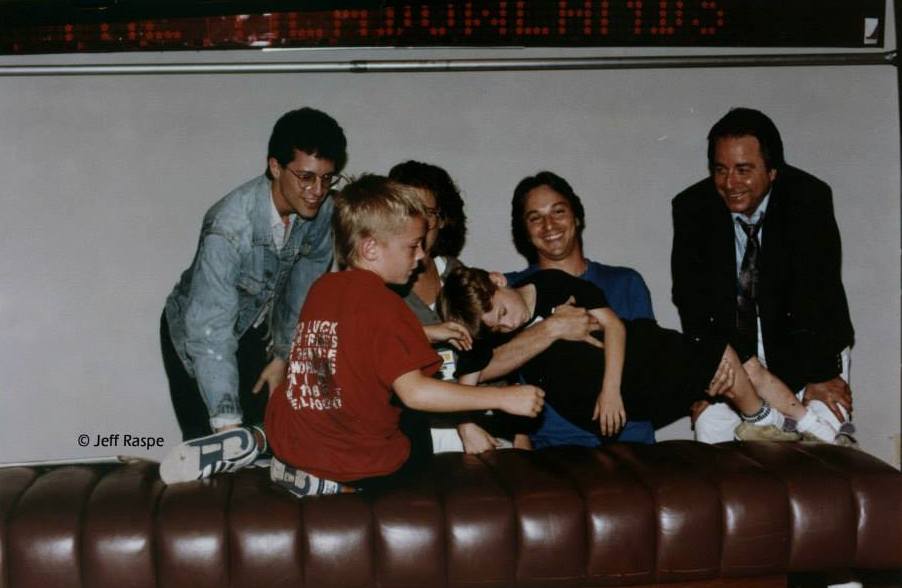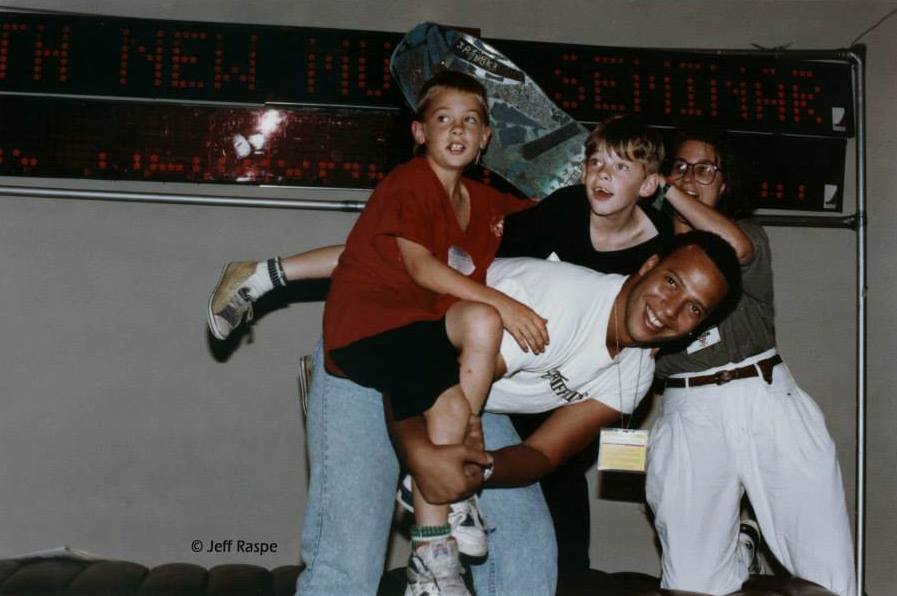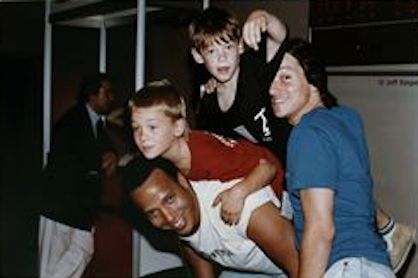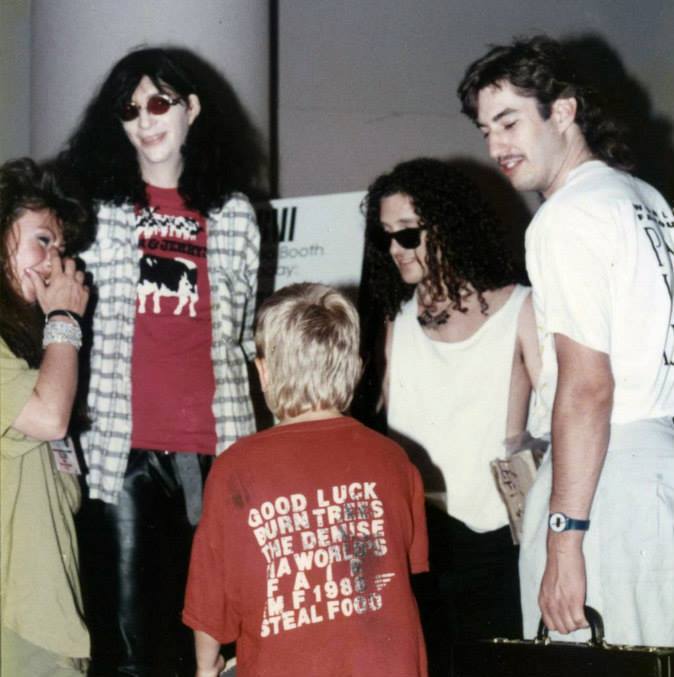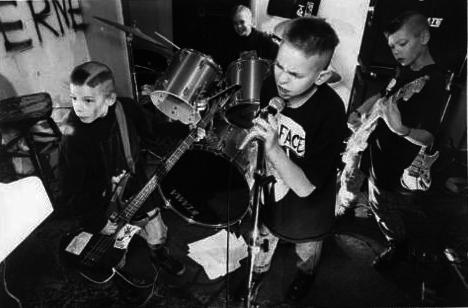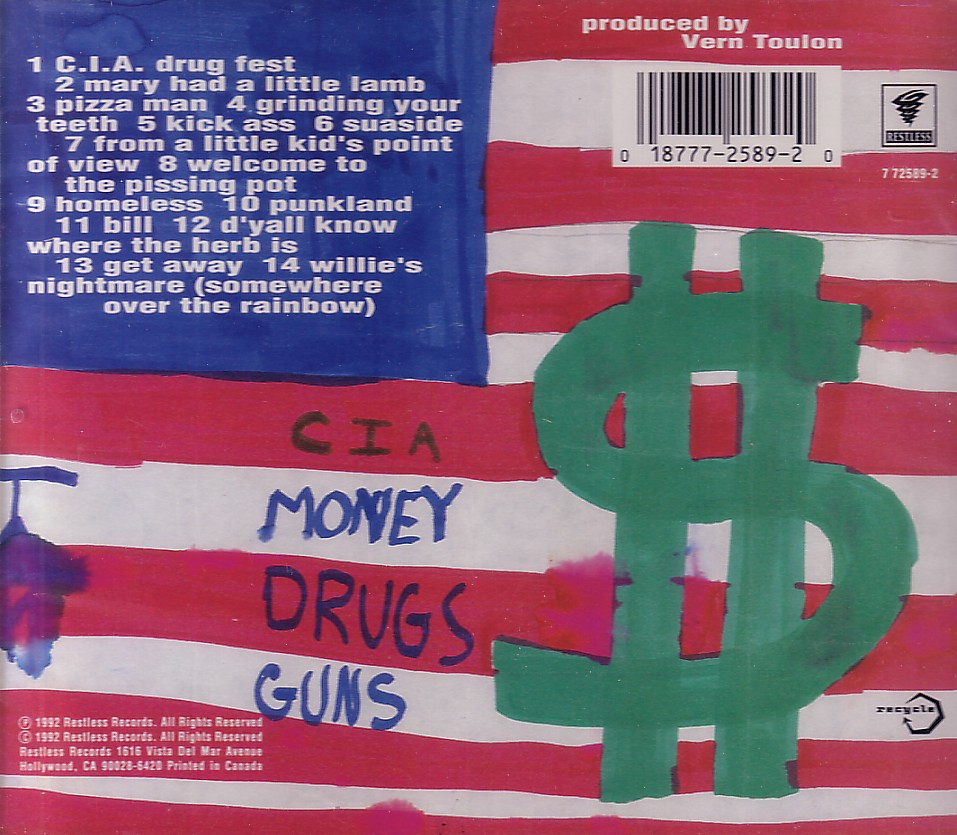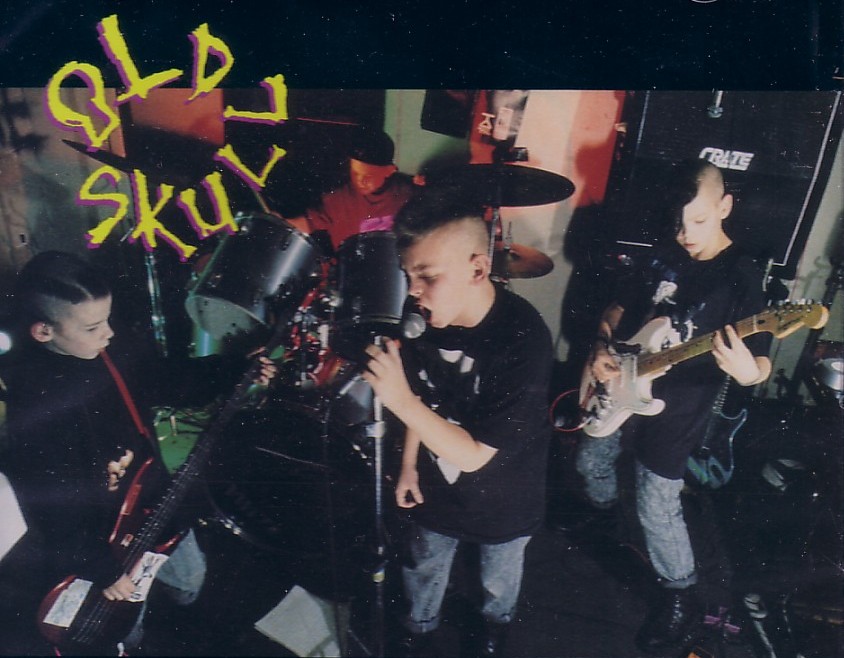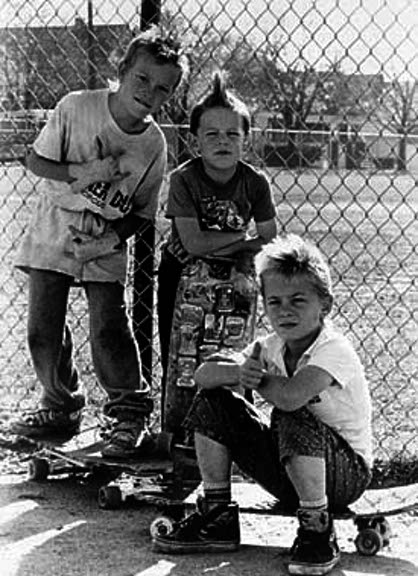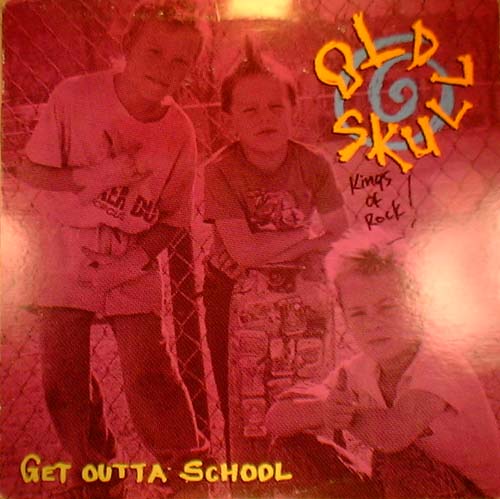 Tracks

AIDS

Let's Go Kill That Man

Hot Dog Hell

Get On the Bus

Kill A Dead Eagle

Skate or Die
*
p.. Hey. ** David Ehrenstein, Hi, David. Interesting looking piece on Cavafy. I'll read it. Thanks! ** Steevee, Hey. Your fave track was almost a hit. Its video got a lot of MTV play. Your analysis of the two albums makes sense. 'One on One' is when Cheap Trick started having to deal with record company interference. They — I think the label Epic — wanted them to be gigantic rather than an interesting, respected band that had hits once in a while. On those two albums, Cheap Trick managed to continue to be pretty much themselves and satisfy the label, but right after that they started compromising all over the place to keep their record deal, and the records get spotty for years. People forget and/or don't know how difficult it was for interesting bands back when there were hardly any indie labels to move onto. And that point in time around those two Cheap Trick LPS was right when labels stopped supporting bands who were great and critically beloved but didn't sell well. The Cheap Trick trajectory, and how it illustrates a major shift among the major record labels, is a very interesting story in and of itself. I'm glad the skittish new computer-gifter seems to have finally committed. I hope that sticks. Look forward to your review! Everyone, Steevee has reviewed the very interesting sounding new horror property 'RAW', right here. Go for it. ** Dóra Grőber, Hi, Dóra! Thanks, yeah, it'll be interesting to decide on the costumes. That's one of the little fun parts. Oh, I can tell you their books, but it won't mean too much because they're chosen to reflect the characters and their particular situations, and describing those is way too lengthy and complicated for the p.s., but the books are … For the main character Roman: the French version of Max Frisch's 'The Man in the Holocene'. For Roman's best friend Ollie: 'Video Game Spaces', by Michael Nitsche (in English). For a minor character (a teenager who ends up committing suicide): Edouard Leve's 'Autoportrait'. Ah, very glad you've killed your irritation with zzzz's. Yesterday was a very, very long one. Started with auditioning a possible person to do the film's decors and props. Then a very long meeting about the film's shooting schedule. Then a meeting with the producer that was okay but stressful for reasons I can't really go into at the moment. Then a meeting to organize the rehearsals (4 days in Paris, 2 days in Caen). Then setting up a meeting with a guy we hope will do the sound for the film. Then meeting about the custom pinatas, whose costs are over-budget but have to be there. Then Zac helped me clean my former apartment. So I was toast by the time yesterday finished. And today will be auditions for the missing main actor and more meetings, so it's going to be another taxing one. Crazy lately. How was your hopefully much less exhausting Friday? ** Gregoryedwin, Hey, man! Always a joy for me when you pop in. So happy to have coincided with your jam. I'd really like to read that book of his lectures. I'll look for it. Thanks a lot, buddy! ** Jamie, Hi! Yeah, Cortazar is pretty much always great. The short stories are terrific. His novel 'Hopscotch' is sometimes thought to be his best, and it is incredible. I'm good, just, wow, busy almost to the breaking point, but so far as so good. A guest post from you would be total manna if you're up for it. The ominous meeting was not as ominous as we had feared, but it was still ominous for reasons to complicated to explain right now. Luckily the ominousness has to do with post-production, so we don't have to stress too much about it until we finish shooting the film. Nope, not into stress. Well, I did stay in the old apartment longer, but, just give you the story's end, about four months later the landlord was arrested because he beat the shit out of the woman he was married to, so we got a new landlord. A real charmer, that guy. What, that is unsettling! Yeah, I mean, a move might not be a bad idea, although having just gone through the hell of moving, it's hard to recommend that option enthusiastically, But, yeah, under the circumstances, yeah. Eek about your phone and fingers. Bit of an odd time for you on your end at the moment, no? I hope that phase stops on a dime. Enjoy Ian Sinclair tonight? How was it? Love from the margins, Dennis. ** New Juche, Hey. Wow, what a very nice outcome, i.e, funded until 2020. Wow. And you survived. Congratulations! And finished your new book! Not bad, man, really, not bad at all. Cool. ** _Black_Acrylic, Thanks for the answer. I'm strangely interested in things like that. I'm a magazine reader on trains too. The Wire and Mojo when I have a choice. And nowadays also books since I have so little time to read them given my insane schedule. I have 4 three hour train trips ahead of me next week, so I hope to get a lot of text uploaded into me during them. I want to read the John Miller book a lot. I'm a great admirer of John's mind. I've known him forever. He's a pip. ** Misanthrope, At first I read you literally, i.e, that you were saying you're like Cortazar, and I was, like, that's an interesting development in my understanding of George. I envy your dreams. Even Iron Man being a woman is too imaginative for mine when I rarely remember them. Mine are more like gifs. Picnic with Hulk Hogan, now that's some kind of dream. I'd like to dream that I'm having a picnic with Randy Savage. Without Slim Jims though. Well, I guess he could eat them. I do remember your space fear, yeah, that's right. It's the opposite of my fear of being in space and being afraid of looking at the tiny earth. ** Alistair, Hey! The film prep is intense, but it's getting done, which is all I ask. Good, good, it's a date: your book's 'welcome' post. Oh, hm, I'll send you my new address via Facebook. Watch for a message. Take care, pal! ** Jeff J, Hi, Jeff. Actually, my intention was restore your post about Cortazar, but the images in the post — the ones scanned from the book — seem to have disappeared from my hard drive, so I had to go to Plan B. That's funny: Greoryedwin is reading that book of lectures right now too, as you may have seen. The casting of our film is all set except one of the main roles — kind of the second main role — because the guy we wrote it for had to pull out. So we're scrambling to replace him. We have auditions today and tomorrow. It's very late, and we're more than a bit anxious, but hopefully that'll be set asap. Have not seen 'Personal Shopper' yet. I missed it when it played here, ages ago now. That is my fave Reed novel. But 'Mumbo Jumbo' is a close second. Yeah, I'm curious to hear what the reaction is. Let me know, if you don't mind. Thanks! ** Lord_s, Lord_s! Wow, man, it's been ages upon ages! Very awesome to see you! No, not yet. I'm planning to ask Stephen O'Malley when he's back from the Sunn0))) tour for suggestions or even for something from his own past or something via Southern Lord because we need to get a track we can use for very little money. And, last but not least, I will audition every track you have kindly shared with me. Sweet. You good? What's up? ** Right. Another restoration today. I thought I would bring back Old Skull. Kind of a whim decision, See you tomorrow.