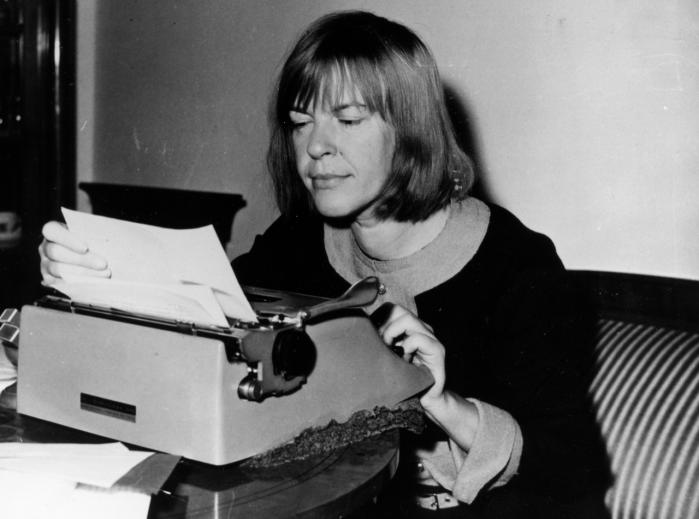 'Malina illustrates more elaborately and graphically than the short stories of The Thirtieth Year (1961) and even those of Three Paths to the Lake (published in German as Simultan in 1972) Ingeborg Bachmann's concept of a "utopia of language." She developed this notion in five important lectures given at the University of Frankfurt in 1959-60. In her fifth lecture, she notably observes that literature "cannot itself say what it is." Then, appealing implicitly to the Heideggerean analysis of the anonymous "one" (the German word man), she adds that literature "presents itself as a thousand-fold, many-thousand-year-old affront to 'bad language' (schlechte Sprache)," by which she means badly made, mediocre, ordinary, daily language. In her view, "life possesses only this schlechte Sprache," against which writers must oppose a "utopia of language," even when the language they forge ultimately depends closely on the present and its mediocre speech. Even though the failure to achieve this ideal is inevitable, literature should "be praised for its desperate march toward this Language . . . [which] offers humanity a reason to hope."
'Having written her doctoral dissertation on Heidegger's existential philosophy, Bachmann was also fully cognizant of his idea of a genuine writer's or poet's getting unterwegs zur Sprache ("on the way to Language"). And it is as a description of how a writer "heads toward Lan-guage" that Malina, as a meta-novel, must also be read.
'Yet herein lies another paradox. This principal, most significant activity of the narrator's life cannot be observed; the novel can only attempt to help us see what cannot be seen. In her acceptance speech for the Anton-Wildgans-Preis, received in 1972, Bachmann pointedly commented: "I exist only when I am writing. I am nothing when I am not writing. I am fully a stranger to myself, when I am not writing. Yet when I am writing, you cannot see me. No one can see me. You can watch a director directing, a singer singing, an actor acting, but no one can see what writing is." In this sense, the narrator and perhaps also Malina are "nothing," "no one," in the novel. At best, they are apparitions or strangers. They exist authentically only in what is unstated, in what cannot be told. Bachmann leaves us with the redoubtable task of grasping their essence "behind the novel," as vital sources that can be intuited yet not named.
'Heading toward language thereby implies pushing words to their limits, nearing them to the ineffable; analogously, of driving the self to its frontiers and perhaps beyond. And in this regard, the ominous pronouncements ("the boundaries of my language mean the boundaries of my world"; "of that which one cannot speak, one must remain silent") of another salient Viennese personality likewise underlie the very conception and narrative processes of Malina. In her essay on Wittgenstein, Bachmann notably praises the philosopher's "despairing pains with the inexpressible (das Unaussprechliche), [pains] which charge the Tractatus with tension." This same tantalizing tension characterizes Malina from beginning to end.
'Bachmann's deep struggle with the German language was, appropriately enough, waged while she was in voluntary exile from her native Austria. Her poem "Exile" bears witness to both her status as a "woman without a country" (even as the narrator's passport, in Malina, has the addresses crossed out three times) and to her taking shelter, though a polyglot, in her unique possession: "the German language / this cloud about me / that I keep as a house / drive through all languages." Much of her career was spent in Rome, a city in which she had to live in order to write about Vienna and its Hungary Lane. She once flatly quipped: "I feel better in Vienna because I live in Rome."
'This Roman retreat enabled Bachmann to compose the preeminent modern Viennese novel. The city is obliquely present even in the almost unbearably long second chapter—otherwise set "Everywhere and Nowhere"—because it is entitled "The Third Man," in homage to Carol Reed's 1949 film. In Malina, distant parallels with the film are drawn often. In The Third Man, an American writer seeks to track down his friend Harry Lime (whom Orson Welles memorably played) in postwar Vienna. He eventually learns that his friend has become a black-market dealer in penicillin. Rather similarly, Ivan's profession is never clear. "He pursues his neatly ordered affairs in a building on the Kärtnerring," writes Bachmann, "an Institute for Extremely Urgent Affairs, since it deals with money." The film is, moreover, accompanied by Anton Karas's haunting zither melody, even as music plays an essential role throughout Malina (and especially in the third section, where the author adds Italian musical terms to illustrate how the dialogues should be read). Like the death at the end of The Third Man, Malina abruptly concludes in a murder. Yet is this murder a real or a psychological one?
'In contrast to the timeless "today" and the explicit Viennese setting of the first and third sections, in the second part of Malina "Time no longer exists at all." "It could have been yesterday," the narrator explains, "it could have been long ago, it could be again, it could continually be, some things will have never been. There is no measure for this Time, which interlocks other times, and there is no measure for the non-times in which things play that were never in Time." This non-time is that of dreaming, when "the basic elements of the world are still there, but more gruesomely assembled than anyone has ever seen." The narrator recounts chilling nightmares involving her father, Nazism, death camps, electric-shock therapy, and much more. At one point, she shouts: "A book about Hell!" This dire avowal surely designates, alas not the intensely desired Exult, Be Jubilant, but rather the book that "I" must ultimately come to terms with and write. The dark book, which cannot promise facile redemption but which tries to align "true sentences." In other words, Malina—which Ingeborg Bachmann did write.' — John Taylor, Context #13
____
Further
Ingeborg Bachmann @ The Institute of Modern Languages
'Reading Ingeborg Bachmann'
Ingeborg Bachmann Website
The Ingeborg Bachmann Forum
'EXSULSATE JUBILATE: READING "MALINA"'
'"Le Temps du coeur. Correspondance", d'Ingeborg Bachmann et Paul Celan : lettres d'amour en Poésie'
'Understanding Ingeborg Bachmann'
'Theirs was an unlikely friendship'
'Expressing the Dark'
'LA TRENTIÈME ANNÉE (EXTRAIT), PAR INGEBORG BACHANT'
'Ingeborg Bachmann and the Mad Men'
'The Use and Abuse of Feminist Criticism: Ingeborg Bachmann'
'INGEBORG BACHMANN & PAUL CELAN: HEART'S TIME, A CORRESPONDENCE'
Cafe Ingeborg Bachmann
'"If We Had the Word": Ingeborg Bachmann, Views and Reviews
'THE LIMITS OF LANGUAGE', Marjorie Perloff on Ingeborg Bachmann
'Gender, the Cold War, and Ingeborg Bachmann'
'DARKNESS SPOKEN'
Buy 'Malina'
___
Extras

Eine Folge RÜCKBLENDE – DIE SCHRIFTSTELLERIN INGEBORG BACHMANN

Ingeborg Bachmann reads '(A Paean) To the Sun' (1961)

Ingeborg Bachmann reads 'Exile' (1961)

Ingeborg Bachmann 'Mein Vogel' (1961)

'Portrait von Ingeborg – Ähnlichkeiten mit Ingeborg Bachmann'
____________
Werner Schroeter Malina (1991)
'Malina is a 1991 German-Austrian drama film directed by Werner Schroeder and starring Isabelle Huppert. The screenplay was adapted by Elfriede Jelinek from Ingeborg Bachmann's 1971 novel Malina. Like Bachmann's novel, the film is an incredibly complex drama on the nature of insanity and to watch it, especially in the beginning, is quite a labour. A woman believes that she is a writer and all her men are fruits of her ill consciousness or personages of her unwritten book or alter egos of her split imagination. And episode after episode her consciousness keeps deteriorating more and more but the end breaks everything once again so all that was happening comes up in absolutely different light and changes its meaning. Malina is an anagram of 'animal' and it isn't accidental but symbolic to the entire surrealistic content of the film. Malina is utterly unique, having many layers of narration and visualization.' — collaged

Lengthy excerpt

Interview with Elfriede Jelinek (on Ingeborg Bachmann)
___
Poems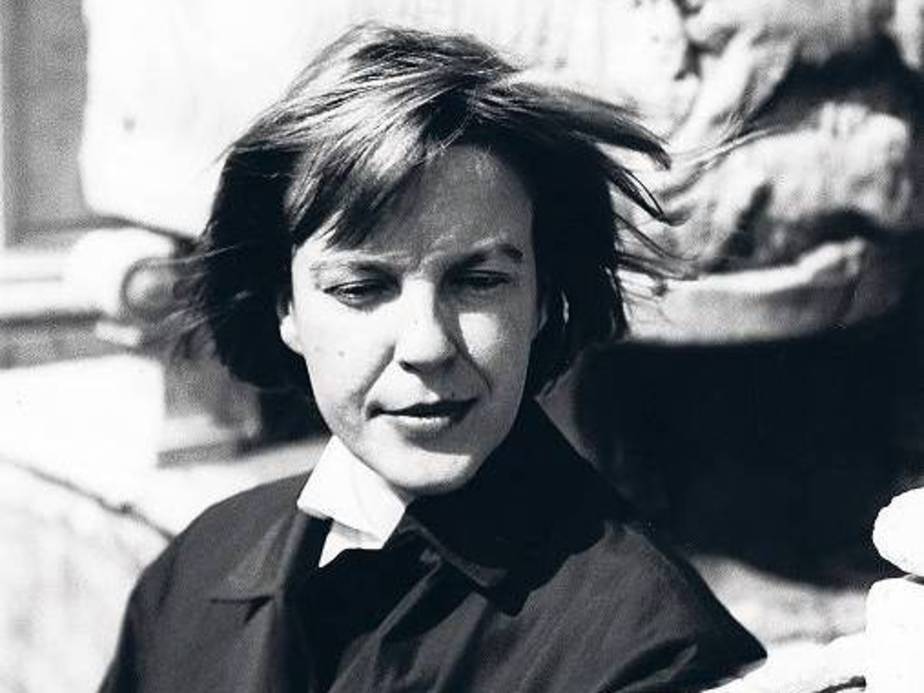 The Drugs, The Words
Said it,
and the toad leapt
onto the table,
blew the match out
and the lightning
struck under the table,
lifted the glass,
and the drop
spilled into the sea,
meaning tears,
none of them dried,
which means a sea,
something quite other,
though there's only one,
suffering not being
the worst thing
to popes, to ideas,
to states, but rather
a torture for the sane.
The sick know
that a color, a breath of air,
a hard step, indeed a
whimper of grass in the world
turns the heart inside
the body, causing them to hope
for peace the more they sense
war, as the war goes on.
They love
the white uniforms
of the nurses.
They hope that
from the white
something good will come.
They are not
white at all.
Enigma
Nothing more will come.
Spring will no longer flourish.
Millennial calendars forecast it already.
And also summer and more, sweet words
such as "summer-like"–
nothing more will come.
You mustn't cry,
says the music.
Otherwise
no one
says
anything.
The Bridges
Wind tightens the ribbon drawn across bridges.
The sky grinds on the crossbeams
with its darkest blue.
On this side and that our shadows
pass each other in the light.
Pont Mirabeau … Waterloo Bridge …
How can the names stand
to carry the nameless?
Stirred by the lost
that faith could not carry,
the river's drumbeat awakens.
Lonely are all bridges,
and fame is as dangerous for them
as it is for us, yet we presume
to feel the tread of stars
upon our shoulders.
Still, over the slope of transience
no dream arches us.
It's better to follow the riverbanks,
crossing from one to another,
and all day keep an eye out
for the official to cut the ribbon.
For when he does, he'll seize the sun's scissors
within the fog, and if the sun blinds him,
he'll be swallowed by fog when he falls.
No Delicacies
Should I
dress up a metaphor
with an almond blossom?
Crucify syntax
on a trick of light?
Who will beat their brains
over such superfluities –
___
Book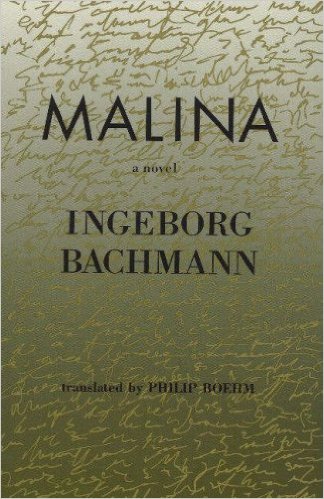 Ingeborg Bachmann Malina
Portico Paperbacks
'First published in Austria in 1971, this work gained quick acceptance into the canon of modern Austrian and women's literature. It concerns a triangle consisting of the narrator (an unnamed woman writer in Vienna), her lover (Ivan), and her alter-ego and male roommate (Malina) and culminates in her murder. Experimental in form and lyrical in style, this sometimes difficult novel explores the limits of language and the enigma of time–major themes in Austrian literature at least since the turn of the century. The role of gender in identity and personality is also considered. Malina was originally conceived as the "overture" to a trilogy entitled Ways of Dying, which remained incomplete at the time of the author's death in 1973.' — Library Journal
______
Excerpts
1 Hello. Hello?
2 I, who else then
3 Yes, of course, excuse
4 How am I? And you?
5 I don't know. Tonight?
6 I hear you so poorly
7 Poorly? What? You can then
8 I can't hear you well, can you
9 What? Is something?
10 No, nothing, you can even later
11 Of course, I'd better call you later
12 I, I should actually with friends
13 Yes, if you can't, then
14 That's not what I said, only if you can't
15 In any case we'll talk on the phone later
16 Yes, but around six o'clock, because
17 But even that is too late for me
18 Yes, for me too actually, but
19 Maybe today doesn't make any sense
20 Did someone come in?
21 No, only now Frau Jellinek is
22 I see, you're not alone any more
23 But later please, definitely please!
*
It was on the Glan bridge. It was not the Sea promenade.
It was not on the Glan bridge, not on the Sea promenade, it was also not on the Atlantic in the night. I only travelled through this night, drunk, toward the worst night.
*
While we talk I can never allow myself to think that in an hour we will be lying on the bed or toward evening or very late at night, because otherwise the walls could suddenly be glass, the roof could suddenly be removed. Extreme self-control lets me accept Ivan's sitting opposite me at first, silently smoking and talking. Not one word, not one gesture of mine betrays what is now possible and what will continue to be possible. One moment it's Ivan and myself. Another moment: we. Then right away: you and I. Two beings devoid of all intentions toward each other, who do not want coexistence… I propagate myself with words and also propagate Ivan. I beget a new lineage, my union with Ivan brings that which is willed by God into the world. Firebirds Azurite Immersible flames Drops of jade.
*
A-North in the county jail was the suicide watch ward. The lights never went off. I was up there for the duration of my 10 ½ months because I had never been locked up before and had a history of depression and anxiety—the State didn't want me to die on their watch; they wanted to beef up their resumes by sentencing me to Life Without Parole.
There was a rumor that if you attempted suicide, you got to go to the state hospital in Kalamazoo where the inmate could smoke and have his own space while being evaluated. It was a seductive dream, one that apparently got the best of a little motor-mouthed meth cook whose name I don't remember, but who reminded me of a troll.
One afternoon he strung himself up on the bars with a bed-sheet. But he was facing outward, toward the hall. I had never tried to hang myself, but I didn't think he was doing it right. If he was facing out, didn't that put the pressure on the back of his neck? The deputies cut him down and he was back in the cell an hour or so later. No state hospital, no cigarettes. I said something smart-alecky about his attempt, something like, "Maybe if you hadn't done it backwards, they would have believed you, you fucking idiot." I knew I was looking at life and had little compassion for someone who was going to do 3-5 at maximum. He said, "Alright, let's go," so I jumped off my top bunk, raised my fists (I had taken boxing at the Y for a year or so) and began jabbing him between the eyes with quick lefts. I contend that I would have whipped him good, except he grabbed a hold of me and switched the fight to a wrestling match mixed with punching.
I had a black eye for awhile. My kids saw my black eye when they next visited and they worried. I promised them I would never get into another fight. And I haven't. Which is almost certainly for the best because it hurts to get hit and you have to go around explaining to everyone why your face is all marked up. The talking you have to do is not worth the trouble. It's not worth anything.
*
It seems to me then, that his quietness is due to the fact that I am for him too unimportant and familiar a person, as if he had ruled me out, a waste, a superfluous incarnation, as if I were only made out of his rib and always dispensable to him, but also an unavoidable dark history, which his history wants to accompany and complement, but which he delimits and separates from his own clear history.
*
My father wears the blood-stained white butcher's apron in front of a slaughterhouse at dawn, he wears the red executioner's cloak and climbs the steps, he wears silver and black with black boots in front of an electric barbed-wire fence, in front of a loading ramp, in a watch tower, he wears his costume for the riding whips, for the shoulder rifles, for the shot-in-the-neck pistols, in the worst night the costumes are worn, blood-stained and horrible.
And?
My father, who does not have the voice of my father, asks from afar:
And?
And I say over a long distance, because we come ever farther apart and farther apart and farther:
I know who you are.
I have understood everything.
*
Steps, Malina's incessant steps, quieter steps, the most quiet steps. A standing still. No alarm, no sirens. No on comes to help. Not the ambulance and not the police. It is a very old wall, a very strong wall, from which no one can fall, which no one can break open, from which nothing can be heard again.
It was murder.
*
p.s. Hey. ** JM, Hi. Yeah, I think combining stressful and numbing caught my fancy when I made that. Well, thank you then. For the realness. I always feel like I'm pretty mediating of myself in public, but I guess it's a matter of degree. I would try 'Playtime' or 'Mon Oncle' if you haven't, and, if they don't work, yeah, his thing is probably not yours. I like Jerry Lewis. I think 'The Bellboy' is a great film. I like Roy Andersson too. I did an old post on his stuff. I should revive it. Tati did an airport movie? I must have missed that. The moneyed-up opera situation is kind of sick. Shitloads upon shitloads of money, massive sets, etc. for often one short run of performances, and then the piece dies forever and they trash the sets, etc. In Europe, a ton of government arts funding goes to opera. It seems really wrong, not to mention that about 8 percent of the audience for opera is under the age of 50. And a lot of very interesting theater-making artists get lured into directing operas because the pay is so insane, and then they usually end up directing operas for the rest of their careers. Their faults entire, but still. Anyway … ** Steve Erickson, Hi. I'll wait to read your review of Felix and the Future and hope for a possible way in before I try them. Eek about the missing shorts. I hope the schedule is rejiggered and solid now. Wish I could hit that LC film series. Everyone, Here's Mr. Erickson's article on the Film Society of Lincoln Center's series of new Latin American films, "Neighboring Scenes." ** David Ehrenstein, Hi. What is your understanding of the definitive directorial attribution of 'Lonesome Cowboys'? My understanding and sense is that Morrissey had more of a hand in it than he did in Warhol's earlier films, but it was still directed by Warhol. It feels more like the last Warhol film (barring 'Surf', I guess) than the first Morrissey film. ** Jamie, Hei, Jamie. I think, believe it or not, that the vast majority (if not even all) of the drivers and people in the non-fiction crash gifs survived. My Monday was solid. Jesus, it's freezing cold here. There too? I managed to finish the draft of the film script, but not until late in the day, so today I dive into the assigned script. I feel almost ready to. Hope I am. Sleepy/antsy is an interesting state. Almost enjoyable sometimes. What movie did you spring for? I might see one tonight if it's not so cold that walking to the metro station scares me off. Okay, huh, gotcha on the relatives. I have a relative like that. He really just seems to think it's inconceivable that I wouldn't be fascinated by our mutual family tree and every tiny branch and twig of it. I guess we have mutual relatives of the past who kept diaries of their daily lives and stuff, and he thinks they're important historical documents that should be published — and he's always sending them out to publishers — even though they're just antique blah blah from what I've seen. That is disappointing about laurels. My mother always used to say, when I was a kid, 'T'aint funny, McGee', and I thought that was so surreal and that she made it up or something, but it was just the catchphrase on some unfunny TV show in the 1940s or something. How's today on your end? May your today fuck your yesterday blind. AOL chat room love, Dennis. ** Tosh Berman, Hi, Tosh. Oh, yeah, sorry. Oh, wow, nice that Legrand is so with it. It's always comforting and promising when oldies can still pass for youngies. Oh, man, so much needless to even say envy re: your upcoming Japan trip. Meguro! What are doing there? Anything in particular? Gisele's (and sort of my) 'Crowd' is playing in Kyoto in October, so I think Zac and I will use that excuse to time a Japan visit circa then. Oh, yes, I really liked your 'Screen Tests' episode. Everyone, the legendary Tosh Berman has a great youtube series called Tosh Talks that you should seriously get on board with if you haven't. Why not start (or continue as the case may be) by watching his recent episode in which Andy Warhol's Screen Tests are the centerpiece? Here. ** Sypha, Hi. So do you not like driving-oriented video games? Yeah, New Juche was a super regular here for a long time. I did at least two, maybe three posts centered on books of his. You were asleep while riding shotgun, man. ** Dóra Grőber, Hi! Nice, the interlink with Alistair's book and the quote. Yeah, Zac now having the film script draft and waiting for his revisions and our talk about what to do next means it would be pointless or at least decadent of me to work further on the script right now, so I'm basically stuck working out my workaholism on the assigned script, which should hopefully do the trick. Exciting that you may have started a new book! Does it still feel that way today? I think when one feels that way, one is almost always right. Or, at the very least, that one has started a new work, even if it ends being smaller than a book. Cool! My day was pretty much spent indoors working. Honestly, it's so cold here right now thats being outside has a somewhat torturous aspect, or more like an interesting but difficult combination of torturous and exhilarating. How was your day? Did you write more? ** Bernard, Hey. Interesting. I think, vis-a-vis that stack, for instance, I find that the want or need to think about the real people and the relentless rhythm and kind of numbing effect of the formal activity between the gifs creates a space that's excitingly confused, but you know I prize confusion, at least when it's aesthetically organised. Well, the mysterious project that Zac and Gisele and I are doing isn't exactly a movie, but it's not far away. I don't think I could fully collaborate with Gisele on a movie. I really like writing texts and structures and subtexts for her work, but her ideas about visualisation are very different than mine. Plus, I think Gisele has to be the boss. I don't think she's into artistic mind melding unless her collaborators work in assigned spaces. But yeah. You might end up in one of Zac's and my movies. Much weirder things have happened. Huh, 80s sad, interesting. I actually really like that early commodity-based work, or I did. That's why I wish I could re-see that work in volume. I strongly suspect I would feel as you do about 'Shape of Water' if I saw it, which I'm pretty sure I won't. The trailer grossed me out. It's shocking how utterly lazy and half-thought out something like 80% (at least) of films' screenplays are, even interesting films. It's absolutely inexcusable. ** _Black_Acrylic, Hi. Yeah, sorry. ** Kyler, Hi. As Steve already sort of said, that being blown off thing is unfortunately pretty de rigeur. When Zac and I were submitting 'LCTG' to venues, for instance, the programmers would write to say how excited they were and how they'd get back to us immediately, and then we would never hear another word from them again. We would write and say, Can we just get a yes or no? Nothing. It's massively rude and thoughtless, and I think that is a very common way of (not) doing things among power holders in the arts. Doesn't help you, but just to say it's not unusual. ** James Nulick, Hi. If Sebald had lived and written another novel, I don't think there's a slightest doubt that it would have been great. ** Nick Toti, Cool, thanks, maybe I'll try their first album first. Okay, yeah, EPFC does sound interesting and needed as far as LA goes. Too bad about the content issues, but if they have their own vision, that's fair. I'll try to check it out when I'm in LA next. Thanks for the link. I'm excited to see your collaborative piece! Thanks a bunch, Nick! ** Keester, Hi. I like cars. I love driving. I miss it. When you grow up in LA, you either love driving cars or you're in trouble. I'm so glad my apartment isn't haunted or that, if it is, the transparent dudes are tiptoers. I'm so sorry. Opera? I live near Opera. It's like 8 minutes walk from me. Opera is a big deal. You should be able to find it easily on a map or something. It should jump out at you or something. ** Right. I could have sworn that I did a focus post on this book long ago, but a search of my archives says I didn't, so, if I did, that post is dead and buried, and whether I did or not, here's a new post about a really fantastic book and writer. Check it. See you tomorrow.