* (restored)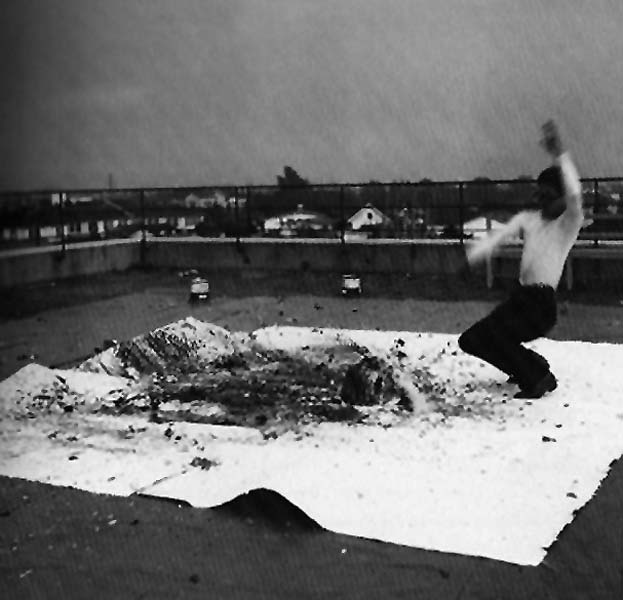 'Born in Osaka, Japan in 1928, Shozo Shimamoto is a very influential member of the famous Gutai Group, formed in 1954 by other well-known figures such as Yoshihara Jiro, Kanayama Akira, Murakami Saburo and Shiraga Kazuo, in the Kansai region.
'A forerunner of European movements of the 1950s, Shimamoto conceived a type of action painting or happening. His performances go beyond the limits of the usual spaces reserved for art and directly address the audience-participant. The characteristics of his work use a combination of material-color and sound. A famous work from 1956 – he threw paint-filled bottles on to the canvas to the accompaniment of cannon shots – was also later presented at the 1993 Venice Art Biennial.
'In 1992 he presided over an association of artists with handicaps. In 1994 he was invited to the exhibition, "Japanese Art After 1945: Scream Against the Sky" at the Guggenheim Museum in New York at which the curator Alexandra Monroe discovered that Shimamoto's "holes" dated to 1950, igniting the Fontana-Shimamoto controversy.
'In 1996 he was considered among the candidates for the Nobel Peace Prize because of his pacifist activities. In 1998 he was chosen – together with Pollock, John Cage and Lucio Fontana – as one of the four greatest post-war artists in the world for an exhibition at MOCA in America. In 1999 he was again invited to the Venice Biennial of Art at the urging of David Bowie and Yoko Ono. New York Times art critic Roberta Smith has noted him as one of the most daring and independent experimentalists of the postwar international art scene in the 1950s.
'Shozo Shimamoto's action painting works are created by filling bottles with paint — or, as he prefers to call them, dyeing substances — and hurling them at various types and sizes of canvas, objects, and sometimes people, all of which are never touched by the artist. As in many Gutai works, the artist's control over the work is limited, mediated by the arbitrariness of throwing the liquids and thus by pure chance.' — Berengo Gallery
_______
In action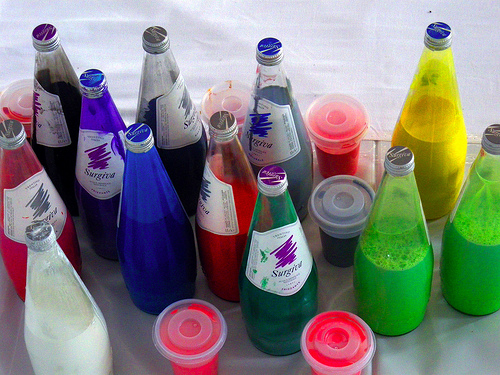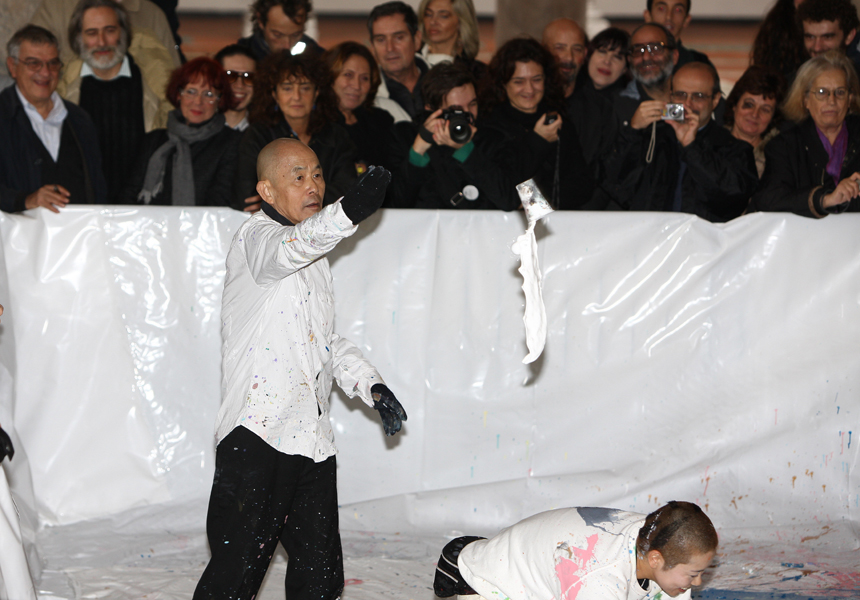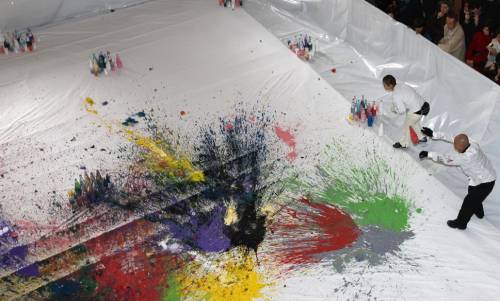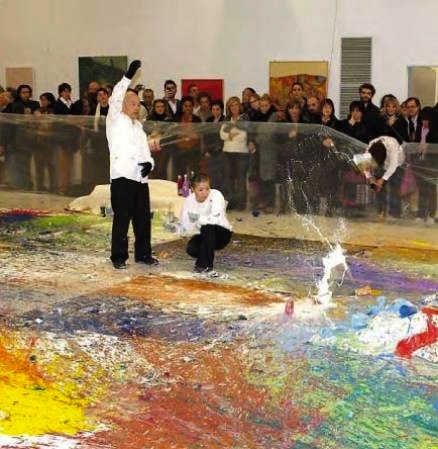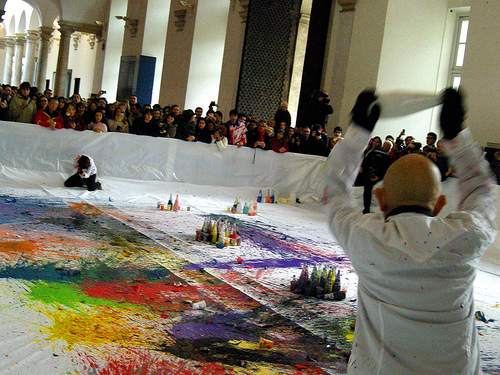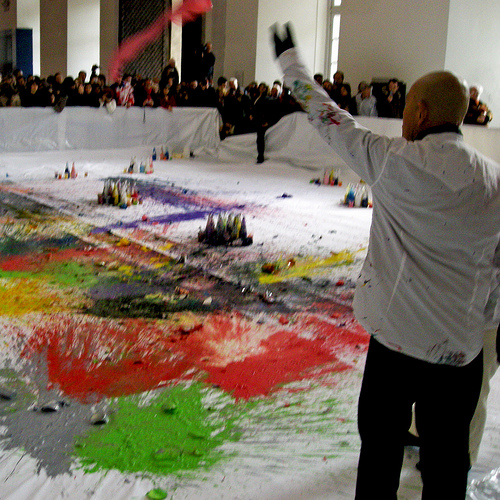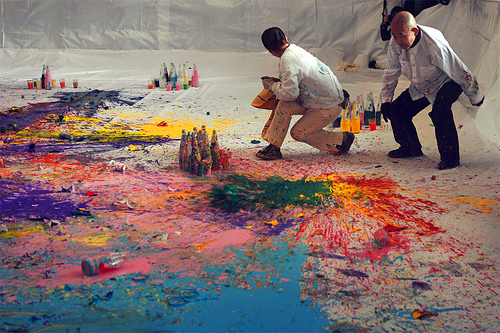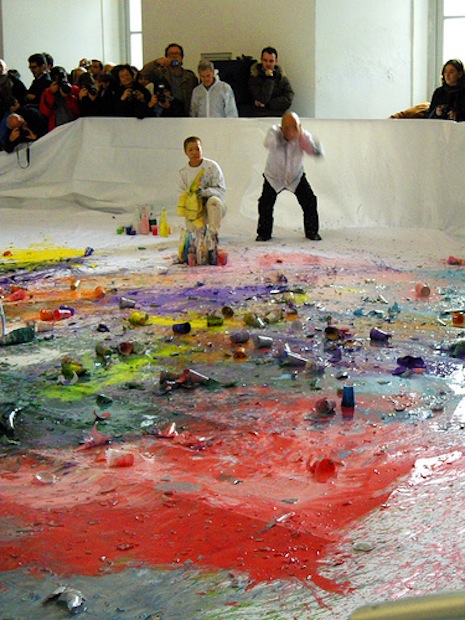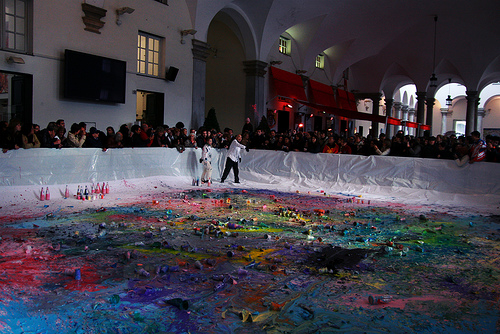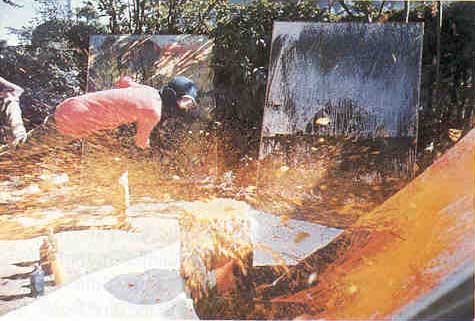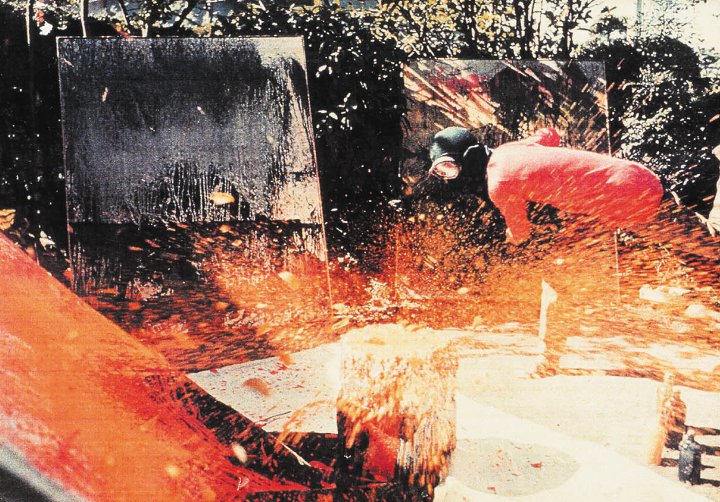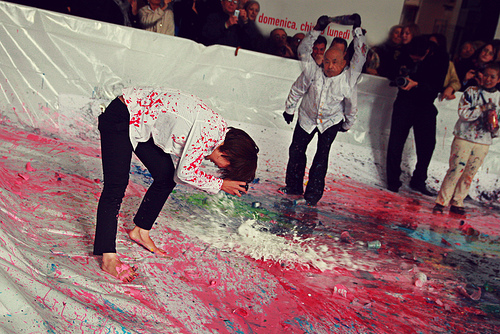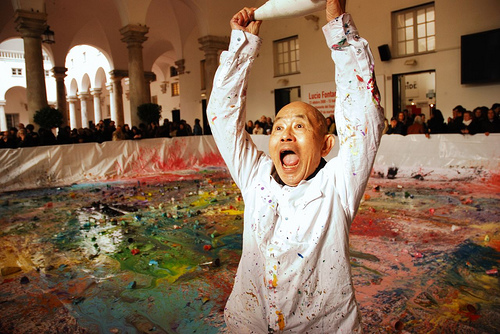 ______
Further
Shozo Shimamoto Official Website
The Official Gutai Site
Association Shozo Shimamoto
'From Art to Network: Shozo Shimamoto's Radical Attempts'
Shozo Shimamoto interviewed @ Diatxt
Shozo Shimamoto page @ Facebook
Books on or by Shozo Shimamoto
______________________________
Reenactment of a 1955 Shimamoto work
_______________________
Aimed to banish the Paintbrush
by Shozo Shimamoto (1957)
People usually think that colors and paintbrushes are necessary to paint. Till now a form of painting deprived of these two elements has never existed. In fact paintings, paintbrushes and colors have been always considered tightly linked one to the other. In spite of that, their relationship is not so pacific and quiet.
Dyeing substances have usually been subordinated to the paintbrush's existence. And then the dyes' course is no more than the story of a long challenge between them and the paintbrush itself. This story of paintbrushes and colors begins at the same starting point. When paintbrushes and dyeing substances began to be used, tones were not considered by artists as virtually necessary.
When I began using dyeing substances, I knew nothing about the paintbrushes employed during Renaissance, but I have always been sure that everywhere in the world the paintbrush is considered uniquely necessary to express color, depriving dyeing substances of their power and causing them to become the brush's slave with the goal of creating colors for which the dyeing substances are no more than a tool. But just as a line without thickness does not exist, a color without its matter does not become concrete. In every situation and place, dyeing substances offer resistance to the paintbrush. And whoever the painting's author is, whether Rembrandt, Pissarro, Van Gogh, Utrillo or somebody else, they will be always clear through the technique that the picture has undergone.
Romantic artistic production or the Surrealist one show how a powerful and active paintbrush can be used to capture dyeing material and subject it to the author's narrative intent. But, although their results were magnificent, their relationship with coloring substances had not changed with respect to the past experiences already mentioned. Today, on the other hand, we don't want to use dyeing materials quality by distorting them. I just said it: a color without matter does not exist. I think the first thing to do is to free color from the paintbrush. If you do not throw away the paintbrush when creating something there is no way to bring the dyes themselves into existence.
To begin, you can use whatsoever kind of tool: instead of paintbrushes you can use your bare hands or a paint scraper. Then you can continue using objects, used also by Gutai members such as watering cans, umbrellas, vibrators, abaci, skates, toys, feet, weapons, and others. And in Gutai performances it is also possible that a paintbrush will appear again. In fact, in our innovative representations, something can also come from past. But paintbrushes must be used, now, not to kill dyeing matters' quality but to make them more vivid.
___________________
Letter to Jackson Pollock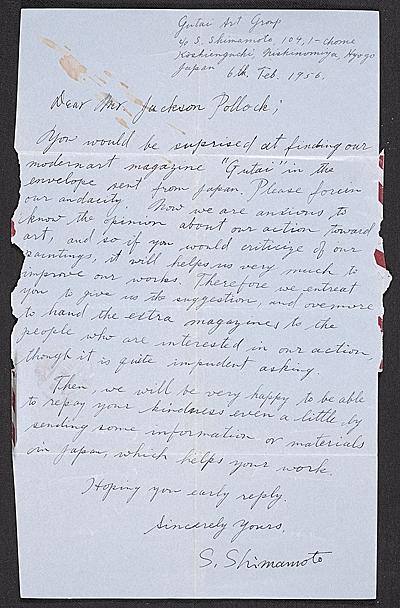 _________________
Five paintings/actions

Palazzo Ducale, Genova 2008

Espace Felissimo, Kobe (2007)

Ladonia Biennial (excerpt, 2009)

嶋本昭三 (excerpt, 2007)

Heinaku, Japan (1996)
*
p.s. Hey. ** David Ehrenstein, Yeah, I'm not sure. It isn't really tempting me. ** GoodKeaton, That could be a problem. Or a form of enlightenment? Miami has a shit ton of escorts. To judge by the internet. I, of course, heartily approve of your plan to knock the rough thing out and then go wise on it. ** Damien Ark, Hi, Damien. No, your comment didn't frustrate me. It made me think. I went to a listening session event for 'Life Metal' a couple of weeks ago. I think it's pretty much my favourite Sunn0))) LP so far. It's super rich and serious and complicated and really tough. Stephen said they've never worked harder and more intricately on an album before, it really shows and pays off. I think it's great. I'm good, and you too, I hope, as well. ** Steve Erickson, Hi. Well, Bret's book is causing the noisy fuss it intended, and it's guaranteed to leap onto the Best Seller Lists, so I think maybe it and his current thing tires you, but it's proving not to be all that tired really? You know as much as I do about the authenticity of the comments, and about the profiles texts as well. Tel Aviv gets its fair amount of tourists from the US and elsewhere, and escorts' clientele is very often composed largely of travellers, so I think he probably does okay, if he's real. Agreed about that Kierkegaardian escort. What a pip. ** Sypha, When I lived in the States, I was pretty on top of US pop culture phenoms when they happened, but it's not as easy or even somehow as much of a draw over here. I still haven't even watched the recent 'Twin Peaks'. Having talked with Bret recently via and around being on his podcast, I don't think he has retired from novel writing. He said he was thinking about a new one. ** Corey Heiferman, Thanks, Corey. Yeah, it's truly shocking. And it's kind of shocking that it is so shocking. People here are very devastated. ** _Black_Acrylic, Hi, Ben. They're showing photos of Notre Dame's insides this morning, and, on the one hand, I'm surprised it's as intact as it is, but, yes, it's very destroyed. ** Misanthrope, The actual building is still there. The insides are a shell and torn up. But, yeah, it's going to be decades before whatever it becomes inside is accessible again. The Pistols and PiL, and The Smiths for that matter, will easily survive some people's current insistence that those bands' makers' opinions conform to their own personal standards and demands. ** Bill, Hi, Bill. Thanks, yeah, a curious and curiously trolled bunch this month. Thanks for looking to be with 'The Guitarists'. Enjoy your short trip. ** Okay. Someone who is writing their thesis partly about Shozo Shimamoto asked me if I would restore this old, defunct post, and I was happy to do that. I hope others of you find it interesting. See you tomorrow.