* Halloween countdown post #12/restored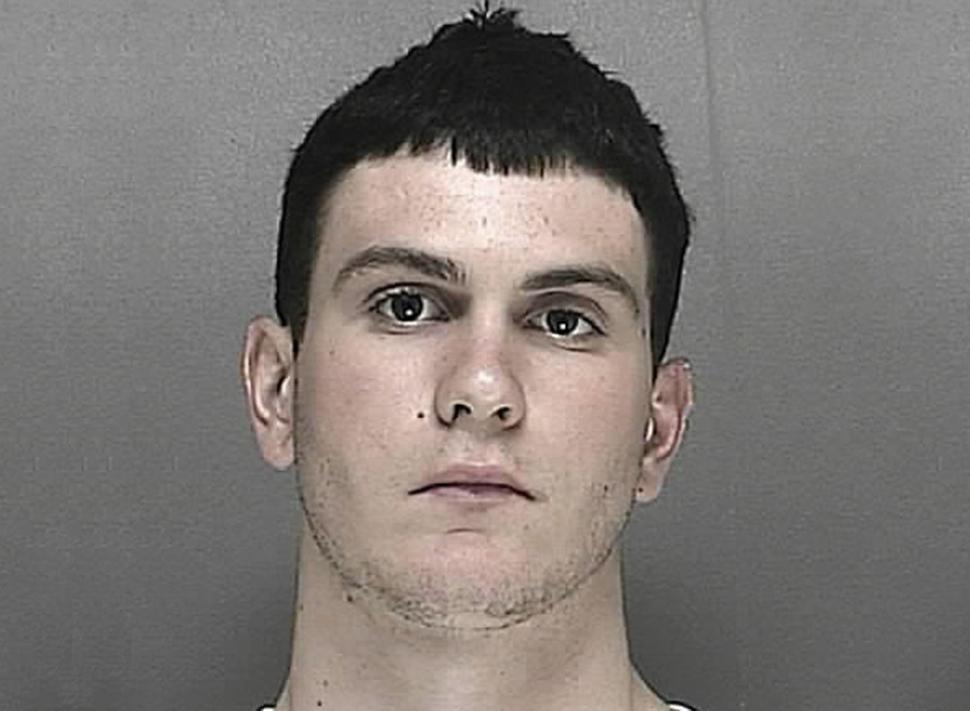 Roommates of the Florida teen who allegedly bludgeoned a 36-year-old man to death last week say the suspect was a Satanic male escort after an $800 debt.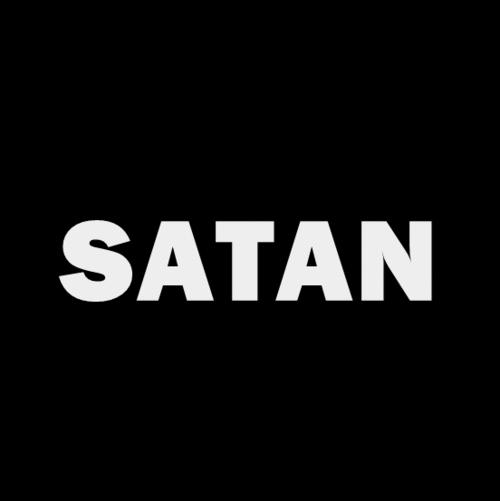 Dillon O'Donnell, 18, was charged with first-degree murder Saturday in the death of William "Billy" Davis III, whose body was found in a pool of blood outside his home in Ormond Beach, Fla.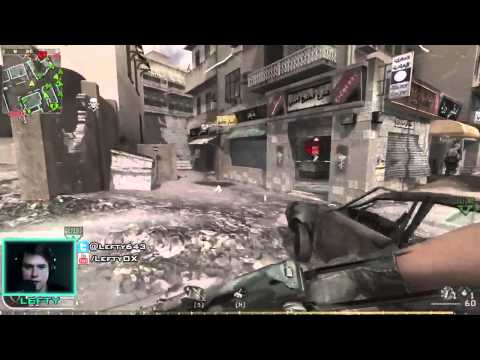 Dillon O'Donnell playing an online game.
On Monday, O'Donnell's housemates told The Daytona Beach News-Journal newspaper that the teen had recently started working as a male escort and that Davis, who worked at a nearby Publix, was his second client. The friends said O'Donnell told them Davis was his "sugar daddy" and owed him $800.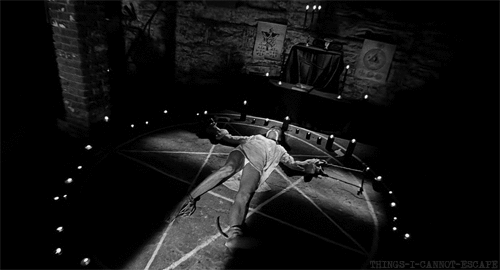 The roommates, both brothers, had been sharing a house with O'Donnell for seven months. They said the teen routinely participated in devil-worshipping rituals and sometimes wore red and white contact lenses. They said he spray-painted the number 666 on the walls and on the side of the house. They also said they saw him waving a knife around the night before the murder.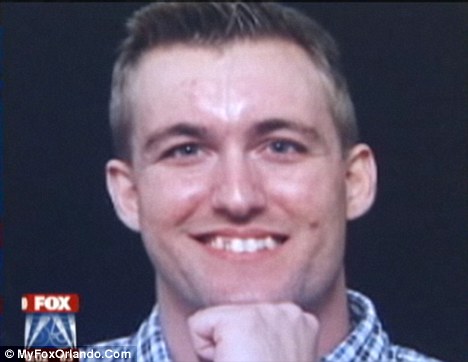 Mr Davis, pictured, was O'Donnell's second client who the teenager saw as a 'sugar daddy'.
"He told me and my brother what he was going to do (kill Davis), but we thought he was kidding," Richard DeForest, 21, told the News-Journal. "He was satanic so we thought it had something to do with that."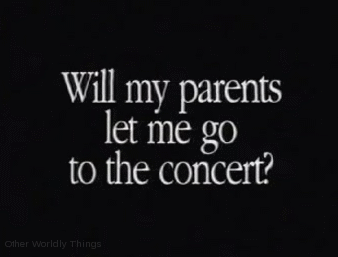 After exchanging several text messages, O'Donnell and Davis made plans to hang out Thursday night. Davis reportedly picked O'Donnell up and brought him back to his house. An arrest report released Monday shows that early Friday morning, O'Donnell beat Davis with a concrete lawn lion before stabbing him several times with a folding knife.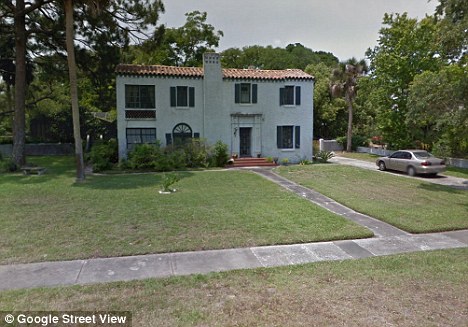 In the yard at the end of a bloody trail, the ornament, a lion, was found drenched in blood.
The report also shows that investigators found O'Donnell's picture on a dating app Davis had on his cell phone. The roommates said they think O'Donnell and Davis met and communicated via gay websites.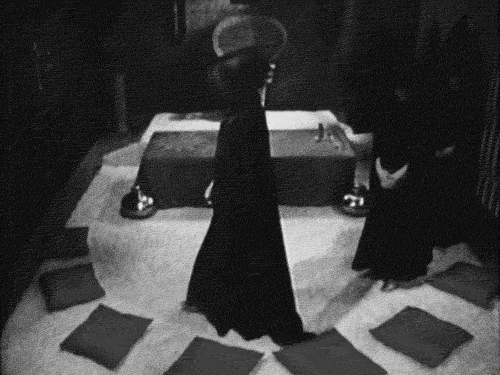 In the days before the murder, Mr Davis and O'Donnell had been texting each other, police said. The texting was initiated by Mr Davis, who at 10am on Thursday, asked O'Donnell if he could see him that evening. At around 10pm that night Mr Davis picked O'Donnell up from his home and took him back to his house.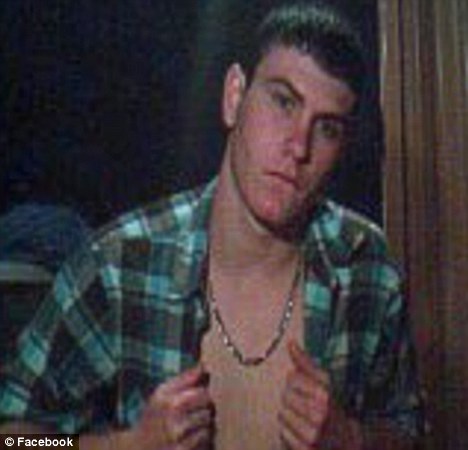 Dillon O'Donnell's escort profile photo.
Sometime early Friday, Davis' aunt Shirley Davis noticed a man was trying to hard in the side yard of the property and called the police.
According to police, O'Donnell returned home after the murder. DeForest and his brother said they saw O'Donnell in his bedroom, wiping blood off his naked body. "When we saw him we didn't even ask why he had blood on his arms," DeForest told the newspaper. "I thought it was that devil-worship stuff."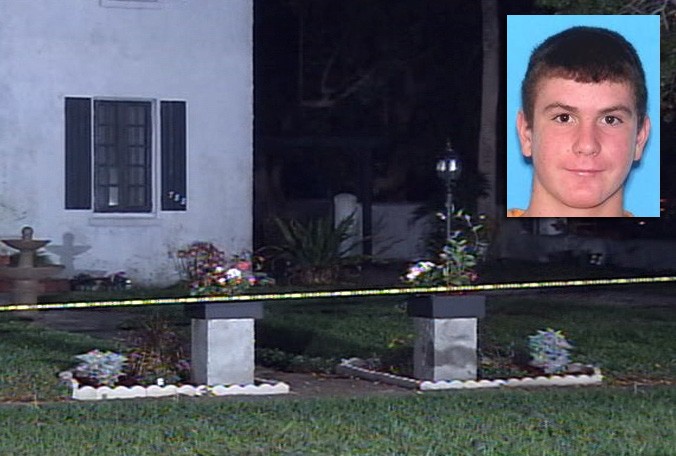 The scene of the crime.
In court, O'Donnell testified that he and Davis were new friends. They met on a dating app called Grinder. O'Donnell said he never wanted to hurt Davis and that Davis attacked him first after an argument about unwanted sexual advances. He said he was leaving when Davis pushed him down the stairs.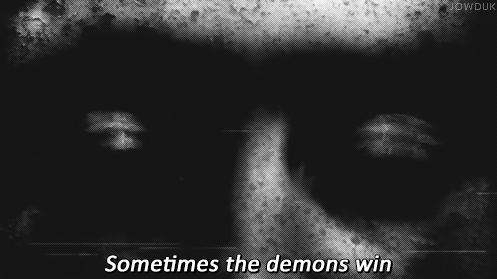 That's when O'Donnell said he stabbed Davis with a knife. "He kept hitting me on my stomach, on the back of my head. I managed to cover up my face like I always do when I'm in any type of fight." he said. "I'm sure he stumbled back and hit his head, and I was trying to defend myself."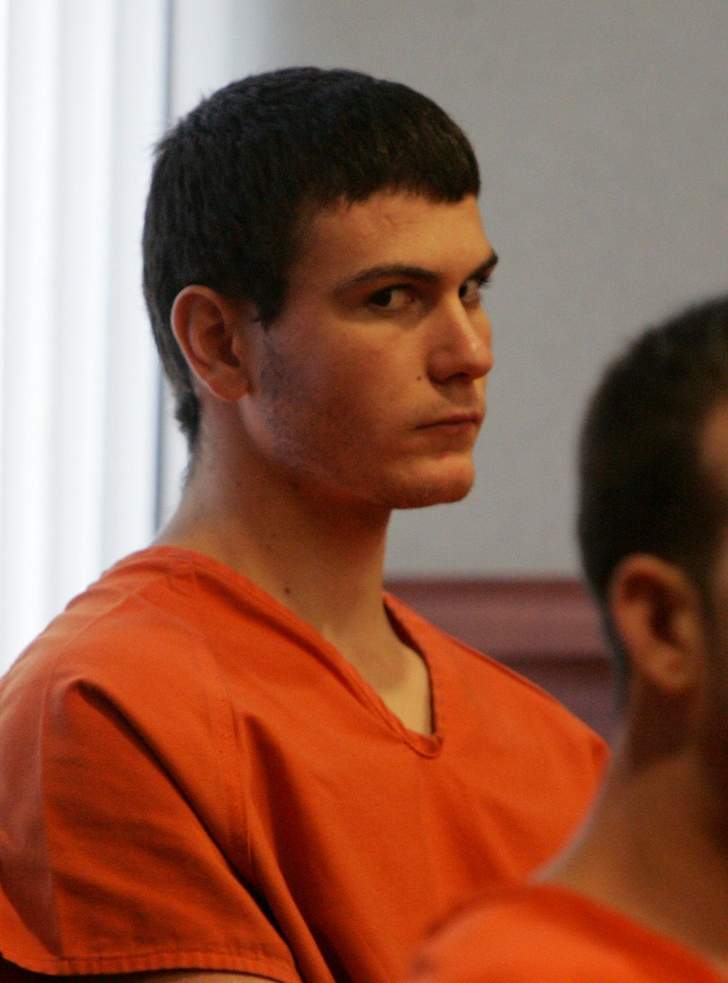 Dillon O'Donnell shown just after being sentence to life in prison.
Prosecutor Ed Davis said during his opening statement that a forensic exam of O'Donnell's phone showed he had researched how to quickly stab someone to death. While Davis was stabbed, the prosecutor said it was the blow to the head from a 50-pound lion statue that killed him.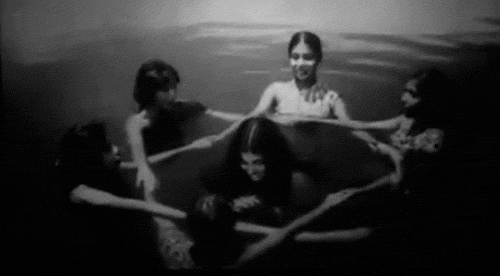 In 2014, the then 20 year old Dillon O'Donnell was sentenced to life imprisonment. A jury took an hour Thursday to find O'Donnell, 20, guilty of first-degree murder in the slaying of Davis, 38. Circuit Judge Margaret Hudson then sentenced O'Donnell to life in prison.
Comments
SIlkxxx -Apr. 19, 2012 at 5:36pm
Dillon Is bisexual, But he WAS NOT! a satanist! He was an extremely close friend of mine and my ex boyfriend. No one saw him doing this coming. Hes was quiet, yet very sweet and out going. You needed help he was there for you. He always had a gold cross on around his neck and spoke of getting a cross tattoo on his arm. He was very caring but his new roommate ended up somehow getting him of the wrong path. And someones sexuality shouldn't have a matter in anything. I myself, I am bisexual and there should be nothing wrong with that. We gays are more caring and opened minded then any of you could dream you were. And someones religion shouldn't have anything to do with a thing as well because in some way or form it all leads back to having faith there's a god out there. Also i myself never heard anything about him being a male escort. If anything He did it on his own and didn't go through a company! The media also twisted Richards (roommates) words. The house in witch Dillon lived in is just a whole bunch of young kids. They like to play pranks and have a lot of fake blood in the house so that's why the roommate didn't care when they saw blood on Dillon. And considering he's a teenager he was in there teenage eyes thought oh maybe he's taking some weird facebook picture. Never believe all of what you hear and half of what you see. Be more open-,minded. He was a great kid that in the last 2 months was turned down a dark road that ended quickly with him do this.
SLOWBIDEN -Apr. 18, 2012 at 9:12am
Totally offended that this newspaper put this in the faith section.

JT Brooklyn, Apr 16, 2012
The YOUNG ain't always Pretty on the inside! 😉

hogorina -Apr. 12, 2012 at 4:10pm
"MODERATION OF A GENUINE DEMOCRAT

I live in a redone school bus, as a share cropper with eight children. Education from TV commercials. Wife is ex-pole dancer. Her father was a former dirt farmer. Both of us are Democrats. L.B. Johnson is our alter ego. Our ancestors came to America with hats in hands. We are born again mental slaves and trying to avoid the ghetto life.
Hobbies are fish'n and drinking. Medicaid saved our way of life with extra money for booze and idle time to enjoy the fruits of others. America is the land of milk and honey. Thank goodness for those tax payers of whom give us the good life, We love the Constitution and the rights to march for more bread from Uncle Sam.Further, two sons want to be lawyers and two want to be police officers. One daughter wants to be a firemen.One son wants to be a building inspector where the political graft is a Heaven on earth. Our motto is let the government do for us what we are too shifty-minded to do for ourselves My advice to the suckers of whom pay the taxes and fight wars is to study ruling systems via Machiavella's ( PRINCE ). Bleed them for all it is worth. I belong to the global Interfaith movement and along with my peers.Religion and democracy is the going thing today. Imcidentally, my wife was expecting triplets before she hit the road."

Dismayed Veteran -Apr. 11, 2012 at 3:10pm
"…a man was trying to hard in the side yard …" Is this a misprint or what really happened in the side yard?

jjkrkwood, Apr 11, 2012
The kid was kind of cute and had he not been insane might have made it in the work/world of escorting.

BobtheMoronsp -Apr. 11, 2012 at 9:32am
When you are a genetic dead end, it is natural to hate yourself and everyone like you. The futility of living weighs heavily on the 'people'. Some channel their energy in to positive things, others disintegrate into insanity in one form or another. Being a genetic dead end must really suck.

mikee1 -Apr. 11, 2012 at 9:02am
Both are big DUMMYCRAPS. You see, in order to be a dummycrap today, you have to be a NEO-SATANIST, COMMUNIST, who supports all things PERVERSE. OR you have to be so stupid that you listen to them and are duped by them in your FOOLERY. iF THE dummycraps are not taken out of power in this country, the UNITED STATES will soon FALL.

[Suspended User] -Apr. 11, 2012 at 3:27am
the only people dumber than atheists are devil worshipers. (And their roommates.)

duke37, Apr 10, 2012
Does he kiss? I sure hope the first client, the one who wasn't killed, writes a FULL review with all the details..

FreedomWitness -Apr. 10, 2012 at 10:22pm
Imagine in some states these two could have gotten married and adopted a child. Wouldn't that have been great! Man are we diving to the bottom of the cesspool at an alarming rate.

lukerw -Apr. 11, 2012 at 4:03am
Water finds it's own level… yawn!

progressiveslayer -Apr. 10, 2012 at 6:58pm
The elder rump rider of boys is dead and the younger rump rider will wish he's dead after some hard prison time.

[Suspended User] -Apr. 10, 2012 at 6:02pm
People like getting naked in times like this both ways.

NancyBee -Apr. 10, 2012 at 8:35pm
The escort company did a terrible job checking ths guy out!!
*
p.s. Hey. Today the real me is away in Porto hosting a screening of PERMANENT GREEN LIGHT, but some residue of me is here using this place to continue counting down the seconds to Halloween.