_______________________________________________________________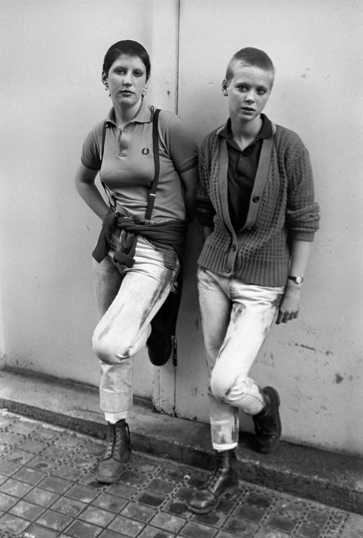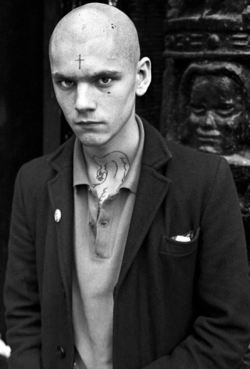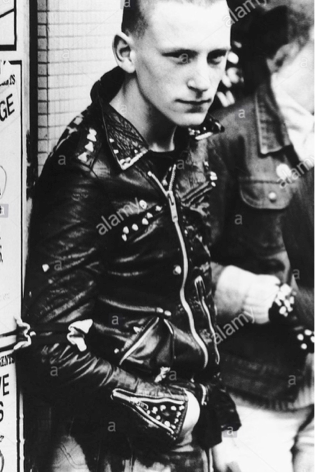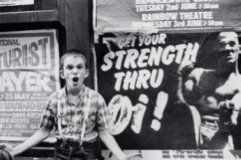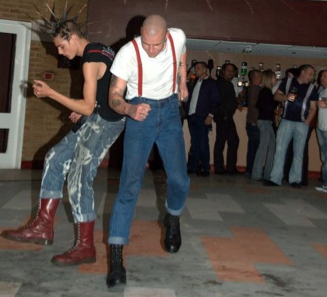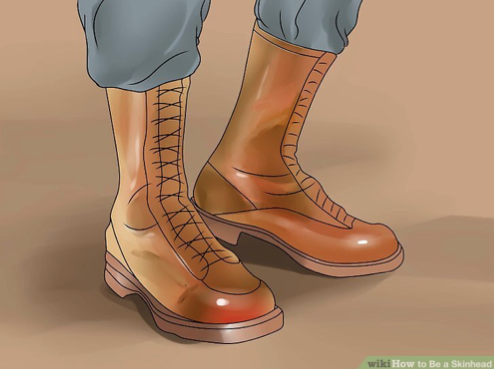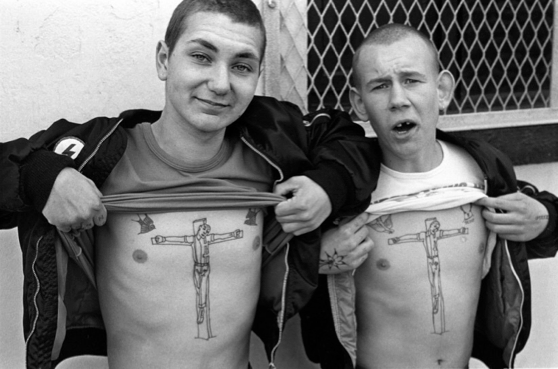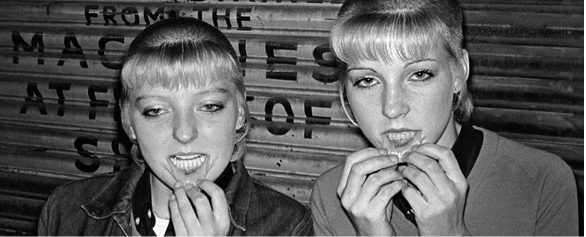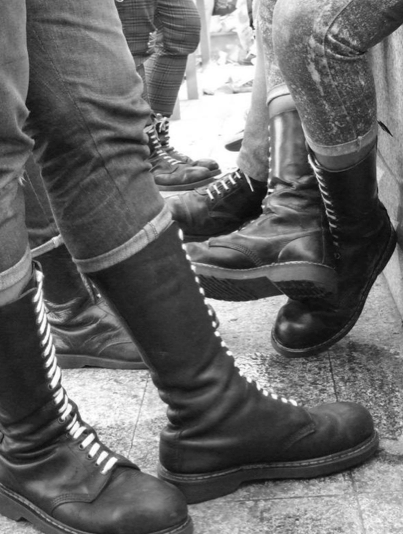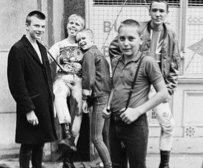 _______________________________________________________________
ANTISOCIAL – NEW PUNKS
"These dummies from Blackpool had a few singles on Beat-The-System!! in the early 80's, and were typical of that label's practitioners of pitiful pogorama: largely indecipherable vocals, not much in the way of tunes, and absolutely no invention/innovation whatsoever."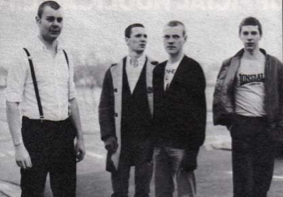 _______________________________________________________________
CRIMINAL CLASS – OI! OI! (SKINHEAD)
[Criminal Class] were led by Craig St Leon, who was anything but right wing, but that never stopped them being lumped with the extreme right.
Craig was inspired by glam rock heroes David Bowie and Steve Harley and Cockney Rebel, and when punk arrived it was all eyes on The Clash.
"I always thought punk rock was very glam inspired," reveals Craig.
"What with the bondage trousers and dog collars.
"Then I saw Sham 69, and I began to wear the Dr Martens boots, Ben Sherman shirts, braces, and by 1979 I had formed a band called Criminal Class."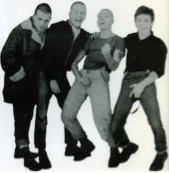 _______________________________________________________________
INFA RIOT – EMERGENCY
SO WHAT'S the motivation behind Infa-Riot?
"Well, it's a youth rebellion thing I suppose and I'm a kind of political commentator, I look at a situation and write about it, without taking
sides (…) And there's something else I'd like to say; none of this group have got a criminal record. . ."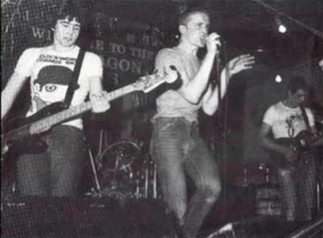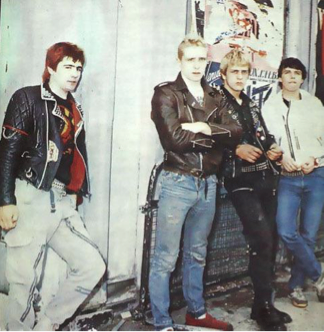 _______________________________________________________________
THE PARTISANS – MINDLESS VIOLENCE
The Partisans are a punk rock band formed in Bridgend, in South Wales in early 1978, when all four members were in their early teens.
"If you ask the Partisans they would tell you that 1976 and 77 was the best year for punk rock ever !!!!
But luckily for us as a band 1982 is doing quite well and we are supposedly one of the top ten bands of that era.. what ever next.."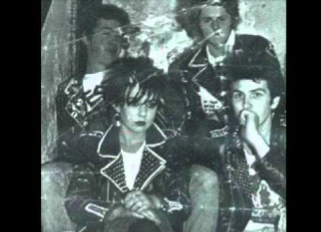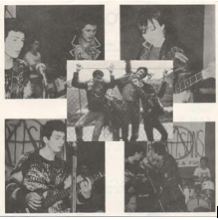 _______________________________________________________________
COMBAT 84 – COMBAT 84
"Skinhead/Oi! band who pissed everybody off when their delightful lead singer, Chris "Chubby" Henderson, made racist remarks during an Arena documentary in 1982. Although the others did not support or endorse his views it was pretty much the end of the band. Chubby's racism was already an open secret, which is why a deal with Secret Records fell through and their rather rocking Orders Of The Day E.P. was self-released on Victory Music instead, scaling the Indie charts in early 1983. It was promptly followed with the notorious Rapist 7″, which peddled some very dubious politics. Not quite as extreme as Brutal Attack or Skrewdriver, but no less dodgy, Combat 84's welcome demise came about in 1983 when it became clear no promoter would book them."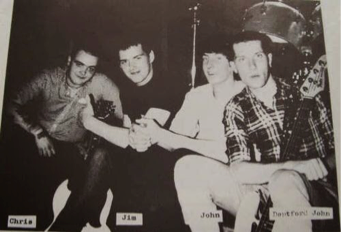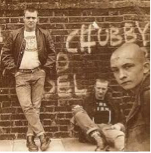 _______________________________________________________________
BLITZ – ATTACK
"The original band consisted of 2 skinheads and 2 punk rockers, Nidge on Guitar, Mackie on Bass, Carl on Vocals and Charles on Drums. This alone seemed ground breaking on the sheer fact that the band consisted of an equal blend of two tribes that at the time didn't always find common interests. It was a perfect recipe for what was soon to be called "Oi" music. They appeared on several compilations with other bands being funnelled through the moniker of Oi, but never openly embraced the term as their sound. Always referring to themselves as a punk band."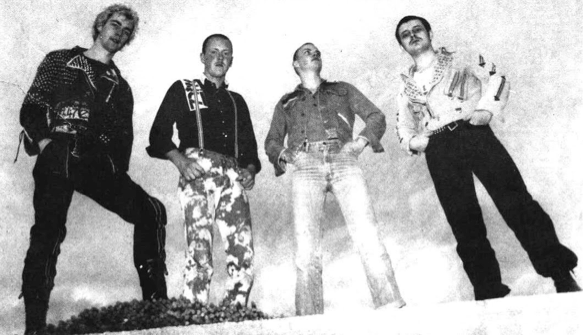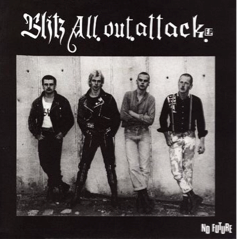 _______________________________________________________________
THE 4-SKINS – ONE LAW FOR THEM
"Before One Law was released, Southall happened, so the single suffered poor distribution in its aftermath, with many shops refusing to stock it. It was "Single Of The Week" in Sounds and sold well. To get back on track, they did a come-back gig at Mottingham Prince Of Wales at the end of August under the name 'The Skans' and with support band The Business billed as 'The Bollyguns'. BBC TV cameras were invited to the gig, and it was shown in part on their 'Nationwide' TV programme. Shortly afterwards, Hodges left the band … After a further "comeback" gig in Leeds Brannigan's, Rockabilly Steve quit as well (he wanted to go techno)."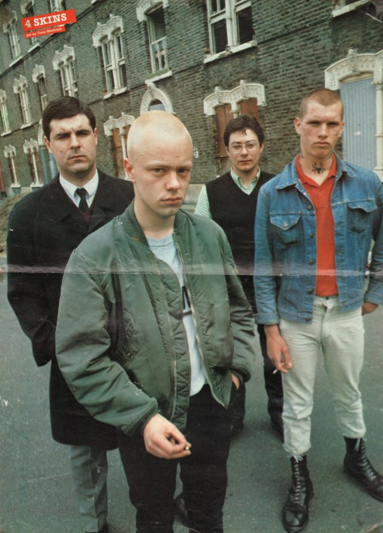 _______________________________________________________________
CONDEMNED 84 – ALL OUT ATTACK
"Condemned 84 always had right-wing ideas and sympthaties (see their attacks on communists and homosexuals, their stands pro-capital punishment and their records on Rock-o-Rama, as exemples), but their recent italian gig openly booked by the nazi organization Veneto Fronte Skinhead was a surprise for many people, and even for me; anyway what's worst in this whole story is the fact that when – outside Italy – they were asked about this compromising gig they've claimed that no nazi was present at the event … but this is just the beginning! You probably know the 'Beer Olympics' booked every year by GMM Records featuring old and new oi! & streetpunk acts; well, GMM just put out a statement disgusted by the fact that C-84, who were on the bill, will not play as they refuse to share the stage with black musicians ("C-84 has opted not to perform due to the fact that two bands who have African-American members would be performing on the same stage"); for the complete statement just go some lines below or visit http://www.gmmrecords.com/.
Antifascist greetings, Viterbo skins
*** PLEASE READ THIS IMPORTANT MESSAGE FROM GMM. ***
GMM regrets to inform its supporters that Condemned 84 will not be appearing on the GMM Beer Olympics. C-84 has opted not to perform due to the fact that two bands who have African-American members would be performing on the same stage. We are shocked to hear that one of our bands would take this racist outlook in this day and age. We at GMM are also shocked that a band that we have invested time and money with in the past would come out and embarrass us with this statement. GMM and its bands are strongly anti-racist and we hope our supporters are as well. We hope you will still make a strong showing at the GMM Beer Olympics to support our great acts like Pressure Point, the Templars, the Anti-Heros and all the other acts. We are also proud to announce that Anti-Seen will be headlining the Saturday show of the GMM Beer Olympics!"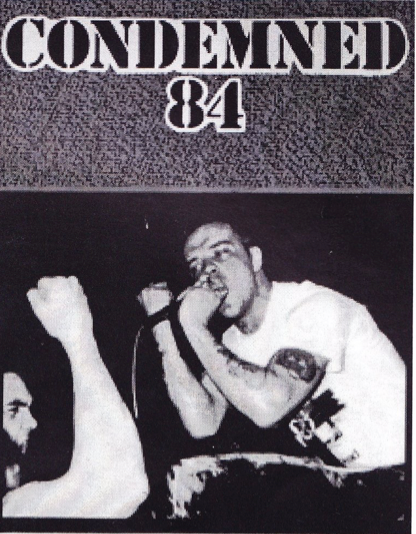 _______________________________________________________________
COCKNEY REJECTS – POLICE CAR
"I'd seen quite a bit on the terraces or outside football grounds, but this was carnage," says Jeff Turner, today an immensely amiable decorator, then "Stinky" Turner, the Cockney Rejects' teenage frontman, cursed with what his former manager Garry Bushell tactfully describes as "a bit of a temper". Turner continues: "There was a lot of people cut and hurt, I got cut, my brother [Rejects' guitarist Micky Geggus] really got done bad, with an ashtray, the gear was decimated, there was people lying around on the floor. Carnage."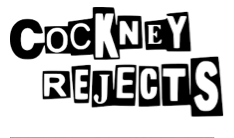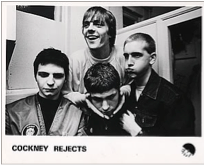 _______________________________________________________________
SKREWDRIVER – BACKSTREET KIDS
"Formed in 1976 as a non-political UK punk band, who at their label's urging became skinheads during the second wave of skinheads in England. Skrewdriver became known for attracting violence at their shows and none of their Chiswick releases did very well in the UK charts. They broke up in 1979.
Ian Stuart re-formed the band in 1982 as a clearly White Power neo-Nazi skinhead band, with entirely different (and often revolving) band members. This new version of Skrewdriver became the musical arm of the British National Front and released as their debut album "Hail The New Dawn" in 1984 on the German Rock-O-Rama label. This release not only helped transform the label to a far-right position but effectively invented White Power "hate-rock" and Skrewdriver quickly became a driving force behind the RAC (Rock Against Communism) movement."
__
"In an interview Ian did for Melody Maker in 1977 he was asked if Skrewdriver were a non-violent band, shocking the reporter Ian replied "No, No, I actually enjoy fighting. Fighting was the only thing to do in Blackpool. There were no rock concerts, you had to travel to Manchester or Liverpool for that. Blackpool is for pensioners." At a time when people were telling the group to distance themselves from their Skinhead audience, Ian and the boys reverted to their Skinhead ways. Punk had become fashionable and was losing much of its cutting edge. Skrewdriver were perhaps showing a little naivety and un-beknowingly playing into the media's hands. "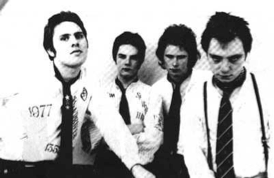 _______________________________________________________________
THE BUSINESS -SUBURBAN REBELS
"Drawing inspiration from Sham 69, these South London lads (and indeed they pride themselves on being "lads") have been taking Cockney pride into territory that spills over into parody since 1979. Along with Cockney Rejects and Cock Sparrer they are probably the UK's foremost Oi!/Streetrock band, and even at their worst are miles ahead of most their competition (Infa-Riot etc). Unusually for a punk band, their best material was not their earliest: although they hit an early high with 1981's 'Harry May', as the 80's progressed they began playing slower and writing better songs. By 1985 they were delivering a commendable barrage of guitar noise very much similar to The Professionals, with songs about football, hooliganism, and football hooliganism, with anecdotes about rioting, smashing up discos and rucking thrown in for variety. Much of the time it sounds very much tongue in cheek, but they are capable of insight and even pathos on such songs as 'Out In The Cold', 'Foreign Girl' and 'Informer'. By the time they split in 1990 they seemed like yesterday's men, but when they reformed in 1992 they were astonishingly good, with their extremely charismatic and likeable singer Mickey Fitz sounding more Cockney-fied with each release."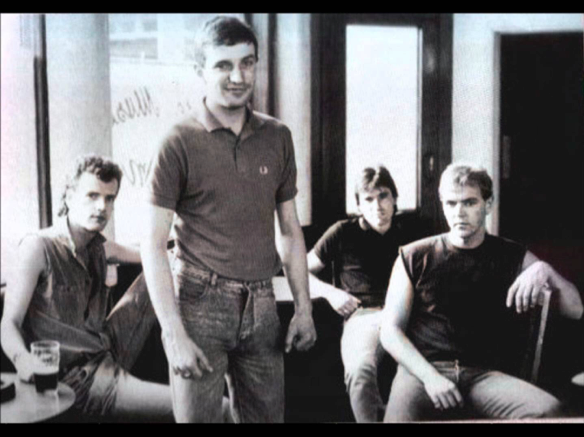 _______________________________________________________________
THE LAST RESORT – WORKING CLASS KIDS
"Even amongst the British skinhead fraternity at the time, which included such notable lunkheads as The Gonads and Combat 84, The Last Resort took idiocy to new extremes on their debut release, oddly enough a cassette single. Released when the unbelievably abrasive Saxby was singer, 'Violence In Our MInds' and 'Soul Boys' are unbelievably stupid celebrations of mindless violence, so stupid one must assume some kind of satire is being attempted. Charlie Duggan's guitar work throughout is simple but effective Oi! fare and the whole caboodle is great."
*
p.s. Hey. This weekend everyone gets a two-day all access pass to explore this sweet, informative, and potentially noisy post from d.l. MANCY who is otherwise known as the extraordinary artist Steven Purtill. The luckiness I felt upon putting it together is now yours to keep. Please have at it and share some words with MANCY/Steven regarding your experiences, thank you, and mightiest thanks to you, S! ** Thomas Moronic, Hey, bud! Thank you very much, sir. Yes, when are you here again? End of the month-ish, right? I think Michael knows. I'll ask him. Can't wait to see you, my pal! ** Ferdinand, Hey there. Thanks a bunch. In that cast photo, the dude in the middle is non-cast member and all-seeing overseer Zac. This weekend I have some work to do on Gisele's new dance piece and see some friends and get some work done and see what Paris is exuding at the moment and other like that there. What movie did you settle on? Blockbuster-related, I think I'll also see one myself, the 'Planet of the Apes' thing, probably by myself because I don't think the few people who haven't left Paris on their vacation are game. Yeah, my dormant, in-progress novel is in part kind of a 'rewrite' of 'THisLH', actually. Zanzibar, whoa, nice. That sounds nuts/beautiful. Good to see you. ** David Ehrenstein, Hi. Definitely gonna get some Benchley. Maybe I should do a related post, Hm. ** H, Hi. I was happy to, of course. Great, sounds so nice: the thing with the social worker. Very happy to hear it. A good reader of Coolidge? Hm, I'll have to think about that. No one springs to mind. His work is tough, but it's also a lot of fun. Let me think about possible interesting/helpful writings on his work. ** Steve Erickson, Hi. I don't think the French cinema audience has a inordinate problem with violence in cinema, or no more of a problem than in the US, maybe less. Obviously hope the name actor gets back to you, Intriguing mystery. If you can get a makeup person to help, it definitely helps. I think I'm tired of thinking about 'Detroit'. From my experiences on-set, I would think the actors portraying violent acts are more concerned with hitting their marks and giving the right performance and other on-set immediate issues than they are about what it all means. It doesn't seem like it would be so hard to interview El-P. I would think just bringing the actor back to rerecord his lines is the easiest way to go. Unless you can making the jarring camera angle seem excitingly 'jarring' in the edit, yeah, I guess re-shooting is your option. I'm assuming you can't lose that scene. With 'PGL' there was one scene that was shot completely wrongly due to our having been so rushed, and we don't have the option of reshooting because, one, no money, and two, it was shot at the location that no longer exists, so we had to cut it, No other option.  Good luck with all of that. ** Bill, Hi. Thank you very much. I must give a lot of credit where credit is due to the saturation and exposure controls on my photo manipulation app. Oh, you're off again, or were off again and are now elsewhere. A lot of traveling. Cool. What have you got planned on this trip? Sleep good somehow. ** Tosh Berman, Definitely gonna get a Benchley. And I think do some kind of post. It's always a useful idea to make a post while I'm investigating a writer or it has been. Thank you. It's interesting and strange that there's far, far more of a revival of interest in Tony Duvert in the States now than there is in France where his work is currently just kind of settled where it is. ** Jason McBride, Jason! Thank you so, so incredibly much for the article and for your kind words and your wisdom in it and everything else! And, gosh, thank you for fixing those little things. It's so cool of you to have done than that, I so appreciate your time and care, and I know Zac does too. Take good care. Talk to you soon, I hope! ** Nick Toti, Hey. Weren't you saying you were thinking of a film or screenplay or something about him? His story does seem to beg for something like that. Thank you again! Have an excellent weekend! ** Brendan, Hi, B! That sucks. I mean all that pull away from your work and thinking about yourself in relationship to your work. I'm going to bet it's just some passing thing. Some kind of interim feeling that's a way to test yourself or something. My guts says that. My gut has a pretty good track record. Although my gut is telling me not to get involved in or excited about the amazing Dodgers run because late season deflation is their middle name, and maybe just maybe my gut in that case has a cynicism problem. I like the sound of those spooky photos a lot. I have no idea how/where our film will show. The producer does all of that. All I know is that it will play festivals for quite a while and then hopefully get a release on a DVD release or something. I'll make sure the film shows in LA somehow, you bet. Vent at me anytime. Consider me a friend whose superpower is transforming into a sponge/trampoline kind of creature. Or something, ha ha. Love to you. ** Jamie, Well, thank you, man. I'm very happy to hear that. Oh, let me see if I can remember. I think it was kind of prosaic. I think I wanted to do a stage stack, but when I gathered the images, it just wasn't doing anything at all, and, through trial and error I ended up desaturating and de-ighting them artificially, and, wonder of wonders, it worked. My day was good. No, Gisele was having choreographic issues yesterday, and that's not my thing, and since getting to Nanterre is, as I think I said, a hassle, it was mutually agreed that I would sit out yesterday and go over there today. So I hung out with my visiting friends, went to the Jardin des Plants, did the history museum, did the zoo, did a nearby rare bookstore, ate falafel, had a coffee and then wandered home, Not bad at all. Thanks about the PGL article. Three animation ideas? Are you free to daydream fairly wildly within the no doubt strict-ish guidelines? That sounds cool. What did you come up with? 'Crowd' stuff this weekend, other work, friends, hopefully a movie, blah-di-blah. Should be okay. And yours in its totality? Moist, overflowing falafel-tasting love with a side of humus plate love Dennis ** _Black_Acrylic, Hi, Ben. Cool. Theater set design is a most excellent profession. I have a friend of a friend who designs the sets for big operas here. He makes this unbelievable sets that should be in museums. But the opera houses just destroy them afterwards, It's sick. Operas have so much money to burn. It's very weird. Great, great, mega-great about the giant, blinding green light that is YnY's future! ** Okay. Go indulge luxuriously in MANCY's post-shaped gift to you! And say something to him please. See you on Monday.