* (restored)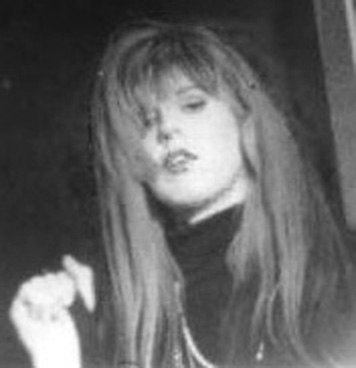 GB Jones helped start the homocore scene in Toronto which later inspired the worldwide queer punk movement of the late 80s and early 90s. She was in the seminal, pioneering queercore band Fifth Column, to which current bands like The Hidden Cameras, Kids On TV, Xiu Xiu, and Lesbians On Ecstasy still pay tribute. She is an internationally shown visual artist. In 1996, the New York gallery Feature Inc. released a book of Jones' drawings, and other artwork, entitled G.B. Jones, edited by Steve Lafreniere. Although widely available in the U.S. and Europe, copies were seized at the Canadian border and it was officially banned in Canada. A twenty year retrospective of her drawings, The Power and the Glory, was held in Toronto in 2005.  With Bruce la Bruce, she founded and co-edited the first and arguably most important queer punk zine, JD's, in 1985. She has directed a number of underground no-budget Super 8 films. Her best known work is The Yo-Yo Gang, a 30 minute 'exploitation' movie about girl gangs that has gained significant cult status even though it, like most of her films, has rarely been screened. She has starred in several underground films including Bruce la Bruce's first feature No Skin Off My Ass.  She lives and works mysteriously in Toronto.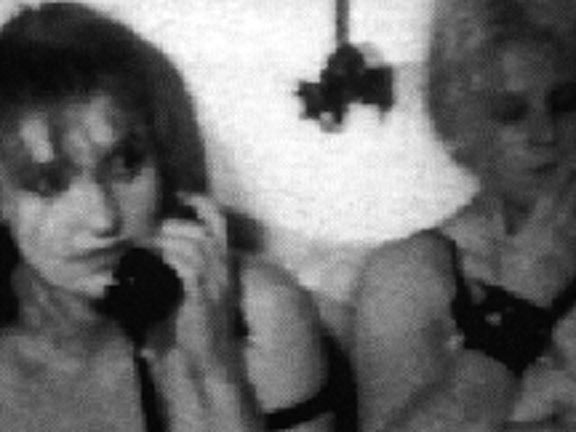 The Lollipop Generation (1993 – ?): This legendary, unfinished film, almost fifteen years in the making, about the lives of underaged porn stars is roughly to Queer Cinema what Orson Welles' 'The Other Side of the Wind' is to, well, Cinema. Eternally in progress and always purportedly near completion, its current status is unknown. The artists Scott Treleaven and Paul P, who appear in the film, have confirmed that scenes were being shot by Jones as recently as 2002. A rough, short early draft of the film featuring footage shot in the early 90s has occasionally been screened at film festivals. In addition to Treleaven and P., the cast of 'TLG' includes Jena Von Br_cker, Johnny Noxzema, Vaginal Creme Davis, Caroline Azar, Mark Ewert, Karen Chapelle, Rachel Pepper, Diana Donato, Mitchell Watkins, and G.B. Jones.

Trailer: 'The Lollipop Generation'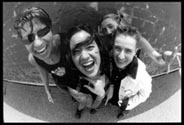 The Yo-Yo Gang (30 minutes; 1992): This 'no budget film' follows the exploits of two girl gangs, the "Yo-Yo Gang" and the "Skateboard Bitches", as a gangwar erupts between them. The tag line for the film reads: "Gang girls frequently out-curse, out-fight and out-sex every boys' gang around". The theme song, "Yo-Yo" is performed by Fifth Column and the film also features songs by Human Ashtrays and by Anti-Scrunti Faction. The soundtrack, including these bands and songs, was a cassette tape only release on Bitch Nation Tapes. Cast: Jena von Brucker, Anita Smith, Beverly Breckenridge, Suzy Sinatra, Caroline Azar, Leslie Mah, Tracy, Candy, Mark Frietas, and G.B. Jones.

Trailer: 'The Yo-Yo Gang'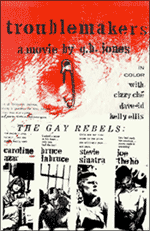 The Troublemakers (45 minutes; 1990): The film is equally fact and fiction, documentary and performance, home movie and narrative – the line is blurred and distinctions meaningless. Shot in the condemned home of director G.B. Jones and lead actors Caroline Azar and Bruce laBruce, the total cost of the film was the price of 7 cartridges, 3 minutes in length, of Super 8 film plus developing and transfer to video with a one-to-one ratio. There are no outtakes. GB Jones: '"We were all really poor so I decided to make a film about what our lives were like, to really honestly portray how we were getting by. So, on one level it's a document of how people living on the margins of society manage to exist. But on another level, I wanted the film to capture the dichotomy between how society views people like us and how we choose to be portrayed on film.'

Trailer: 'The Troublemakers'
'G.B. Jones has an uneasy fascination with authority and uses her gender and sexual preference to exploit fantasies of rock & roll, sex, groupies, booze, drugs, money, leather, torn jeans,motorcycles and stardom as an all out assault against values that would strive for assimilation of queer culture into the mainstream. She's every queer girl and boy's hero, whether you want her to be or not. Believe it or don't, she is looking out for every queer's best interests.
'Her obsession with power, narrative, and the detailed reworking of Tom of Finland's stereotypical gay male erotica is apparent in the series of drawings titled "I am a Fascist Pig." This series recalls scenes from a dyke fantasy movie such as "Faster Pussycat! Kill! Kill!" Here a beautiful blond female motorcycle cop is seduced by two punkrock babes, who tie her up and steal her bike. We are left to imagine that the cop was raped as the final scene leaves her tied to a tree, bare ass facing the audience, while the babes make a fast getaway.
'The style the drawings take is usually casual, pencil on paper with heavy outlines and carefully rendered tits, asses, quads, biceps, et al.. and whether framed, pinned to the wall or just printed in a zine, they maintain the freshness of pages torn from a teenager's school notebook.' — Arnold Kemp, Yerba Buena Center for the Arts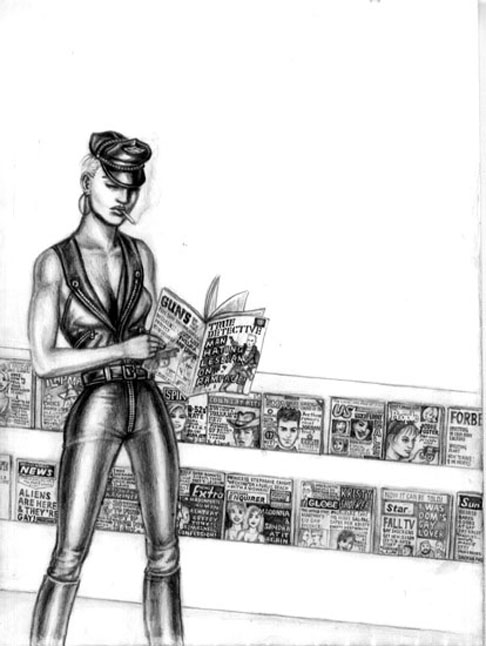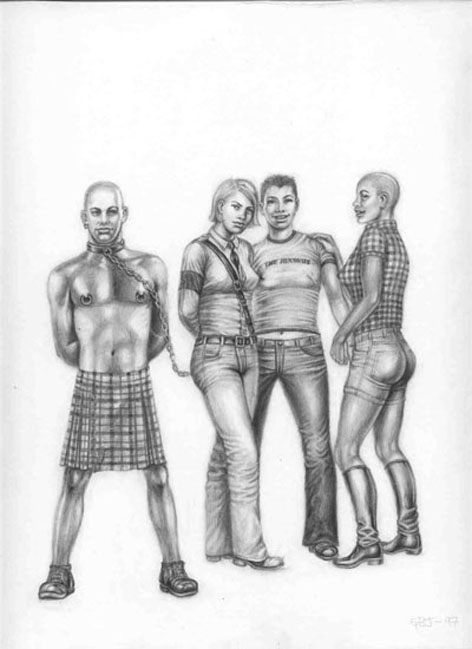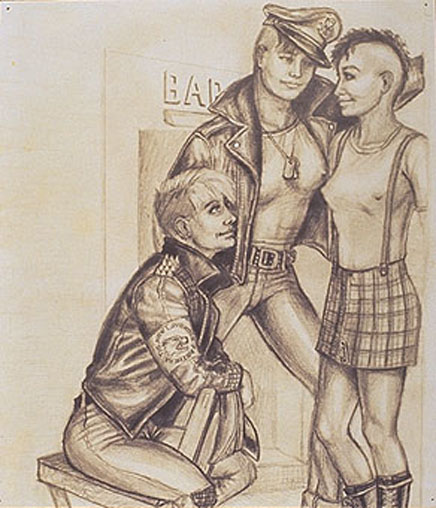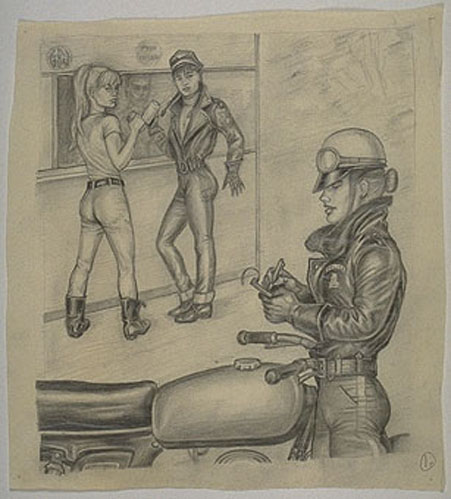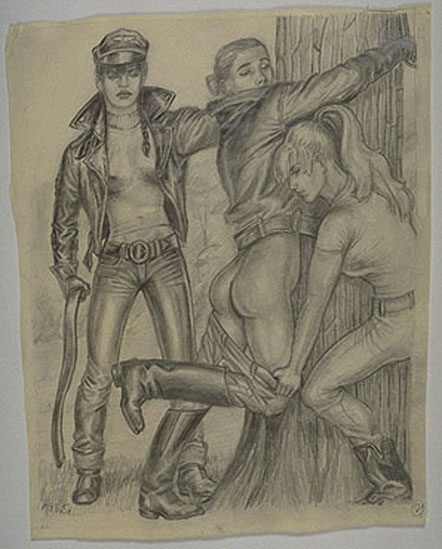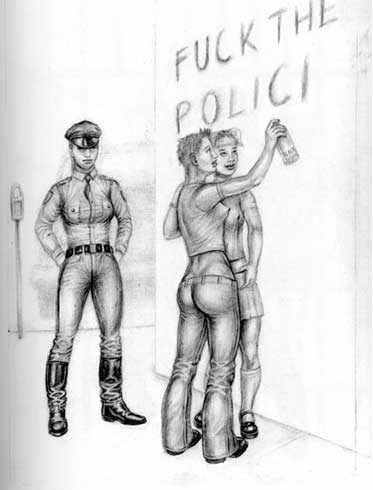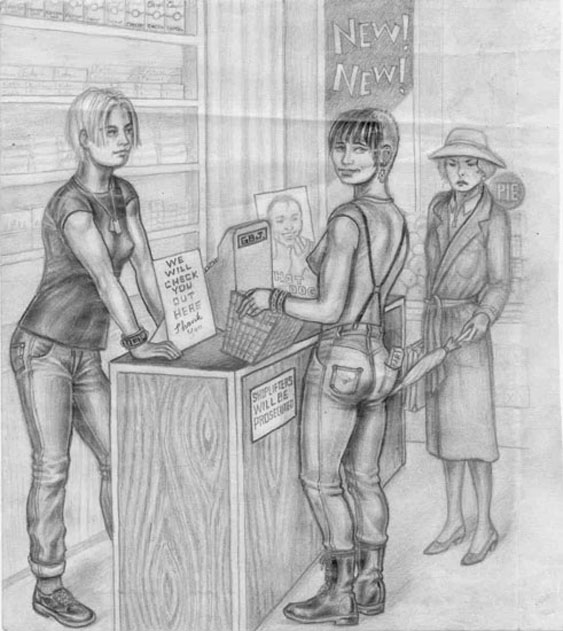 " The ruined and decaying monasteries and remote, secluded spots of Caspar David Freidrich's ink drawings are translated into this age while attempting to continue his traditions. To behold private places, to see the moment altered irrevocably, ravaged by circumstances and violence beyond our control and, afterwards, the beauty of decay. Whether discovered by chance or created by fate, the unimagined becomes visible. What was unknown becomes accessible, fleetingly merging with the aesthetic of the present till, once more, it becomes forgotten and invisible to the future." — G.B. Jones, October 2003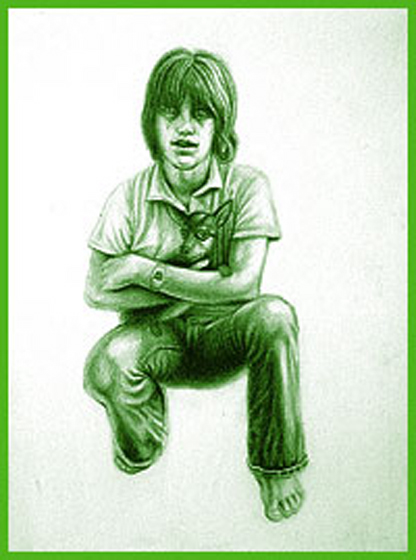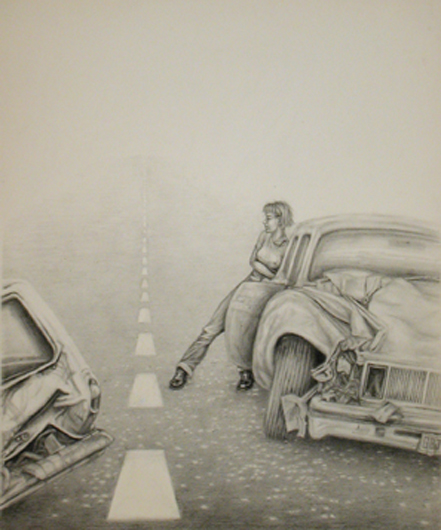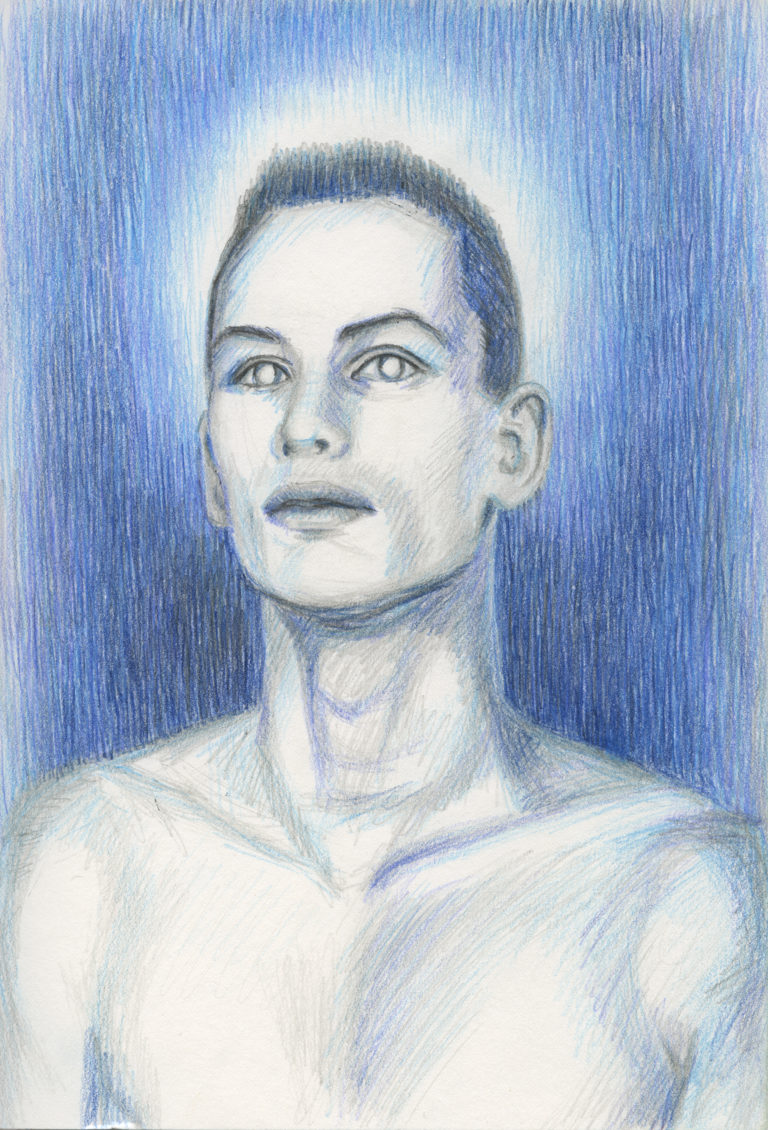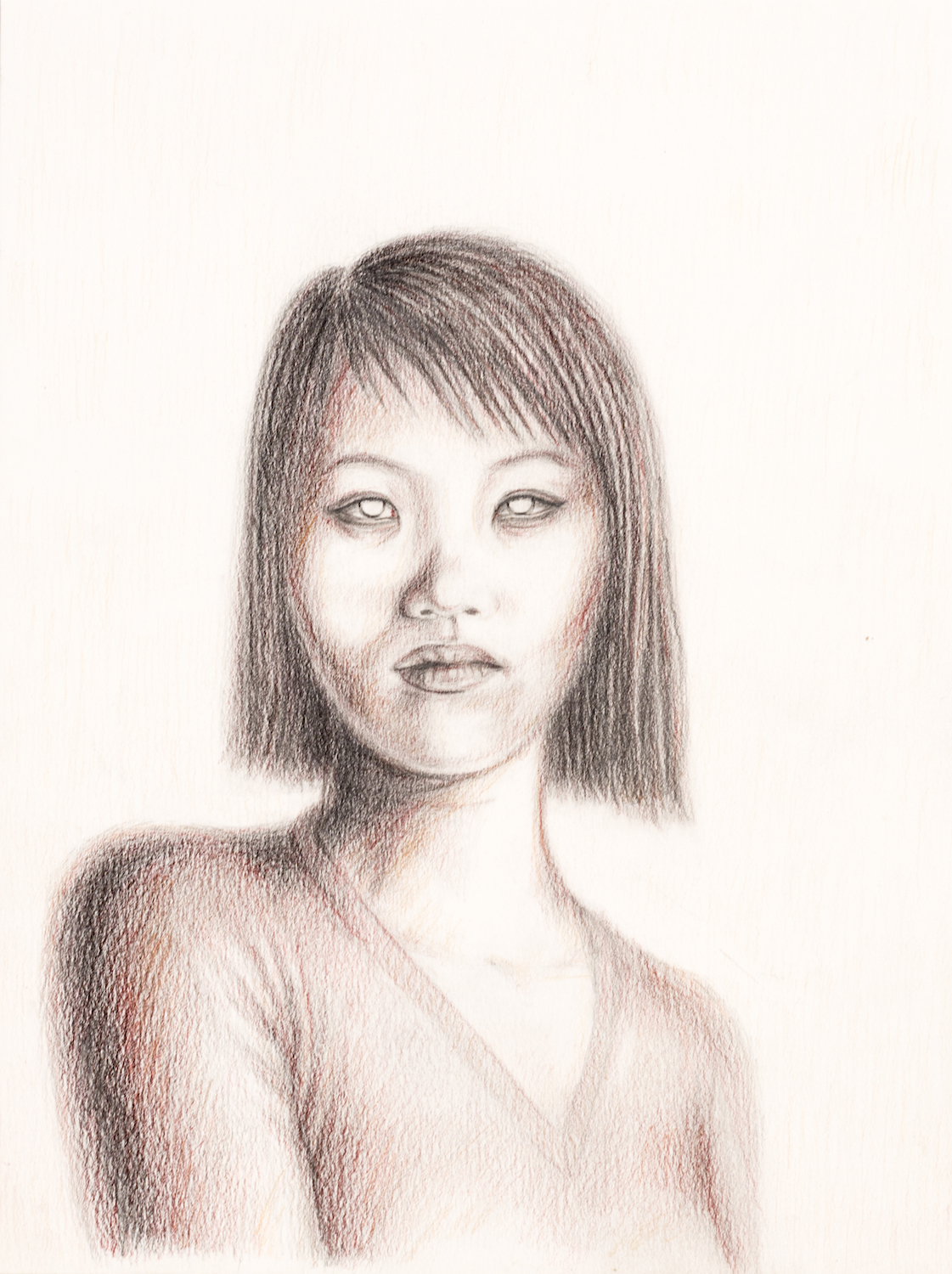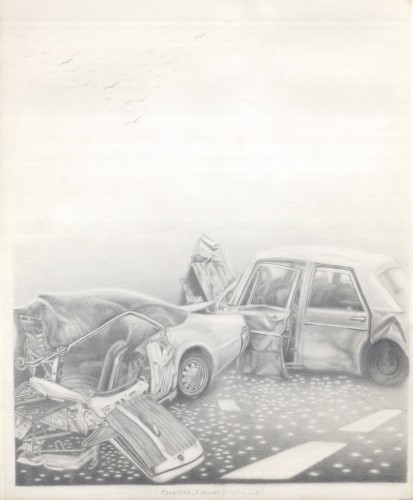 By GB Jones & Scott Treleaven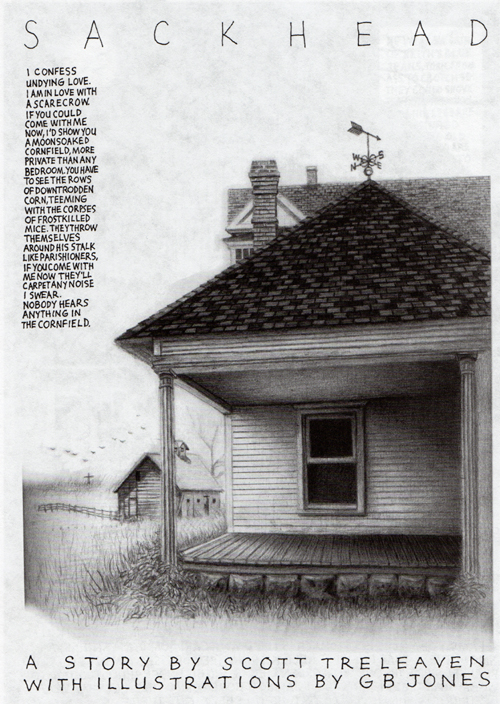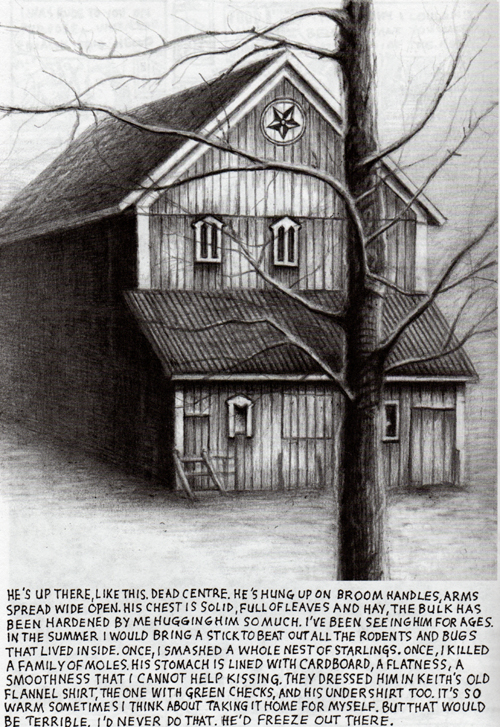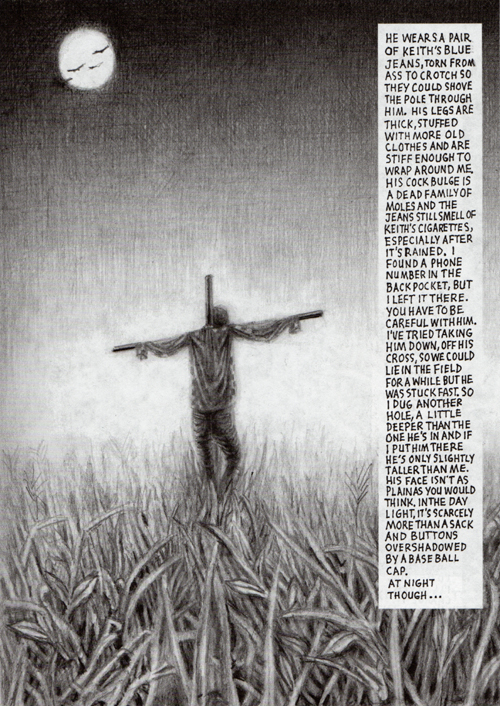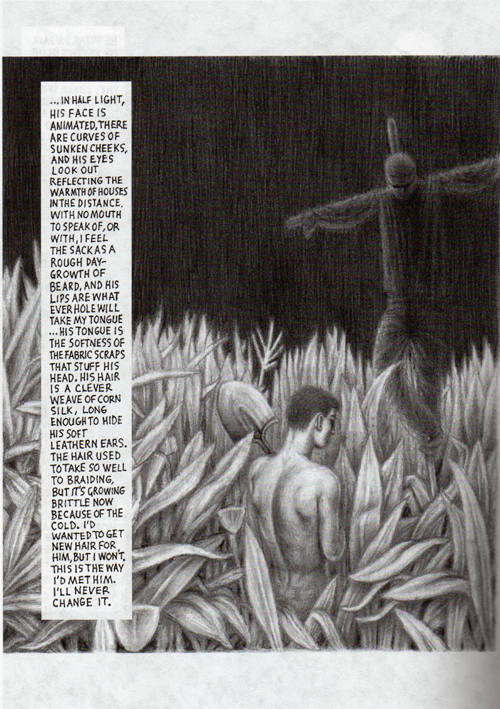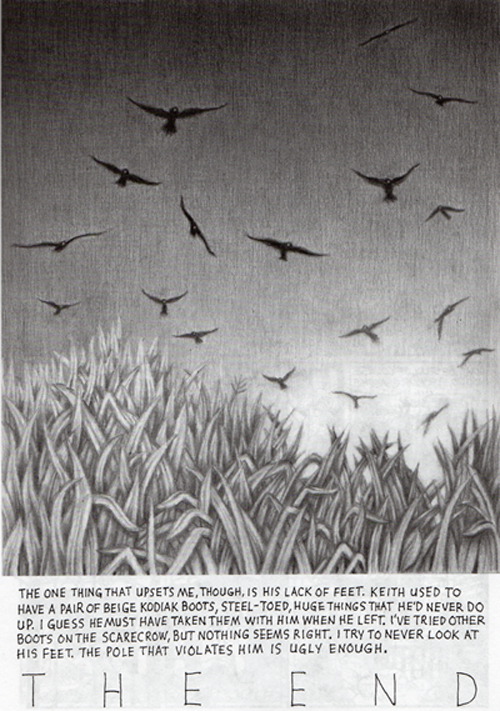 2007 – 2012
'These works portentous and precise drawings from 2007-12 depict the side of a barn, a smoking ashtray, and hard candy; dark iterations of the landscape, still life, and pop art genres, respectively. Jones' drawings from 2016, rendered in a looser intuitive manner, portray witches, both real and from film. Jones' subjects span the last century, and it is important to note that her images are always revised images from those found in the media.' — P.I.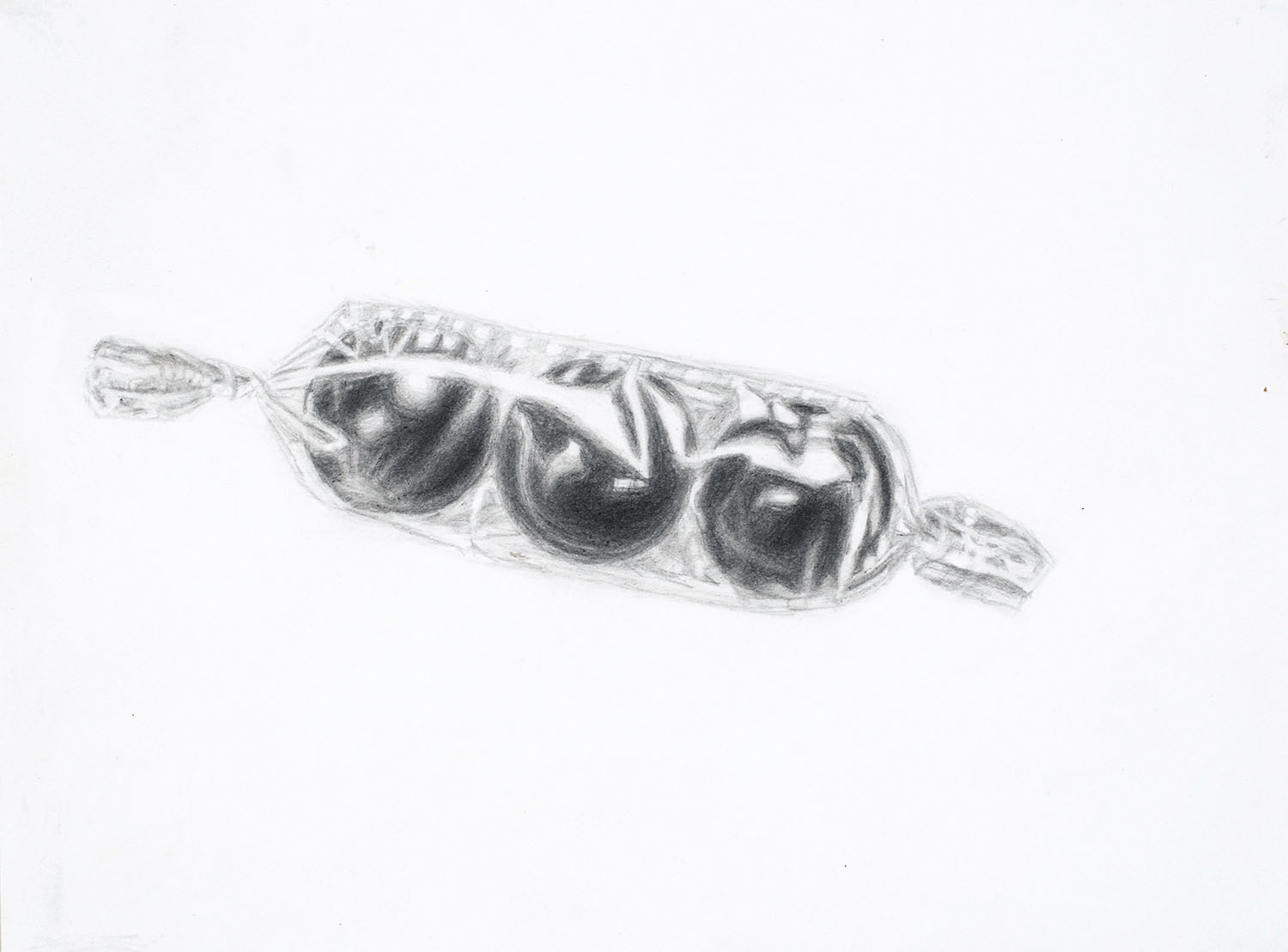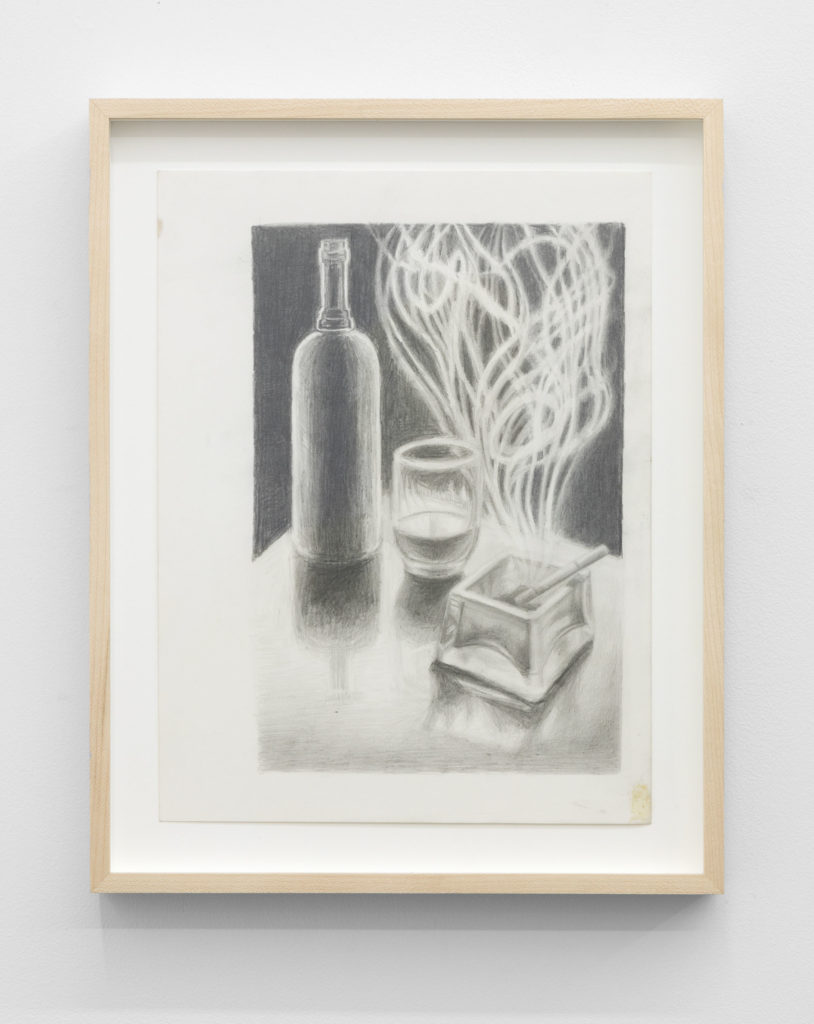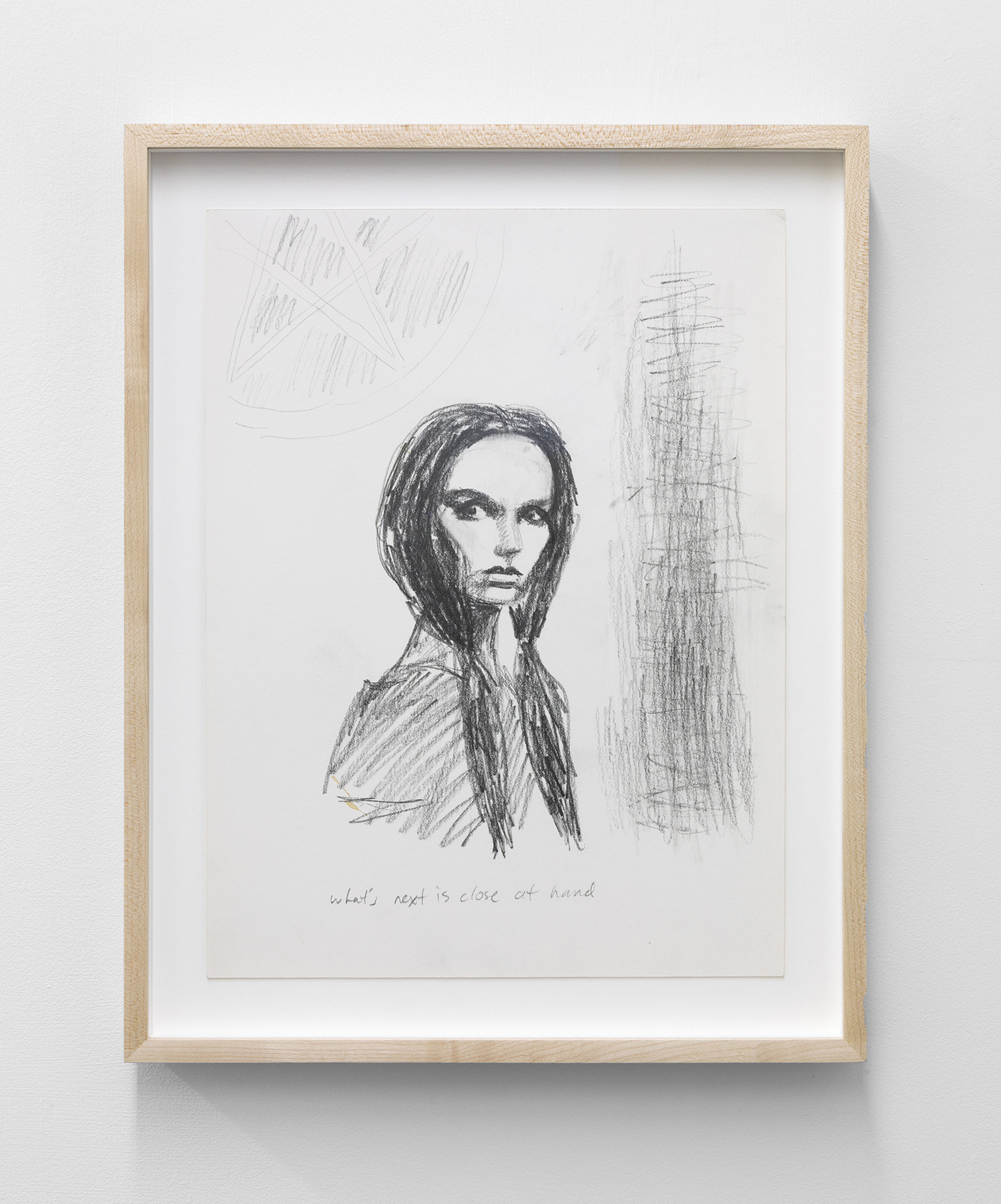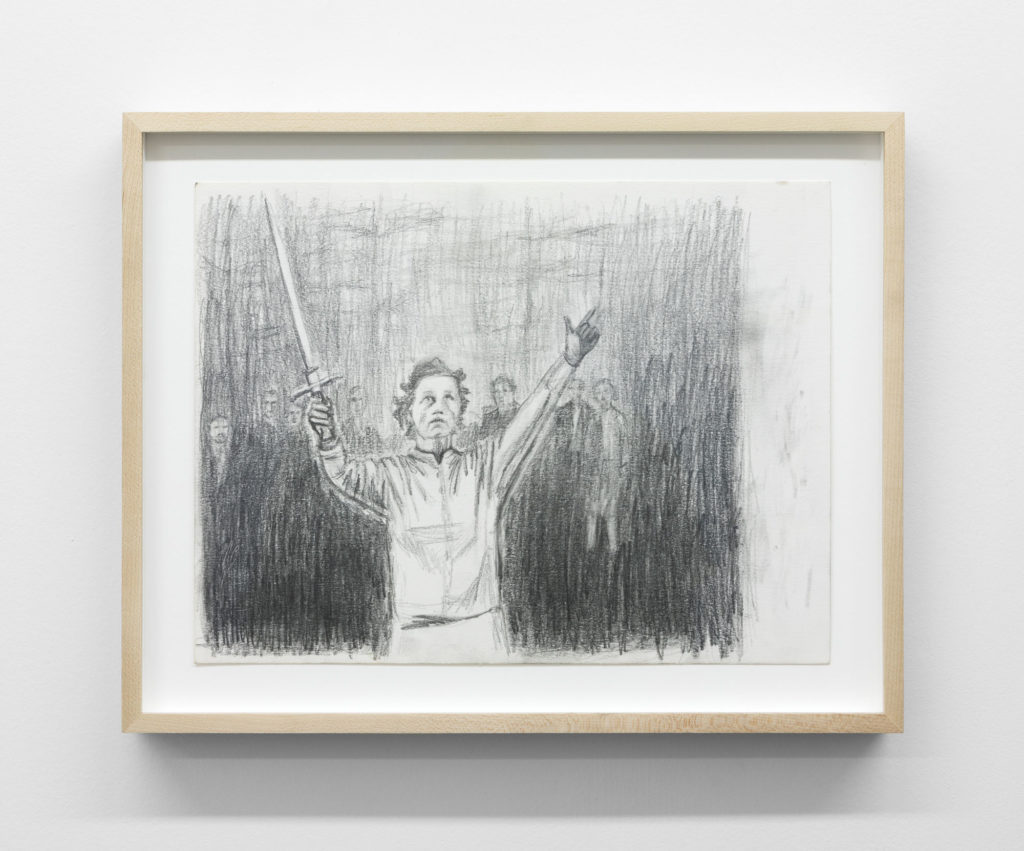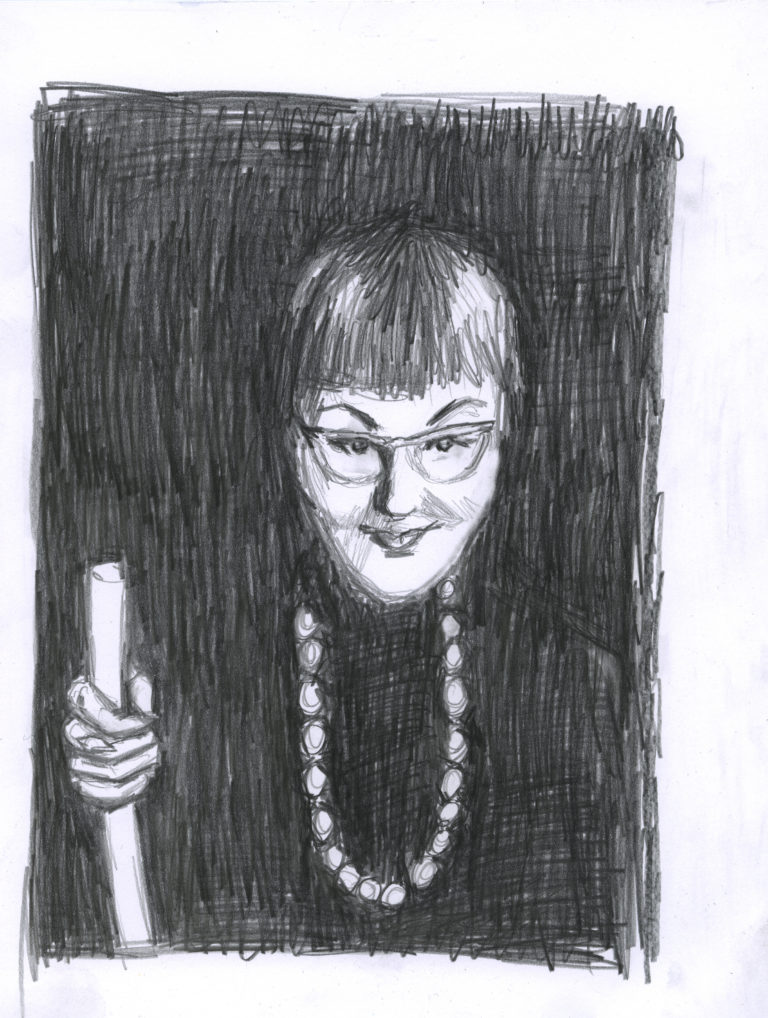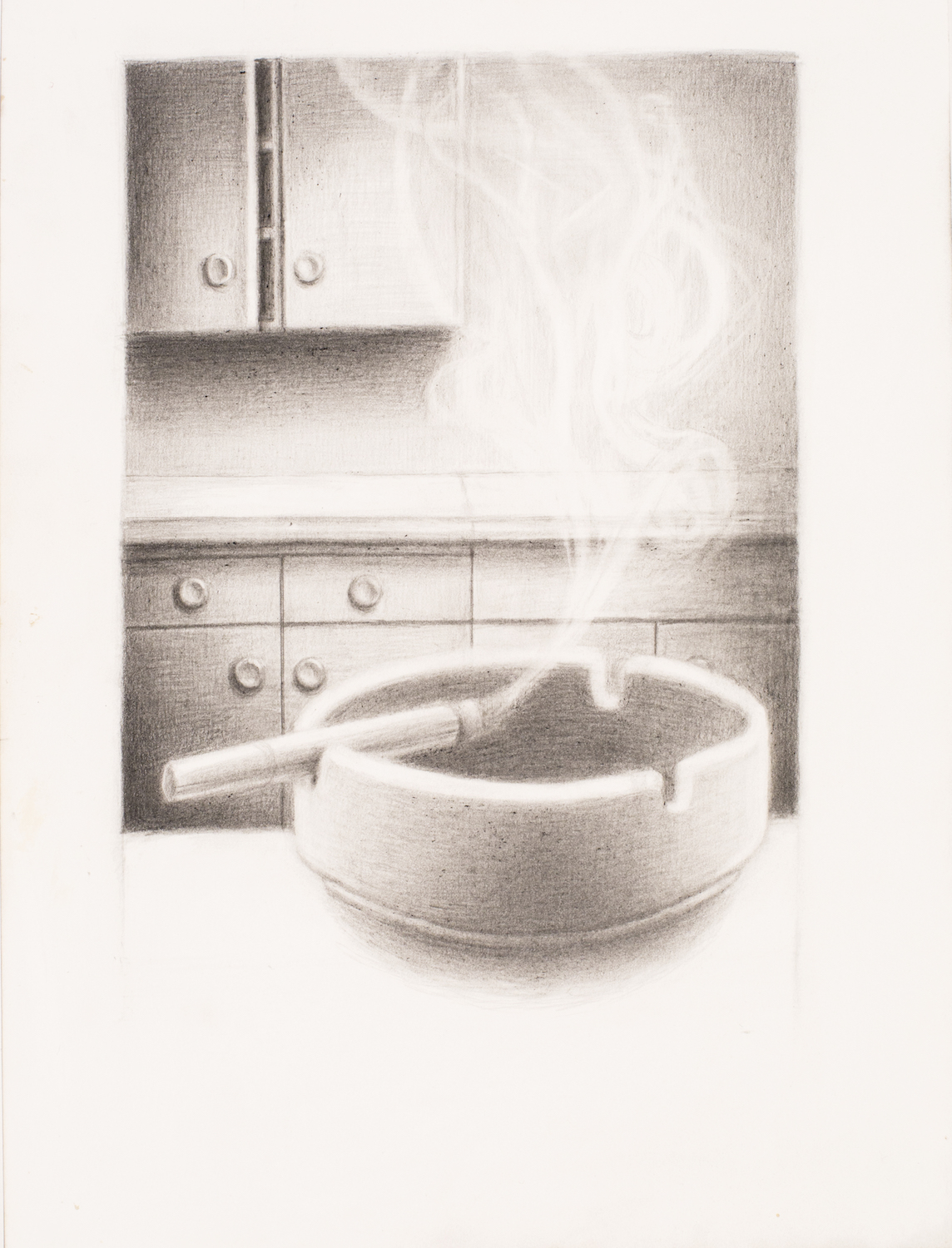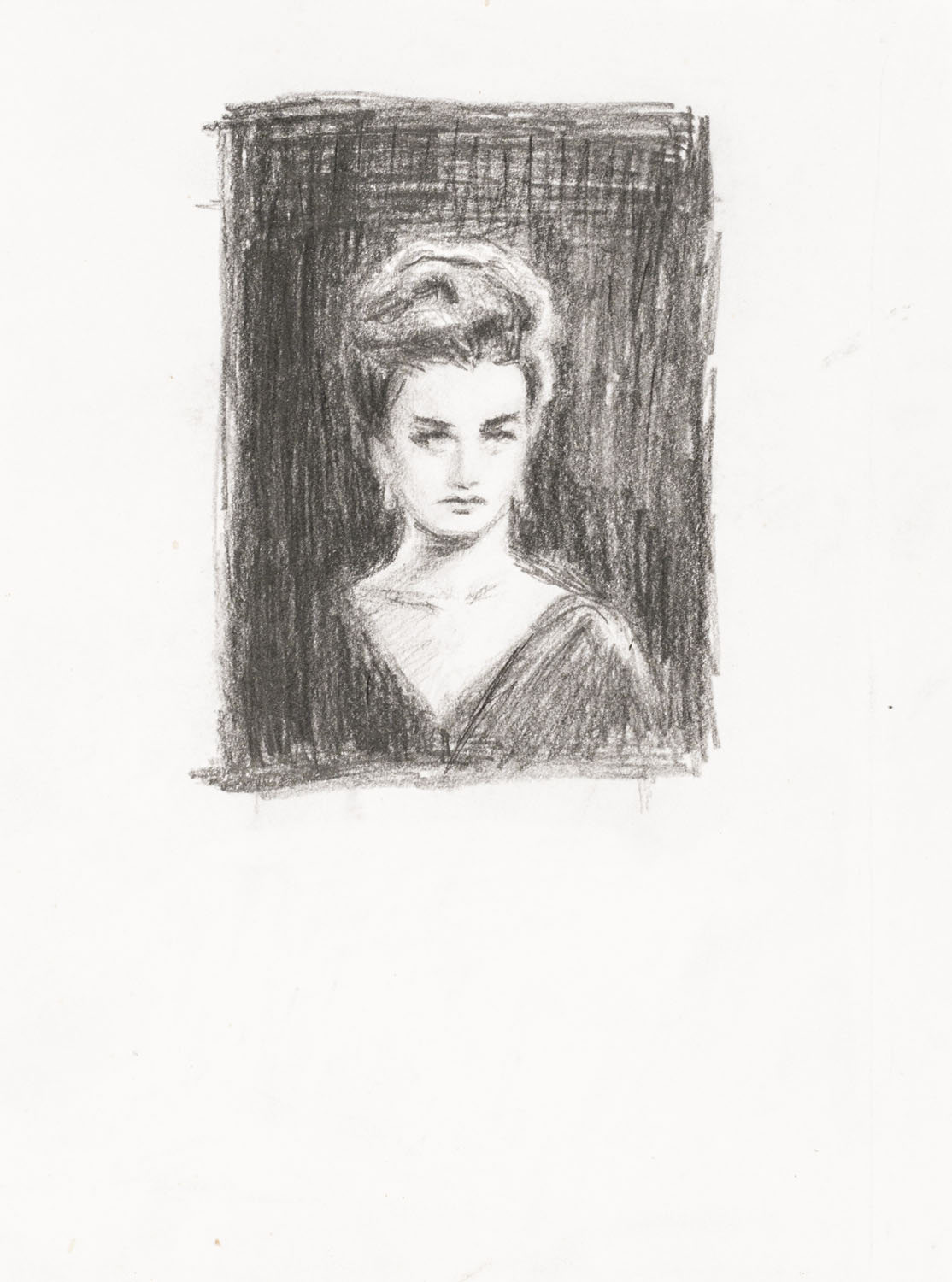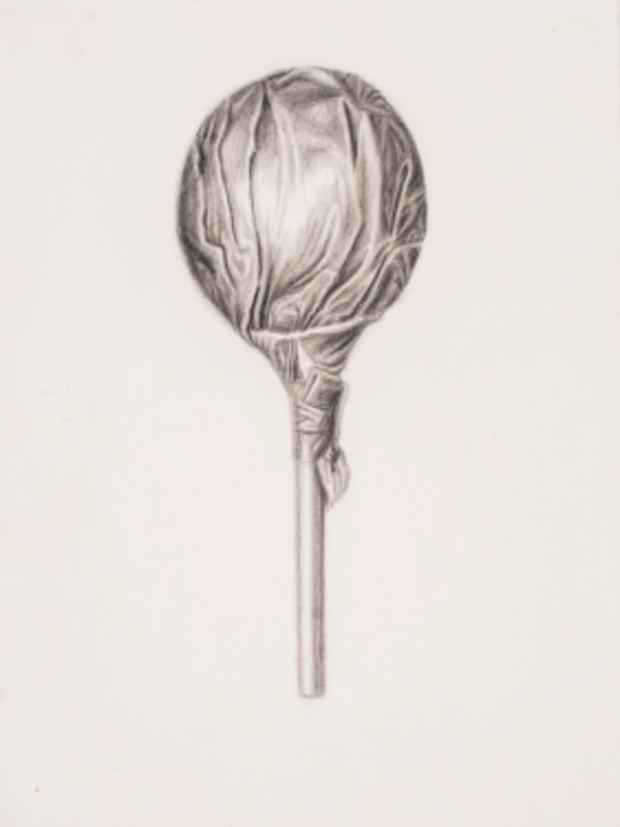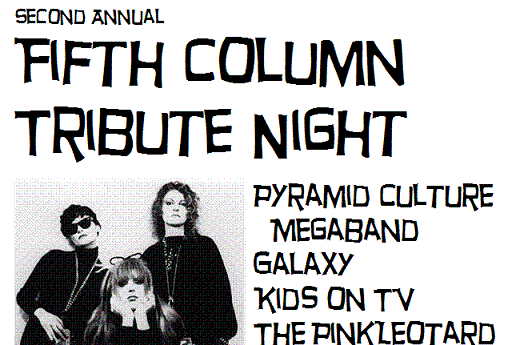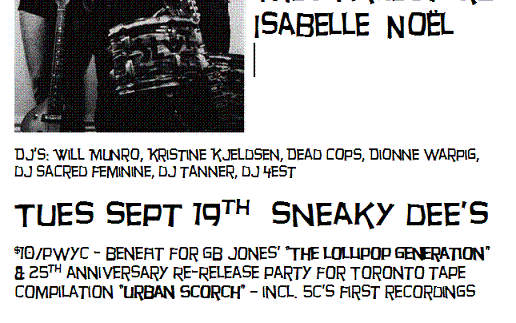 'Fifth Column is an all-women experimental post punk band from Toronto, which came about during the early 1980s. Originally the group had been known as Second Unit, but they took the name Fifth Column after a military manoeuvre by Francisco Franco during the Spanish Civil War, in which nationalist insurrectionists within besieged Republican Madrid, called 'the fifth column', would aid the four columns (north, south, east and west) outside the perimeters.
'Independent-minded, they released their recordings, including their second full length recording All-Time Queen Of The World, themselves. In 1992 they released a single, "All Women Are Bitches", on the independent record label K Records. Despite being controversial and receiving little airplay, the recording was voted "Single Of The Week" in the UK music publication Melody Maker. Their last full-length recording, 36-C, was also released by K Records. The band's latest release was in 2002, on the Kill Rock Stars compilation, Fields And Streams.' — collaged

'Like This'

'All Women Are Bitches'

'Donna'

Trailer: 'She Said Boom: The Story of Fifth Column'

Xtra catches up with Kevin Hegge, Director of 'She Said Boom: The Story of Fifth Column'
Albums
To Sir With Hate (1985, Hide Records)
All-Time Queen Of The World (1990, Hide Records)
36-C (1994, K Records)
Singles
"All Women are Bitches/Donna" 7″ on K Records (1992)
"Don't" 7″ split single with God Is My Co-Pilot on Outpunk Records (1994)
"I Love You, But" 7″ split single with Trailer Queen on Dark Beloved Cloud Records (1995)
Cassettes
Work (1989) Hide Records & Tapes; soundtrack for the video by Paulette Philips, cassette only release
Links
Fifth Column interviewed at PunkAcademy.com
Fifth Column's Myspace page
Fifth Column Fan Page (in Portugese)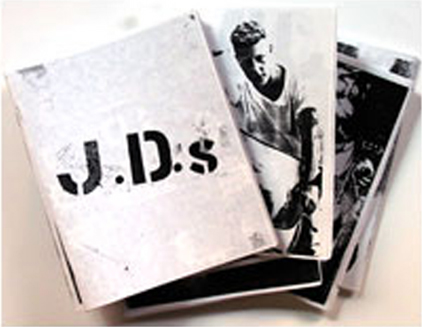 'J.D.s is seen by many to be the catalyst that pushed the queercore scene into existence. The editors had initially chosen the appellation "homocore" to describe the movement they began, but later replaced the word 'homo' with 'queer' to create Queercore, to better reflect the diversity of the scene and to disassociate themselves completely from the oppressive confines of the gay and lesbian communities' orthodoxy and agenda. G.B. Jones says, "We were just as eager to provoke the gays and lesbians as we were the punks." According to Bruce LaBruce, J.D.s initially stood for Juvenile Delinquents, but "also encompassed such youth cult icons as James Dean and J.D. Salinger."
'The zine featured the photos and the "Tom Girl" drawings of G.B. Jones, stories by Bruce LaBruce, and the "J.D.s Top Ten Homocore Hits", a list of queer-themed songs such as "Off-Duty Sailor" by The Dicks, "Only Loved At Night" by The Raincoats, "Gimme Gimme Gimme (My Man After Midnight)" by The Leather Nun, "Homophobia" by Victims Family, "I, Bloodbrothers Be" by Shockheaded Peters, "The Anal Staircase" by Coil and many more. Groups like Anti-Scrunti Faction were featured in the fanzine. Contributors included Donny the Punk, comic artist Anonymous Boy, author Dennis Cooper, artist Carrie McNinch, musician Anita Smith, punk drag performer Vaginal Davis and Klaus and Jena von Brücker.' — collaged
You can download pdfs of two issues of J.D.s for free here from the great Queer Zine Archive Project Site.
Or you can buy a special box set of meticulous recreations of the entire run of the J.D.s zine for the unpunk rock but rather art world price of $80 (Canadian) here.
*
p.s. Hey. ** Jamie, Hey, Jamie, Mr. Sight for Sore Eyes, you! Thank you for the good wishes! I hope you're doing great and that I'll get to see you again soon! xoxo ** James, Thank you, J. Ha ha, I appreciate the conceptual knife gift, that's plenty. ** MANCY, Thanks, bud! ** David Ehrenstein, Thank you, sir. Is Johnnie Ray the guy who sang 'The Little Cloud That Cried'? ** Sypha, Thanks, James. ** Featon, Kind words, thank you, and fellow GbV love is the best. ** Dominik, Thank you, thank you, D! ** Damien Ark, Ah, I'm chuffed that I somehow caused you to stream the GbV lexicon, and I'm amazed it only took a couple of days. Thanks, Damien. ** Jeff J, Hi, Jeff. Really good Bookworm show. '11 x 14′ is both my very favorite Benning film and one of my top 10 films of all time, so yes! There's also a lovely little precursor film of his called '8 x 10'. Thanks, man. ** Robert Siek, Thanks so much, Robert! Mm, it was a fun day here, but it wasn't particular birthday oriented, other than indulging in a plate of Hard Rock Cafe nachos at the conclusion. It was fine. At the moment I would say I feel pretty happy to be based here in Paris and can't imagine moving back to LA, but you never know what'll happen. Being an old fashioned guy when it comes to NYC, I think living in Manhattan is the coolest way to go. So I like hearing that. Where in Manhattan, if you have a choice? ** Chris Cochrane, Thank you, Chris, and, yes, talk to you on Sunday! ** Bernard Welt, Thanks, B! You're older than me? Can I just say that being older is just super peculiar. I don't get it all. It's just really weird, or maybe less weird than I thought it would be. Yeah, maybe that. Amazing things yesterday? Not so much, but, for the record, first (all with Zac) a meeting with the French distributor of 'PGL', then a falafel, then a bus trip to Bourget to see the Michael Heizer show at Gagosian (excellent, duh), then a visit to the nearby and wonderful Air And Space Museum, then a bus trip back to Paris, then nachos at Hard Rock Cafe, then (sans Zac) metro to my home, 'like' all the FB birthday wishes, sleep. Whoo-hoo! No doubt: re: your adventures and fine art viewing. Always happy to hear any details. Superb about the possible Recollets stint in July. I just saw Chrystel the other day. She was in a good mood. Love of love to you, bud. ** kier, Hey, Kier! I'm, of course, so, so, so happy you liked my concert containing intended non-stop bliss. Oh, I just told Bernard right above this what I did yesterday if you want to scroll back up. It was nice, no huge big, but very nice. The Heizer was terrific. No, sad story: A few years ago I was in touch with Heizer's assistant, and he managed to talk the very mercurial Heizer into allowing Zac and I to visit 'City', which he doesn't let people do, so we flew to LA to prepare to drive out and do that, at which point the assistant told me Heizer was getting cold feet about the visit, but he thought he could talk him into it, so we drove out and got a hotel near 'City', and then, for five days, we waited for Heizer to relent and less us visit, and every day the assistant said, 'He's in a bad mood today, but I think he'll say yes tomorrow', but he never did change his mind, so we just stayed in this weird hotel for five days and eventually gave up. It was sad. Oh, my God, that's so awesome that you shared the PGL notebooks! I can't wait! Can I share? I hope. Everyone, As I think most of you know, in 'PGL' the main character does drawings to help realise his exploding project, and the drawings were actually done the great artist Kier Cooke Sandvik, who also designed a roadside shrine that's in the film too, and Kier has shared some of his preliminary drawings and work he did to prepare to make the drawings and shrine in the film, and he shared them for all and sundry, and, naturally, I highly encourage you, whether you've seen 'PGL' or not, to go peruse them. Here. Thank you, wow! And your site! I'll be so there too! Great, great, such a great birthday gift for me! Thank you, my pal. I hope your lifting of 2+ kg today is breezy, really breezy. Was it? So much love to you! ** David Saä Estornell, (Warning: Google translation) Muchas gracias, David. Siempre eres tan amable. Como siempre, me encantaría tomar un café cuando te apetezca. Sólo házmelo saber. Mucho amor y respeto a ti! ** Steve Erickson, Ha ha, I did have birthday nachos at Hard Rock Cafe! I'm so predictable. Thank you! Yeah, take it way easy on yourself until your head is styrofoam-light again. ** JM, Thanks, man! ** Jay, Hi, Jay! Thank you very, very much! Today's your birthday? Whoa. A very, very, very happy one to you! So, I don't really do astrology, but I guess we're both Capricorns, which seems like pretty good sign to be, if one into into that stuff. Enjoy! Blast off into your day! ** _Black_Acrylic, Much appreciated, Ben. I just watched Henri-Georges Clouzot's Inferno a couple of months ago for the first time, and, yes, it's totally incredible! ** Nik, Hi, Nik! Really good to see you! Happy you're writing and negotiating the travails. emperor x … no, I don't know what that is. I'll go find out. On Jan. 14th we'll get feedback from our producers on the TV script. Once they're on board with the script, it goes to ARTE, and then I don't know how long they'll take to read it and meet with us. We're getting there. Thanks a lot, man! ** Bill, Hi, Bill. Welcome home. Yeah, we're very happy the PGL screenings are at the Roxie, so cool. Ooh, up to you, but just to say 'PGL' is not really film I think will work very well on people who are too inebriated, eek. Mm, no other SF plans. I don't think we'll be there too long. I think they're just housing us for the two nights. But, no, just see friends and maybe some art or something. ** Brendan, Thank you a lot, B-ster! So cool to see you! You good? ** Misanthrope, Uh, please don't remind me, ha ha. I'm trying to just pretend the numbered years stopped being counted somewhere in the past. Snow! Yes! I told Bernard what I did, which wan't very festive or wild or anything of that sort, but I enjoyed myself. ** Cal Graves, Hi, Cal! How cool of you visit! Thanks a lot, man. How are you? What's going on in your world? ** Right. Today's formerly dead and now restored GB Jones is quite old, so it's naturally a bit out of date, and it has an early blog more roughshod look, and etc., but she's great, so enjoy what's there, I hope. See you tomorrow.