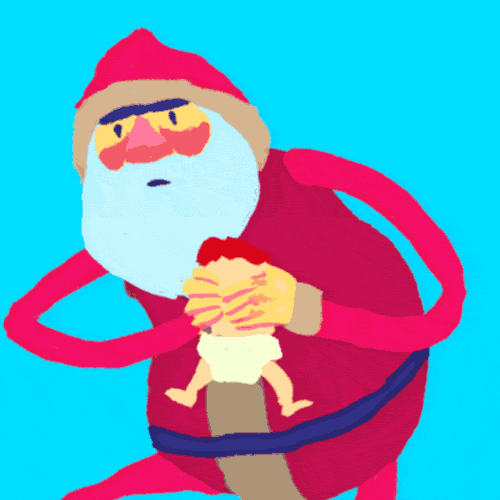 Lyota Yagi
Sylvie Fleury
Mark Neville
Carson Fox
Christian Lemmerz
Elmgreen & Dragset
Chen Hangfeng
THE KID
Tavares Strachan
Roman Signer
Debbie Reichard
Jessine Hein
Olafur Eliasson
David Marx
William Eggleston
Erick Swenson
Walter Martin and Paloma Munoz
Ma Qiusha
Arcangelo Sassolino
Jacques Flechemuller
Paula McCartney
GameGrumps
Chen Wenling
Norton Maza
Alison Moritsugu
Andy Mattern
Low
Cameron Jamie
Lutz Bacher
Makoto Azuma
___________
Lyota Yagi Vinyl (2005 – 2008)
Vinyl plays the melody of 'Moon River' (Johnny Mercer and Henry Mancini) sang by Audrey Hepburn, on a record player from a record made of ice created with a silicon mould. In this small action the format dissolves at the same time it is reproduced, partly from the ambient temperature and partly from the friction generated by its proper process of reproduction. The music it produces is distorted until it is no longer recognisable, in the same way the record gradually loses its form and properties while it melts.
____________
Sylvie Fleury Here comes Santa (2003)
In her Xmas video, Here comes Santa, Fleury relentlessly smashes Xmas balls. The spiky heels explode hundreds of mirrored spheres reflecting everything that's around and revealing their desperately empty center.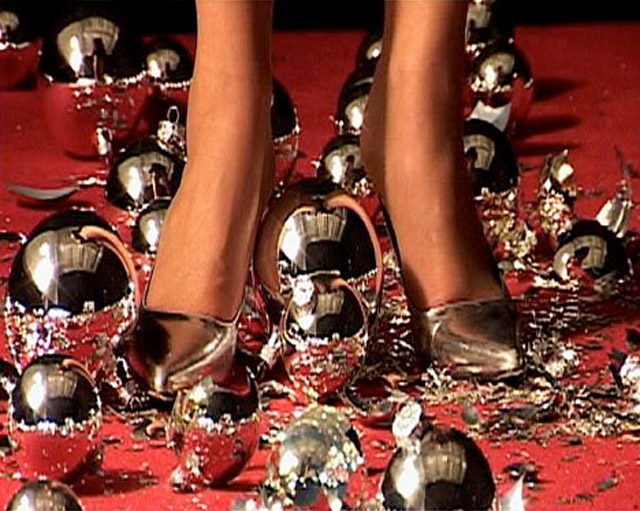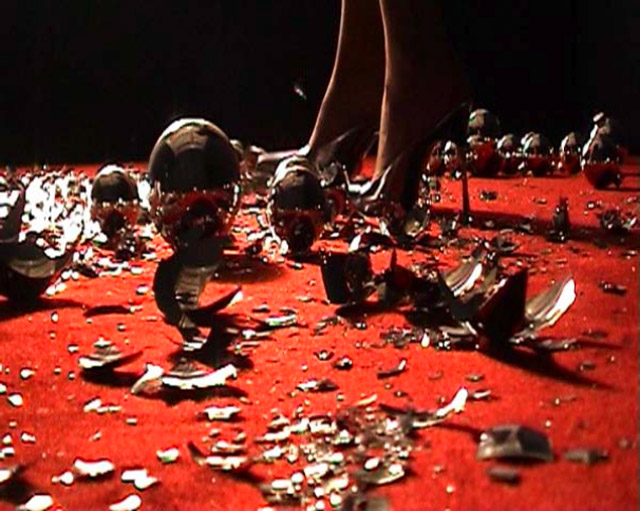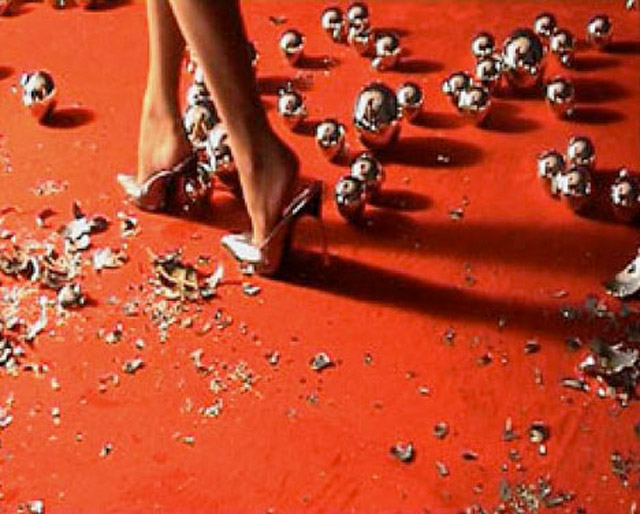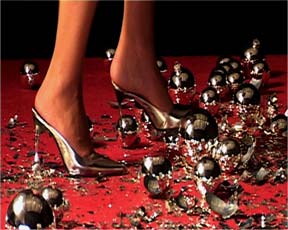 ____________
Mark Neville Child, Jacket, Slaughtered Goat, Sweets, Painted Nails, Xmas Day, Helmand (2010) & Town Hall Xmas Party 1, 2 (2005)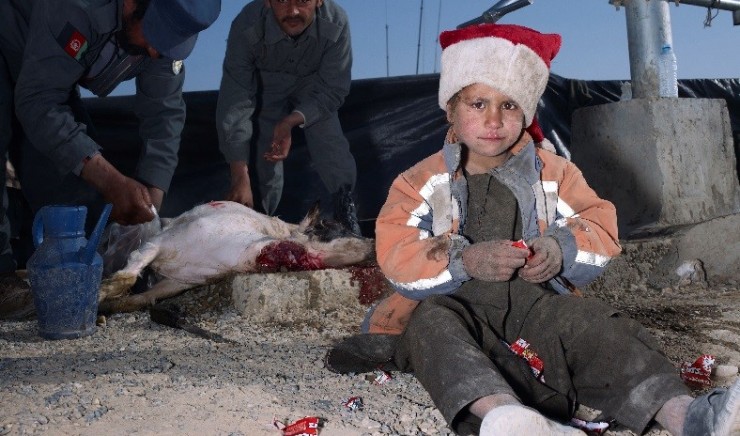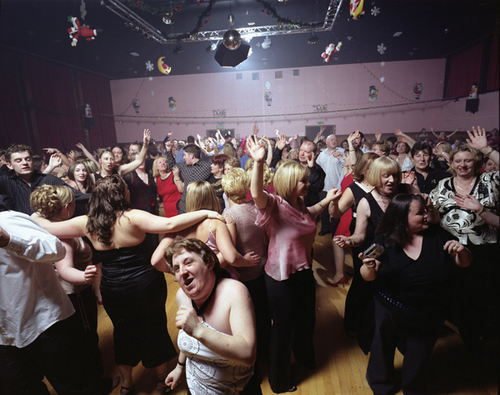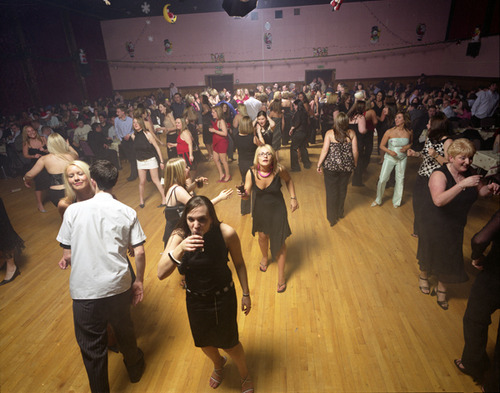 ____________
Carson Fox Iceberg Room (2016)
Fox uses her art to subvert the inevitability of time and temperature by playing God- she wants icebergs that will never melt, so she molds them from resin and holds on to them forever.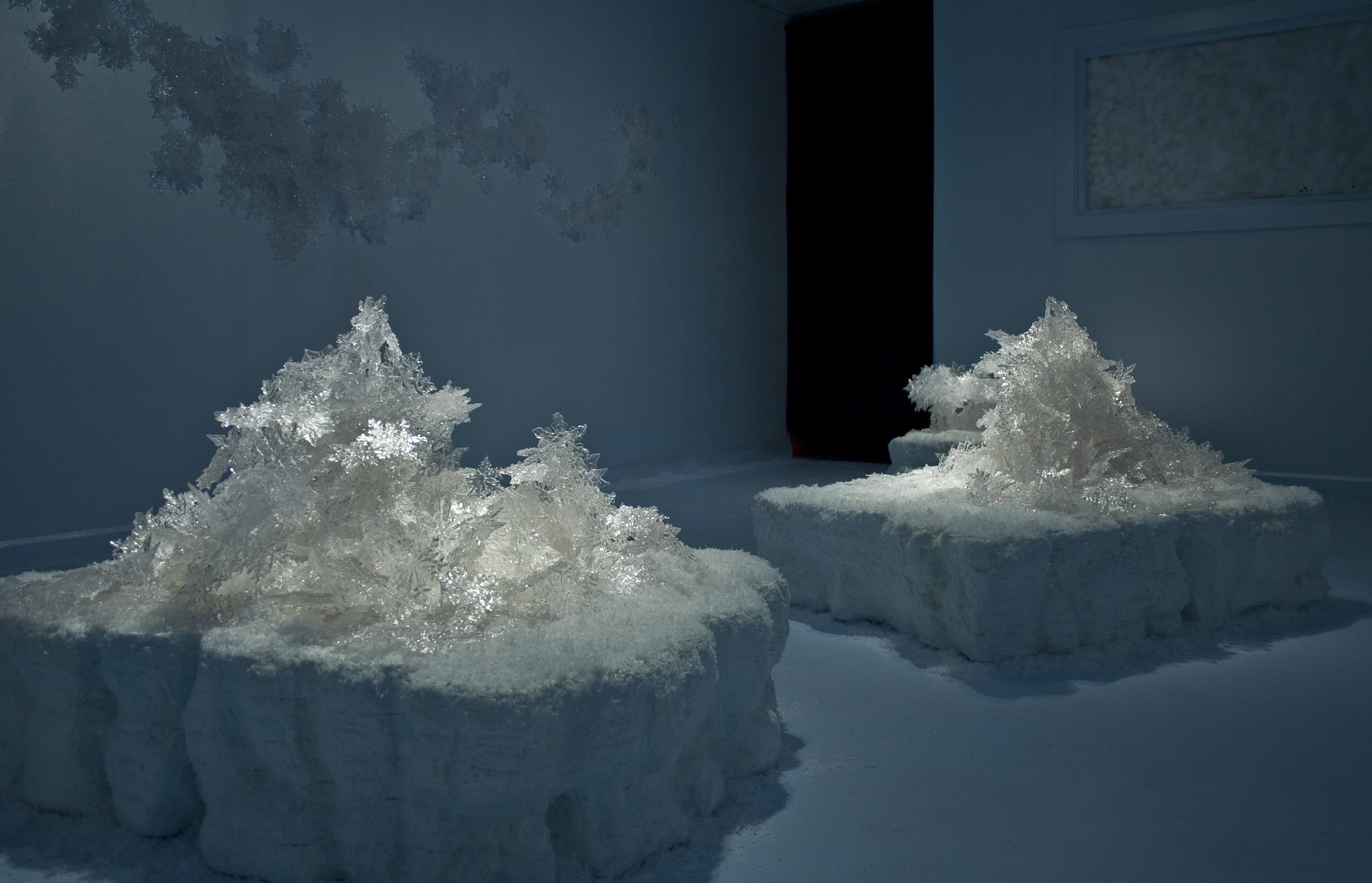 ___________
Christian Lemmerz Judas Christ (2010)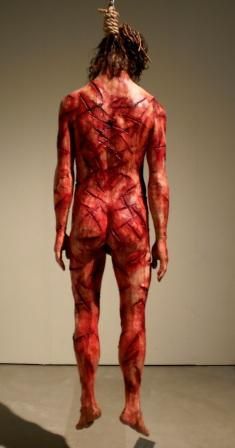 ____________
Elmgreen & Dragset Christmas in July (2010)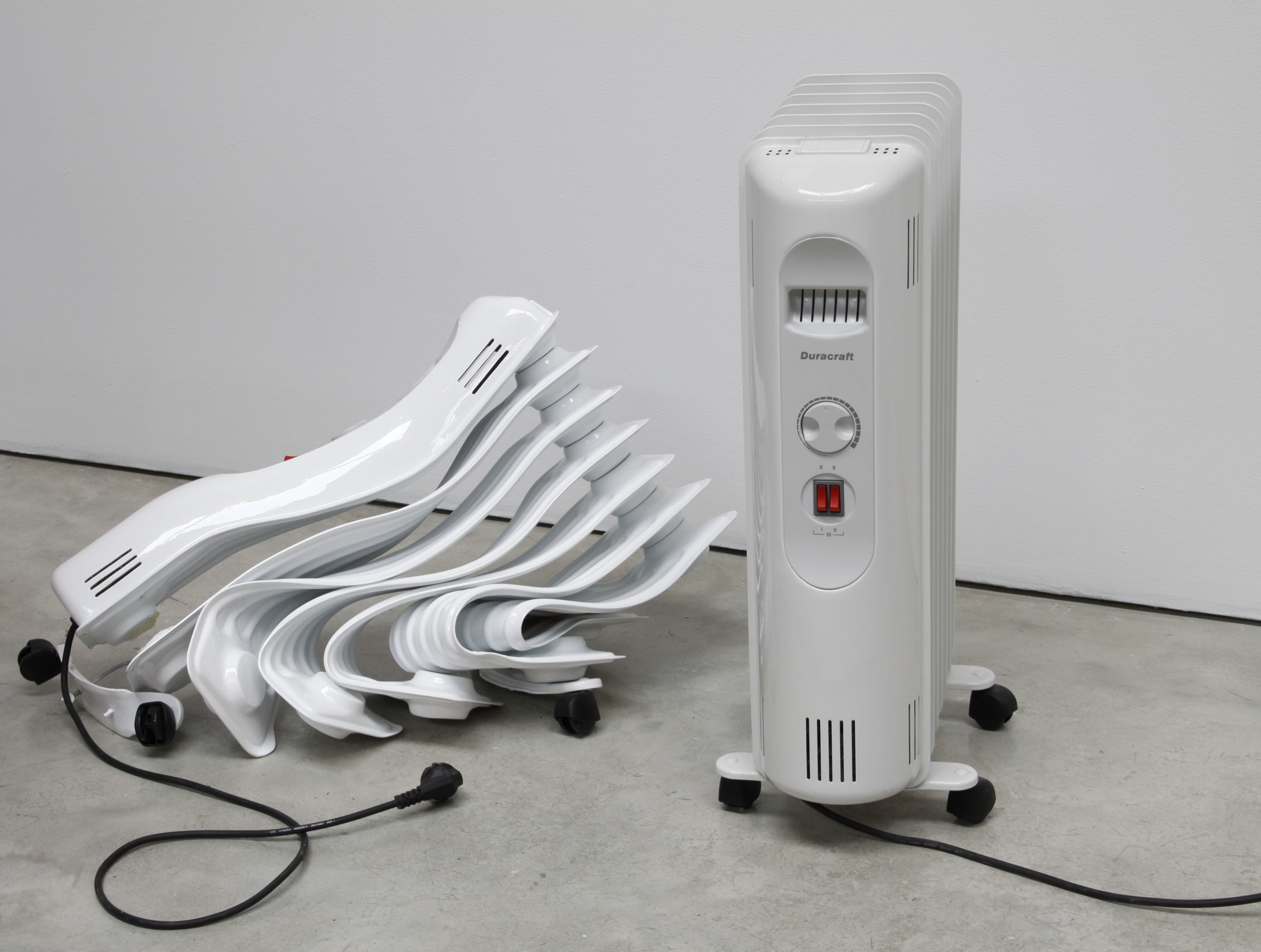 ___________
Chen Hangfeng All that glitters … (2003)
Shanghai based artist Chen Hangfeng embarked on a trip to discover a unique village along the Mei Creek which is steeped in history and now produces more than 50% of China's Christmas exports.All of them are handmade; some of the ornaments are designed and improvised by the villagers themselves, and most of the tools they use to make these Christmas ornaments are farming related objects. Cleverly they have managed to mix and match various farming tools together to work perfectly for Christmas decoration production.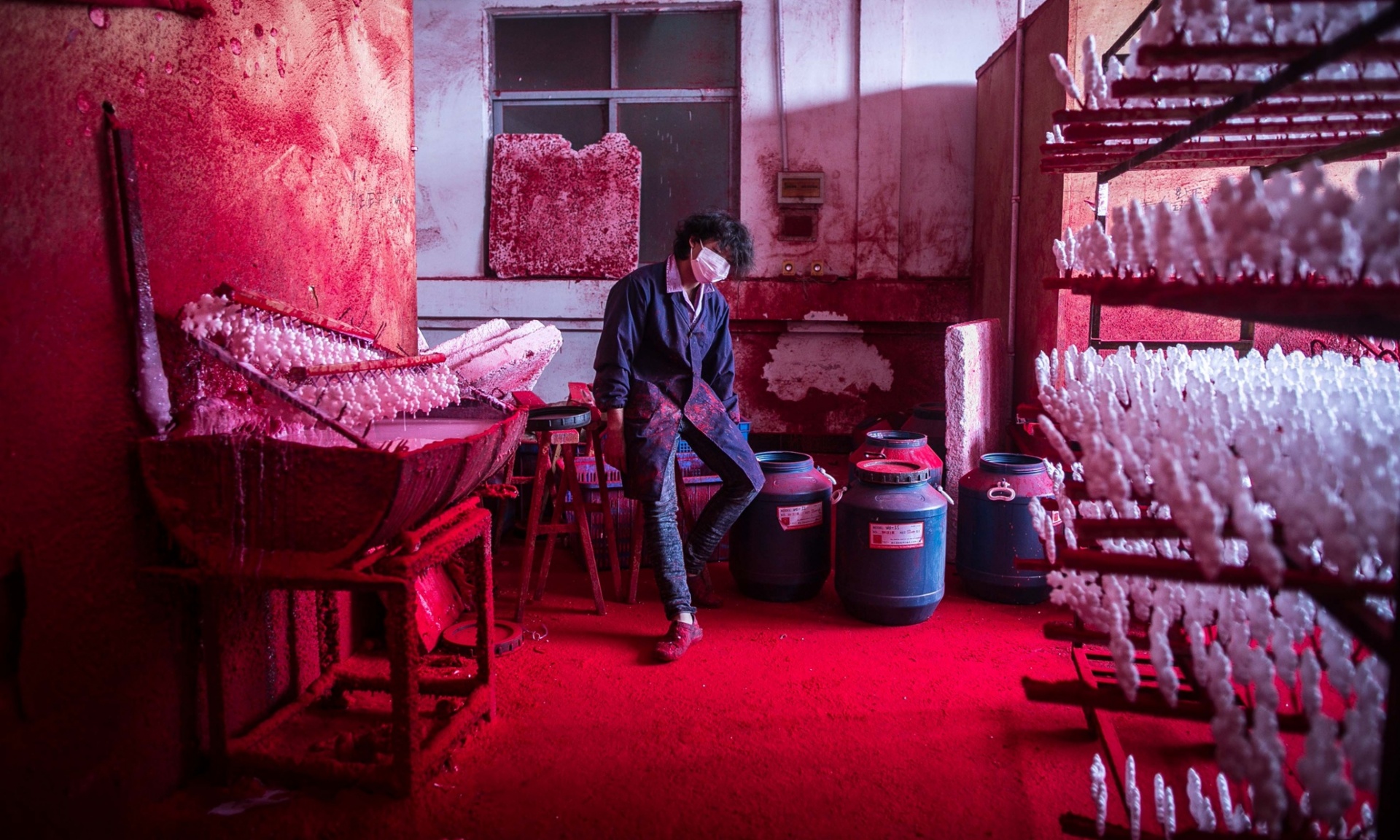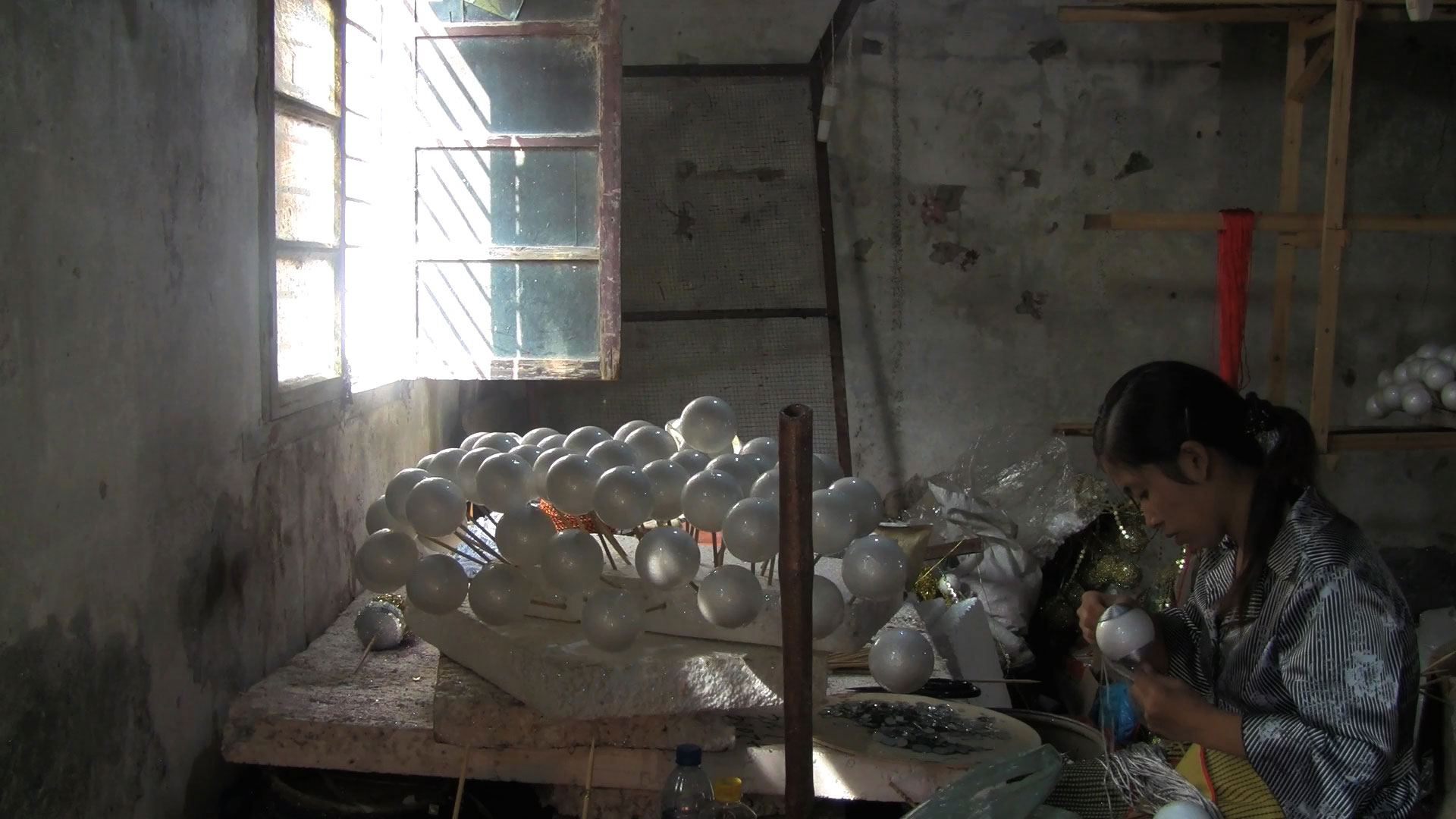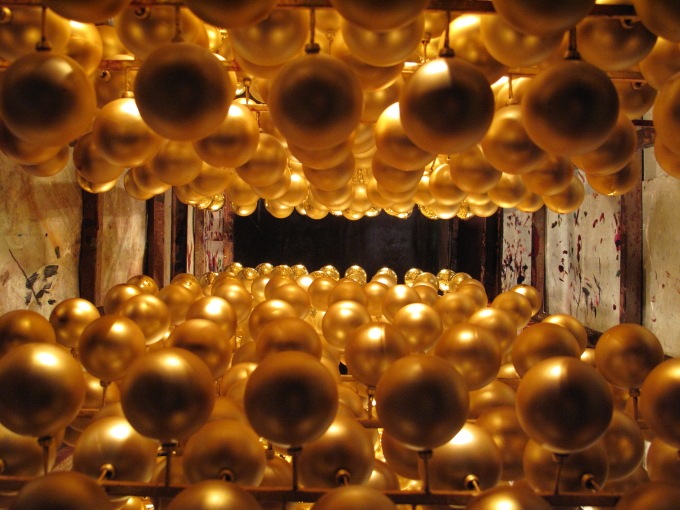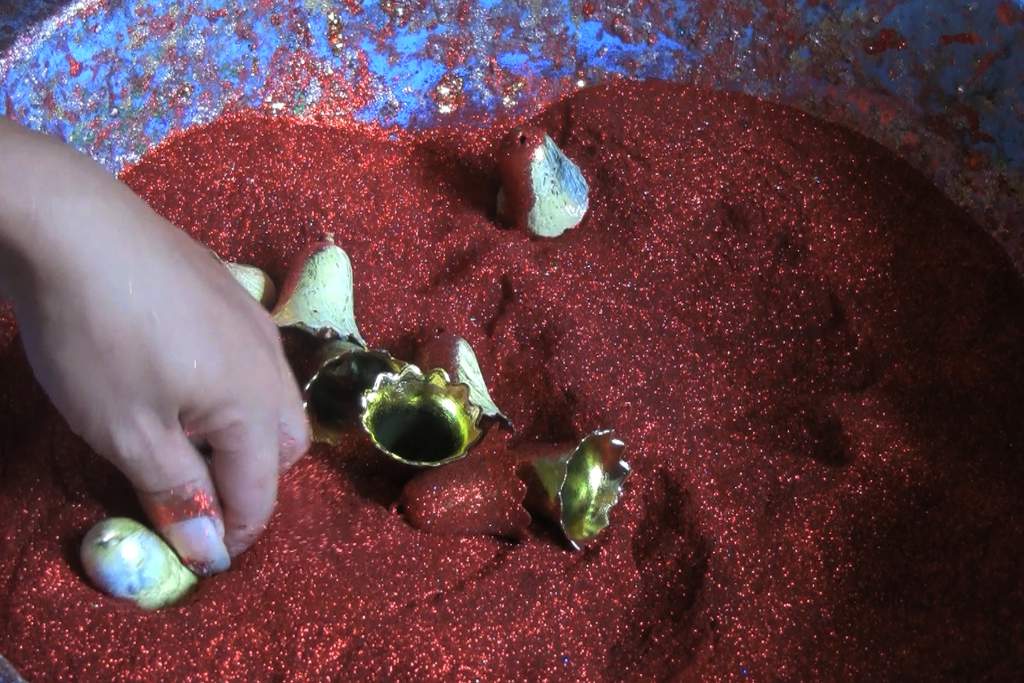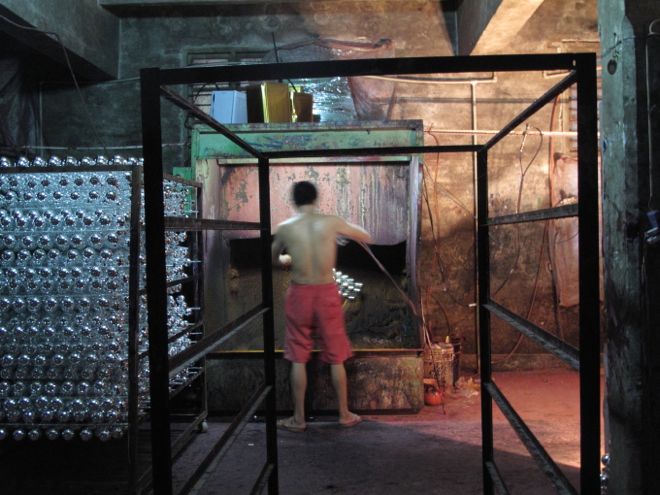 ___________
THE KID Do You Believe in God? (2013)
Half-Dutch, half-Brazilian, THE KID (1991) is a self-educated contemporary artist who questions restlessly since his early teenage years the notion of social determinism and the thin frontier between innocence and corruption.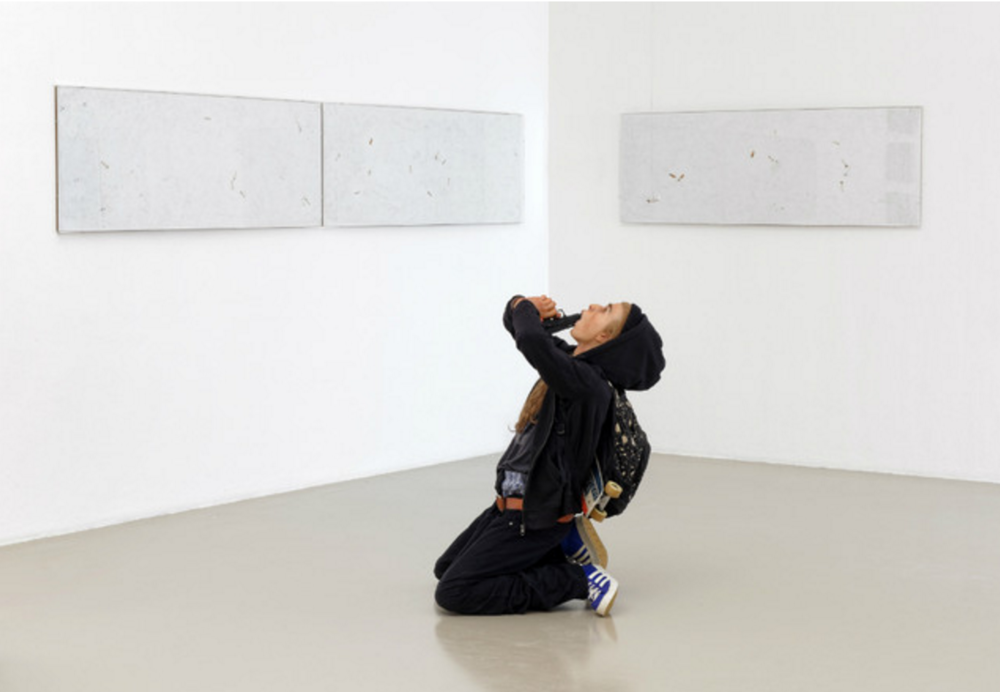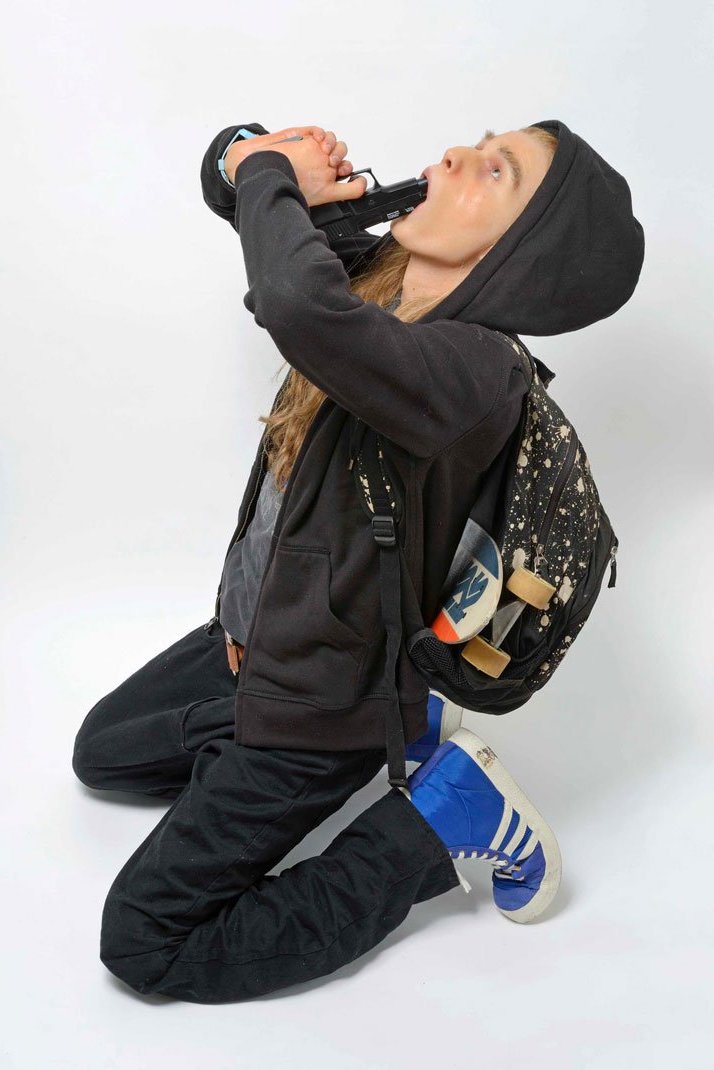 ___________
Tavares Strachan Me and You (North Pole Ice and Cloned North Pole Ice) (2016)
Bahamas-based artist Strachan brought back a chunk of ice from the North Pole and had MIT scientists create a clone of the ice with its identical chemical composition.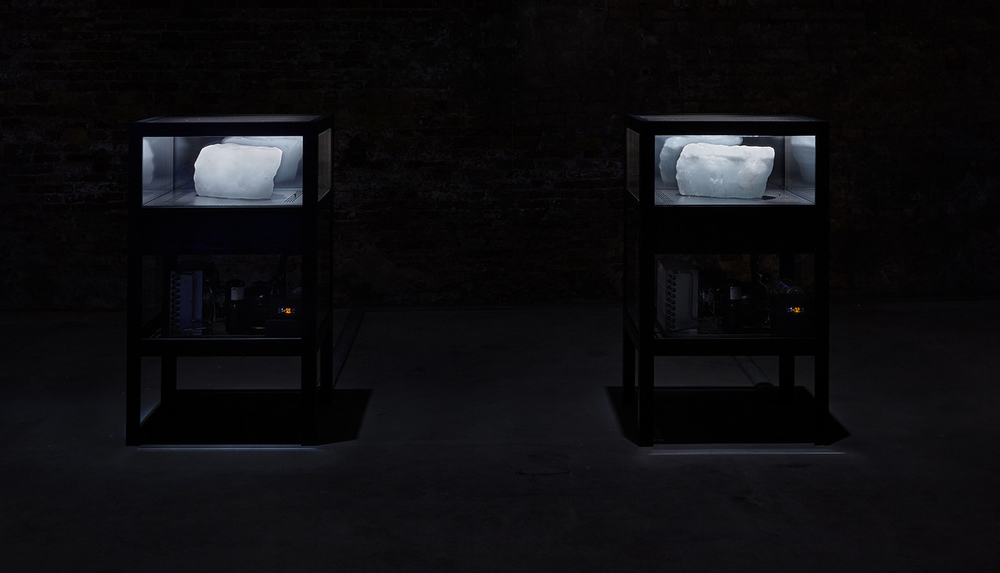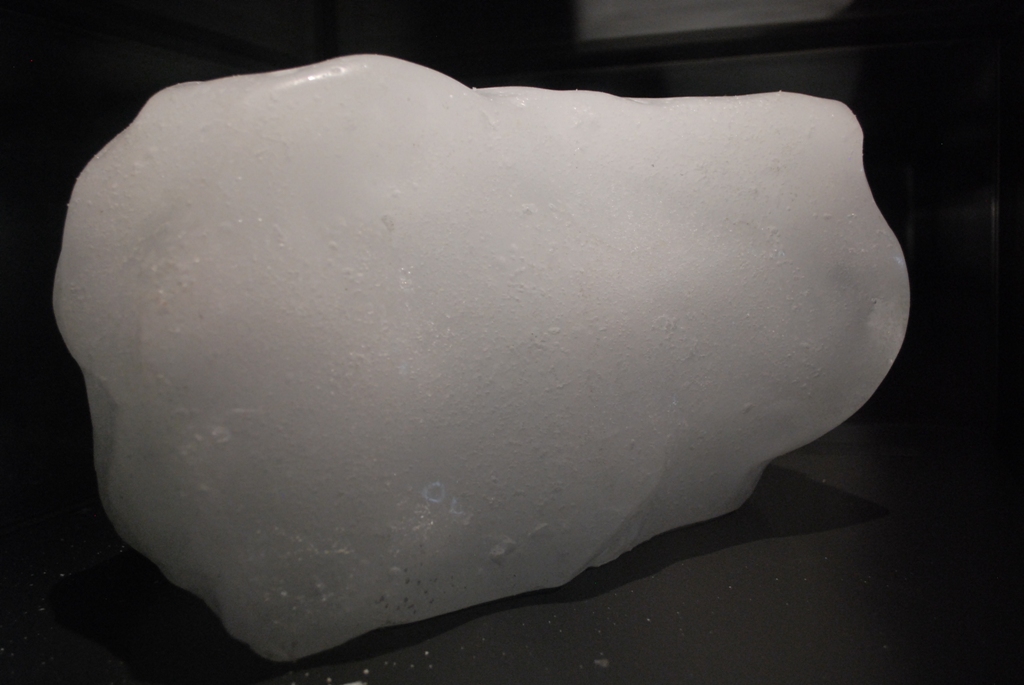 ____________
Roman Signer Room with Christmas Tree (2010)
Roman Signer presents one of his "action sculptures" Zimmer mit Weihnachts Christmas Tree (Room with Christmas Tree) (2010), a decorated tree spinning on a motor that causes its ornaments to fly off and smash against the walls.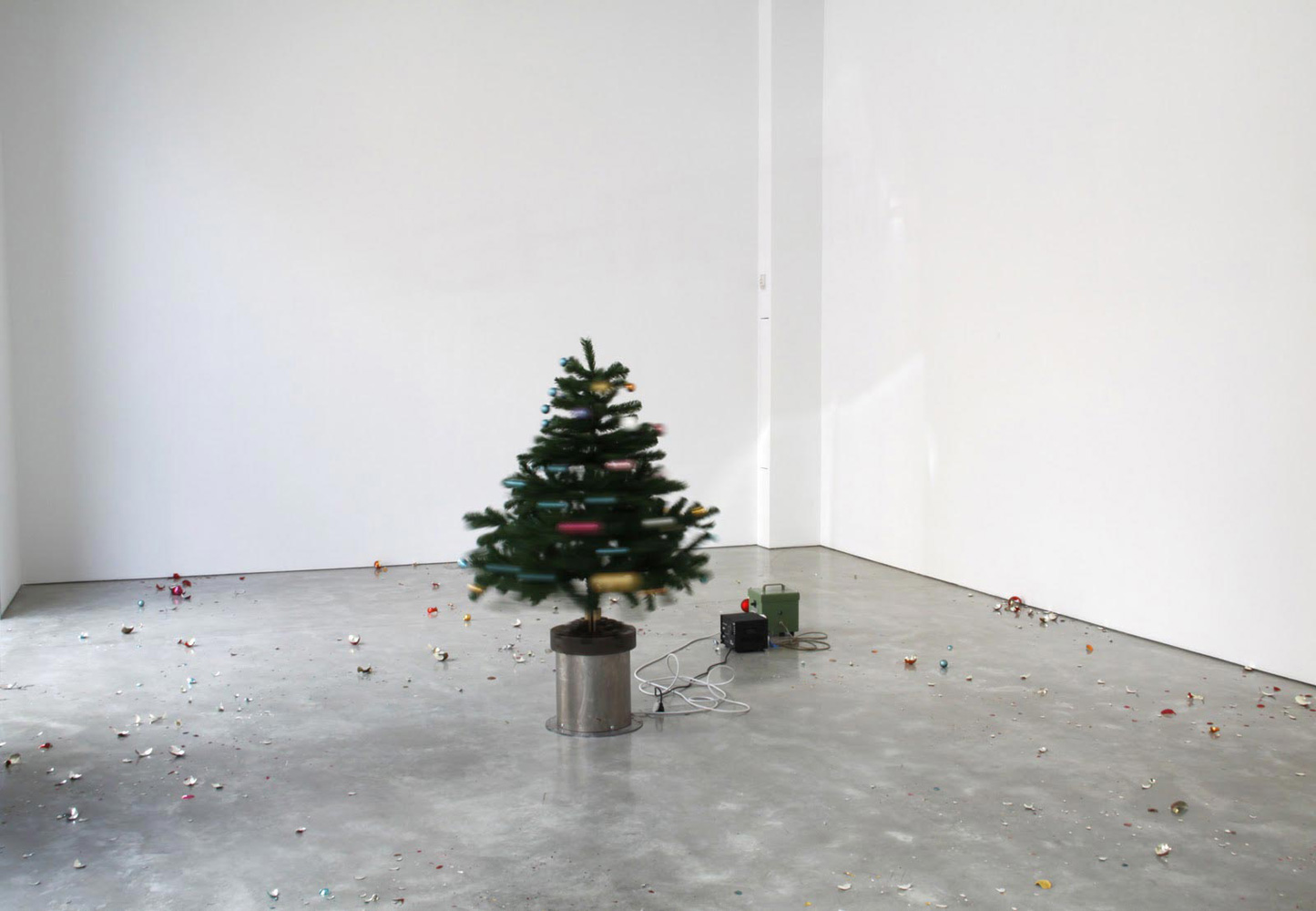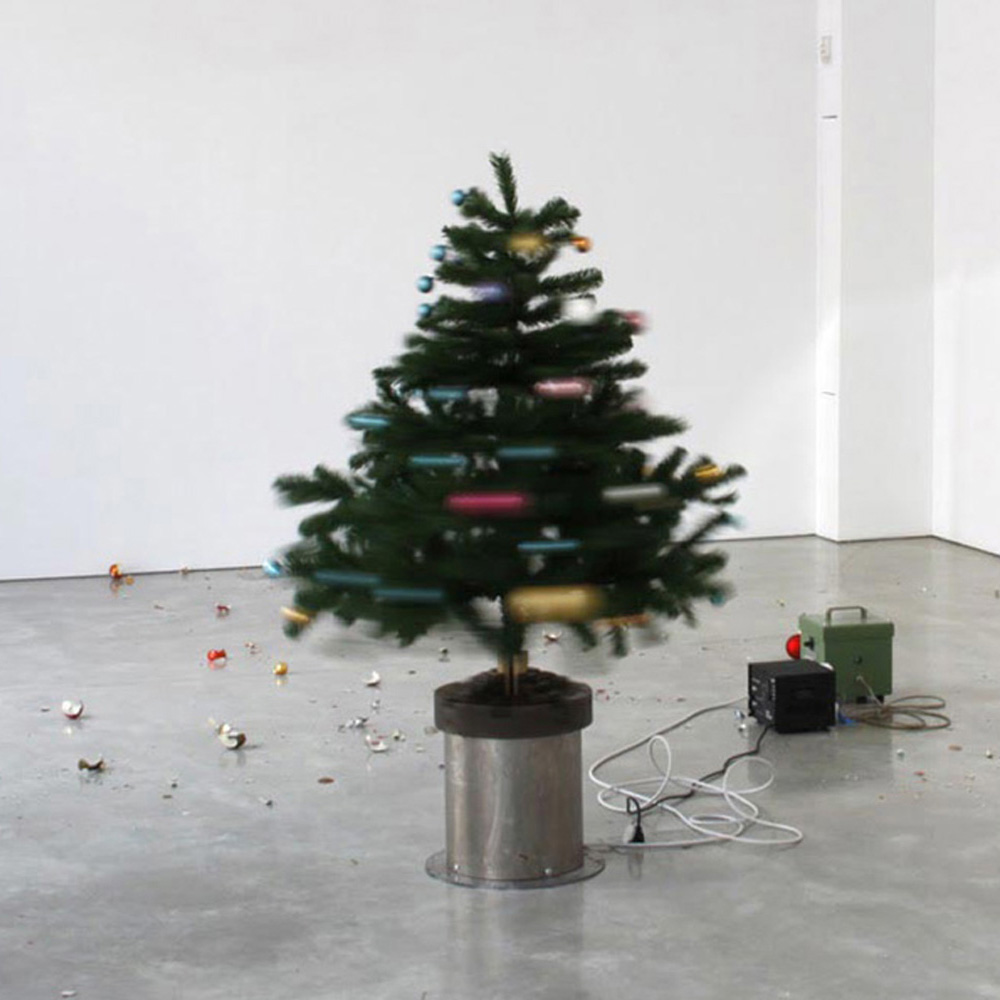 _____________
Debbie Reichard Santa Appears in Toast (2006)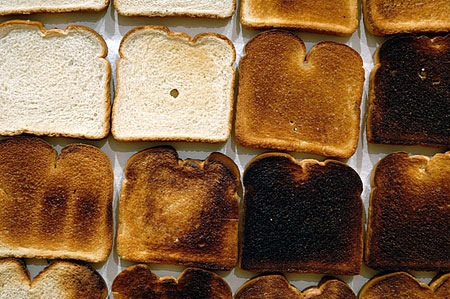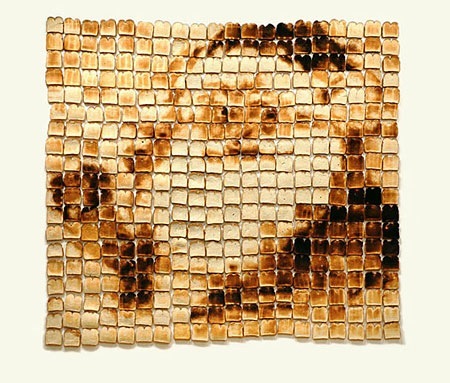 ____________
Jessine Hein The Teeth of Jesus (2015)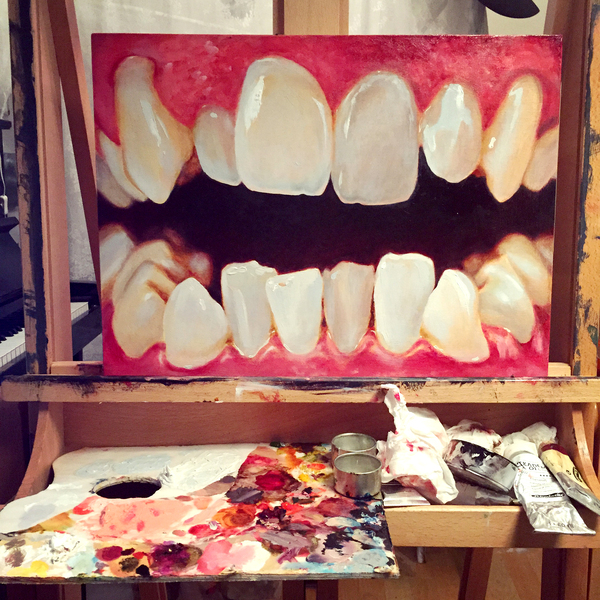 ____________
Olafur Eliasson Your waste of time (2013)
Eliasson's display, titled Your waste of time, is made up of pieces of ice that have fallen from Iceland's largest glacier, Vatnajökull. The ice chunks chosen are estimated to be about 800 years old. These chunks of ancient ice are currently on display at MoMA PS1's EXPO 1:New York exhibit where they are being kept in a refrigerated room. Despite the display's theme of environmental awareness, critics point out that it requires a great deal of energy to transport and preserve the ice. Regardless, the fragments of the Vatnajökull glacier represent the consequence of our ever-changing world.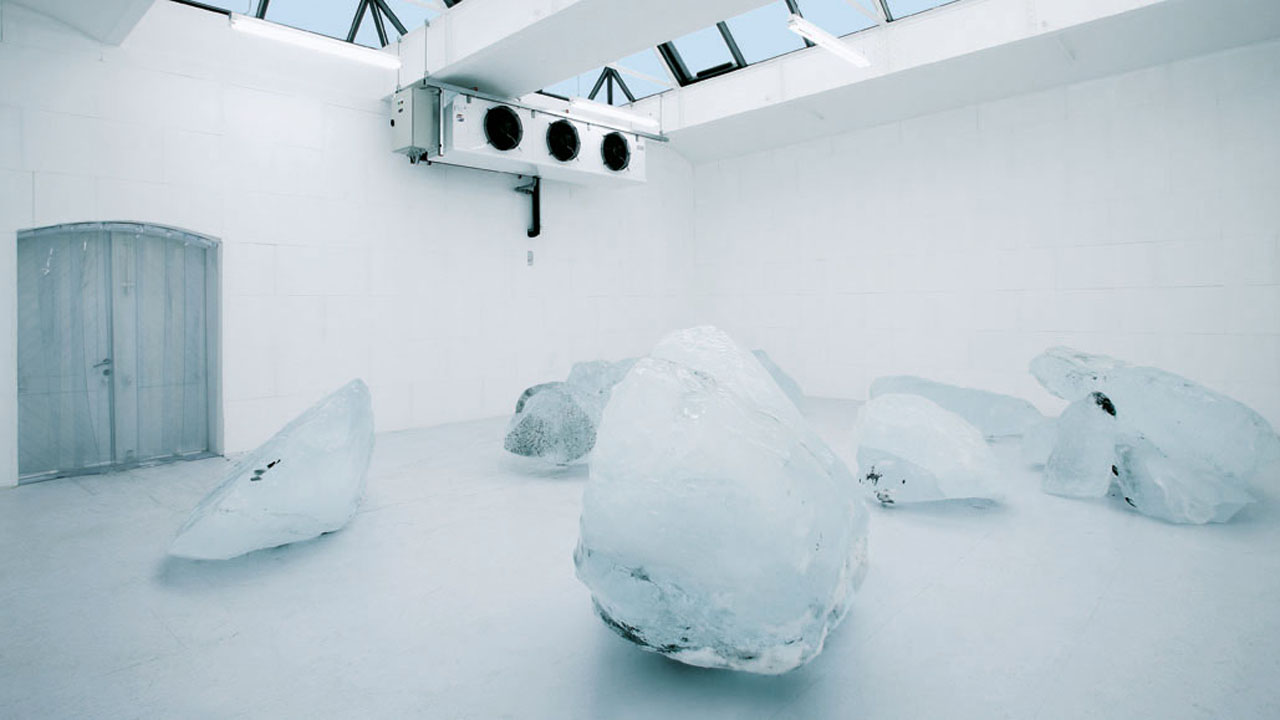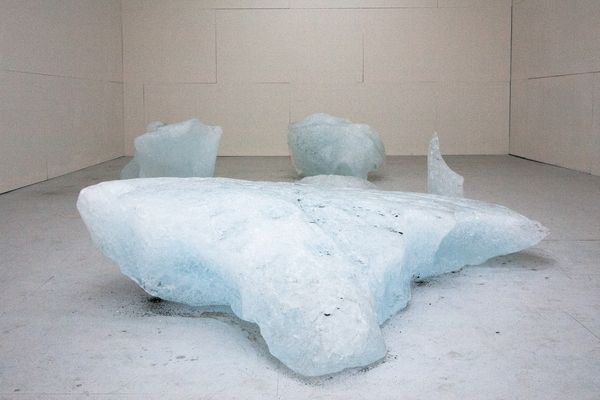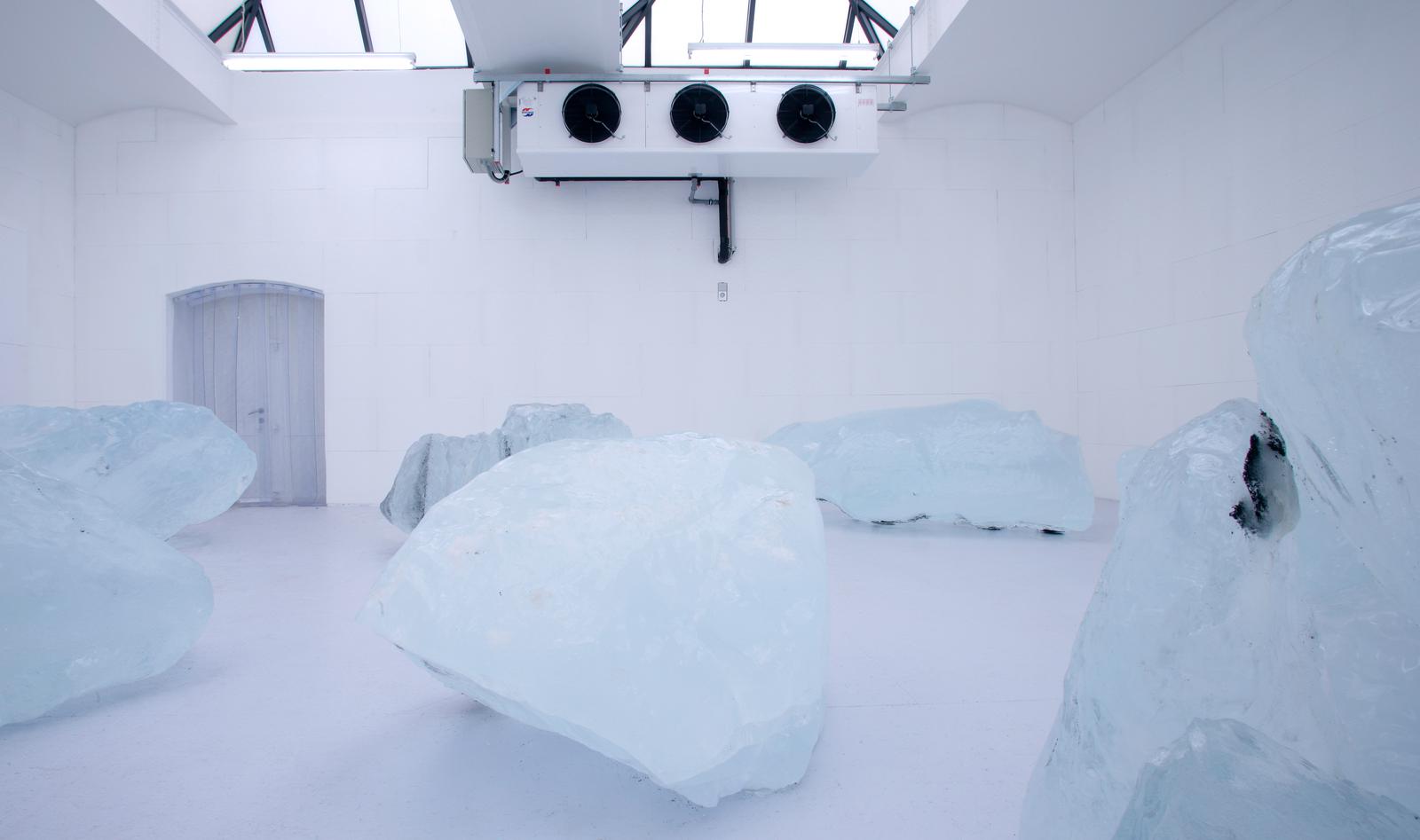 ____________
David Marx Kyl21 (2015 – 2016)
After three years in development, designer David Marx is debuting Kyl21, a vegan-friendly, alcohol-infused line of popsicles intended for adult partygoers. Marx's icy invention is the result of a collaboration with university scientists, a three-star chef, and a manufacturer of industrial nitrogen machinery with the goal of completely reinventing the form, function, and flavor of freezer pops. "In order to shape ice cream in such a unique and exact way, an ultra-fast production process had to be developed," says Marx. This involved creating new multi-part molds that could handle the tight tolerances that the designs demand, developing custom alloys with high levels of thermal conductivity, and creating a flash-freezing process for the liquid to prevent expansion.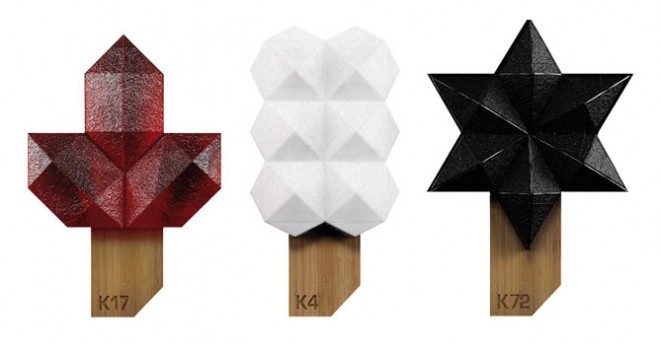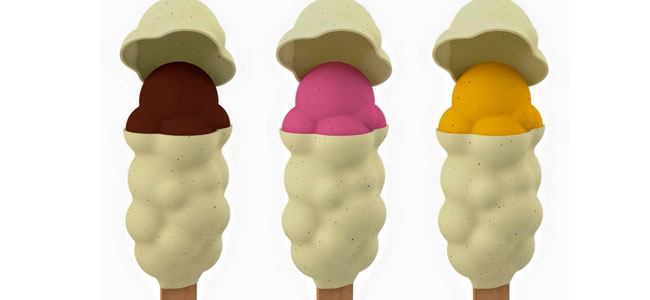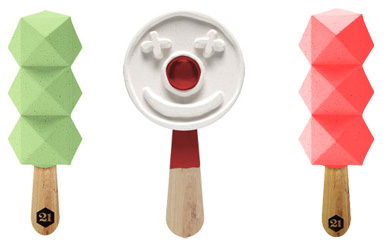 _____________
William Eggleston various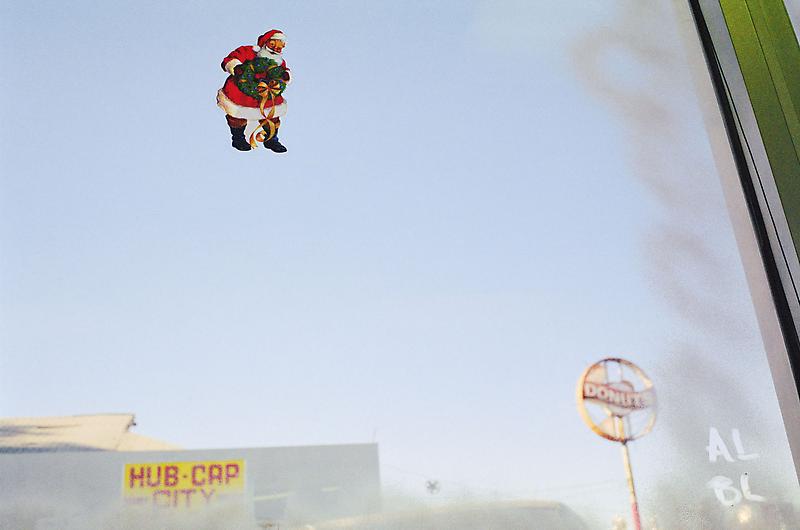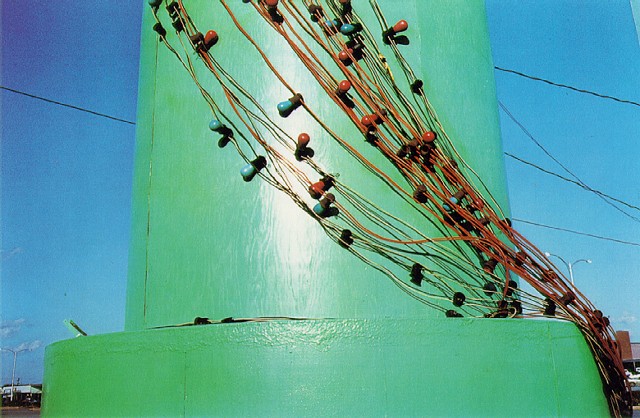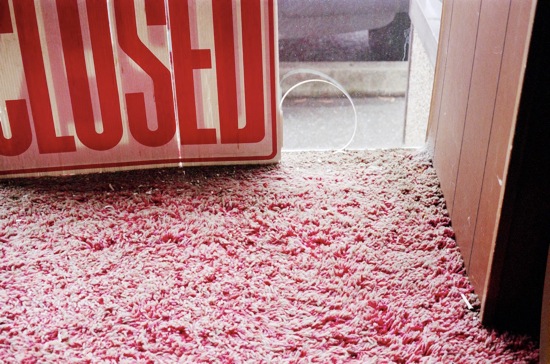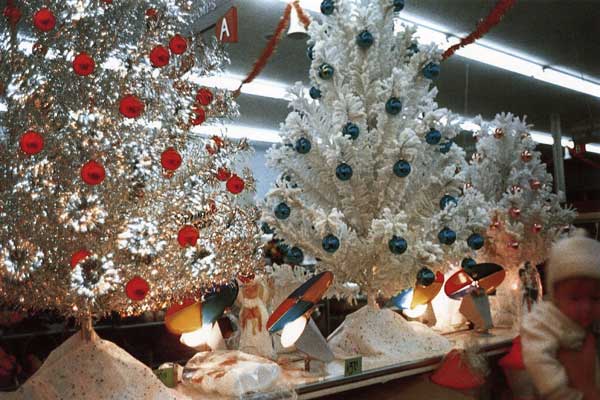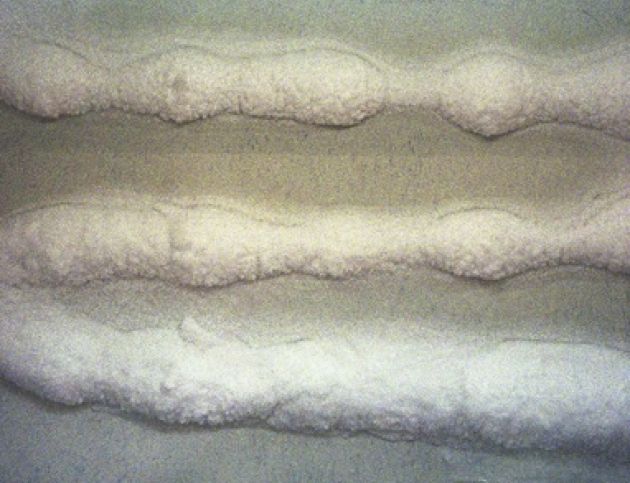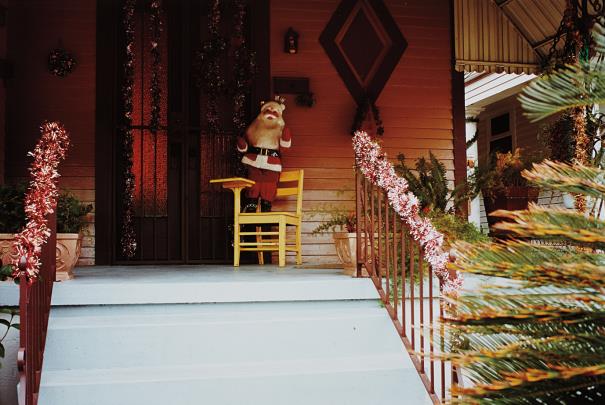 ______________
Erick Swenson Untitled (2004)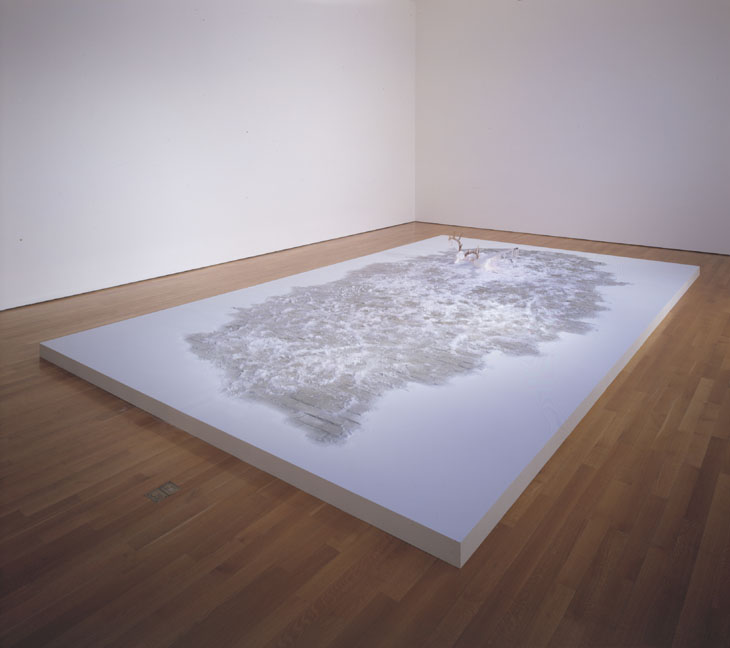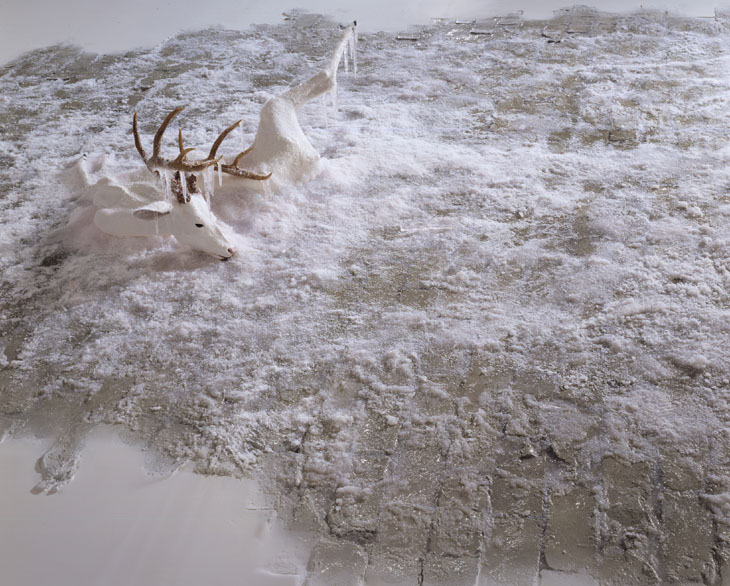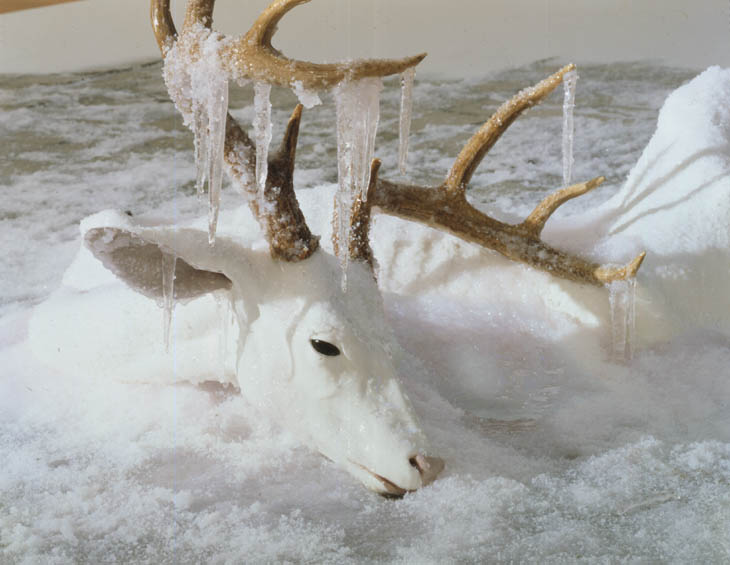 ____________
Walter Martin and Paloma Munoz Alone (2013)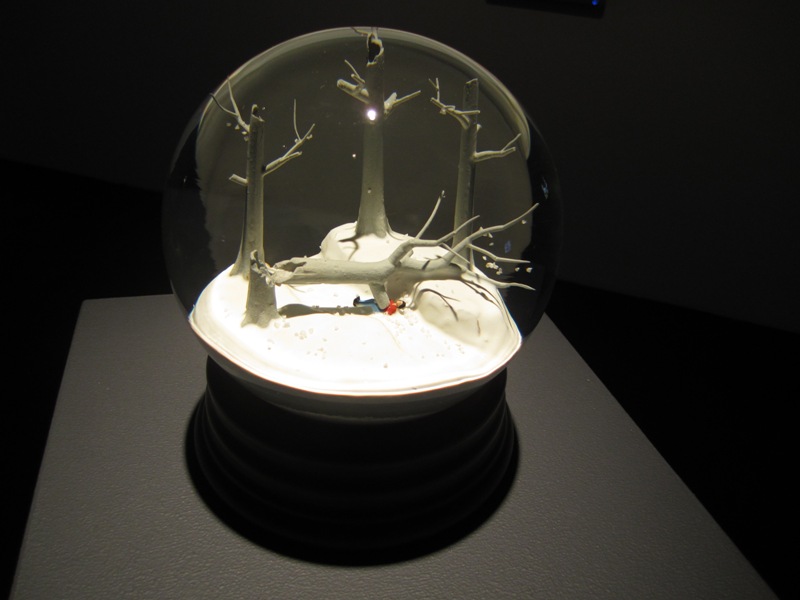 _____________
Ma Qiusha from Warm Snow (2008)
Ma Qiusha's 2008 work is like a momentary shelter for adults that soon vanishes.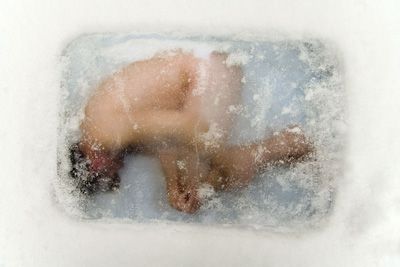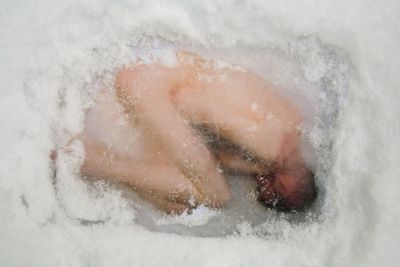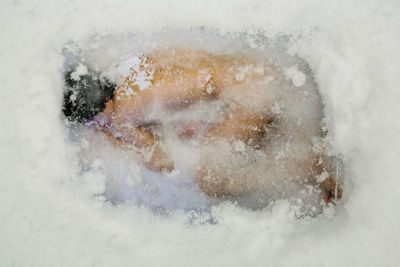 _____________
Arcangelo Sassolino Figurante (2010)
Steel, bone, hydraulic system, 29 ½ x 26 3/8 x 9 1/16 inches (head).
_____________
Jacques Flechemuller various
Jacques Flechemuller moved to Paris, with his family, early in life. It was here he first became aware of art through the monthly calendars that were given out by the local post office. Everyone had calendars with images of kittens, puppies and happy family settings hanging in their kitchen. He looked forward to each new month and its accompanying image with blissful anticipation. This was the foundation for his awareness in the power of art to elicit pure joy. When it was made evident to him that these images, in fact, were not art, he was devastated.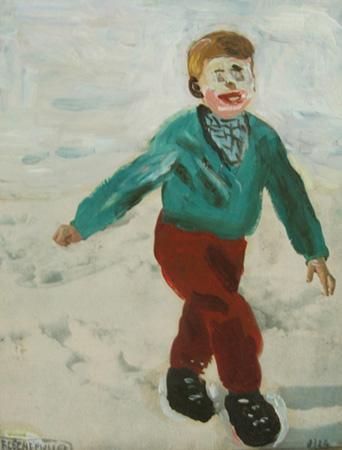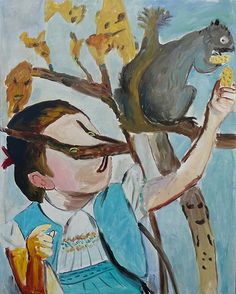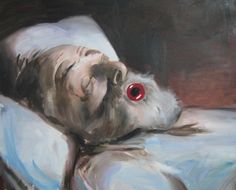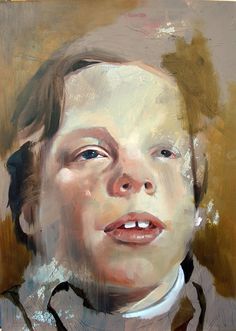 ______________
Paula McCartney from A Field Guide to Snow and Ice (2008-2011)
I've always been interested in constructed landscapes. This project differs from my last one, Bird Watching (in which I placed craft store songbirds in the landscape and photographed them), in that all of the elements in the photographs are natural. However the images don't accurately document an actual landscape, but rather present elements that I have subtracted from it. I think a viewer would have difficult time finding the scenes that I've photographed. The photographs reflect how I want to see the world rather than how it actually is. The construction in this series lies in the suggestions that I am making through juxtaposition and sequencing.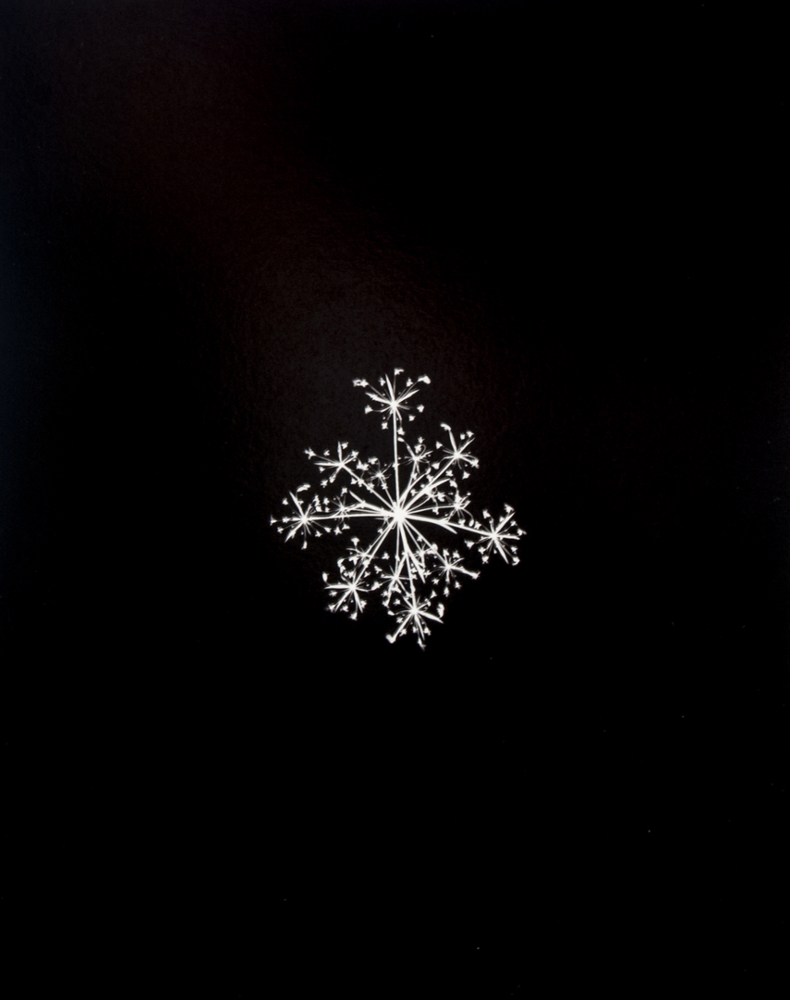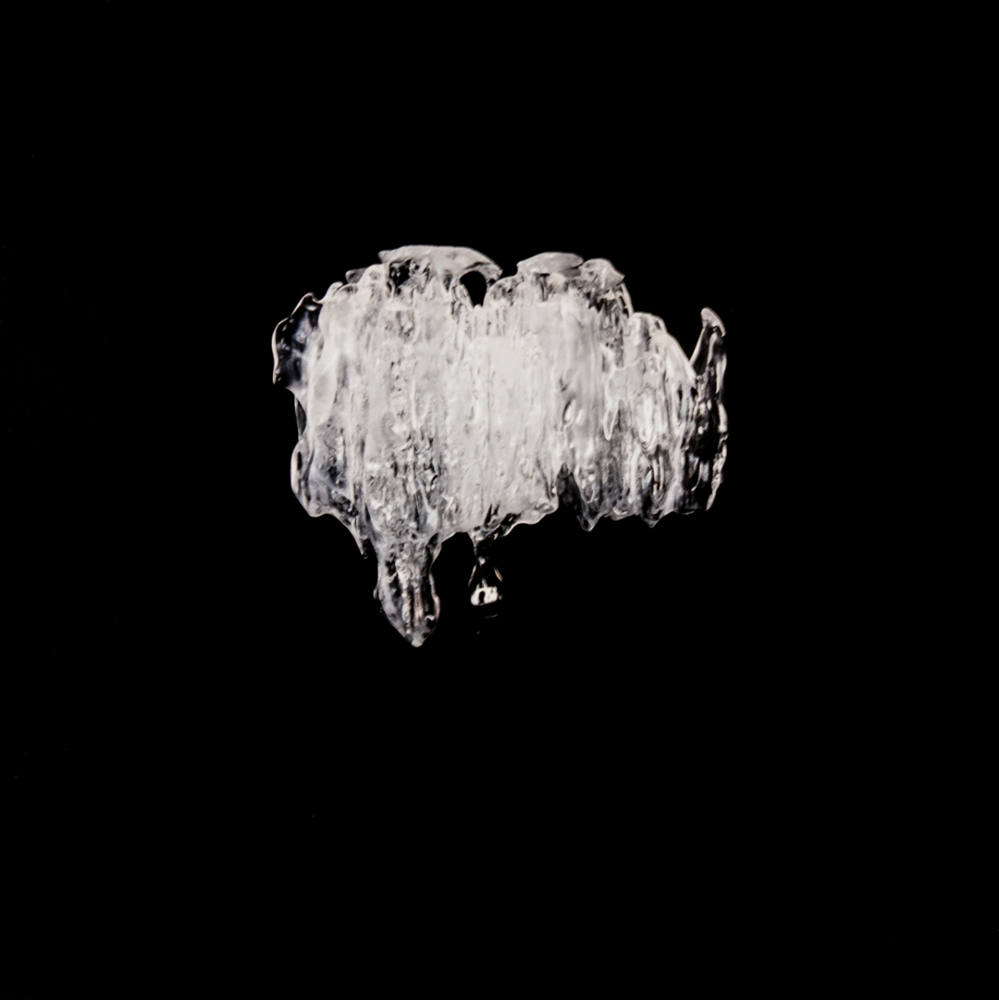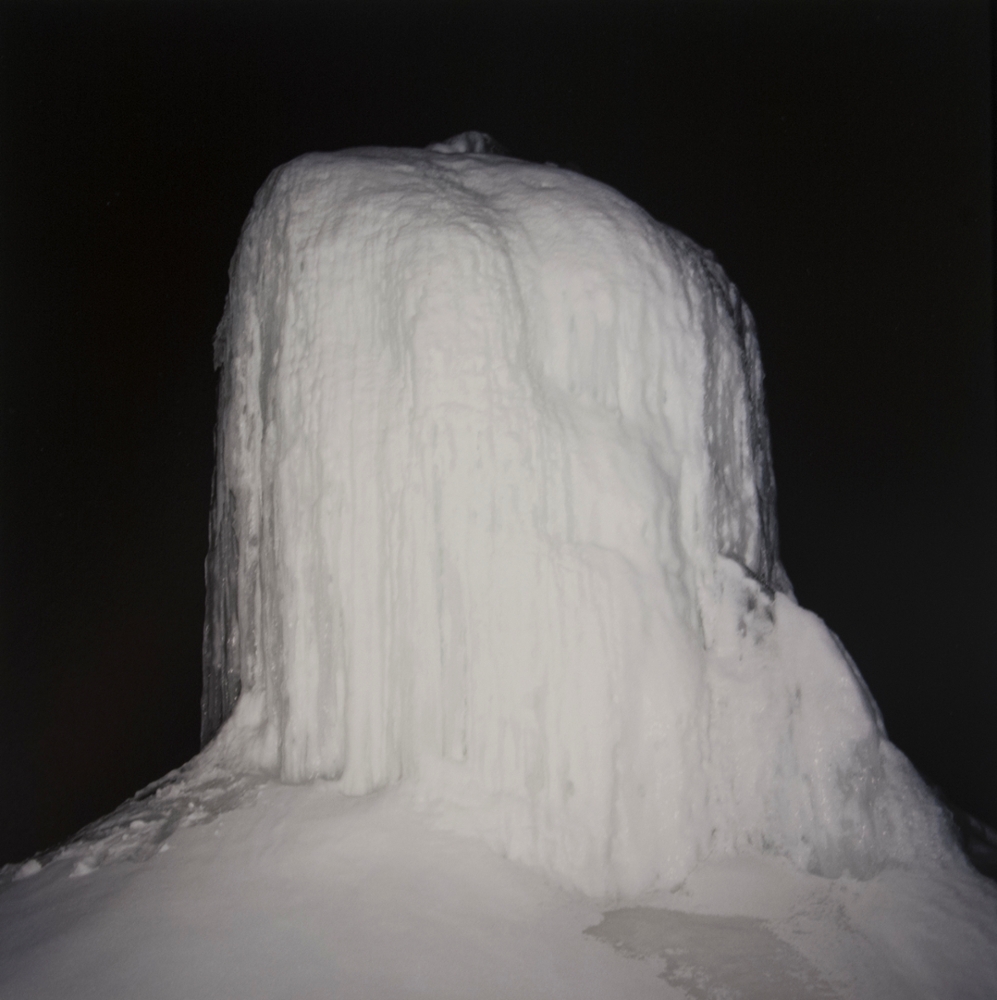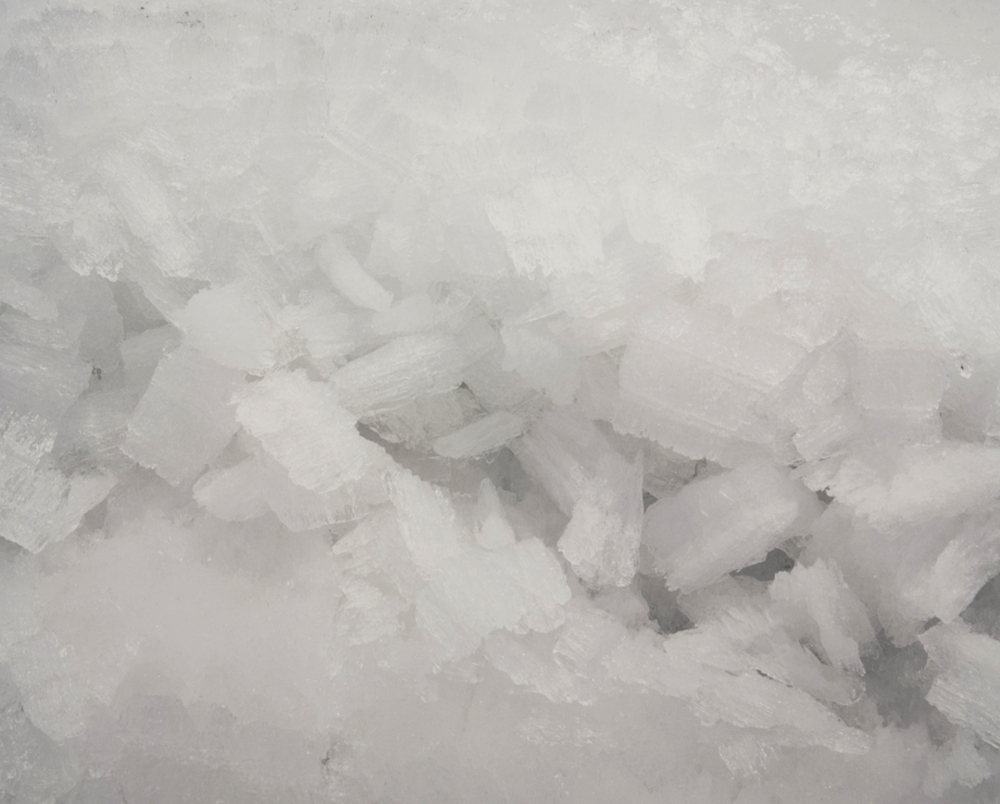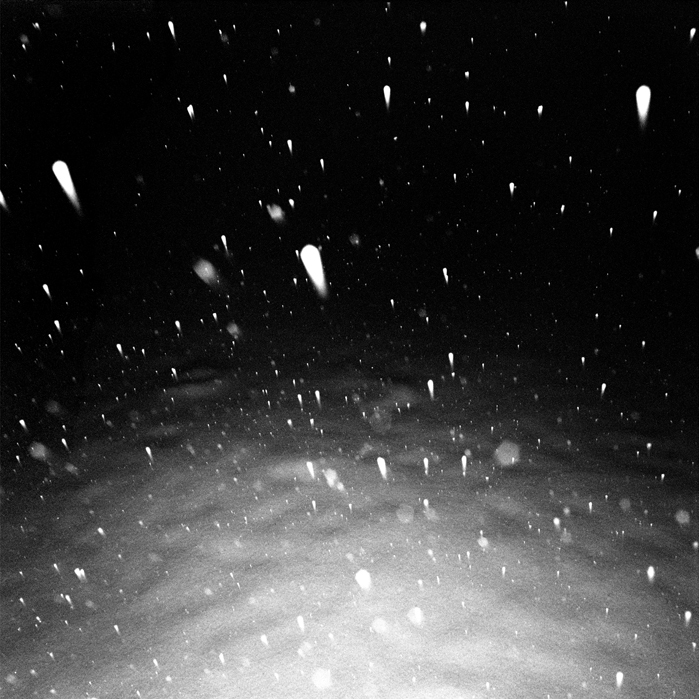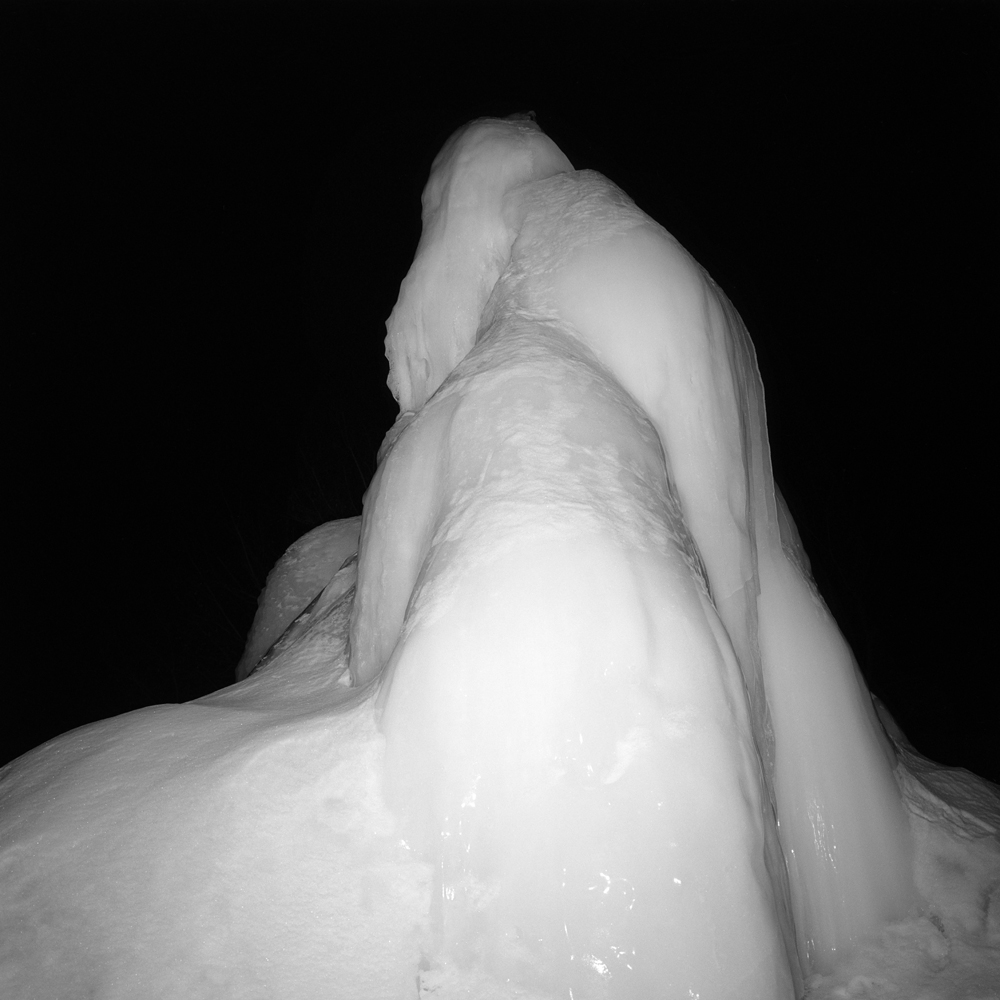 _____________
GameGrumps Rust: Christmas Carols (2014)
Rust is a multiplayer-only survival video game in development by Facepunch Studios for Microsoft Windows, OS X, and Linux. Rust was originally released onto Steam's Early Access program on 11 December 2013. Rust was initially created as a clone of DayZ, a popular mod for ARMA 2 with the addition of crafting elements.
_____________
Alison Moritsugu Logs (1998 – 2001)
In her log paintings, artist Alison Moritsugu chooses a literal meataphor—the remains of downed trees—as a canvas for her bucolic oil paintings of the countryside where that very tree may have once originated. The rough edges of the cut branches and trunks appear like windows into the past, telling a story that the tree's rings alone cannot.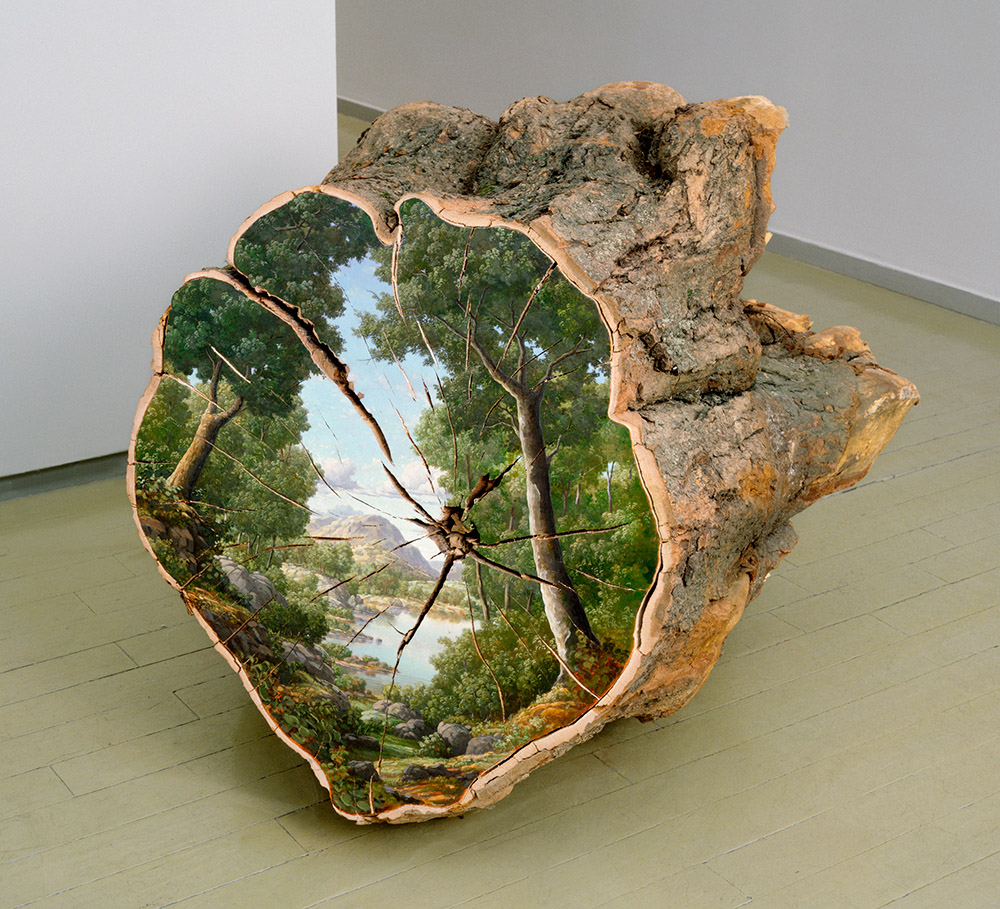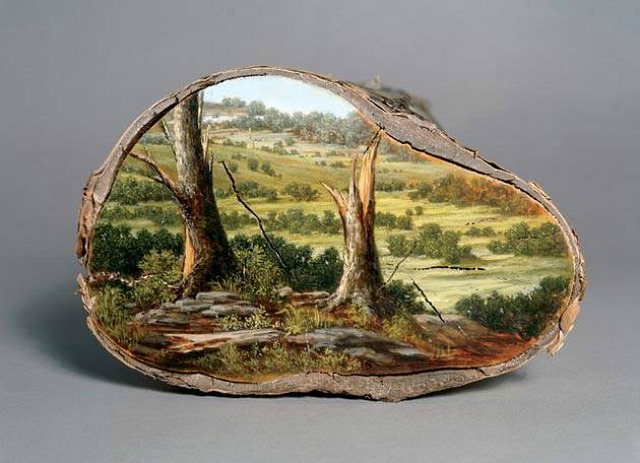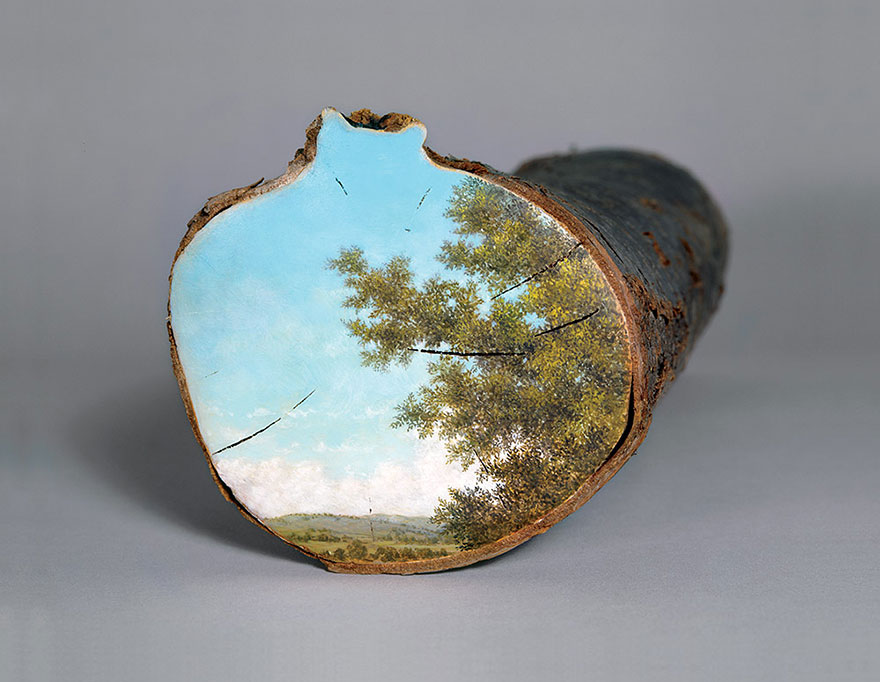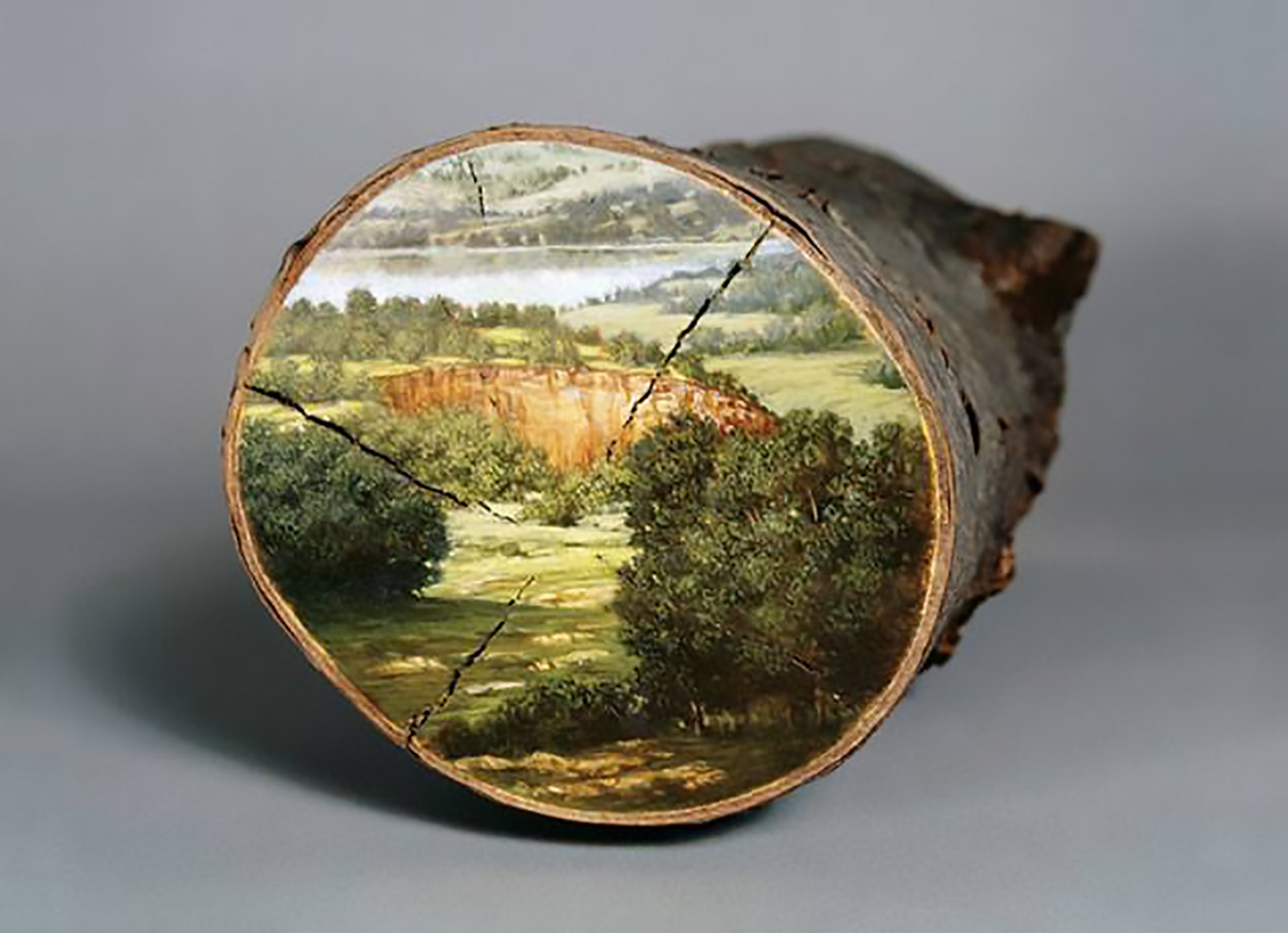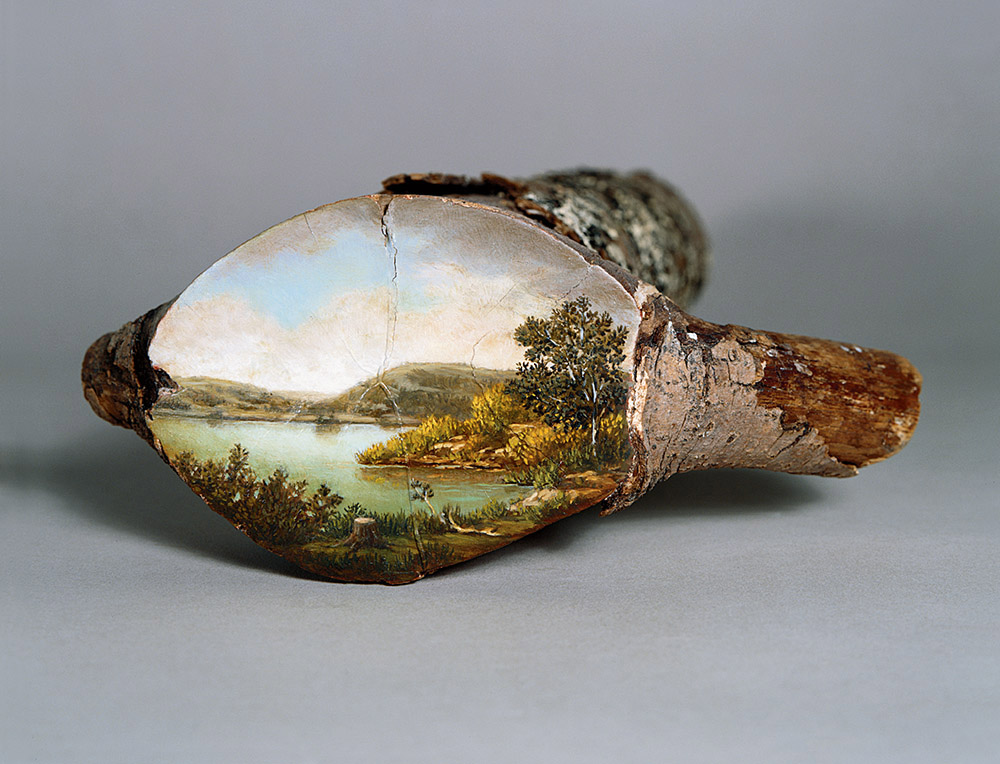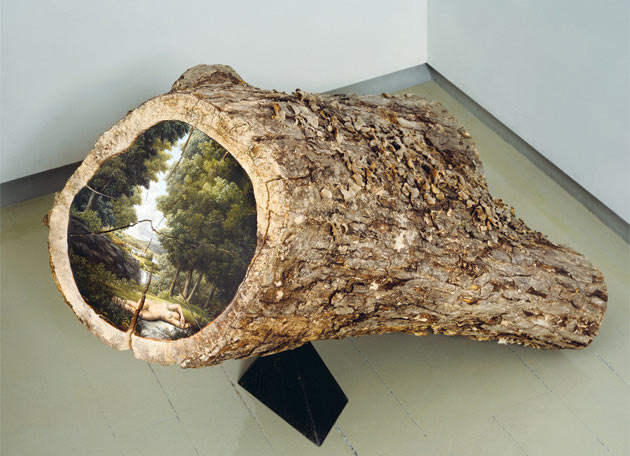 ______________
Unknown 3 Xmas trees (?)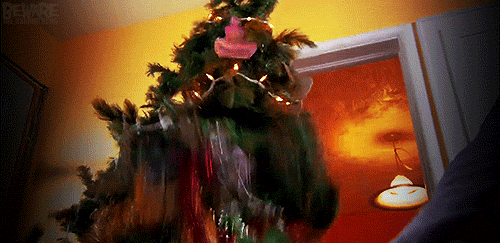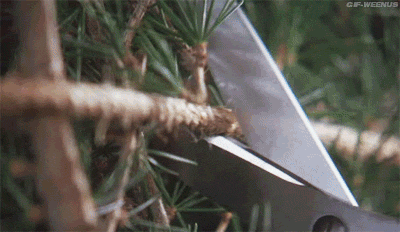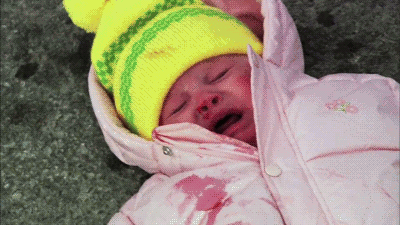 ____________
Chen Wenling Cold (Red Memory) (2007)
The "Red Boy" is welcomed by Xiamen residents. "Red Memory" made Chen Wenling famous. It is show that Chen Wenling only regards the creation as the expression of his life originally. In that sterile world, the emaciated bean sprout like boys, may be are in hypoalimentation but they also have their own joy and sorrow. One exhibition of those boys held on the Beach of Xiamen Sea. With the sunshine, the beach, and the waves, some red boys diving into the sea, some cold to tremble with their arms circled, and some brave boys are handstand happily, and some feel shamed, covering their little genitals with hands.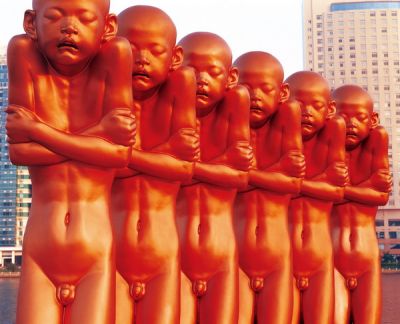 _____________
Norton Maza Untitled (2013)
A sculpture made by Chilean artist Norton Maza is displayed in an exhibition called "The Landscape and its Kingdoms" at the Contemporary Art Museum in Santiago October 2, 2013. The exhibition strives to portray Jesus Christ besieged by missile air strikes.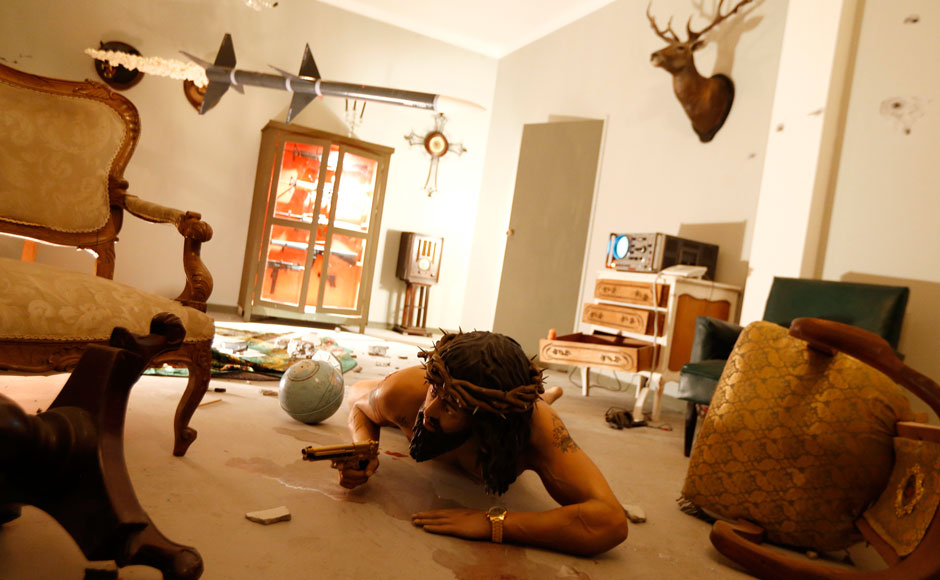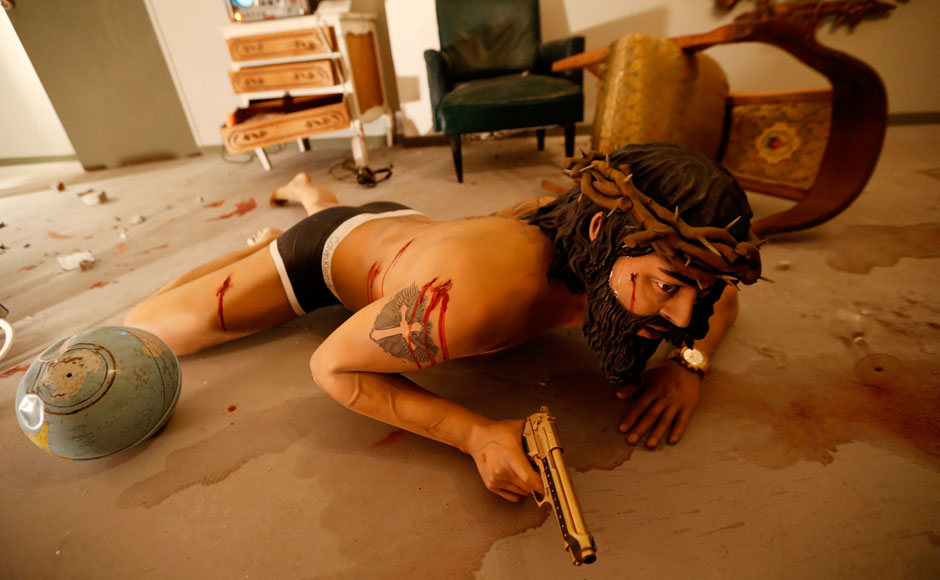 _____________
Andy Mattern Driven Snow (2011)
Driven Snow is a series of photographs that focuses on the chunks of snow and ice that accumulate under cars during the Minnesota winter. A byproduct of weather and urban transit, these solid formations are a kind of temporary automatic sculpture somewhere between natural and human made.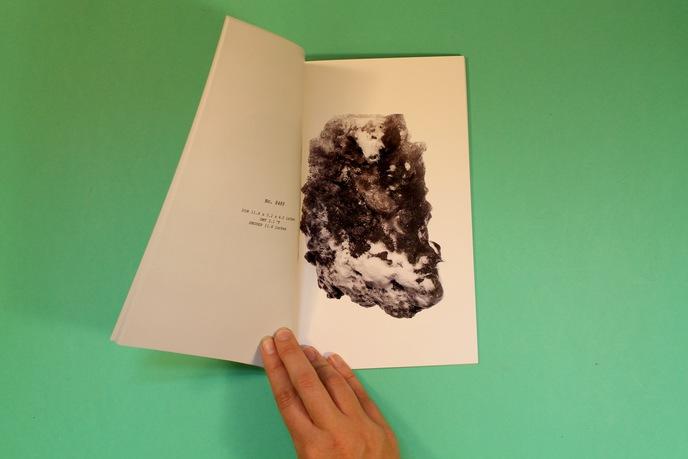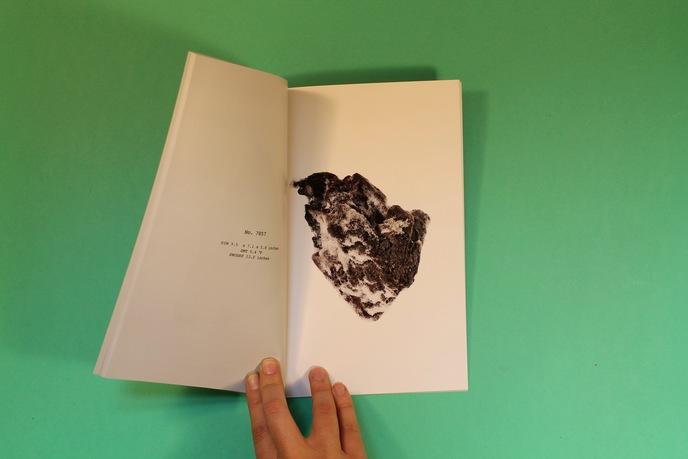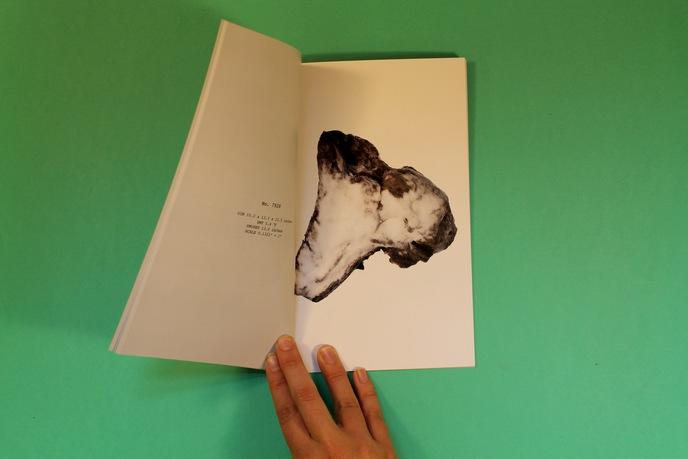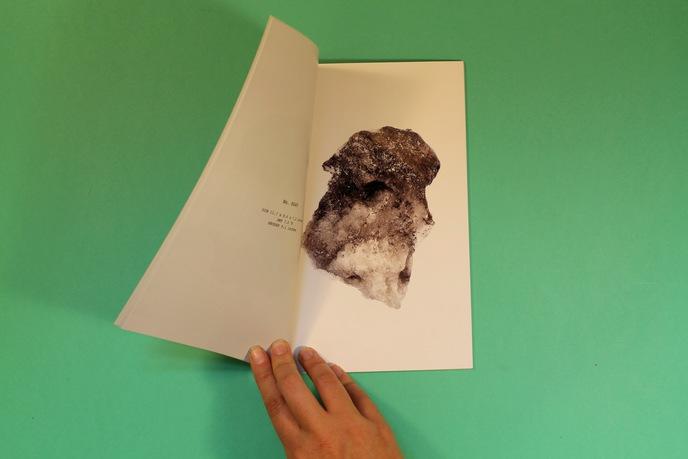 _____________
Low If You Were Born Today (Song for Little Baby Jesus)
If you were born today / We'd kill you by age eight: "If You Were Born Today (Song For Little Baby Jesus)" is a 7″ single by Duluth, Minnesota slowcore group Low, released in 1997. The song appears on their EP Christmas.
____________
Cameron Jamie Kranky Klaus (2003)
Kranky Klaus forms part of a series of documentaries in which Cameron Jamie records European and American folk rituals. To his amazement, the director found out that while the Western established order of art may make room for an extensive examination of the folklore and ritual heritage of former colonies, the own history is being neglected. Kranky Klaus is in its form an 'objective' registration, although it often comes about in the middle of the action, of the so-called Krampus ritual in Austria. Men in hairy suits with large teeth and imposing antlers go from door to door around Christmas to chase and attack people as Krampus demons. They are in the company of a Saint-Nicolas-like figure who then calms the people down. The ritual dates back to heathen pre-Christian customs that preceded today's less aggressive but totally commercialised Christmas activities. Krampus forms a kind of strange combination of Christmas and Halloween. To his observations of this striking annual phenomenon, Jamie adds a soundtrack by The Melvins, the controversial rock band from the Seattle area. Their long and loud chords put the typically Austrian event in a very electronic frame that has nothing to do with Christmas, but refers to an American street culture that also has its own rules.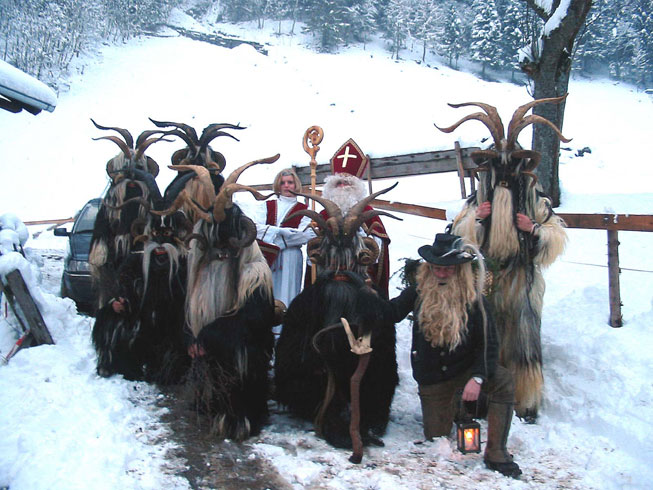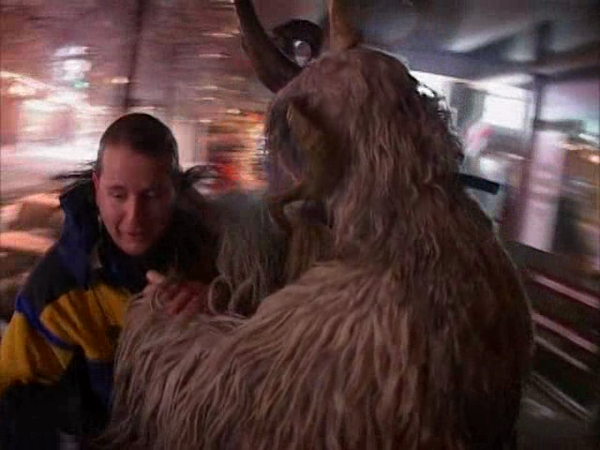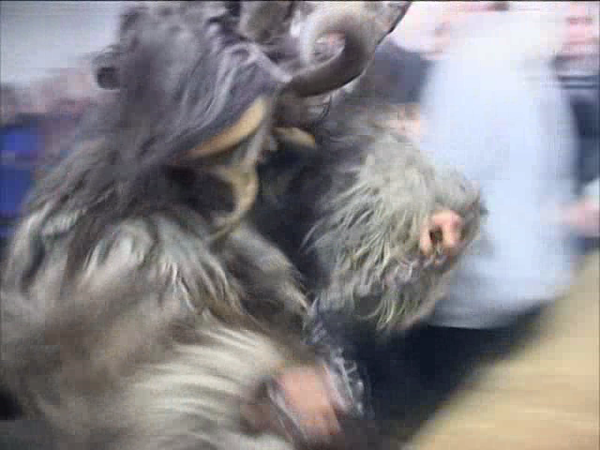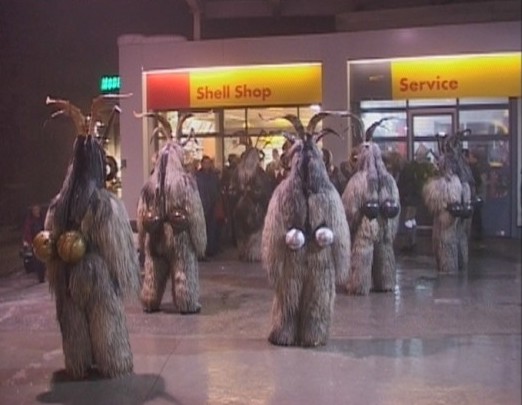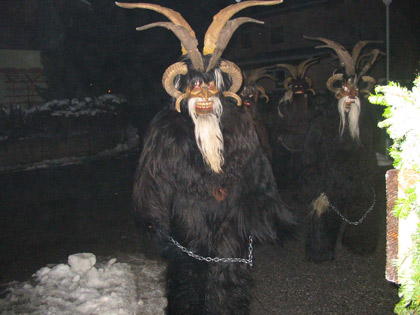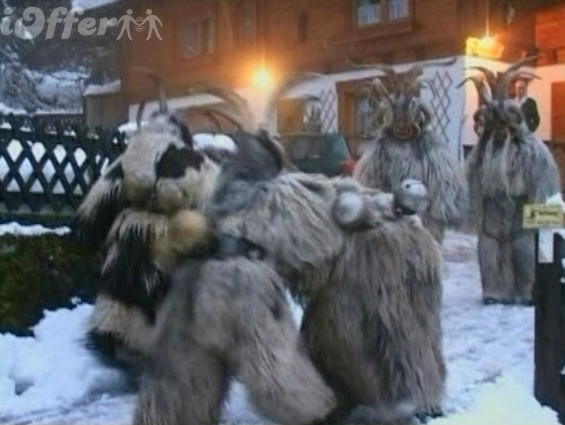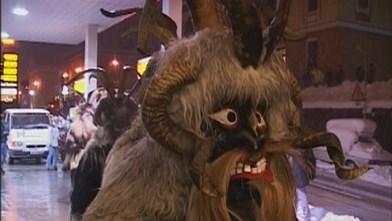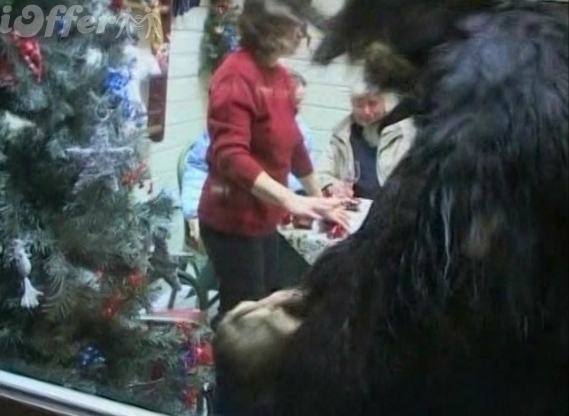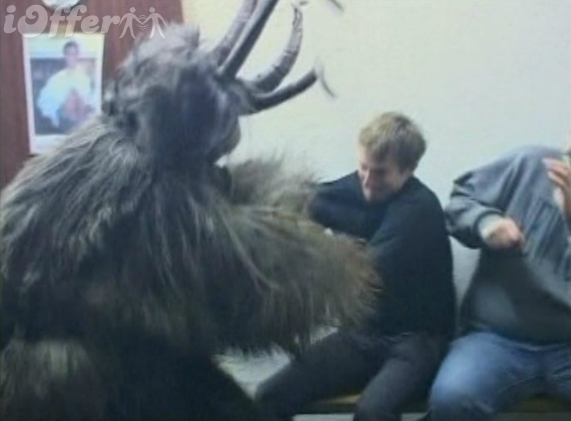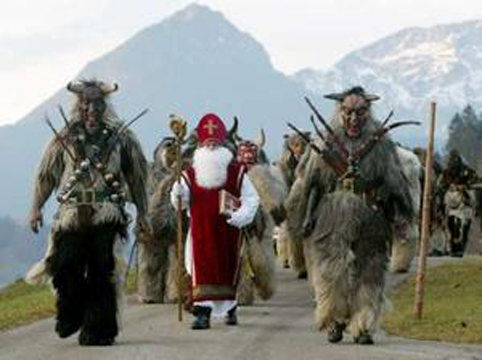 ____________
Lutz Bacher Snow / Hands (2012)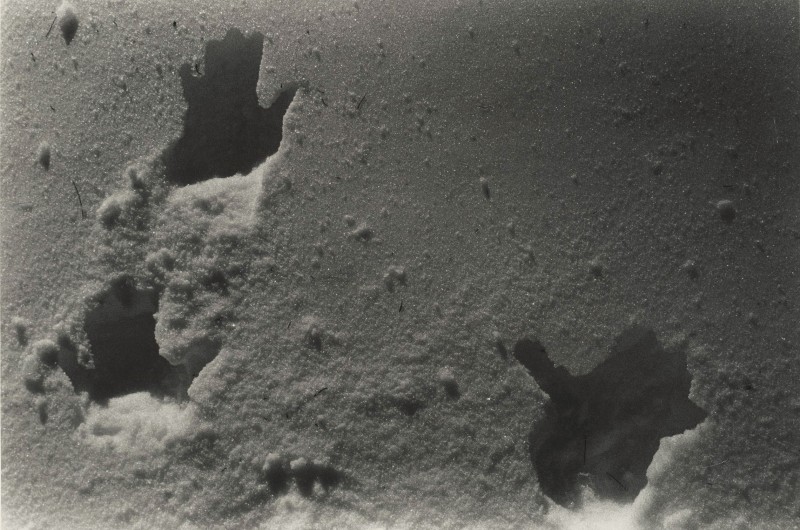 ____________
Makoto Azuma Iced Flowers (2015)
The self-described botanic artist Makoto Azuma is trying to change the way we look at flowers. He's used water and the stratosphere as backdrops for his exotic flower arrangements but now he's experimenting with ice. In his latest exhibition "Iced Flowers," Azuma locks floral bouquets in large blocks of ice and displays them like pillars. Placed in an inorganic chamber, the "flowers will show unique expressions that they do not display in everyday life," says Azuma. The installation, held last week in Japan, was temporary by nature but the artist made sure to preserve the images.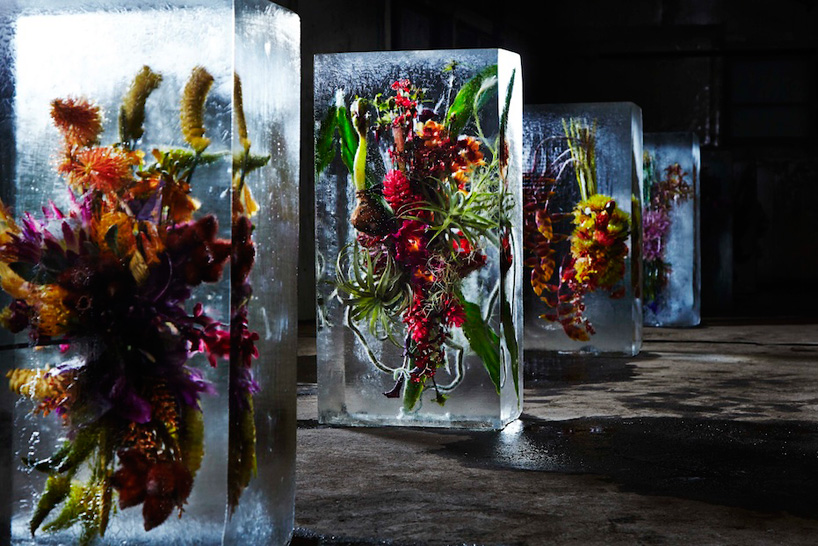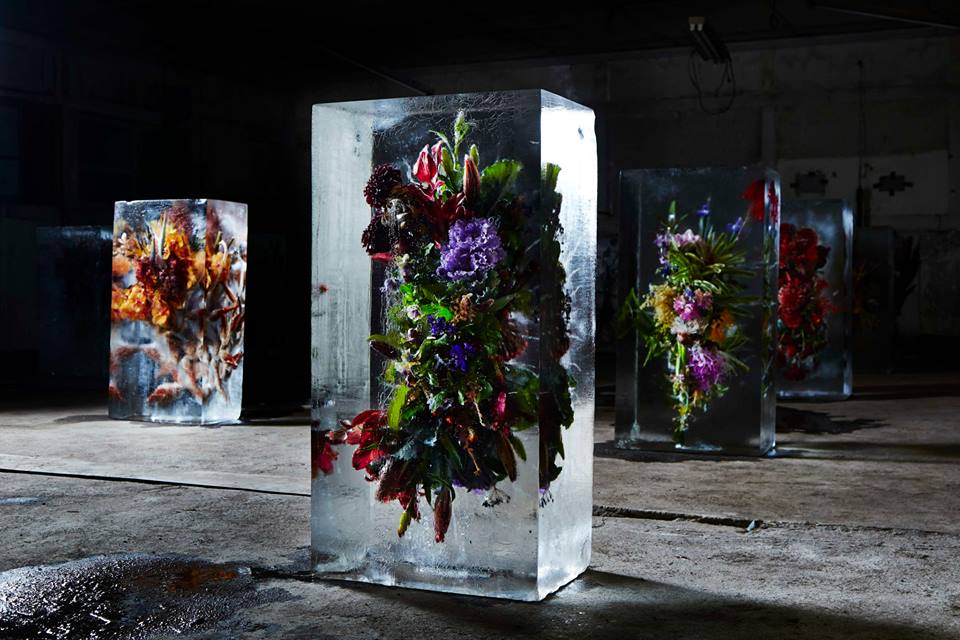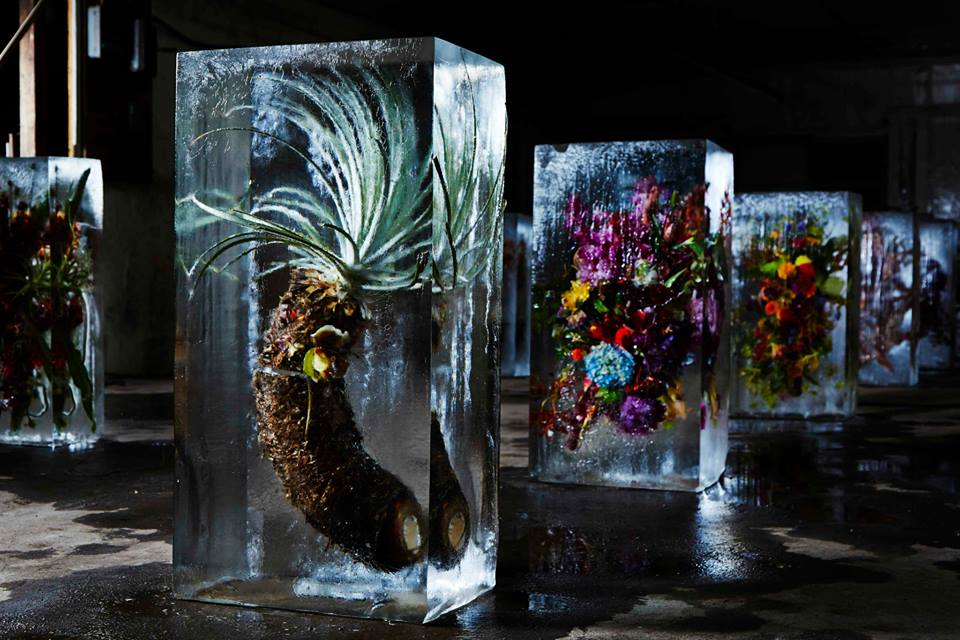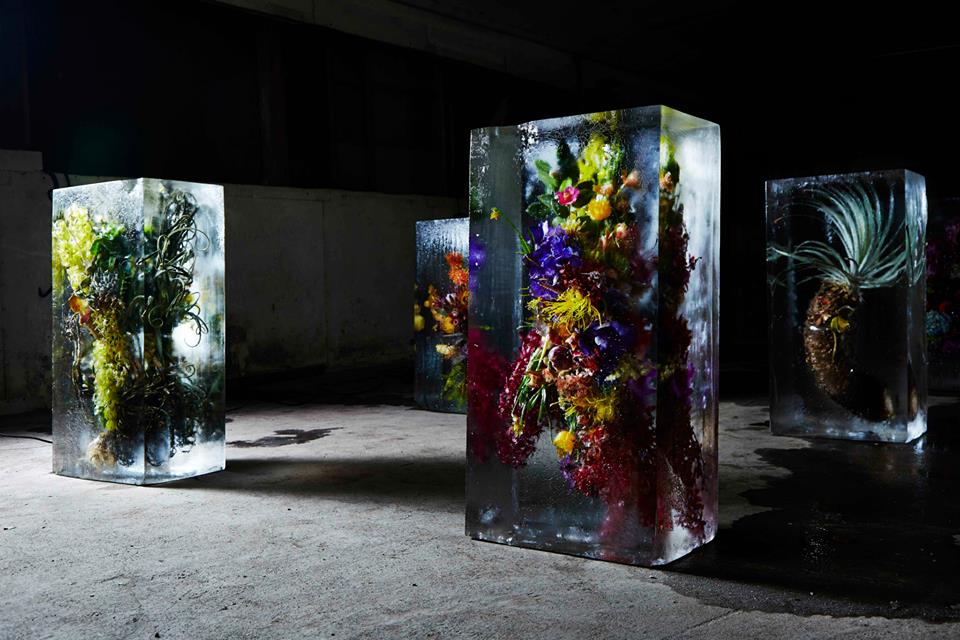 *
p.s. Hey. You eagle-eyed people will remember the Halloween-themed group show that curator Kristen Schull made in my galerie a little while back. She recently asked if she could put on a similar Xmas show, but this time with me as her co-curator, and I accepted both the gift and the challenge, and up there is the result of our separate but consensus-built tastes. Hope it's a pleasure, and thank you a lot, Kristen!  ** Ferdinand, Hi. Belgium, nice. Where? And obviously cool about Amsterdam. It'll be at its coldest and most bleak, but that can work.  **  Liquoredgoat, Hey, Douglas.  It's very good, for sure: Grant's book. I saw that about your chapbook! Congrats, man! That's very exciting for, well, everybody! Any guest-posts you think up will be welcomed like a liberating army. Thank you!  ** TomK, Hi, Tom. Thanks re: my tiny Twombly diatribe. If I could find a venue that would let me write sentence-length reviews, I might just return to that fold. I'm obviously getting your friend's label's compilation today since, as you know, it's utterly up my alley. Everyone, Here's Tomk with a suggestion/offer that at least some of you won't want to miss. Here he is: 'Also, my friend Matt's record label in Japan (Disktopia)is giving away a free/pay what you will compilation this month. The stuff he does and puts out is pretty great and not at all easy to classify and they were profiled by Wire magazine not so long ago. Anyway Here's the link for anyone into dispersive electronica.' ** Joakim, Hi, J!  I'm happy that my very fitting words felt kind, but they were the uncensored truth, bud. Yes, they have a kiddo ready to pop or ooze or whatever out literally any day or even hour. It's intense. Twins, that's exciting. Oh, cool if your friend's Paris place is available. Otherwise, we'll sort something out. Yes, you and Zac definitely need to meet. He already knows a bunch about you from me. We did have a really great time with Eli when he was here. I miss him. Obviously, your fanzine project sounds super interesting, and I hope it gets real. Oh, I'll think about contributing. Hm. Interesting, let's talk, and thank you. Aw, and thank you for tributing me. I mean, I don't need to approve of it at all, but I will if you want me to. It's so sweet and inspiring to get to talk with you again, my dear friend!  **  New Juche, Man, 'Gymnasium' is really, really beautiful and great! I think it might well be my favorite work of yours that I've been privileged to experience so far. It's really something! I'm going to be spending a lot of time with it. Everyone, if you haven't yet downloaded New Juche's new pdf book 'Gymnasium', I very, very highly recommend you do. It's beautiful and brilliant and very singular. And it's free! Seriously, go get it here. ** Bill, Hi, B-man! I assume Xmas will, if nothing, else give you an end. You're doing the very long distance holiday trip thing. How long are you staying there? Have you sussed out anything exciting going on there there in advance? Yes, the Ghostship is just unspeakably horrifying. Words fail. I knew Steven Arnold in LA, but I never saw 'Luminous Procuress', very strangely. How was it? ** Steevee, Hi. Actually, I'm always very impressed with how many really interesting films you manage to get Gay City News to let you review. So many gay-only sites and mags don't let their writers go off-topic at all. Dennis Lim does really good things at Lincoln Center, I think. He has quite adventurous tastes. I'm so very, very happy that you liked LCTG! And your description and take on it is great and a total honor. Thank you, Steve! That really means a lot! I'll pass what you wrote on to Zac. He'll be thrilled. Yes, it's a film that I think works better when projected in a theater. We made it thinking of that context. And, yes, the film's combo of explicit sex, austerity, 'awkward' Bressonian performances, and its multi-parts, etc. has definitely worked in its disfavor, especially with programmers who can't get a quick bead on the film and, yes, the gay audience has been very divided. We're curious to see what happens with our new film which has a single narrative and a consistent set of characters running through it and no sex. Anyway, really, thank you, Steve! I'm very happy! ** Grant Maierhofer, Hi, Grant! My enormous pleasure, man. I hope your travels went or are going very well! ** Dóra Grőber, Hi! I was sort of right in imagining a Goth dentist drill? Cool. Yes, pictures of it would be lovely when the time comes. No, I have no tattoos. I'm not against them at all. I guess I'm not inclined towards getting one. I have this kind of peculiar, I'm sure, idea that if I don't have a tattoo, I'm less identifiable to people who look at me, and I like that idea for some reason. I like that people can look at me and there are no little visible clues that would let them think they could figure me out. Does that make any sense? I just have this weird idea that I want to be as total a blank as possible to people when I meet them. I'm fine, re: my ear. It doesn't hurt. It just looks a little gnarly in a tiny way. You mentioning that you read a book by a Hungarian writer made me realize that I've hardly read any Hungarian writers, which is weird. The only Hungarian writers I've read that I can think off the top of my head are Attila József, Imre Kertész, and Péter Nádas. Can you recommend any Hungarian writers who you especially like? If they're translated into English, I'll make it my mission to read them. My yesteray was quiet and work-filled. I did work on the dance piece, and I hope to finish that today. And a little other writing and the making of some blog posts. Very non-eventful, but I think I'm going to look at some art and stuff with Gisele and hopefully Zac today. And maybe visit a possible apartment. Have a lovely Wednesday, and tell me what it did for you please. ** David Ehrenstein, Good morning, David. Nice cross-reference with the 'Bugsy' thing. Over here in Paris where Mr. Hamilton died, the scandal is already in full force. ** Jamie, Ha ha, not too much, no. I don't have a comeback today. But I'll try to square away a 'too much' one by tomorrow. My ear's okay. Just a little scabby. Yay, you wrote. Wow, yeah, educational. That's a toughie. Or maybe not. I don't think I've ever tried to write anything educational, or not preordained. I guess writing reviews of art and music and stuff is partly educational. Hm. My week ahead? Work, apartment hunting, friends, art, film work, and hopefully a bunch of the unexpected. Happy early birthday to your mom! And have a really sweet Wednesday! Love with a terrible but sincerely meant French accent, Dennis. ** _Black_Acrylic, Ho, Ben. Ha ha, thanks about the brief return to my art critic days. I haven't seen Helen Marten's stuff in person. I saw some photos, but I couldn't make hide nor hare of what her stuff is doing, which is probably a good thing. ** Armando, Hey. Well, I think I also said that I think most or many of them are fantasy. Oh, I see. Well, honestly, if I were you, I might wait for an opportunity when we're doing one of our newer pieces. 'I Apologize' is our earliest piece, and I like it, but the newer works are much better, and it's being revived for that performance so I'm not sure it's going to be in the best shape. Plus Zac and I will be heavily getting ready to shoot our new film then, and I'm not even entirely positive that we'll be in Paris at the time. We're doing another older but less old, much better Gisele piece 'Jerk' here in May. Of course it would be very nice to get to meet you in any case. ** Misanthrope, Mm, there's no bunny in 'God Jr.'? I can't remember. That would surely be the only chance. Nothing but bunnies, now that's a challenge. And since I call myself an experimental writer, I would be a chickenshit not to accept your dare. So let's find out if I am. Um, hm. About your 'mundane' thing. My guess is that all of my favorites have secretly mundane tastes. But then one man's mundane can be another man's scary, no? I don't know. Big Macs count as shockingly mundane? Wow, you're hardcore. Very best wishes to LPS for a very speedy recovery. ** Jeff Jackson, Hi, Jeff. Really glad you liked the Cote post. His work was completely unfamiliar to me until about an hour before I started making that post. I hope those arty types said appropriately smart and lustrous, helpful stuff about your tome. What happened? I don't know Gerald Murnane at all, no. Huh. I'll check him out. ** Right. Go continue looking at some Xmas art, won't you? See you tomorrow.