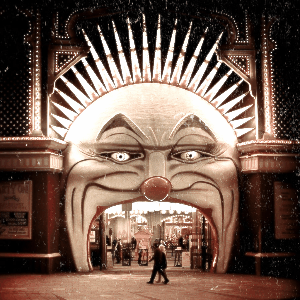 'A fun house is an amusement facility found on amusement park and funfair midways in which patrons encounter and actively interact with various devices designed to surprise, challenge, and amuse the visitor. Unlike thrill rides, funhouses are participatory attractions, where visitors enter and move around under their own power. Incorporating aspects of a playful obstacle course, funhouses seek to distort conventional perceptions and startle people with unstable and unpredictable physical circumstances within an atmosphere of wacky whimsicality.
'Appearing originally in the early 1900s at Coney Island, the funhouse is so called because in its initial form it was just that: a house or larger building containing a number of amusement devices. At first these were mainly mechanical devices. Some could be described as enlarged, motorized versions of what might be found on a children's playground.
'Some fun houses would bring new arrivals through a short series of dark corridors or a mirror maze or a door maze (many identical doors forming squares, only one of which would open outward in each square), often leading onto a small stage where they had to negotiate a series of rocking floors, airjets and other obstacles while people already inside the funhouse could watch and laugh at them. A few places even provided bench seats for the watchers. Once patrons were inside they could stay as long as they wanted, moving from one attraction to another, repeating each one as many times as they chose.
'Through the first half of the 20th century most amusement parks had this type of fun house, but its free-form design was its undoing. It was labor-intensive, needing an attendant at almost every device, and when people spent two hours in the fun house they weren't out on the midway buying tickets to other rides and attractions. Traditional fun houses gave way to walk-throughs, where patrons followed a set path all the way through and emerged back on the midway a few minutes later. These preserved some of the traditional fun house features, including various kinds of moving floors, sometimes a revolving barrel and a small slide. They added such things as crooked rooms, where a combination of tilt and optical illusion made it hard to know which way was up, and dark corridors with various popup and jumpout surprises, optical illusions and sound effects.
'Many traditional fun houses were removed after parks created walk-throughs. Some became dilapidated and were torn down. A few burned down; they were nearly all wood-frame buildings with extensive electrical wiring. Those that remained were all at traditional local amusement parks and died when those parks closed due to competition from new theme parks. No theme park ever created a traditional free-form stay-all-day fun house, but theme parks sometimes developed the walk-through attraction to new, high-tech heights. A few traditional fun houses are still operating in Europe and Australia.' — collaged

Lost City

Hell Hole

Toon Town Fun House

Alpen Hotel

Fun House

Cirque Manfreda

Urgewalt der Giganten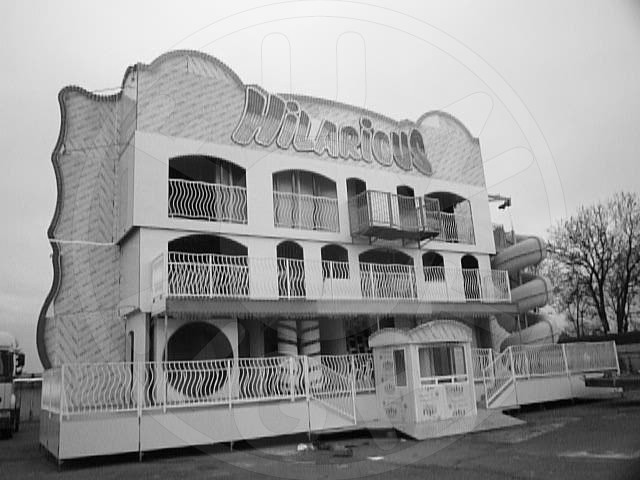 Hilarious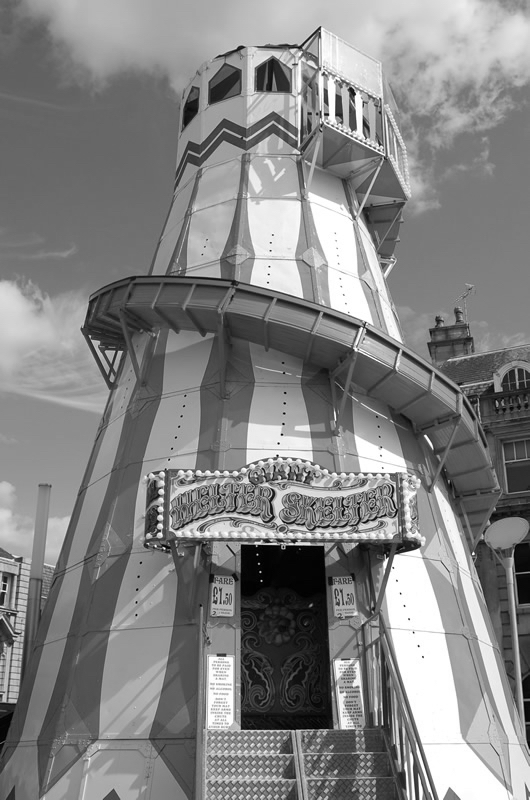 Helter Skelter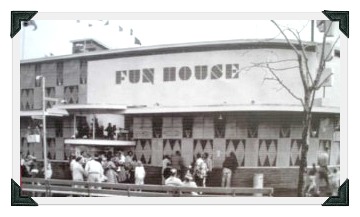 Fun House

Rat Race

Unknown

Black Forest

Crazy Theater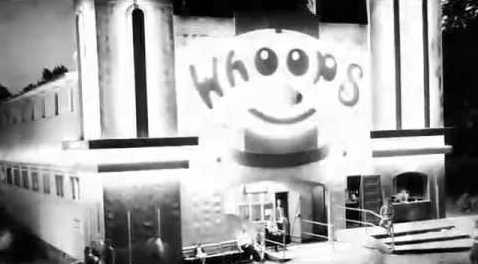 Whoops

Fun House

Trauma Towers

The Crazy Mirrors

Unknown

Guy & Gary's Fun House

Juke Box Music Fun House

Sydney's Famous Mirror Maze

Haunted House

Fun House

Magic Circus

Alpine Fun House

Bavarian Fun House

Big Top

Planet Rock 'n' Roll

Cake Walk

Mirror Maze

Canuck Fun House

Crazy Circus

Fun House

Crazy Circus

Krazy Cottage

Crooked Cottage

New York New York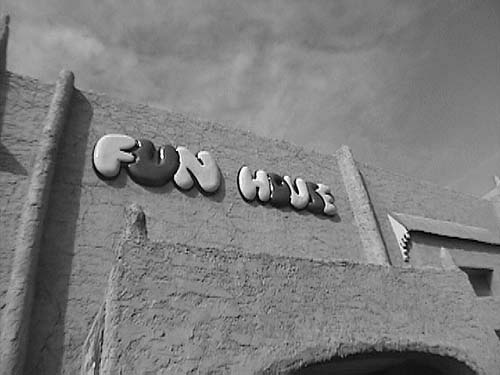 Fun House

Mystery Machine

Fun House

Ecki

Fire Department Crazy Garage

Nanny Pearl's Crooked Cottage

Jenkinsons Fun House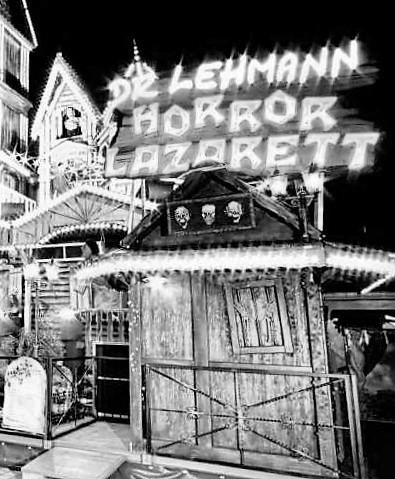 Dr. Lehmann Horror Lazarett

Outhouse Inn

Magical Mirrors

Unknown

Fun House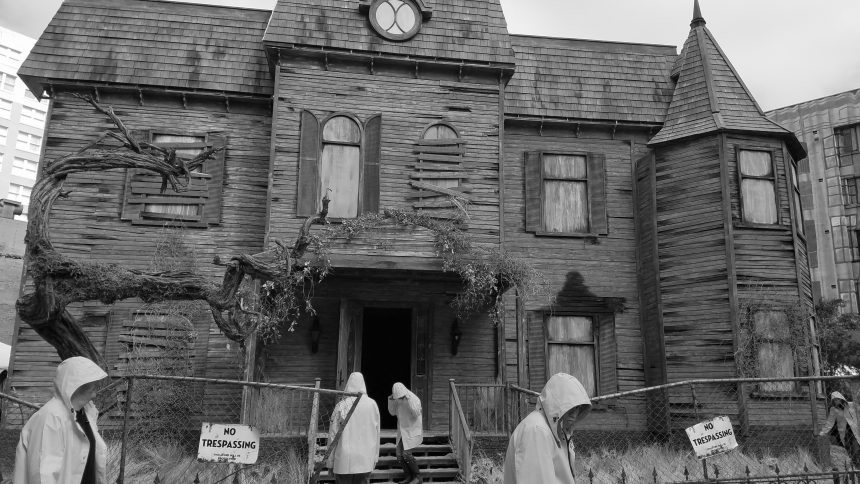 Scared Factory

Funny Mirrors

Funny Hall of Mirrors

Hof Freu Haus

Cuckoo Haus

Planet Playstation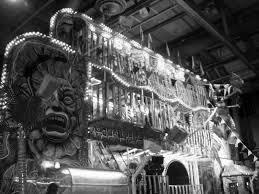 Unknown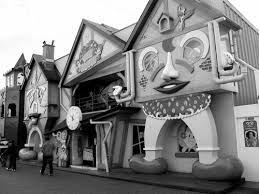 Unknown

Funtime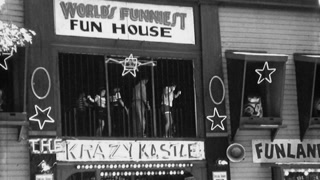 Krazy Kastle

Magic Maze

Mardi Gras

L'ile aux Pirates

Fuzzy's Lach Saloon

Mexico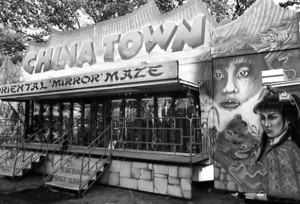 Chinatown Oriental Mirror Maze

Mr. Bean 4

Super Top Dance

3D Fun House

Slice of Life

Sahona

Giant Rat

Big Bamboo

Crazy Fun House

The Haunted Castle

Unknown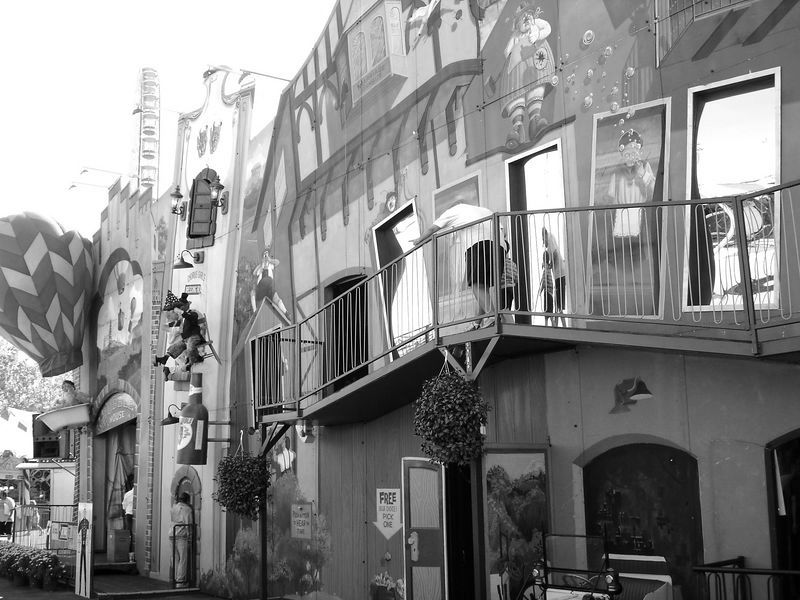 The Bubblehouse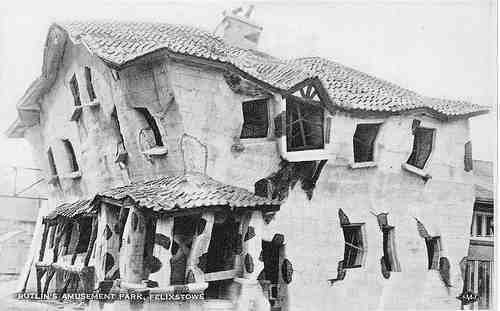 Butlin's Crazy House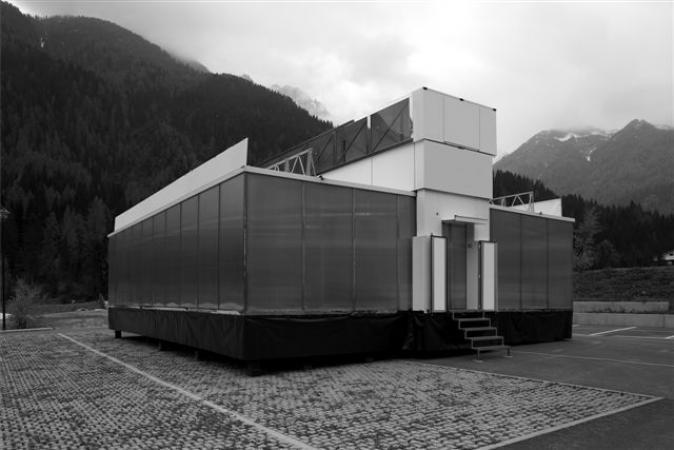 Happy Family

Wacky Shack
*
p.s. Hey. Unless something changes, I won't be here to do the p.s. tomorrow because at the moment I have a big film production meeting scheduled for the morning. You'll get a post tomorrow in any case. If nothing else, I'll be back to catch up and do my usual stuff again on Wednesday. ** Steve Erickson, Hi. From what I've read, critics seem to have wanted Timberlake to sound mature. Some kind of weird ageist thing. Yes, the Rotterdam festival is bringing us up to introduce the film and do press and stuff. We're trying to see if they'll bring up one or two of the performers too. I've heard a little of Black Mountain Transmitter's more abrasive stuff, and I quite like what I've heard. Wow, that's quite a list, but I'm a list fanatic, so no problem for me at all. But, wait, your link doesn't work. It leads to a 'this page doesn't exist' alert. ** David Ehrenstein, Hi, David. Gosh, I would love it if Rosenbaum saw our film. It wouldn't shock me if our film is up his alley. Maybe I can find a way to invite him. Thanks for letting me know he might be around. Yes, agreed, obviously, about Black. ** Alistair, Hi, Alistair. Thank you very much about Paul. It's kind of devastating news. I'm still in disbelief and shock. And thank you about the film and festival. Yes, strange very low and very high there. Love and hugs to you from similarly gray Paris. ** Wolf, Hi, Wolfie. Thank you about Paul. Yeah, it's … I don't really know what the word would be. Confusing. Our producer has hired a sales agent to handle the film's submission to festivals and finding distributors. I don't know what his thoughts or plans are re: the UK. Zac and I are meeting him for the first time tomorrow, and I hope we'll have a better sense of how everything will work after that. I want to see that new Kelly Reichart, yes. Exciting. I'll see what the opportunities are. Well, technically and really, I'm not a Director. Zac's and my films are thoroughly collaborative from start to finish, but he's technically their director because I have no gift for that kind of visualisation. We talk a lot about the visualisation, but he's in charge, and on the set he's the director making all those decisions. So I guess it's more like I'm a filmmaker than a director. Thank you, dear buddy! ** H, Thank you a lot! I really appreciate it. Great luck hitting your deadlines. ** Bill, Hi. Thanks, man. Like I said up above, there's a guy in charge of where the film gets submitted and shown and stuff. We're talking with him for the first time tomorrow. I'll see what's up. I think the film has been submitted to the San Francisco Film Festival, but I'm not completely sure. I guess the first peek you'll have is at the trailer, which we've just been told we have to put together in the next few days. Eek. ** Jennifer Greidus, Hi, Jennifer! It's so nice to meet you and get to talk with you. I liked what I've read of your work very much! Ha ha, what an awesome story, and thank you so kindly for rescuing my wounded titles. Awesome. Also I love that you were (maybe) eating PB&J. That's one of those magical kind of details. Well, I hope it goes without saying that you should please hang out here and talk with me and anybody else here whenever the mood strikes. It's s true pleasure. Take care. ** Shane Jesse Christmass, Hi, SJC. The 'DotL' film better than the book? Oh, I'm really not sure about that. But I love the film. I have not seen 'Born to Win' in toto, only in excerpts. Oh, wow, great, thank you for the link to your writing about it. I'll go over there. Everyone, the very fine writer Shane Jesse Christmass has written about the very 'Born to Win' film starring Karen Black that the post noted and blurbed this past weekend. Go see what wise SJC has to say about it. Here. ** Dóra Grőber, Hi! Thanks again, Dóra. Yes, when the time approaches that you head to Amsterdam, let's confer and see if we can make your Paris pass-through happen. Cool. Well, good that you have the whole rest of this week to get ready for the move. Are you using movers, or are you going to schlep all your things to the new place yourself? My weekend was okay. I did start working on the assignment a little. Not enough yet, but the eggshell is cracked or whatever. Yes, as I think I mentioned, there's suddenly a bunch of stuff Zac and I need to do rather quickly for the Rotterdam festival. Zac got back from his out-of-town holidays last night, so we'll start working today, I imagine. How was the rest of your weekend and the beginning of your week? ** Jamie, J-High! Man oh man oh man, I'm so happy you seem too be through all that crap. Although I'm super glad you got to get away a but throughout. Spooky hotel! Say more? As a coffee … lover, addict, both, I'm not sure … my condolences on that loss. I did begin chipping away at the work on the 'secret' project, but I need to dive in, and my goal for today is to form an appropriate dividing pose and then plunge in head first. You got your entry in on time? Fingers crossed into a head of Medusa on your behalf. My weekend was mostly starting to do things I will now need to actually do. It was okay. I hope your Monday is an airborne, air-shaped checkered flag. Plenary love, Dennis. ** Misanthrope, She is, yes, big up. I think 'Lady Bird' won some big thing at the Golden Globes or something, didn't it? I was pre-coffee when I read the winners announcement. When will you hear back from the doctor? Let me know asap. Well, now your temperatures are the same as ours, and I'm over my romance with your location. ** _Black_Acrylic, Hi. The 'DotL' film is pretty great, uneven, very strange. Burgess Meredith is great in it. Fantastic about the very hopeful YnY meeting! Yay! In theory, I would love to write the intro, but, honestly, I've sworn off writing non-fiction for the past years, and I'm pretty rusty and wary of my skills in that regard. But if you don't mind waiting and seeing for a bit until I de-snow myself with all the work I have ahead of me, let's talk about it then. It's very cool of you to ask. ** Chaim Hender, Hi, Chaim, good to see you. Thank you for the congrats. Yeah, I'm a long time great admirer of Rosenbaum's criticism, so we'll see. I'll see if I can find a way to invite him to the premiere at least. I've never been to Prague, and I think the only things I know about it have to do with the less clean fun aspect, ha ha. But Bernard had a clean tip for you if you saw his comment. ** Jeff J, Hi, Jeff! Thank you about Paul. Yes, he was an incredibly great person and so, so important to contemporary French literature. It's an unspeakably awful and shocking loss. There is no English version of my tribute thing because I did it over the phone, but you can Google translate the URL, I guess. Yes, we're just thrilled about Rotterdam. I've always considered it a really great and very adventurous festival, and it's just the ideal place to have our film born, I think. I'm very glad to hear about the breakthrough with your new novel. What can you say about it? Maybe we can Skype soon? Well, the Karen Black Day was an entirely new post because the old one got severely damaged in the data transfer from Google, but there were probably lots of similarities. Was it the post that was up on the day my blog got murdered? Wow. Maybe so. I'll go check the original's date. Great day to you! ** Okay. I'm asking you to consider the possible pleasures derived from looking at the facades of fun houses today. You game? As I said at the top, I probably won't be doing the p.s. tomorrow, but the blog will greet you with a fresh post, and I'll catch up with all of your comments on Wednesday.