_____________
Planet Hollywood (Myrtle Beach, FL)
After almost 19 years in the community, Planet Hollywood has opted not to renew the lease for its Myrtle Beach location, which remained operational through Labor Day weekend. The company is pursuing other opportunities for the legendary franchise while focusing on the global development and expansion of Planet Hollywood Resorts International.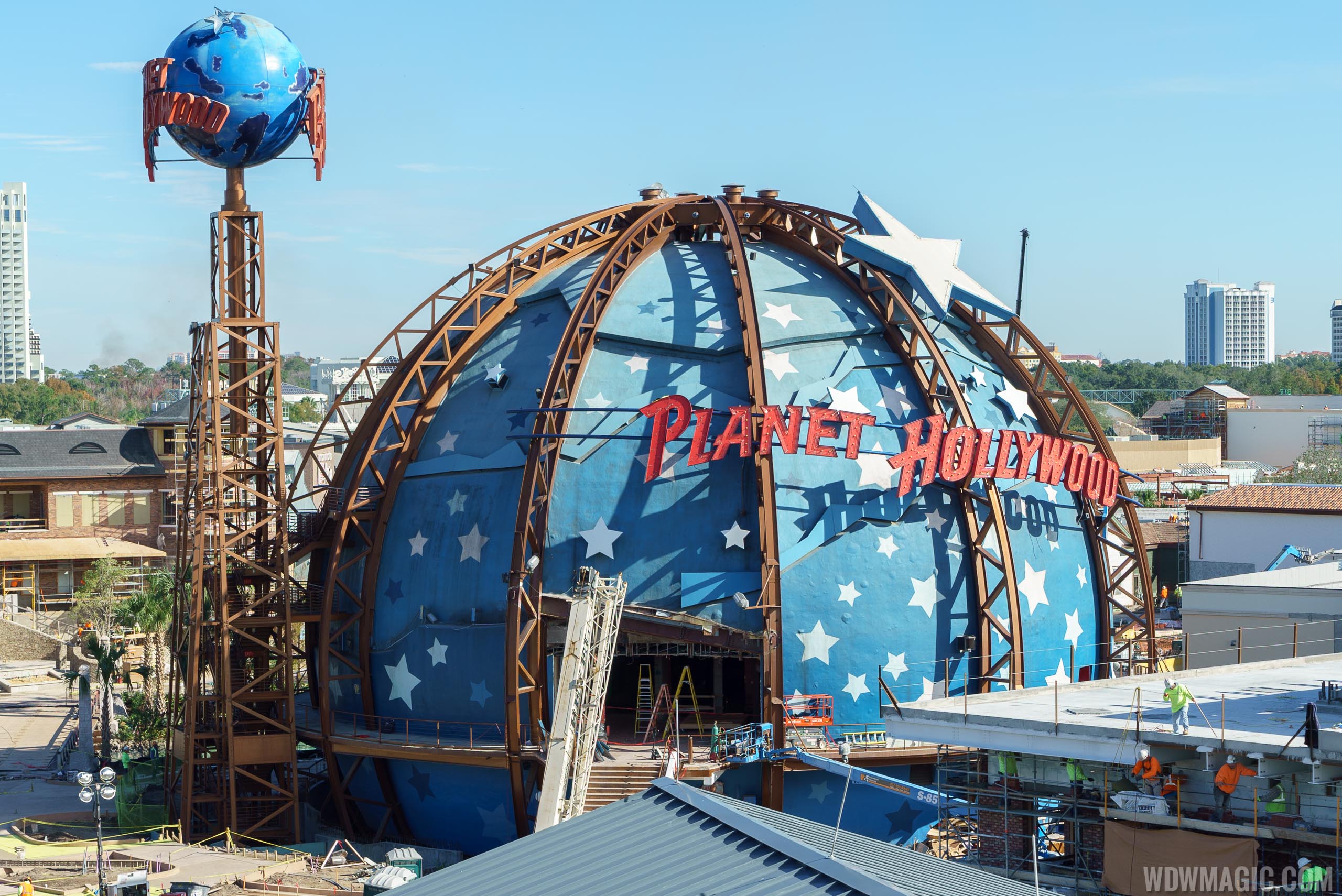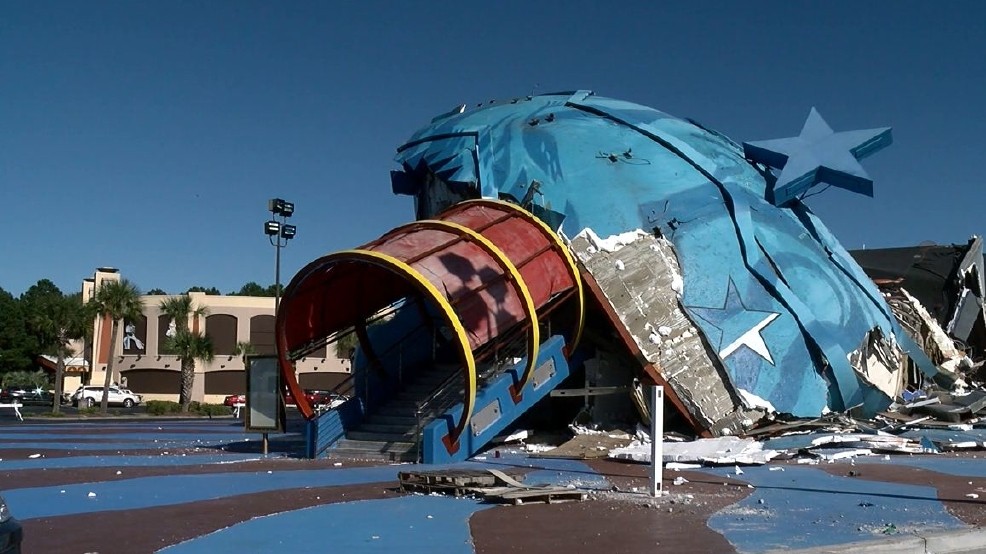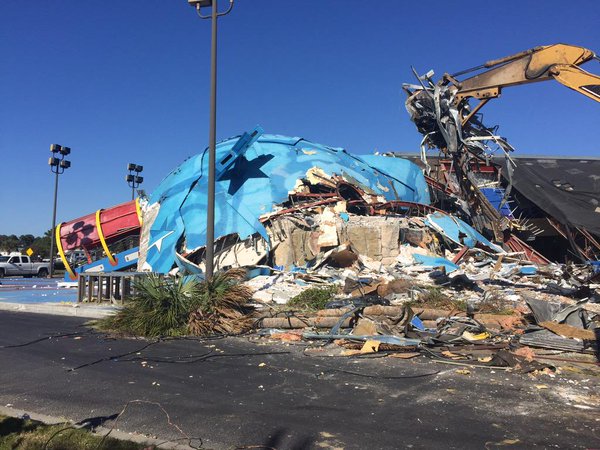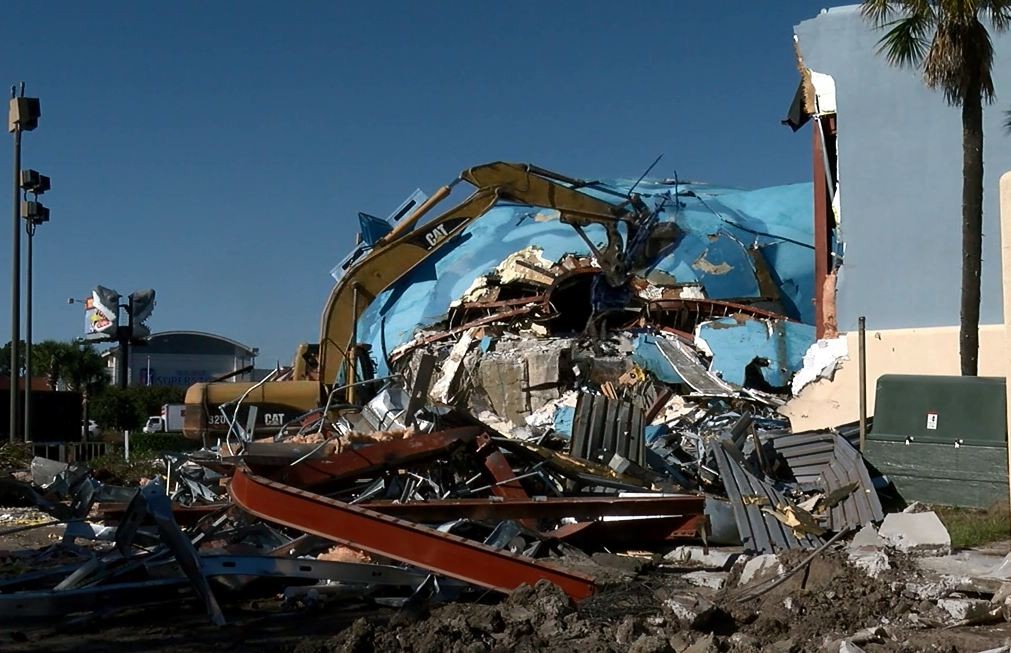 _____________
Ozark Wildcat (Celebration City, NC)
____________
Leviste Island (Nasugbu, Batangas)
Once upon a time, this was a private luxury resort. People can only reach it through either a boat or a helicopter. Since Leviste was accused of murder, and following the opening of other private resorts in Nasugbu (where you won't need a boat or a helicopter ride), this island slowly lost the competition until its abandonment. No lights, no water, no everything.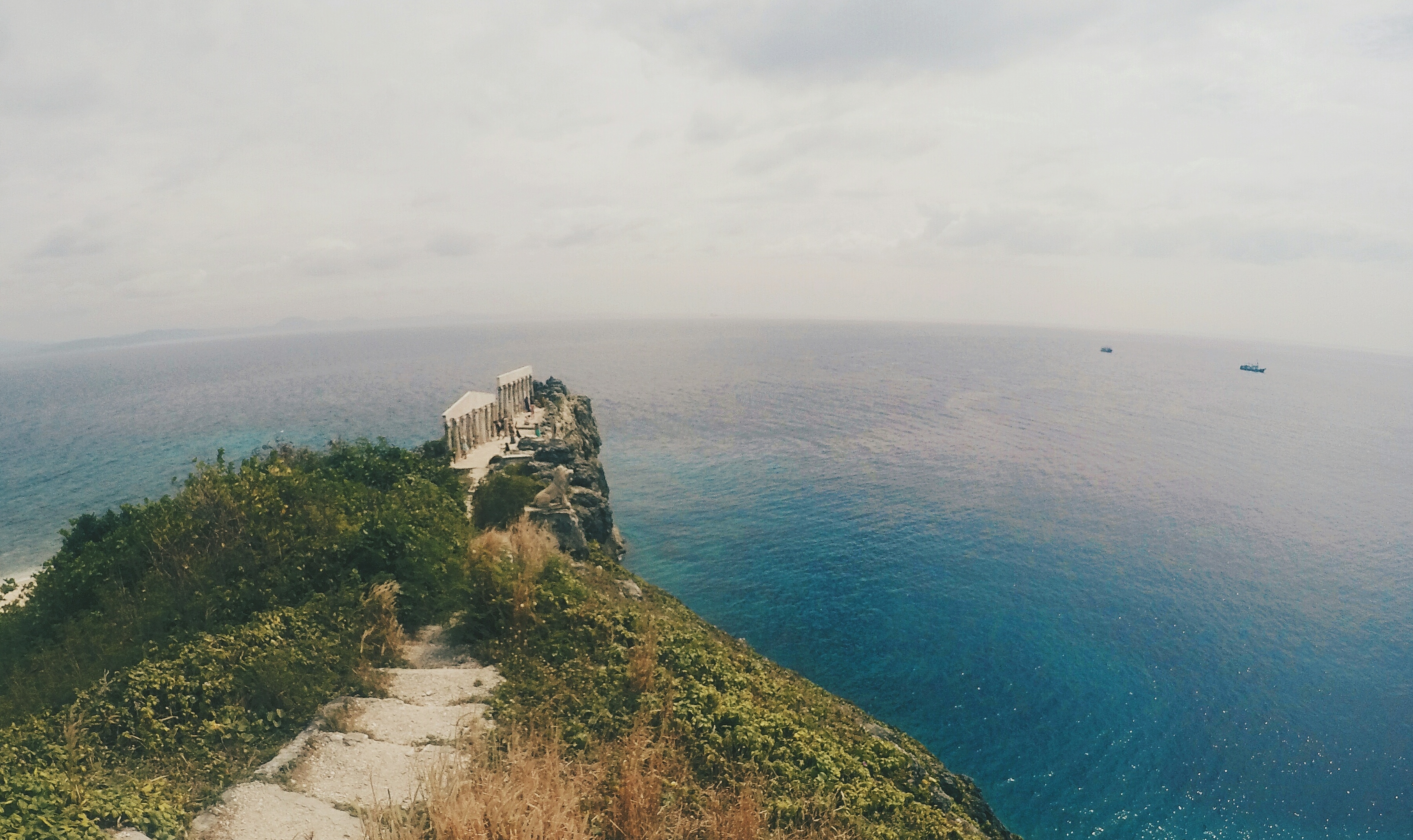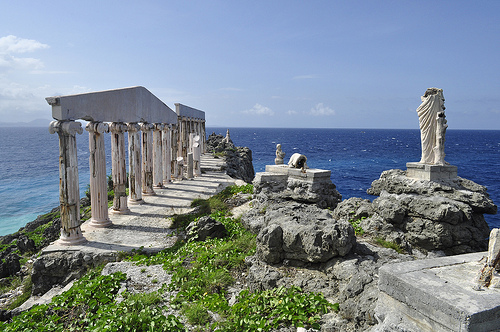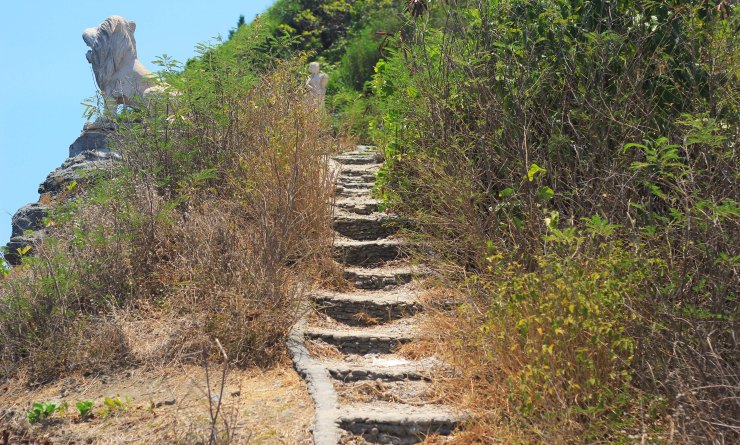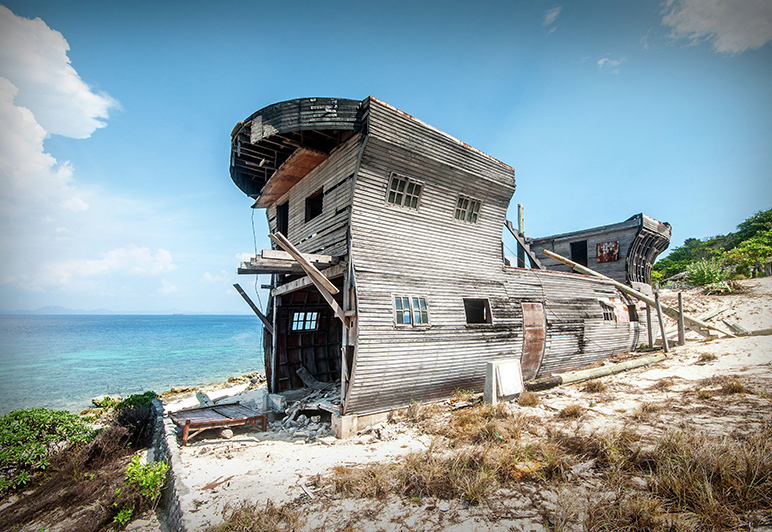 _____________
Haunted Monster Museum (Natural Bridge, VA)
A mid-April blaze demolished the Victorian-era mansion that served as the Haunted Monster Museum as well as the centerpiece of a bizzaro place called Dinosaur World where dinos would gobble Union soldiers and where brave visitors could also hunt Bigfoot with a "redneck."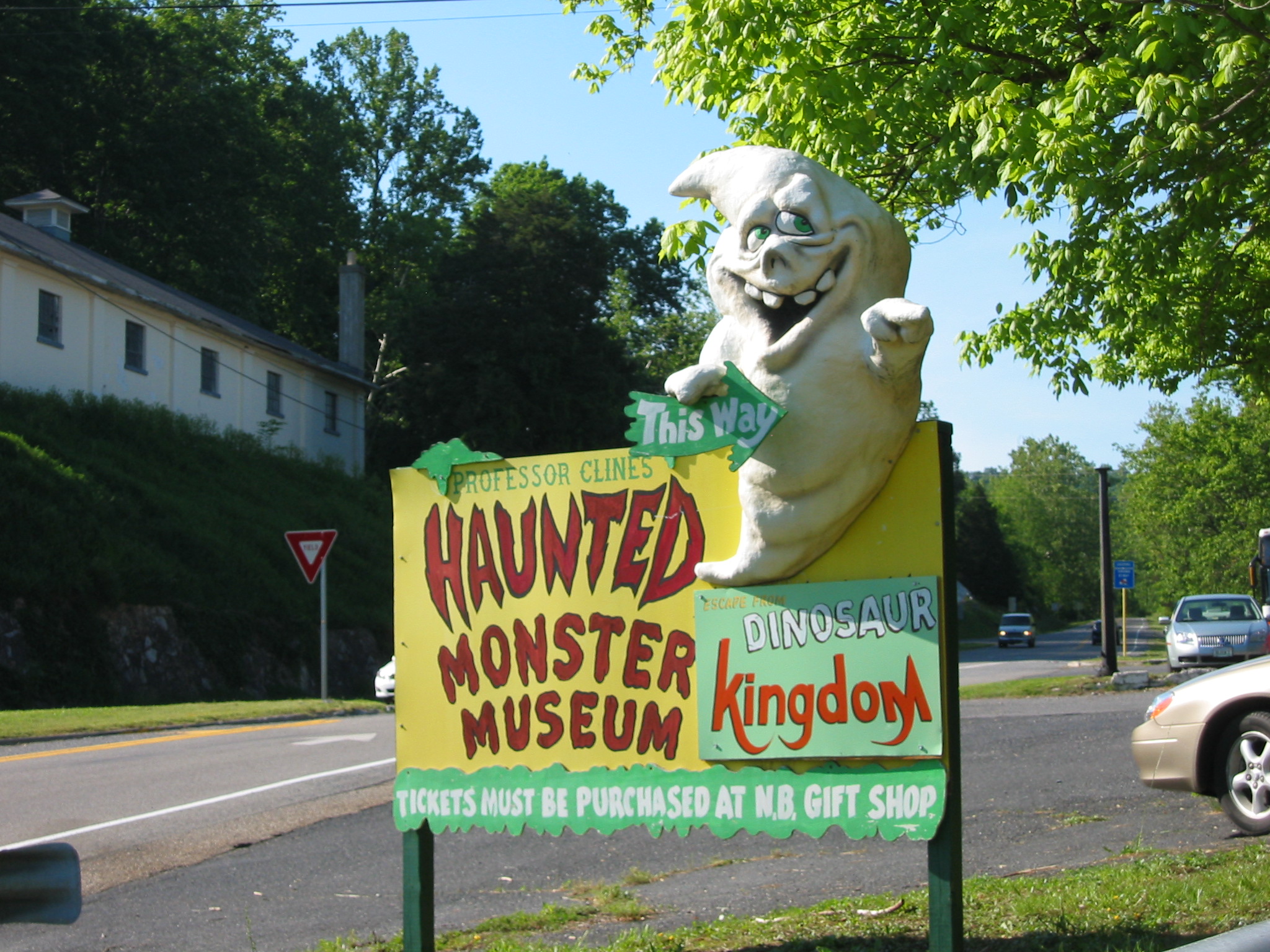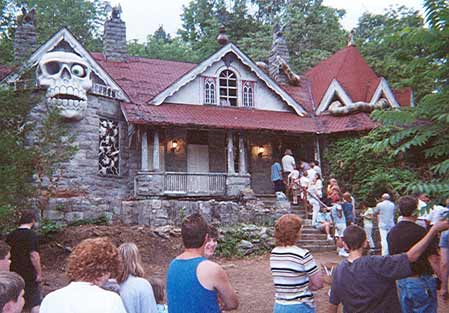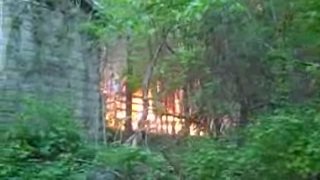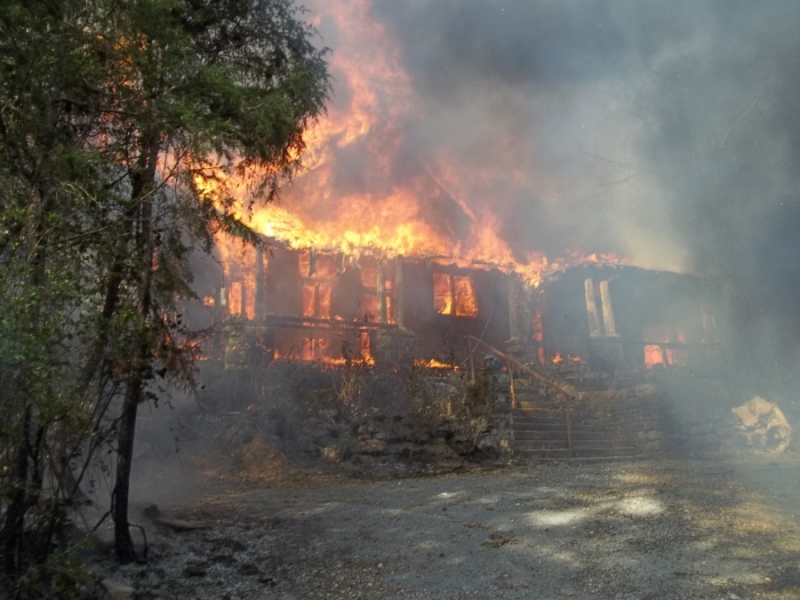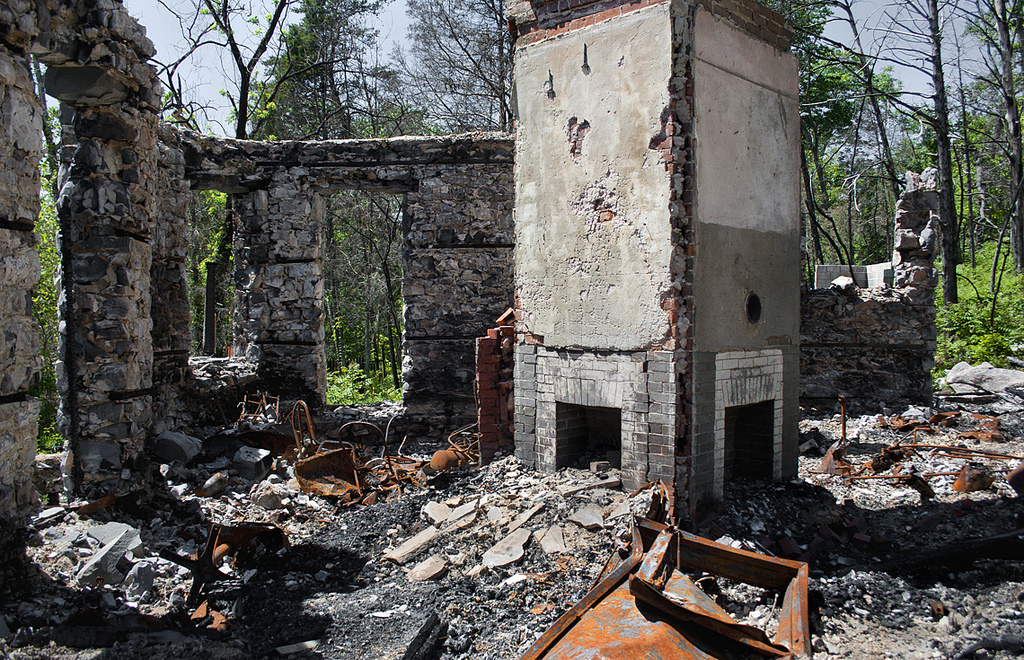 _____________
A mother and her eight-year-old daughter were killed in Georgia Saturday when workers blew up a towering Soviet war memorial. The demolition, to make way for a new parliament building, has already been condemned by Georgia's opposition and by Russia, which fought a brief war with Georgia last year. The victims were killed by lumps of concrete sent hurtling into the courtyard of their home in the country's second city of Kutaisi, local media said. Reports said four other people were in a serious condition in hospital.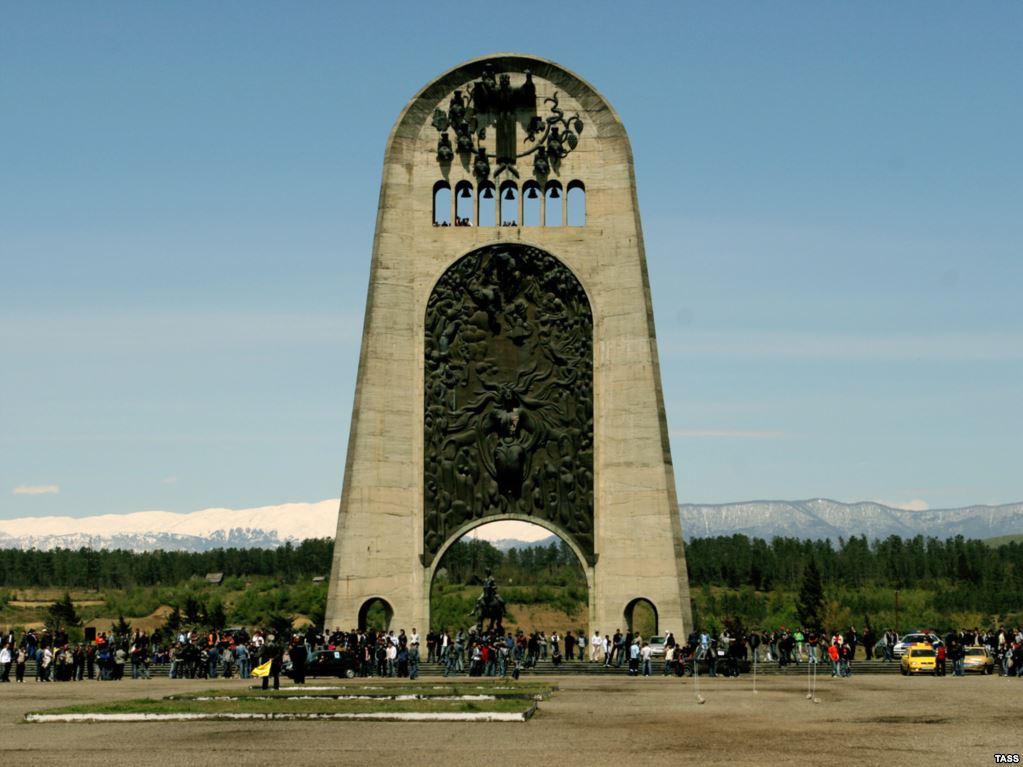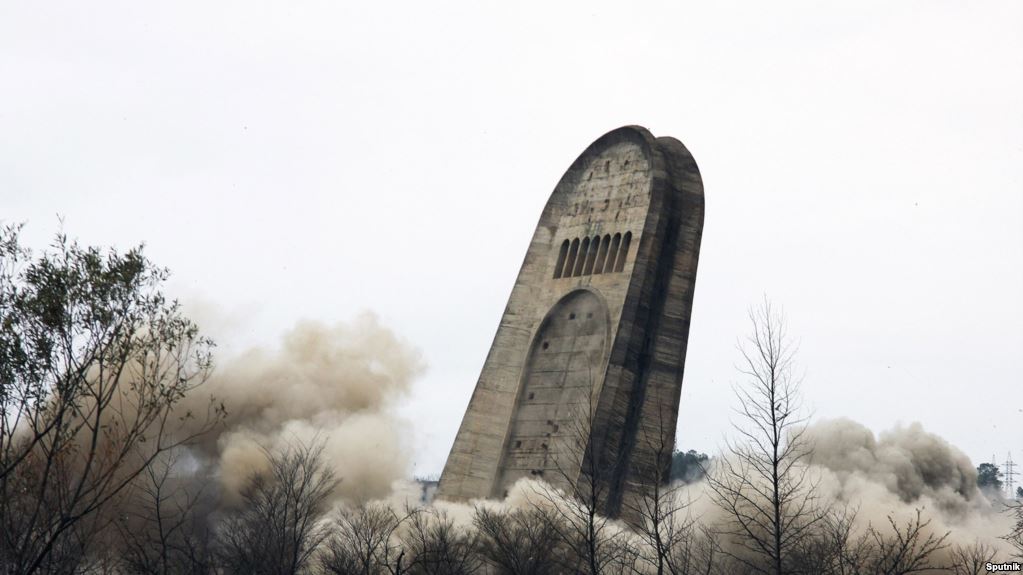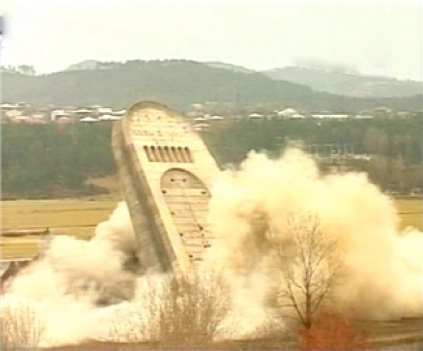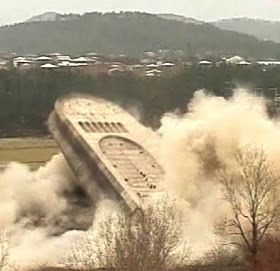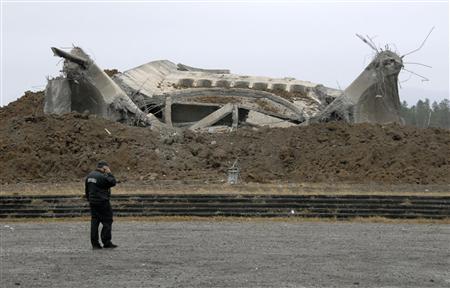 _____________
Until the late 19th century, New Zealand's Pink and White Terraces along Lake Rotomahana on the North Island, attracted tourists from around the world interested in seeing the beautiful natural formations created by a large geothermal system. They were known worldwide as the Eighth Wonder of the Natural World. But the eruption of Mt Tarawera on 10 June 1886 buried the terraces in sediment and caused the lake basin to enlarge, engulfing the land where the terraces stood.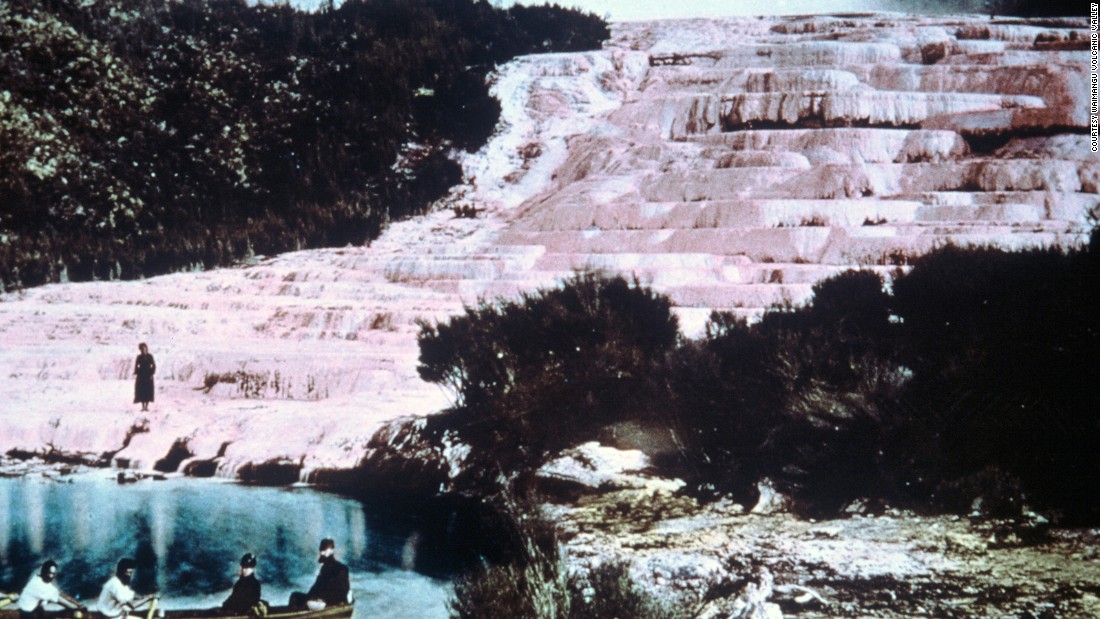 _____________
A stealthy tipster was walking by the shuttered Rizzoli Bookstore on 57th Street between Fifth and Sixth avenues and was able to sneak into the construction destruction site: "All of the doors were open (construction shed doors wide open, doors leading into store wide open), so I ventured inside, asking if anyone was there. I was shocked to see the destruction already happening at the store." Efforts to preserve the shop failed, and a mere month later, the beautiful, 109-year-old structure—with domed ceilings, classy chandeliers, and detailed woodwork—has already been ripped to shreds to make way for a condo tower, courtesy of developer duo LeFrak and Vornado.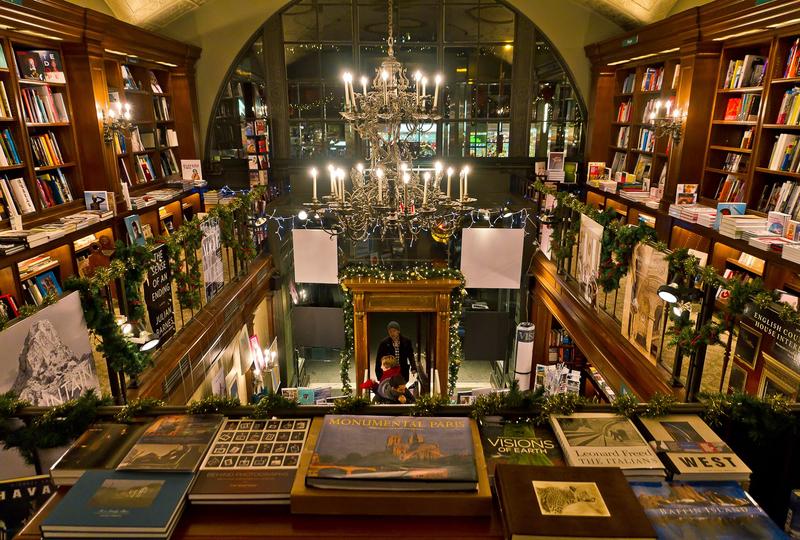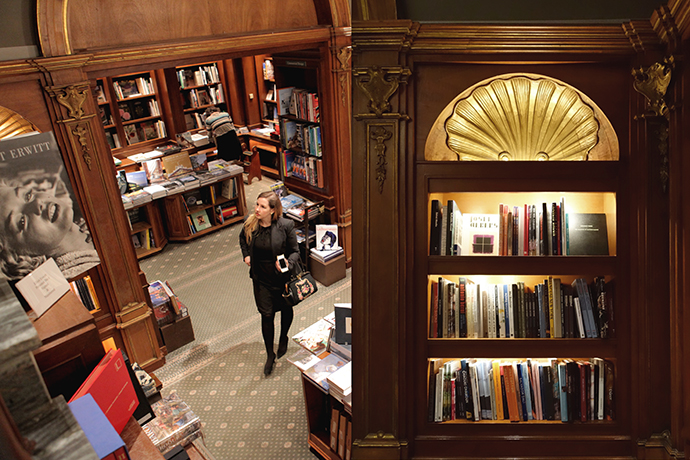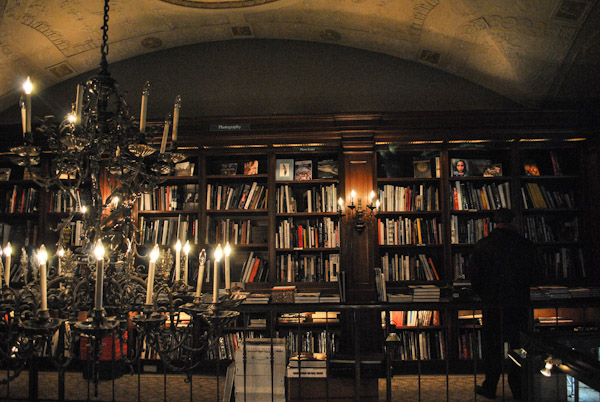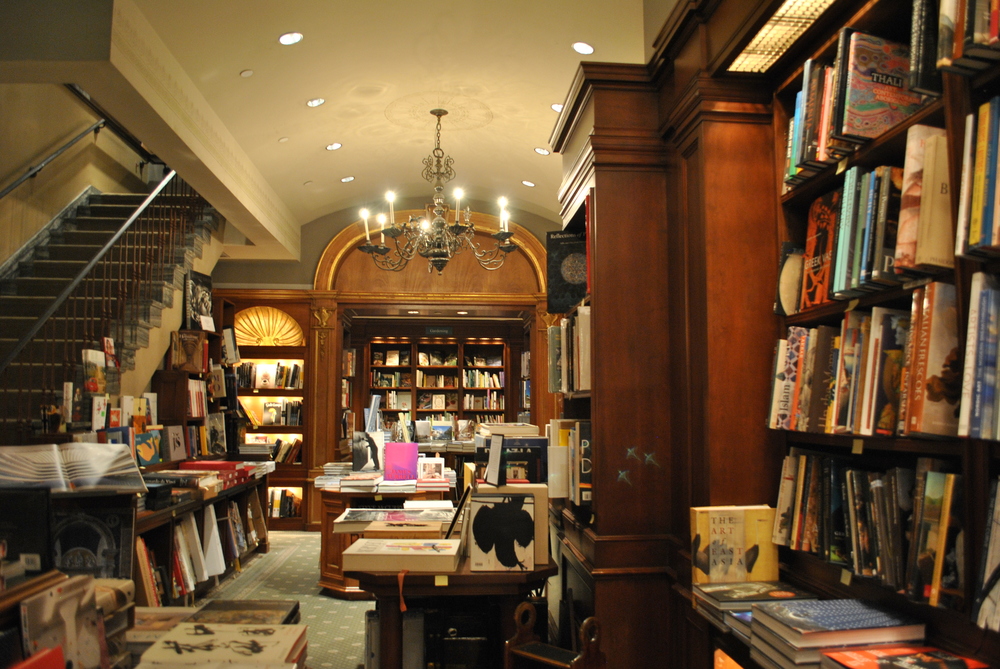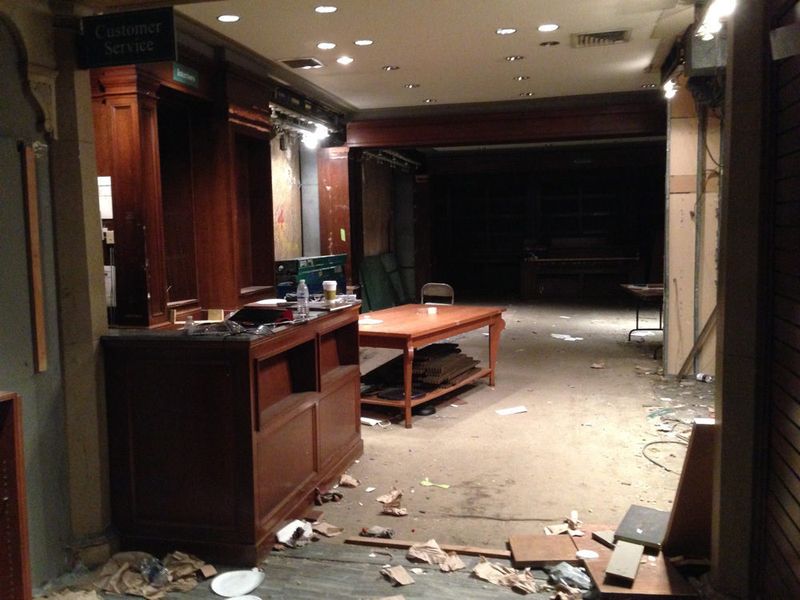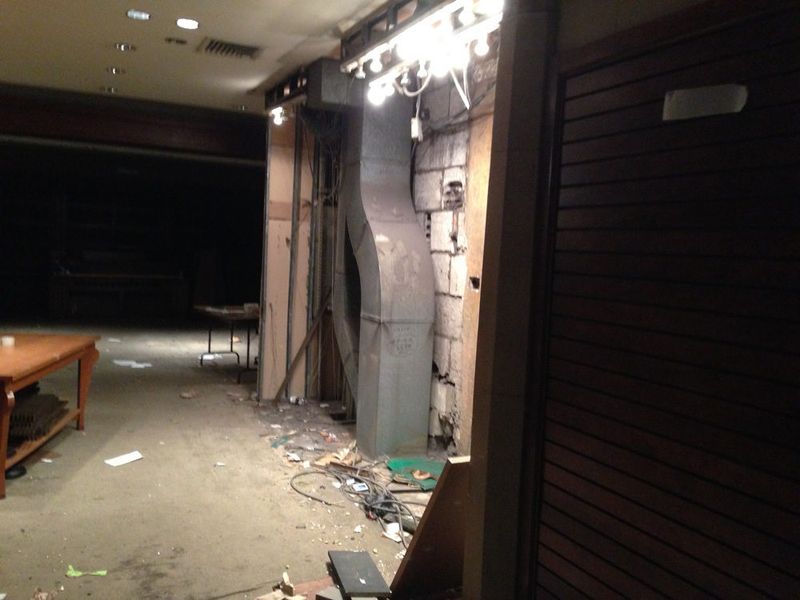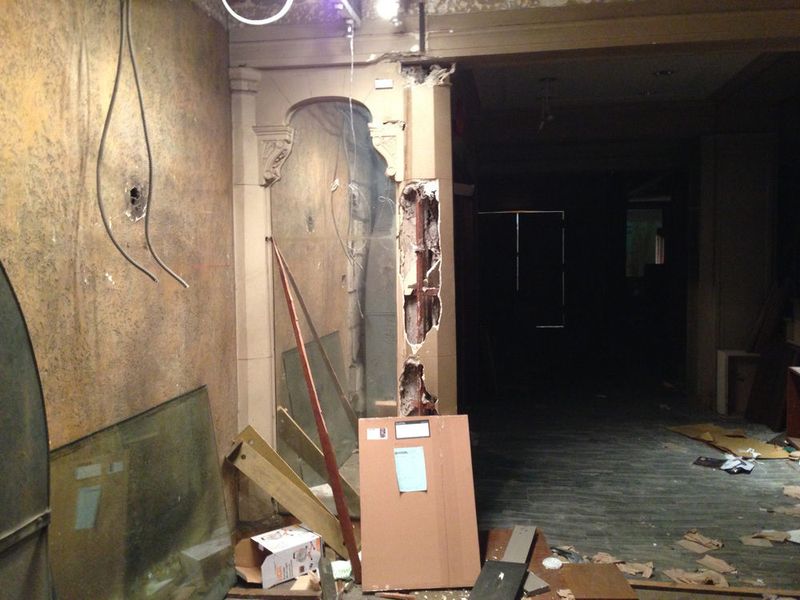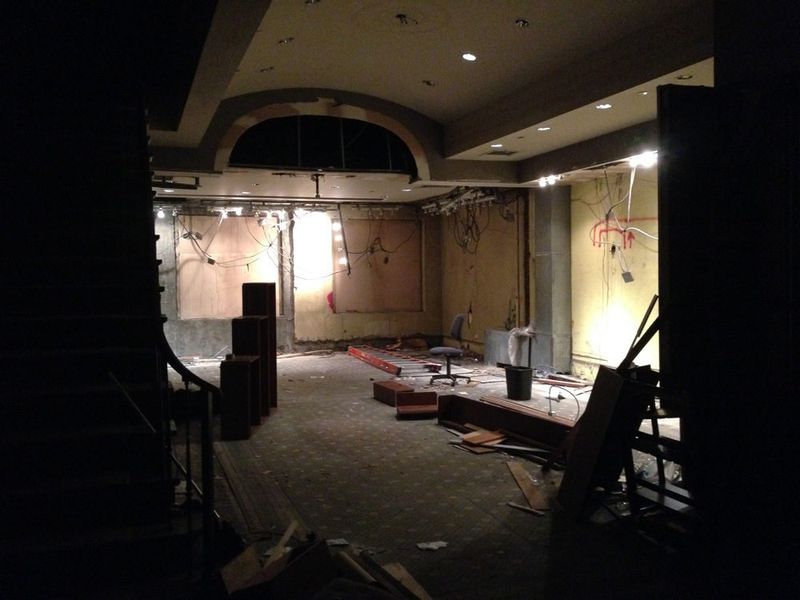 _____________
Cinderella's Castle (Ellicott City, MD)
_____________
Big Coffee Mug (North Smithfield, RI)
May 17, 2014: The Big Coffee Mug was either demolished or carted away around this date. Everything that once stood on the lot is gone, down to bare earth. We have no further information at this time. This huge travel-style coffee mug, perhaps large enough for two to three people to enjoy a hot java bath at the same time, served as the sign for a small drive-up establishment. The sign was also a fountain, spewing thick, dark brown colored water from the spout on its lid (when it was working).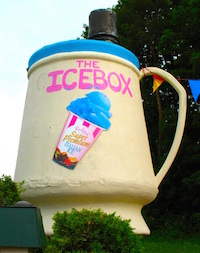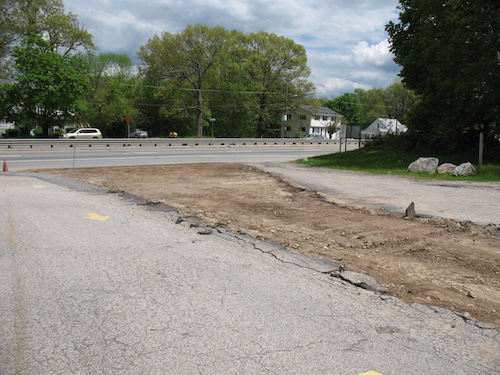 _____________
Jeffrey Dahmer's apartment building (Milwaukee, WI)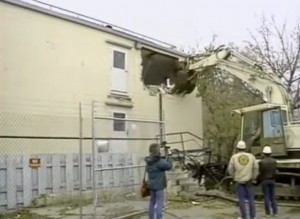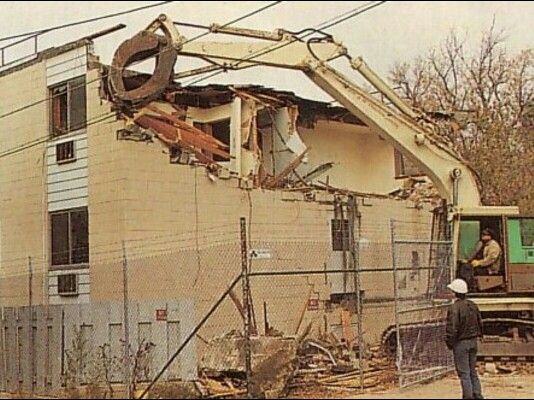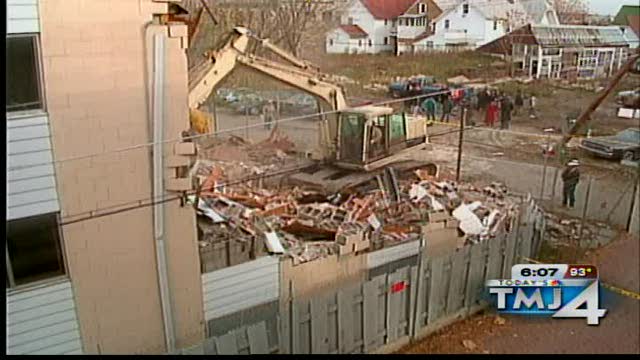 ____________
Skyway Chalet (Disneyland, CA)
Disneyland officials have filed a permit with the city to demolish the Skyway Chalet in Fantasyland, once one of two endpoints for open-air gondolas that floated via cables over the park beginning in 1956. The Skyway Chalet station will be removed to make way for the upcoming "Star Wars" land, said Betsy Sanchez, a Disney spokeswoman.
____________
A colorful icon of East Austin's Cesar Chavez Street was demolished this week right before its owners' eyes. Crews tore down Jumpolin, the piñata and party rental store located at 1401 E. Cesar Chavez, reportedly without any warning. Sergio Lejarazu, who co-owns Jumpolin with his wife, happened onto the scene of crews tearing down Jumpolin, reports Time Warner Cable. According to co-owner Monica Lejarazu, thousands of dollars worth of piñatas and other property was still in the building. Monica asserts that she and her husband have two more years on the property's lease, and they were not alerted to any demolition plans. "I don't know what happened because we don't receive any information about the demolition," she said.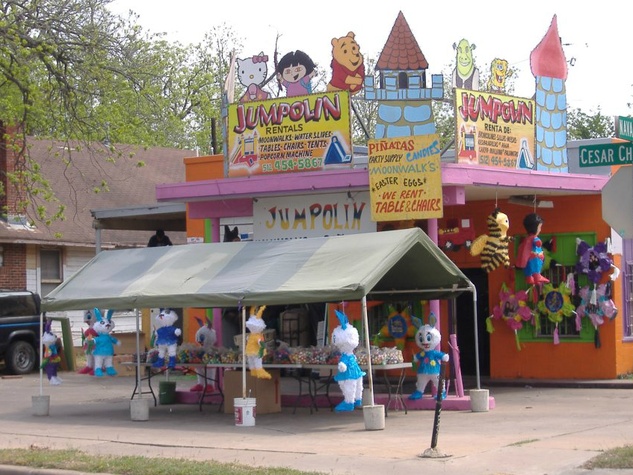 ____________
Space Spiral (Cedar Point, OH)
On September 12, 2012 at 7am, one of Cedar Point's (former) tallest rides, "Space Spiral" was demolished in order to help make room for a new roller coaster called Gatekeeper. Gatekeeper was at that time the tallest, fastest, and longest Wing Coaster ever built. The new coaster also featured the world's tallest inversion at 170 feet in the air.
____________
The Lego house built by Top Gear presenter James May has been demolished. May built the house using 3.3million plastic bricks and it had a working toilet, hot shower and a 'very uncomfortable' bed. But after no one agreed to take the toy house off his hands a demolition team was called in to knock the colourful bricks off its timber frame with mallets. Plans for Legoland to move it to their theme park fell through because transport costs were too high and despite a final Facebook appeal for someone to take it, no-one came forward.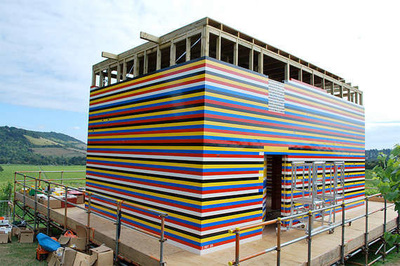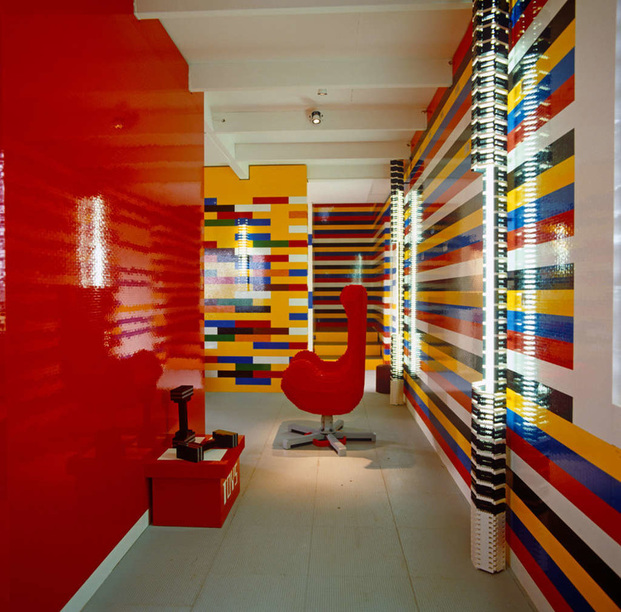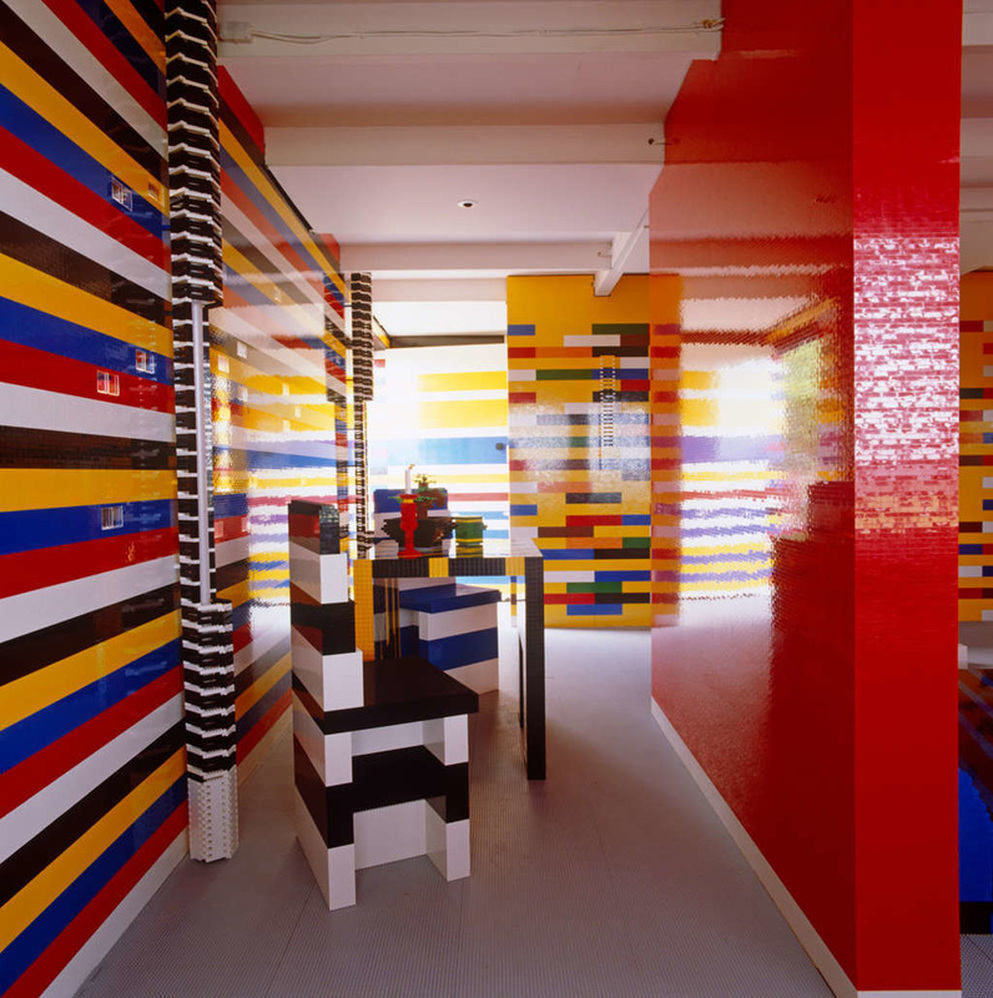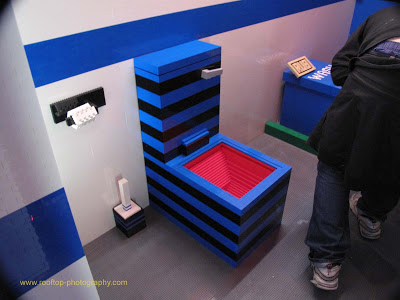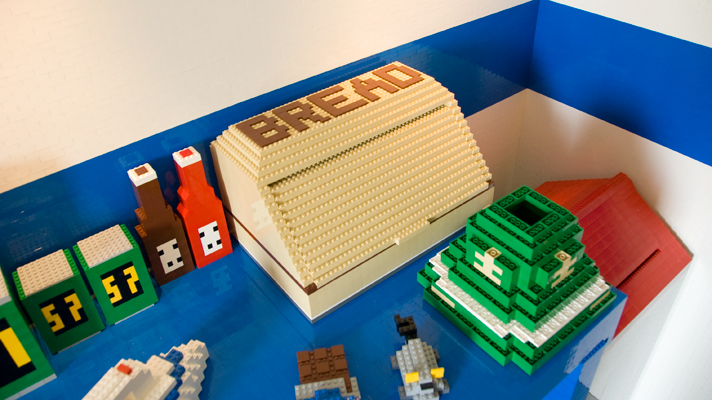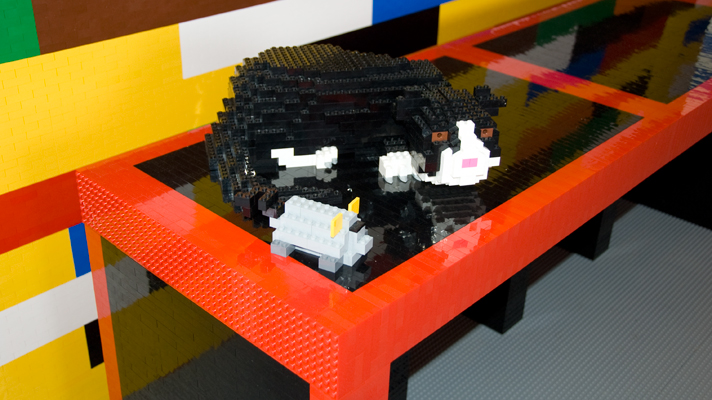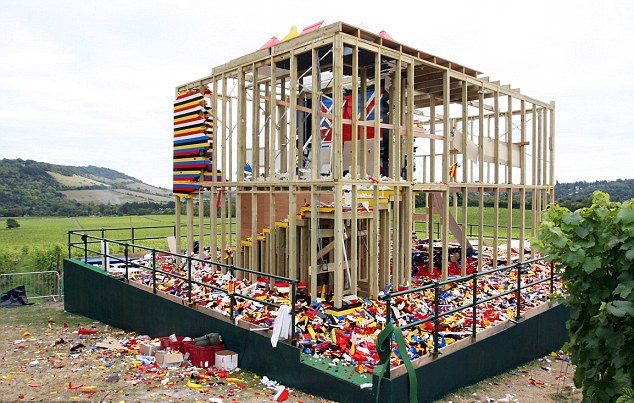 ____________
Twin Tee-Pees Pancake House (Seattle)
Opened 1937, Demolished 2002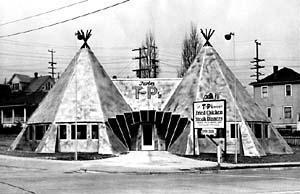 ____________
Dolphin Splashdown (Milton Keynes, UK)
Secret photographs taken minutes before the once glorious Dolphin Splashdown building was demolished show the pool seemingly in good condition, protestors have claimed. They say the demolition crew were "horrified" at instructions to rip out every inch of the facility to make way for a new Sainsbury's supermarket. Resident Mark Lines said: "For months we've heard the pool was in such a bad state that it was not viable to repair. Yet these pictures show how clean and totally usable it looks." Earlier this year experts reporting to Milton Keynes Council described the building – now razed to the ground – as "not salvageable".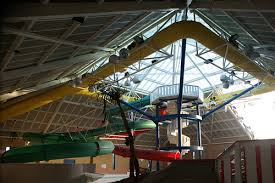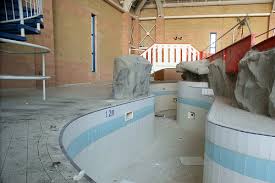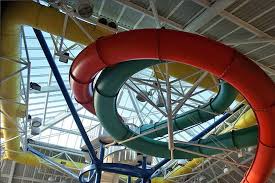 ___________
Twister: Ride It Out (Universal Studios, FL)
Just as its namesake, the news surrounding the closure of Twister hit as fast as a tornado, without any warning. There were the jokes when Jimmy Fallon made his first visit to Universal Orlando with the Tonight Show, that he was getting a ride and it was replacing Twister. But he's a comedian, so it was taken with a grain of salt. Yet it was Jimmy himself who dished out the news, with confirmation shortly there after on the Universal Orlando Blog, that he in fact was getting his own attraction. It's left more than a few heads scratching.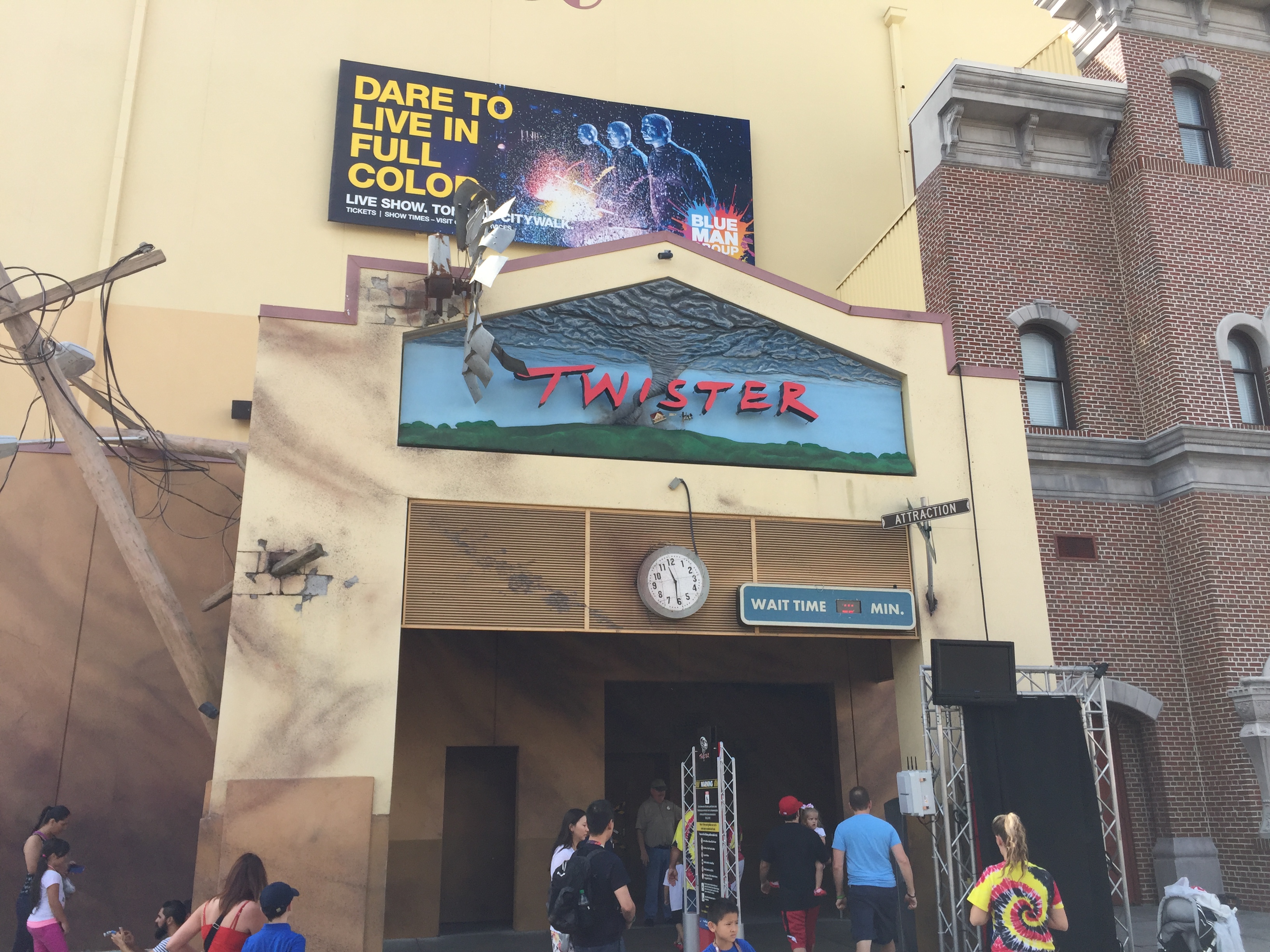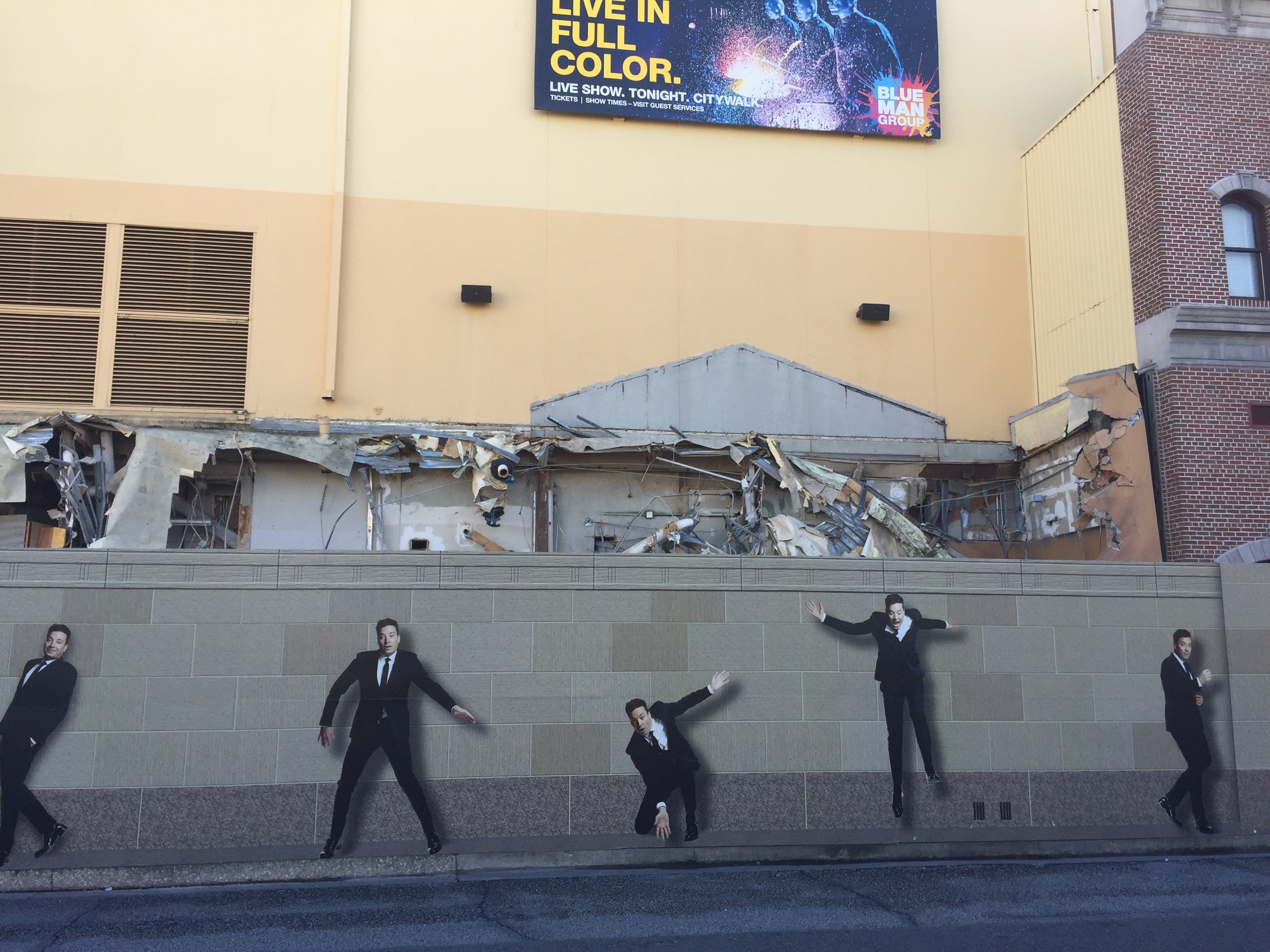 ____________
Xanadu House of the Future (Kissimmee, FL)
Throughout the 1980s, tourists flocked to the Xanadu House, a futuristic home in Kissimmee, Florida. This domestic pleasure dome was made of polyurethane and filled with "friendly computer servants." A large plastic balloon was sprayed with layers of expanding foam, which would harden and form the shell. The rooms were run by Commodore computers, which managed everything from spa temperature to home security – a robot voice would warn if trespassers had wandered into your turnip of a home. At its peak, the Kissimmee Xanadu House brought in a 1000 guests a day. What ever happened to Xanadu House? It closed in the mid-90s due to dwindling interests in the building technology, became infested with mold over the course of a decade or so, and was torn down in 2005.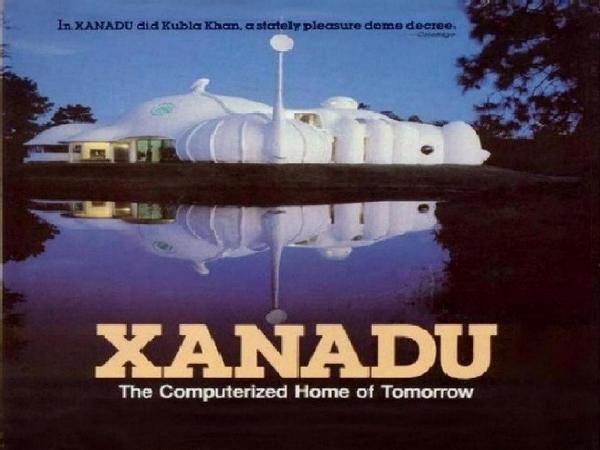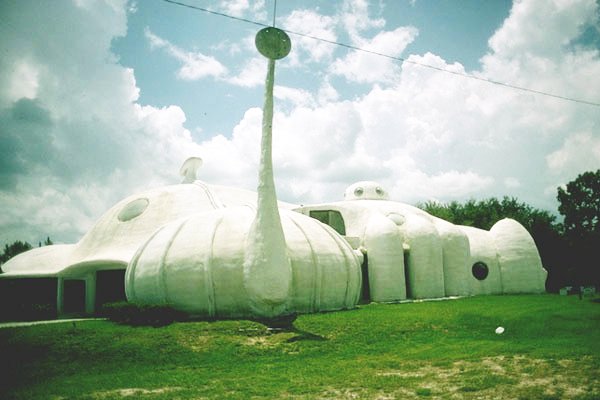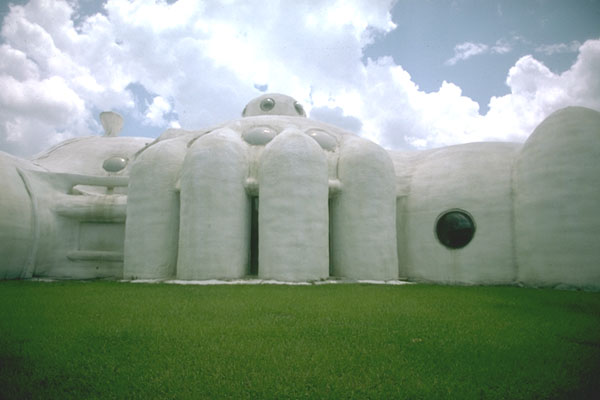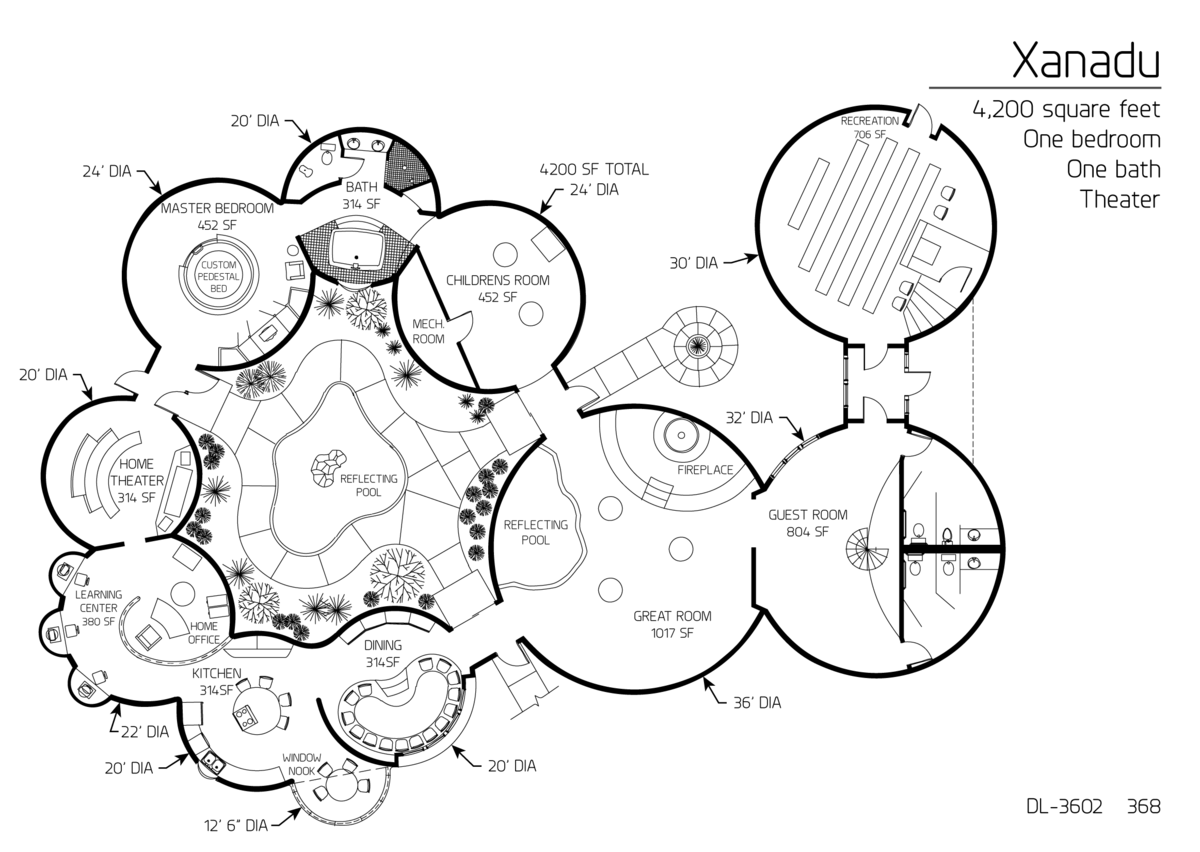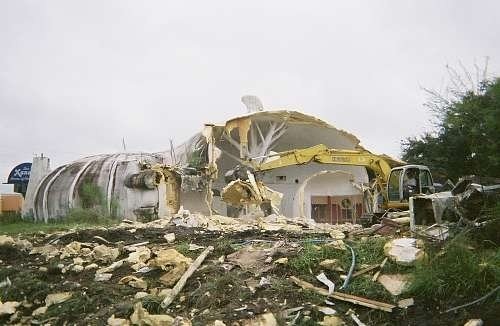 ____________
Amazonia (Great Yarmouth, UK)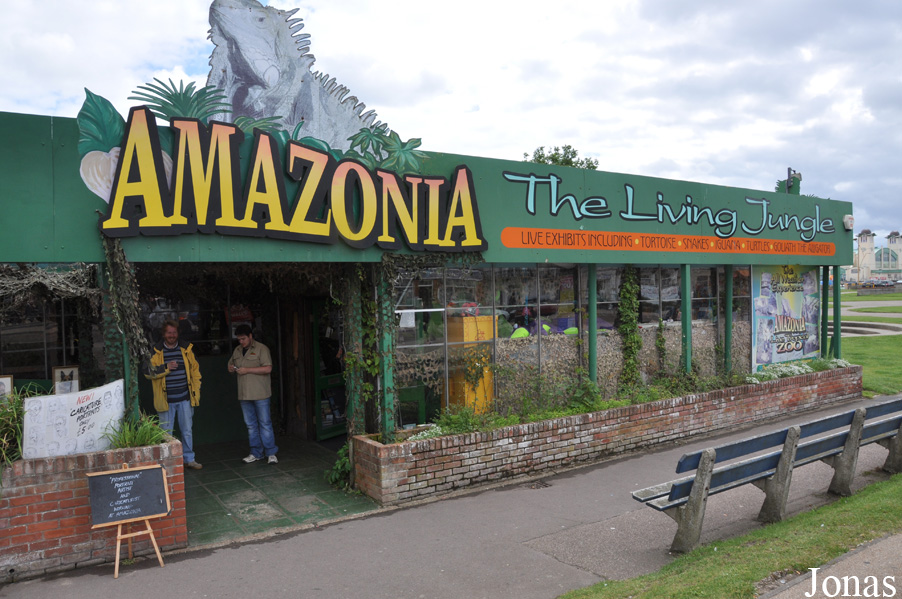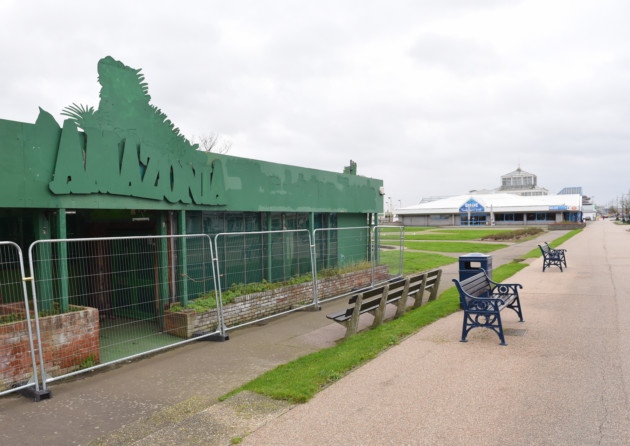 ______________
The Pacific Undersea Gardens, a floating tourist attraction on Victoria, BC's, Inner Harbour was closed in the fall of 2013 and towed to Point Hope Shipyard where it was eventually demolished in 2014. The attraction, owned by the Oak Bay Marine Group, had been open for 50 years, first in Oak Bay and then on the Inner Harbour.
_______________
5Pointz (Queens, NY)
5Pointz was an outdoor art exhibit space at 45–46 Davis Street in Long Island, New York City, where colorful murals were exhibited on the exterior walls of an old warehouse, drawn by artists from the world over. The graffiti space was curated by Jonathan Cohen, a graffiti artist going under the moniker of "Meres", who billed the exhibit as "the world's premier graffiti mecca". Indeed, as its reputation as an epicenter of the graffiti scene grew, the industrial complex began to draw aerosol artists from across the world. Even the elusive British street artist Banksy got into the act. The high visibility of the building from the New York City Subway's IRT Flushing Line attracted a large number of visitors, including prominent artists, musicians, filmmakers, photographers, and entire tour buses full of admirers soaking in the more than 1,500 murals. 5Pointz doesn't exist anymore. It was demolished in 2014 after its owner decided to make better use of the neglected property and build a condominium complex instead.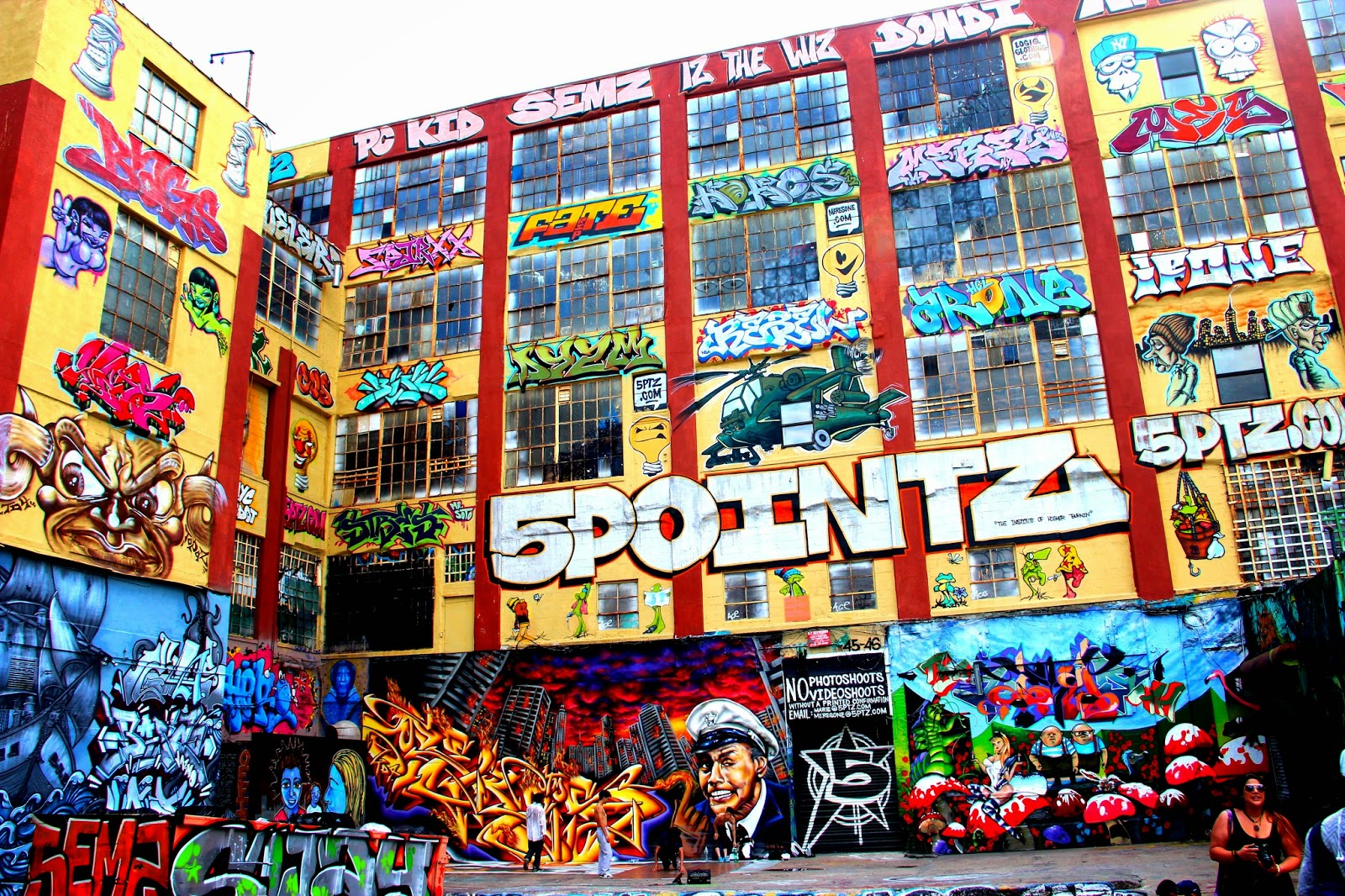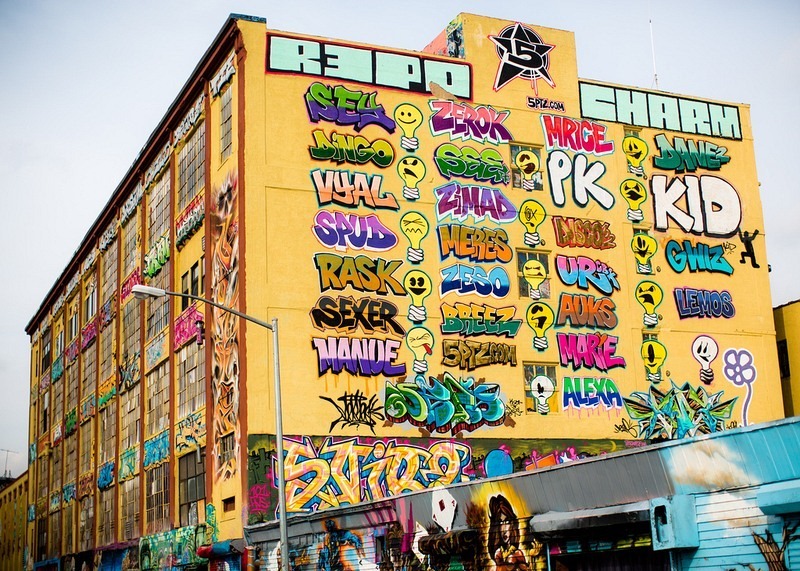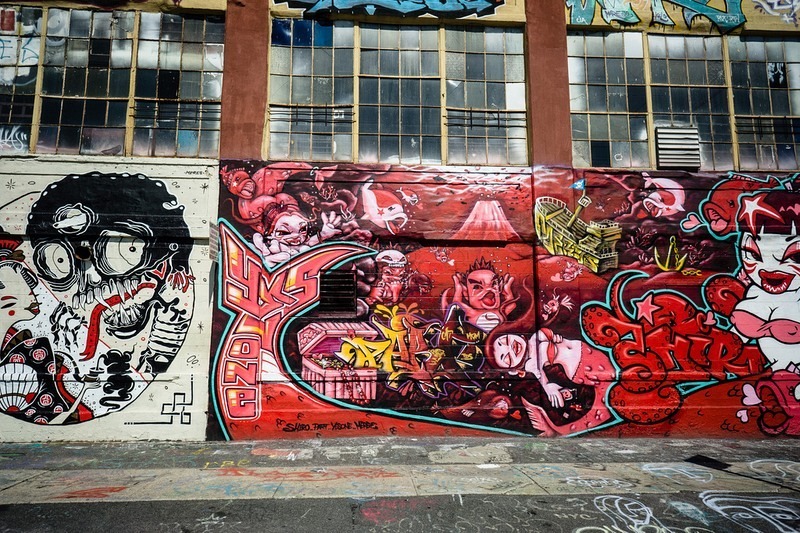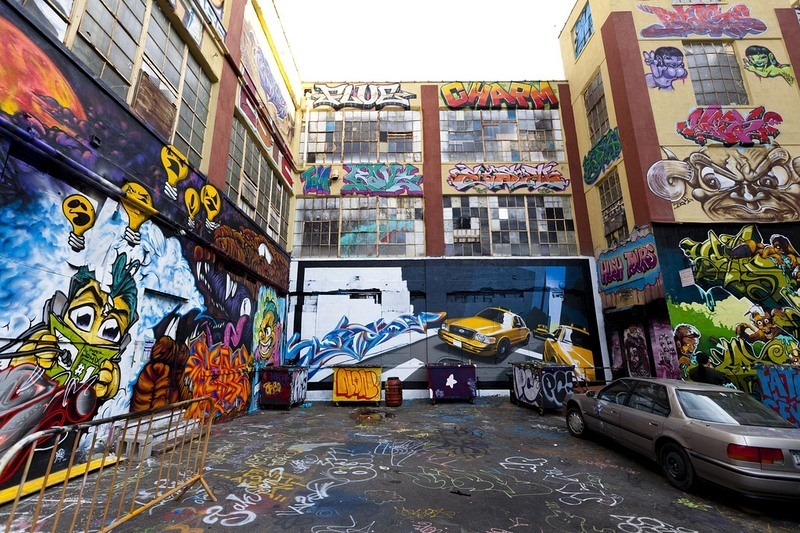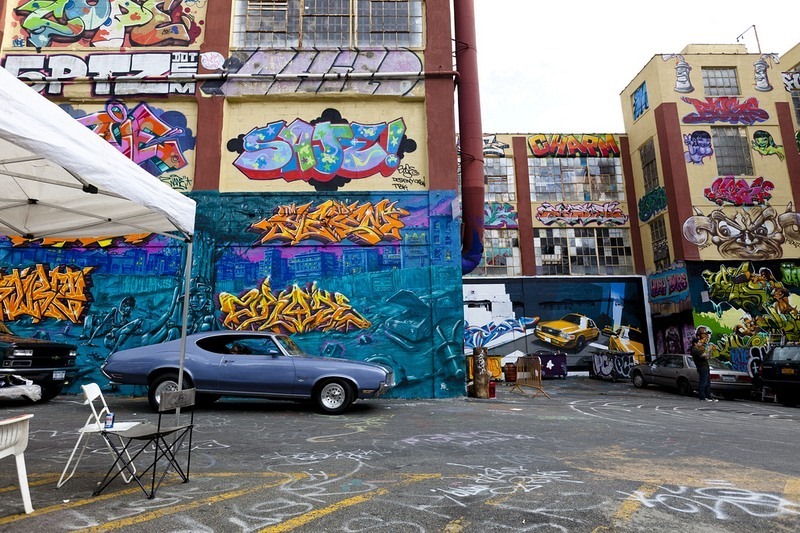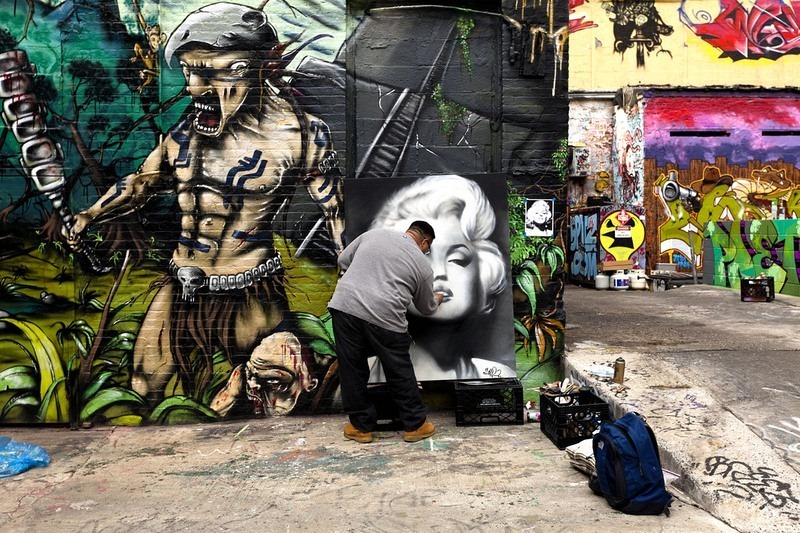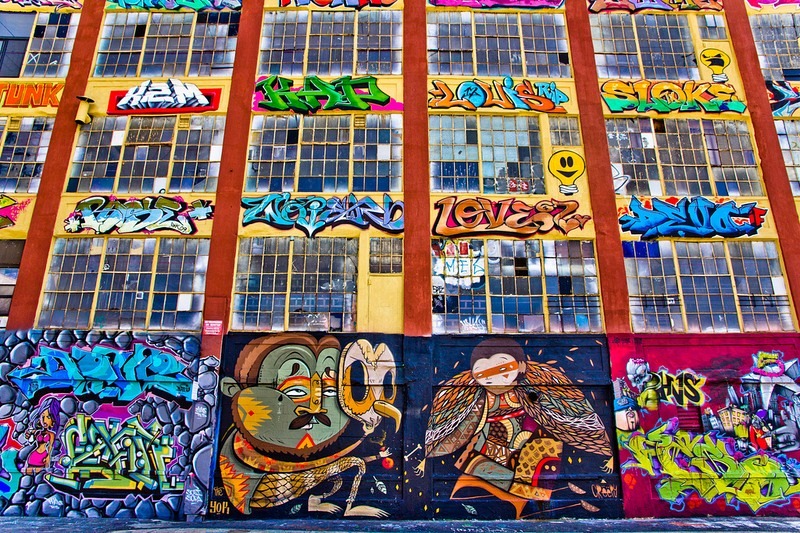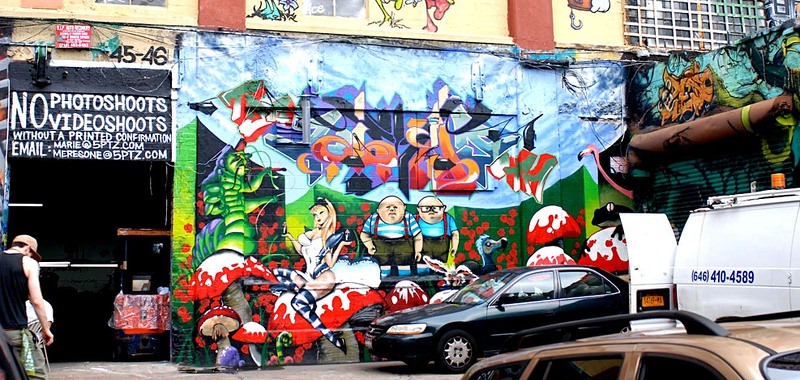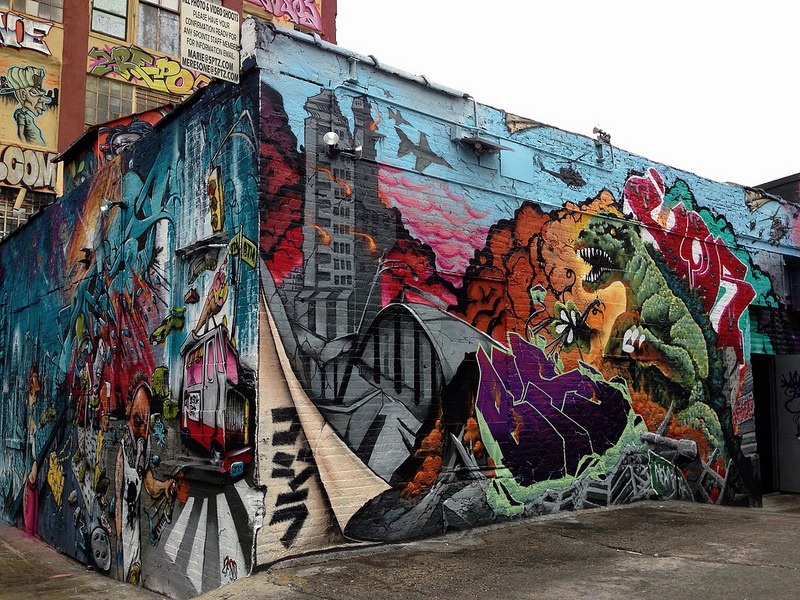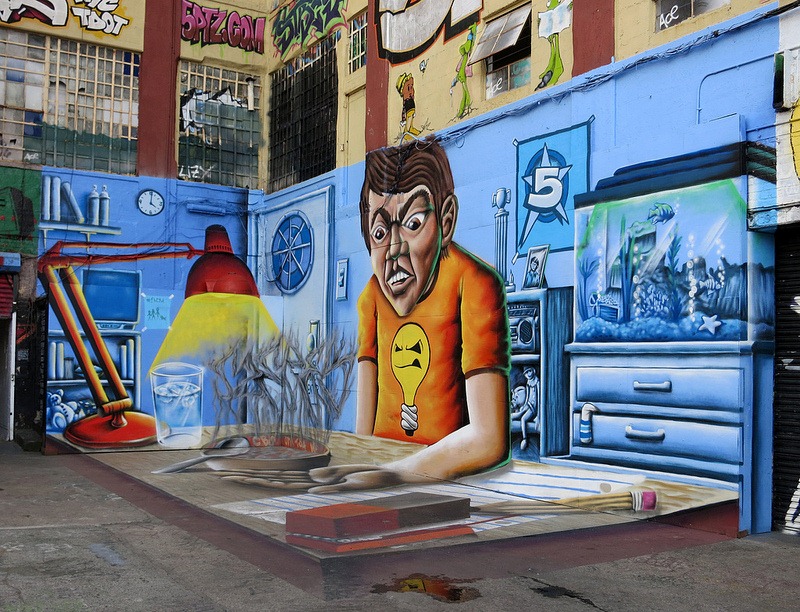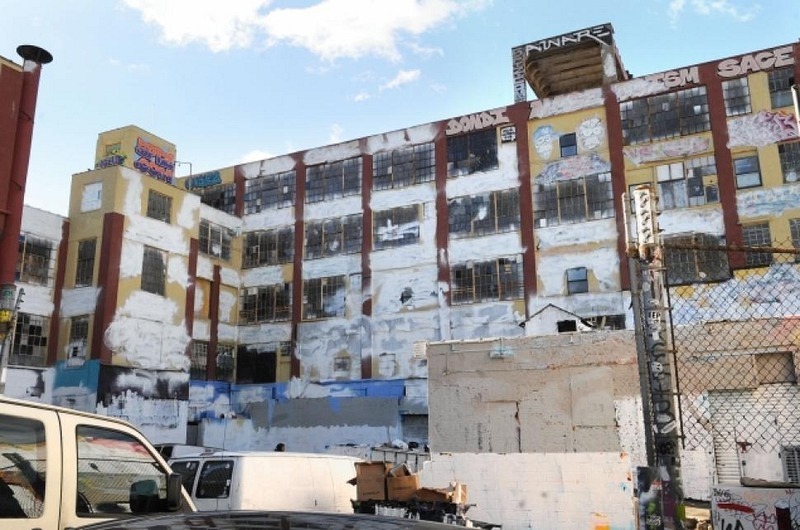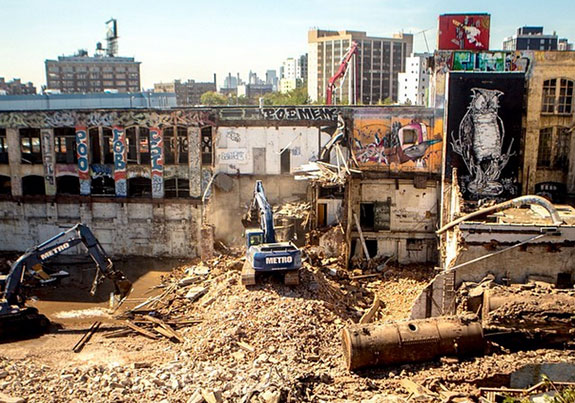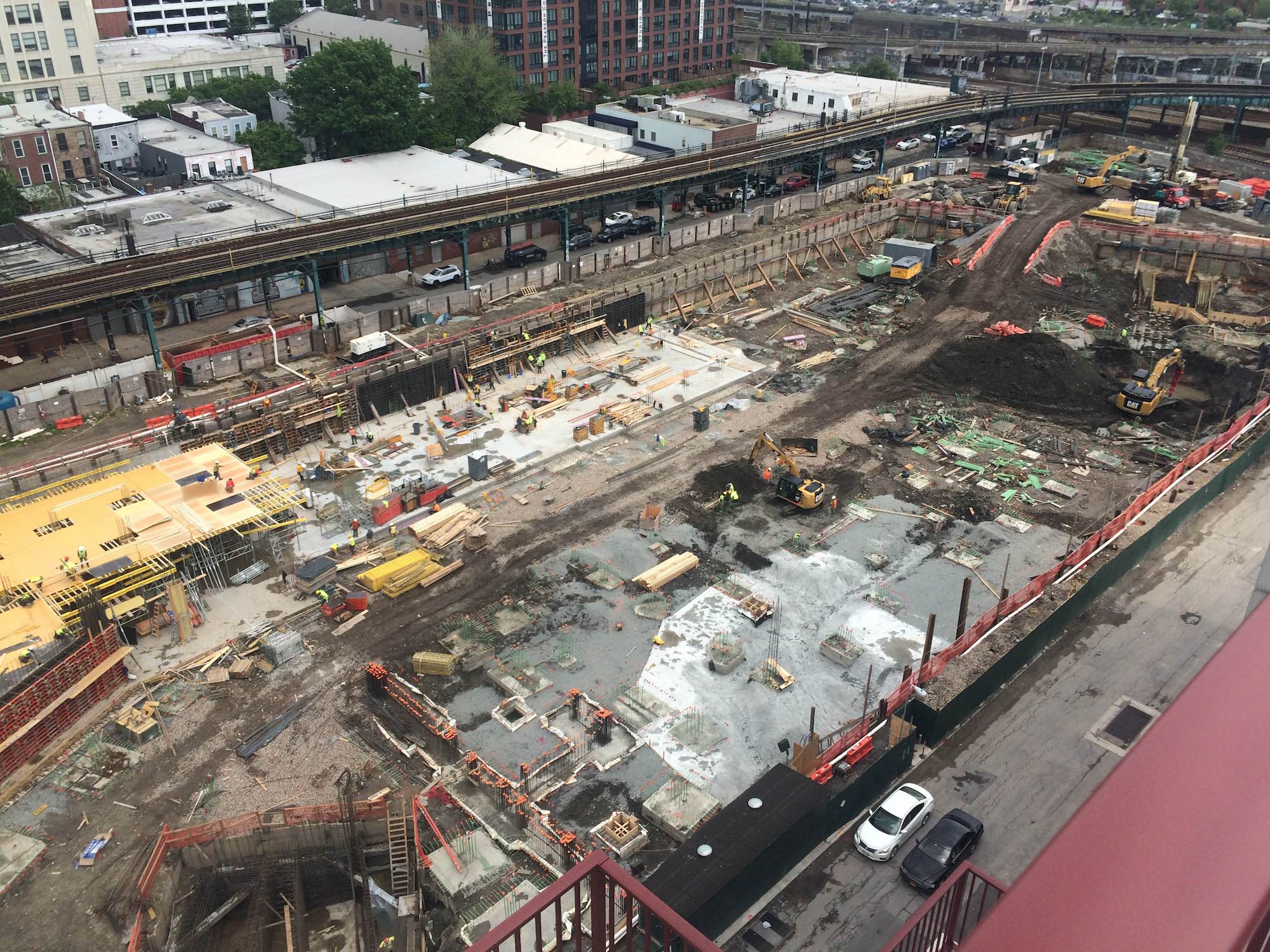 ____________
1232-4 Druid Hill Avenue (Baltimore)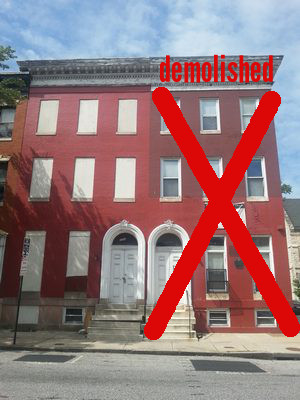 ____________
The Bates Motel (Aldergrove, CA)
The fifth and final season of The Bates Motel, the A&E adaptation of the Alfred Hitchcock classic Psycho wrapped up filming earlier this month, so the replica Bates Motel and the menacing house that loomed above it were both torn down.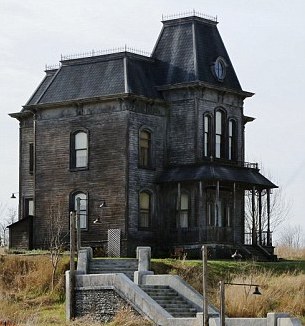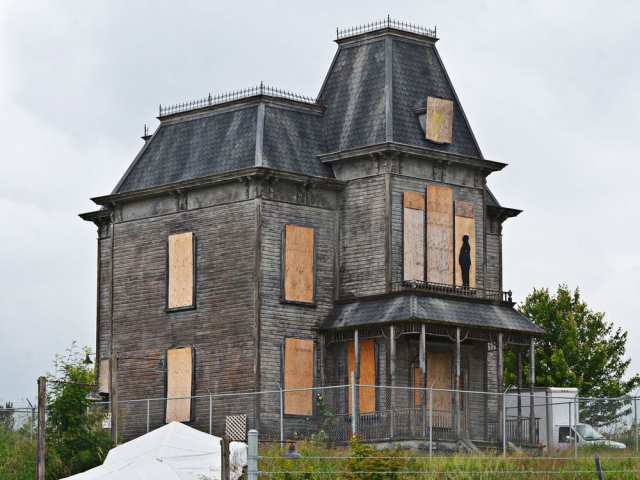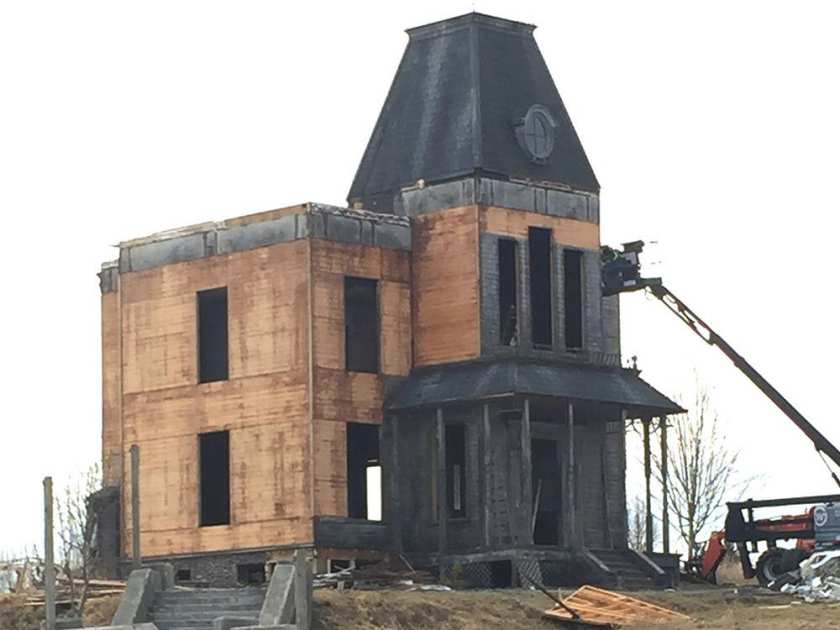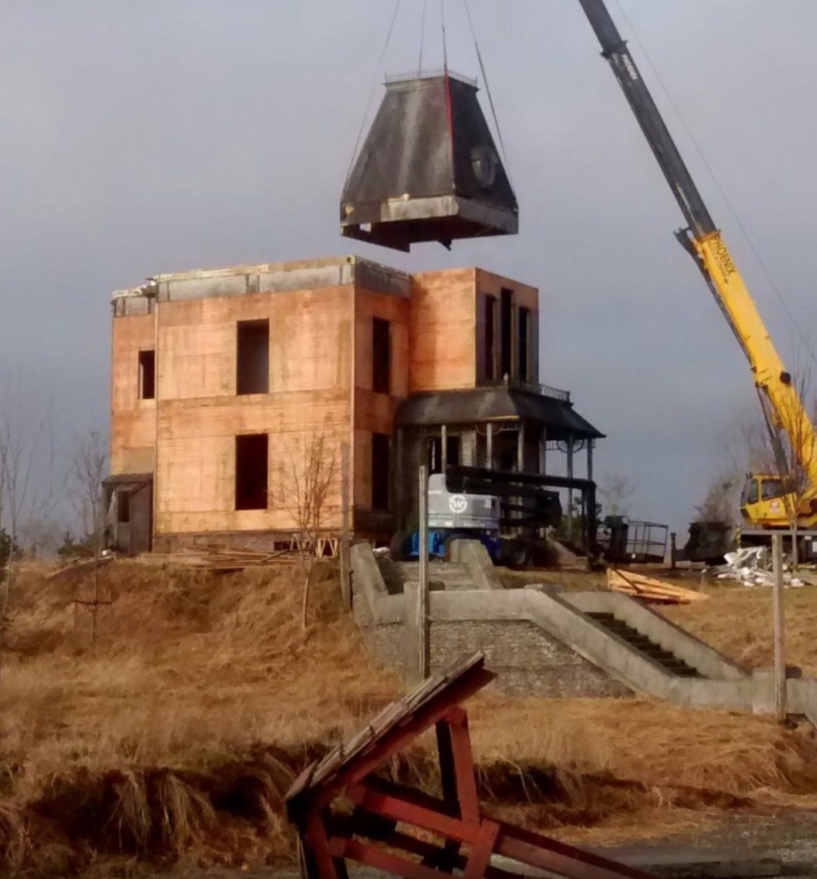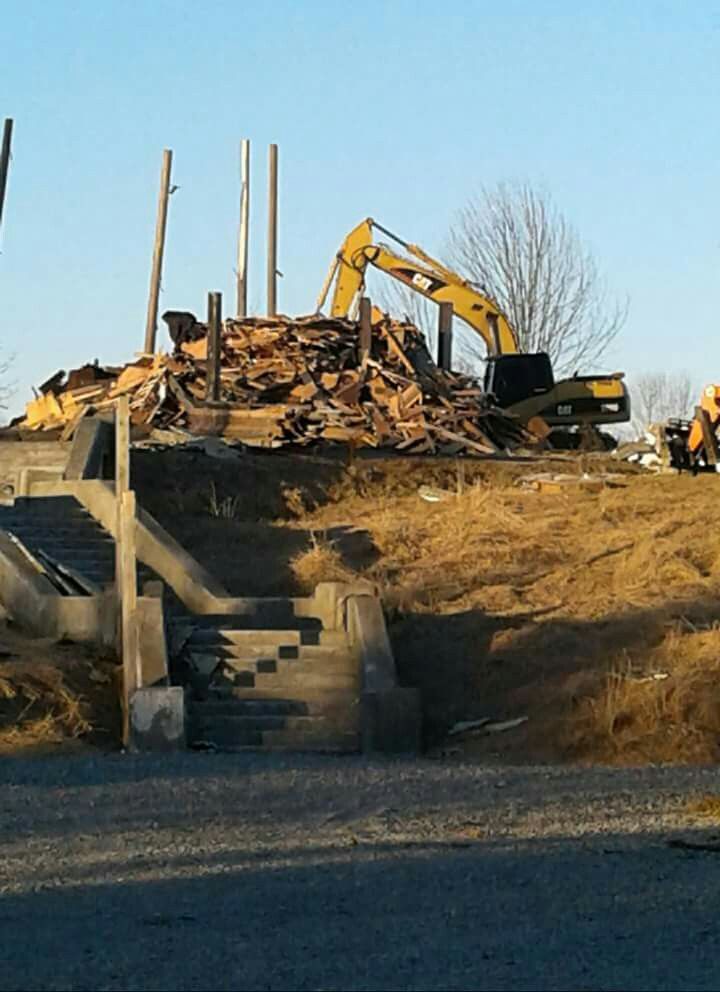 _____________
The Sonesta Beach Hotel (Bermuda)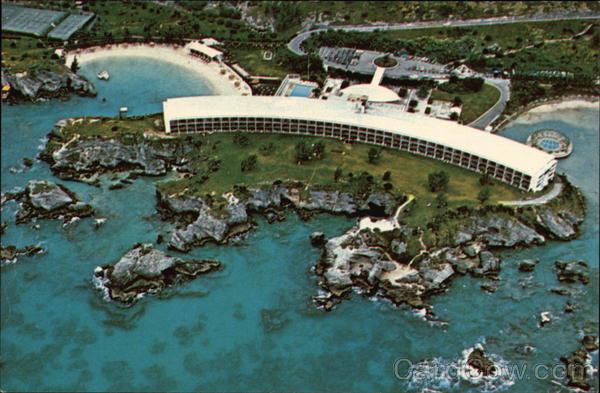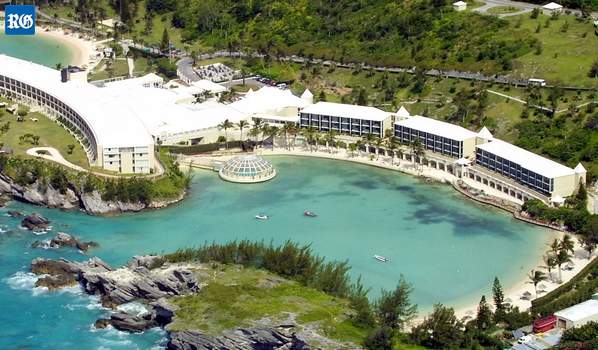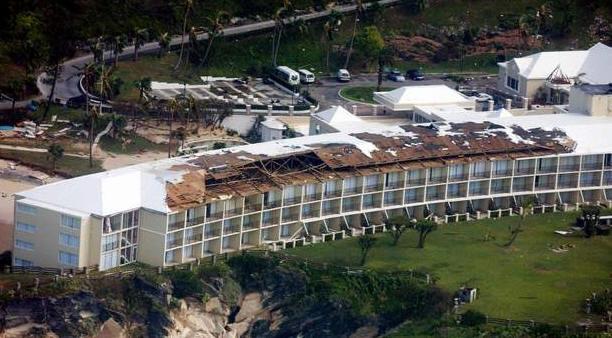 _____________
Phantasmagoria (Bell's Amusement Park, OK)
Opened: July 1973
Demolished: June 19, 2007
Number of levels: 2
Duration: approx. 5 minutes
All of the 'bang doors' close solely by the power of gravity.
There are nearly as many smoke detectors as there are spooks in the ride. Not one fire occurred in the ride's history.
Items commonly discarded in ride: Stuffed animals, hats, litter, cigarette butts, ladies undergarment, feminine products, condom wrappers
Means of mischief: Getting out of car (most common), making out, occasional stink bombs.
Number of tricks: 23
APPENDIX B: List of tricks
1. The spinning eyes (exterior)
2. The lunging dog (exterior)
3. Three ascending bang doors with circular cuts (originally diminishing squares)
4. Guard dog sign/barking audio
5. Dip #1
6. Grim Reaper (originally hung above the dip in the long corridor)
7. Skeleton in the graveyard
8. Singing skulls
9. Buzzard in the nest
10. The psychedelic room (aka tinfoil room aka strobe room )
11. Skull faced "lady of the night"
12. The witches head
13. Dip #2
14. Collapsing mine shaft (aka Falling Timbers)
15. The Skull Pond with rattling floorboards
16. Cloaked skeleton lady in front of shingles
17. The giant rat
18. Rotating naked/bikini woman
19. Skeleton in the noose
20. The bus (formerly the tilted room where water ran uphill)
21. The mirrored hallway
22. The spinning tunnel
23. The bat cave with water curtain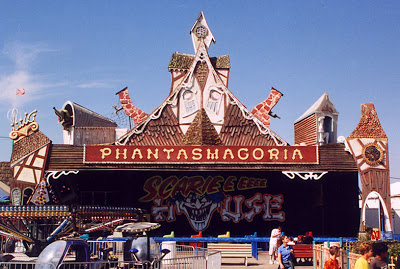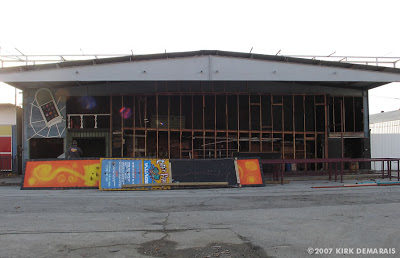 _____________
Splendid China (Kissimmee, FL)
The park was owned by the Chinese government and controversial from the day it opened until the day it closed in 2003. Now, ten years later, the remains of Splendid China, located at Formosa Gardens Blvd. and Funie Steed Rd., are about to disappear forever. Mickey Grossman, of Pro Demo, said all of it will go during a four-week feast of destruction.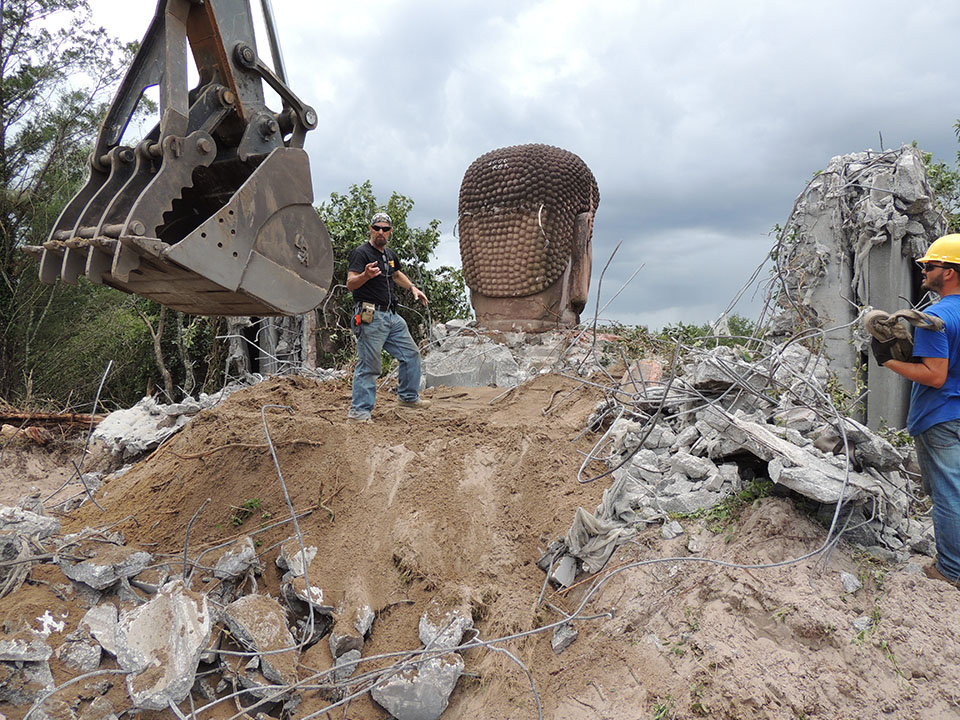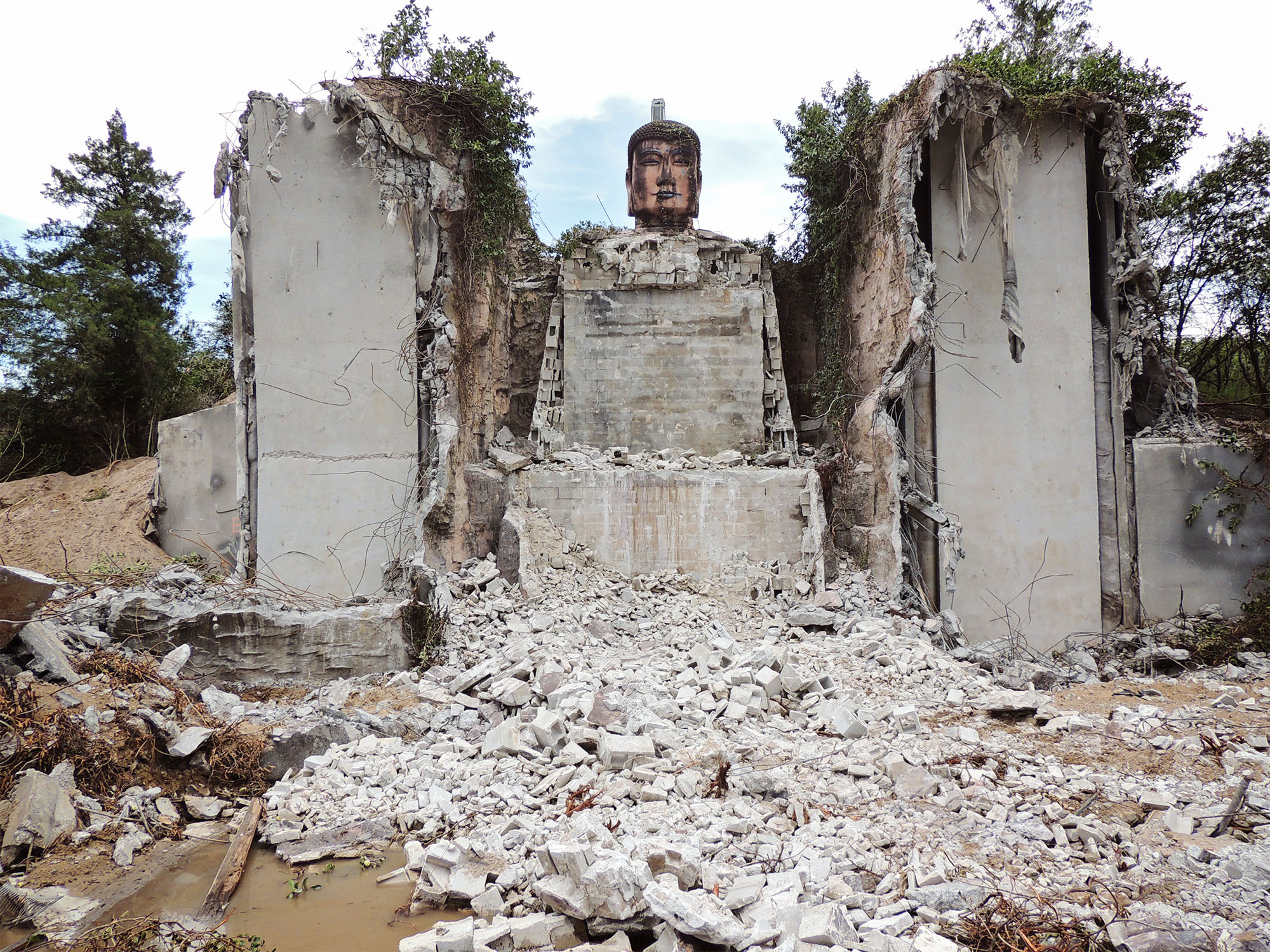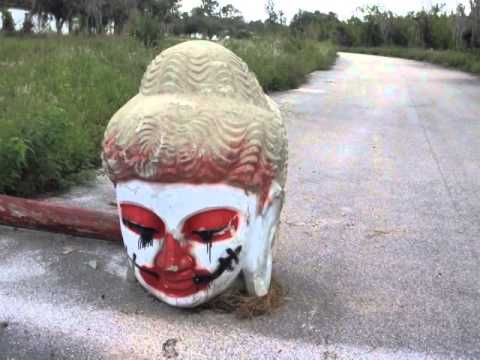 ______________
Atlantida Water Park (Gran Canaria)
The Atlantida Water Park was once a paradise for holidaymakers visiting the island of Puerto Rico, Gran Canaria. The tourist attraction closed in 2009 and is now set to be transformed into a £22million shopping centre.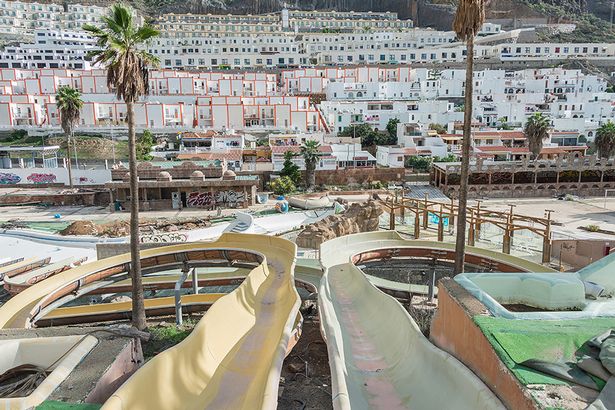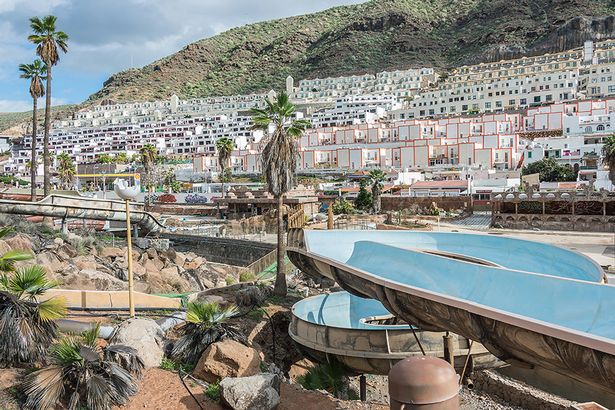 _____________
Vosges Haut-Chocolat Retail and Theater (Beverly Hills, CA)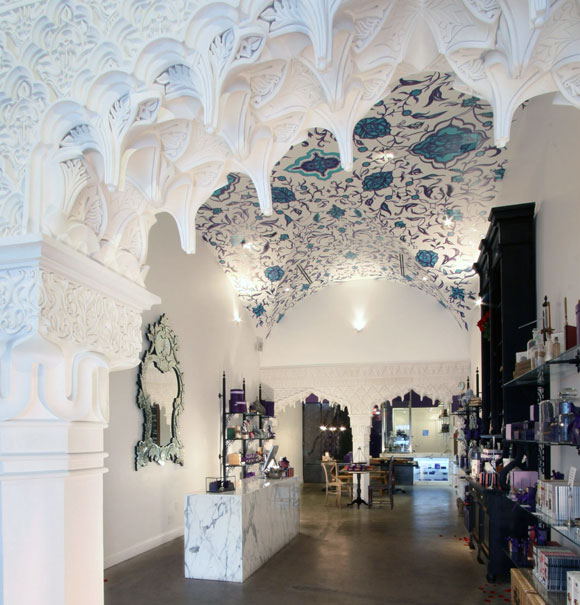 _____________
Ghost representation of Manor Heath Mansion in Halifax, Canada, built by carpet magnate John Crossley in 1852. Sadly it was demolished in 1958.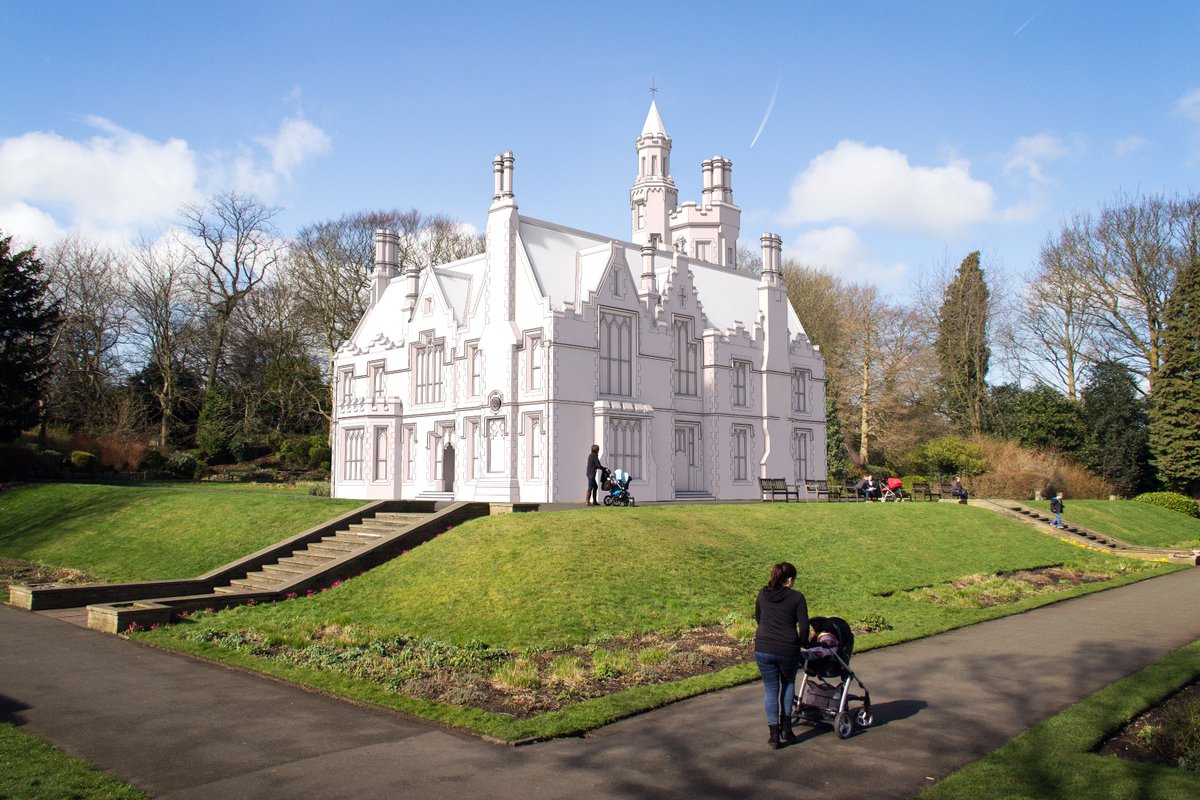 _____________
Chute Out (Six Flags, TX)
_____________
The Cockenzie Power Station's (in East Lothian, Scotland) 487 feet (149 meters) tall iconic chimneys were demolished on Saturday by placing dozens of explosives into holes on the sides of chimneys so that they collapsed exactly into each other.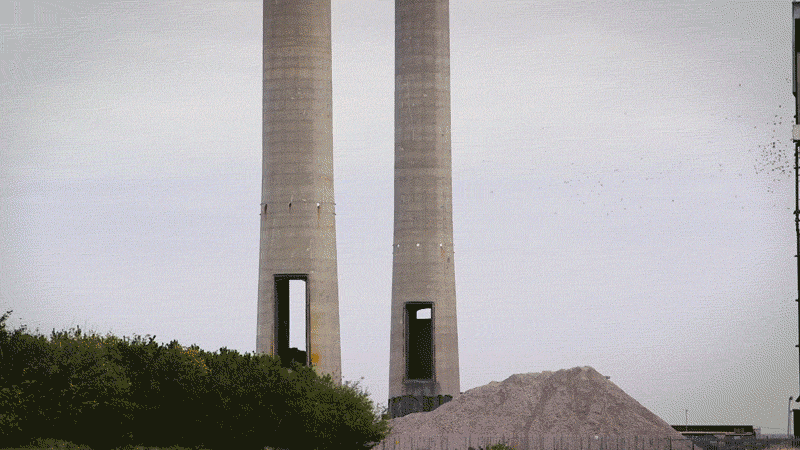 _____________
Following the opening of the Jaws ride at Universal Studios Orlando on June 7, 1990, it experienced extensive and persistent breakdowns as a result of the elaborate special effects involved, as did fellow original rides Kongfrontation and Earthquake: The Big One. However, while Universal was able to eventually contain the technical bugs in the Kong and Earthquake rides at "utmost consistency", the effects in the Jaws ride constantly refused to work at all, resulting in the ride having to be evacuated almost daily. Following the Summer opening of the park, Universal temporarily shut down the ride in August 1990, and sued Ride & Show Engineering, Inc. for failing to properly design the ride. Throughout 1991 and early 1992, Universal attempted to refurbish the effects of the ride for an eventual re-opening, but with no success. Some reports leaked that the high-tech electronics used in the sharks was damaged due to inadequate waterproofing.
Eventually, Universal collaborated with Totally Fun Company, ITEC Entertainment, Intamin and Oceaneering International, who together installed an entirely new ride system and special effects to create an almost entirely new version of the ride. Some of the changes, which resulted in a re-design of the ride, included the replacement of two major ride scenes; the first being where Jaws bit onto the tour boat and turned it by 180-degrees (which was replaced with a Gas dock explosion scene); and the second being the finale, which was originally loosely based on the first Jaws where the skipper shot a grenade into the shark's mouth causing it to explode underwater (which was replaced by a finale loosely based on the ending for Jaws 2 where the shark was electrocuted after biting onto an underwater cable attached to a high-voltage barge). Oceaneering provided the animatronic shark for the redesigned ride, their first theme park-based project. The ride was then officially re-opened by Roy Scheider, Lorraine Gary and Steven Spielberg in Spring of 1993.
Following the hurricanes that struck Central Florida in 2004, Universal was forced to temporarily close the ride in January 2005 due to the rising cost of petroleum, which was used to fuel the numerous pyrotechnical effects throughout the attraction as well as the tour boats. The ride finally reopened in December 2005, but was listed as "seasonal" and only open on busier days. This lasted until February 2007 when the ride was finally opened full-time again after numerous guest complaints. During the 2005 closure, several renovations were made to the ride. The attraction was further refurbished every year from 2008 – December 2, 2011 when Universal Orlando Resort announced that the Jaws attraction would close permanently on January 2, 2012 to make room for the second phase of The Wizarding World Of Harry Potter.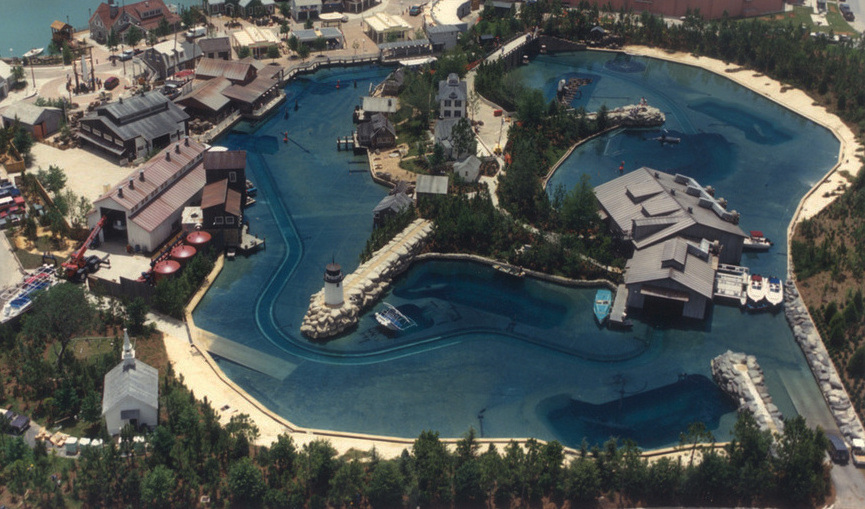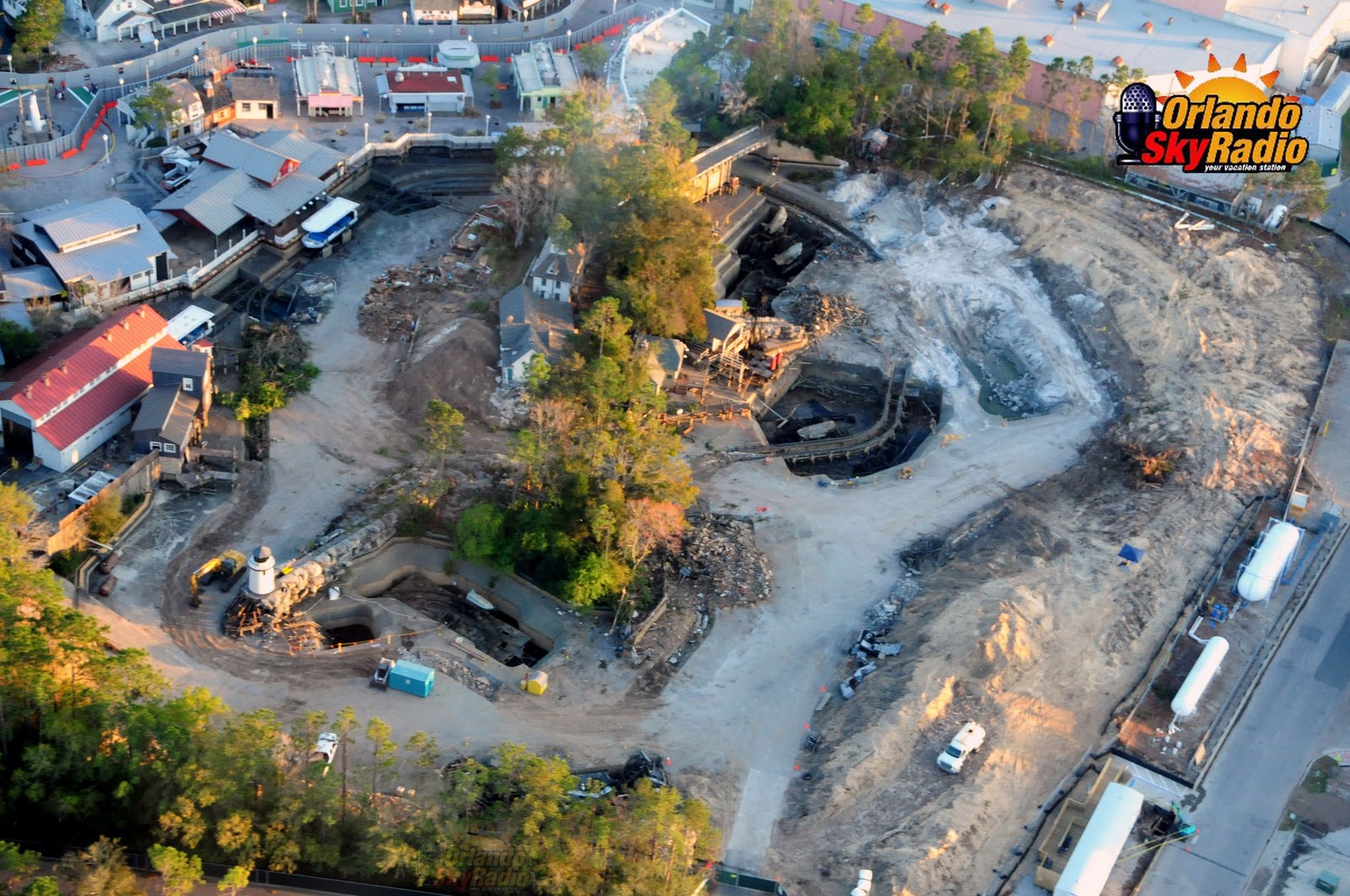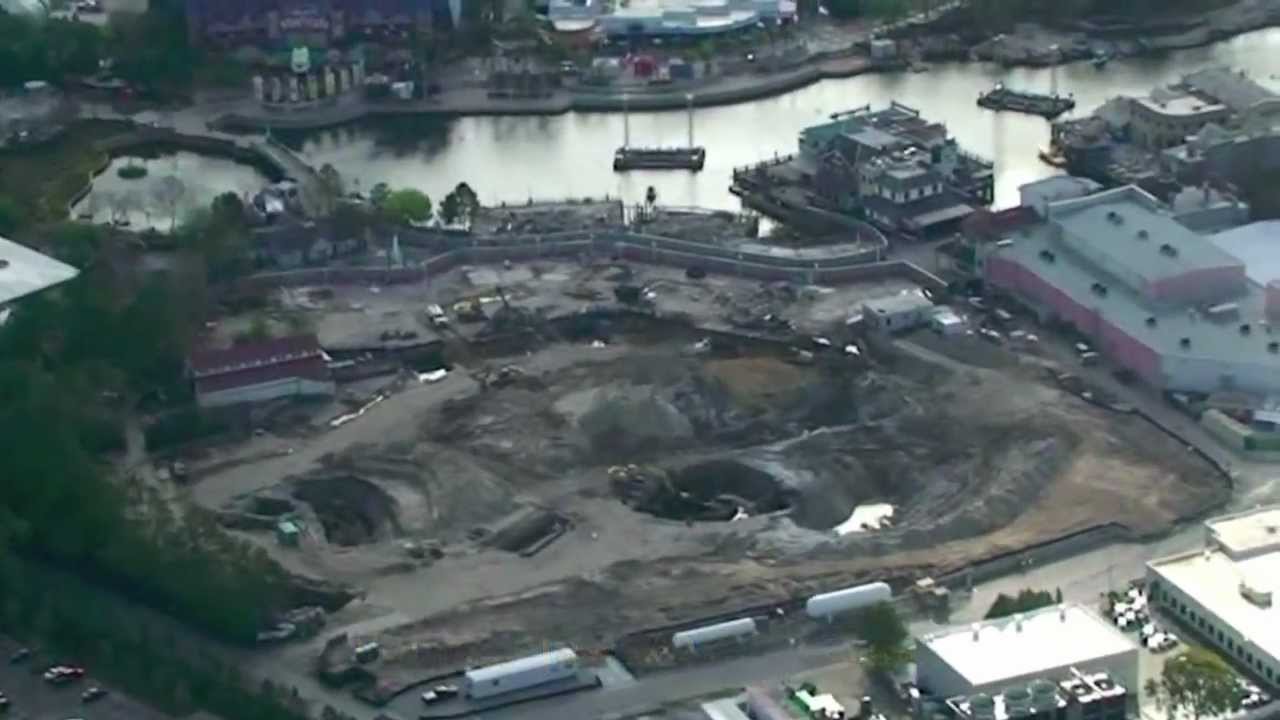 _____________
Dudley Hippodrome (Dudley, UK)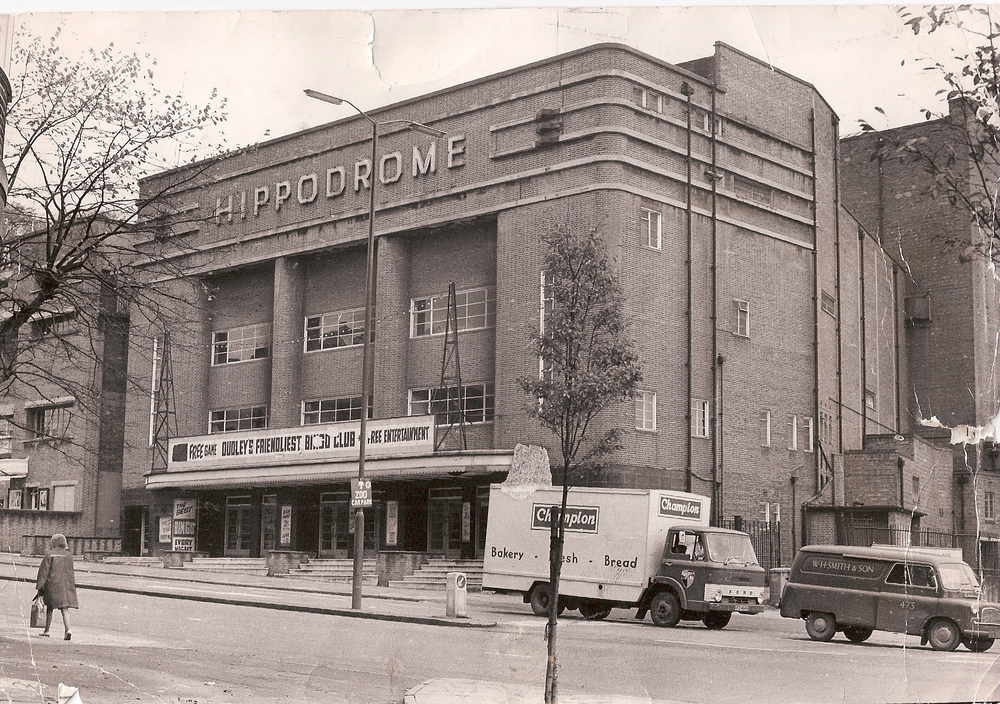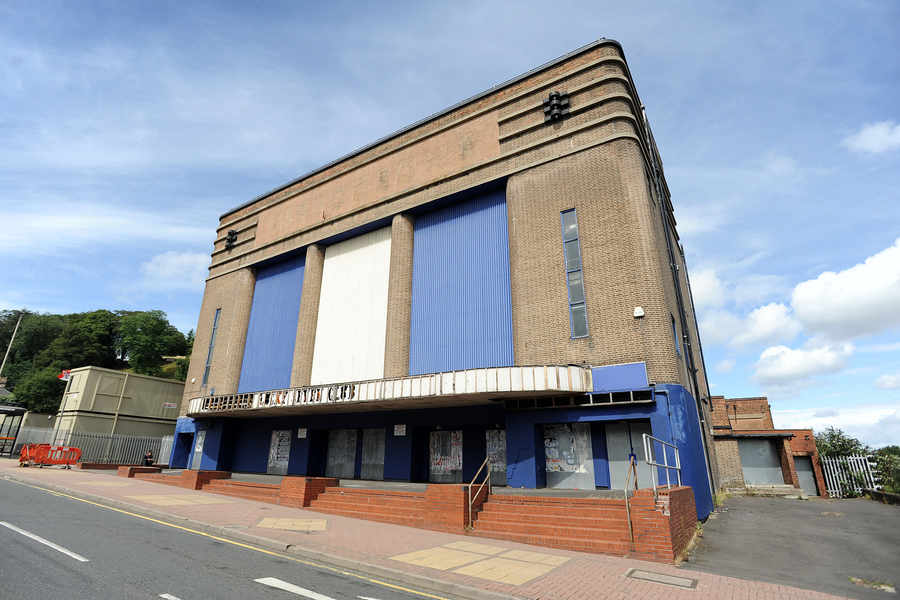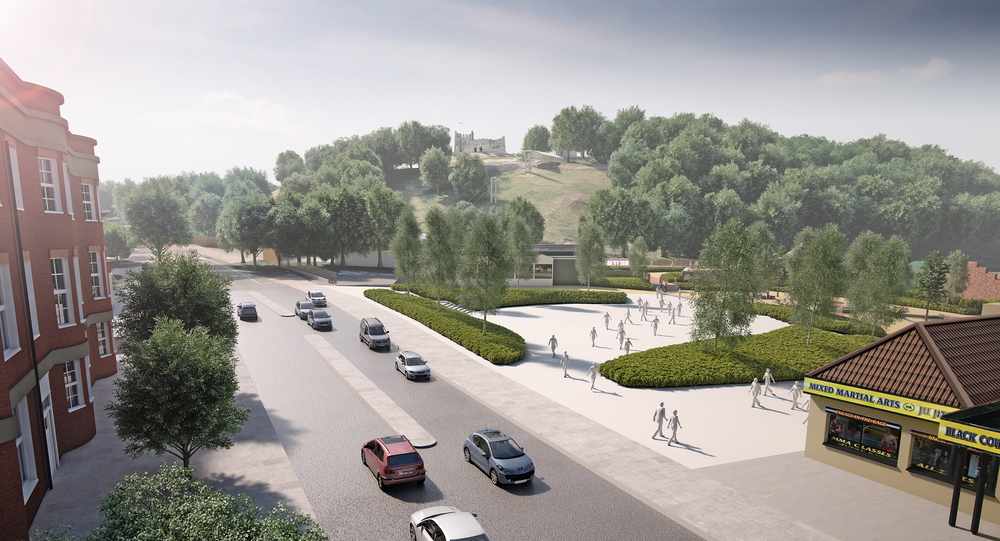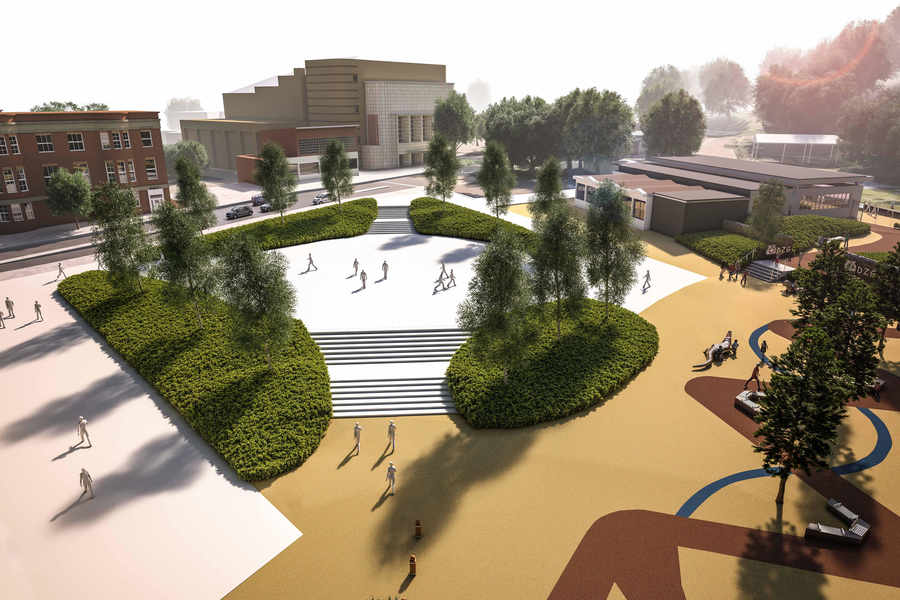 _______________
The Gu Tian (Fujian, China)
The cement ship was built during the 1970s when there was a lack of steel in China as a cheap solution during the 'cultural revolution'. It was launched to herald in a new age where China had mastery of the seas. But after her first voyage in 1974, Communist officials realised it cost far too much to power a concrete ship through the waters, and she was driven ashore and grounded. The 345ft long, 48ft wide, 26ft 7in high Gu Tian became a squat for locals and a minor tourist attraction and spent 40 years beached on the bank of the Mingjiang River. It was also used as a training base for Fujian Ship Communications Vocational College. It has previously been ruled too expensive to destroy but since the land was bought by a re-development scheme, the process began to dismantle it to build a block of flats.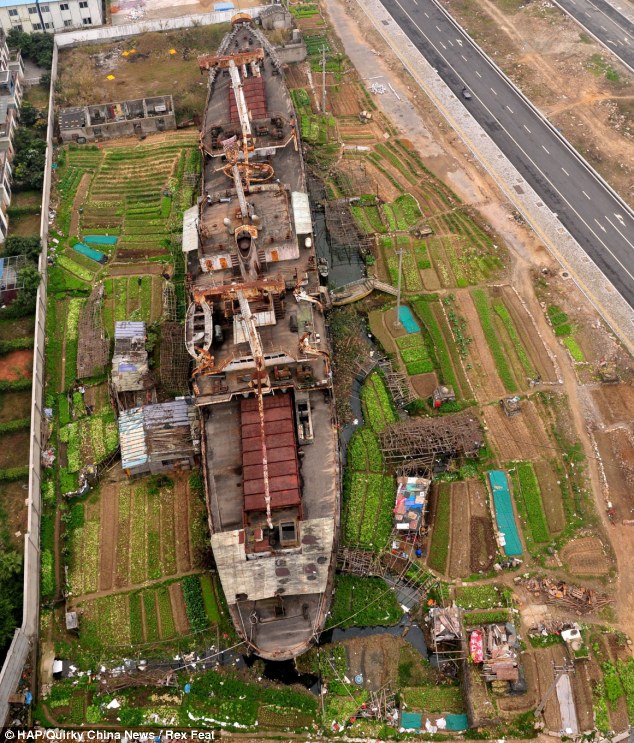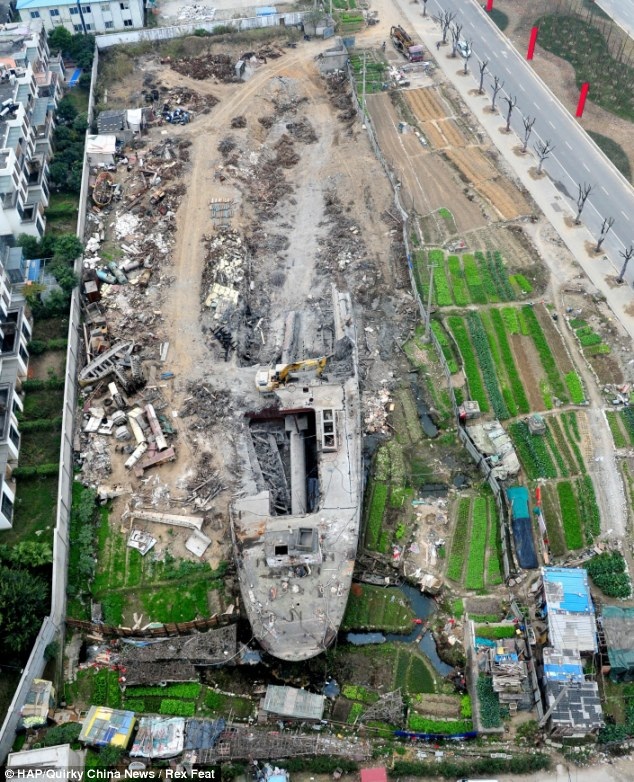 _____________
50 Years Ago, Donald Trump's Father Demolished Coney Island's Beloved Steeplechase Park.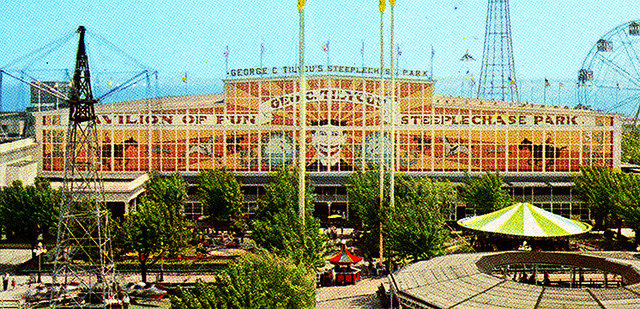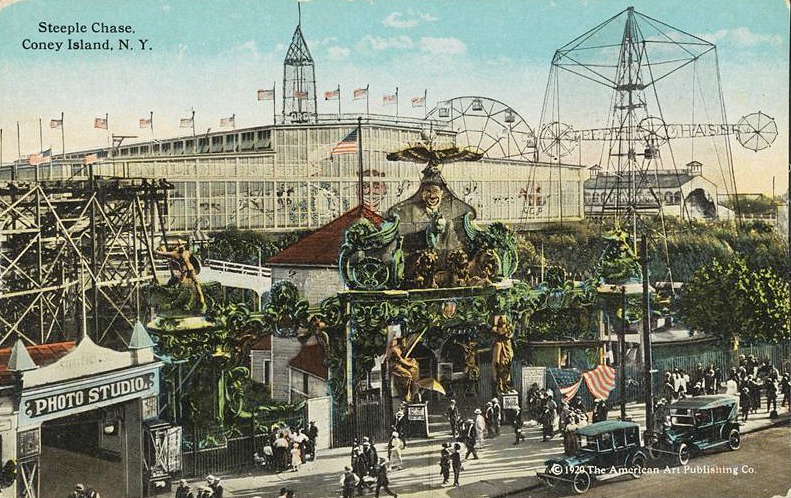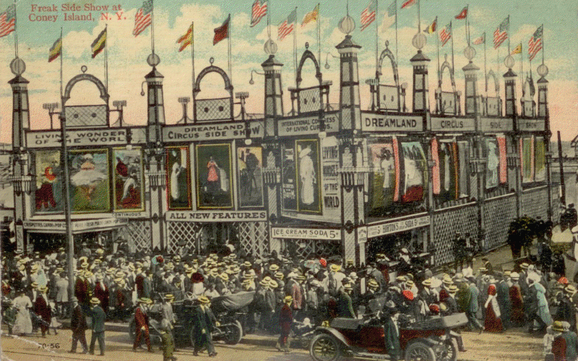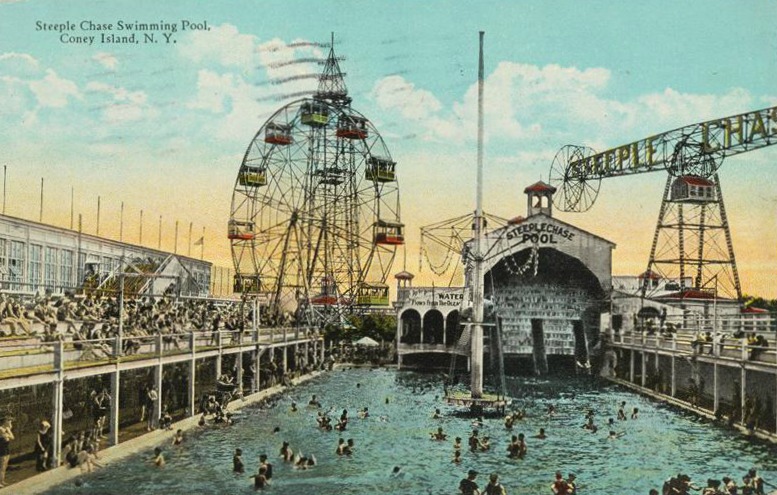 ______________
Airstream Ranch (Tampa, FL)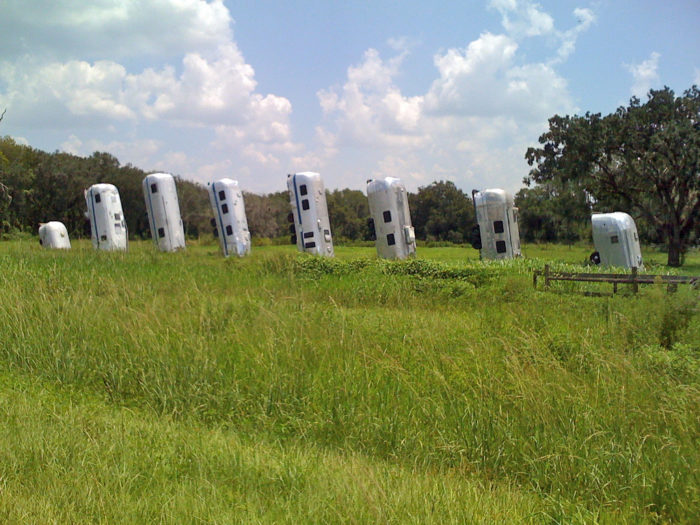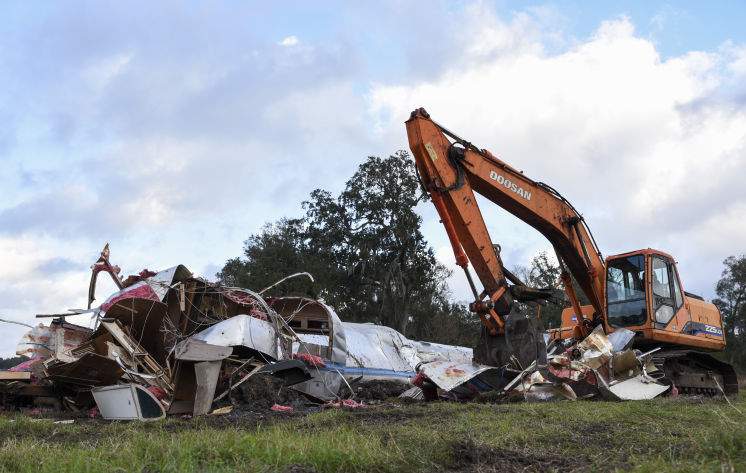 _______________
The giant statue representing the late Gilbert Bourdin, founder of the Triumphant Vajra cult of Mandarom, collapses after demolition workers set off explosives at the base of the 110-foot structure in Castellane, southern France, September 6, 2001. French authorities said the monument to Bourdin, the focal point of the sect's "holy city of Mandarom" in the hills above Castellane, was built in 1990 without permission.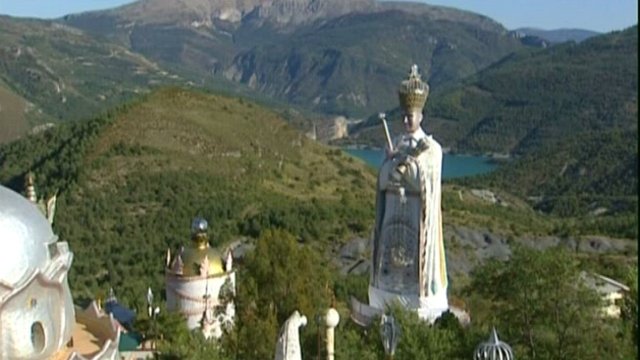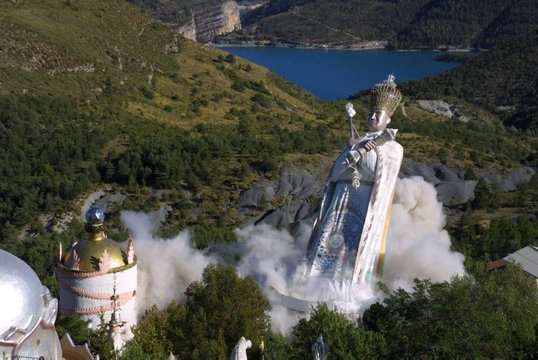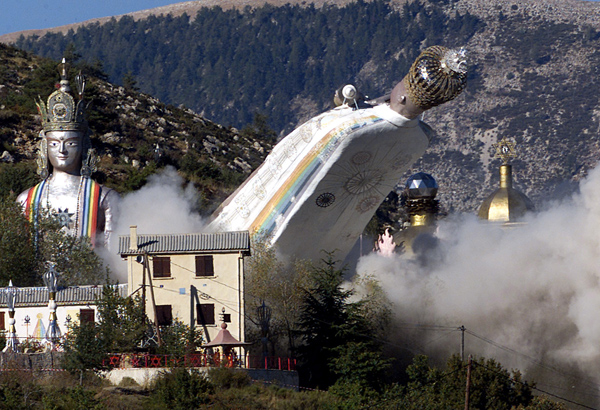 ______________
Horizons (Epcot, FL)
Located in Future World East, the Horizons pavilion opened exactly one year after EPCOT Center (1983). It focused on the future and the future family. It was different in that the entire pavilion housed only it's namesake attraction. One of the largest and most advanced attractions at EPCOT Center, Horizons looked back at what we envisioned the future would be throughout our history and then into the future through the 21st century. The ride focused on a familiar theme to fans of Walt Disney: If we can dream, we can do it.
After a visit to Jules Verne and a look at our vision of the future from the 1950s, guests entered a large theater with two large "OmniSphere" screens depicting discoveries that would impact us throughout the next century.
Moving on, the ride took it's passengers through EPCOT Center's view of the future… the 21st Century future. A future home, a desert farm growing orange trees, an underwater city, a space colony and finally a return to the present (20th Century).
It was on this return that guests were introduced to a unique ride experience: the ability to chose their own ending. For the return to the 20th Century, panels inside the omnimover vehicles would light up with options to be chosen from for the return. Guests could choose either land, sea or space for their return travel.
Though there is much speculation as to the reason for its closure (everything from maintenance cost to the building sinking into the ground), Horizons closed it's doors in late 1994 after over a year of being without its sponsor, General Electric.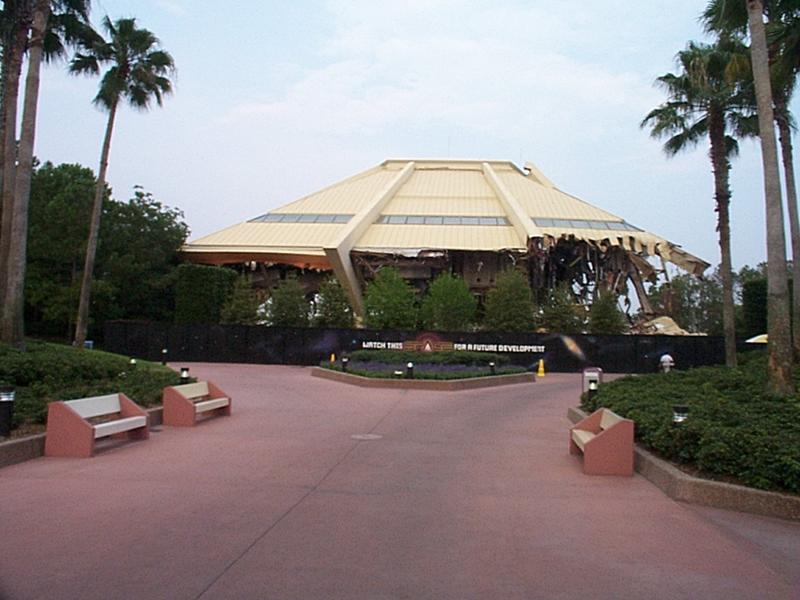 _______________
Glasgow is a city trapped in a never-ending cycle of demolition and reconstruction, so it's fitting that watching buildings getting blown up has become its new favourite form of mass public entertainment. Yesterday, thousands gathered to watch the city's iconic Red Road tower blocks reach their demise in one of Europe's largest ever controlled explosions.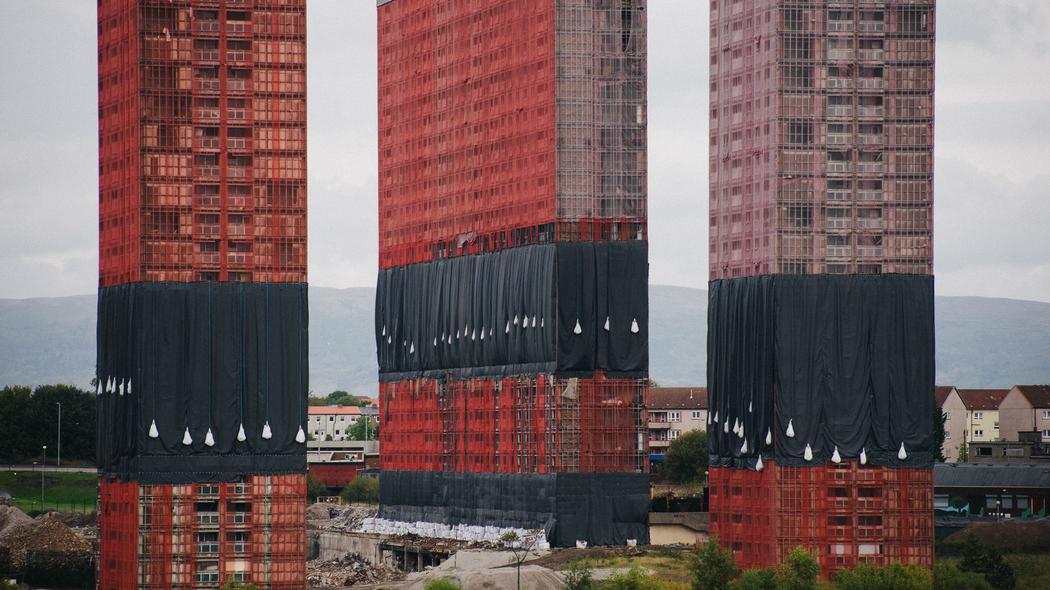 *
p.s. Hey. ** Steevee, Hi. Obviously very best of luck re: a very swift meds change. Well, the film certainly sounds really interesting in any number of ways, and I grab a chance to see it if I get one. And I'll go read your latest review. Everyone, Here's Steevee's review of Filipino director Lav Diaz's new epic film 'The Woman Who Left'. Thanks! ** Tosh Berman, Hey there, Tosh! ** Armando, Hi, man. I'm good, quite good, thank you. We just started editing the film yesterday, and we'll be working on it through the summer, planning for a September finish. I'm seeing Zac today and I'll ask him. I suspect he'll say to contact him via Facebook, but I'll ask. Hugs back to you. I hope you're doing really well. ** Jeff J, Hi, Jeff. To begin with, we're constructing a rough-ish cut which we'll then refine and fiddle with and so on. We're basically starting from the first scene and going forward, both because it's logical and because we shot the film very out of sequence so it's our first chance to see how it works in the intended order. We're up to the sixth scene as of this morning, so the pace is okay so far. Curious about the change in 'TP's 4th episode. Theoretically 'slack and drawn out' and the noticeable pauses sound very interesting to me, but, yeah, just very curious to watch it as soon as I get a spate of extra time. I know the name Claudio Magris, but I don't think I've read anything by him. Obviously your description and the Sebald comparison intrigues me. I'll definitely seek out his stuff. Thanks a lot, man. ** S., I forget that broadcast radio still exists sometimes, basically because I don't have a car here. That's the only I ever listened. Florida having a wealth of haunted houses makes total sense but I have no idea why. Thanks for the luck and take some for the writing. ** _Black_Acrylic, Hi, Ben. When I was an adolescent my parents made me take cotillion, which was basically classes for youth organized by adults who thought the dances they danced as youths were superior to the dances then-practiced by youths. So I learned the tango, waltz, bossa nova, tutti-frutti, etc. Hated it, quit quickly, can't remember a step. ** Brendan, Hey, B! Hooray that the show is realness. Oh, I have new e-address now because Google killed mine. It's: denniscooper72@outlook.com. Excited to see the images. Where are you gonna stay in Vegas? You're, like a non-Strip guy vis-a-vis Vegas lodgings, right? Have a soothing blast there, pal. ** Misanthrope, Hi. Very best of luck and everything else to your mom. Jesus, that's scary, how is she today? Hugs my friend. ** Chris dankland, Hi, Chris. The editing is going really well so far. I'm super psyched. We're coming up against the limitations created by how fast we had to shoot it, i.e. a few scenes that we only had time to shoot from one angle, as opposed to the multiple viewpoints that we had planned, and where that one angle doesn't turn out to have been the best choice, but hopefully no one will know and feel that but us. But, yeah, it's exciting. I continue to think the film is going to be fucking great. That GBV song is godlike, yes, I seriously agree. There are a bunch of songs on the new GBV that I'm getting seriously addicted to. I just raised my real coffee cup, my second one, half full, and moved it forward in a determined fashion, hoping its vibe would collide pleasantly with your cup's. ** Bill, Hi. Hm, interesting, about the Lynn Hershman show. Maybe I'll attempt a post/day. ** H. Hi. The editing has started very well, thank you. September is the intended finish date, but we'll see. I've never liked Aiden's work as much as I feel like I should. I think, at best, I felt okay about some of his poems. ** Okay. Today you get a pretty random, nerdy post. See you tomorrow.